Photographing Australia from Coast to Coast – Colour Palettes and the OM-1 OM SYSTEM Mirrorless Camera
When it comes to trusty sidekicks in the outback, you want plenty of water, a hat and reliable equipment that can handle the elements. As someone who isn't a massive fan of camping, squirms at the idea of spiders within 100m and can't change a tyre (I know!), I did a lot of research to ensure I'd survive driving into the centre of Australia.
Despite travelling to some of the world's most remote regions, from glaciers and deserts, Greenland to Chile, there's something about my home country of Australia that always makes me worry about what could go wrong, even though the destination is always worth the effort and prep required!
One thing I didn't need to stress about was my camera gear. Having used the Olympus system since 2017 (see my Global Ambassador profile + gear info here), travelling with the E-M1 MKII, E-M1X + E-M1 MKIII, I was excited to use this adventure around Australia to test out the new OM-1, the new OM SYSTEM camera since their rebrand. I knew based on the previous models it would handle the weather and a bit of bush bashing, so had plenty of waterfalls, dusty deserts, dunes and salty shores scheduled to visit.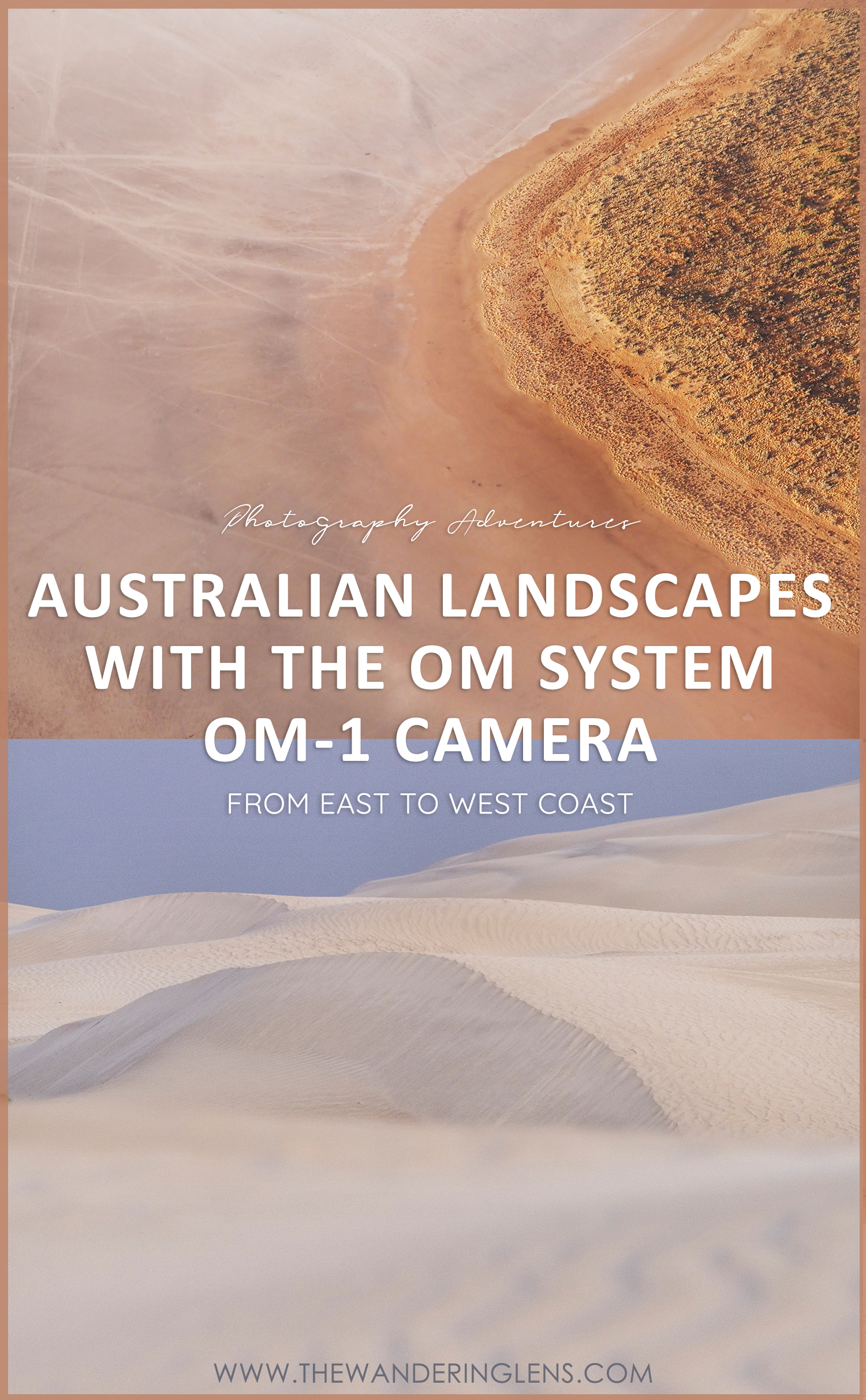 To share a bit of background into this trip, initially I was due to visit various locations around Australia for a book project in 2020, and we all know what happened that year with border closures and indoor time! The locations and landscapes I had listed to photograph covered all states and territories, from east to west and north to south. Instead of slowly visiting them throughout the year as I'd planned for 2020, I created two itineraries and two rather massive road trips for 2022.
The first was from Brisbane to Hobart, covering outback NSW, the Victorian coast and a complete circuit of Tasmania. Departing in late summer, my partner Ryan (of The Soundscape Studio) and I packed everything into my car. When I say everything, I mean everything as we left our rental and crammed the car to the roof (with a tiny hole for the rear vision mirror!) with the intention of staying long term in Tasmania…but that's a story for another day. This part of the trip ended up taking three months, returning to QLD in early April to spend some time editing.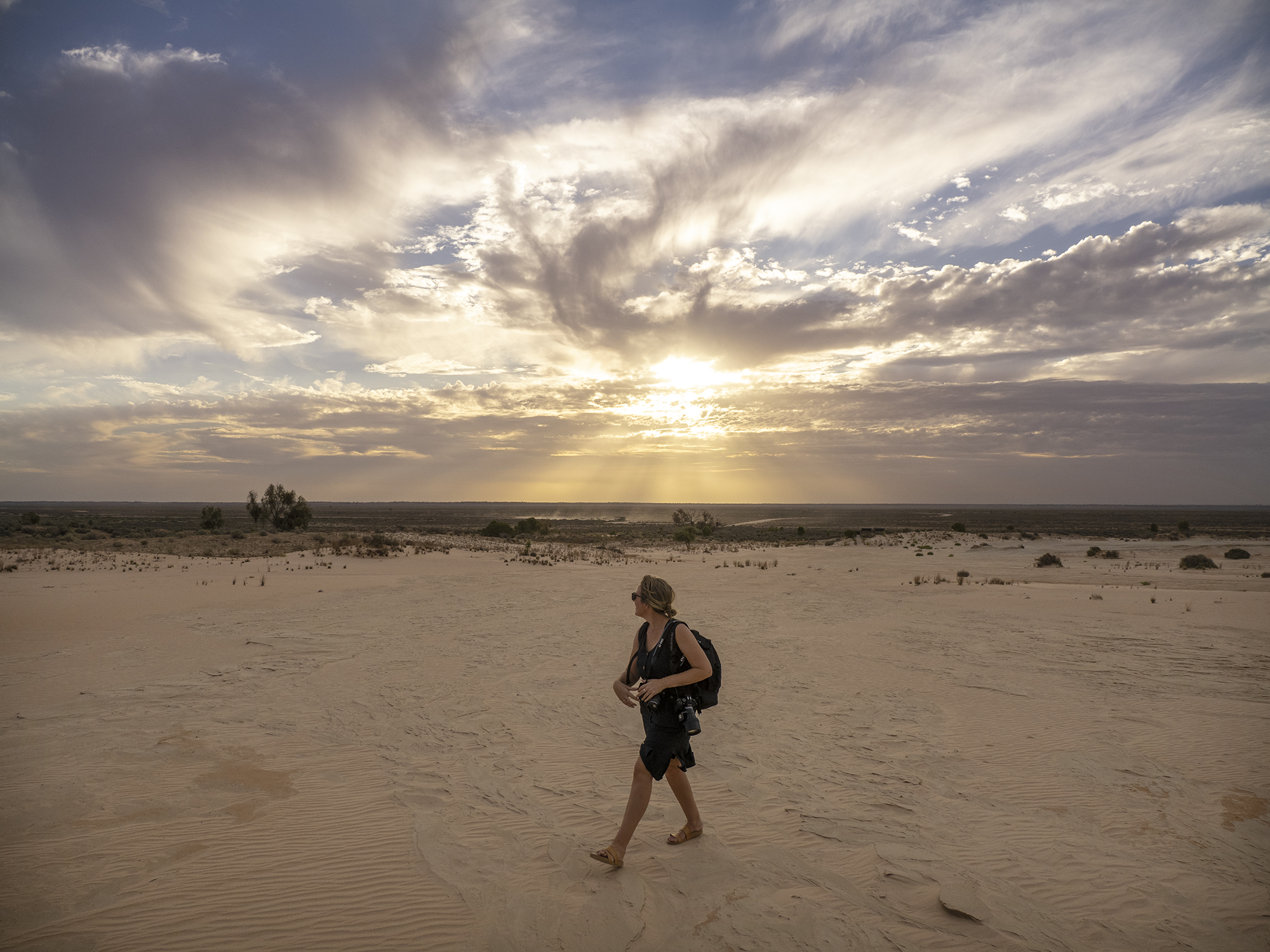 The second half of the journey was the biggest, from Queensland across to Western Australia in late September. Again, we packed the car, but this time with minimal belongings as we were going further and didn't want the hassle of repacking every stop. A suitcase each, camera bag each, 4 x wide brim hats (because I'm known for accidentally crushing them), and about 50L of water because I had it stuck in my mind that there'd be nowhere to hydrate at any point…of course petrol stations have water, I just had this vision of us being stranded on the side of the road in the middle of nowhere. Luckily that didn't come true, ha!
So, rather than recount the trips stop by stop, I wanted to start by sharing some highlights of both the landscape and camera features. The places I loved, the settings I used most and a little peek at some of the photographs captured. More images will be revealed once the book is released in late 2023, and I'll also be sharing snippets of the adventures on The Wandering Lens and via the newsletter (sign up here if you haven't yet!) over the coming weeks and months.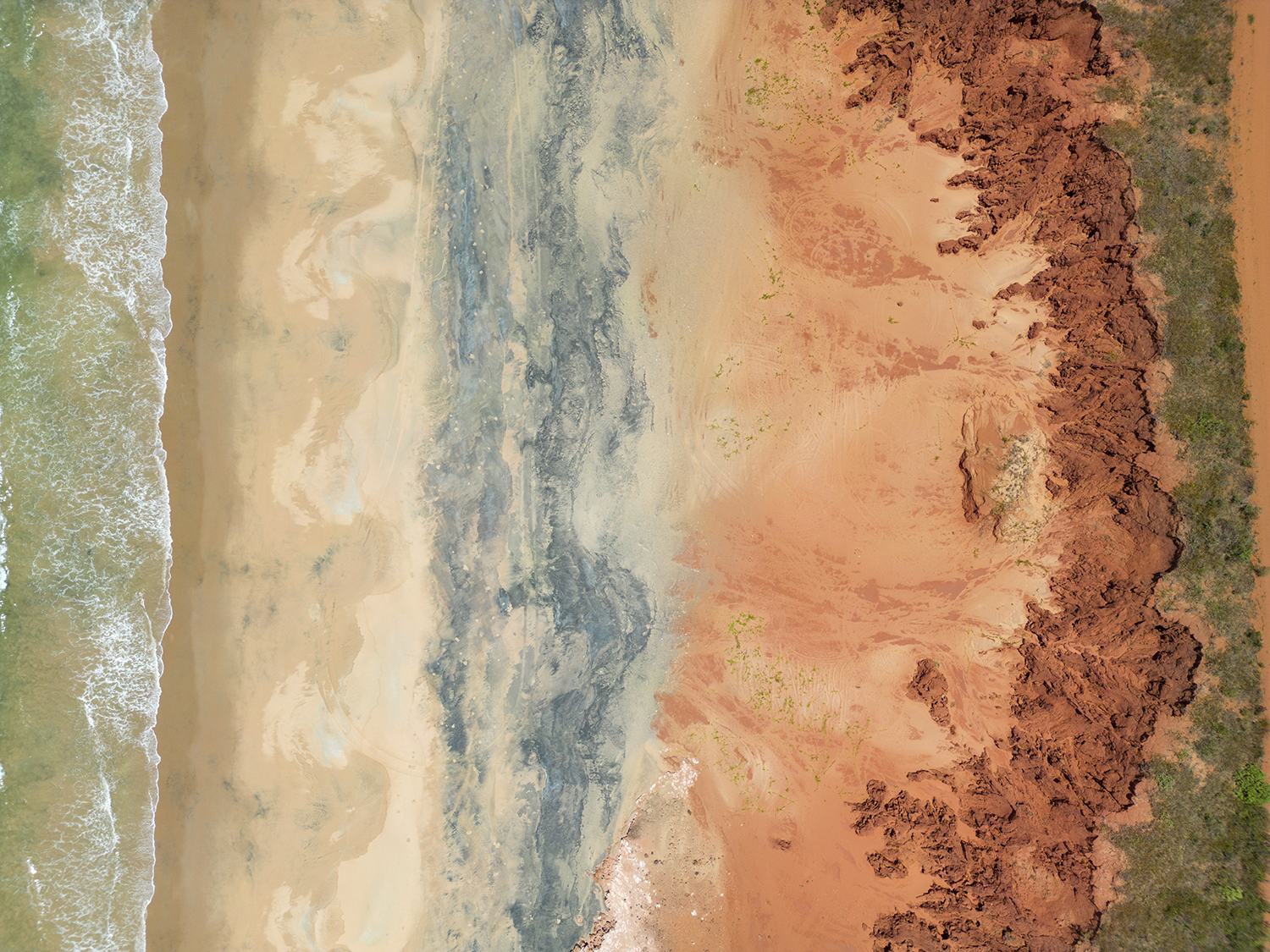 ---
Live ND Filter + Mount Field National Park, Tasmania
If you've been reading The Wandering Lens or following me via @the_wanderinglens on Instagram, you'll know how much I use the internal Live ND Filter on my OM SYSTEM/Olympus cameras.
Blurring water, watching live as the scene is transformed into a moving wonder has inspired me so much over the past two years, and I love finding opportunities to click over to this feature.
With Tasmania known for its national parks and natural beauty, one location I had marked for this trip was Mount Field National Park, located under two hours north-west of Hobart.
Home to some of the world's tallest eucalypt forests, an array of wildlife and alpine peaks, there's also a number of cascading falls, the perfect opportunity for some Live ND experiments.
It was the waterfalls I was planning to photograph and timed our arrival for the late afternoon to avoid any direct sunlight on the water. Patchy light creates contrasting highlights and darker areas across the water, and I wanted smooth, consistent tones for my images and the surrounding greenery to be really lush in the late afternoon light.
The entire Three Falls Circuit trail, which includes Russell Falls, Horseshoe Falls and Lady Barron Falls takes the average walker roughly 2.5hrs to cover the 6kms. Throw in two photographers, some sound recording and ideal conditions, and all up we spent 5hrs mesmerised by these landscapes making it out on dark.
Take a peek below at some of the images captured with the Live ND filter and the OM-1. I photographed each image hand-held because the combination of internal filters with the 7.5 stops of stabilisation enabled me to shoot long exposures without the need for a tripod.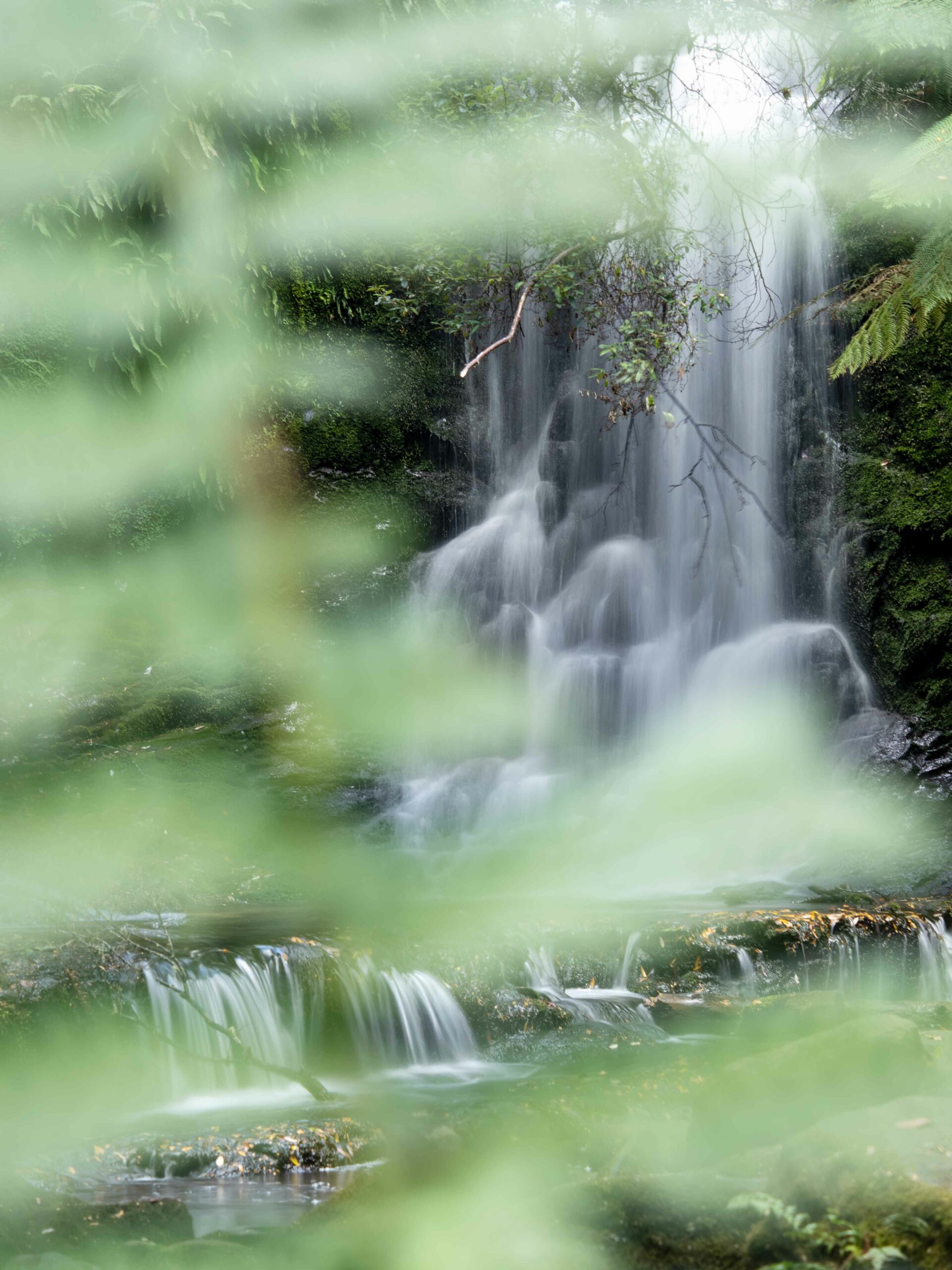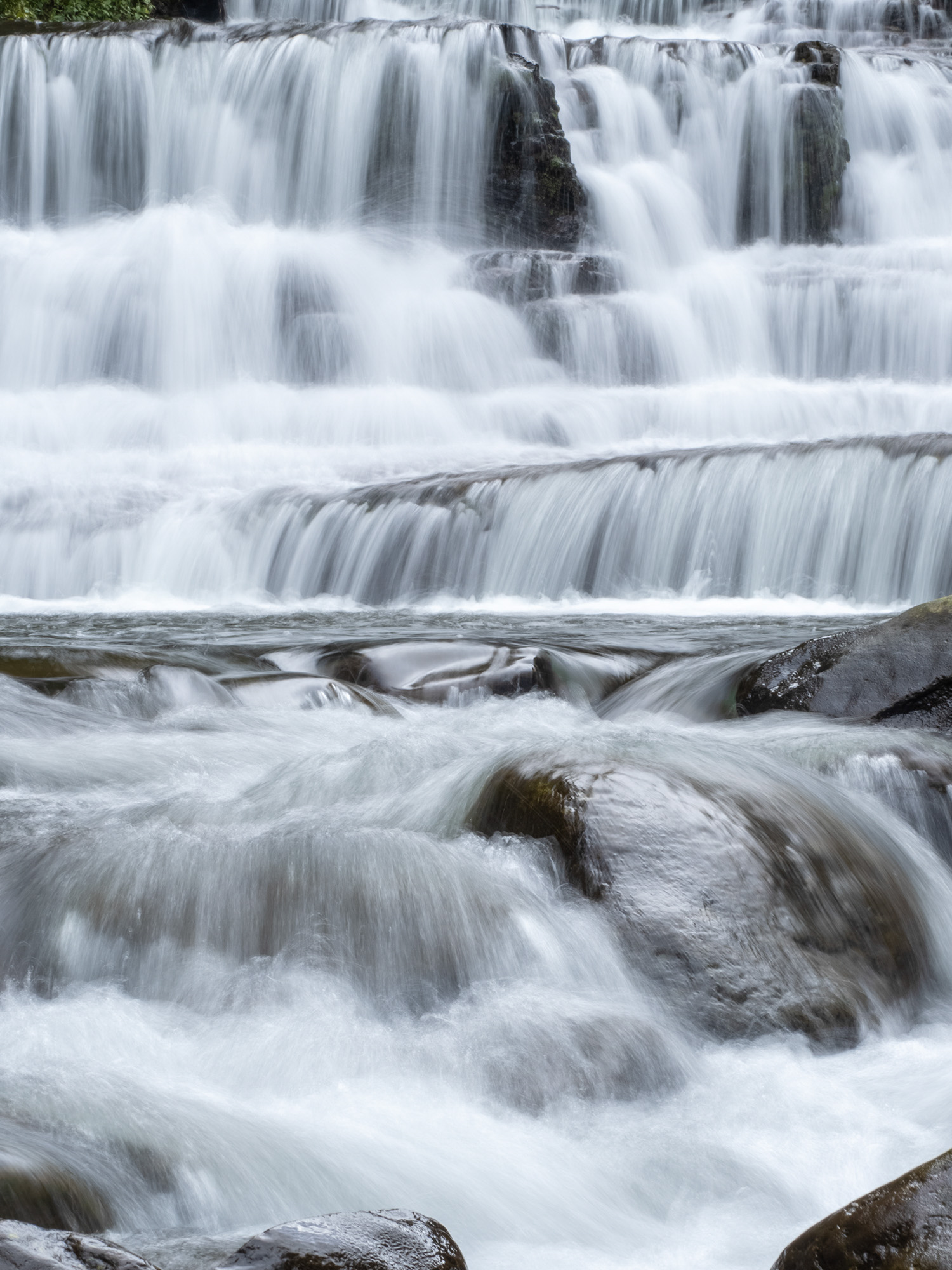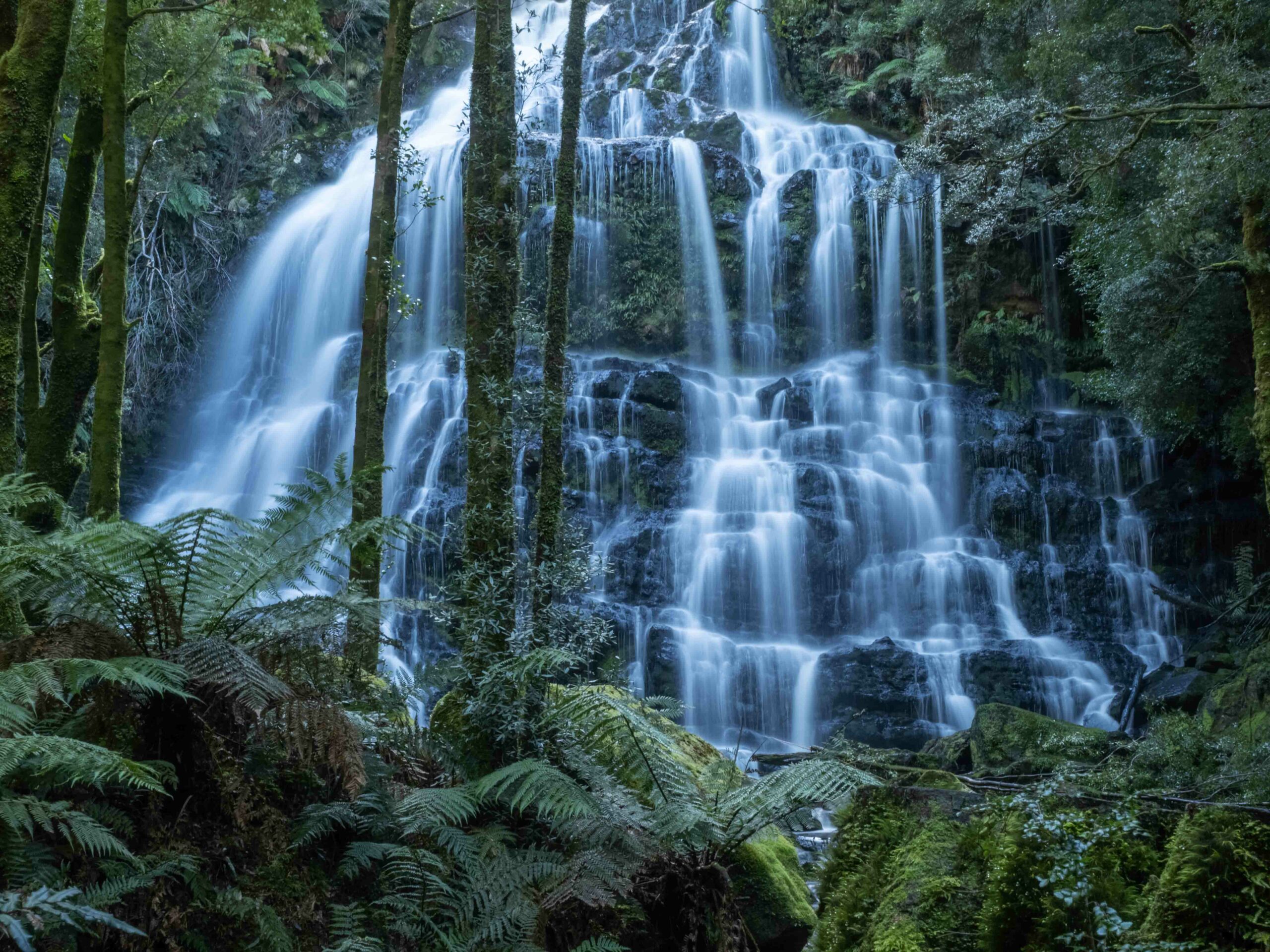 ---
Outback Aerials – Uluru, Northern Territory
Aerial photography has always been a major passion of mine, I've been hooked since I first flew over the Great Barrier Reef back in 2009. Gazing down upon the patterns and colour palettes from above has inspired so many of my favourite photographs, and this Australian road trip included three scenic flights, a few less than intended due to weather conditions.
One flight took my breath away.

Departing Yulara Airport before dawn, we flew across the desert landscape of Australia's Red Centre as light gently filtered in from the east. A big bank of cloud on the horizon meant the initial few moments of sunrise wasn't visible as we flew above Uluru, but when it did appear, the glow was immense, meeting a thick fog and creating one of the most spectacular scenes I've witnessed.
Circling above Kata Tjuta to the west of Uluru, the light was incredibly photogenic with strong rays shining between the domes of this sacred Anangu Aboriginal site. You can read more about the Anangu culture here. Onward further north, the sunrise was allowing the many colours of Lake Amadeus to be revealed, with the largest salt lake in the Northern Territory providing the chance for some minimal aerial landscape images.
Pairing the OM-1 with the 40-150mm f2.8 pro lens for detail shots, I also had the E-M1 MKIII and the 12-40mm f2.8 pro lens around my neck as we flew in a doors off helicopter. I never want to miss an opportunity when flying and always have two camera bodies + 2 x lenses to ensure I can cover a variety of focal lengths in a single flight. This gear is ideal for low light conditions in addition to being nice and compact so I can easily alternate between the two cameras mid-flight.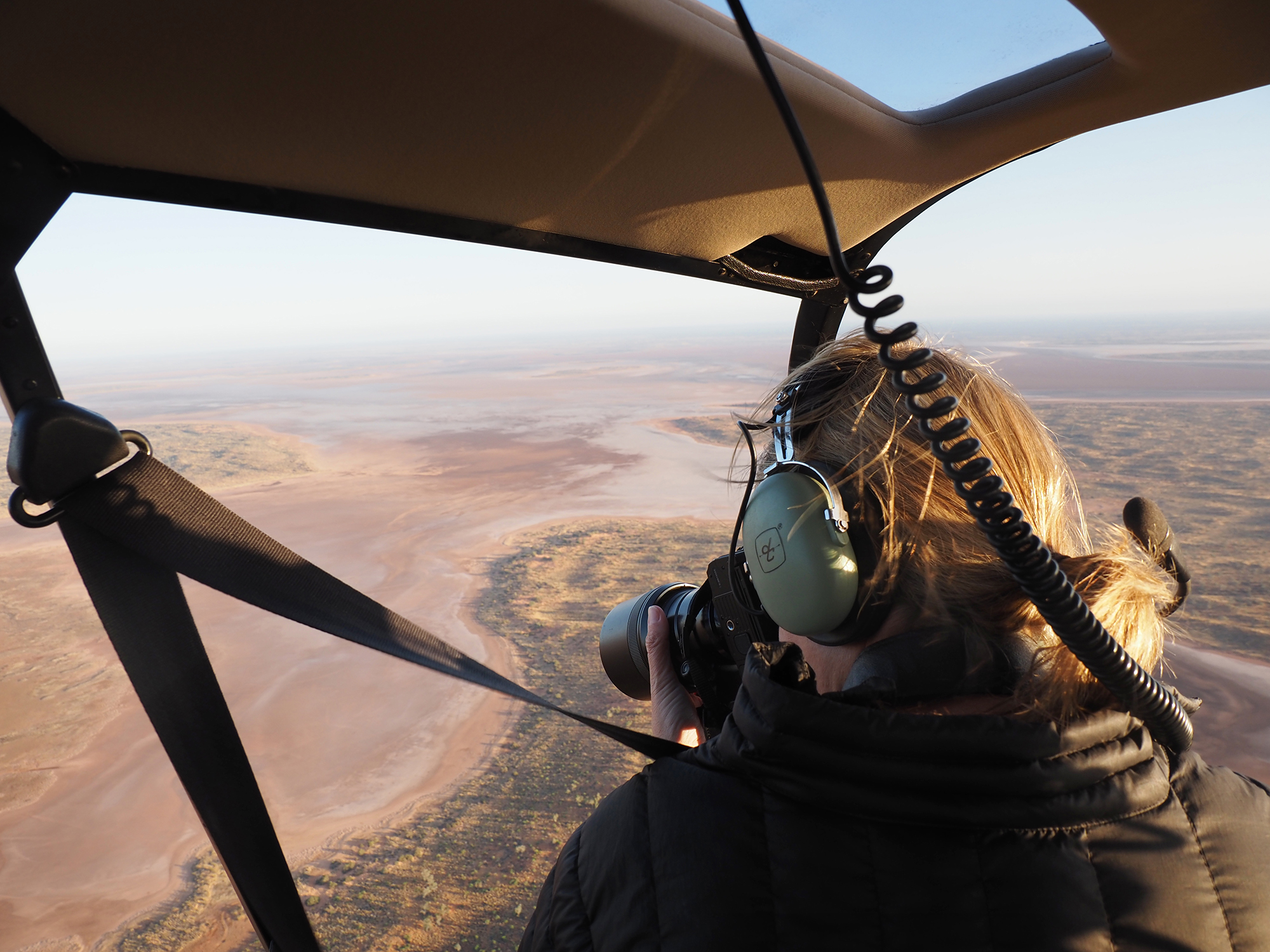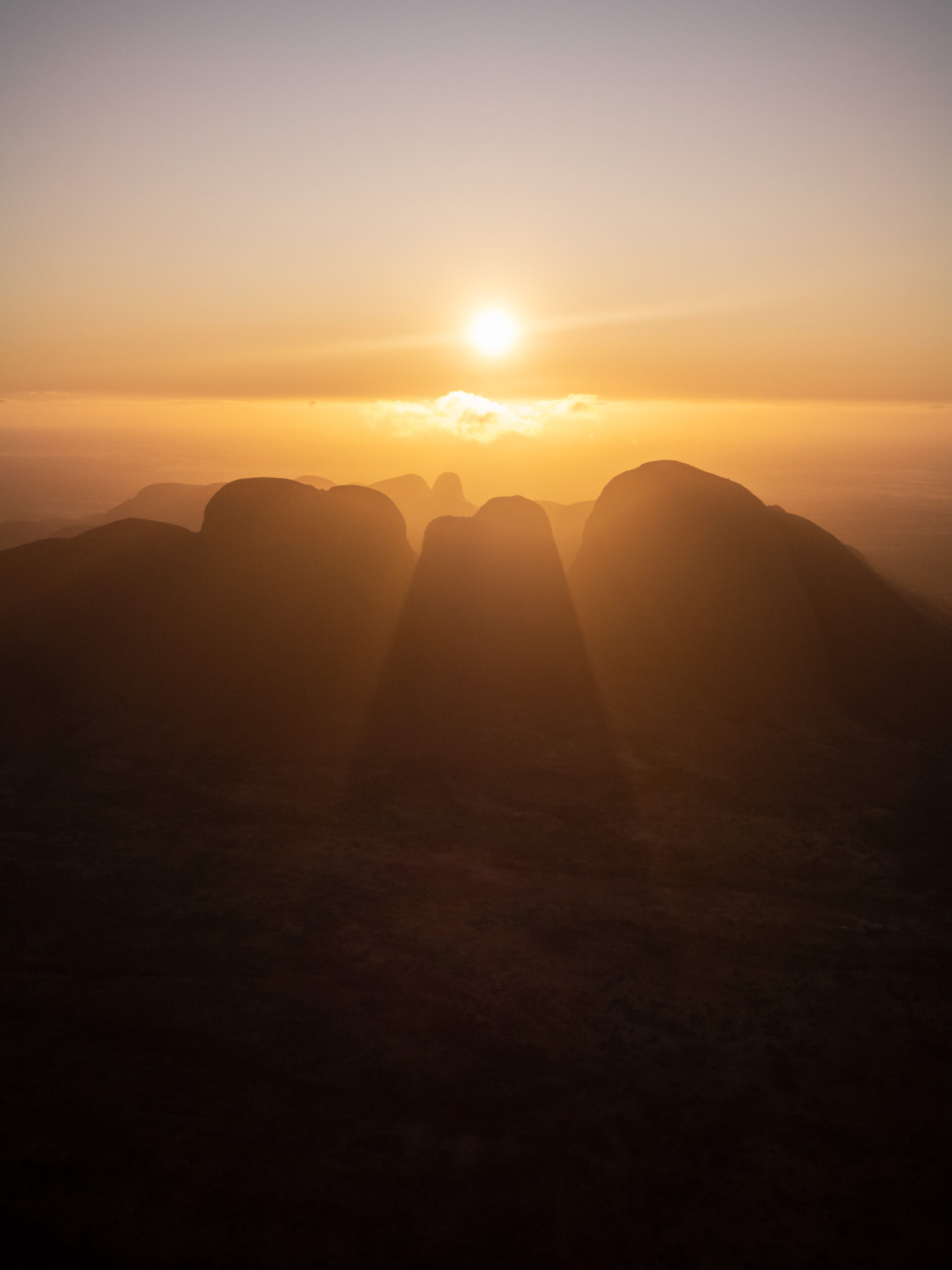 ---
Sand Dunes – South Australia's Eyre Peninsula
Sand dunes are a landscape I could photograph for the rest of my career and be one very happy gal. Having photographed the Namib Desert in 2019, I wasn't expecting to be wowed by the dunes on my list in Australia, but wow was I wrong.
The South Australian coast is vast, isolated and littered with pockets of the most beautiful sand dunes. While I had a few national parks on my list, we actually skipped these and instead opted to wander down any road that led to our Google Earth discoveries.
While driving from Port Lincoln to Streaky Bay on the Eyre Peninsula, we could see dune peaks in the distance and pulled over to see what we were close to. A quick Google Earth search revealed Sheringa Beach, where dunes are nestled between a lagoon and the beach. The best part? We had the entire place to ourselves.
Dressed in jeans and a jumper, I didn't want to change and miss the sunlight, so we went exploring with no idea they'd continue for miles. A little tip, sand dune and jeans aren't a great mix!
Anyway, back to the point, I spent two hours lying in the sand, getting as close as possible to the textures with the OM-1 to ensure I could compose the scene before me and do it justice.
Once we arrived in Streaky Bay, another set of dunes were on my radar, the Yanerbie Sand Dunes, just 10mins from town. I'd planned to visit for sunset and they didn't disappoint. With a similar setting to Sheringa, we spent the first hour flying the DJI Mini 3 Pro, then captured shots of the pastel sky with the OM-1.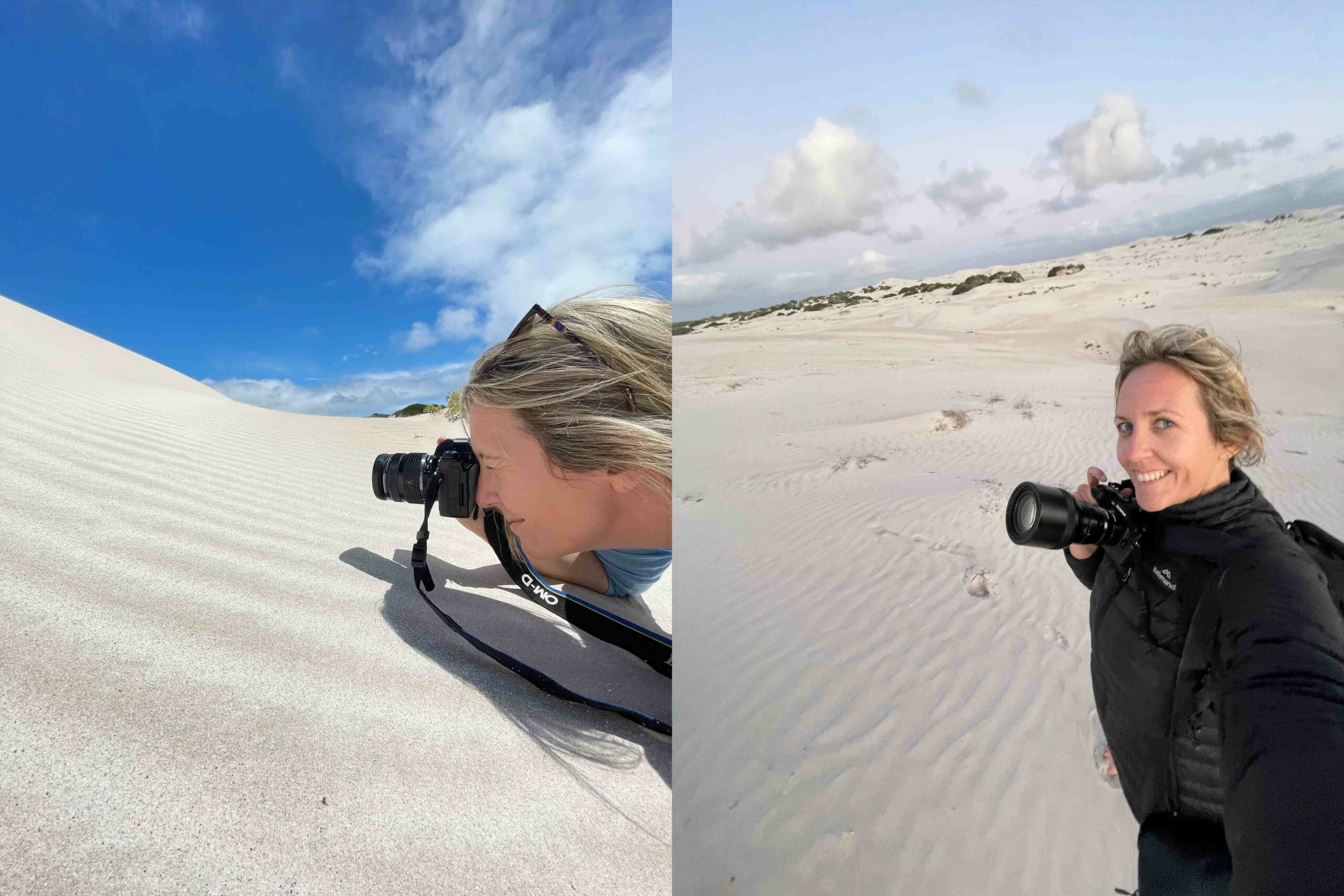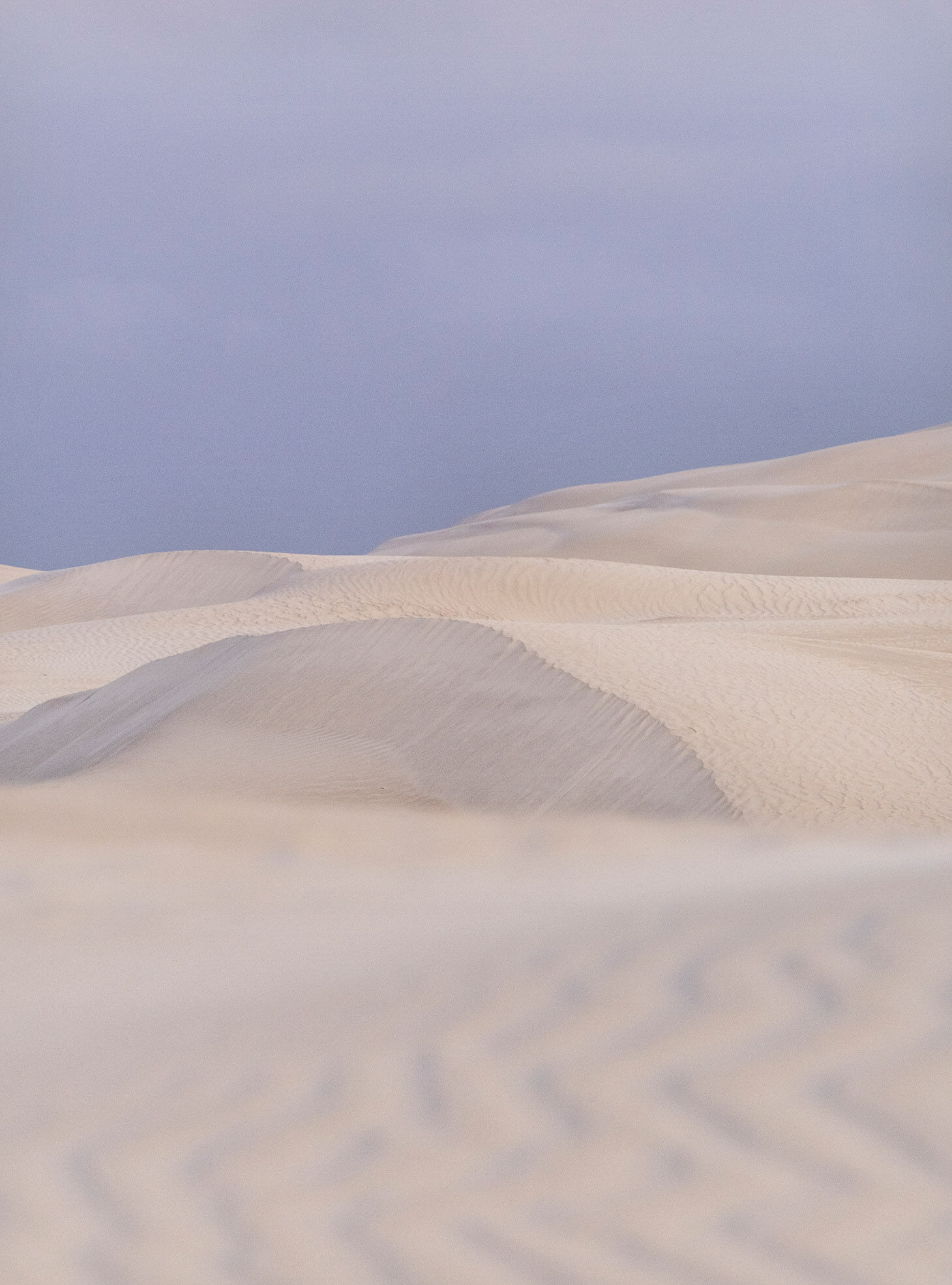 ---
Sandstone Patterns – Broome, Western Australia
When mapping out locations to include in this book project, the Western Australian coast was second on my list to Uluru and the Red Centre. I'd previously photographed from Perth to Exmouth and knew how stunning and diverse the scenery and colour palettes were, but the far north had always intrigued me.
The Kimberley Coast and landscapes of Broome are known for their vibrant colours. From red sands and desert scenes to turquoise tropical seas and sandy inlets, it's like a tropical island but one side is ocean and the other desert…with no end in sight.
While I chartered a helicopter to capture the landscapes from above (which were beautiful!), it was the sandstone rock patterns at Gantheume Point that kept me occupied for hours at sunset, three days in a row!
Known as one of the best locations to see dinosaur footprints, the point features vibrant red rock cliffs and layers of sandstone, some broken up and jagged, others flat and revealing some incredible patterns.
One area, tucked closer to the sea behind the main viewing spot, had me happy dancing when I saw how the images were turning out. Wasting no time, I switched the OM-1 to handheld high-resolution mode and set about taking 50MP images to ensure I captured as much detail within each image as possible.
*Just to note, if you're using a tripod the high-resolution mode is 80MP, but as I'm always preferring to shoot tripod free, the 50MP handheld shots are so amazing and more than enough!
Take a peek at some of the crazy colours and patterns hidden within the sandstone layers.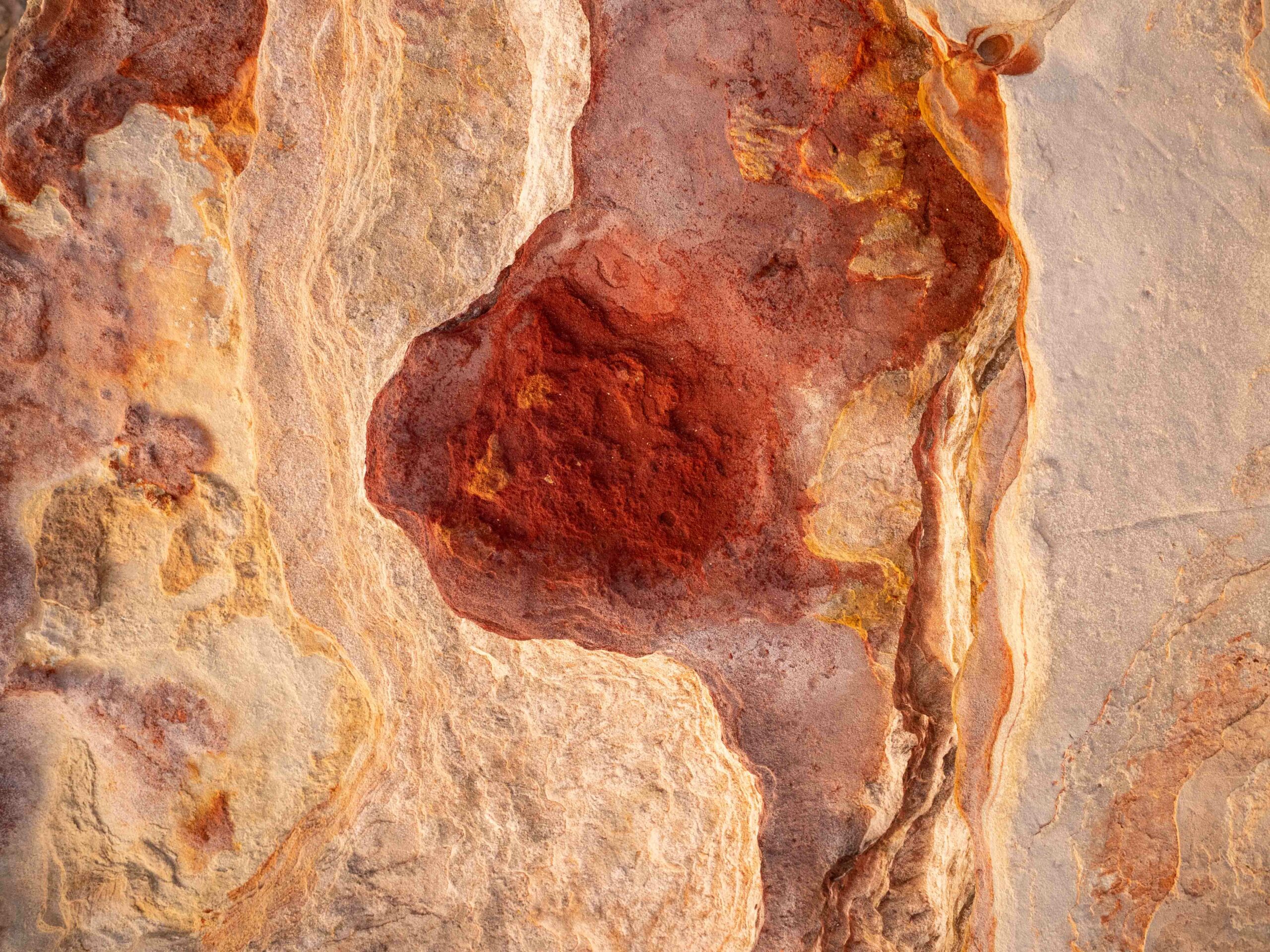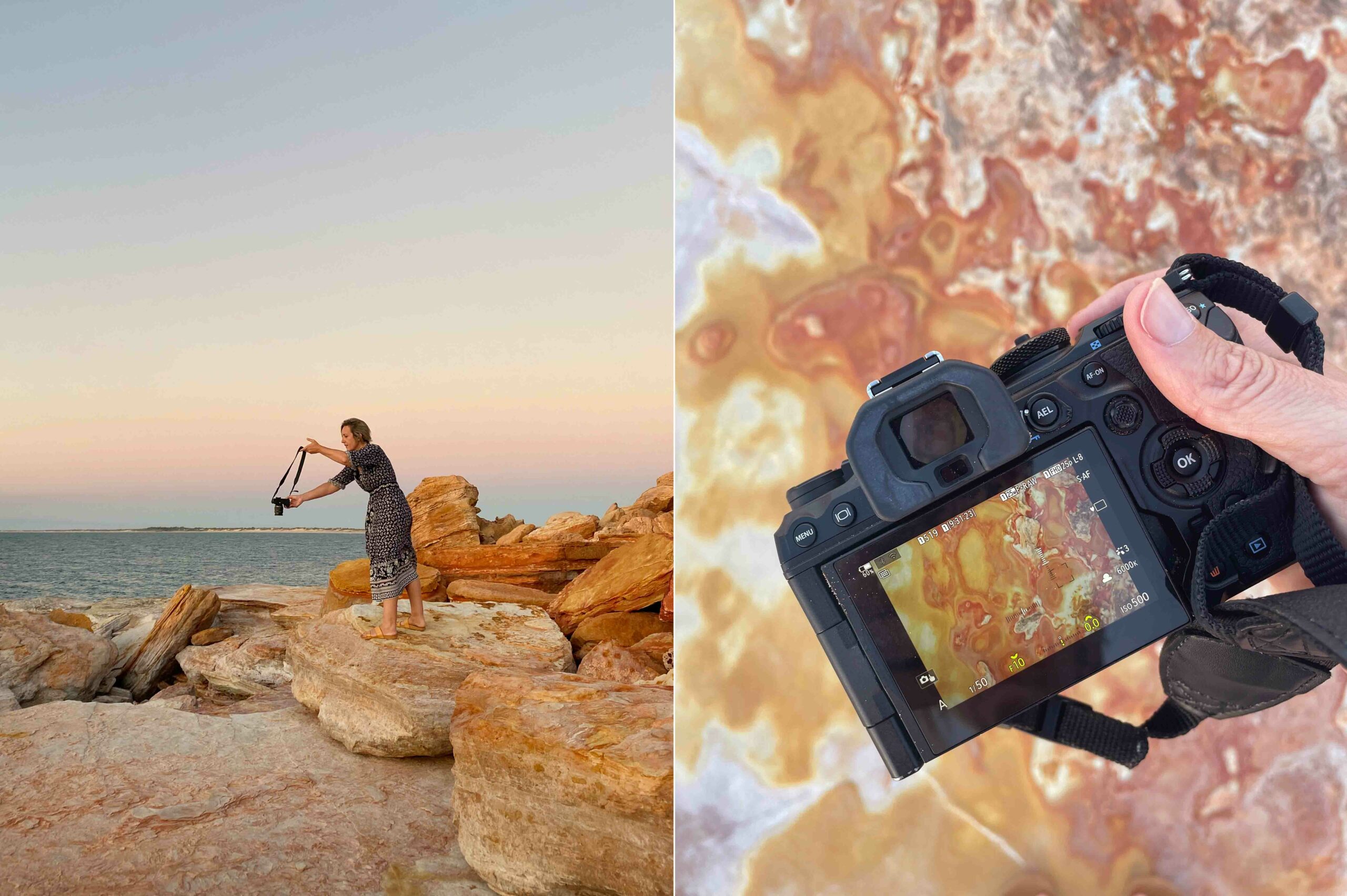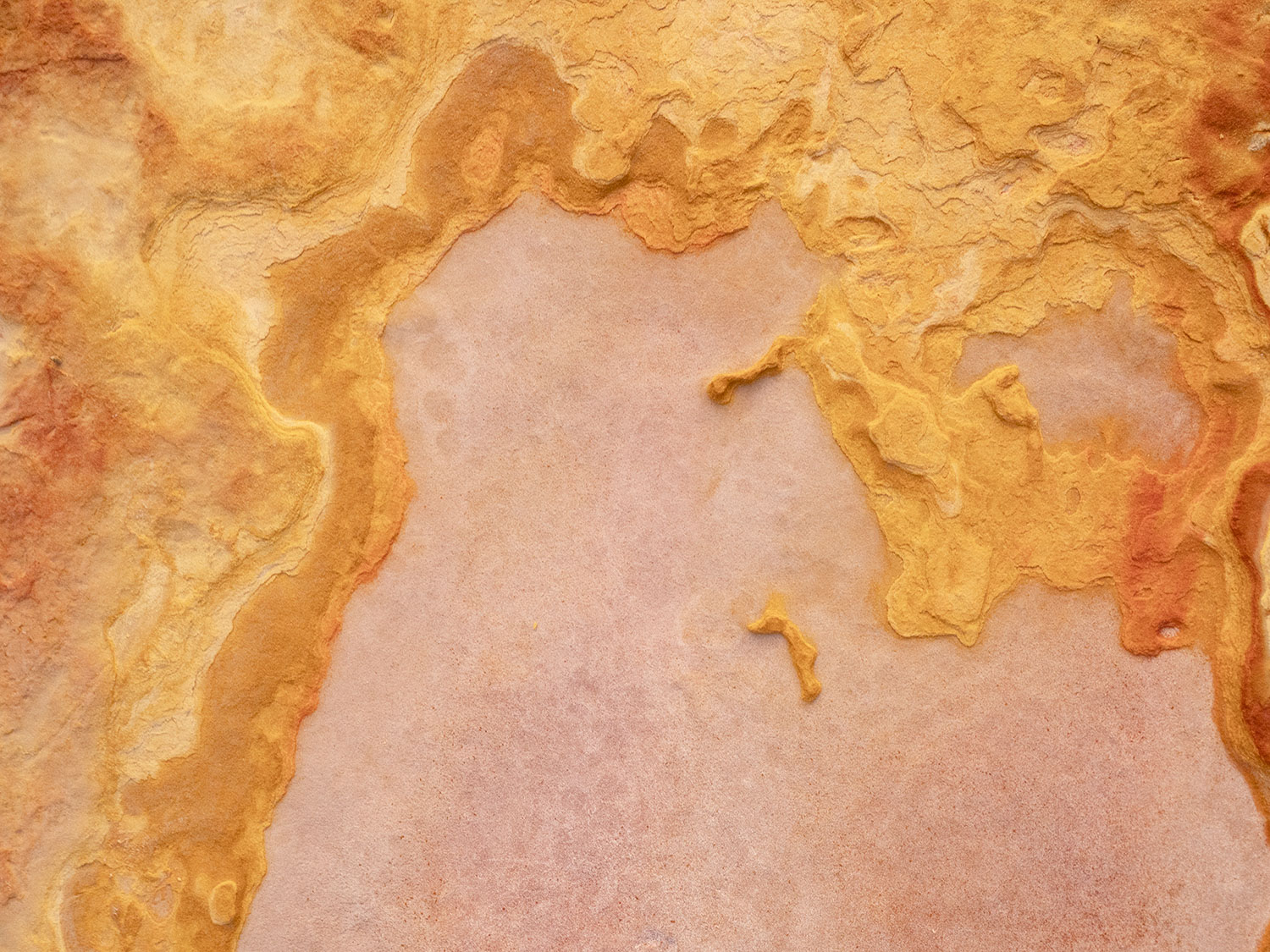 I'll be sharing more insights and imagery from my time travelling around Australia soon. It's been such an adventure to see so much of my home country in such a short space of time and it's taking a while to sort and get my head around just how much we've seen and photographed!
Lisa 🙂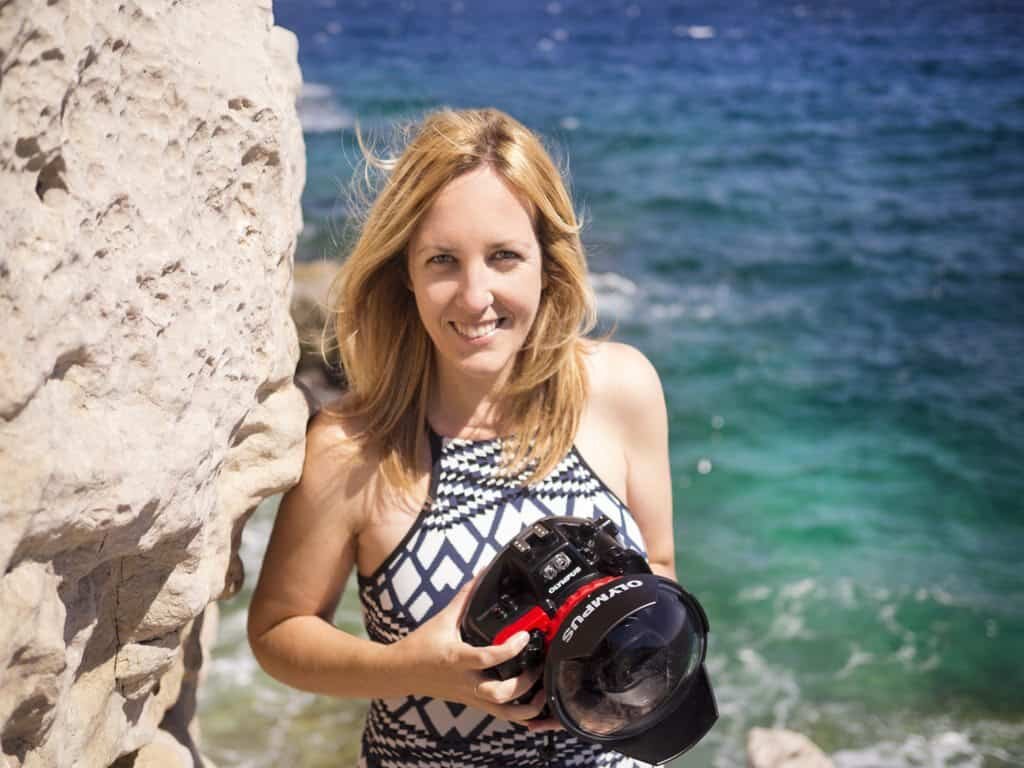 Hello! I'm the founder and photographer behind The Wandering Lens.
With 17+yrs experience as a professional travel and landscape photographer, all advice found on this site is from my personal experience on the road. I hope it's useful for your own travels and would love to hear in the comments about your trips and experiences around the world.