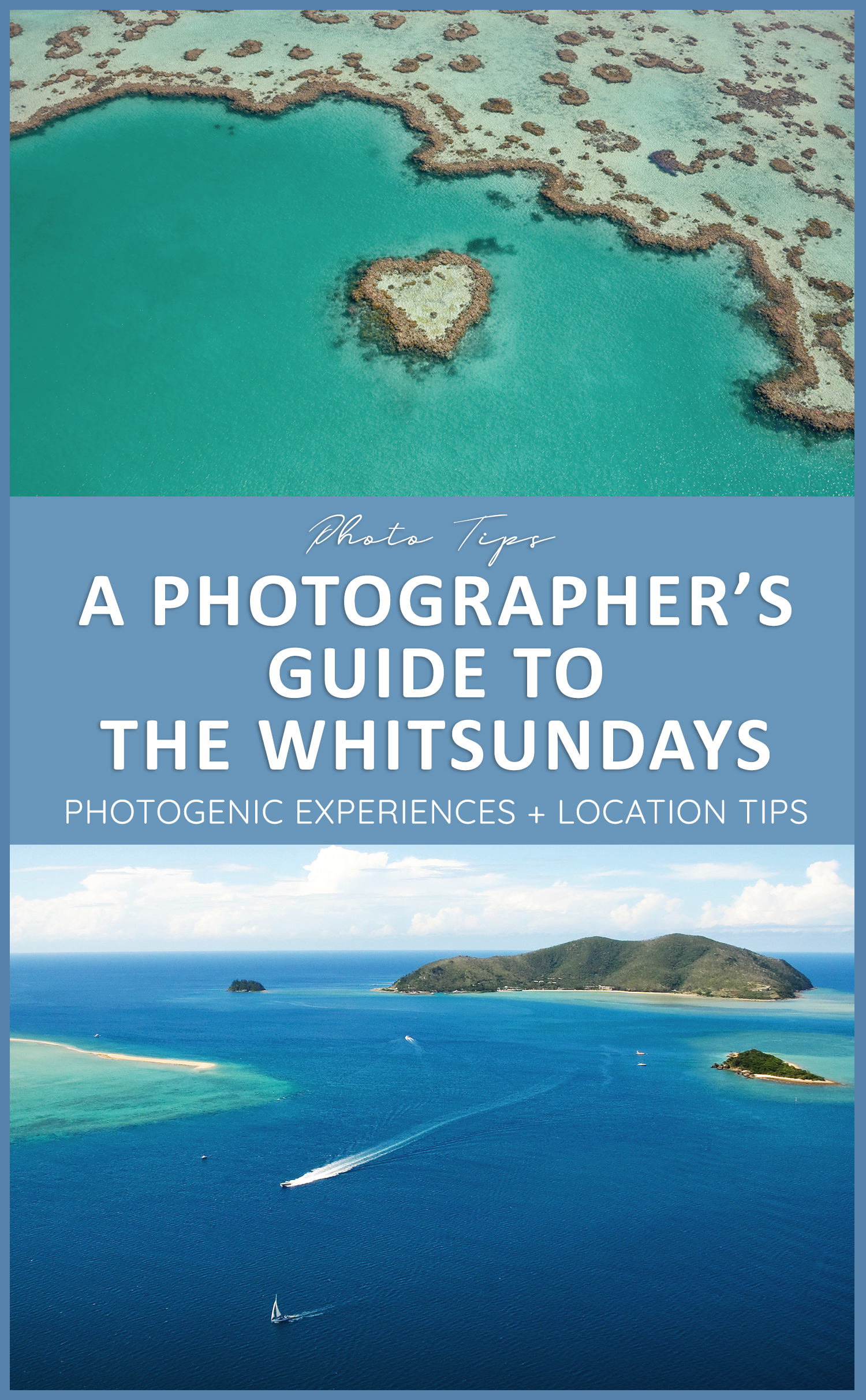 In the calm waters of the Coral Sea, a collection of 74 Whitsunday islands await visitors with their fish filled waters, snorkelling hot spots and lush coves aplenty ready for sailors to float on in.
The magical Whitsundays were first visited by Captain Cook in 1770 when he noted 'Indeed the whole passage is one continued safe harbour,' on the morning of Sunday, 3 June. Its sparkling seas are now infamous for the annual Hamilton Island Race Week and of course for tourists travelling on boats, seaplanes, helicopters and kayaks as they explore the endless dive and swimming locations amongst the myriad of islands.
For photographers, the reef formations, vibrant underwater world and sandy shores offer a playground of opportunities to take that perfect tropical landscape shot. Having lived on Hayman Island for five years I've used these special spots over and over again in all seasons and can safely say you won't leave the Whitsundays without your own series of amazing photos.
This destination guide is my way of sharing one of my favourite places in the world, a collection of photogenic experiences and locations for you to visit whether you're staying in Airlie Beach, Hamilton Island or sailing around and sleeping under the stars.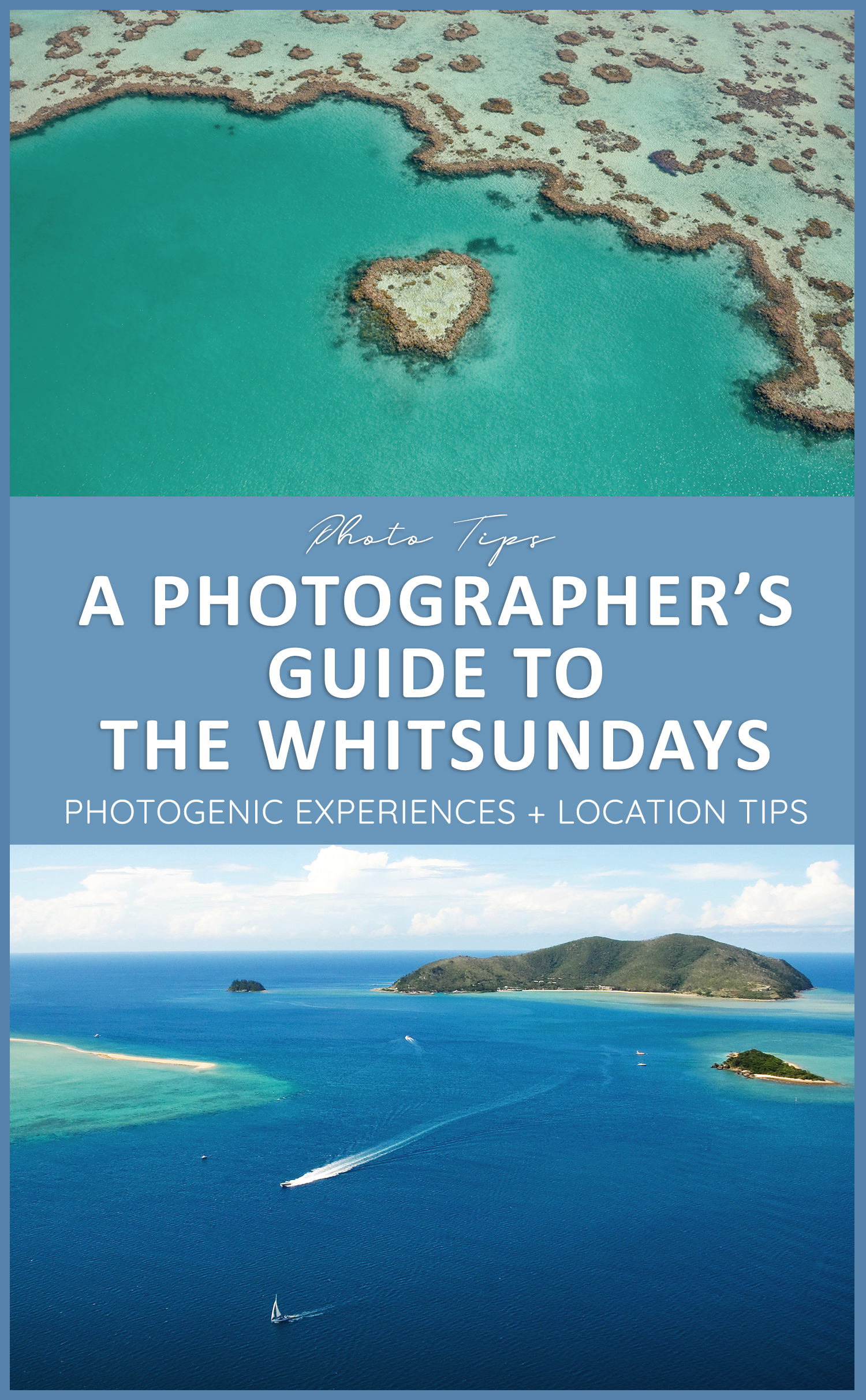 ---
Map: Whitsunday Islands + Photography Locations
Below is a map to some of the best photography locations in the Whitsundays, then continue scrolling to read in a little more detail about each spot.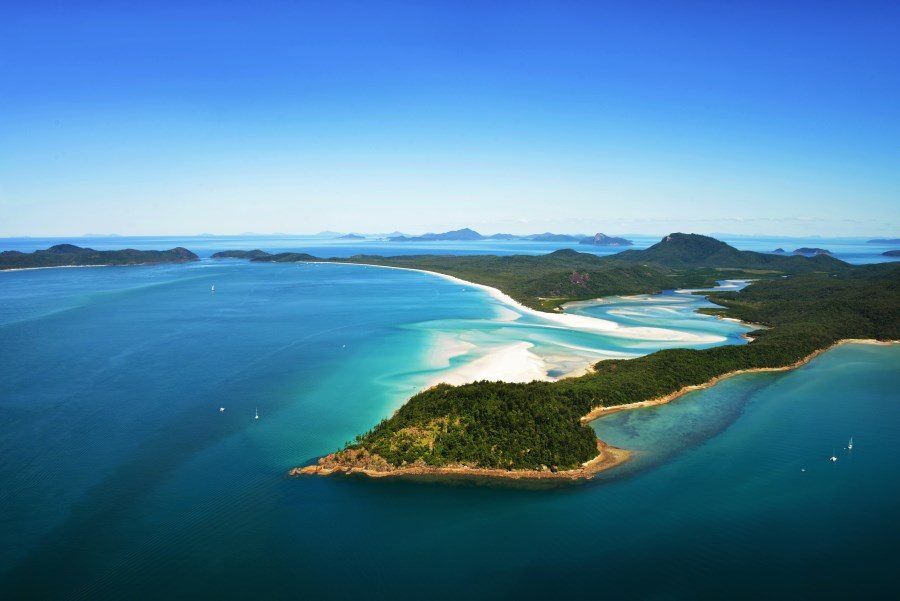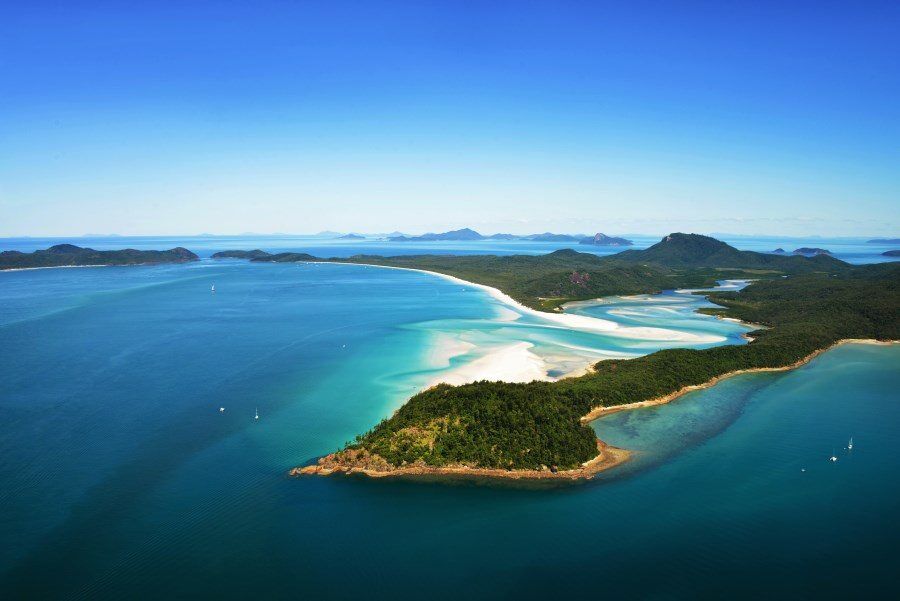 Top Photography Locations in the Whitsunday Islands
#1 Hill Inlet, Whitehaven Beach

Coordinates 20°14'55.2″S 149°01'28.7″E
Located at the northern end of one of the most famous beaches in the world, Hill Inlet is an ever-changing swirl of sand that visitors can't get enough of. On a high tide you'll find bright blue water winding through the white silica sand shoreline creating what looks like a painting mother nature conjured up in a dream.
Hill Inlet is best photographed from the air whether it be in a helicopter or seaplane however there's also a very handy viewing platform located on a hill above Tongue Bay. The platform provides a stunning view across the inlet allowing a vantage point from east to west and plenty of space to share with other people or find your favourite angle.
Getting Here: The best way to see Hill Inlet is from the air with Air Whitsunday Seaplanes or helicopter, there really is no comparison to that first sight from the sky. Otherwise, the viewing platform still offers an amazing view and you can take a day tour with Red Cat Adventures who drop you on the beach of Tongue Bay and you can then walk up to the lookout. When travelling with Red Cat Adventures you'll also get some beach time to soak up the sand swirls and clear shallow waters of Hill Inlet.
Photography Tip: If you can get an aerial view it's usually pretty quick so be ready with your camera settings. Opt for a fast shutter speed so your shots don't blur with the movement of the plane! When photographing from the lookout you can get really creative with the composition of the sand patterns so be sure to get a wide shot then seek out alternate compositions within the landscape.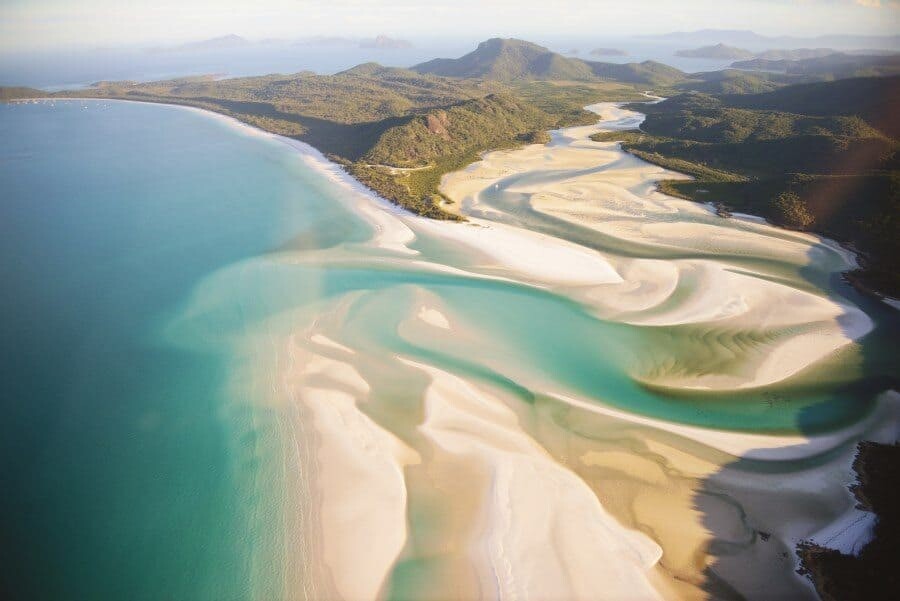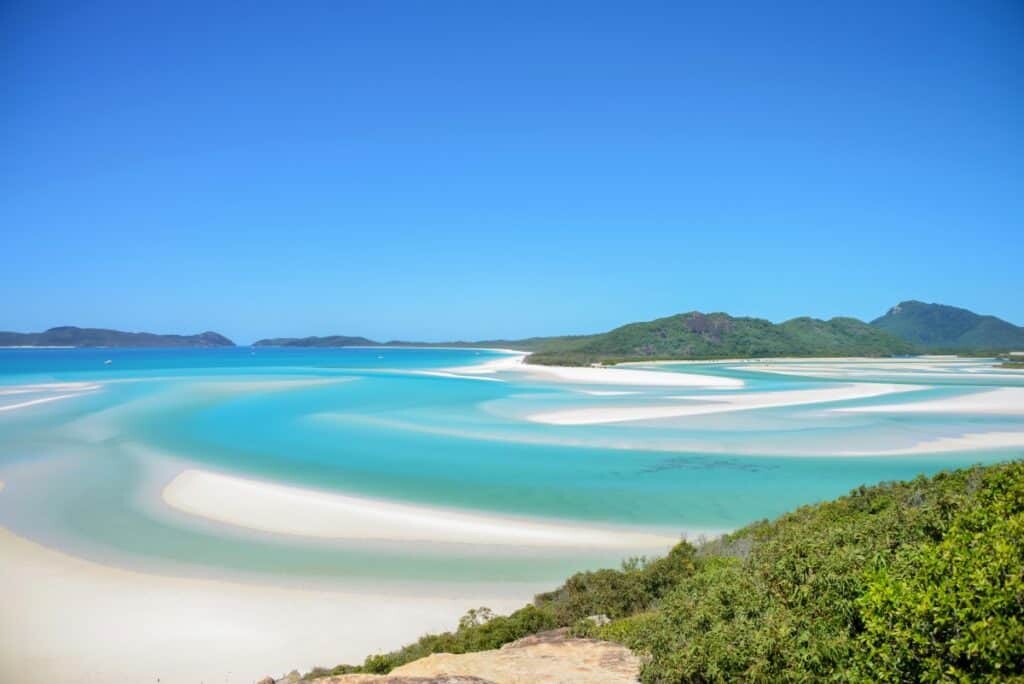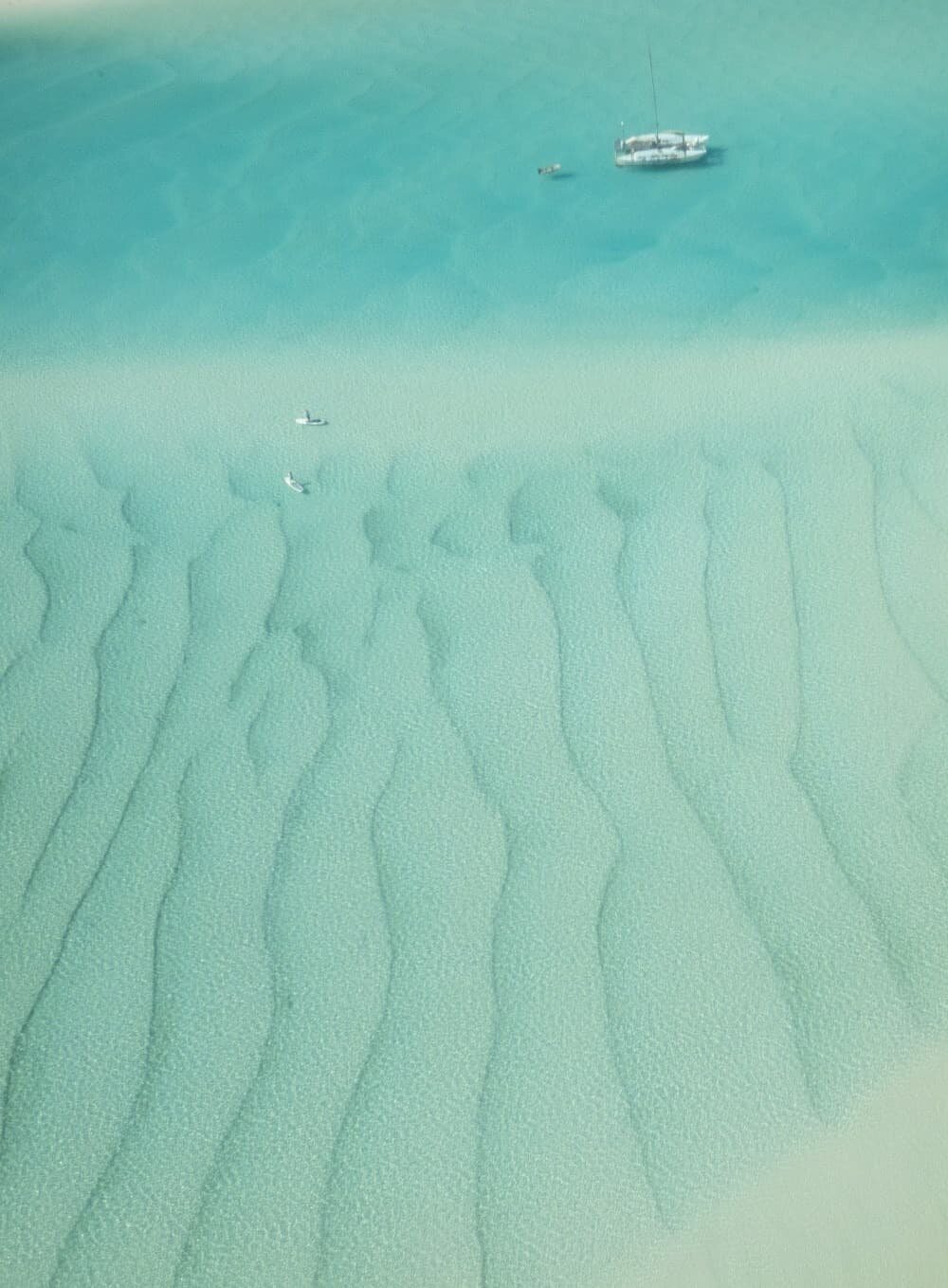 ---
#2 Hardy Reef
Coordinates 19°44'57.1″S 149°12'26.4″E
Just a tiny spec in the grand landscape of the Great Barrier Reef, Hardy Reef sits off the coast of Airlie Beach and the Whitsunday Islands. It's similar in comparison to other reef lagoons except for one special little coral formation…Heart Reef. This chunk of coral sits within Hardy Reef lagoon in the perfect shape of a love heart, you can't really get more photogenic.
When flying over Hardy Reef you'll also pass Bait Reef and Barb Reef offering you a chance to test your settings before you arrive to the show stopper. Keep an eye out for the big deep channel which provides a stunning contrast to the shallow turquoise coloured reef sections.
Heart Reef Tip:
If you're flying with Air Whitsunday seaplanes, the pilot will count you down so you've got time to get ready before you can take a photo of Heart Reef. Remember to compose the shot with surrounding reef formations and if you've got time, zoom in, zoom out and try to capture as many angles of Heart Reef and the lagoon around it as possible!
Getting Here: Again, the air is my tip for seeing this landscape in its complete grandeur. Obviously a helicopter or seaplane is your best option but if they're out of your budget, an alternate way would be to take a day trip from Airlie Beach or Hamilton Island with Cruise Whitsundays to the reef pontoon, have a snorkel and then take a 10minute scenic flight from the pontoon. The helicopters are on stand-by waiting for visitors who want to see the reef from the air so it's a great opportunity to see the spectacular scenery both underwater and over water!
Photography Tip: Be sure to check your white balance when photographing the reef from the air. If you need to add a little more oomph to the vibrance, switch to 'cloudy' mode and see what the results are. If you find it's too warm still, stay on sunny or auto and snap away at the contrasts between the deep blue ocean and shallow reef pockets.
For more tips see Photographing Aerials of The Great Barrier Reef.

---
#3 Airlie Beach Coastline
Coordinates 20°16'17.3″S 148°43'28.2″E to 20°16'22.1″S 148°41'48.0″E
Don't make the mistake of basing yourself in Airlie Beach and not exploring some of the beautiful spots the mainland has to offer. In downtown Airlie Beach wander around to the foreshore to photograph yachts floating in the turquoise coloured water or frame your landscape images using one of the many palms that line the path.
Further along there's Boat Haven and the Port of Airlie, the marina here is really photogenic, not to mention the Boathouse building with its tropical white shutters and lush gardens. This is actually a great place to stay, the Mantra Boathouse Apartments offer views across the marina meaning you can wake up and watch the sun rise over Mandalay to the east.
If you've got a few hours to spare, the foreshore walk from the Port of Airlie all the way around to Cannonvale provides a number of scenic photo spots. There's the Airlie Beach Lagoon, Coral Sea Resort (just beside is a gorgeous little rocky bay), Abell Point Marina, Shingley Beach and then a boardwalk which wraps around the rocks towards Cannonvale and makes for a great subject to photograph.
There are some new spots that have opened recently, if you've got a car drive around to Northerlies Bar & Grill for amazing views looking back towards Airlie Beach. It's also a very cool place to spend sunset with outdoor lounges scattered along the beach, games, delicious food and live music.
Getting Here: If you're staying in Airlie Beach, most areas are accessible on foot. To have a bit more of a look around the area though, hire yourself a car and take a drive out to Cedar Creek Falls, Conway Beach (where tides go out for miles!), Hideaway Bay and Dingo Beach.
Photography Tip: Because the sun sets behind the mountains, if you're planning on photographing golden hour just be aware that you'll need to arrive a little earlier if you're hoping to capture some glow. Otherwise, photograph the anti-sunset and capture dusk colours as the fall over the islands in the distance.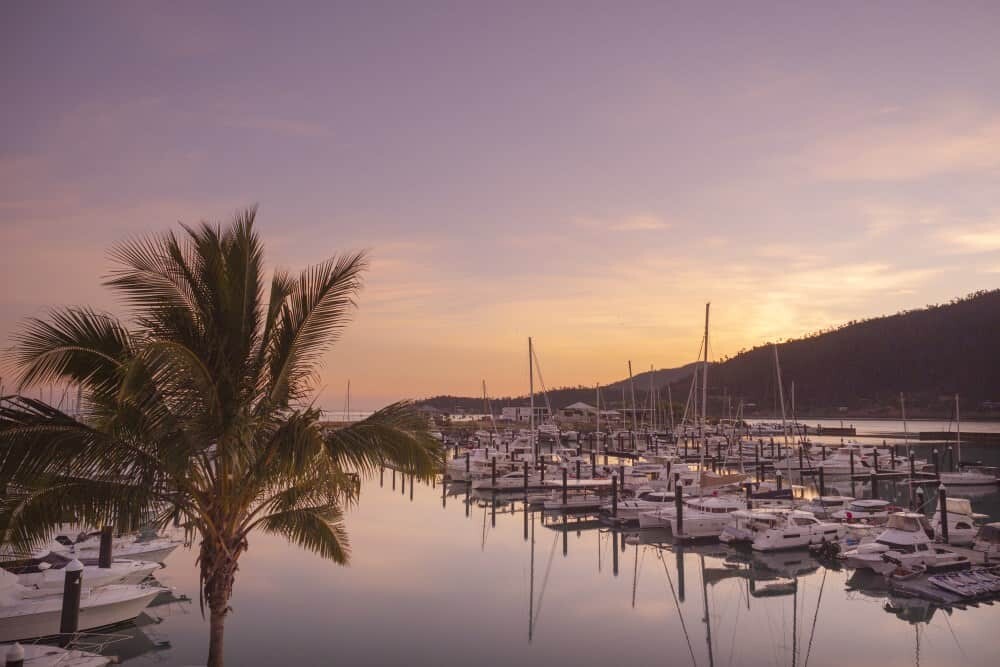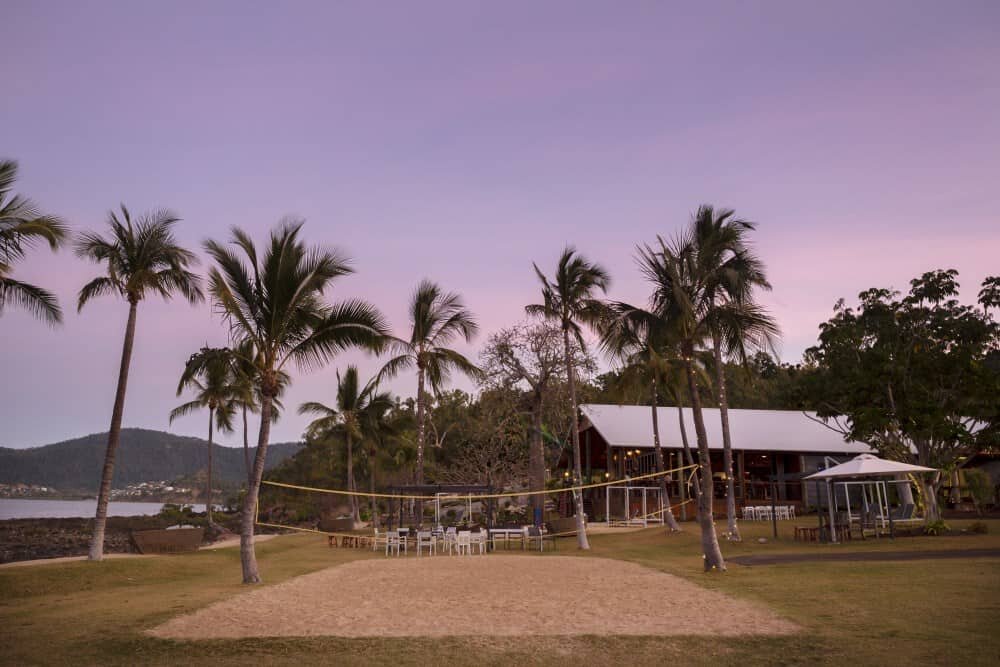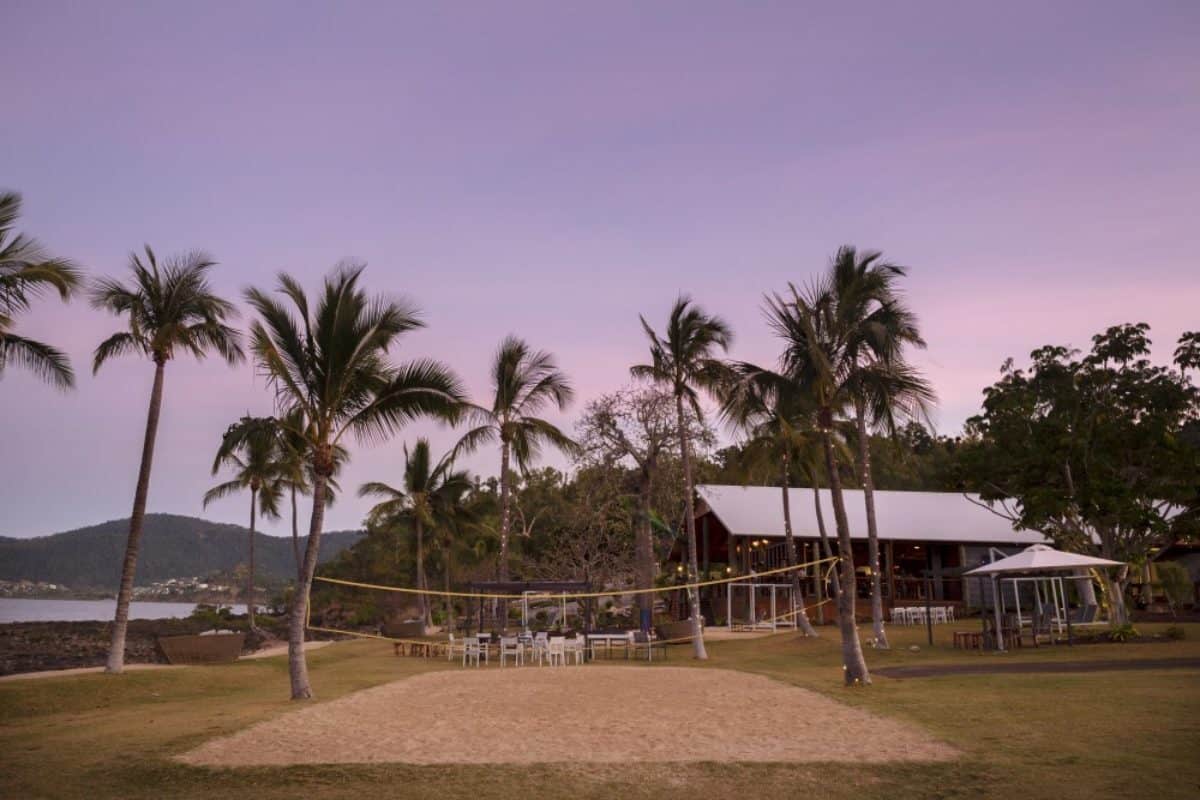 ---
#4 Hook Island
Coordinates 20°06'06.1″S 148°54'15.5″E
As the second largest island in the Whitsunday group, Hook Island is dotted with coral coves, rocky outcrops that jut into the clear waters below and marine life, plenty of it! Around Hook Island you'll find the peaceful Nara Inlet, home to aboriginal rock art and also apparently a great place for hammerhead sharks to bear their babies.
On the northern side of the island is Manta Ray Bay which is known as one of the best dive spots in the Whitsundays with underwater valleys and caves along with majestic Manta Rays and Maori Wrasse. Around the corner is Butterfly Bay which offers a calm cove for snorkelling and mooring your boat for a lunch stop.
Just opposite Hayman Island is one of Hook Island's most impressive features, Stonehaven. A giant rock face looms above a coral filled bay that provides a safe haven when the southerly wind is blowing and a great little spot to stay the night if you're on a boat.
Getting Here: Hook Island is best explored by boat, you can jump on board the Thundercat with Red Cat Adventures to snorkel in some of the spots mentioned above, or hire a yacht and take a few days to cruise around yourself. If your arms are up for it take it a step further and venture around on sea kayak with a company like Salty Dog.
Photography Tip: The rocky outcrops and giant pine tree forests around Hook Island make for a great contrast against the ocean. It's also a great location to try the half under/half over water photographs so you can capture the amazing reef and fish life in half and the beautiful rocky island scenery in the other.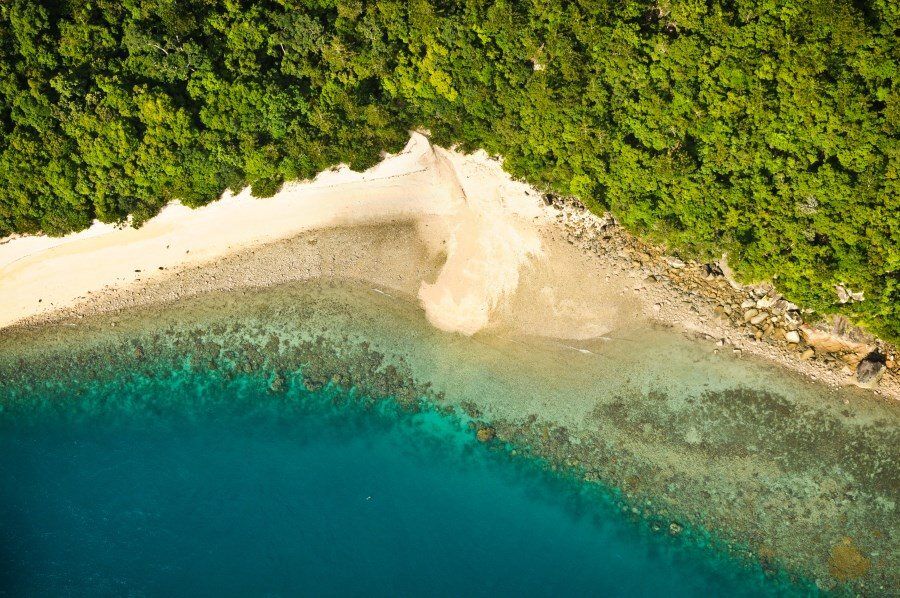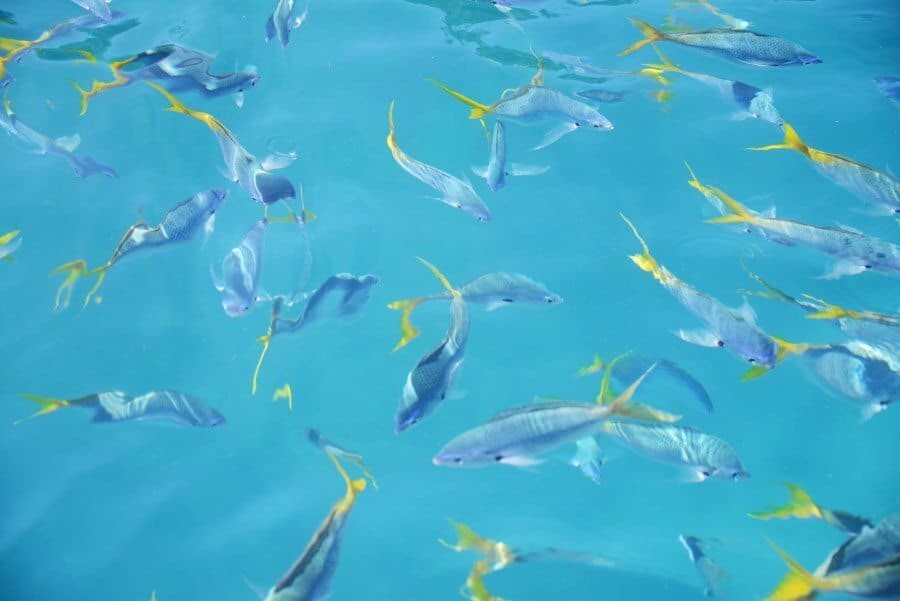 ---
#5 Langford Island
Coordinates 20°05'00.2″S 148°52'46.6″E
This single strip of sand is quite the impressive beach, a little bit like how most people imagine paradise minus the palm trees. One side is a shallow reef lagoon filled with sting rays and crabs while the other side of the sand bank is home to turtles, colourful reef fish (including Nemo) and a string of coral that will have you happily snorkelling for hours. On low tide you can actually access Langford Island which sits at the western end of the sand bank but the highlight of Langford is the sandy stretch that offers a wonderful contrast against the waters of the Whitsundays.
Getting Here: There are public moorings available along the reef in front of Langford so take a day trip from Airlie Beach, hire a yacht and drive yourself to this little gem. You can skip the water all together and jump in a seaplane or helicopter and fly over it to experience the colours and contrasts of this ultimate beach destination too. Actually if you're doing a scenic flight to the reef from Whitsunday Airport you'll no doubt fly straight over the top!
Photography Tip: The reef of Langford hugs closely to the sand bank so it's a great opportunity to photograph the texture of the coral against the sand and blue sky with a half/half underwater shot. Otherwise, if you've got a few hours to explore Langford try to improve on the typical beach shots by lying on the ground and getting a unique perspective of the fringing waters.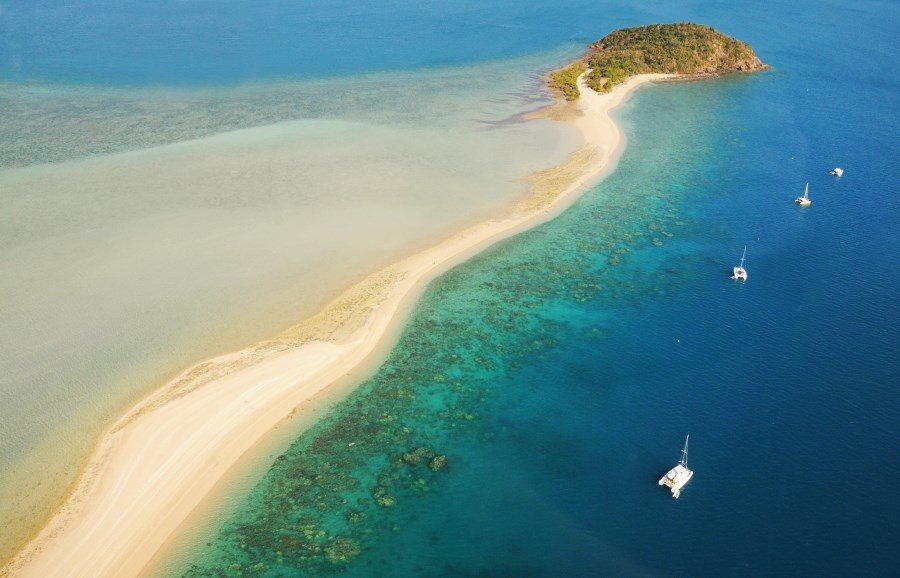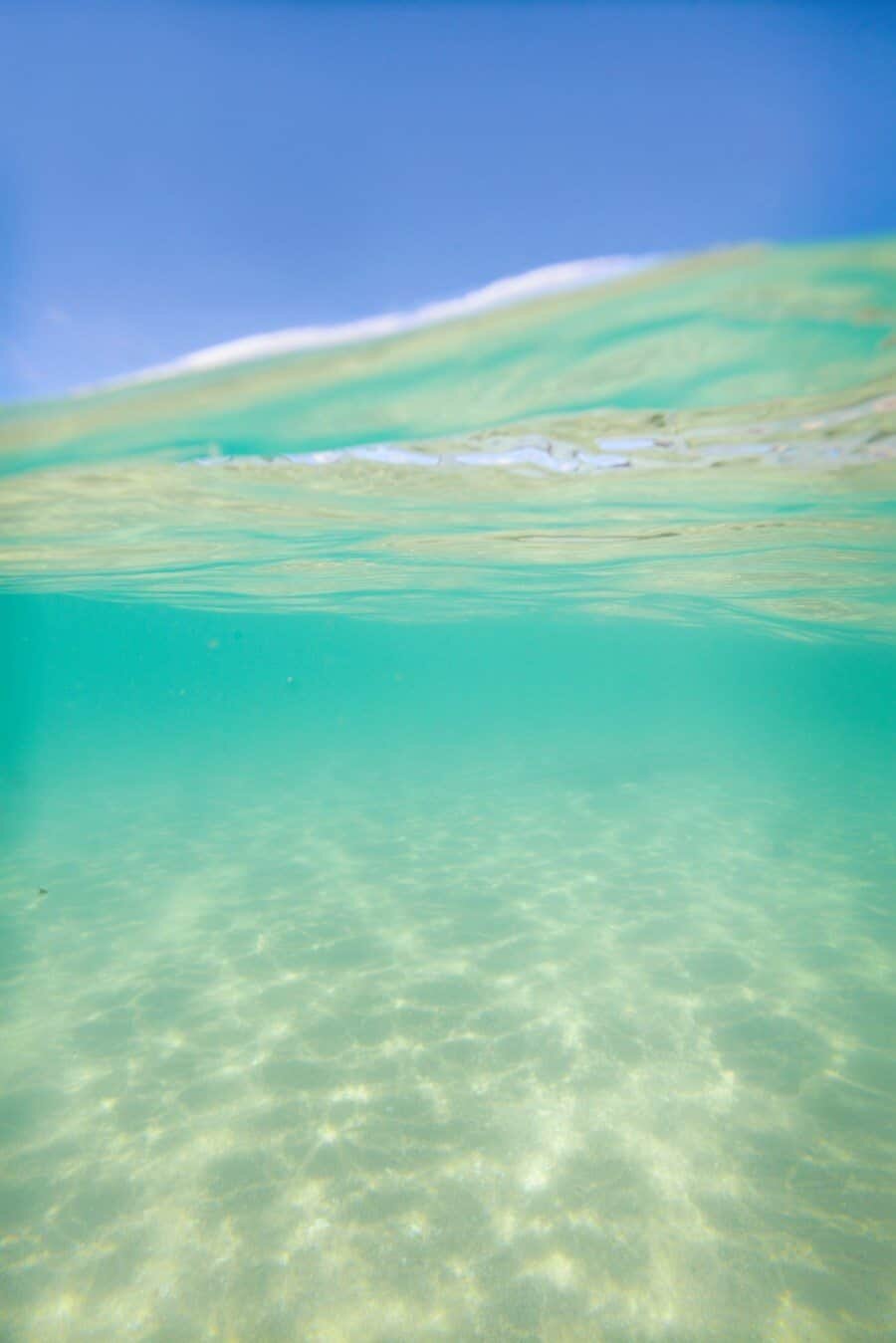 ---
#6 Hamilton Island
Coordinates 20°20'47.1″S 148°57'27.3″E
Catseye Beach is one of the most iconic scenes in the Whitsundays thanks to the popularity of Hamilton Island. You can fly direct to Hamilton Island from a number of major cities along Australia's east coast meaning it'll only take a few minutes to get from plane to deck chair.
You can opt to stay on Hamilton in holiday homes, apartments or the luxurious qualia however if you prefer to base yourself in Airlie Beach, it's also possible to simply do a day trip with Cruise Whitsundays. Jump on board a boat around 8am and by 9am you'll be arriving to the photogenic marina where cafes and stores line the lush boardwalk.
Over the hill are where the views await though and for photographers, be sure to hire a buggy so you can cruise on up to One Tree Hill lookout for incredible views over the Whitsunday Passage, Whitsunday Island and back towards Hamilton Island and Catseye Beach.
While on Hamilton you can chill on the beach or get adventurous with a hike up to Passage Peak for views over towards Pentecost Island and beyond. It's roughly 1.5hrs one way and if you're like me, up is a lot slower than down so allow for about 2.5-3hrs all up.
Getting Here: Either fly direct with Jetstar, Qantas or Virgin Australia and land at Hamilton Island Airport. Otherwise if travelling from Airlie Beach you can take a Cruise Whitsundays vessel which depart at various times throughout the day. Check the Cruise Whitsundays website for current departure times for Island Escapes.
Photography Tip: Nothing beats sunset from One Tree Hill and there's also a new cocktail bar at the top. Don't forget to take your underwater camera too, the reef at Catseye Beach is known for it's turtles so offers a great chance to photograph the marine life of the Whitsundays.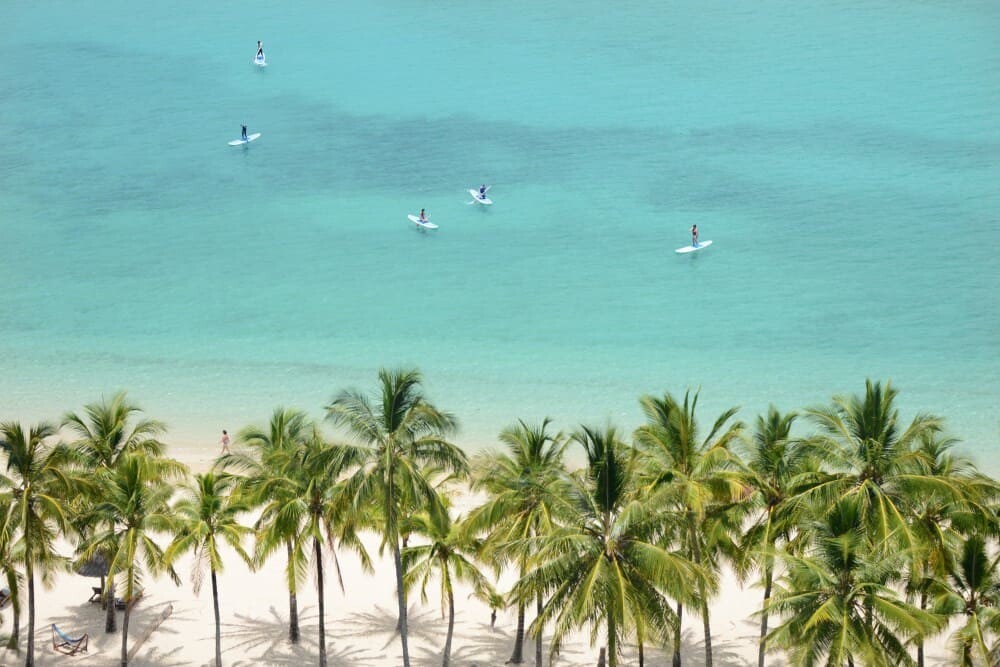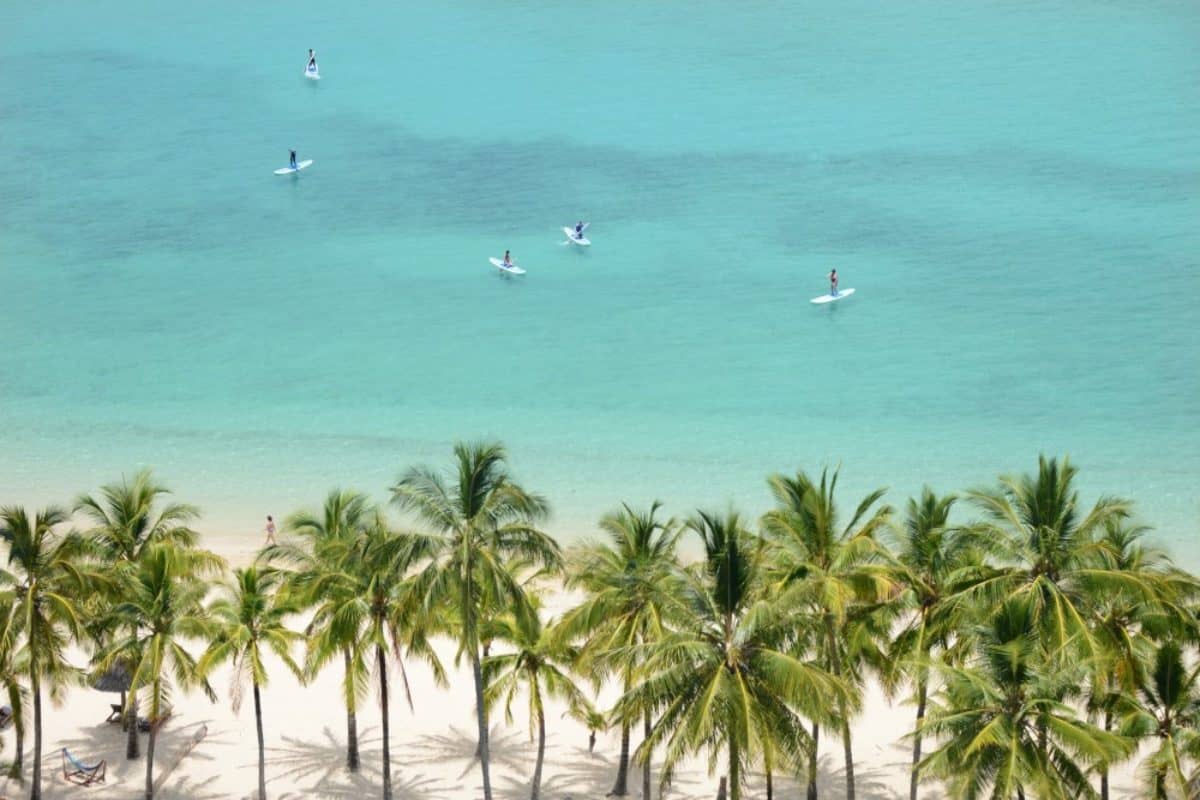 Other photogenic spots in the Whitsundays include…
Maher Island – located within the Lindeman Island group which is found South of Hamilton Island, Maher is an untouched wilderness offering those sailing with one very special feature. There's a section of beach which wraps around and a blowhole appears from underneath the headland…a little tricky to explain but something well worth the trip down to see in good weather! Take a peek at The Sailing Yogi's article for more information and a video, you'll see why it's worth visiting!
Mandalay Point – just outside of Airlie Beach, Mandalay provides a great vantage point to photograph sunset as it falls behind Airlie and the surrounding mountains. There's also a little forest chapel here which can be a good spot for portraits.
Shute Harbour – known as a sailor's haven, Shute Harbour is blessed with the surrounding scenery of Conway National Park contrasting against the colourful water which makes for a beautiful spot to photograph. From Shute Harbour Lion's Lookout you can see across to Long Island and there's also Hamilton, Whitsunday and the Molle Islands in the distance.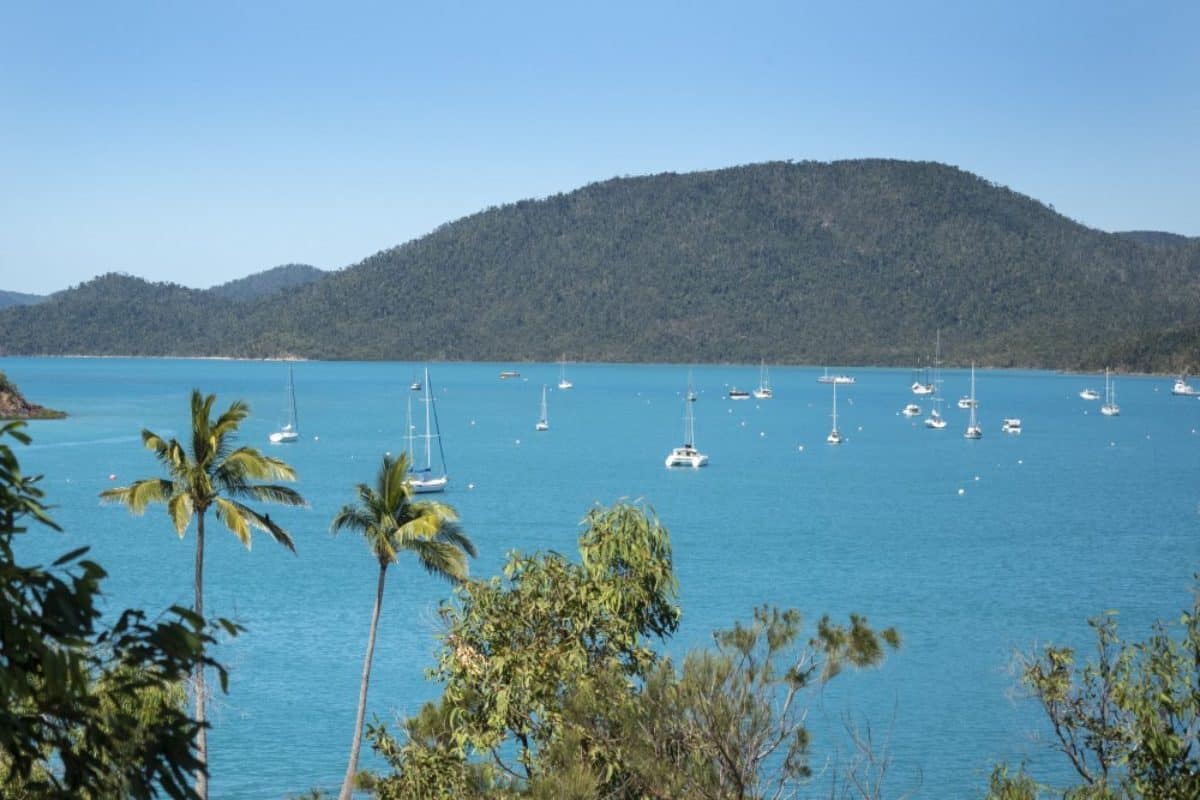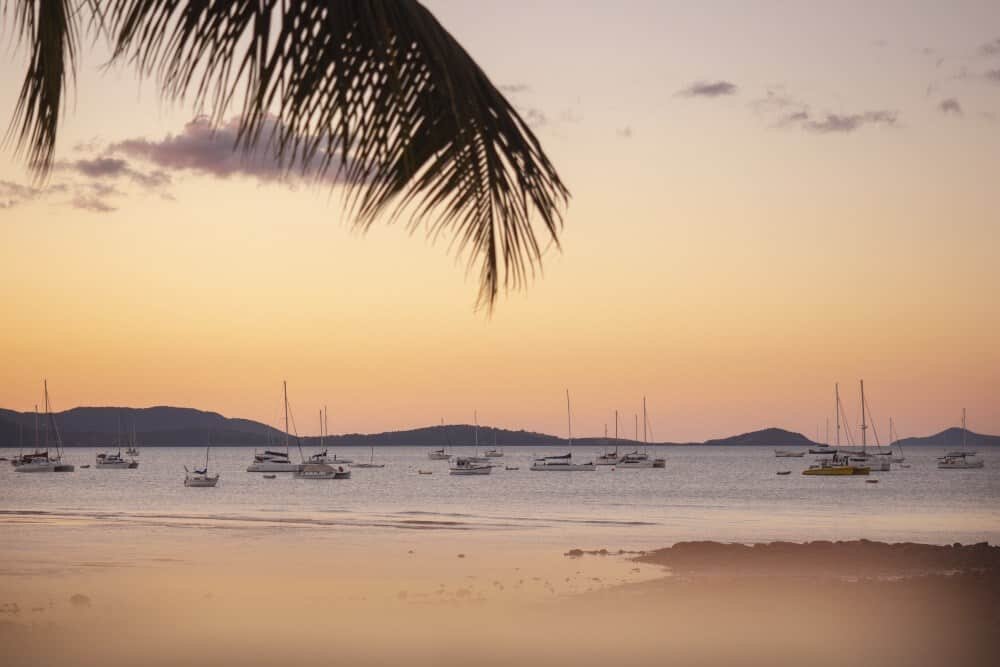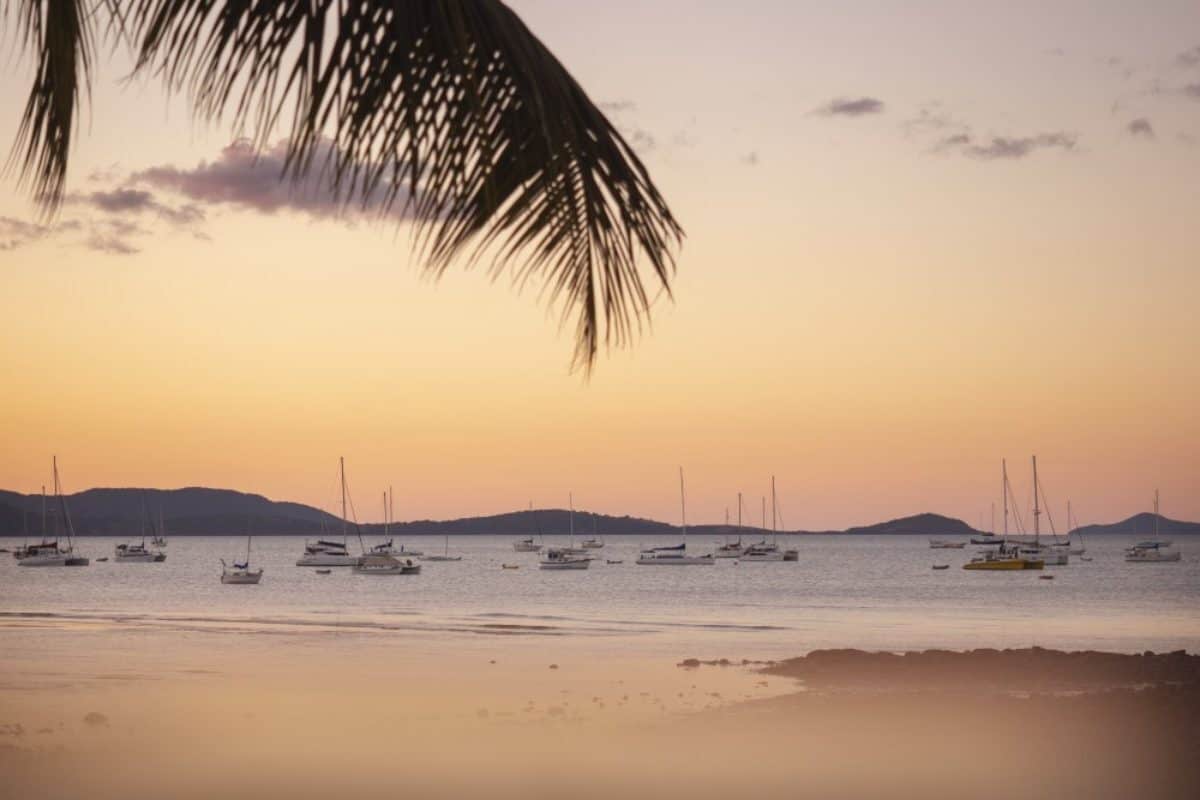 ---
Where to Stay in Airlie Beach?
I've stayed in quite a number of hotels in Airlie Beach and I can safely say these are my two favourites due to their location, comfort and incredible views!
You'll find this beauty located right at the Port of Airlie, providing those island vibes before you even leave the mainland! The apartments are super chic and have an airy, tropical feel to them with white wooden shutters leading out to views of palms and turquoise coral seas.
The apartments come in 1, 2 and 3 bedroom configurations making them perfect for families or if you're travelling with friends. There's fully equipped with kitchens, a laundry and spacious balcony, perfect for a morning coffee while watching the colours change over the scenery right in front of your room.
At the Mantra Boathouse Apartments there's a very splash worthy swimming pool, full-sized tennis court and downstairs you'll find the Coffee Club and Denman's Cellars among other restaurants. There's also clothing boutiques and the inspirational Above and Below Photography Gallery by local photographer Brooke Miles.
To check rates and book a room at the Boathouse Apartments click here.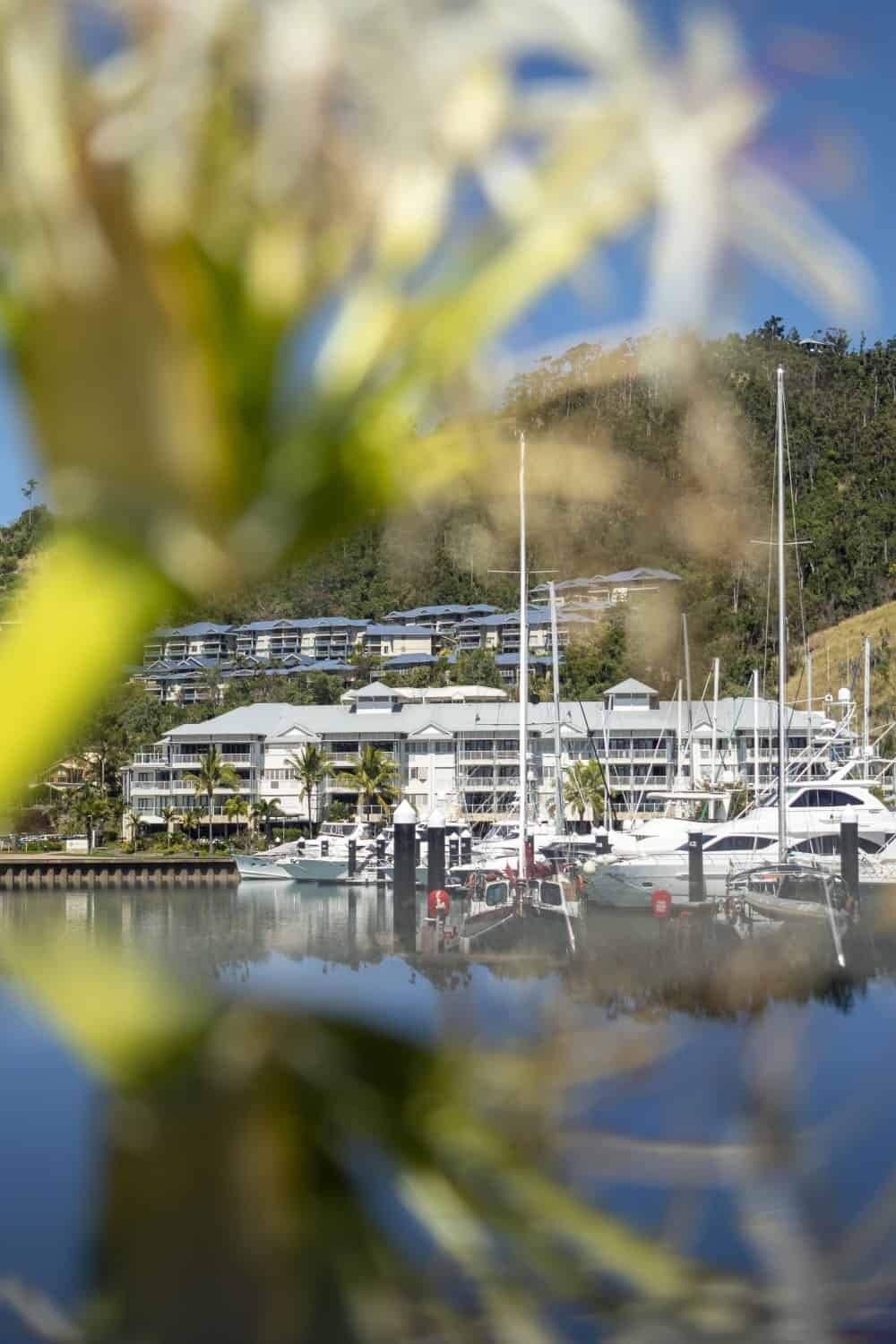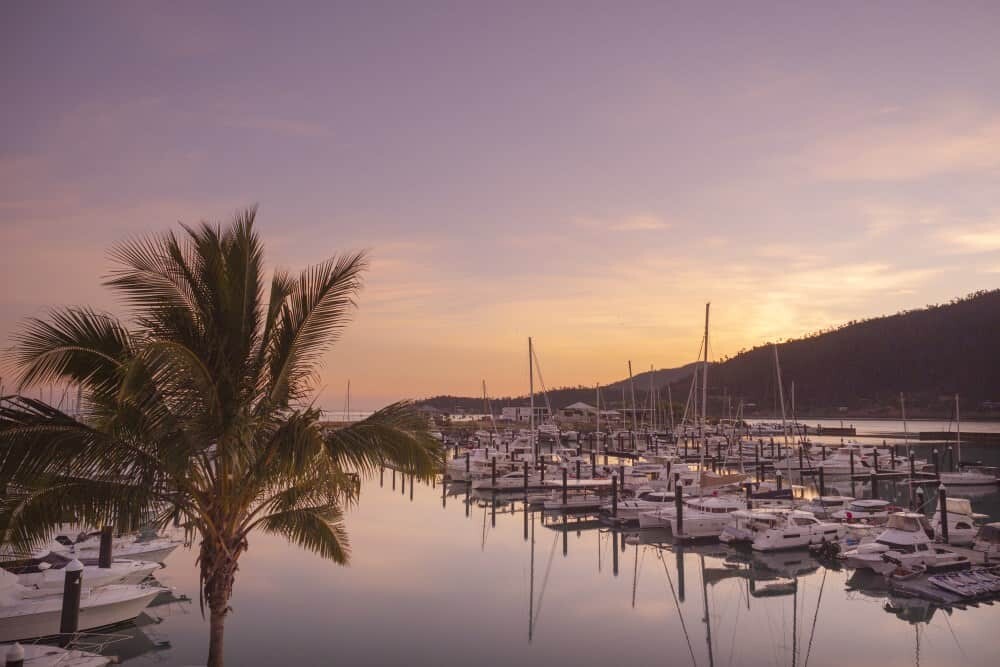 ---
Smack bang on the waterfront at Shingley Bay and Abel Point Marina, the Peninsula Airlie Beach apartments are a luxury choice that don't disappoint when it comes to comfort. Stylish interiors blend beautifully with the vibrant waters of Pioneer Bay which are visible from the kitchen, lounge, bedrooms and expansive balcony.
With a feeling of complete privacy, like your own little home away from home, the Peninsula Apartments offer a chance to be close to all the amenities of Airlie Beach, but return to a quiet corner at the end of the day.
You can opt for a 1, 2 or 3 bedroom apartment depending on how many people you're travelling with or if you're in town for a special occasion, the penthouse might take your fancy. There's a landscaped pool if you're keen for a dip and the apartments are located right beside the coastal pathway so you're able to walk into Airlie Beach easily past some beautiful scenic spots.
To check rates and book a room at the Peninsula Airlie Beach click here.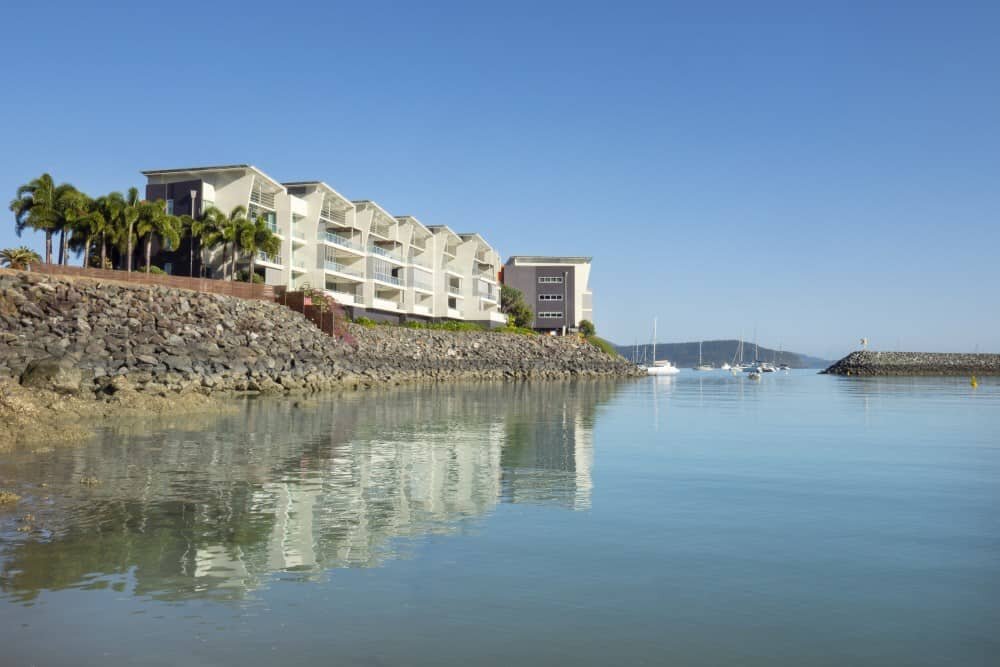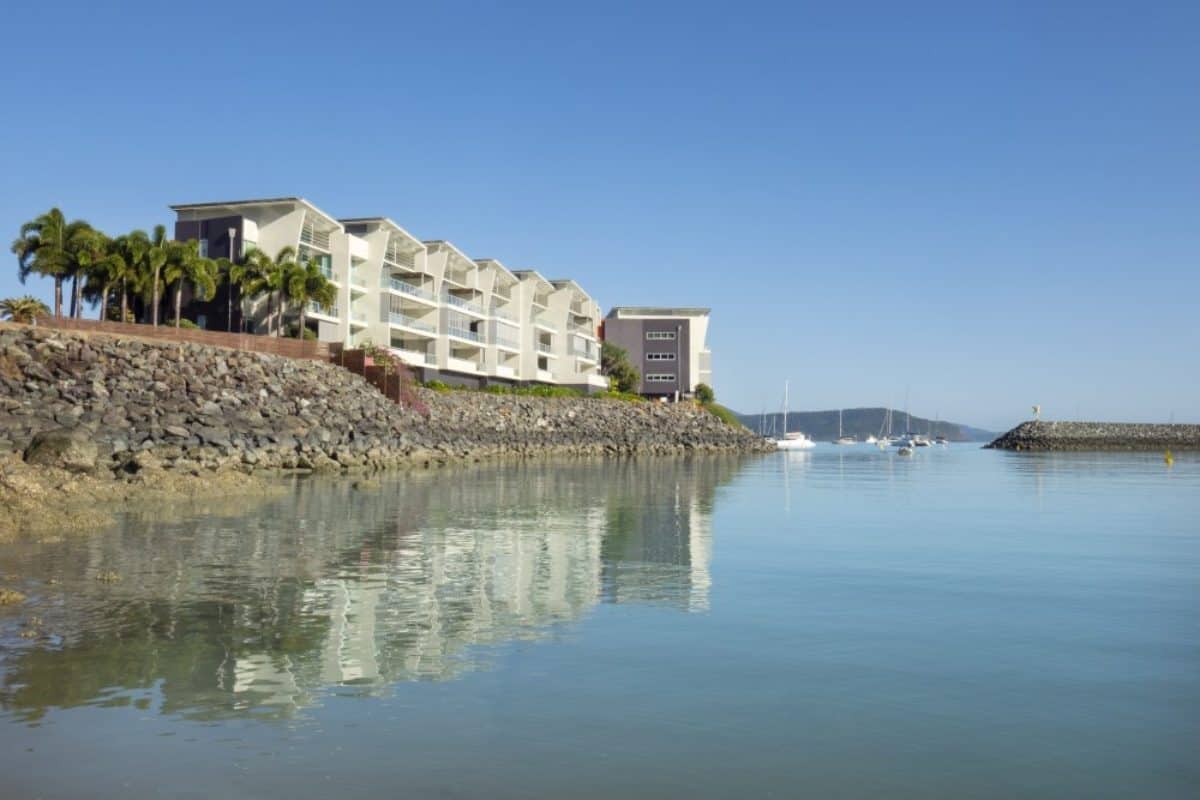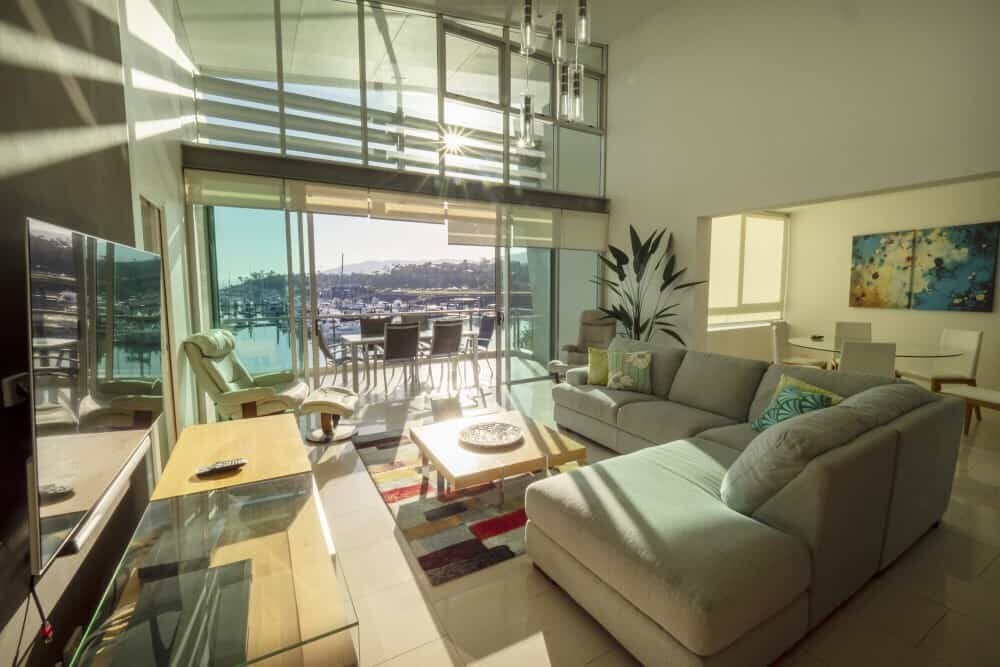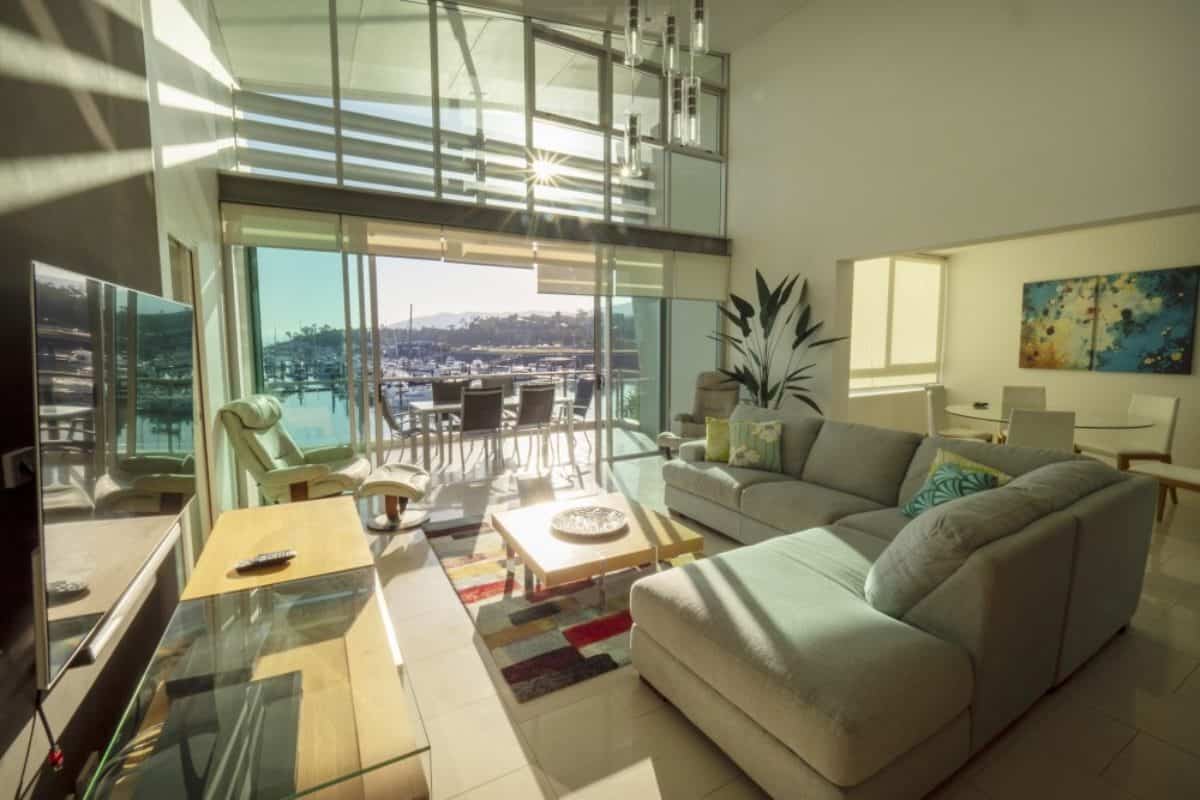 ---
When to Visit the Whitsundays?
Well, to be honest you can visit year round and experience beautiful conditions for photography, it all depends on how well you handle humidity. The summer months from November to March can be quite humid which means the chance of rain is a little higher. Otherwise, winter in the Whitsundays is prime time for clear skies, calm seas and there's also no nasty stingers in the water meaning you can swim stinger suit free…hooray! It is advised to always take precautions just incase the stingers are hanging around so it can be worth popping on a stinger suit for sun protection if nothing else.
Hamilton Island Race Week and Airlie Beach Race Week take place in August making it a great time to photograph some mega yachts that compete in challenges around the islands and through the Whitsunday Passage. Accommodation during this period does book out quickly though so be sure to plan in advance.
To photograph aerials of the Great Barrier Reef and in particular Heart Reef and Whitehaven Beach, it's best to time your visit for a mid-level tide around 11am in order to really capture the strong patterns of the sand and reef formations. It's best to avoid low tide as coral may be above the surface which doesn't look great from the air, while a big high tide might put too much water between the surface and the reef. You can ask any of the pilots and they'll no doubt shed a little light on what light will be best based on the conditions but otherwise, for aerial imagery, late morning tends to work best to avoid any nasty glare on the water surface.
My top picks for timings would be anywhere between May – July, then September – November in order to make the most of stable conditions before summer arrives.
For more information on all there is to see and do in the Whitsunday Islands and surrounding region, pop on over to the Tourism Whitsundays website for some inspiration!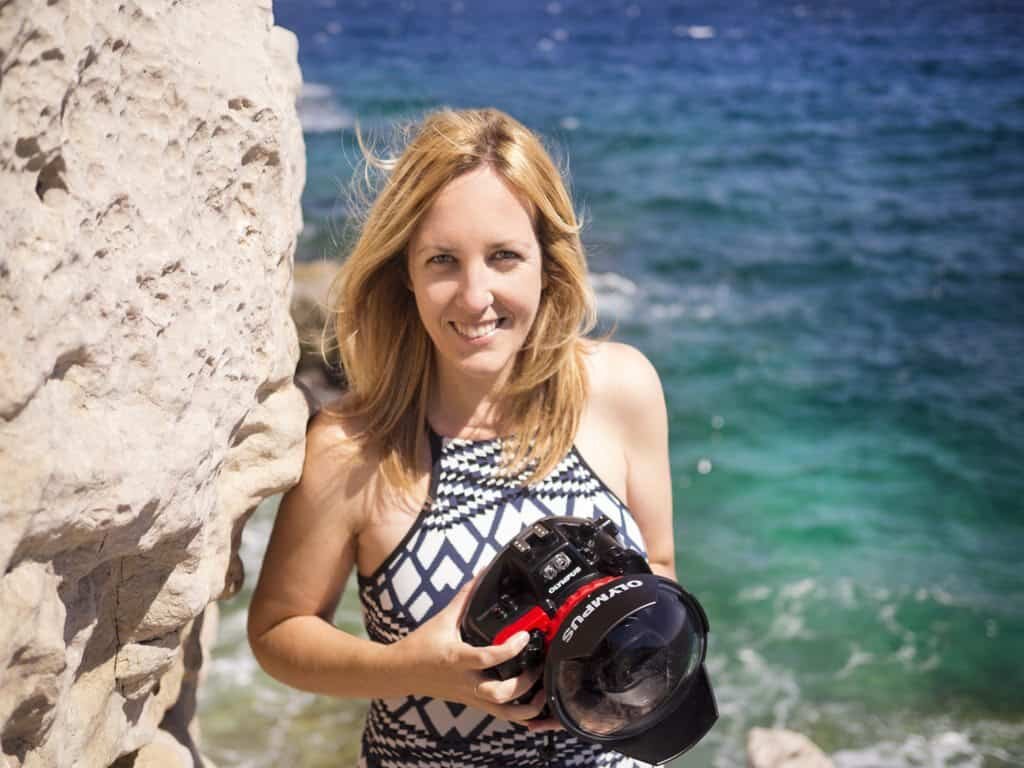 Hello! I'm the founder and photographer behind The Wandering Lens.
With 17+yrs experience as a professional travel and landscape photographer, all advice found on this site is from my personal experience on the road. I hope it's useful for your own travels and would love to hear in the comments about your trips and experiences around the world.