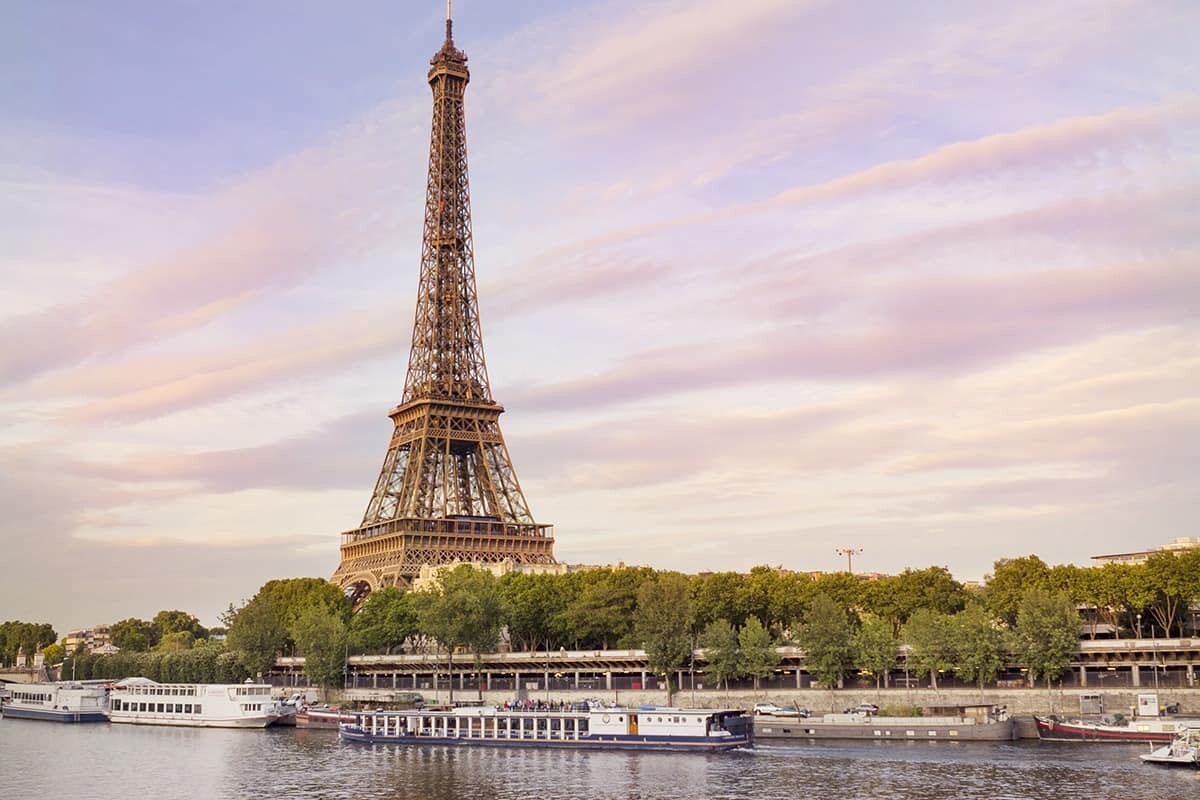 A Photographer's Guide to Paris
Where to take beautiful pictures in Paris
Paris evokes a feeling of wonder. Avenues exude French character; monuments portray elegance with gothic architecture, not to mention the Parisian rooftops, cafes and gardens.
Photographing Paris is definitely a journey through time and you'll want to visit famous icons and unique locations to secure the best view possible of this incredible city.
What started out as my top five locations soon developed into more of a guide to the incredible sights and hidden gems you can photograph around the French capital. It's definitely too hard to narrow this list down any further so be sure to give yourself a few days to explore all that this beautiful city has to offer.
Below you will find a list of the best photography locations in Paris alongside a collection of images I've personally taken at each one.
A little tip – if you're planning on visiting a number of monuments, museums and attractions during your stay, opting for a 2, 3, 4 or 6 day Go Paris Pass can help you save up to 47% off regular ticket prices and have access to over 70 locations, experiences + 50 museums in Paris. It also includes wine tastings, Seine cruises, walking tours and the most iconic sights.
** Paris Photography Location Map: Scroll to the bottom of this guide for a Google Map with a suggested walking route + all Paris photography locations mapped out for your next visit to this gorgeous city. There's also a handy little section with links to other photogenic regions in France!
eBook Announcement – If you want to skip the ads and download a Paris eBook for photographers straight to your device, I've just released my brand new 'Paris Photography Location Guide', it's big, beautiful and filled with over 65+ photography locations, 75 pages, custom maps and self-guided walking tours to follow in my footsteps.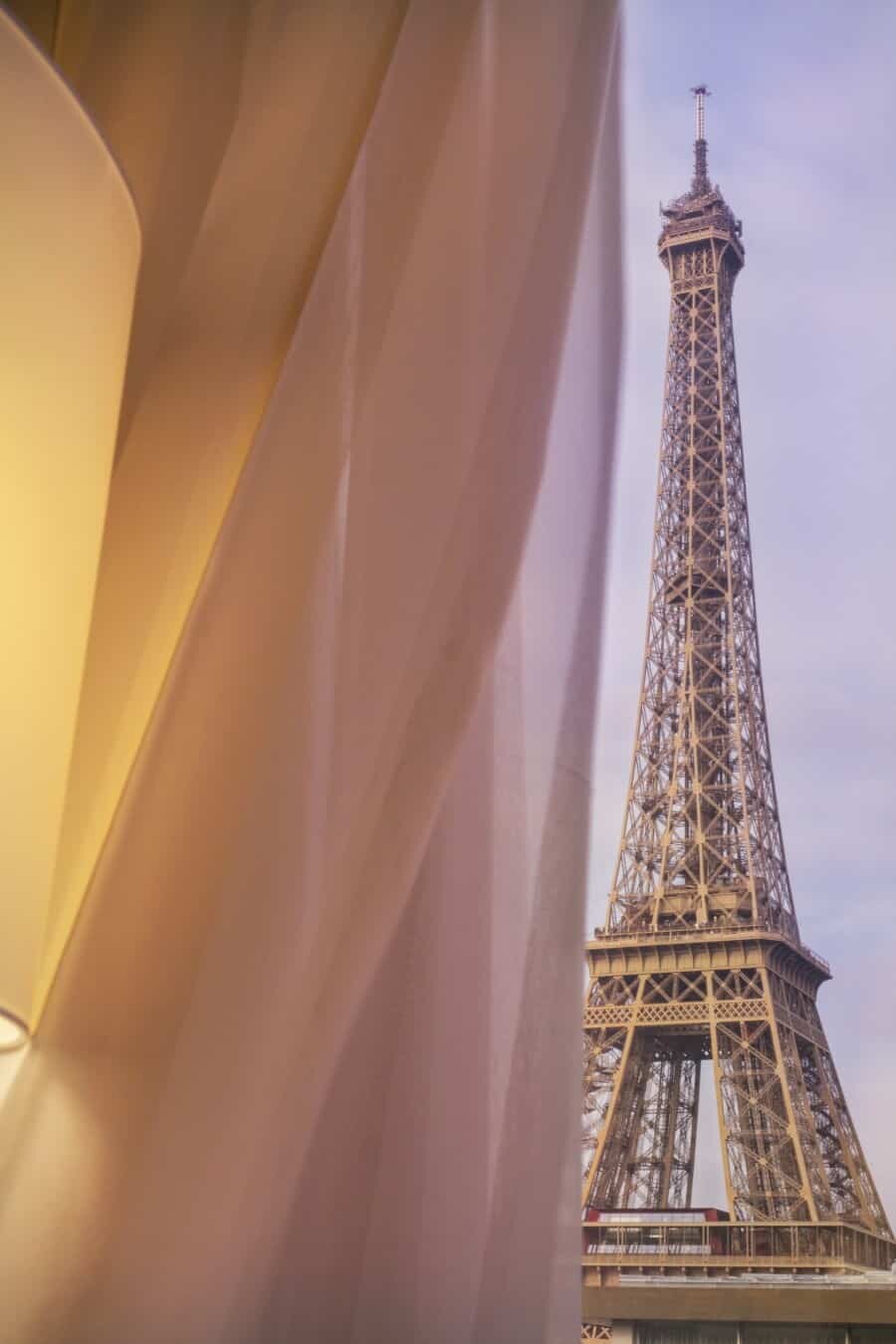 ---
D'accord, allons-y (ok, let's go!)
Paris Photography Locations:
#1 Basilique du Sacré-Coeur – Panoramic Views + Sunset
Overlooking the entire city, the Basilique du Sacré-Coeur offers what is in my opinion, the best view in Paris. Few people realise you can access the top of the dome so at sunset you'll be sharing with only a handful of visitors who dared to take on the 300 stair climb. The peak of the dome has a narrow walkway that gives you 360degree views, an incredible scene to witness as the sun sets over Paris. Be sure to check closing times before you start the climb as they vary from month to month and sometimes even day to day. View the Basilique du Sacré-Coeur site with further visitor information here.
Paris Photo Tip –
In summer the sun doesn't set until late in the evening, offering the chance to wander the streets and soak up the beautiful golden light. Plan a route to follow or simply wander back from Montmartre and get wonderfully lost along the way. Read more about tips for photographing in sunset and golden hour here.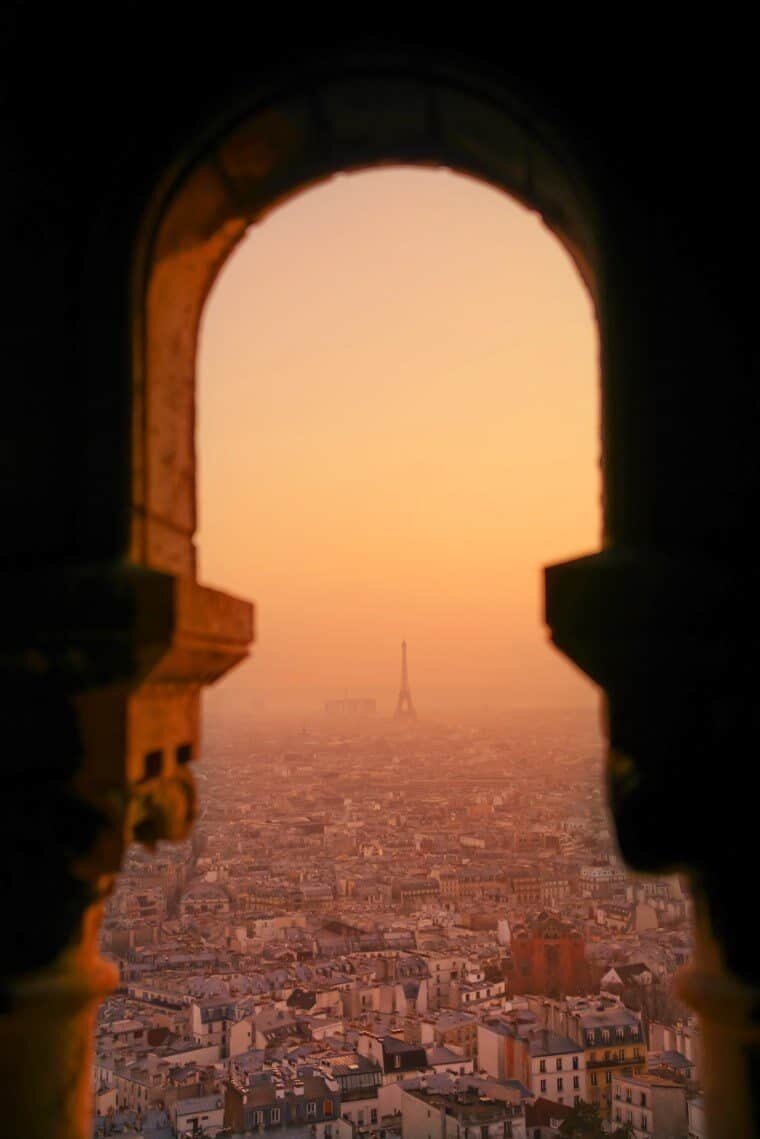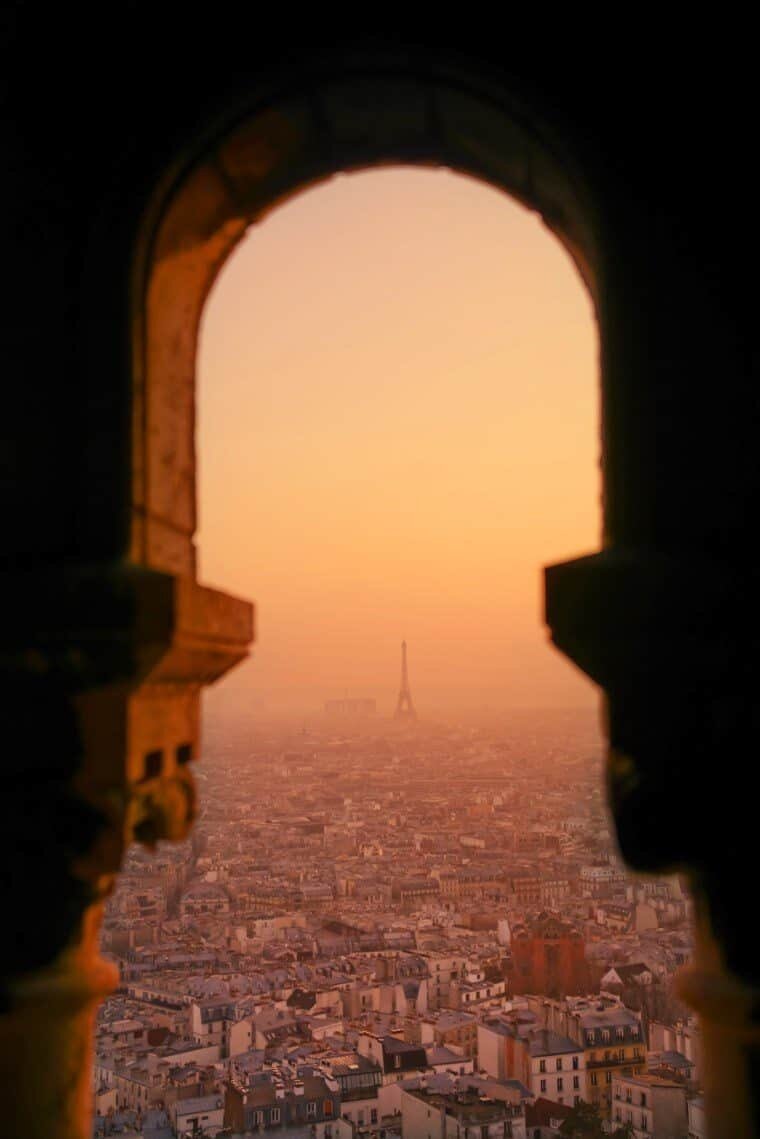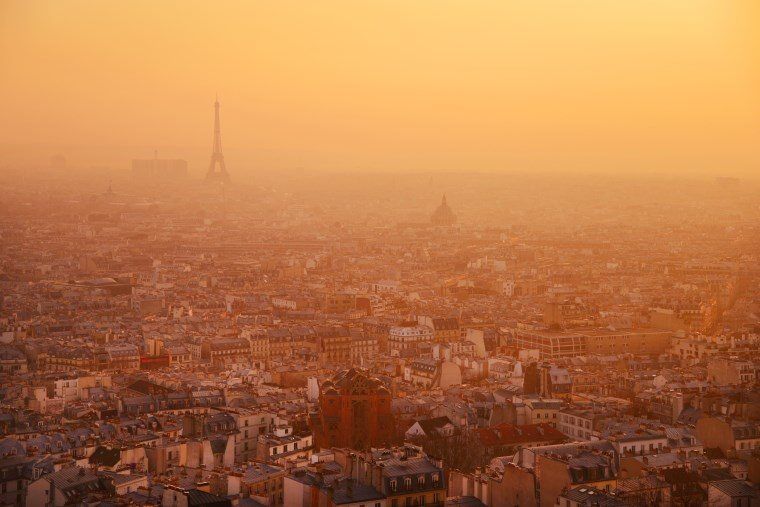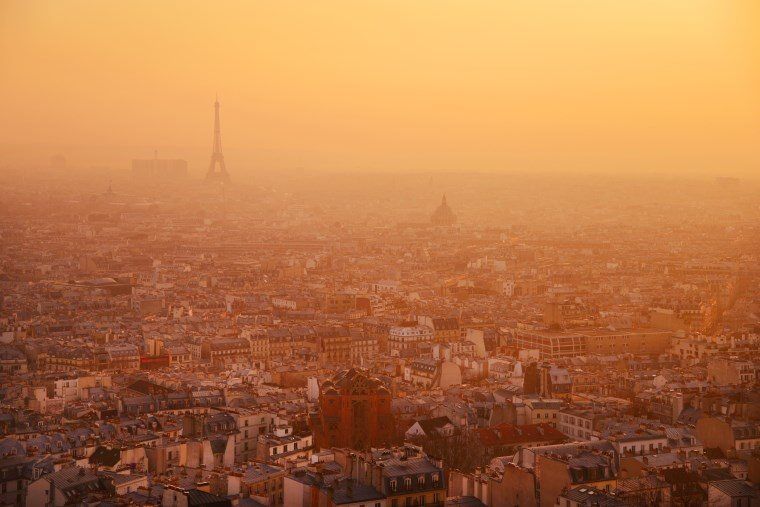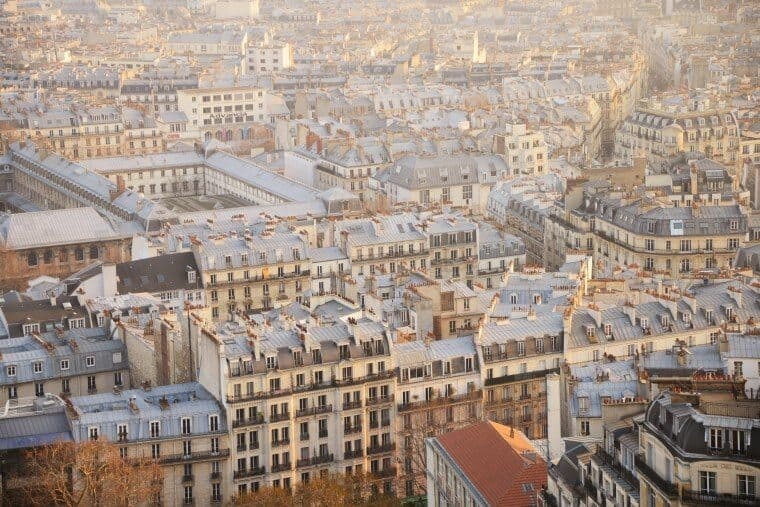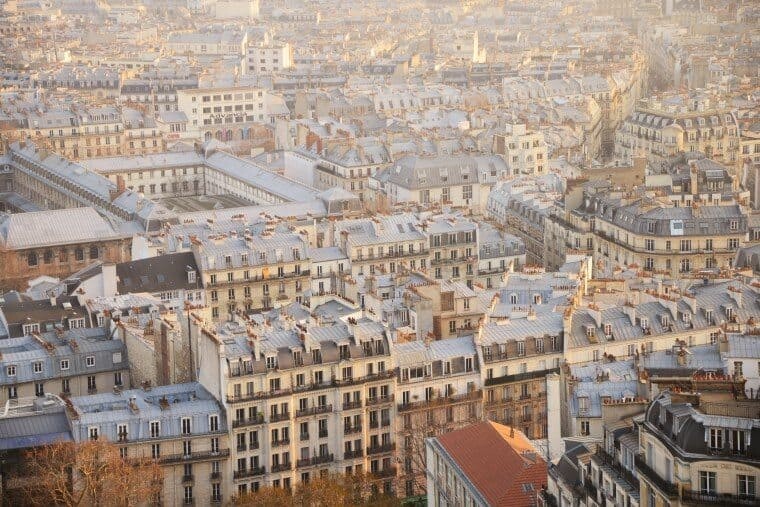 ---
#2 Saint-Michel + The Latin Quarter – Street Scenes + Cafes
For quaint cobbled streets lined with cafes and restaurants that ooze charm, this is the place to wander. You'll find this area just over the river to the south of Notre Dame. Roam along Rue de la Bûcherie and Rue Saint- Séverin for photographs of traditional Crêperies and street scenes.
Paris Photo Tip –
Wander from the banks of the Seine towards Tour Montparnasse to pass by a lot of the highlights of Saint-Germain-des-Pres and Left Bank. Read more about my adventures photographing the Left Bank of Paris here.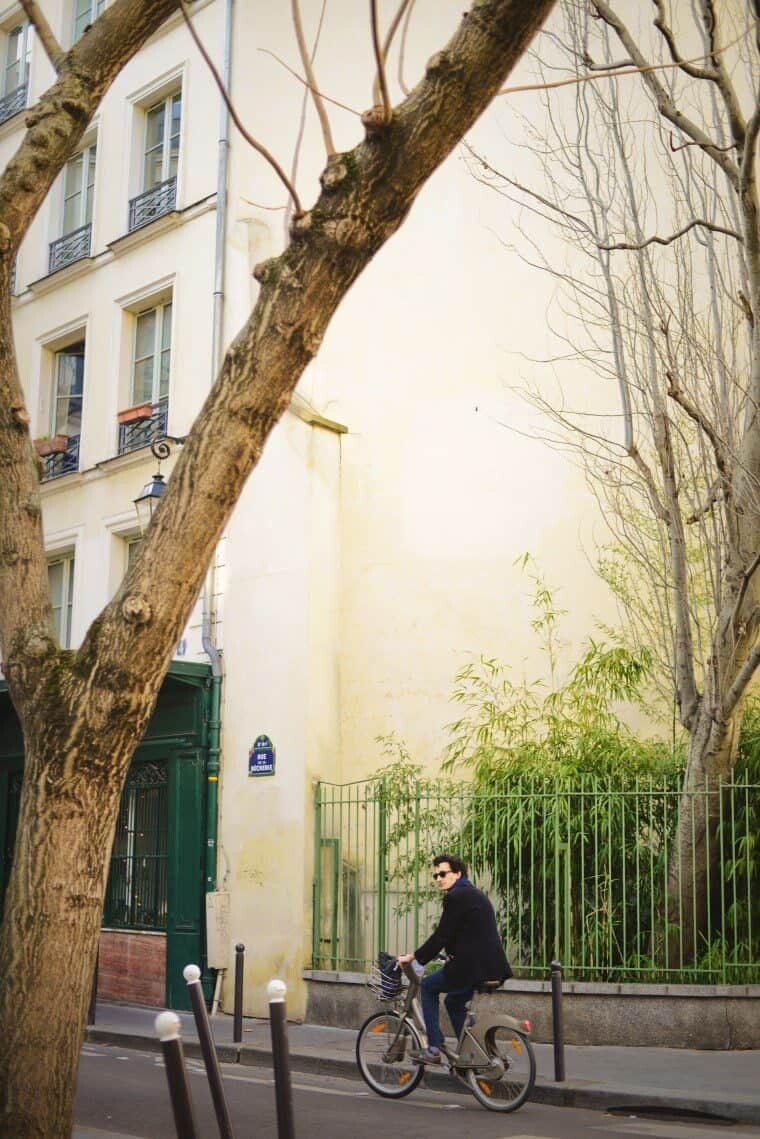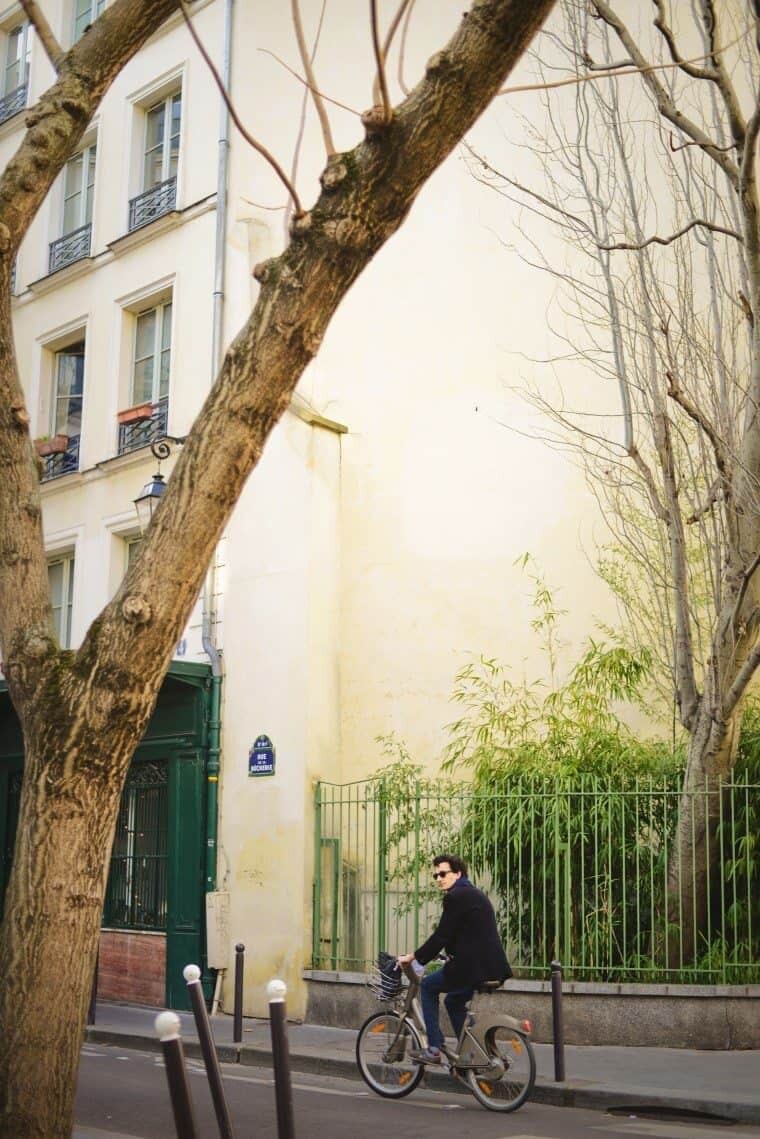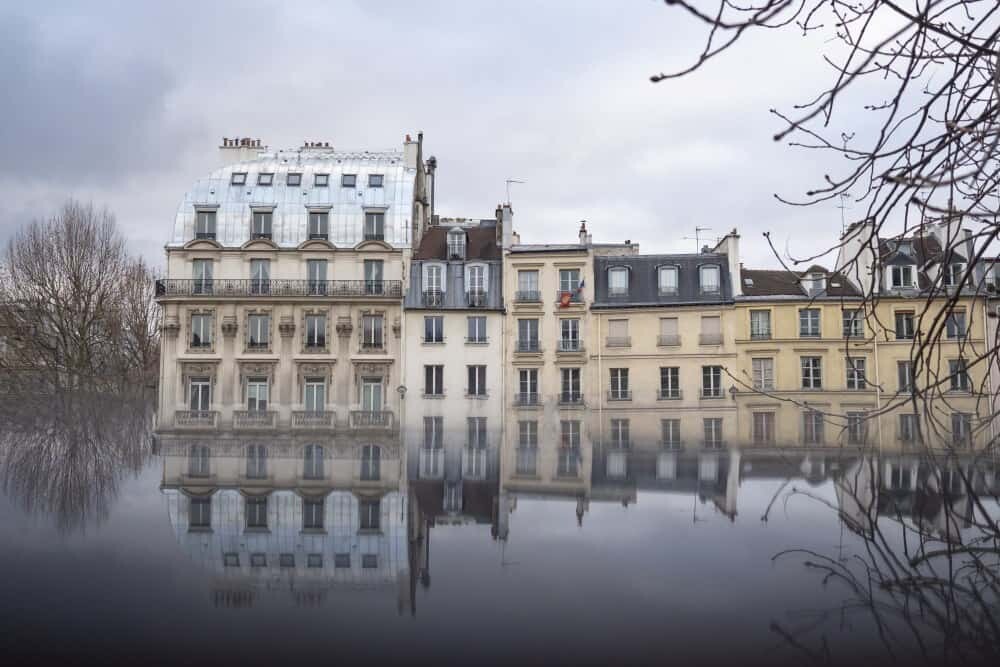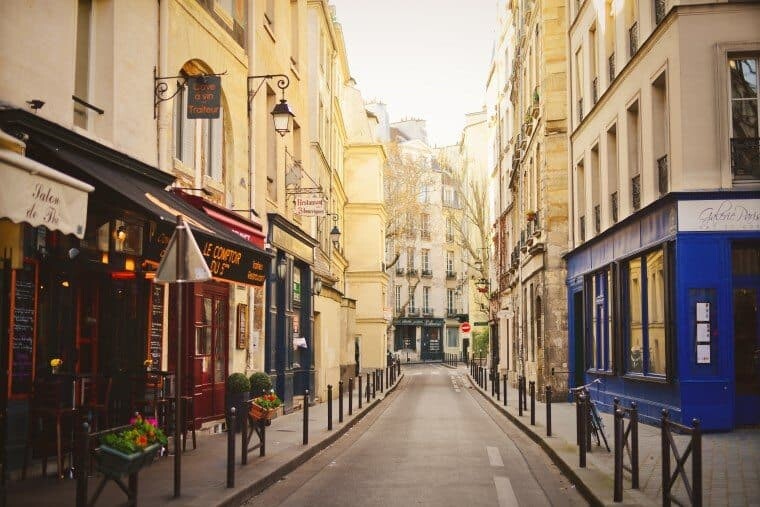 ---
#3 Montmartre – Artisans + French Character
One of the best places to take pictures in Paris and home to resident creatives and street artists, Montemartre is the epitome of French character. At first glance it might seem like a tourist frenzy but if you venture away from the Place du Tertre (artist square) you'll find a village like atmosphere with a unique ambience unlike anywhere else in Paris. Have a peek at the cute pink restaurant 'La Maison Rose' and the draping vines along Abreuvoir Street then head down to the windmill of Moulin de la Galette on the corner of Rue Lepic and Rue Girardon.
Paris Photo Tip –
Visiting Montmartre in the early afternoon gives you plenty of time to wander the streets and then enjoy the changing atmosphere as evening approaches. Street photography opportunities are great around lunch time then again once the crowds start appearing for dinner.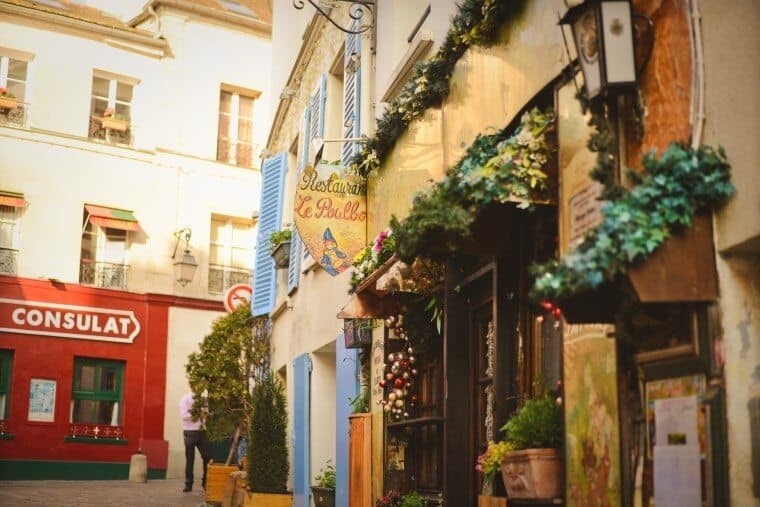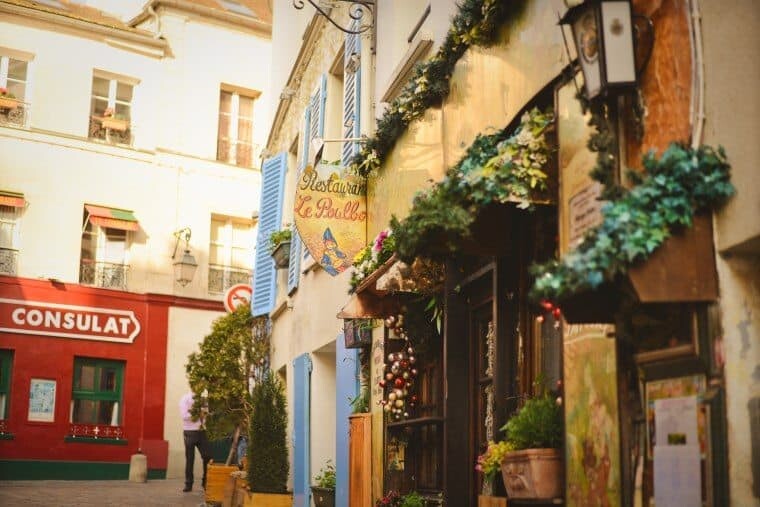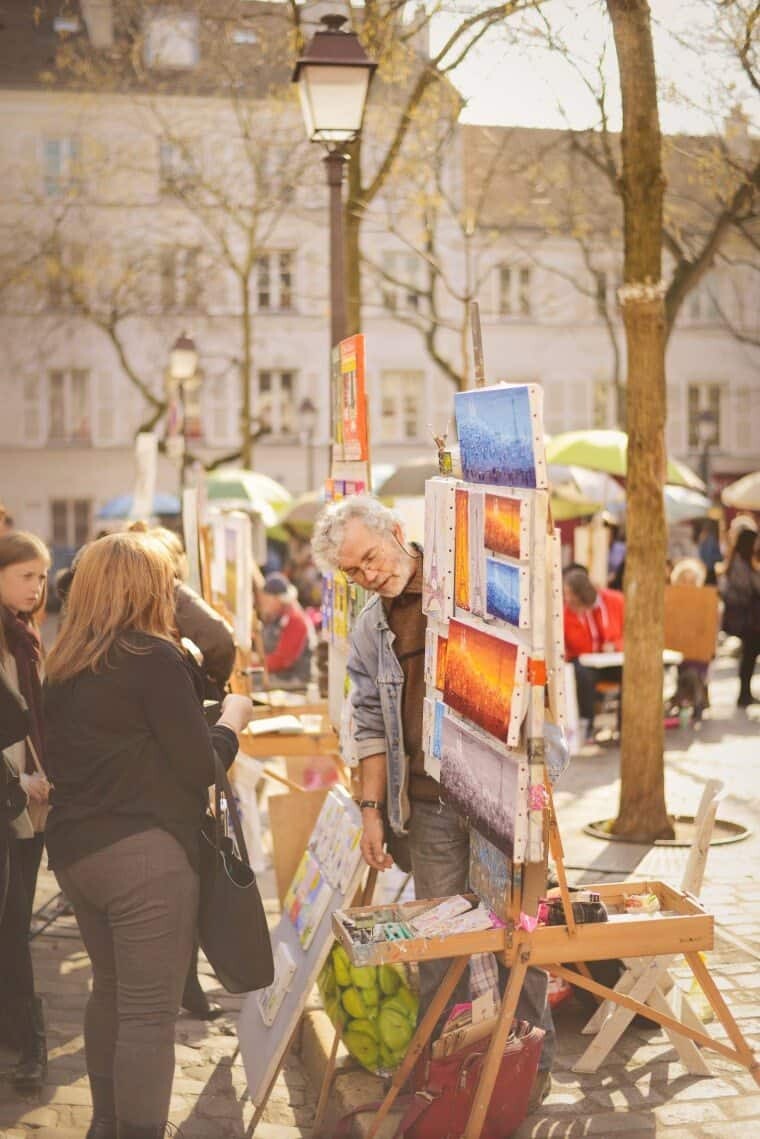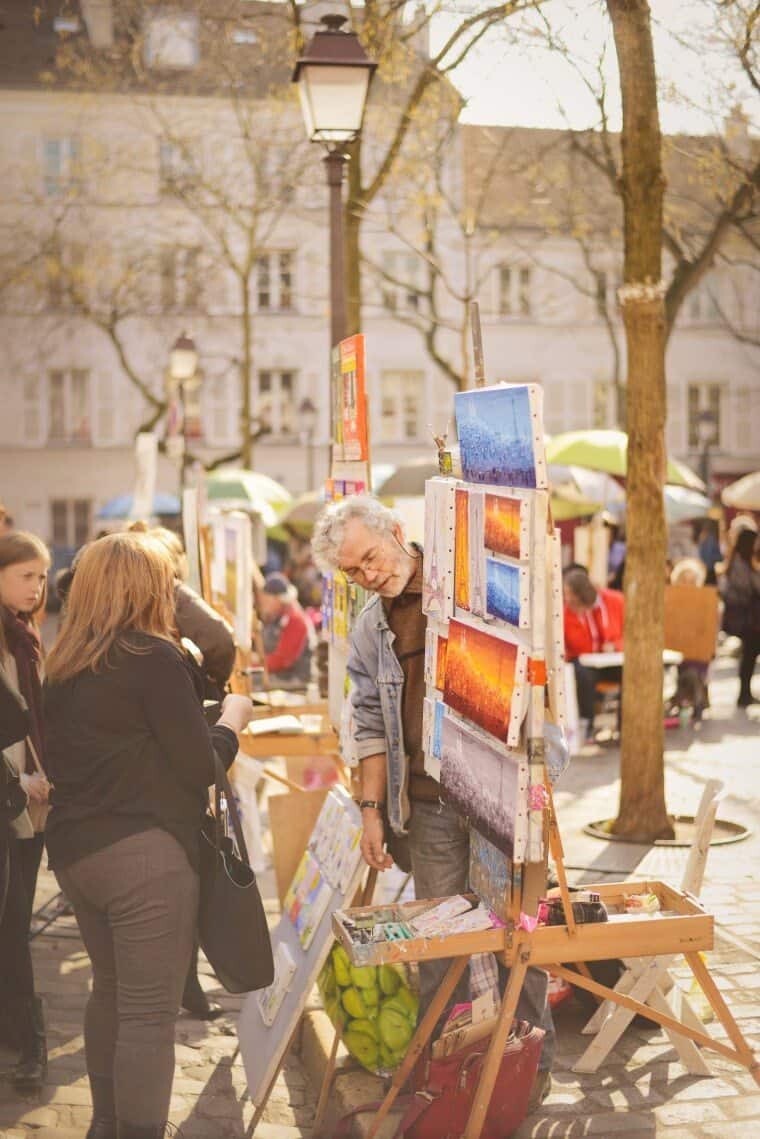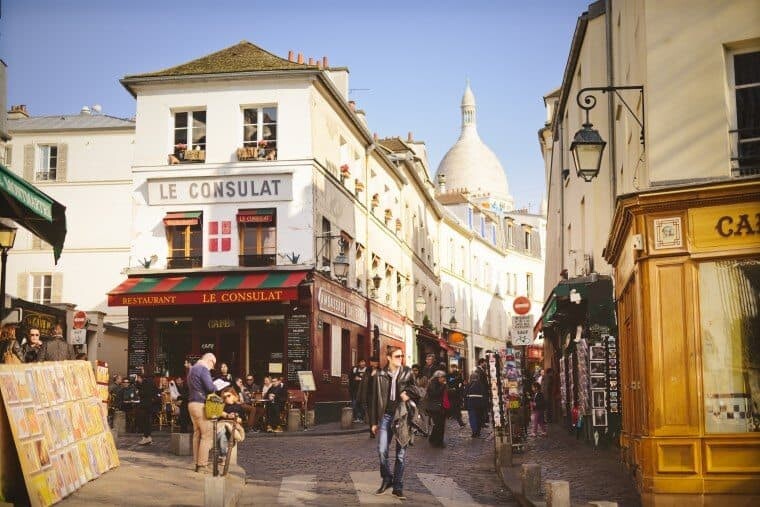 ---
#4 Notre Dame Cathedral – Low light interiors and panoramic city views
*Update 01/05/2019 – Due to the fire inside Notre Dame in April 2019, it's not possible to currently access this beauty from the inside. You can however still see and photograph Notre Dame from various spots alongside the banks of the Seine River.
One of the finest examples of French Gothic architecture, Notre Dame is an essential photo stop in Paris, even if you can't venture inside. Take advantage of glowing morning light along the Seine and head straight for Pont Saint-Michele where you'll have a beautiful vantage point toward Notre Dame. The roof and spire at the back of Notre Dame were damaged the most in the fire, however the front towers are still as they were, albeit with a little more scaffolding.
I'll also mention my description from prior to the fire as I loved visiting Notre Dame and hope that one day, if you haven't already, you'll be able to go inside too. The interior is dimly lit offering shadowed arches, intricate detailing and patterned flooring. If you arrive early enough in the day (before 10am) you'll avoid lengthy queues to climb to the top of the cathedral…an absolute must for a fabulous view! Climbing the narrow staircase to the top is an experience in itself then once you arrive to the open air walkway circling the tower you'll be greeted with views along the Seine River all the way to the Eiffel Tower. My favourite angle was looking down upon the Parisian rooftops where the Gargoyles sit, such a unique way to view the city! Be warned however it's very popular and can feel a little rushed due to groups being ushered through to avoid congestion.
---
#5 Eiffel Tower – Iconic Scenes + Photo Locations
I'm pretty sure that if you're going to Paris you want at least one shot of the magical Eiffel Tower, right? Well the great news is you'll see this mighty icon popping up from different vantage points all over the city. The most popular spot is of course right underneath it or from the gardens of the Champ de Mars but if you're looking for somewhere different here are a few options…
Printemps Department Store. Catch the elevator up to the rooftop café and enjoy views over the Parisian roof tops with the Eiffel Tower standing tall behind them.
Chaillot Hill and the Trocadéro. You definitely won't be alone here but the view is hard to beat and you can use the Fontaine de Varsovie (Warsaw Fountain) as a great subject to compose your image against the Eiffel Tower.
The banks of the Seine. Stroll along the river banks to take some unique images of the Eiffel Tower framed with trees, as boats pass by or just a varied city scene from the norm.
---
#6 The Louvre – History + Architecture
As a central landmark in Paris and one of the most inspirating Paris photography locations, the Louvre was originally built as a fortress in the 12th century. Now the most visited museum in the world housing over 30,000 objects from history, you could spend all day here taking photos and that's just the interior. Outside are the perfectly landscaped spaces, The Carrousel Garden and The Tuileries. When the weather warms up you'll find people sharing picnics and soaking up the sun in the gardens creating a great atmosphere! The Cour Carrée is another great photo location within the Louvre complex. This square courtyard was completed by King Louis XIV as part of the 'Old Louvre' and is perfect for composing linear angles.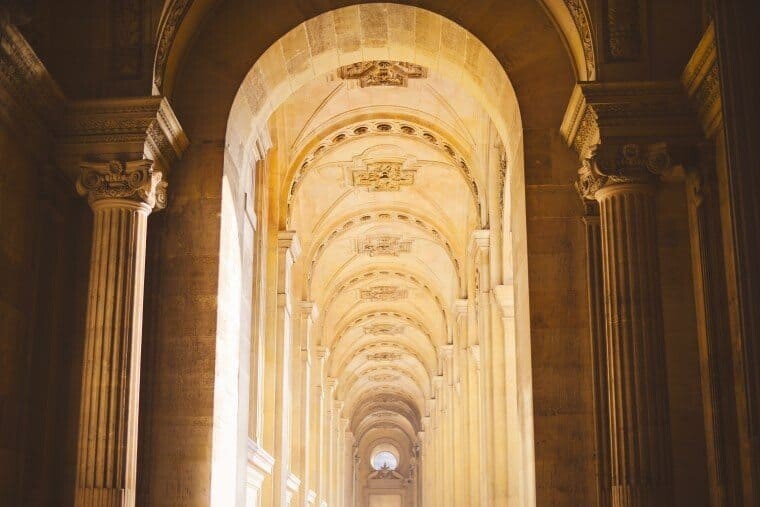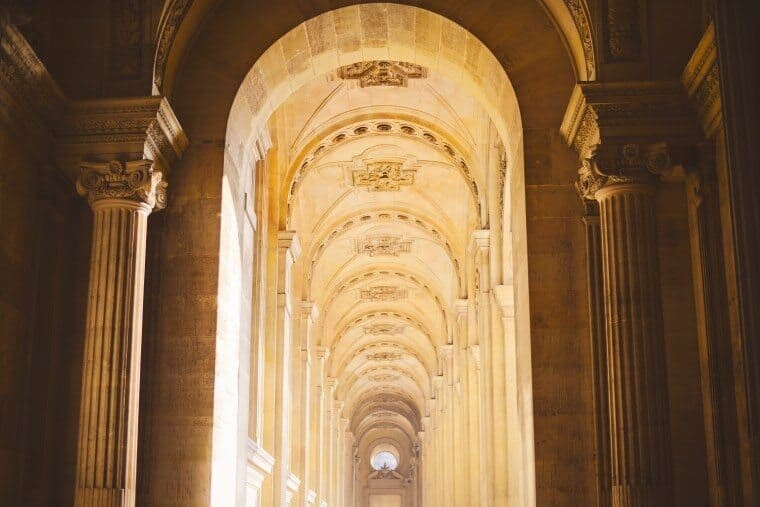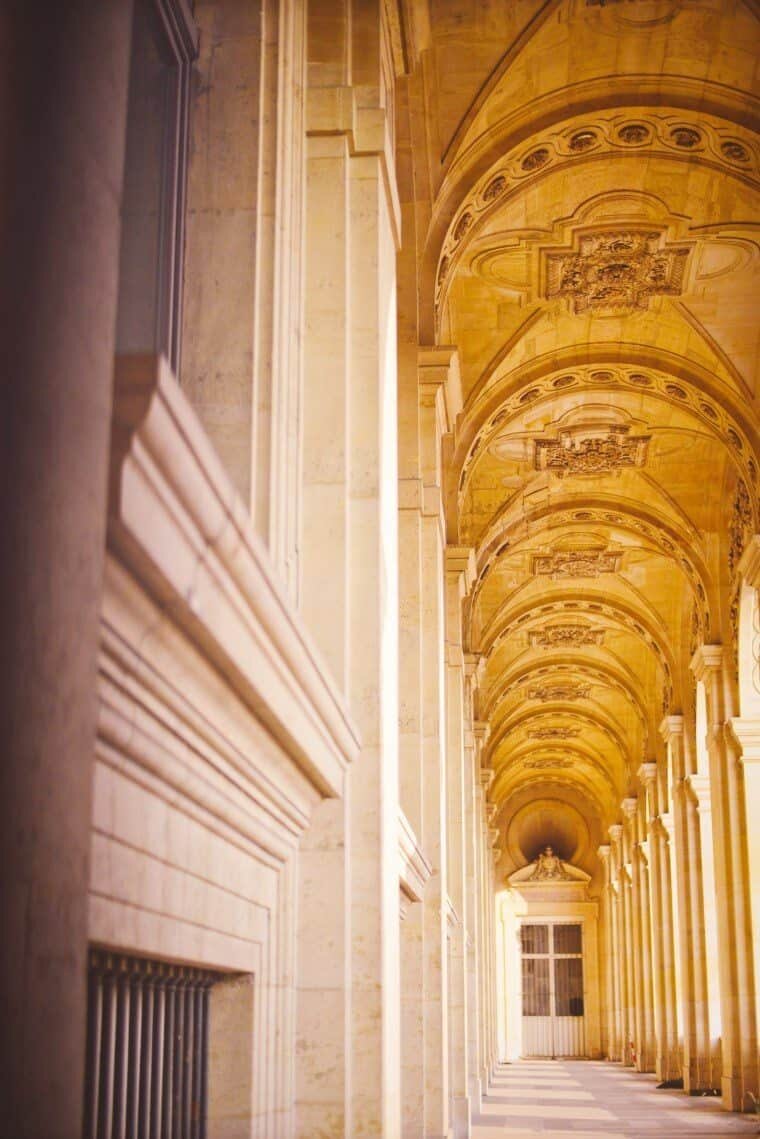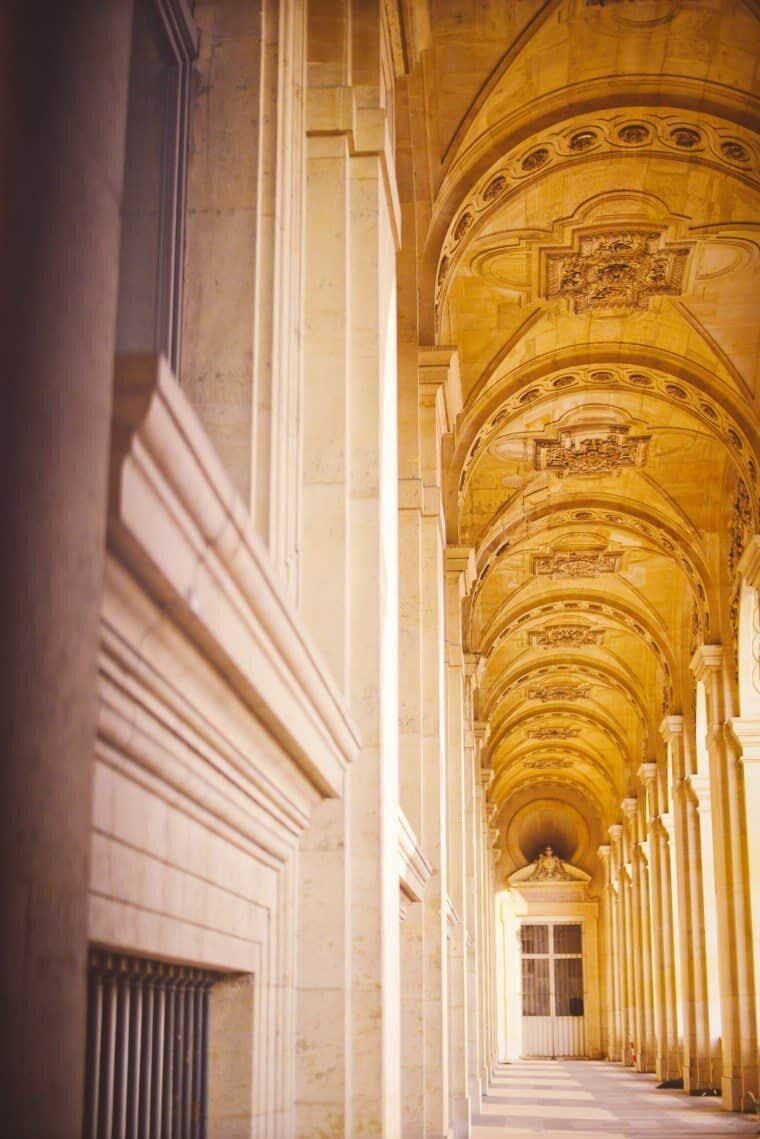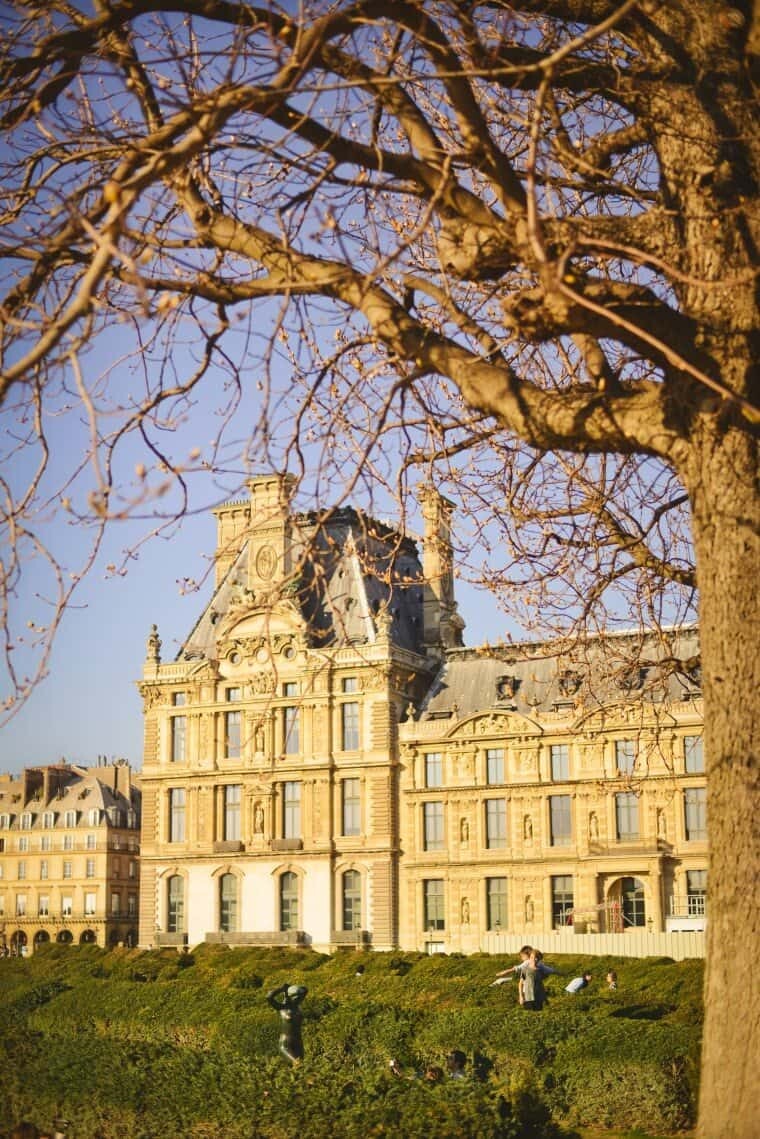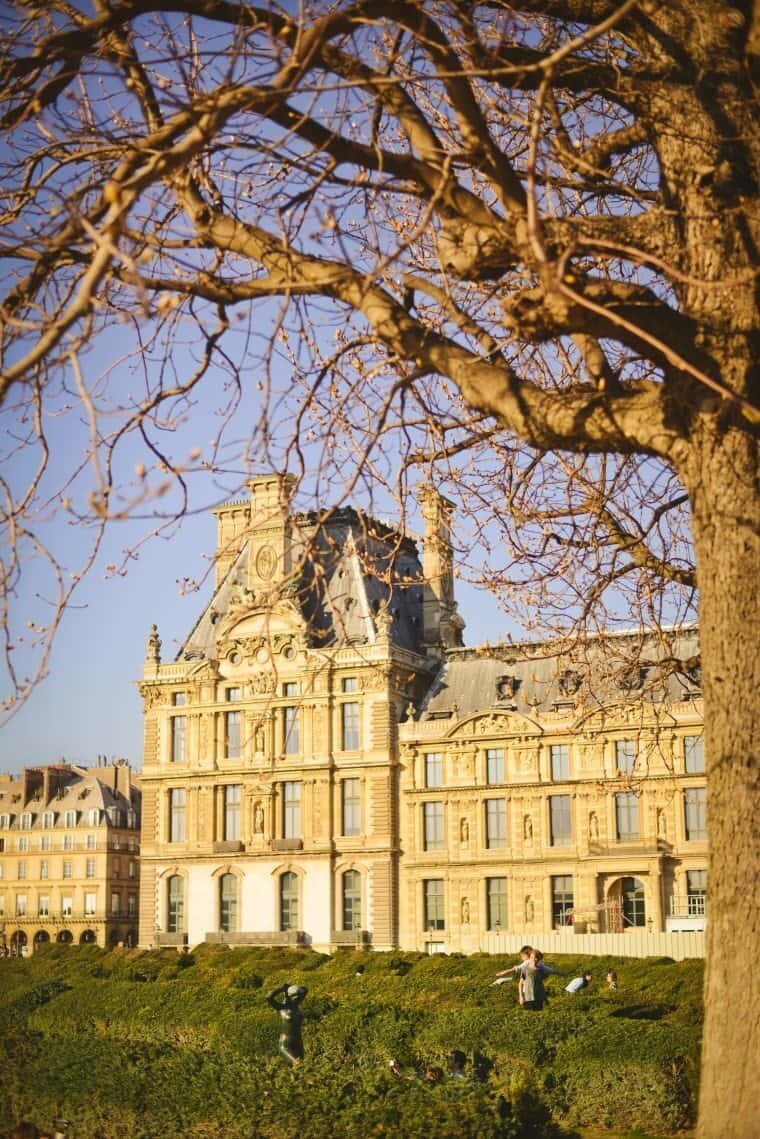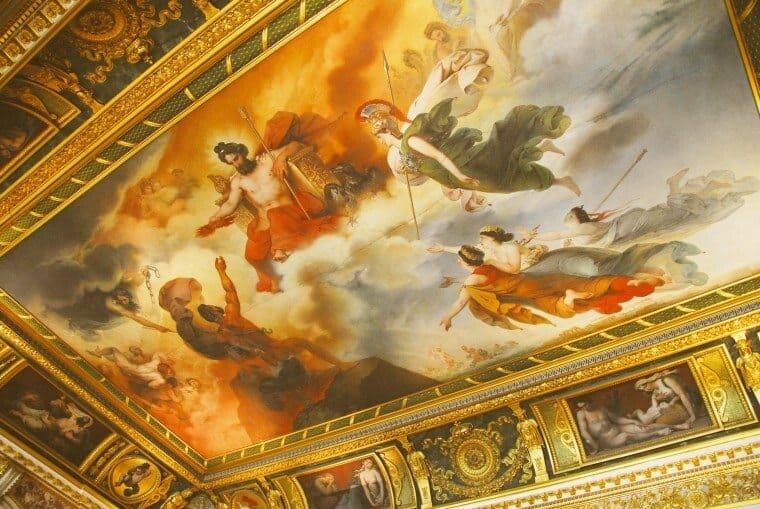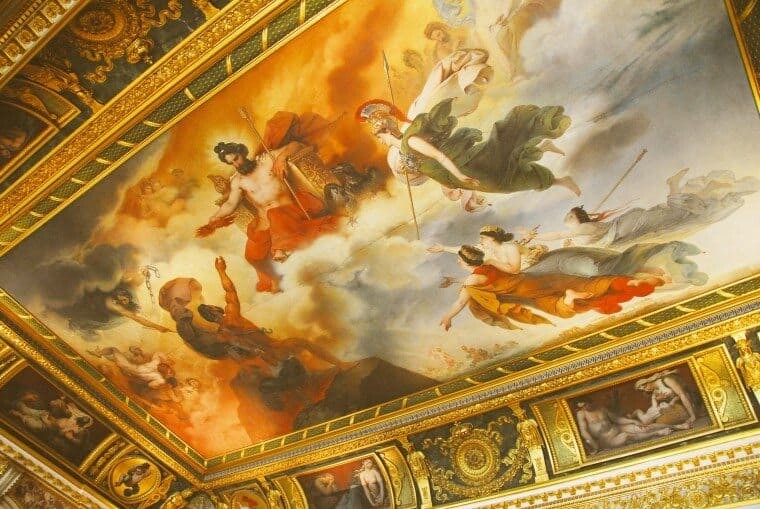 ---
#7 Jardin du Luxembourg – Fountains + Gardens
A green oasis amongst the 6th arrondissement of Paris, the Jardin du Luxembourg is known for tree lined promenades and chestnut groves. The perfect place to set yourself up for the day to capture lifestyle images and have a picnic at the same time! You'll also find little sailing boats available for hire to float around in the fountain in front of the Palais du Luxembourg. Fontaine Medicis is nestled in a little corner and is well worth a peek too.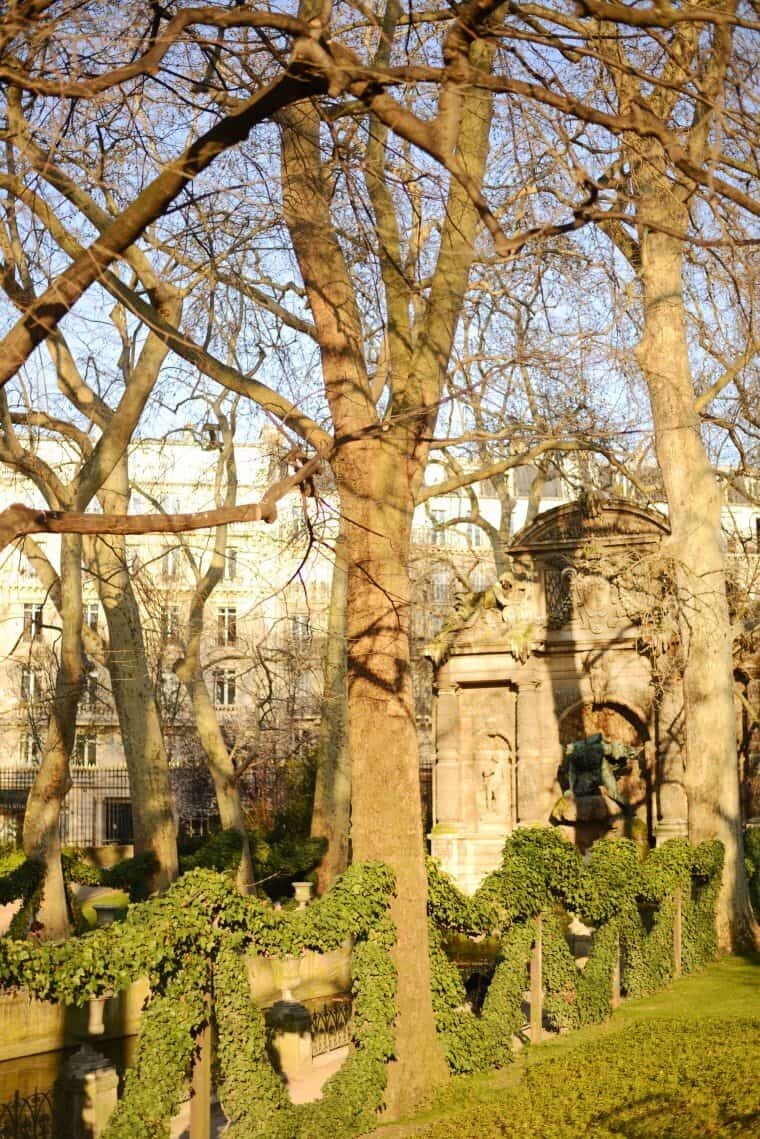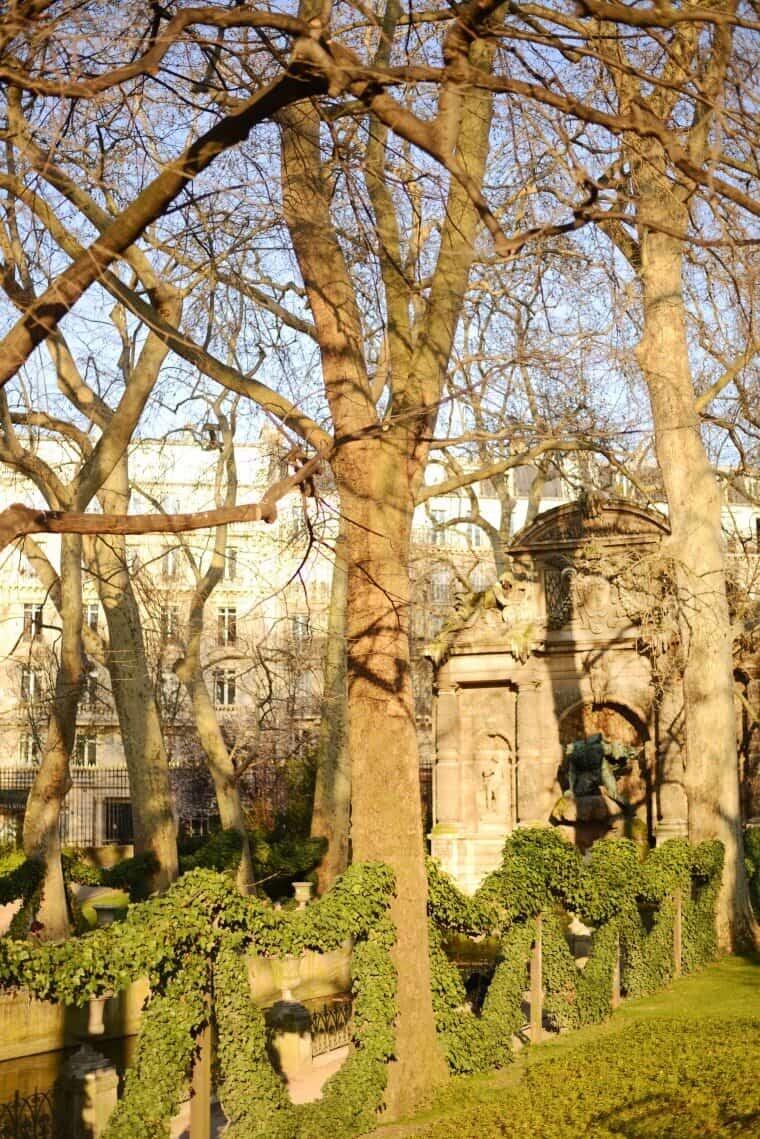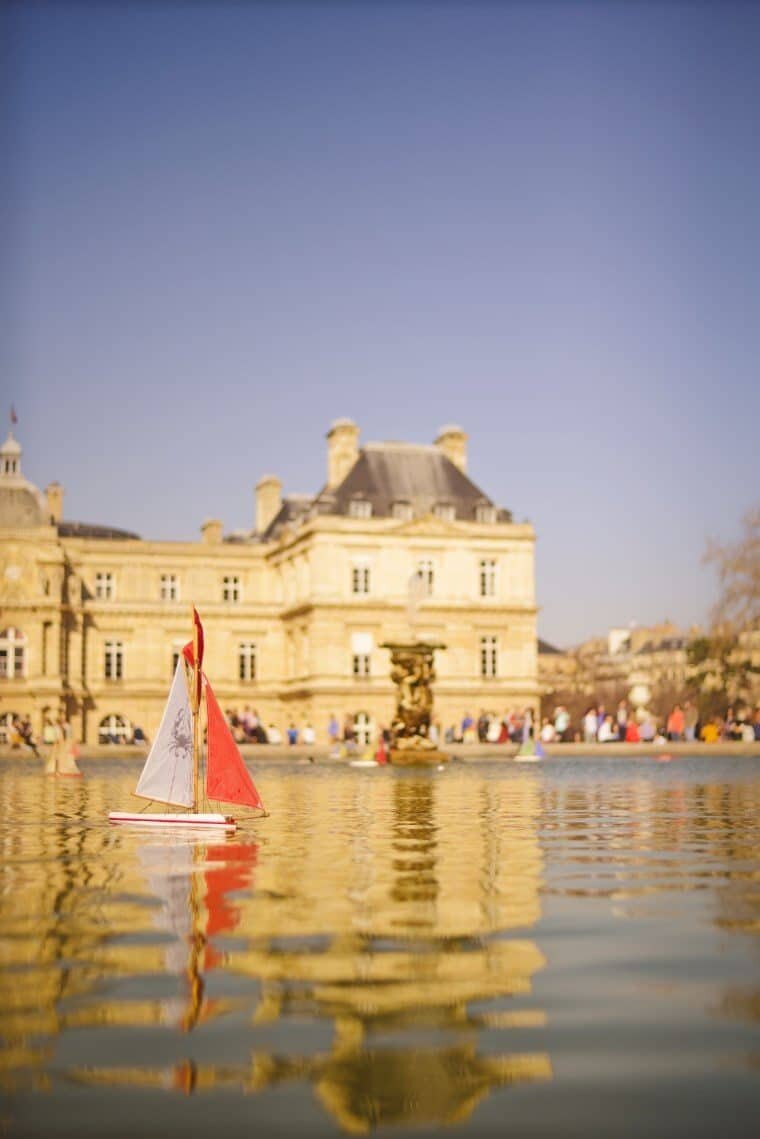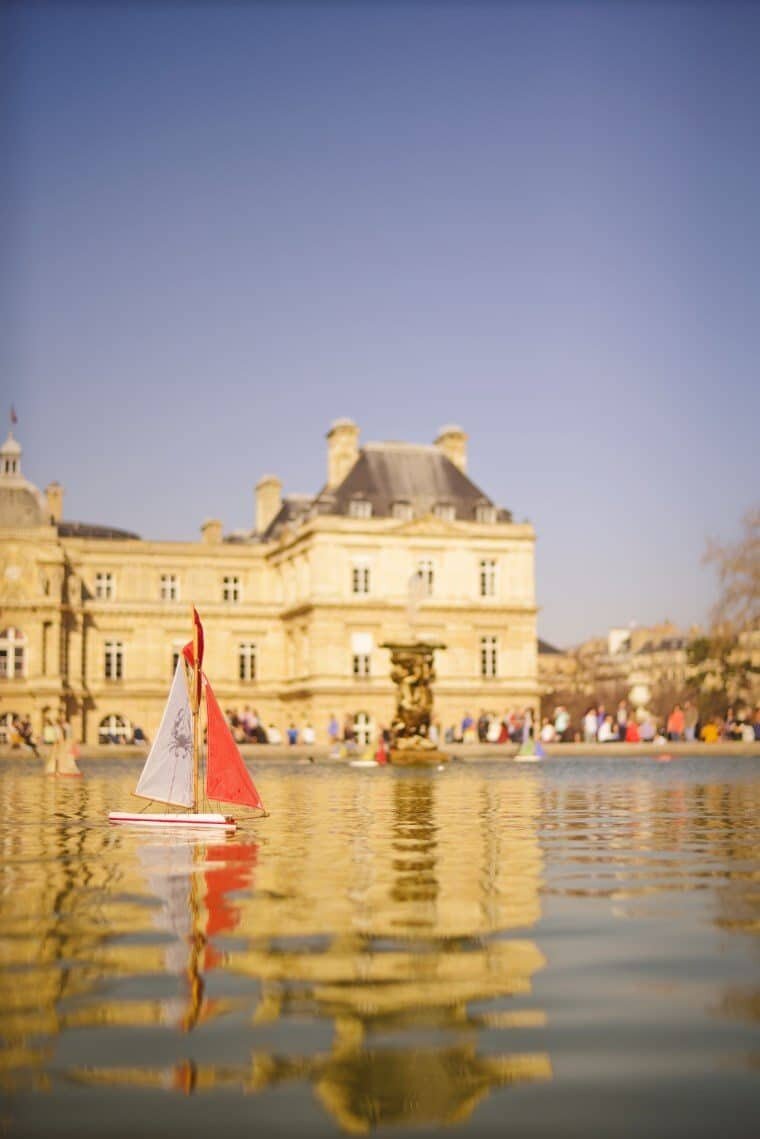 ---
#8 Avenue des Champs-Élysées – Evening Slow Motion Shots
Perhaps the most famous street in the world, the Avenue des Champs-Élysées is bustling throughout the day with shoppers, tourists and locals visiting the stores and offices that reside here. The best time of day to photograph here would be in the evening once the stores have closed and the streets are a little emptier. You'll find the beautiful Arc de Triomphe sitting pretty at the top of the street waiting to be photographed as the traffic lights glow below. In the middle of the road are pedestrian islands so you can stop and take slow motion shots without worrying about being hit by a car!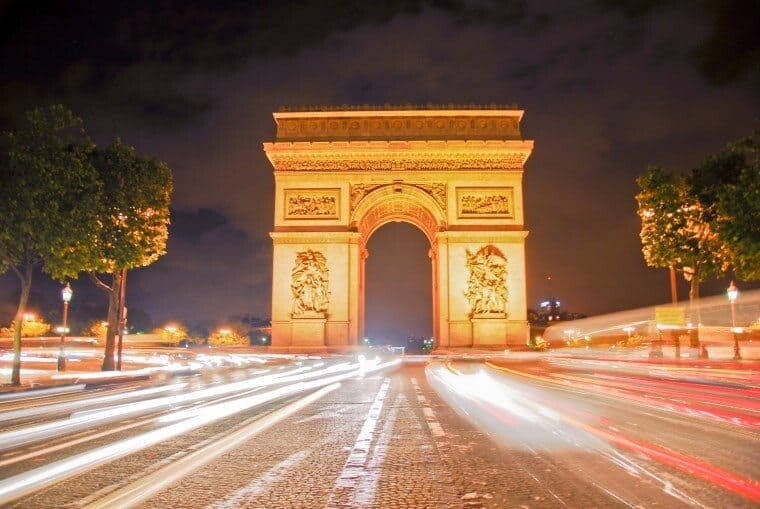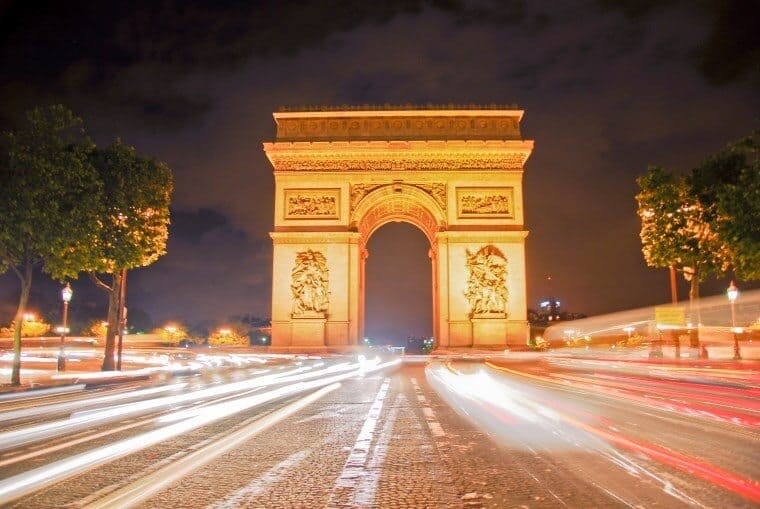 ---
#9 The Paris Metro – Murals + Architecture
Underneath the streets of Paris you'll find creative spaces and tunnels to photograph. Of course not every metro station is picturesque but some are little gems of creativity with murals, themed designs and art nouveau entrances. If you feel like training it around the city take a peek at Arts et Métiers, Saint-Michel, Varenne (Rodin Museum), Concorde (designed as a giant word puzzle), Abbesses and Cité stations.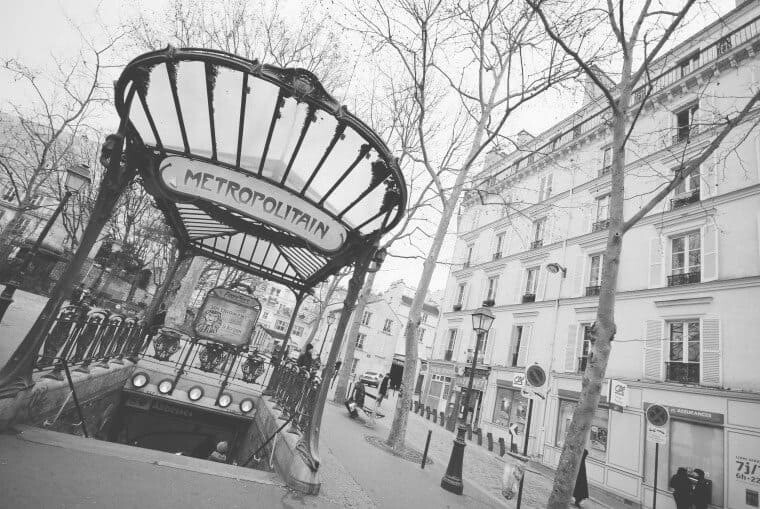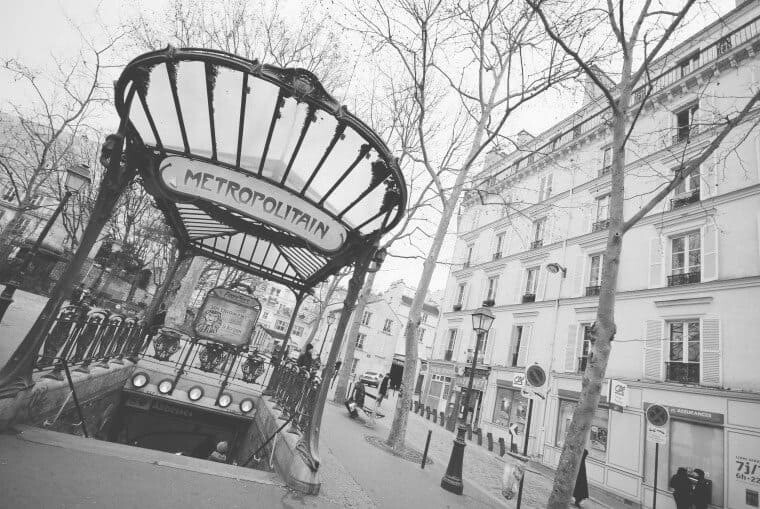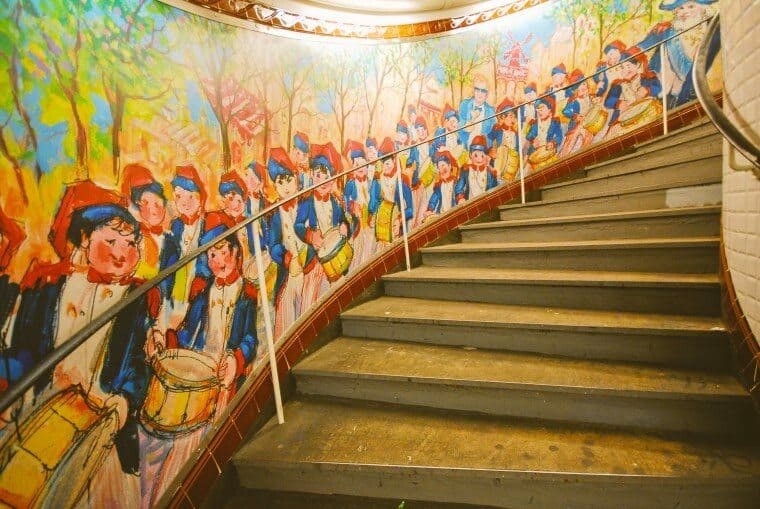 ---
#10 Marché aux fleurs Reine Elisabeth II
A flower markert on Ile de la Cite – A little oasis just near Notre Dame
Nestled in a quiet square one block away from Notre Dame is the tranquil Marché aux fleurs Reine Elisabeth II market of Paris, one of my favourite Paris photography locations. Here you'll find what feels like a greenhouse of dreams with so many blooming florals in carefully arranged bunches, it's hard to believe you're right in the centre of the city. Little green market stalls link together to form a maze of all things gardening and decor, boy is it photogenic!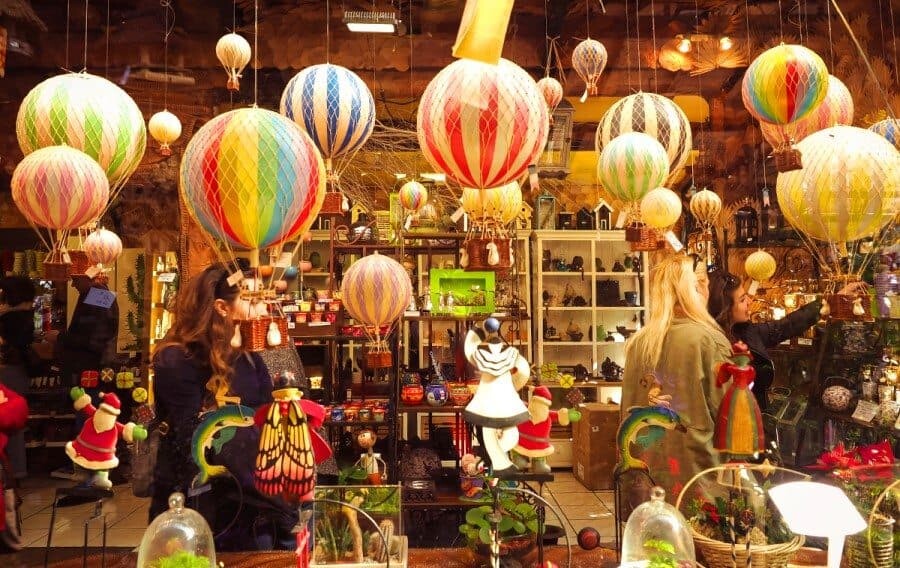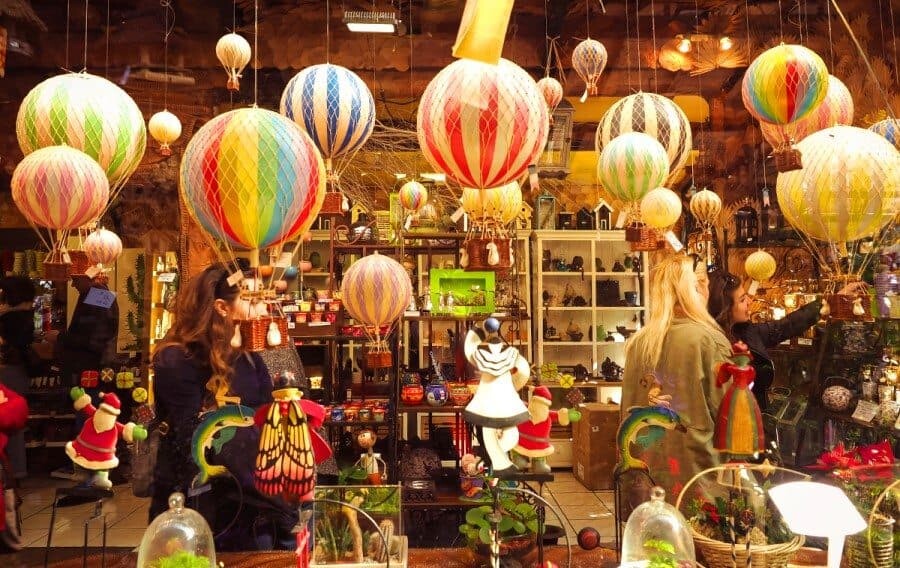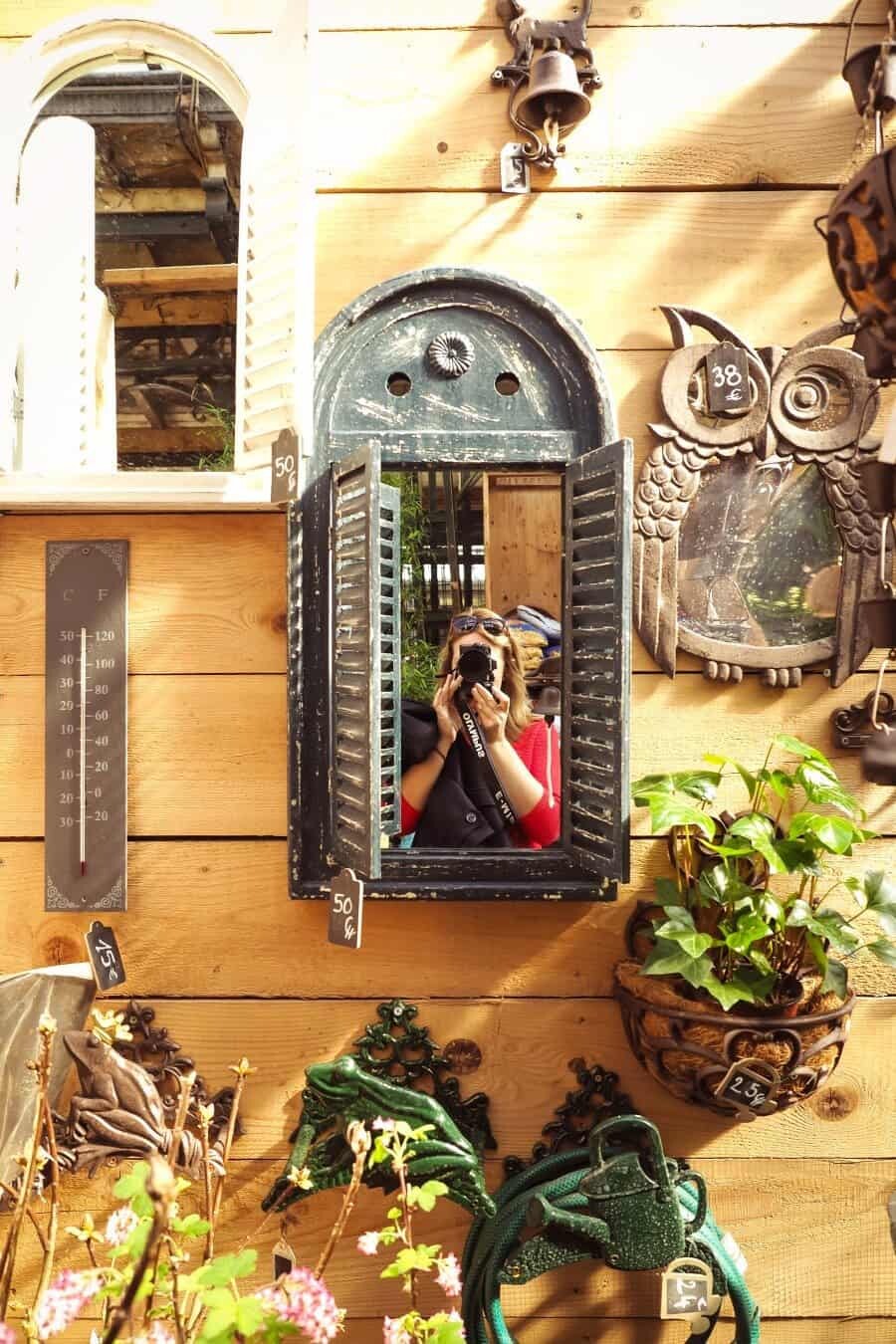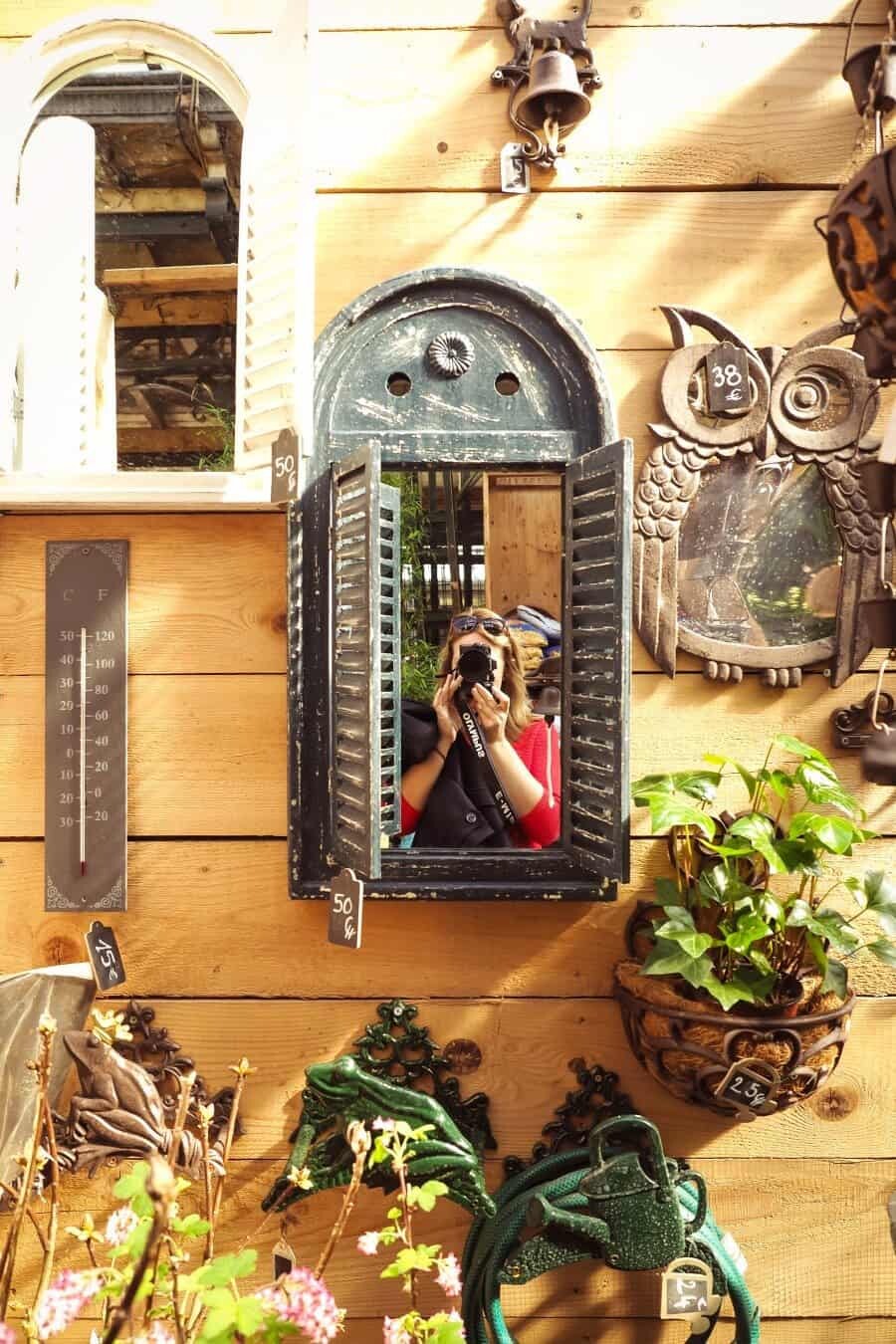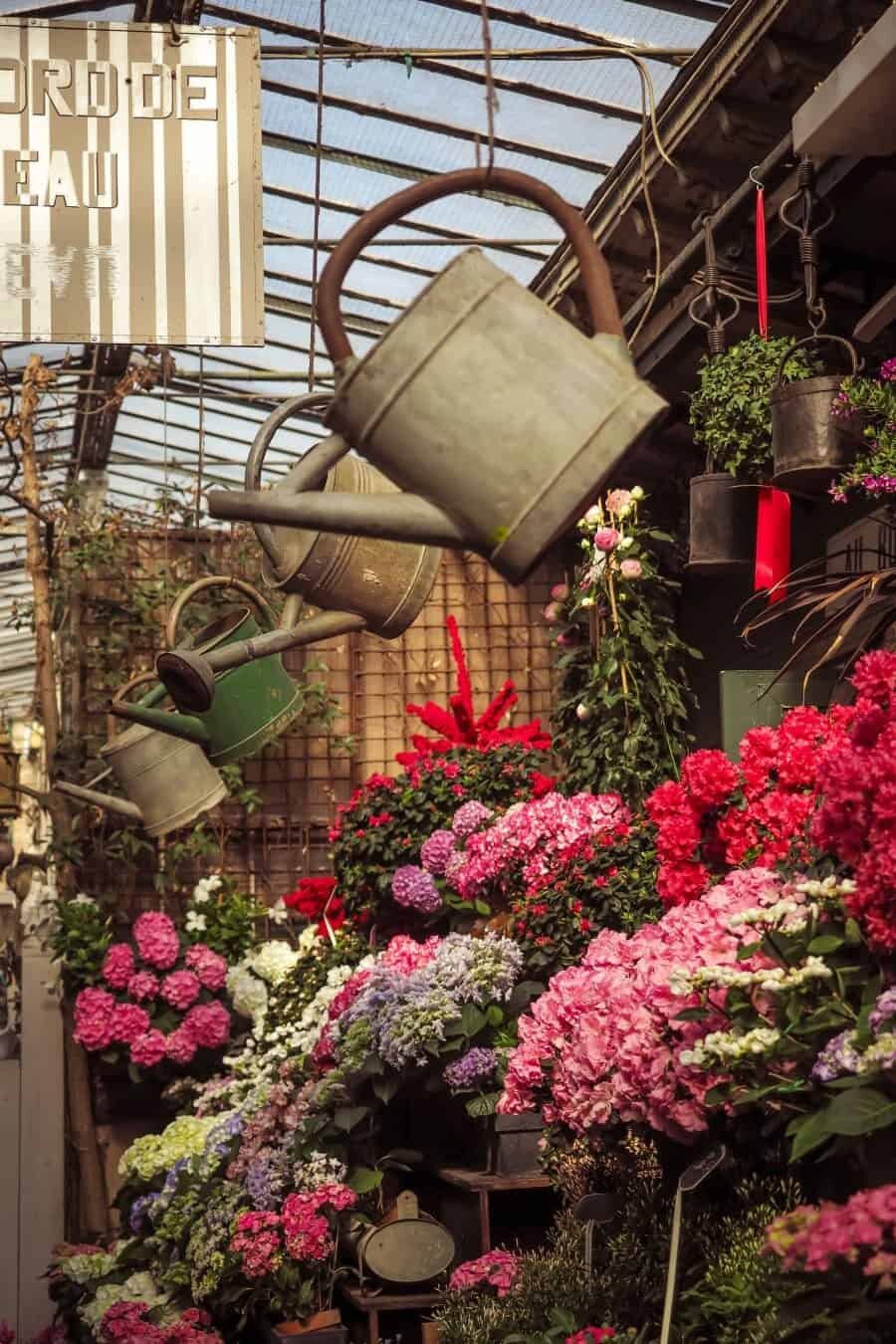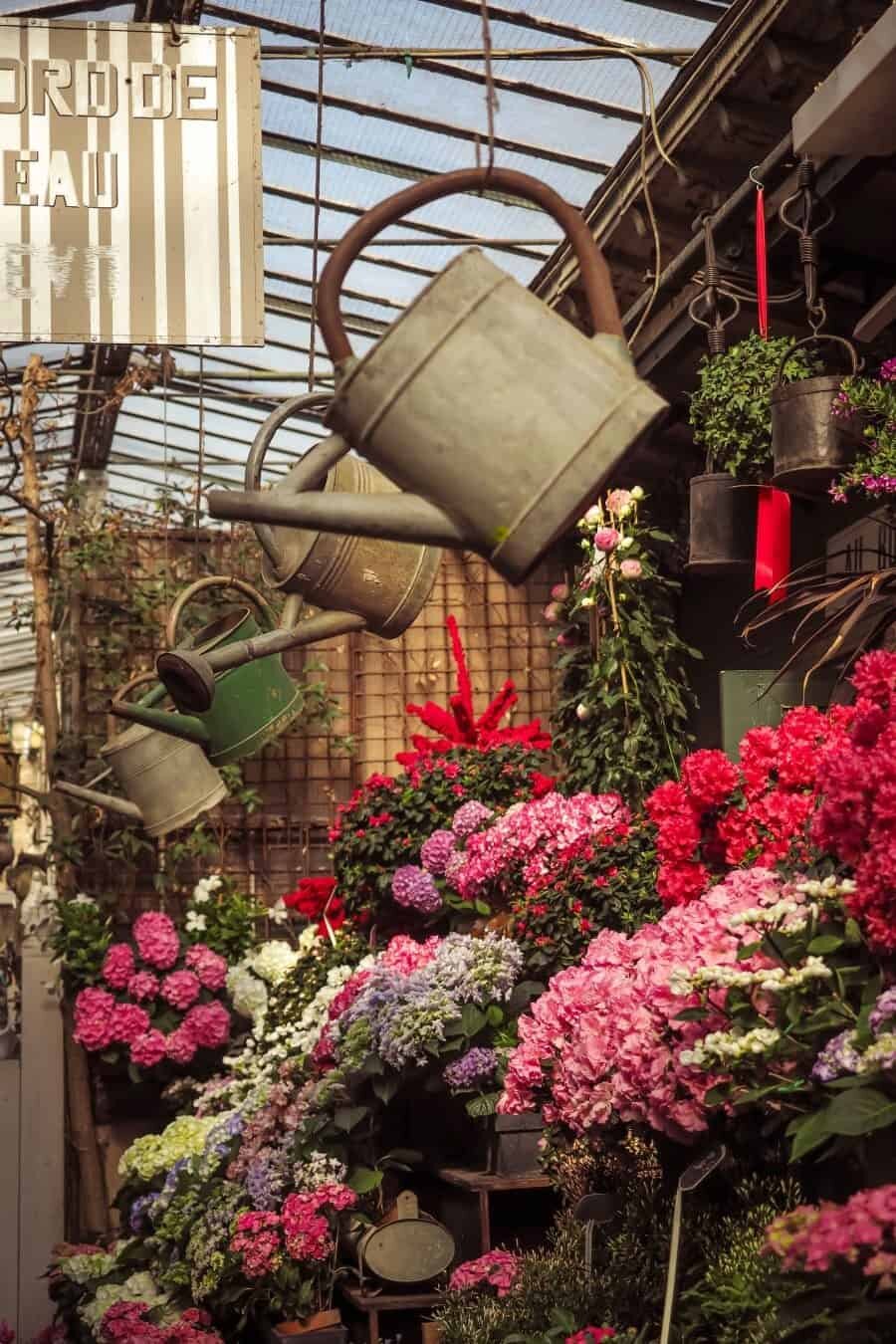 ---
#11 Galeries Lafayette Haussmann
Located on Boulevard Haussmann in the Opera district, this department store is a shopping dream! It's also for photographers, visit for the impressive theatre-like design in the centre of the store, a dazzling bazaar! Take the stairs to the top level for views across the city, it's outdoor panoramic deck offers an alternate view of the Eiffel Tower and you'll be able to capture impressive shots above the Palais Garnier.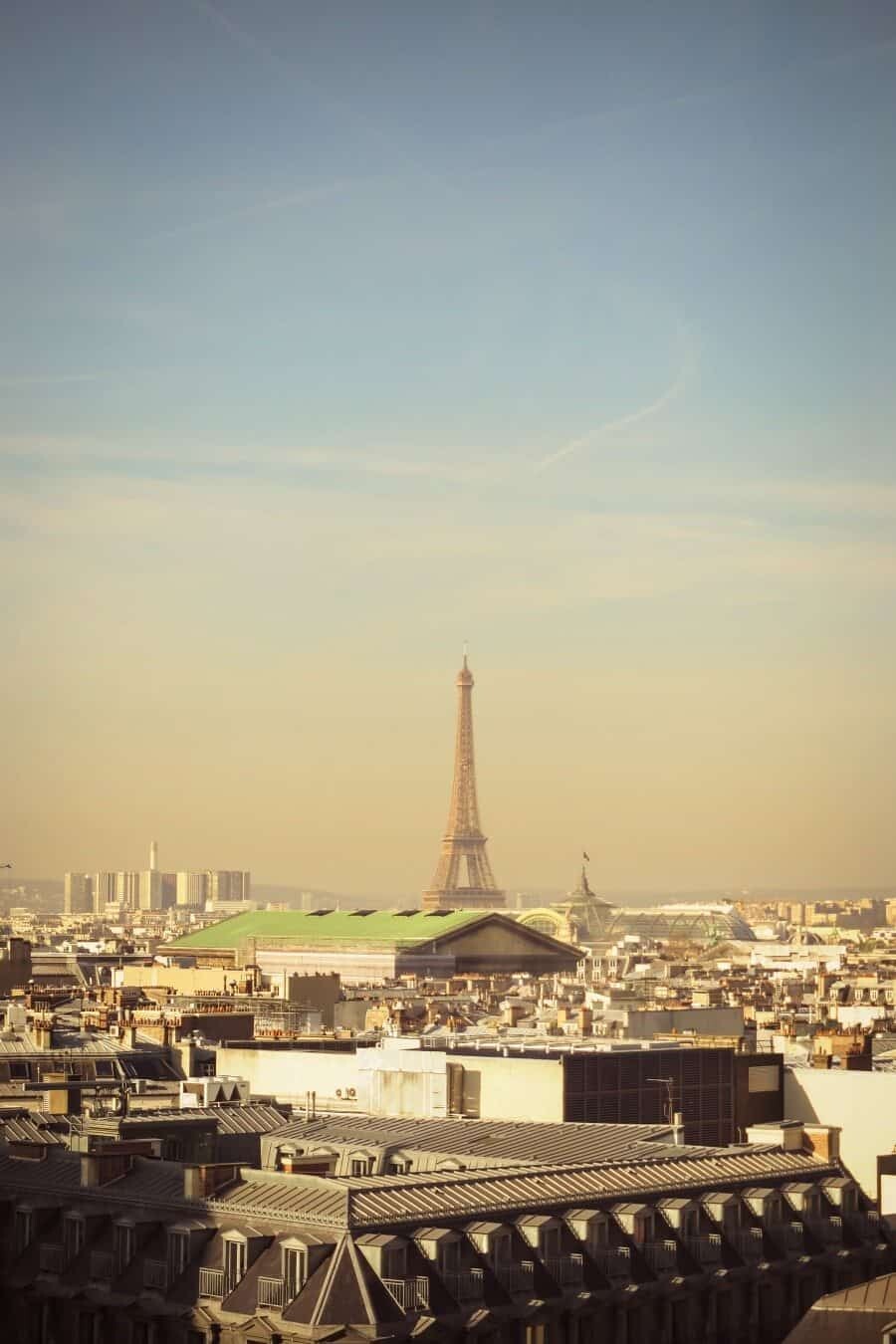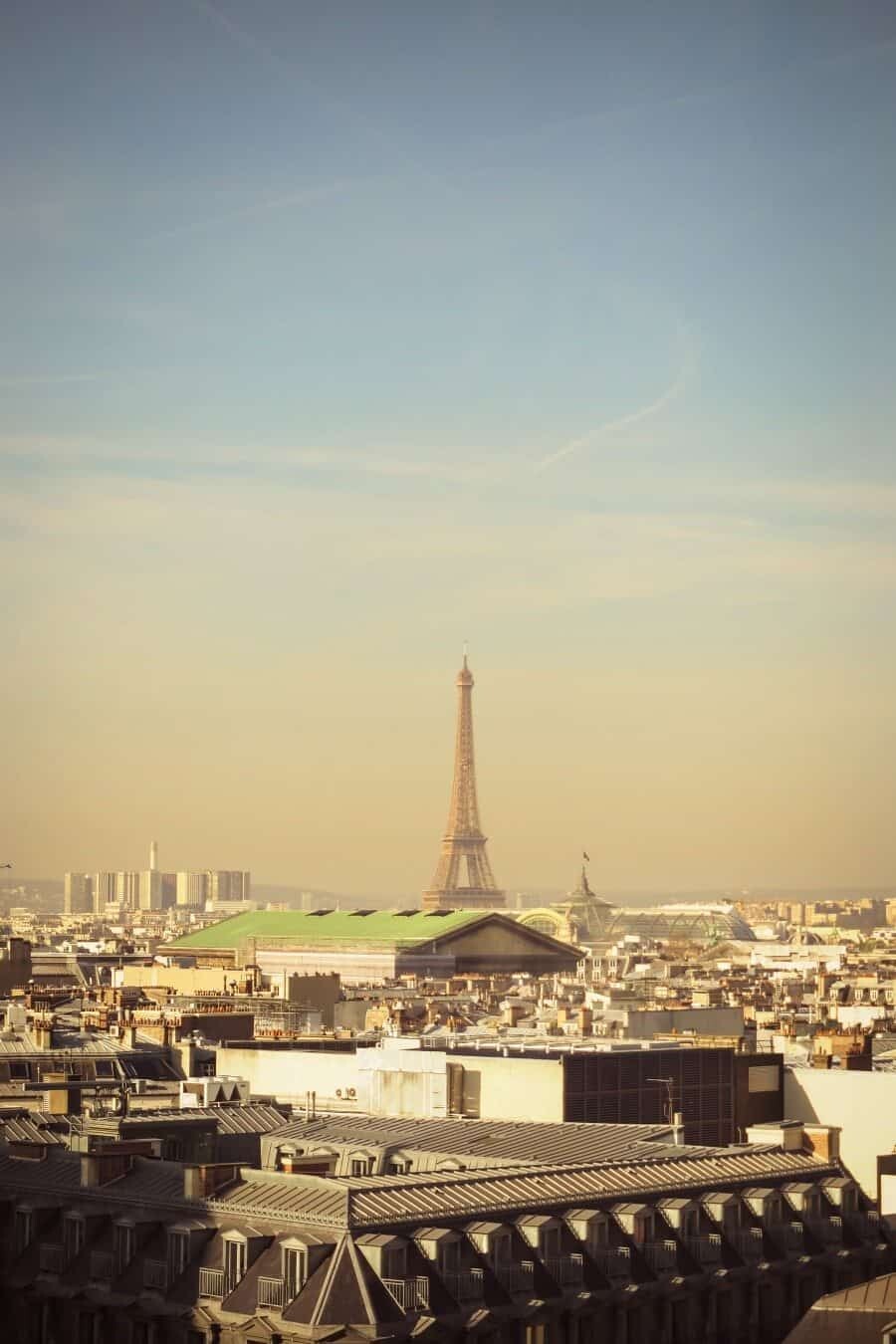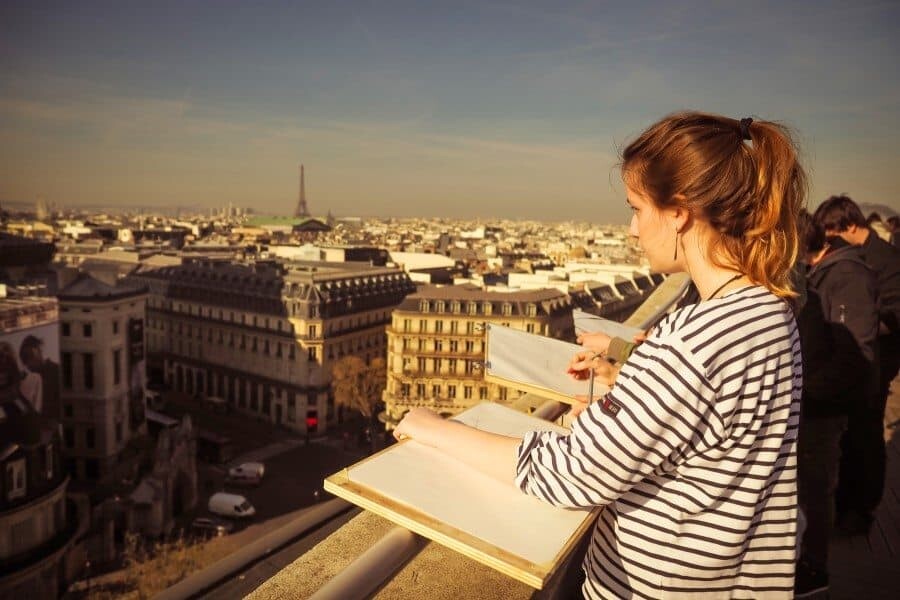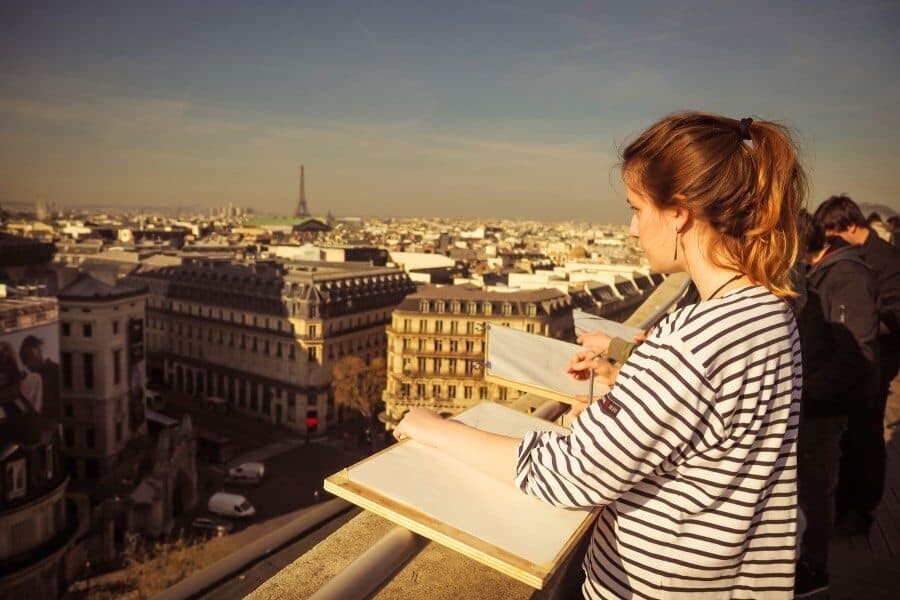 ---
Other notable Paris photography Locations –

Marché Mouffetard: A narrow street market described by Hemingway as 'A Moveable Feast'. Colourful fresh food stalls and a vibrant atmosphere!
Place de la Concorde: A main thoroughfare for tourist buses and pedestrians, this is a great place to sit on the stone walls and watch the world go by. Located at the end of the The Tuileries Garden not far from the Louvre, it's a giant public square decorated with fountains. Side note…you'll also find THE best public toilet in Paris here at the entrance to the garden. I'm not even joking, you'll thank me later!
Palace of Versailles: A 40minute train journey out of the city will take you to the Palace of Versailles, an extravagant royal chateau. Have a peek inside here.
Hotel de Ville: The town hall of Paris is home to the city's administration offices however it's exterior is far less boring. Looking more like a palace, the Hotel de Ville features a gorgeous Gothic roof and in winter it's the backdrop to a giant ice skating rink…it looks beautiful lit up in the evening too!
Le Stade Roland Garros: Even if you're not in town for the French Open in May, Roland Garros is a great day trip for tennis fans like me! You can get lucky and see a tournament or take a tour behind the scenes. Catch the Metro to Porte d'Auteuil and wander the lovely area and parks too!
St Etienne du Mont: An impressive Gothic church with unique details such as stone spiral staircases and giant stained glass window panels…light and airy.
Galeries Vivienne: A hidden little arcade off Rue Des Petits Champs filled with character.
---
Where to Stay in Paris
When covering numerous Paris photography locations, there are of course thousands of hotels, apartments and boutique properties to choose between depending on which areas suit you best. For me, there's one spot I love to stay when photographing Paris. Right near the Eiffel Tower. Not only because this iconic beauty is right outside the window, but because you're close to the Seine and a short walk from some of the most beautiful areas in the city.
Mercure Paris Central Tour Eiffel – If you are looking for somewhere fabulous to stay in Paris that doesn't break the budget BUT offers views of the Eiffel Tower from your room I've found just the place! The Mercure Paris Central Tour Eiffel is not only a funky and really comfortable hotel but it's located one block from the Eiffel Tower! From your room you can watch as the tower sparkles before you drift off to sleep, only to wake and watch the sunrise glow behind the French icon. Because I only list places I've personally stayed, be sure to ask for room #1031, #1131 or #1211 for the best views of the Eiffel Tower! To check room rates visit – Mercure Paris Central Tour Eiffel
Take a peek at the view from the room…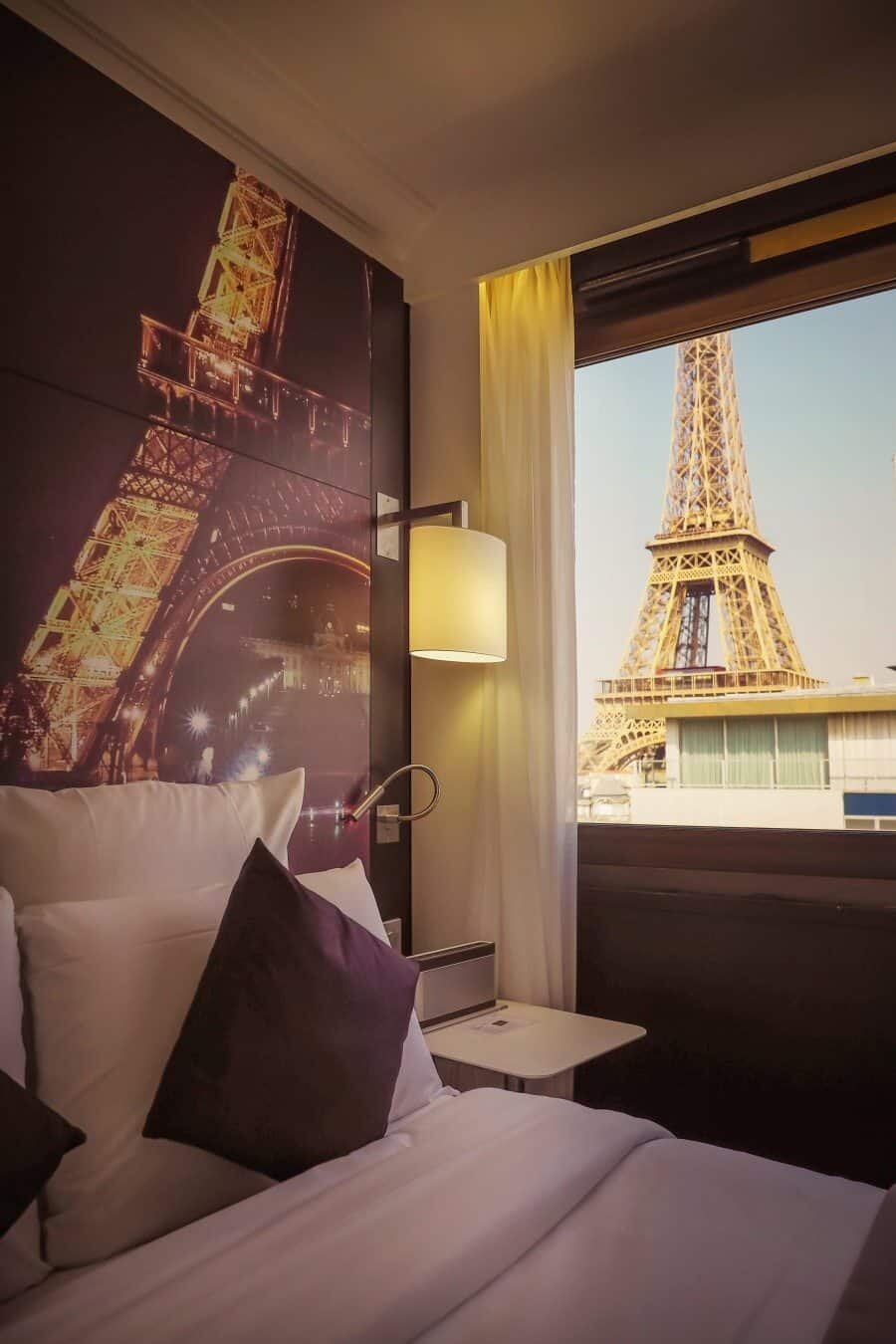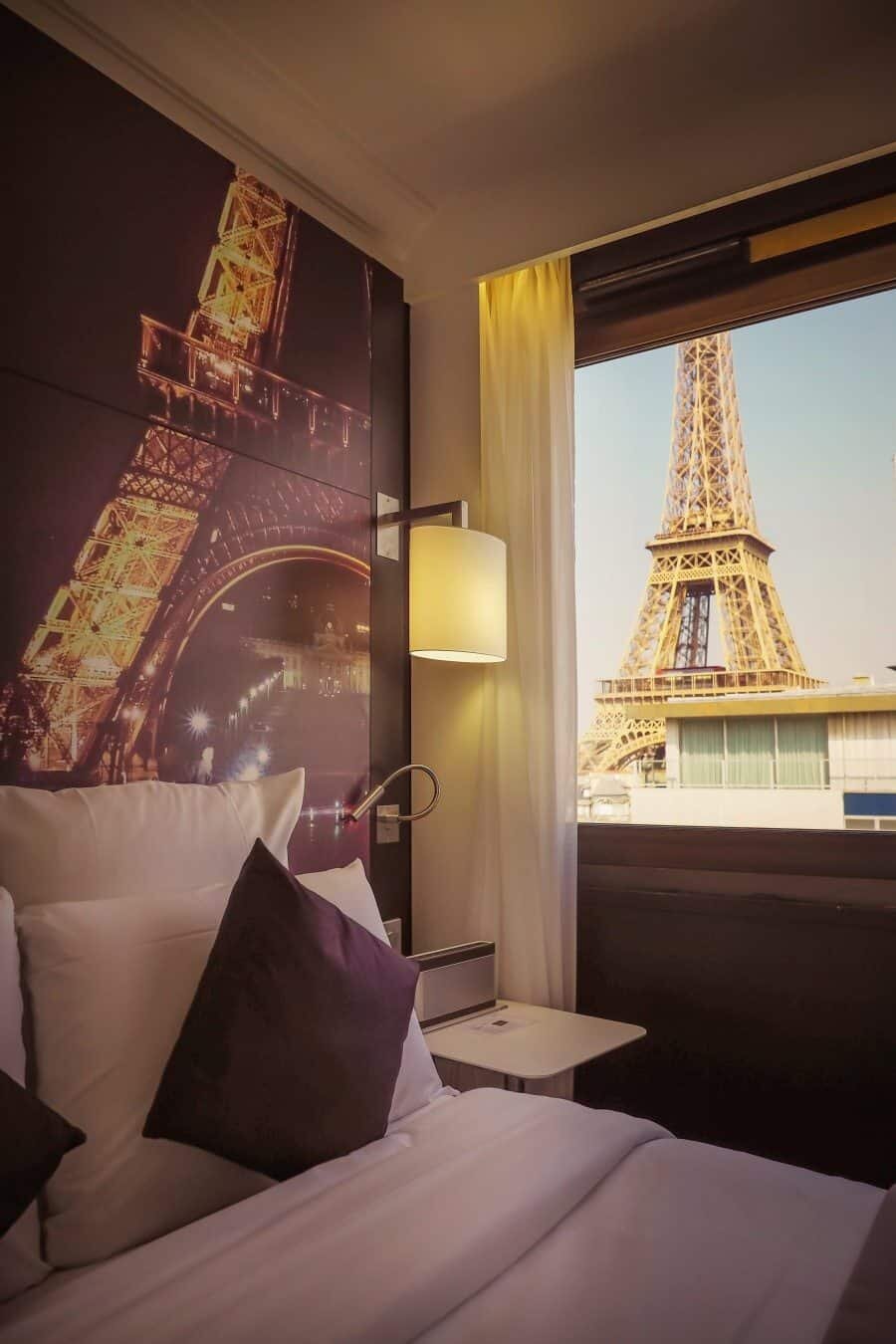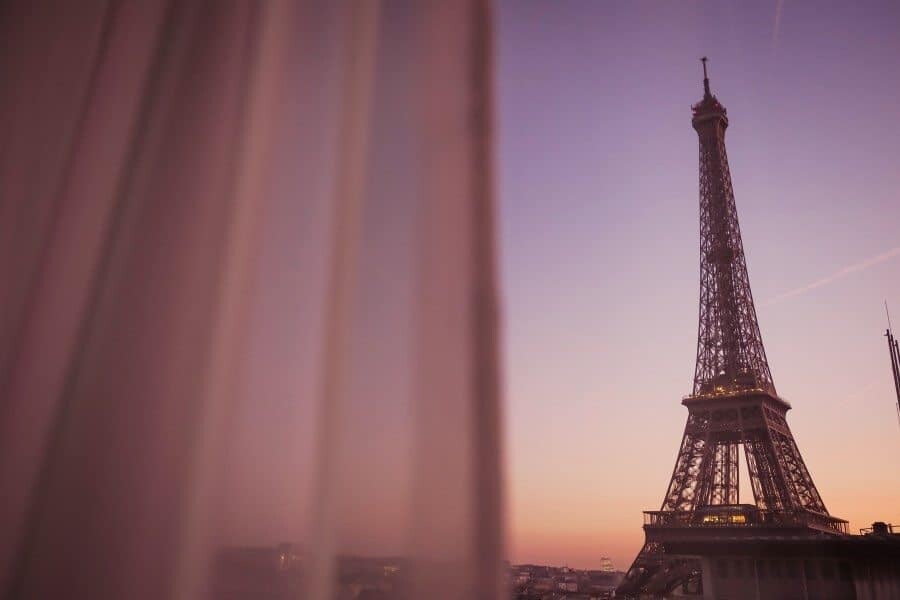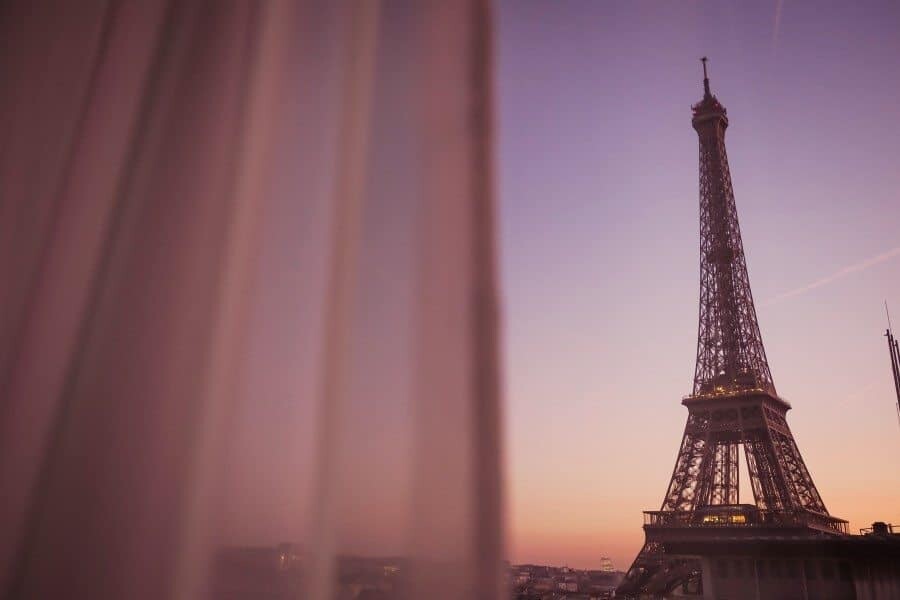 ---
Take me with you: Maps to Paris Photography Locations
Map: DIY Paris Photo Walk
Start your walking tour in Saint-Michel then walk to all of the major sites of Paris, ending at the Luxembourg Gardens. This walk takes over 4hours without photo stops or going into museums etc, so I highly recommend breaking it up into a few days! If you are short on time, jump on the metro to zip between locations easily.
Map: Paris Photography Locations
Now if you're more into catching the metro or choosing which locations you want to see, here is a map to all of the photography locations listed below in this guide. You should be able to click open this map and add your own locations, or create a customised walking tour. By clicking the 'add directions' button on the map it will bring up a Point A + Point B to work out directions for driving or public transport.
---
Paris Photography Resources + Other Photogenic Locations in France
For all other articles relating to Paris and France, take a peek at my France Archives.
Want to share some of your secret Paris photography locations? If you're willing, I'd love to hear about them in the comments below!
If you've got a great photo from your Paris adventures to share use the hashtag #thewanderinglens on Instagram and you could be featured on The Wandering Lens.
Love this post? Pin the photo of your choice below on Pinterest and spread a little wanderlust!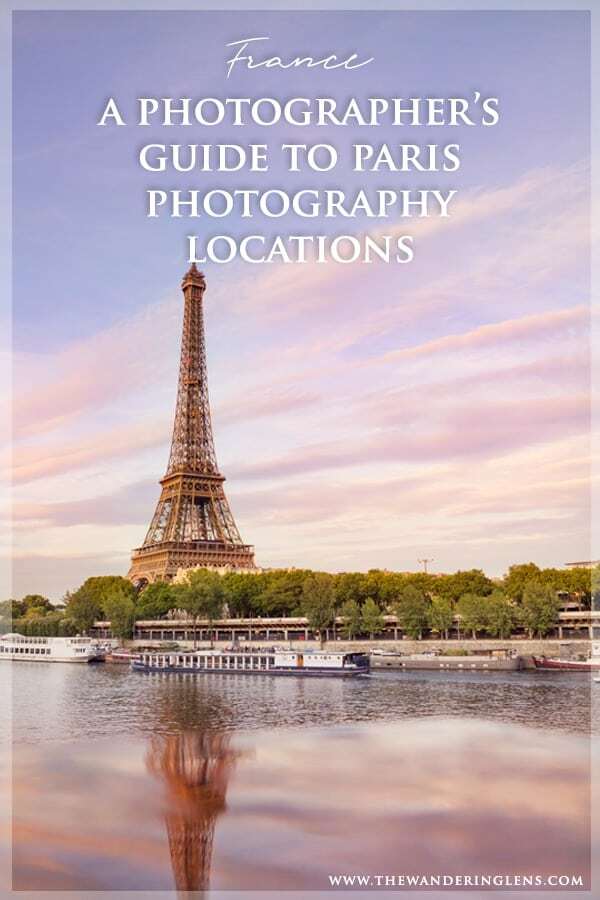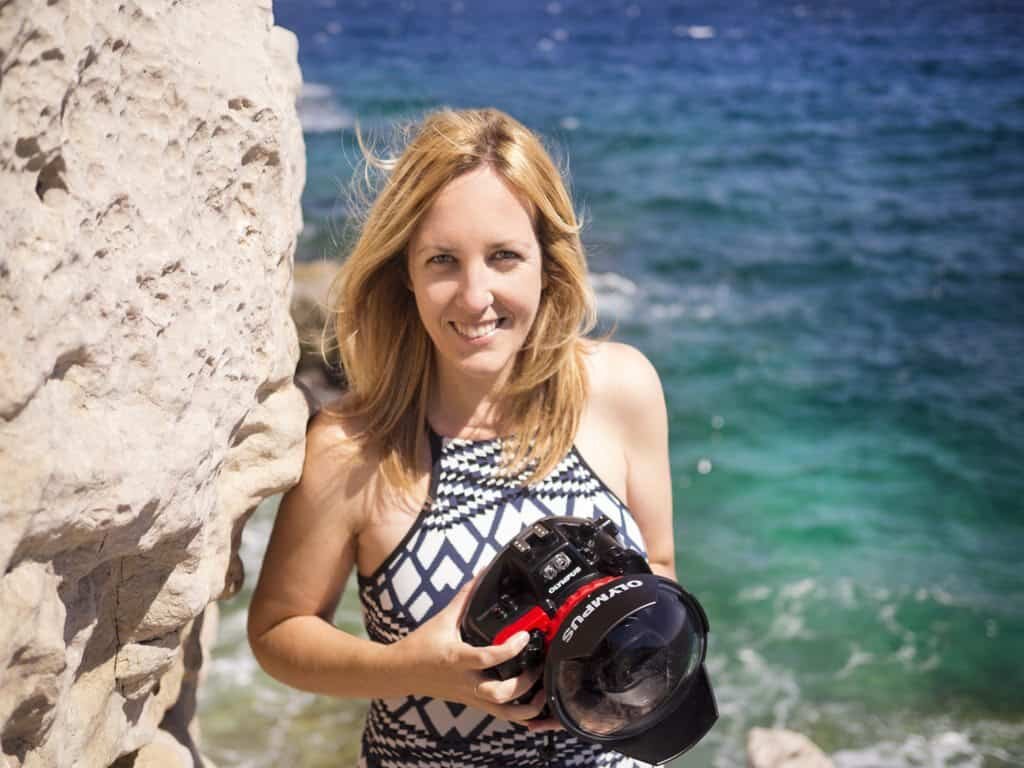 Hello! I'm the founder and photographer behind The Wandering Lens.
With 17+yrs experience as a professional travel and landscape photographer, all advice found on this site is from my personal experience on the road. I hope it's useful for your own travels and would love to hear in the comments about your trips and experiences around the world.