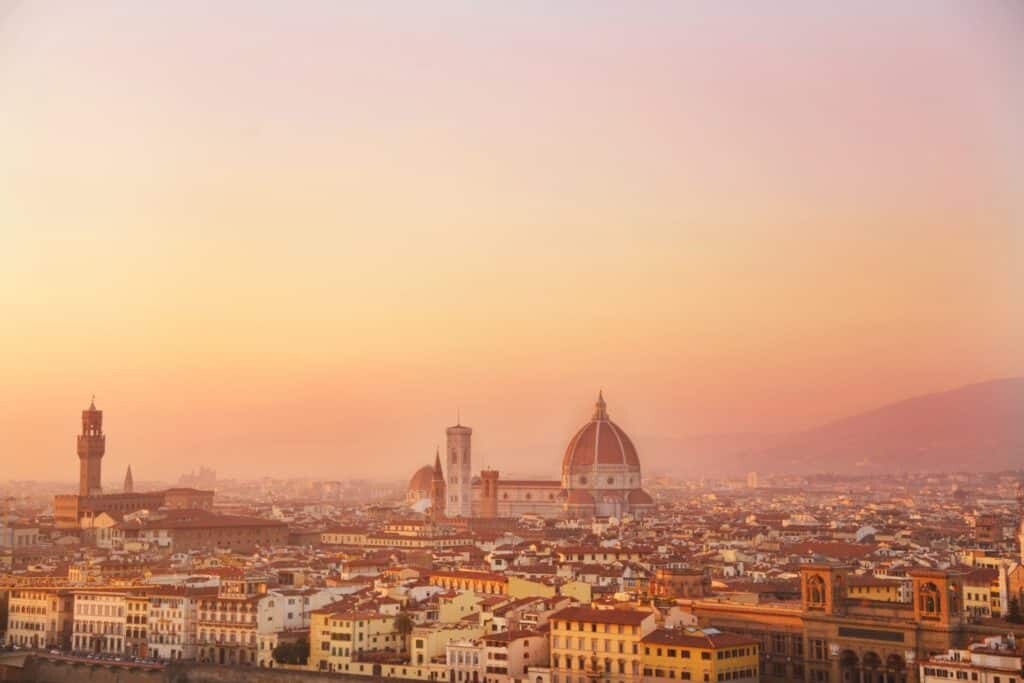 Florence Photography Locations
Your guide to finding the best vantage points and photo spots in Florence…
Terracotta roof tops, hidden courtyards and streets alive with historical features. Florence is a city to get lost in with your camera. Roam under the Tuscan sun and soak up the Italian culture in the city where bicycles and motorbikes are more popular than cars.
Below is a little guide and map to the best photography locations in Florence for your next visit…
Florence Photography Locations
---
#1 Fiume Arno (River Arno)
Weaving its way through the centre of Florence, the river is alive with photography opportunities. Rowers carve along the waterway creating sparkles of sunshine on the water surface. If the conditions are nice and still you'll find loads of reflection possibilities around dusk with colourful facades doubling up in the river.
Best for: Reflections and creative angles of the facades of Florence. (Learn how to creatively use reflections here)
---
#2 The Cattedrale di Santa Maria del Fiore – The Duomo
Climbing to the top of cathedrals in Europe always offer unbeatable views over the cities below. The Duomo of Florence however goes one step further. You are barely restricted at the top and have to hold on as you delicately tread around the very tip of the dome. The climb up is through a very narrow staircase so if you don't like being in small spaces…be warned, especially when you get stuck behind a crowd it can get a little cramped.
While you're at the top, try and capture as many angles as possible. It's a long way up to climb it again if you think of another creative shot like I did!!
Best for: Wide angle cityscapes, detailed shots of roof tops and the piazzas below, distant scenic shots and also photographs of the cathedral itself.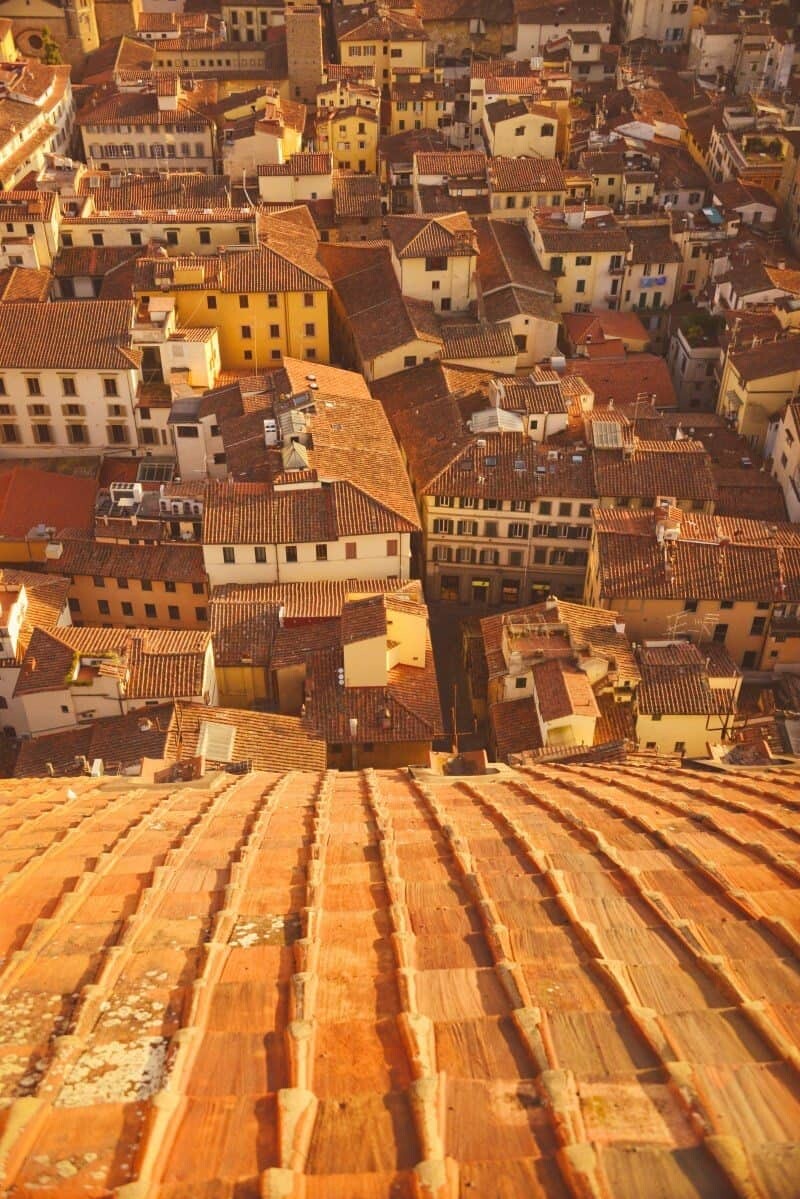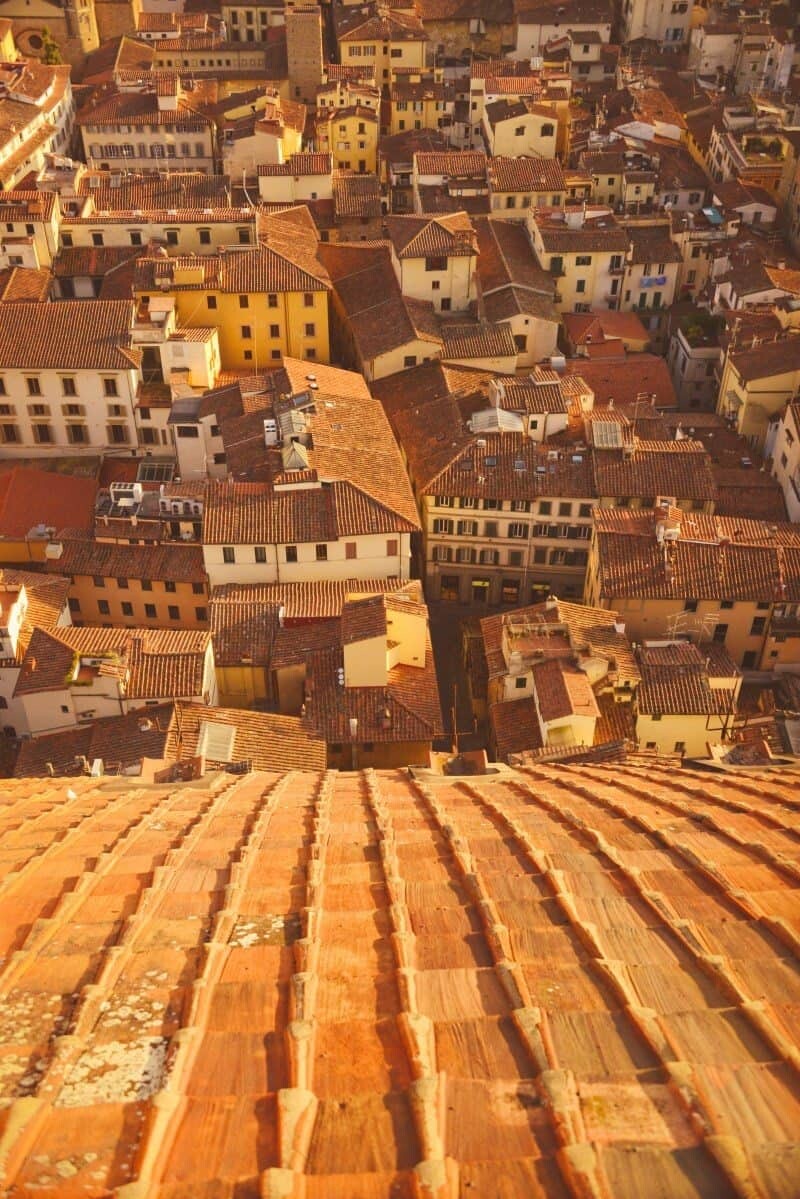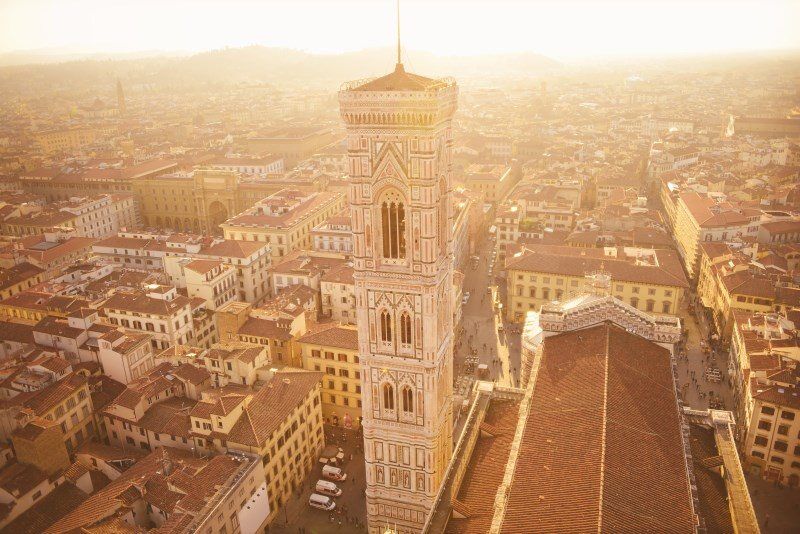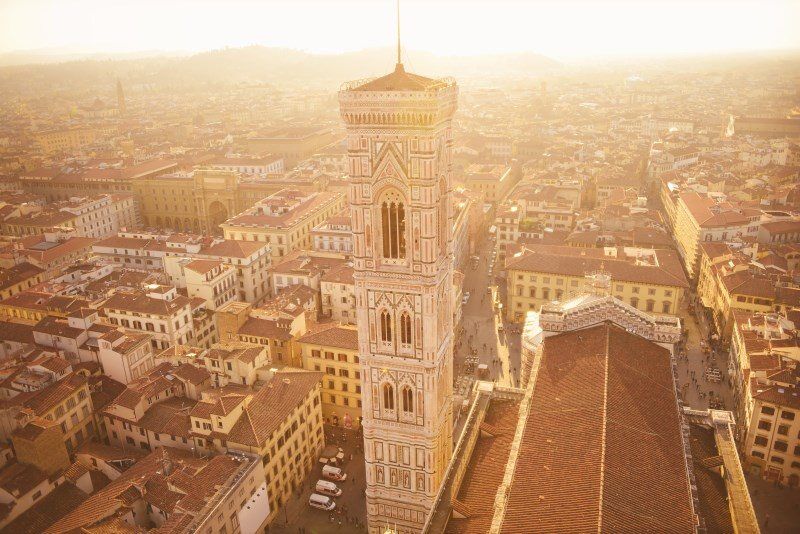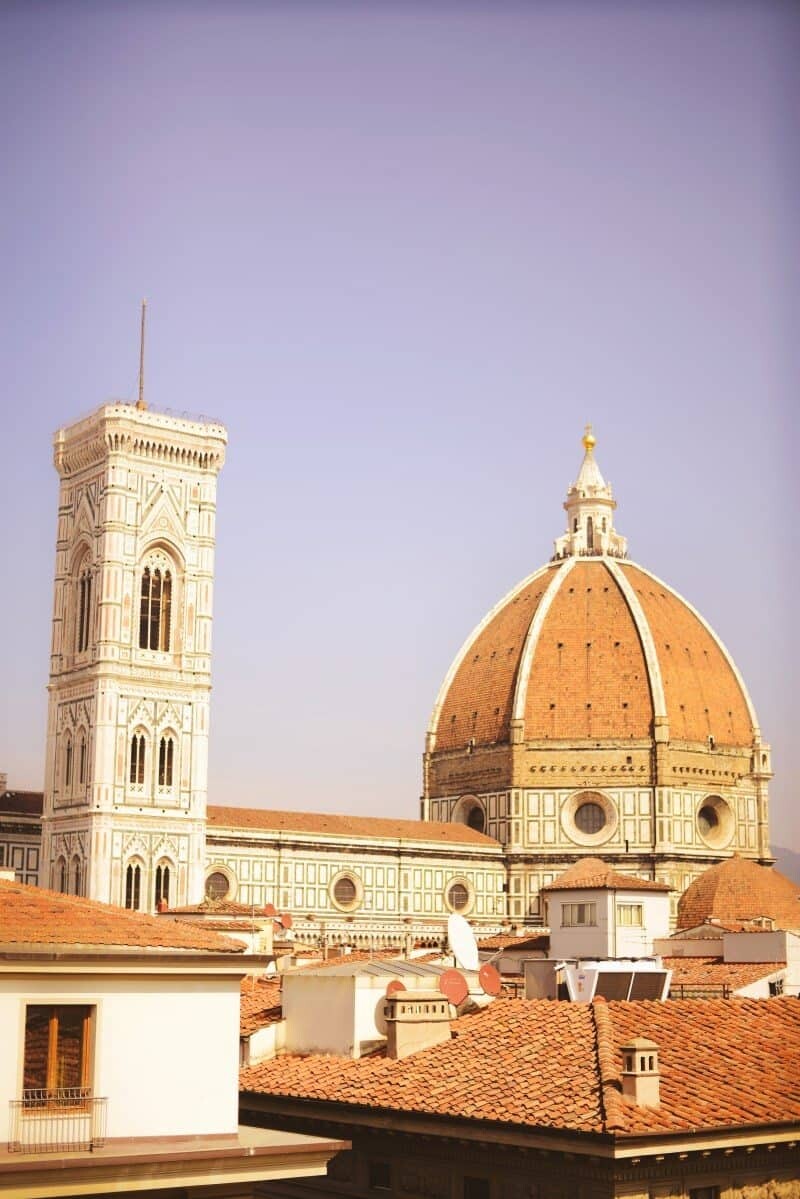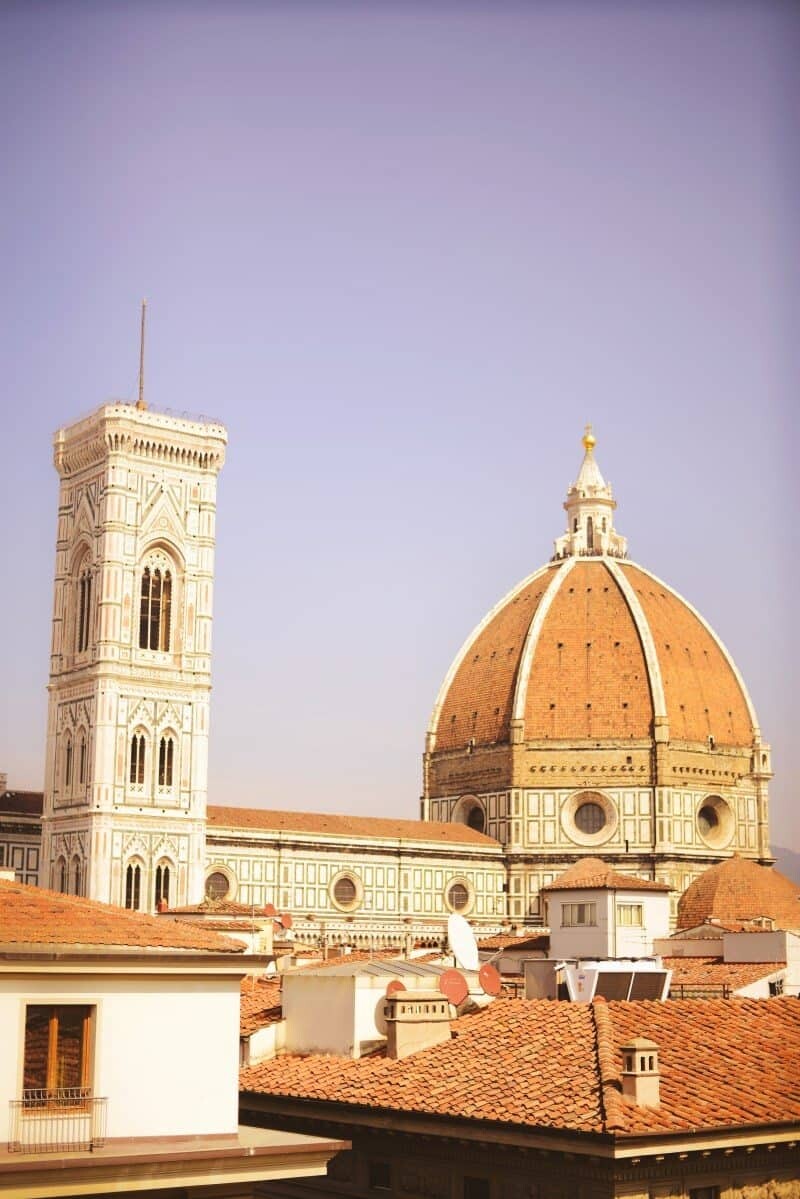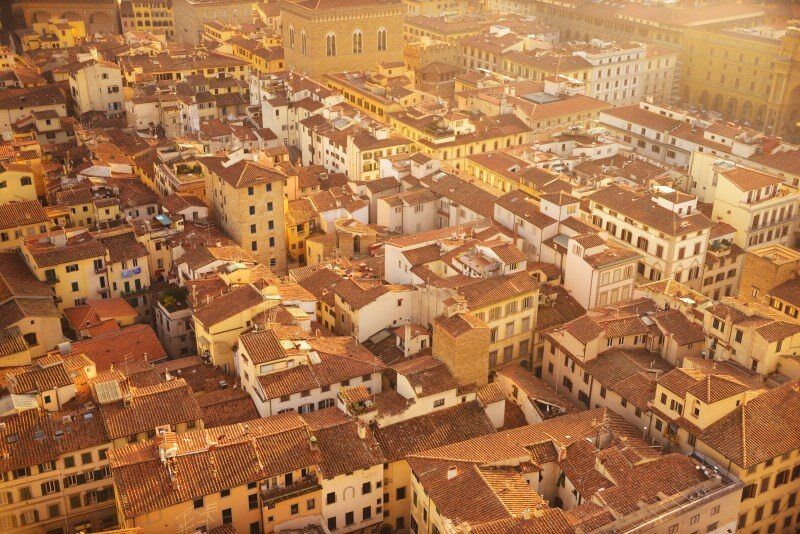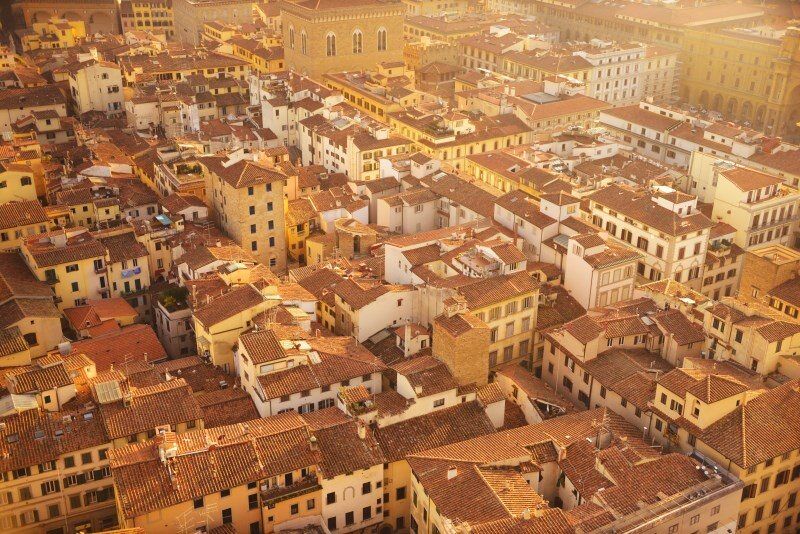 ---
#3 Piazza Michelangelo
Overlooking the skyline of Florence, this piazza is a tourist frenzy. It is however, one of the best locations to photograph the city, especially at sunset, and there is plenty of room to find a great vantage point even if all of the tourist buses arrive at once. If you want to enjoy the scenery a little longer, I suggest walking here from the river as the views all the way up are worth capturing and offer a lot of varied angles.
Best for: Panoramics and sunset photographs over the rooftops of Florence (Learn how to photograph during Golden Hour here)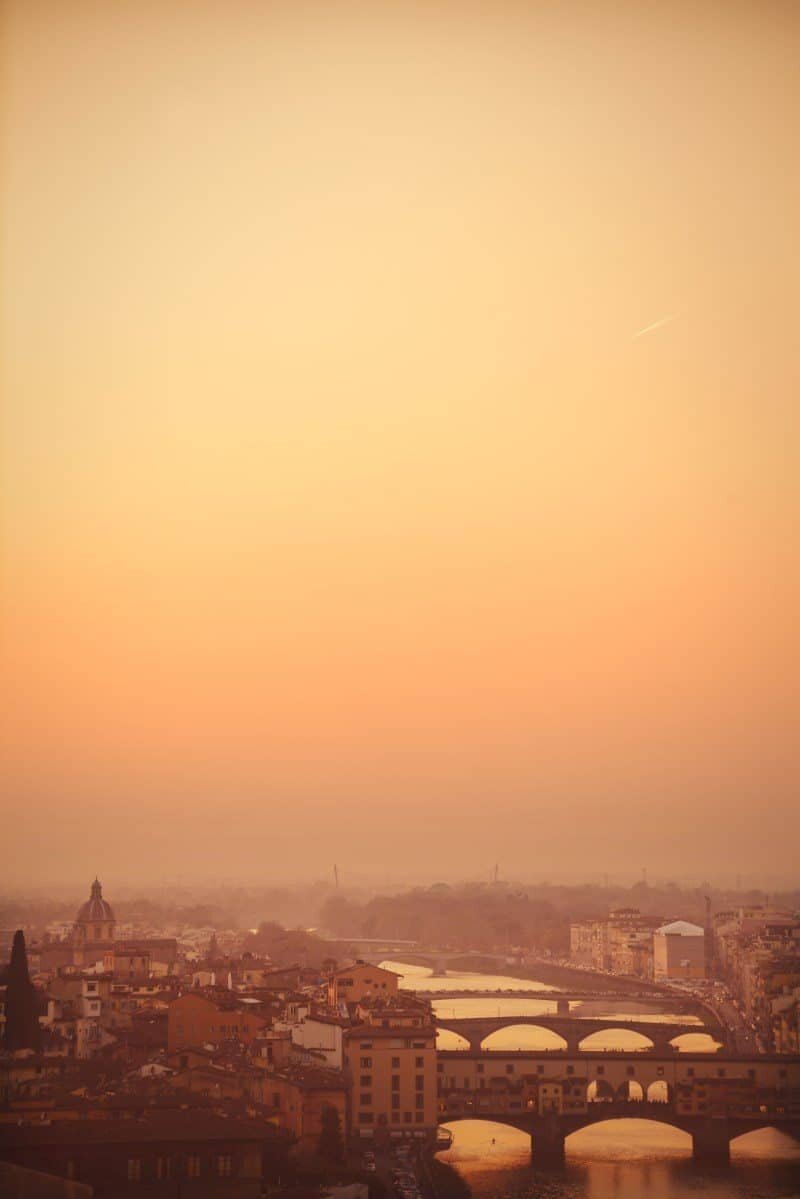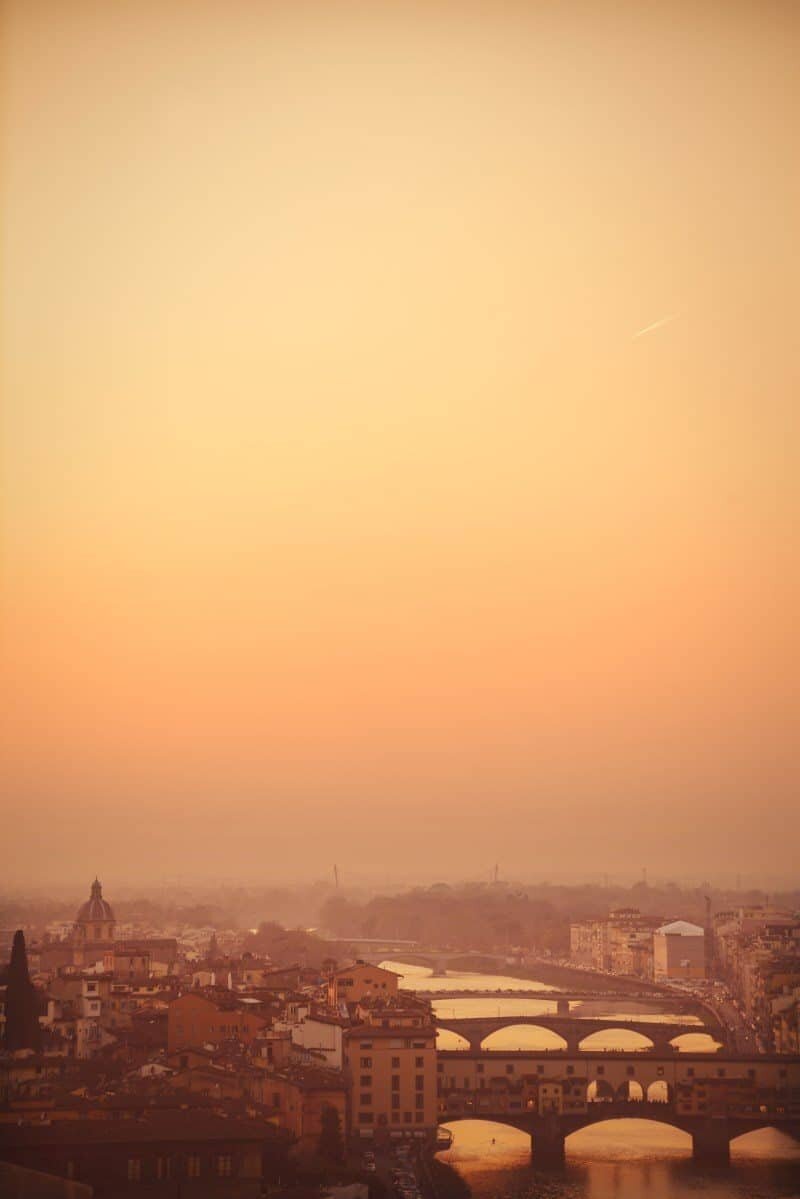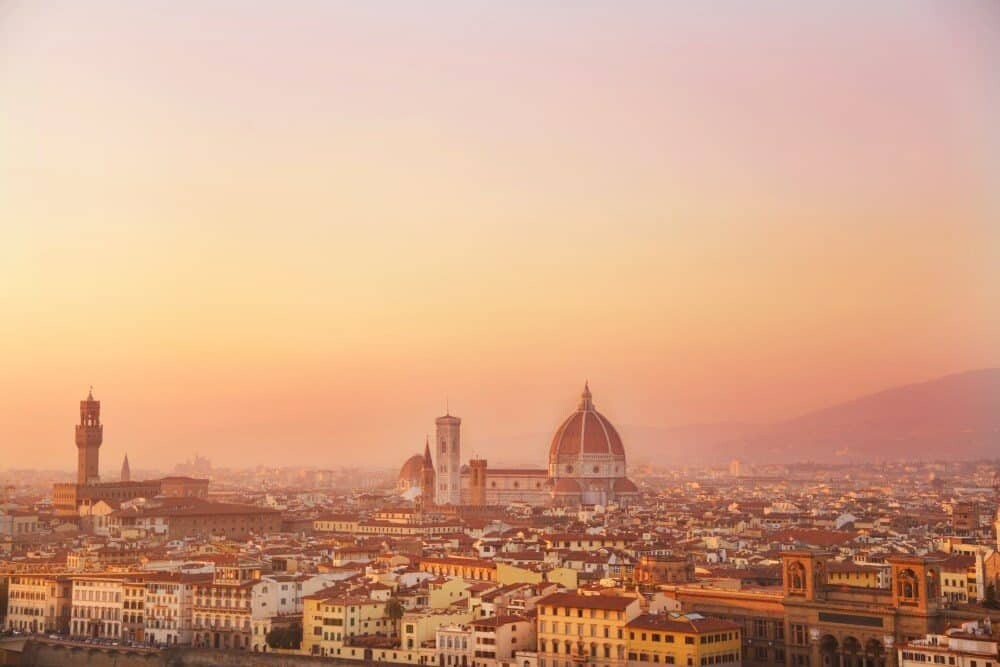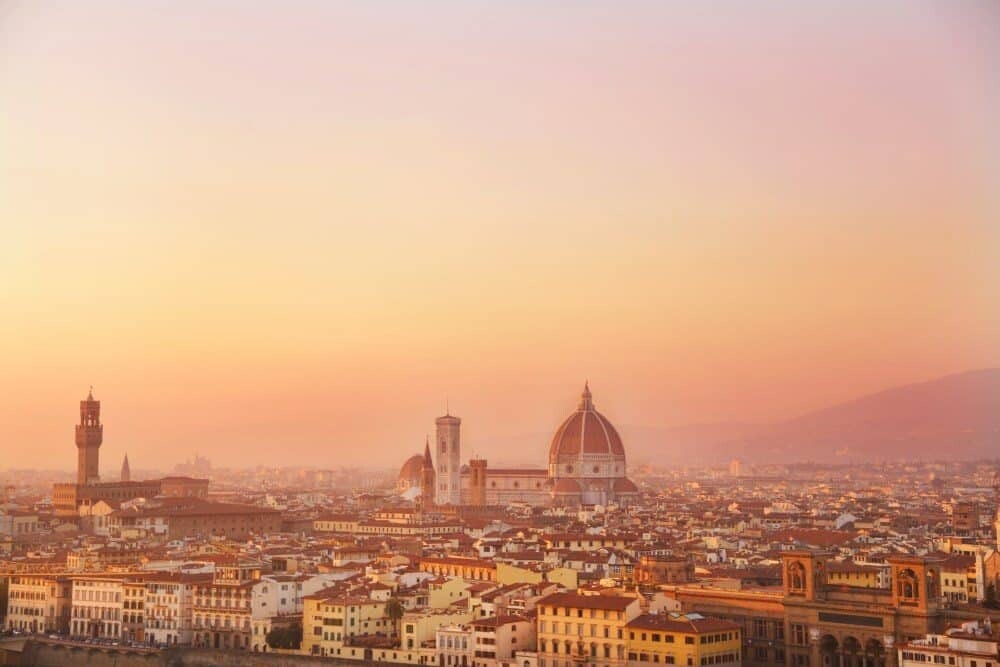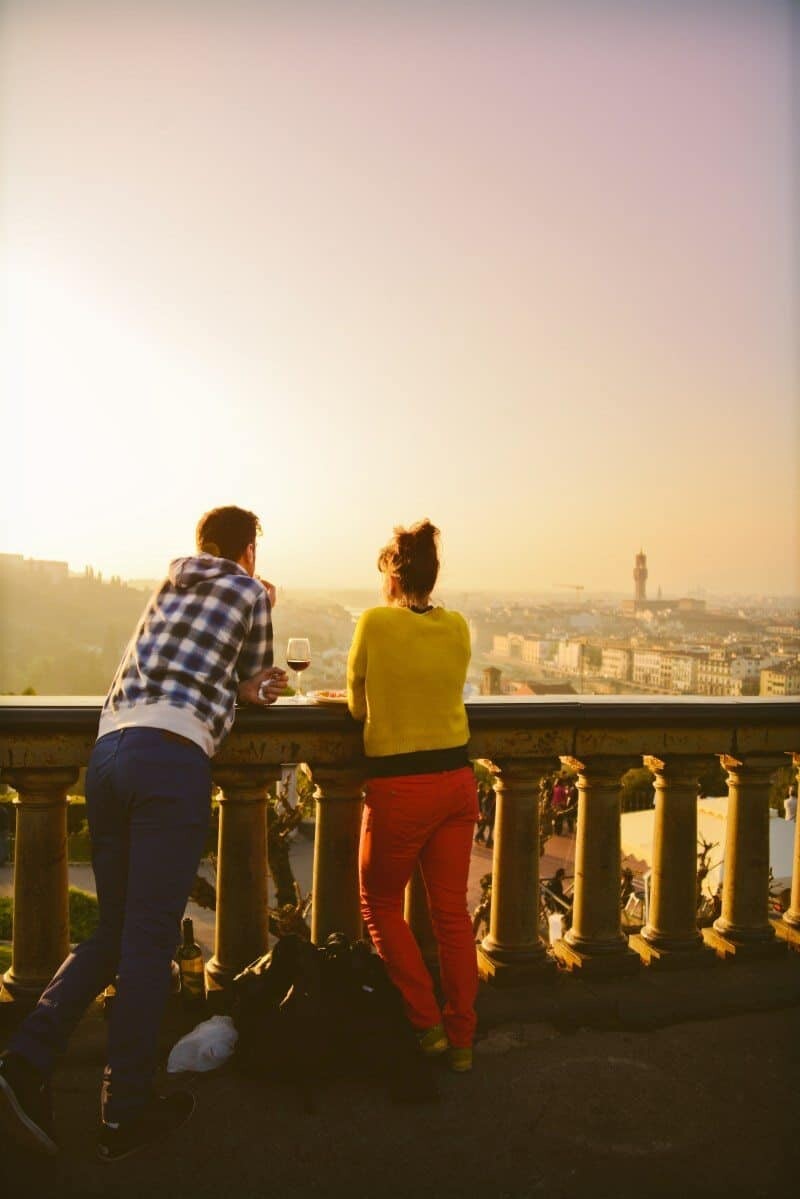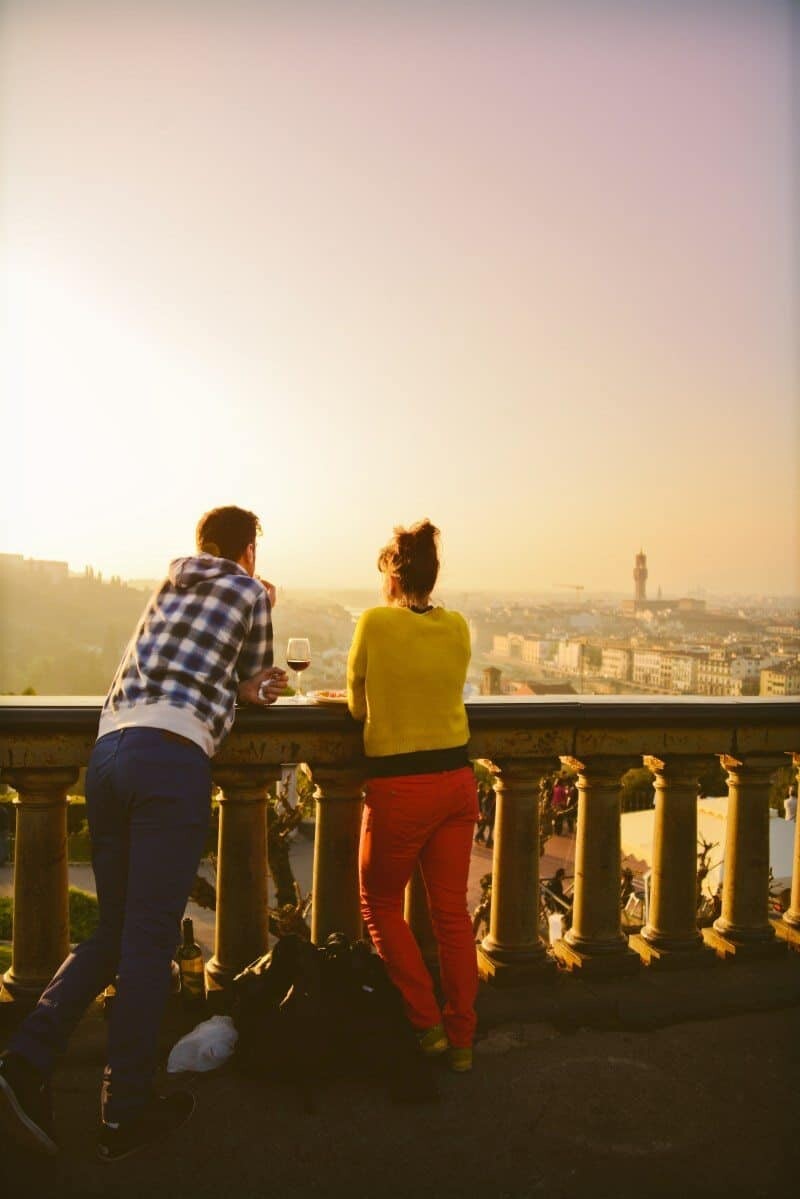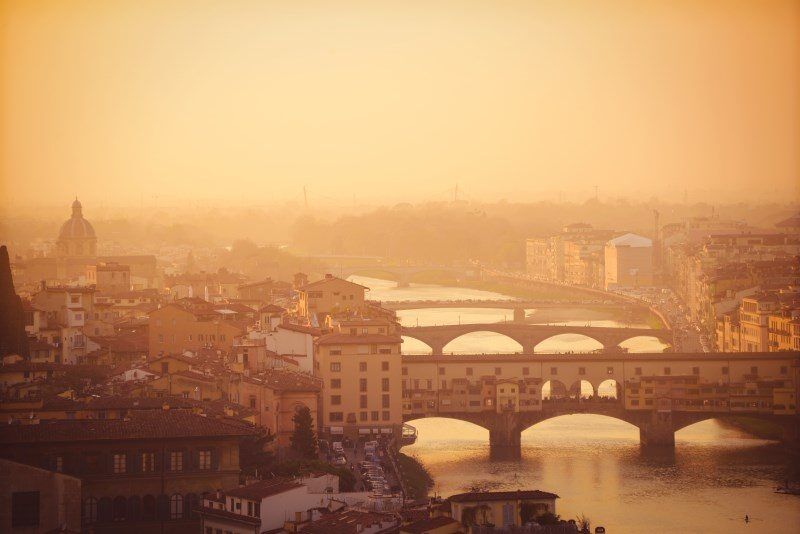 ---
#4 Palazzo Vecchio – Piazza della Signoria
In the centre of Florence is this majestic piazza where the Palazzo Vecchio towers over the cobblestones below. An open air museum, free entry and fountains filled with statues…including Tritone himself, this piazza is your one stop photo spot. Usually filled with people, it's a great chance to test your creative skills and take alternative angles of the buildings whether it be in puddle reflections, by framing them with other historical details or by arriving at a time when the piazza is a little emptier…think sunrise!
Best for: Cultural details and street scenes (Read more: Street Photography + Setting the Scene)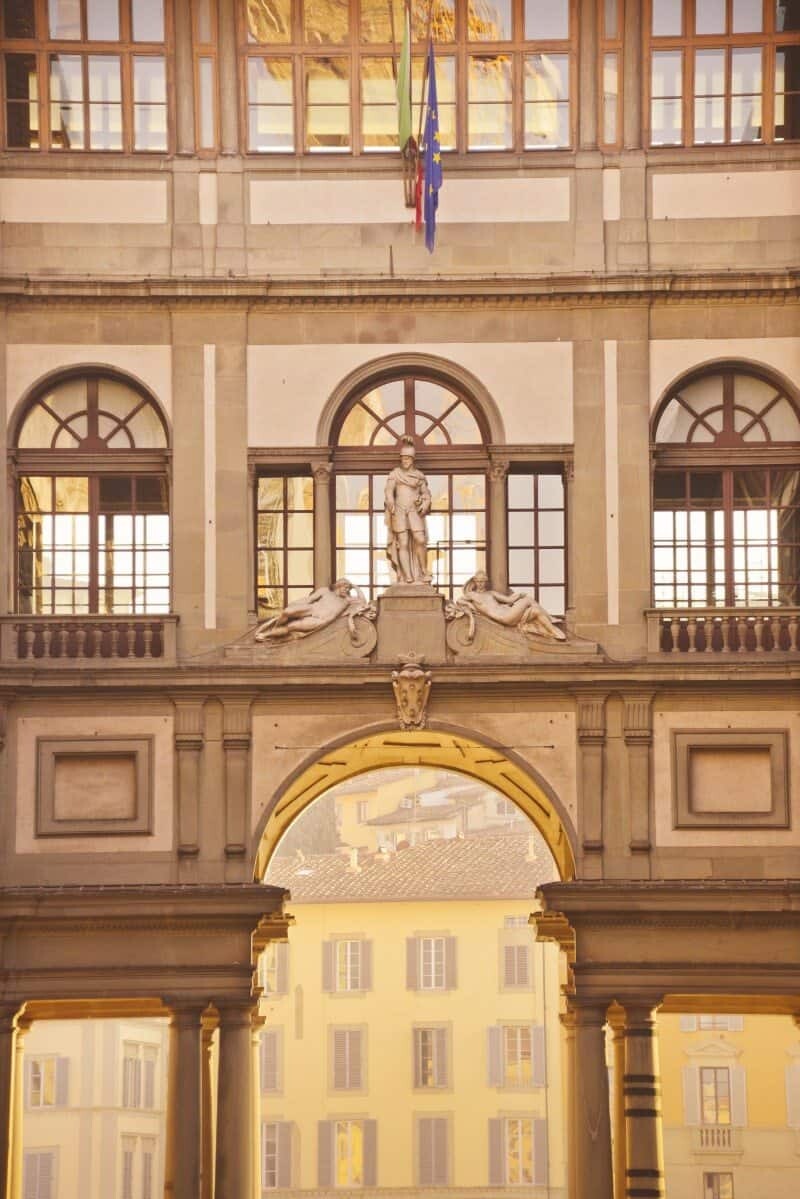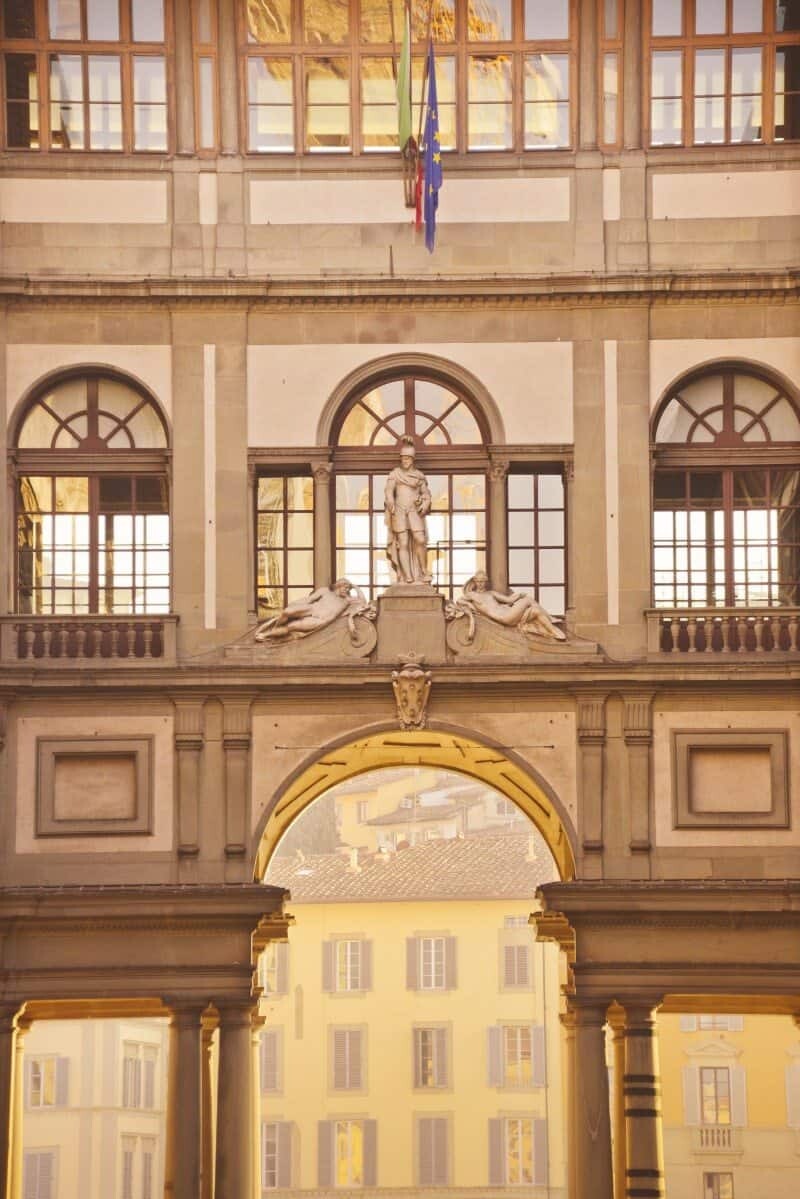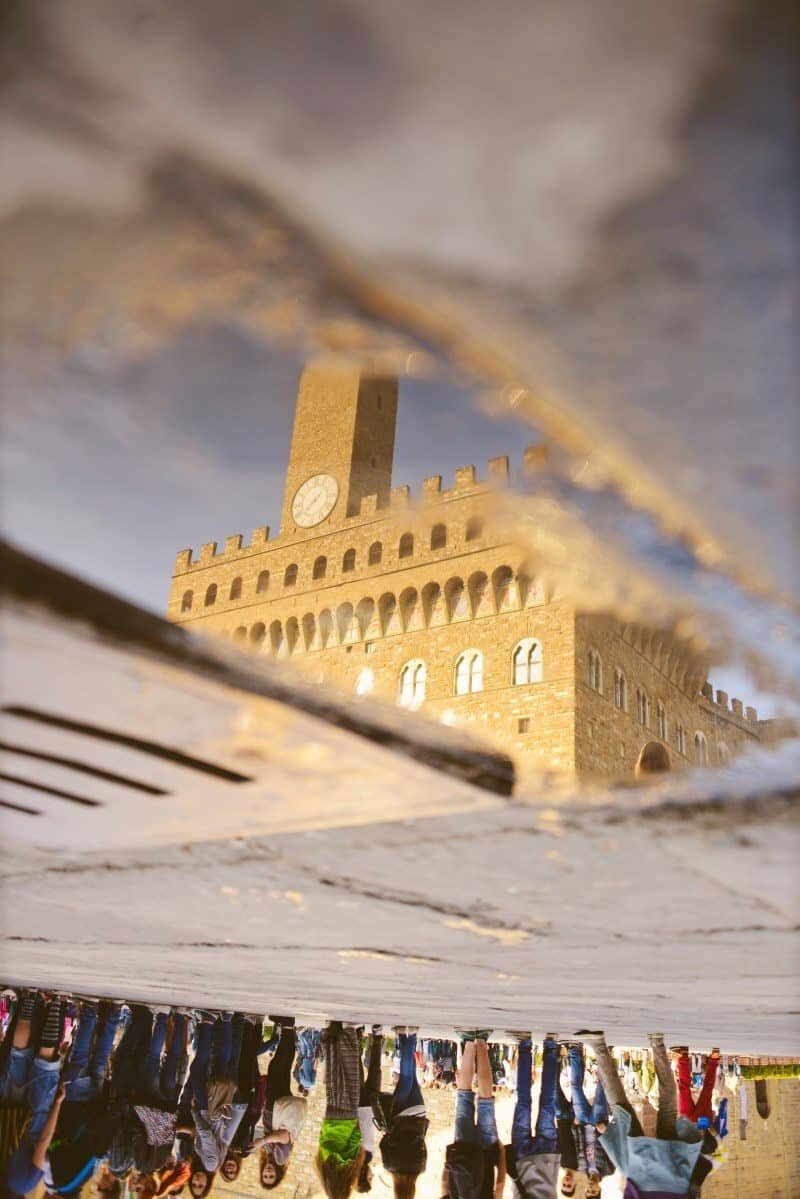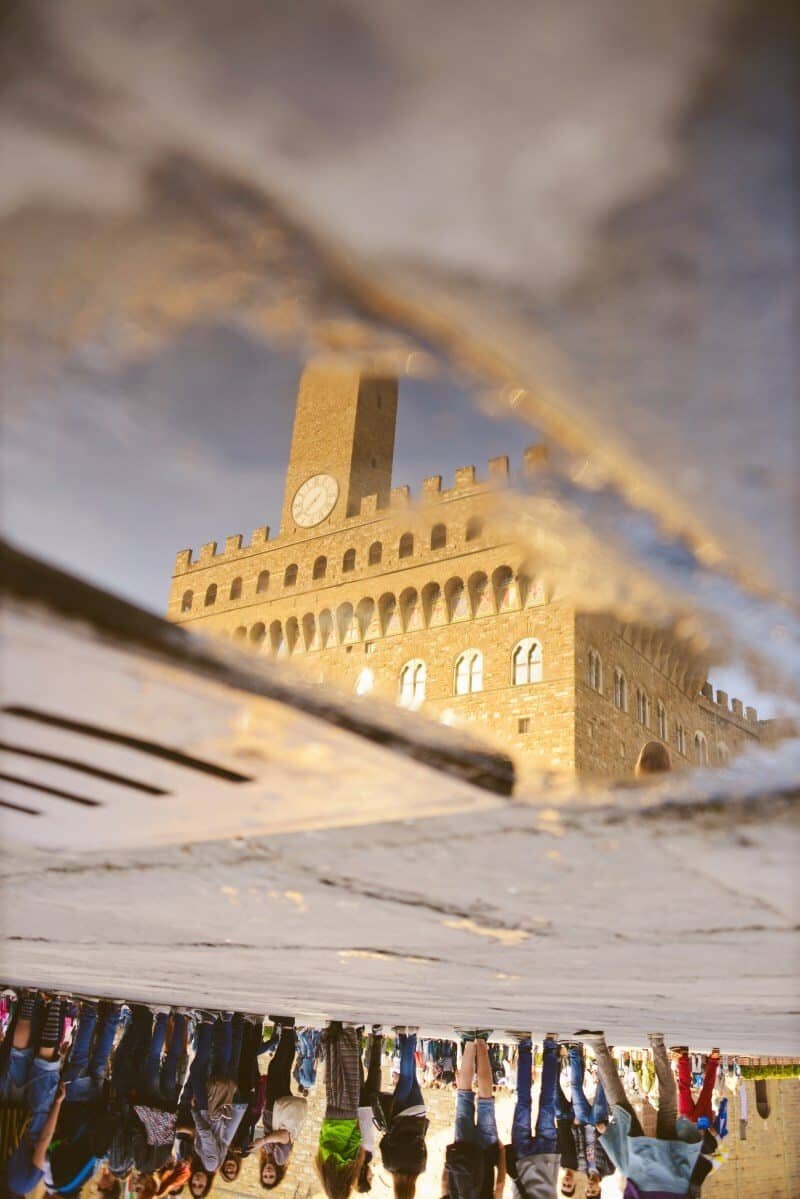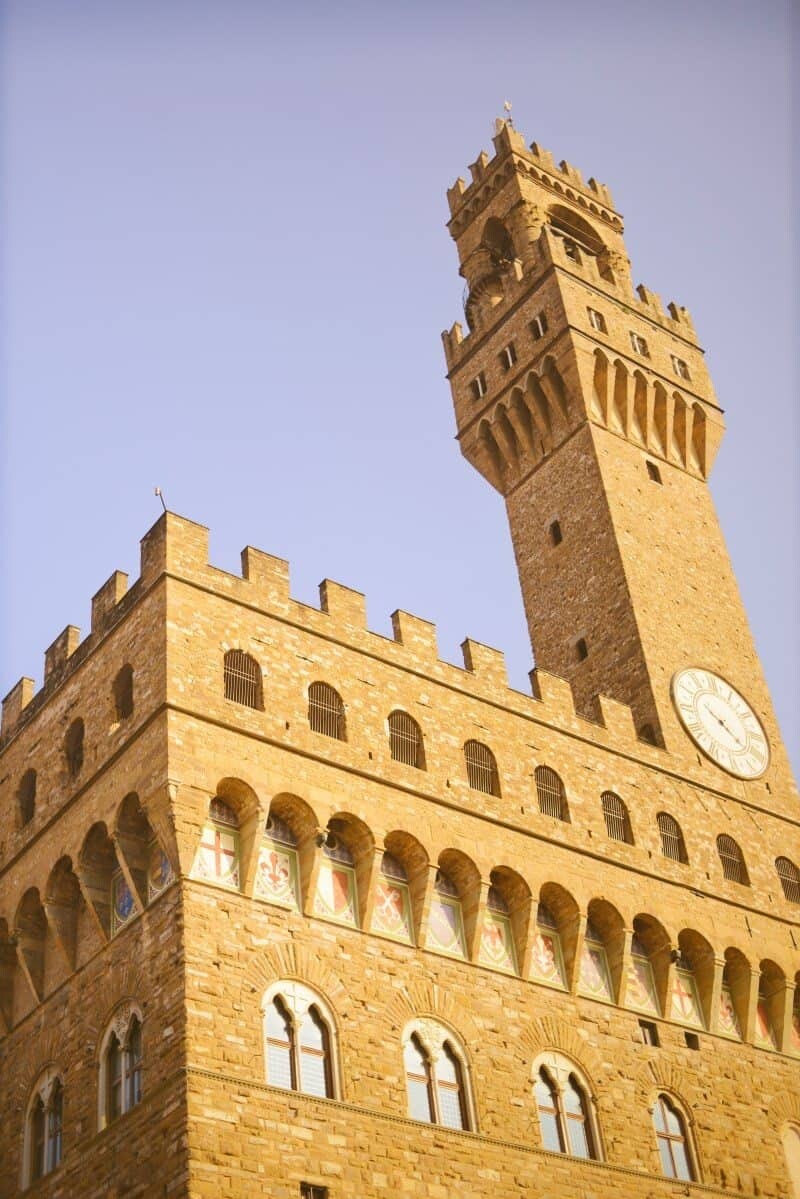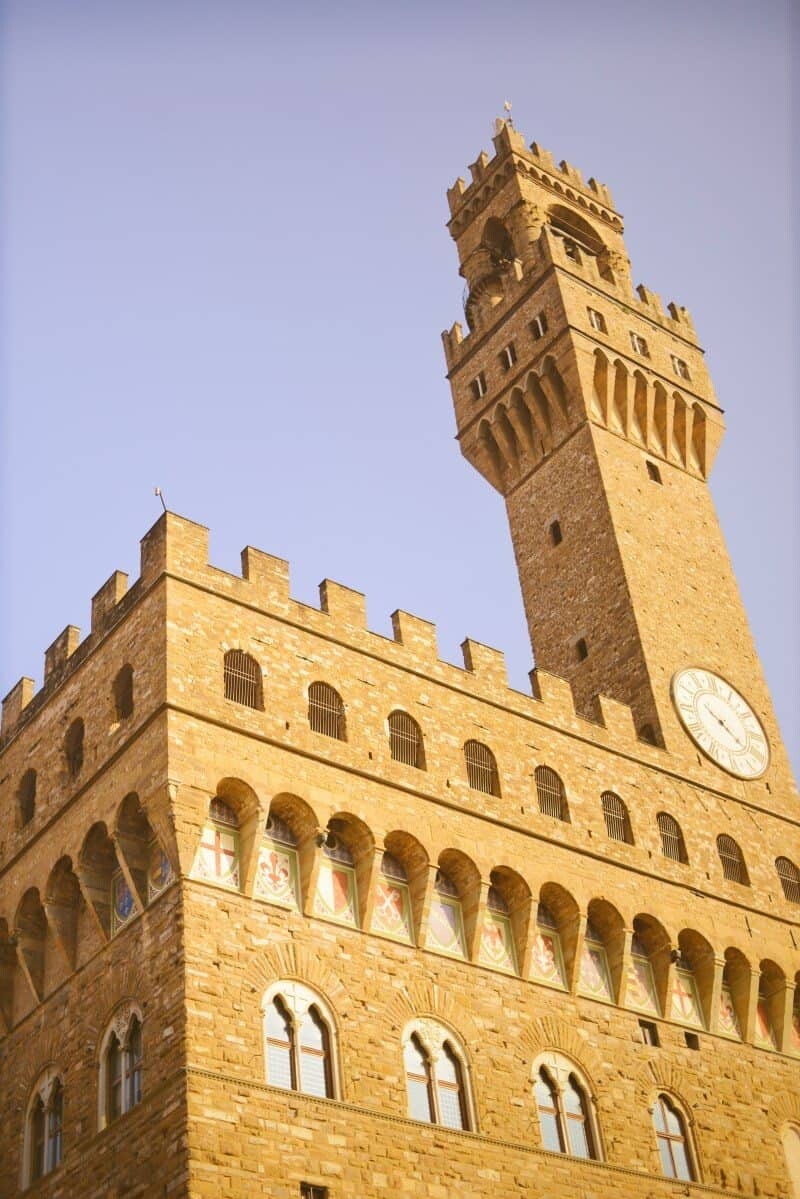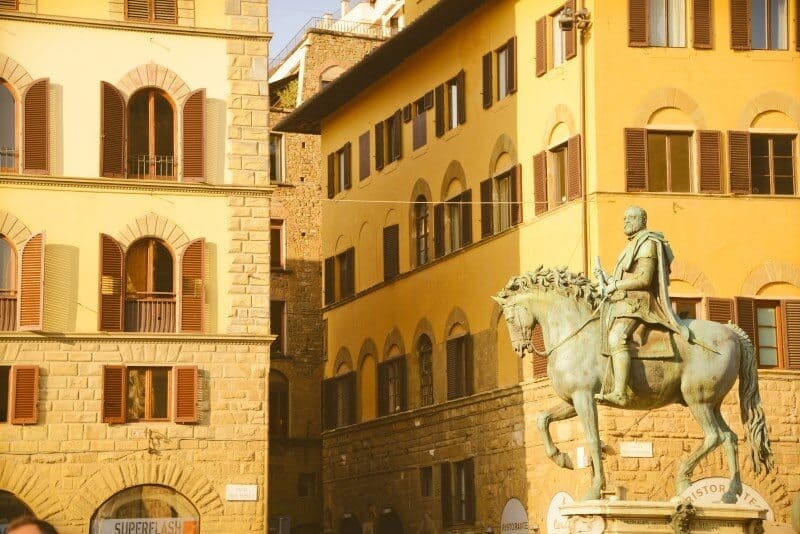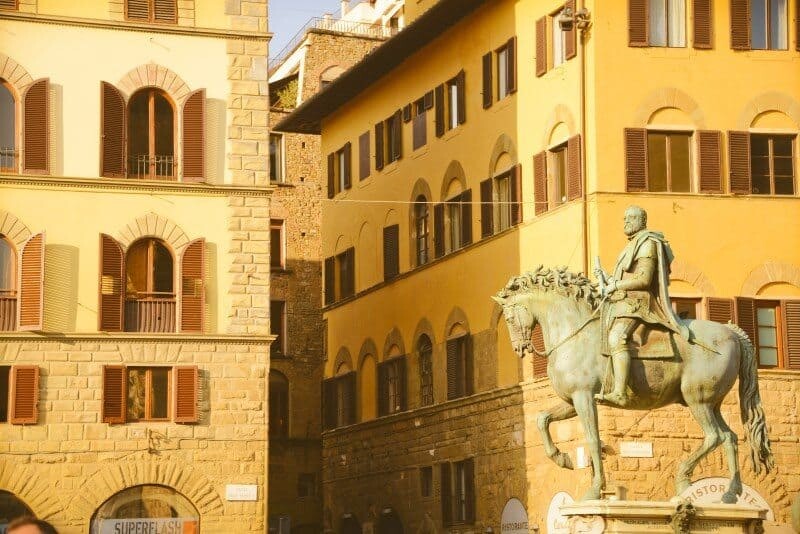 ---
#5 Ponte Santa Trinita and Ponte Alla Carraia
Everyone loves to stand on the Ponte Vecchio and photograph sunset. My tip? Head for another bridge. Don't fight the crowds when you can sit and soak up the atmosphere of Florence at dusk and watch as the sky changes colour over the Ponte Vecchio. Ponte Santa Trinita and Ponte Alla Carraia offer great views back toward the Ponte Vecchio which allows you to photograph this cultural gem rather than stand on it amongst hundreds of people! Take some nibbles, wine or pizza and make a picnic of it and sit on the bridge, it not only creates a great photo location, it's a pretty special moment too.
Best for: Dusk skies over the Ponte Vecchio and action shots on the bridges and river below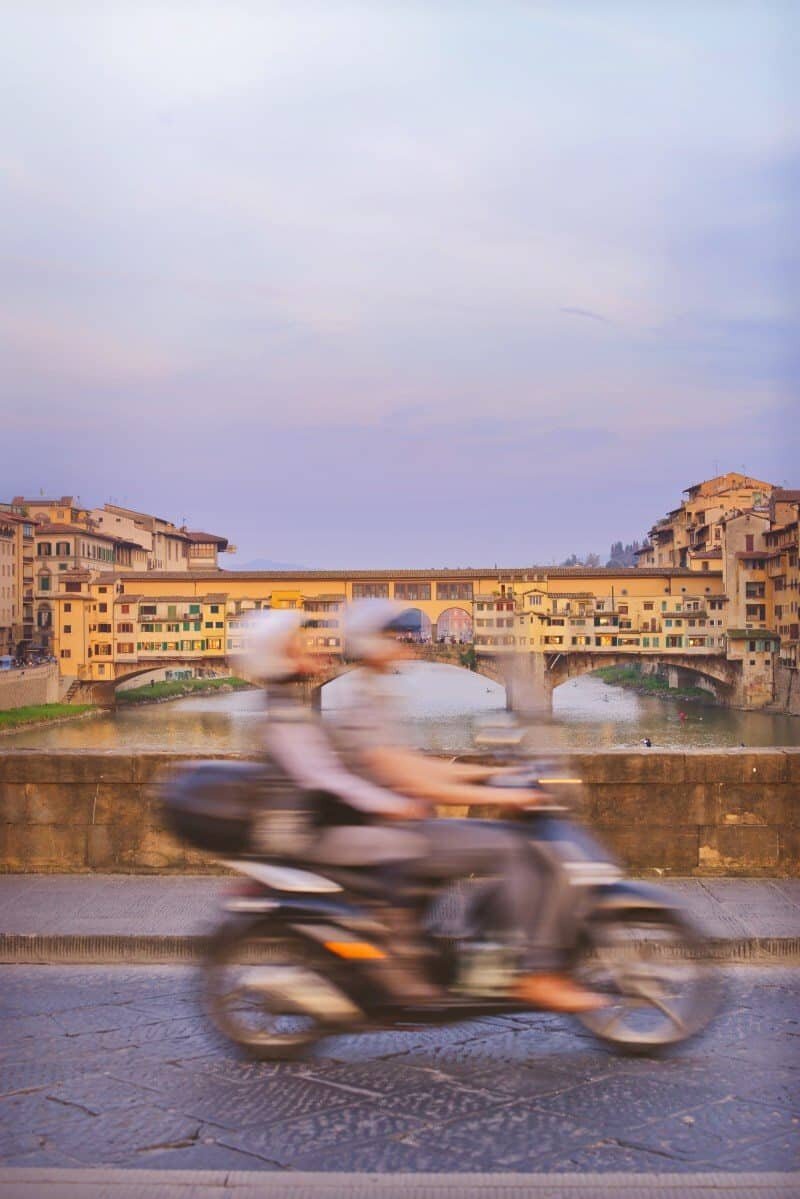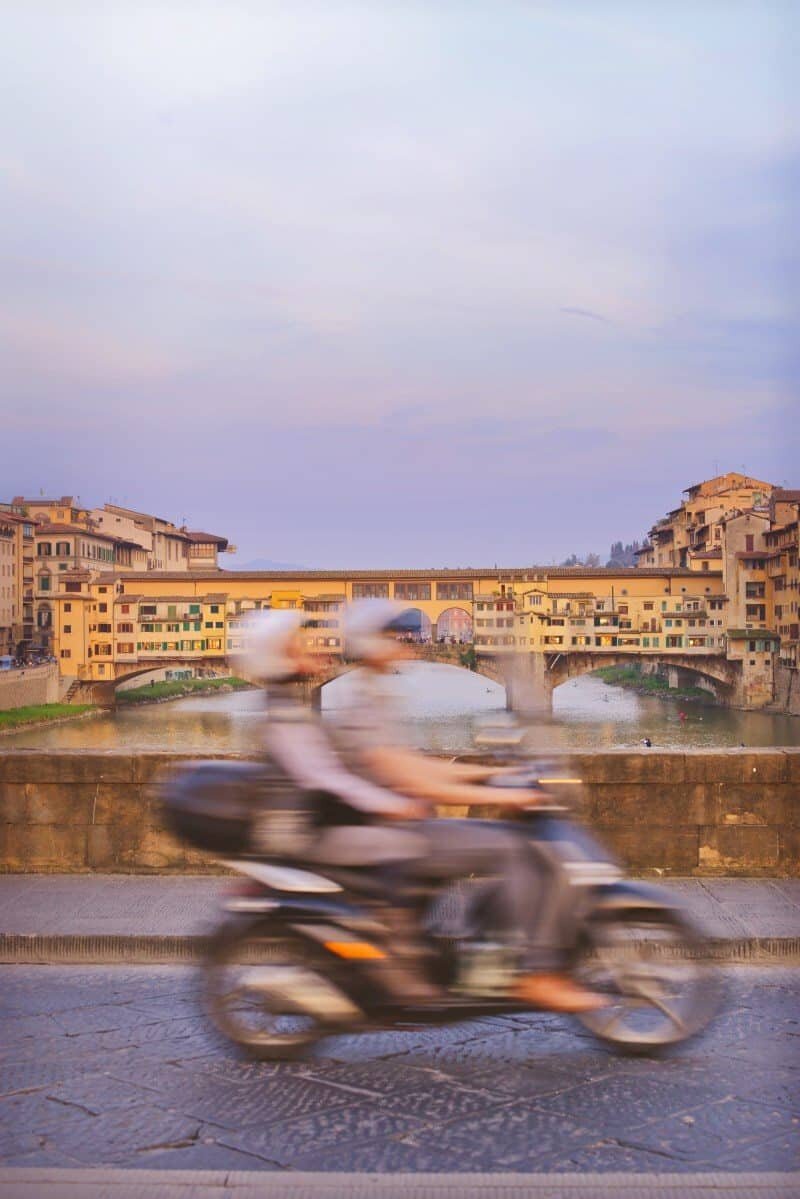 ---
#6 Mercato delle pulci
I'm a bit of a sucker for an antique market. One of my favourite things to do is rummage through for old postcards that show cities photographed decades ago with little love notes on them in foreign languages. At Mercato delle pulci, you'll not only find oodles of collectables, antiques and odd bits and pieces, you will also discover a beautiful corner of Florence perfect for photographs. Located in Piazza dei Ciompi, this market is ideal for detail shots of times gone by. Picture old bicycles leaning against dusty windows, quaint arcades and locals with stories to tell.
Best for: Detailed shots of antique goodies, an alternate side of Florence.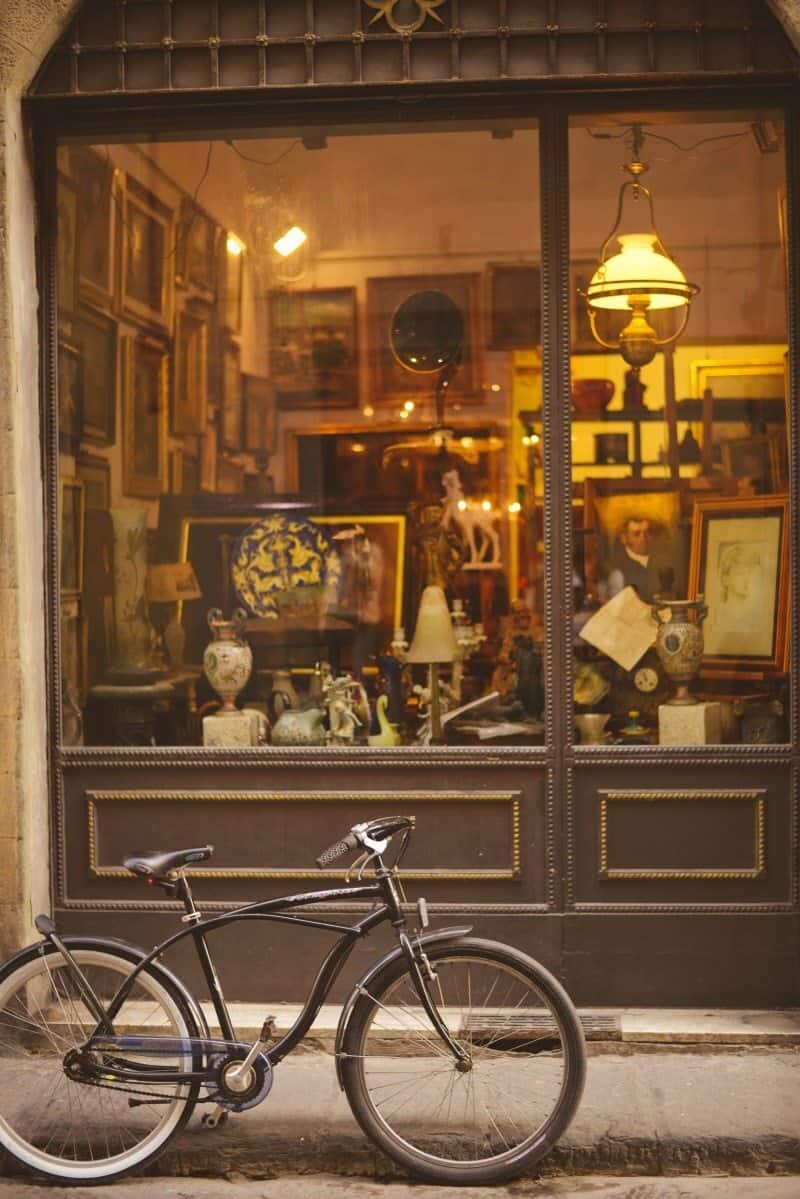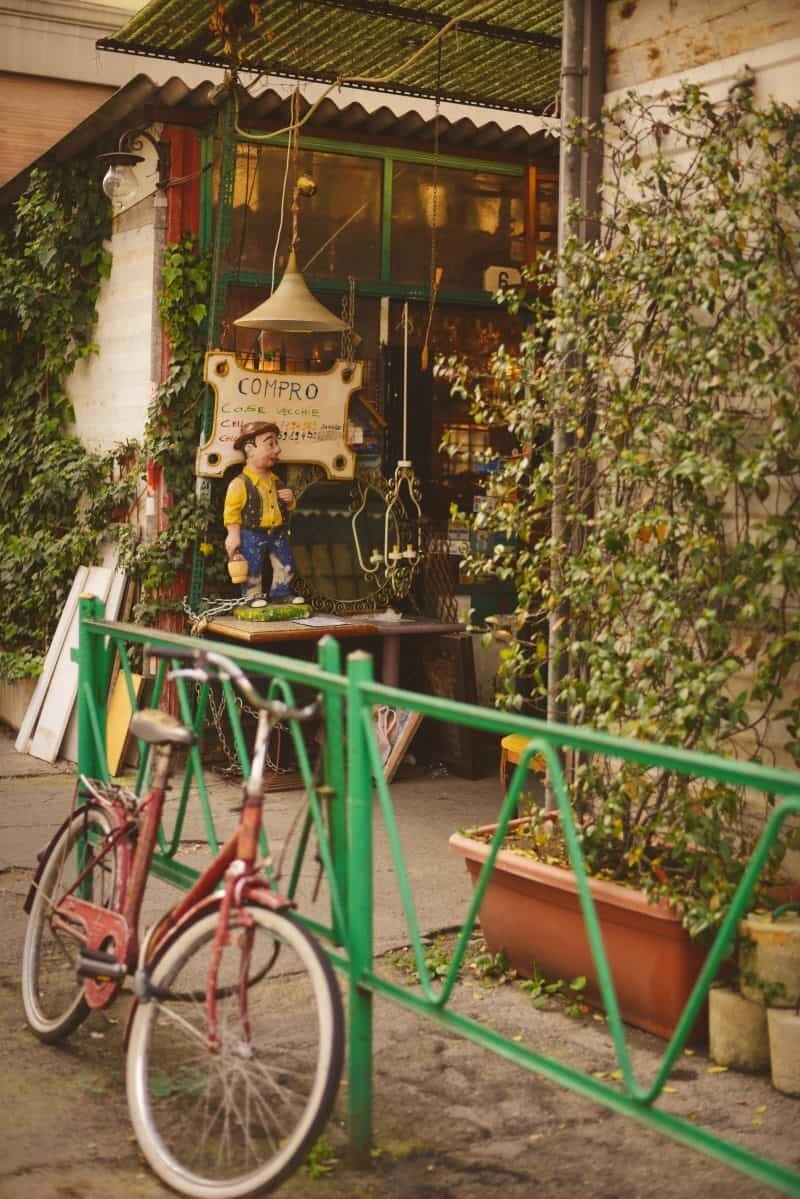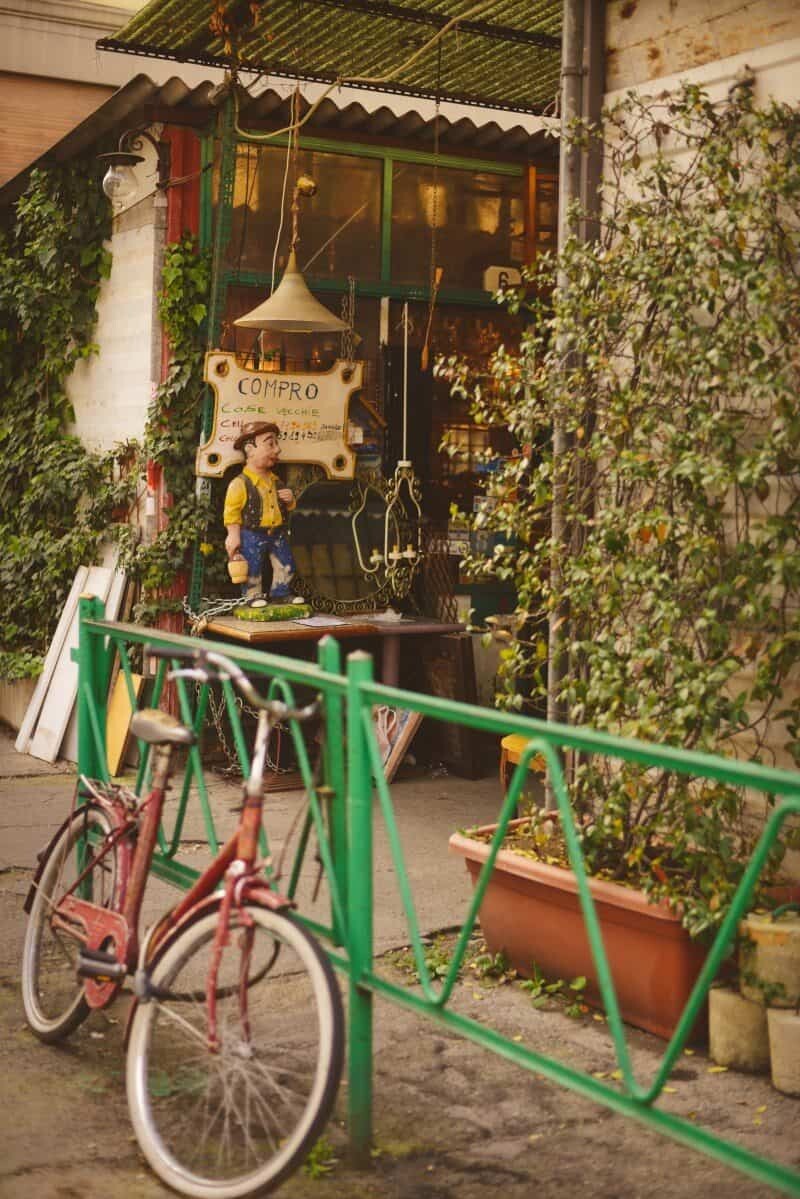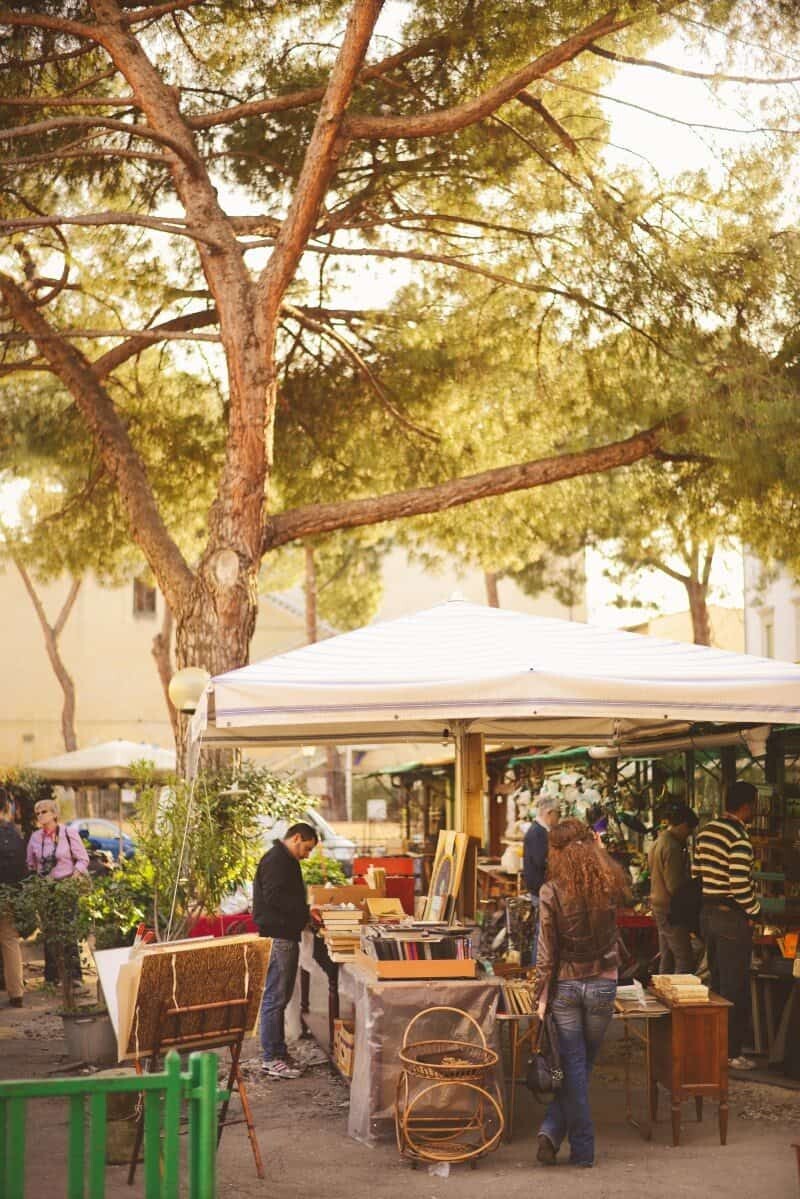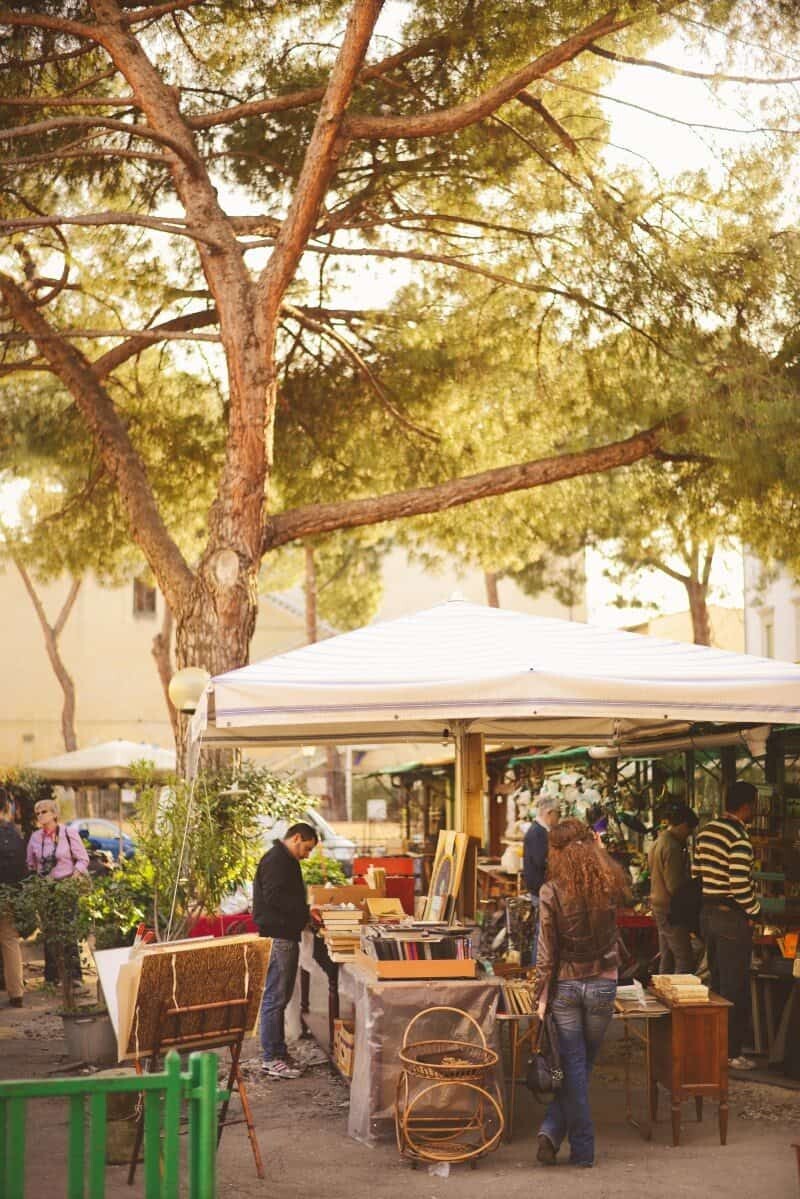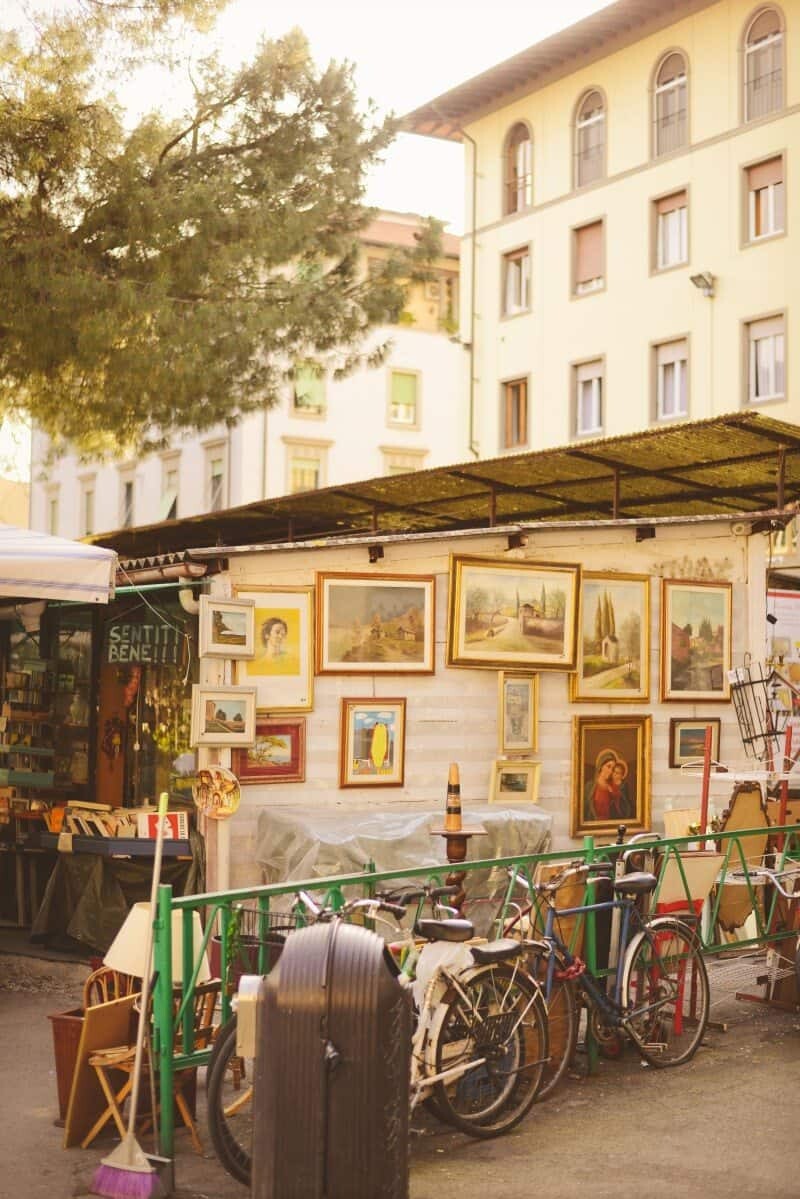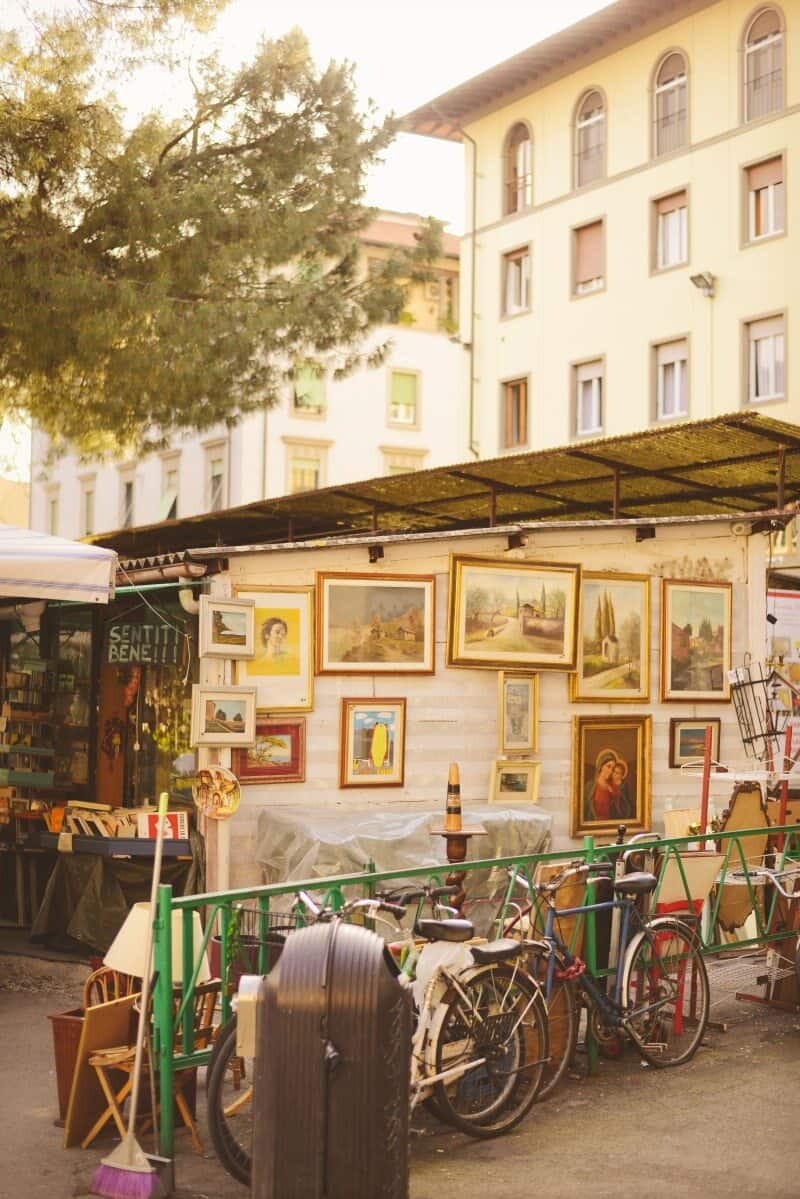 ---
#7 The Streets of Florence
Florence is one of those cities you can wander around without a map. Get lost amongst streets lined with history, Italian flair and ornate details that will have you photographing every little lamp, moped or door handle you come across. Do yourself a favour and allocate one day to simply roaming around Florence. No plans, no museums, no sights. Just take your camera and see where you end up. Be sure to venture across the river too, there are lanes brimming with cute store fronts and courtyards.
Best for: Street scenes and architecture, think ornate facades + leading lines.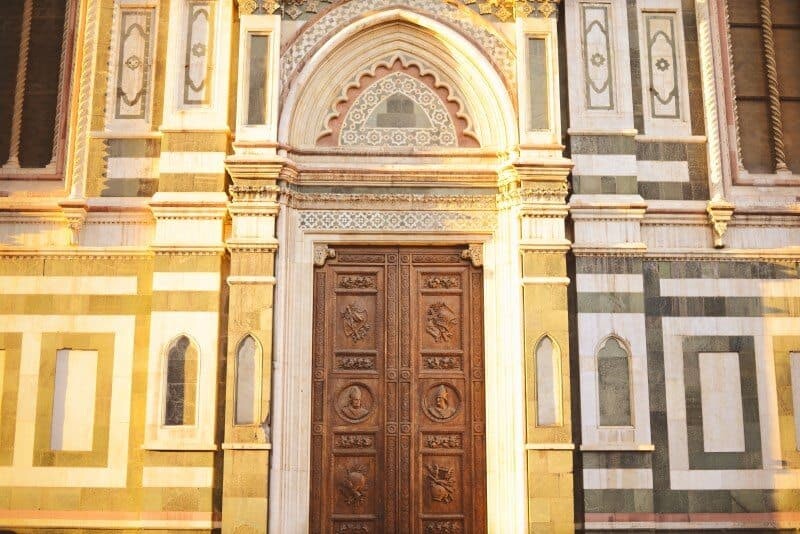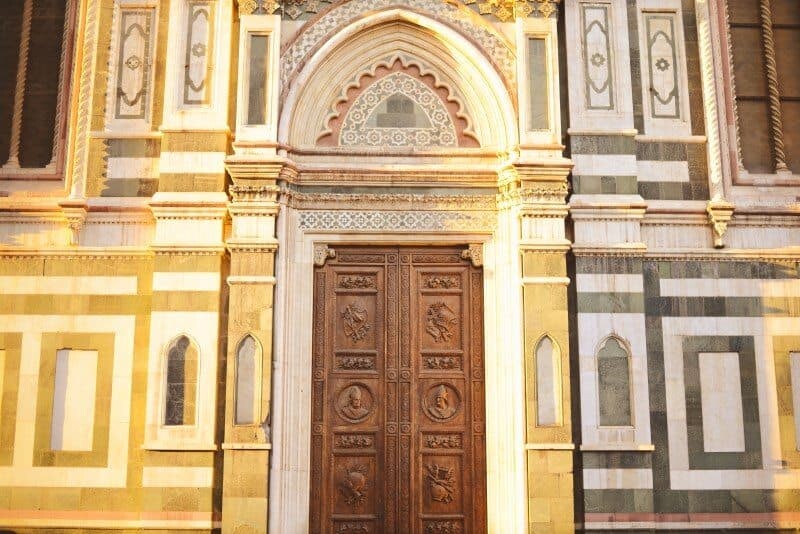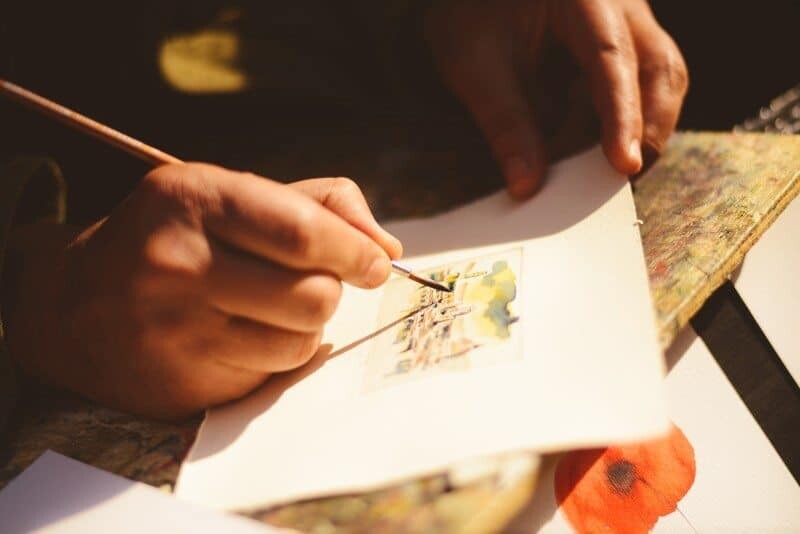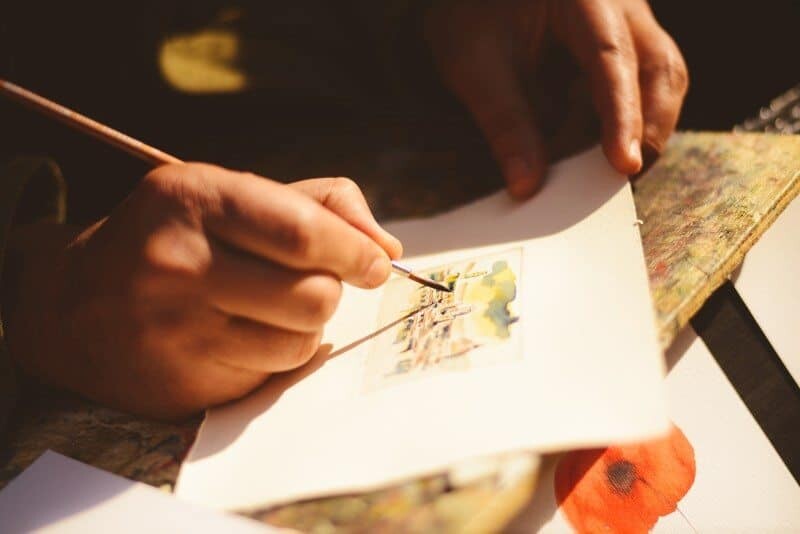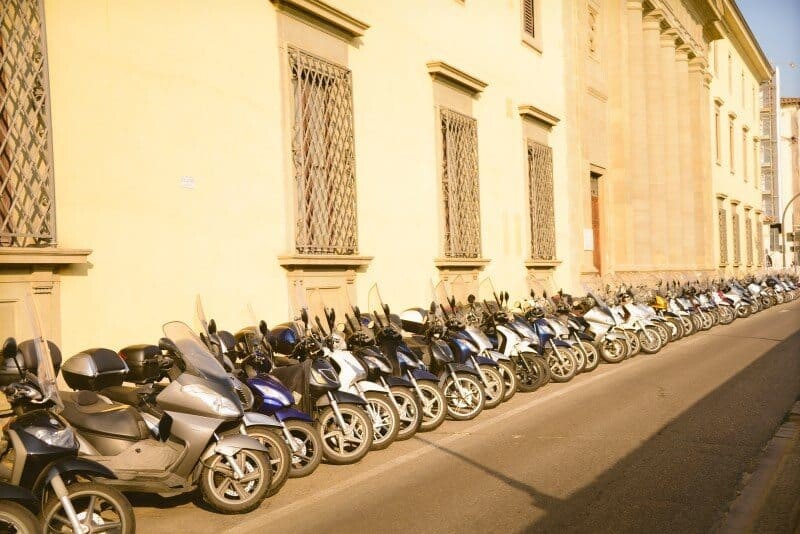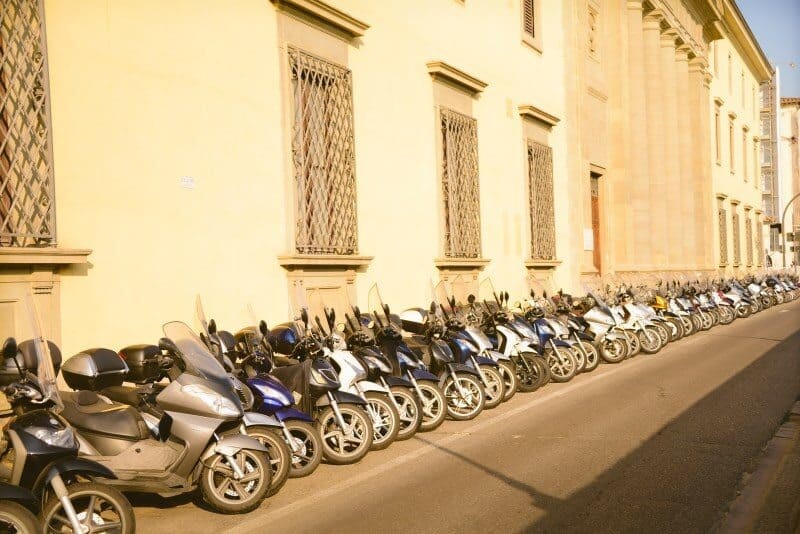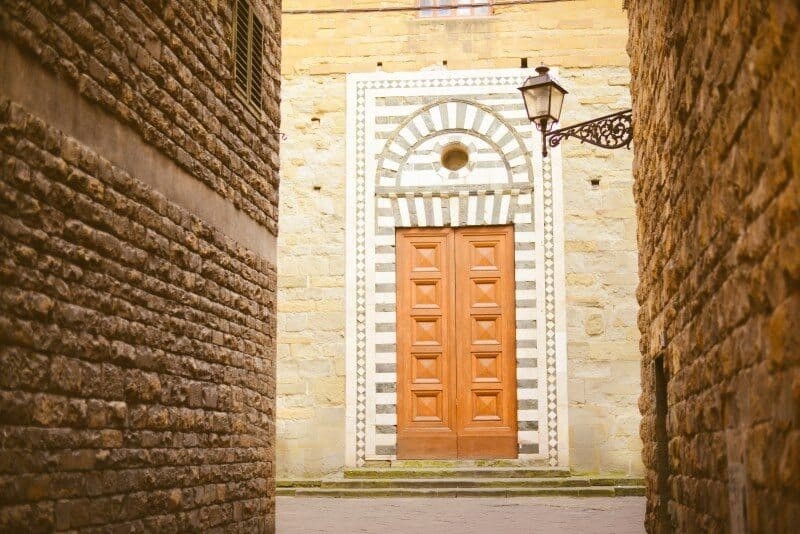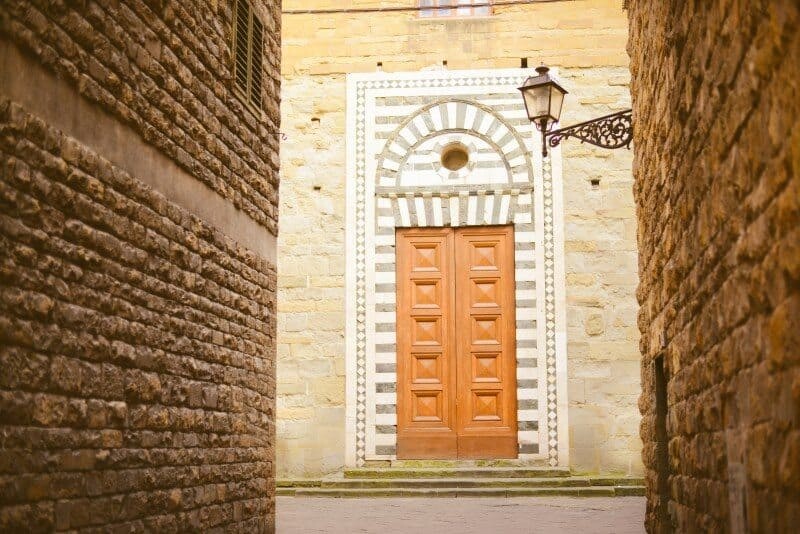 ---
Florence Accommodation: Where to Stay in Florence
Florence is one of those unique cities where the center is compact and quiet. With no cars allowed down certain streets, you'll find wherever you choose to stay in Florence, it's relatively calm and accessible to most of the photography locations listed in this guide.
Below you'll find some of my favourite hotels that I've personally stayed in while researching this guide.
NH Collection Firenze Porta Rossa – Housed within a beautiful old building, this hotel is stylish, comfortable and filled with historic detailing that's worthy of many interior photos! Stay here to be based right in the city so you can walk all over from sunrise to dusk.
Hotel Delgi Orafi – With views overlooking the Arno River and Ponte Vecchio, this is the place is beautiful!
Plaza Hotel Lucchesi – A rooftop pool with panoramic views over the domes and rooftops of Florence, this hotel is WOW. It's a little fancier than most, no doubt a little more expensive but if you're here for a special trip or just want prime position to put your tripod, it's well worth splurging here. It's also located further down the river across from Piazza Michelangeo in a quieter more residential part of the city, still only a 15minute walk from the Duomo.
---
Read more: For photography location guides to other cities and regions around the world, visit 'Destination Guides' for more.
If you've been to Florence, share your travel photos on Instagram by using the hashtag #thewanderinglens
For sharing on Pinterest…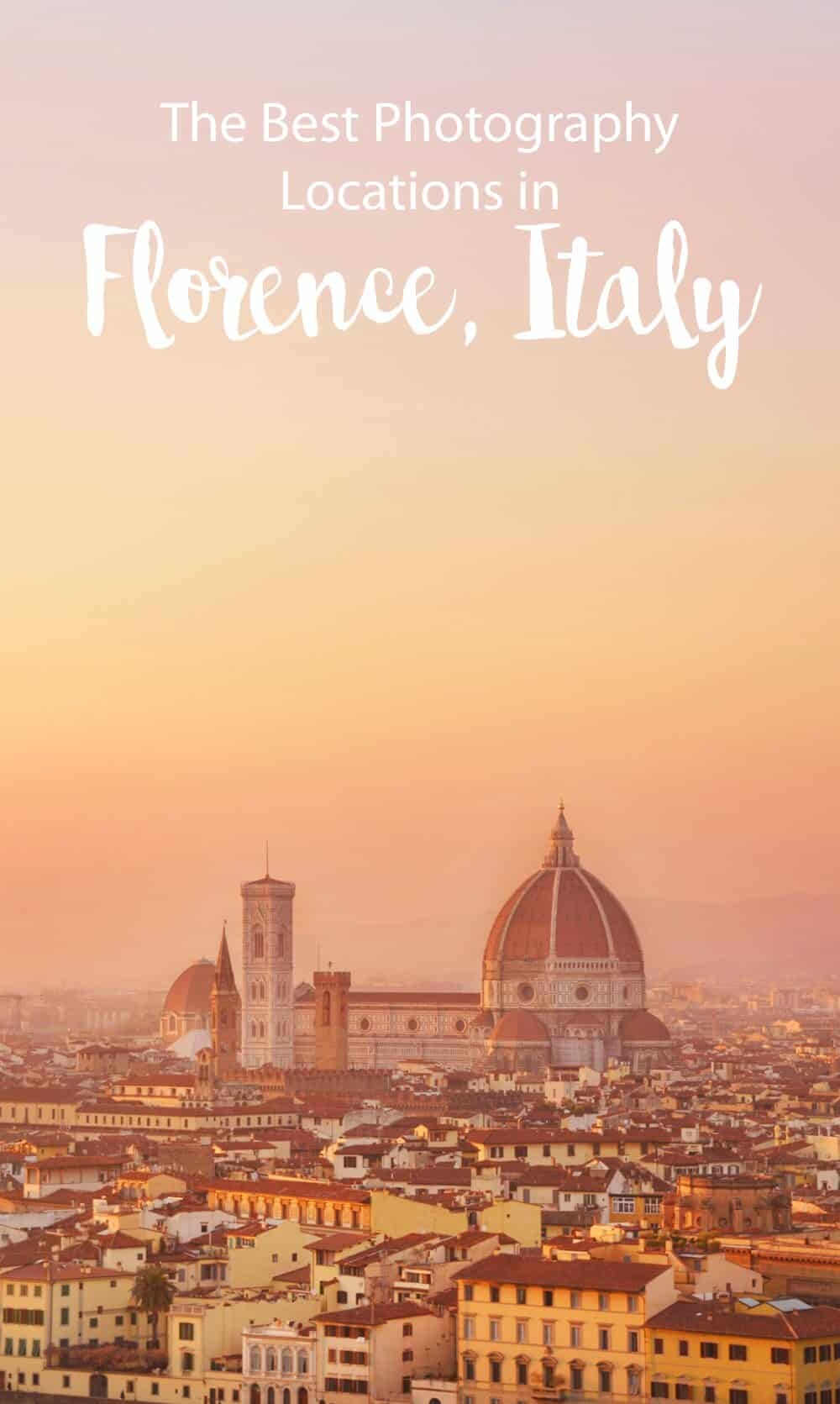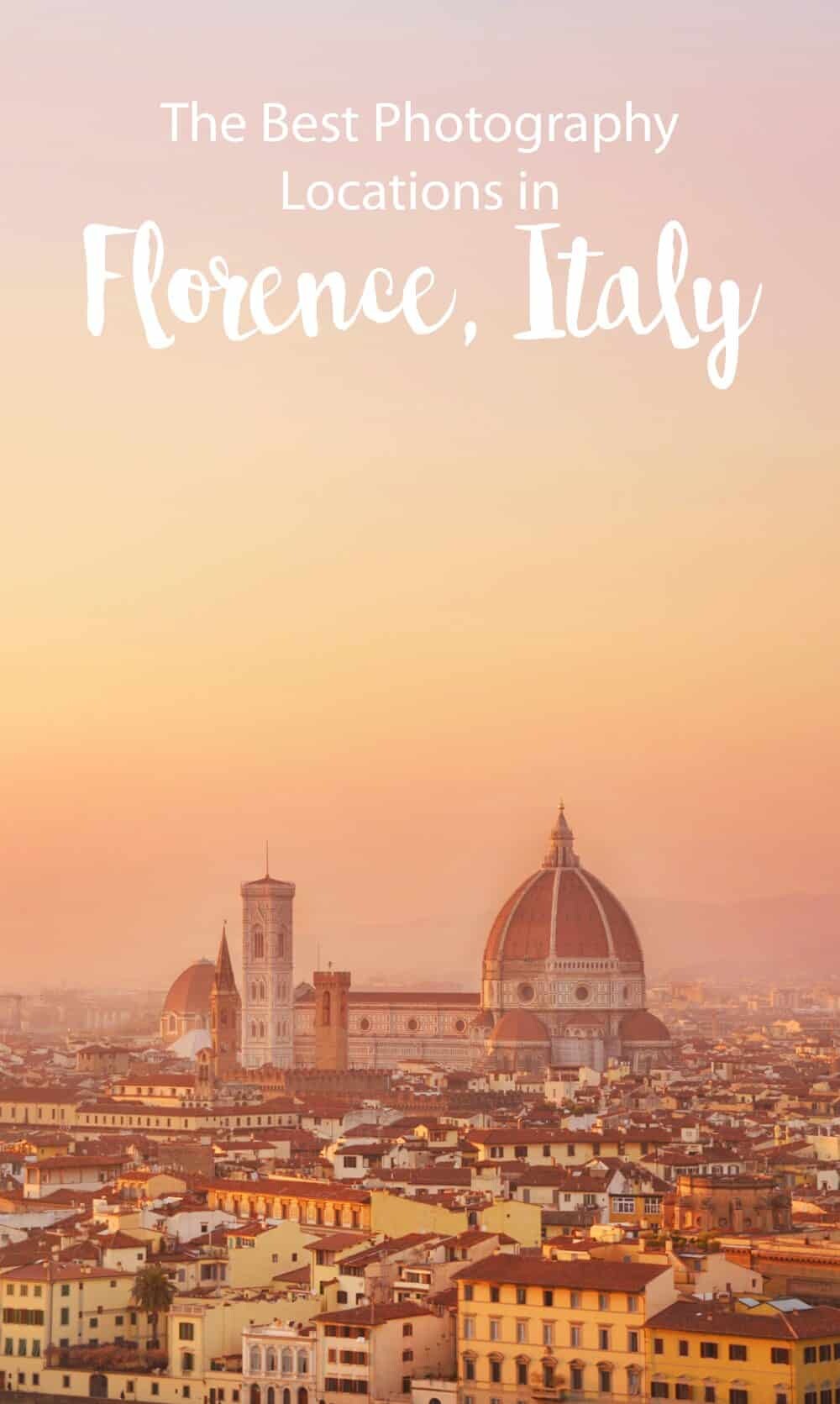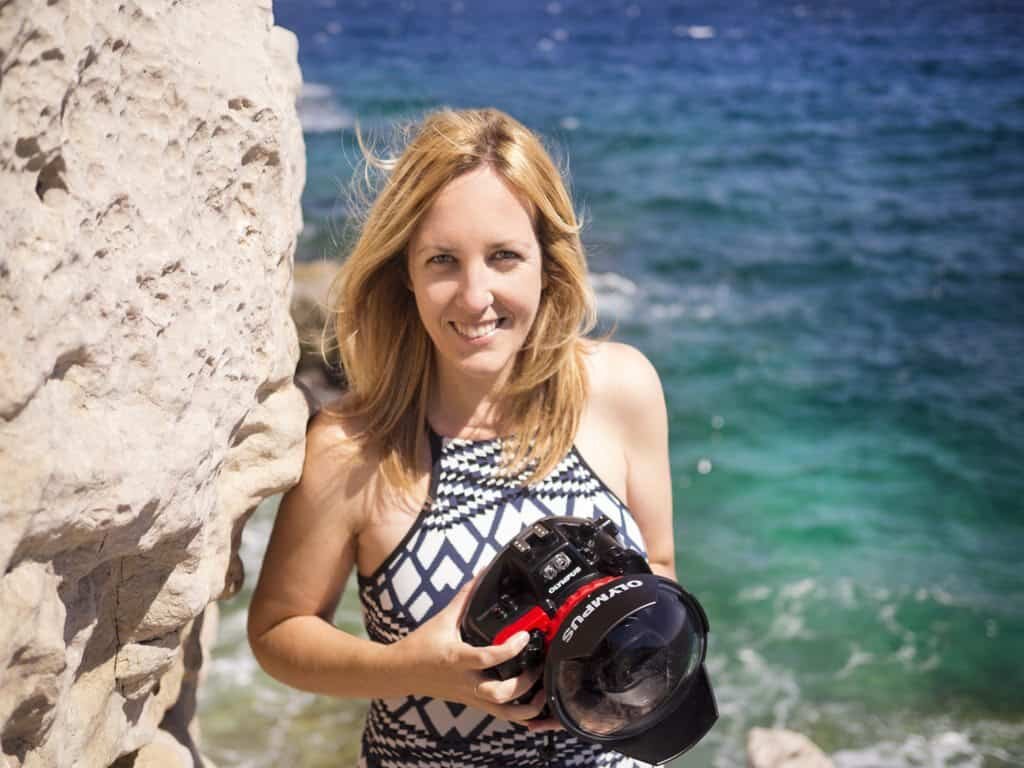 Hello! I'm the founder and photographer behind The Wandering Lens.
With 17+yrs experience as a professional travel and landscape photographer, all advice found on this site is from my personal experience on the road. I hope it's useful for your own travels and would love to hear in the comments about your trips and experiences around the world.