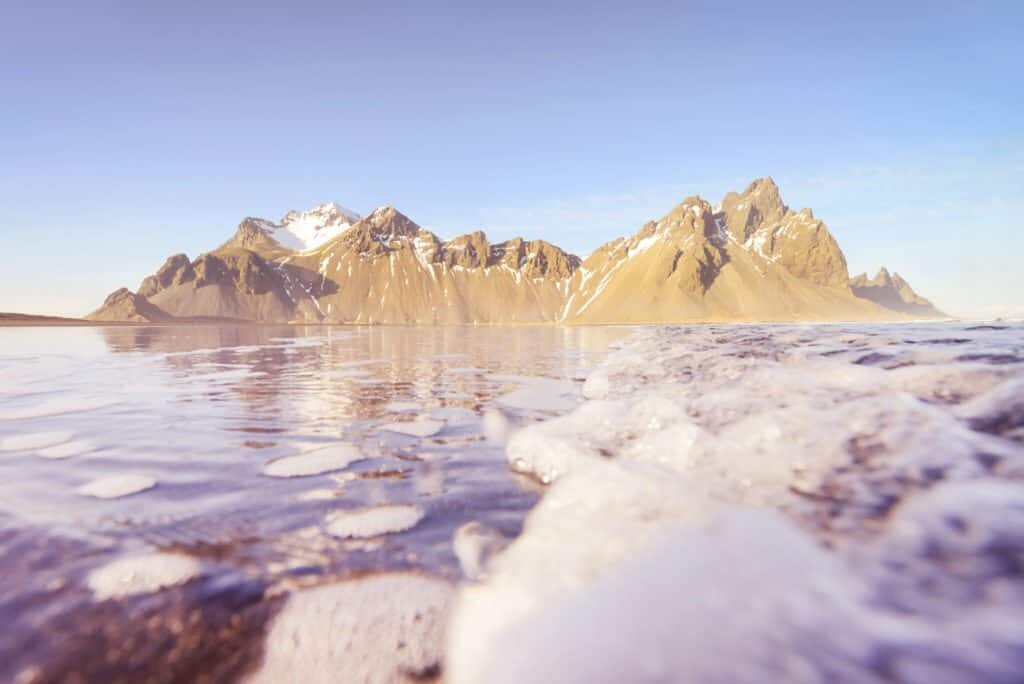 Iceland Photography Location Guide – Reykjavik to Hofn
It's a country where waterfalls, icebergs and volcanoes converge to create otherworldly landscapes. Iceland will take your breath away with natural beauty from the moment you arrive to the moment you fly over its dramatic coastline on your way home. It's no wonder Iceland photography locations are high on any photographer's wish list!
Before we get started while this guide is titled from Reykjavik to Hofn, it actually includes a section a little further east to Djúpavogshreppur…that fabulous name is just a little too long for the heading!
Exploring Iceland photography locations by car is the best way to see as much as possible and the southern coast is full of places to visit. You can snorkel between continents before driving east to experience endless waterfalls and glaciers, it's the ideal destination for adventure travellers.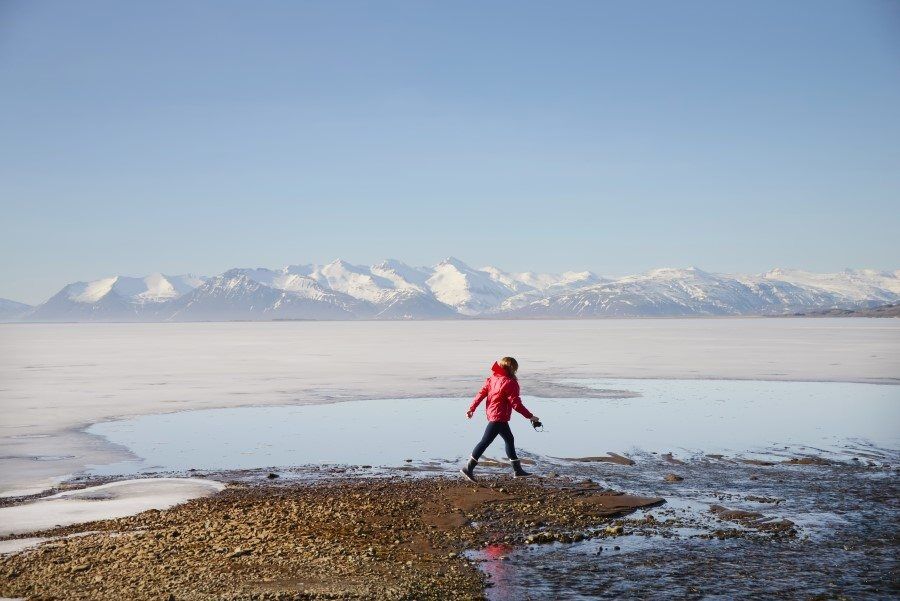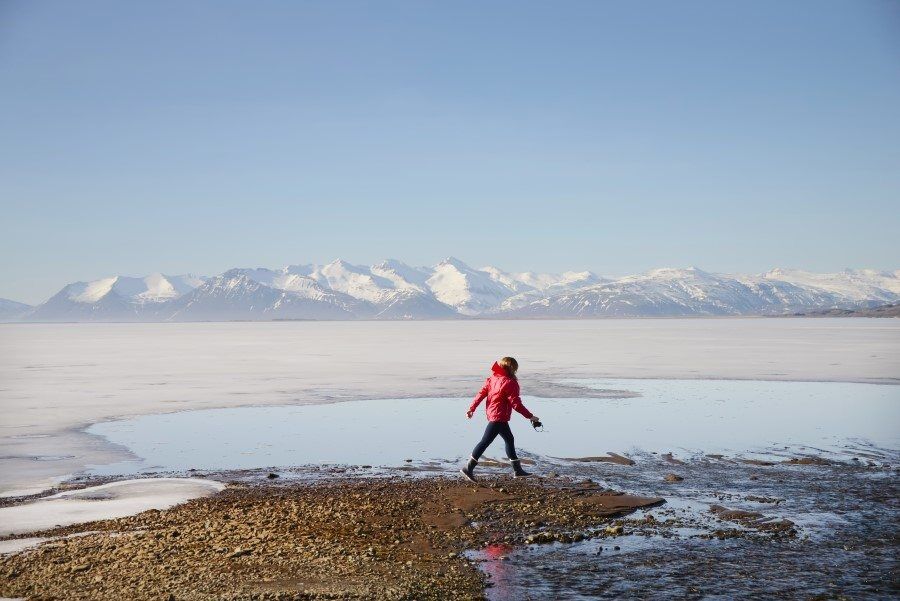 The Ring Road from Reykjavik to Hofn is filled with photo stops, if you drove straight it would take about 6hrs to cover the odd 545kms however with so many places to see along the way, it's possible to take 2-3 days…or much longer if you add on activities and hikes and want to take it slow!
There is a big difference between the seasons in Iceland. In winter temperatures drop below zero degrees with snow storms and wild weather conditions. Winter however is also the best time to witness the magic of the northern lights so it's definitely worth wearing some extra clothing layers for the chance to see this incredible natural phenomenon.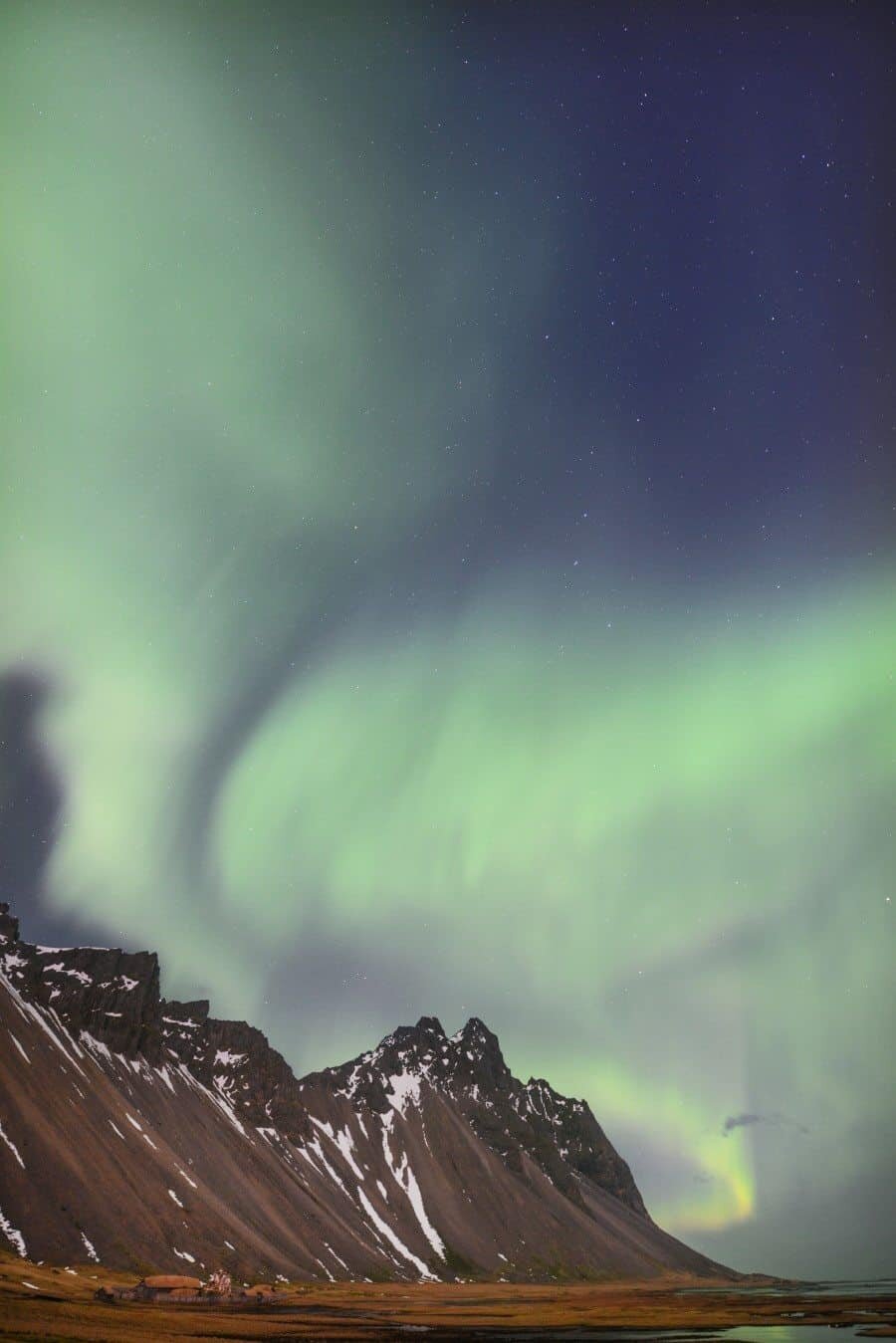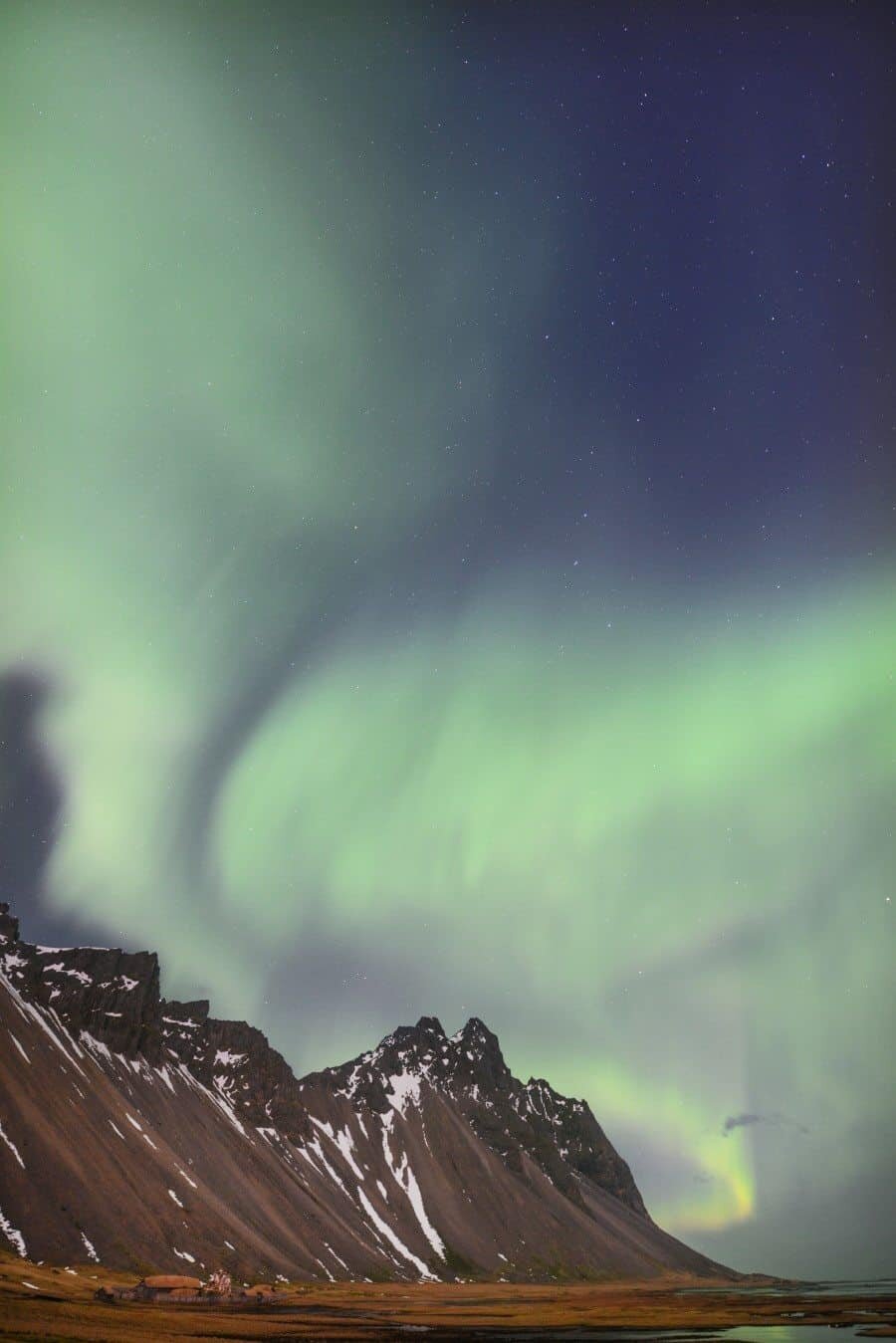 Summer brings the beauty of wild flowers, the midnight sun and the adorable Puffins (read the Puffin Photography Guide here. With 24hr sunshine you can explore for as long as you can stay awake which in itself is something special.
Okay so enough of the chatter, if you've got Iceland photography opportunities on your mind you probably just want to hear about the best photography locations then dream up your own itinerary.
So here it is, below is a list of some of the best natural wonders found along the south coast of Iceland between Reykjavik and Djúpavogshreppur…
First a map so it all makes sense and you head in the right direction.
Map: The Best South Coast of Iceland Photography Locations
Actually one last thing before you jump into the locations to visit…a little 60 second video from my last trip!
---
Iceland Photography Locations –
Seljalandsfoss Waterfall
When driving to Reykjavik, this is the first large waterfall and major Iceland photography location you'll come across on the Ring Road. It's tall and elegant where water flows almost like its dancing down the cliff face. There is a small path that leads behind the waterfall which is one of the most naturally wonderful experiences in Iceland.
Also don't miss out on the other smaller but still photo worthy waterfalls beside Seljalandsfoss. Take the path across the bridge in front of Seljalandsfoss to wander past these gems.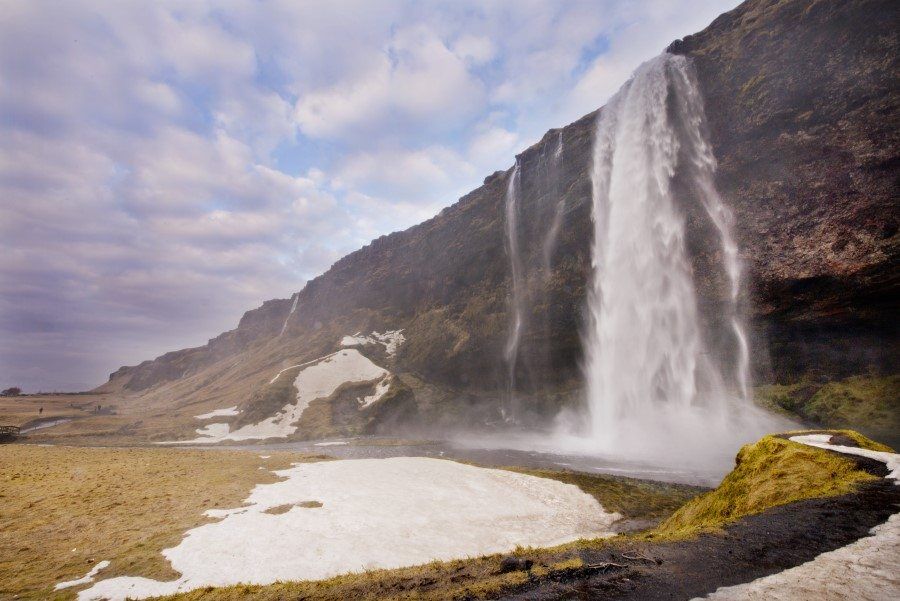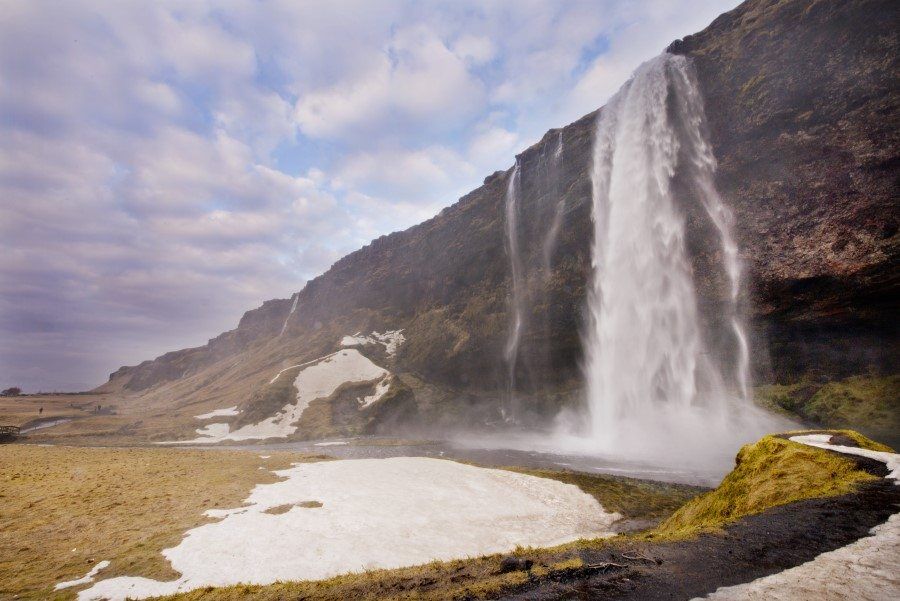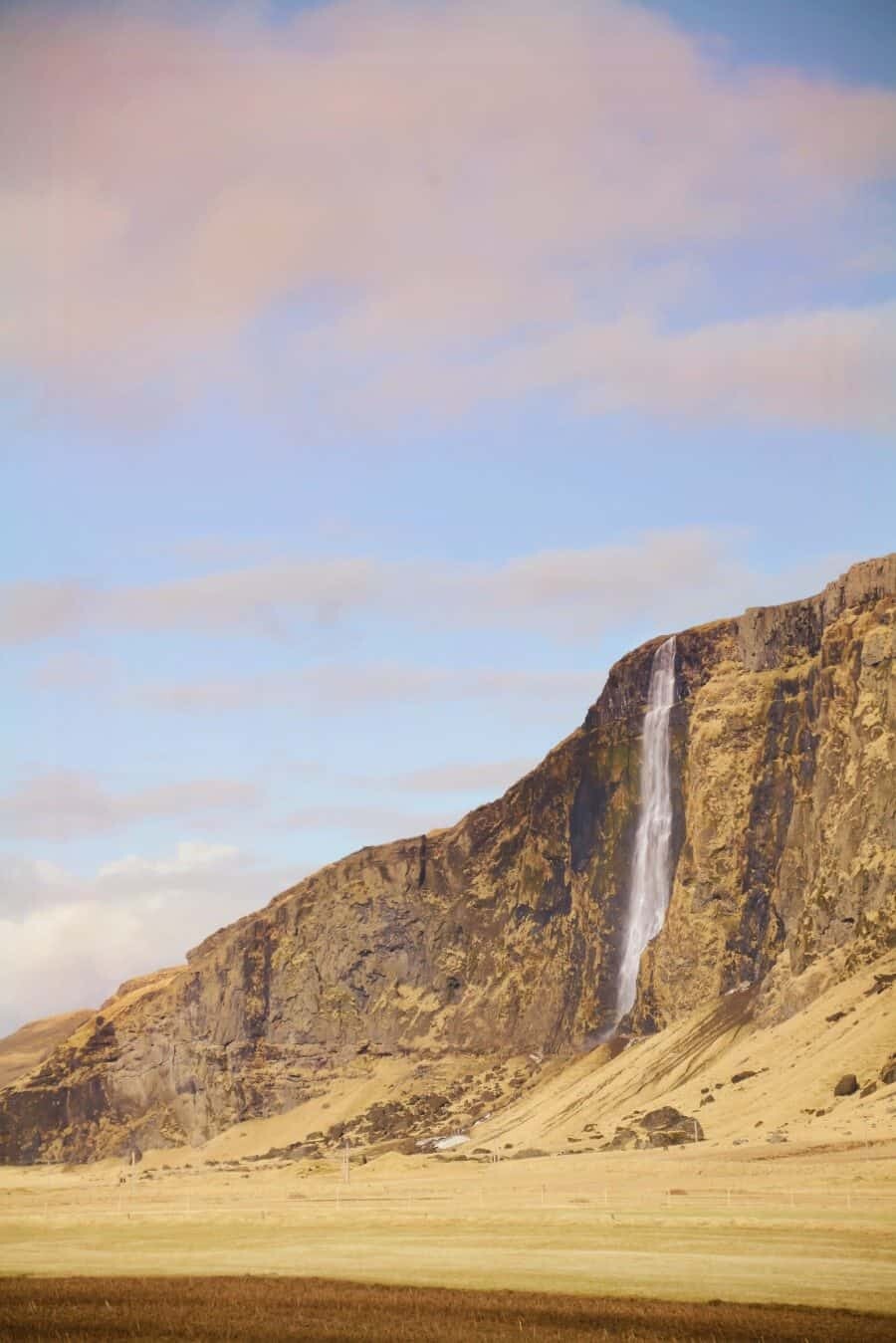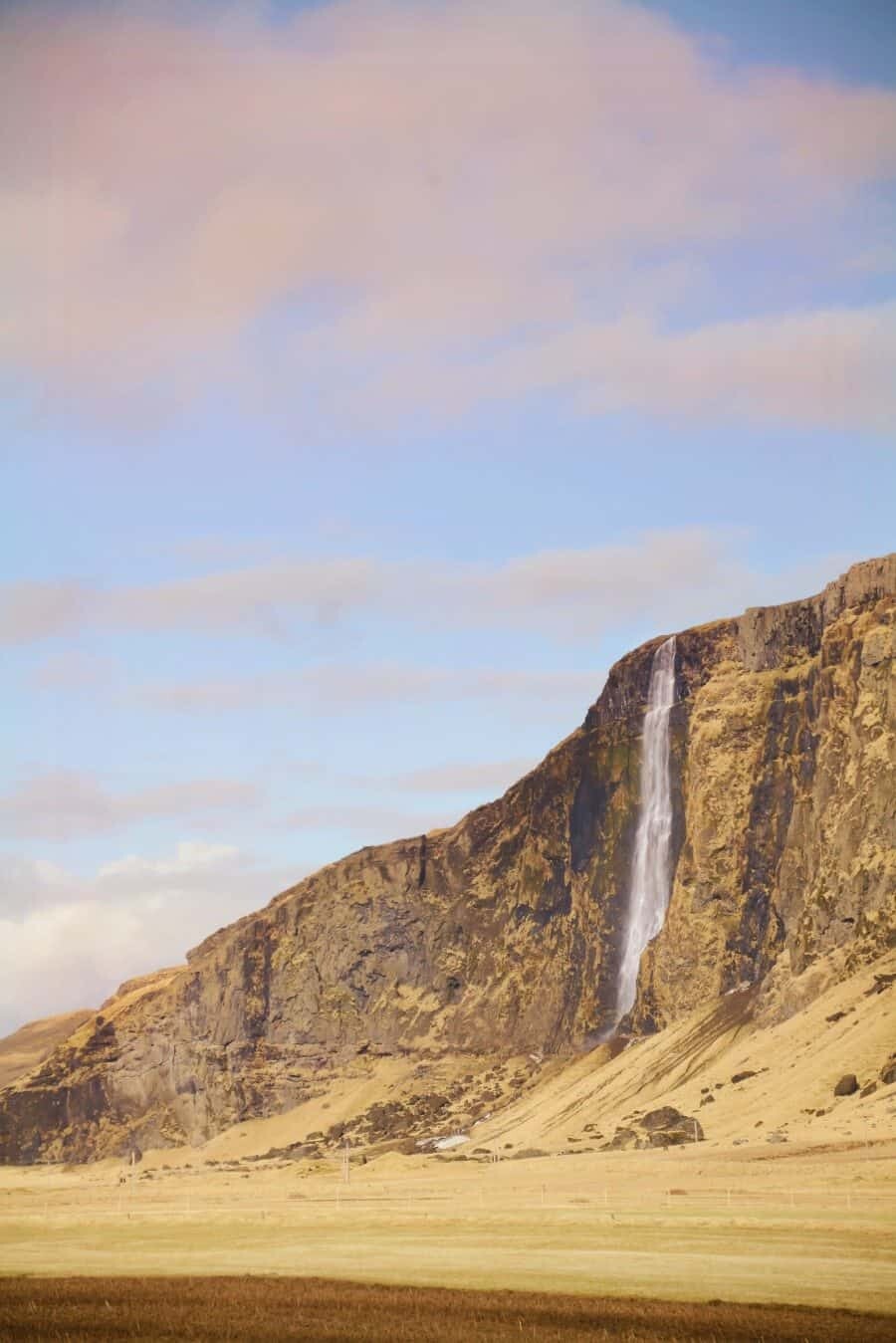 ---
Gljúfrabúi Waterfall
Sitting right beside the famous and popular Seljalandsfoss is a hidden waterfall that few tourists visit. Nestled in a vertical cave with a curtain of rocks shielding it from view, this dramatic scene is one not to miss! Roaring cascades flow down the cylindrical cave creating a sound like no other. The only thing you need to remember to have with you is some gumboots and waterproof clothing…otherwise you'll walk away looking like you've just gone through a car wash.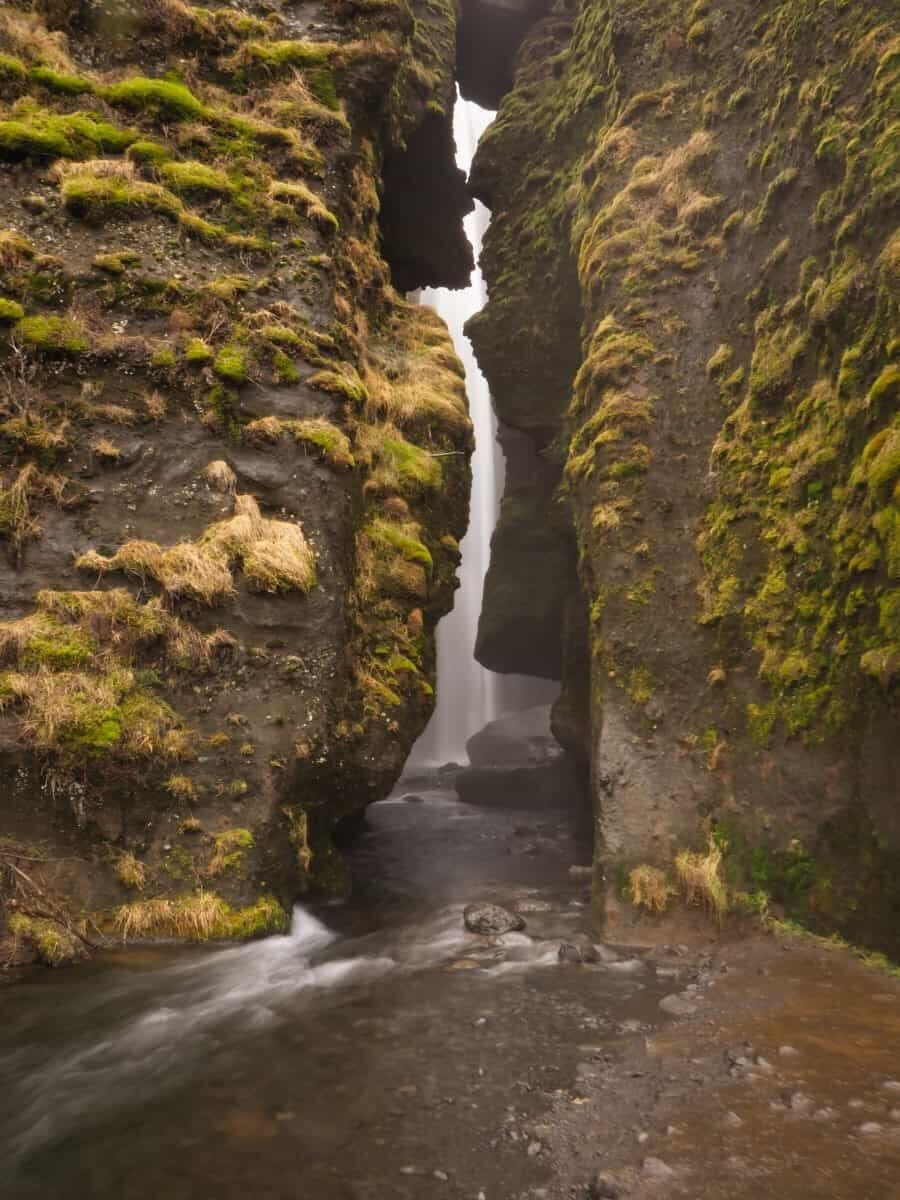 ---
Sólheimasandur Plane Wreck
Follow the path for about 45 minutes and you'll stumble across a plane wreck in the middle of what feels like a dream volcanic landscape. It's become quite the Iceland photography bucket list location with Instagrammers flocking to capture their creative perspective. Mountains to the north, ocean to the south, black volcanic mounds and then a haunting wreckage of a United States Navy DC plane. The land owner has closed off access to cars however there is now a car park that's quite visible beside the ring road and it's then possible to walk approximately 4km (8km round-trip) if you're really keen to see it, you'll see where everyone else has parked at the gate! In 1973 the plane crashed on the black volcanic beach of Sólheimasandur. Everyone survived the crash and the wreck now rests on the sand as a weather-beaten haunting subject that photographers go crazy for, especially when there is aurora glowing above. As someone with a little fear of flying (I know, it can get awkward as a travel photographer, I'm working on it!) it wasn't high on my list of places to visit but after finally visiting on my last trip, I can say if you've got time in your itinerary, it is worth the hike to add something different to your Iceland photos.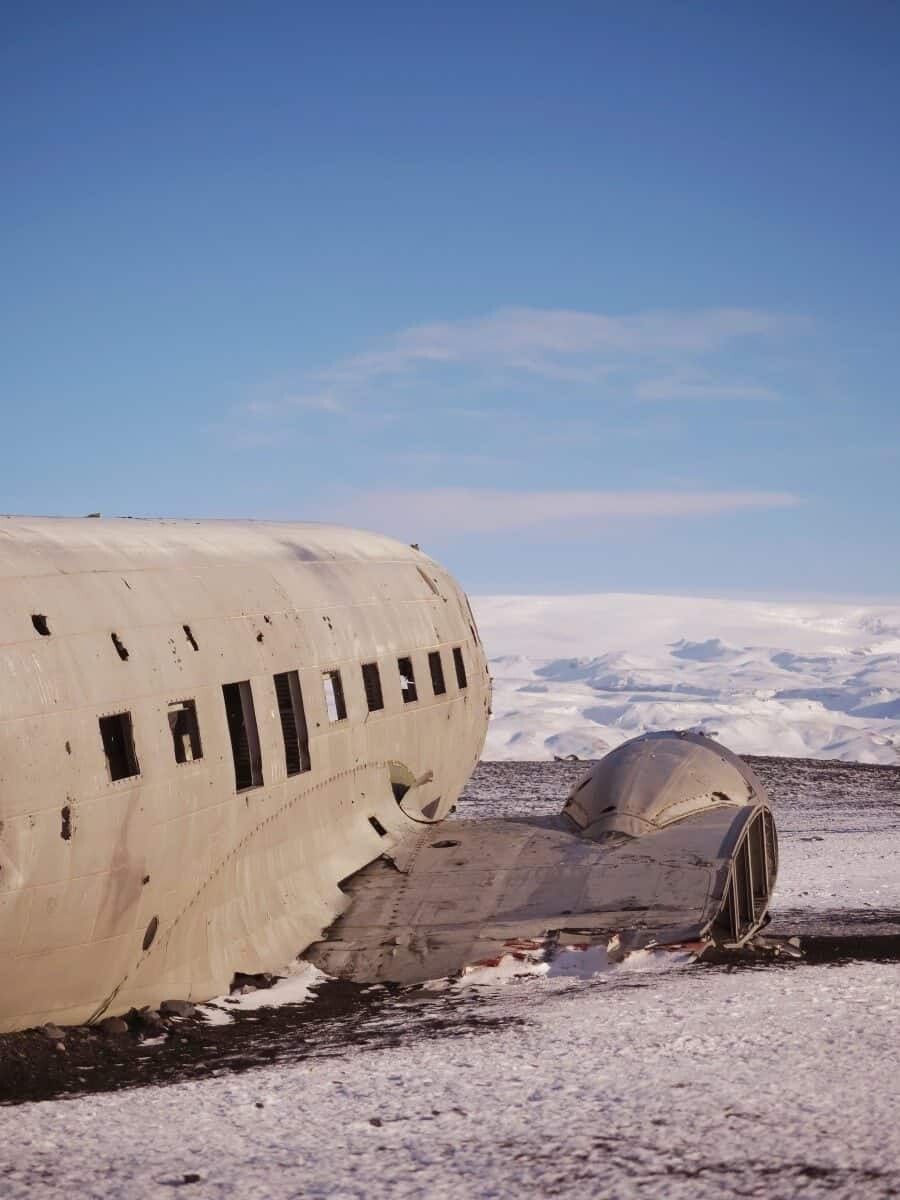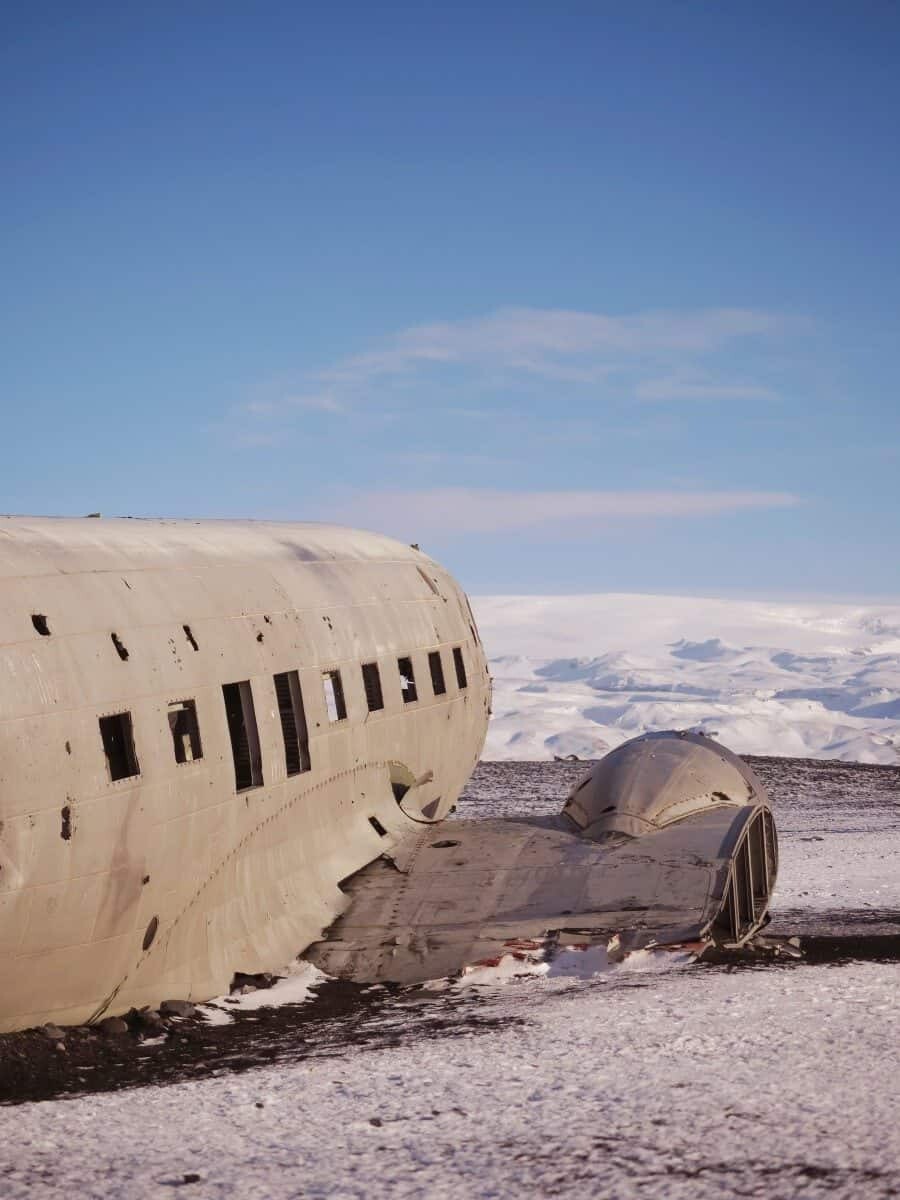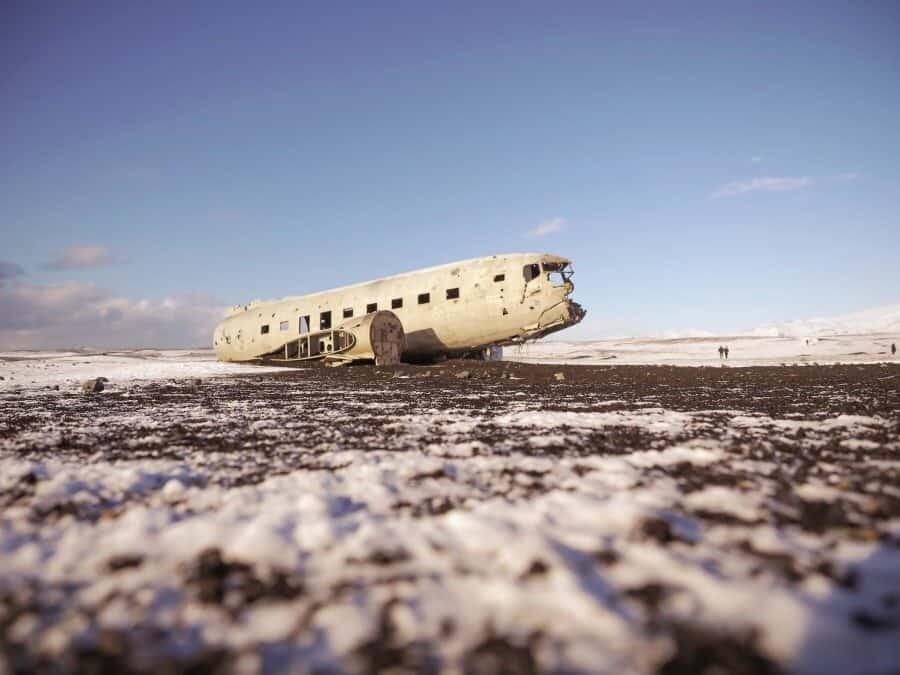 ---
Skógafoss

Waterfall
It's a classic natural beauty that attracts visitors year round with its powerful waterfall and easy accessibility. Skógafoss flows from the Skógar River and you can walk right beneath it to feel the mist and strength of the water rushing over the cliff. If you don't mind climbing stairs, you can also take the path which leads to the top of the waterfall and has great views looking over the edge.
Read more: Photographing Skógafoss Waterfall in all seasons.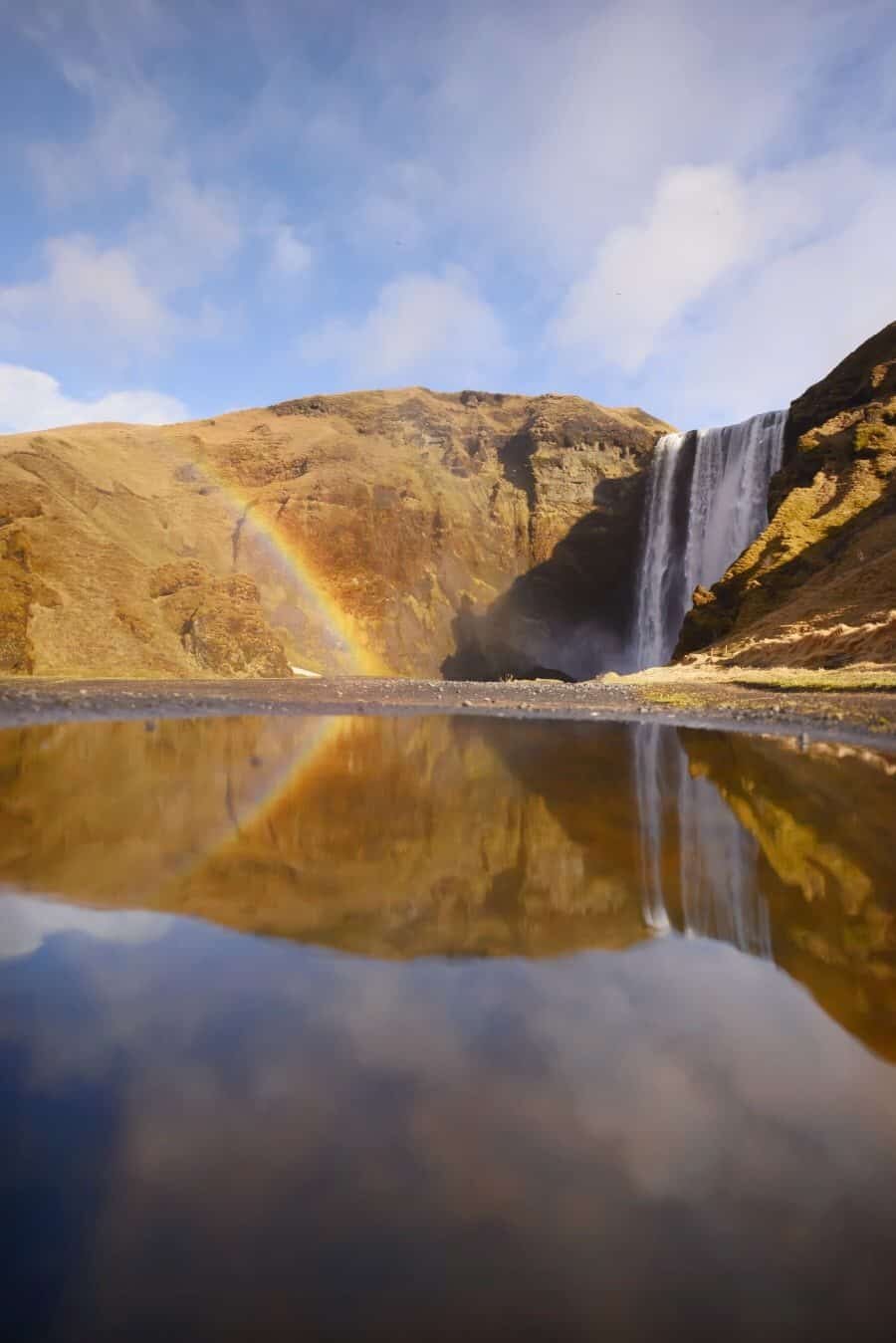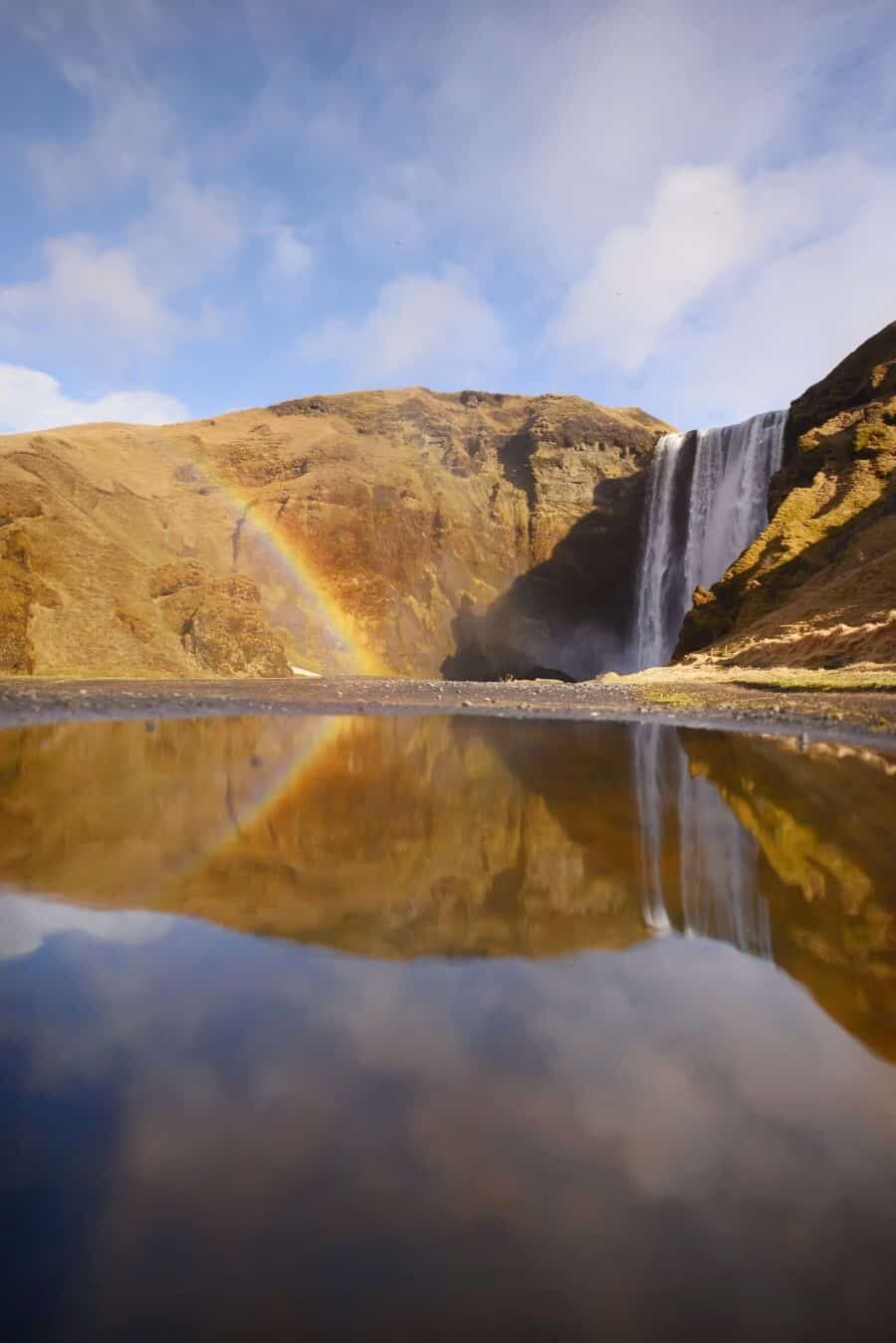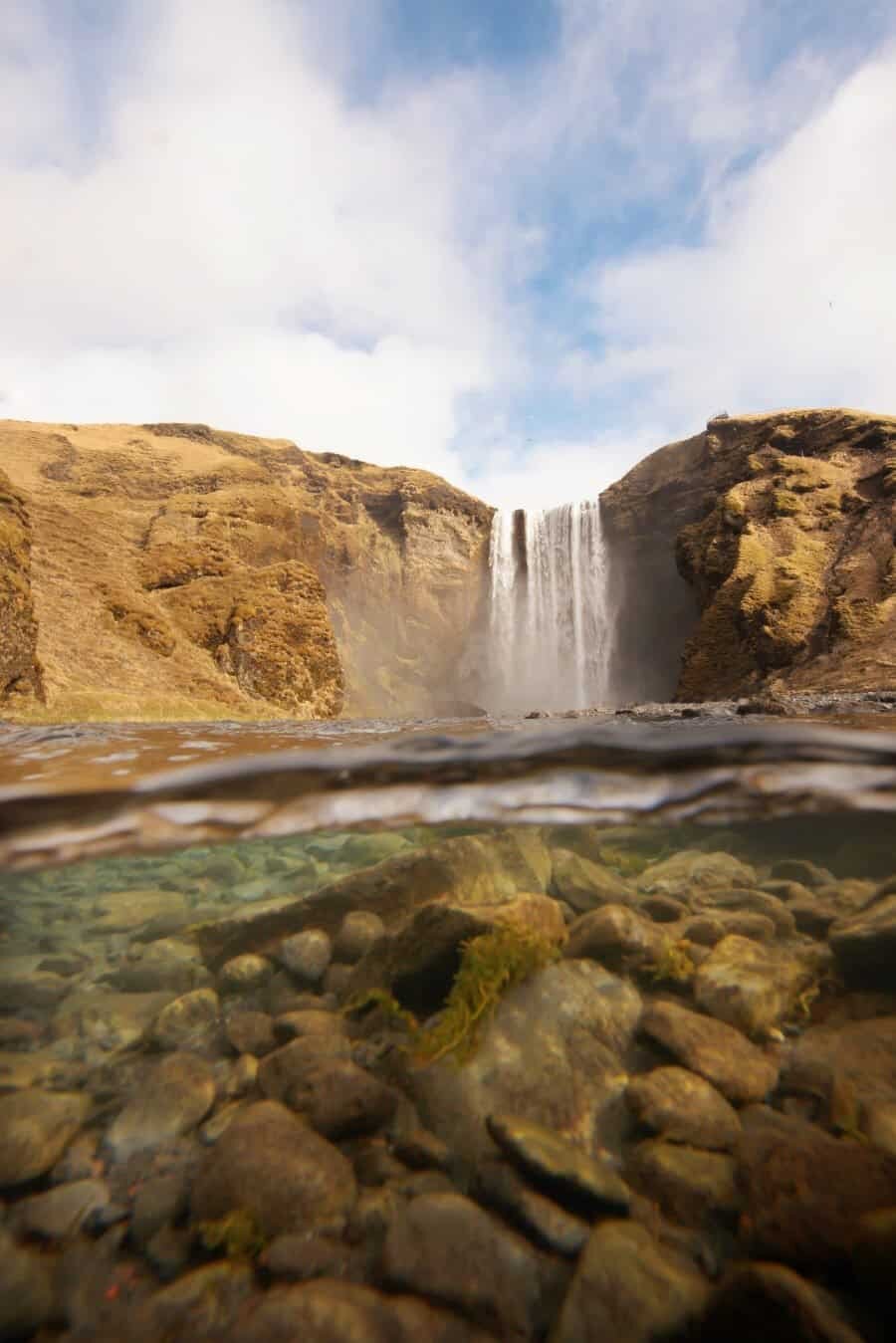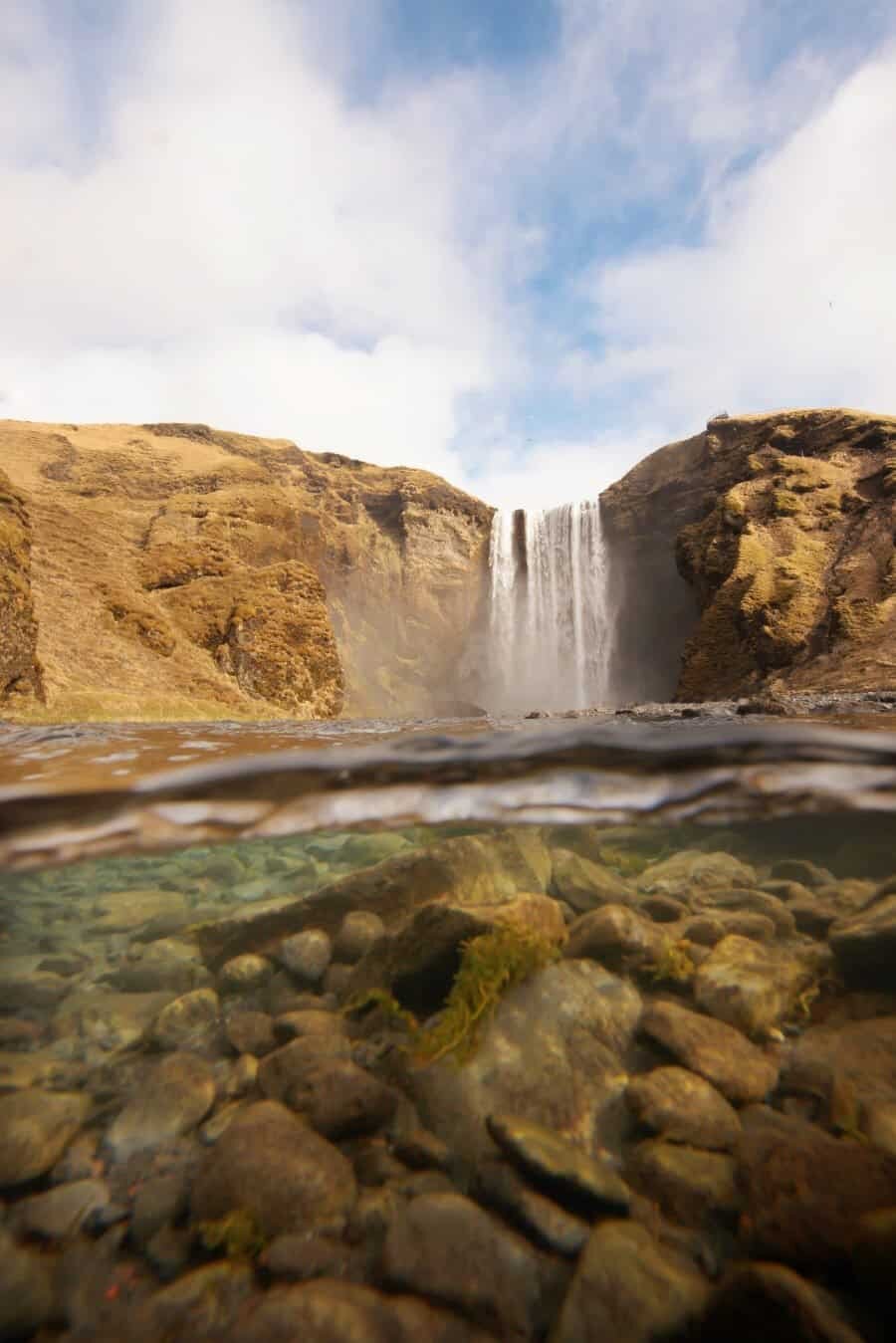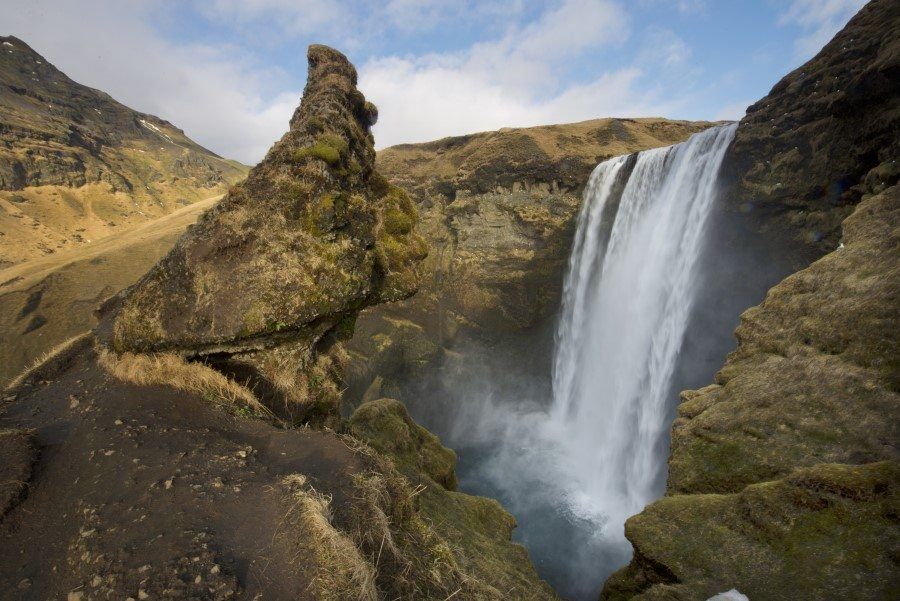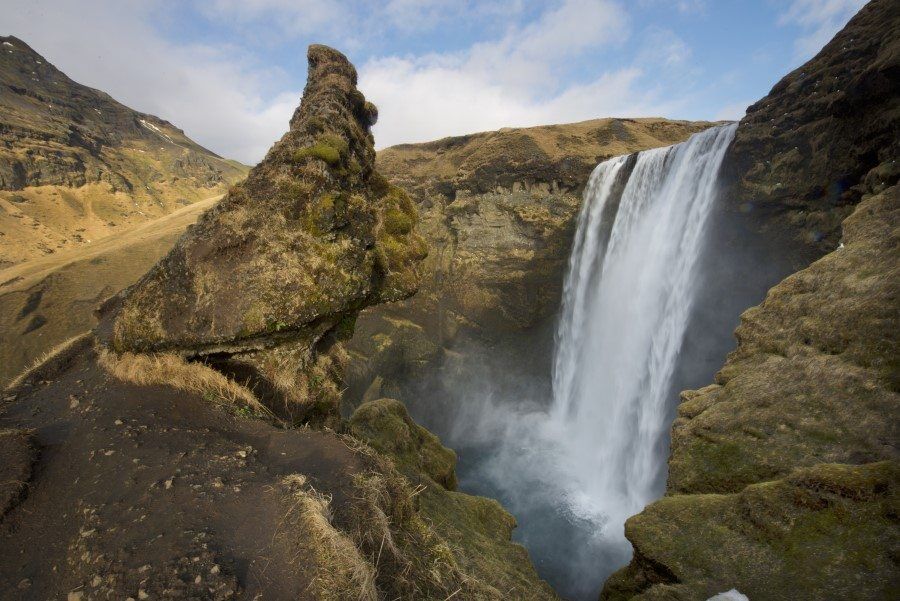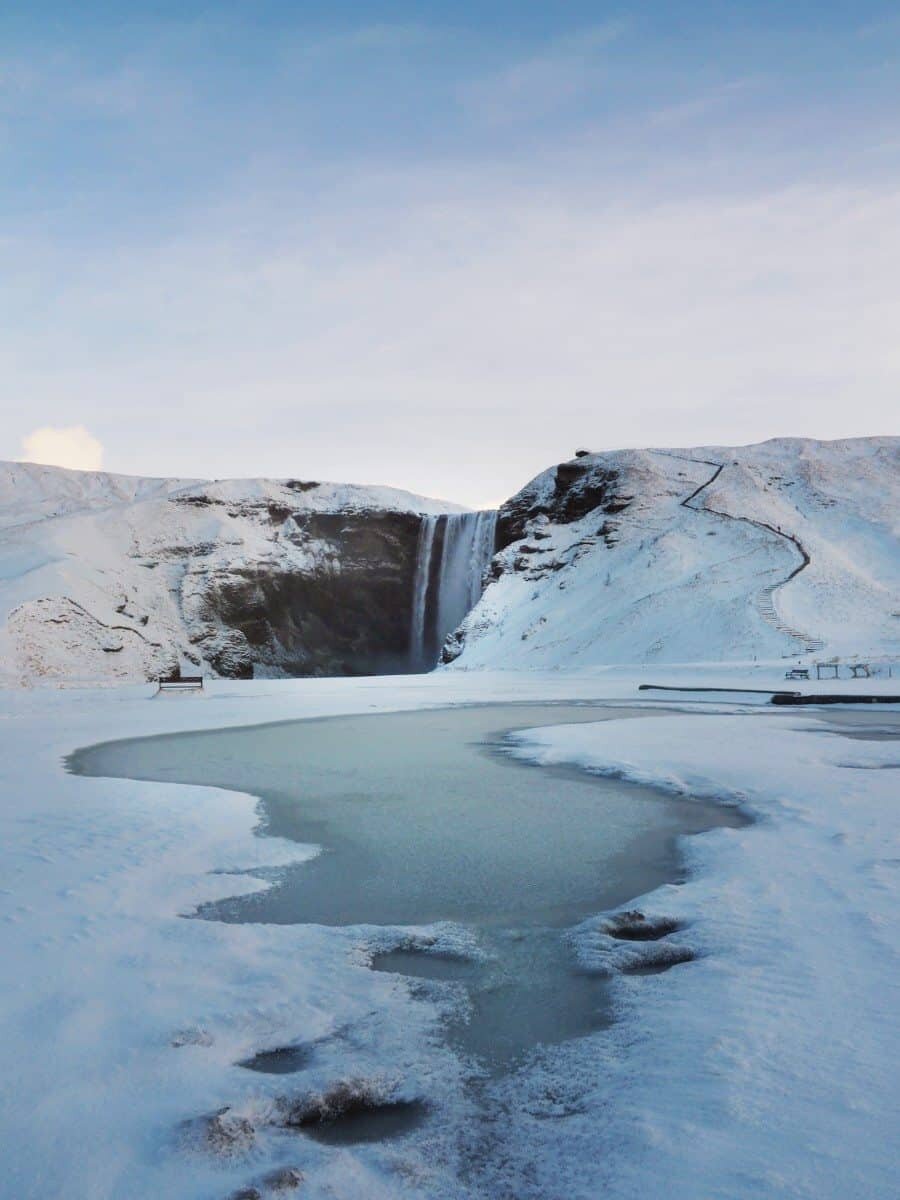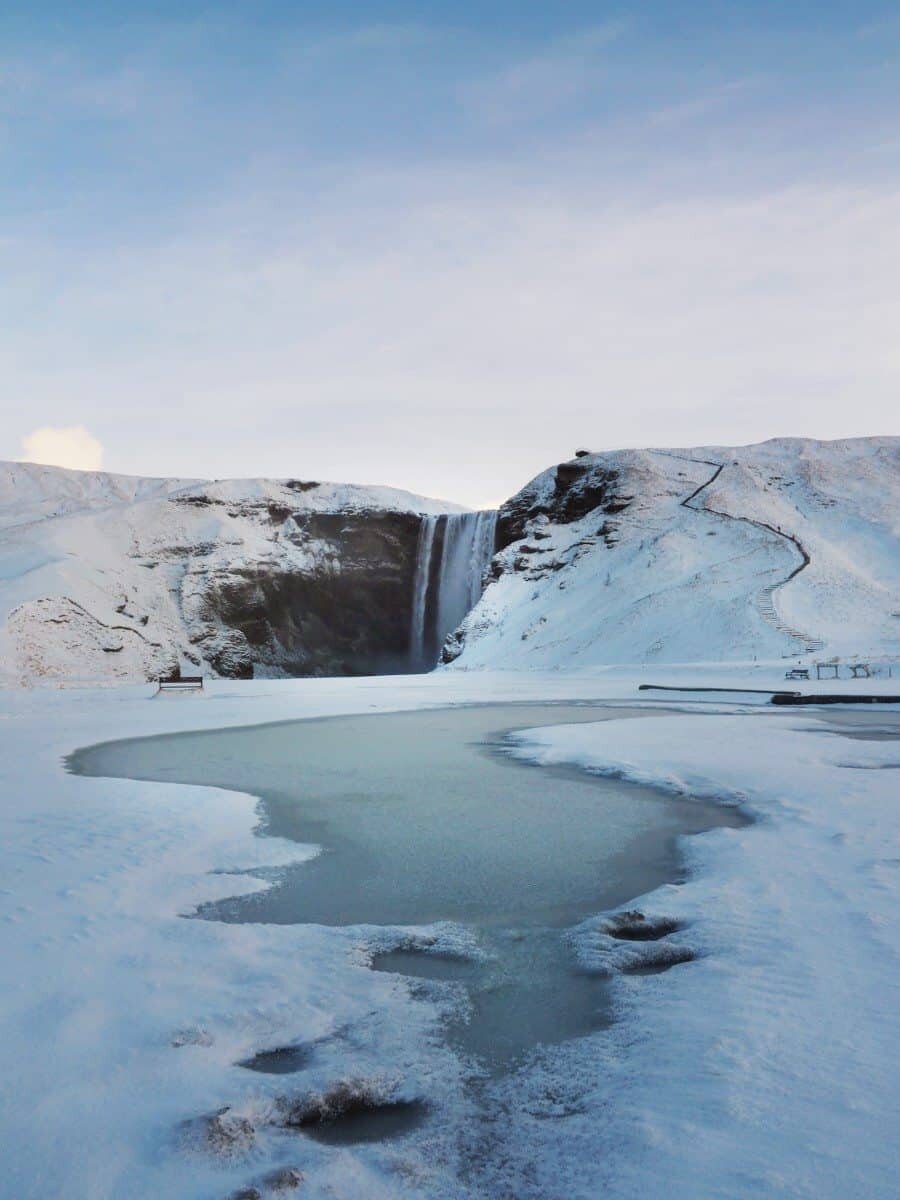 ---
Dyrhólaey Arch + Kirkjufjara Beach
Located just before the mountain crossing down to Vik there's a road called Dyrhólavegur which will take you all the way to the coast. At the end of the road you'll find a car park and headland that looks over the scenic Reynisfjara Beach toward Vik, you can also explore Kirkjufjara Beach and photograph mountains to the north. Those looking for higher views can drive up to Dyrhólaey Lighthouse and look down over the Dyrhólaey Arch and black sand beach that extends for miles to the west. Iceland photography locations along the coast with dramatic cliffs like this aren't really accessible until you reach Hofn so it's best to visit this photo spot to get your fix!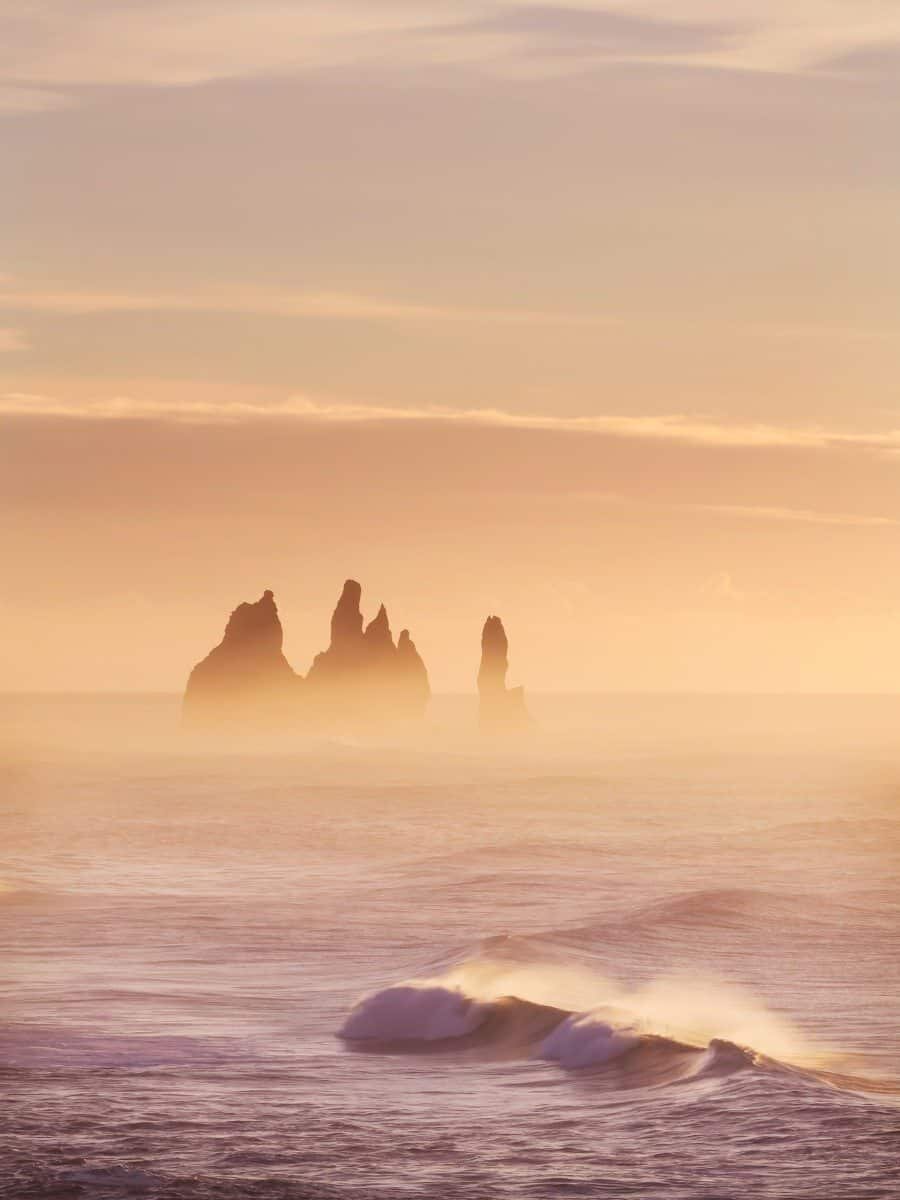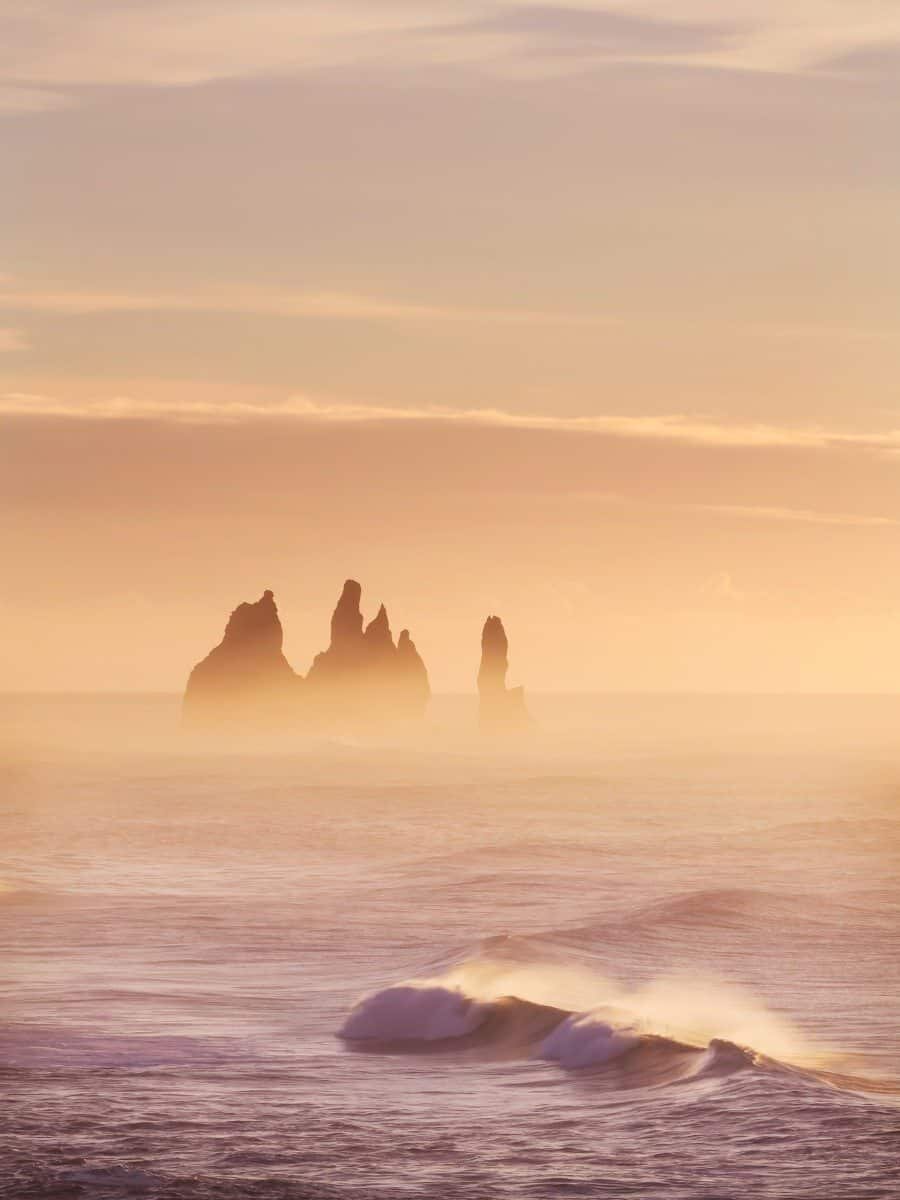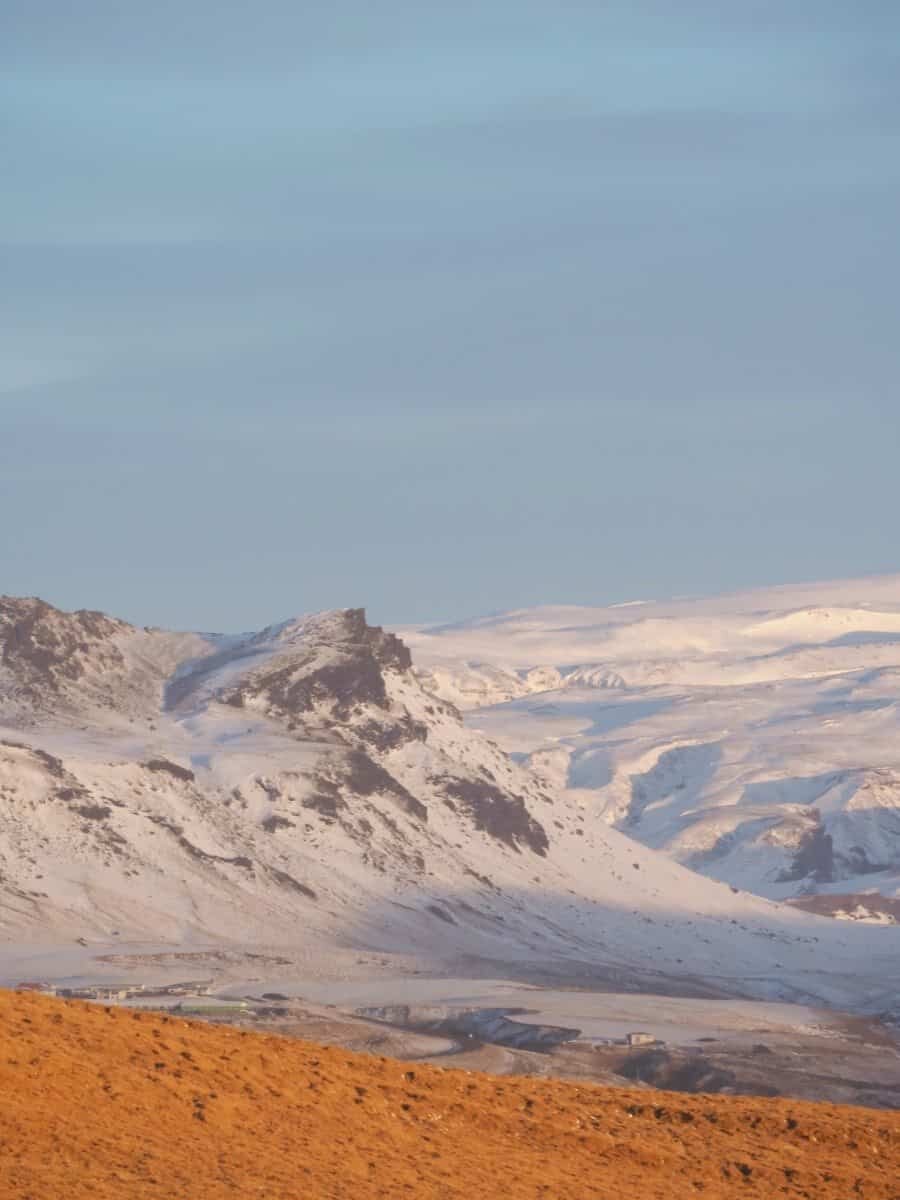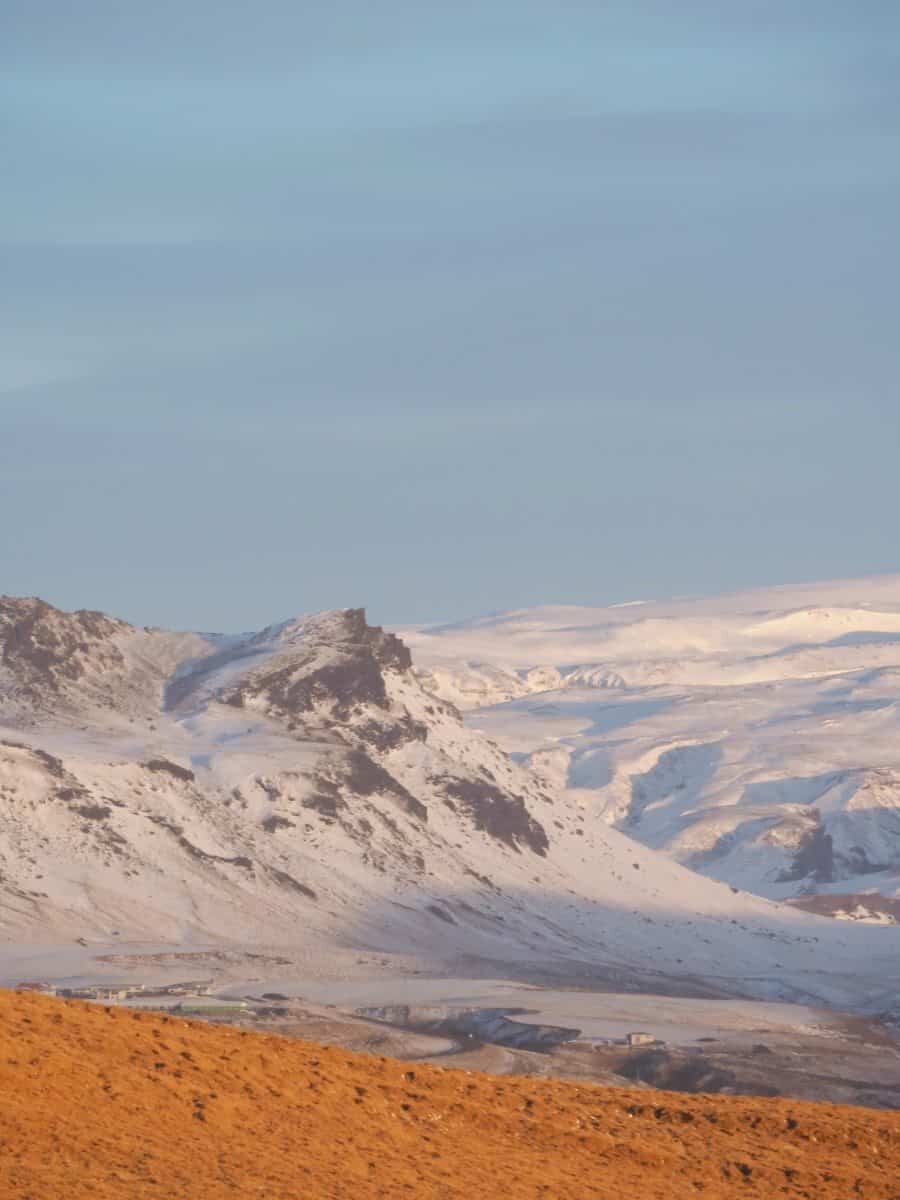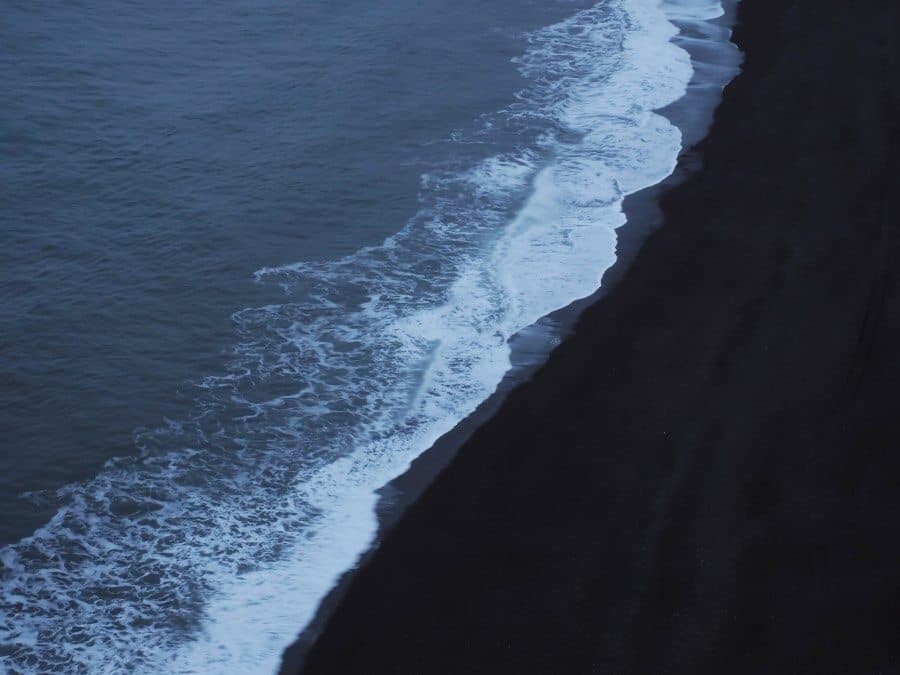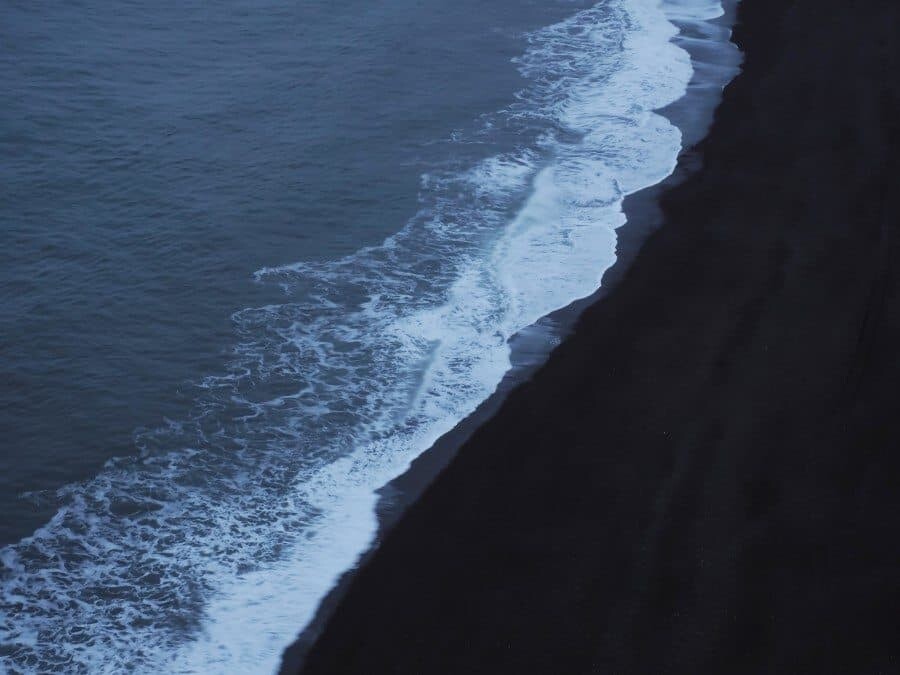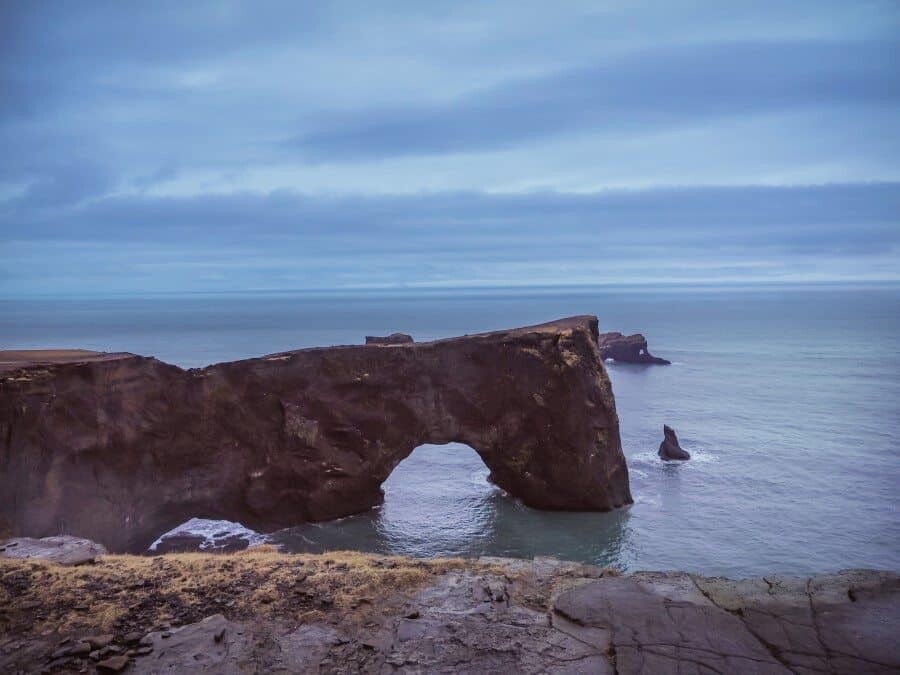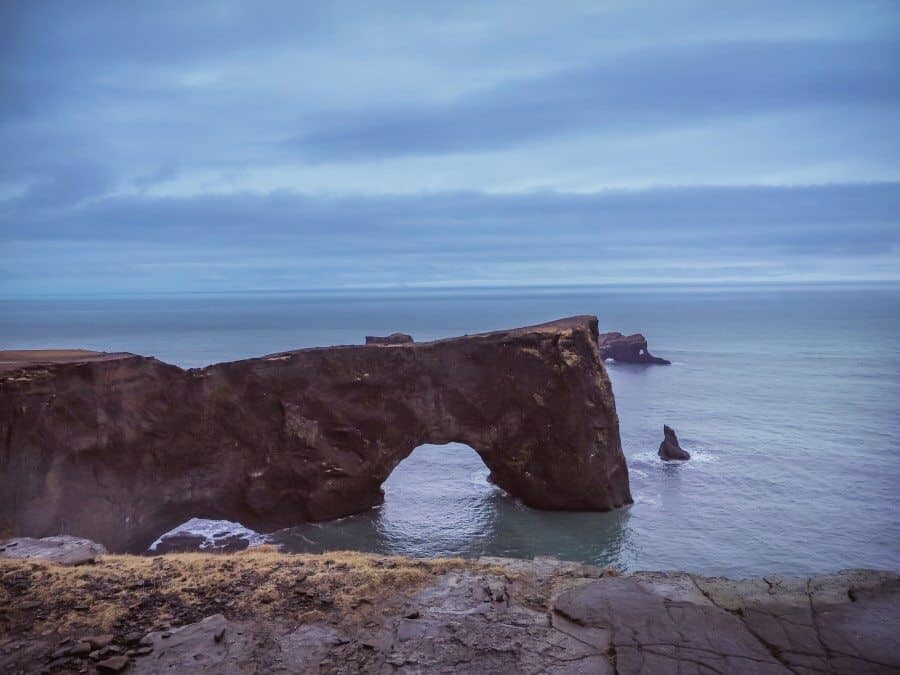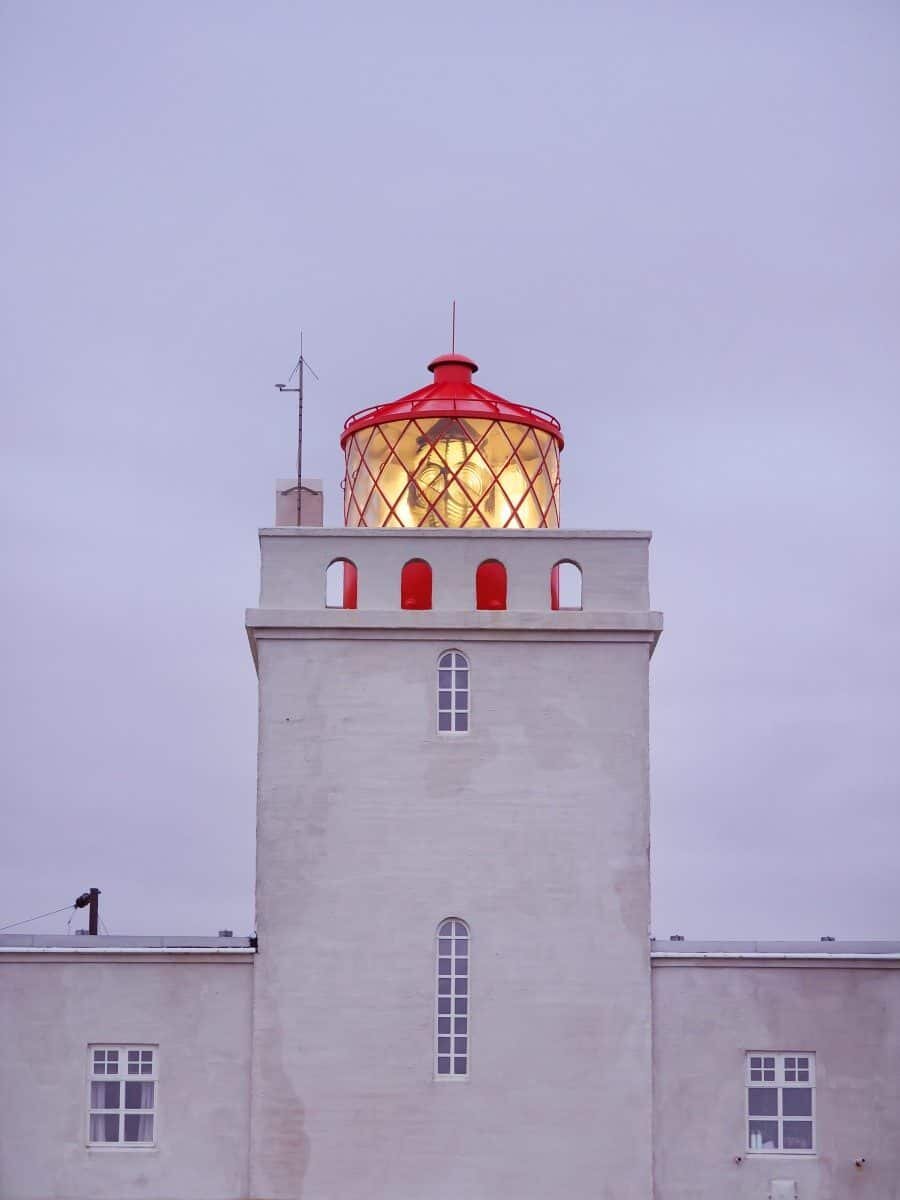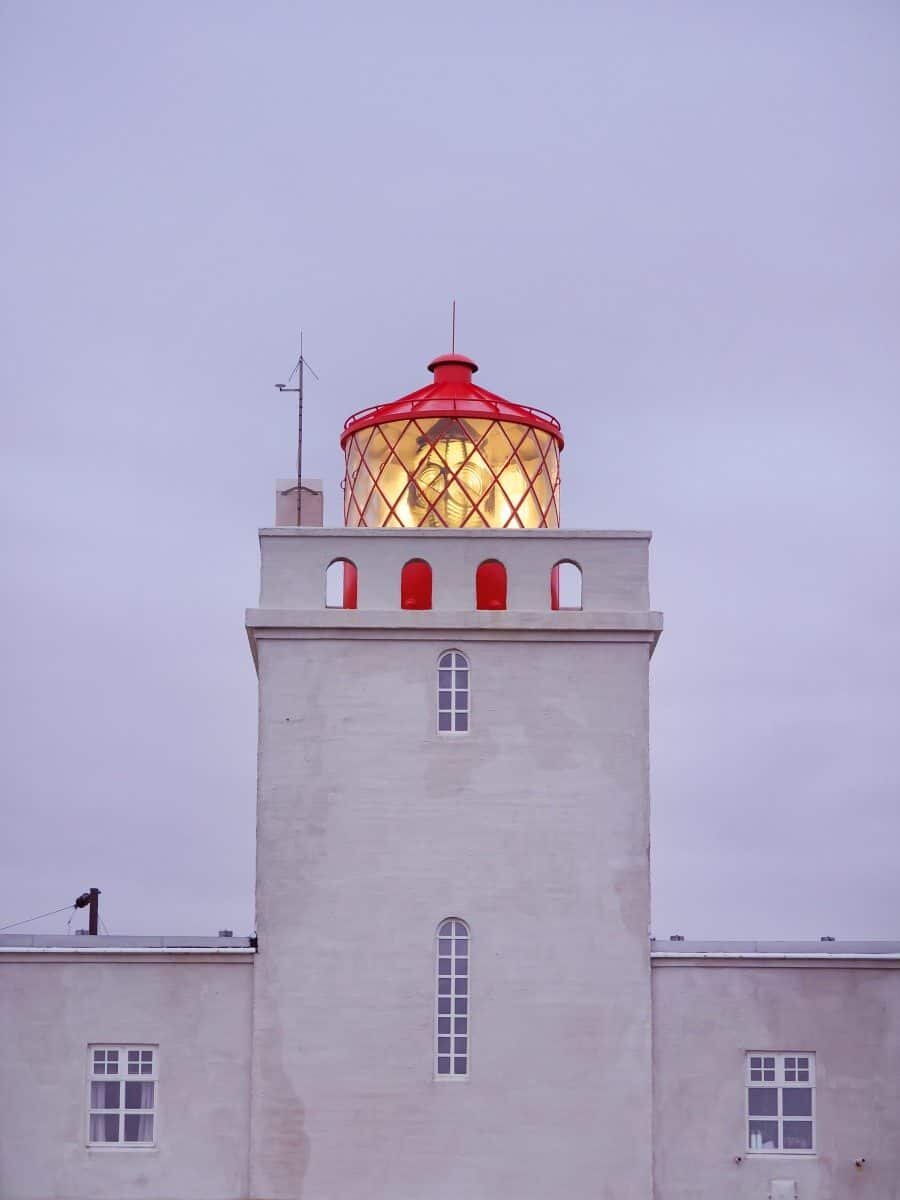 ---
Reynisfjara Black Sand Beach
The black sand beaches around Vik are wild and rugged. Their beauty extends beyond the waves though and up to the details of the surrounding cliffs that have been formed by the extreme weather of Iceland. Giant basalt pillars can be accessed at the eastern end of Reynisfjara and make for a great photo opportunity. Just be careful of the huge waves that can sweep people away!
The waves here are mesmerising, I actually stood for hours just watching them rise up and swallow themselves up creating what looked like watery monsters on the shoreline.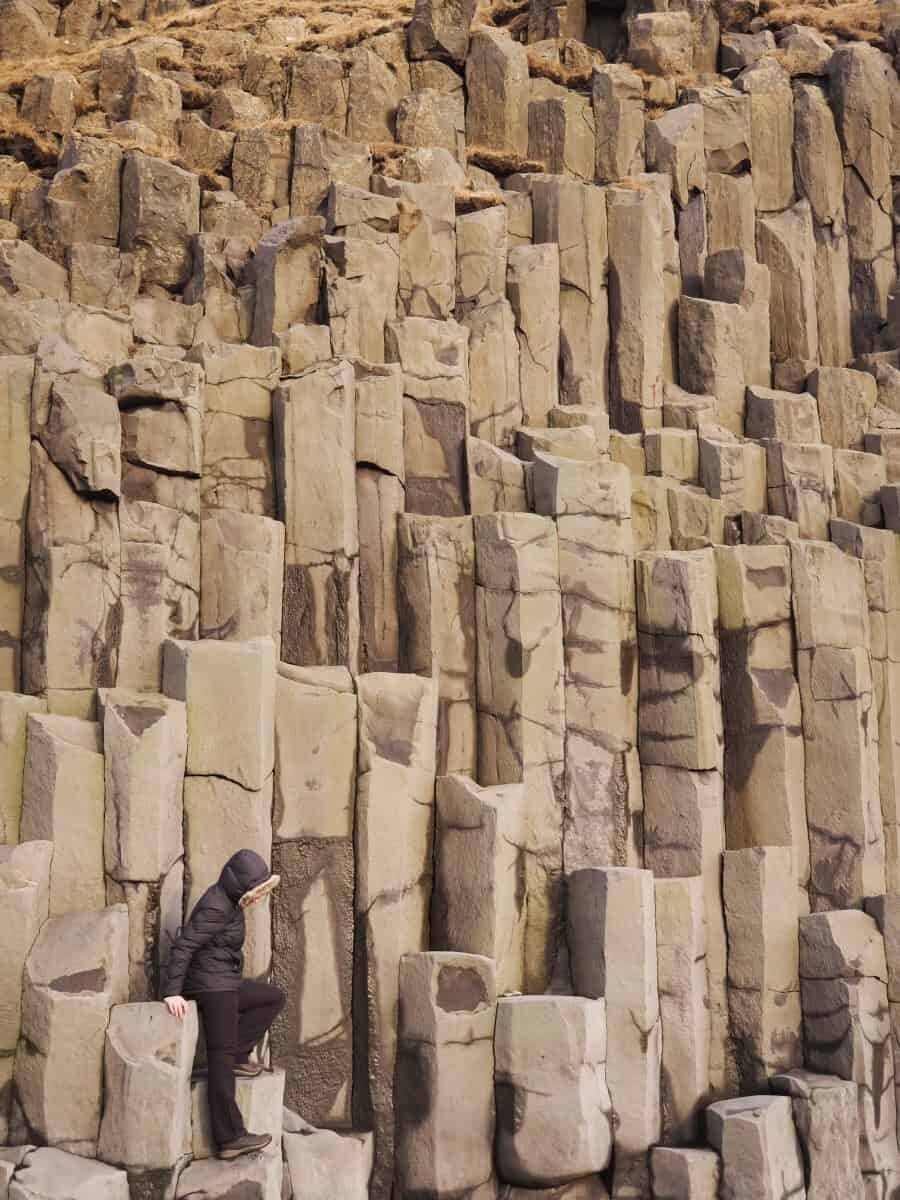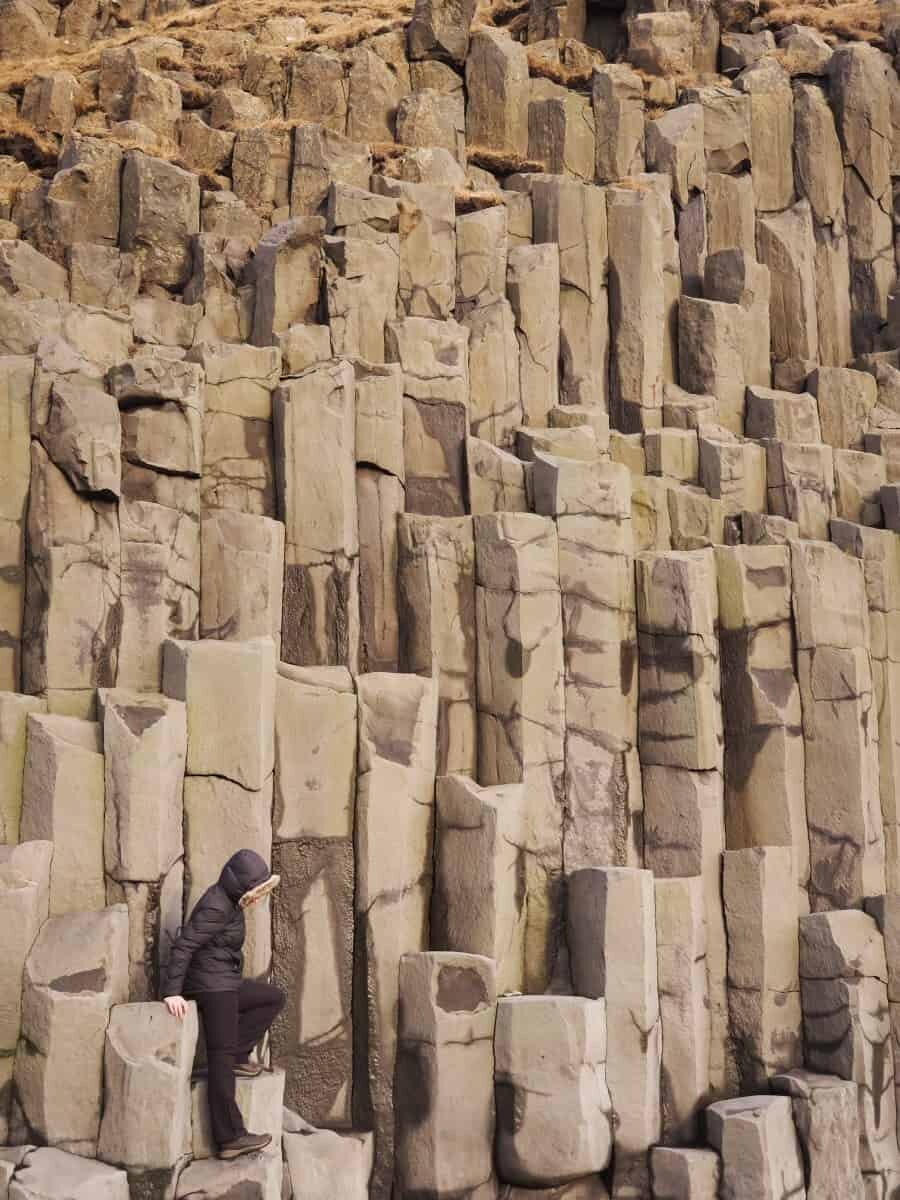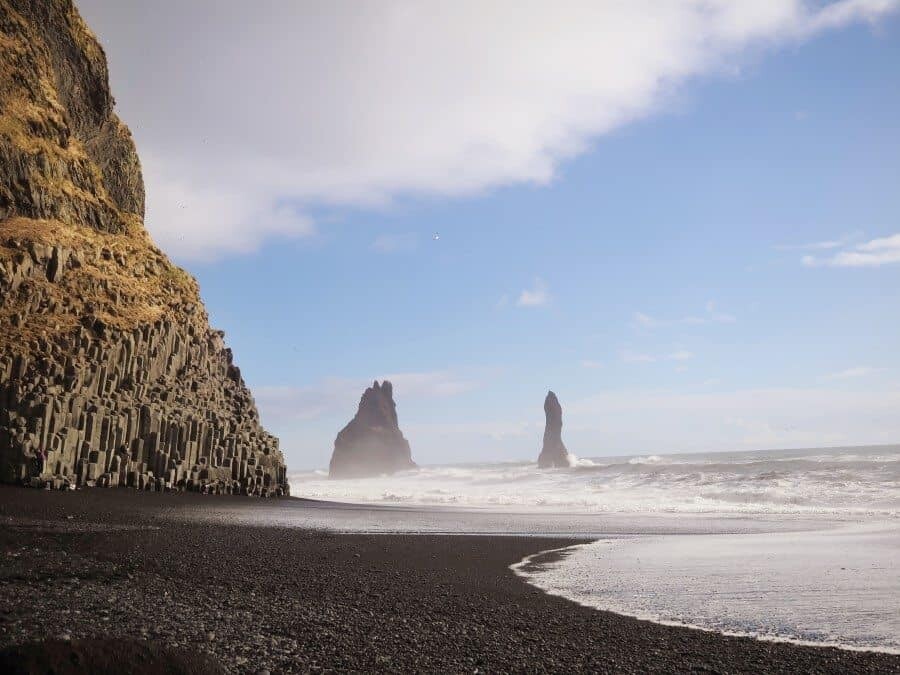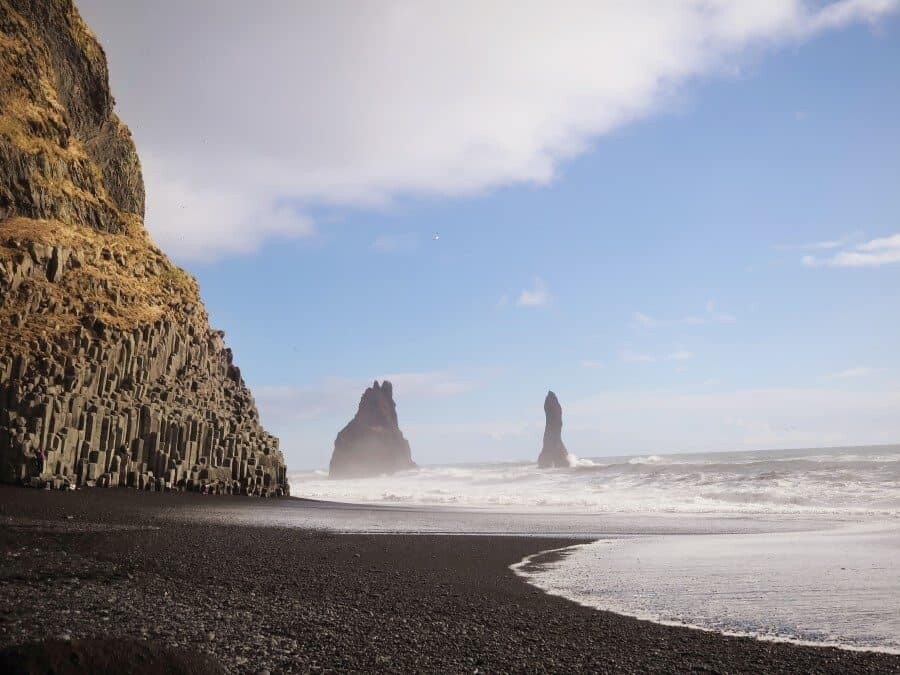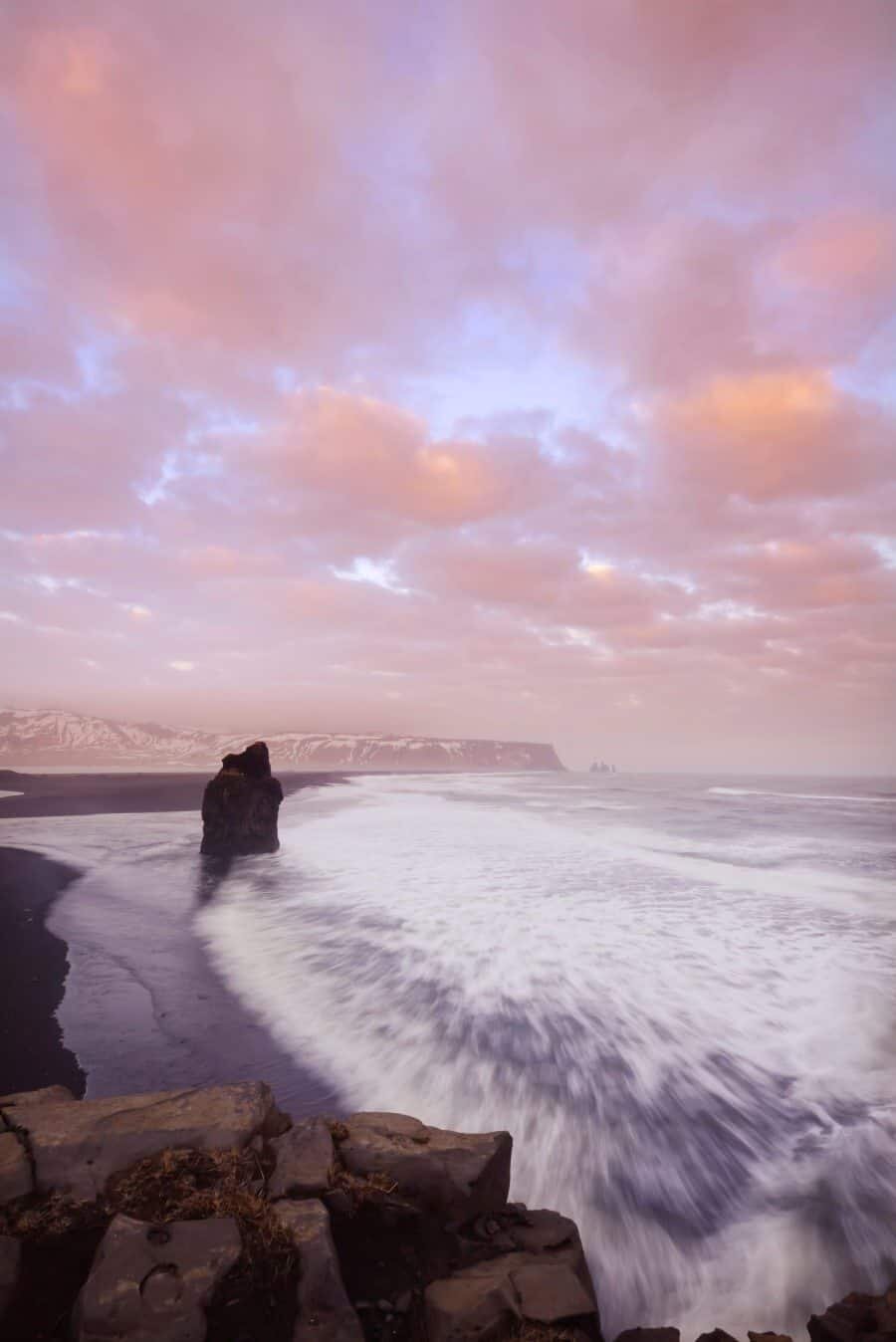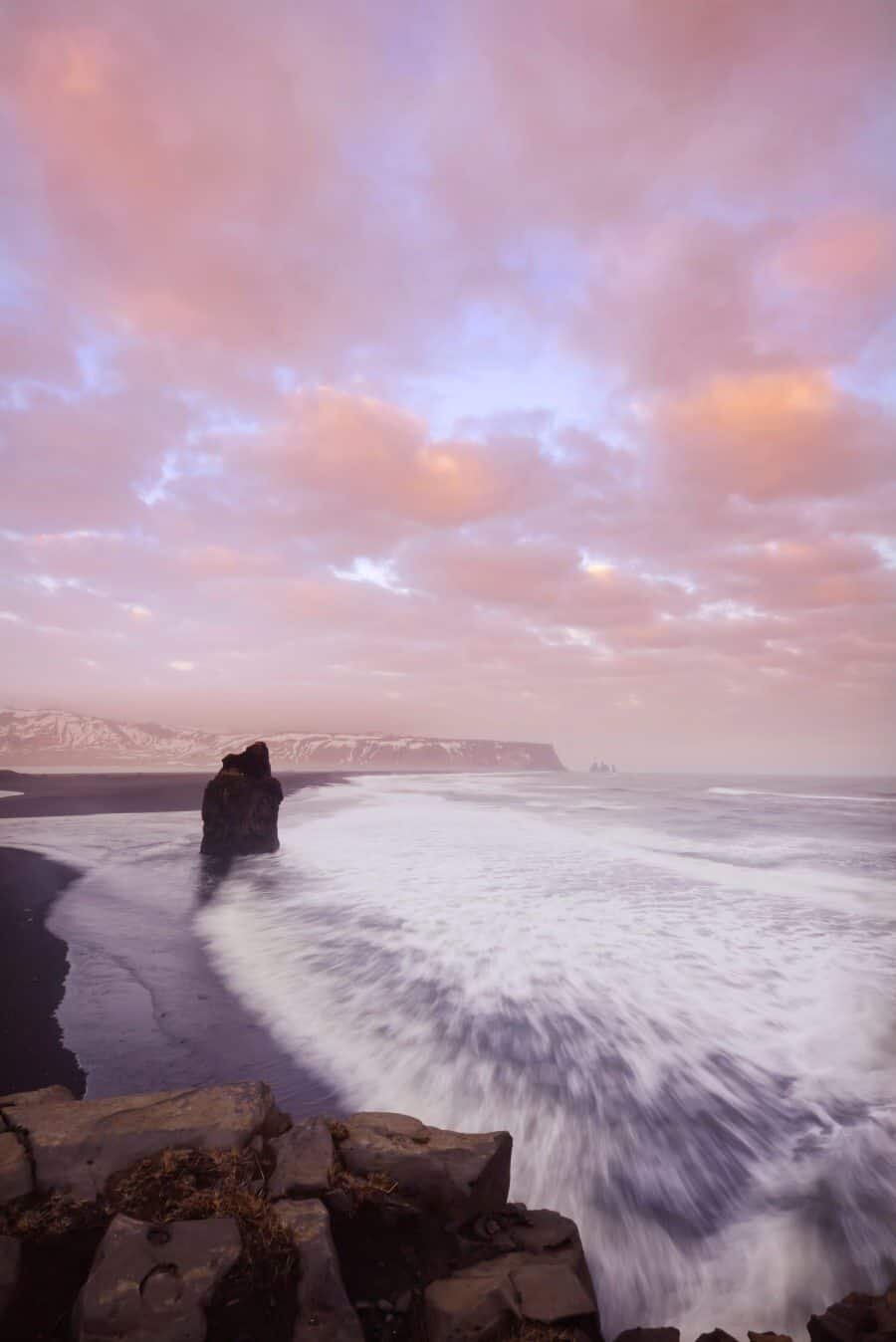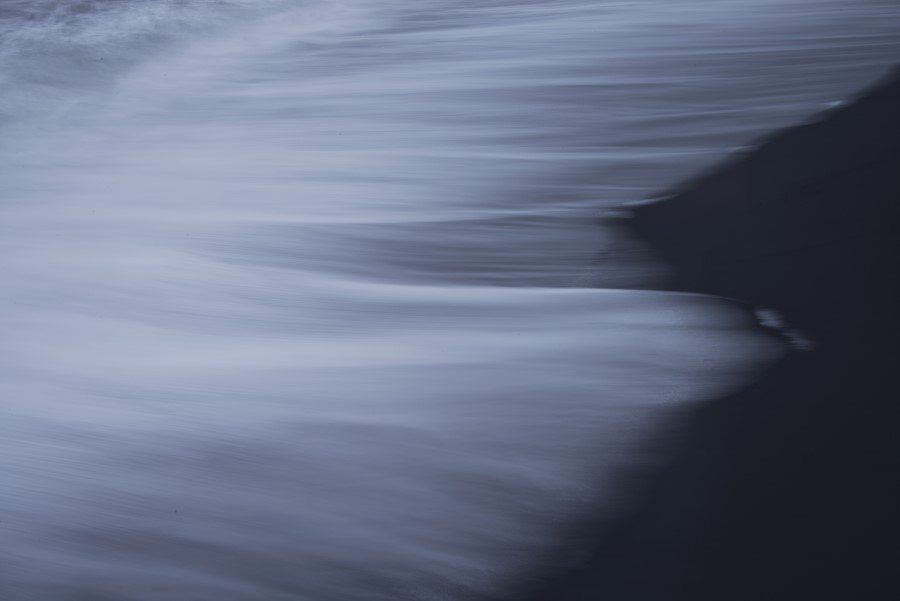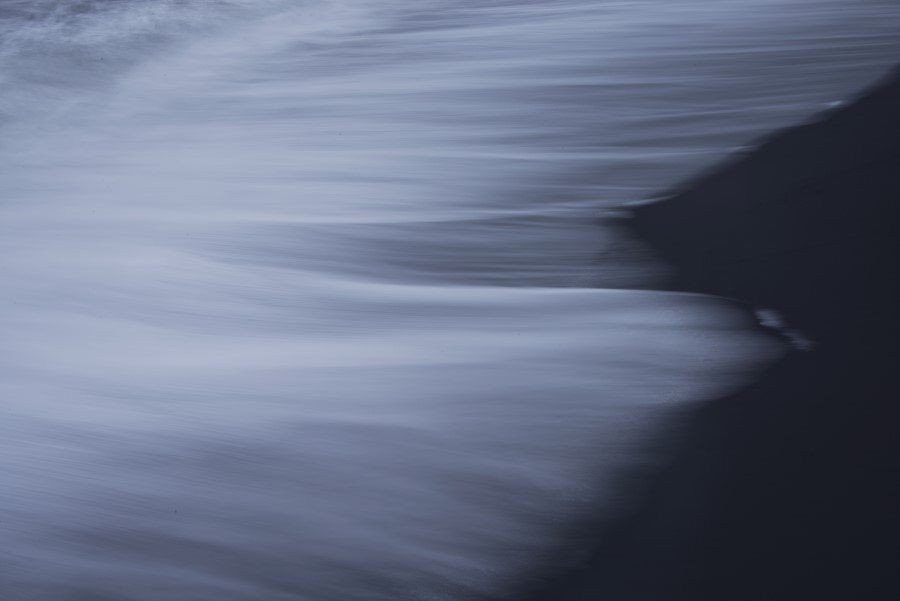 ---
Vik
Surrounded by mountains, the ring road winds into the charming town of Vik and reveals one of the most scenic villages in the country. With a church located high above the town (a great place for aurora!) and rows of beach cottages, it's a great mid-way point to spend the night. Vik Beach is well known for its jagged rock formations that rest beneath the cliffs in the ocean.
If you're serious about capturing some of the most photogenic locations such as Skogafoss and Reynisfjara Beach, you're best to use Vik as your base to ensure you've got a roof over your head incase the weather turns bad. Check out available Vik Hotels + B&Bs on Booking.com…my pick is the Iceland Air Hotel or Hotel Kria which are both located near the Ring Road and across from a Petrol Station with a bistro for dinner.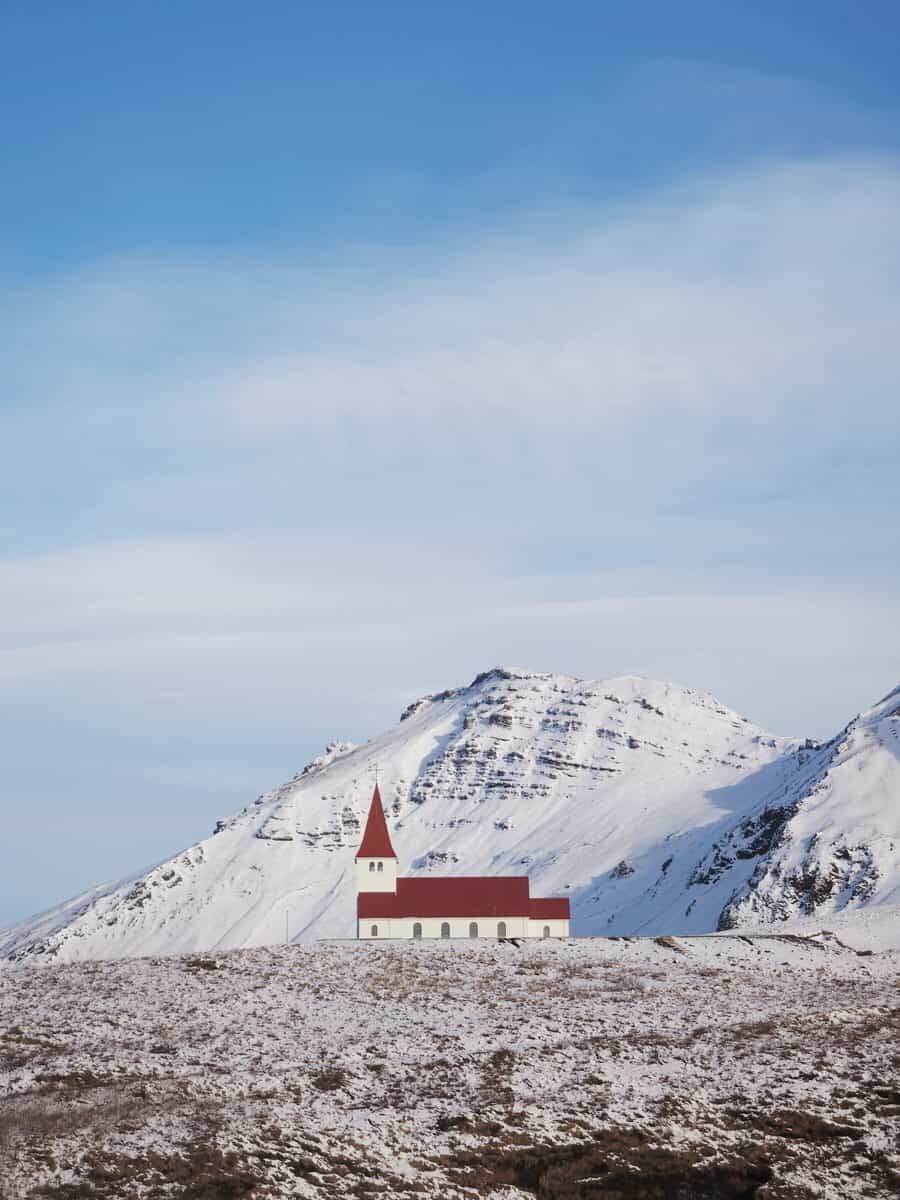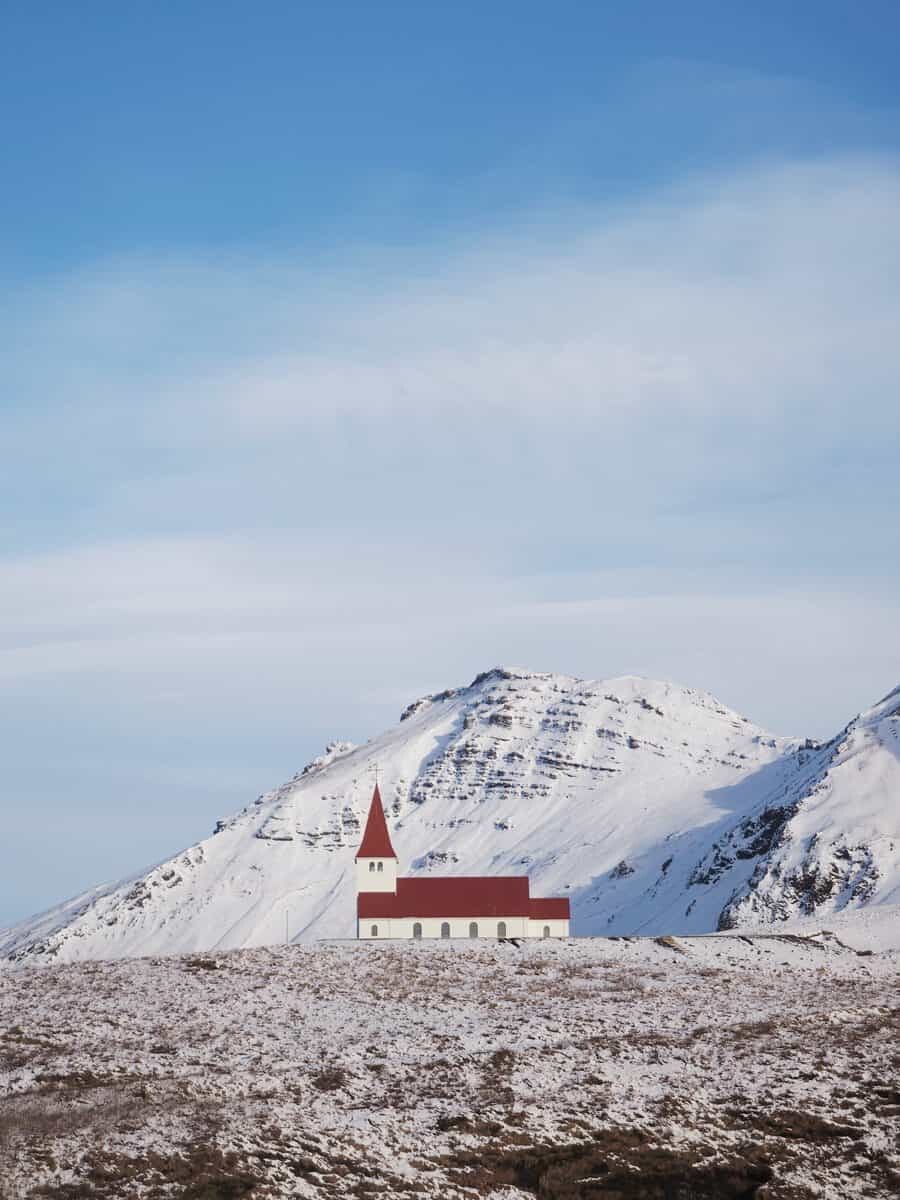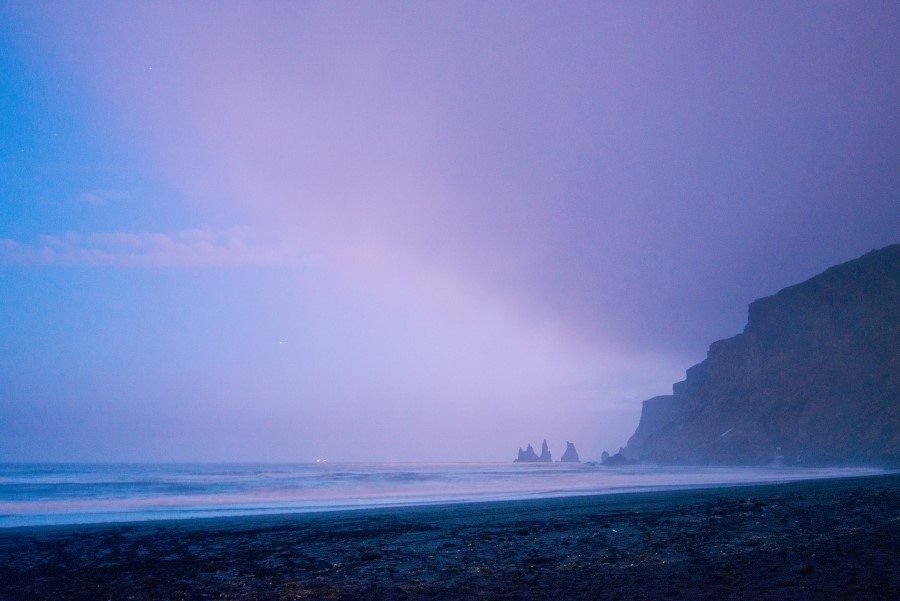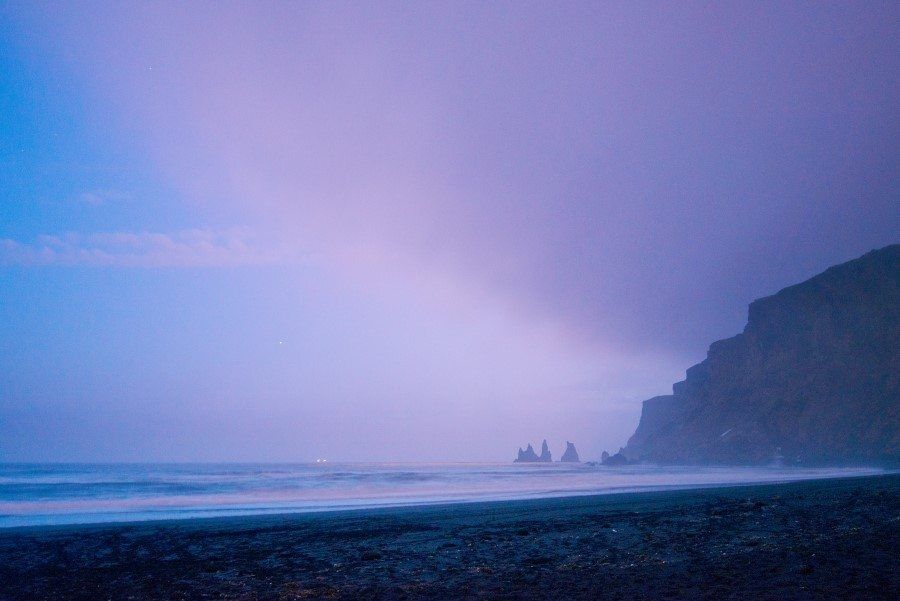 ---
Fjaðrárgljúfur Canyon
With an average depth of 100m, this 2km canyon is a landscape photographer's dream location. Dramatic, other worldly cliffs of green mossy grass entwine alongside the banks of the Fjaðrá River.
*Update – The canyon was impacted by high numbers of tourists in 2017-2019 and as such, has had some recent improvements to ensure the natural environment can withstand a greater number of visitors. It's said Justin Bieber's music video featuring this location brought an increase of 80% more visitors after it's release in 2015.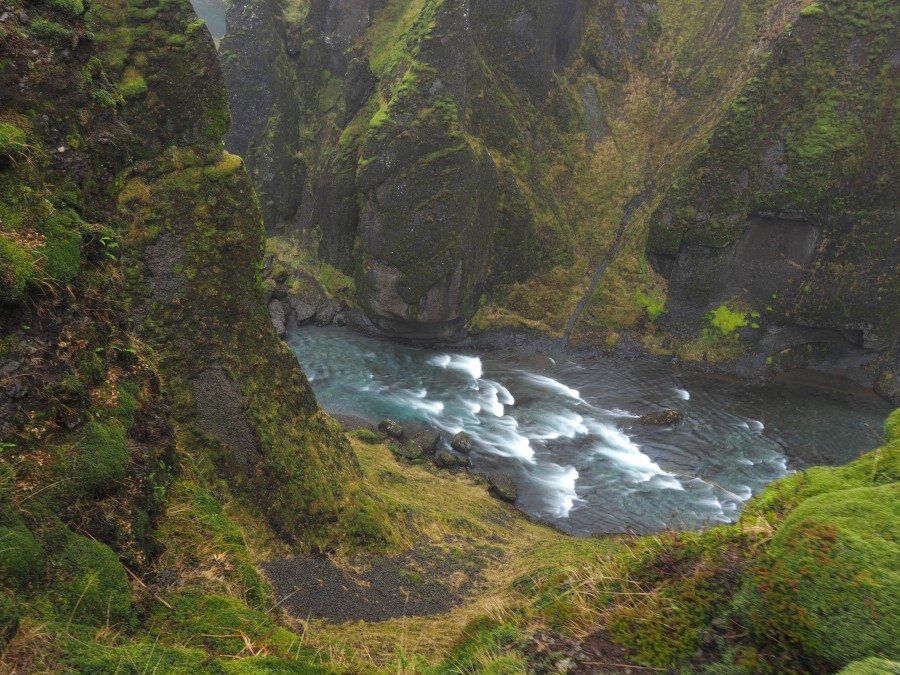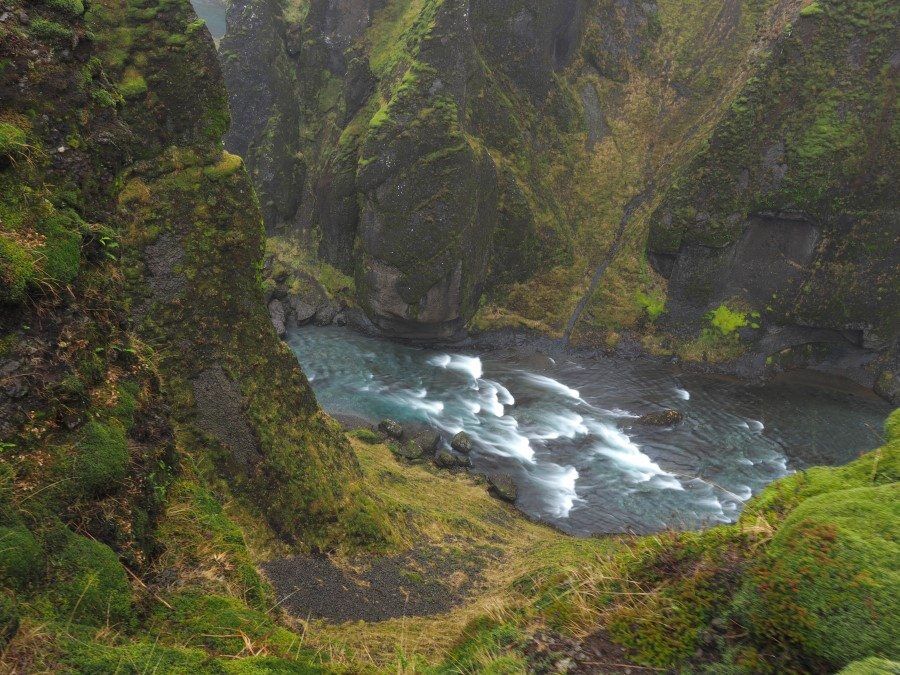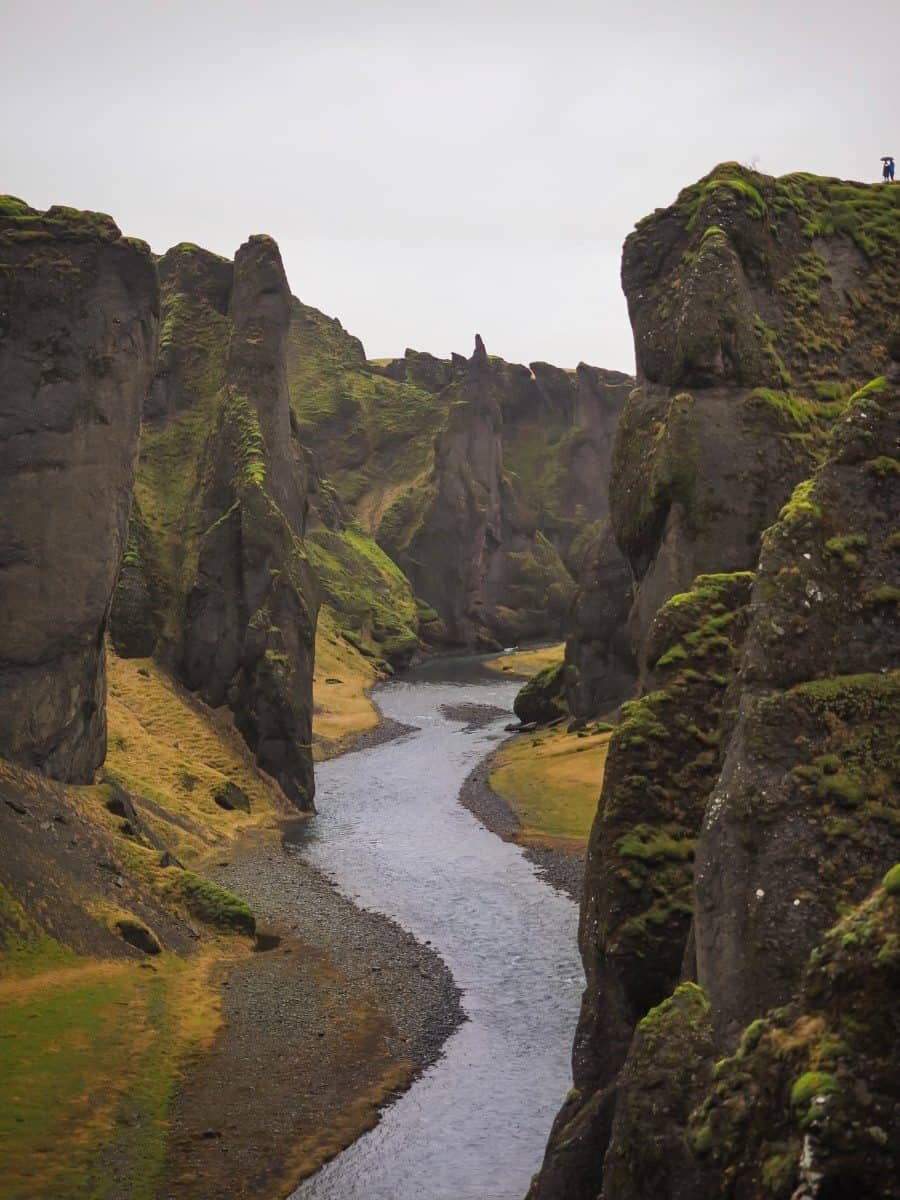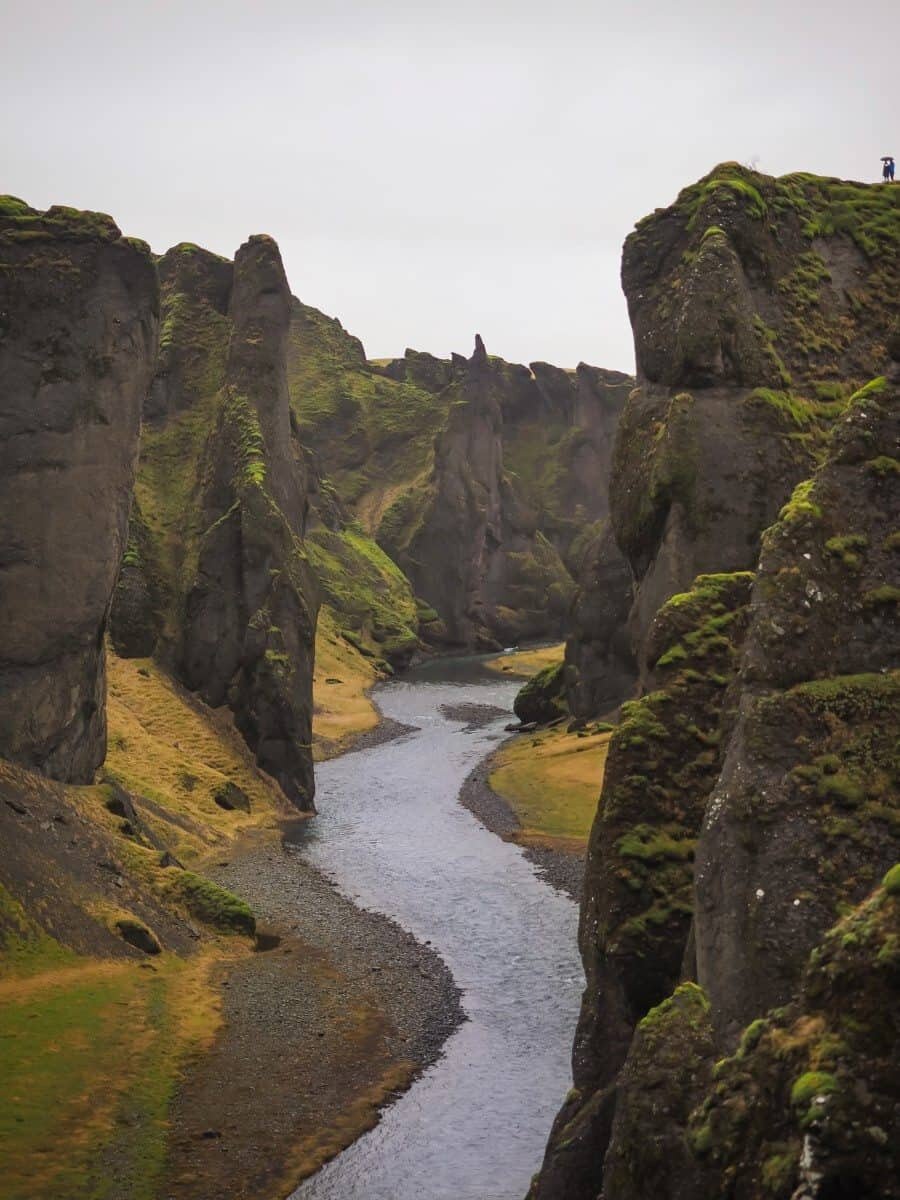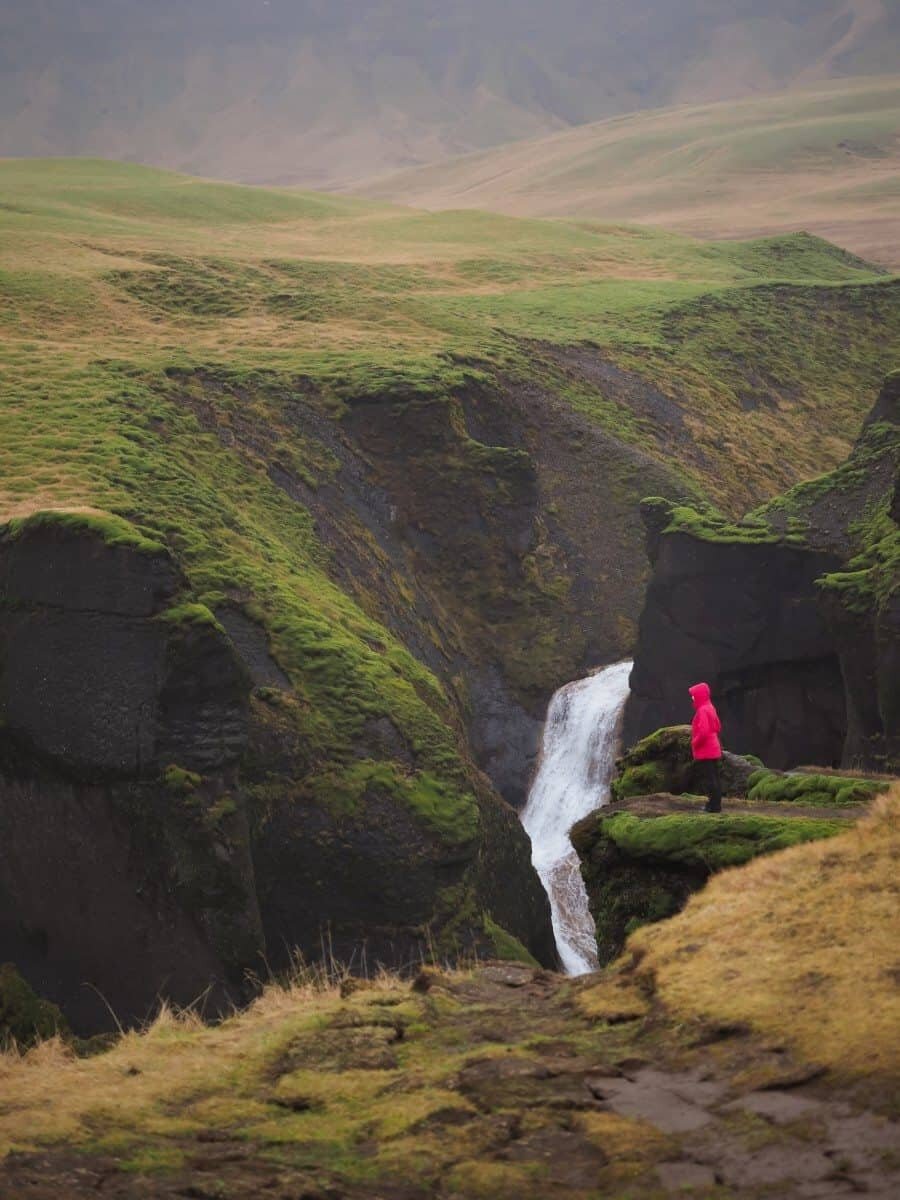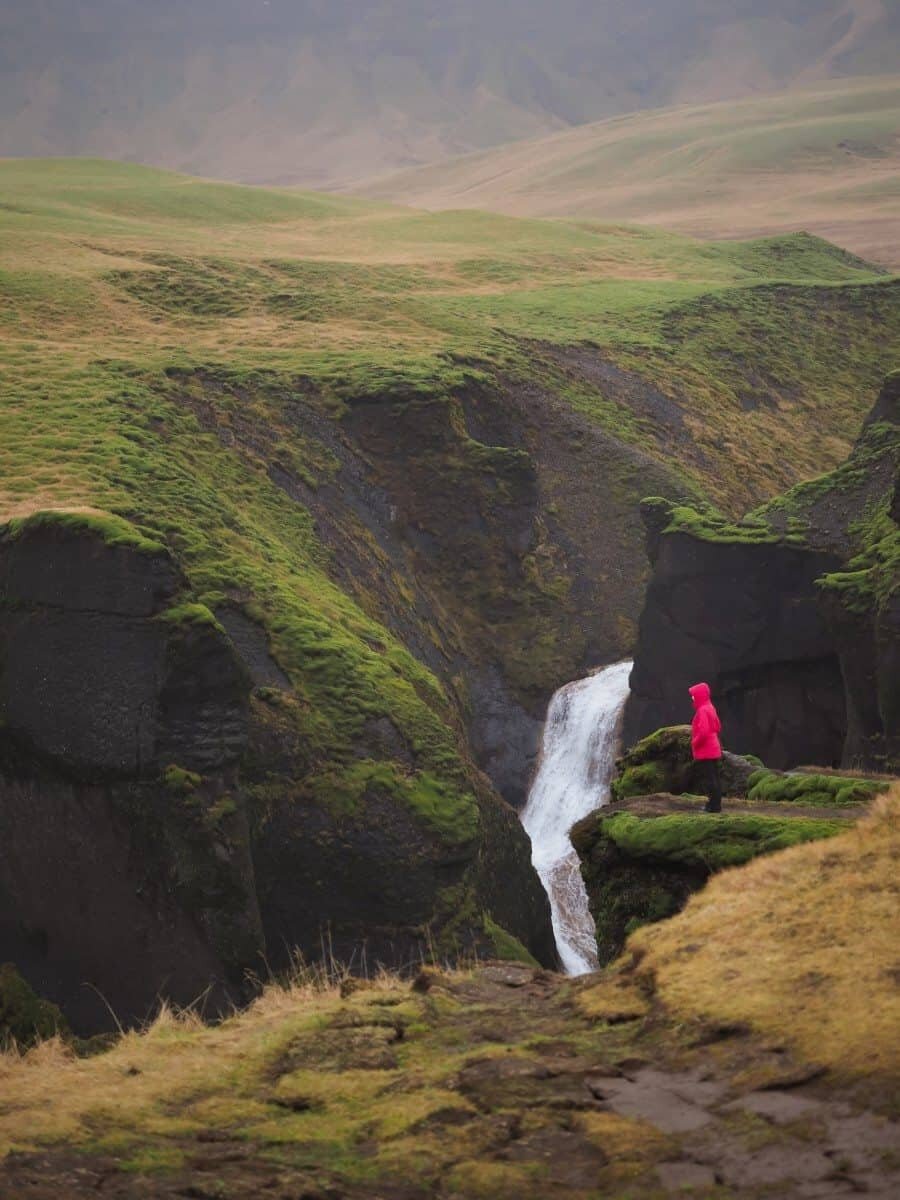 ---
Foss a Sidu
After a long and flat drive across glacier deltas from Vik, coming across this beautiful waterfall is a welcome sight. Tucked in behind a farm house it's worth a little photo stop to stretch your legs but be mind-full of the private properties.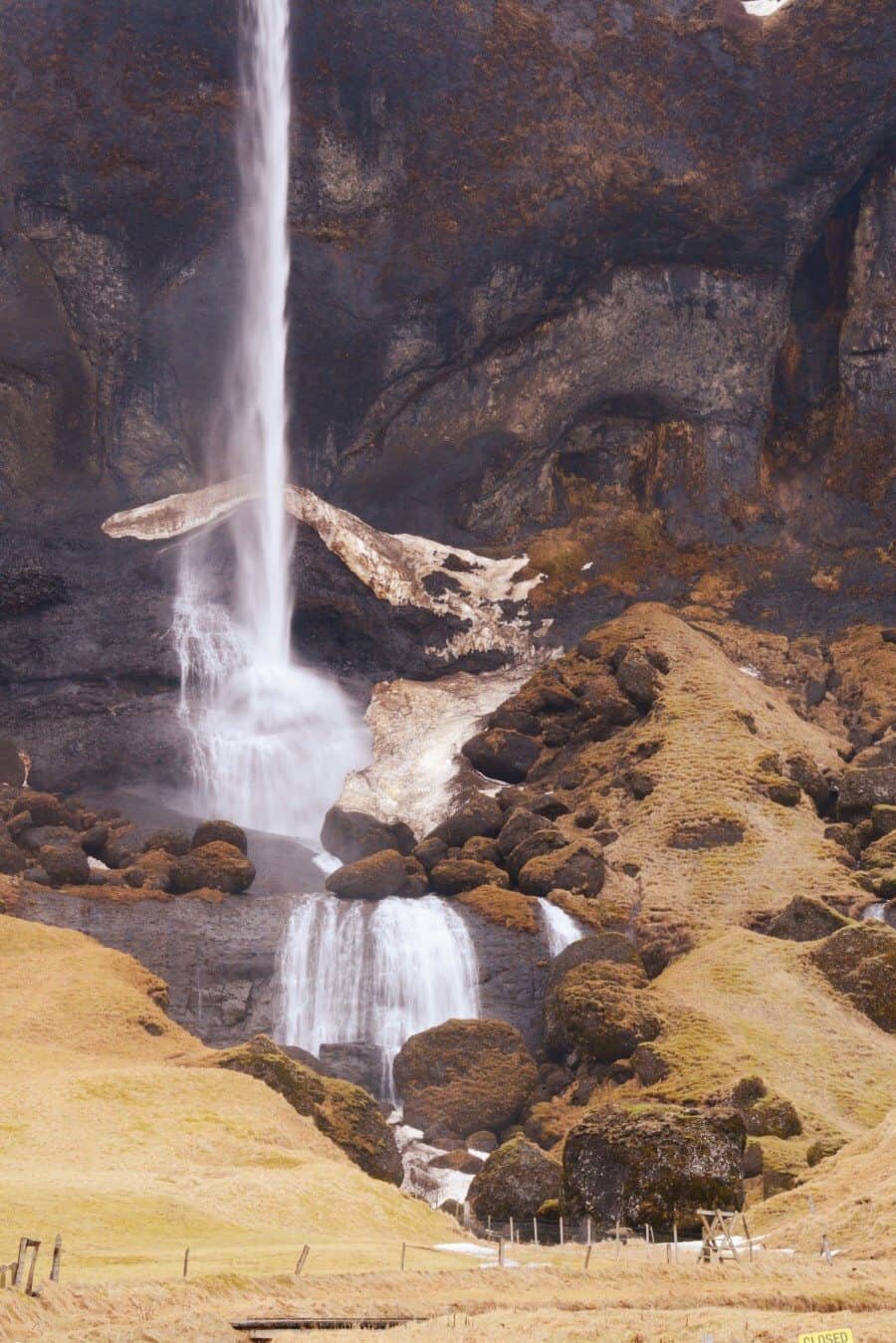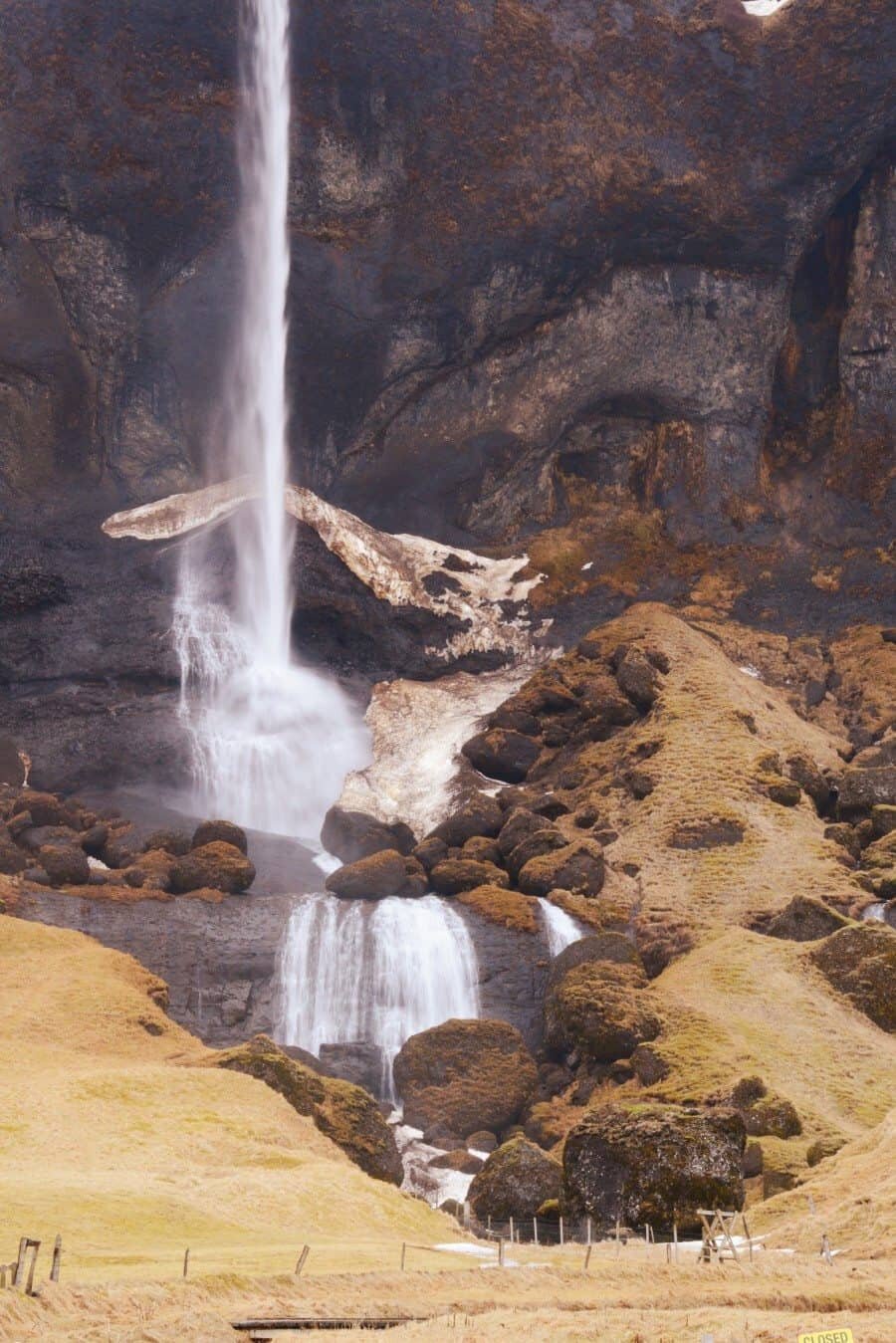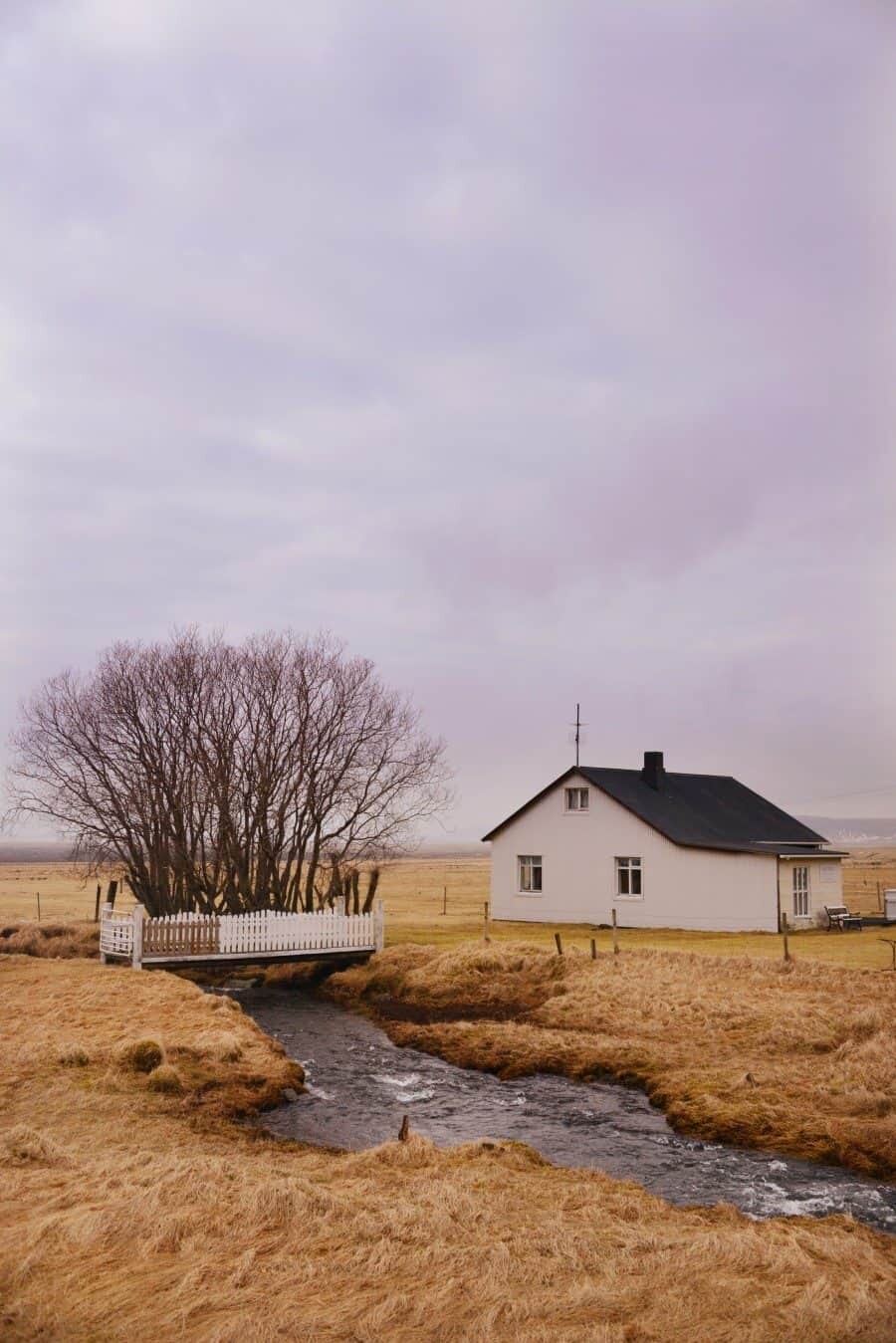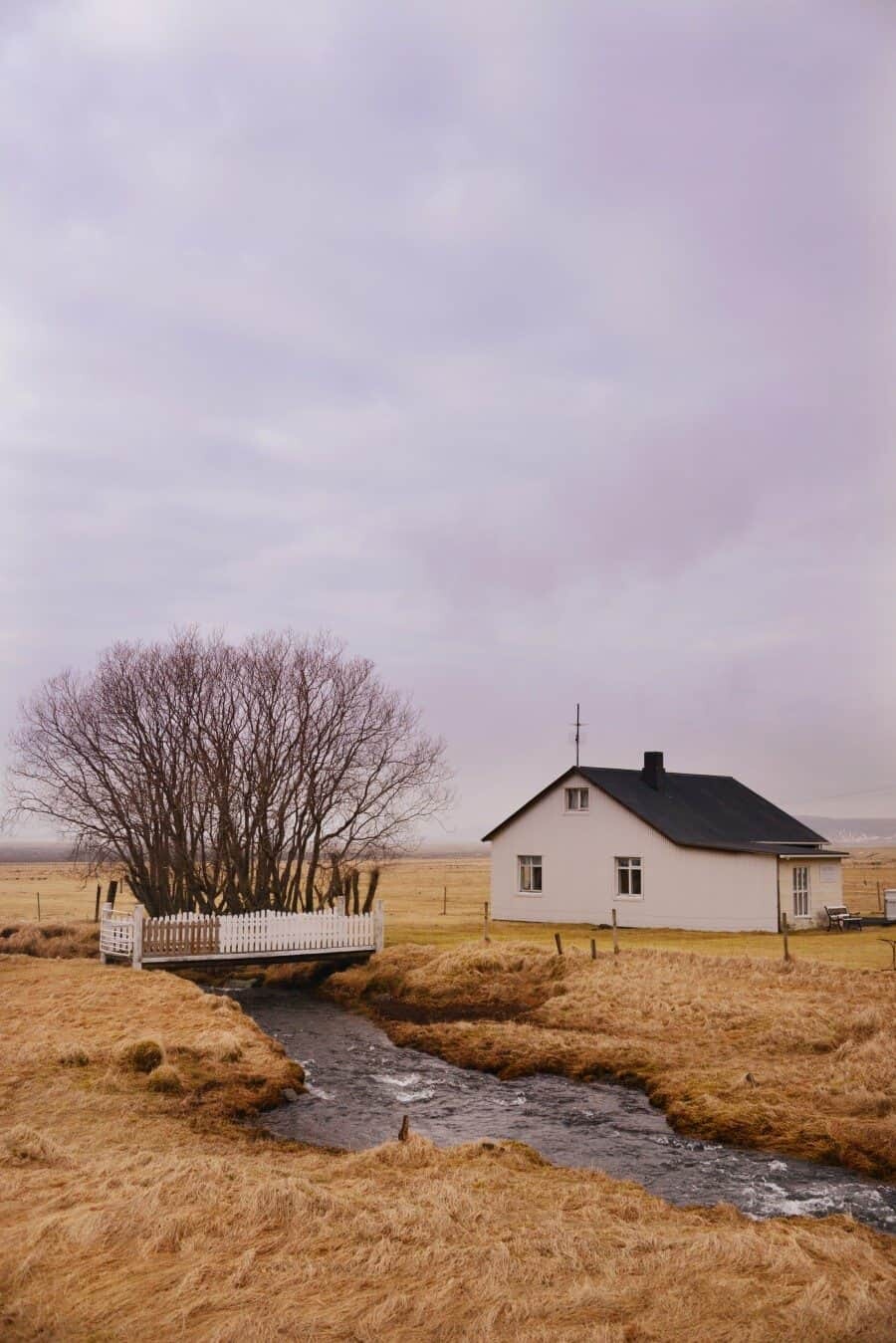 ---

Mount Lomagnupur
Rising at over 680m above the road, Mount Lomagnupur is a great place to stop between Vik and Hofn and one of the most unexpected Iceland photography locations. A shallow pool in front of the mountain reflects the breathtaking landscape and there's also a legend of a giant that stood and watched from above.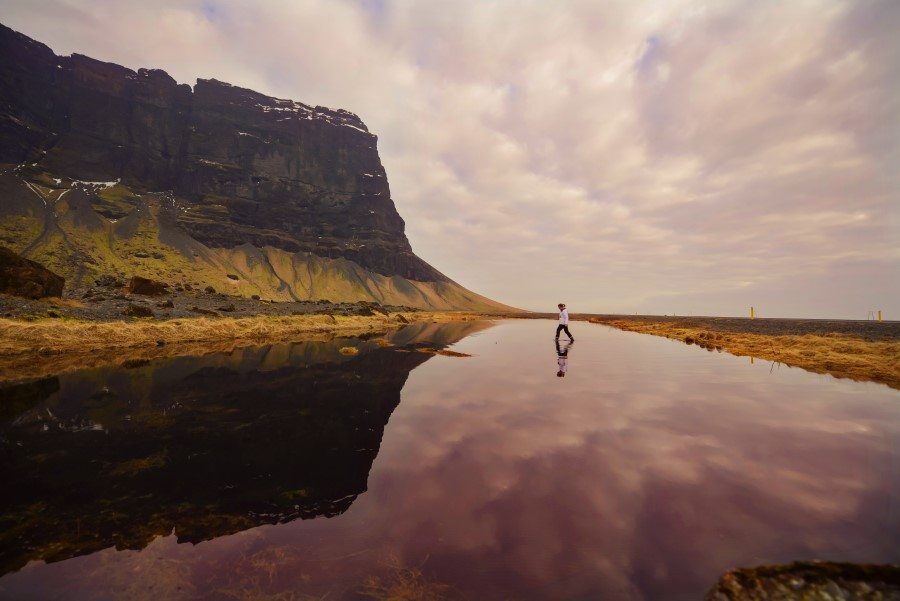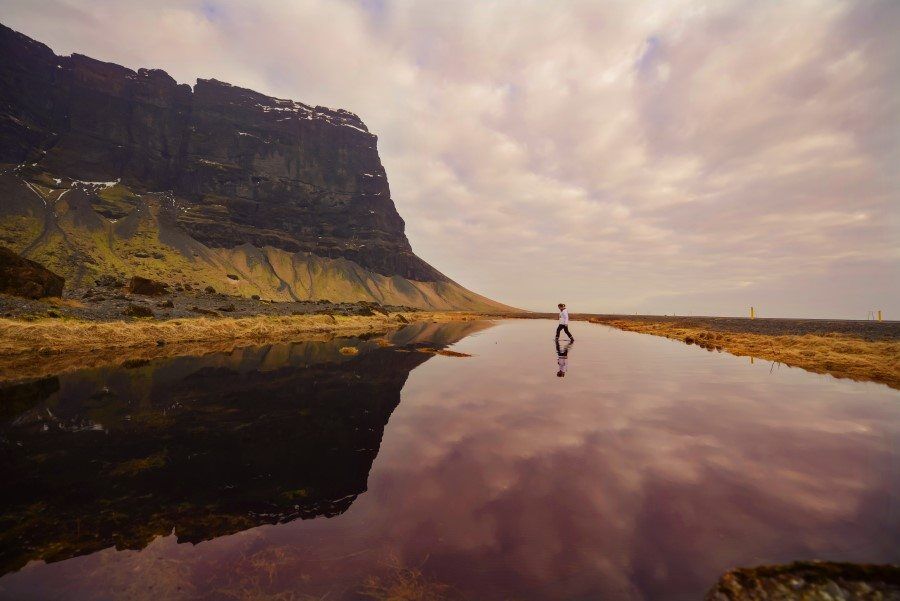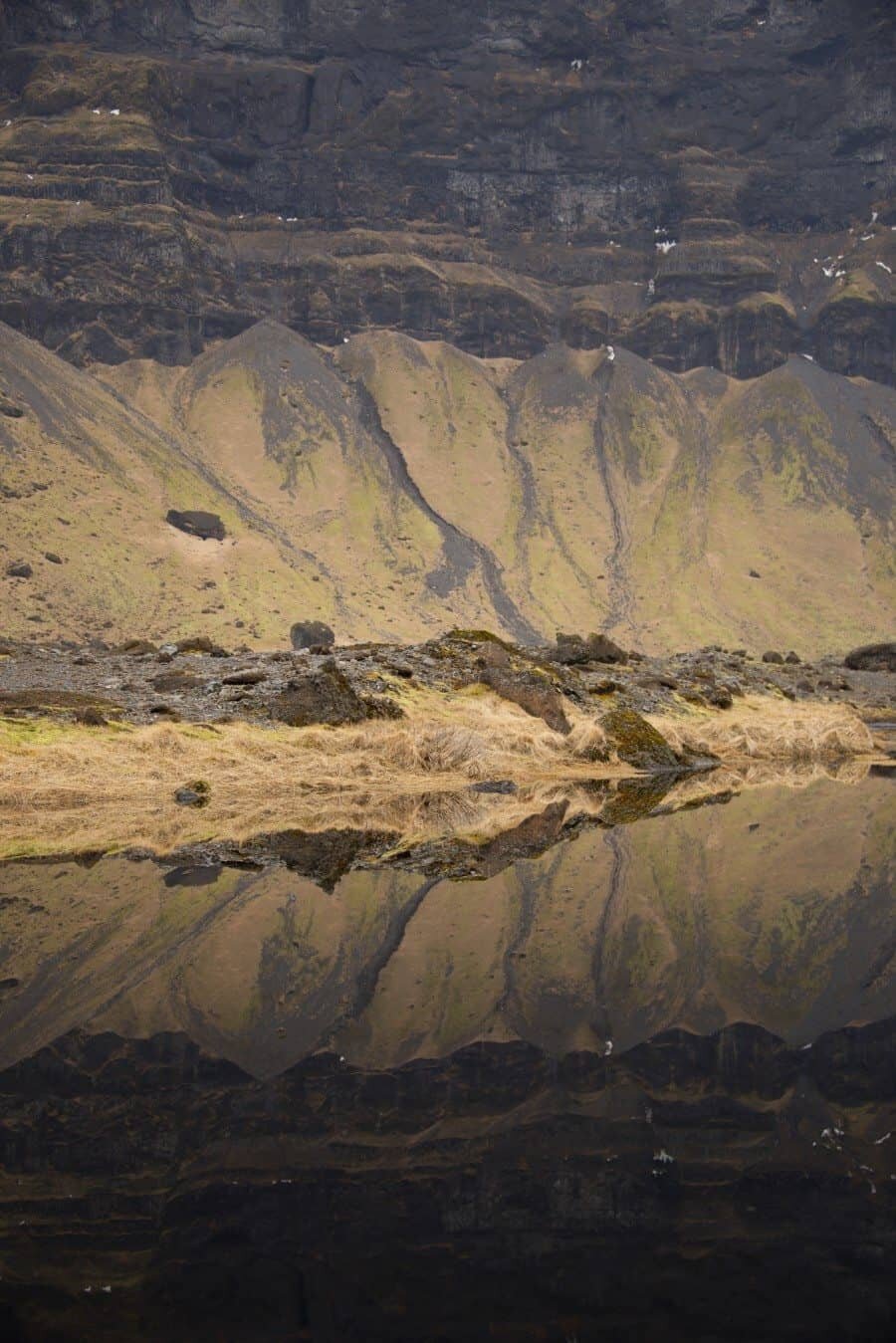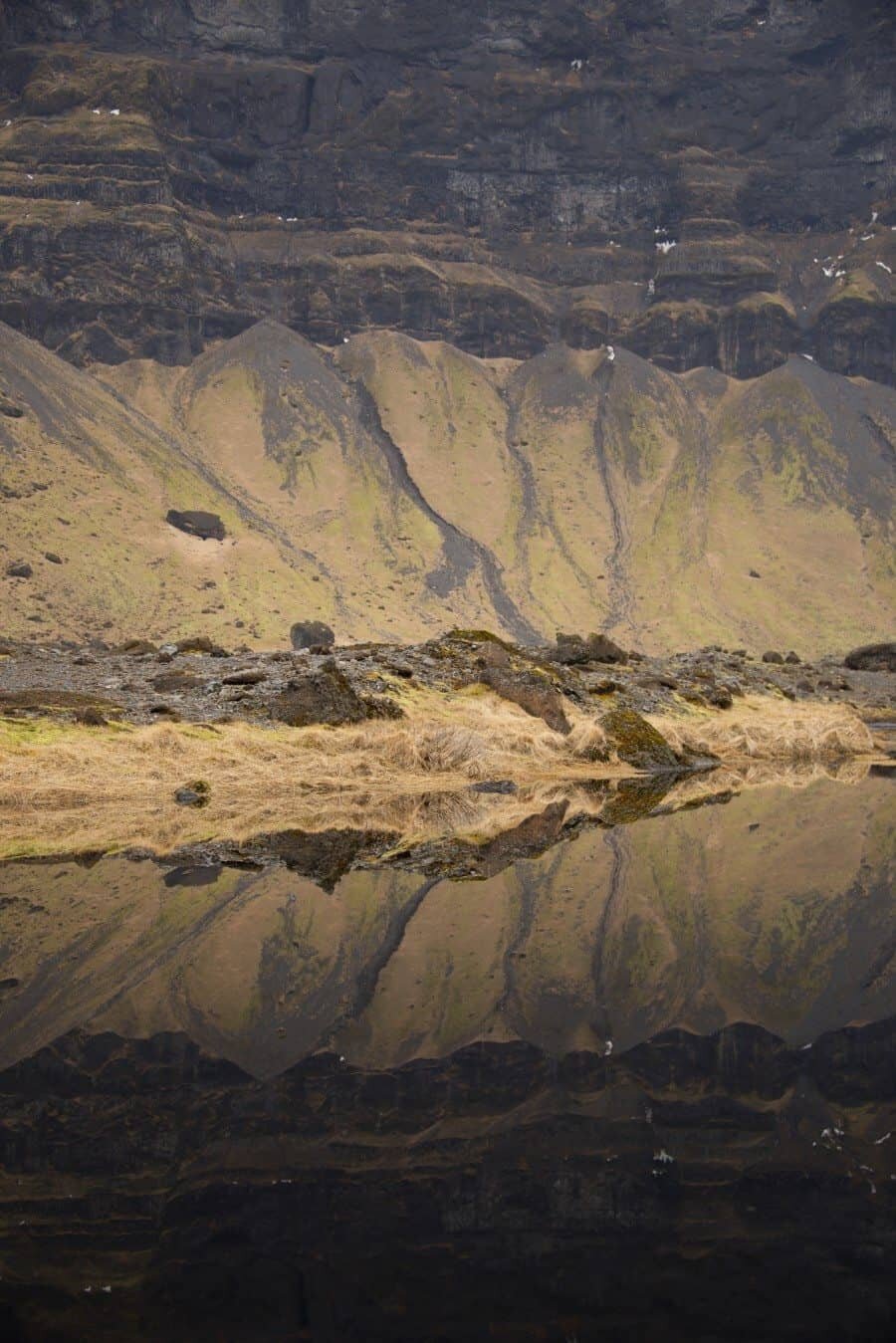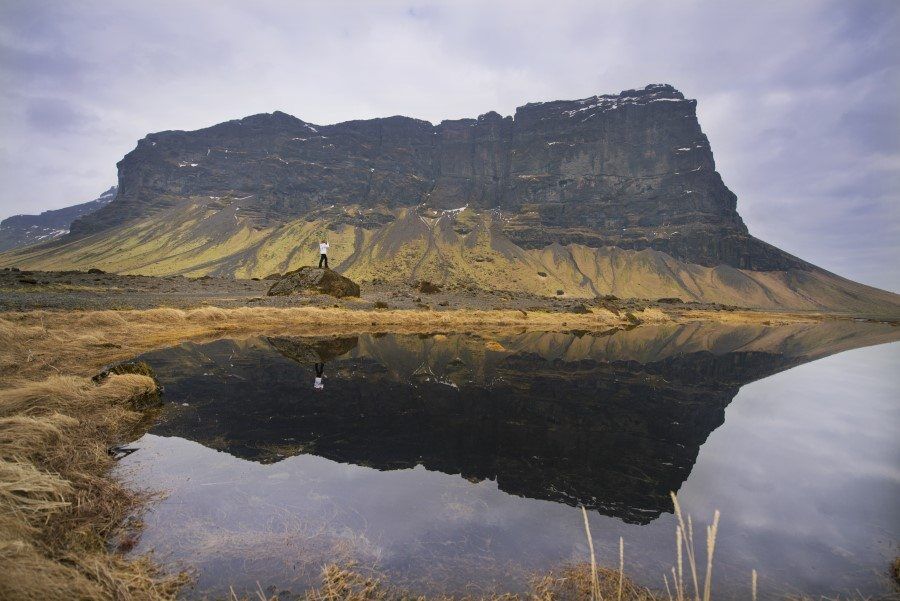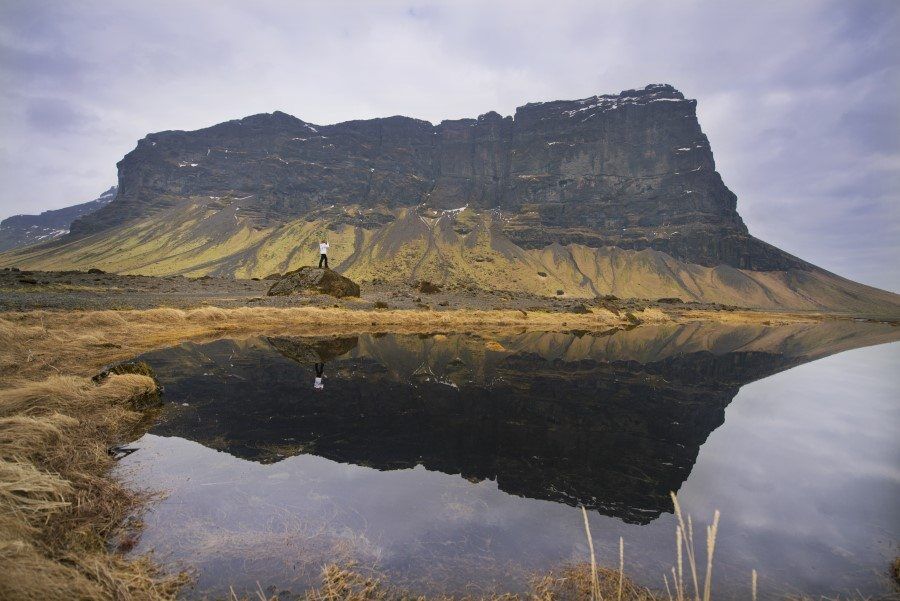 ---
Svínafellsjökull Glacier
With an incredible landscape of ice that has been frozen for thousands of years, Svínafellsjökull Glacier defines adventure. Located at the turn off from the Ring Road to Skaftafell, you need to hike along the old dirt road to reach the viewing area. Your first sight is the giant chunks of ice at the base of the glacier where sounds of cracking can be heard as the ice falls into the water below. From there, let your eyes wander upward as the glacier rises into the mountains.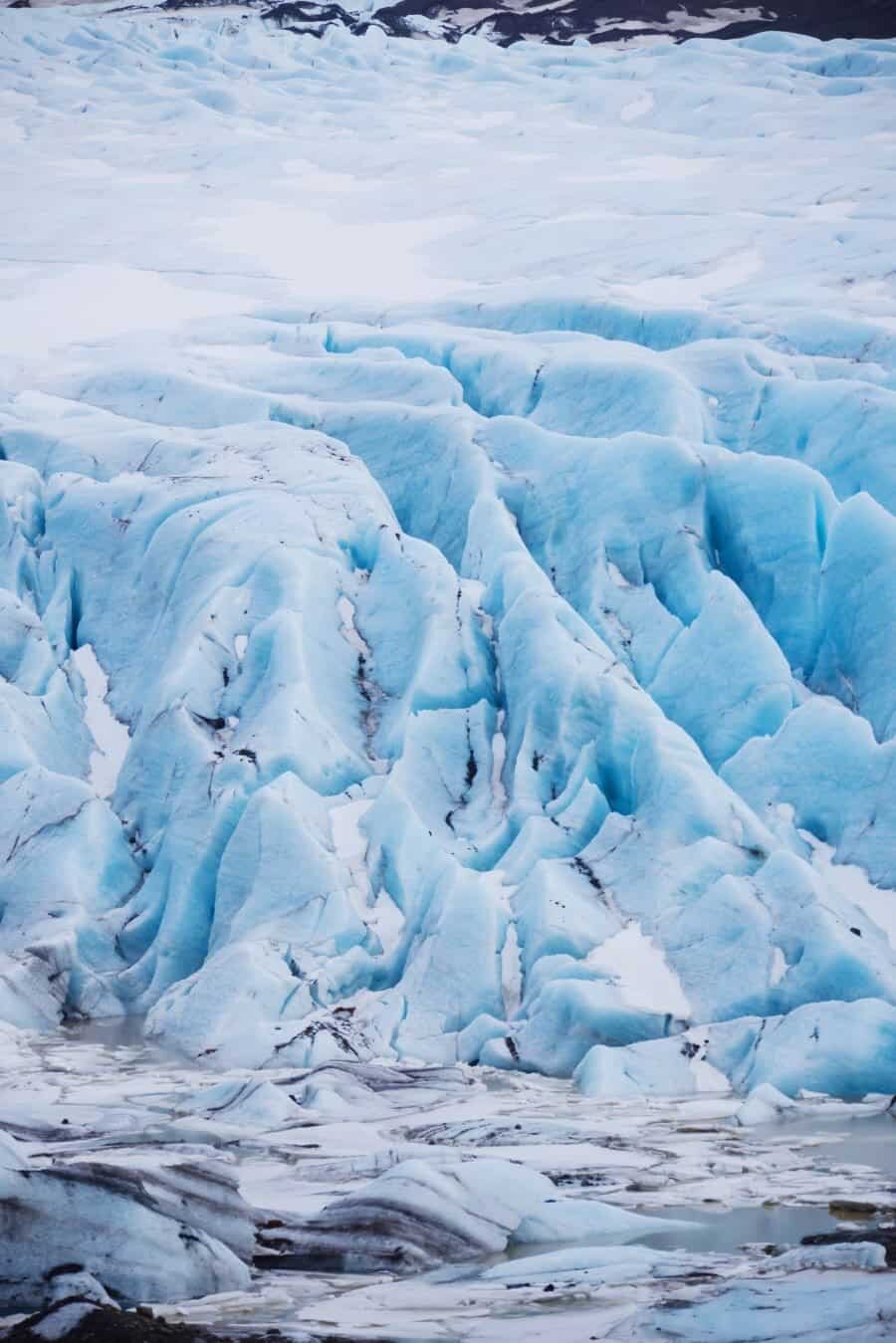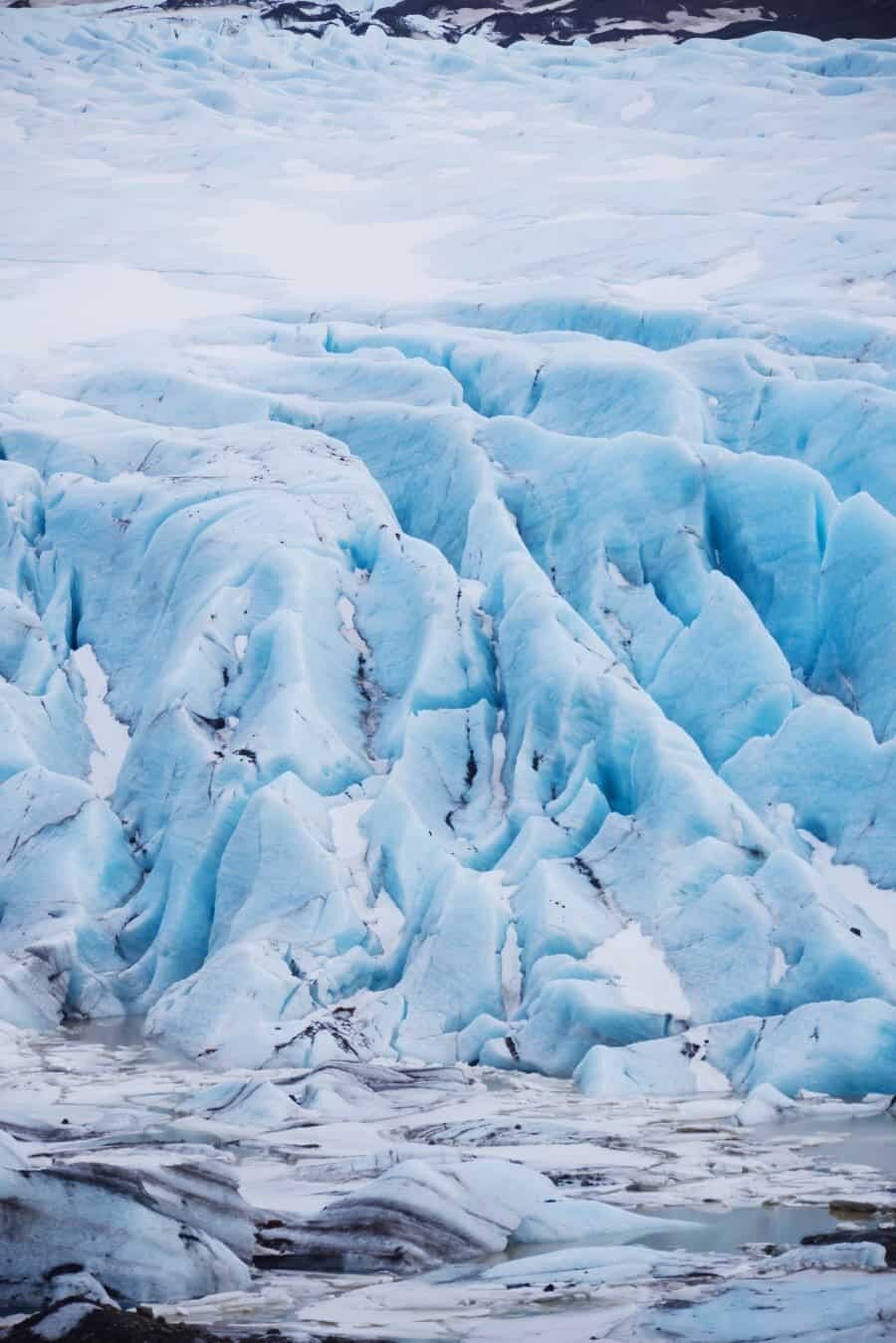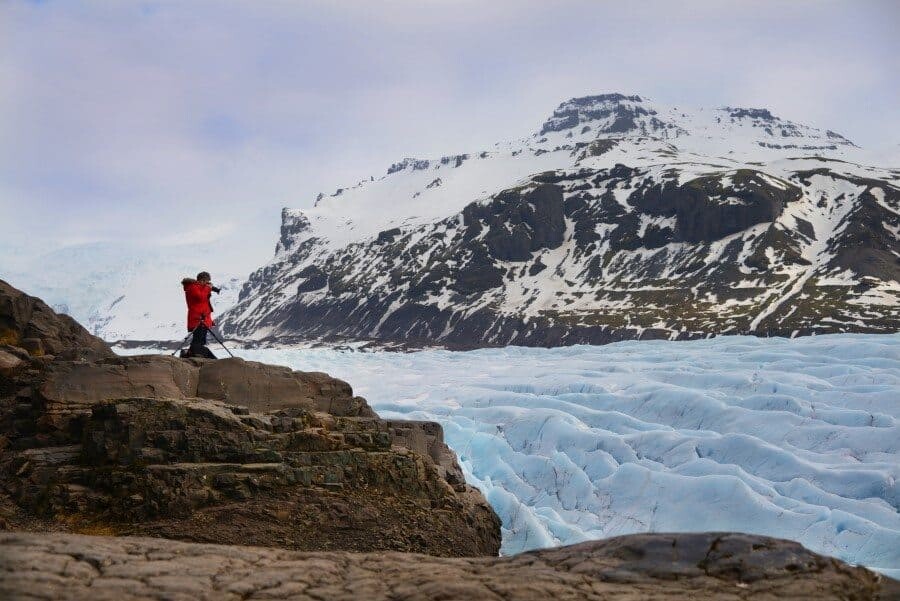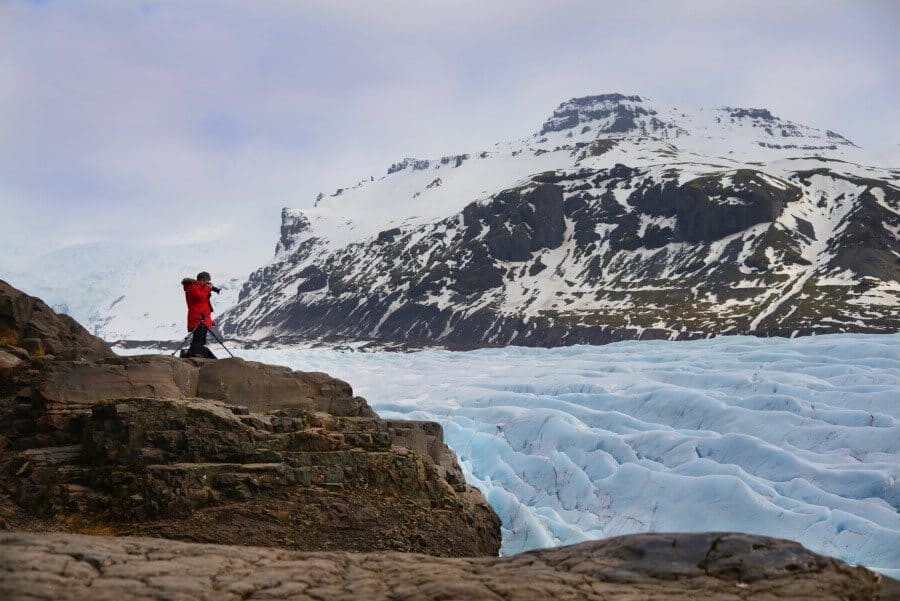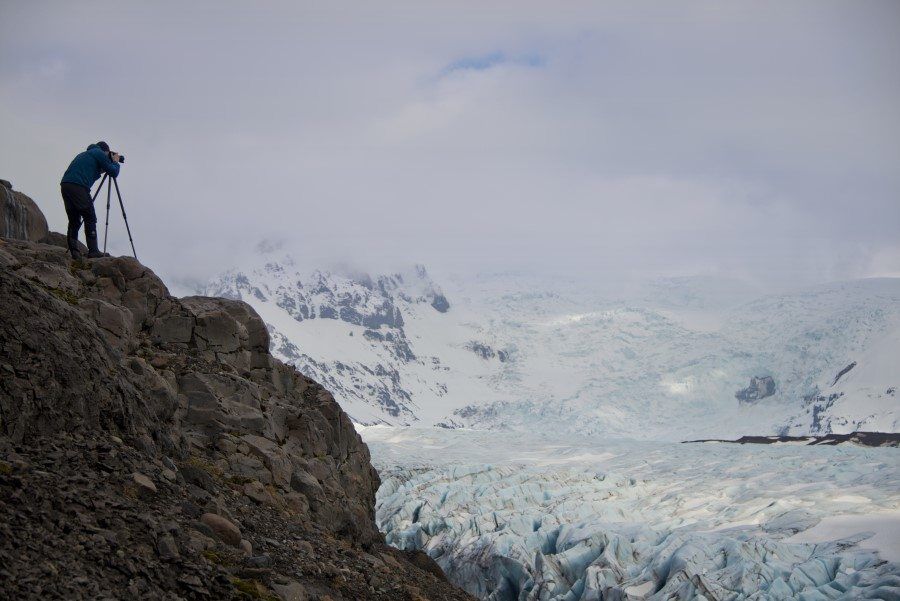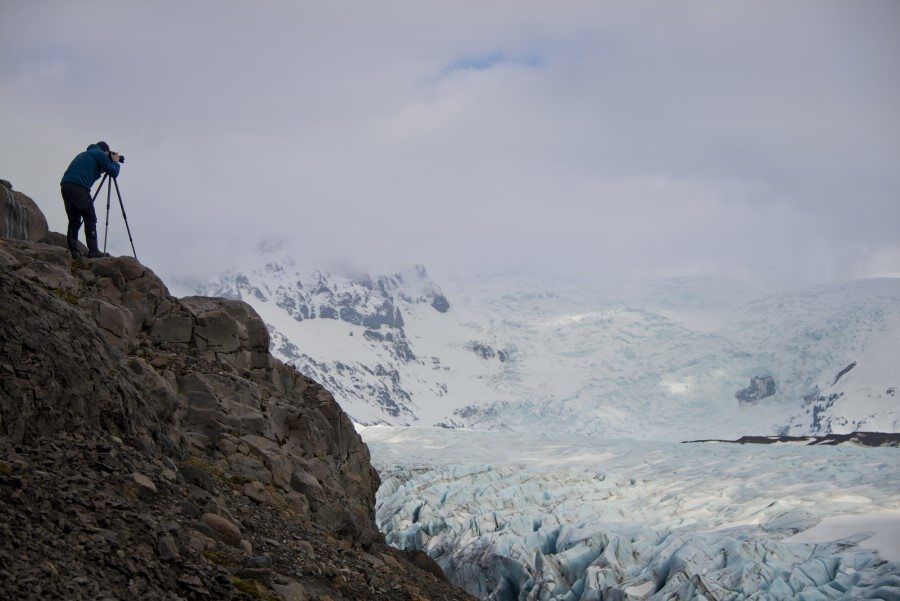 ---
Fjallsárlón Glacial Lagoon
While Jökulsárlón gets the majority of the tourists visiting it's shores, Fjallsárlón is just as dramatically beautiful and is even closer to the glacier! Located just 10km south of Jökulsárlón, it is also part of the larger Vatnajokull Glacier, Europe's largest glacier. It's an easy place to park (if the carpark isn't filled with snow!) and then it's a short hike over the hill where you are treated with incredible views across the lagoon toward the glacier. You can get right up close to the shore where icebergs rest and in summer you can even take a boat tour around the lagoon. The mighty volcano Öræfajökull can also be seen from the lagoon and acts as an impressive backdrop for photos!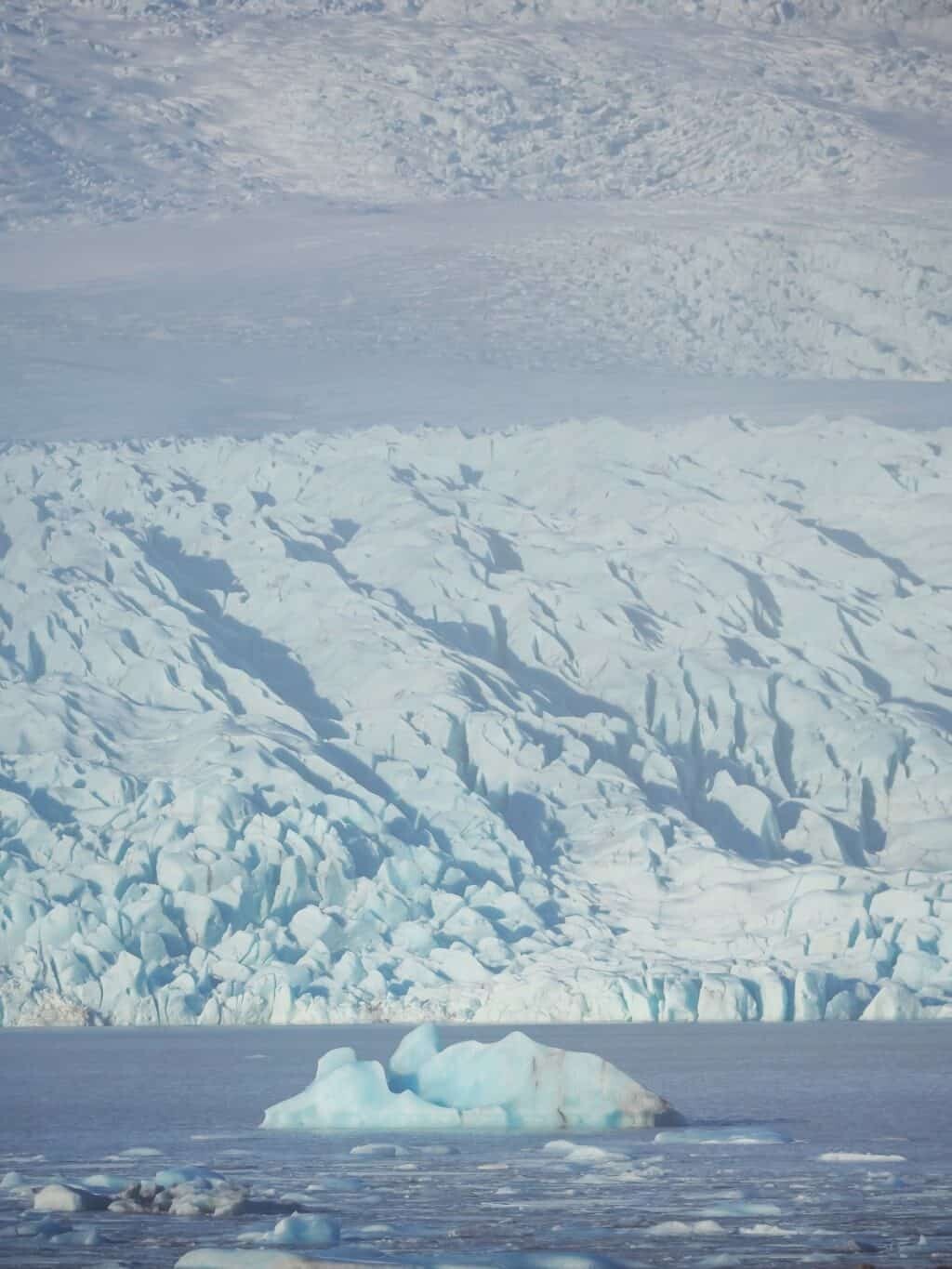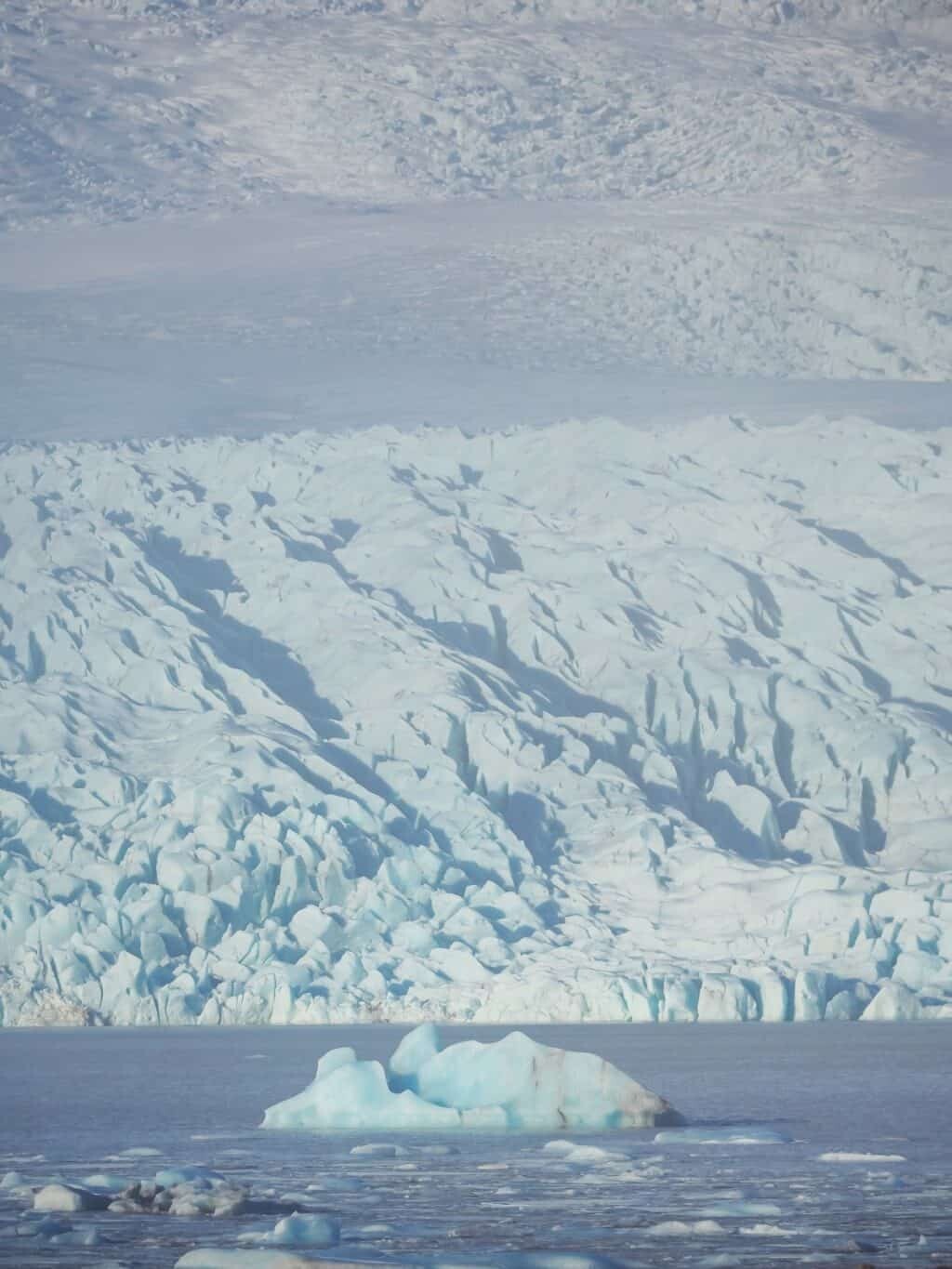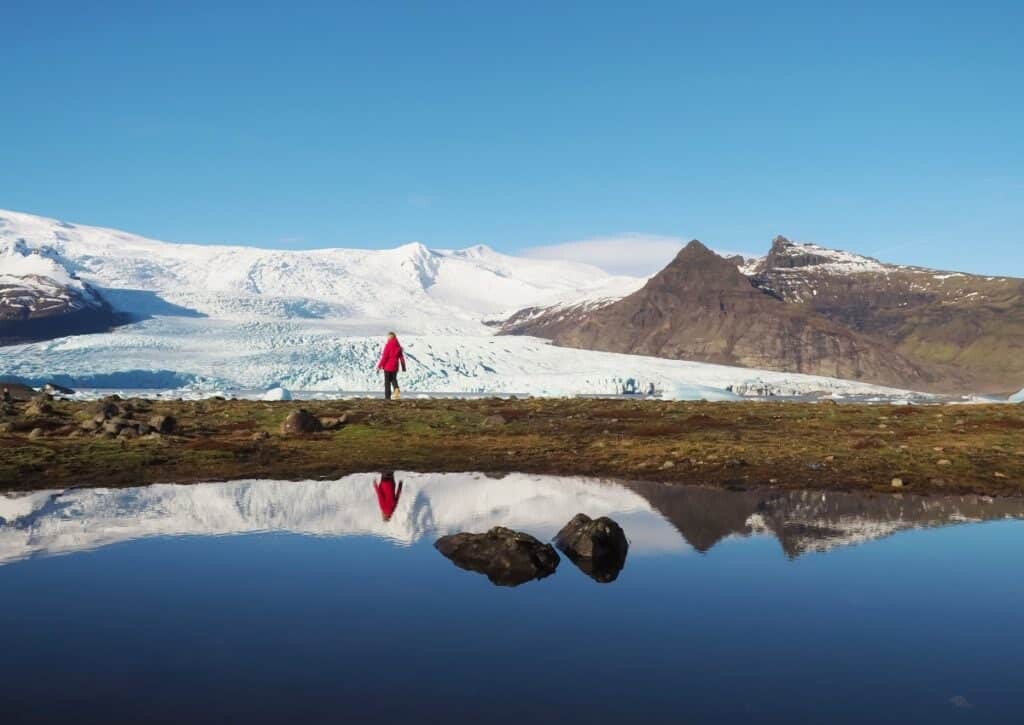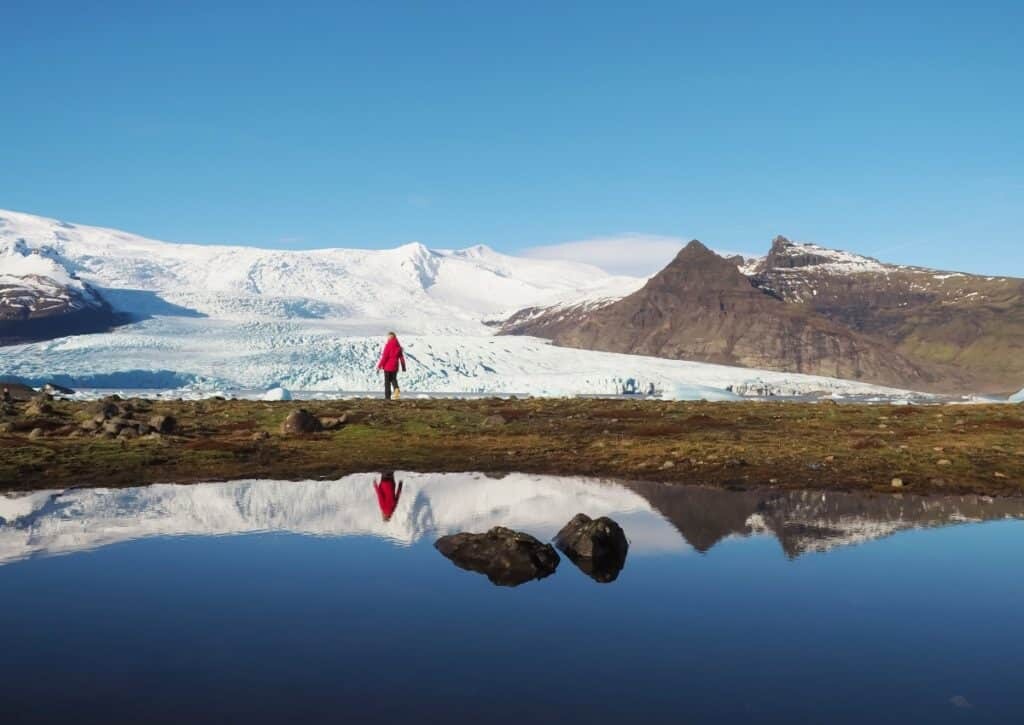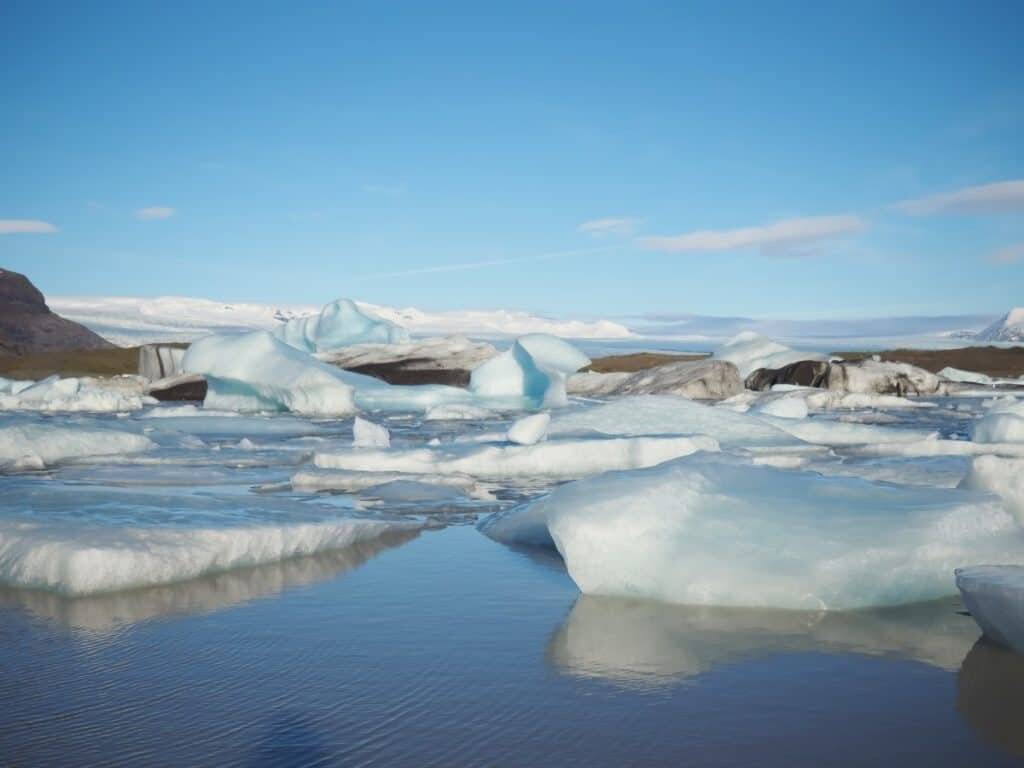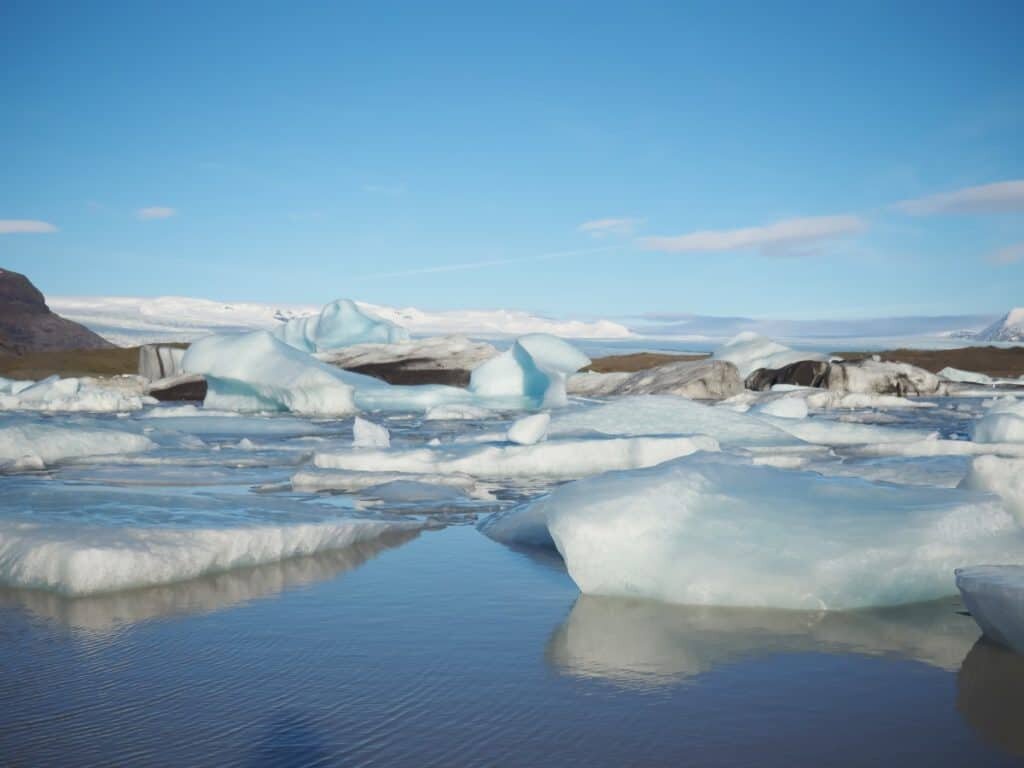 ---
Jökulsárlón Lagoon
If you can imagine a winter wonderland, Jökulsárlón Glacial Lagoon is it, an iconic Iceland photography location and one that you NEED to see, it's so inspiring. Icebergs float gently in the chilly water as seals frolic and bathe in the sunshine. Mountains covered in snow sit behind and you can get right up close to the icebergs as they drift out to sea. There are many vantage points you can choose between to view the lagoon and it's also possible to walk along the shoreline. If you're like me, you'll want to see the lagoon from all angles so test out both sides of the bridge. There are small car parks available before crossing the bridge when approaching from Reykjavik and then it's a short walk over the little hill to see the view unfold.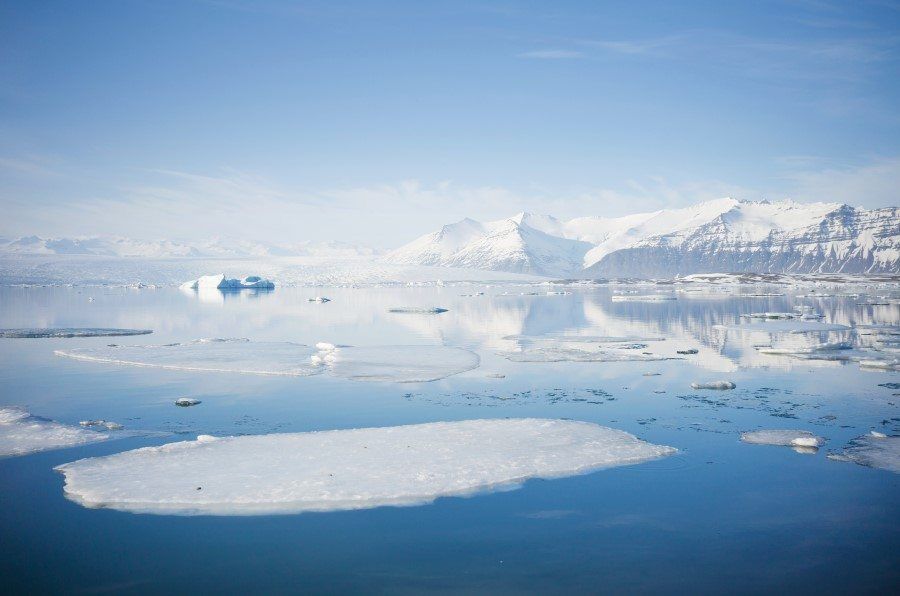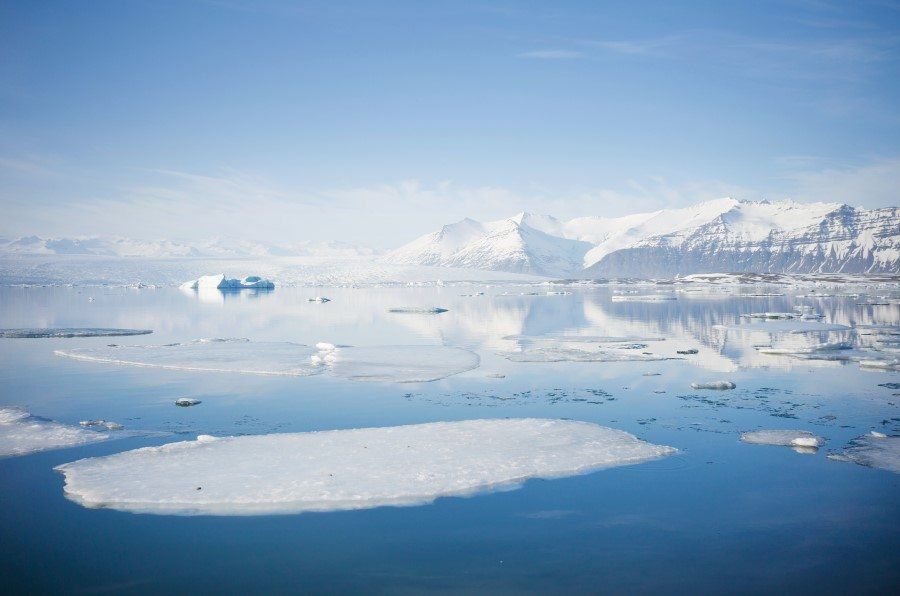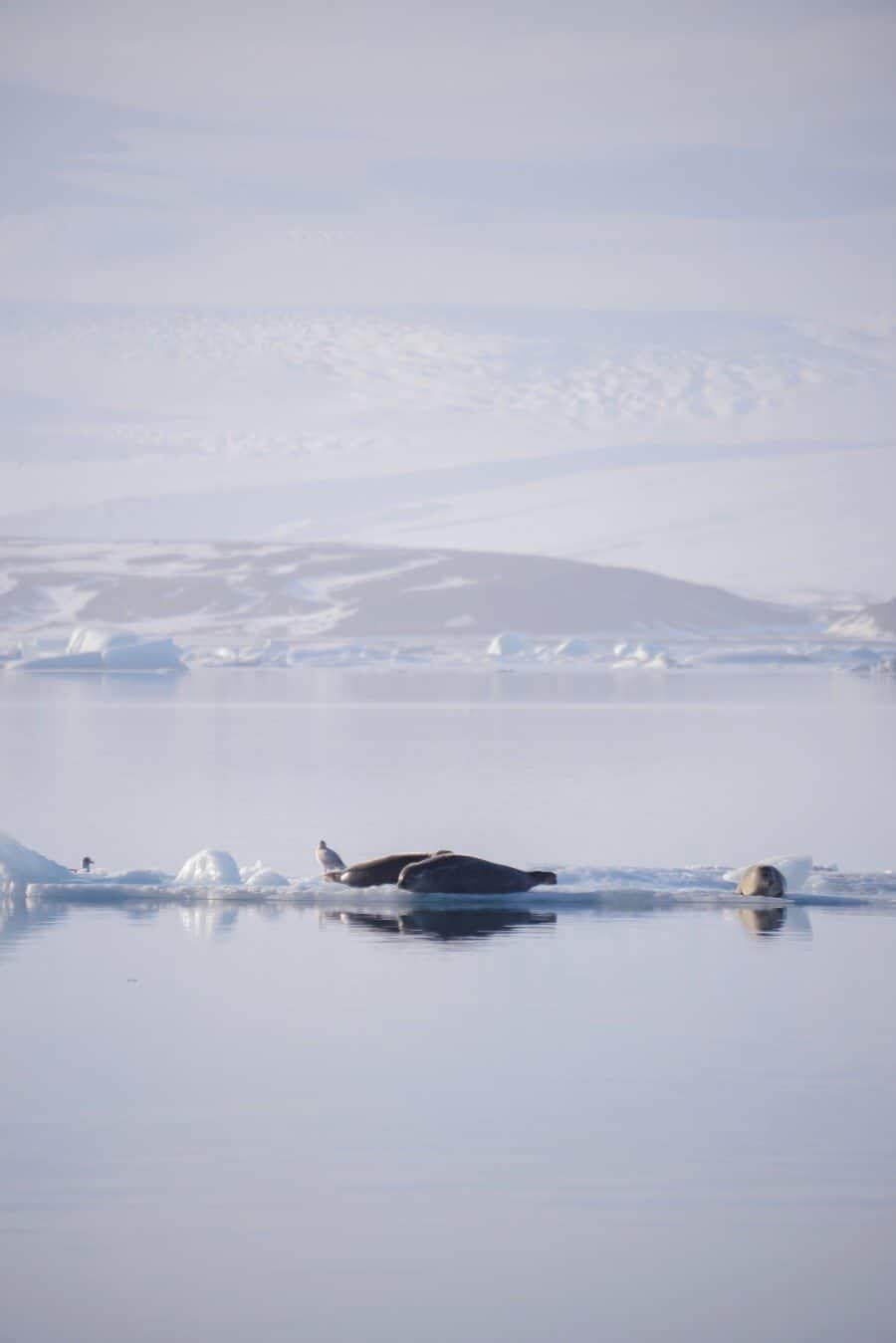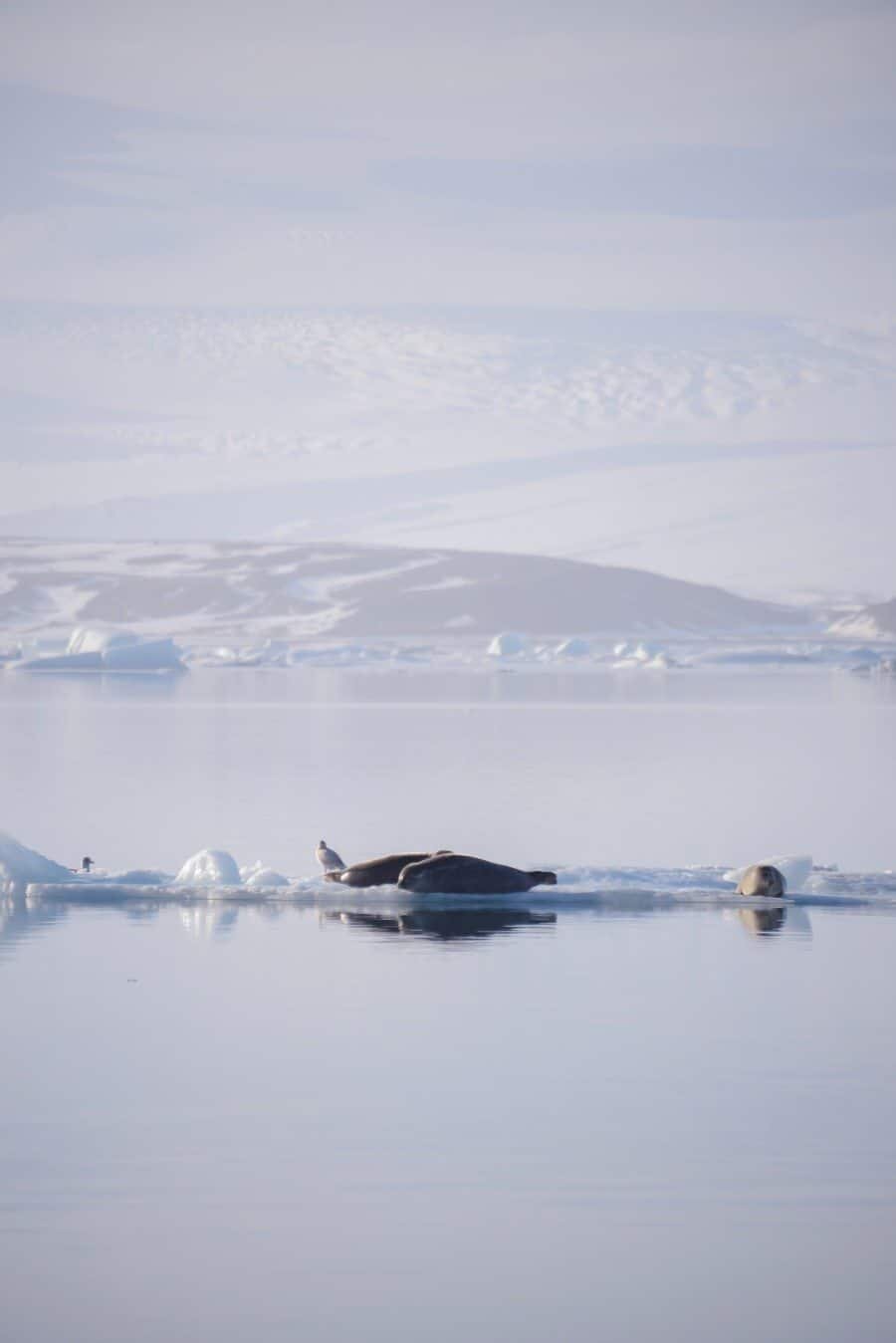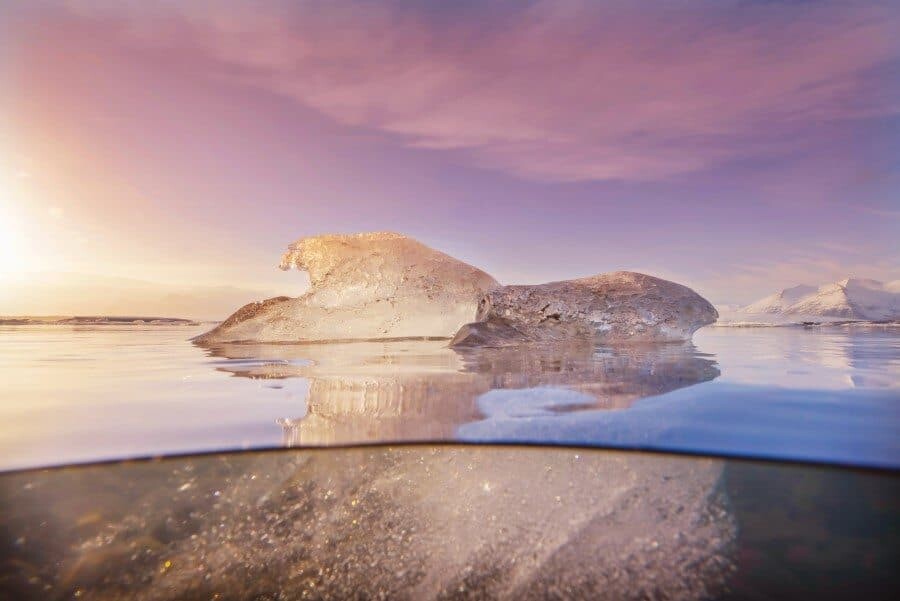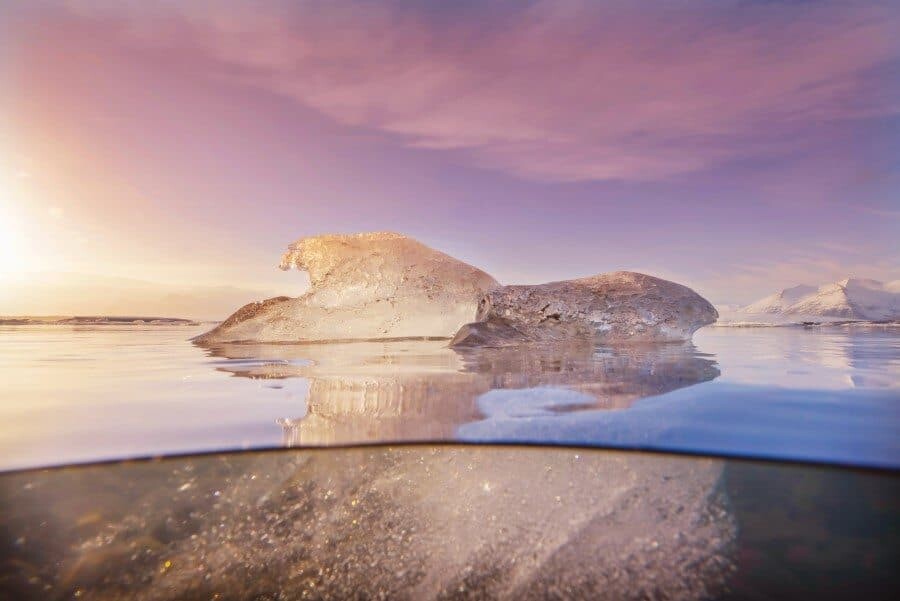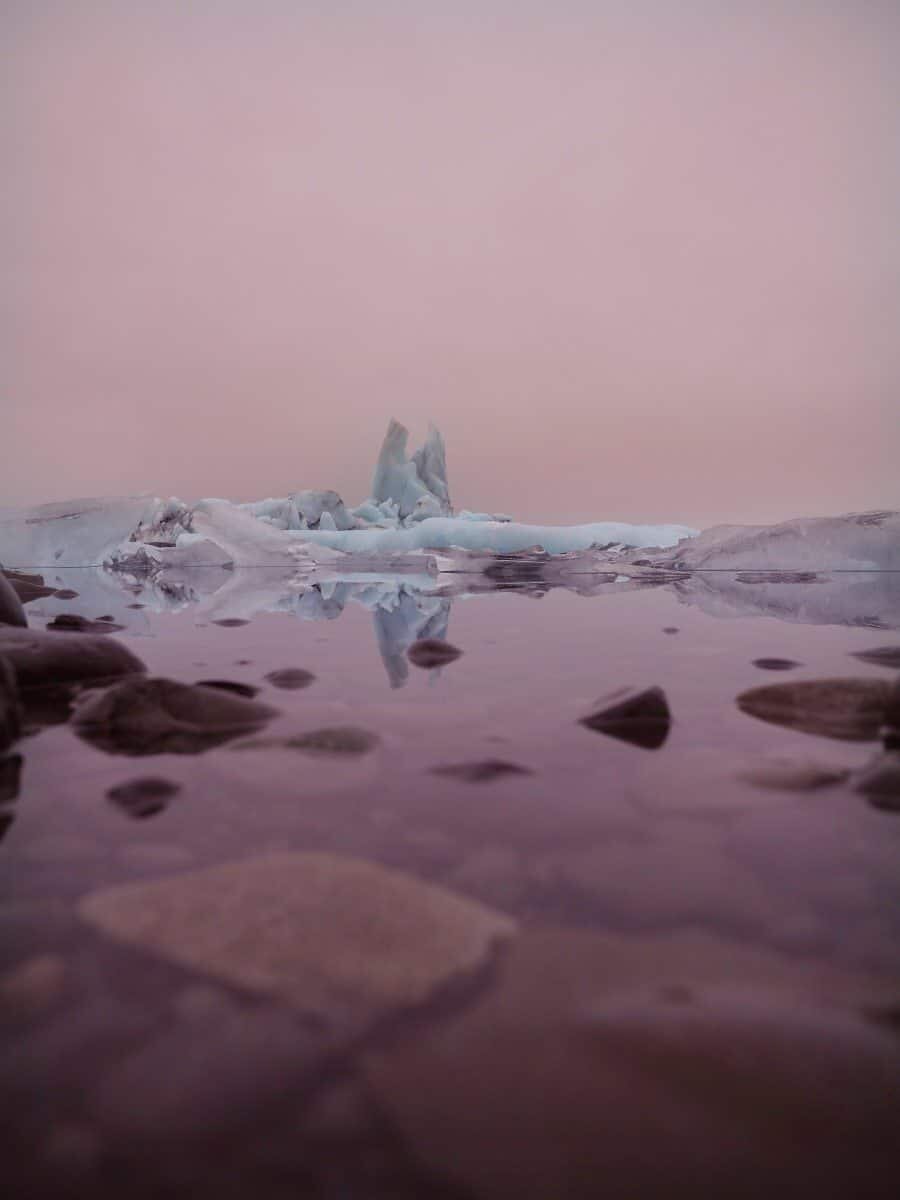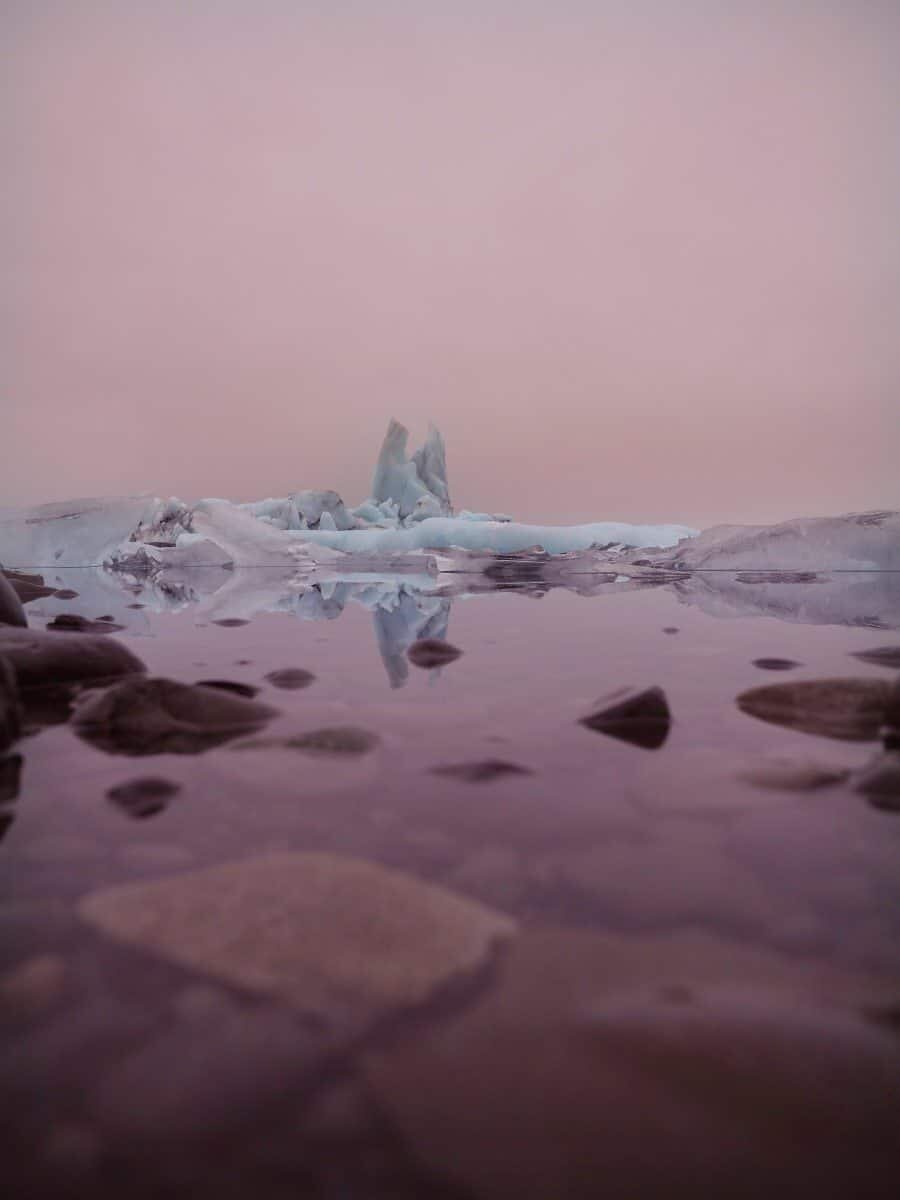 ---
Diamond Beach
At Diamond Beach, the wild North Atlantic Ocean crashes over icebergs sitting on the black volcanic sand. It's a magnificent sight to witness, especially at sunrise and sunset when the glow of the sun shines through the icebergs created from the glacier. Where the glacial creek meets the ocean can get really crowded with tourists so take a wander along the beach to find your own iceberg to photograph! There's icebergs on either side of the bridge so take your pick!
*Warning – the waves can come in quite quickly so beware that your tripod my get knocked over by fast moving water, or as you may have seen on the news lately, if you're posing on an iceberg, it could get washed out to sea…with you on it! Just keep an eye out and you'll be fine 🙂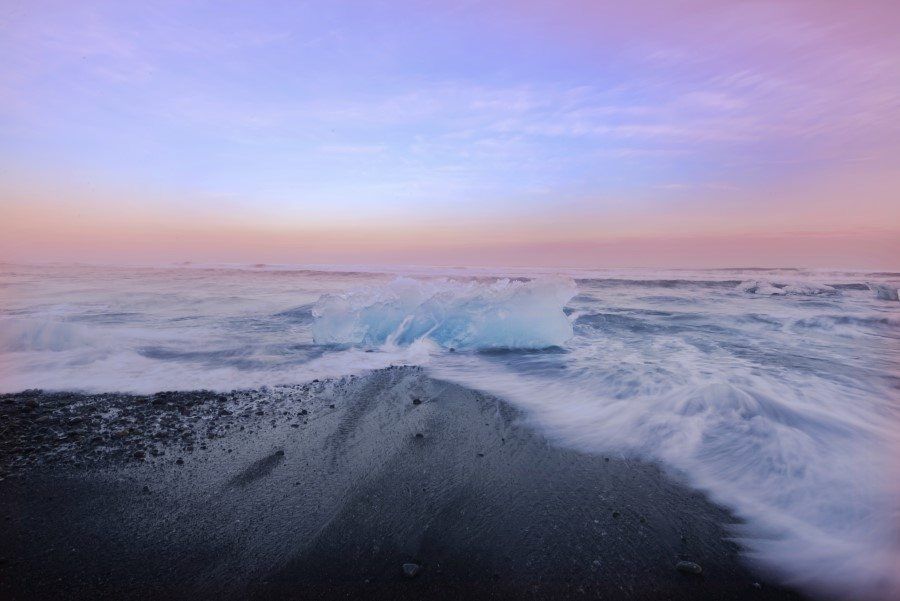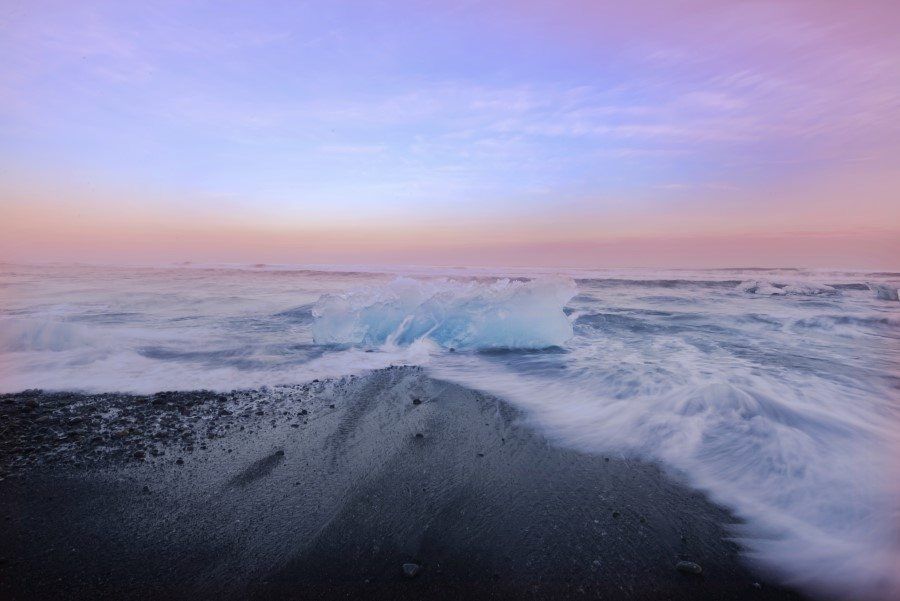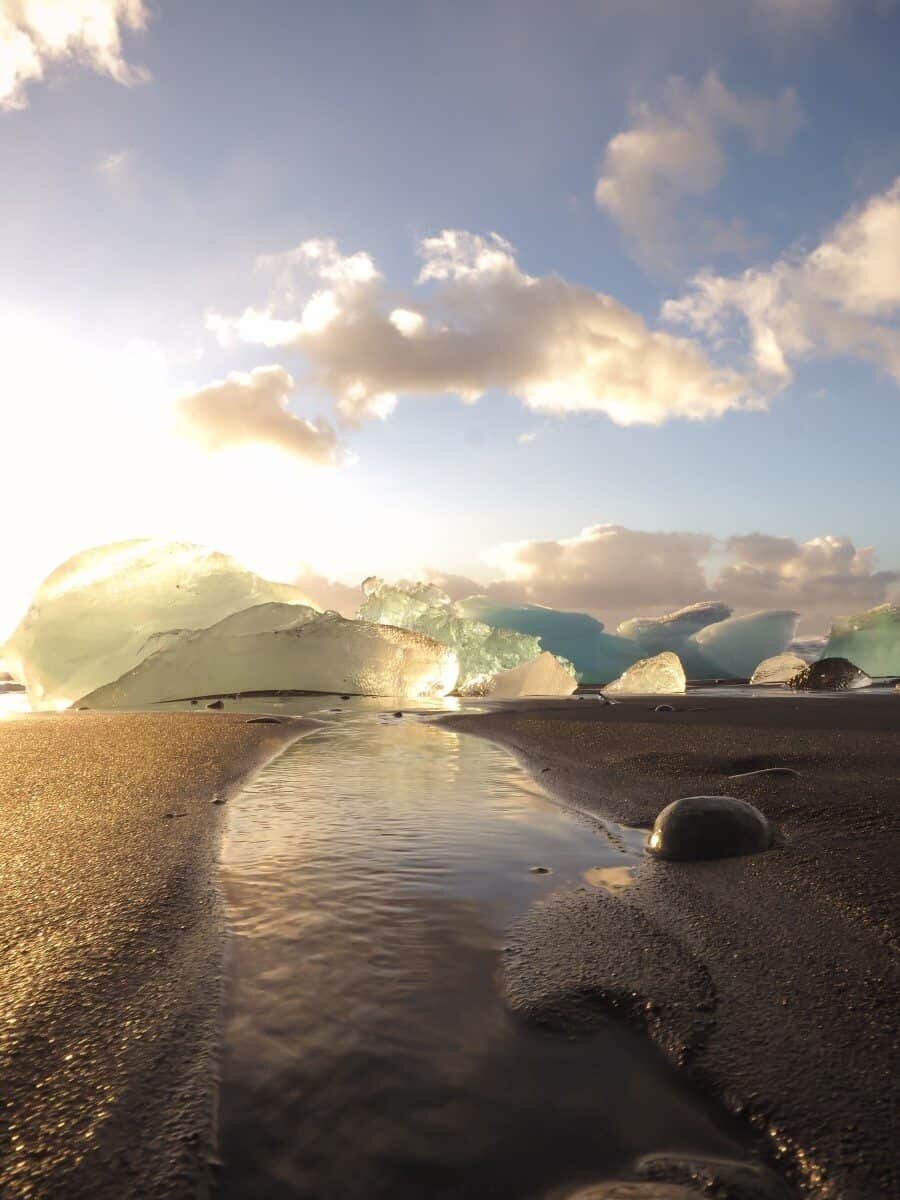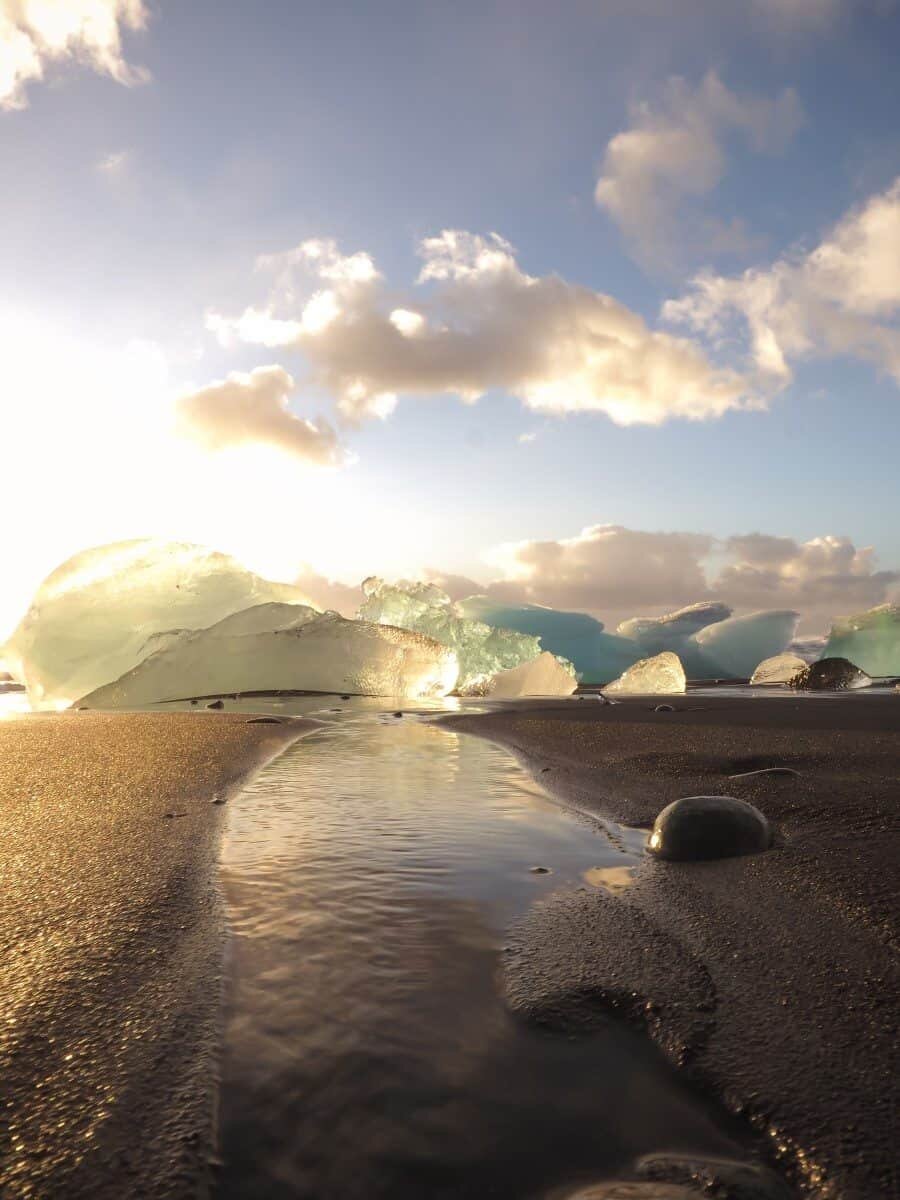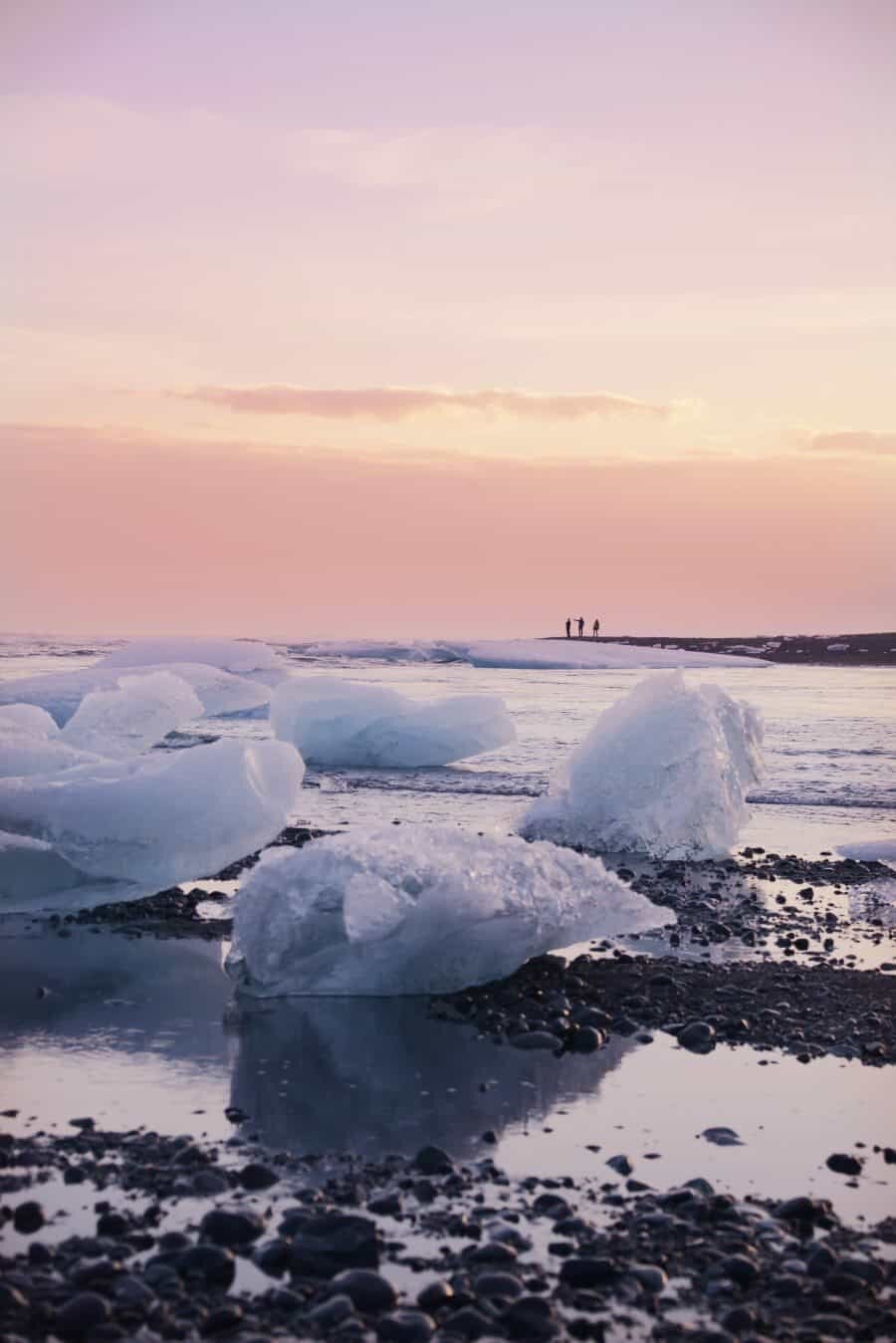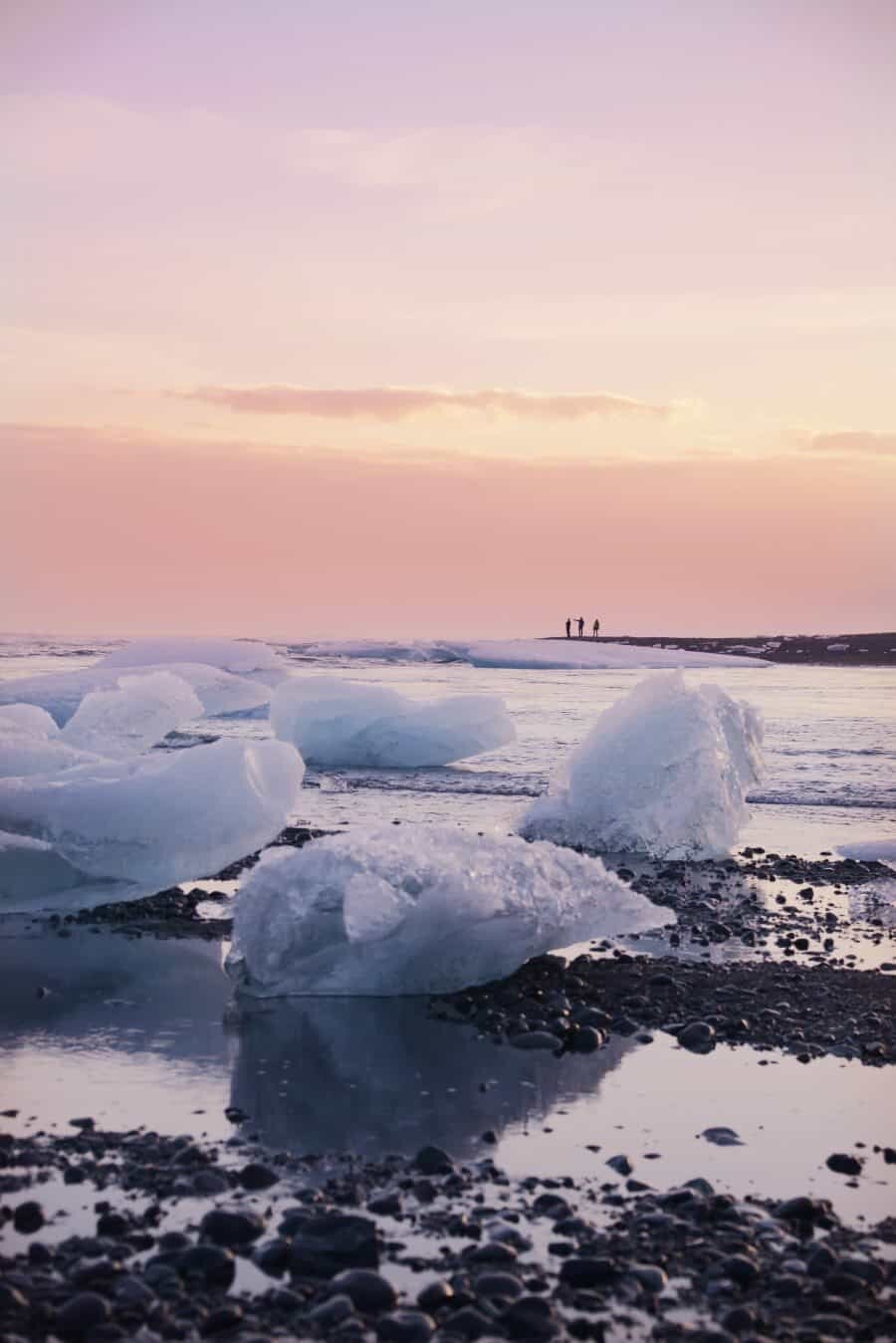 ---
Waterfall Ice Cave – Vatnajokull Glacier
In winter it's possible to access another world; that of the ice caves beneath the largest glacier in Europe, Vatnajokull. Climbing down into the Waterfall Ice Cave isn't for the fainthearted but once you're inside, magic is all around you. A ceiling of sparkling ice, a freezing waterfall rushing along a floor of colourful pebbles and more shades of blue than you've ever seen. It's essential to have a local guide take you into the caves because they're dangerous and constantly moving.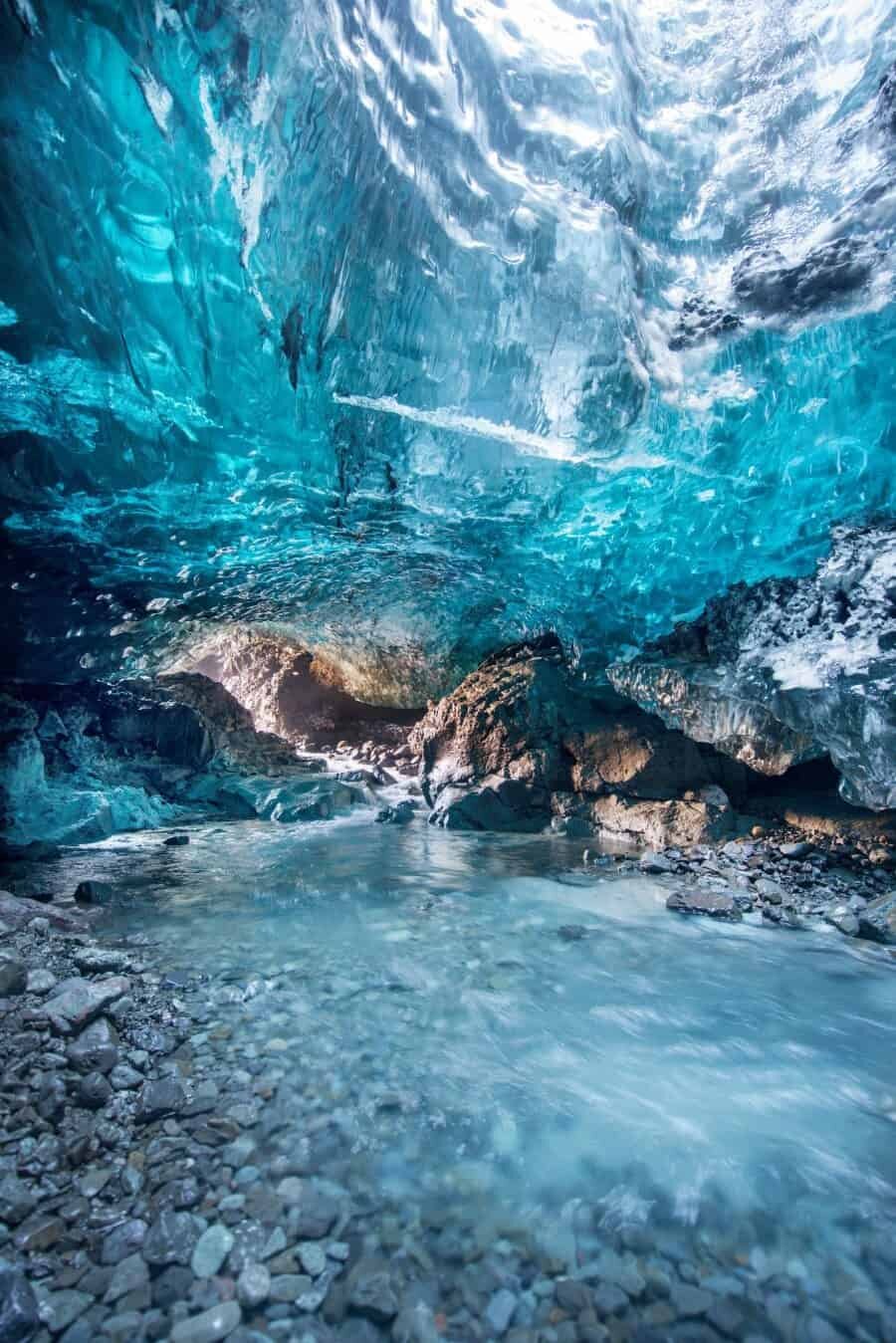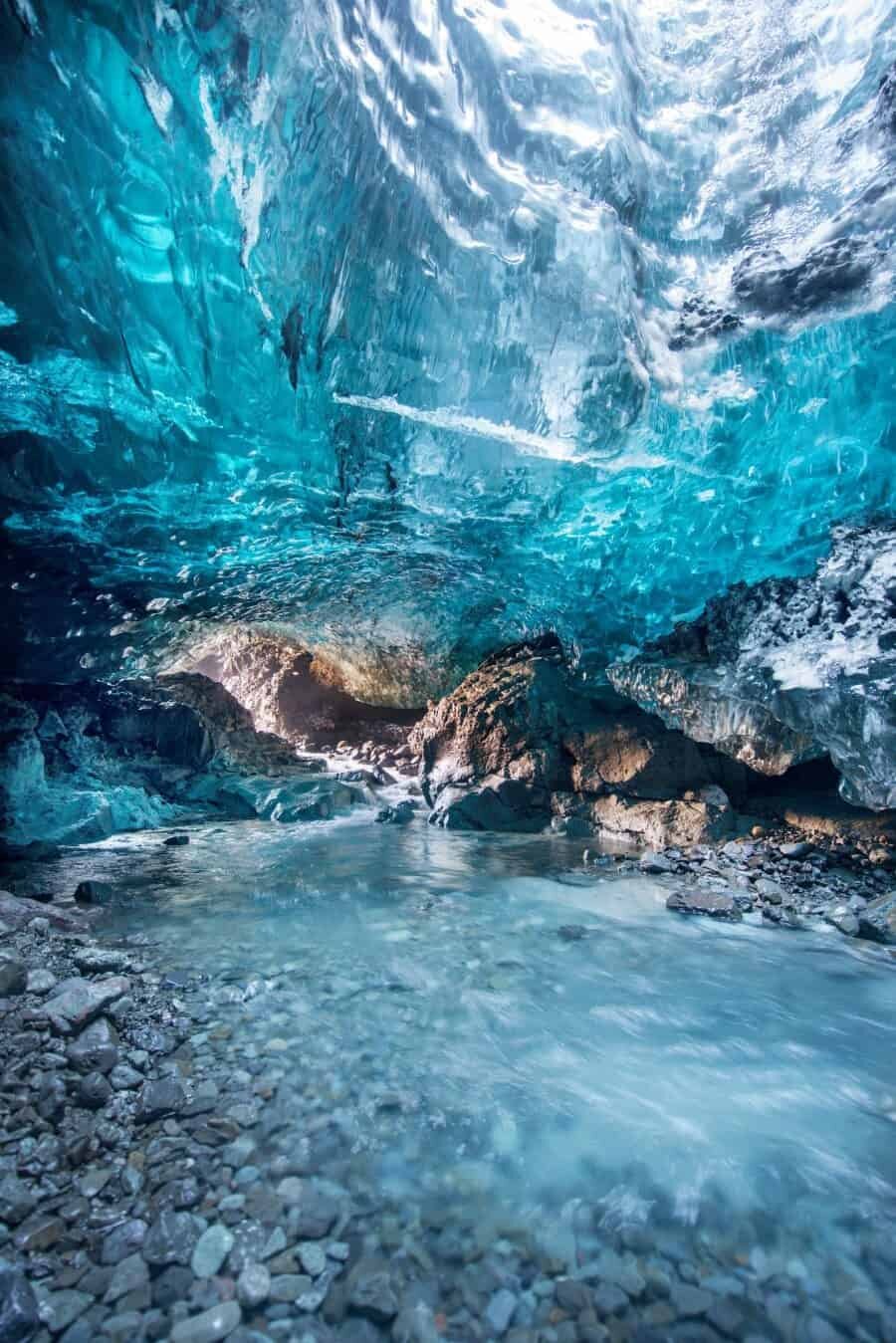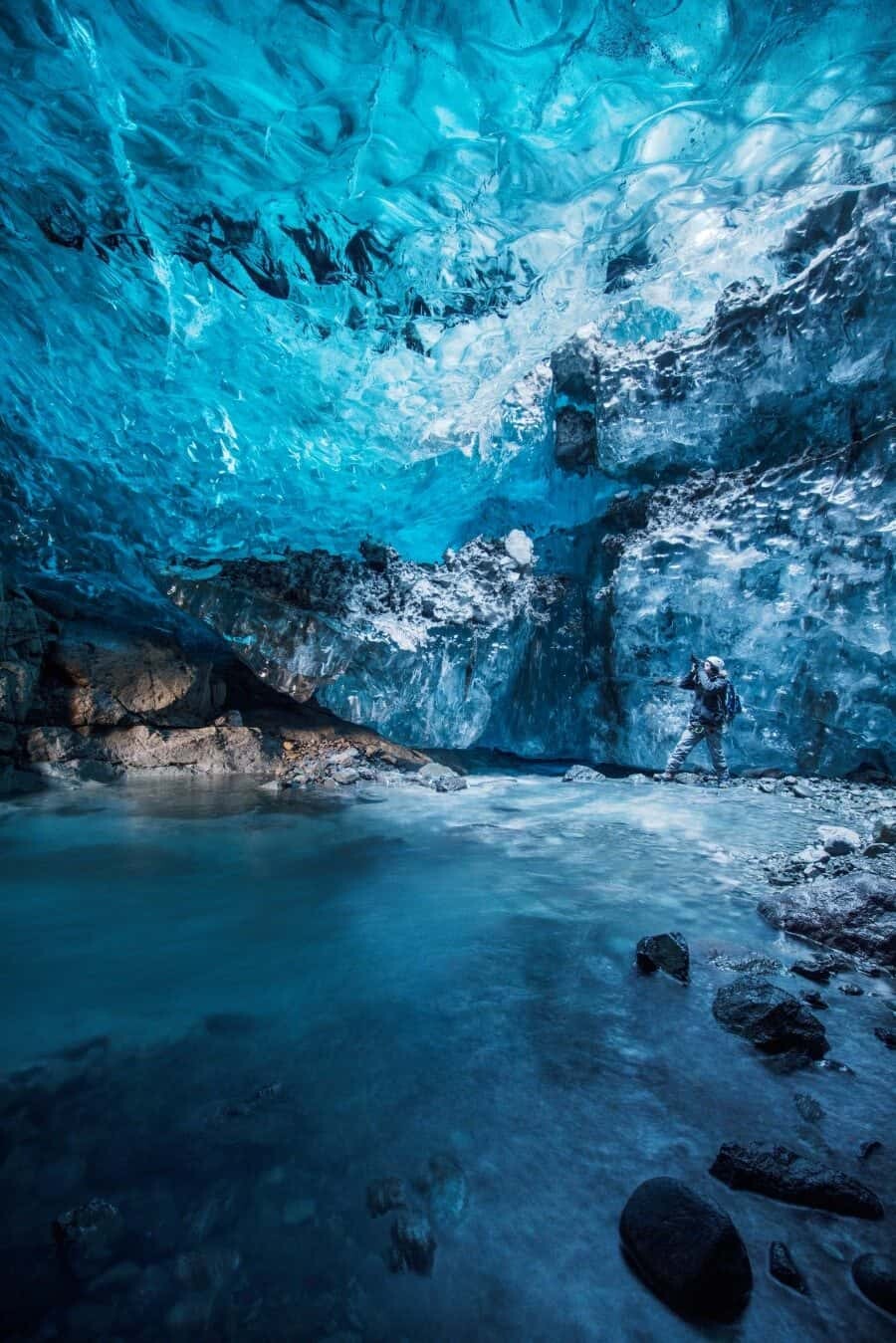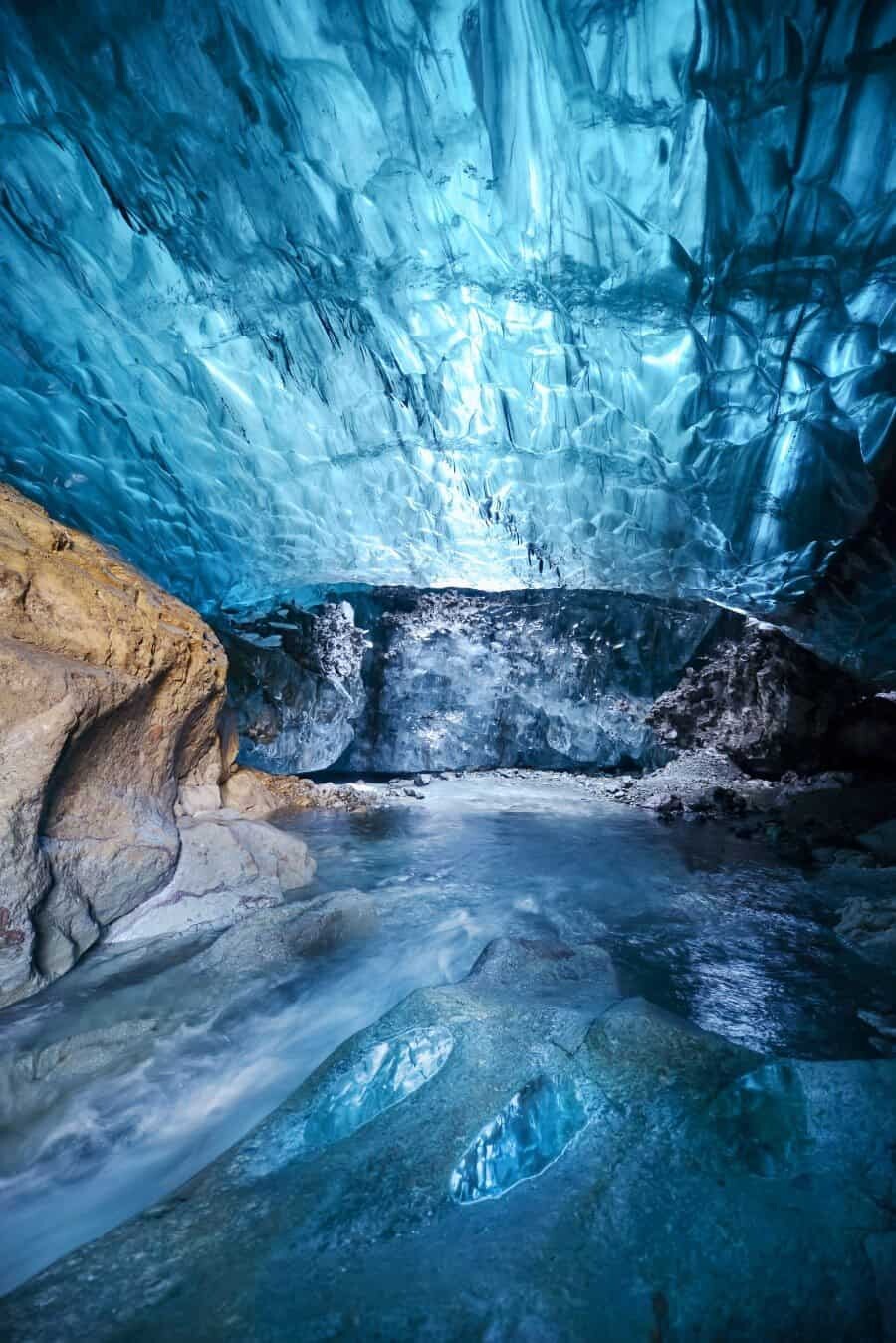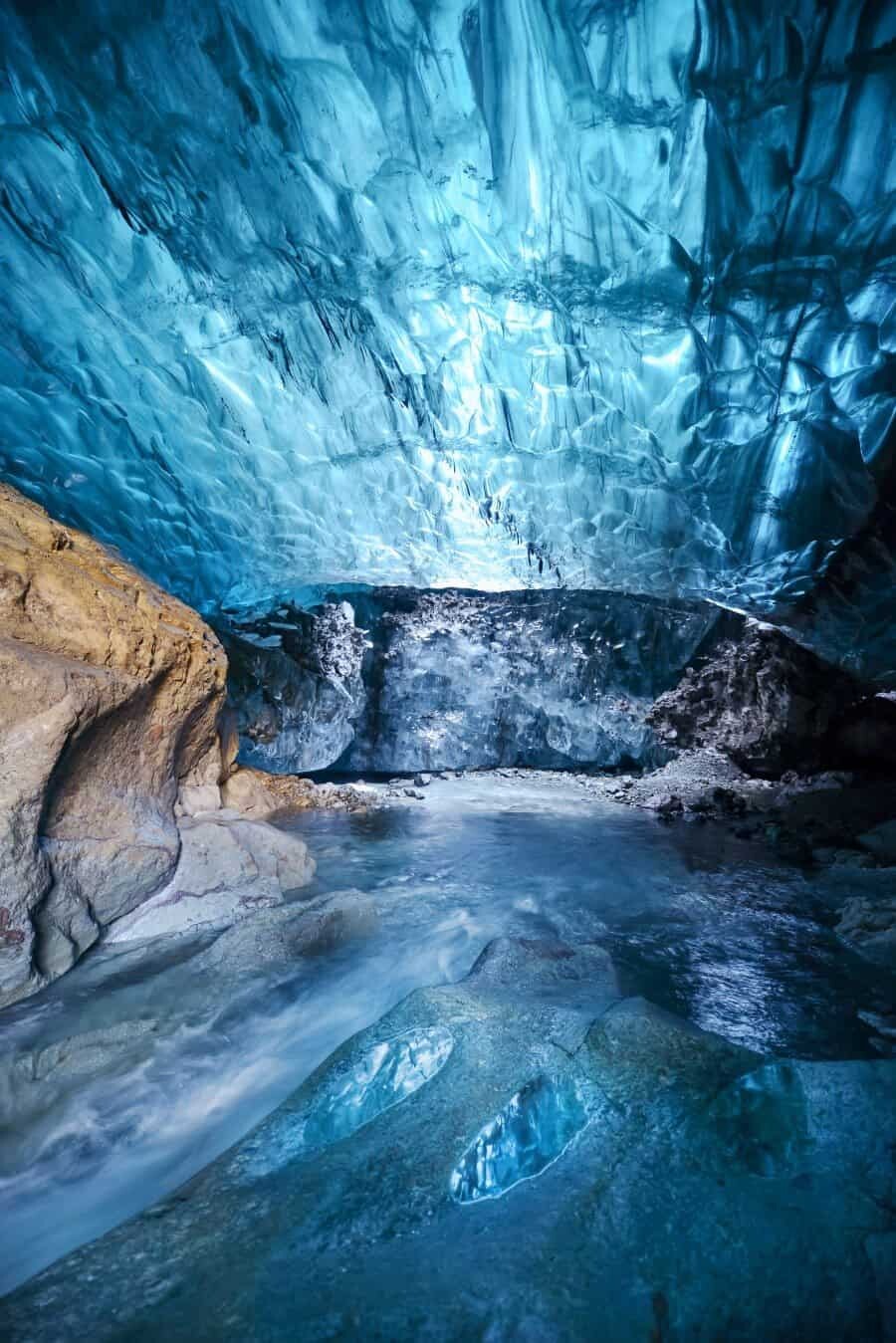 ---
Hofn
A pretty little fishing village with a harbour filled of trawlers and snow-capped mountains behind. It's the perfect base for exploring the Vatnajokull region and has a small path that offers views across the ocean towards the glacier. By the port is Hafnarbudin Café which reminded me a lot of the pub in The Secret Life of Walter Mitty…I sat waiting for the drunk helicopter pilot to whisk me away for an adventure! Base yourself here if you're looking to photograph aurora at Stokksnes, it's just a 10-15min drive away, perfect for a quick dash once the northern lights appear.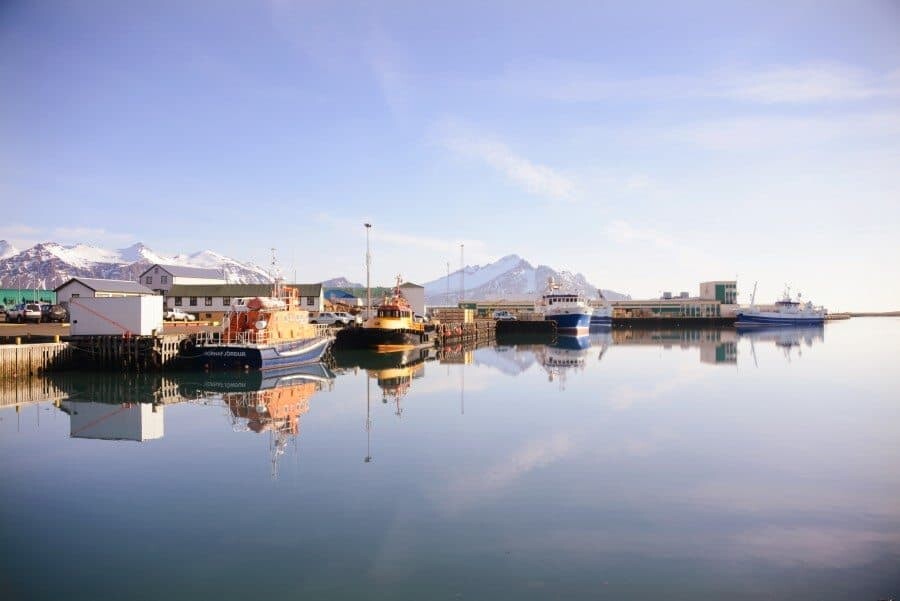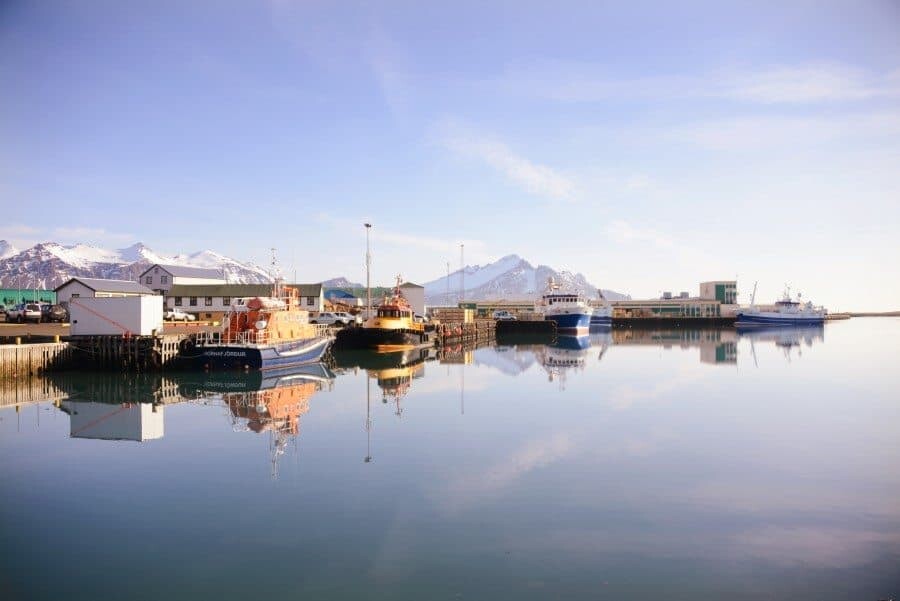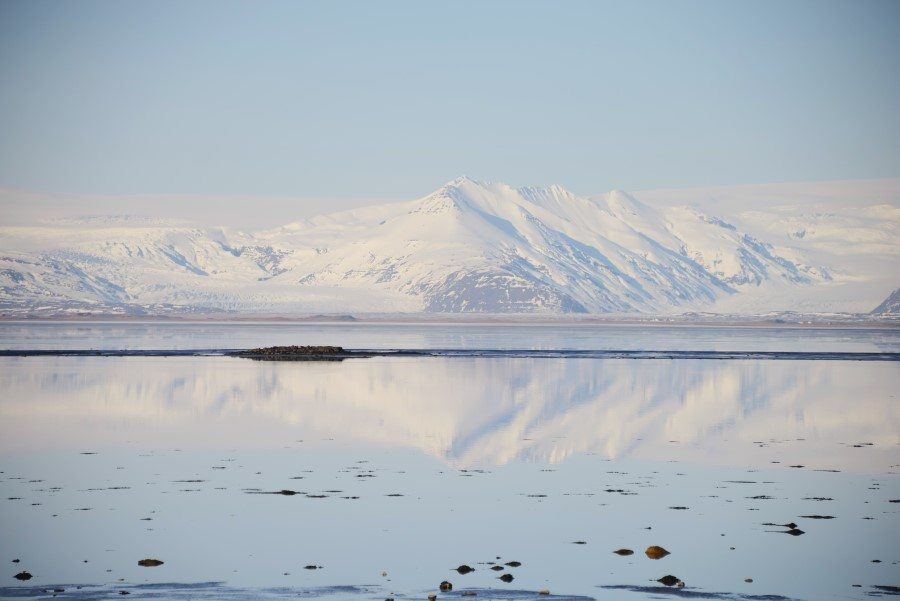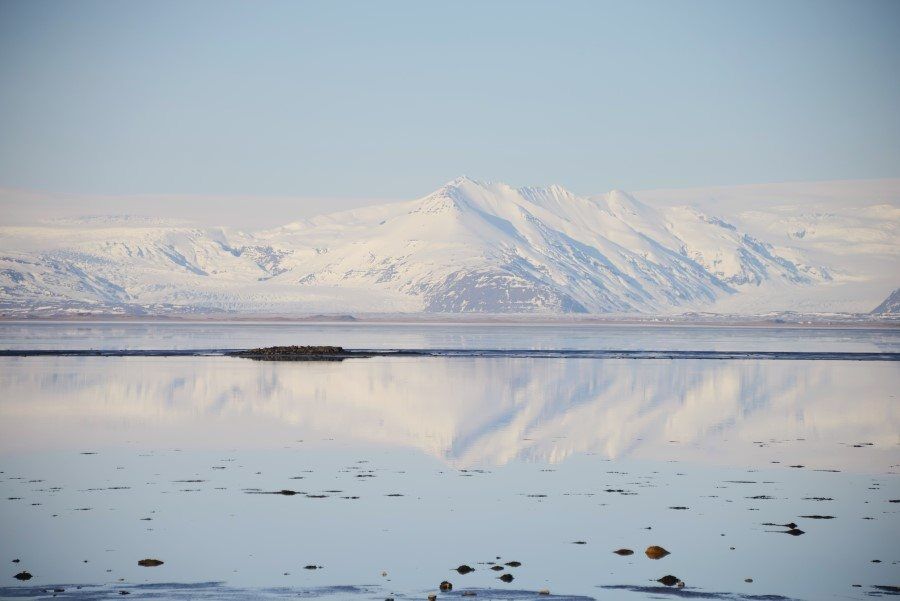 ---
Stokksnes and Vestrahorn
A mighty mountain range that meets the ocean in dramatic fashion just east of Hofn. Rising up from the water, the cliffs of Vestrahorn are truly mesmerising. Walk through the black sand dunes to discover a pristine volcanic beach and in winter, it's the ideal place to watch the green waves of aurora dance across the sky. Along the dirt road to the beach are paddocks of the gentle and gorgeous Icelandic Horses.
To enter Stokksnes you need to pay a fee of 600ISK to the land owner at the equipped and cosy Viking Café. Ómar the owner is super friendly and very proud of the land so be sure to stop by and have a chat too.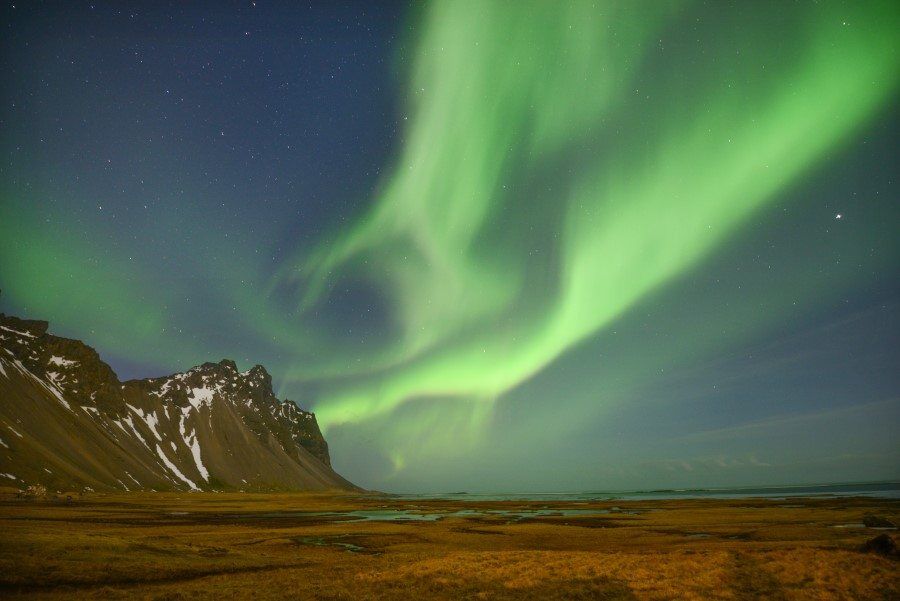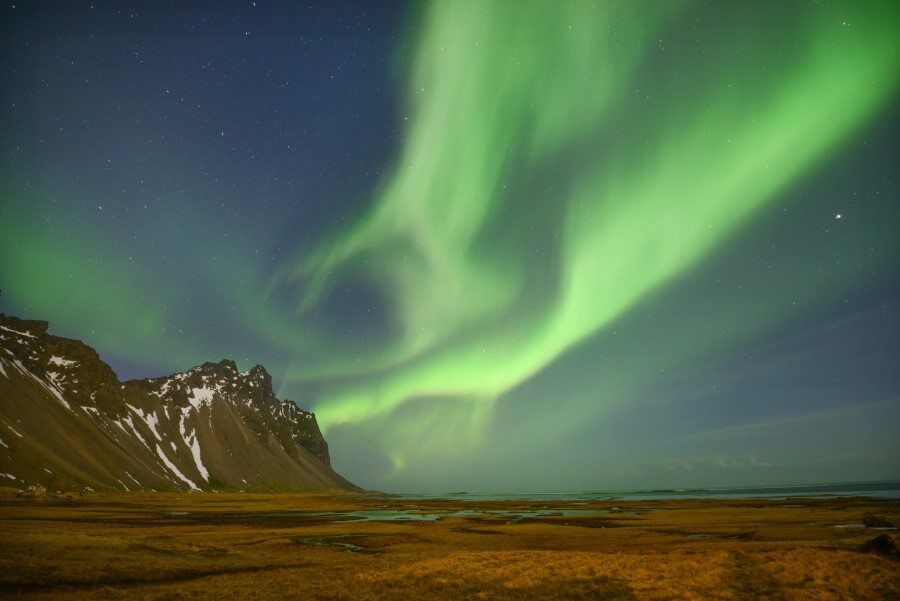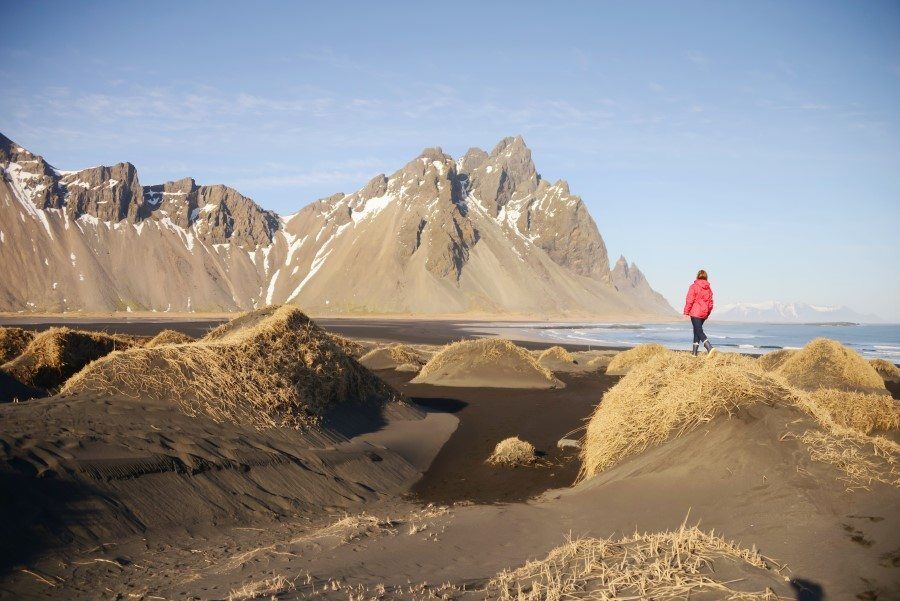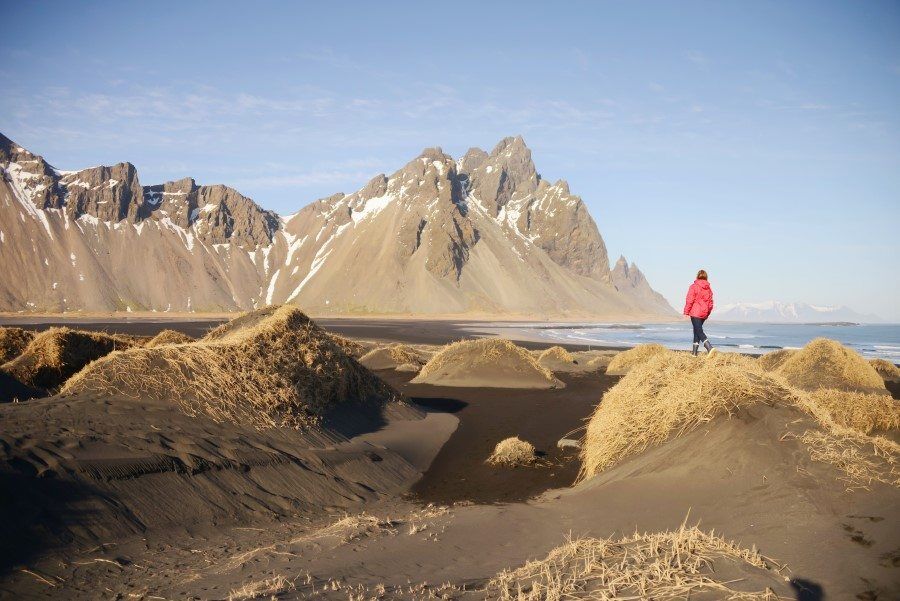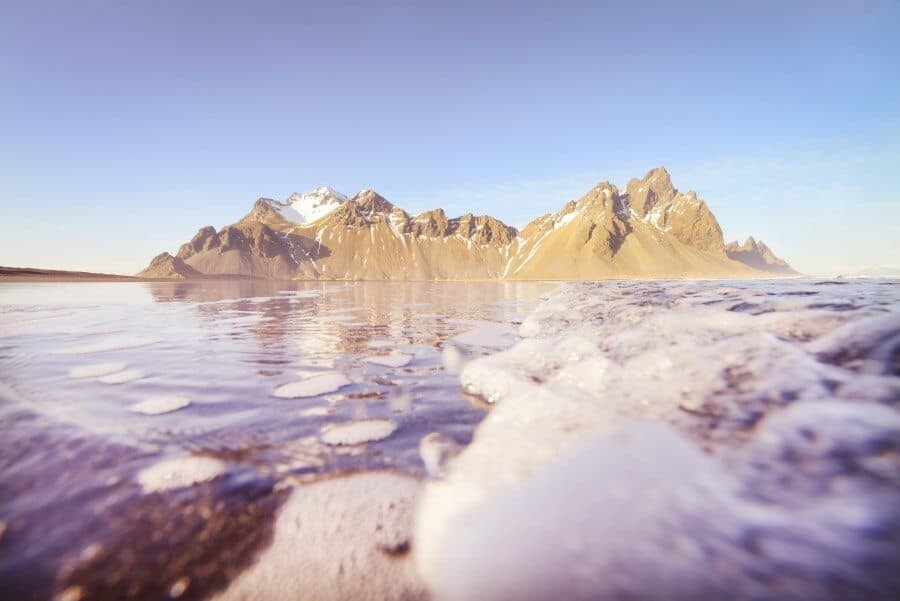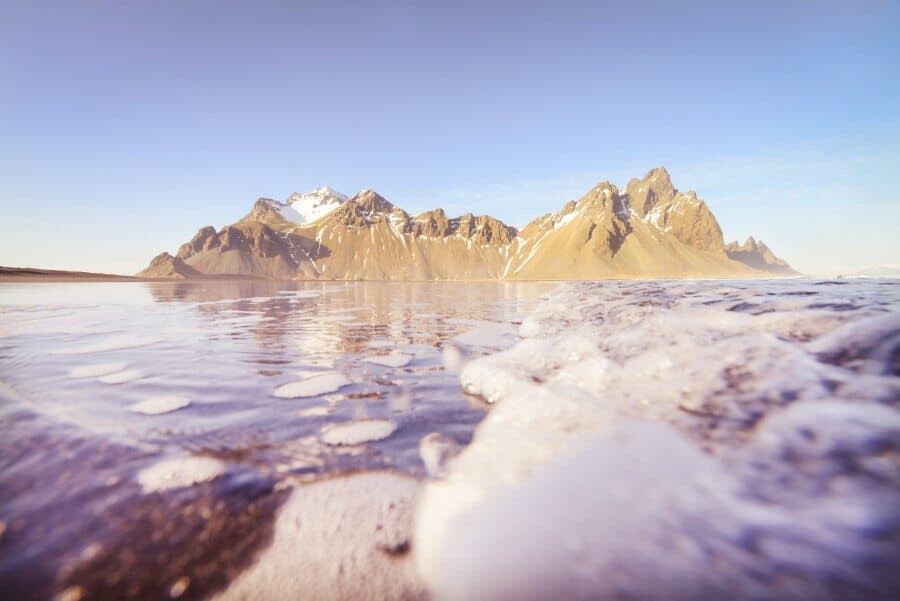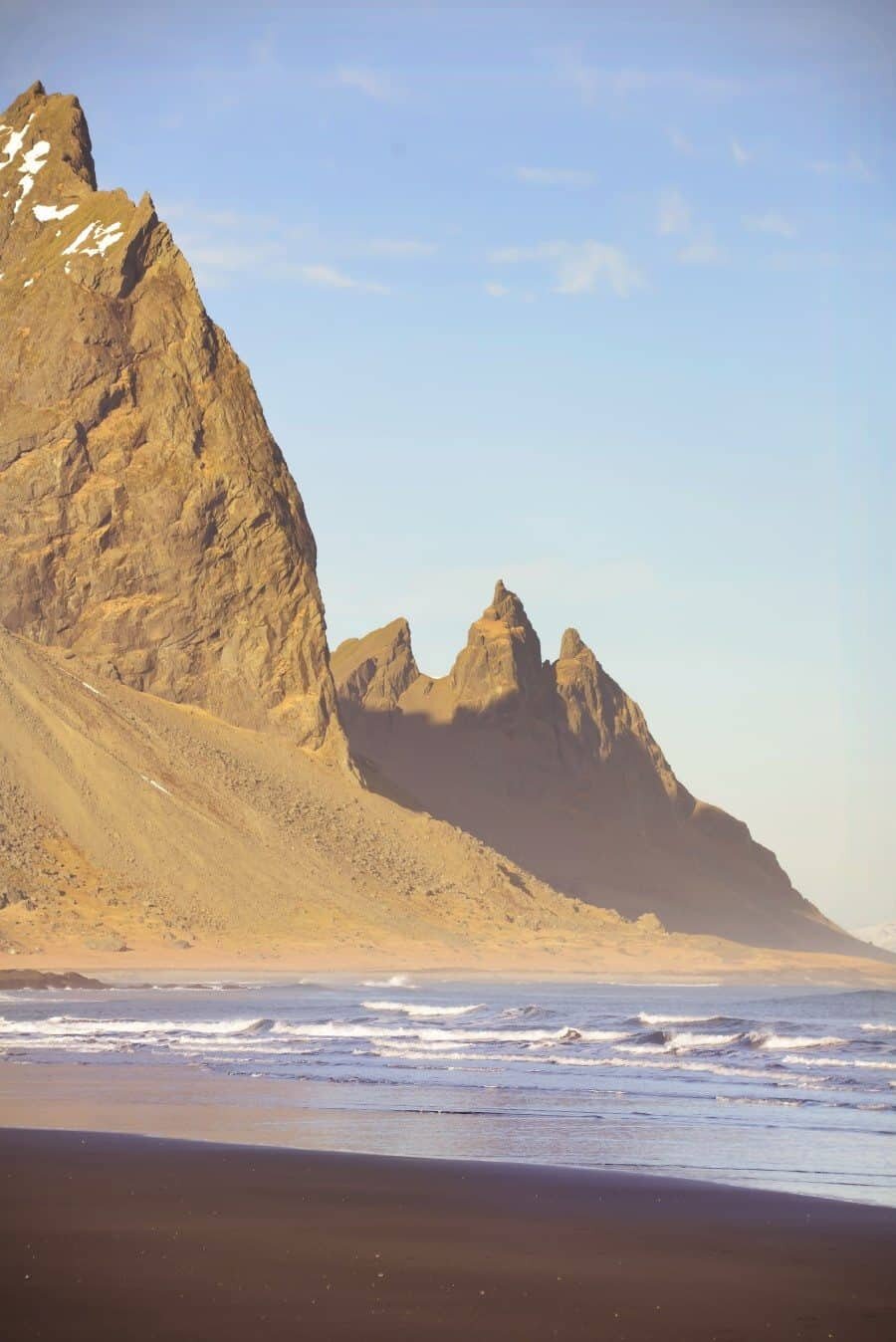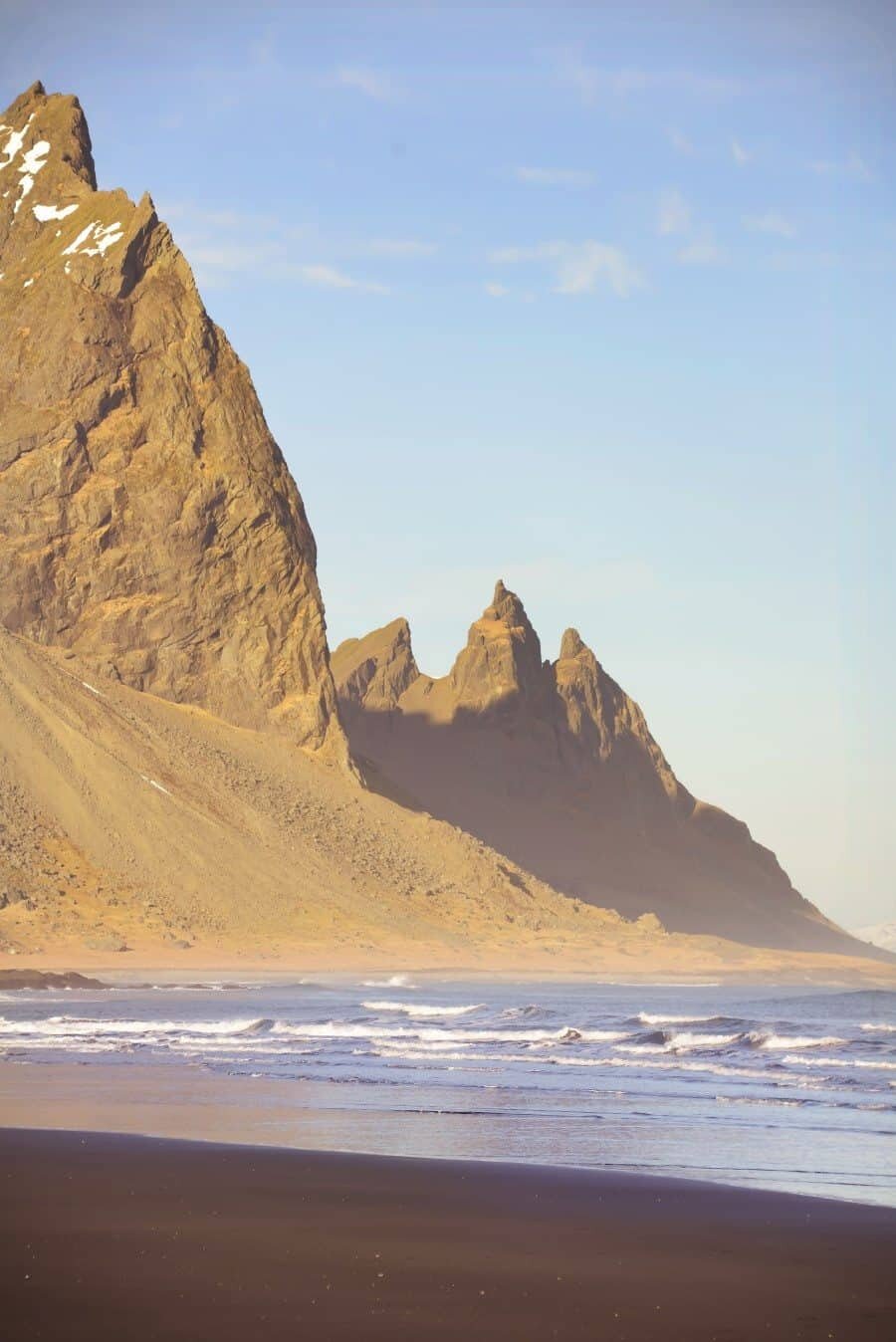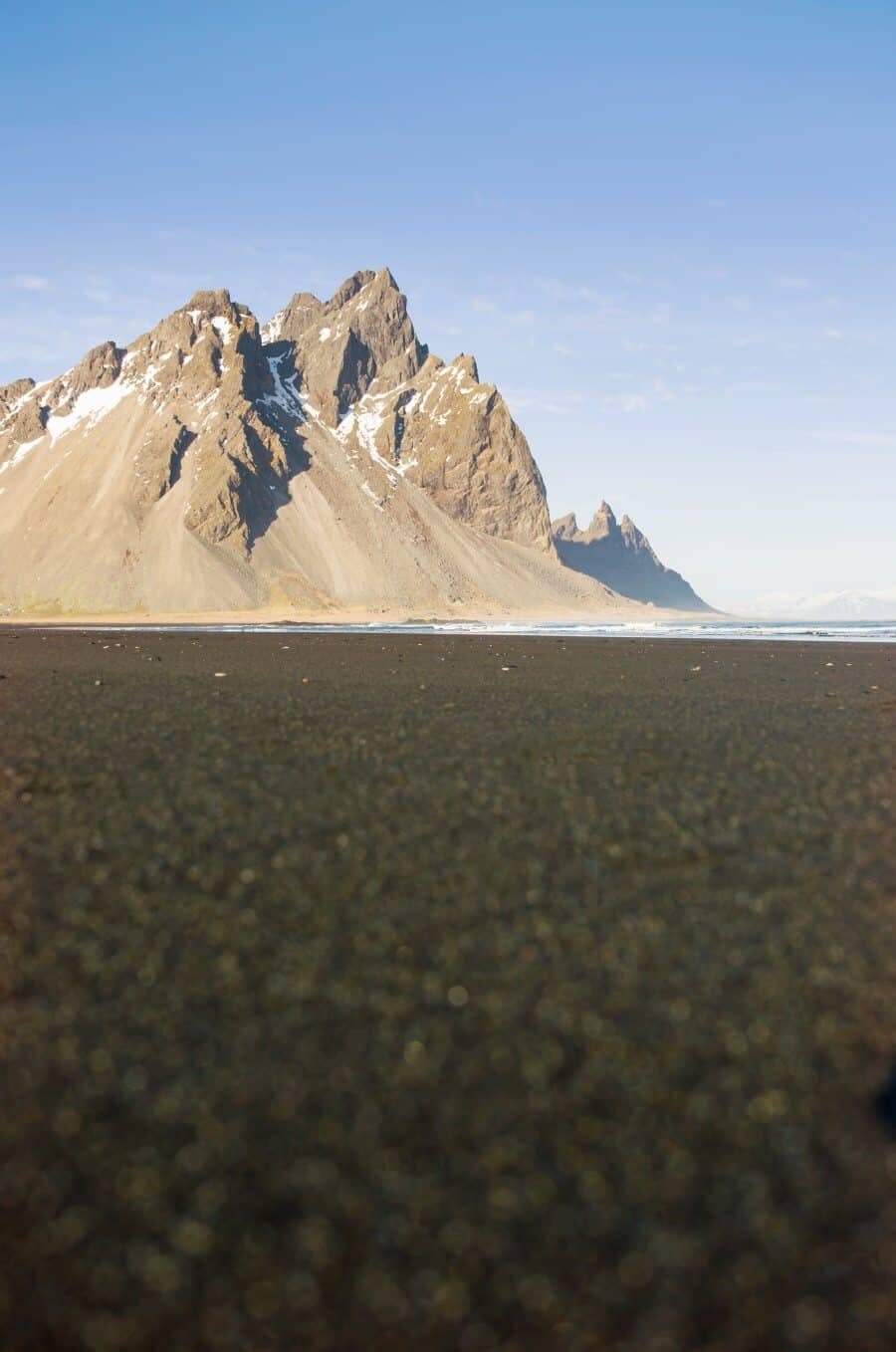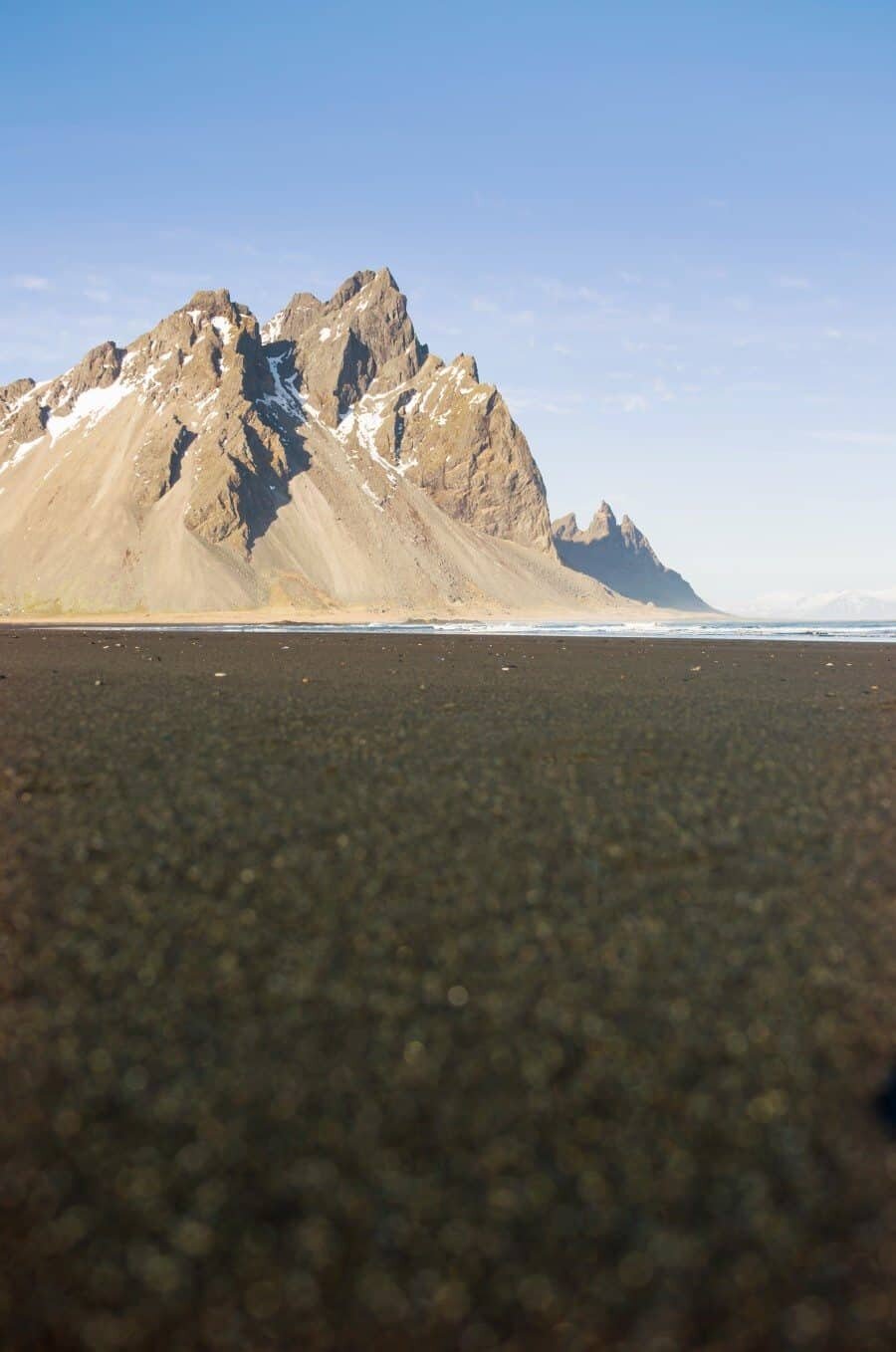 ---
Dirt Road at 64°18'14.3″N 14°59'58.5″W
Driving past the turn off to Stokksnes you'll venture through a tunnel…after the tunnel there's a dirt road on the left side that leads towards a mountain range that is perfectly aligned with the road. Great for those shots of a road leading off into the distance. It's also a fabulous spot to watch the auroura, I actually discovered it while trying to find somewhere to stop the car when the aurora was dancing above. It is possible the road leads to a rubbish dump but…it's beautiful and there is of course no rubbish in sight, just mountains and scenery without another sole around. This was one of the most accessible yet remote locations I found, especially at night there wasn't even a car that passed by!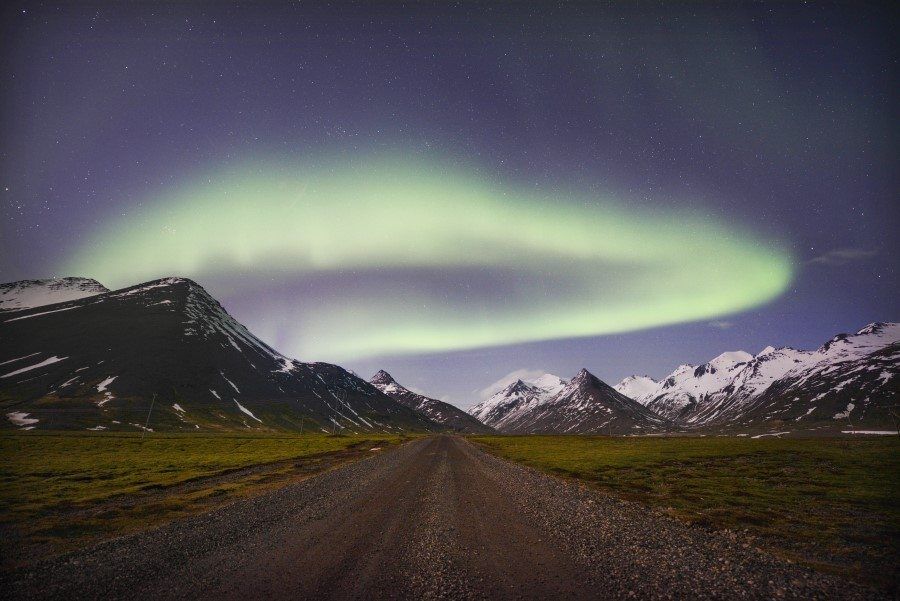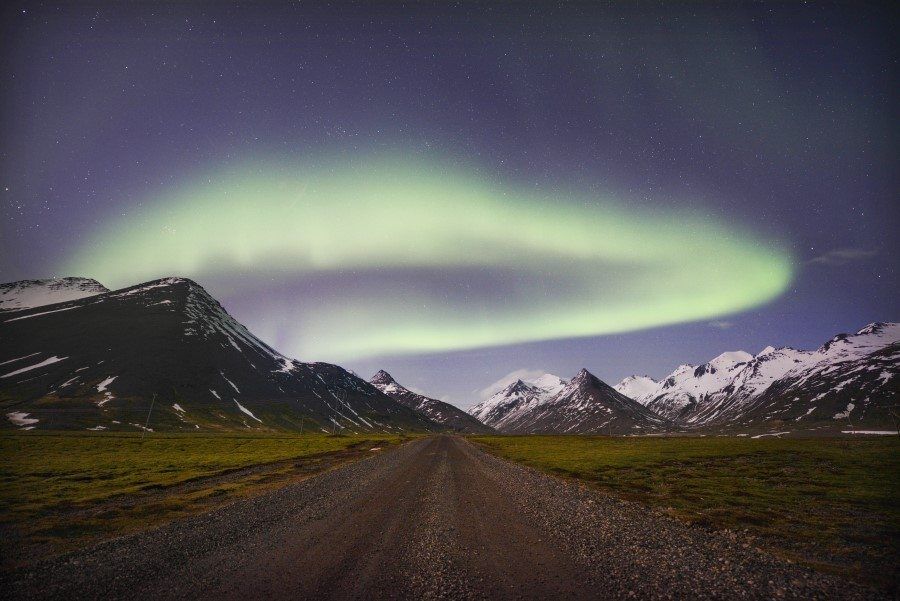 ---
Lónsfjördur
This glacial river valley is framed by the epic mountain peaks of Eystrahorn and Vestrahorn (Stokksnes). The valley depicts the definition of dramatic scenery with rivers flowing into the ocean, gentle waterfalls and on a calm day, it all reflects into the water where swans float slowly across the surface. You can read more about my day exploring this area here. Beneath the peaks of Eystrahorn on the eastern side of the valley (Eyst meaning East) there is a little place to stop the car at the coordinates of 64.422960, -14.611382 and from here you can wander along a shore of giant ice chunks and photograph reindeer in the fields.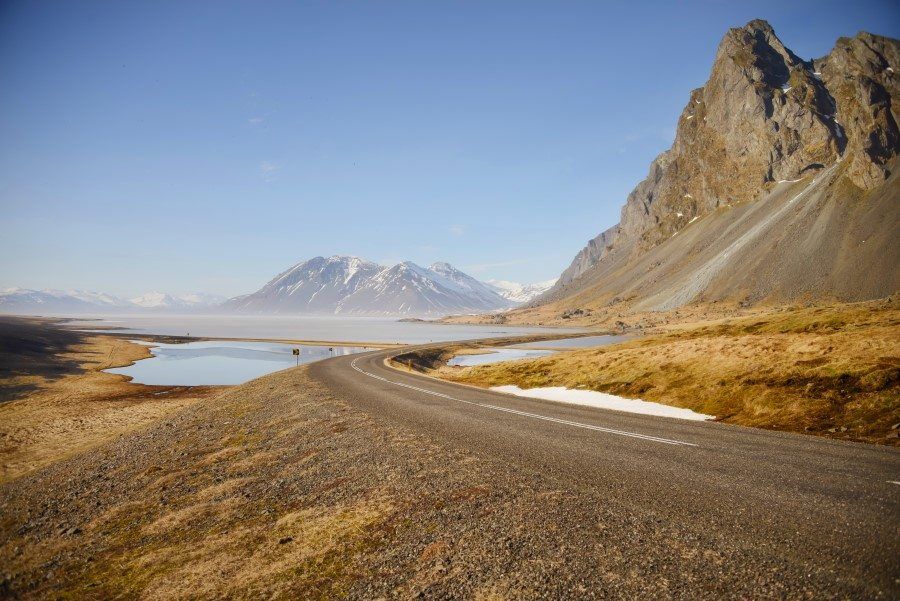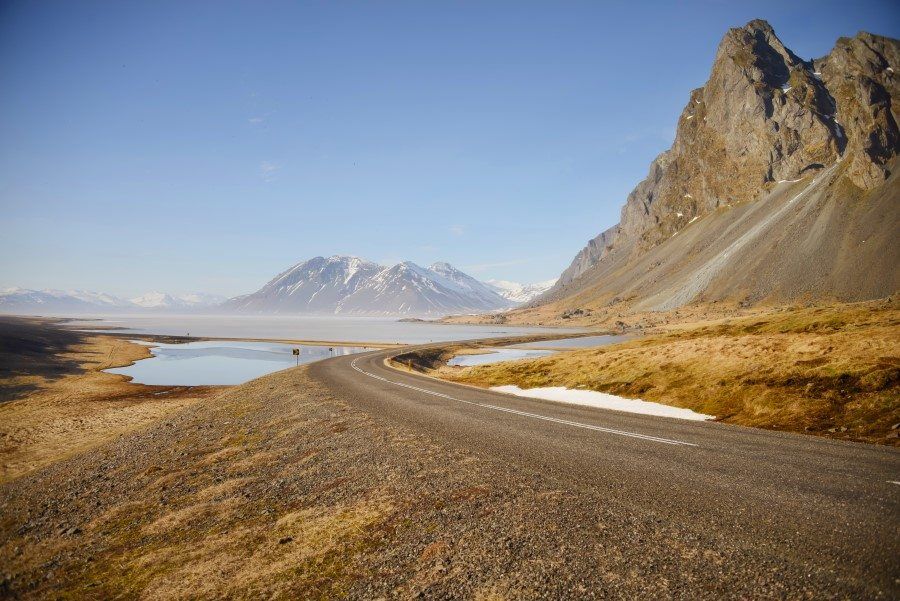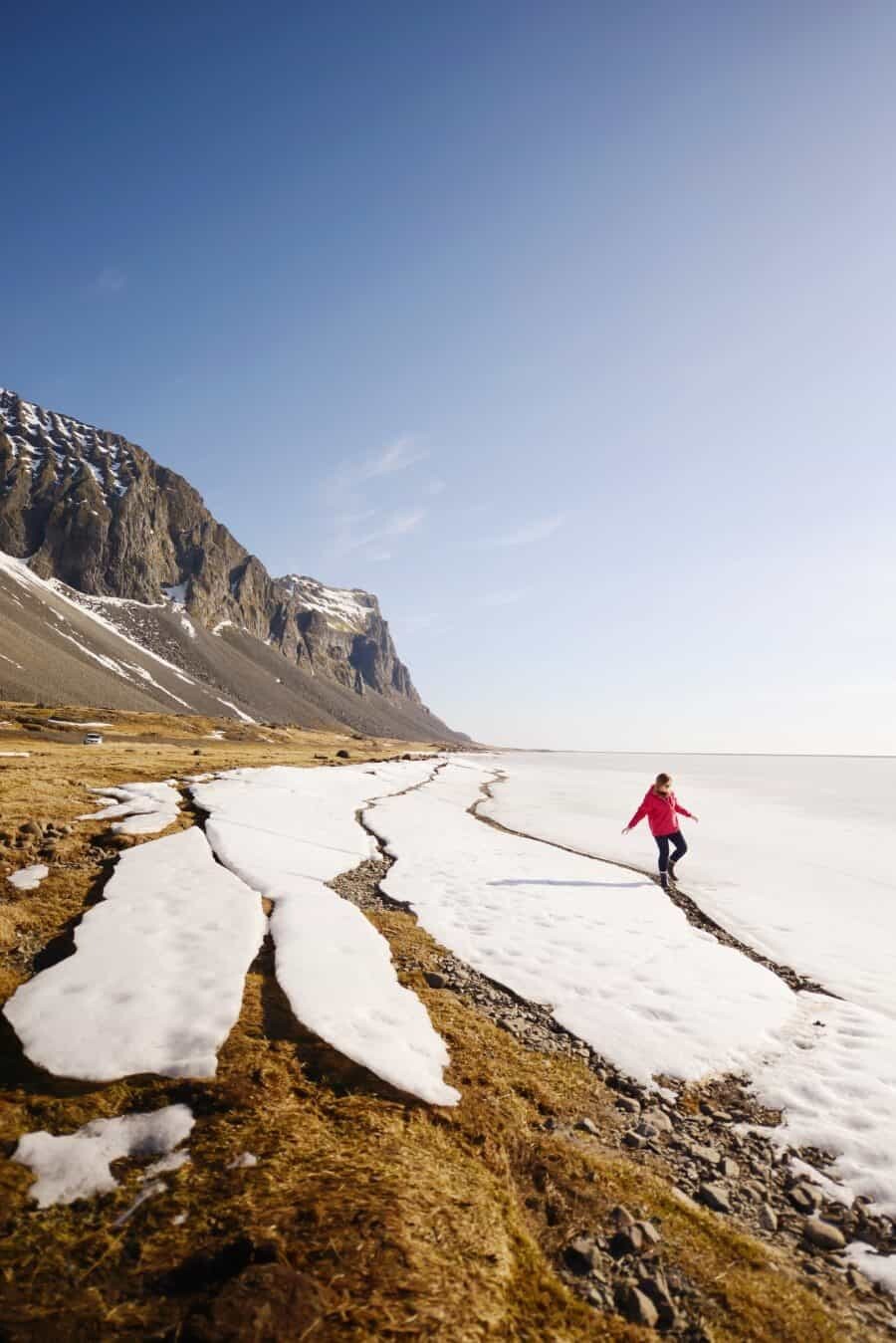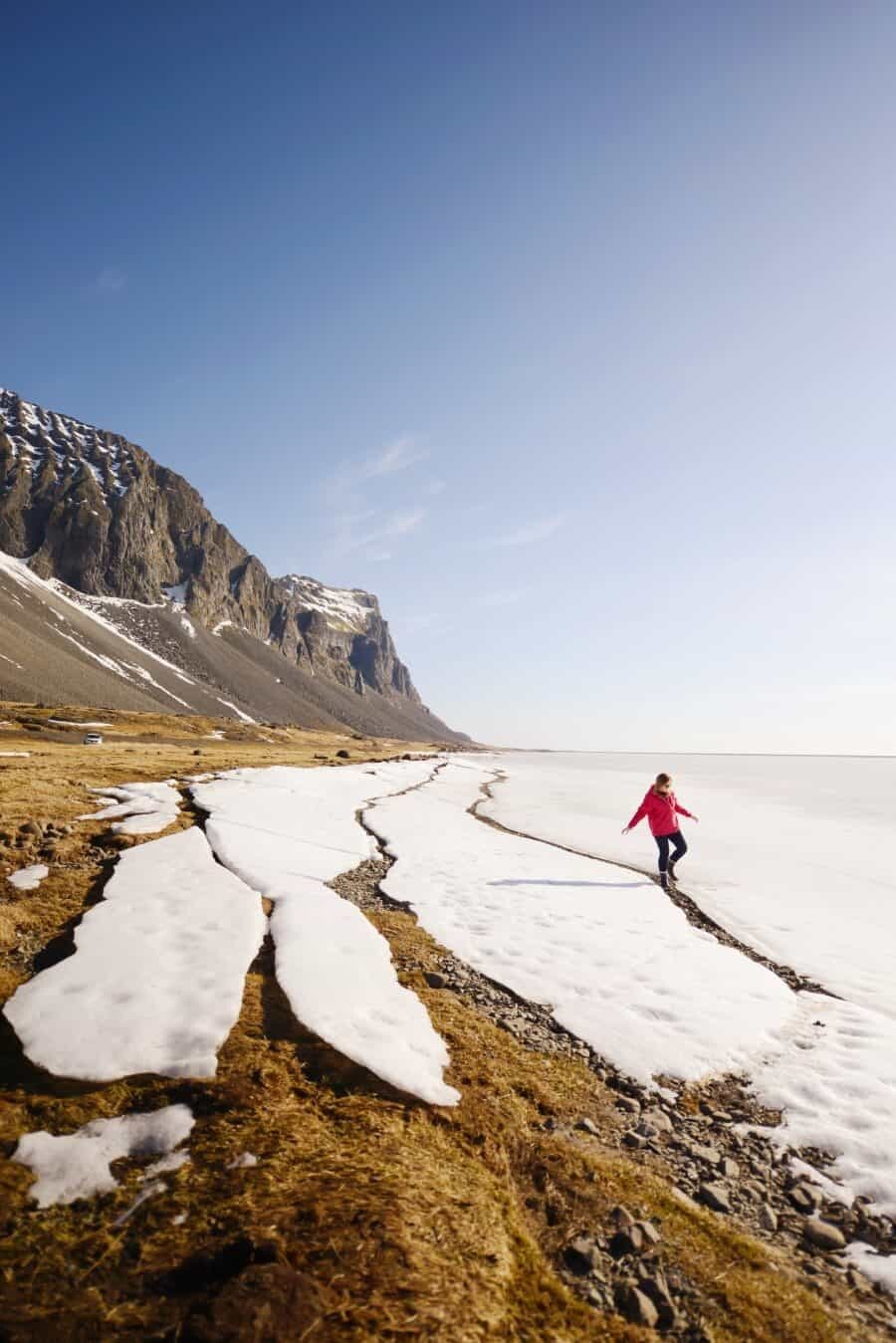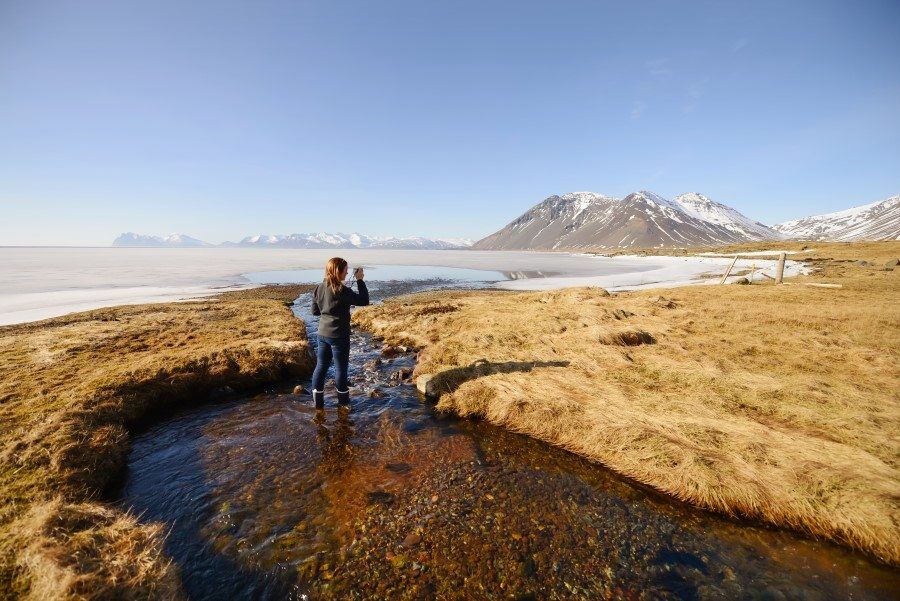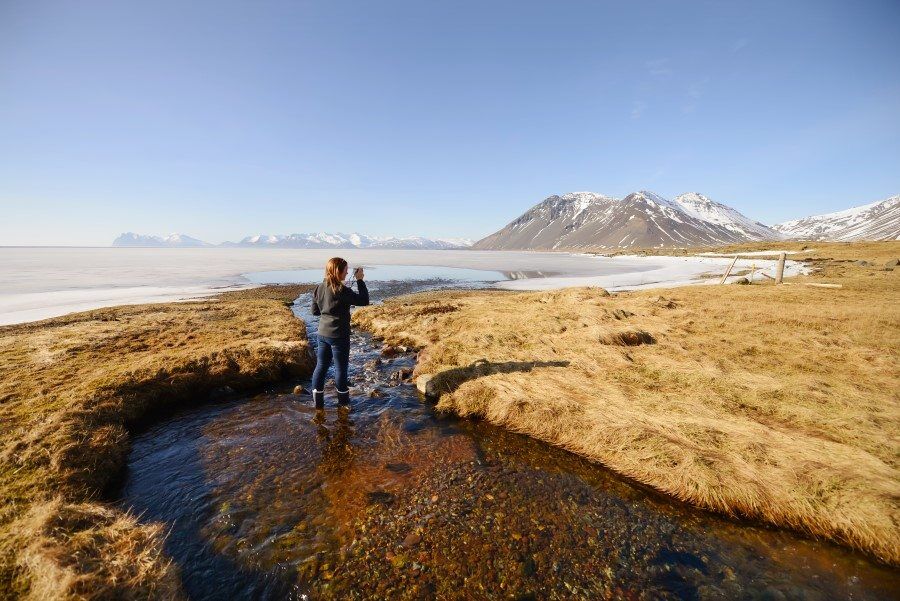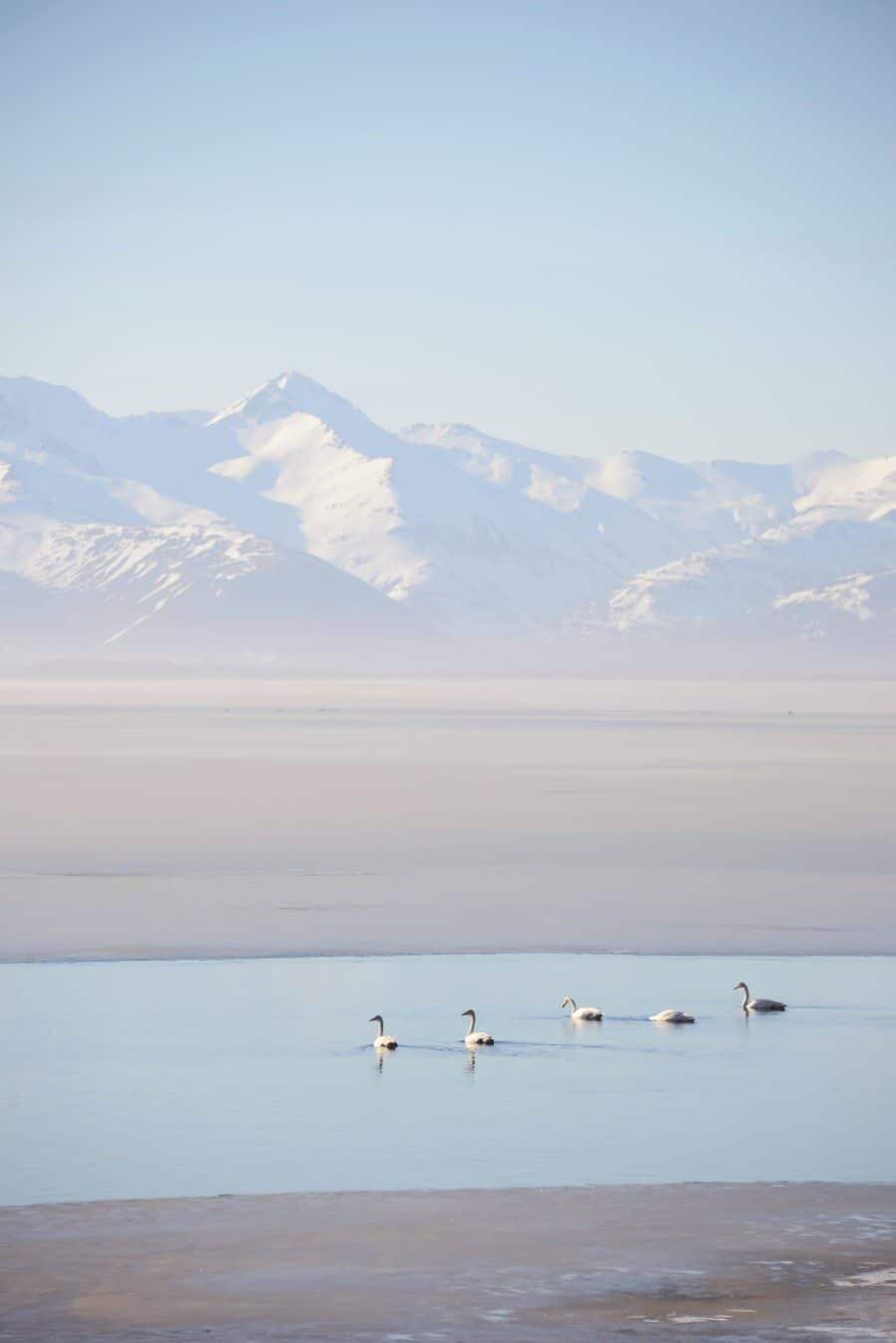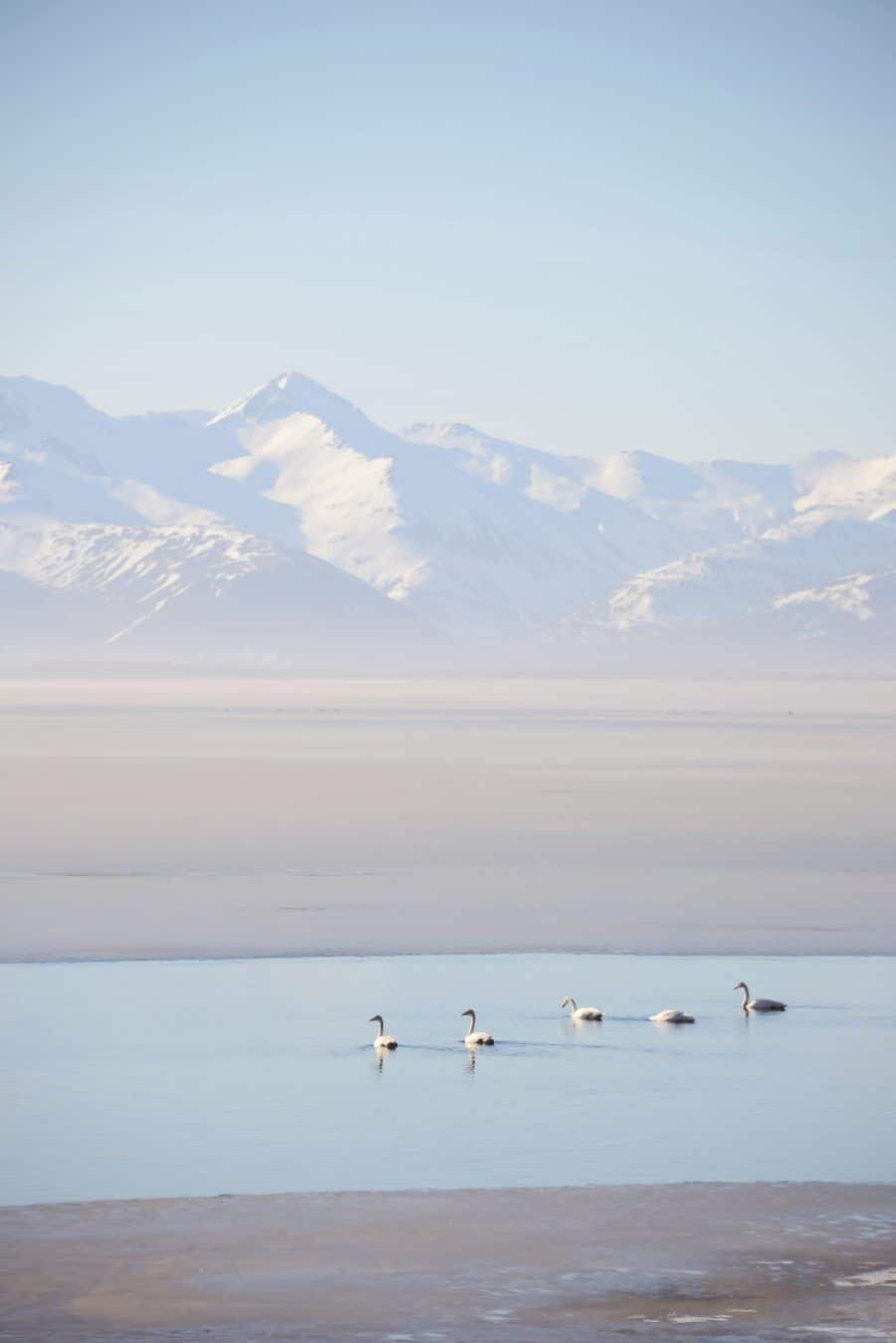 ---
Eystrahorn Beach
Driving beneath the jagged cliffs you'll stumble upon a beach so vast it's almost hard to focus your vision. Waves roll around the point, the Krossanesfjall Volcano sits above and there's nothing but a long black sandy beach in sight. The contrast between the mountain scenery and the coastline makes this one of my favourite views in all of Iceland, I was completely awe struck by this landscape.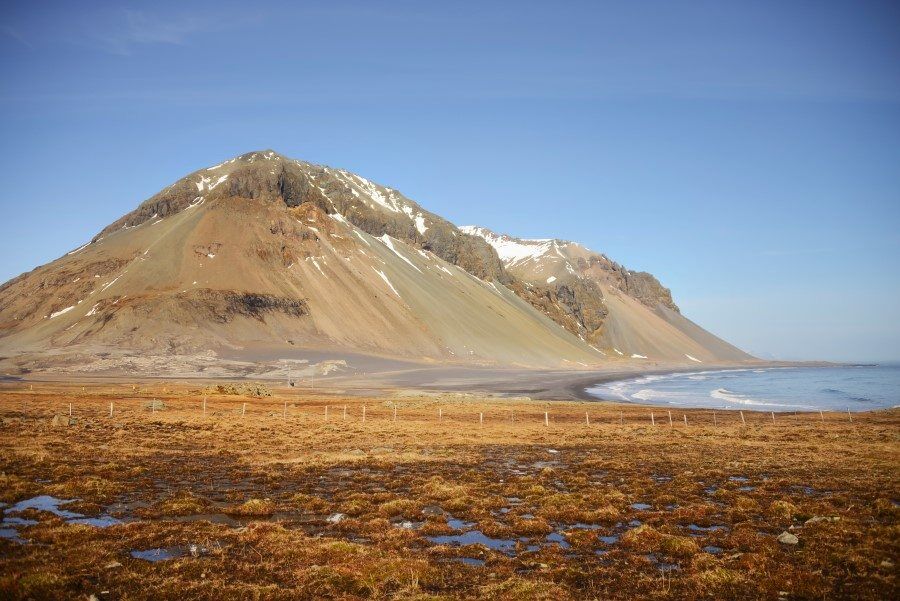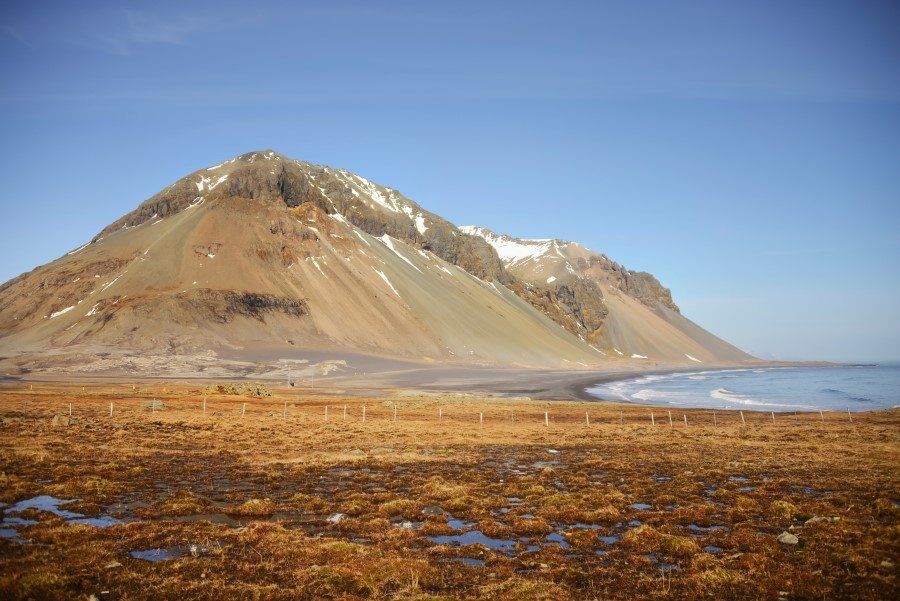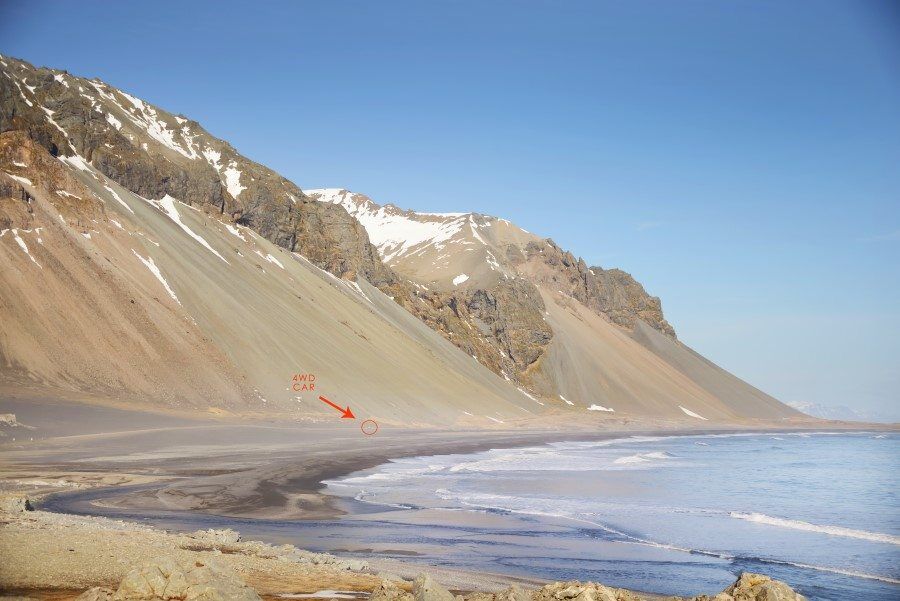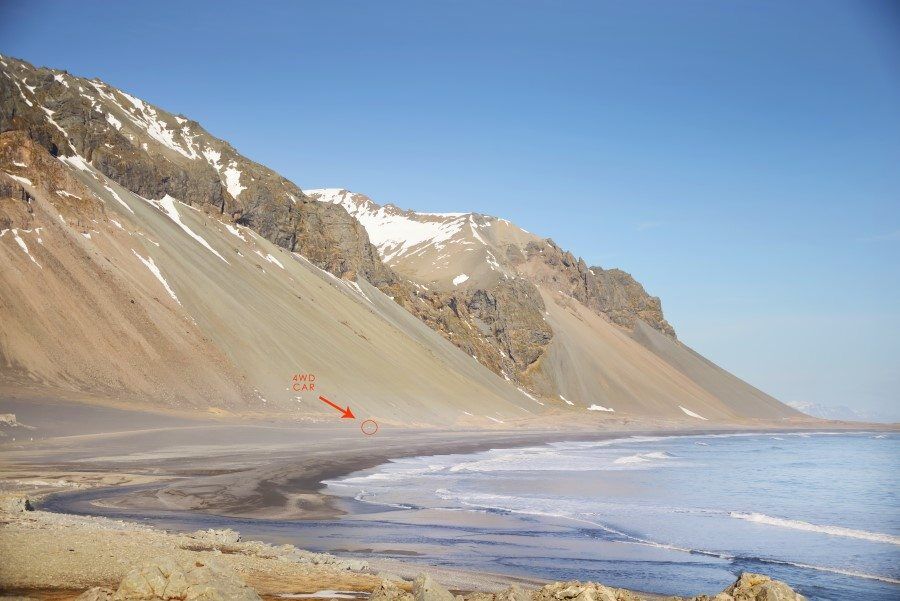 ---
Djúpavogshreppur
If you're okay with the risk of boulders falling down from the steep cliff above, this is one of the best places for coastal landscape photographs! The steep cliffs fall straight into the ocean below and the tiny ring road feels like it's delicately balancing on the edge. Ocean birds hover from their nests making great subjects to include in your composition. You can see toward the eastern fjords as the coastline juts in and out and the colours formed by minerals in the sand has tones of reds and pinks.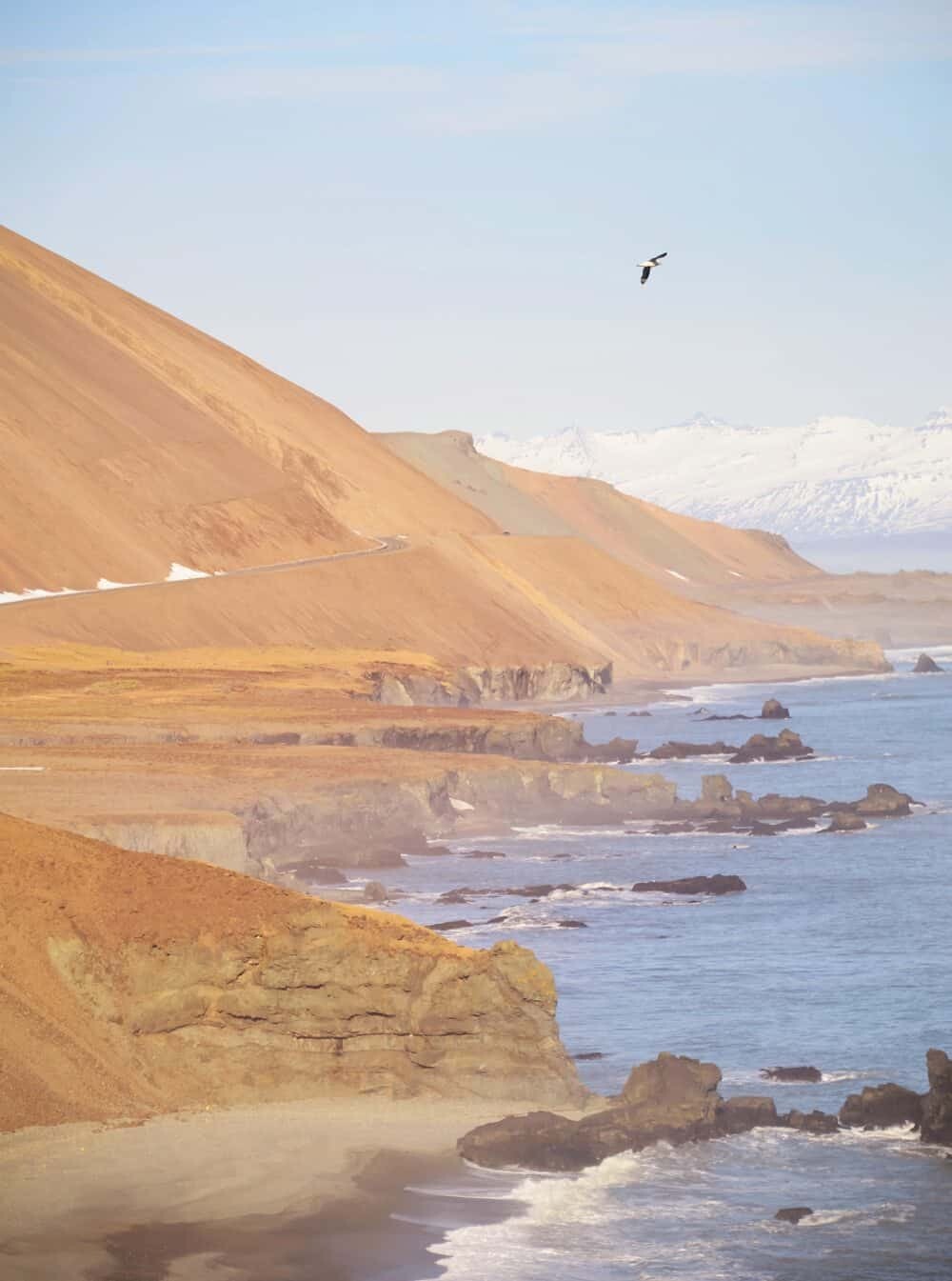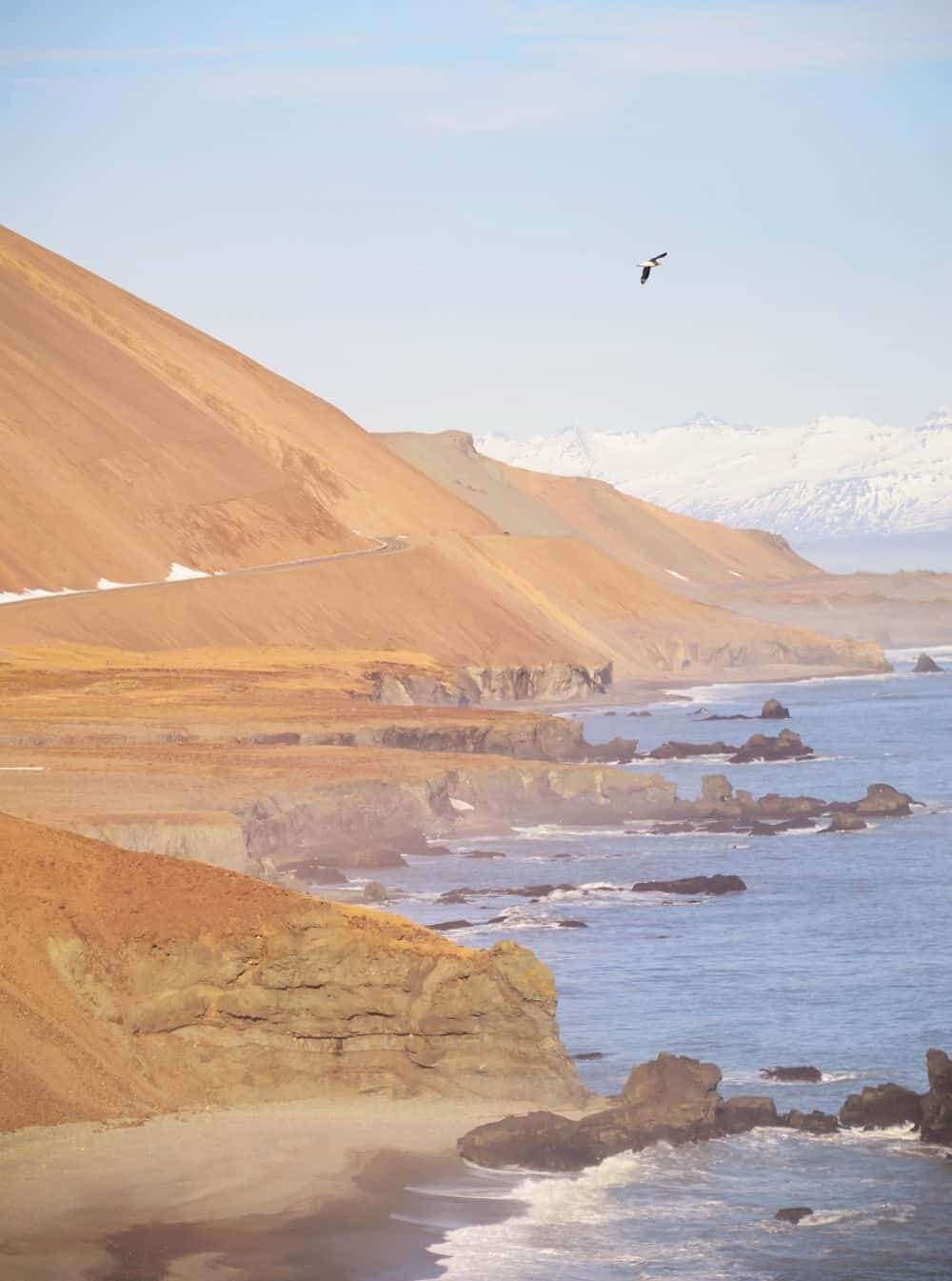 Exploring Iceland is all about making the trip your own. It can be packed with adventure activities like hiking on glaciers, exploring ice caves, snorkelling between continents and climbing volcanoes or you can relax and take your time discovering the culture and unique Icelandic cuisine.
An ideal itinerary to include everything mentioned in this guide would be 3-5 days because you still have to drive back to Reykjavik and it's so tempting to stop again at each spot on the return trip! Leave lots of time for side of the road stops…this guide is by no means inclusive of every location you may want to stop, there's plenty more that don't have a name that are worth visiting.
When travelling around Iceland by car be sure to stay aware of the weather. As a weather geek this was one of the highlights of my trip as storms passed through I checked wind gusts that can sometimes exceed 120kmph. Don't be the one that gets stuck in a storm and needs to be rescued, always check the weather before heading out each morning as conditions can change very fast! You'll find in each petrol station and some cafes/supermarkets they'll have a television with the updated road conditions noted and any weather alerts which need to be taken seriously.
Check road.is for road closures, conditions and especially in winter this site is great for letting you know how much snow is on the road and whether it's safe to venture out. For weather forecasts check vedur.is which is updated every few hours with expected wind, rain and snow forecasts.
Read Also:
Photographing Skogafoss Waterfall
Inside an Ice Cave – Vatnajokull Glacier
Snorkelling Silfra Between Tectonic Plates
I hope this guide has helped highlight some of the beautiful natural wonders of Iceland's Southern region, keep an eye out for my guide to the West Coast of Iceland coming soon…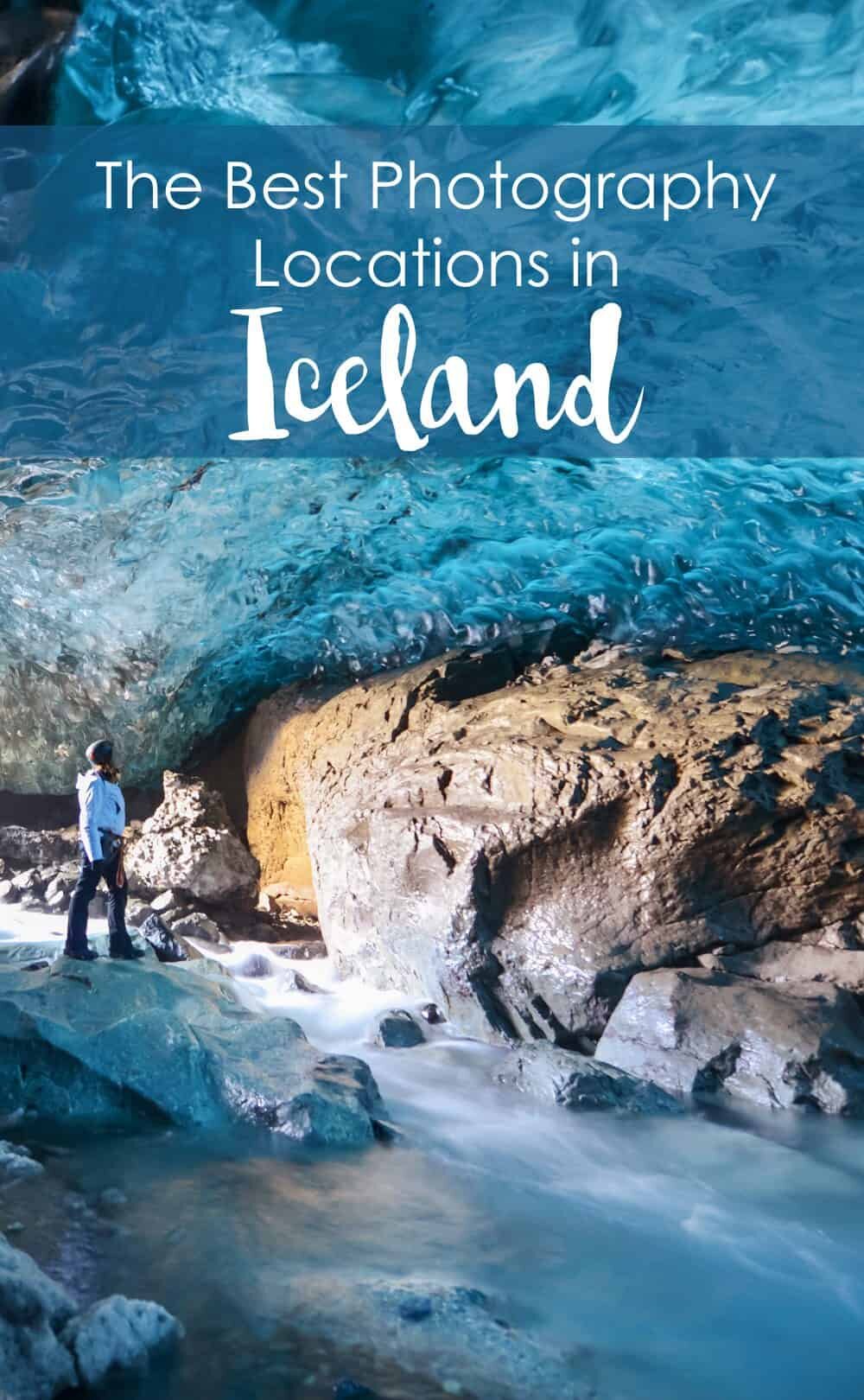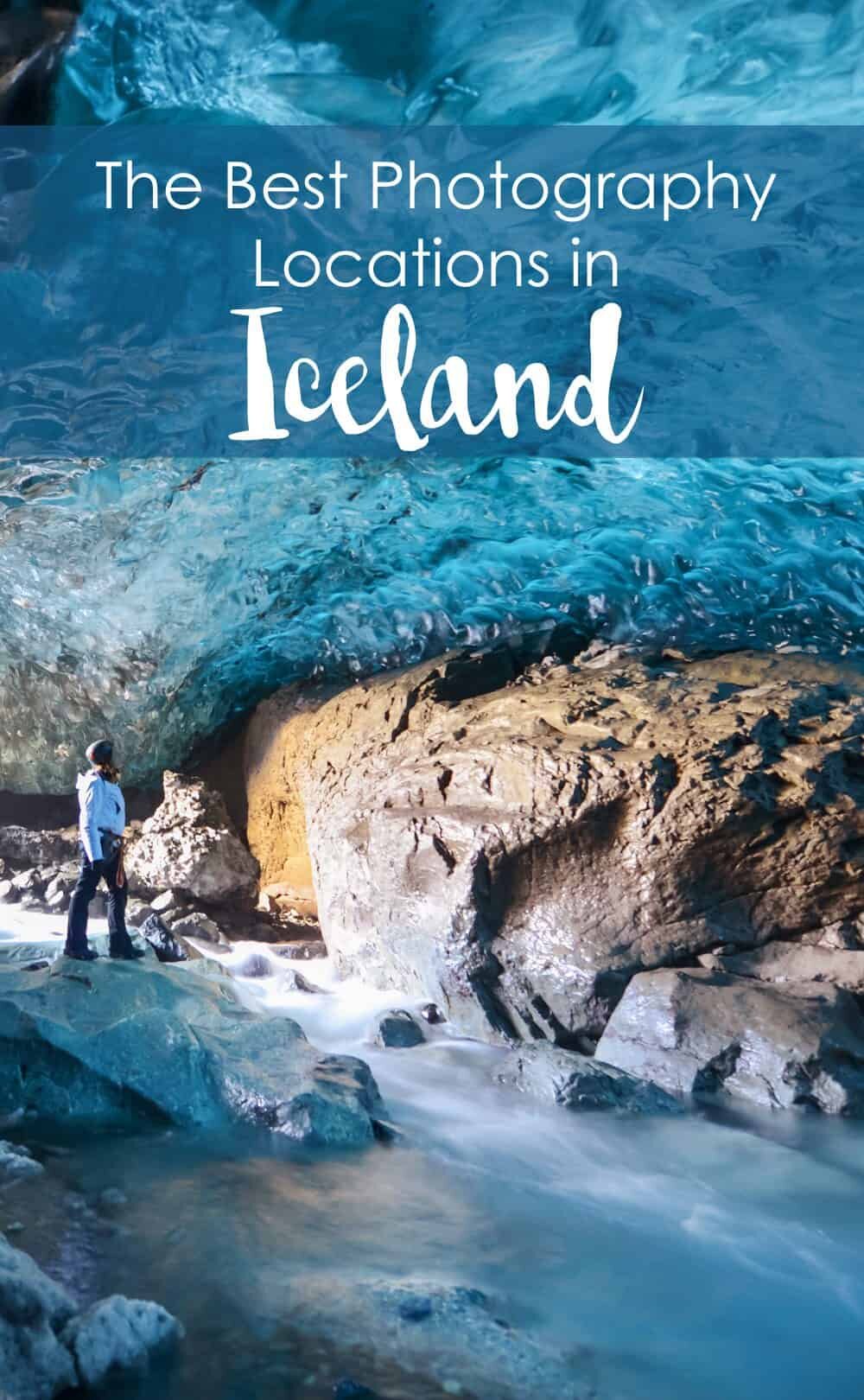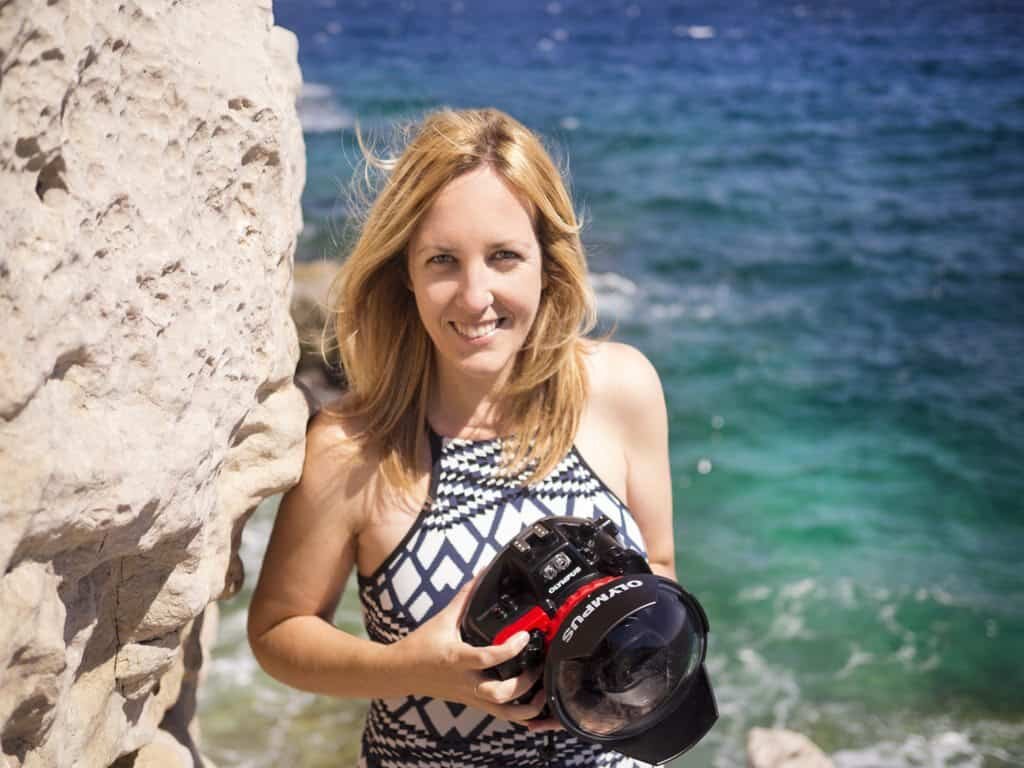 Hello! I'm the founder and photographer behind The Wandering Lens.
With 17+yrs experience as a professional travel and landscape photographer, all advice found on this site is from my personal experience on the road. I hope it's useful for your own travels and would love to hear in the comments about your trips and experiences around the world.