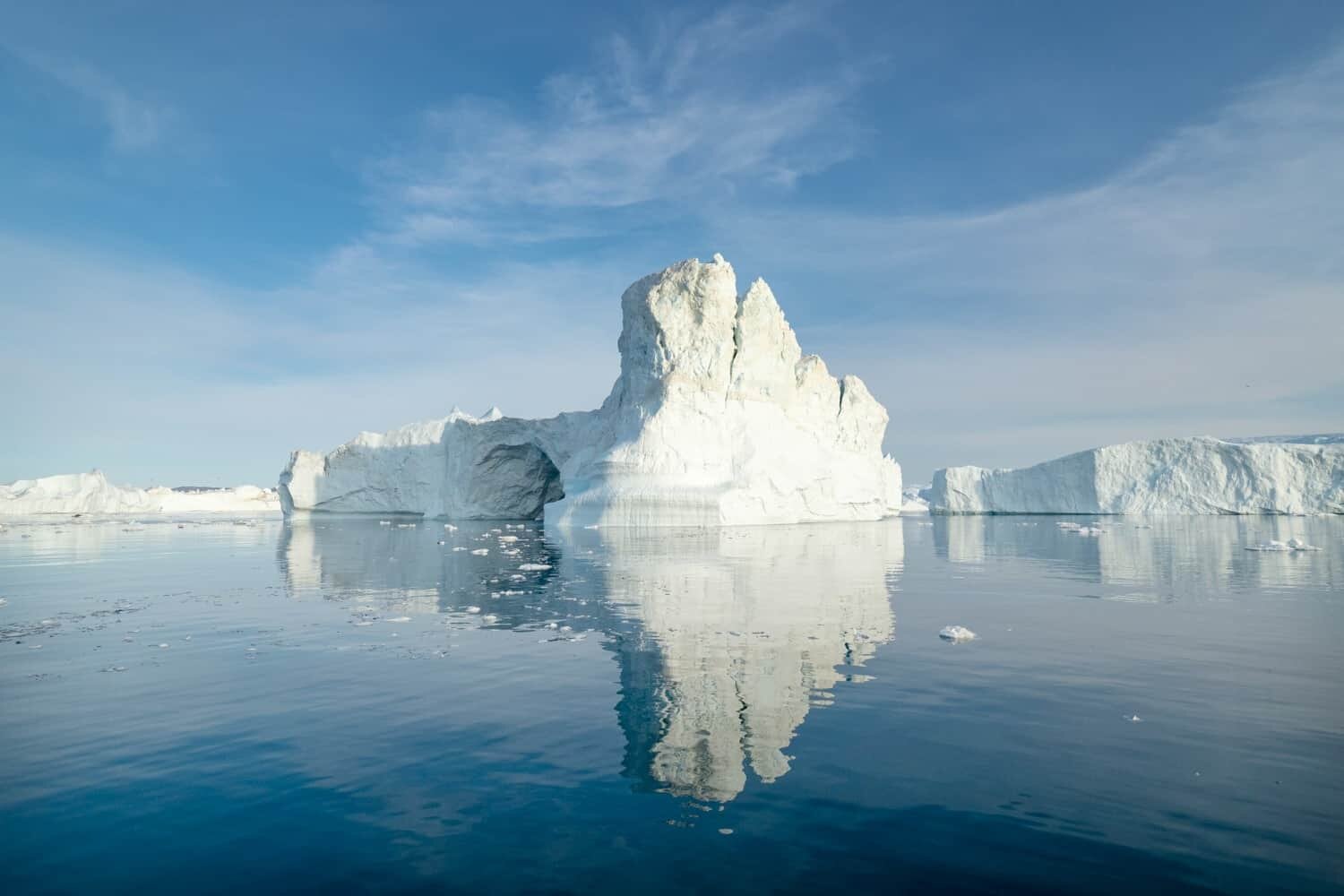 Capture the Magic of Greenland in Ilulissat
Ilulissat is somewhere you need to visit in your lifetime if you're into icebergs and all things arctic. Frozen natural wonders meet a culture that's as fascinating as it is colourful forming a photogenic dreamscape of possibilities.
As Greenland's third largest city, Ilulissat is home to the UNESCO World Heritage Site, the Ilulissat Icefjord where the world's fastest moving glacier funnels icebergs towards Disko Bay. It's a sight that's hard to comprehend upon first glace. It's sheer scale, shapes, patterns and the vast whiteness can take a few days to really soak up so be sure to plan for at least five days!
Basing yourself in Ilulissat is a great way to ensure you can take advantage of the many tours and hiking routes that begin in town. Having spent two weeks exploring the region in July, I've put together this guide of photogenic experiences should you need a little inspiration for your own trip.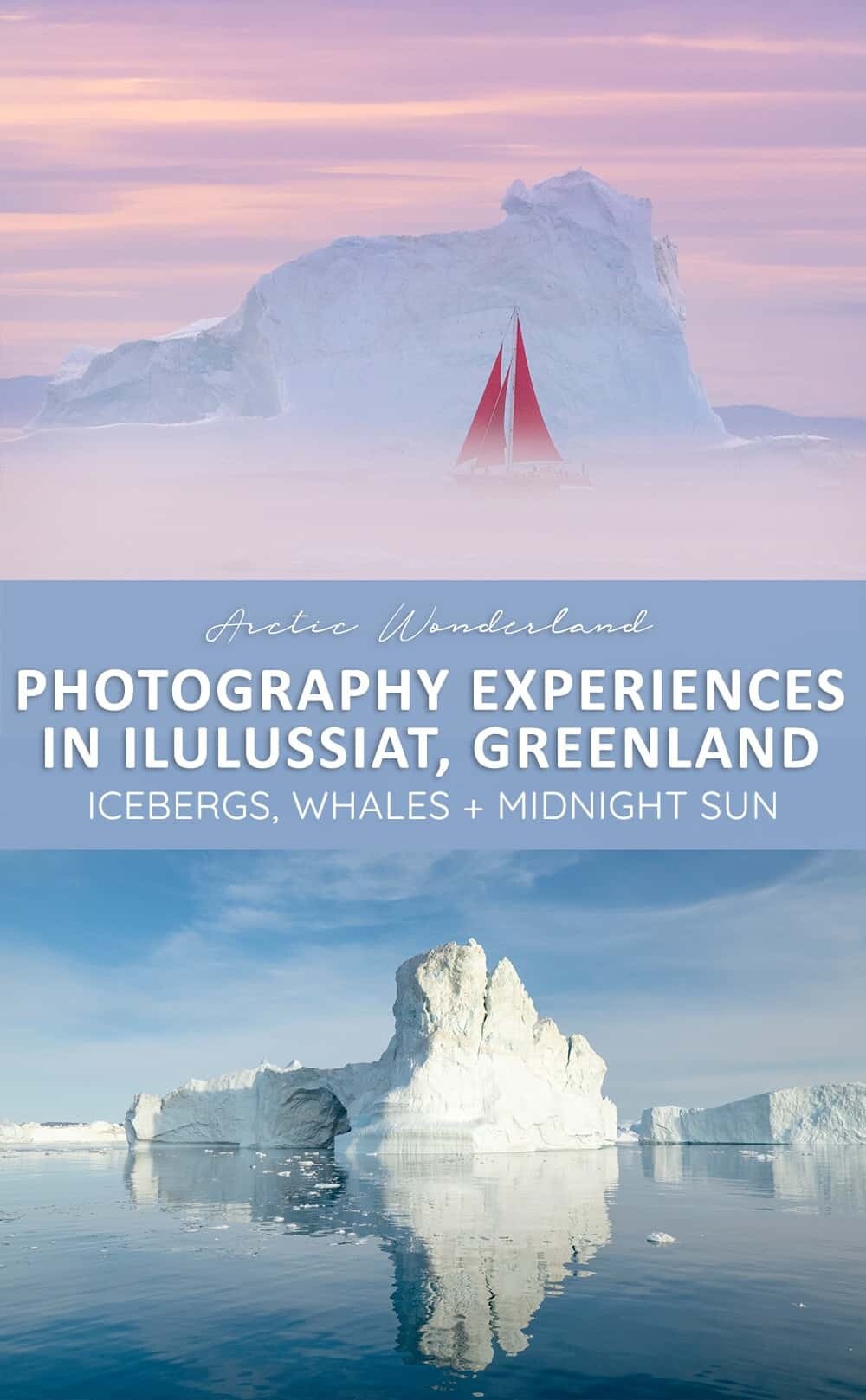 ---
Midnight Sun Icefjord Cruise
Prepare yourself for what will be one of the best evenings of your life. No question.
Before you've barely left the harbour at 10pm, the boat will be cruising past floating icebergs, some the size of a dinner plate, others the size of a five story building. There's truly no comparison for this experience and if you're a photographer, be ready to loose your mind.
The Ilulissat Icefjord is where giant icebergs that have calved off the Kangia Glacier are stuck, forming an ice bank of massive frozen structures. As they slowly melt and break up, the icebergs drift out to sea of Disko Bay before the Atlantic Ocean. Size, contrast and true natural beauty is evident in all directions as the boat cruises alongside icebergs up to 60m in height.
During the summer months humpback whales are often sighted amongst the fjord too, gracefully spouting and forming bubble nets much to the delight of hovering seagulls.
On board the World of Greenland's boat you can stand up on deck and capture the scenery with impressive views all round. I highly recommend trialling both the top and back of the bottom deck to ensure you get a mix of landscape images from water level and otherwise.
Photo tip: Take a variety of lenses so you can alternate your composition throughout the cruise. Having a versatile lens like the M.Zuiko 40-150mm F2.8 PRO lens will enable you to focus on both details and landscape shots as you pass the icebergs. Some moments, such as whales breaching or icebergs calving can happen quickly so be sure to keep your eyes peeled and trigger ready.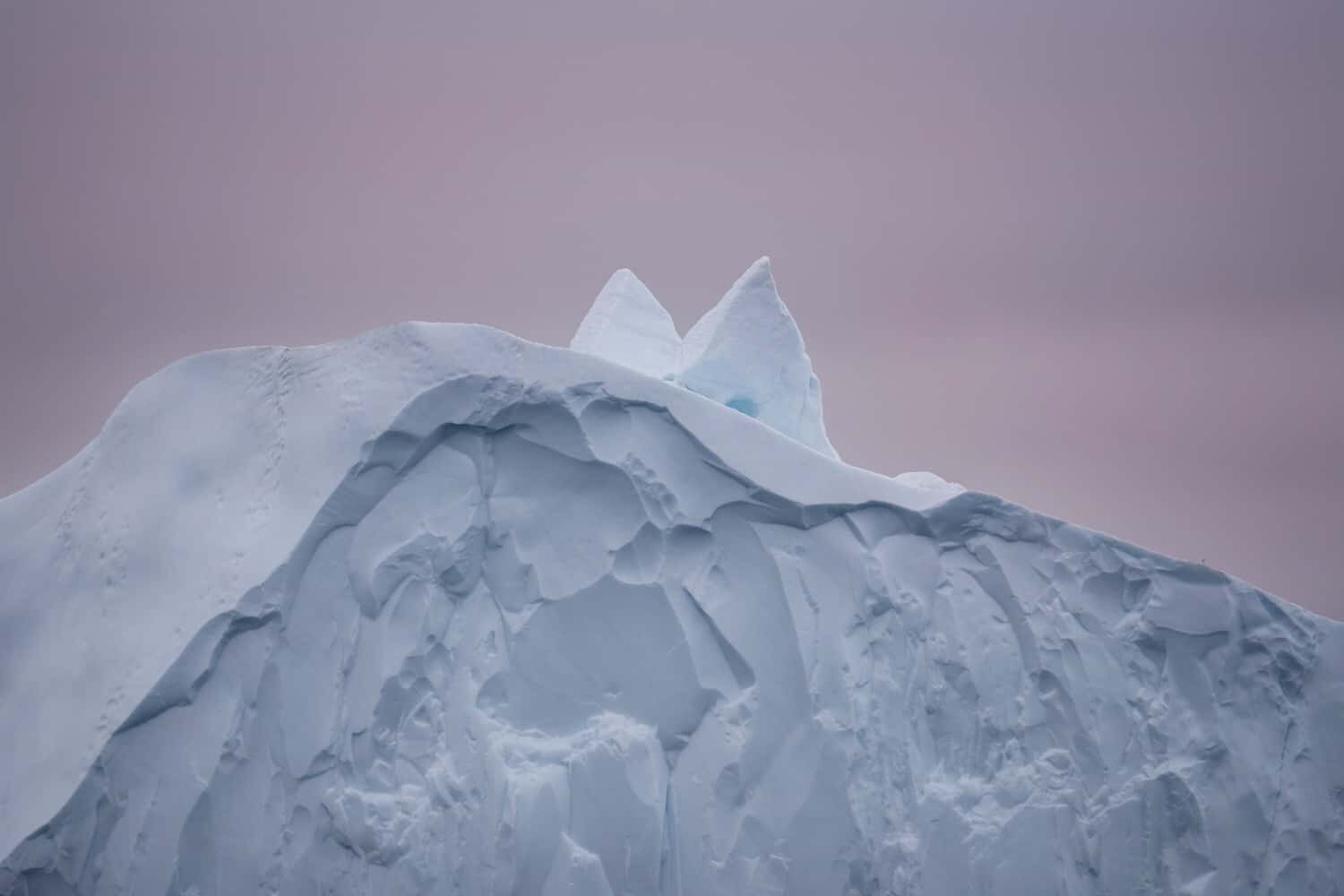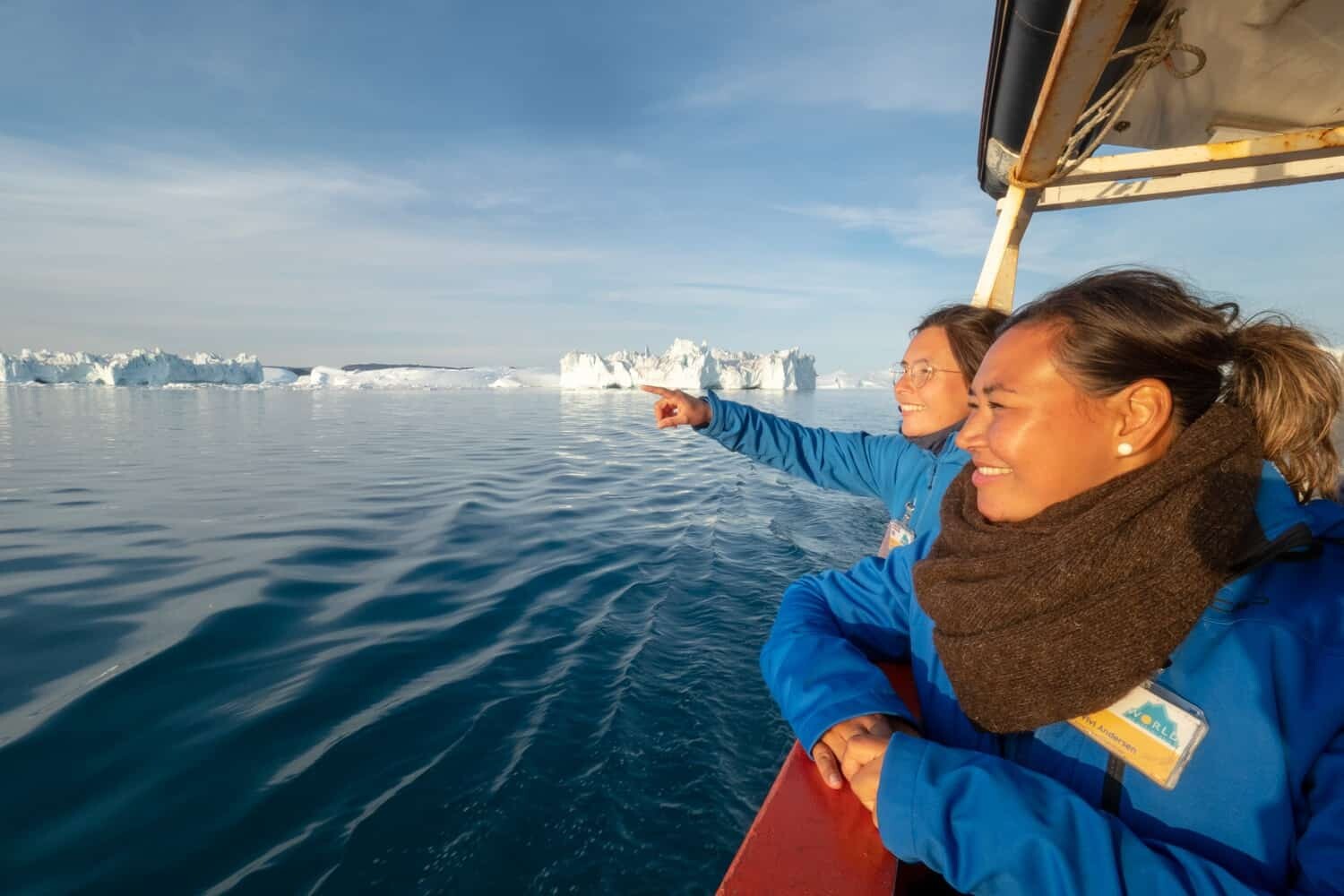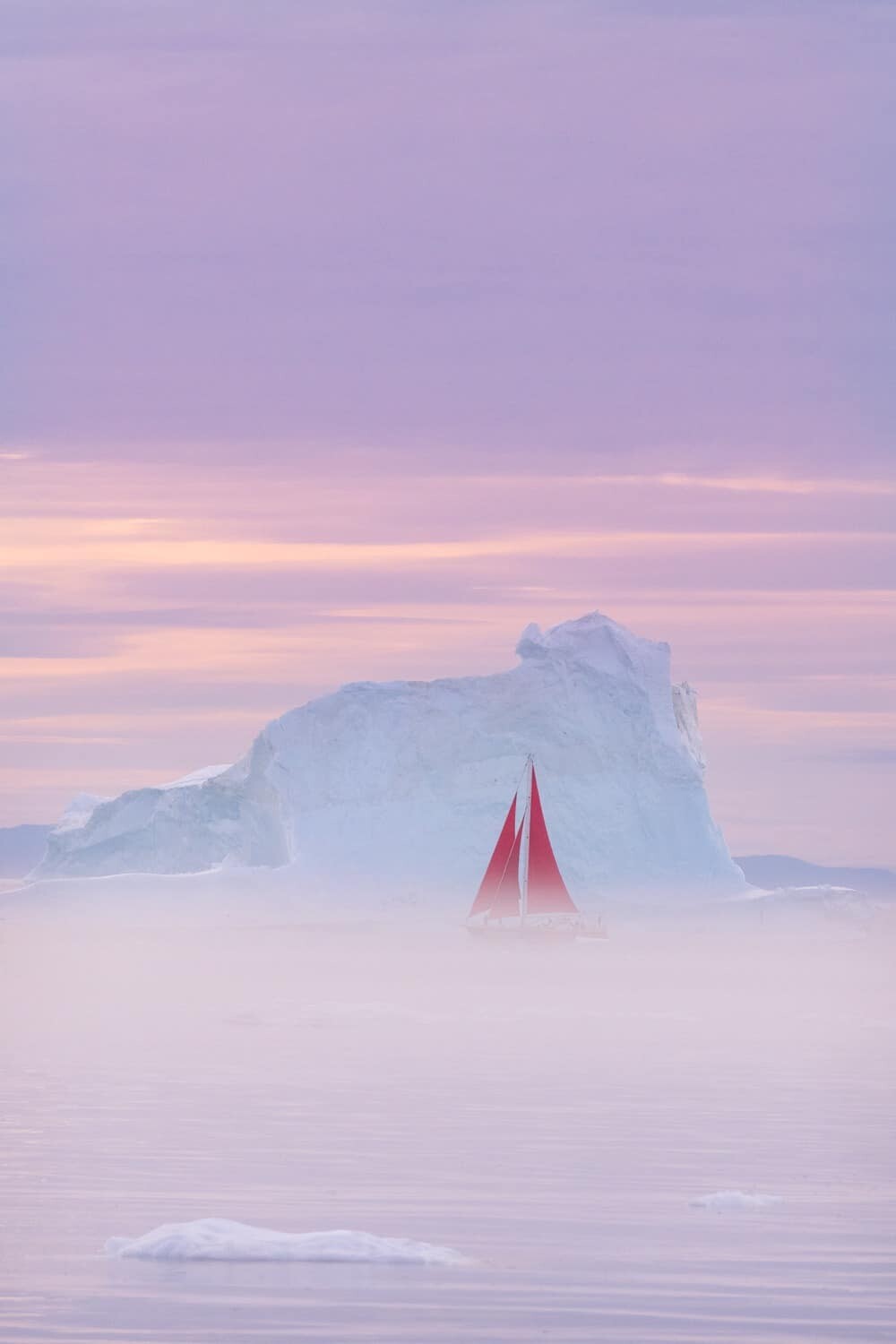 ---
Kayak amongst Humpback Whales
A kayak tour in Ilulissat is hard to explain in words so it's lucky I've got some photos of the experience huh!? Let's just start with the one that'll sell you straight away…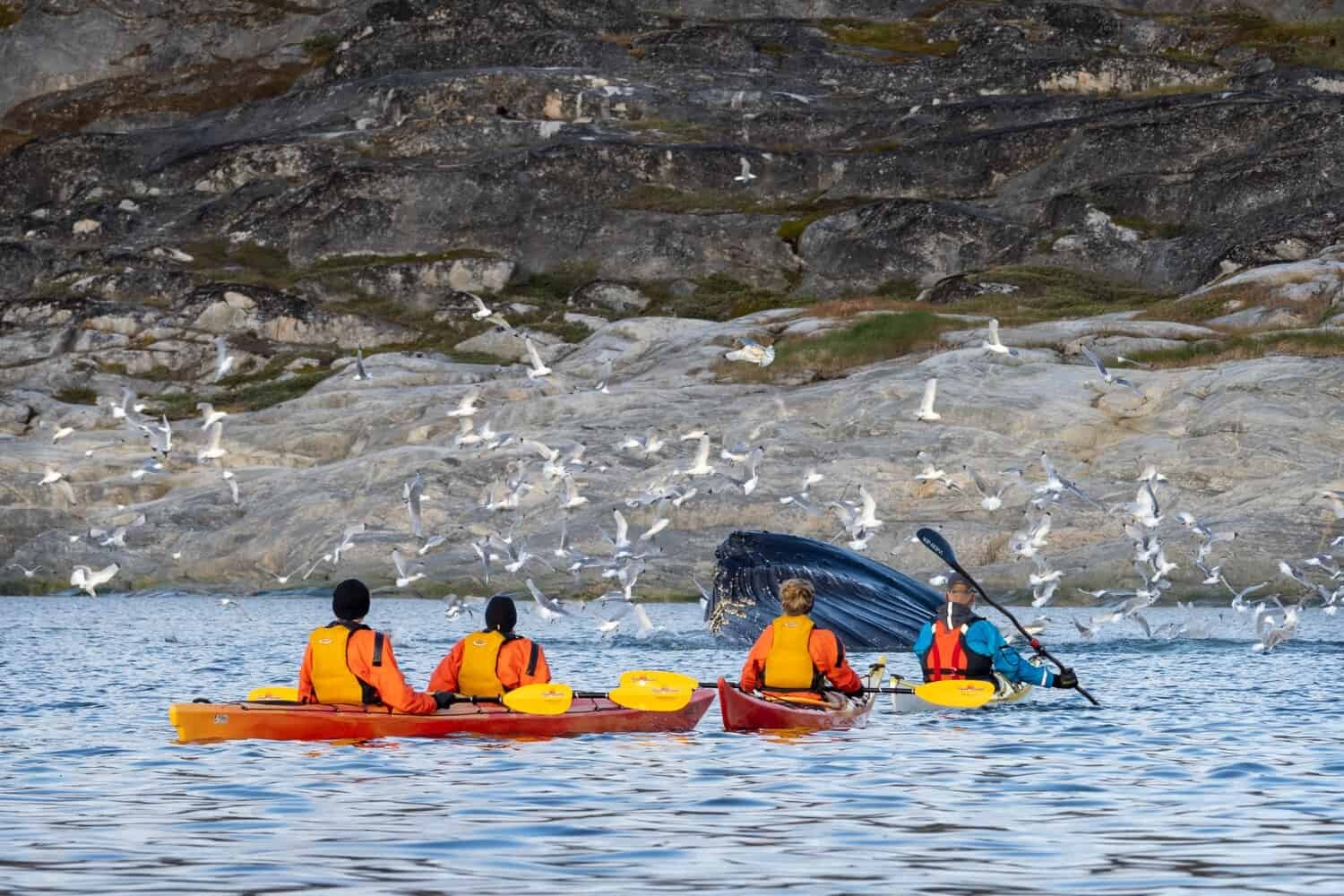 Above you'll see humpback whales coming to the surface right in front of a group of kayakers. Crazy, right? Tucked inside a dry suit, you'll be toasty warm while paddling on the chilly arctic water but if this moment happens, you may need to take a little breather to cool down.
Being on the water in general is a beautiful atmosphere but to paddle beside icebergs as the kayak gently rocks over the small swell and anticipation builds with whales able to appear at any moment is something else. Both equally relaxing and adrenaline pumping.
The quiet you'll experience on the water is only interrupted by spouting whales and soft strokes breaking the water surface or, if you're really lucky, the awe inspiring sound of a calving iceberg.
Led by an experienced kayaking professional, you'll be guided along the coast from the harbour towards the Ilulissat Icefjord under the rays of the midnight sun. If you're visiting in July, the sun won't reach the horizon, instead providing endless ideal photography conditions. Warm evening sunlight shimmers across the water surface…it's truly spectacular.
Recommended tour – Kayaking Experience with World of Greenland
Photo tip: Because it's important to of course focus on paddling your kayak, a little waterproof/action camera will be your best option for this tour. The Olympus TG-6 enables you to capture RAW files, video and will handle the freezing cold conditions like a little champ.
One thing to try while you're able to get that close to the water is a split-level shot. You can read my guide to photographing split-level landscapes here but essentially just dip your camera in so the water level sits half way up the lens. There's no much to see beneath the surface (unless a whale passes close by) but the movement of the water will provide a great angle with unique composition.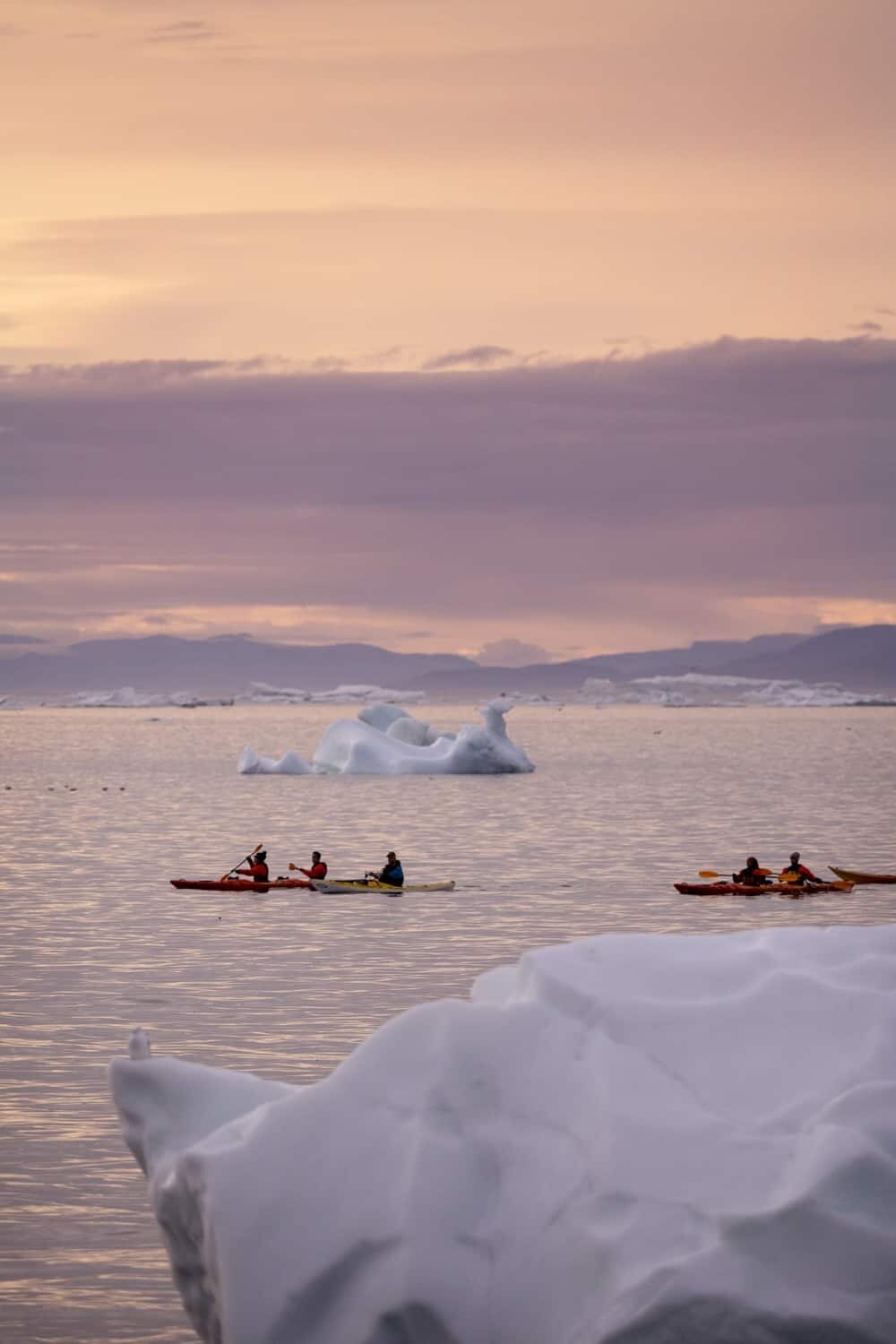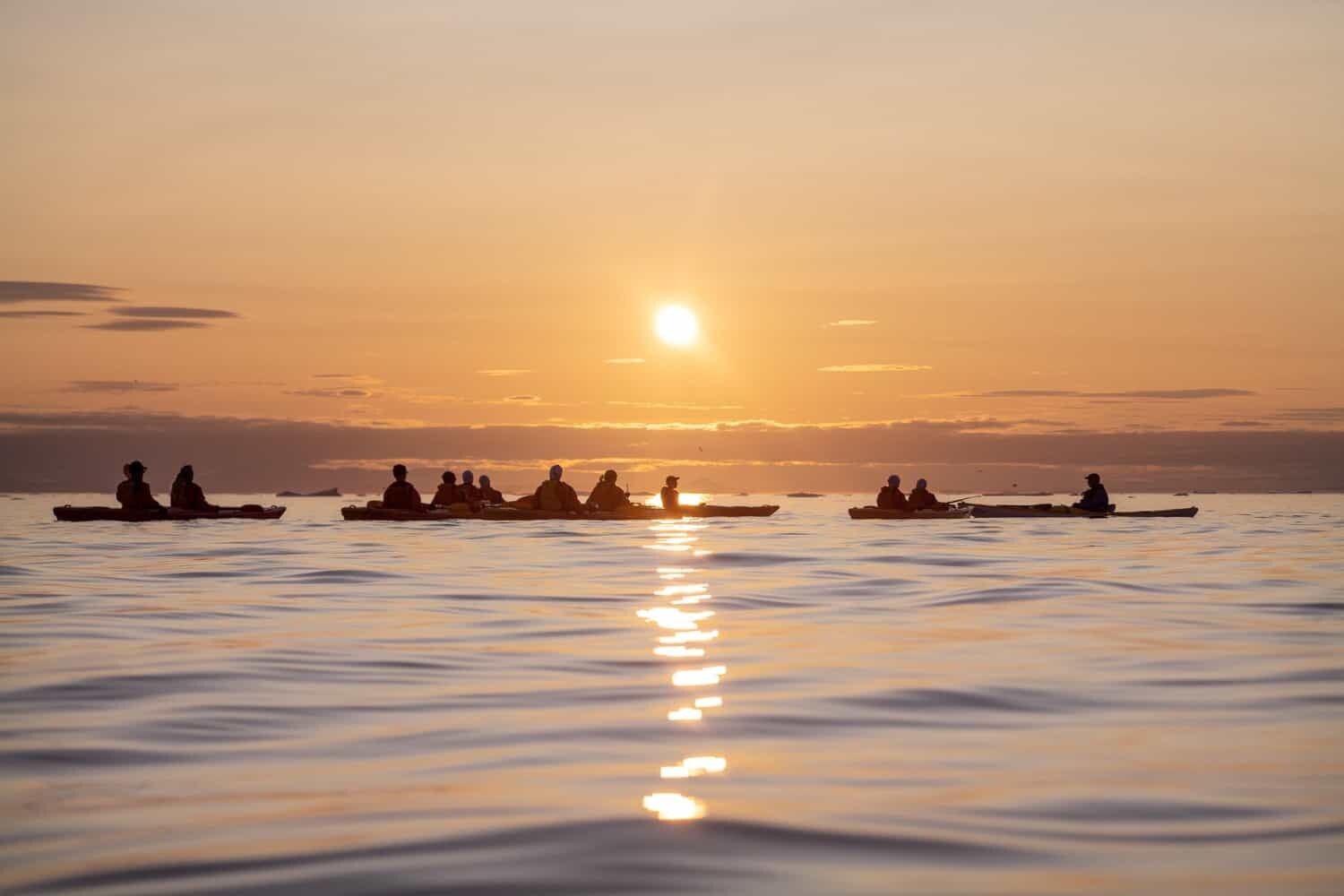 ---
Sermemiut Historic Hike
Classified as a World Heritage site in 2004, the Sermemiut Settlement is located beside the Icefjord, just a short walk from the township of Ilulissat. For 4000 years, various Inuit cultures and communities living at the settlement of which you can still see remains across the landscape.
Due to its popularity and also that it forms part of the blue trail hiking route, you can venture along the boardwalk yourself at any time or opt to do a tour with a World of Greenland guide. Having a guide to share stories of the lifestyles and traditions adds to the experience of imagining just what life would've been like inside the turf huts.
Icebergs form an impressive backdrop as the walkway leads towards Nakkaavik, known as 'the place to fall'. The viewpoint is a rocky cliff where a shocking yet selfless act took place centuries ago. Women from the Inuit communities living at Sermemiut would throw themselves off the cliff when they believed they were a burden to society. Something that until you've seen the harsh environment they lived in would sound totally crazy. The men would instead wander into the landscape, never to be seen again.
Photo tip: The hike isn't too demanding so you can take a camera bag with your entire kit inside. You'll want both a wide angle lens to photograph the settlement and horizon of icebergs, plus a zoom to capture the detail of the Icefjord before you.
---
Photograph Whales on Safari
Witness two natural wonders together, icebergs and whales on a sea safari. Cruise the Ilulissat Icefjord where whales gather as krill are stirred up by the churning currents during summer.
Your captain will slowly venture around the icebergs on the look out for distant spouts of water or flocks of seagulls indicating whales may be close by. Keeping in constant contact with local fisherman, the chances of seeing whales are very high so grab a seat on the top deck (wear lots of layers) and have your camera ready to go!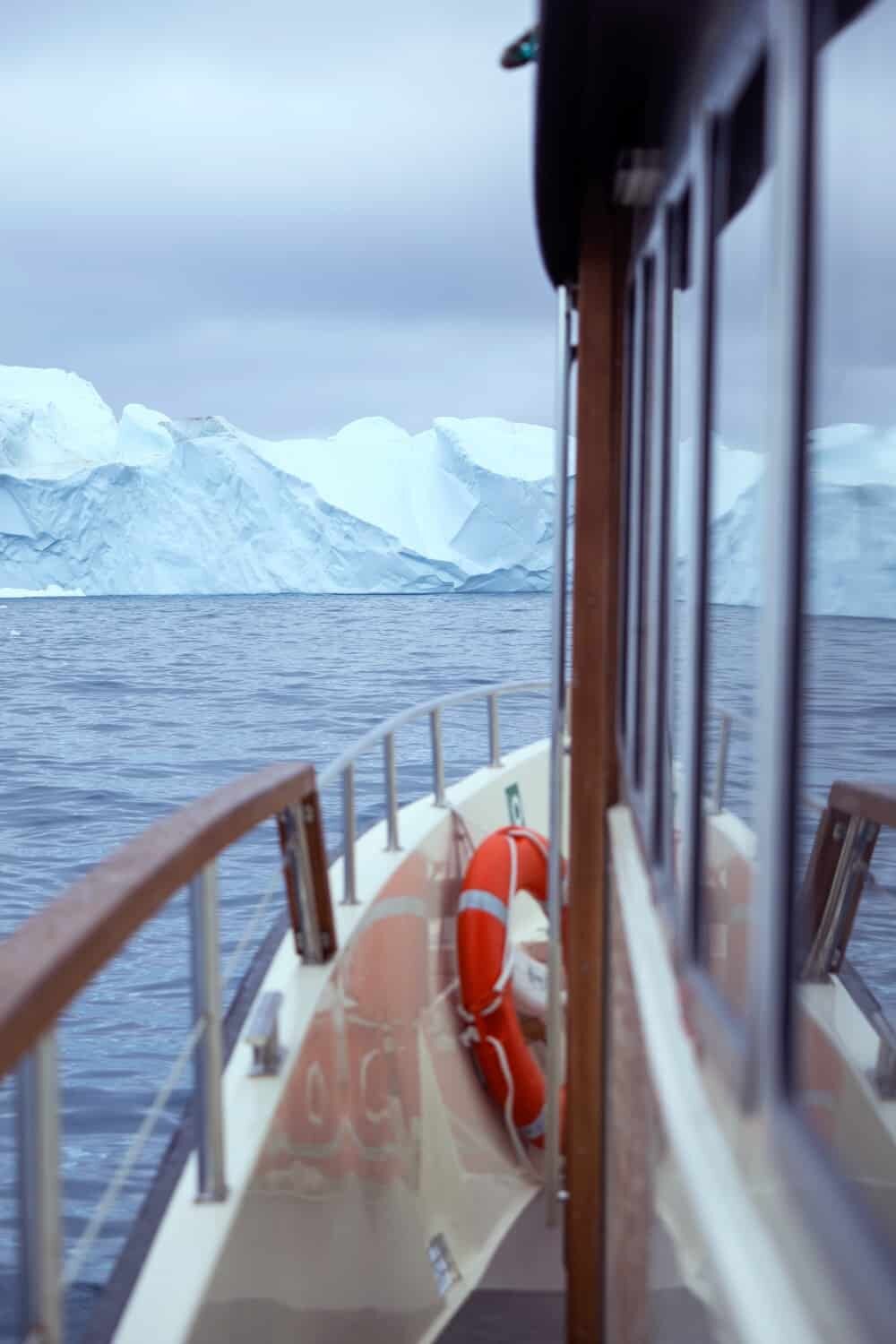 The coastal waters of Greenland see about 15 species of whale throughout the year however the most common sightings are of the Humpback whales and if you're lucky, you may see a minke or fin whale. With the humpback quite active in the water, you'll need to have your camera ready to go for any fin or tail slaps along with the always impressive breaching.
When photographing the whales in this region, I was fascinated by how the seagulls work with them to collect krill that get discarded into the air. Not only are they onto a very good strategy, they make for a fantastic additional subject within images, further enhancing the movement of an image and size of the whale.
Photo tip: Due to the unpredictability of where and when the whales will appear, it's important to have a reliable zoom lens available on this trip. I photographed with the 40-150mm f2.8 on the Olympus E-M1 MKII and also had the 300mm f4 pro lens on the E-M1X to make sure I covered all bases.
Using the icebergs within your composition is a great way to add to the story of your image. Their patterns and contrasting white colour against the sea and black whales creates a beautiful landscape scene!
Read more – The Benefits of a Zoom Lens While Travelling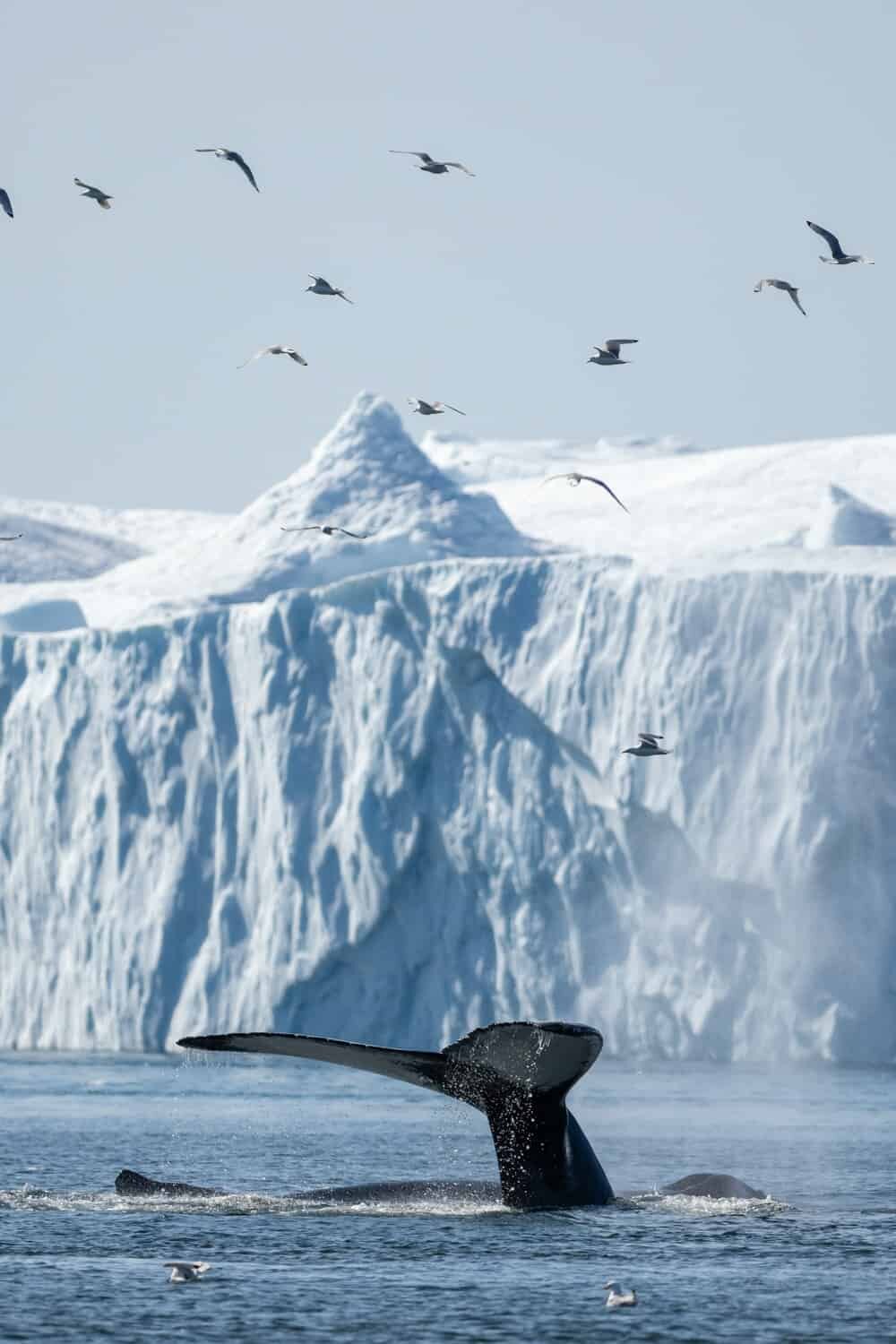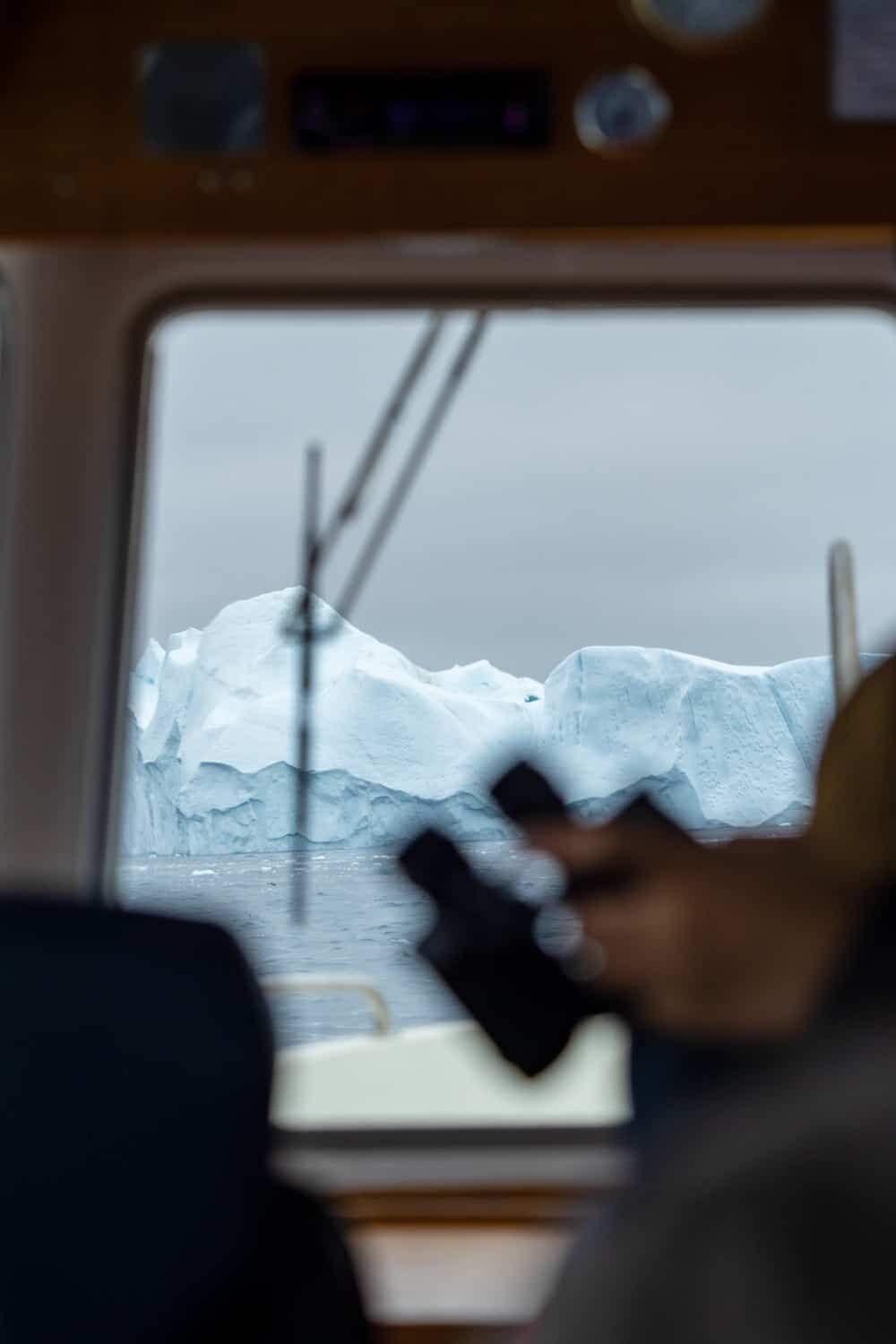 ---
Wander the Colourful Streets of Ilulissat
You've heard of the yellow brick road but in Ilulissat the rainbow-like skyline will have you composing shots and skipping along the streets all over town.
When timber kits were originally sent from Scandinavia to Greenland, the houses were painted in bold colours to represent their function. Red was commercial, yellow signalled a hospital, blue was for fishing and black, the police station.
Now you'll find colours every shade of the rainbow (or Pantone palette) scattering the hillside overlooking the waters of Disko Bay. The tradition of painting both houses and commercial buildings in bold tones has continued although now the representation isn't as exact representation of function. Instead, they form a vibrant town that's worth exploring just as much as the icefjord you've no doubt come to see.
World of Greenland operates walking tours throughout the summer months in Ilulissat to give you an overview of both the history and significant buildings. Wandering with an experienced guide is a great introduction to visiting Greenland as you'll not only hear about what you're seeing but some stories and traditions too.
If you're short on time, I can highly recommend wandering down to Zion's Church, one of the northernmost churches in the world, which is located on the shore close to the town centre and very photogenic!
Photo Tip: Get low to use the numerous flowers in bloom to add even more colour and a beautiful frame to the scene. Also venturing out around midnight during summer will provide a gorgeous light with almost no one in the streets!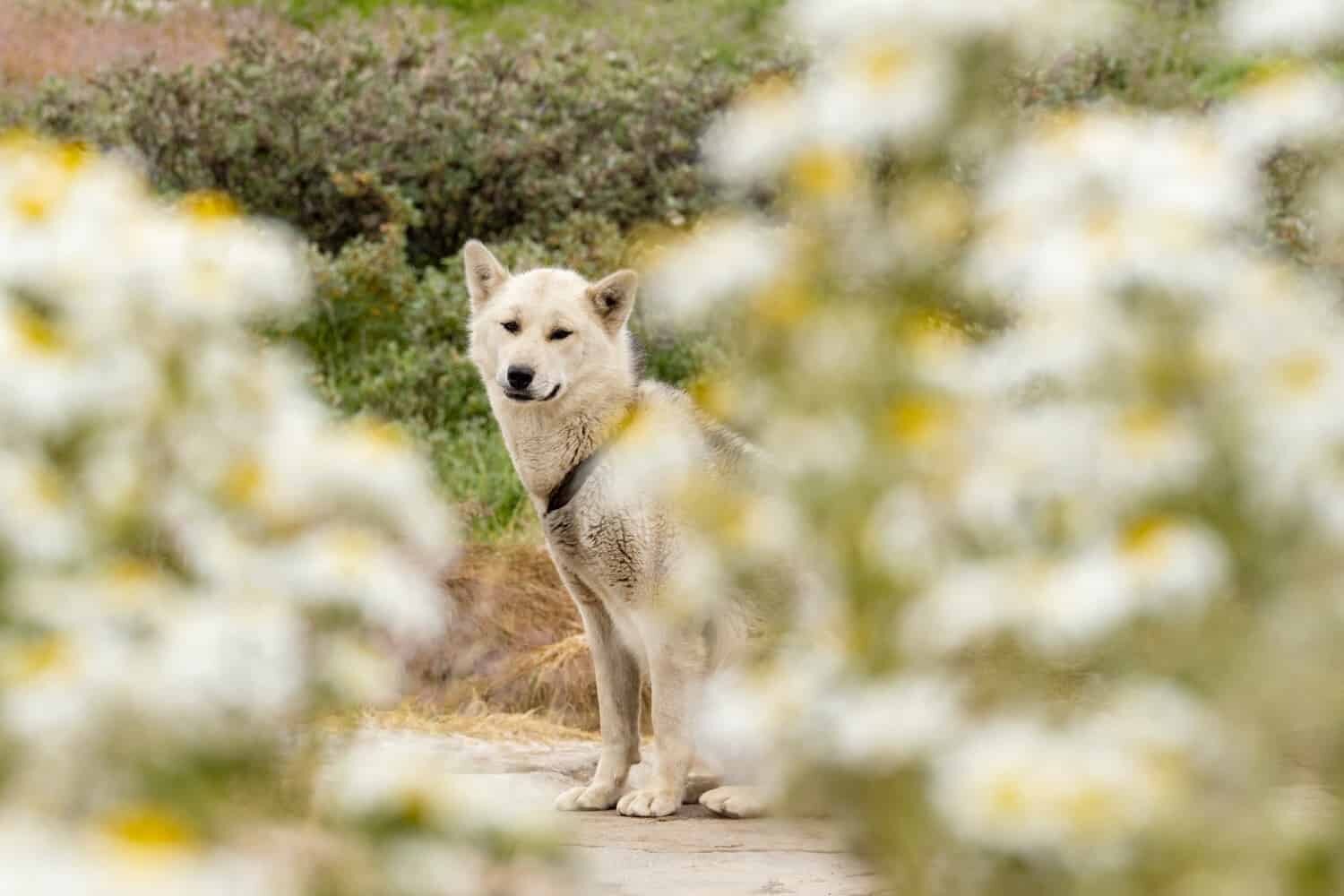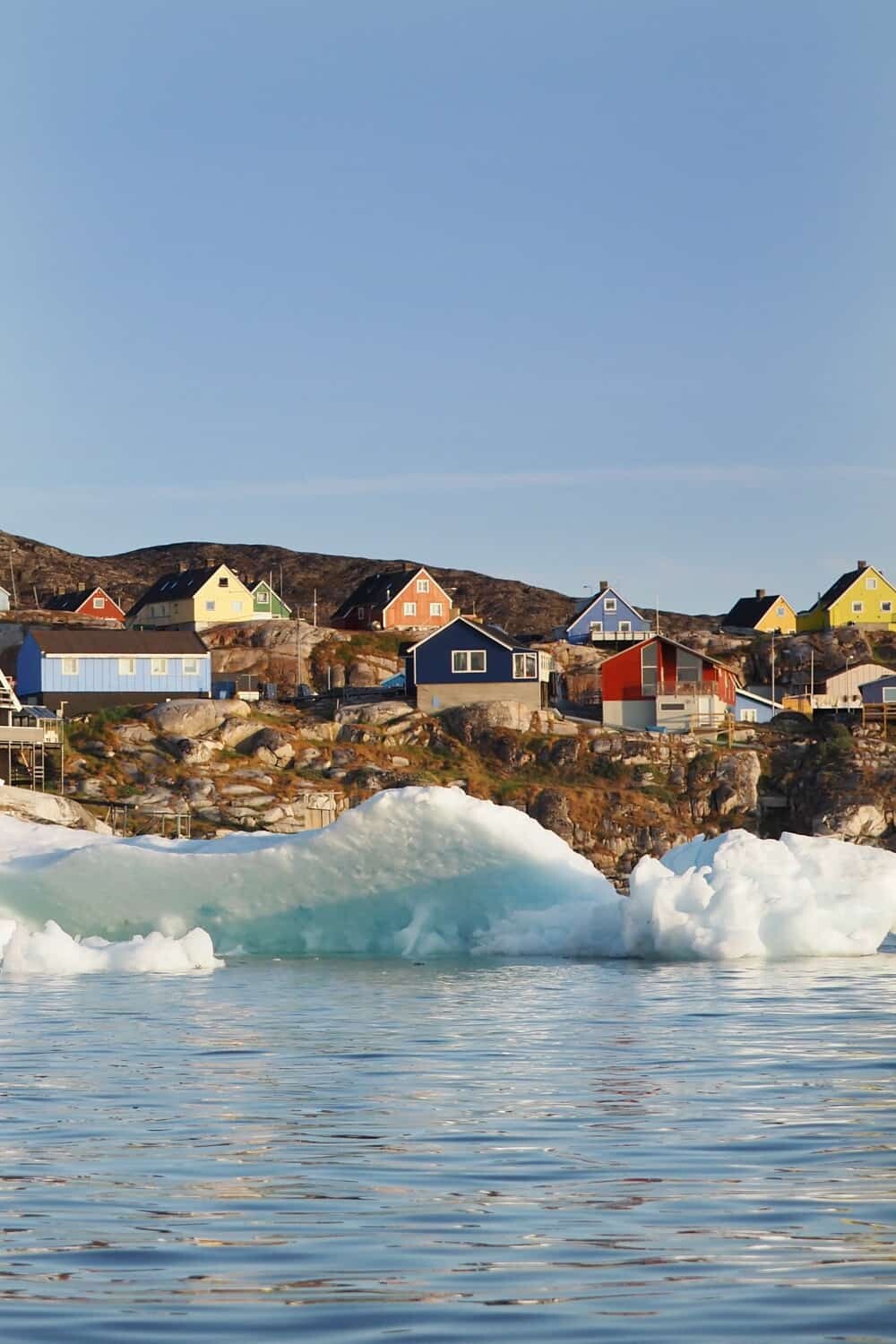 ---
Hike the Coastal Yellow Route
Kicking off from either the power station or trailhead of the blue/yellow route you can wander on this hike at your own pace to enjoy incredible views over the Icefjord.
This was my favourite trail in the Ilulissat area as I was accompanied by whales the entire route along the coast…no joke, for hours. They were swimming up and down so slowly, fishing on krill and providing a soundtrack of spouts as I criss-crossed over the rocky hillside. One of the best days I've ever spent outdoors and I hope that anyone else who ventures along this trail has a similar experience.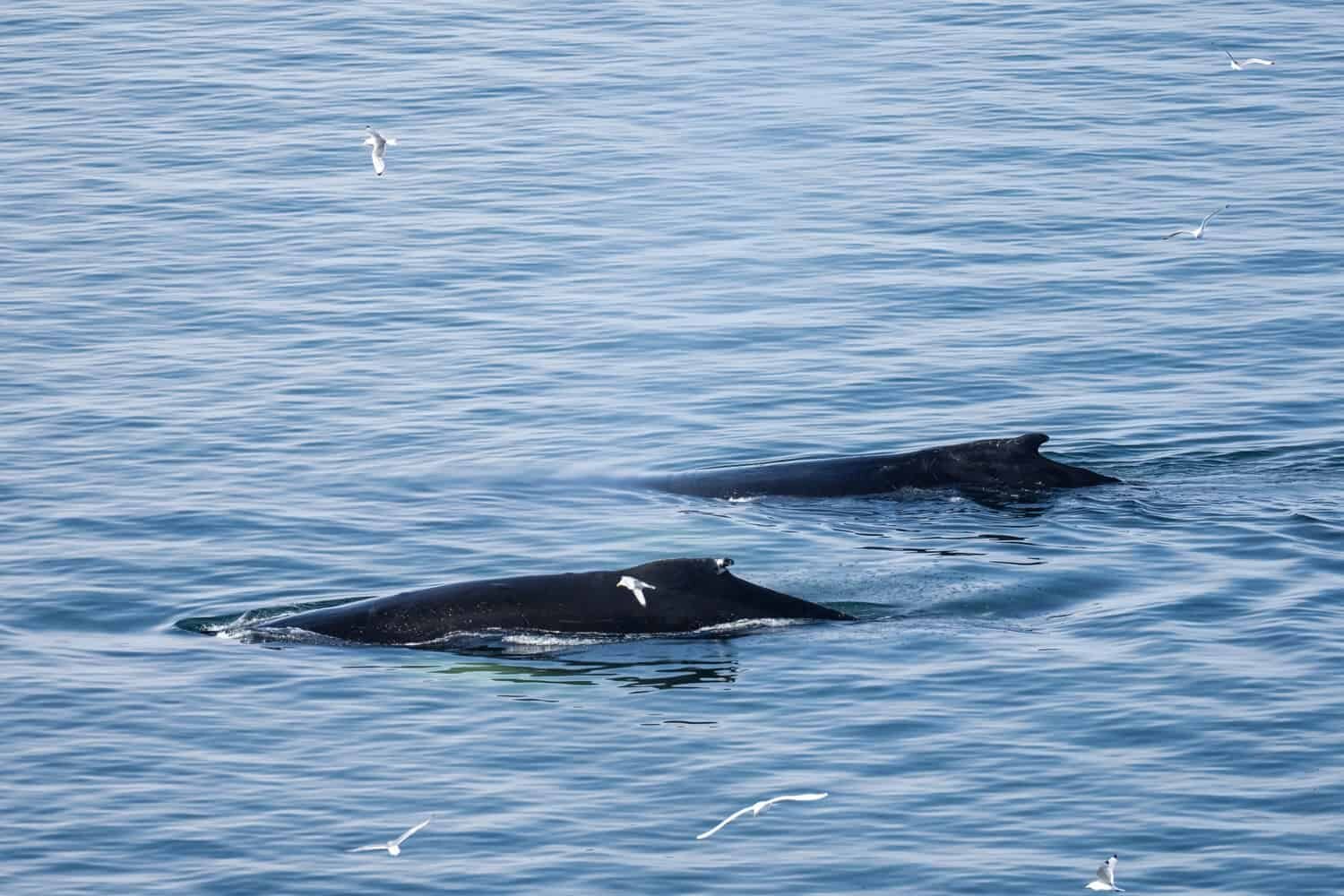 From downtown Ilulissat the hike all the way to the icefjord takes roughly 2hours but give or a take a little depending how fast you walk and of course, how many photos you stop to capture. It's not necessarily strenuous however it's worth having decent hiking boots, pack some snacks and make a half day of it to really soak up the beauty.
The shoreline route not only provides an opportunity to photograph the scenery, icebergs and whales but you'll come across some colourful flora and also have the chance to spot the very illusive and cute Arctic Fox.
Photo tip: While I normally recommend packing as little as possible on a hiking trip, I feel like is one route where you may want to use all of your available lenses. Because you're shooting from solid ground rather than a boat (like many of the other tours), you've got a chance to really take your time and observe the icefjord. That said, I captured images on a 12-40mm f2.8, 40-150mm f2.8 and 300mm f4 lens.
You can grab a map from the World of Greenland office or rough it a little and follow the markings.
*In the summer months you'll want to have a fly net hat available because the humid conditions create a swarm of buzzing bugs that can quickly turn your experience into a negative one. However, with a very fashionable hat at your disposal, you'll be totally protected and can continue you on enjoying the views!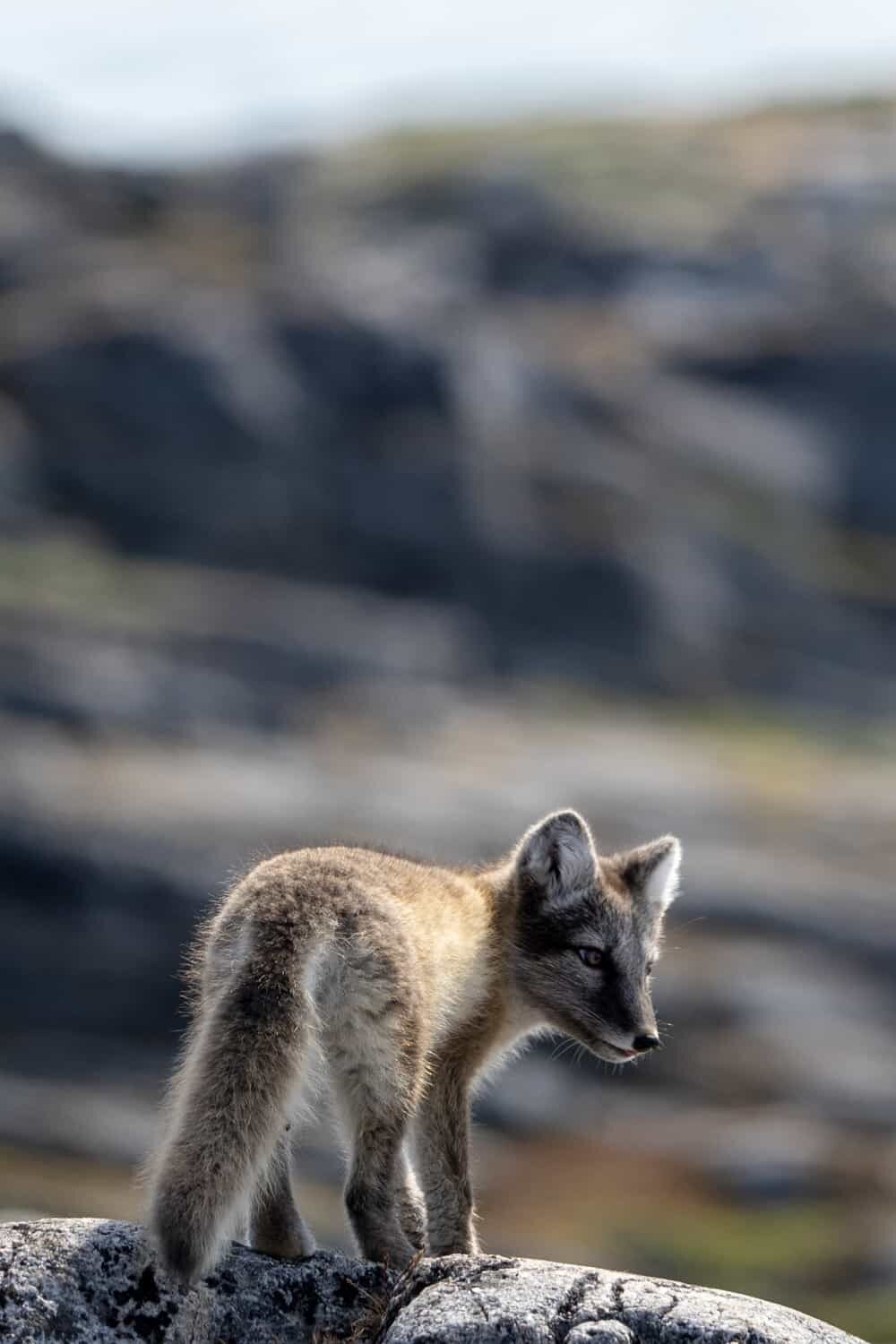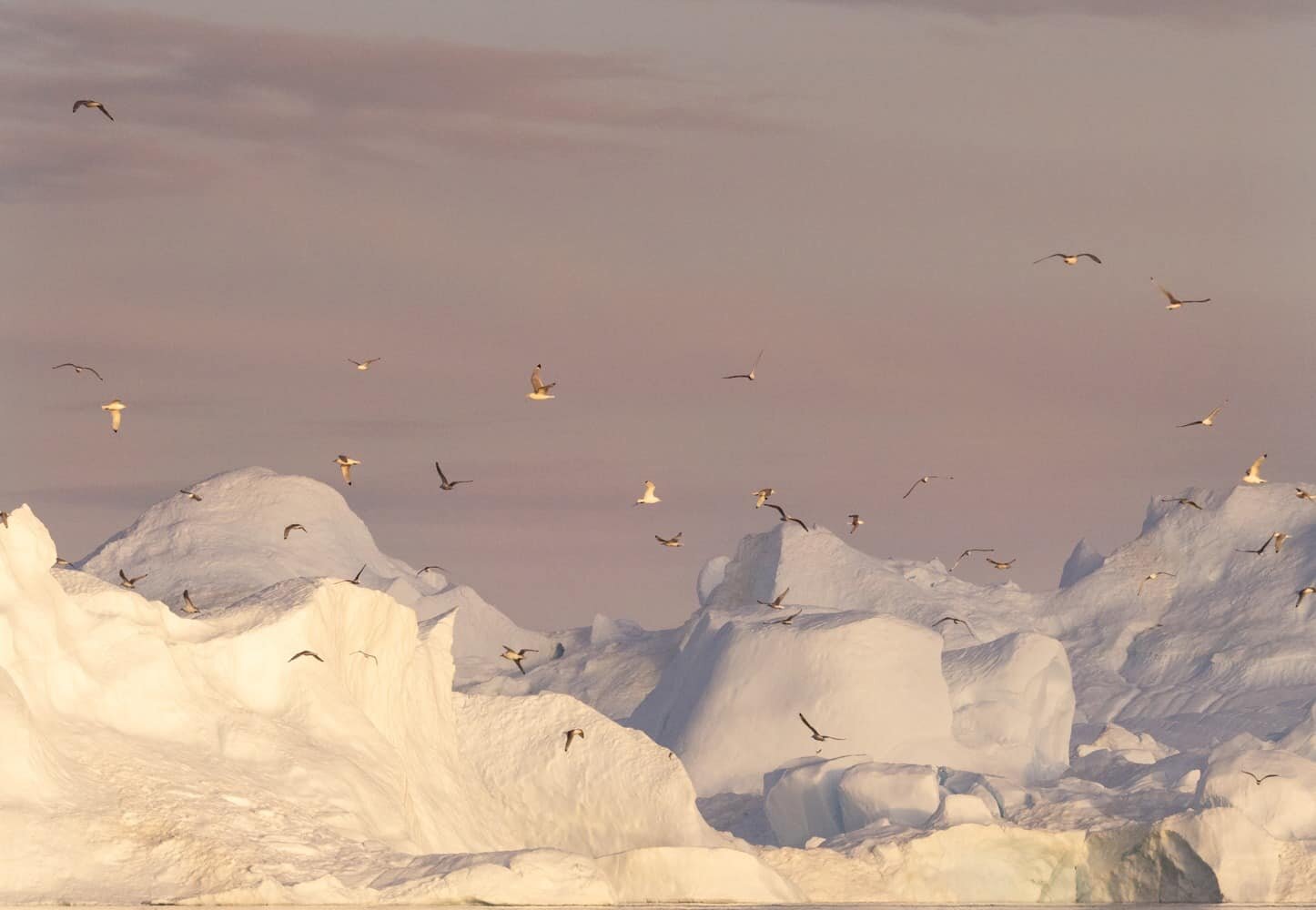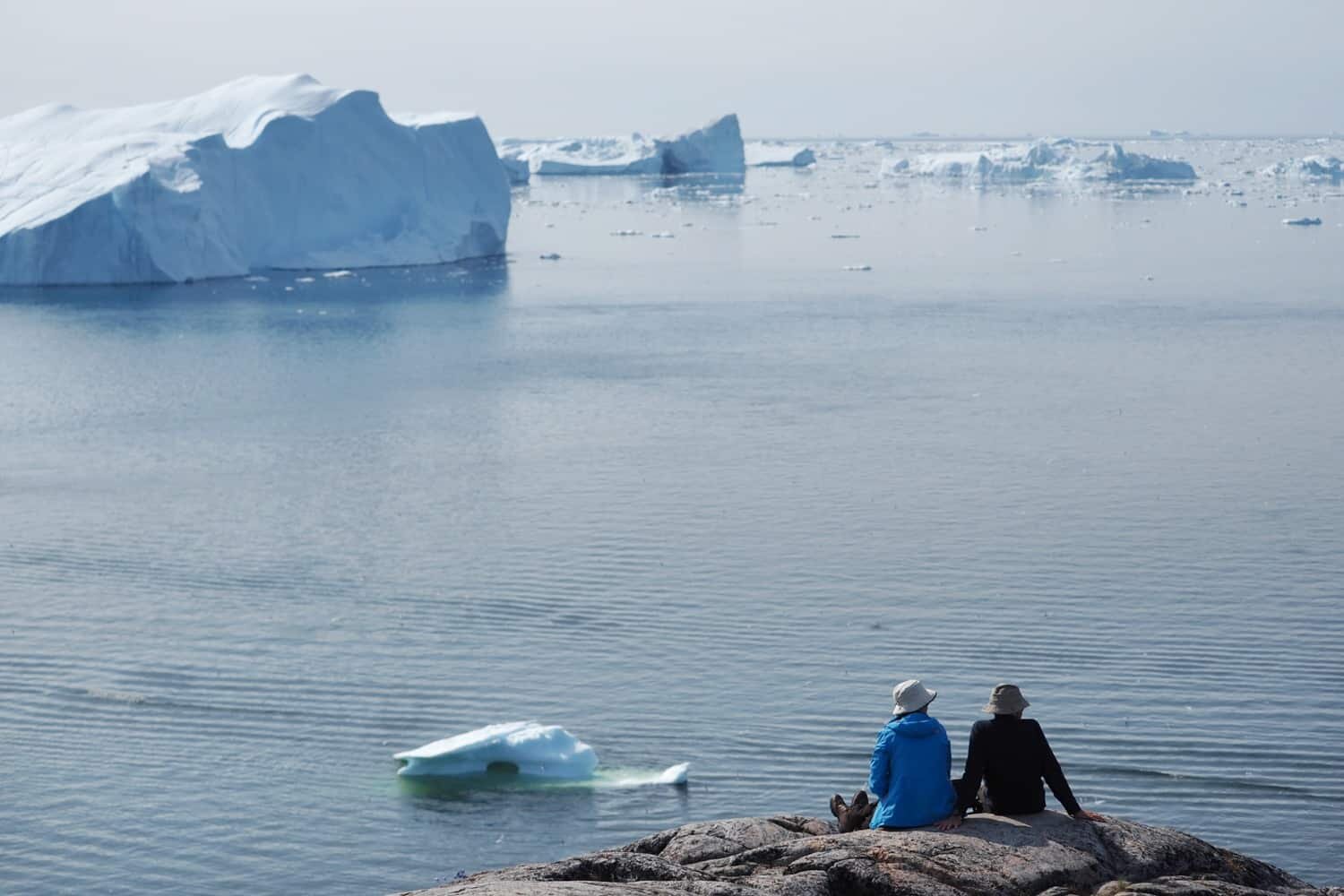 ---
Fly above the Kangia Glacier with Air Zafari
An aerial vantage point is always worth opting for if you're a photographer, especially when the landscape is as vast and epic as that of the Ilulissat region. From take off to landing your eyes will be in awe of the scenery below.
In a small plane you'll fly up to 65km down the icefjord with massive frozen structures beneath forming a canvas you'll no doubt want to photograph again and again. From above you're able to see the meltwater streams as their vibrant blue colour contrasts strikingly against the white ice. There's also a helicopter tour that can take you right to the glacier's edge! Take a peek at the available tours here.
Opting for 'The Kangia' route will take you over the northern glacier 'Sermeq Avangnardleq' and then onto the mighty Isua Glacier which is where the UNESCO World Heritage Site begins on your journey back through the icefjord.
Read about my experience flying over Sermeq Kujalleq here.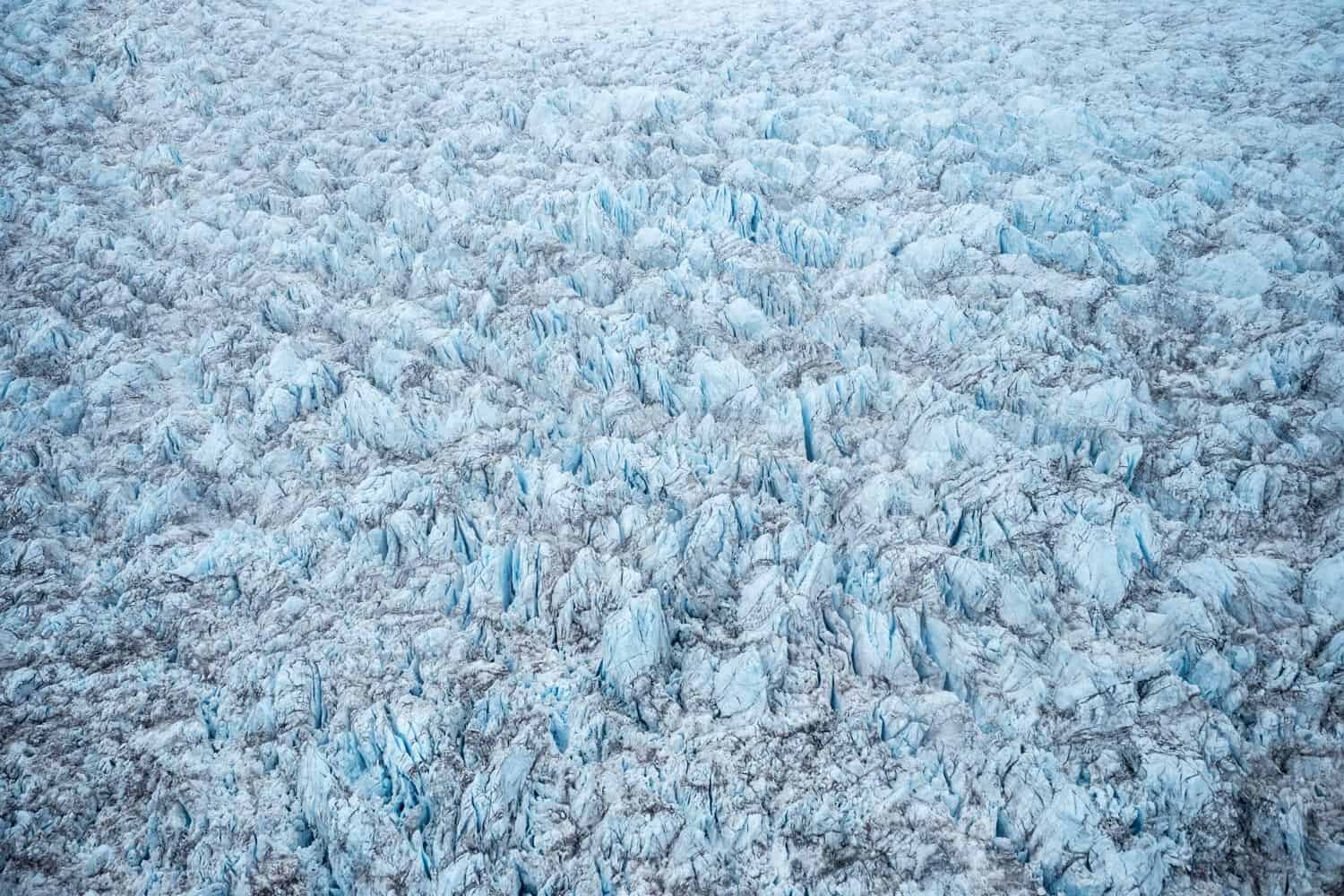 This glacier produces more icebergs than any other in the northern hemisphere so if you're trying to count how many icebergs you see…you may want to start at 10,000 and work from there. Banked up for miles down the icefjord, a flightseeing experience gives you a perspective like no other to see truly how expansive this natural wonder is.
Once you get a little closer to the mouth of the icefjord, keep your eyes peeled for whales as they cruise through the water beside the icebergs. Moments before landing we spotted what was initiatlly thought to be two whales…upon further inspection of my photos on the computer that night, I'd actually photographed six whales in a single image!
Photo tip: Try to get your camera as close as possible to the windows, using your finger to ensure it doesn't scratch the surface and ruin the experience for other guests. There's the possibility you'll get seriously snap happy (cue me rapidly photographing anything white at the start…which was of course, everything in sight), but take a moment to stare out the window and decide how you want to compose your images. No matter which flight route you opt for there's a minimum of 25minutes in the air so get comfortable, look around and then capture some of the best photos you'll ever take!
Also don't worry too much about a wide angle lens…you'll more likely be focused on a 40-150mm range due to the shape of the windows and of course landscape below.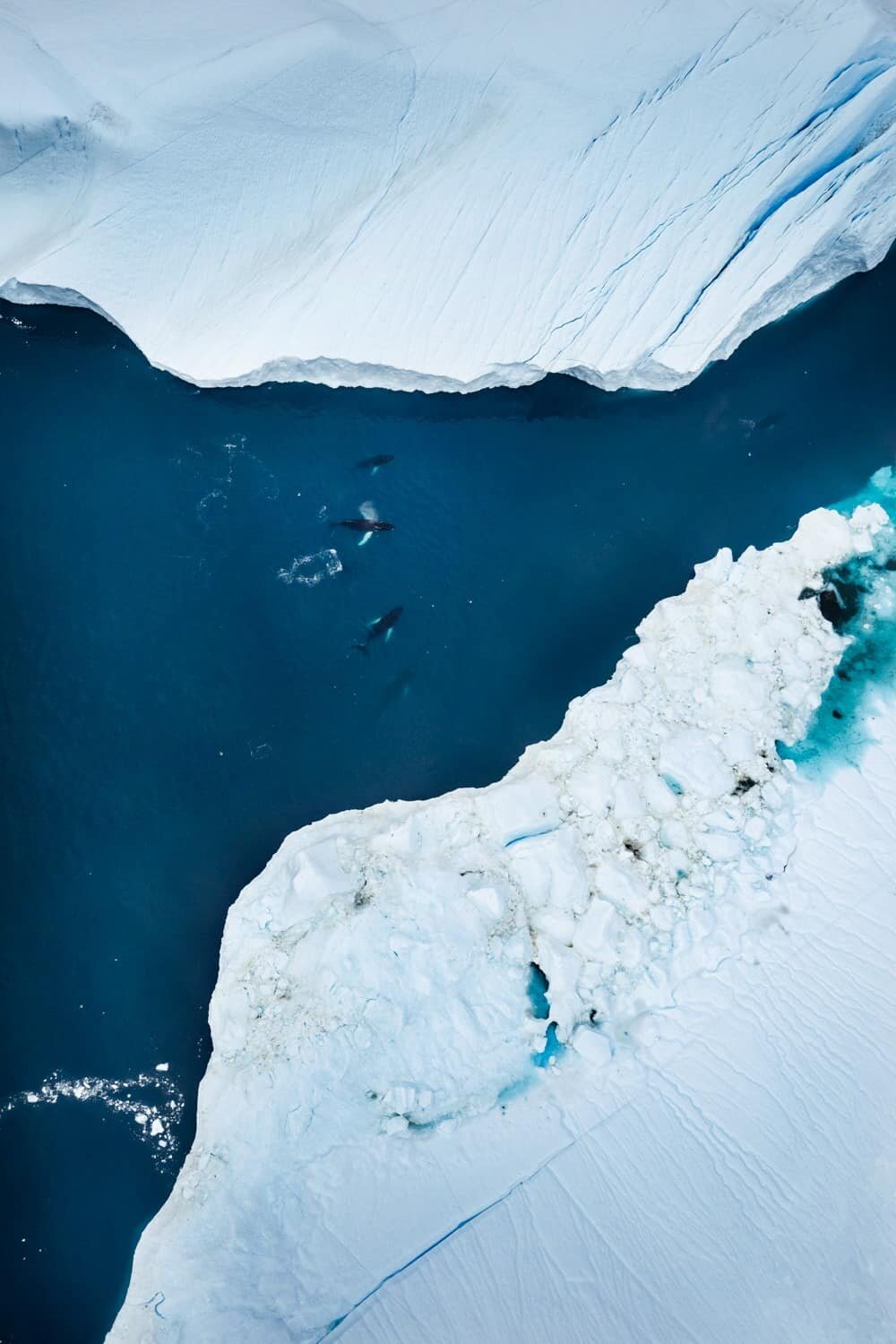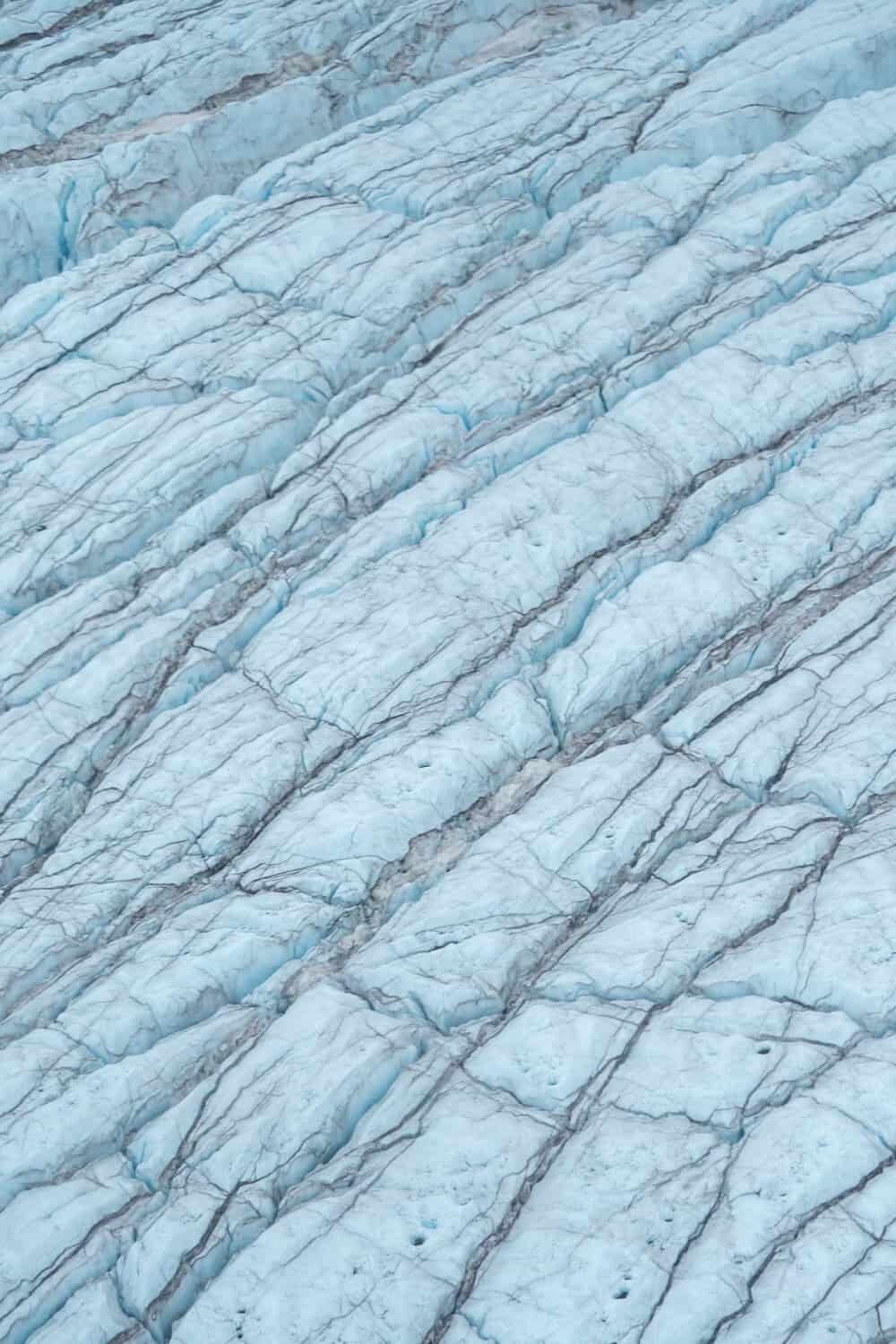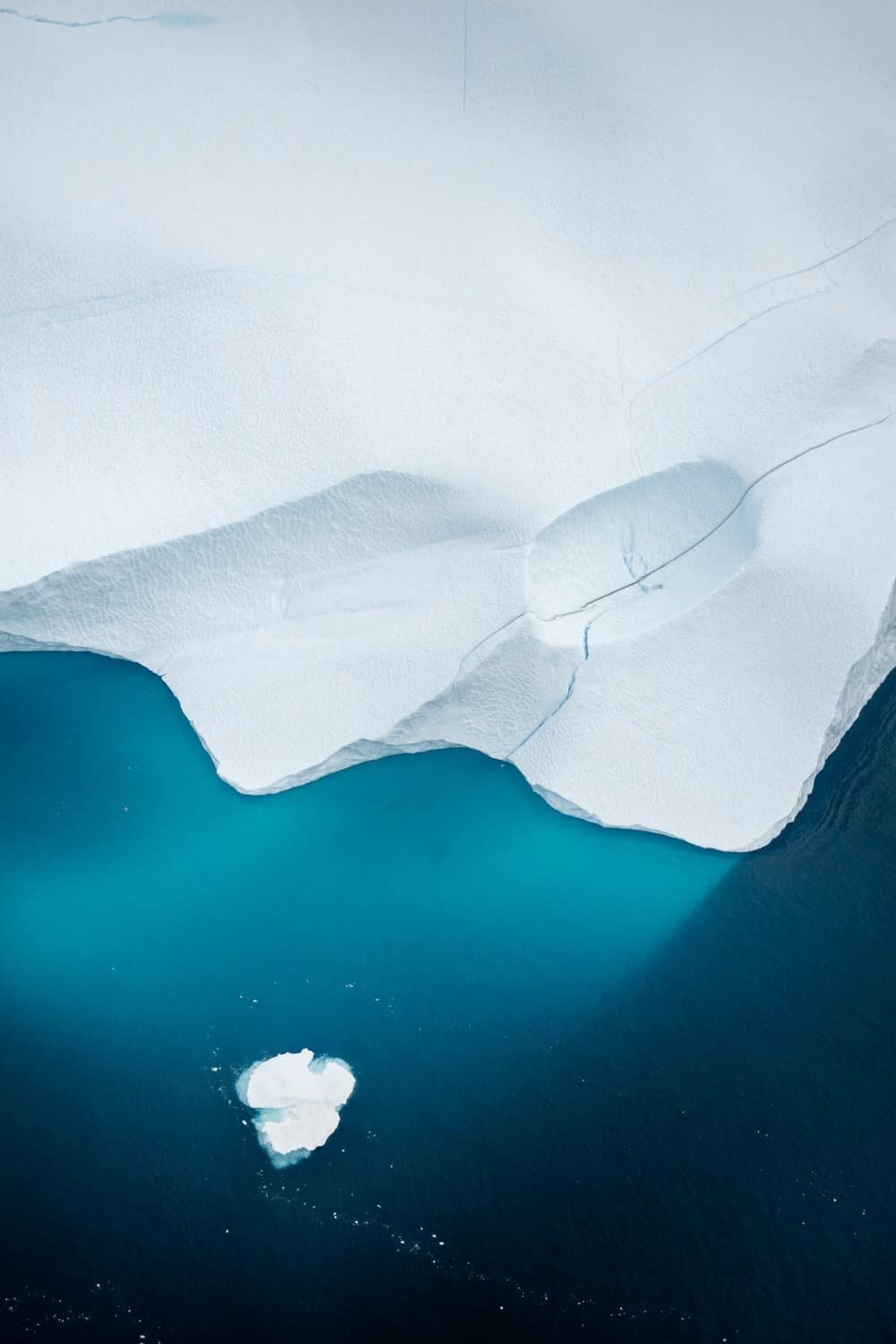 ---
Where to stay in Ilulissat –
The location of your hotel, apartment or lodge matters when visiting Ilulissat. It's the difference between a lot of walking, and maximising your time!
I based myself at Nuka Hostel, a new apartment-style complex right on the main street close to the World of Greenland office (your meeting point for most tours), supermarkets, cafes and the harbour.
Having spent a total of 10 nights there, can safely say it's where I recommend anyone looking for somewhere central stays. Despite being called a 'hostel', it's far from it with well-appointed and sparkling clean rooms, free WIFI (not found many places) and lovely staff! Plus there's cooking facilities in your room making those midnight snacks very possible about your adventures in the midnight sun. There's limited accommodation available in Ilulissat so be sure to book well ahead of your visit especially during summer! Check the best rates here for Nuka Hostel.
If you're after somewhere by the water there are two hotel options that provide beautiful rooms with ocean views so you can watch the icebergs and whales cruise by your window. Take a peek at both Hotel Arctic and Hotel Icefiord.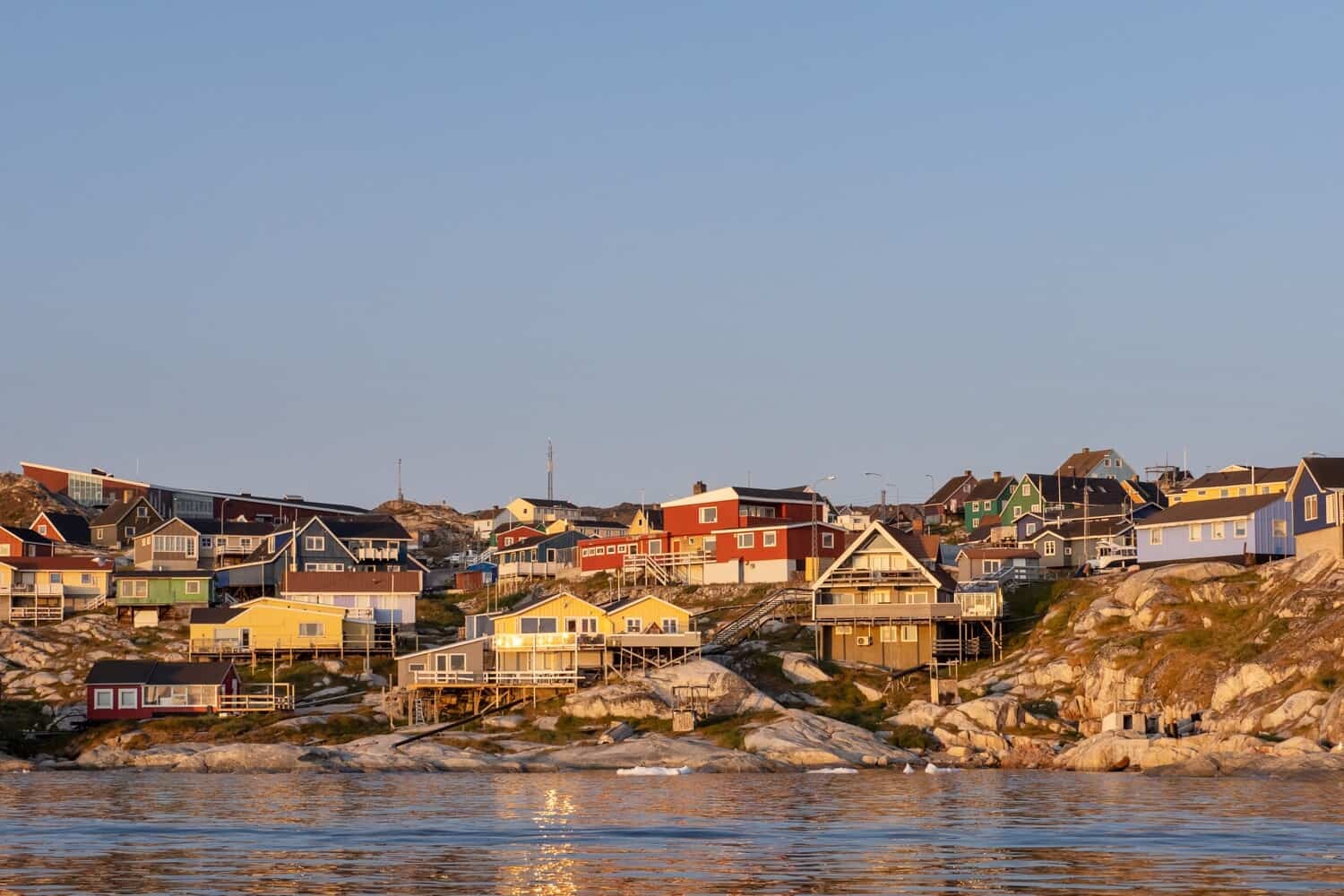 Ilulissat Map: Key places of interest mentioned within this guide –
Read more about how to photograph in these conditions –
Stay at Glacier Lodge Eqi – Sleep by a rumbling glacier!
3 Scenic Locations to Visit in Greenland
How to Use your Camera in Extreme Conditions + Climates
Weather Forecasting for Landscape Photographers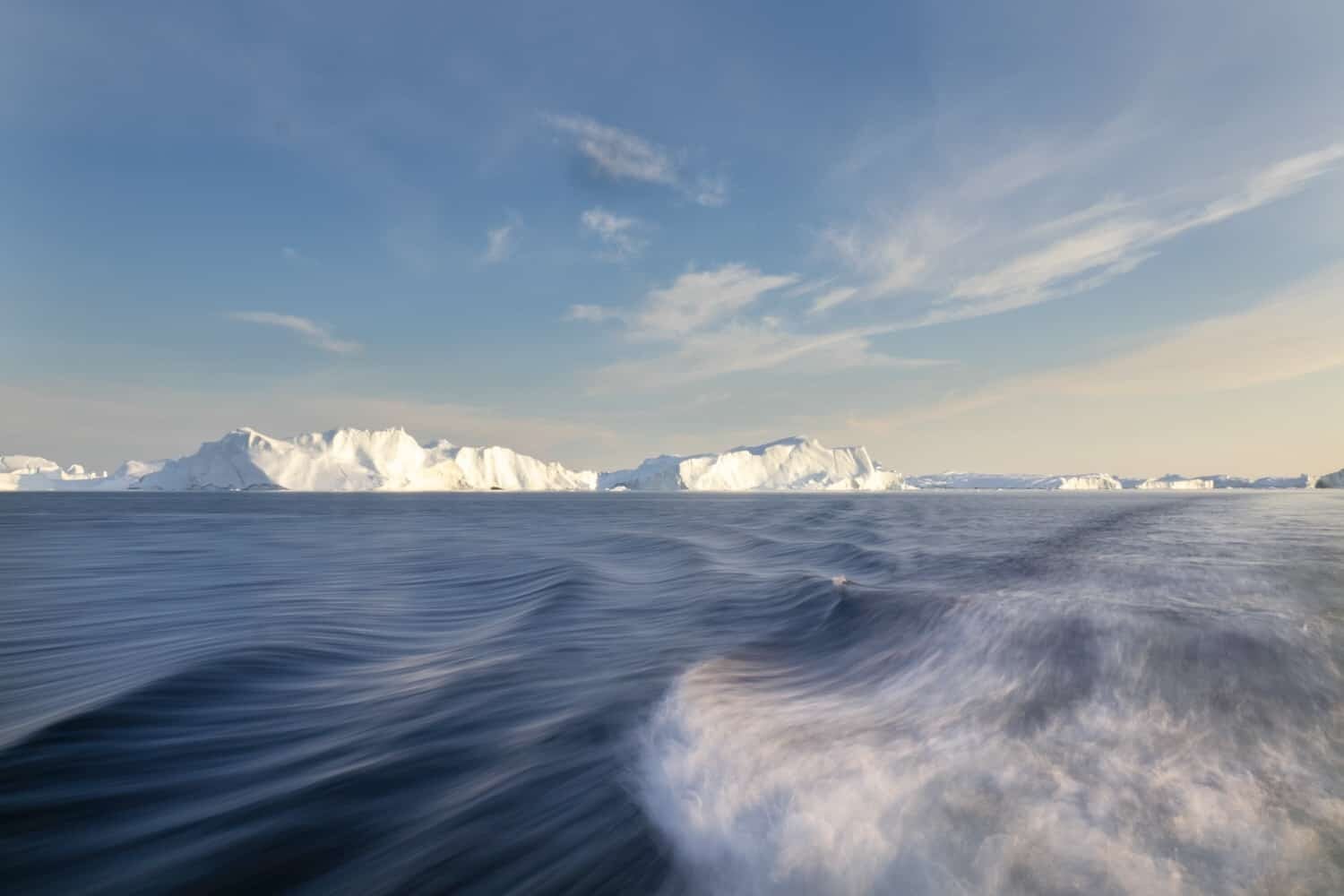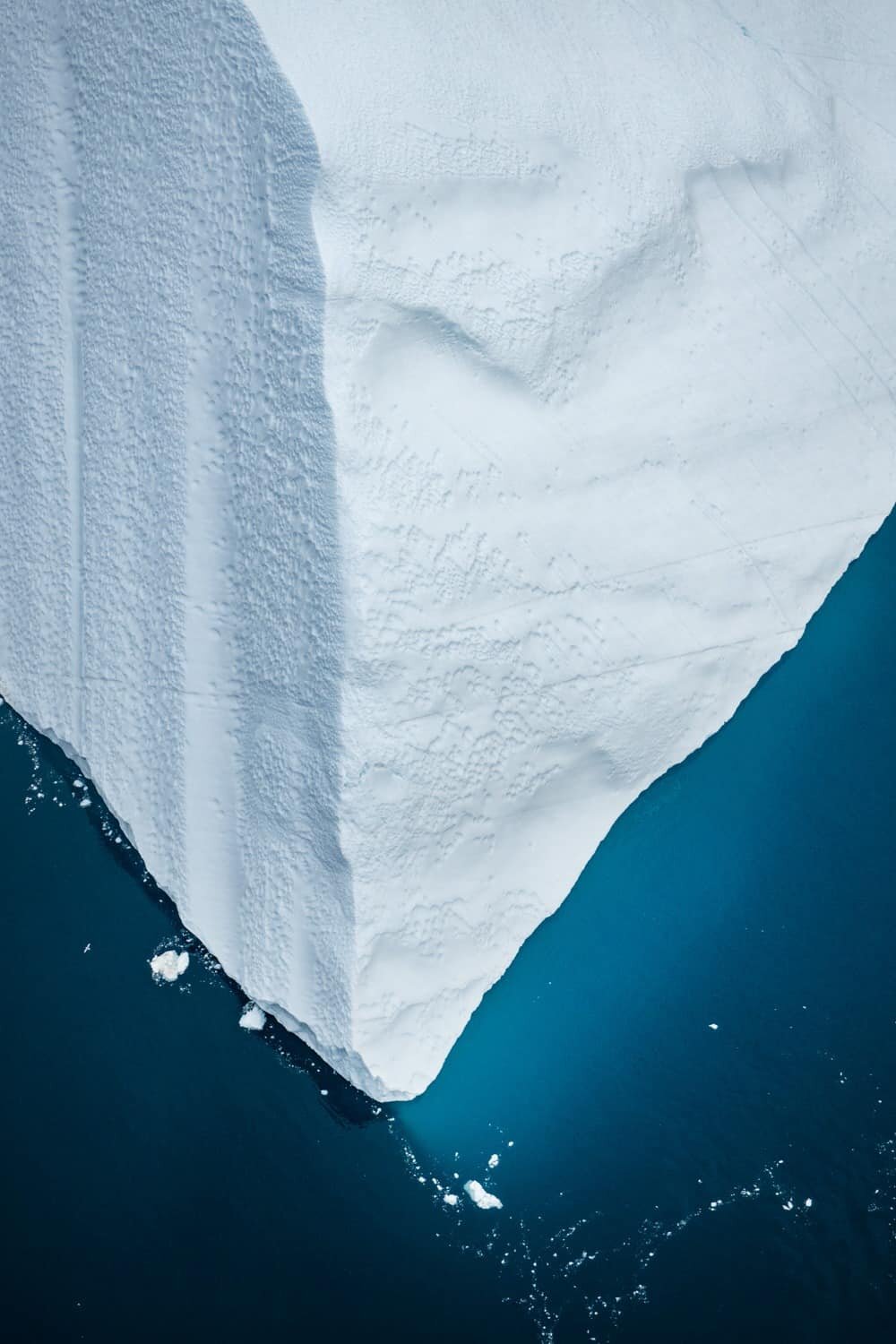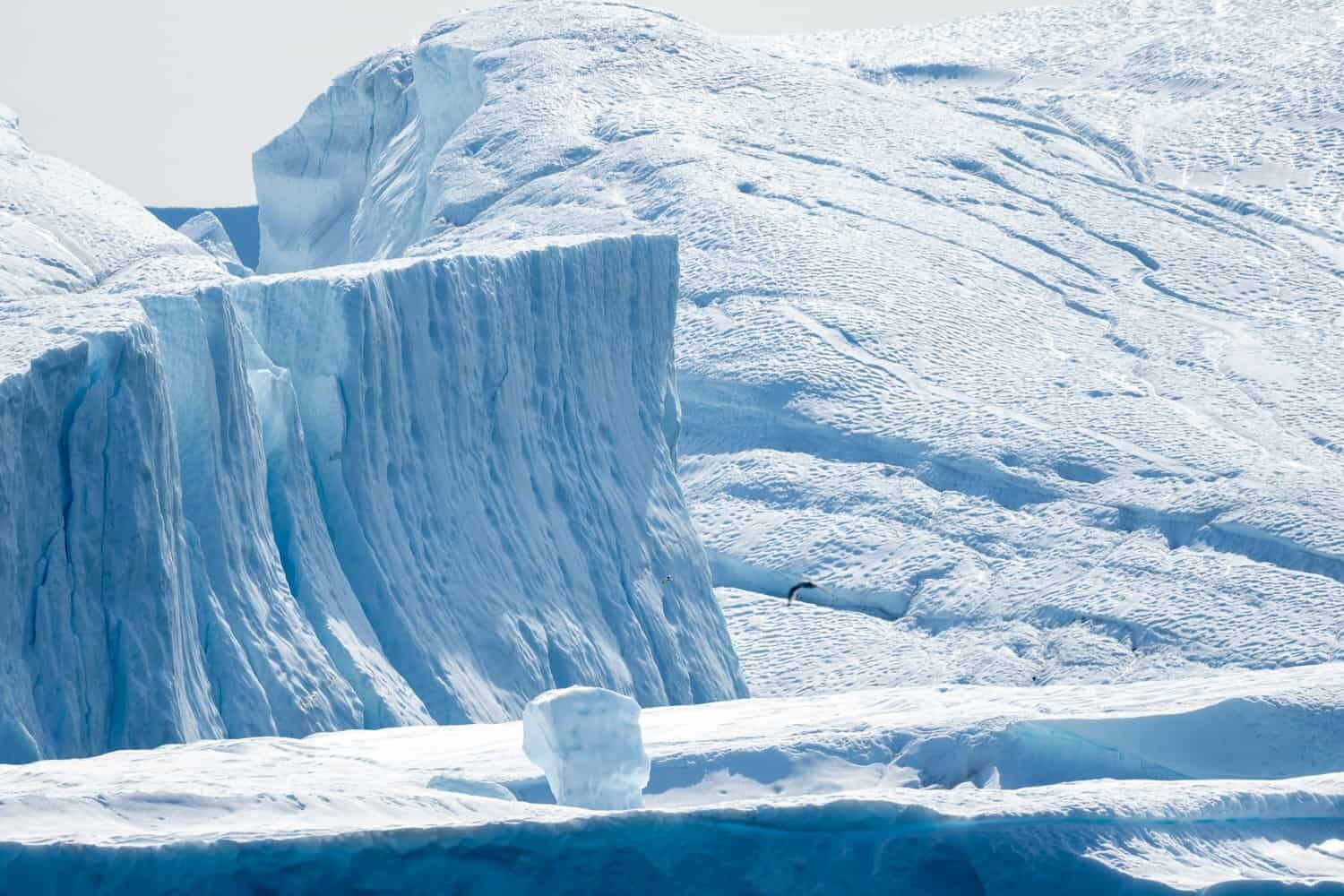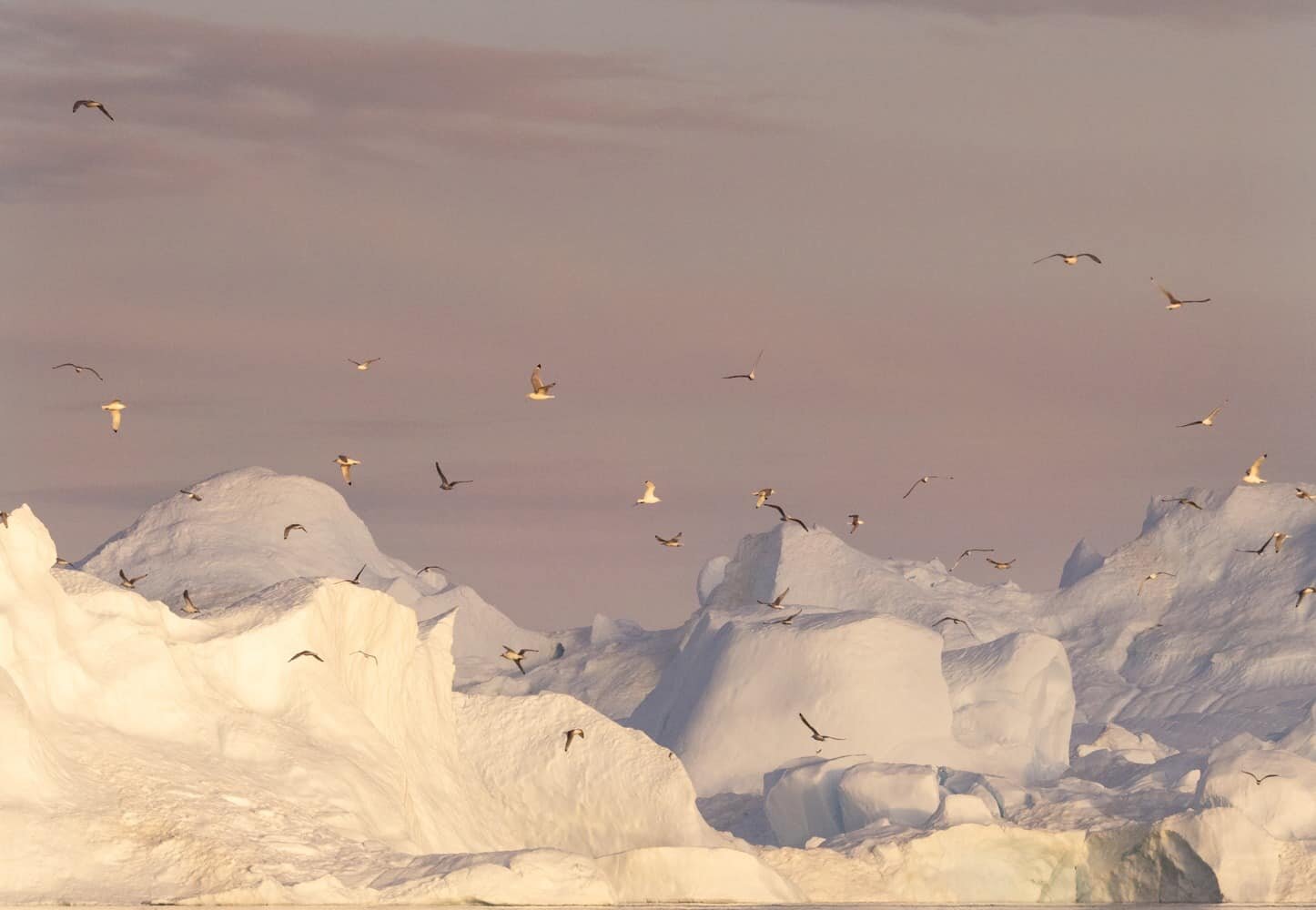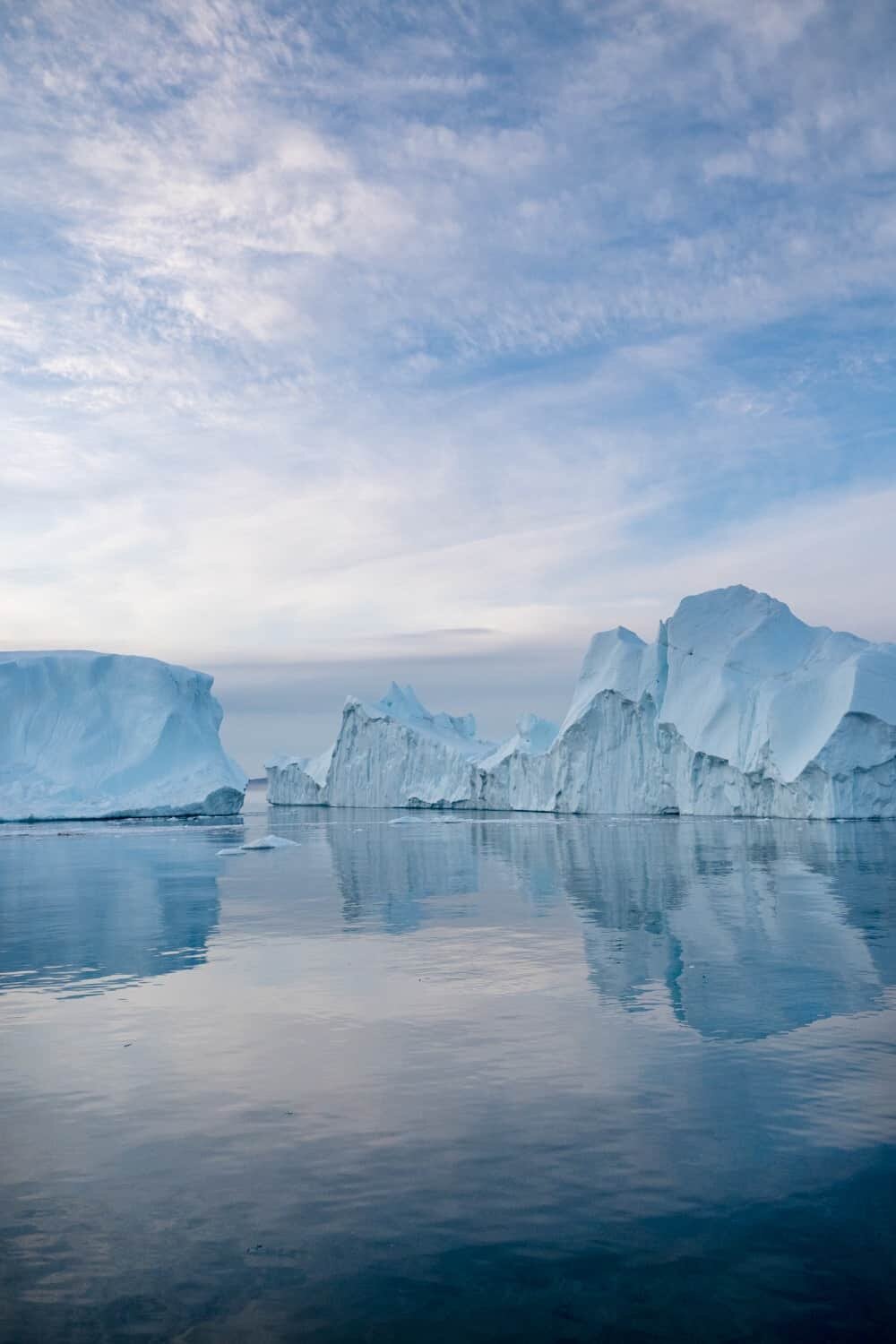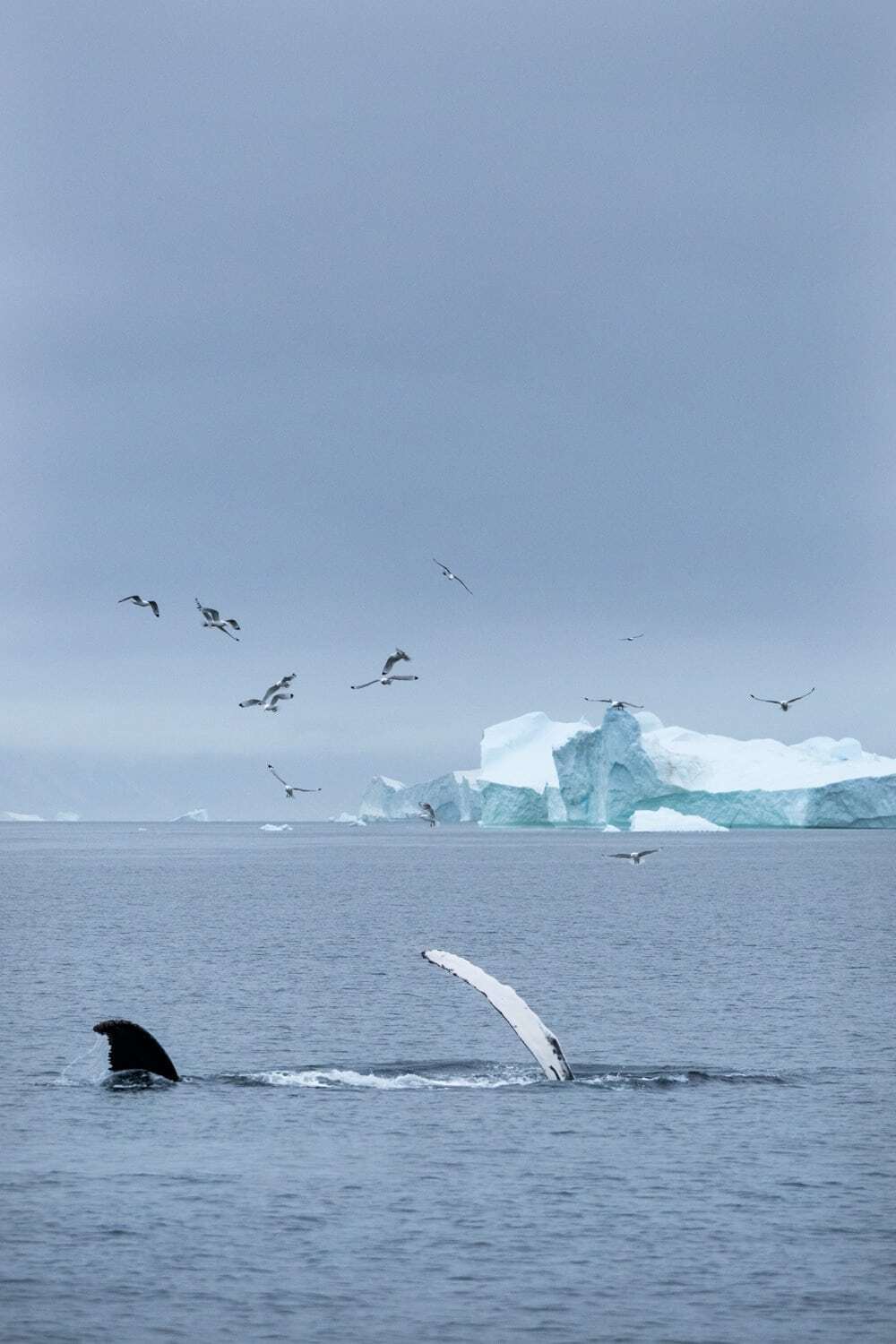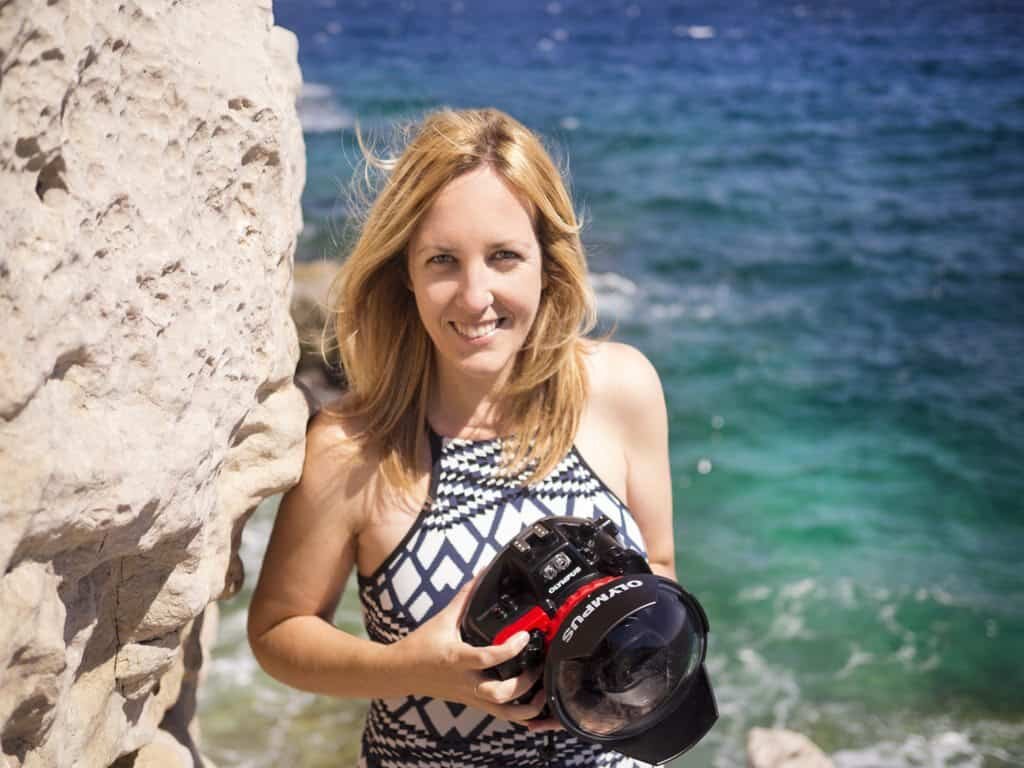 Hello! I'm the founder and photographer behind The Wandering Lens.
With 17+yrs experience as a professional travel and landscape photographer, all advice found on this site is from my personal experience on the road. I hope it's useful for your own travels and would love to hear in the comments about your trips and experiences around the world.