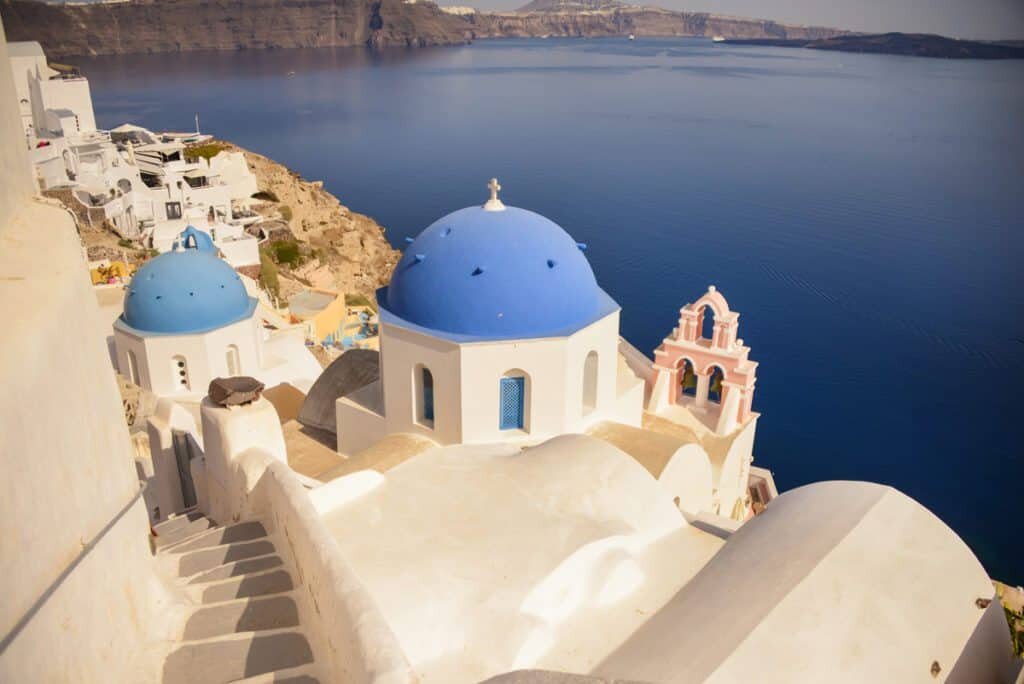 Santorini Photo Spots + Beaches
Dreaming of a romantic trip to Santorini with your camera?
Rugged cliffs rise from the Aegean Sea toward white washed villages perched overlooking a volcanic caldera.
Santorini is the glamourous star of the Greek Islands. It's iconic, strikingly beautiful and one of the most popular destinations in Europe.
Famed for it's white buildings and cave hotels, Santorini is where you'll find honeymooners, cruise trippers and of course photographers hoping to capture those iconic images.
Dazzling with it's dip into the water, watching the sun set here is an experience you can't miss when visiting Santorini. Blue domed churches, cave hotels and a landscape like no where else on earth, it's a place to visit and be wowed.
Below you'll find an interactive map to the best photography locations on Santorini, then some details on all the spots mentioned along with example images.
Interactive Map: The Best Photography Locations on Santorini Island
---
Your guide to – The Best Places in Santorini
#1 – Oia
While it's no doubt the most popular village on the island, Oia has lots of photogenic nooks where you can escape the crowds and capture a unique yet still iconic image.
Firstly, it's where you'll find the famous blue domed church of Santorini surrounded by colourful buildings. You'll find this spot just off the main pathway before Patisserie Medevio (if coming from the bus station or Fira direction), wander down the staircase to find the ideal view looking over the church.
West of the main tourist bustle, you'll find almost deserted streets even at sunset where you can wander and capture the warm glow against colourful doors and windmills. Head for Lioyerma Lounge Cafe Pool Bar and along the way you'll find loads to photograph! To read about more places to photograph sunset in Oia, check out my new golden hour guide to Santorini.
Another spot for an alternate angle is the path leading toward Caldera Villas and a small port at the base of the cliffs. Here you'll be treated to a number of vantage points looking up toward the churches and cave hotels of Oia along with yachts and the deep caldera waters below.
Click here to check out some of the amazing villas in Oia to stay!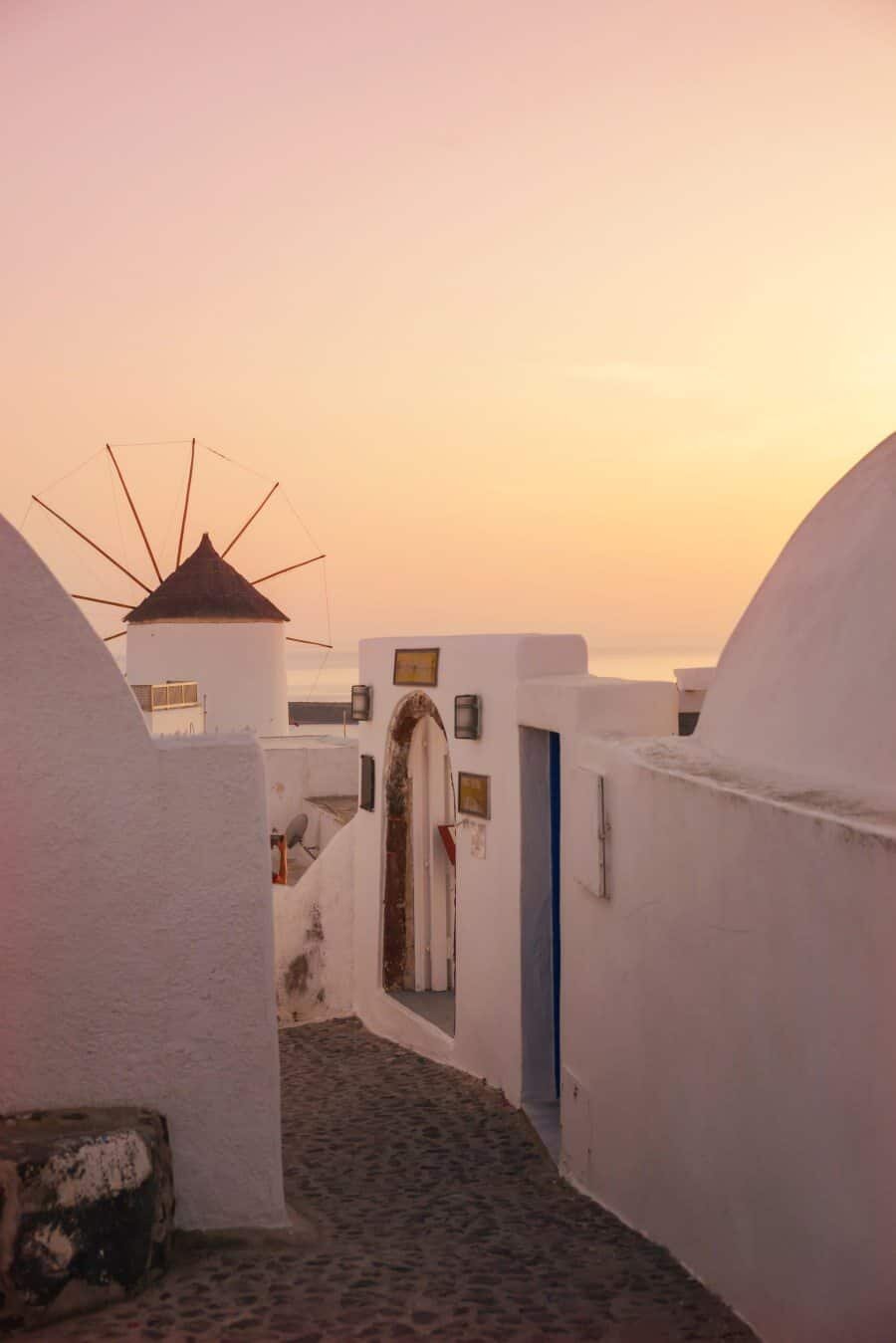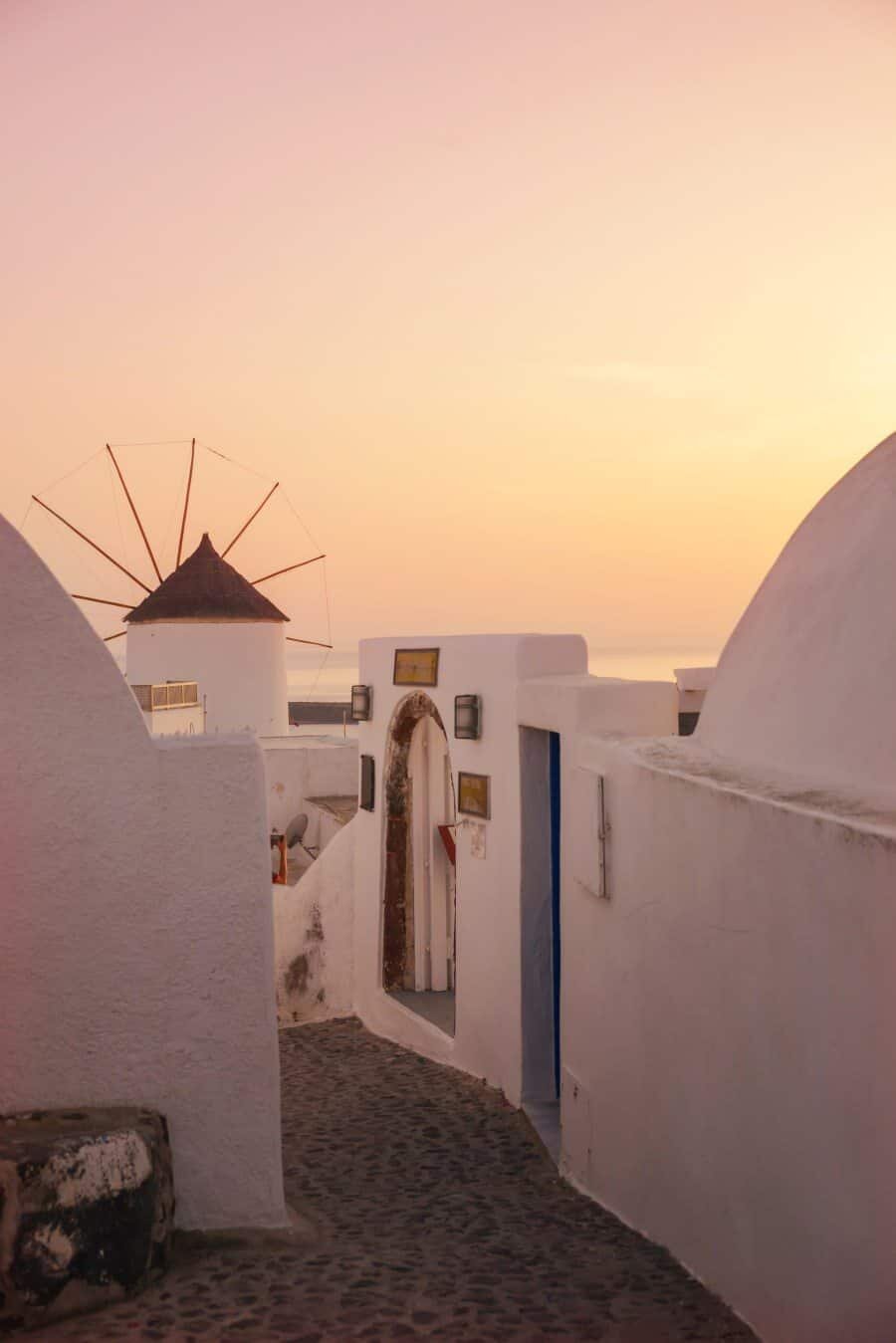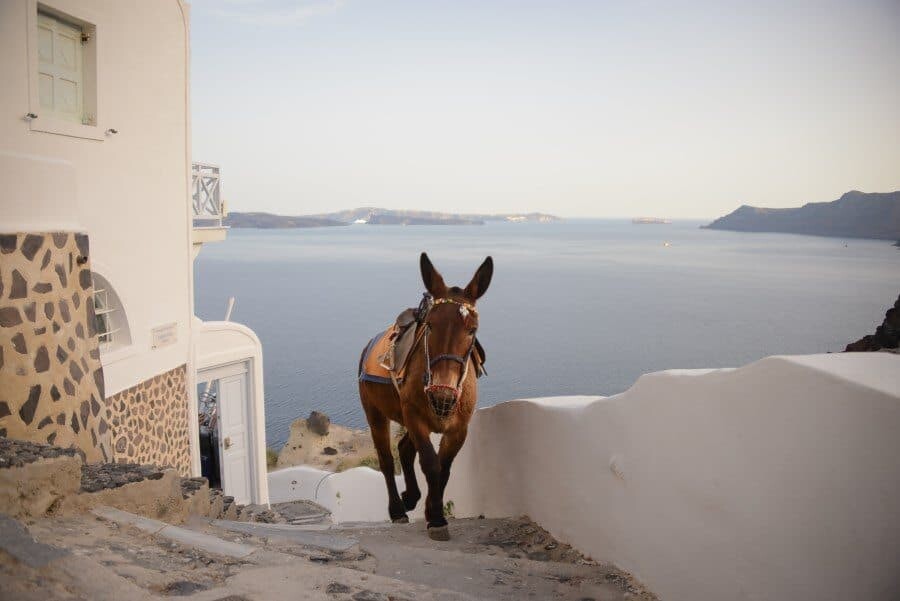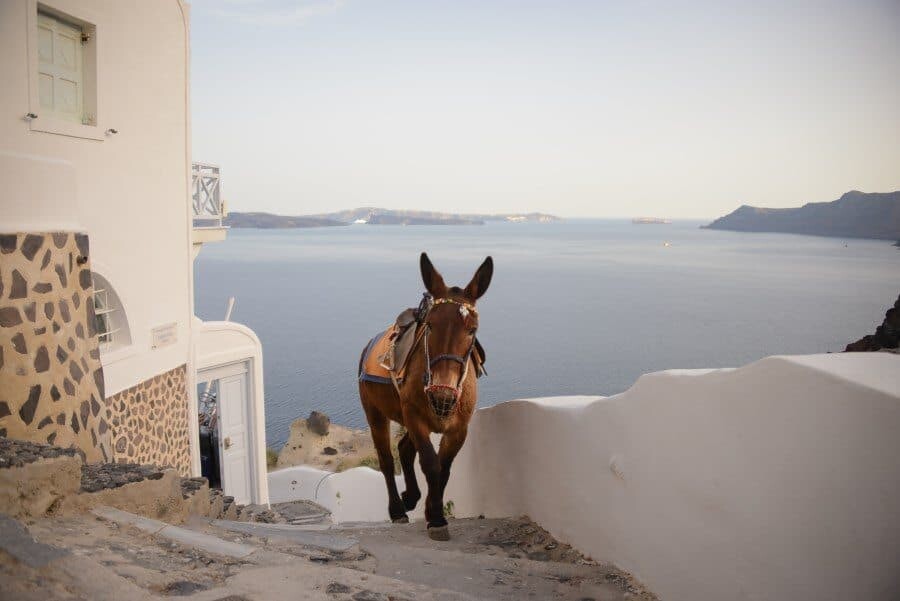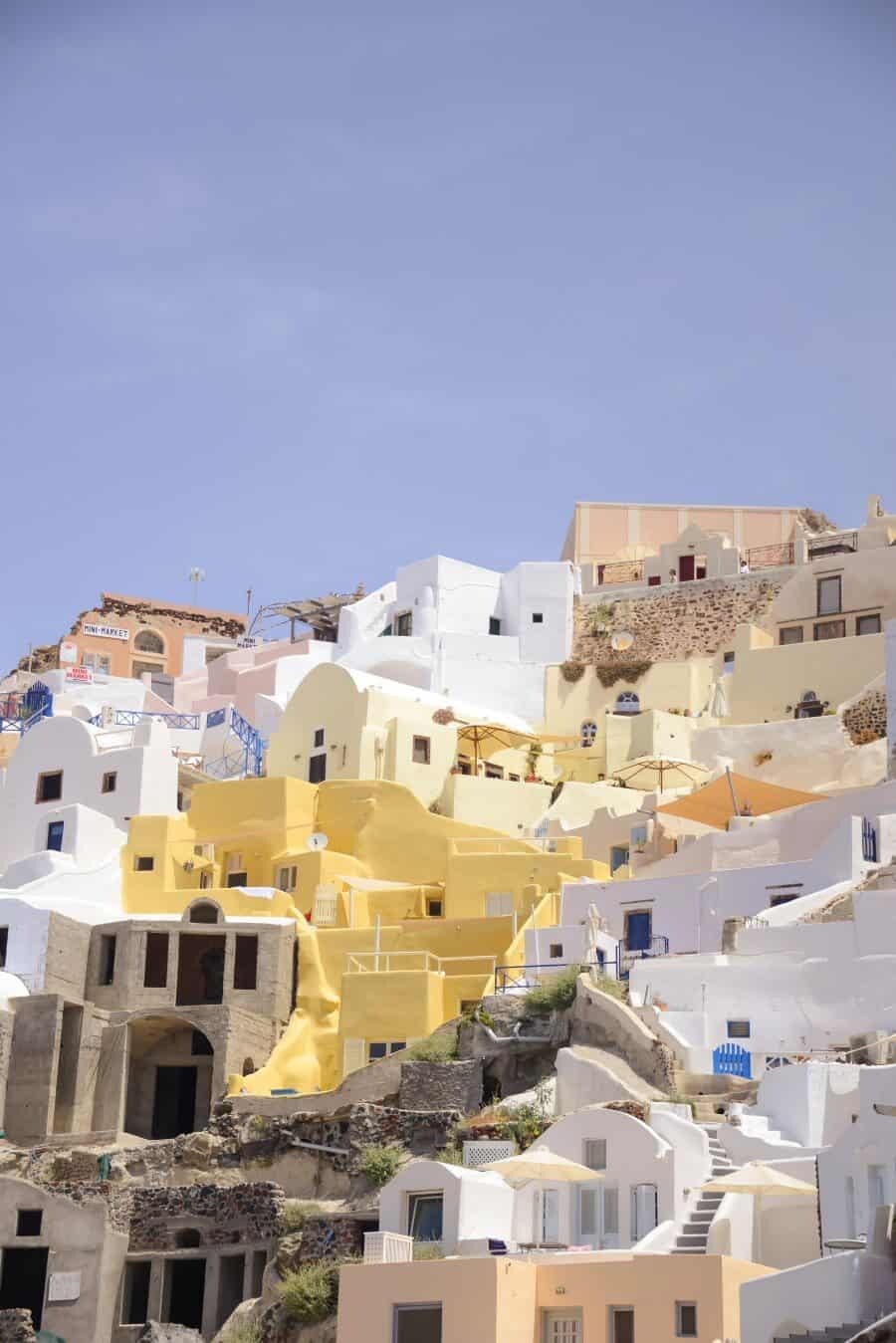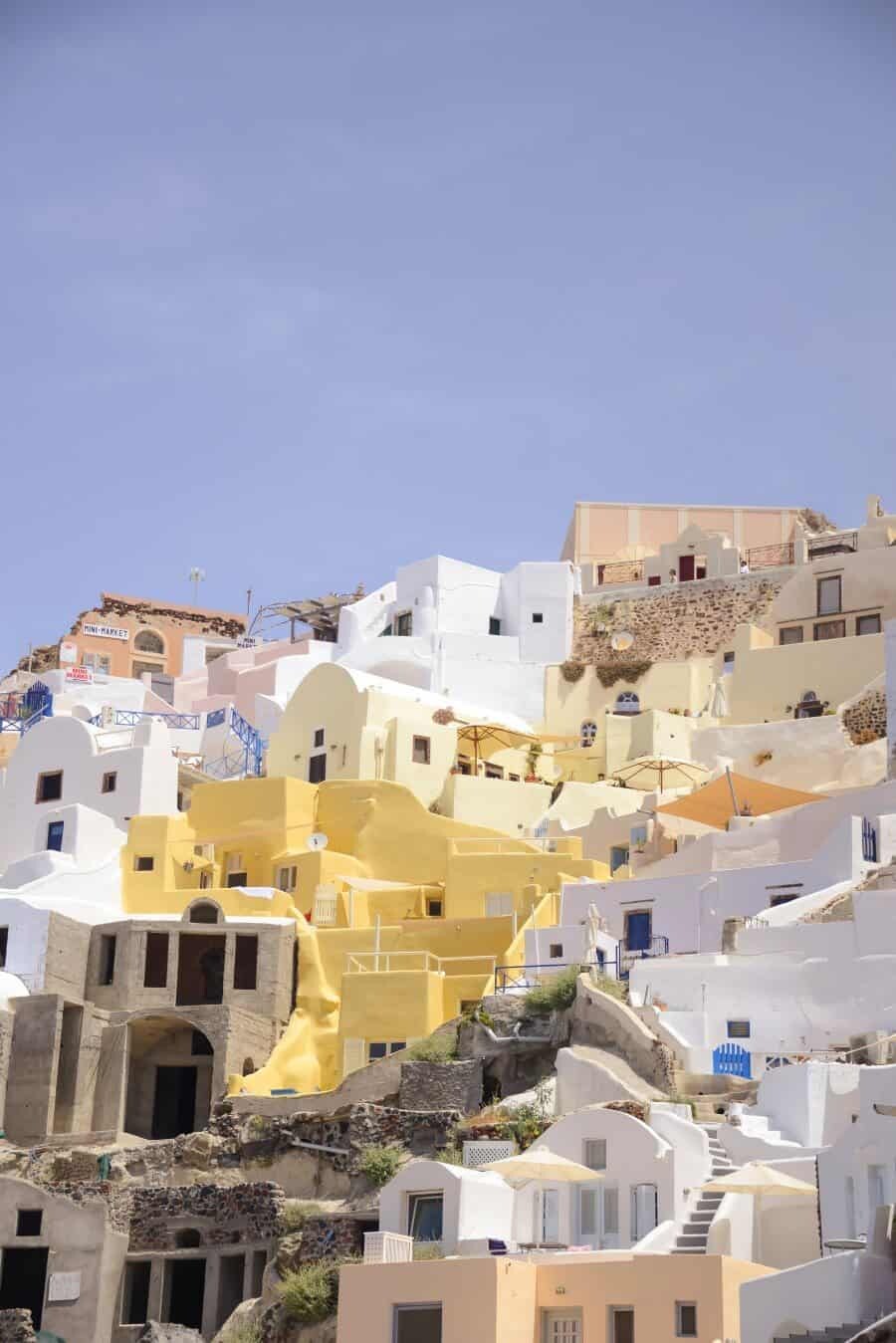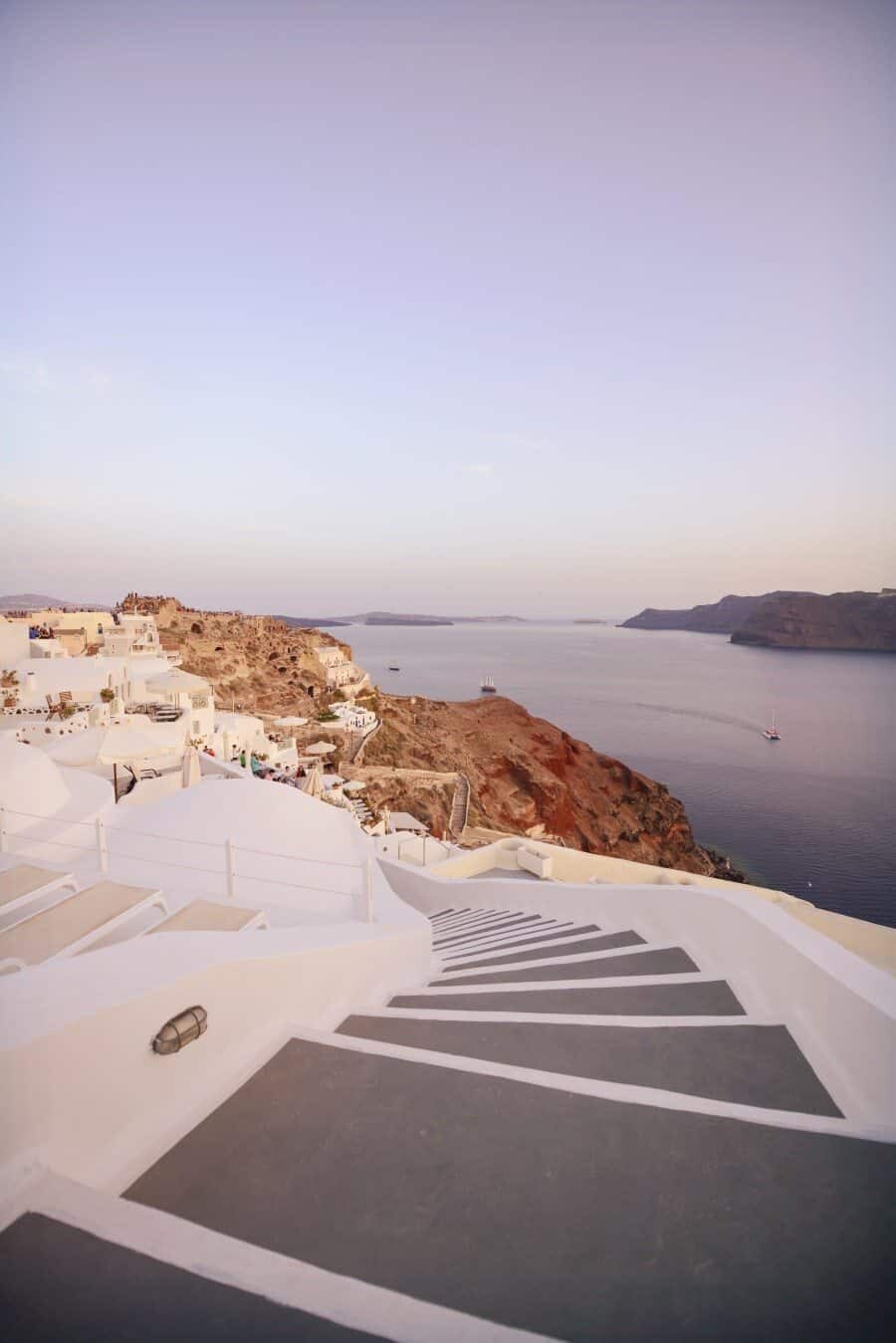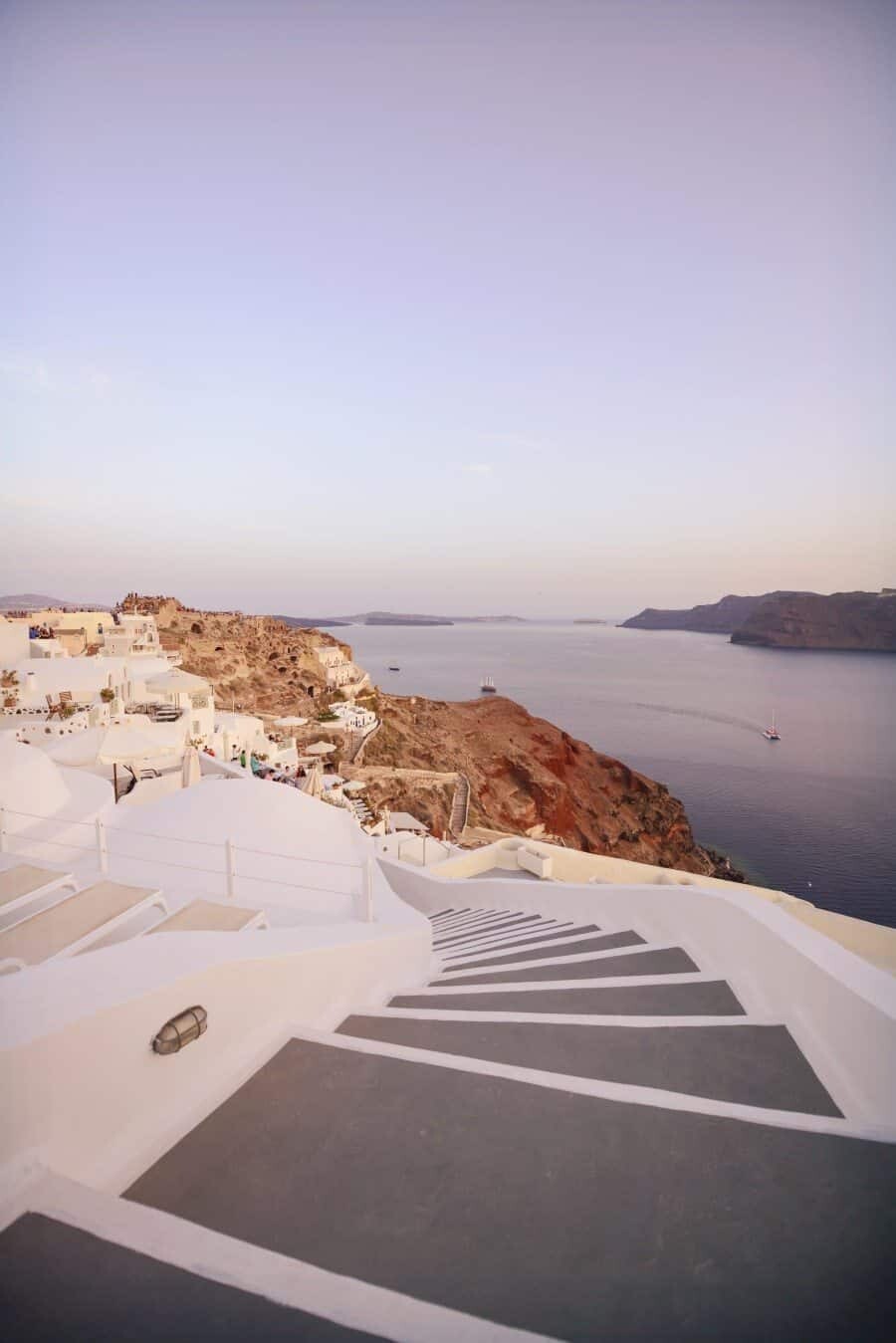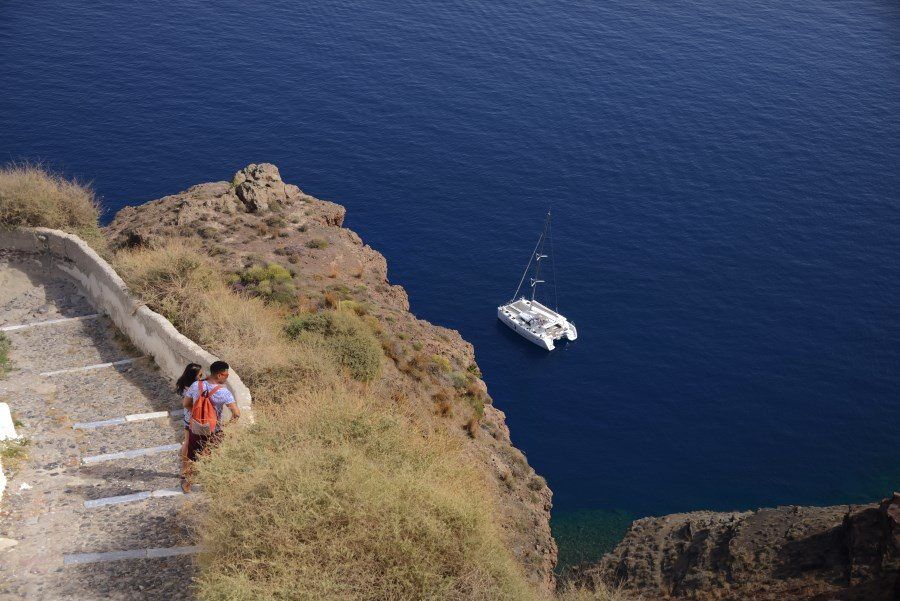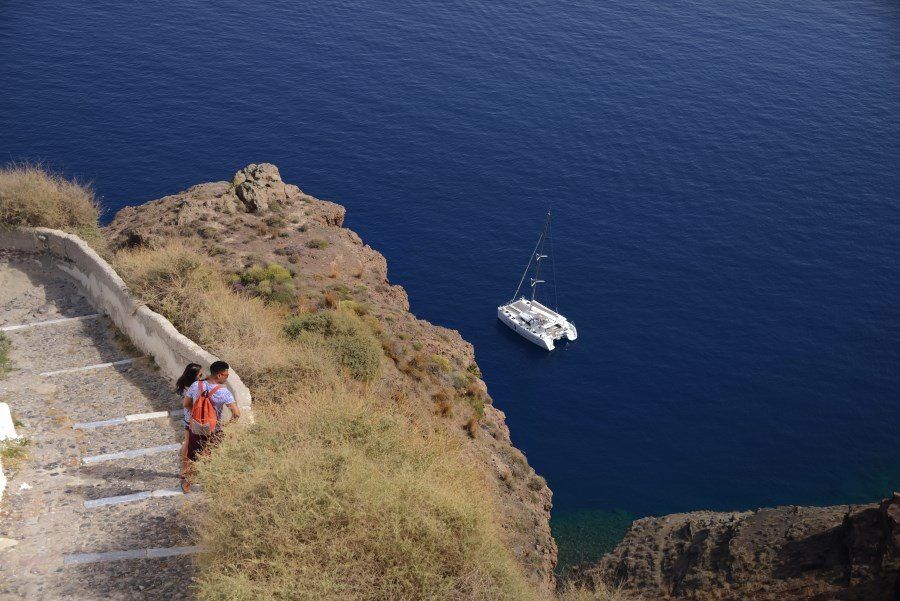 ---
#2 – Amoudi Bay + Hidden Beach
Amoudi Bay, a colourful port, sits beneath Oia and offers a different perspective looking up toward the village above. Brightly coloured wooden boats bob on their moorings and seafood restaurants line the waters edge. It's also the starting point for a water front path that leads from the restaurants towards Amoudi Beach…Santorini's Secret Beach where you can swim and look up at the village and cliffs above. There's a rocky island you can swim over to which is popular for thrill seekers wanting to jump off the little platform next to a church.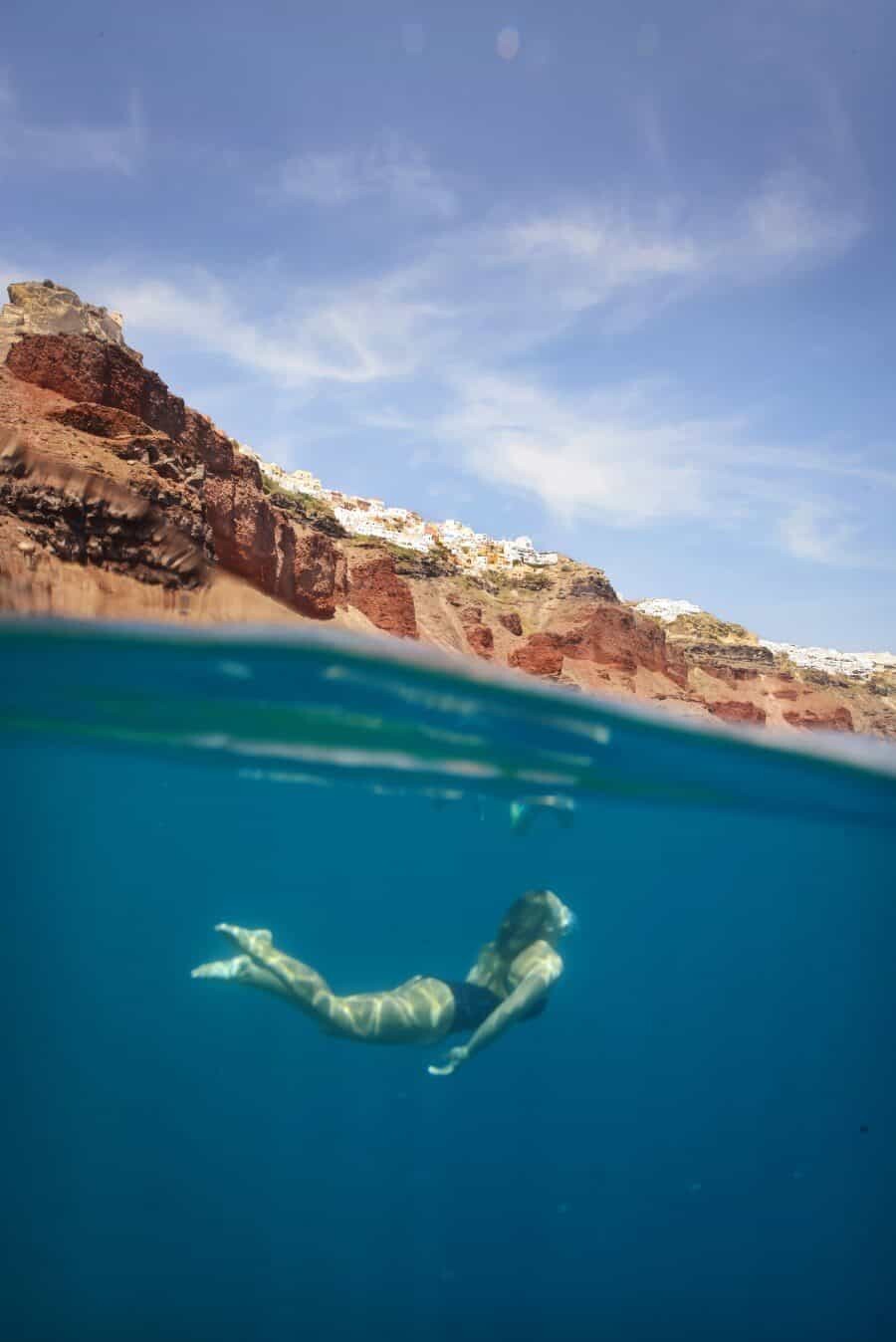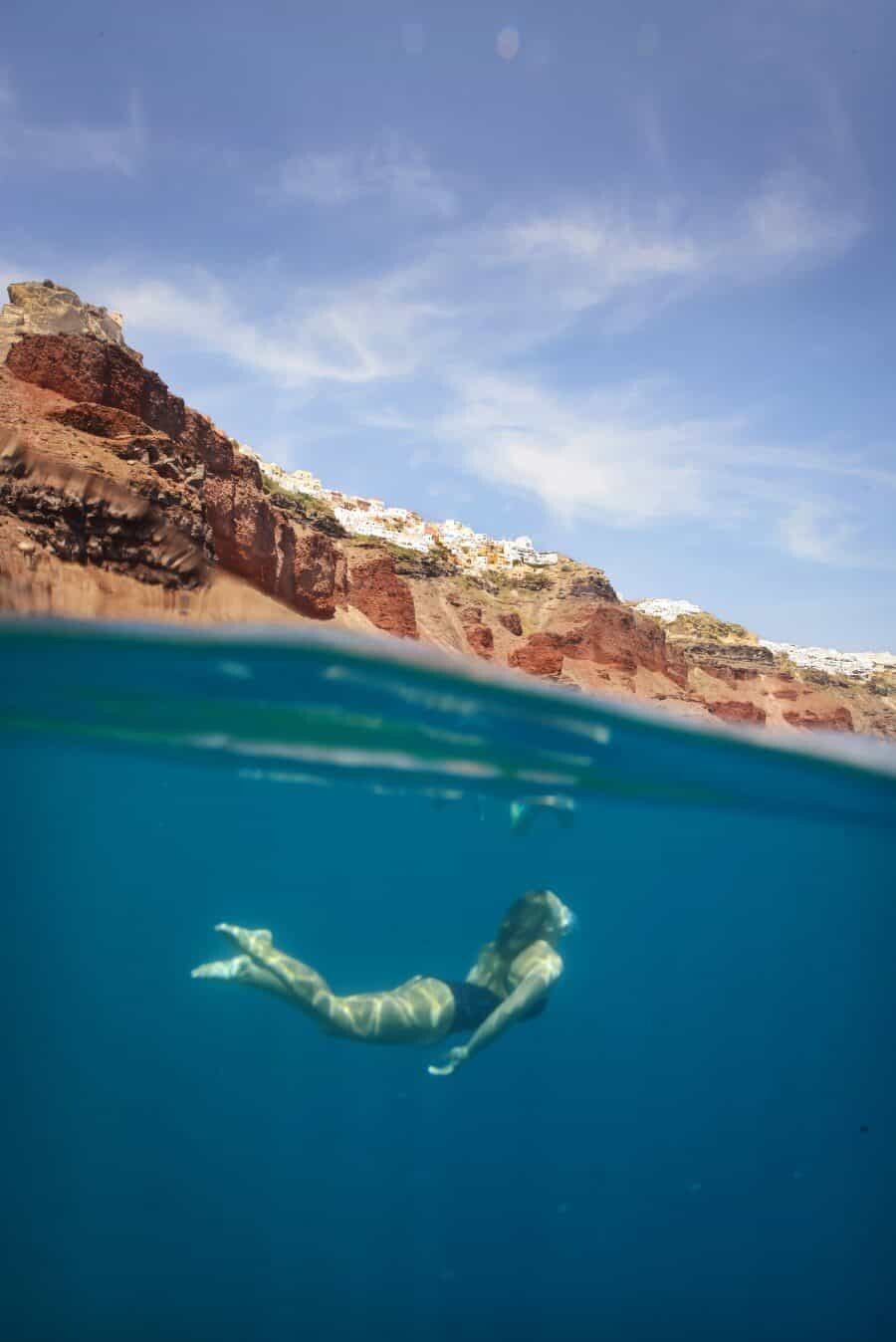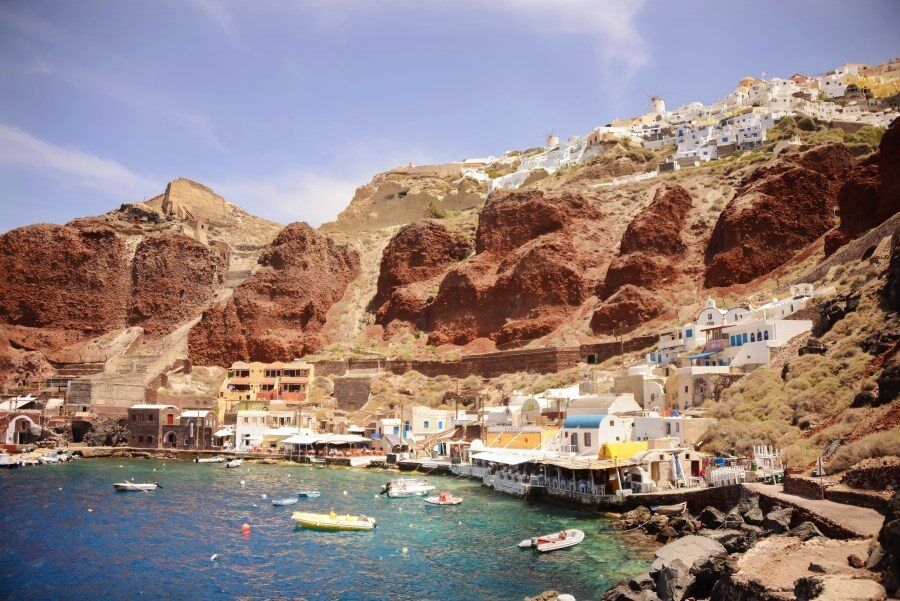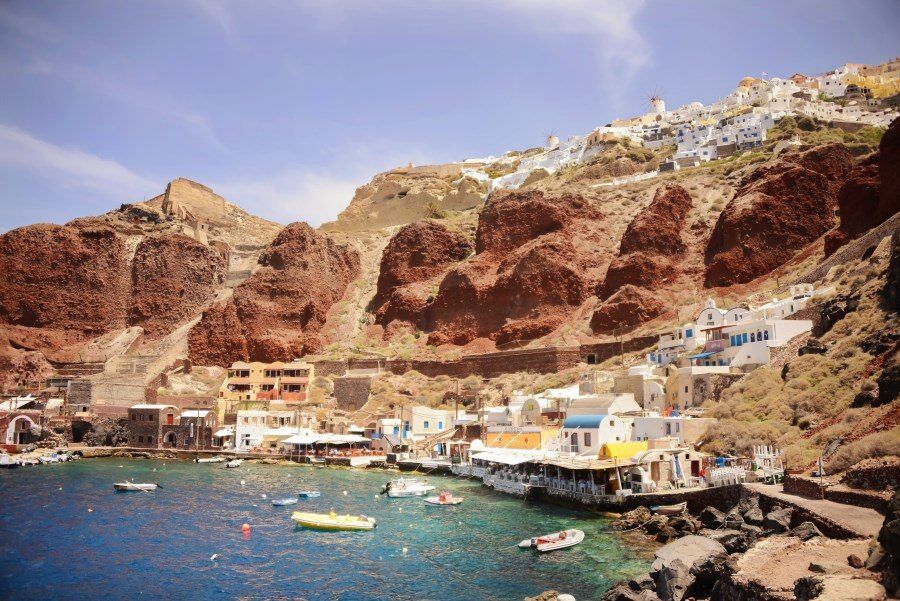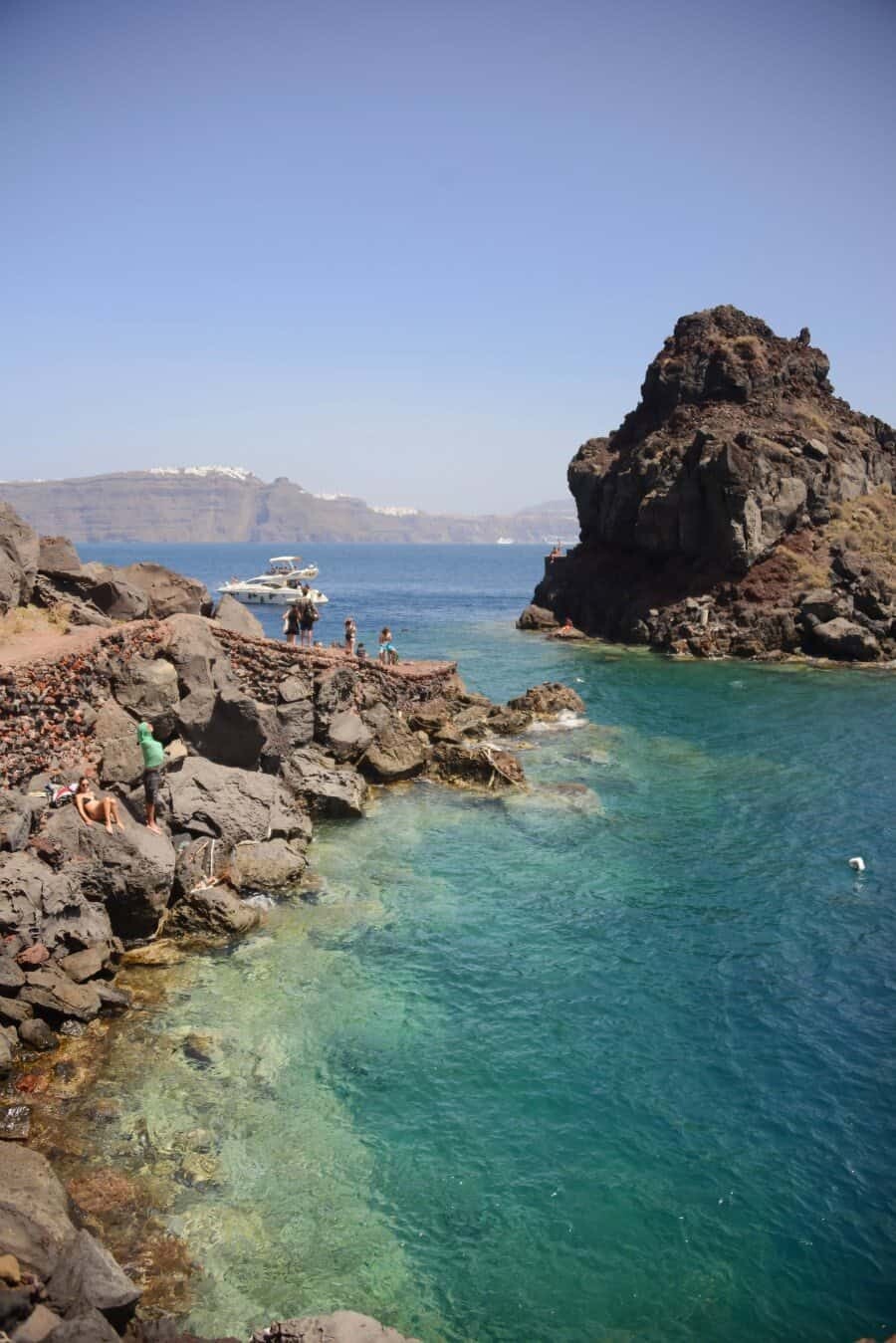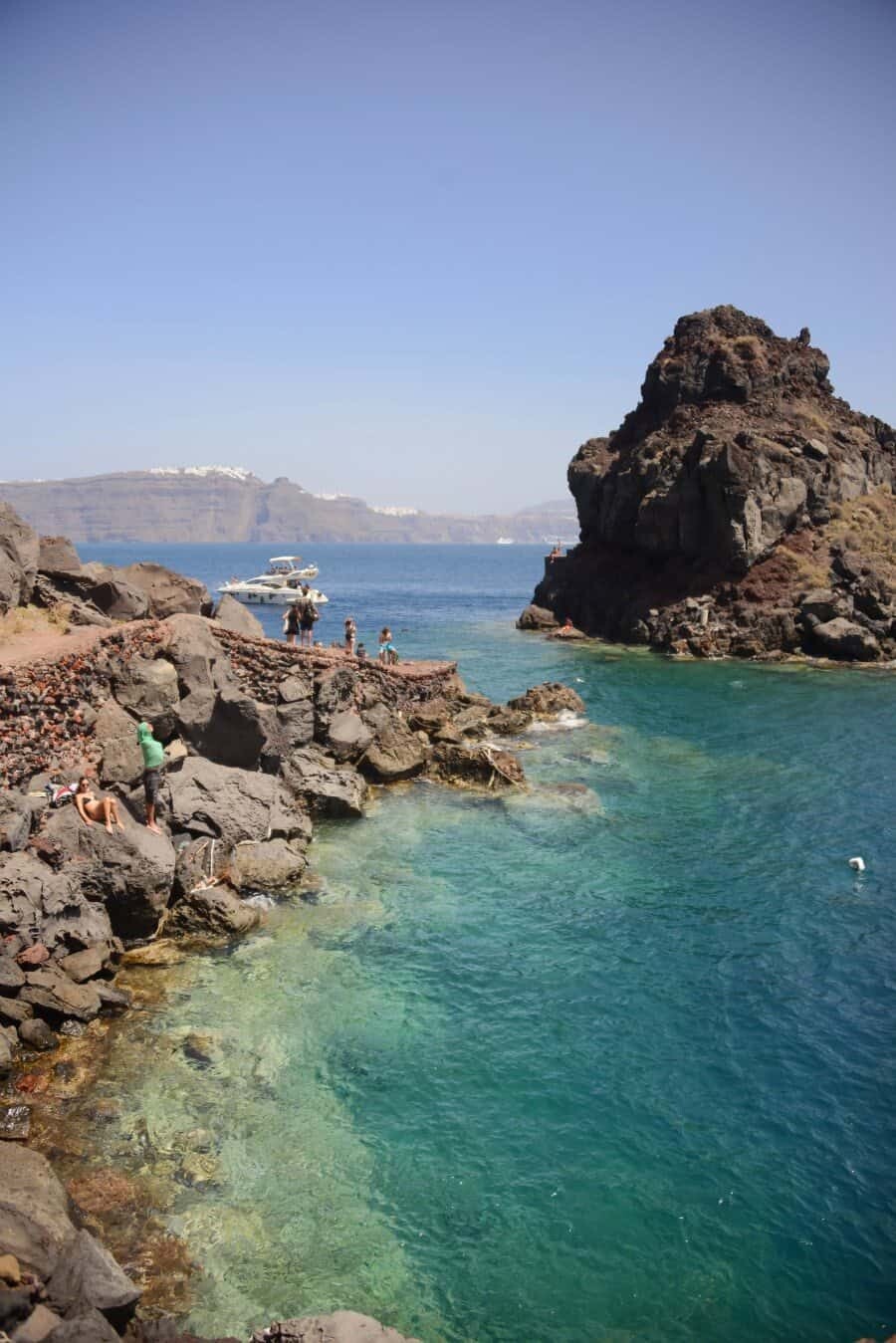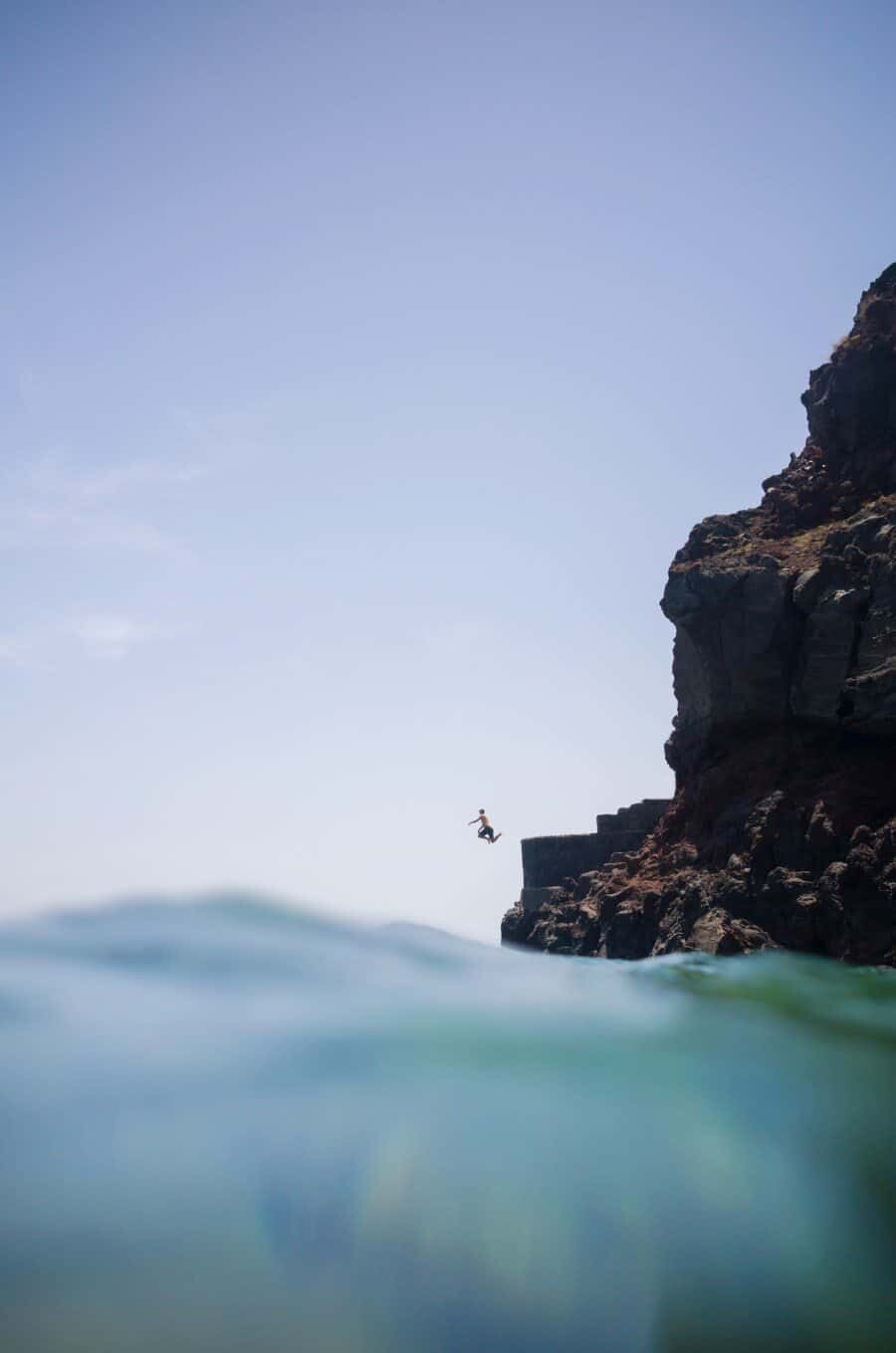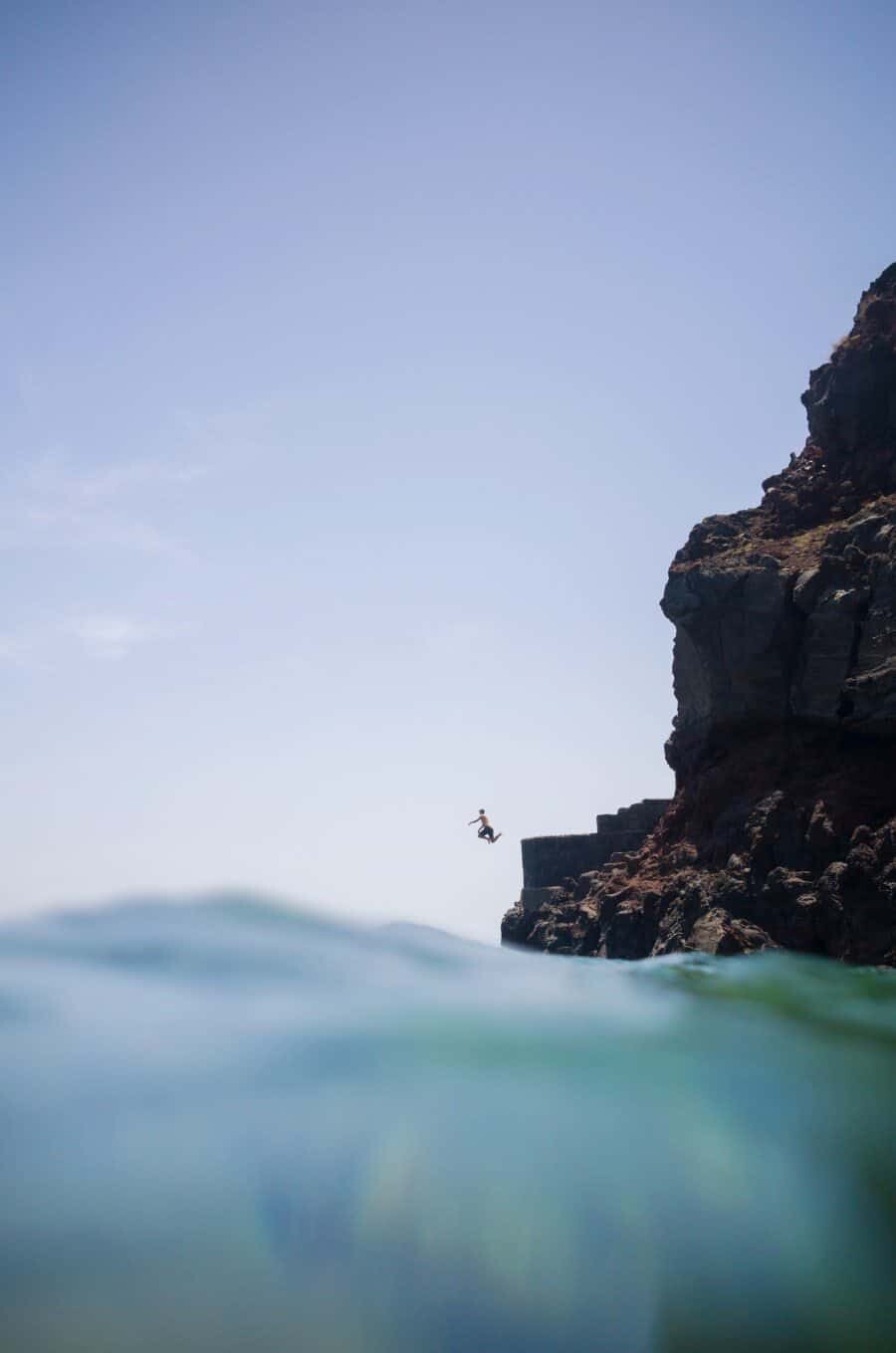 ---
#3 – Skaros Rock, Imerovigli
Skaros was originally one of five fortifed settlements on Santorini but since the early 1800's it's remained uninhabited after a series of eruptions. Now you'll find a church located on the northern (sea side) of the rock and a path that winds to the top where you can capture incredible photos at any time of the day. It's a striking landscape in front of the quiet village of Imerovigli and well worth the hike up!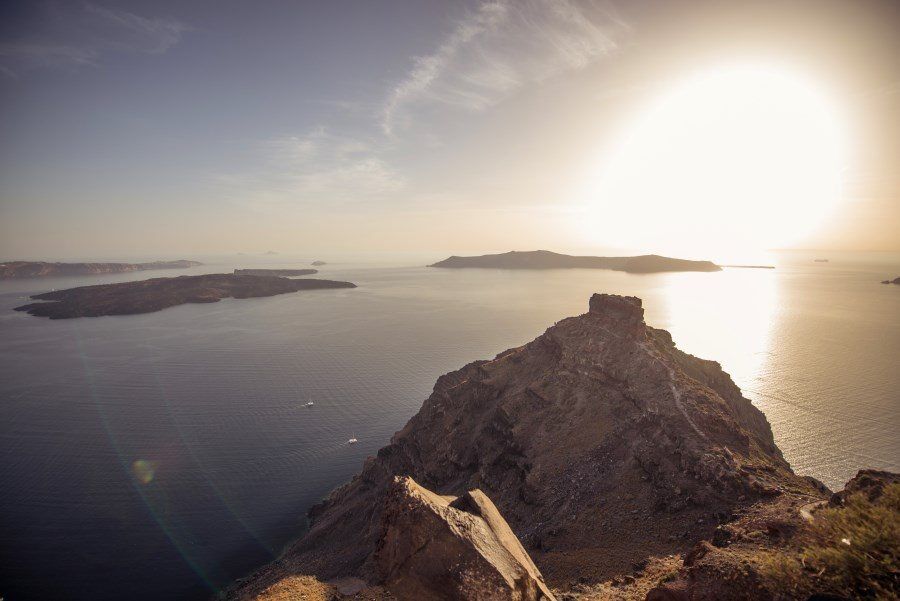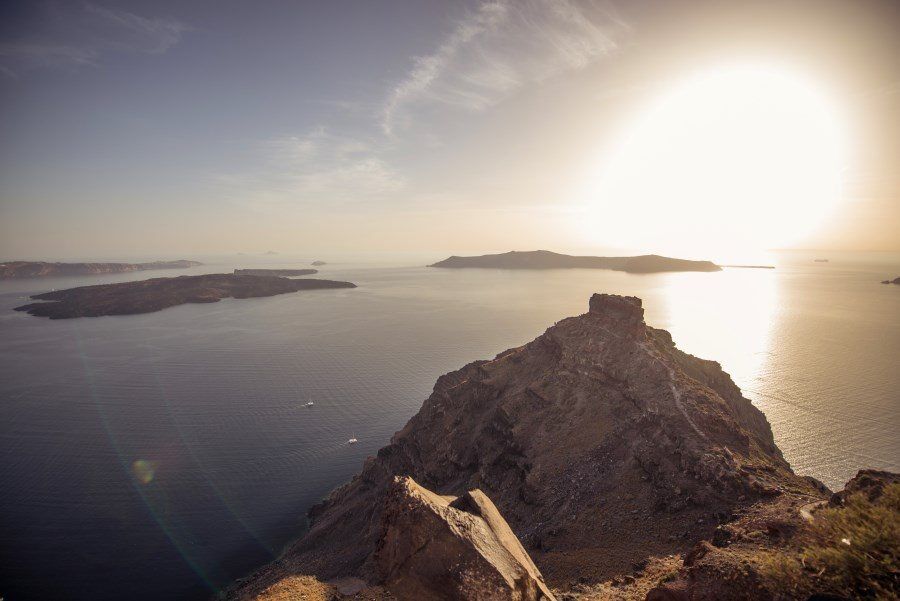 ---
#4 – Akrotiri Lighthouse
View the entire caldera from this impressive lookout on the tip of Santorini's south western point. Located above rugged cliffs from here you can see back towards Oia on the opposite side of the island and watch the sun rise or set…without the crowds! Hire a quad bike or car to get here because it's a long walk from anything.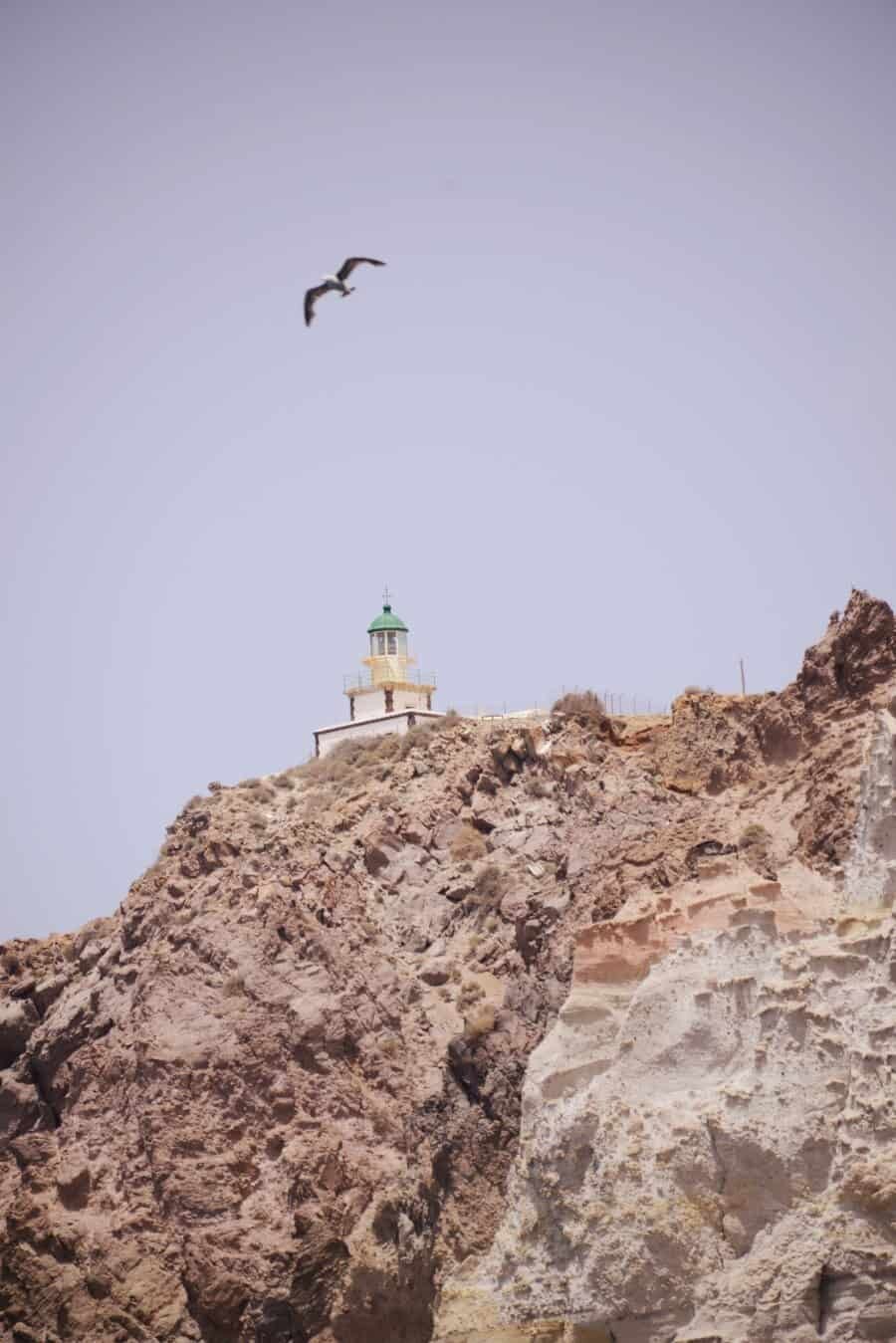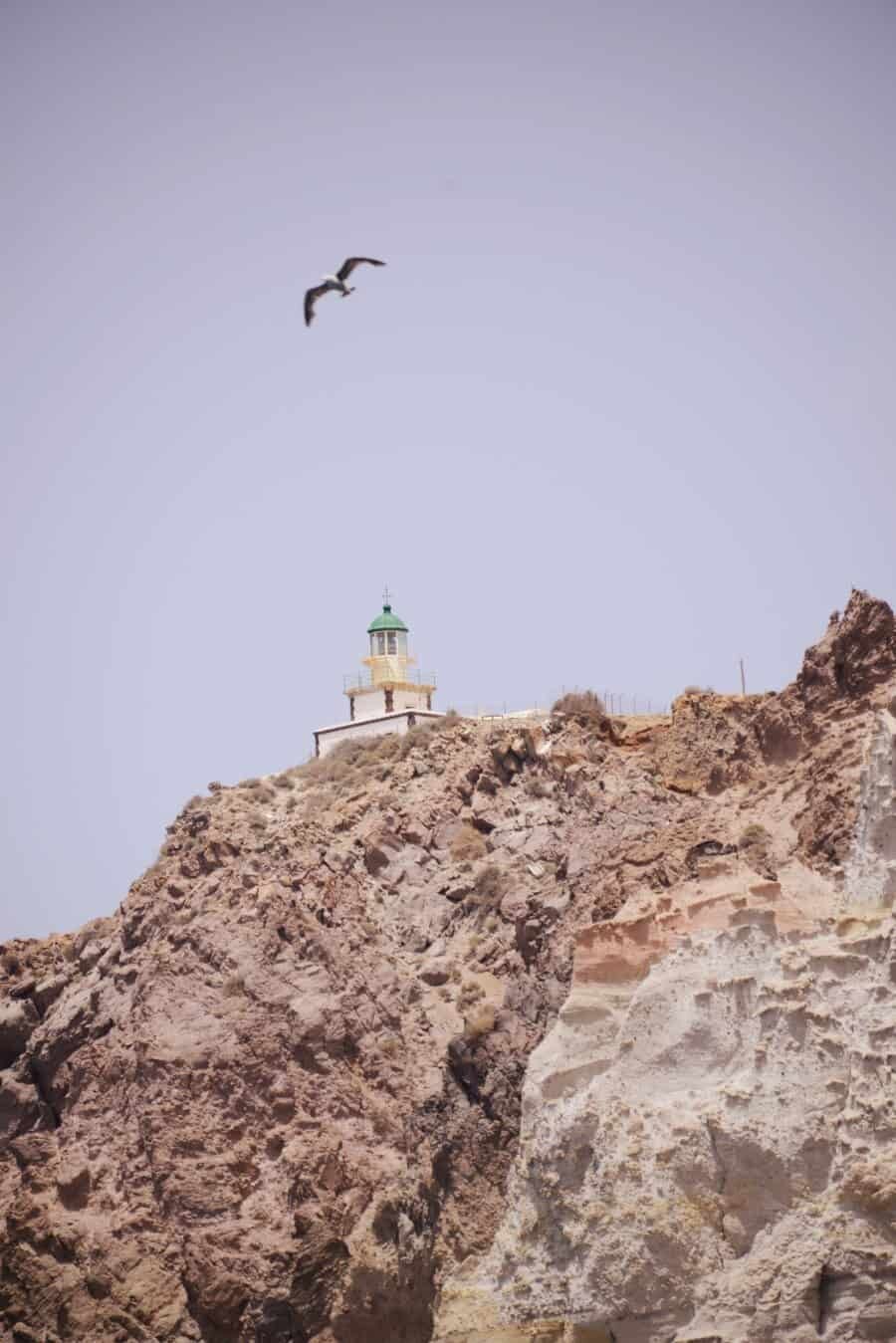 ---
#5 – White Beach
The most impressive beach in my opinion, Santorini's White Beach is a crazy blend of the tropics and history. Each cliff and rock has marks of tide lines and weather waring from years gone by while beneath the surface, glimmering white rocks glow like still teal coloured whales. Located in the cove next to the Red Beach, you can soak up the sun on a rainbow beach tour all day! For the best views of the White Beach hire a kayak or swim out to one of the rocks and look back, the cliffs are epic!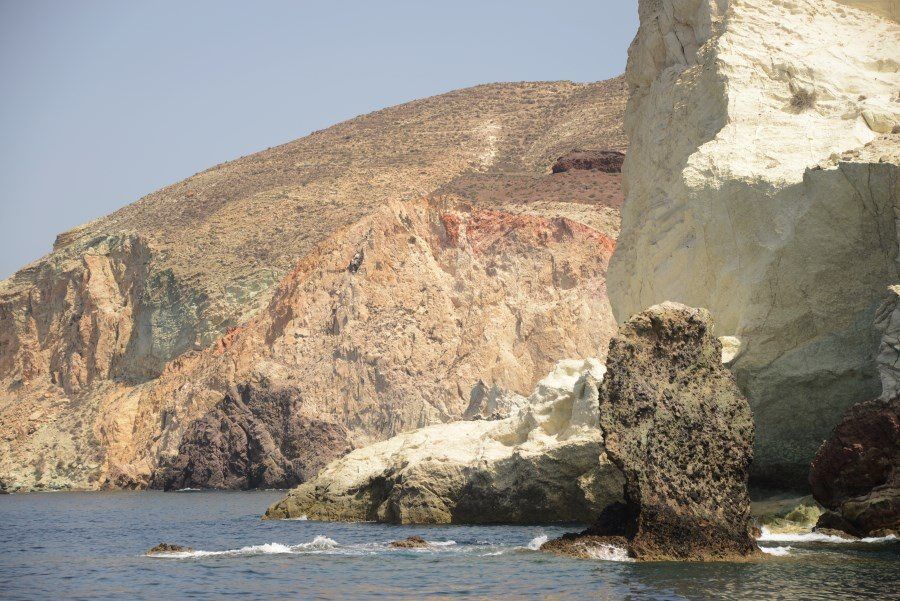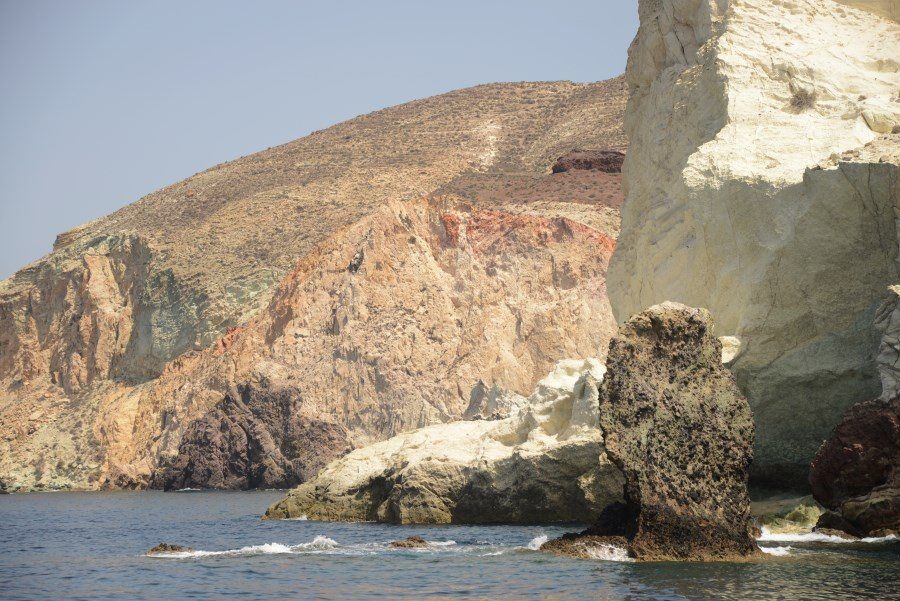 ---
#6 – Akrotiri Cliffs + Caves
On the coast west of the historic Akrotiri you'll find a plethora of hidden caves and cliffs. Best accessed by kayak you can paddle into deep, narrow caves where you'll be treated to light streams highlight the intense depth and clarity of the water. Take a waterproof camera to snap split-level photos or capture the volcanic rocks beneath the surface. Read about my kayak adventures of this coast here.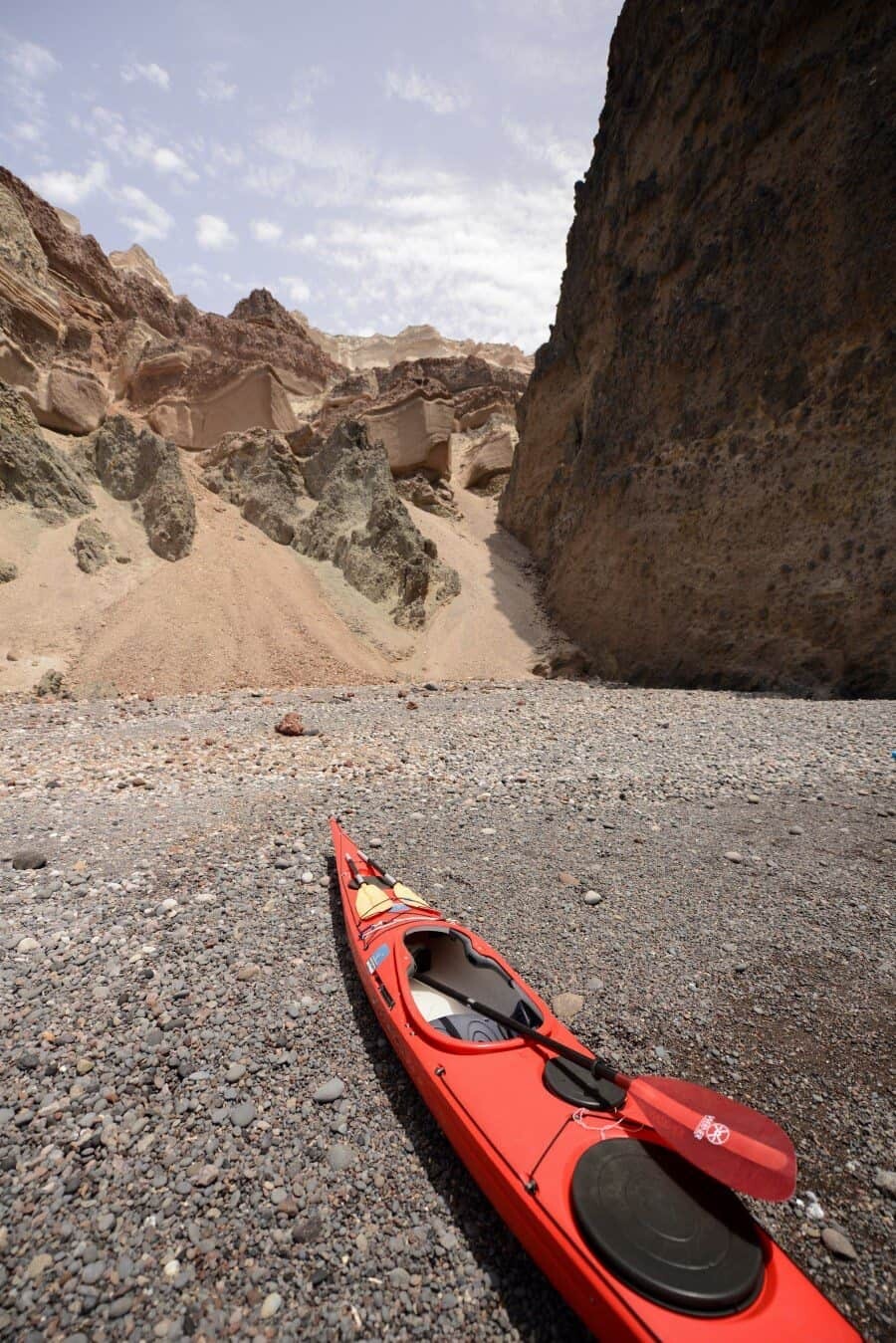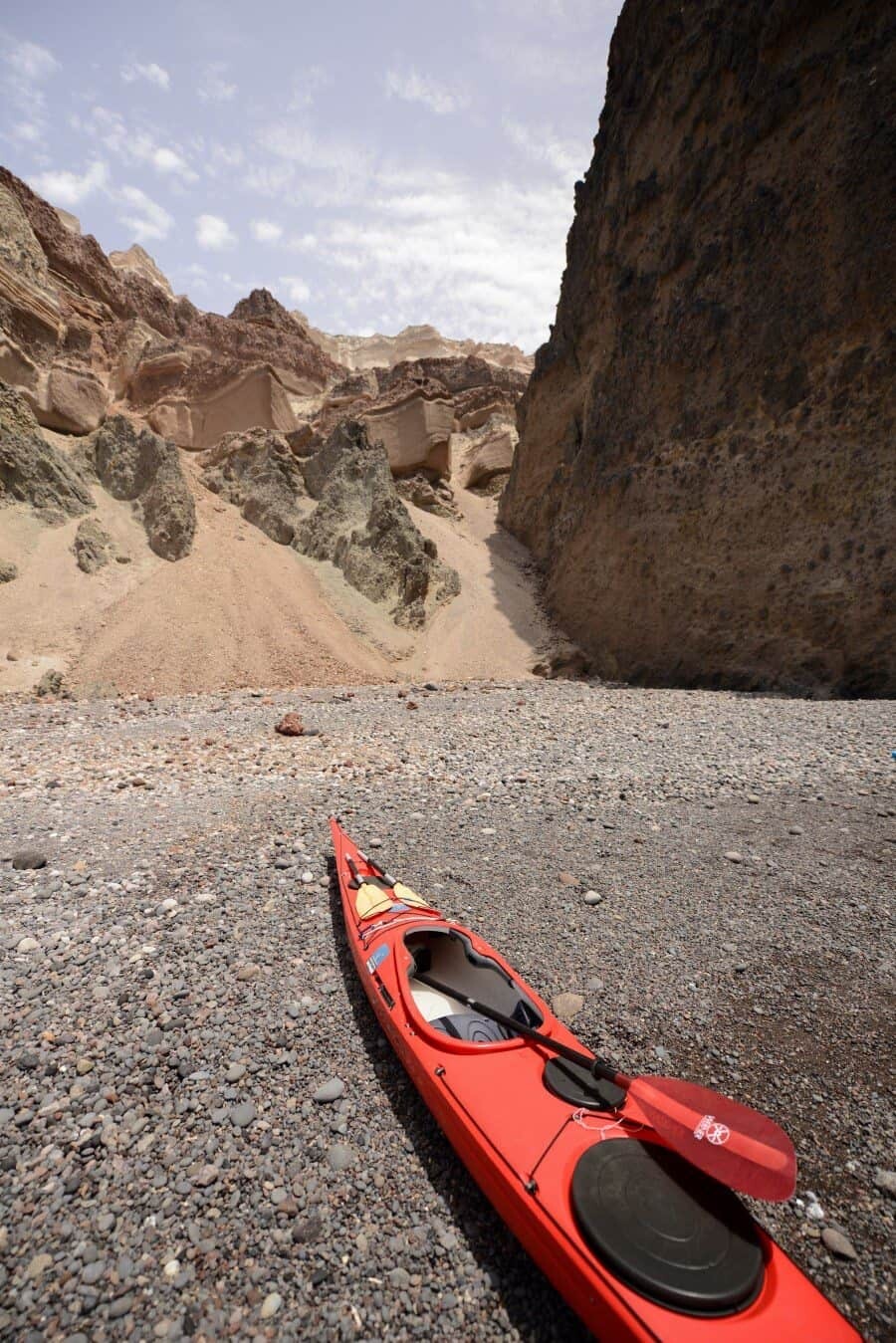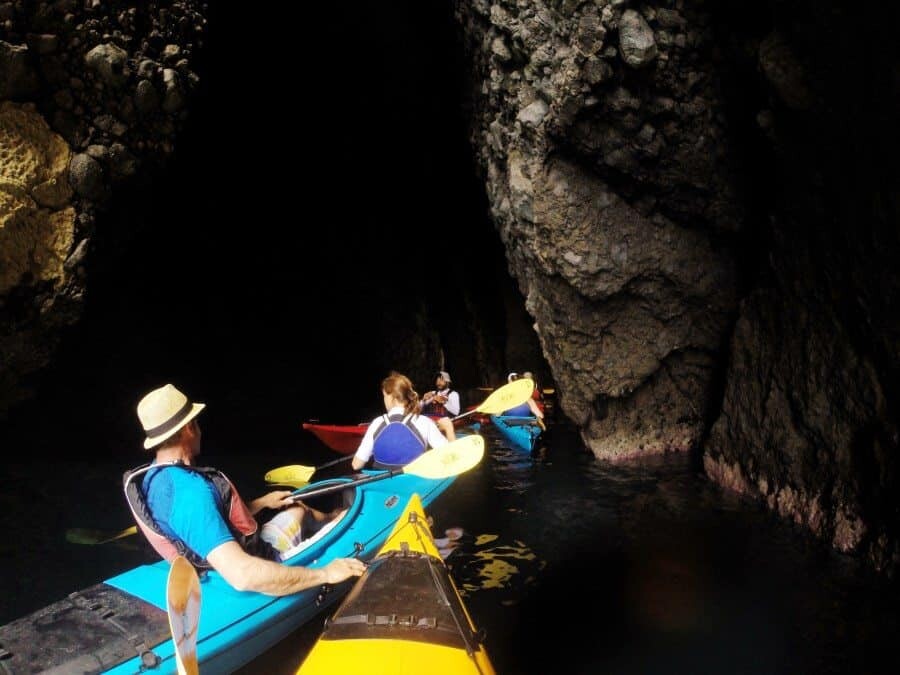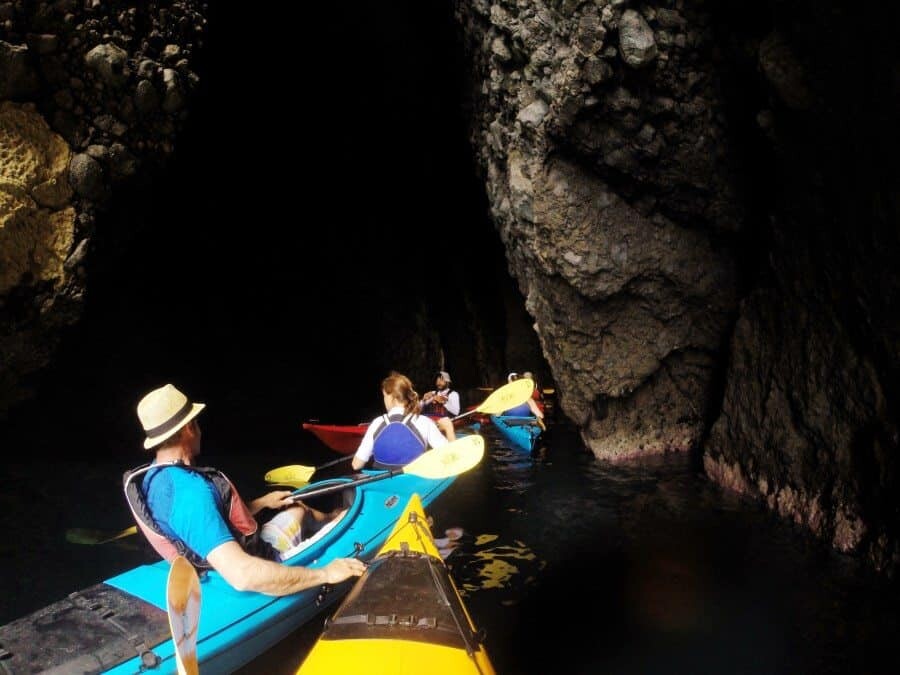 ---
#7 – Cave Hotels
Where else in the world can you photograph a hotel room that's built like a white cave into the rocks with sea views from their cliff top positions? Santorini is the only name that pops into my head too! You'll find hundreds of cave hotels located in Fira, Imerovigli and Oia where doors lead into rooms far bigger than they appear from the outside. Keep an eye out for last minute specials and especially in the off-season you'll manage to grab a great deal for staying in one! I stayed at the Caldera Premium Villas in Oia, our cave suite was huge and we had deck chairs, a pool and breakfast all overlooking the caldera…so perfect. Click here to see the latest discounts on these villas via Booking.com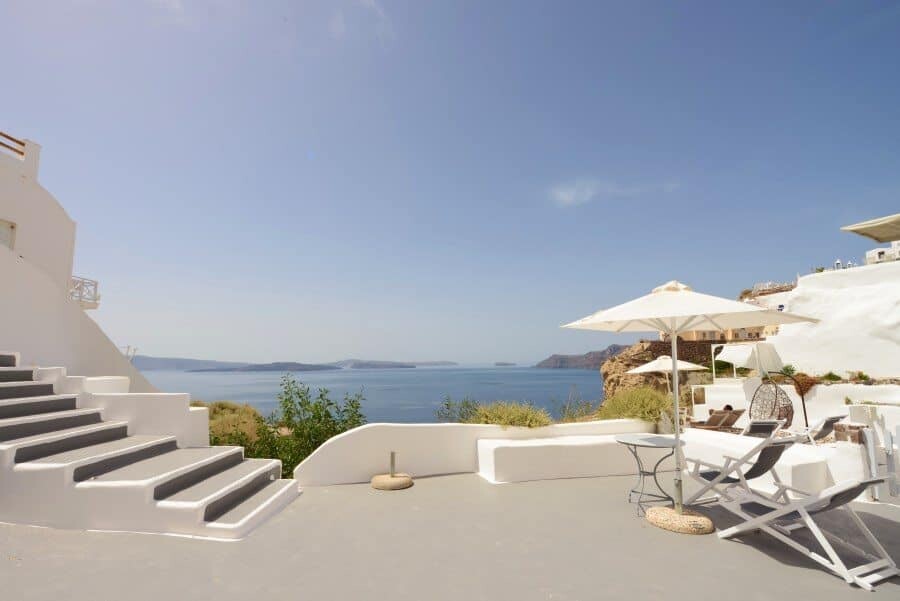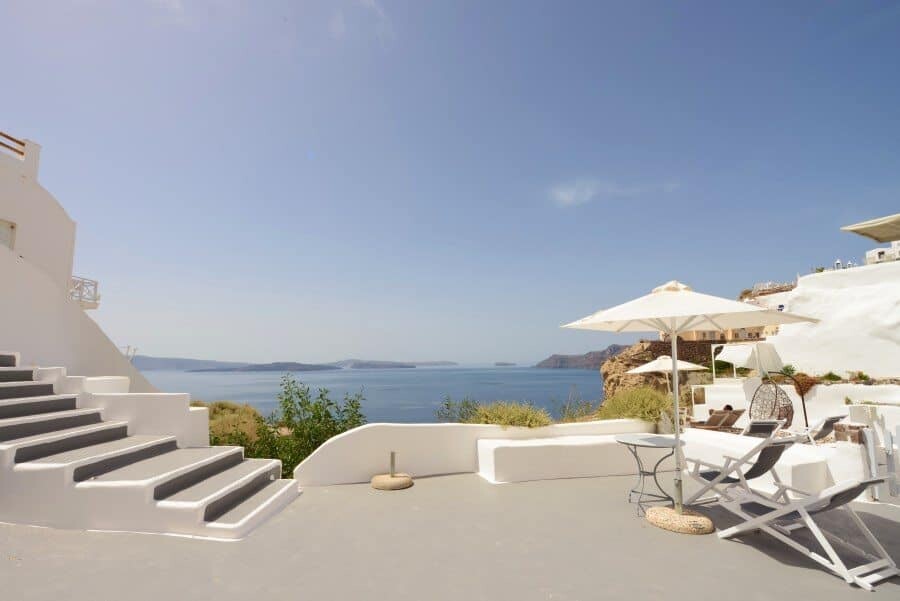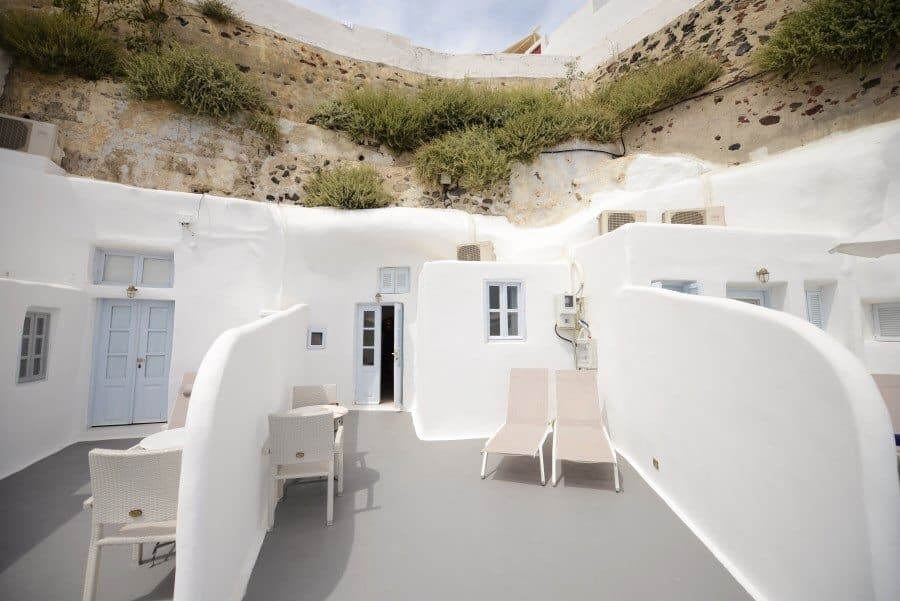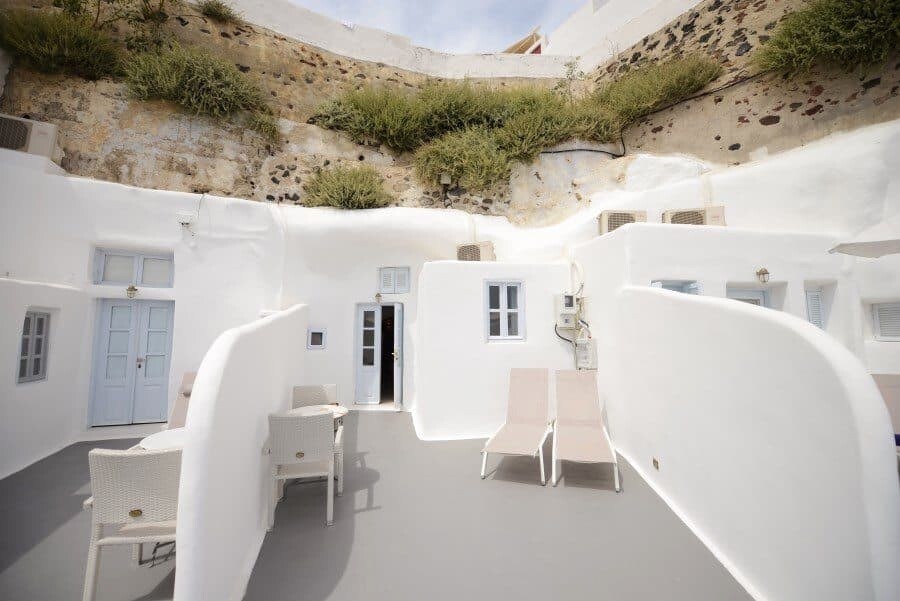 ---
#8 – Anastasi Church, Imerovigli
Popular with Greek Orthodox weddings, this church in Imerovigli also has one of the best views on the island. Situated in the village of Imerovigli, it looks back toward the luxury hotels of Fira and often has cruise ships anchored nearby. Just beside this church is another popular location, while it's a smaller church, it offers a panoramic view looking up and down the inner coast of the caldera.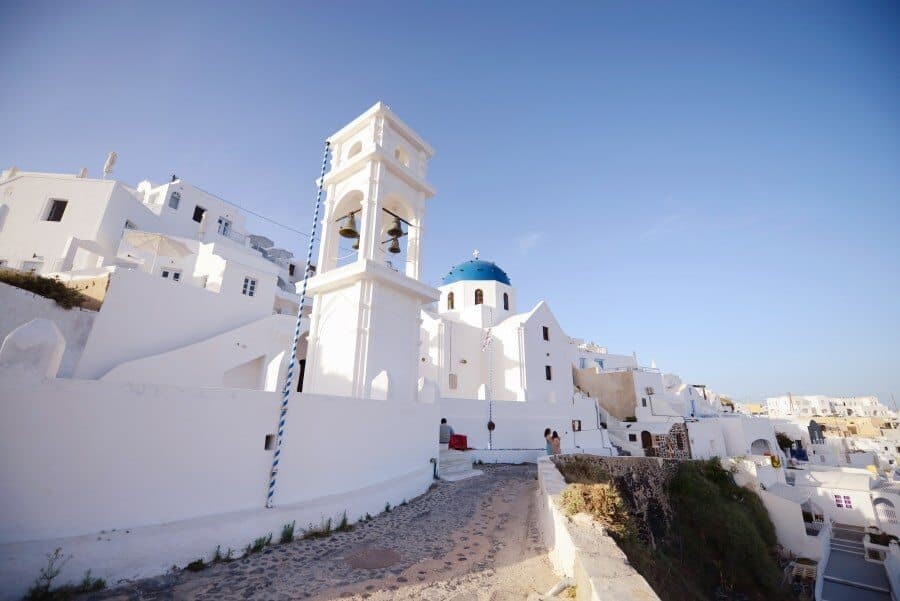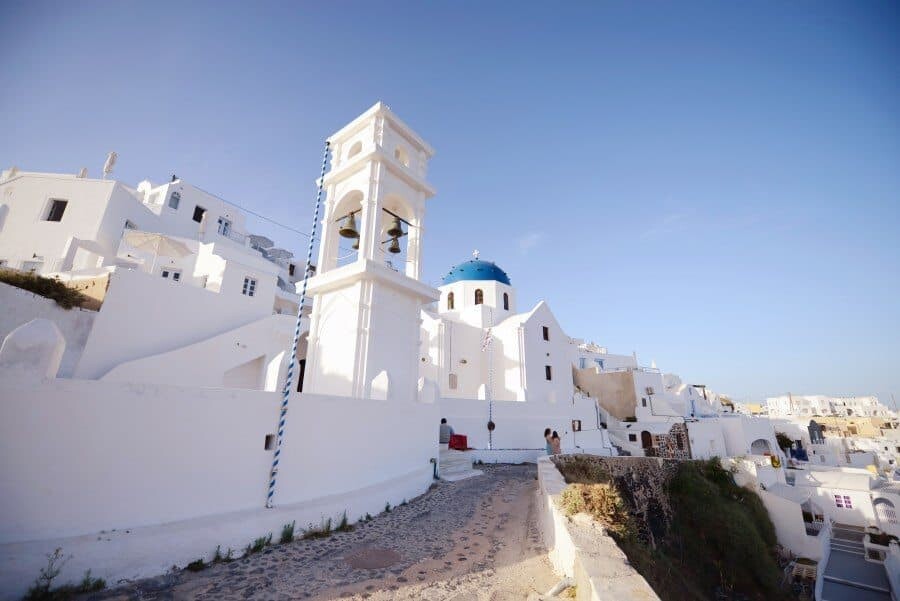 ---
#9 – Oia Castle, Santorini Sunset
For the iconic sunset shot of Santorini this is your spot. It's where the sun dips to the sea and you can watch sailing boats head for the horizon. If you're keen to visit the castle for sunset I suggest getting there at least two hours early, take some snacks and a drink while you soak up the view and capture the changing light. Also grab a spot away from the main castle platform as come sunset it will fill to the brim, a not so pleasant experience to be caught in the middle of! (see photo below)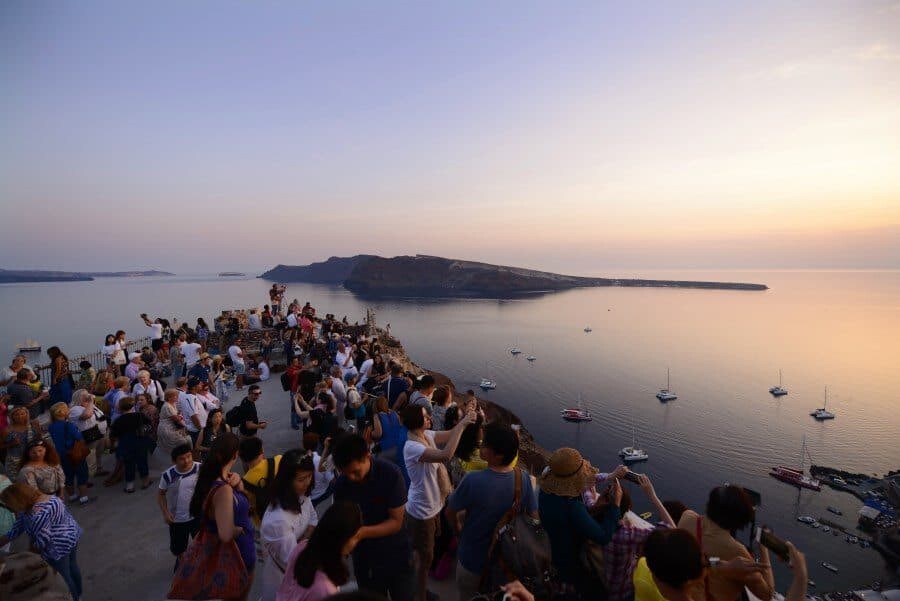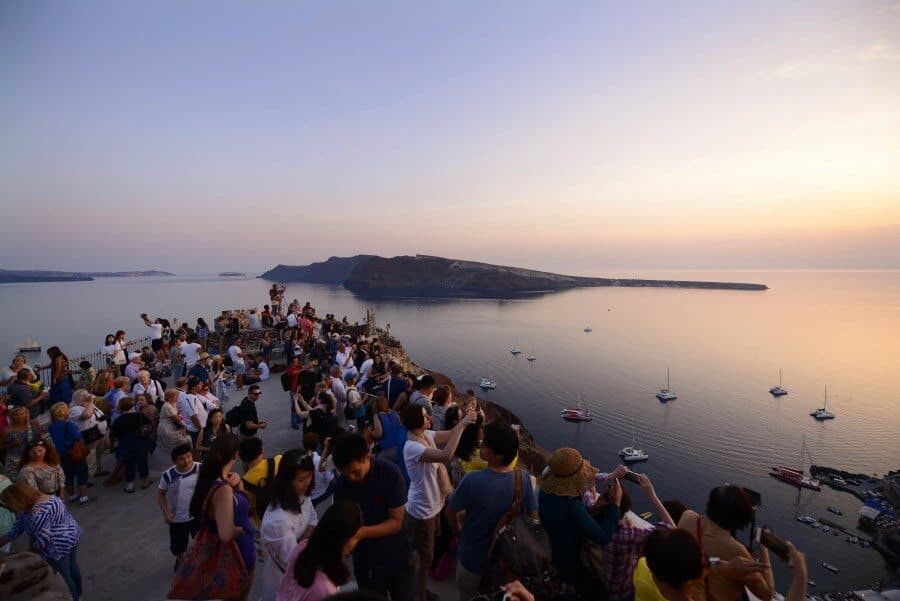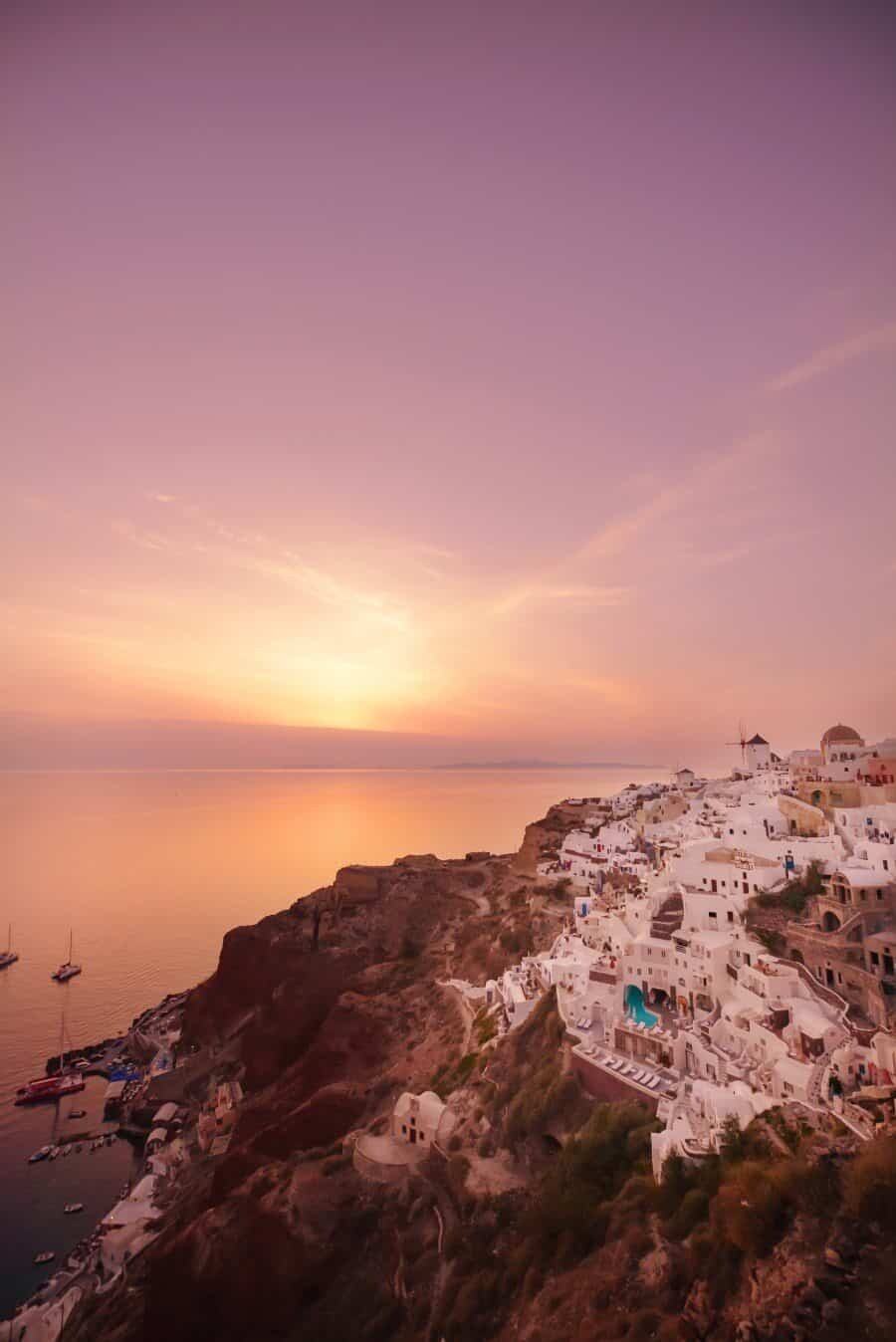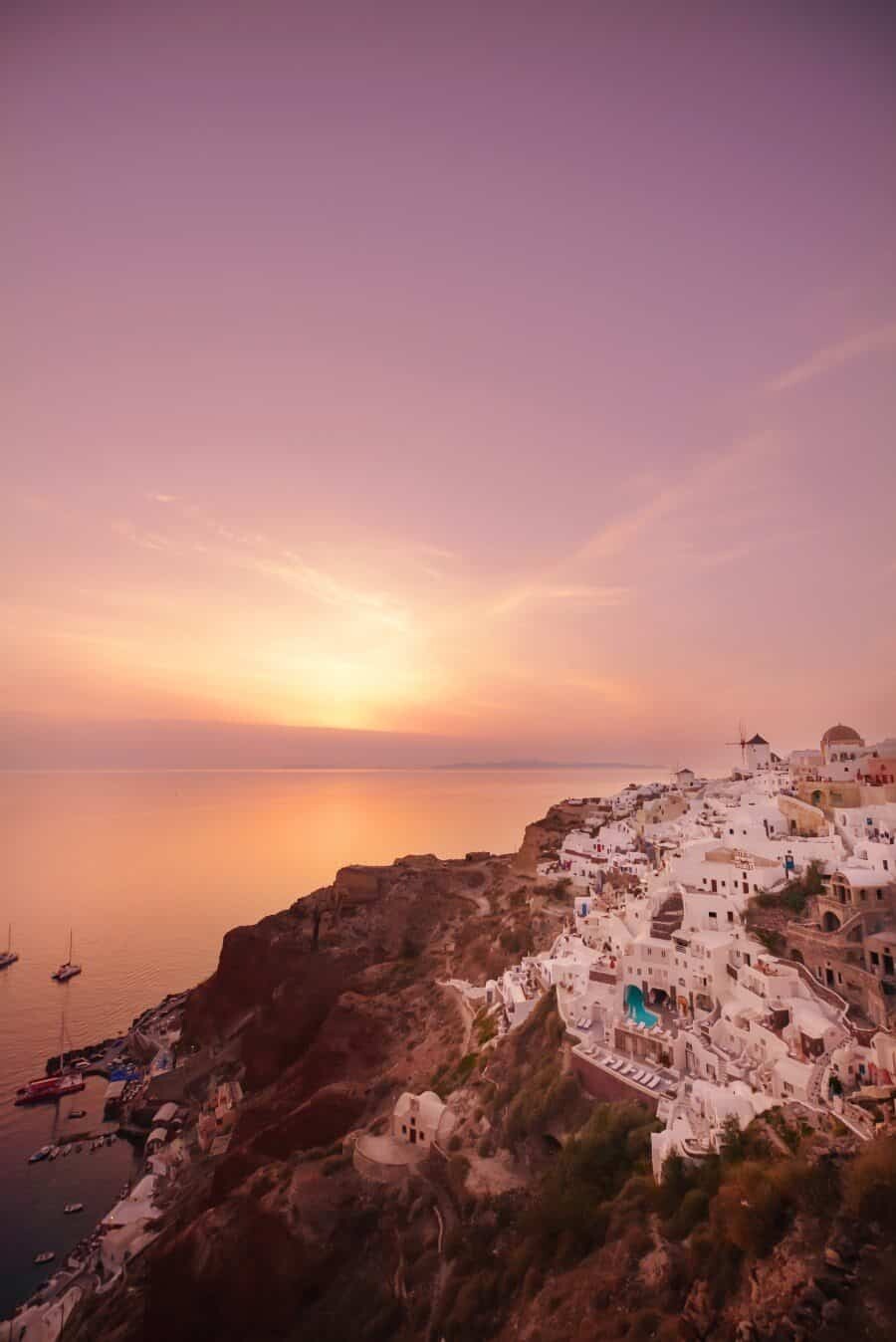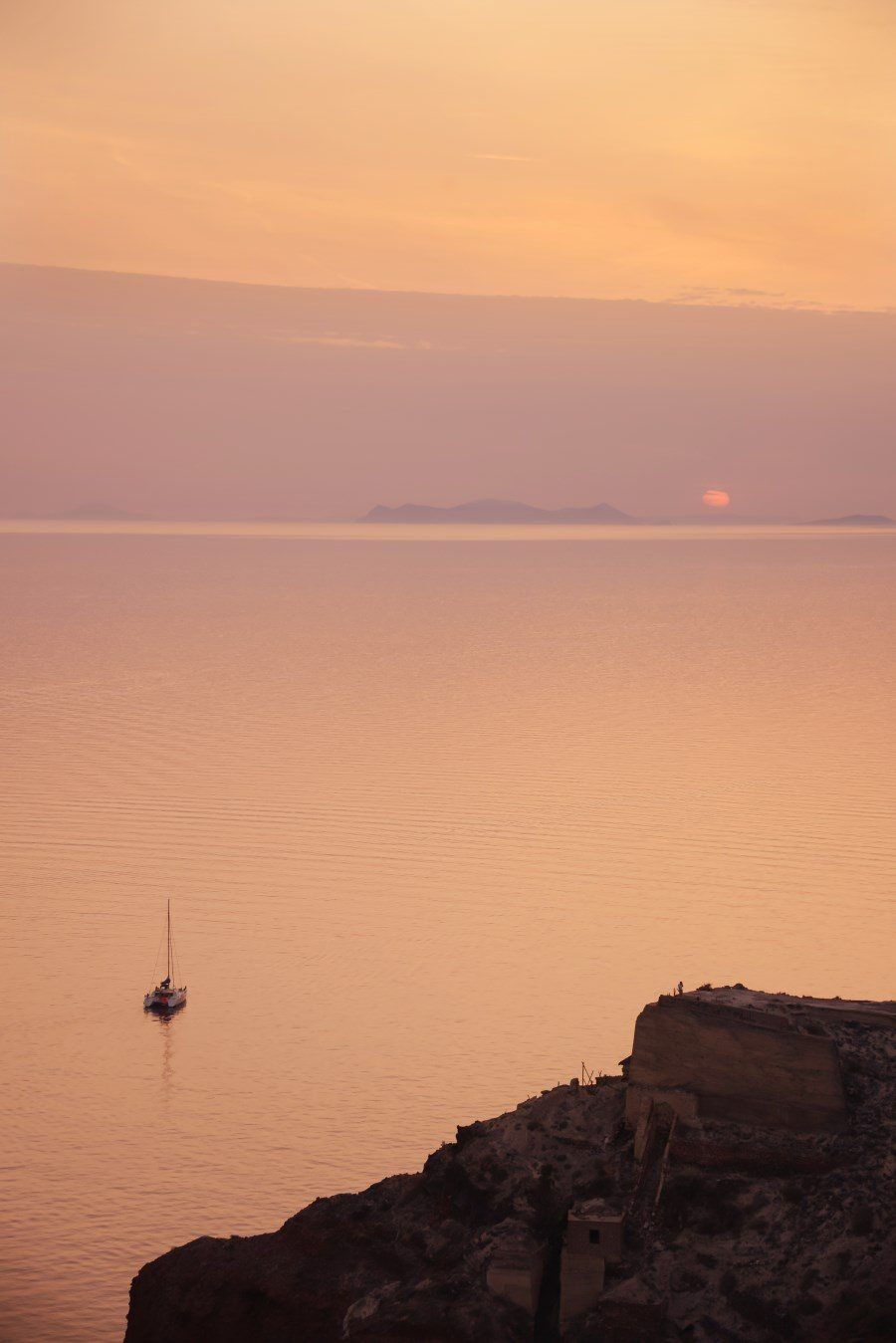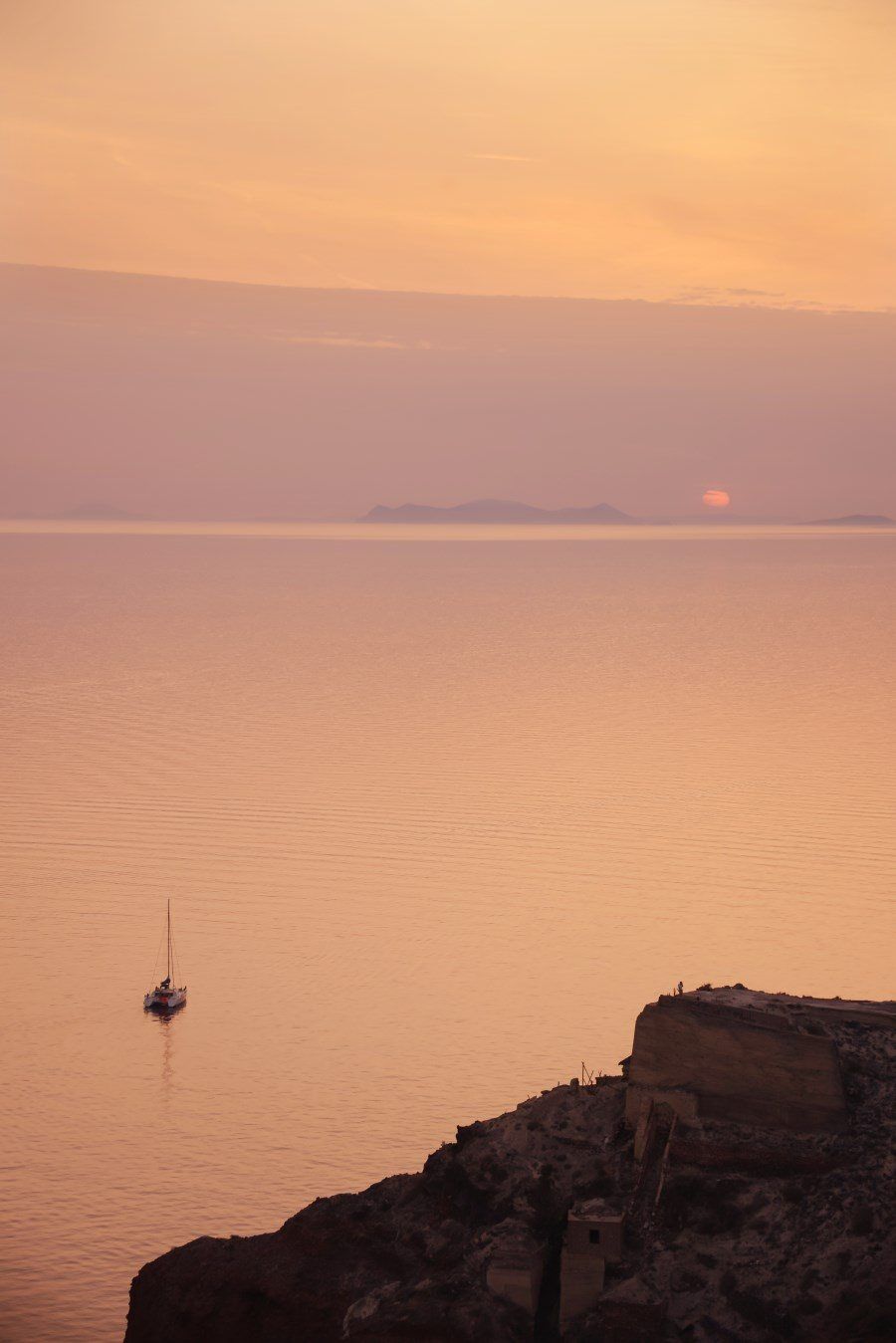 ---
#10 – Oia's Back Streets
One street back from the main thoroughfare you'll find almost 90% less crowds and colourful facades to photograph. Follow the path from the main bus terminal west past restaurants like Candouni and Karma instead of following the path lined with tourist shops toward the views.
It's quite difficult to get lost in Oia so be sure to venture down as many pathways possible. If you do loose your bearings, head for the sea views and in no time you'll find everyone else!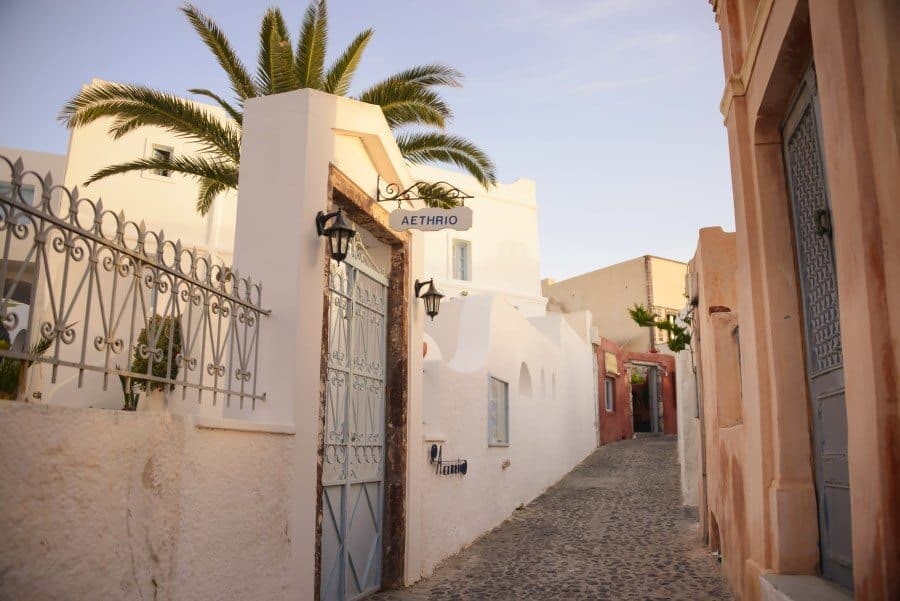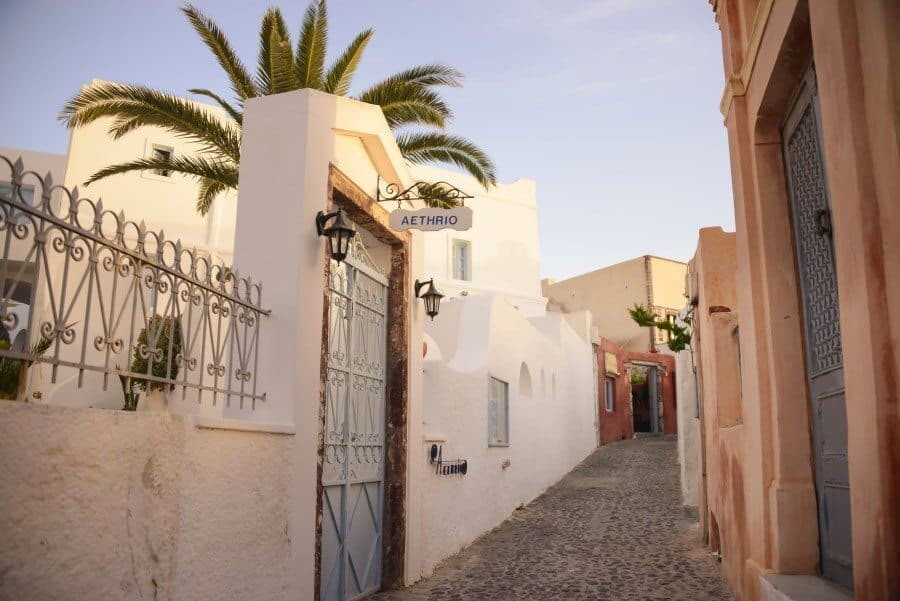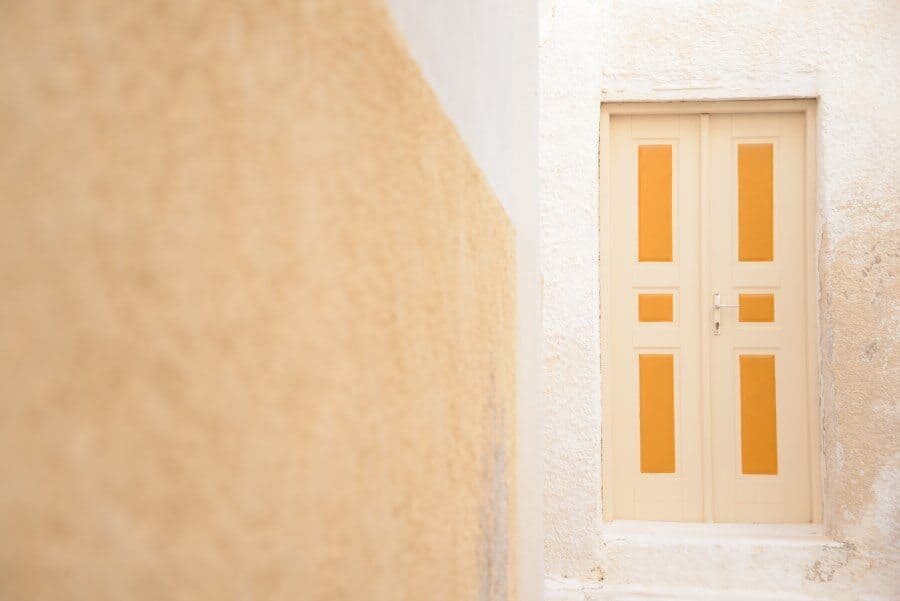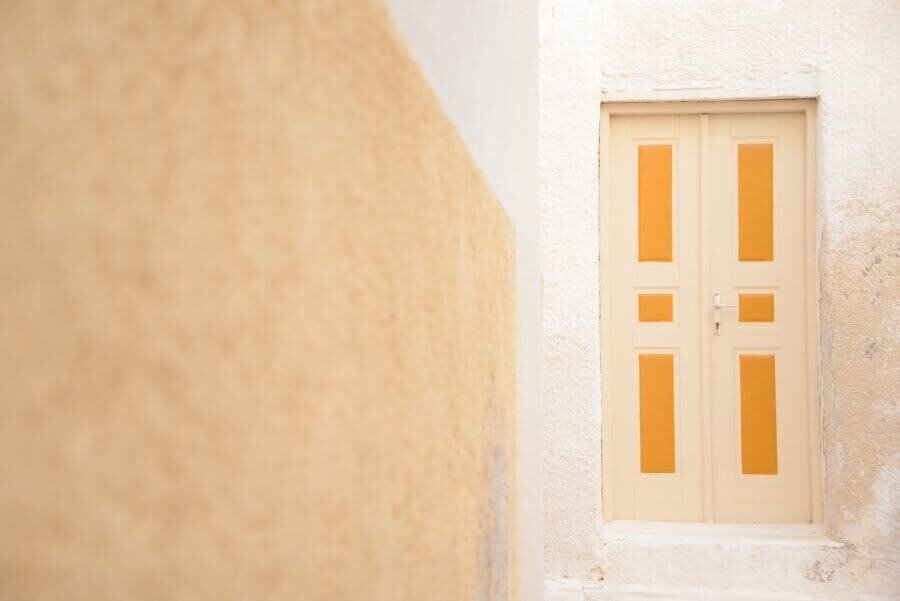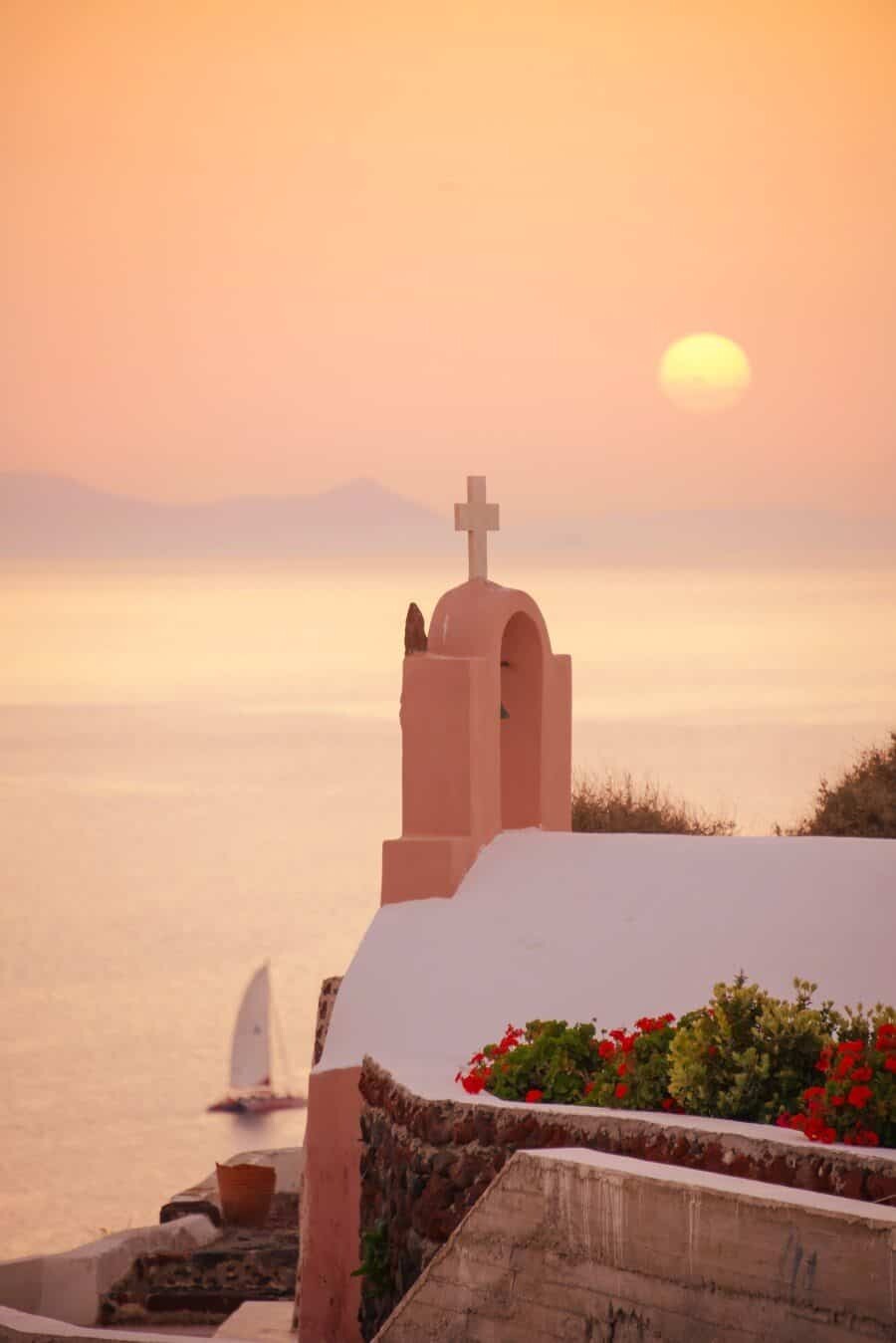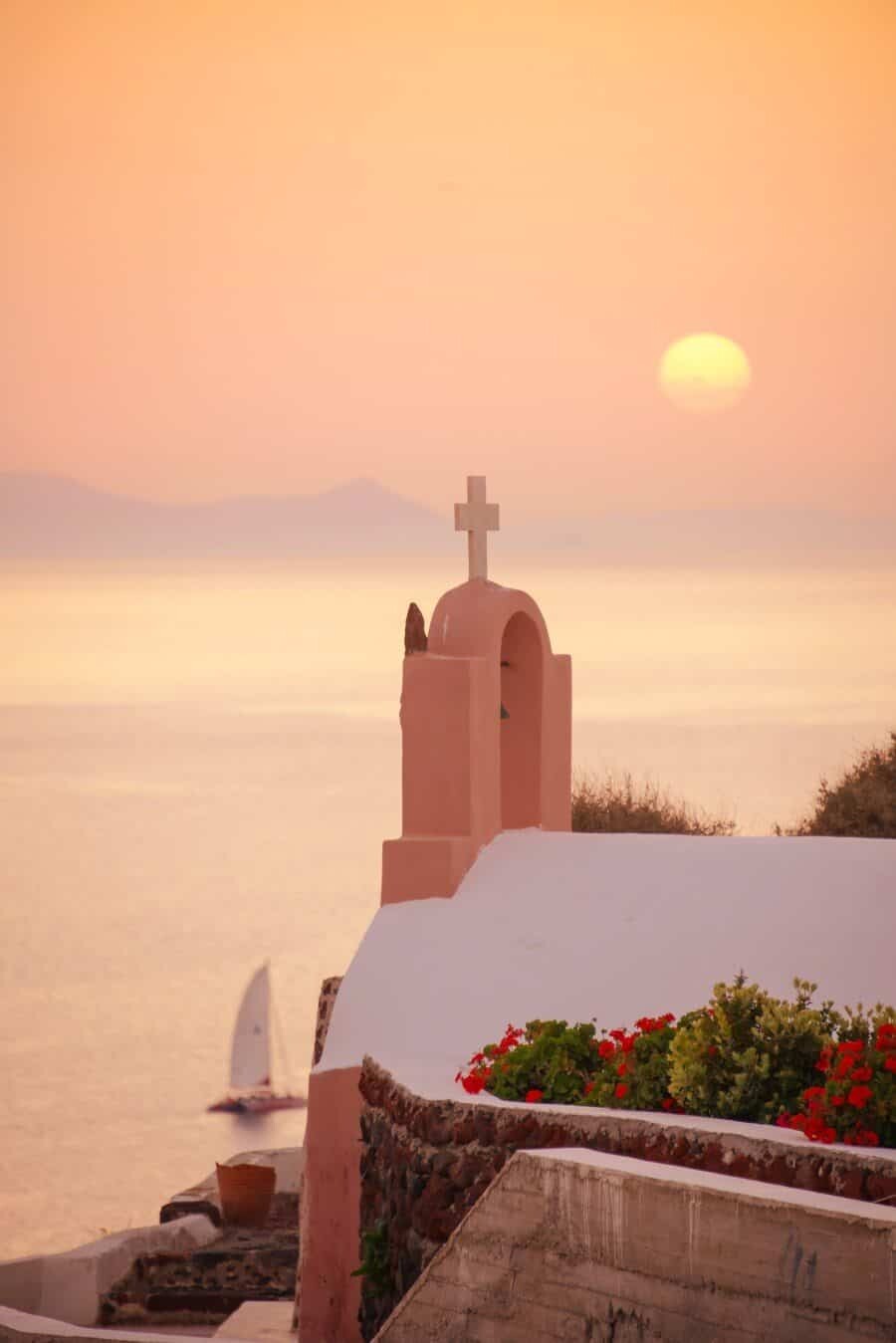 ---
#11 – Red Beach
Named Red Beach for good reason, here you'll find a red beach. Smart ass I know. It's as stunning as it sounds. Following suit with the rest of the island, the beach is backed by a large red cliff and boulders. Swimming here is like no where else on the island with azure seas sparkling over the mix of red and black volcanic sands.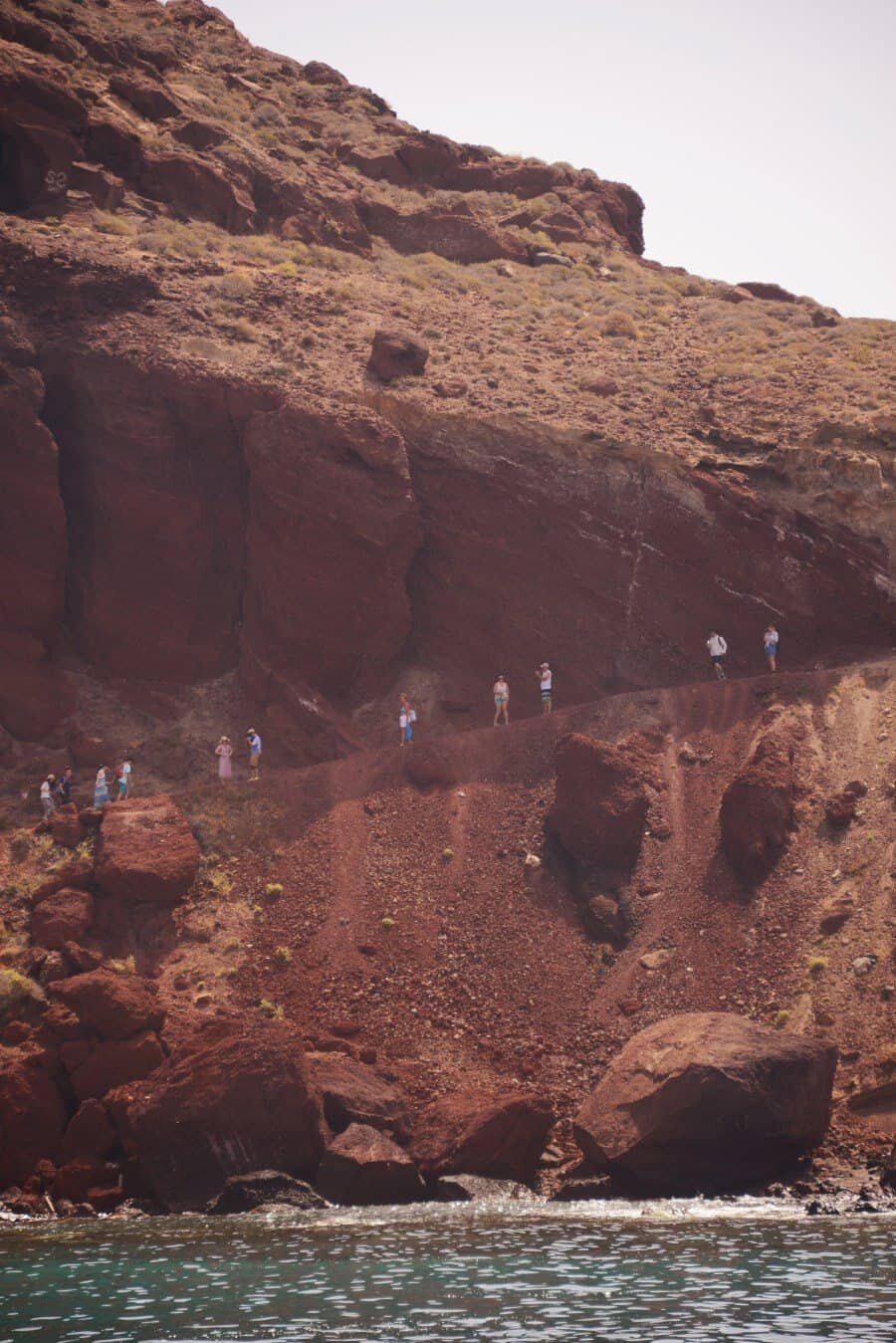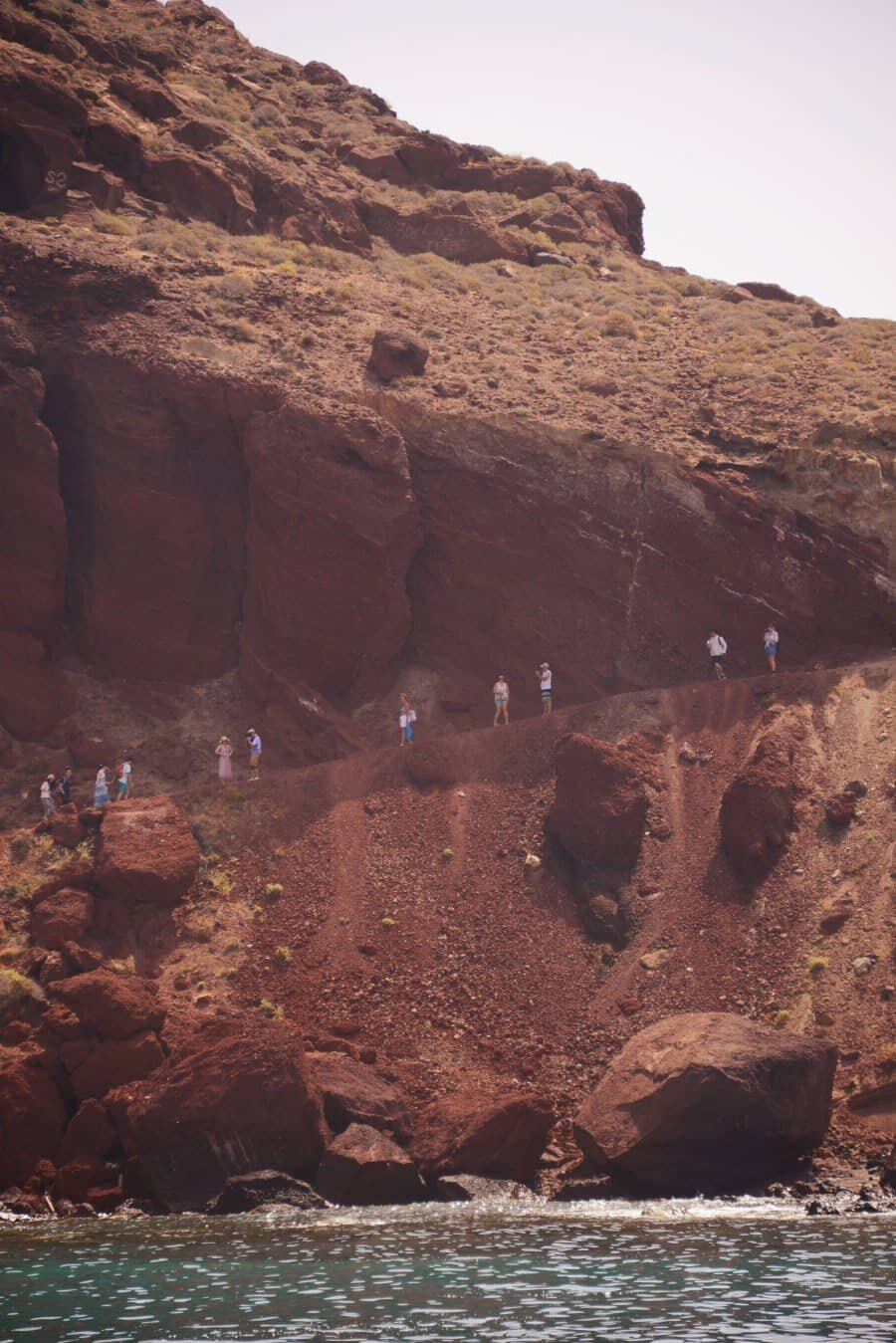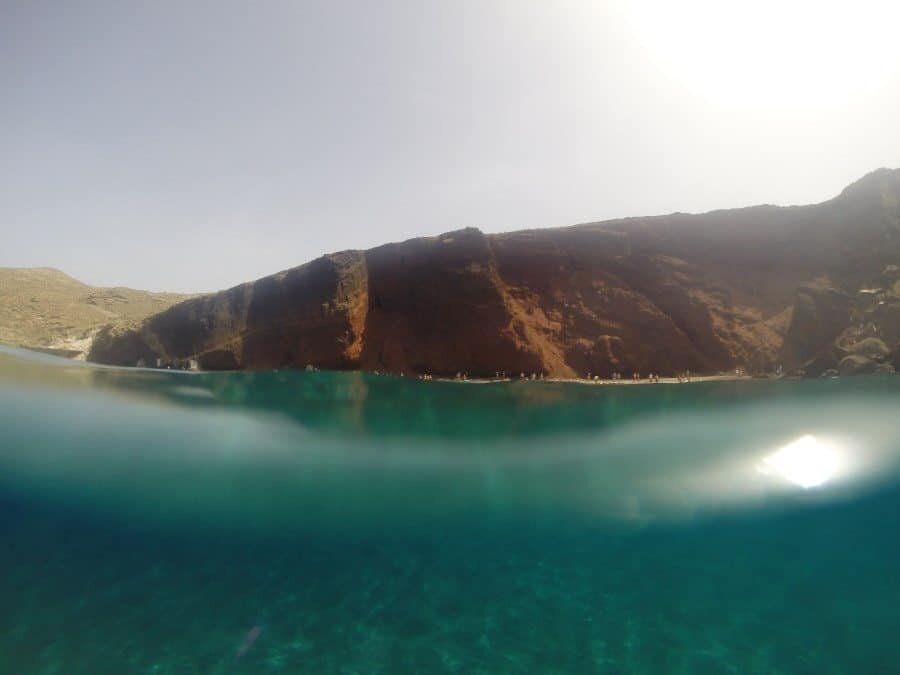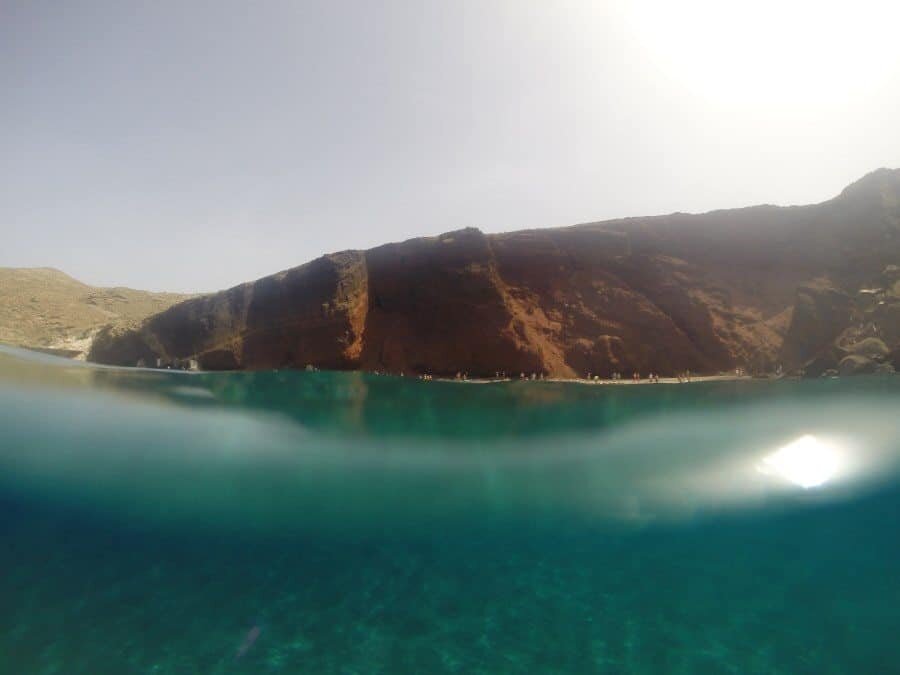 ---
#12 – Fira to Oia Track
Taking in the three main villages of Santorini and hugging the caldera coastline, this 3-4 hour hike is like a photo lovers candy store. Venture past gorgeous hotel entrances, colourful doors and blue domed churches each offering a different vantage point of the island. Once you hit the track you'll have uninterrupted caldera views to keep you company, can take a photo stop at the scenic Church of Panagia before arriving in Oia for a well earned Tzatziki and Gyros!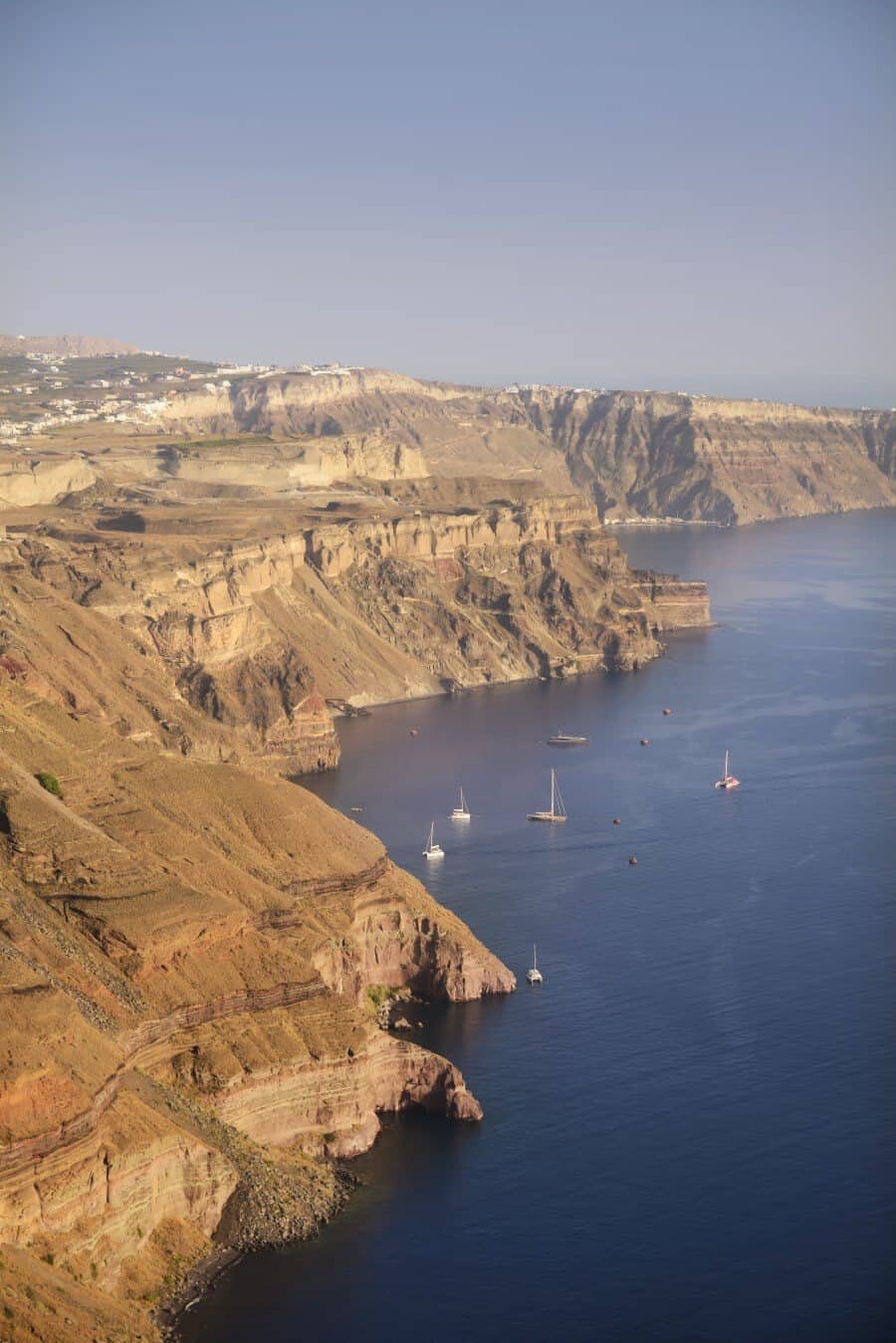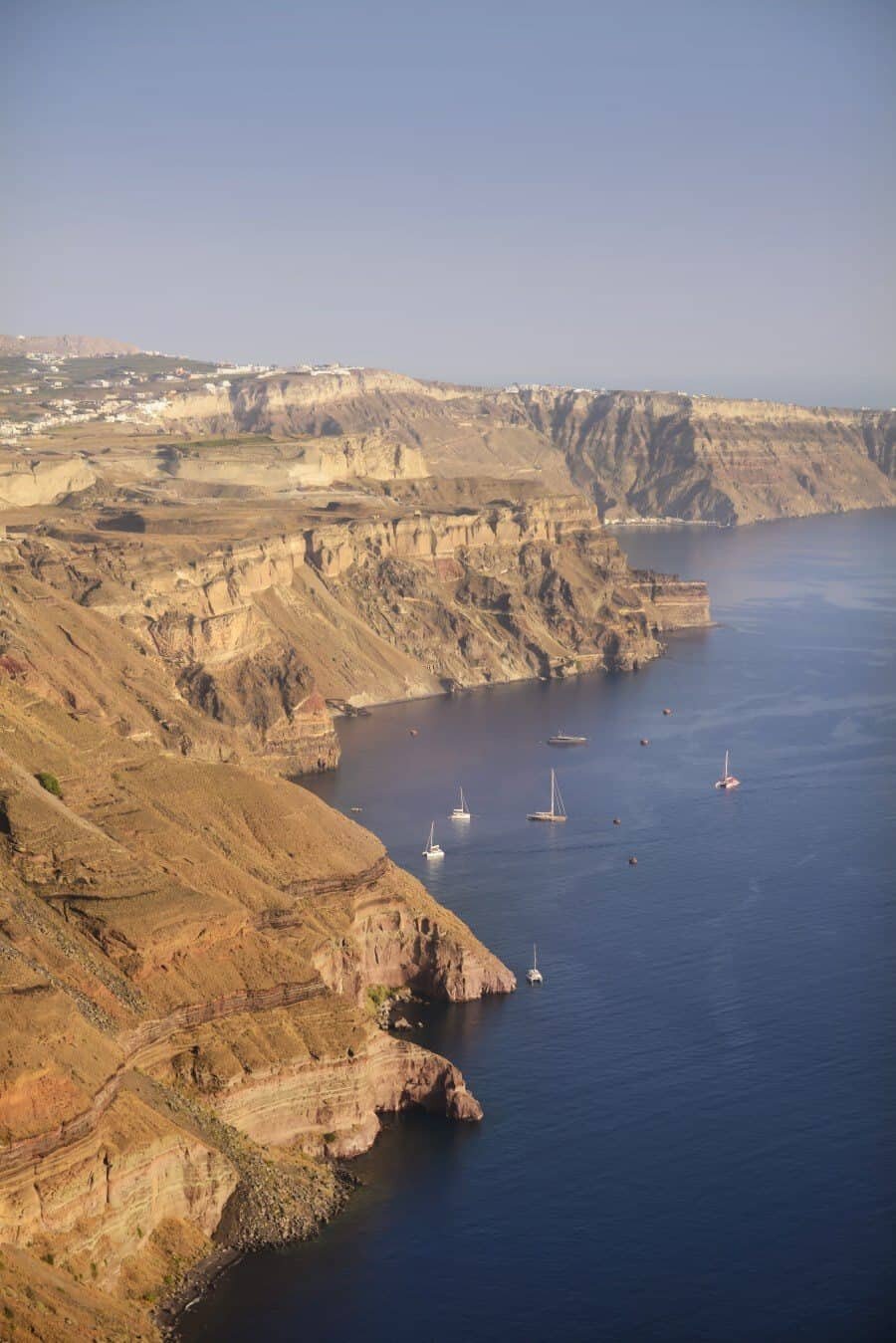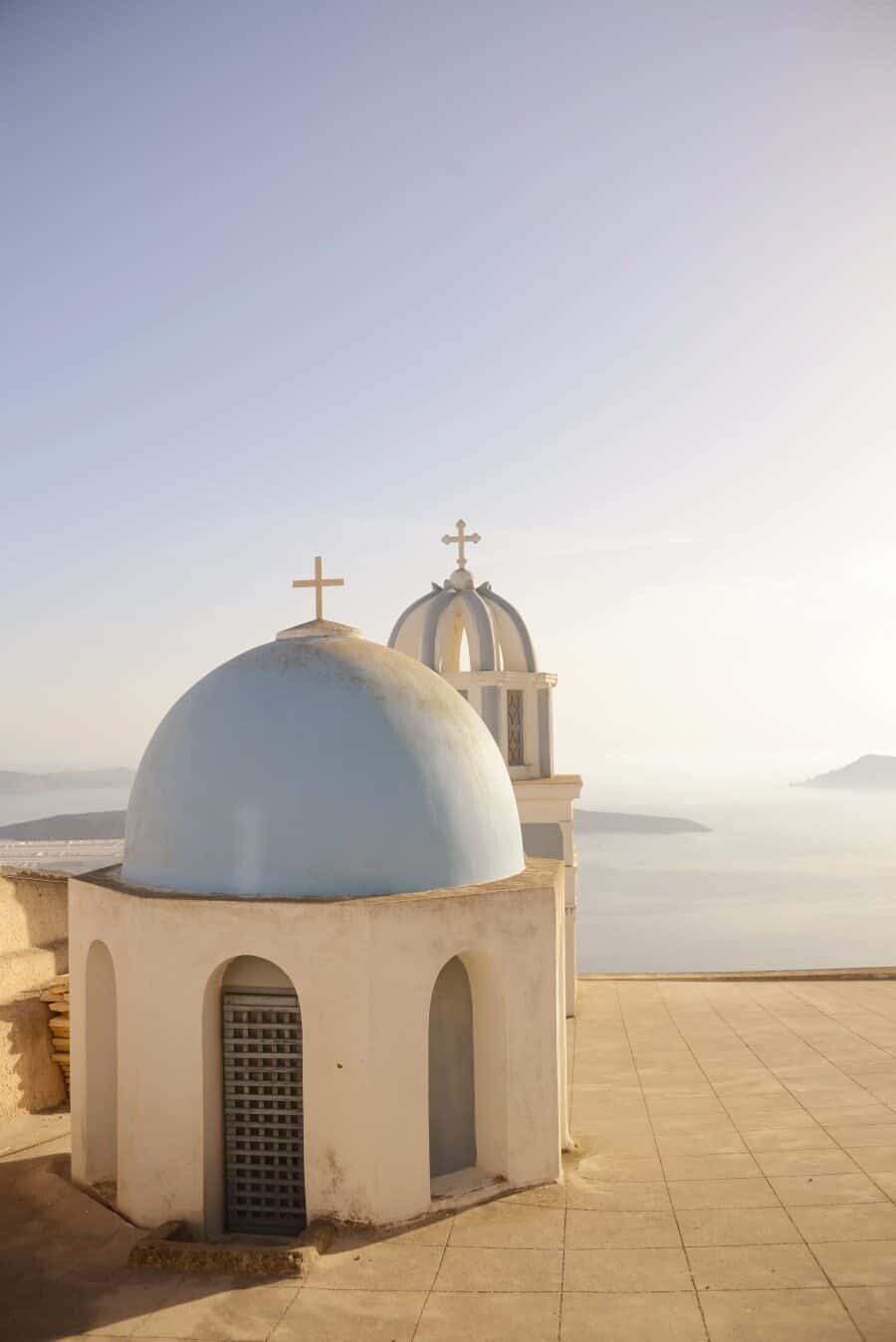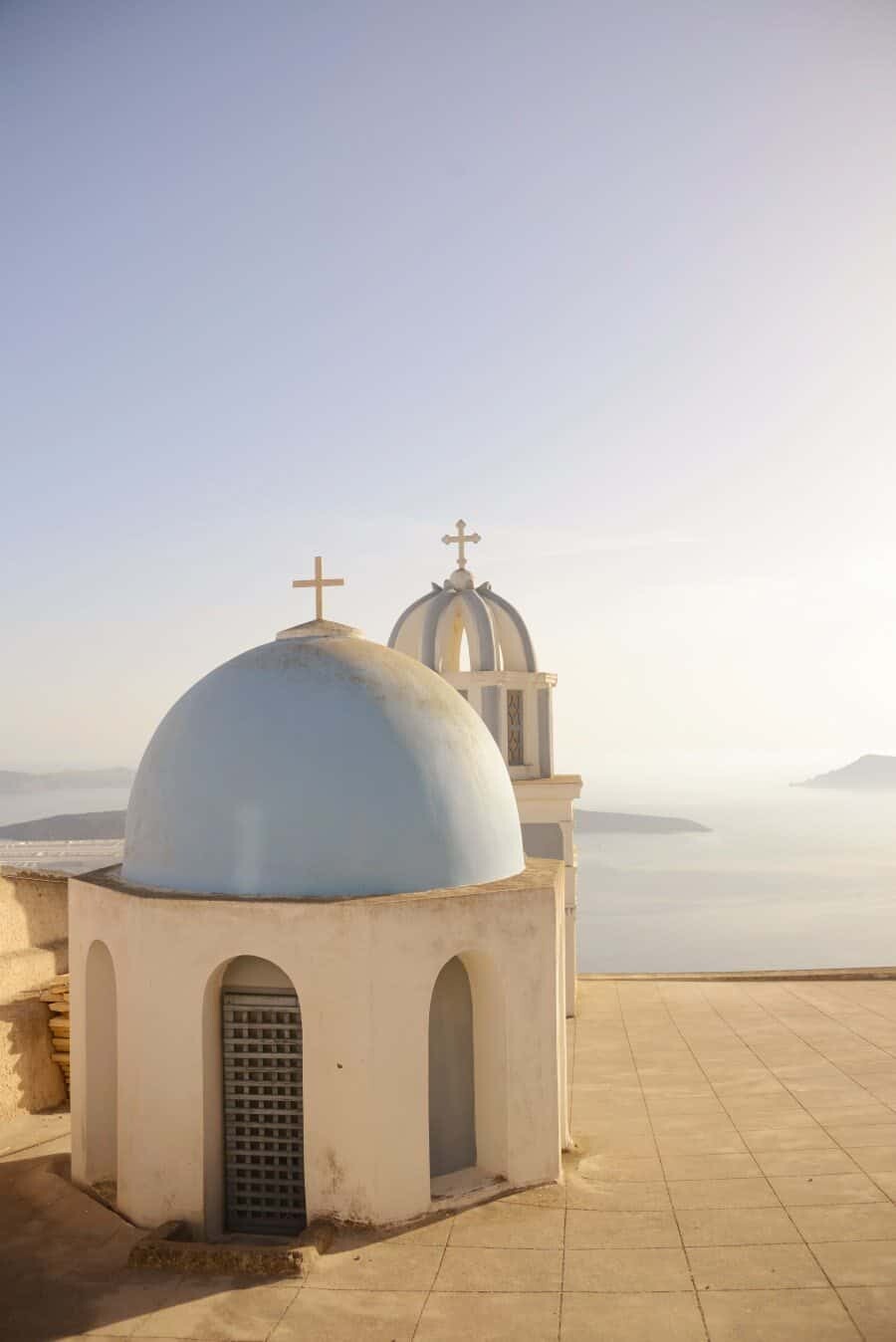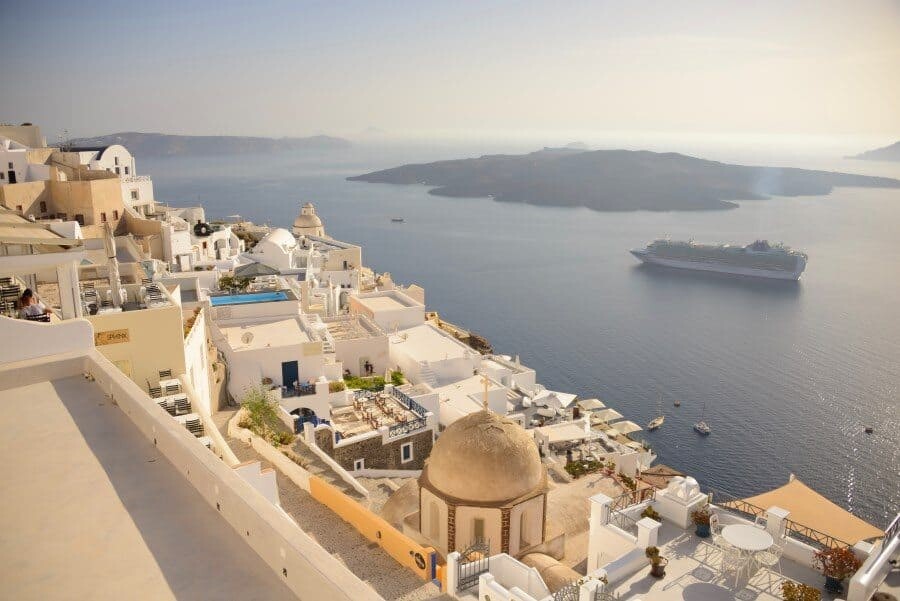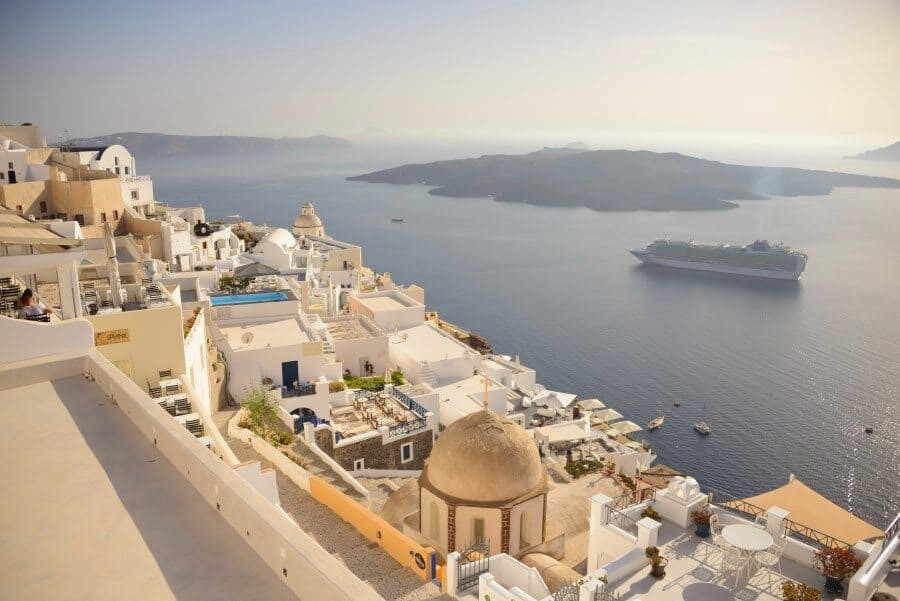 ---
#13 – Hotel Entrances
The luxe hotels have picture perfect entrance gates and doors, just begging to have their photo taken. You'll find white walls with bold yellow or blue doors, some with ornate detailing, others with the caldera view as their backdrop. Take a wander past The Vasilicos, Dreams Luxury Suites and Chroma Suites between Fira and Imerovigli then Katikies, Caldera Villas and many more in Oia. Pegasus Suites and Spa is a must for photographers looking to capture clean lines blended with jagged white staircases and domed roof tops…it's all visible from the path. Avoid jumping the fence to stand on the roof tops…there was hotel security close by each time I visited.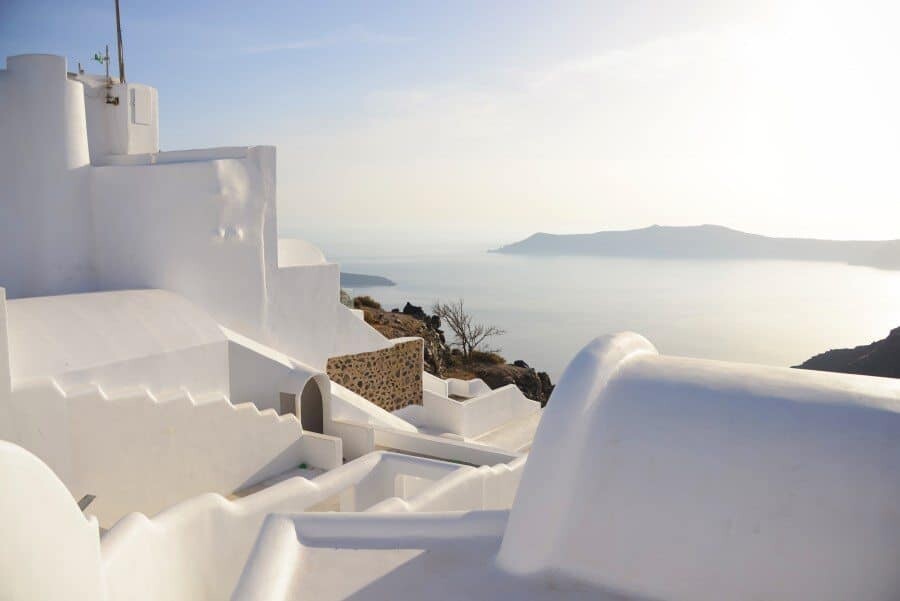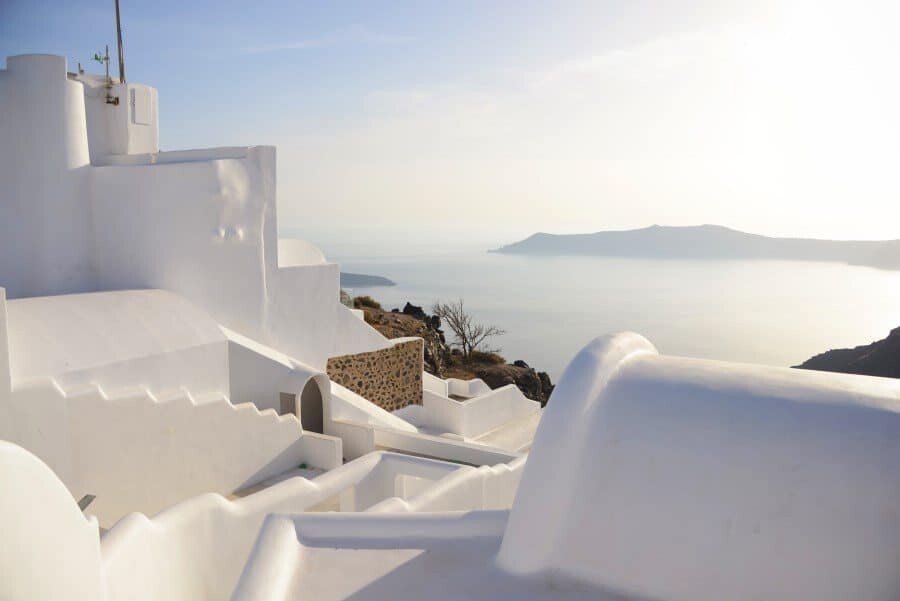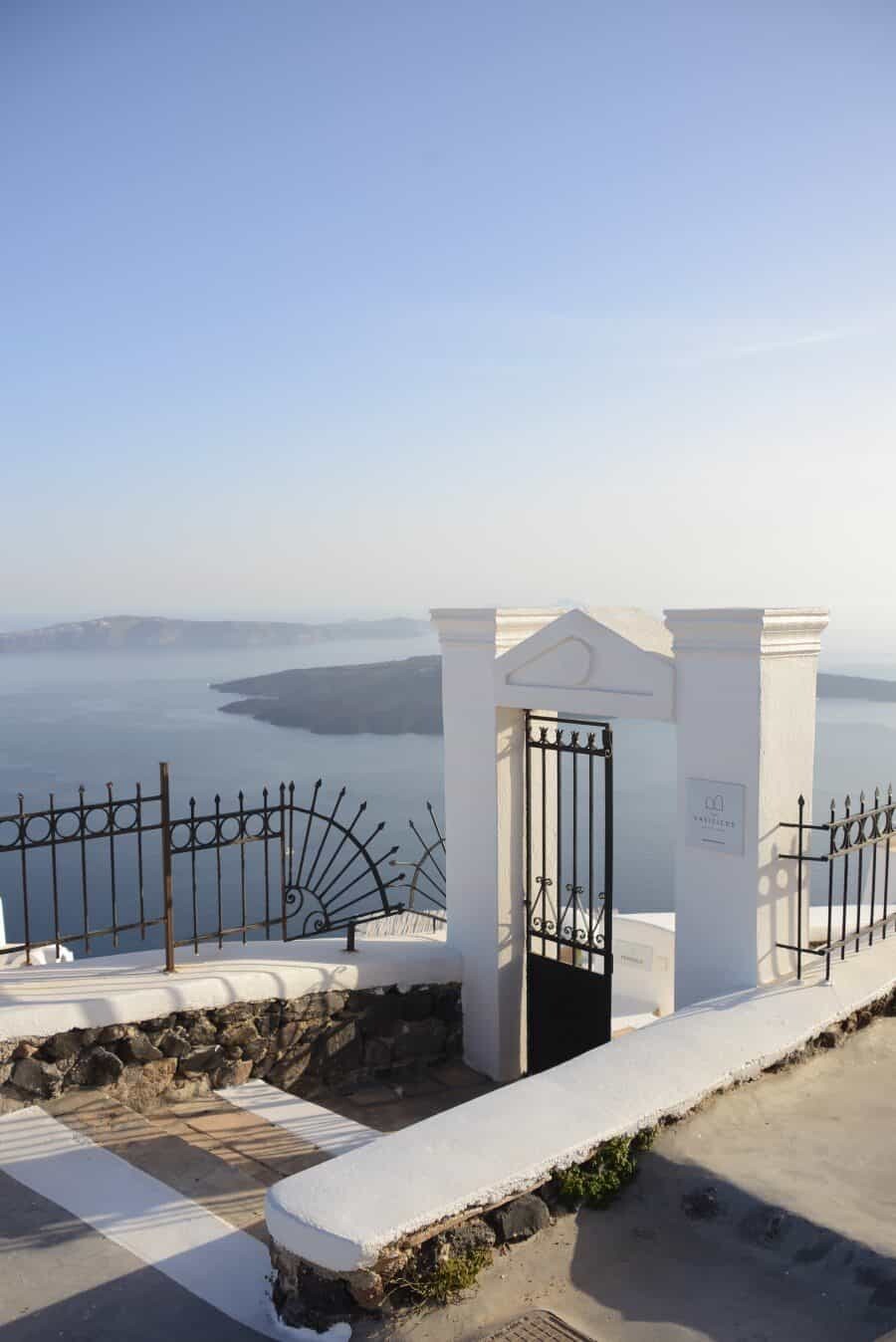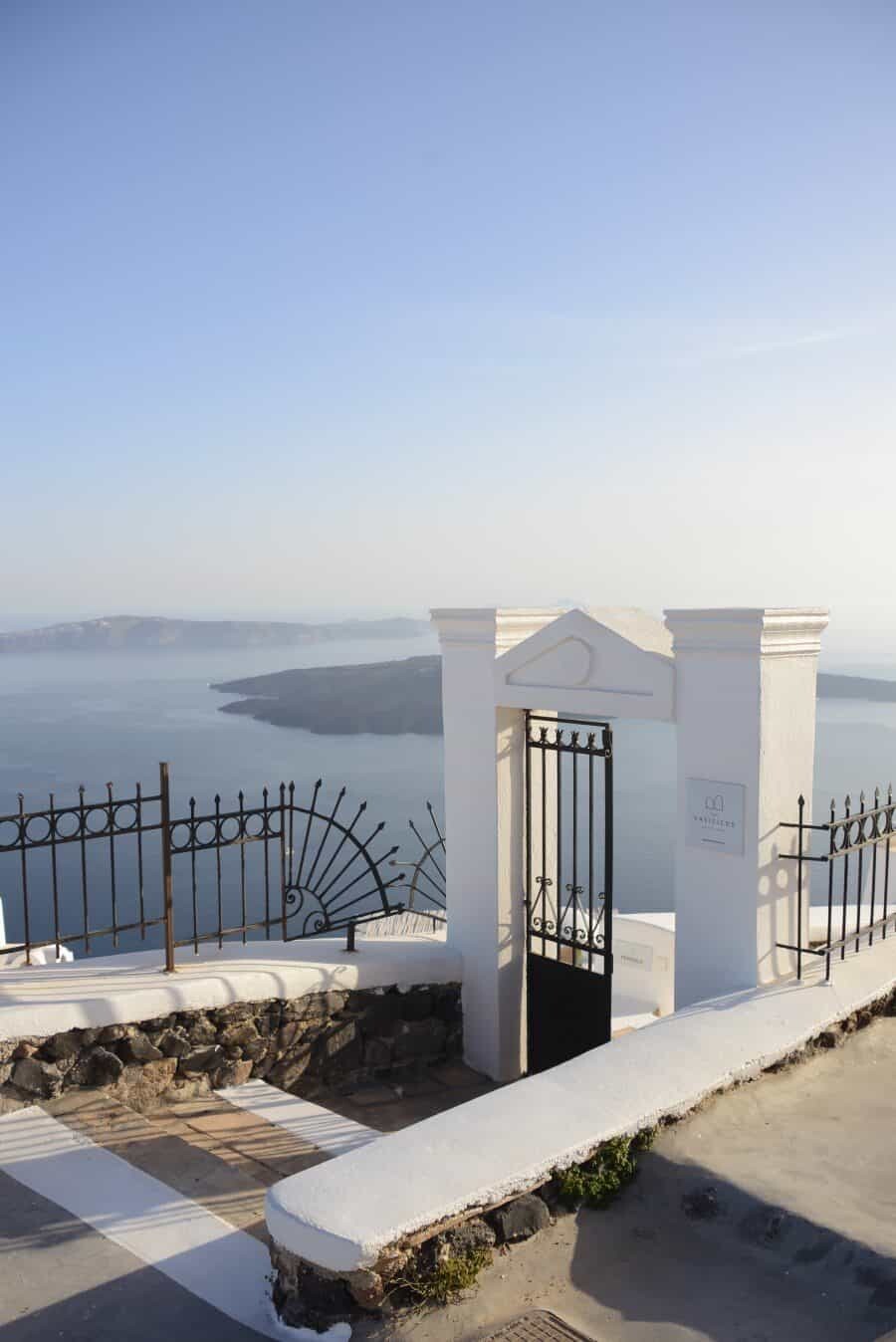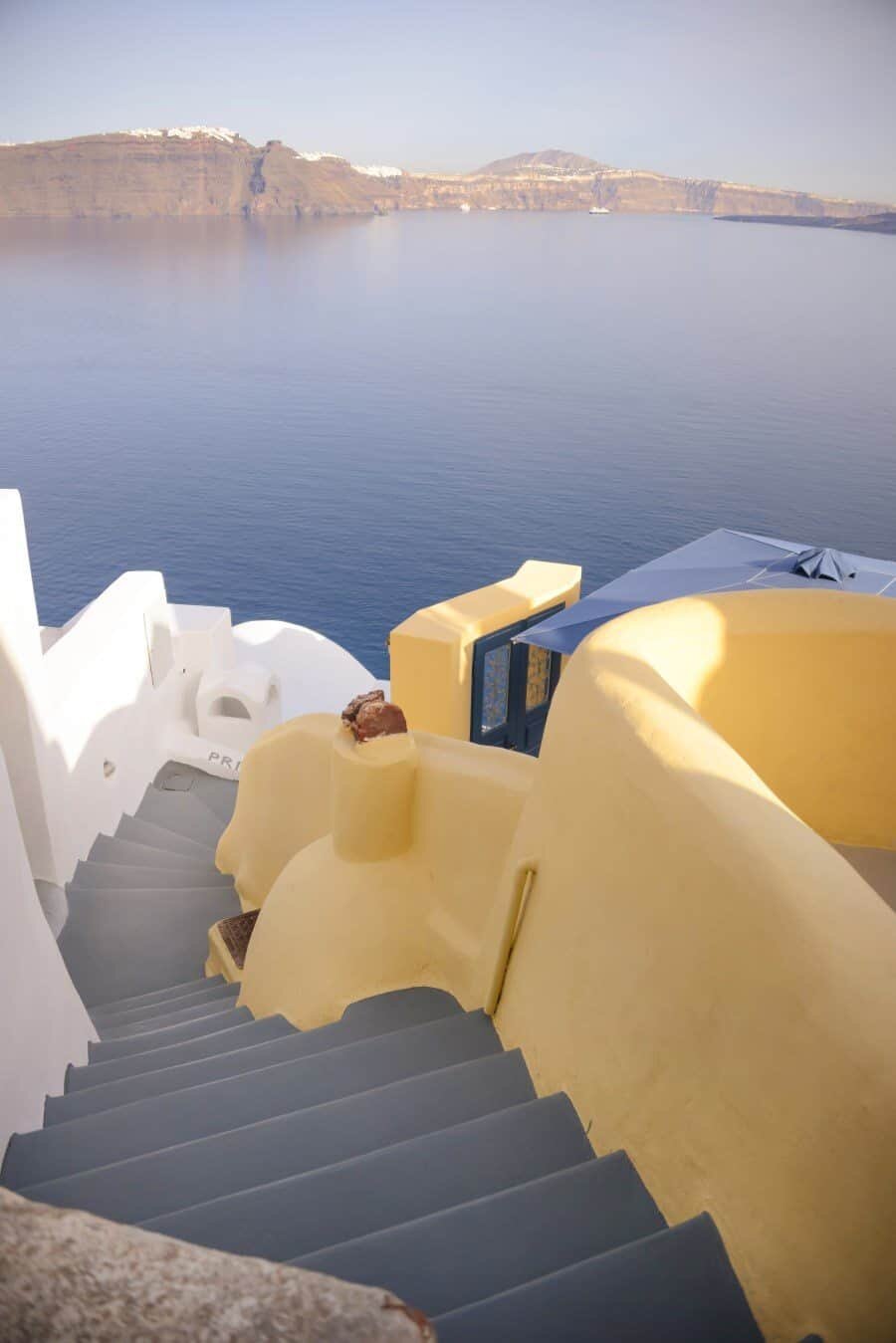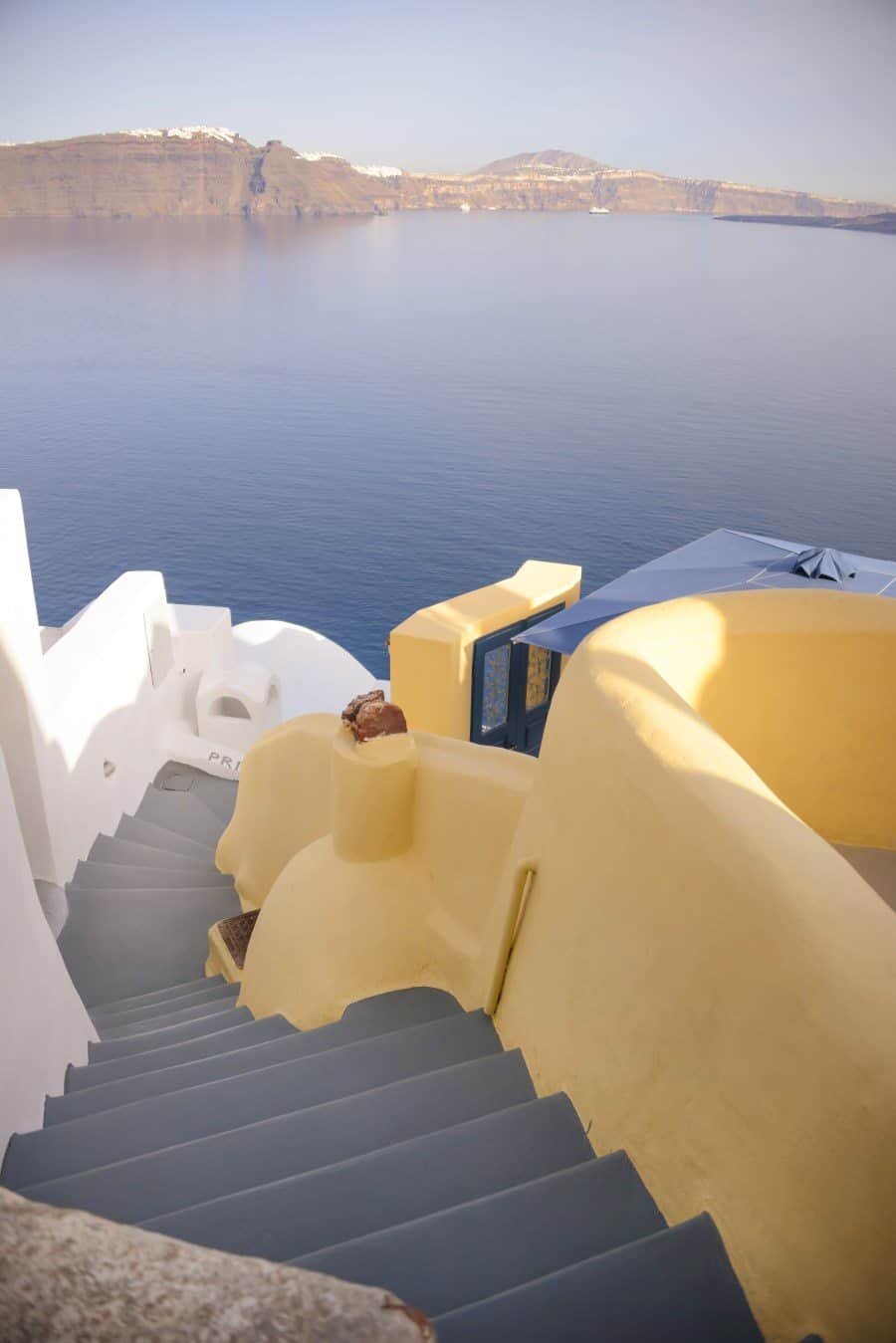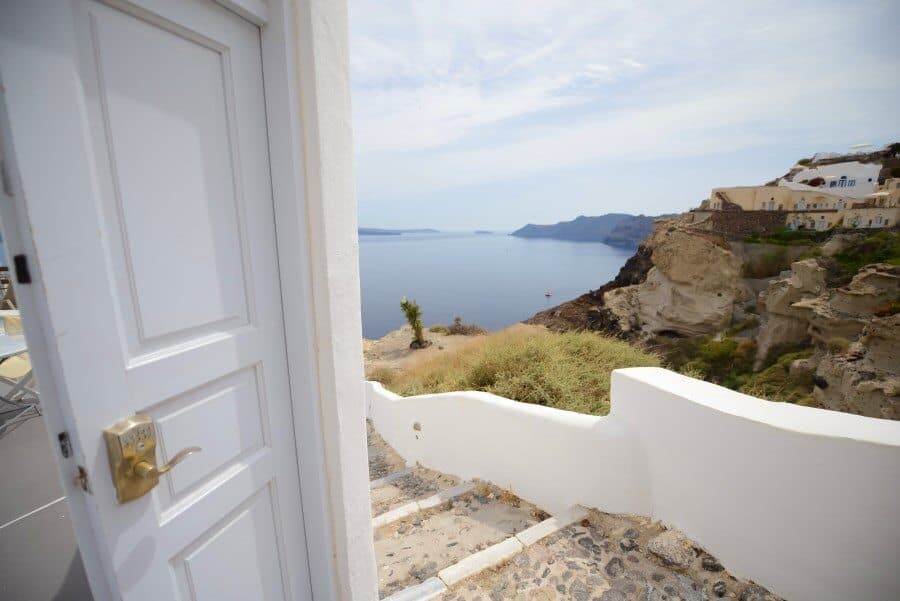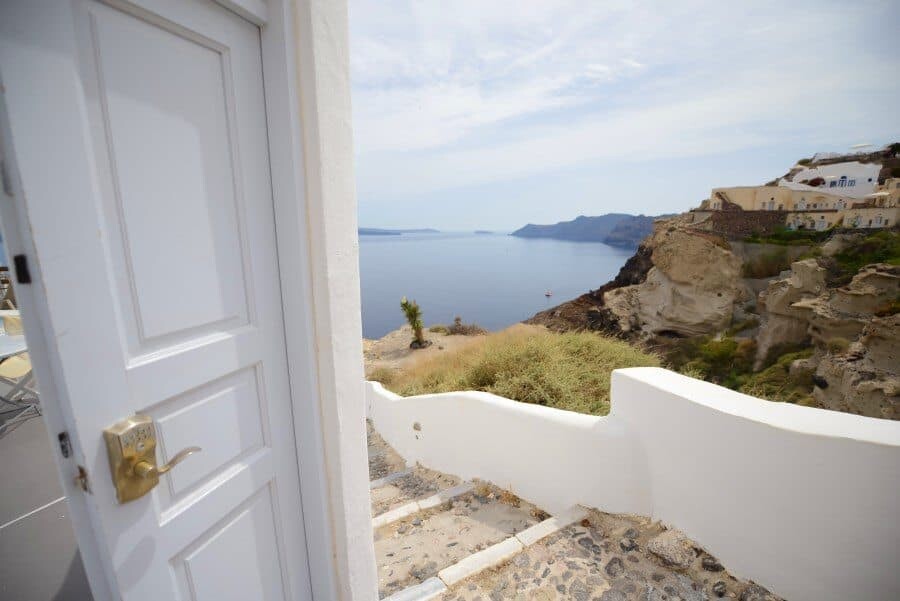 ---
#14 – Fira Lookout – Cafe Irini
Fira is one of the three main towns on Santorini. Here you'll get those iconic shots with cruise ships anchored below the cliffs. It's the closest white washed village to Ormos where the ferries zip in and out, and also located above the Old Port where boats dock to collect cruise tourists. This means it's a bit less quaint than Oia or Imerovigli and even has a gondola to take people back down the cliff. That said, it still boasts those impressive views over the caldera and if you're keen to capture an iconic shot, head for the corner near Cafe Irini where the path turns and you'll get great views back towards the village and cruise ships below.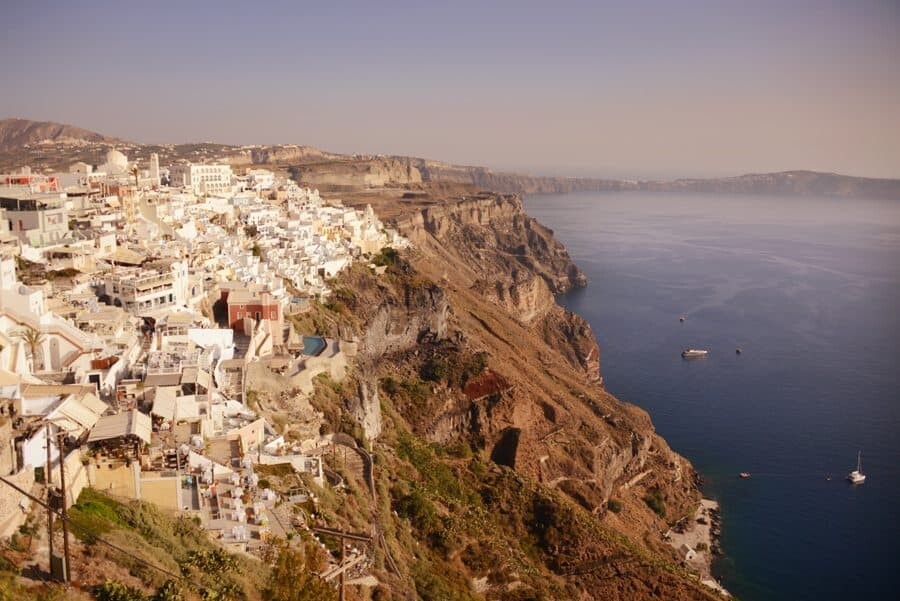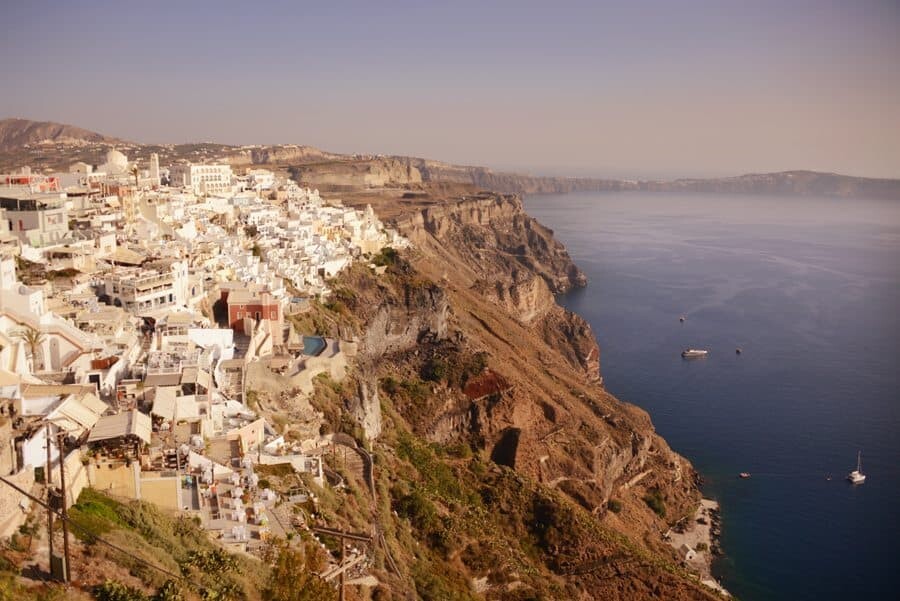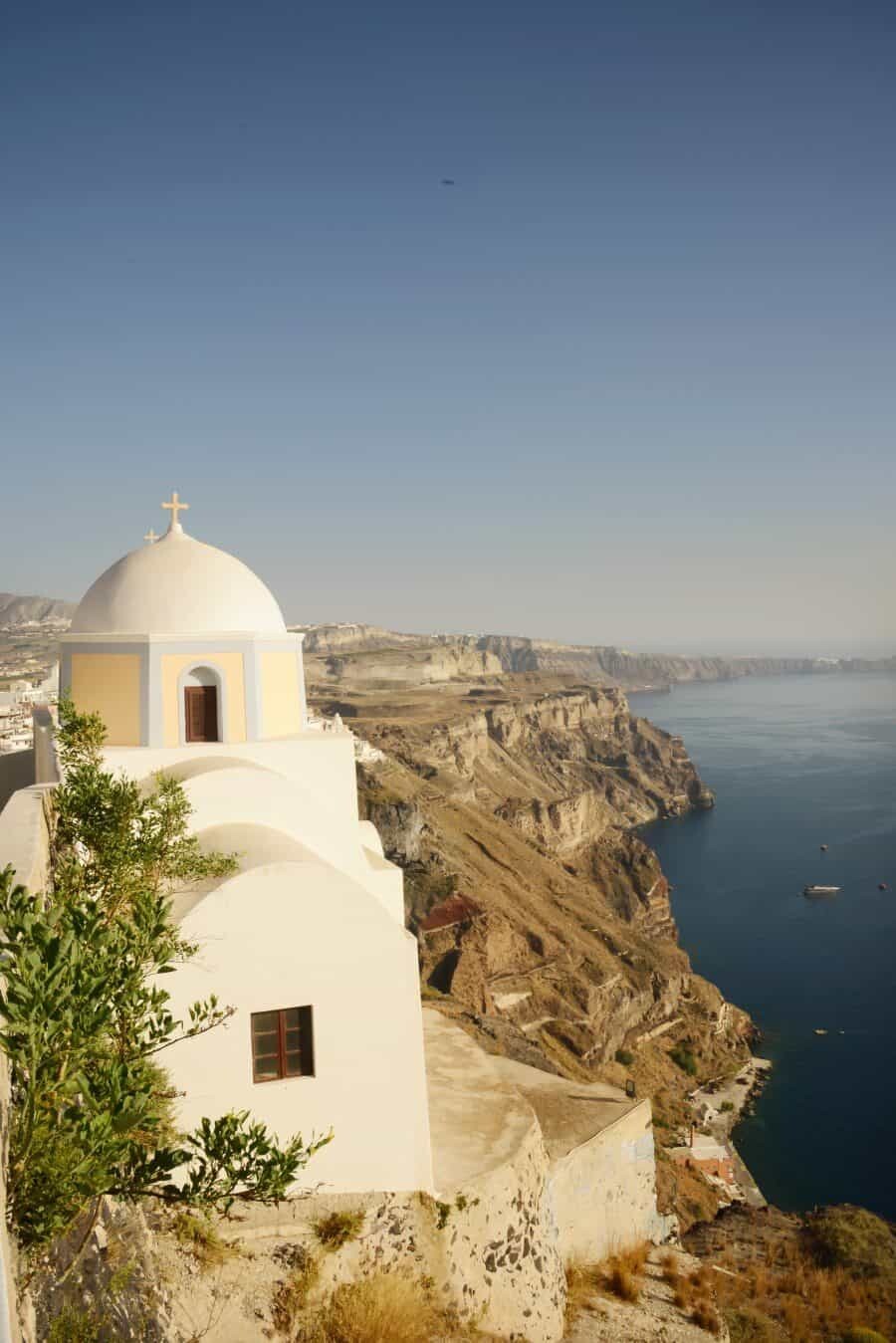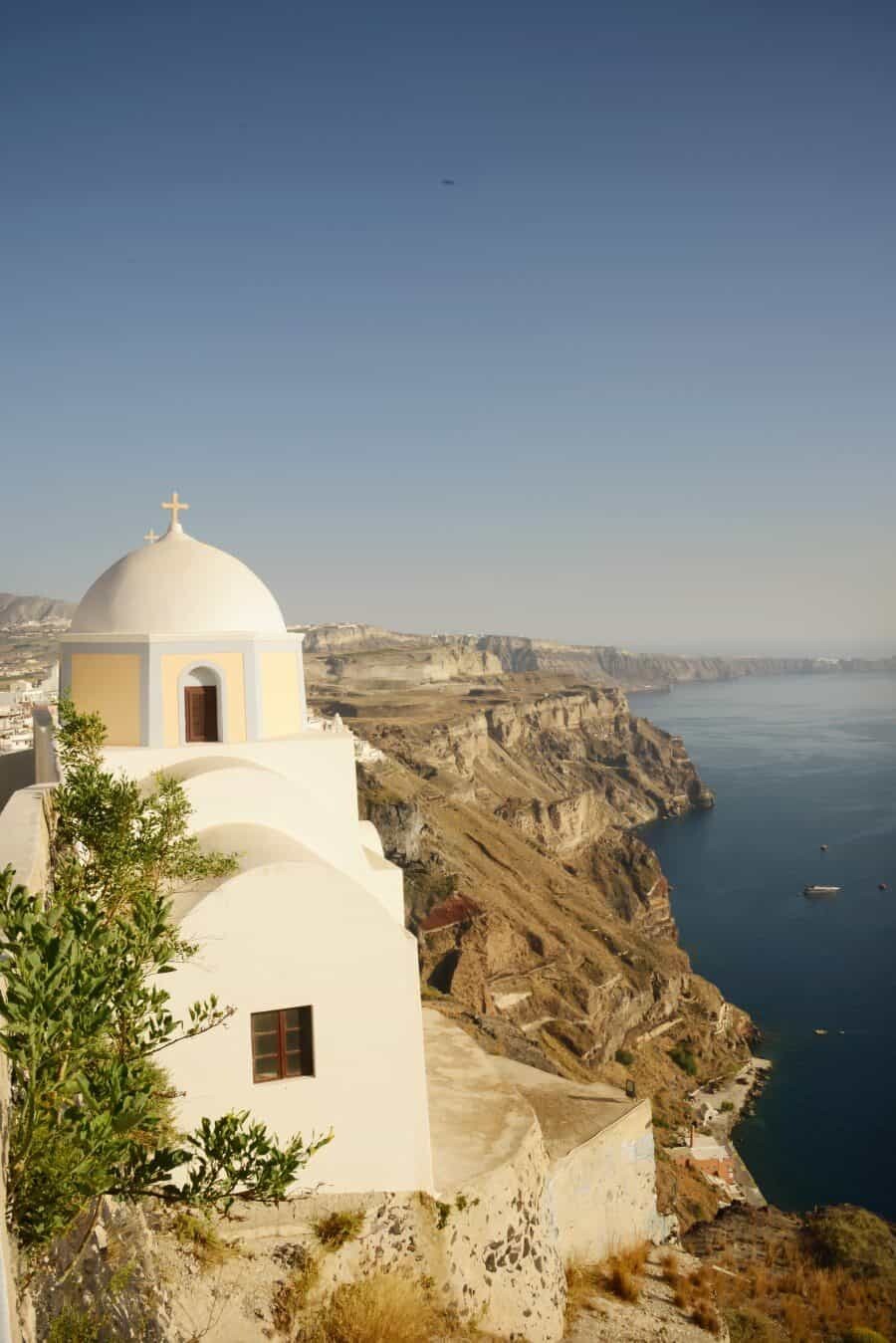 ---
#15 – Opposite Vallas Cafe – Fira to Imerovigli Walk
Just opposite this little cafe you'll find an old wooden boat perched on top of a white washed roof. It's also where there's a seahorse ornament with the caldera backdrop, a perfect spot to take some iconic shots!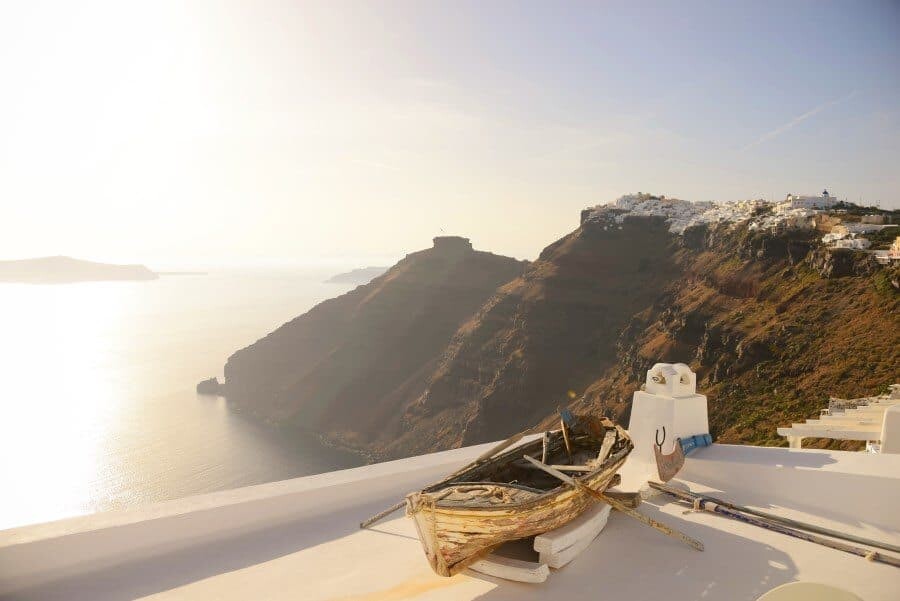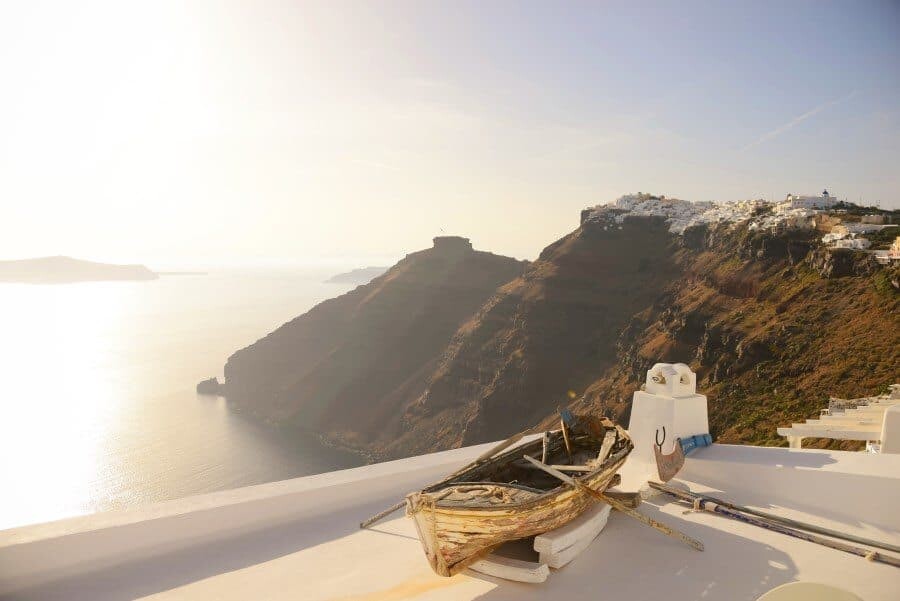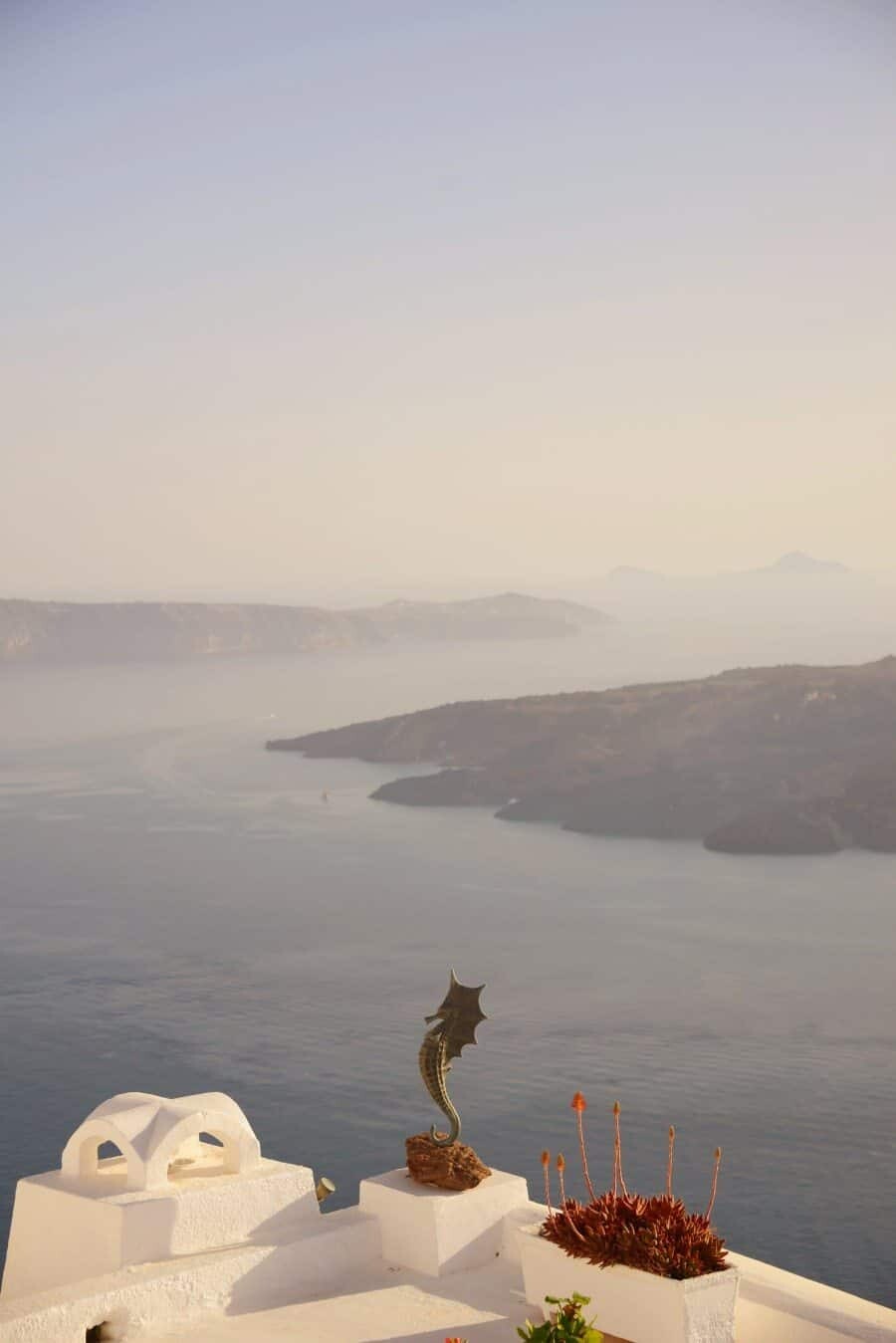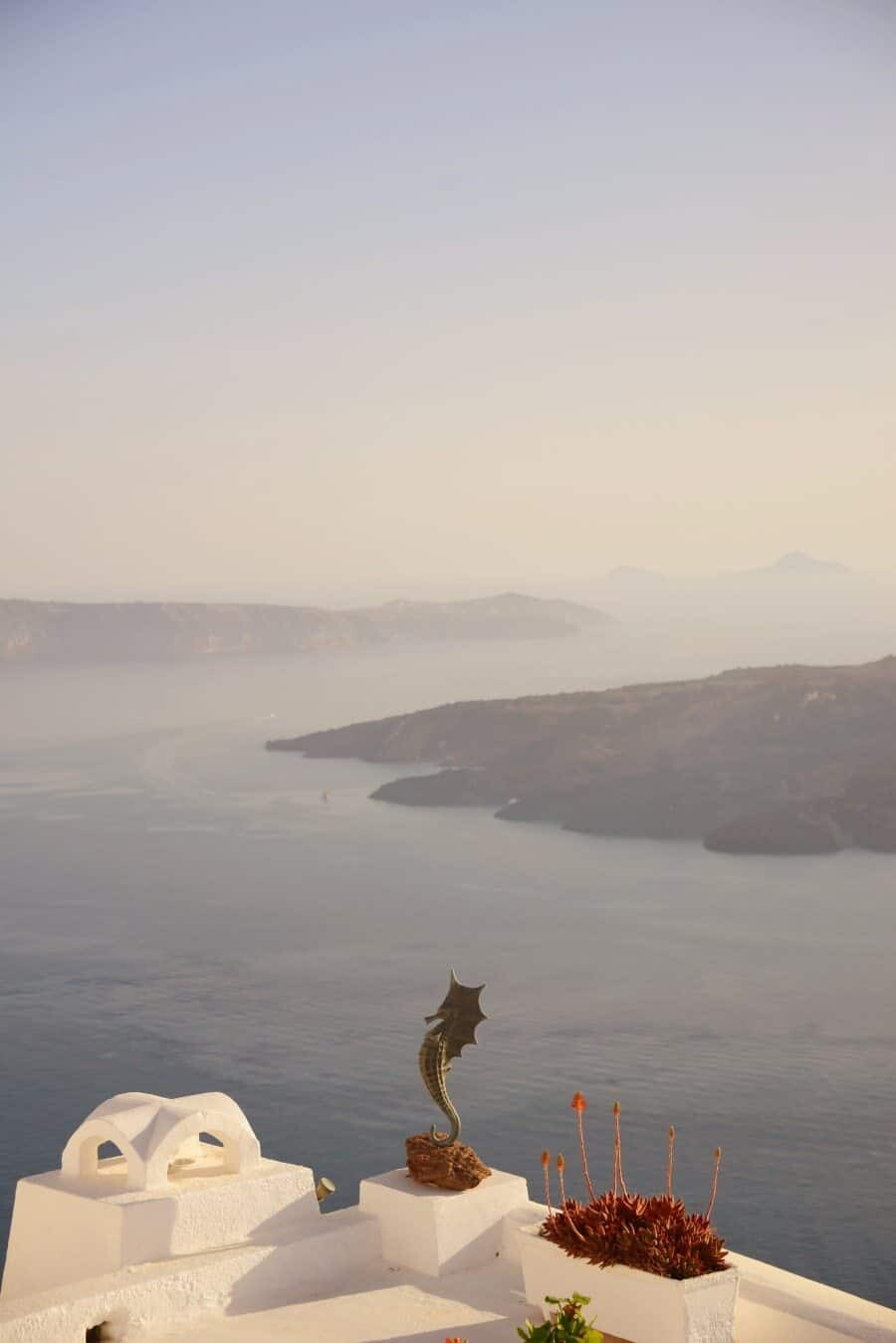 #16 – Nikolaou Nomikou
This is the main path through Oia, it's touristy, crowded but oh so colourful. One of those do it once but then find some other less populated spots. Actually, you'll no doubt find you have to walk along this path to get anywhere so all I'll say is be sure to avoid it just before sunset as everyone rushes to the Oia Castle for the best view in town.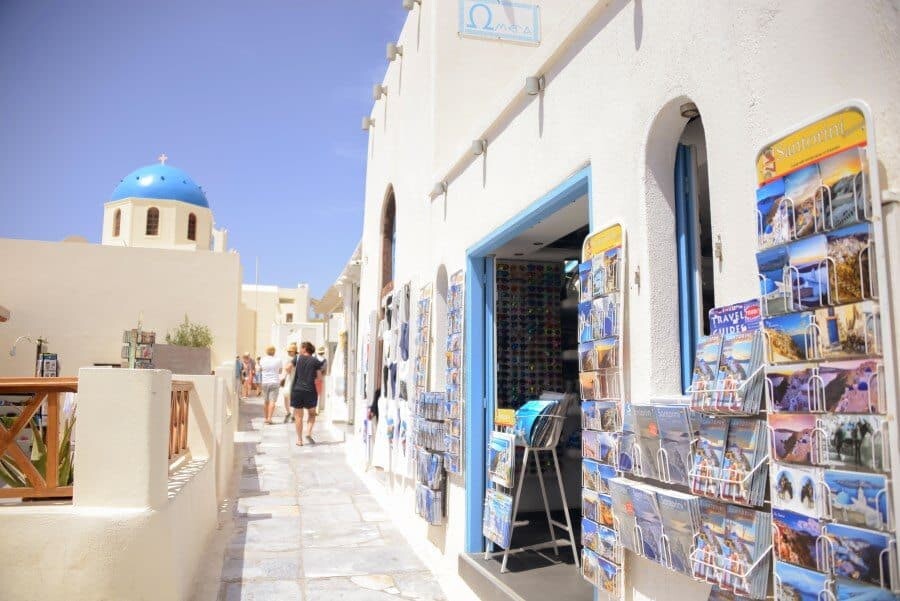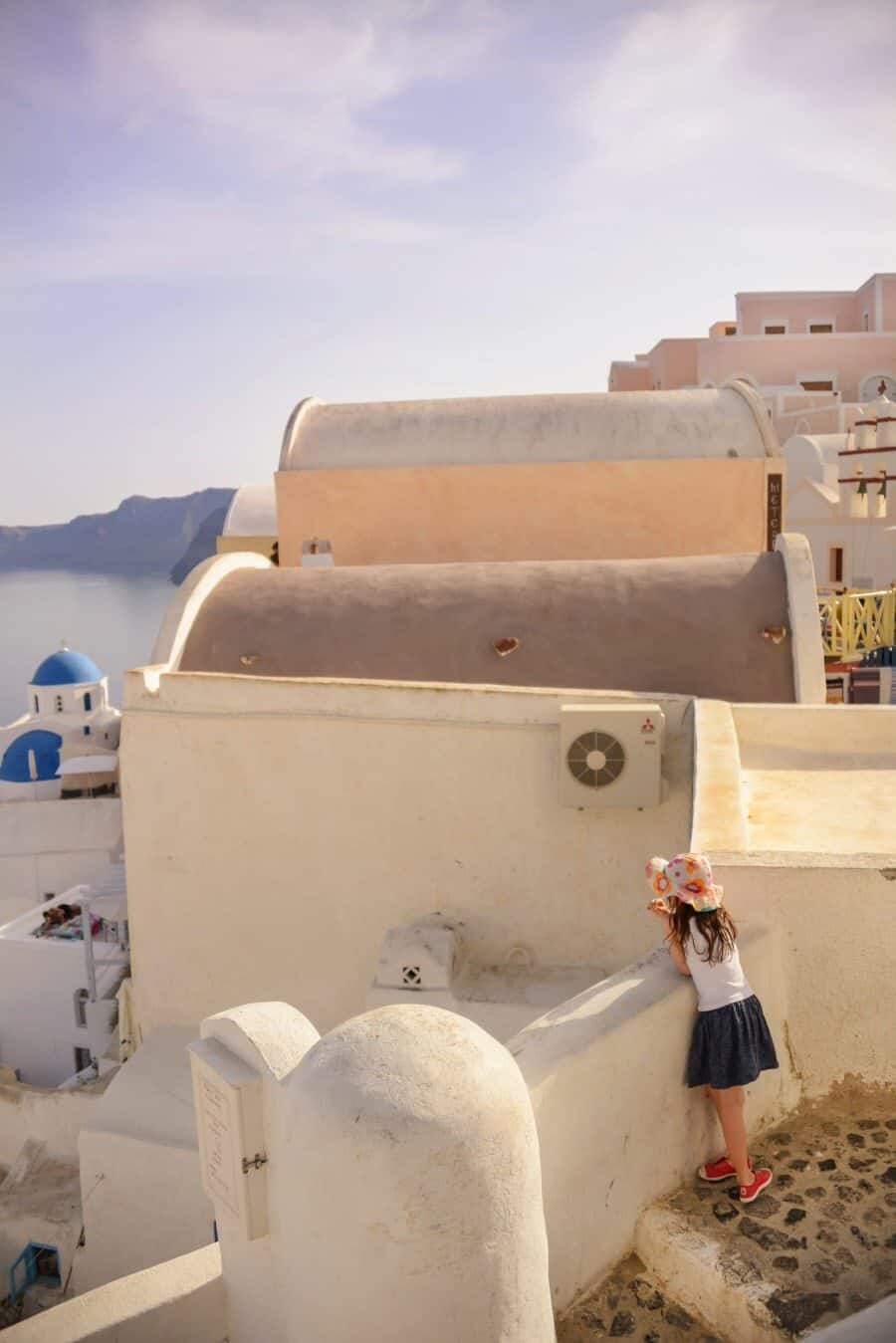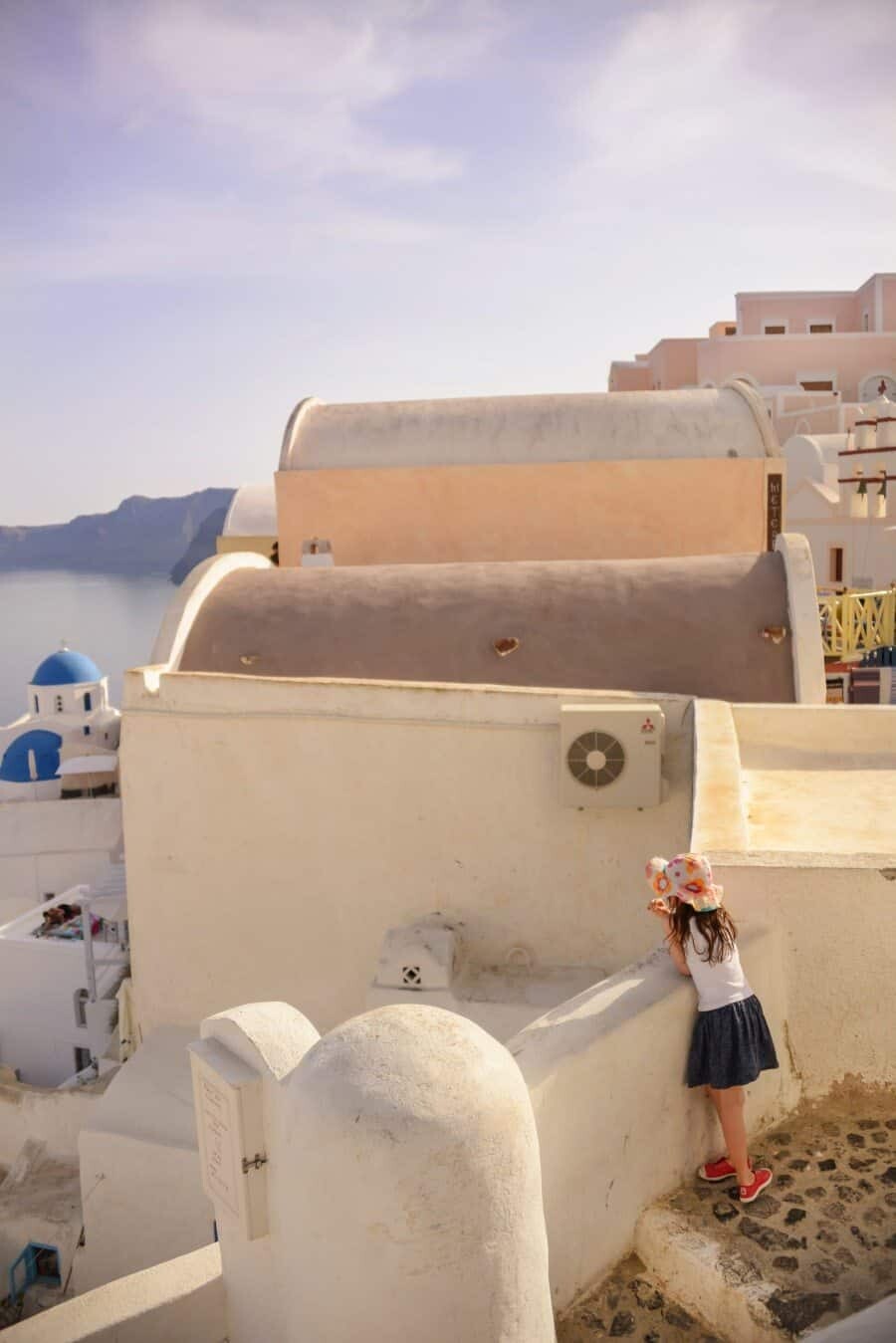 ---
#18 – Inside the Caldera
Looking up from inside the caldera is a view not to be missed. You'll most likely get this vantage point when approaching by ferry but it's worth booking a boat cruise or kayak trip out so you can photograph it slowly as you are taken beneath the mighty cliffs. Most boat cruises will end with sunset, a great chance to photograph the island with changing light falling over it.
You can read more about my kayaking adventure in Santorini here, or my day trip sailing the Caldera on a catamaran here.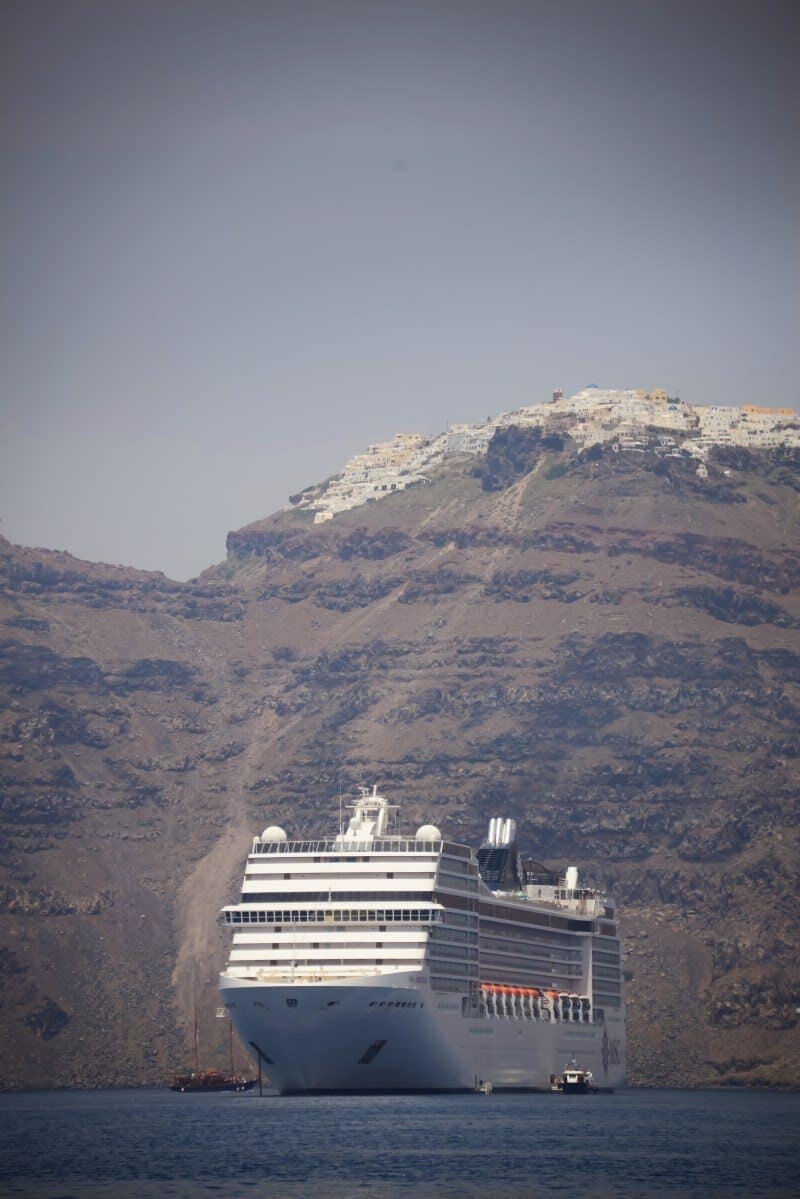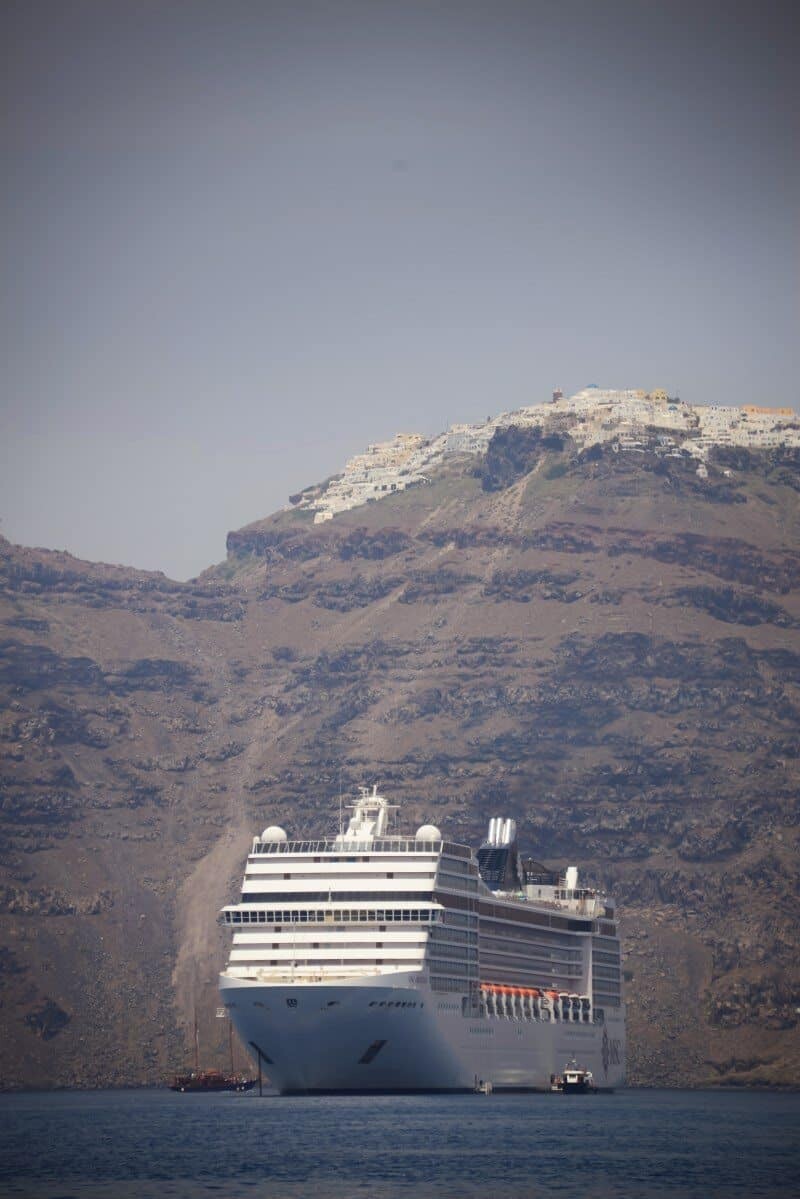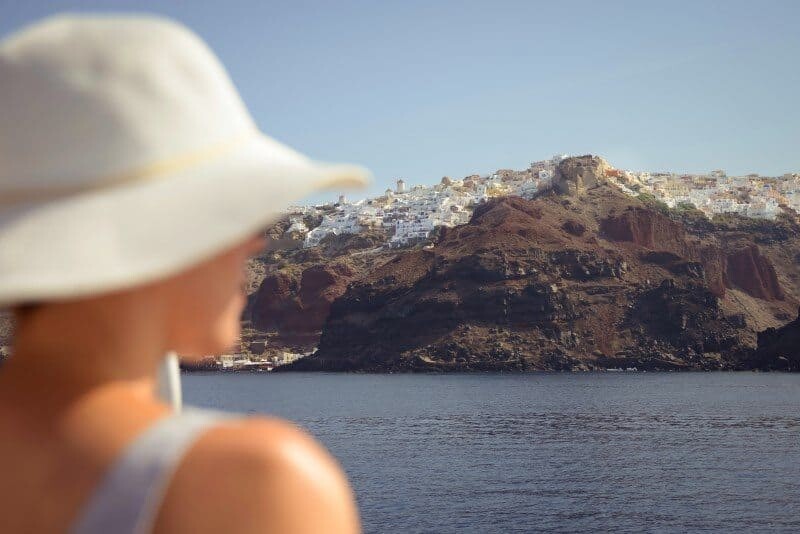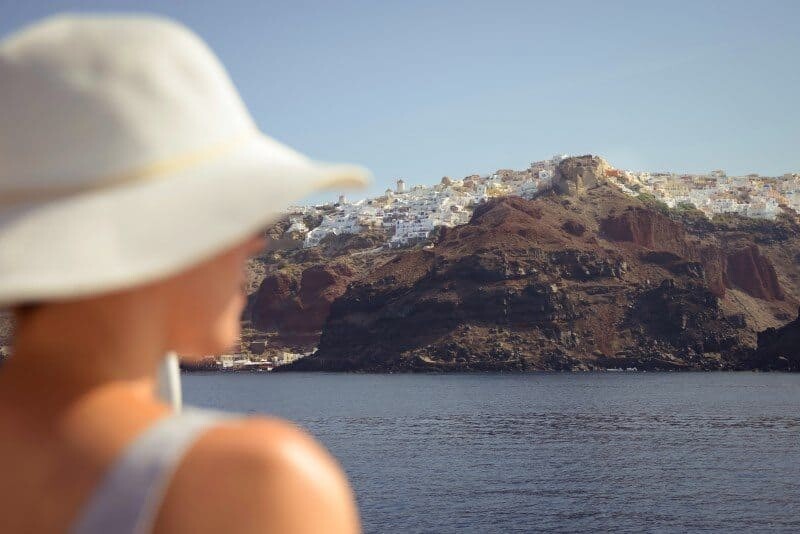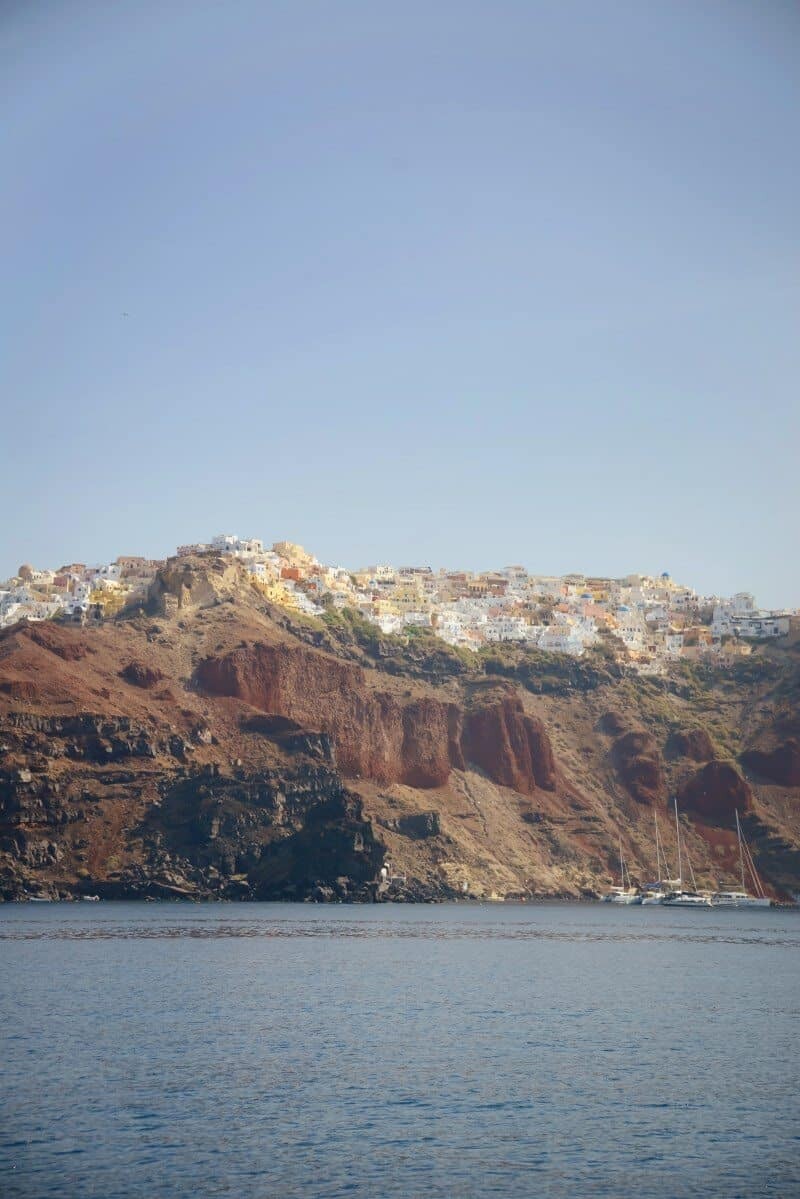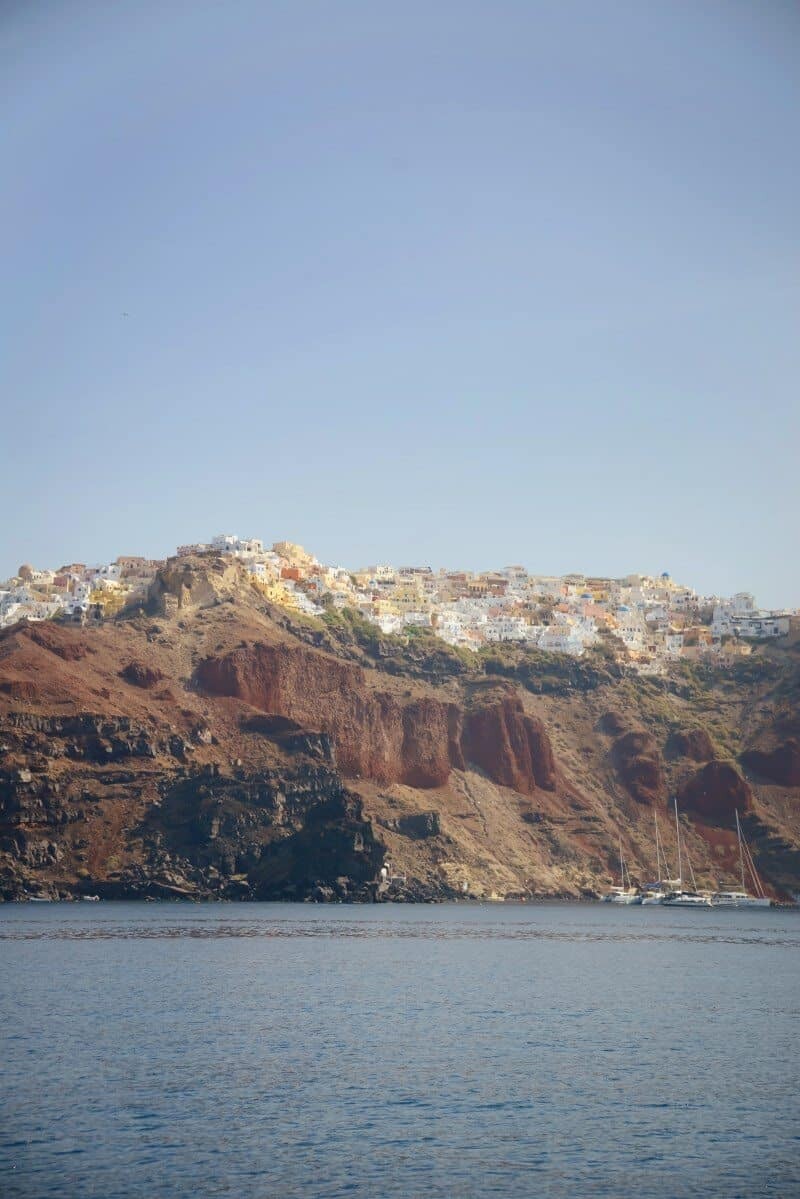 ---
Where to Stay on Santorini?
Surprisingly Santorini is quite big so deciding on where to stay will go a long way towards how your trip turns out.
There are three main villages with the majority of hotels found scattered within them. They are Fira, Imerovigli and Oia.
Oia is where everyone flocks for those iconic sunset shots so if you want to get ahead of the crowd, definitely opt to stay in Oia so you can not only watch sunset from your balcony, but be up bright and early for sunrise too when there's far less crowds!
Here are my recommendations of great places to stay –
Caldera Villas, Oia – Perfectly located, stylish rooms that don't break the budget. Pool + incredible views!
Marizan Caves + Villas, Oia – Located on the highest point of Oia, amazing views!
Above Blue Suites, Imerovigli – Luxurious suites with private pools and again, incredible views over the caldera.
Honeymoon Petra Villas, Imerovigli – Outdoor pool with views looking back towards Fira and the caldera, this spot is magic!
---
Love it? Pin it!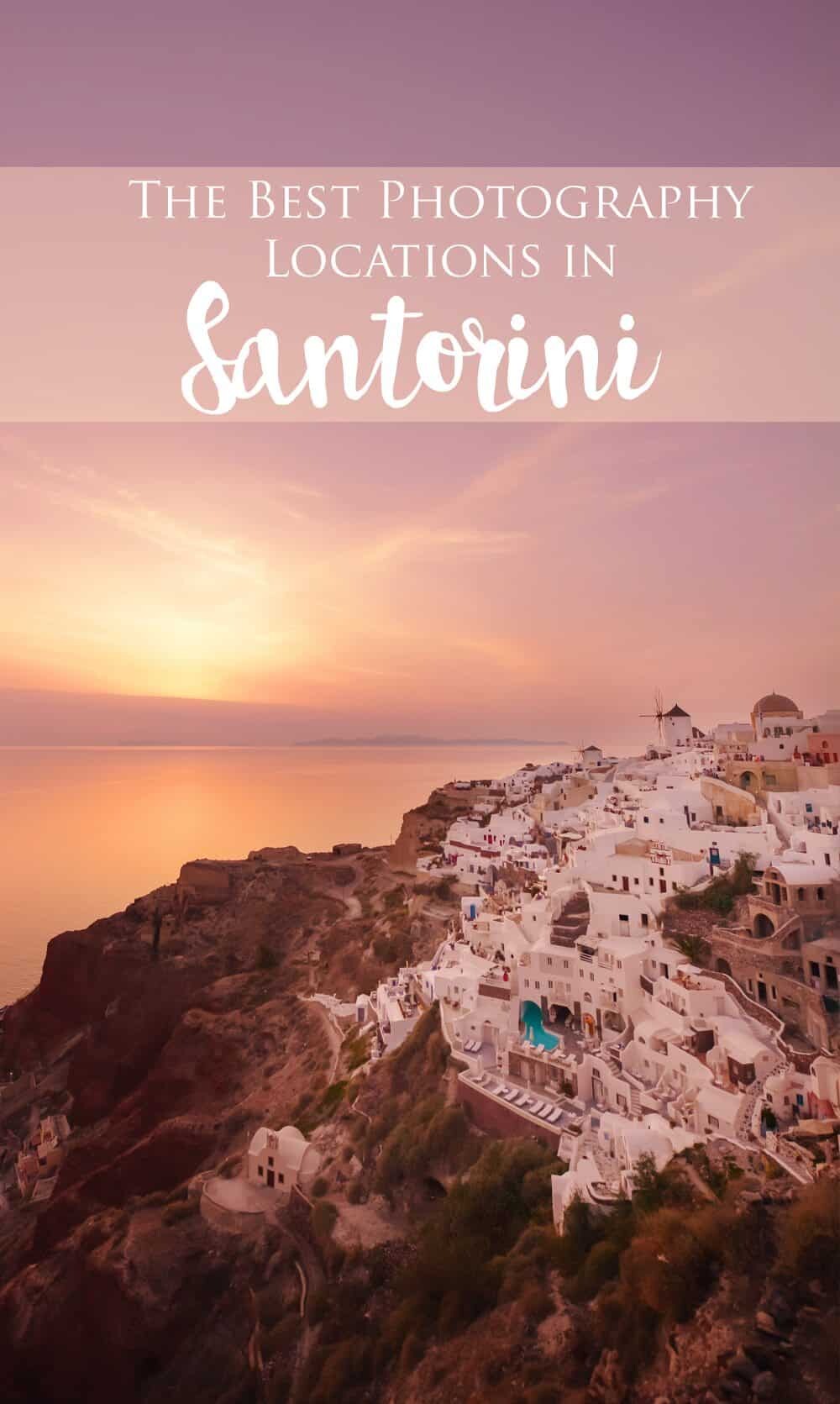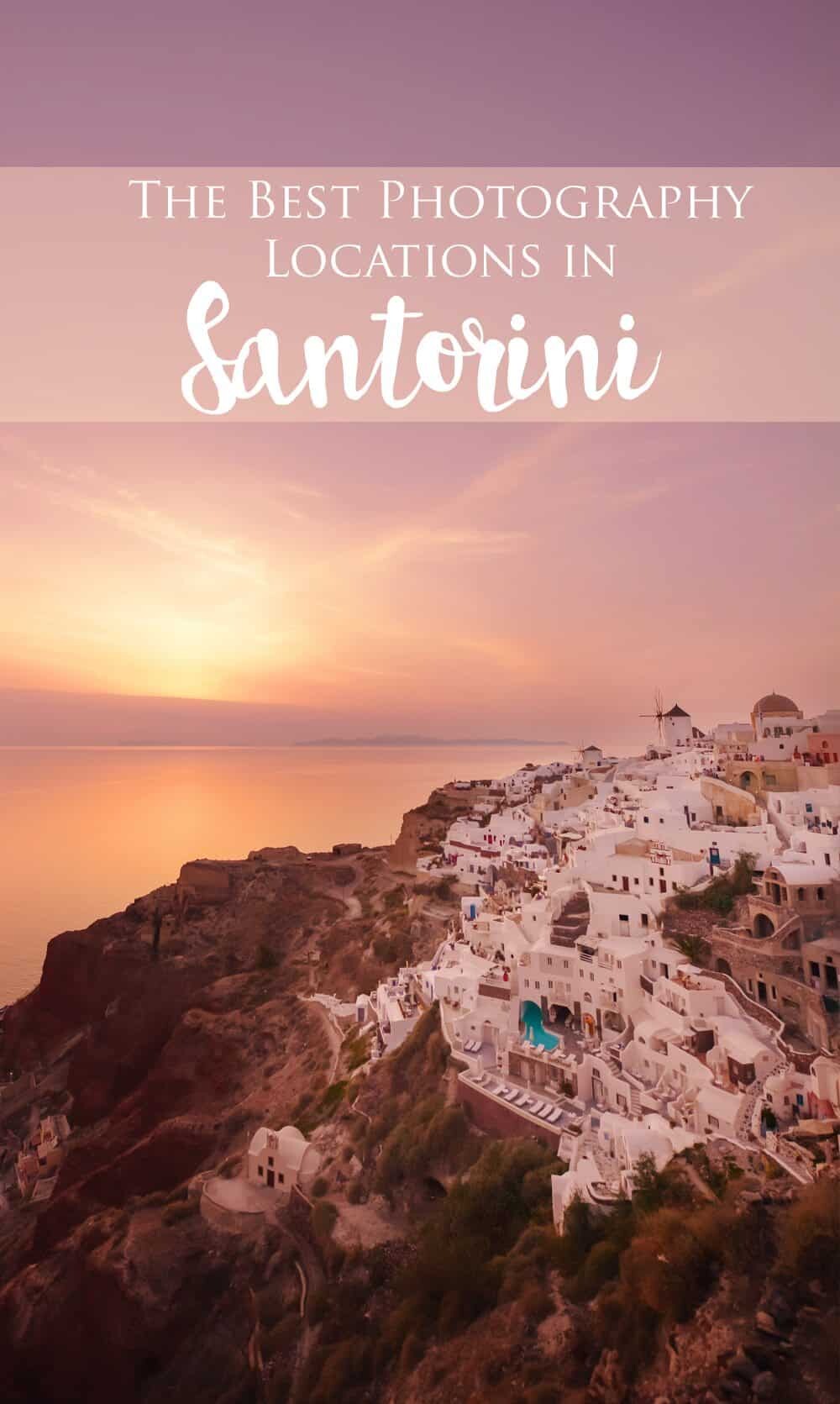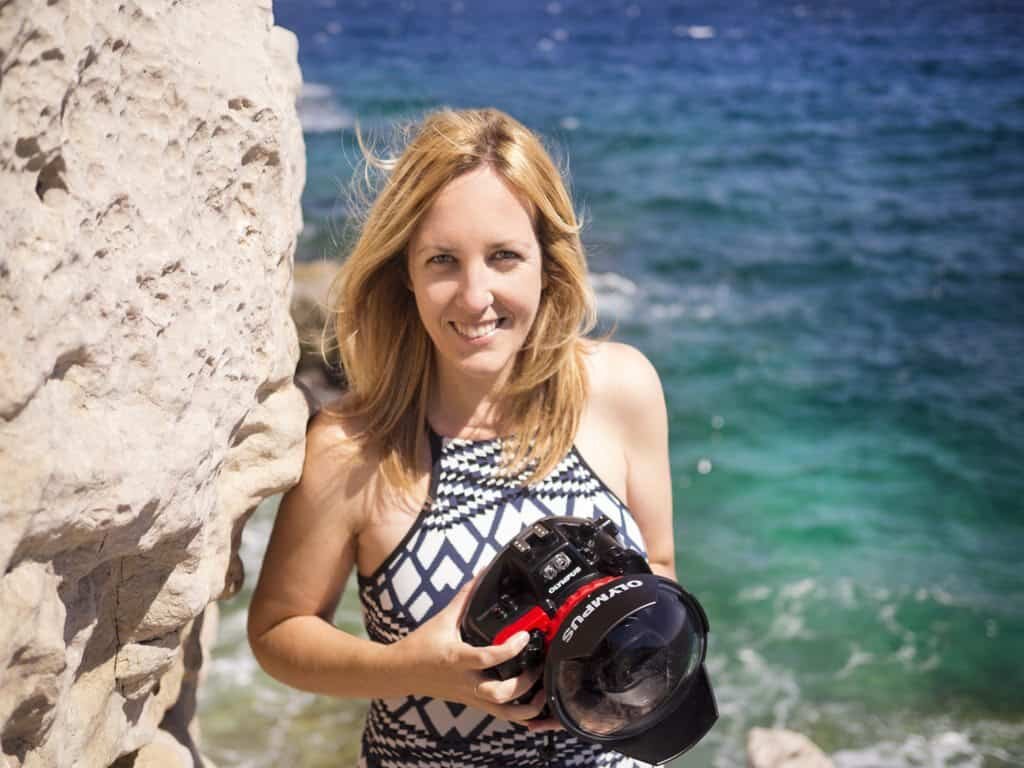 Hello! I'm the founder and photographer behind The Wandering Lens.
With 17+yrs experience as a professional travel and landscape photographer, all advice found on this site is from my personal experience on the road. I hope it's useful for your own travels and would love to hear in the comments about your trips and experiences around the world.