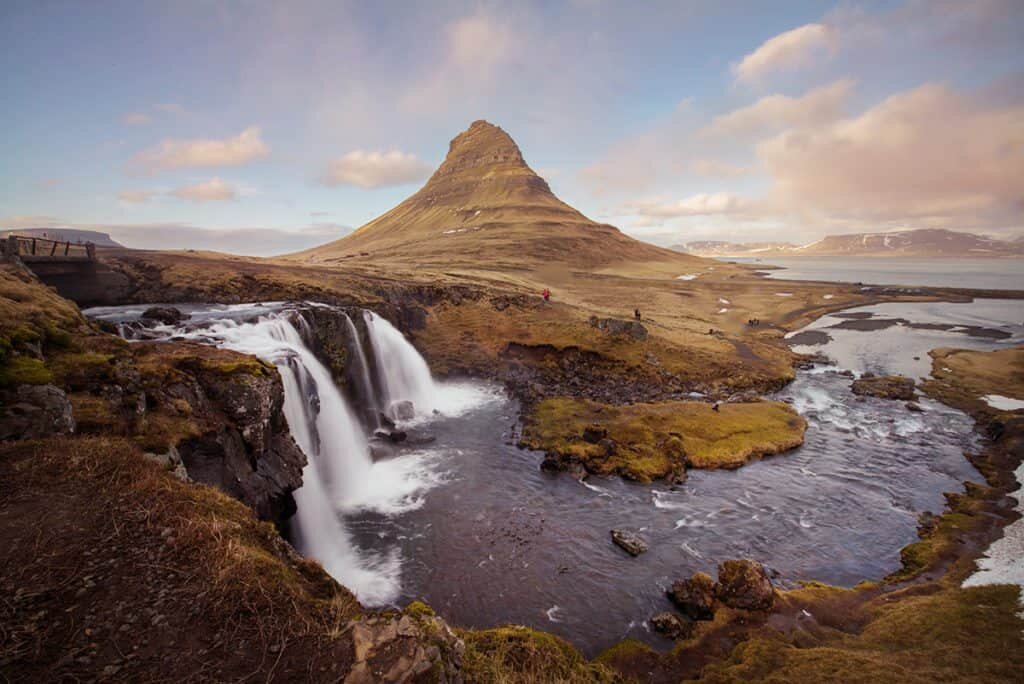 Snaefellsnes Peninsula, Iceland
Where waterfalls spread their glistening trails over wild landscapes and rugged coastlines weave beneath volcanic craters…Welcome to the Snaefellsnes peninsula.
Venturing off the Ring Road and driving to the west coast of Iceland reveals a quieter side of the country. The crowds disperse, landscapes appear increasingly vast and little pockets of magic appear when you least expect them.
When it comes to photographic opportunities, you're spoilt for choice. Tucked in behind the shores of Grundarfjörður you'll find Kirkjufellsfoss, one of the most popular locations for landscape photographers visiting Iceland. From there it's a combination of rocky shores, mountain peaks, volcanoes and quaint seaside villages.
Map of Snaefellsnes Peninsula Photography Locations
As always, here is a little map to the locations noted below to get started…
Take a peek below at some of my favourite photography locations around the Snaefellsness Peninsula…
Saxhóll Crater
Visible from the drive along western tip of the peninsula, the Saxhóll Crater rises above a pancake flat section of land near Snaefellsjökull glacier. An out of use quarry at the base of the crater is now a car park and you can take a steep but quick climb to the top for views inside the crater's rim. The sound of red volcanic scoria crunches as you wander along the track peering into what was a volcano some 3000-4000 years ago. Views from the top look over the surrounding landscape which varies in tones of green, brown and white when peering up towards the glacier on a clear day.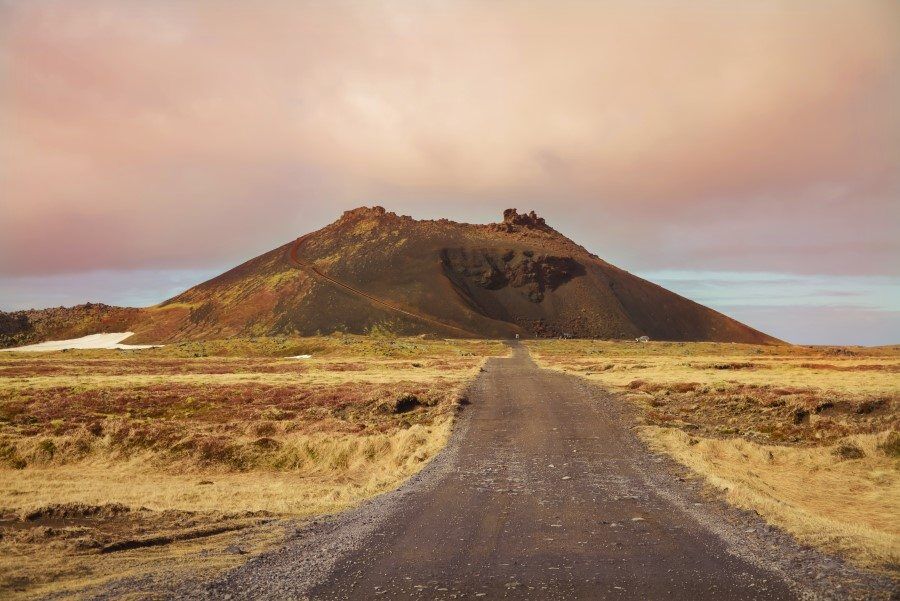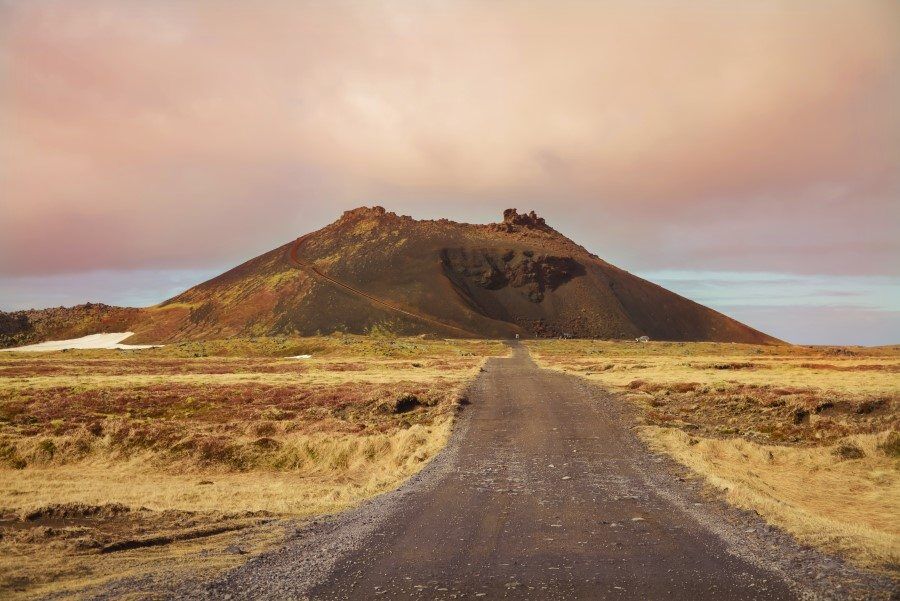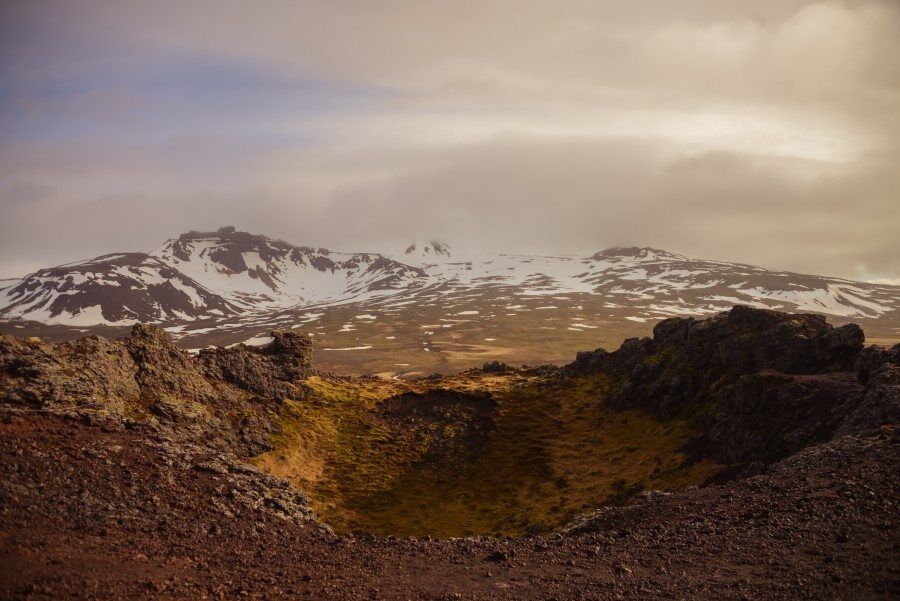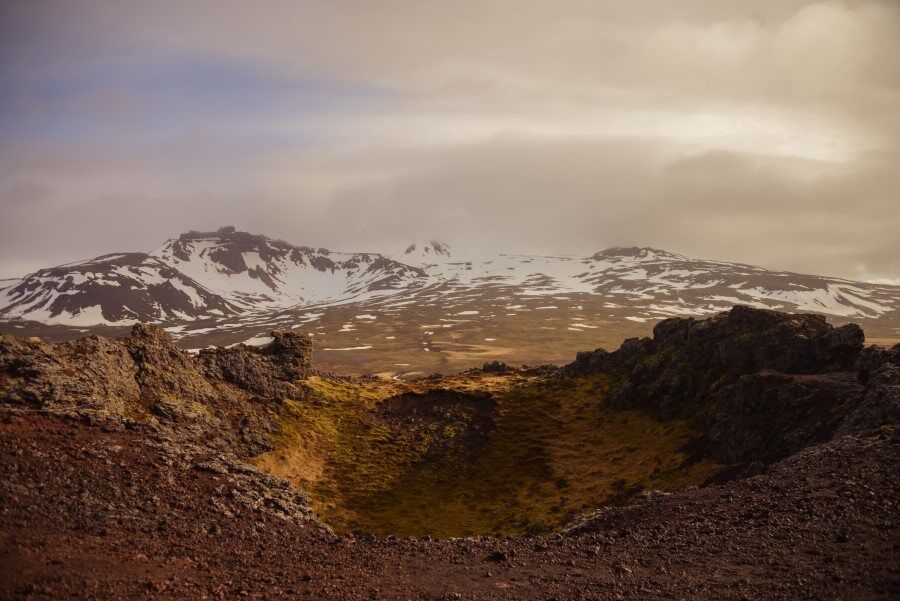 ---
Grundarfjörður
If you've seen The Secret Life of Walter Mitty, you've no doubt seen this colourful coastal village before. Grundarfjörður is a little dazzler that's most visited due to its proximity to the photogenic Kirkjufell mountain. The town itself is a great base for photographing the Snaefellsnes peninsula with whale tours departing the harbour and on occasion orcas swimming past the village.
Driving into Grundarfjörður from the west, the road journeys down a valley framed by dramatic mountains and fjords that fall into the sea below. One particular hut with a red rooftop and friendly horses in the surrounding paddock is just a few minutes from the town, a beautiful place to stop and capture the scenery.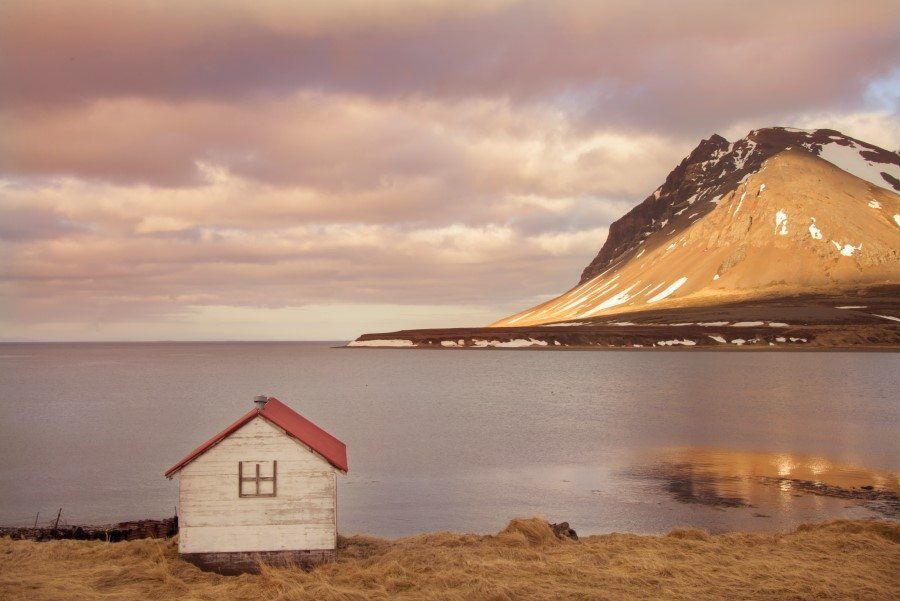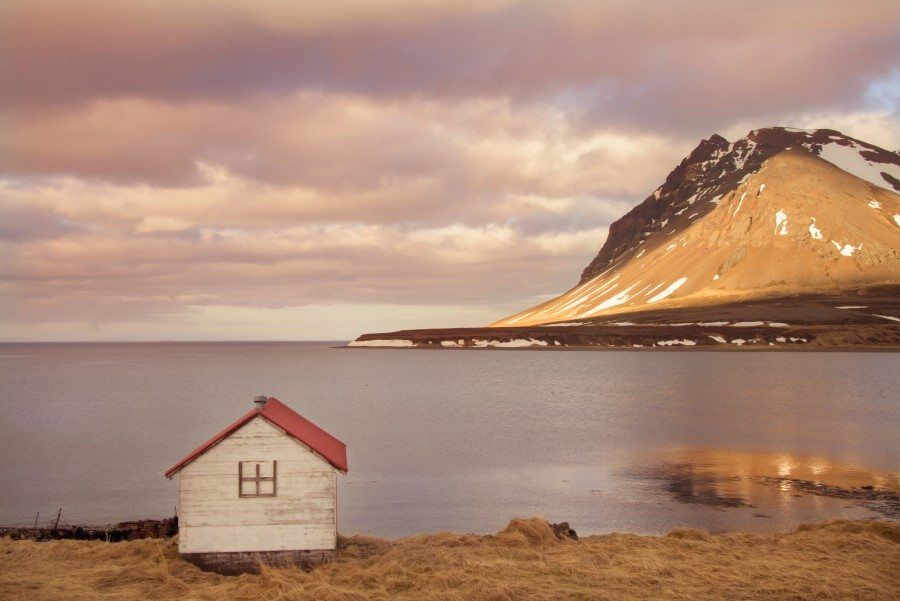 ---
Kirkjufellfoss
Kirkjufell with its pointy witch's hat-like appearance is a major sight for visiting photographers. To get the best vantage point you can stand on the shoreline and capture reflections on a still day, or wander over to Kirkjufellsfoss, a waterfall composed almost perfectly in line with the mountain. Those keen to stay the night could also be treated to aurora displays which further showcase this impressive landscape under a dancing green sky.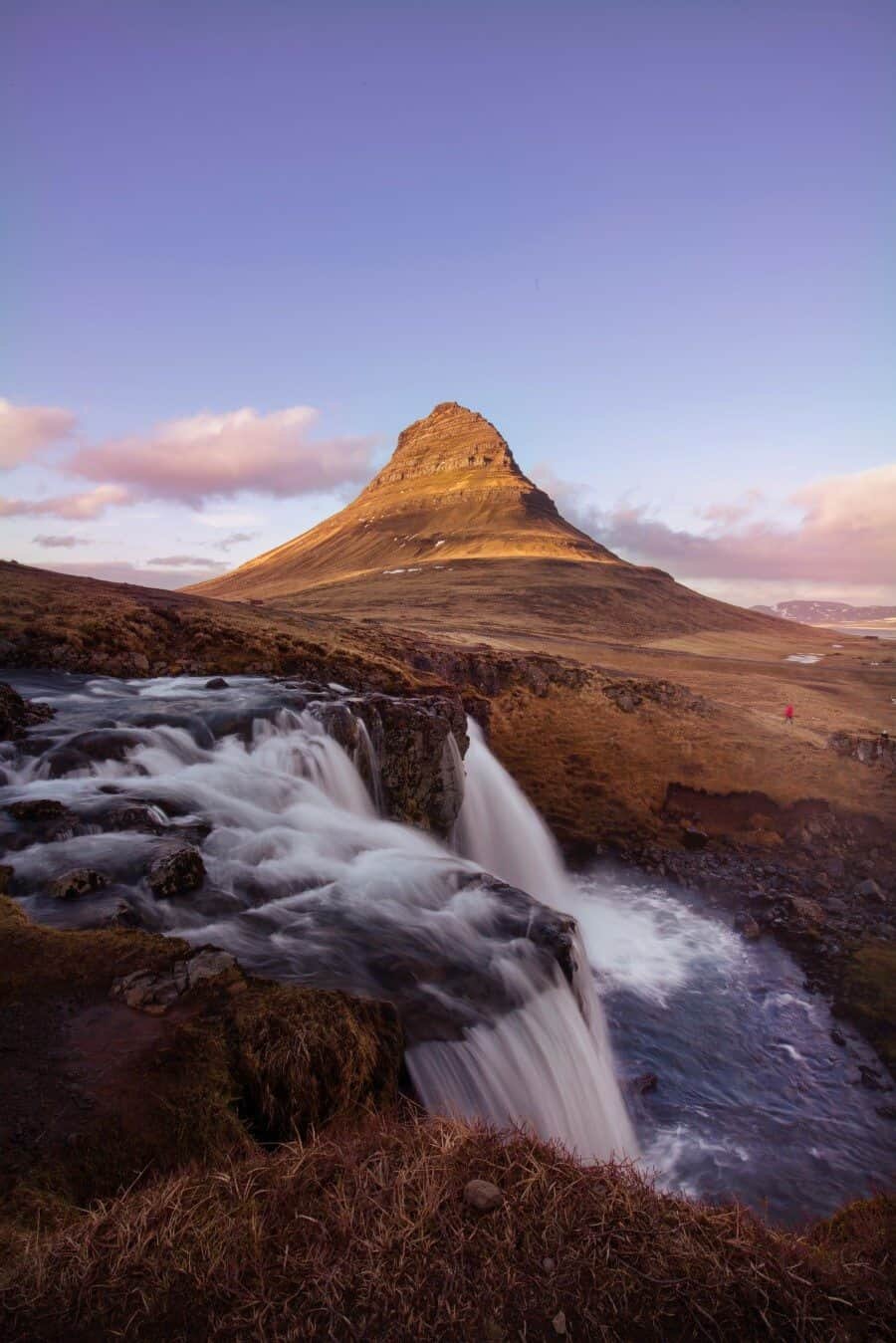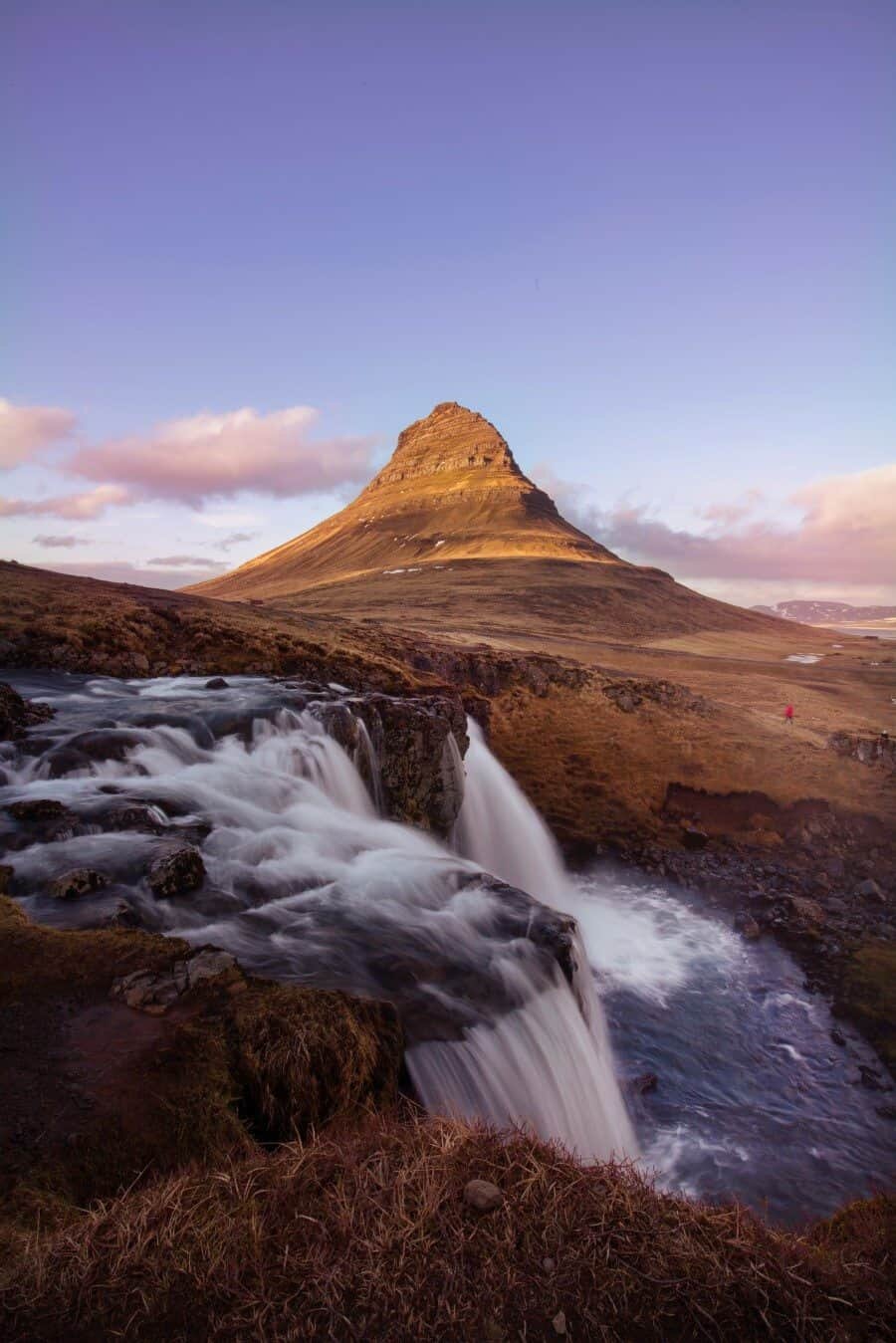 ---
Hólahólar Craters
This collection of craters is found in the south-western part of the peninsula. Just off the main road you'll be treated to formations that date back thousands of years, each with a unique shape. The show stopper is Berudalur Crater. On arrival it's like entering a natural amphitheater with towering edges of volcanic scoria covered in patches of green moss. The Hólahólar area is believed to be home to a community of elves, a tale that seems completely possible when you're standing on top of the lava hill looking over the magic-like landscape below.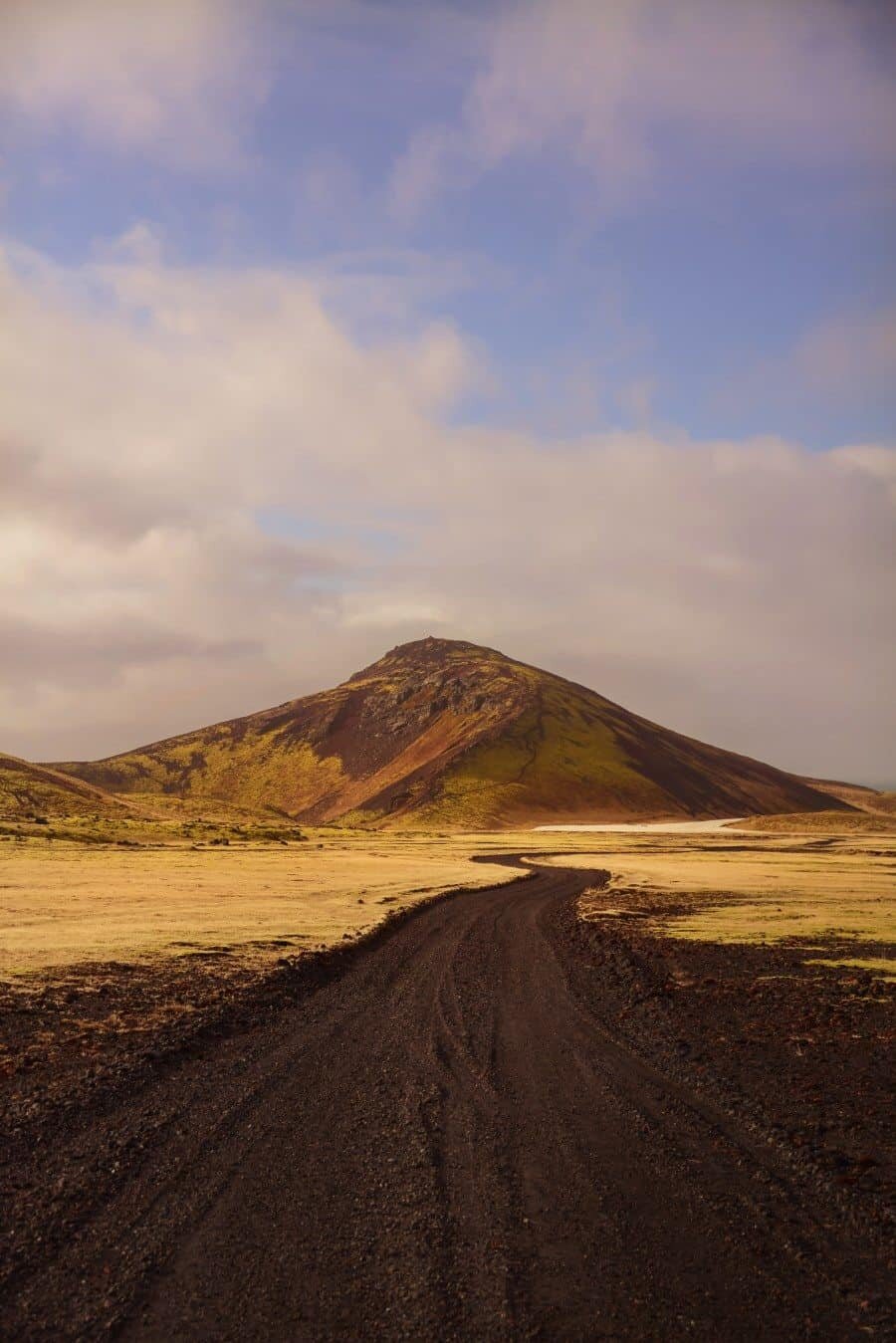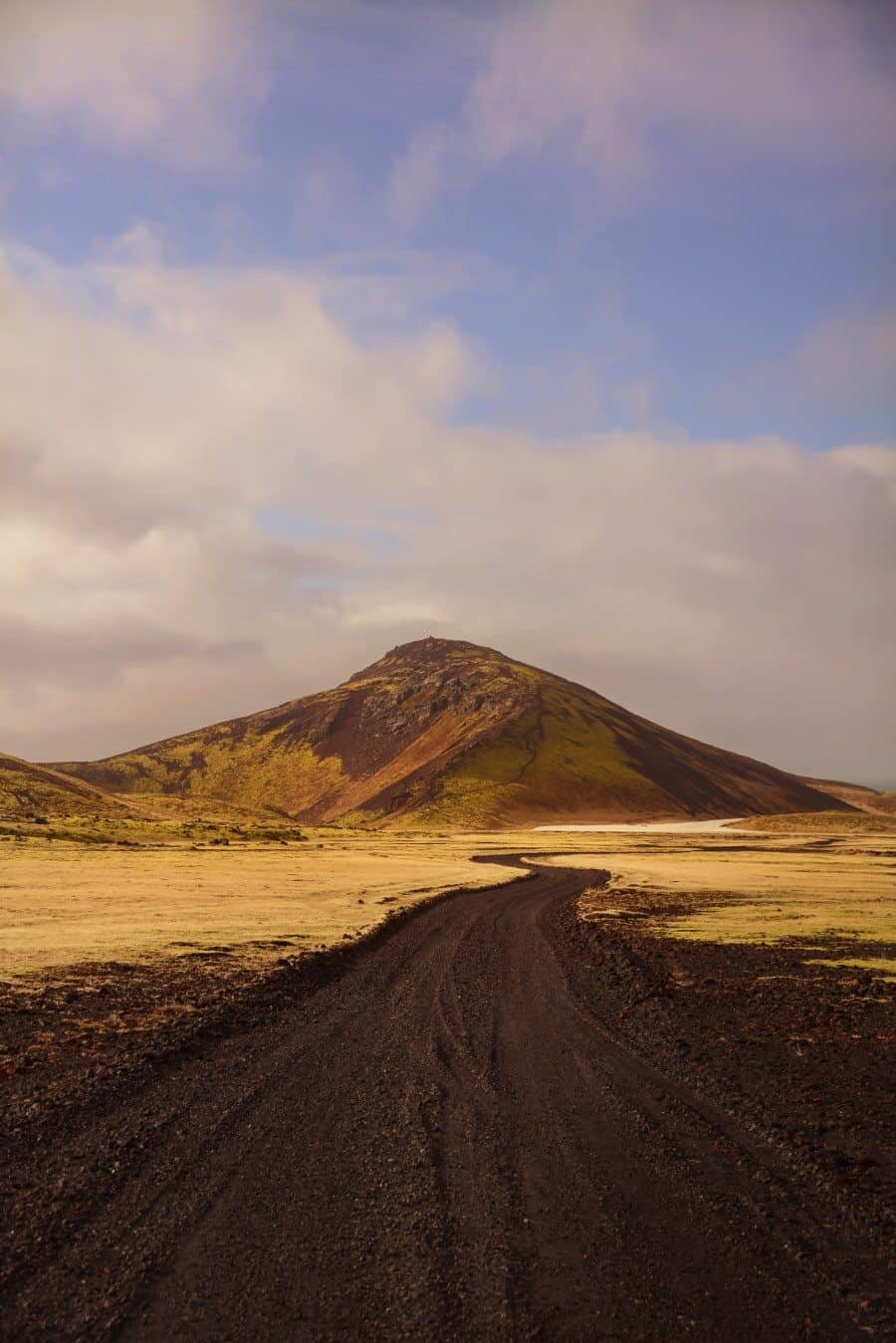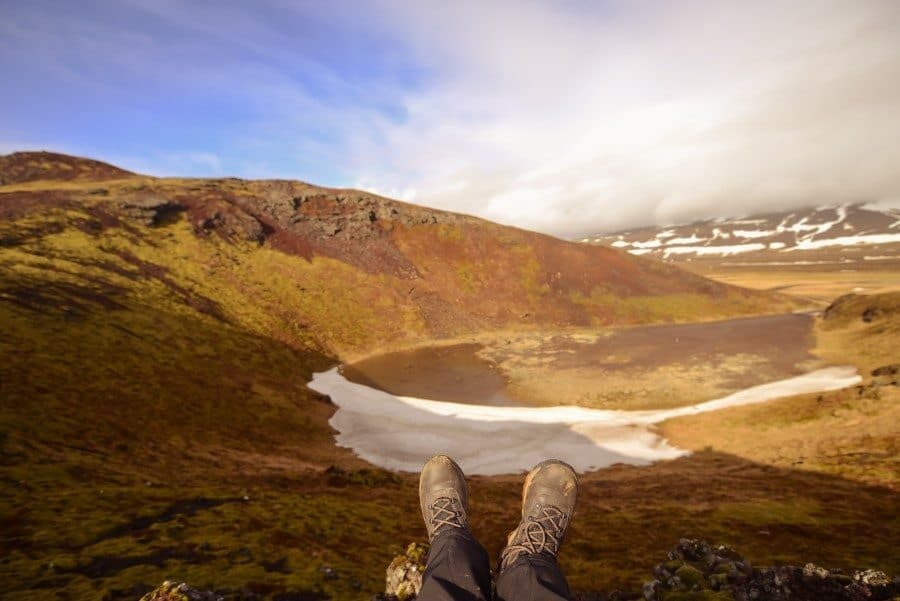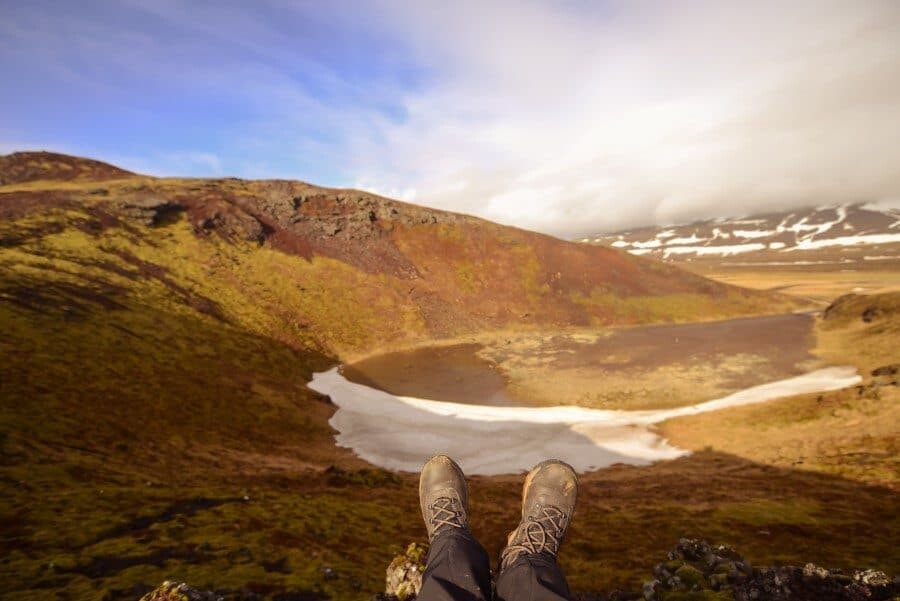 ---
Arnarnstapi
The word picturesque doesn't really do this town justice. Arnarstapi is more beautiful than words can describe, a combination of atmosphere blended with charm and seaside beauty, it is one place you need to visit if travelling to the Snæfellsnes Peninsula.
Opening your car door the first thing you may hear is the squawk and chatter of arctic terns as they stretch their wings along the coast and return to their burrows on the rocky waterfront of Arnarstapi. From the pier the coastline is a photography playground with columnar basalt, ravines and grottoes sitting beneath the volcanic Mount Stapafell. If there's been a lot of rain you'll also see waterfalls gushing over the cliffs into the ocean with their wispy mist creating shapes in the wind.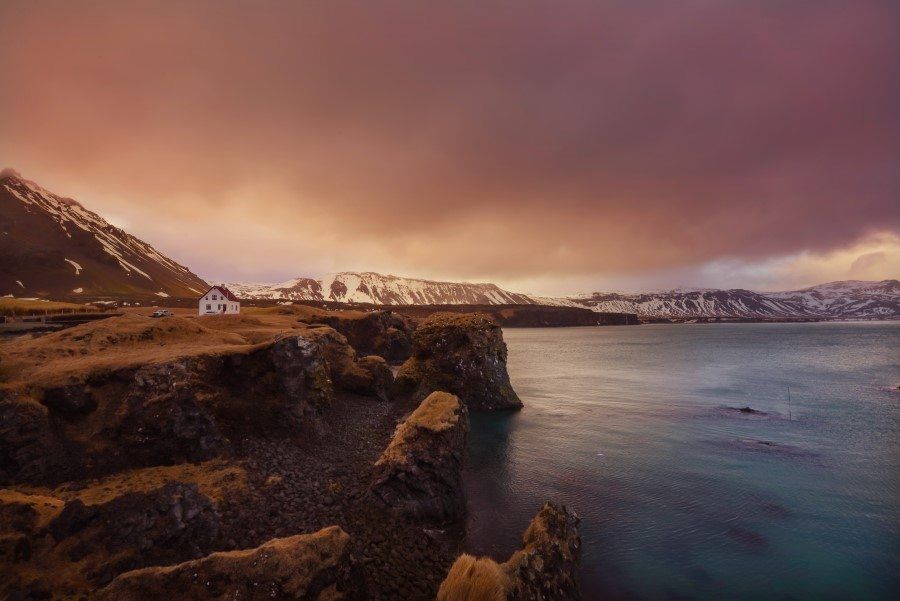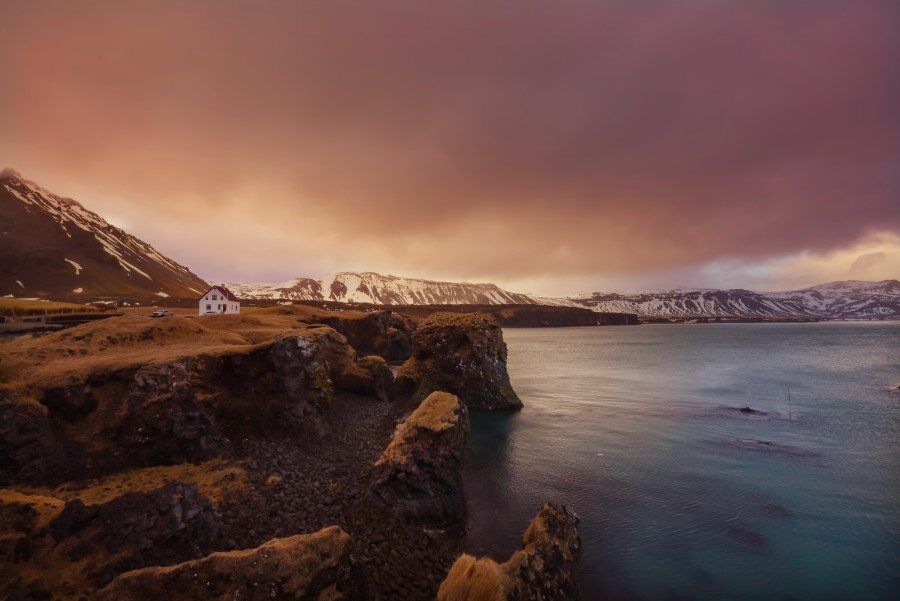 ---
Bulandsgil
This lookout is located between Grundarfjörður and Ólafsvík with incredible views over the sea. From here you can watch for orcas and whales as they cruise through toward the fjords looking for schools of fish! If you're after a shot of the aurora dancing above the sea this is the spot for you, there's minimal light pollution, no distracting foreground subjects, it's just views for miles. There's a great angle back along the coastline towards Kirkjufell and you'll find plenty of sea birds if you're into nature photography.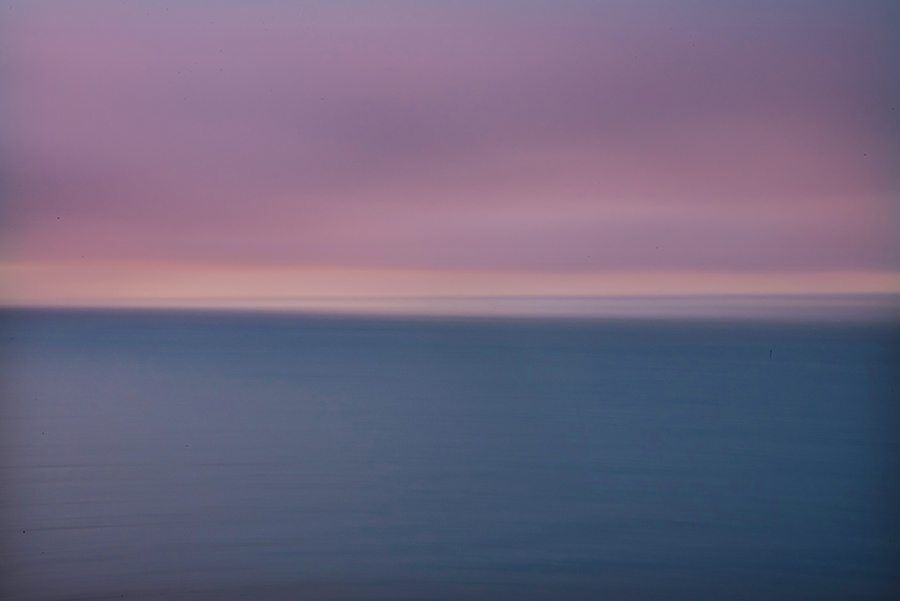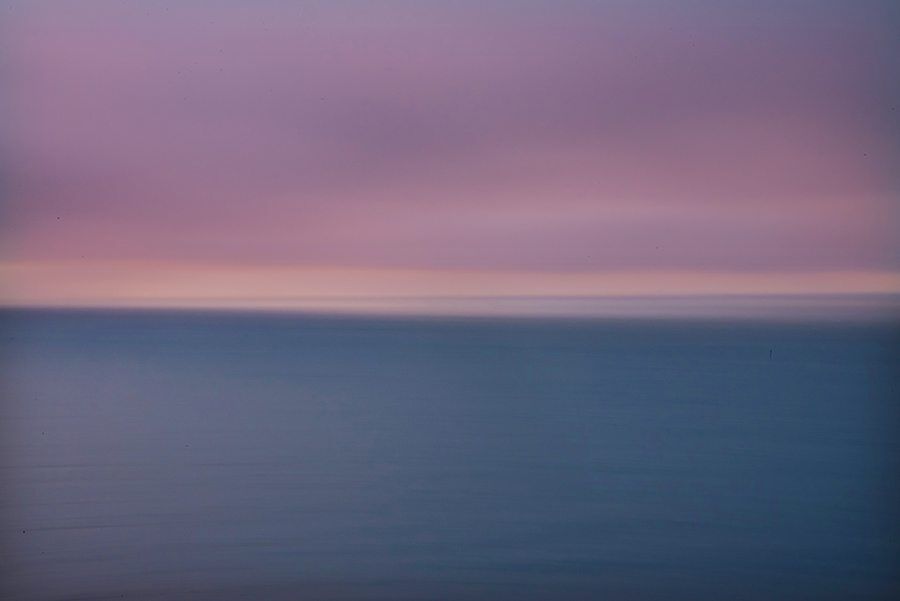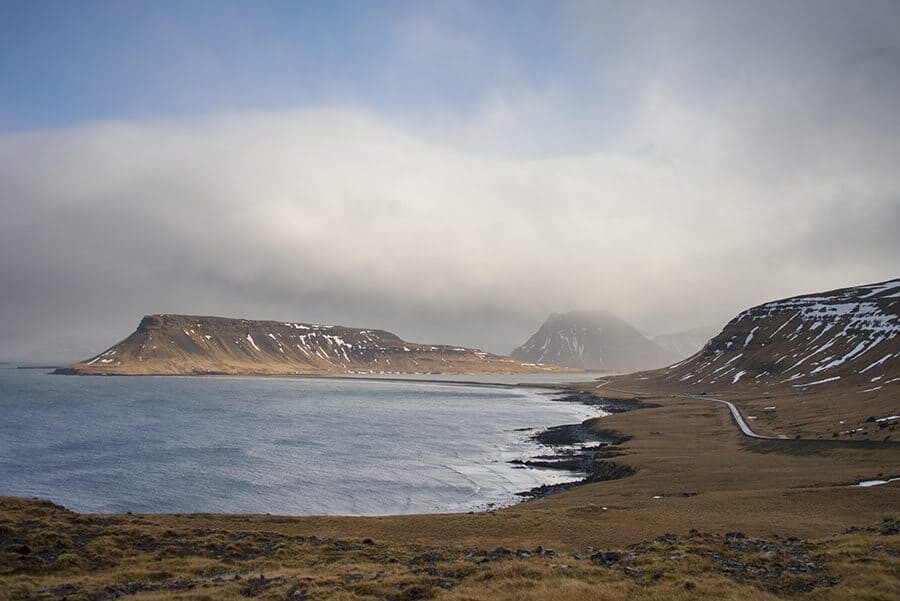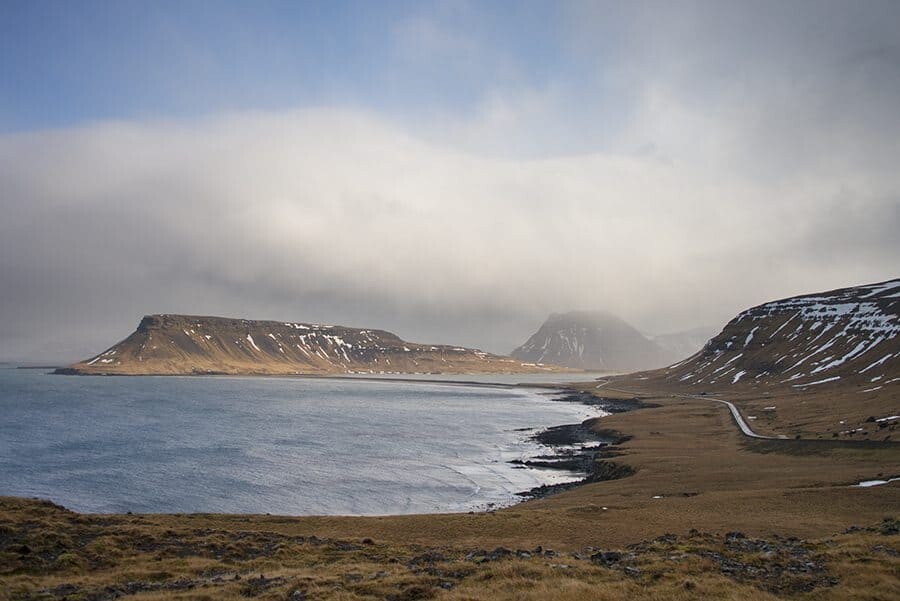 ---
Mountain Pass #54
So this location is technically an entire road but trust me, it's worth the drive! When driving around the Snaefellsnes Peninsula you can take two mountain pass roads to reach the other side if you don't want to turn back and do the full coastal route again. Mountain pass #54 on Snaefellsvegur Road is the most scenic! Winding up through the mountains, it's regularly in snow even in spring and late autumn making for beautiful scenery. There are a few places to pull the car over and take photos so just drive nice and slowly and keep an eye out for bays on the side of the road. As the road descends back down towards the northern side of the pensinsula you'll find stunning scenery towards Olafsik! I'd advise taking this route if you've got a 4WD as some parts can be a little bumpy especially in winter!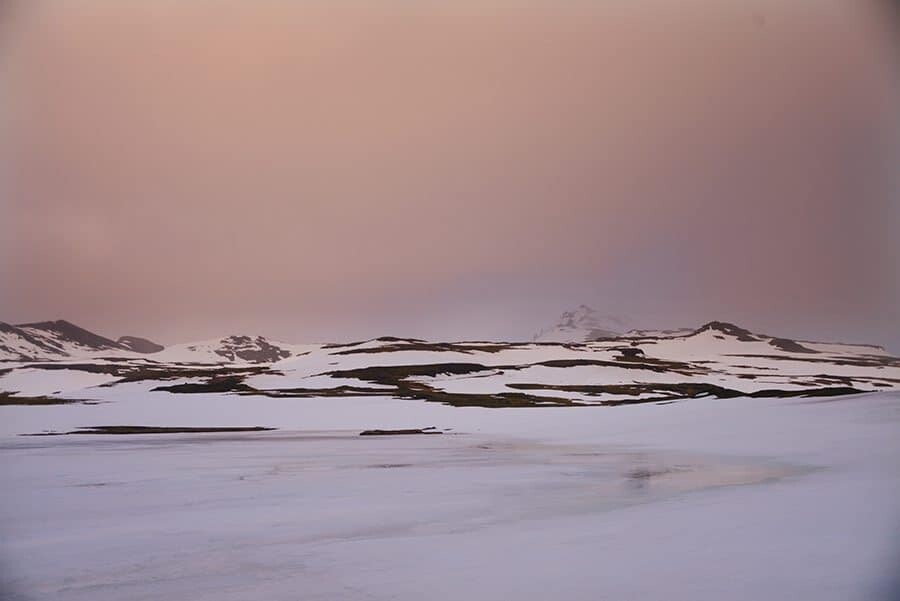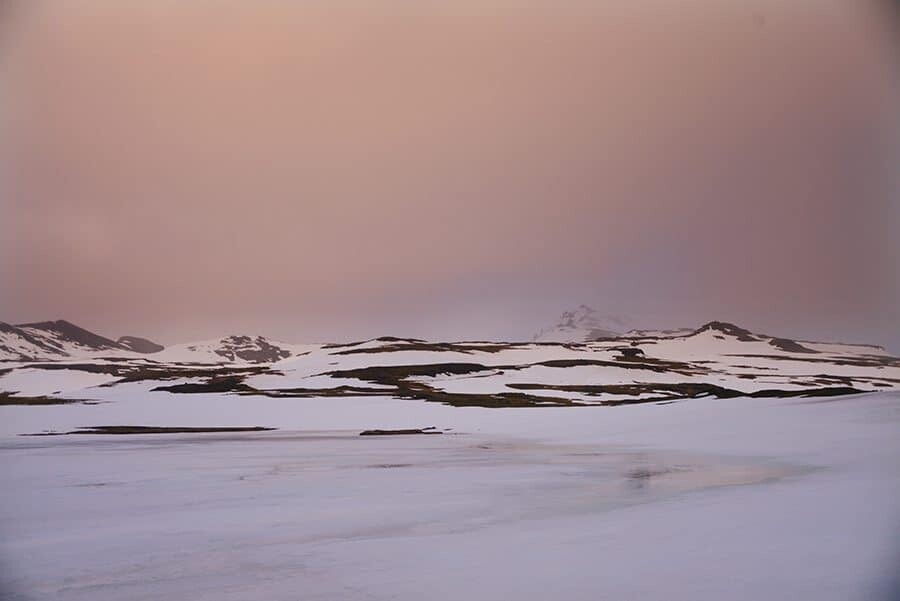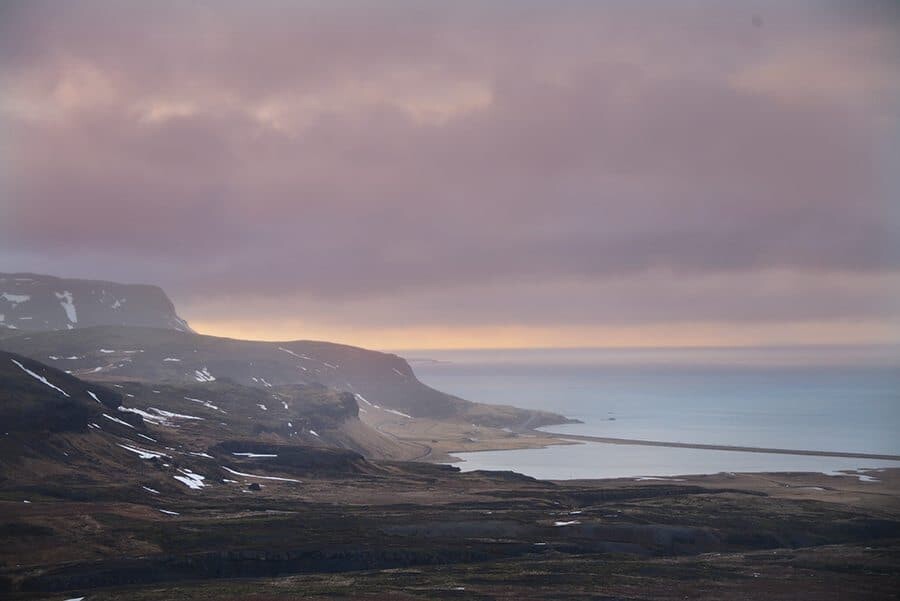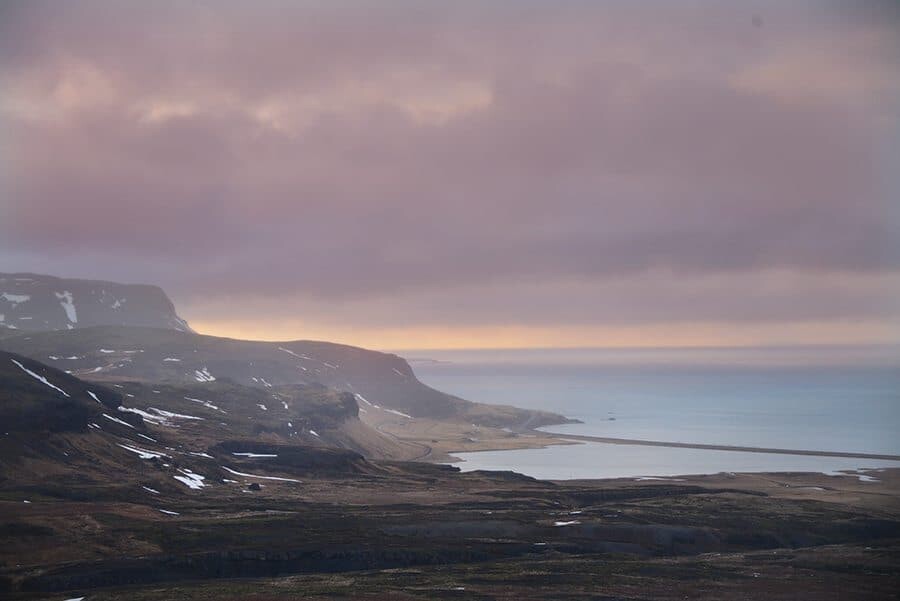 ---
Dagverdara
This abandoned farm house is equally haunting and charming. A regular stop for travellers driving by, it's a significant landmark and one that fits with the harsh surroundings. The track toward the house creates a fantastic perspective with snow in the cooler months further adding to the mystery and mood of this intriguing setting.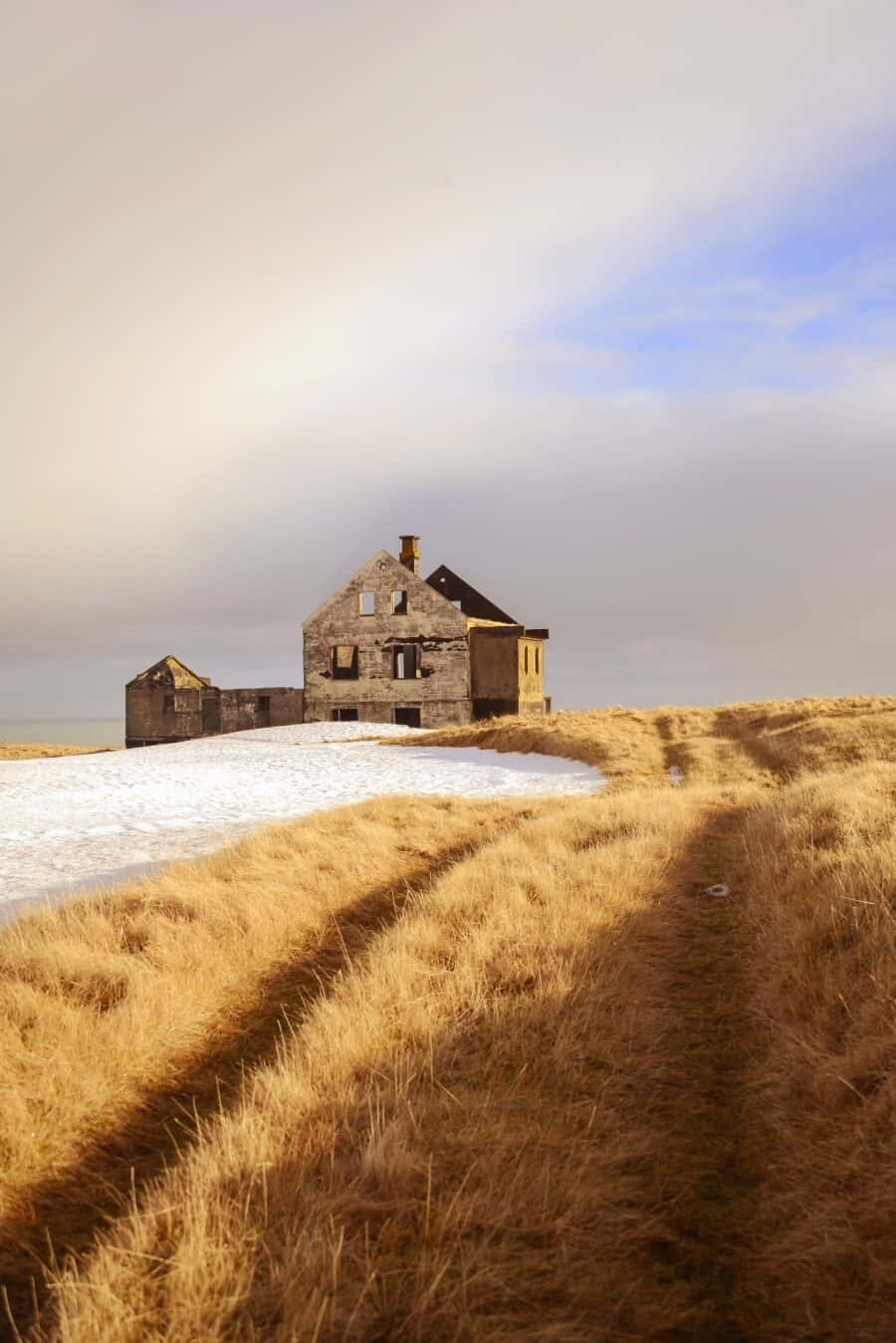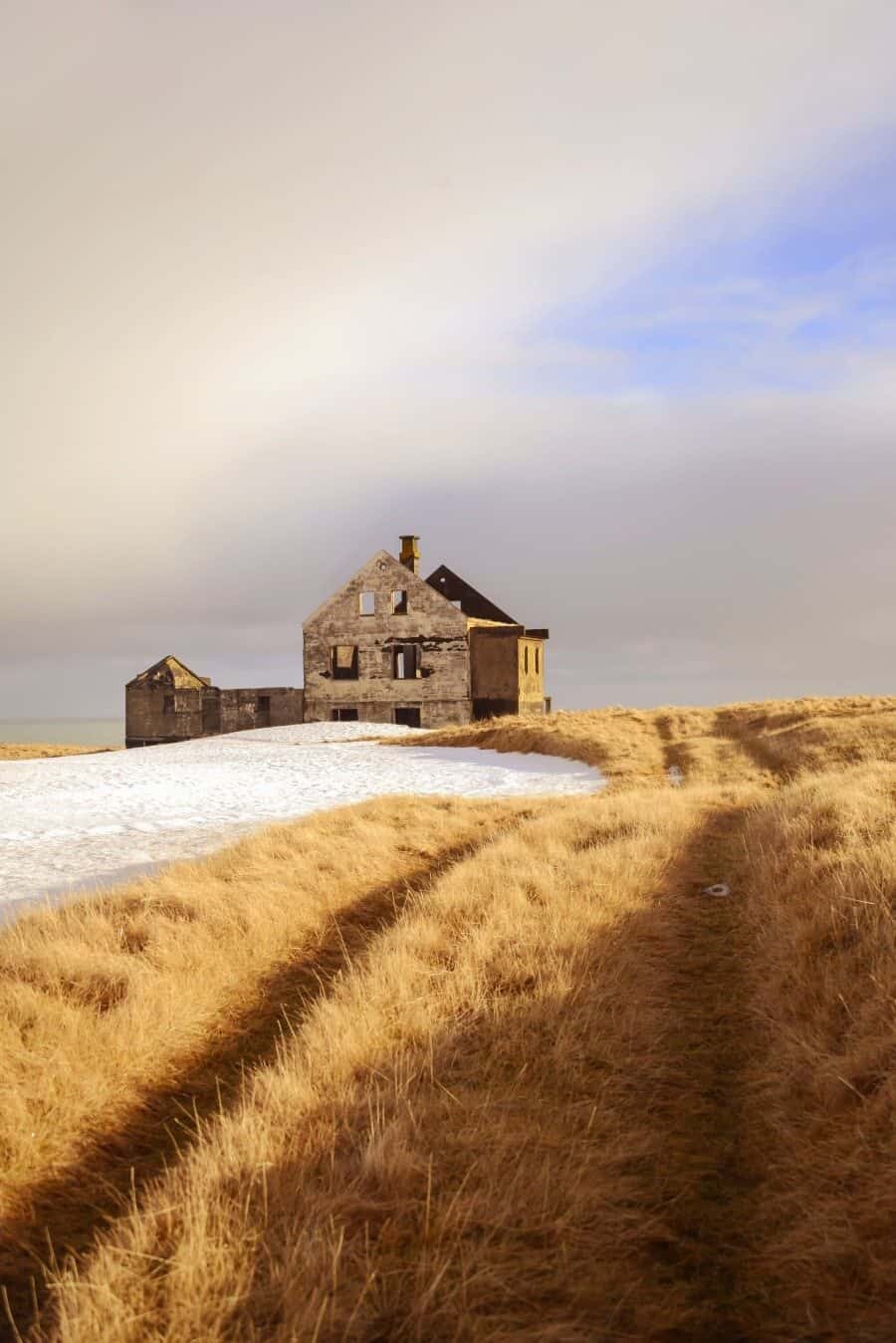 ---
Malarrif Lighthouse
Scenic and stoic, this lighthouse rests on the rugged rocky shores just west of Londrangar. With a cove located beside the lighthouse, it's an ideal location to capture long exposures of crashing waves with the tall structure of Malarrif behind. Sea birds frequent the area too and it's not uncommon to see hundreds flying over the lighthouse creating a fantastic contrast to the surrounding skies.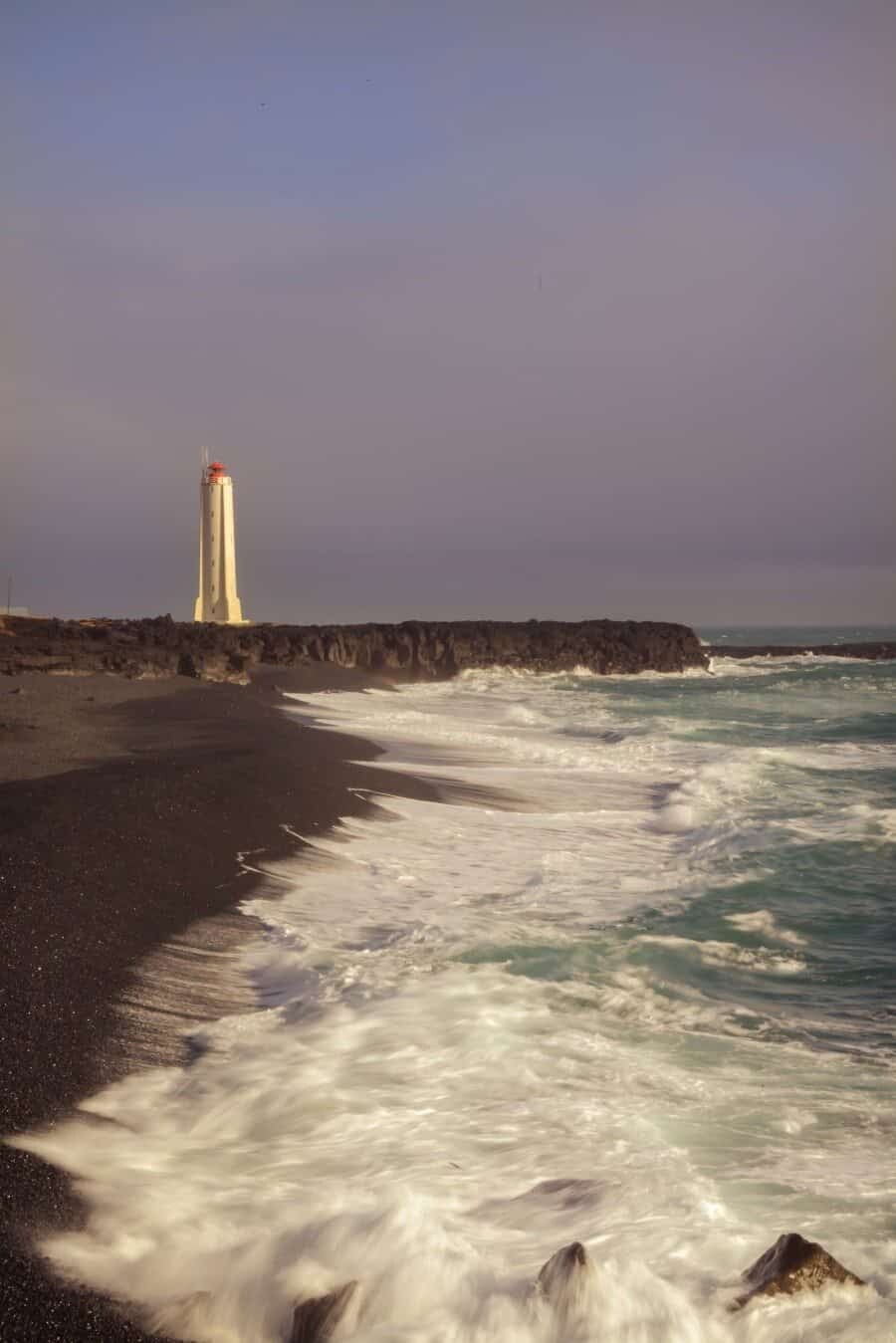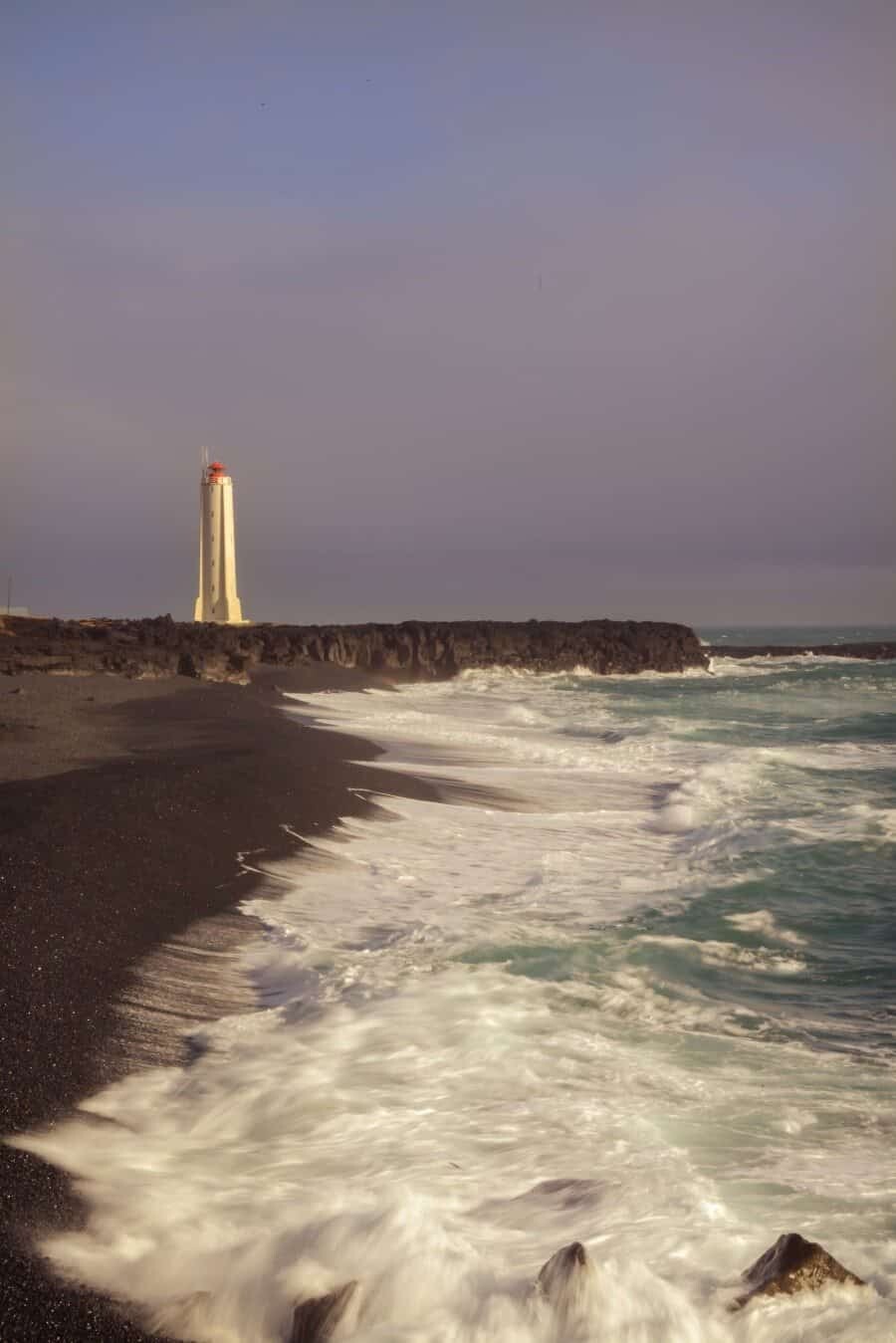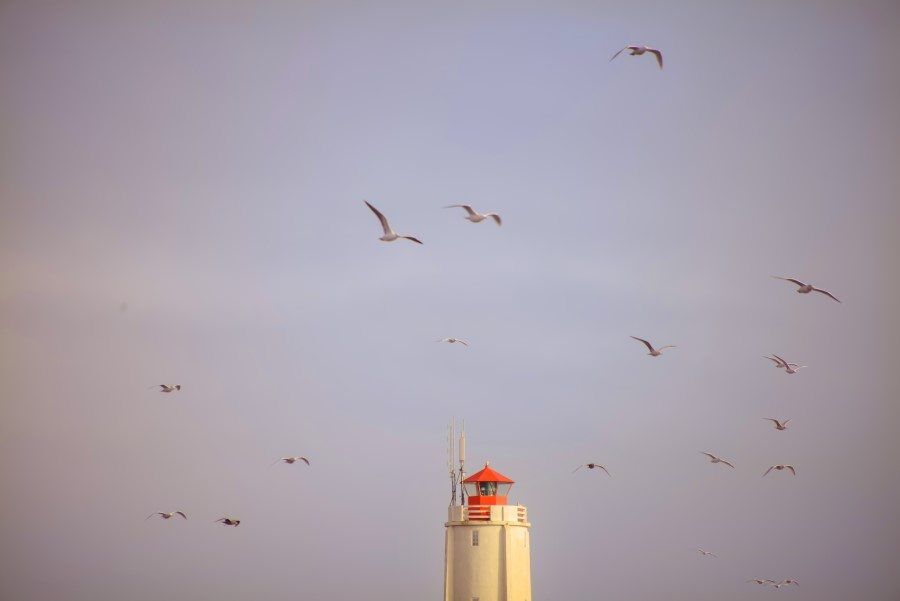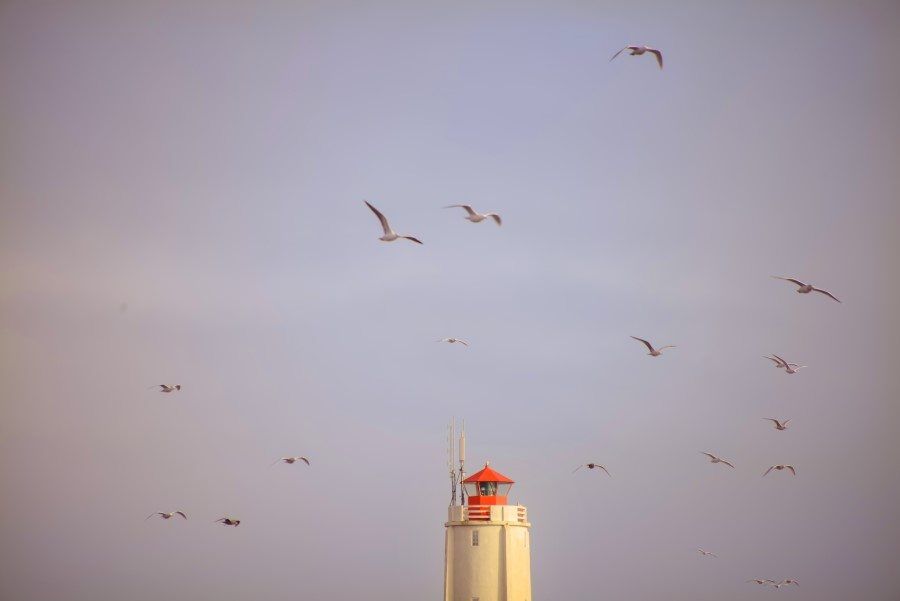 ---
Where to Stay in the Snaefellsnes Peninsula
After basing myself in the region for five days to create content for this guide, I think the town of Grundarfjörður is the perfect place to stay when exploring the Snaefellsnes Peninsula. With everything you'll need from a pizza cafe and port for whale watching tours, to a supermarket and petrol station, you can get geared up for days spent driving around the peninsula. The drive into Grundarfjörður is simply stunning and on the western side you'll find the photogenic Kirkjufellsfoss waterfall so if you're based in town, it's only a short drive to one of the best locations to photograph the aurora!
My recommended hotels are listed below:
Hotel Framnes – right by the harbour and waterfront, located one block away from a cosy pizza cafe called Laki Hafnarkaffi.
Sudur-Bár Guesthouse – located on a little road looking across the fjord towards Grundarfjörður, this is the place to stay if you want to be  away from everything! Views, breakfast and a cosy vibe.
Hellnafell – As the closed guesthouse to Kirkjufellsfoss, if you're really into photography, this is for you! Views across the Kirkjufell and within walking distance should you need to make a dash for aurora photos!
If you're researching locations for an upcoming trip to Iceland, be sure to take a read of my other guides below:
The Best Photography Locations of Iceland's South Coast
Experience the Magic of Jökulsárlón Glacier Lagoon
Photographing Inside and Ice Cave: Vatnajökull Glacier
The Wandering Lens – Iceland Archives
---
Driving Safe in Iceland
As I've mentioned in my previous Iceland guides, when driving around Iceland it's very important to be aware of the ever changing weather conditions. Storms, fierce winds and tricky road conditions can happen at any time, even if you've had brilliant sunshine! To stay aware of the conditions, bookmark the following links to make sure you have a safe journey.
road.is – An up to date condition report of every road in Iceland. Maps are colour coded showing their conditions ranging from safe to wet snow or closed. This site is also great for checking wind speed as sometimes gusts of over 100mph can be reported which is of course unsafe to drive in.
vedur.is – Iceland's main weather forecast, here you can check hourly reports, look ahead to the predicted forecast and even check aurora potential!
For Discounted Car Rental + 4WD Hire Click Here.
---
Pin the image below to save for later or share ↓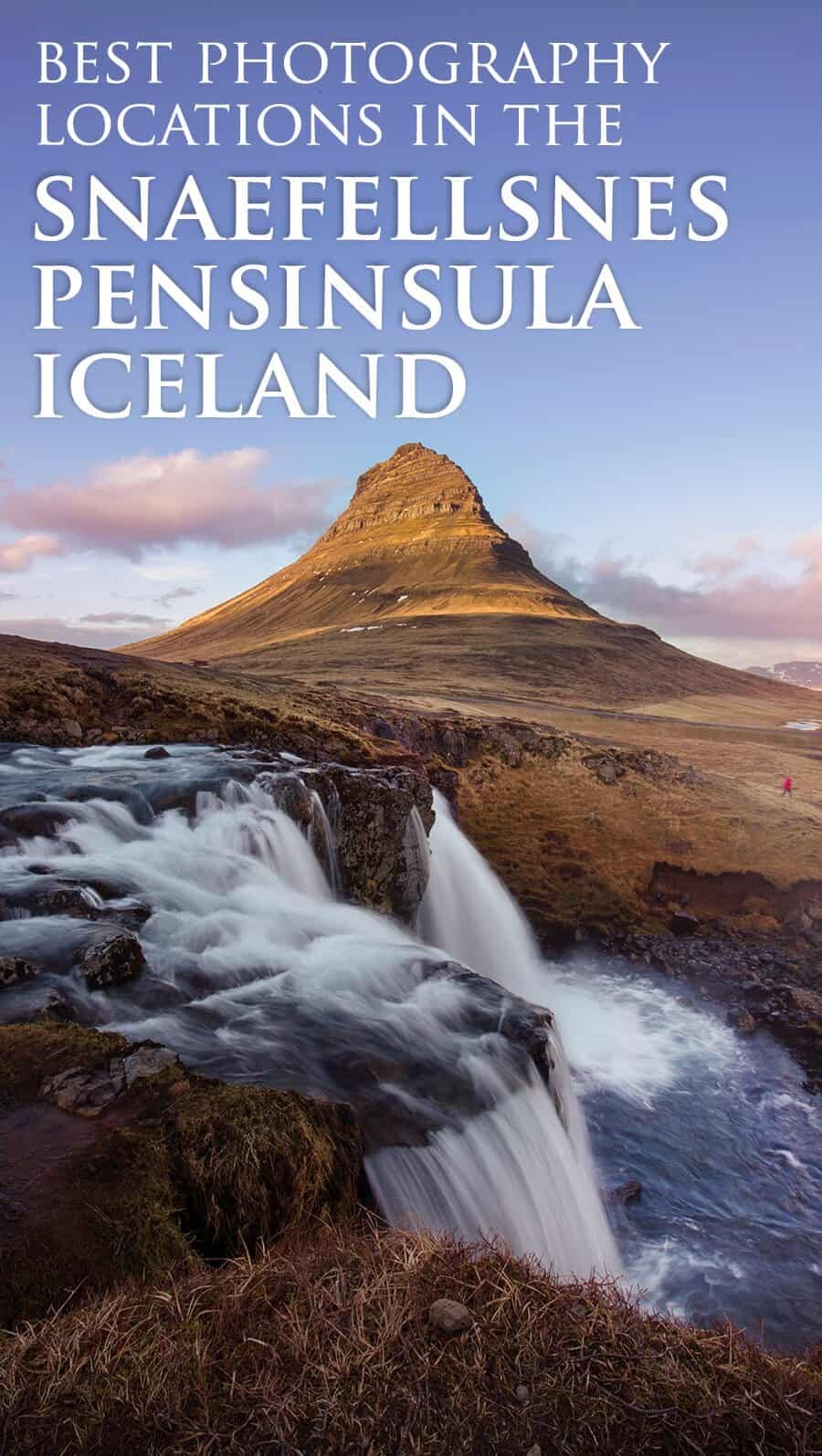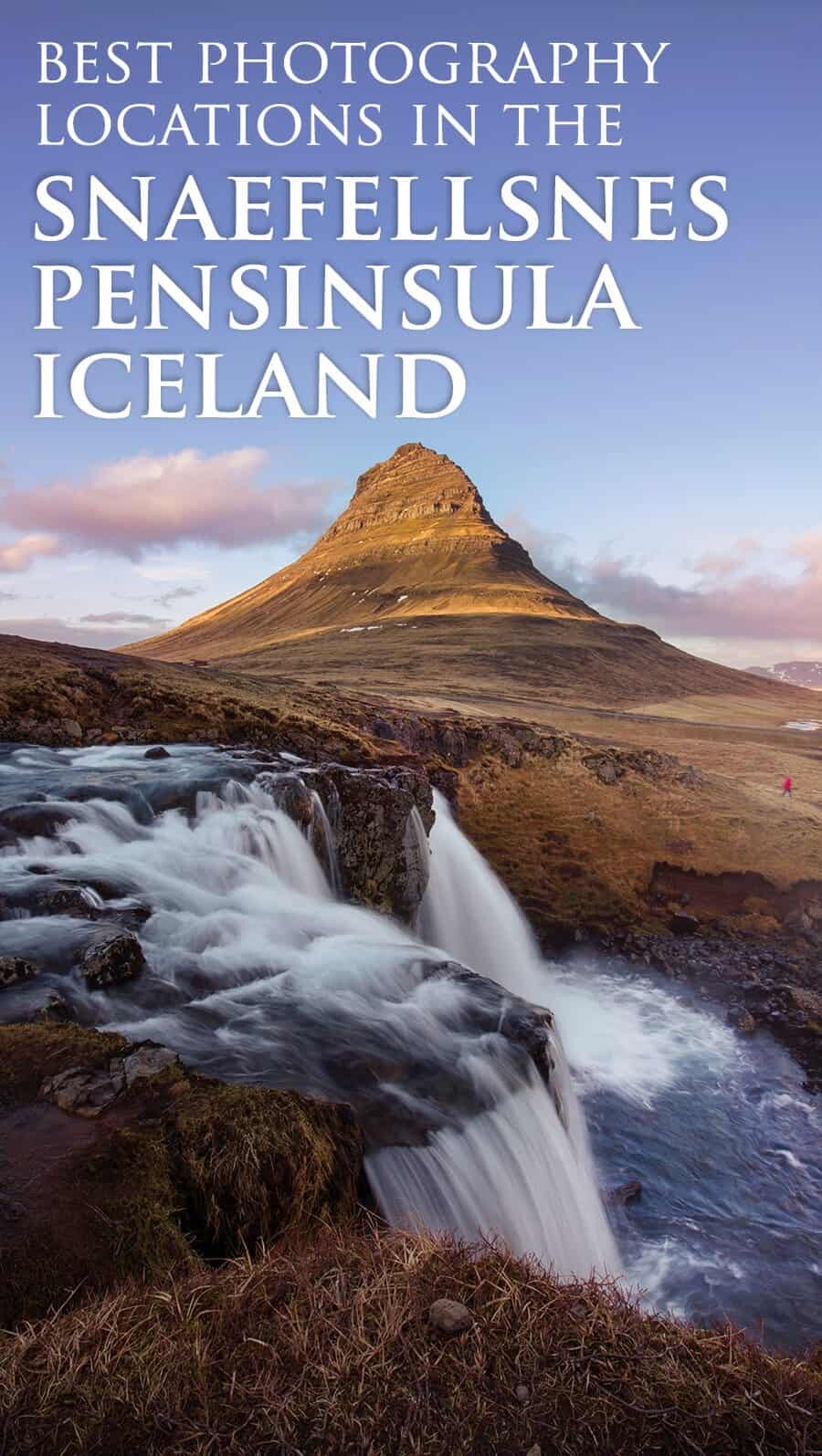 *Please note there are affiliate links included in this post. All links are to sites I've personally used and recommend and should you click through, I earn a small commission from any bookings which goes towards maintaining this site.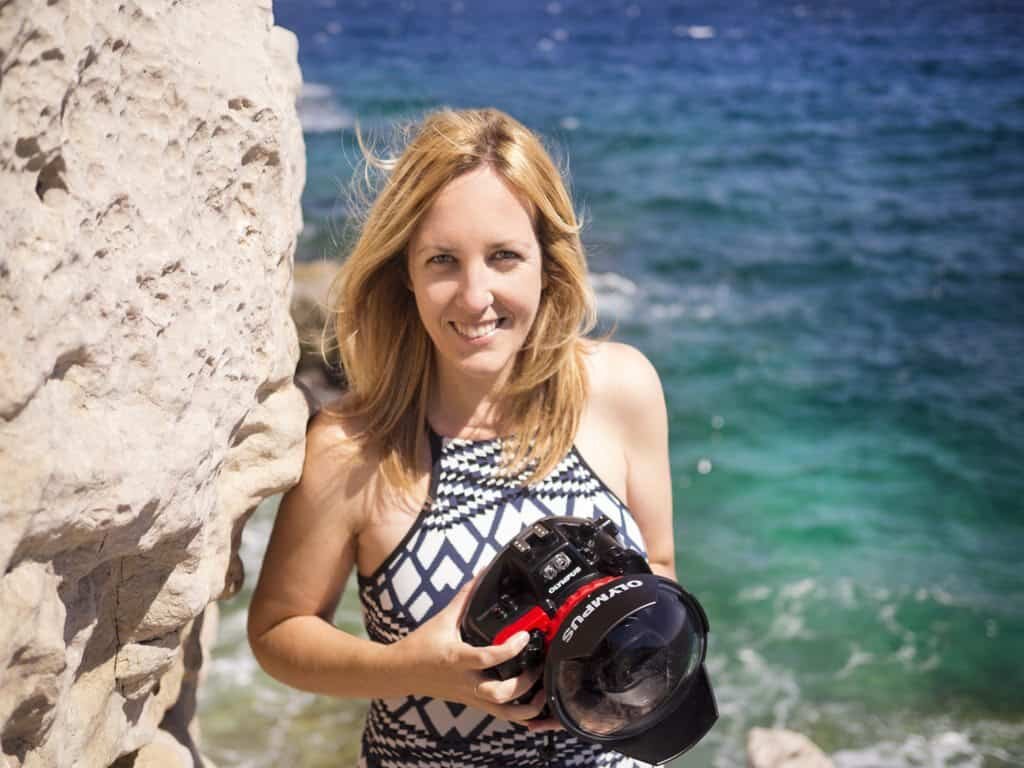 Hello! I'm the founder and photographer behind The Wandering Lens.
With 17+yrs experience as a professional travel and landscape photographer, all advice found on this site is from my personal experience on the road. I hope it's useful for your own travels and would love to hear in the comments about your trips and experiences around the world.