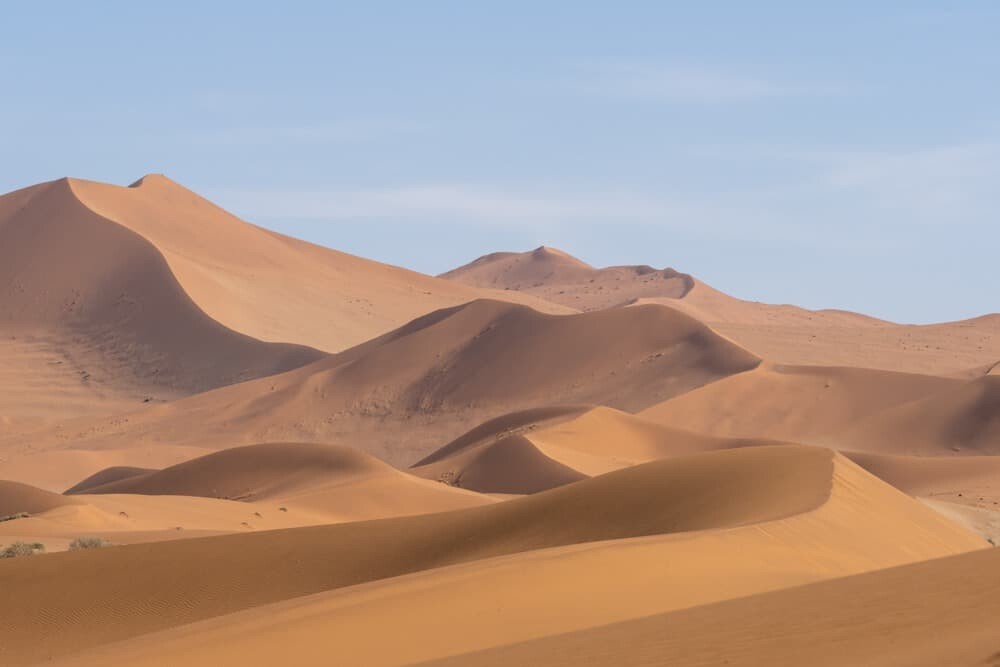 Photographing Deadvlei with Wilderness Safaris – Namibia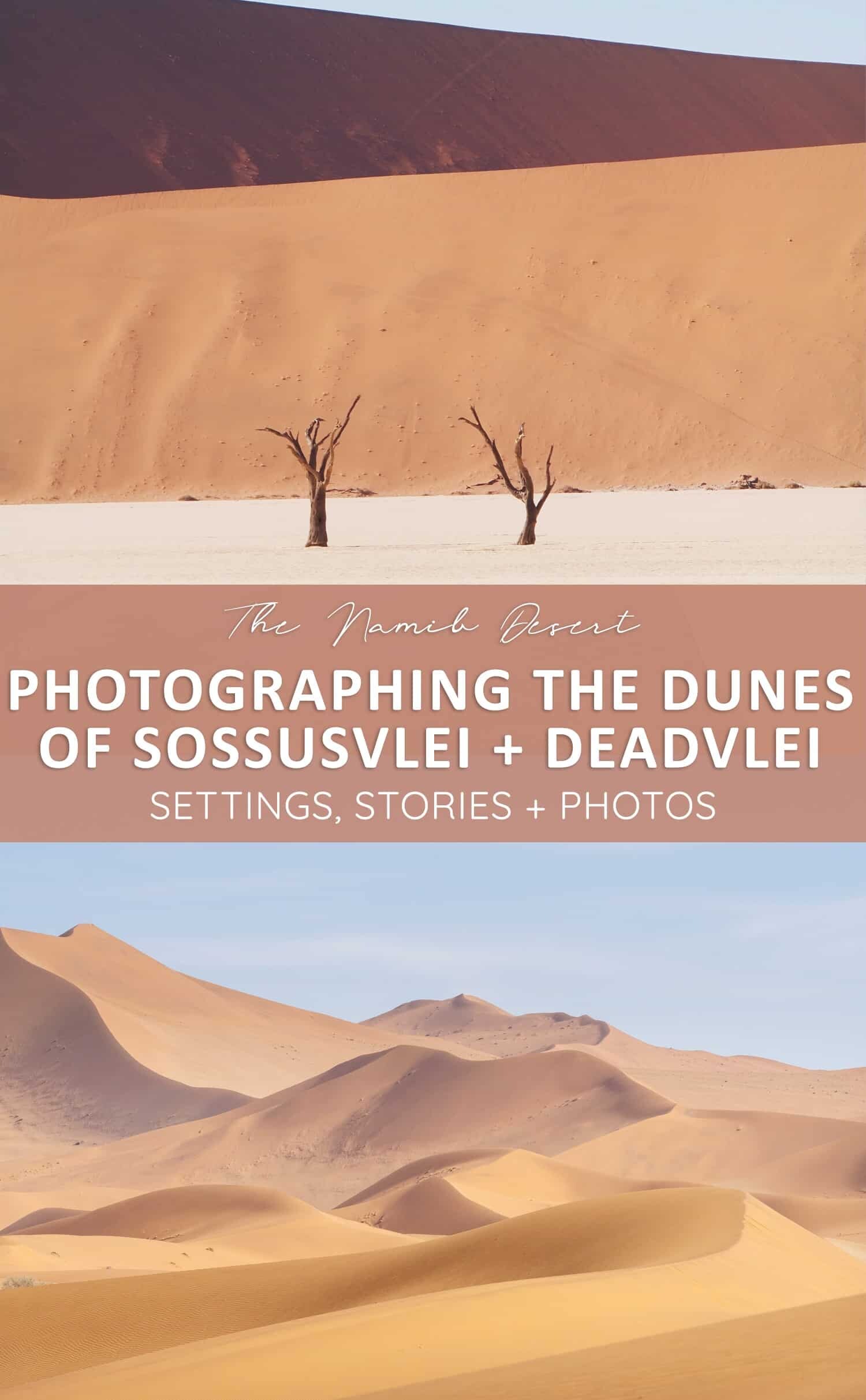 Departing in darkness, a slight glow simmered on the horizon, a tiny hint of the magic soon to be revealed across the Namib Desert.
With Kulala Desert Lodge being the closest lodge to Sossusvlei, a short drive led us to the Namib Naukluft National Park gate from where the peaks of dunes grew closer and my camera quickly jumped out of the bag, never to leave my hands for the rest of the day.
Despite knowing photos from a moving vehicle don't always produce the best results, I couldn't help myself. As the sun rose slowly in the distance, the dunes changed colour and I was snapping out the window at anything and everything that revealed one of the dunes I'd been wanting to photograph for years.
With me for the day I had the Olympus E-M1X and E-M1 MKII bodies, both with impeccable weather sealing to ensure the desert dust wouldn't be an issue. The M.Zuiko 7-14mm f2.8, 12-40mm and 40-150mm pro lenses were also in my bag to ensure all bases were covered for the scenes I imagined along with the MC-20 2x teleconverter which I was using for the first time to extend the focal length and reach an impressive 300mm.
The desert scenery is such an inspiring landscape for me personally. Vast open spaces of scenery that seems to extend endlessly toward the horizon are what fuel my creativity and I was in a happy place from the moment I laid eyes on the first grain of sand.
Because I know once I start typing I'll no doubt repetitively use the words wow, pretty, overwhelming beauty and no doubt a few WOW's in captials too, I want to instead share my favourite images from this morning adventure with Wilderness Safaris.
Below you'll find six images along with a little story from behind the scenes of each shot and what camera settings and gear were used to capture them.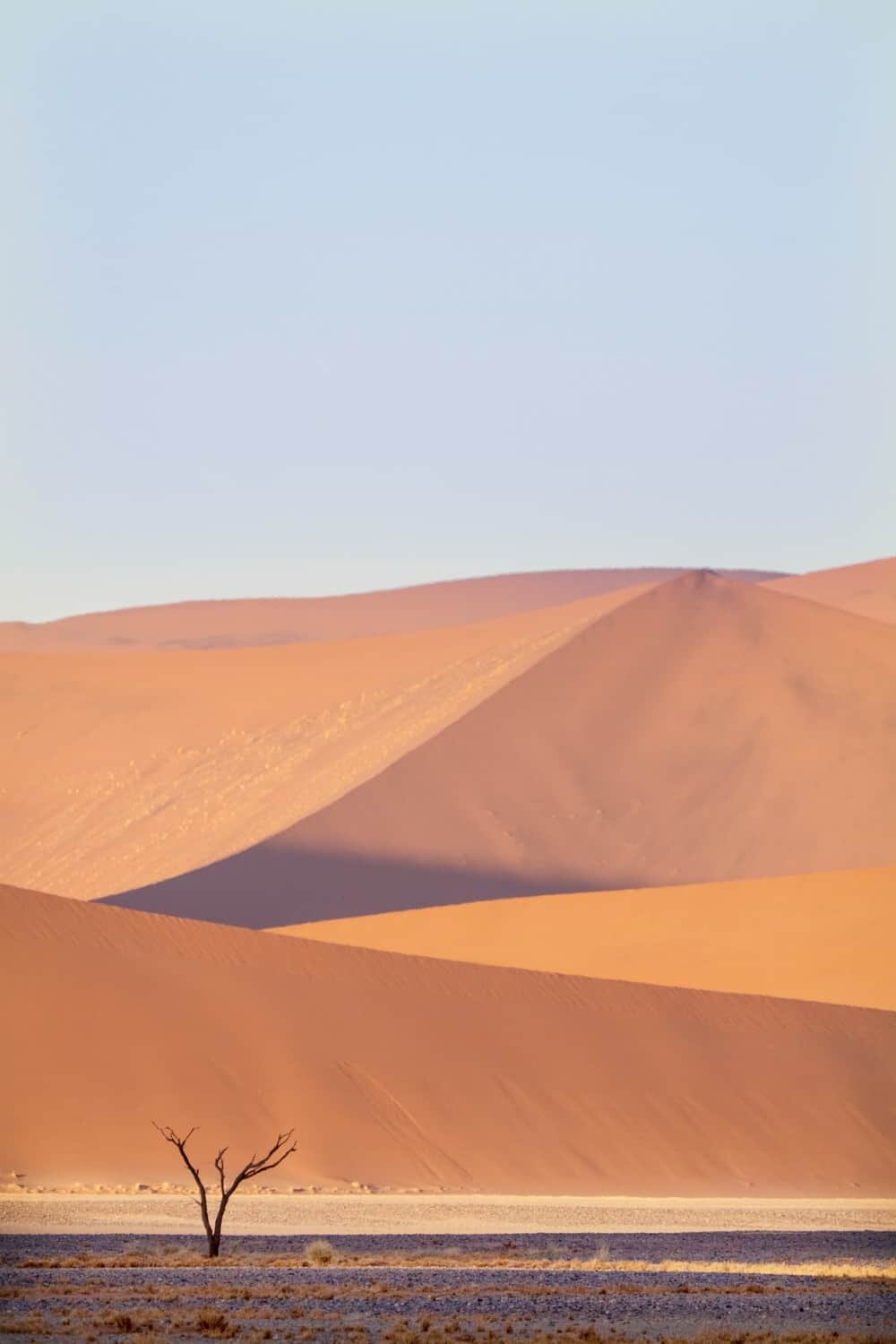 Image #1
Gear: Olympus E-M1X + M.Zuiko 40-150mm f2.8 lens with the MC-20 2 x teleconverter
Camera Settings: f.5.6 | ISO 400 | 1/1000sec | 300mm focal length
Stopping at Dune 45, one of the most popular locations to climb Namibia's monstrous dunes, we had a few minutes to take some shots before continuing to make our way towards Deadvlei, the intended location for the morning shoot.
Rising at 170m, the dune provides an easy to reach opportunity for people to attempt to climb and see the scenery from above…and fill their shoes with sand, lots and lots of sand. Because I like my images to be free of people, I instead focused on the distant dunes, using the MC-20 teleconverter to extend my 40-150mm lens to 300mm, drawing a lone tree closer against the star dunes behind.
While it may not appear to be the case, I was actually standing in a relatively busy car park while taking this shot and due to the focal length, people could walk in front and barely cause an issue, until of course I didn't see them coming and then got a shock when I was focusing and suddenly bam, person.
One of the benefits of having the teleconverter with me was for moments like this when I wanted to put myself in a scene further away and in a sense break free from the standard setting and capture the shot without of course having to hike in the extreme heat. I'd previously travelled with the 300mm f4 pro lens however now that I've had this compact little gem with me, will probably opt to use it instead simply due to the size and ease of use.
Read more – 'The Benefits of Travelling with a Zoom Lens'
---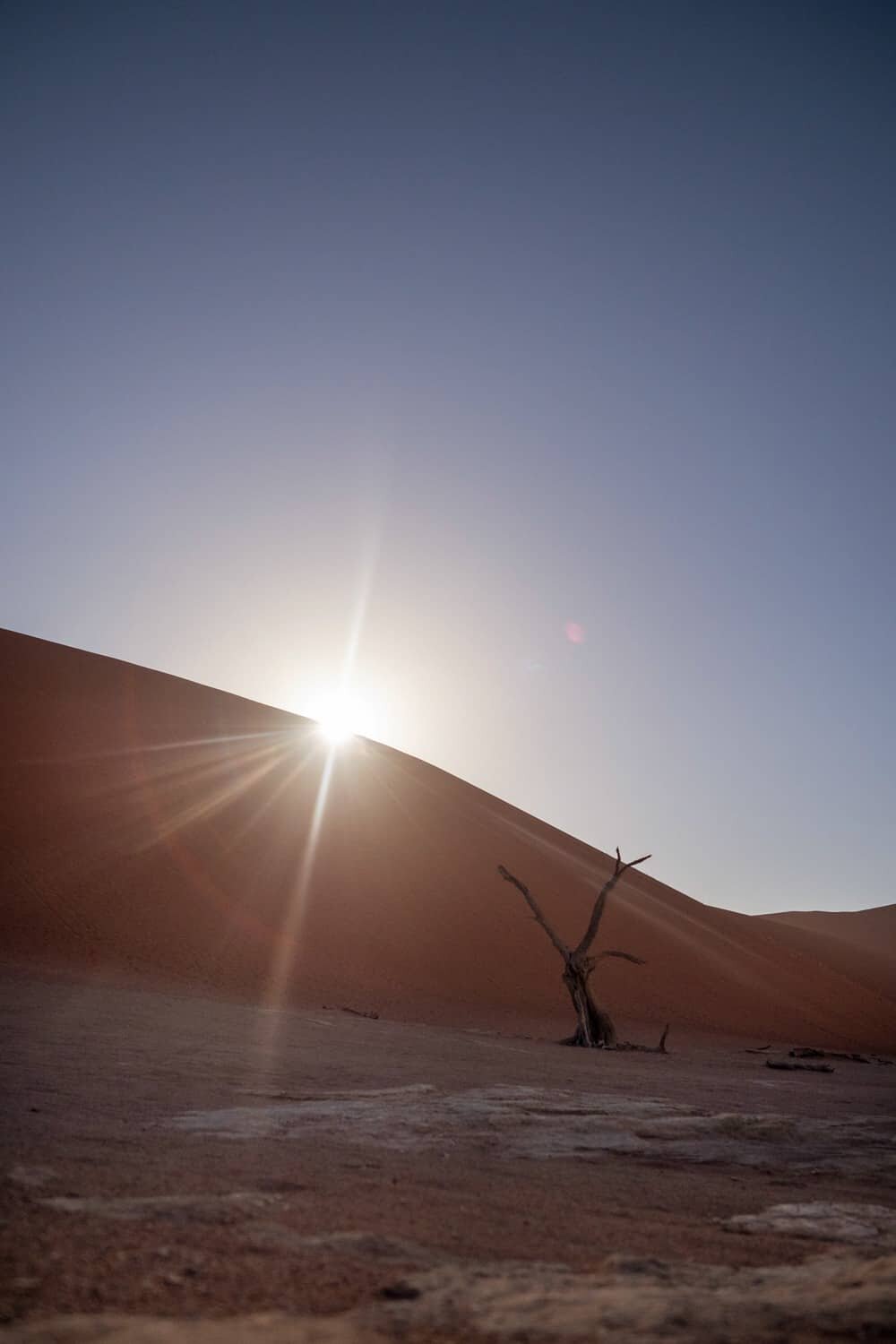 Image #2
Gear: Olympus E-M1 MKII + M.Zuiko 7-14mm f2.8 lens
Camera Settings: f/2.8 | 1/16000 sec | ISO 800
Arriving at Deadvlei it became a mission to run towards this stark valley of dryness before the rising sun took over and the scene lost all shadows and depth.
Not realising how far Deadvlei was from the car park, within minutes I was a sweaty mess (nothing to hide here, you'll be the same if you visit!) but so damn eager to take as many photos and angles as I could before the light grew harsher and the crowds arrived.
Descending into the valley I quickly noticed the light was rising rapidly and took this image using the only available tree that wasn't already in sunlight. Sometimes camera settings need to take a back seat in order to capture a quick shot. This was one of those times. I'm a big believer that if you get the basics right and avoid unnecessary noise/blur, then composition and creativity are far more important in achieving beautiful results.
While this image isn't exactly what I was hoping for and isn't my favourite of the day, it still provided me with an alternate shot that offers a different view of Deadvlei. I trialled using an aperture of f14 to highlight the sun sparkle but found f2.8 worked a little better in the end.
---
Image #3
Gear: Olympus E-M1 MKII + M.Zuiko 12-40mm f2.8 lens
Camera Settings: f/2.8 | 1/5000 sec | ISO 250
This is a shot I hesitated taking but, have a tiny obsession with producing reflections and a desert scene works so beautifully due to the tones and minimal landscape.
Obviously, there is no water in Deadvlei, it's one of the driest regions in the world and it was because of this that I was hesitant to share this image publicly.
To take this image I used the Olympus E-M1 MKII with the 12-40mm f2.8 lens which is ideal for creating a reflection of the sky within the screen of a mobile phone. When held up to the lens and tilted at the right angle, the phone screen reflects any detail above it and in this case, it was all blue contrasting goodness. To ensure you don't see the edge of the phone screen, it's essential to photograph with a wide aperture that will blur any foreground detail into the image.
Read more – 'Behind the Lens: Creative Phases and My Current Obsession"
---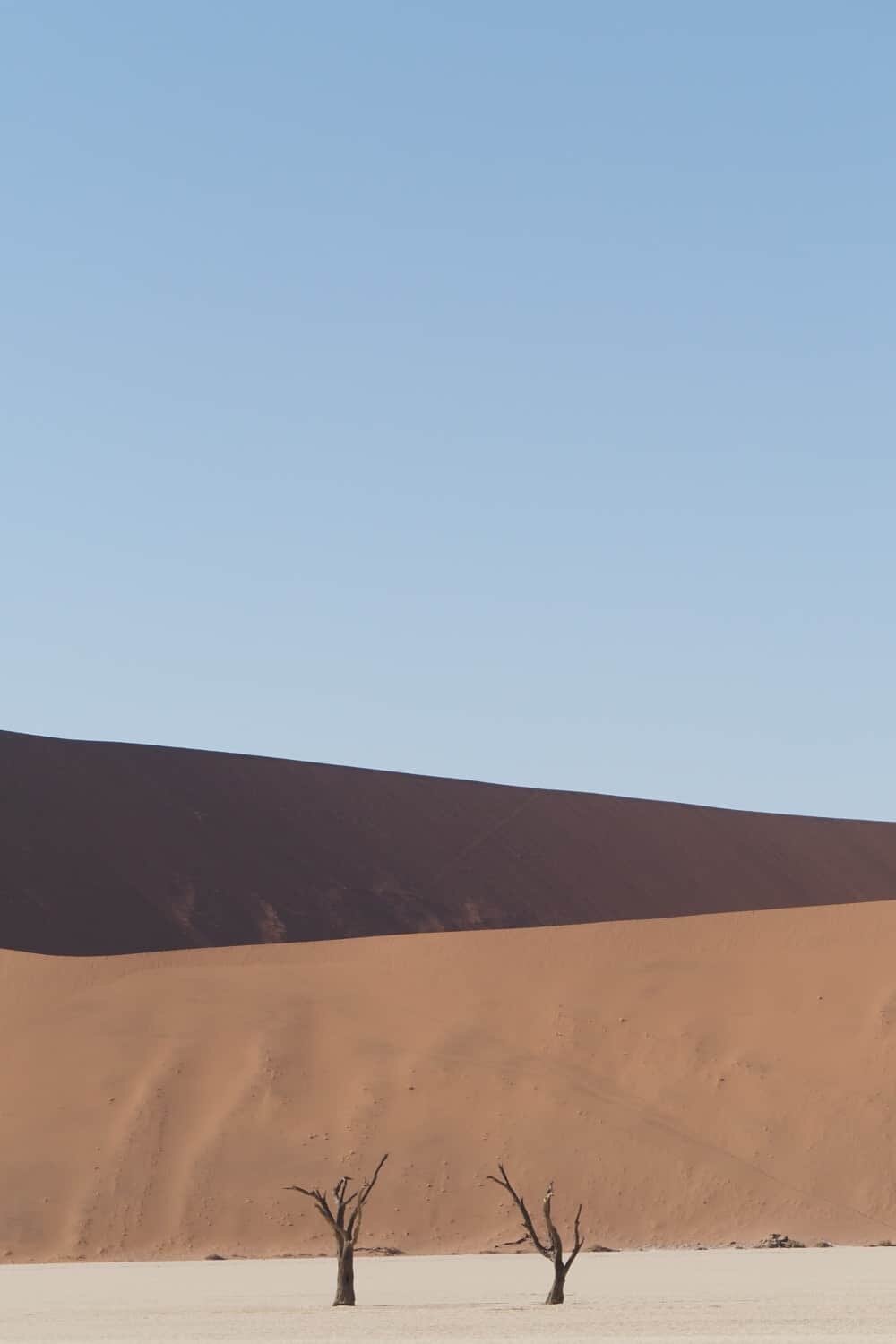 Image #4
Gear: Olympus E-M1X + M.Zuiko 40-150mm f2.8 lens
Camera Settings: f/7.1 | 1/640 sec | ISO 200
*Please note this shot is unedited
Searching to capture a classic shot of Deadvlei I made time to sit and simply stare in all directions looking for trees that would work best. For about 10 full minutes (a lot in a location as photogenic as this!), I put my camera on the ground and just gave myself time to find the shot.
It's a popular location so a lot of the time you will find there may be people in the scene but luckily, if you arrive early enough there'll be plenty of space to find some trees to compose within your images.
These two stood out after a few minutes and I loved the effect the shadow on the back dune was giving depth to the frame. The sun was shining completely over the entire Deadvlei however this dune was still in shade, ideal for a contrasting tone within the image.
---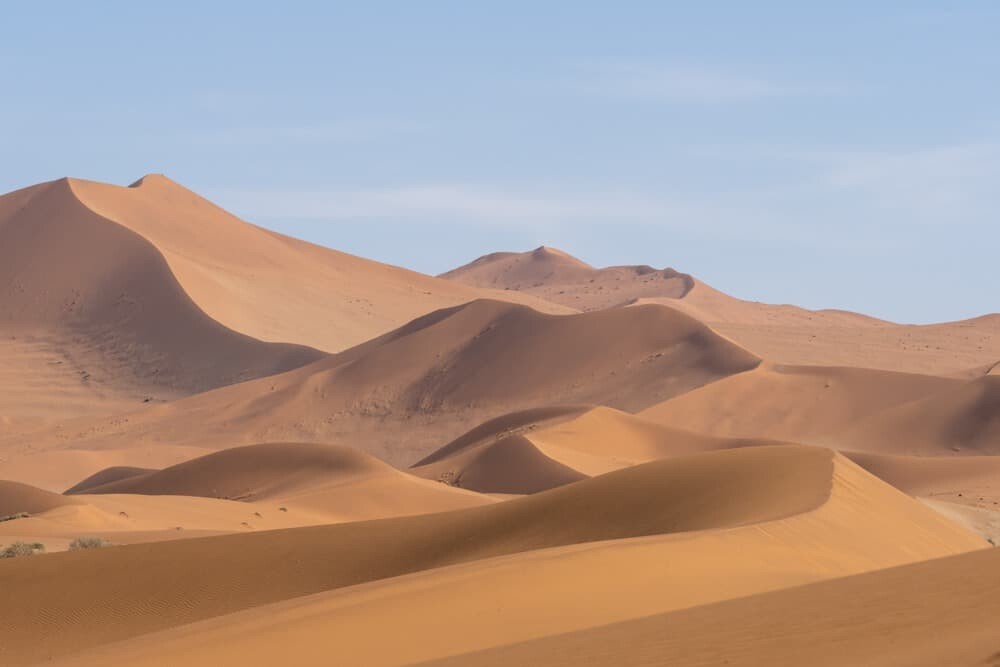 Image #5
Gear: Olympus E-M1X + M.Zuiko 40-150mm f2.8 lens
Camera Settings: f/7.1 | 1/1250 sec | ISO 200
To finish up, I'll share my favourite image not only of the mornings trip but my entire time in the region. After seeing so many images of Deadvlei and Sossusvlei on social media, sometimes rather than being inspired I become a little underwhelmed. While this definitely wasn't the case with this location, I did feel that I needed more time to capture a shot I was truly happy with, maybe another morning there or even another ten.
While walking back to the car park I was drawn to this distant view; the colours, layers and depth all just became a vision of instant inspiration and I got those giddy vibes while quickly whipping out the E-M1X and 40-150mm lens I'd already packed up for the hike back to the car.
The reality was that I was totally boiling and red faced, had almost drunk my water, crowds were rolling in faster than clouds in a summer storm and I thought I'd captured all that I could at Deadvlei. Wrong.
These dunes aren't of course Deadvlei, they're located behind the carpark on the eastern side of the dunes however when taking the shot, I was standing on the path to Deadvlei. It was quite a funny scene actually as I was photographing in the opposite direction to where everyone else was heading so naturally, as they passed me in my snap happy state, they'd turn and try to see what the heck I was seeing.
This was the first image I took of the scene and of course, like most people I took tonnes more with varied focal lengths and compositions but love that every time I view this shot I'm taken back to my time in Namibia, wowed by the overwhelming natural beauty. I told you I'd use the words wow and overwhelming!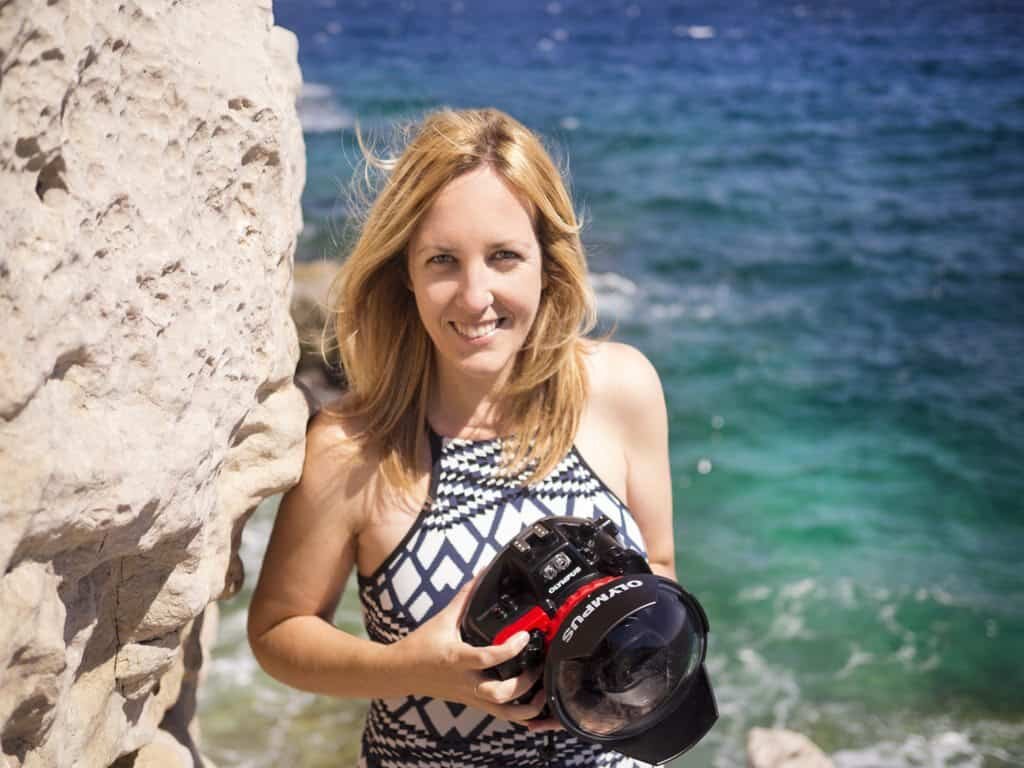 Hello! I'm the founder and photographer behind The Wandering Lens.
With 17+yrs experience as a professional travel and landscape photographer, all advice found on this site is from my personal experience on the road. I hope it's useful for your own travels and would love to hear in the comments about your trips and experiences around the world.