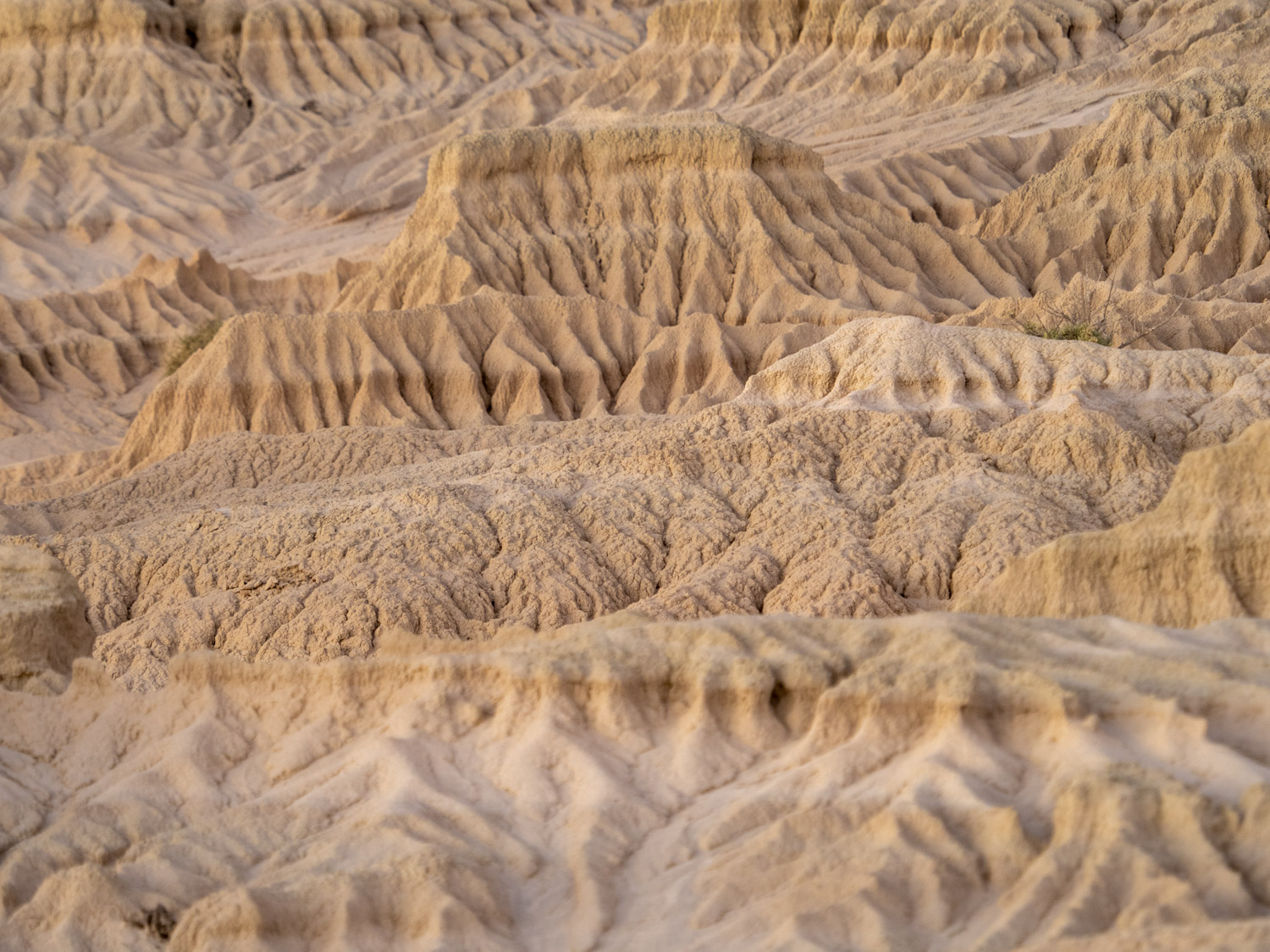 PHOTOGRAPHING + VISITING MUNGO NATIONAL PARK, NSW
Where lunettes form a chiselled landscape of rugged formations and Australian wildlife and Aboriginal culture take centre stage, Mungo National Park is one location to put on your photography wish-list.
The glow of sunrise illuminates dry lakebeds where kangaroo and emu are slowly starting their day, while golden sunsets and pastel skies create a stunning palette when photographing the other-worldly landscape.
Carved and shaped over millions of years, Mungo National Park has so many stories to tell and on a recent visit, I was blown away by just how much I didn't know about not only Australian landscapes, but our culture, people and history. Do yourself a favour, if you get a chance to visit Mungo, spend a few days here to really soak up the beauty and magic of this photogenic and significant part of Outback New South Wales.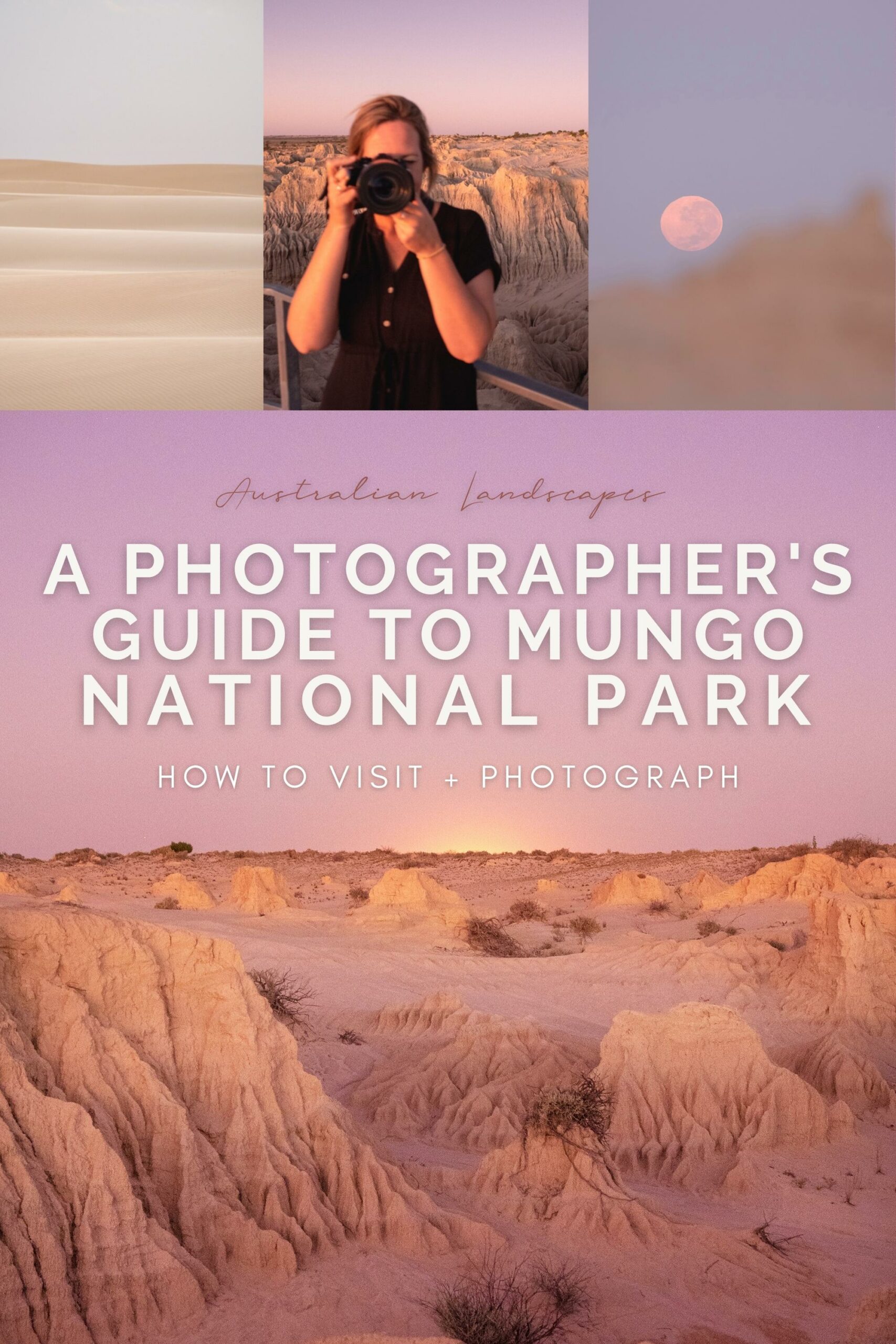 Where is Mungo National Park?
Located in Outback NSW, Mungo National Park is roughly an 11hour drive west of Sydney or 7hours north-west of Melbourne. Resting near the centre of the Murray Basin, Mungo National Park comprises of 19 connected lakes (now dry), dunefields, sandplains, lunettes (more on these in the photography section below) and lakebeds that are thriving with native Australian wildlife.
Broken Hill, NSW, is a 3-4hour drive north-west while Mildura, Victoria, is a 90minute drive south-west from the Mungo Visitor Centre.
Accessing Mungo National Park
To stay, visit or drive within Mungo National Park, you'll need a visitor pass which costs $8 per day and is payable at the Mungo Visitor Centre.
You can access the Wall of China viewing point but will need to book a guided tour to walk amongst the lunettes. This can be done via the Mungo Visitor Centre or directly via Mungo Lodge if you're staying there.
Despite a portion of the self-guided tour being closed, you can still also access the Red Top Lookout which was my personal favourite! The viewing platform looks down into the rugged landscape and lunette formations, making it the ideal spot for sunrise and sunset photography!
Up to date visitor information can be found on the National Parks of NSW website here.
What makes it so significant?
Thick layers of sand and clay found within Mungo National Park reveal signs of how the climate and landscape has changed over the last 100,000 years. Not only is the earth significant, discoveries made within the region have allowed details of the past to be voiced.
Three Aboriginal tribal groups walk in the footsteps of their ancestors today, the Paakantji, Ngyiampaa and Mutthi Mutthi people care and continue the culture and knowledge of Country.
A timeline of how the landscape was formed (resource: NMA)
32 million years ago the sea flooded the Murray Basin in which the Willandra Lakes and Mungo National Park are located.
150,000 years ago the Willandra Lakes formed as low-lying basins filled with water from the mountains to the east.
40,000 years ago the climate became consistently drier and the world plunged into a cold, glacial phase from 22,000 years ago.
10,000 years ago the last Ice Age was over and a relatively stable, semi-arid climate settled over the area.
Perhaps most people know Mungo National Park as the location for where the most significant human remains ever to be discovered in Australia, were found. Named Mungo Man and Mungo Woman, the remains date back 42,000+ years and are some of the oldest remains of modern humans, found outside Africa.
Geologist Jim Bowler discovered the bones of Mungo Lady in 1968 and found they had been ritually buried, making her remains the oldest known cremation in the world. They're also a representation of the early emergence of humanity's spiritual beliefs.
Read more about the people and and culture on the Visit Mungo website.
*Information also resourced from the National Museum of Australia.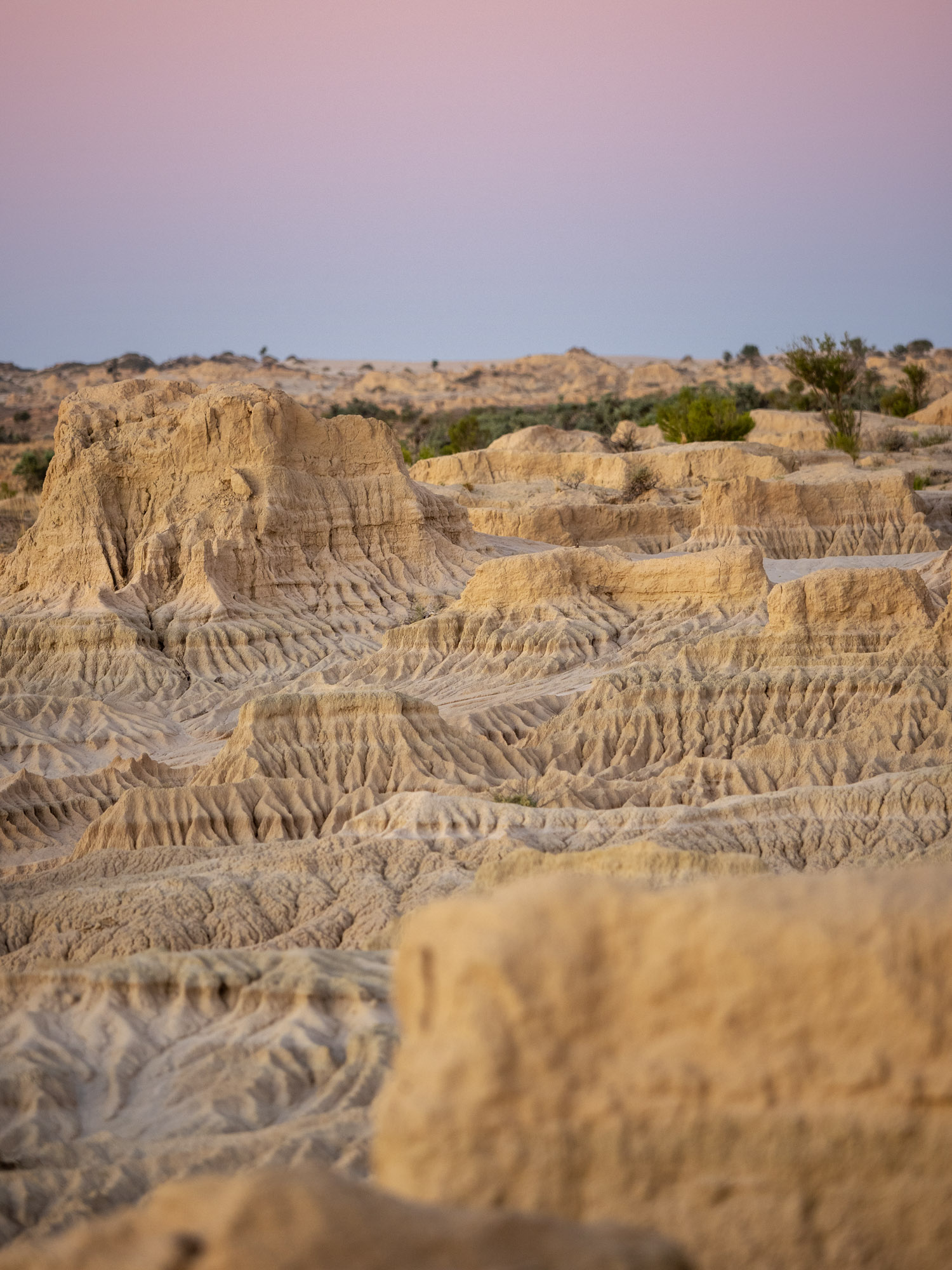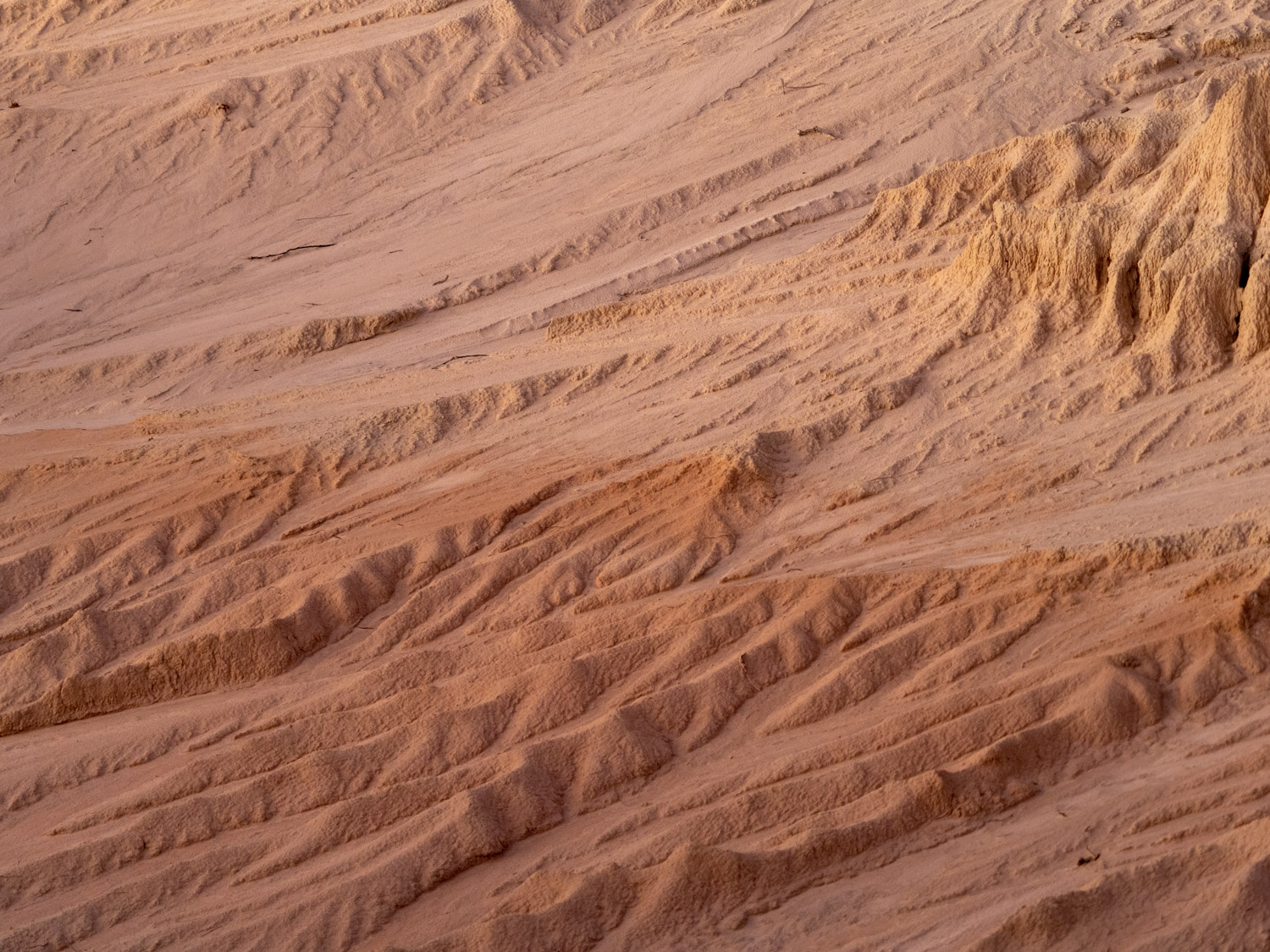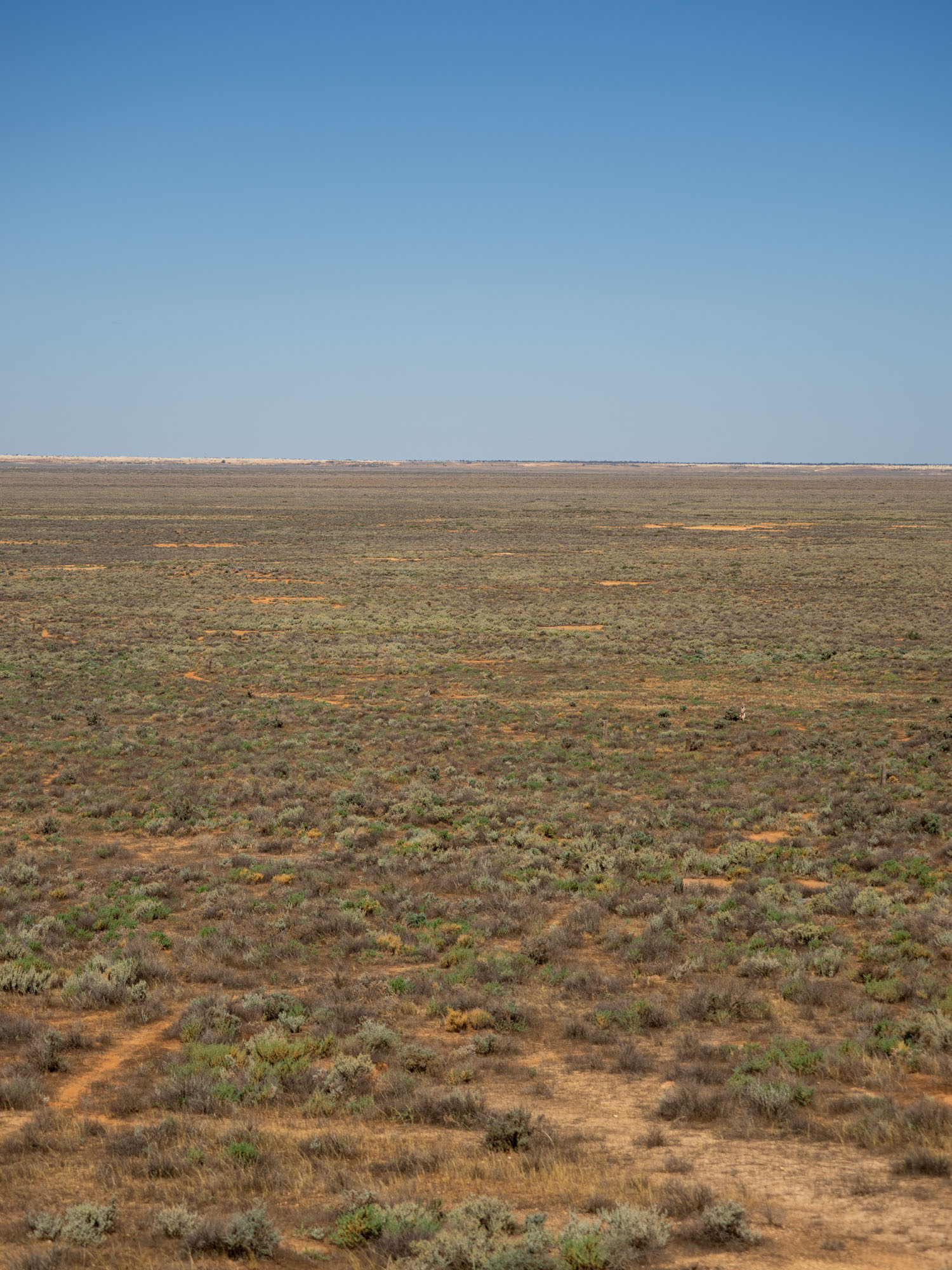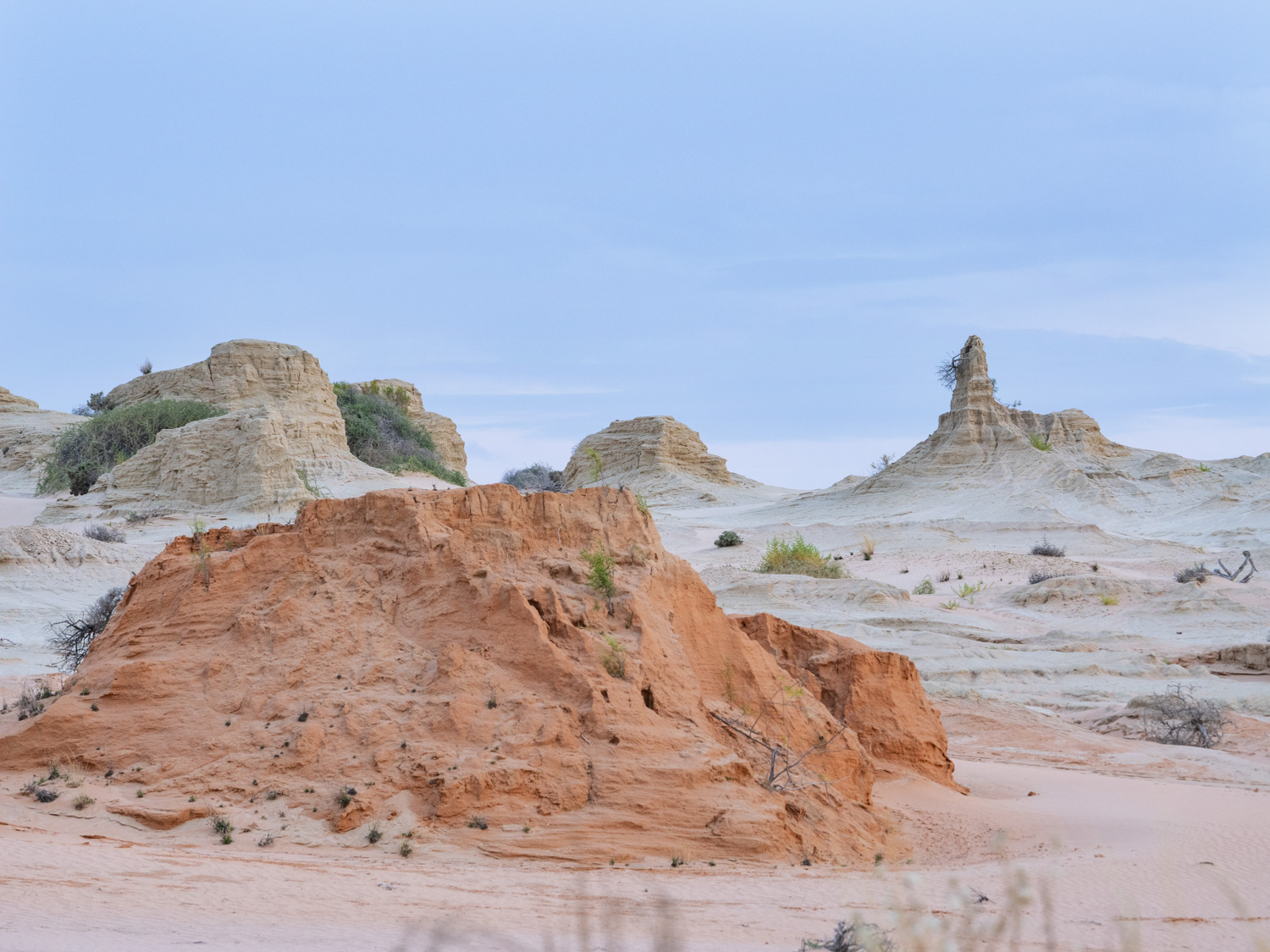 What and where to photograph at Mungo National Park?

*A quick note before reading further – if you're aiming to film or photograph for commercial purposes, please visit the NPWS website and apply for the relevant permit at least 7 days prior to your arrival.
The first thing that surprised me during my visit to Mungo National Park was the abundance of wildlife. When researching and scouting locations via Google Maps, I had noted the giant Lake Mungo, Lake Leaghur as potential locations for landscape photography, however in person, they're expansive, dry lakebeds that are now home to an incredible amount of kangaroos and emu. Within minutes of arriving at Mungo we saw a mob of 15 emus huddled together and kangaroos stood and watched as we drove (waving like we'd never seen a kangaroo) by them.
For most landscape photographers however, it will no doubt be the Walls of China that drew you to Mungo National Park. Stretching along a ridge on the eastern side of Lake Mungo, this landscape is other-worldly. Made up of lunettes, formed over thousands of years, they're a chiselled collection of sandy clay formations.
My favourite location of the park is the Red Top Lookout which is the spot you'll see in most of the Mungo imagery on Instagram/social media. It's a viewing platform that's perched in one of the highest locations within the park and looks down into the lunettes and across the Walls of China to the north. From Red Top Lookout you can photograph sunrise, sunset and also watch in anticipation for a full moon to rise (check dates for the best viewing!).
Features of the landscape are highlighted within the golden hour as shadows help to enhance the patterned and textured formations, particularly along the Walls of China and from Red Top Lookout.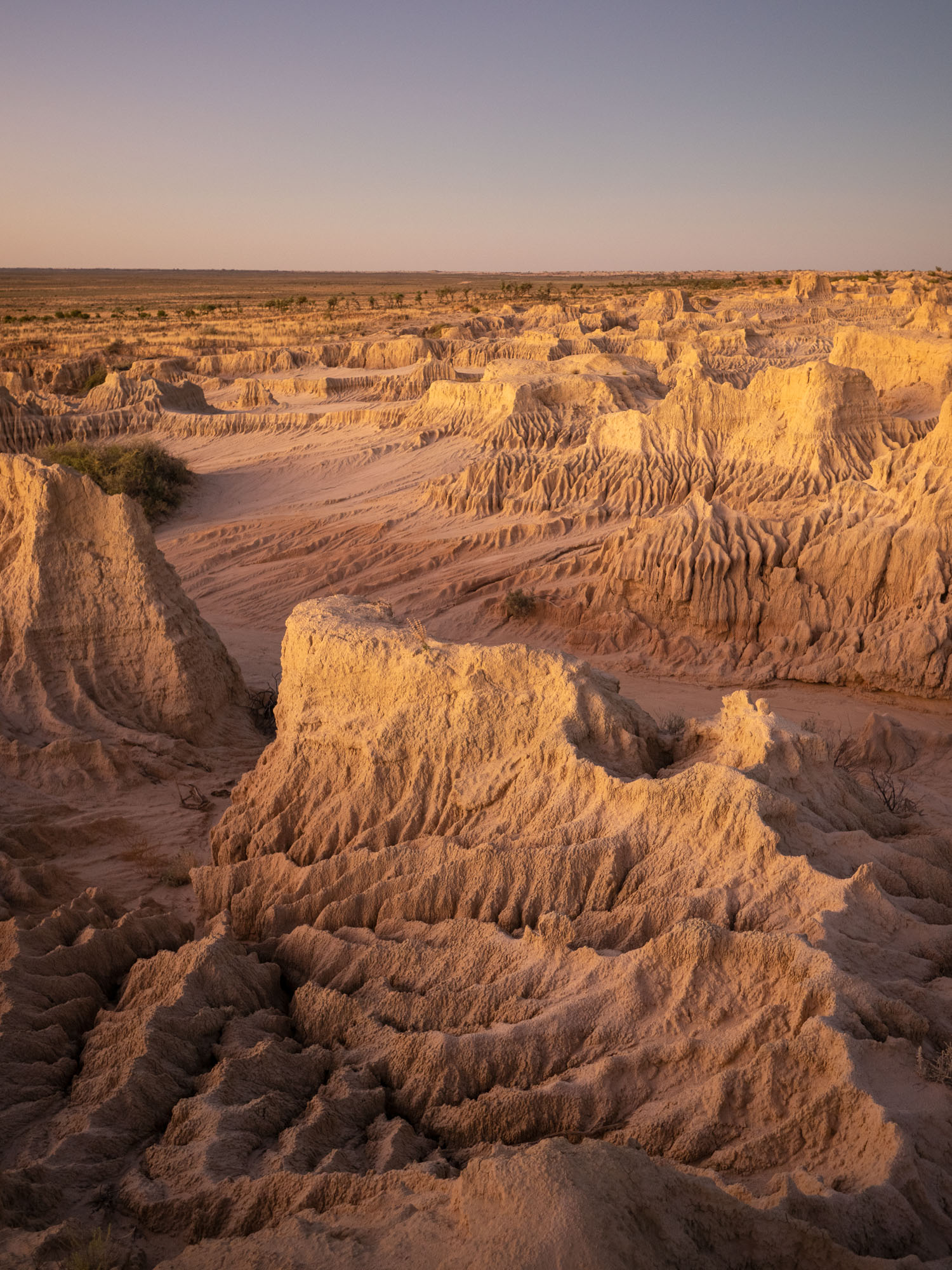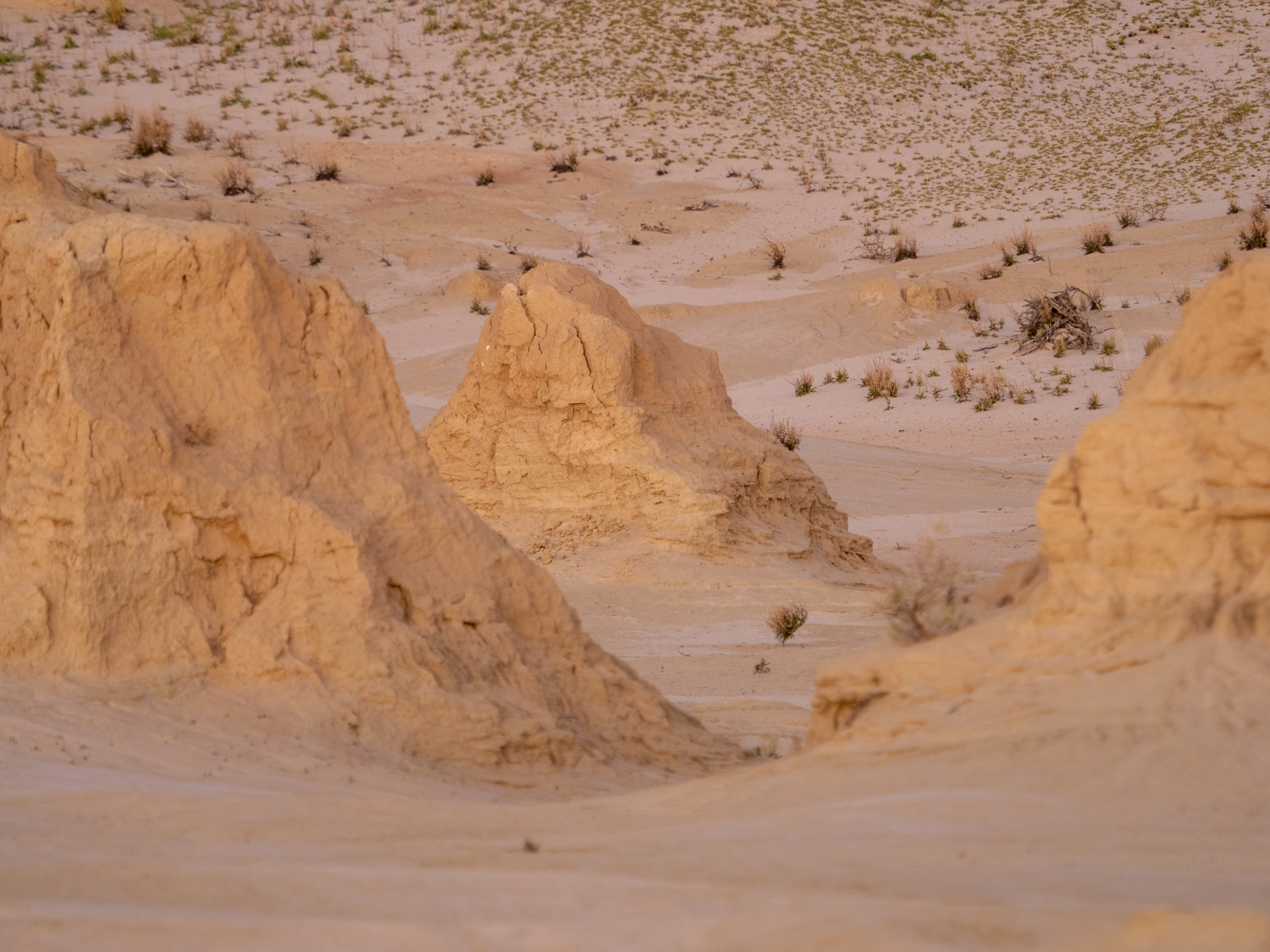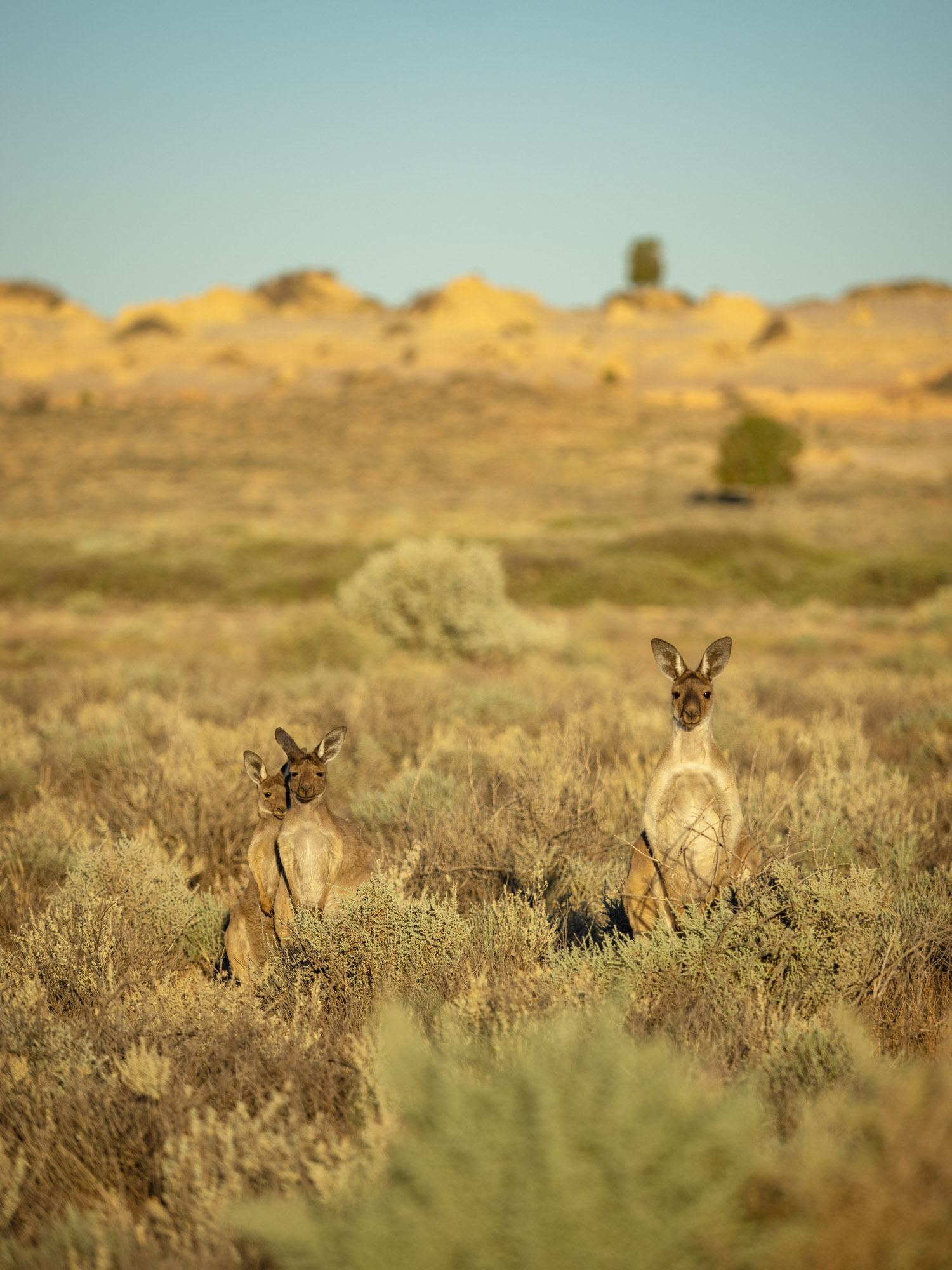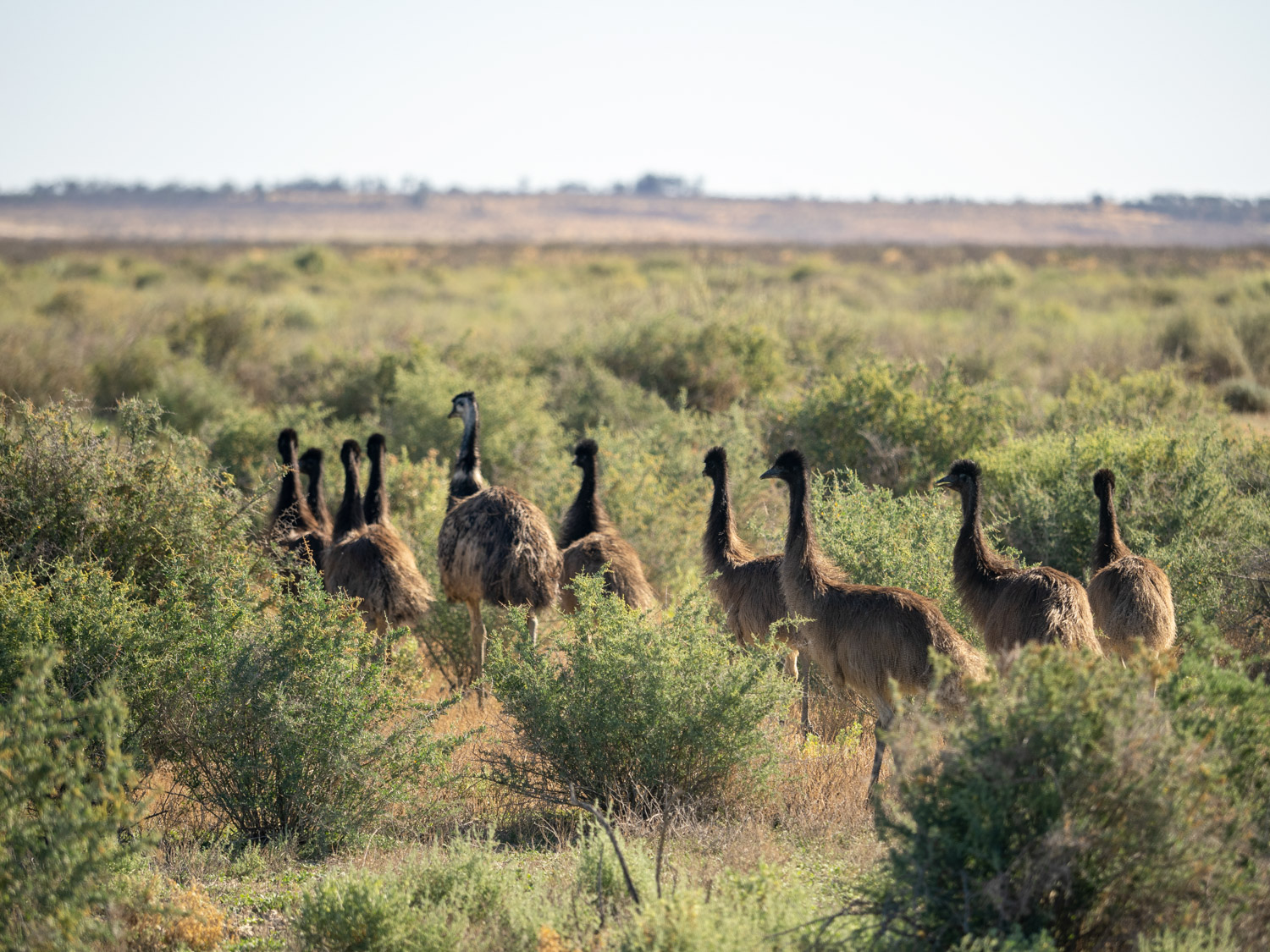 When to visit Mungo?

You can visit and photograph Mungo National park year-round, however note that in winter it will get quite chilly, and in summer the heat will be rather intense! I visited in mid-February and we had 41degrees one day, then 27degrees the next, which I can tell you was far more comfortable to photograph in!
You can plan your visit around a full moon to photograph this beautiful scene from Red Top Lookout.
What gear to use?
It can be windy, sandy and gusty out here so having a camera that can handle a bit of sand/dust is essential. My OM SYSTEM OM-1 and Olympus E-M1 MKIII cameras were such a great companions for this adventure!
Here's a list of the gear I used while photographing Mungo National Park:
OM SYSTEM OM-1 Camera (read all about this incredible camera via the OM SYSTEM site here)
OM-D EM-1 MKIII Camera
40-150mm f2.8 pro M.Zuiko lens (read my article about this lens here)
12-40mm f2.8 pro M.Zuiko lens
7-14mm f2.8 pro M.Zuiko lens
MC-20 x teleconverter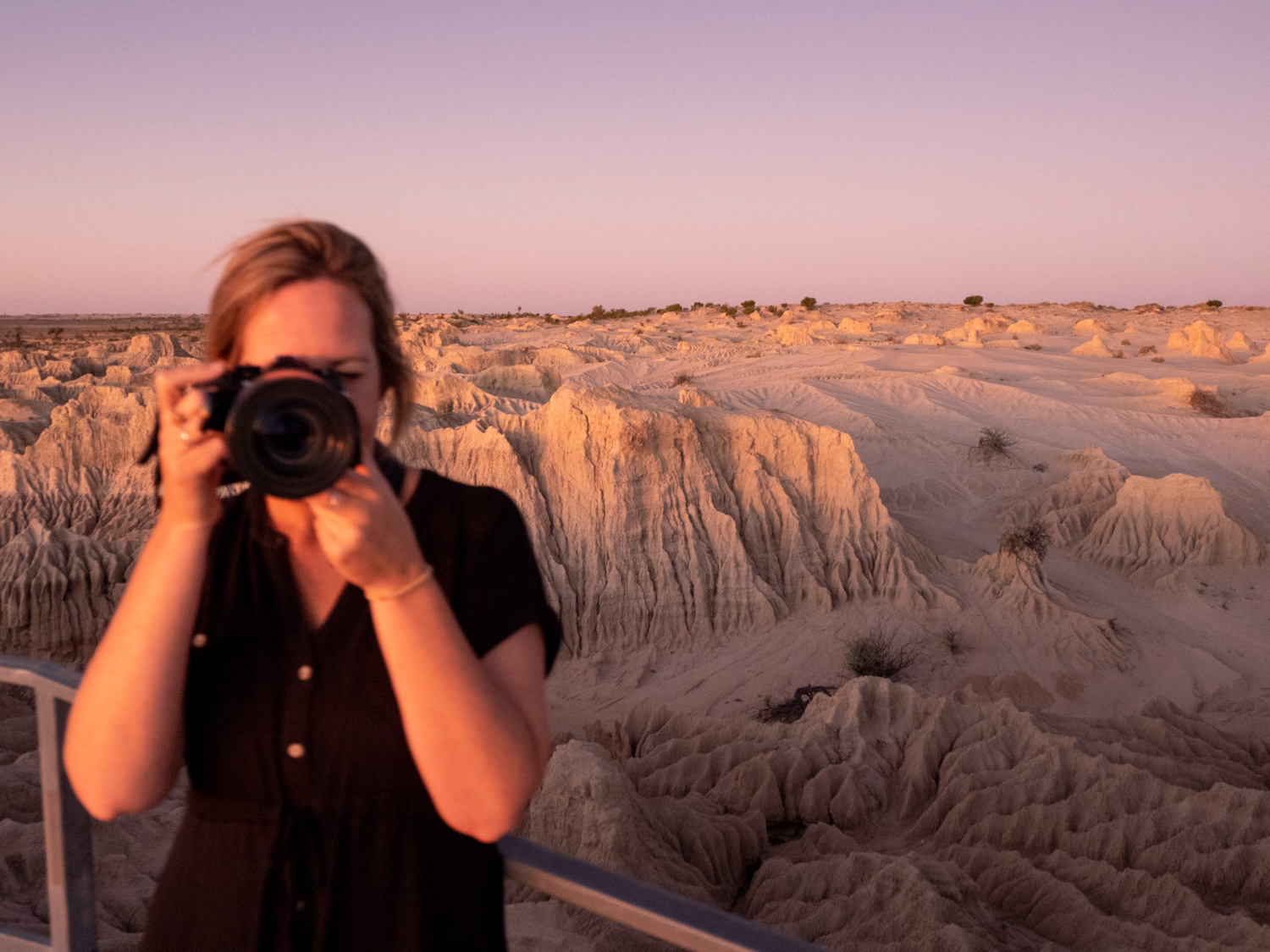 As I ventured on to the Walls of China with a local guide, I was able to get up nice and close to the lunette formations and hence, use my wide-angle 7-14mm lens to get some close details of the rugged formations. I did find though, my favourite lens to use was the 40-150mm as I really enjoyed zooming in to bring the landscape closer and reveal the layers of carved sand and clay.
At times I also attached the MC-20 2 x teleconverter to get close to the distant dunes I wasn't able to access due to the self-guided road being closed. While the road closure was a disappointment, I was really happy with the images I captured of the dunes from a different angle and was really glad to have the MC-20 in my camera bag, expanding the 40-150mm lens to 80-300mm (approx. 160-600mm full frame equivalent).
I opted to have the 40-150mm lens on the camera most of the time not only for landscapes, but for the wildlife too. They are so close to the road and viewpoints however once they've spotted you, can jump away and watch from afar, so having that extra focal length allowed me to capture the cuties even a little further away.
Drones are not permitted within Mungo National Park unless you've received written permission from the Park Office prior to arrival, and you will require an endorsement from the traditional owners.
NSW National Parks App: For more information on NSW National Parks, you can take a peek at their handy app here with downloadable maps, park information and places to stay.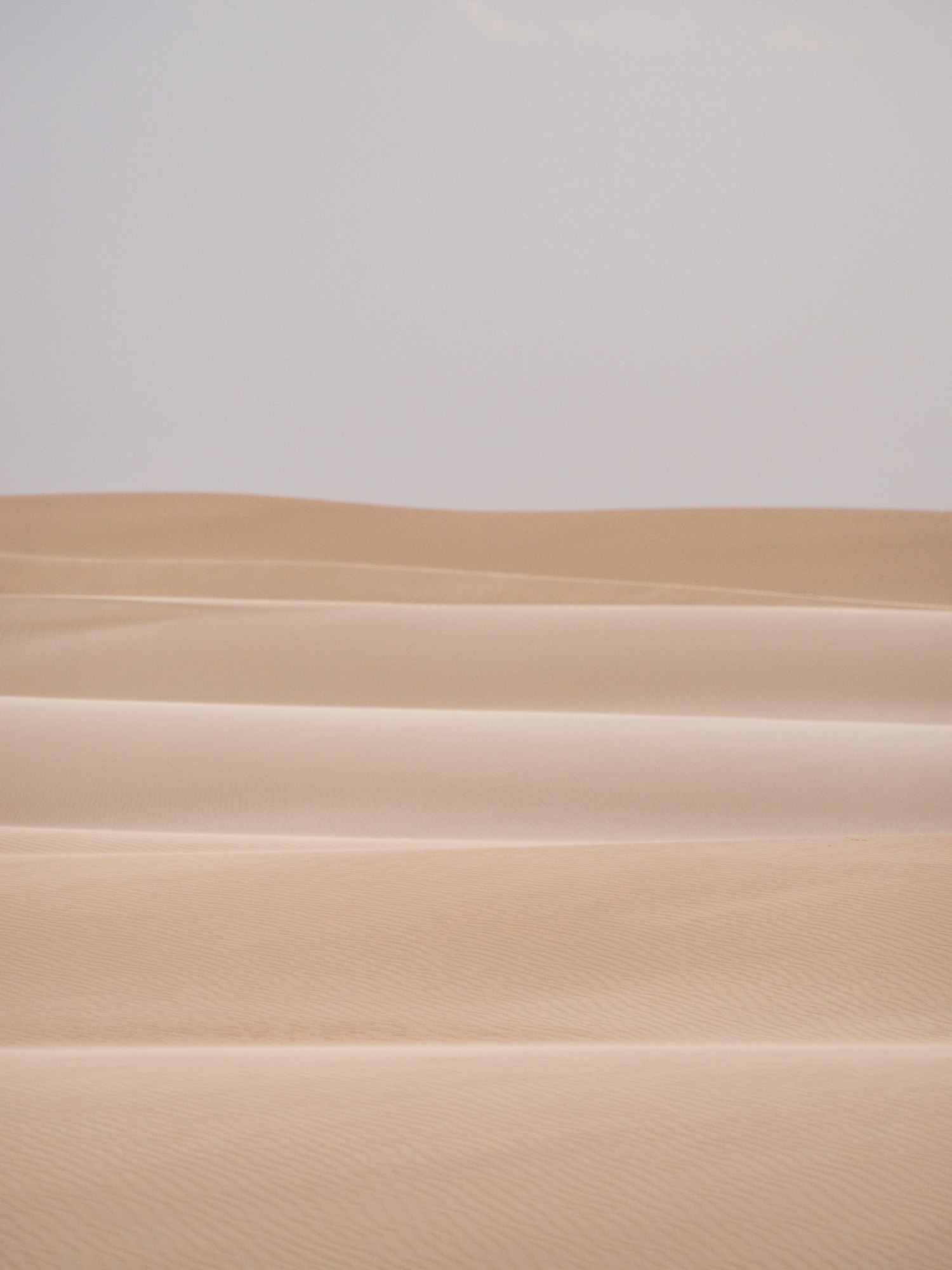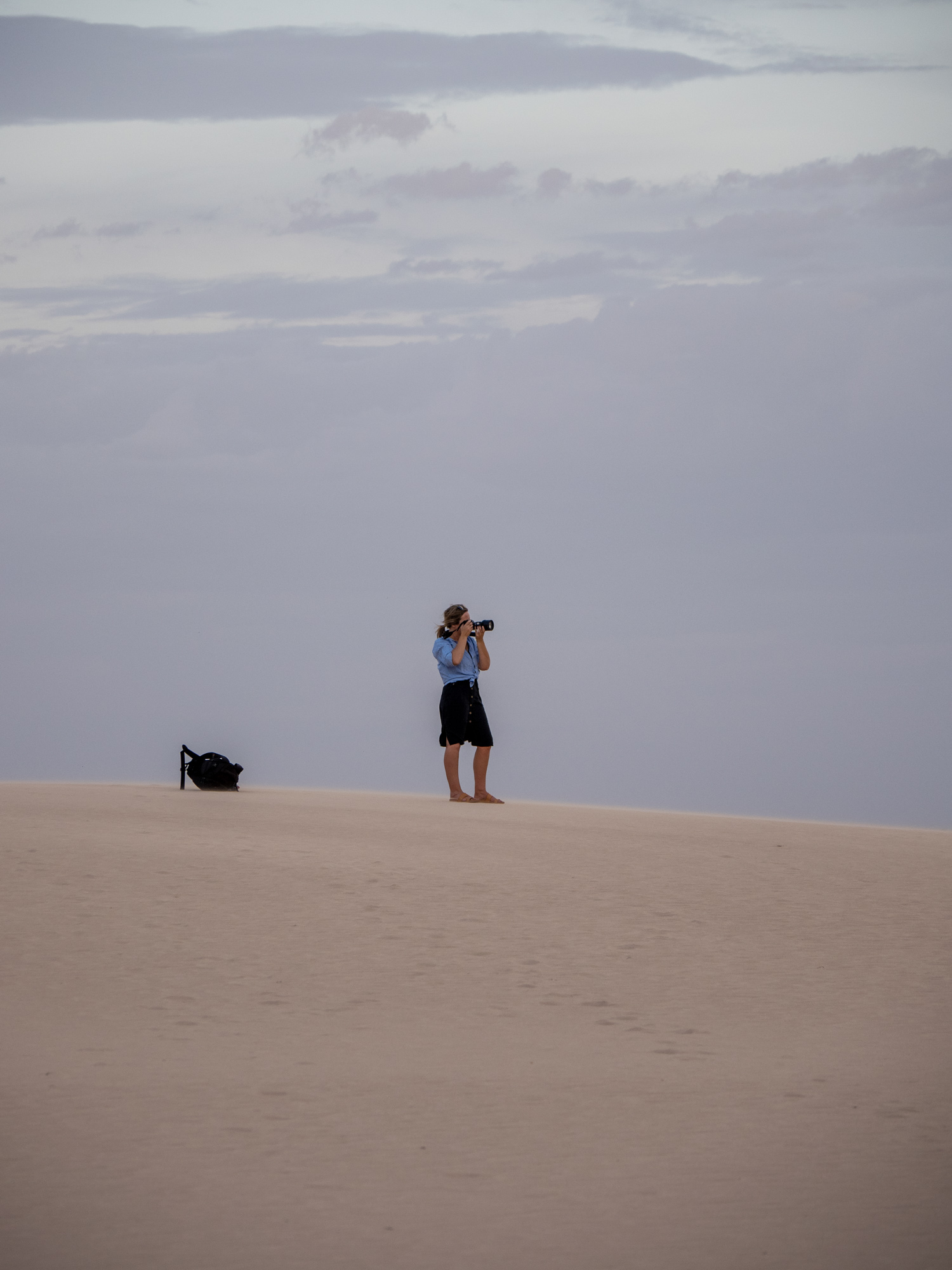 How to get to Mungo National Park?
There are a number of ways you can drive to Mungo National Park, most require some dirt roads which change in condition depending on the weather. My best advice is to drive to the conditions, leave early to avoid driving at night and go as slow as you feel comfortable. As someone who isn't an off-road driver, I was worried prior to arriving that the roads would be a little too rough for me, however, they were absolutely fine and once I relaxed a little, I had so much fun driving along them! You do need to watch for kangaroos, emus and the odd deeper sandy patch on the road that can grab the wheels.
An important note – there are no petrol/fuel facilities once you enter Mungo National Park so you need to be full (fill up in Mildura, Wentworth or Balranald and ready to be self-sufficient for the drive there and back! There are also no stores within the park, so bring food, water and whatever you need for the duration of your visit.
Driving from Sydney or Melbourne, you'll most likely drive through one of two main centres, Mildura or Balranald.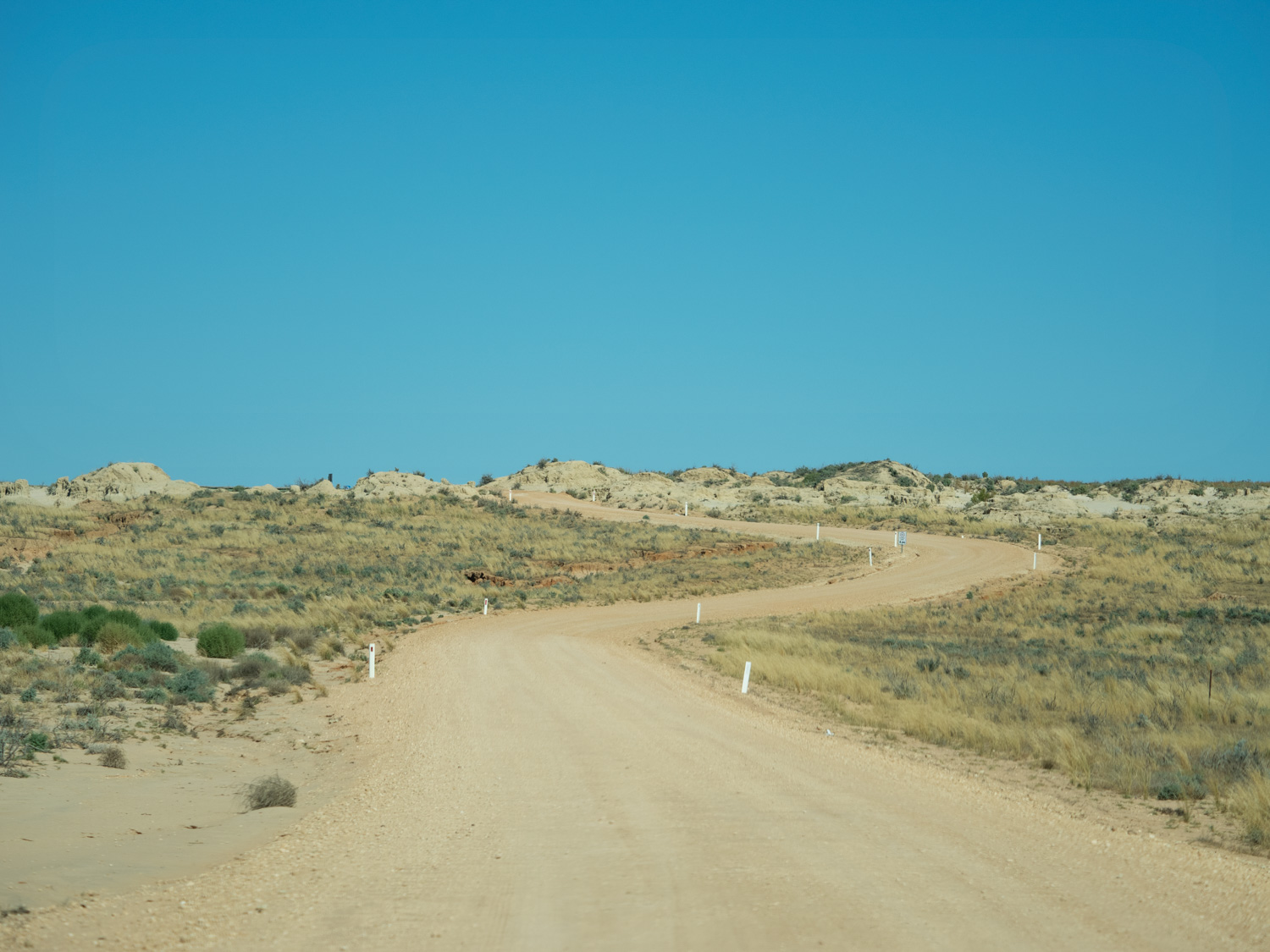 Driving from Mildura: From Mildura you can take Arumpo Road which has 20km sealed and 88km of unsealed roads that lead straight to Mungo Lodge (see more in the 'Where to Stay section', which is 5minutes away from the Mungo Visitor Centre.
This road is well maintained and can be driven in a 2WD vehicle, however, it is a dirt road, there are patches of sand and if it's been raining, the conditions may be tricky. Always check road conditions with the local visitor centre if it's been raining or you're travelling in summer when storms and rain may be more likely. That said, we had a great drive in February with my AWD Hyundai Sante Fe and no issues due to dry weather. *Although I drove overly cautious and very slow the entire way!
From Broken Hill: Follow the signs to Menindee and then on to Pooncarie. Continue 20km south beyond Pooncarie until you see Top Hut Road which has a sign indicating Mungo National Park. Follow this until the T-junction and then turn right.
From Balranald: Google Maps knows the way so simply type 'Mungo Visitor Centre' or 'Mungo Lodge' into your GPS for the route before departing Balranald as you may lose signal along the way at various points. The road starts along Ivanhoe Road, then turns off, following Marma Box Creek Road. It includes about 150km of unsealed roads and depending on conditions, there are two routes available to you when approaching from the south-east.
I found the road from Balranald a little more challenging to drive than the road from Mildura, but it will depend on the time of year you visit and conditions. Both roads are maintained so conditions will also depend on when it was last graded. They're beautiful drives though with plenty of open spaces, gorgeous outback scenery and you'll barely see another soul!
Check road conditions with any of these three visitor centres, depending on where you're driving through –
Balranald Visitor Information Centre – 1800 444 043
81 Market Street, Balranald, NSW
Mildura Visitor Information Centre – 1800 039 043
180-190 Deakin Avenue, Mildura, VIC
Wentworth Visitor Information Centre – (03)5027 3624
66 Darling Street, Wentworth, NSW
Email tourism@wentworth.nsw.gov.au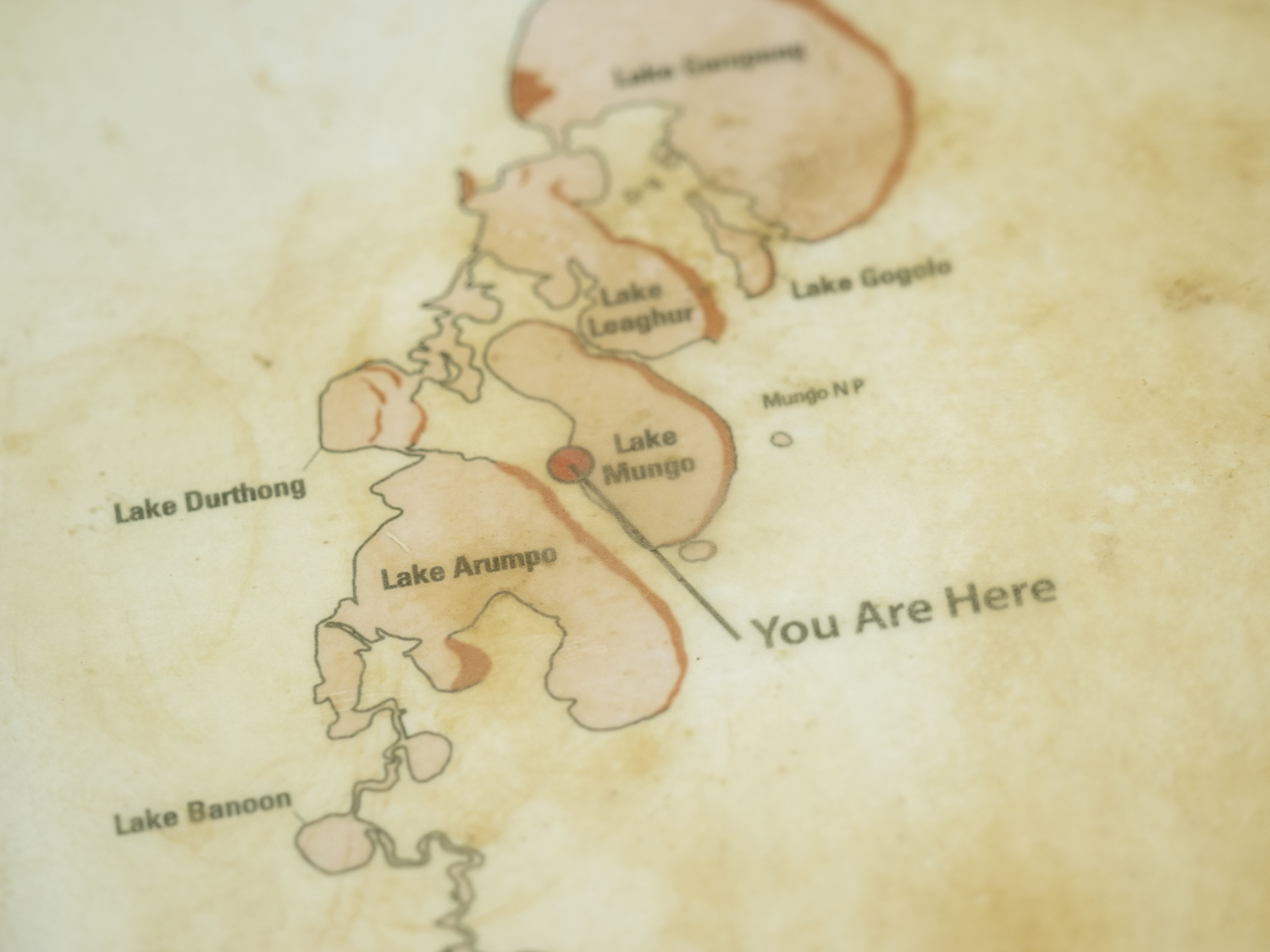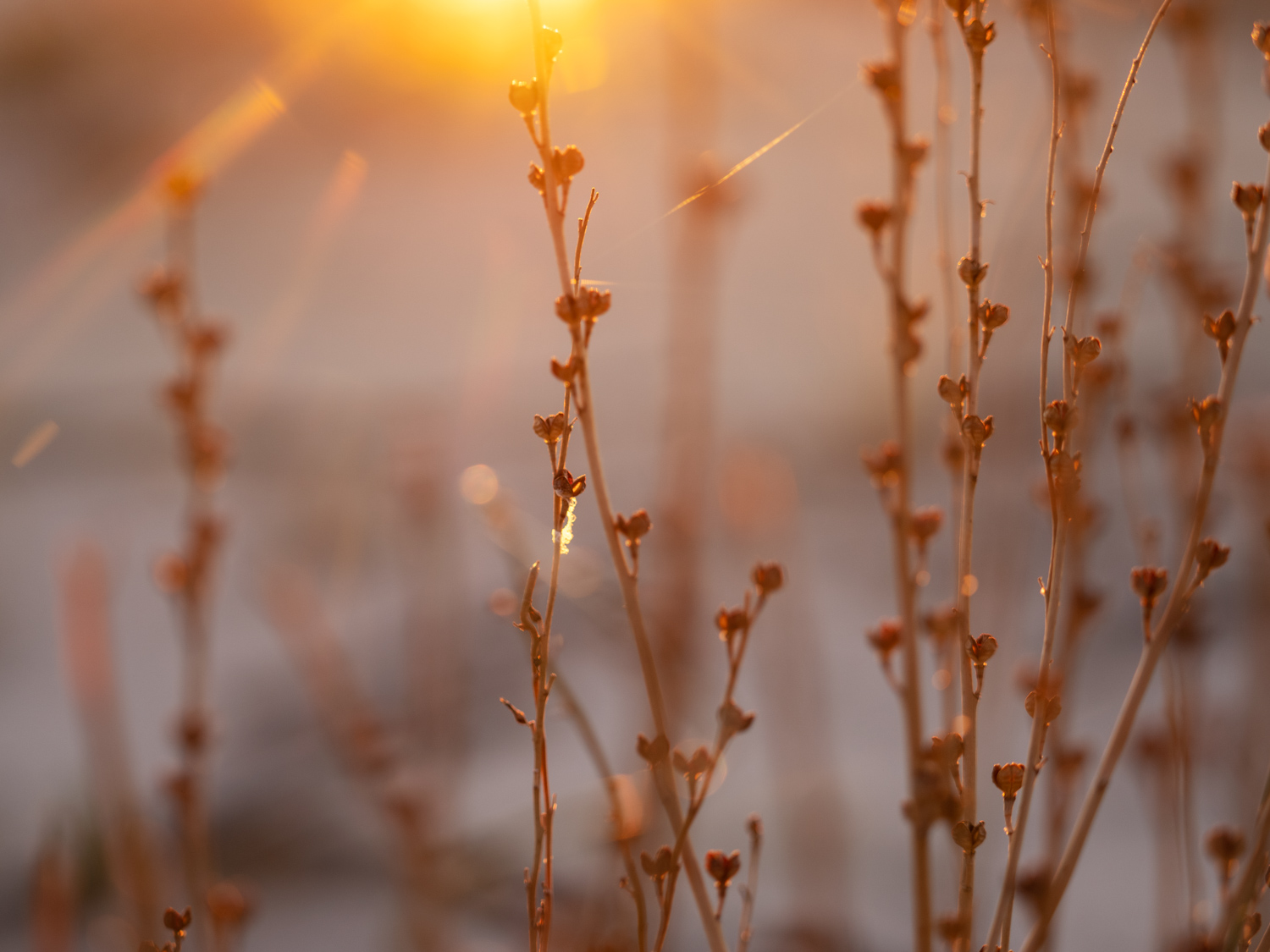 Can you do a day trip to Mungo National Park?
If you're just hoping to have a quick look and tick it off your list of things to see, then yes, by all means, if you leave early you can drive from Mildura for the day and be back before sunset. However, if you're aiming to photograph the beautiful lunette formations at sunrise/sunset and truly soak up the magic of this special part of Australia, I would say no.
I suggest you spend at least two nights here to make the most of your visit and to experience a sunrise, sunset and photograph the changing colours of this impressive landscape. Taking one of the guided sunset tours is a great way to walk amongst the lunettes and listen as a local guide talks about this significant location.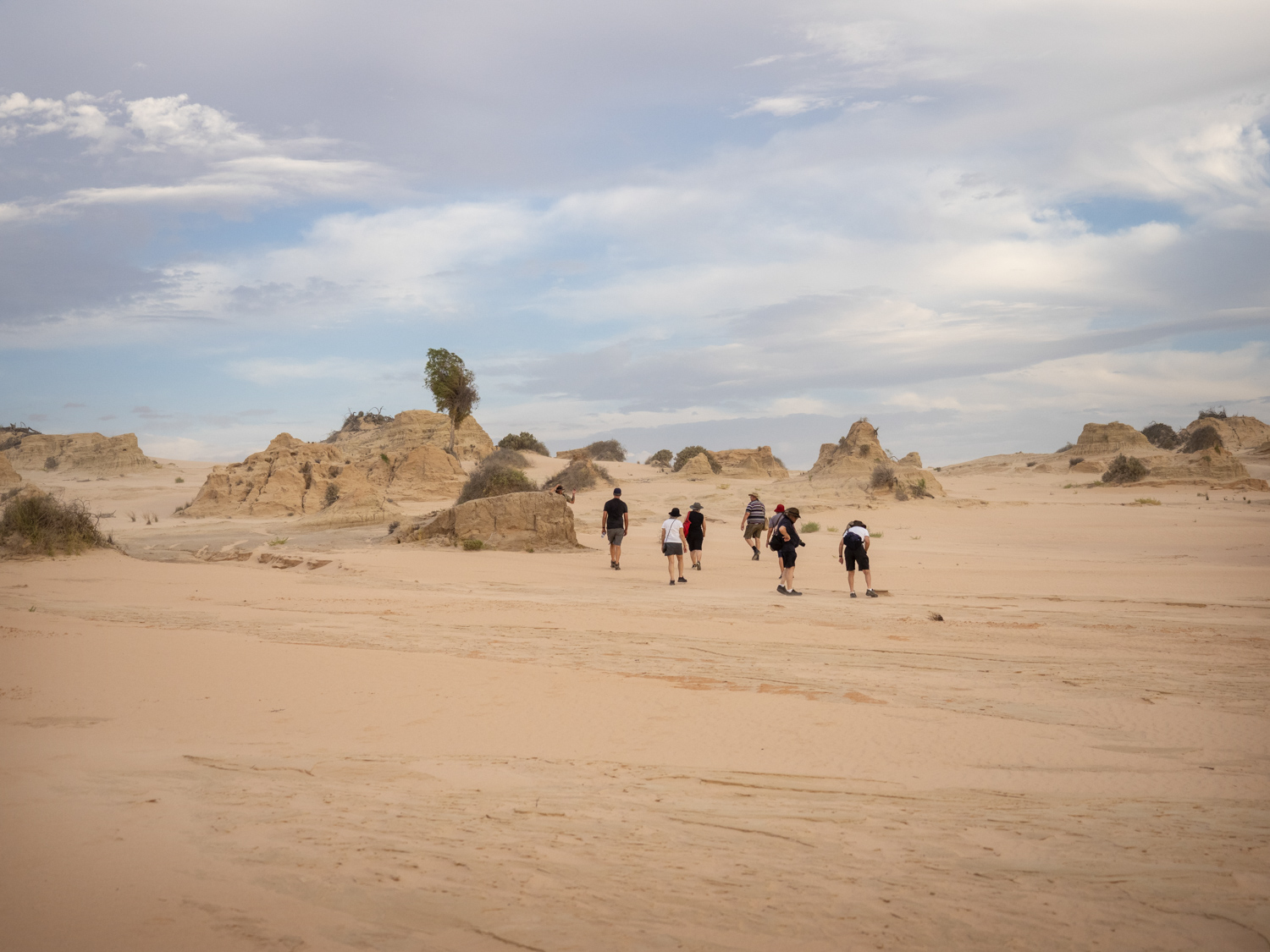 Where to stay in Mungo National Park
I opted to stay at Mungo Lodge and had such a wonderful experience there, not sponsored, I paid full price and I can't recommend it highly enough as you've got a comfortable bed at the end of a long day out exploring, plus their restaurant dishes out delicious meals for breakfast, lunch and dinner, bookings are essential. They'll even pack a picnic lunch if you like! The reason this is so important, is that there are no shops at Mungo National Park, you need to either arrive fully prepared with food and water, or stay at Mungo Lodge where you'll be looked after in luxury.
I loved hearing the birds waking in the morning and listening to the desert winds whipping across the landscape from my bed at Mungo Lodge! The staff are also so lovely and helpful, ready to offer advice on where to go, suggest timings for sunset, full moon locations and also have some free emu food if you're brave enough to venture over to their resident emus or goats and give them some treats.
If you're keen to explore the Walls of China, Mungo Lodge also offers guided tours which grant you access to the restricted area during the day, or even sunset tours on various days. Check with Mungo Lodge reception for available tour dates.
Alternatively, you can stay at the Mungo Shearer' Quarters which is located within Mungo National Park beside the Visitor Centre. There are 5 rooms with bunks, shared facilities and you can book online or search availability via this link.
A new option if you're looking for something a little more thrilling is the Mungo Roo Bunkhouse and Glamping. You can book and see images here via Booking.com, I personally haven't stayed here but the photos of the glamping especially look good and it's located right beside Mungo Lodge.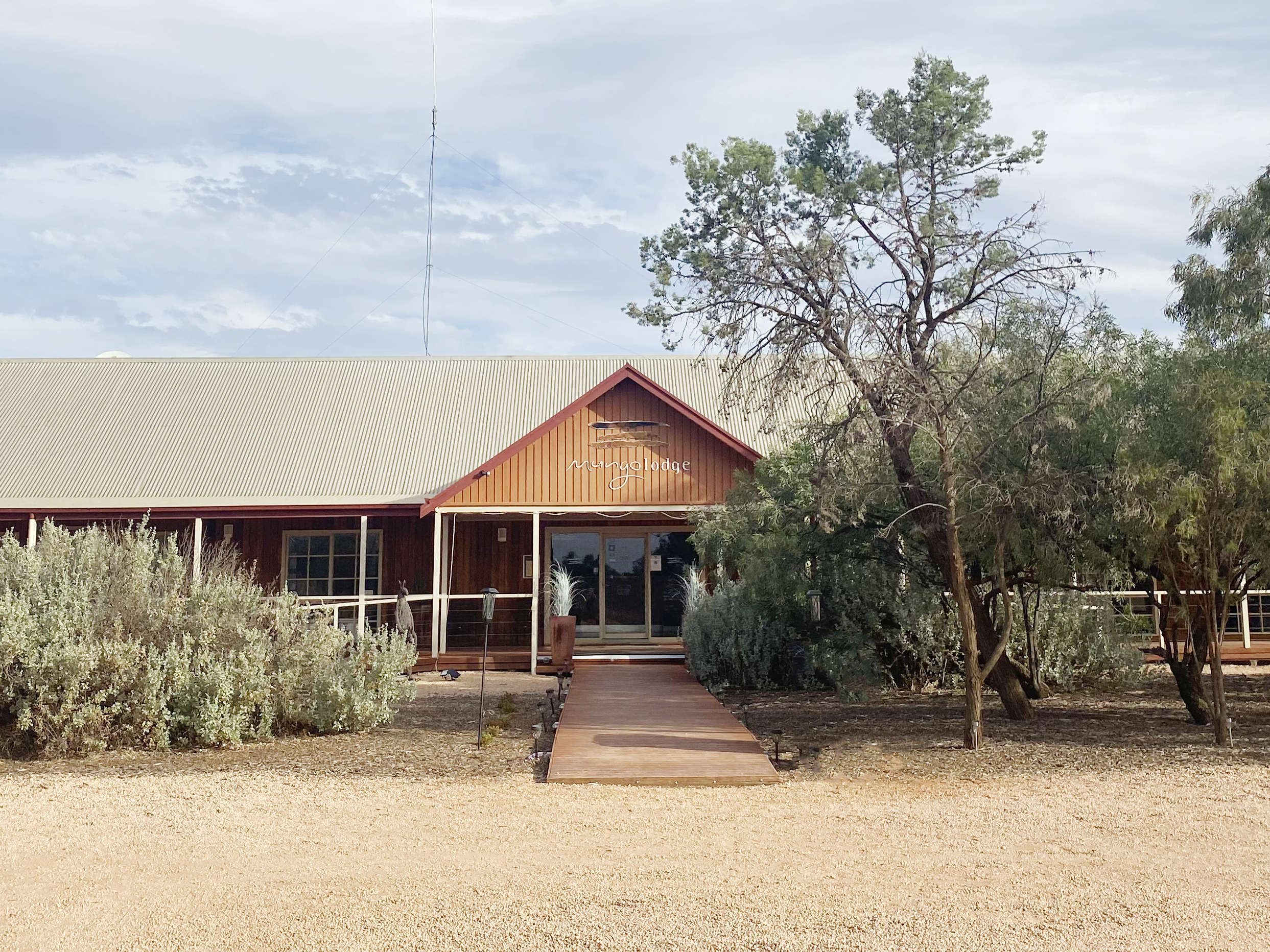 Images of Mungo Landscapes + Details

*All images were taken on the OM SYSTEM OM-1 or OM-D EM-1 MKIII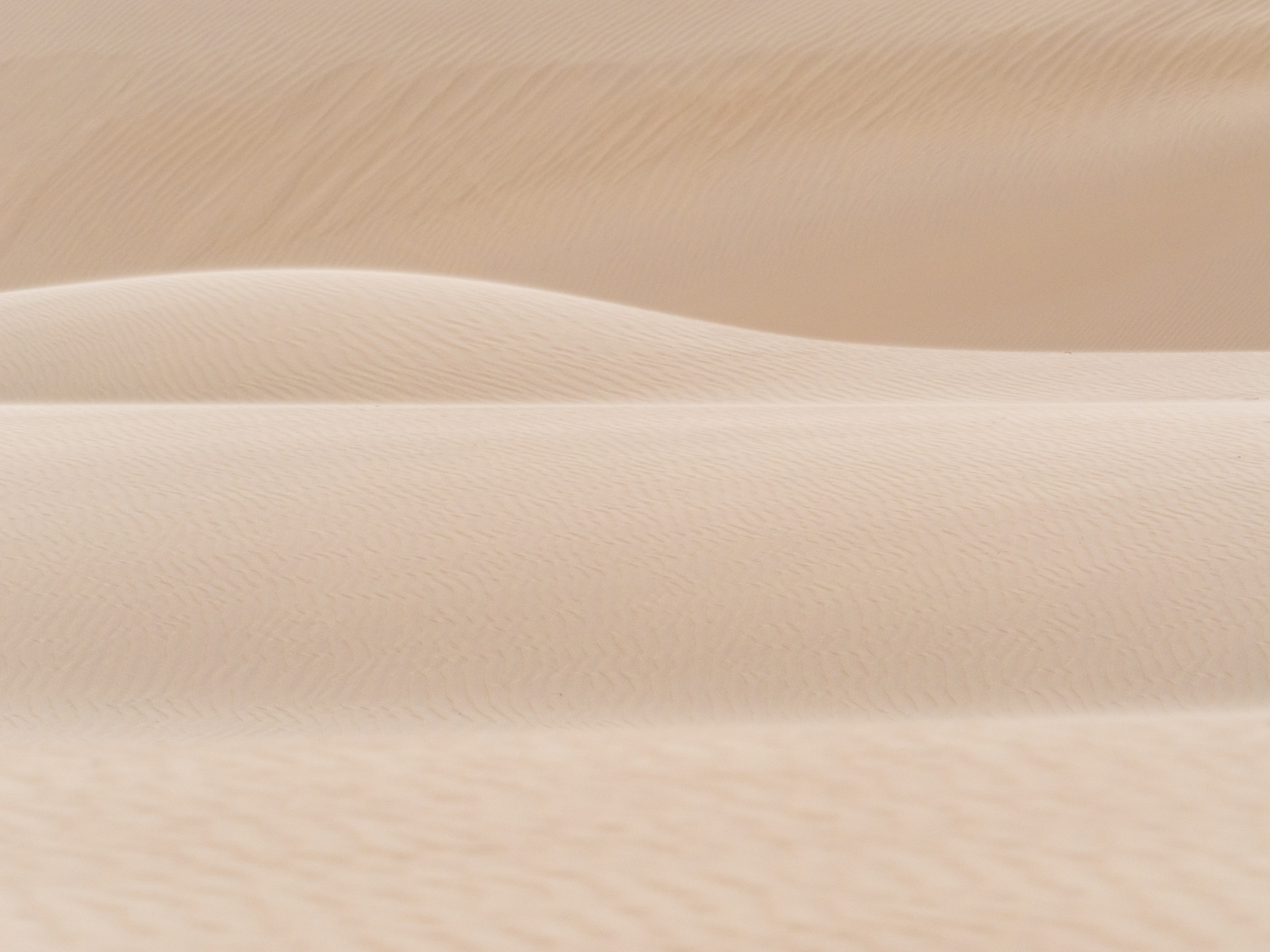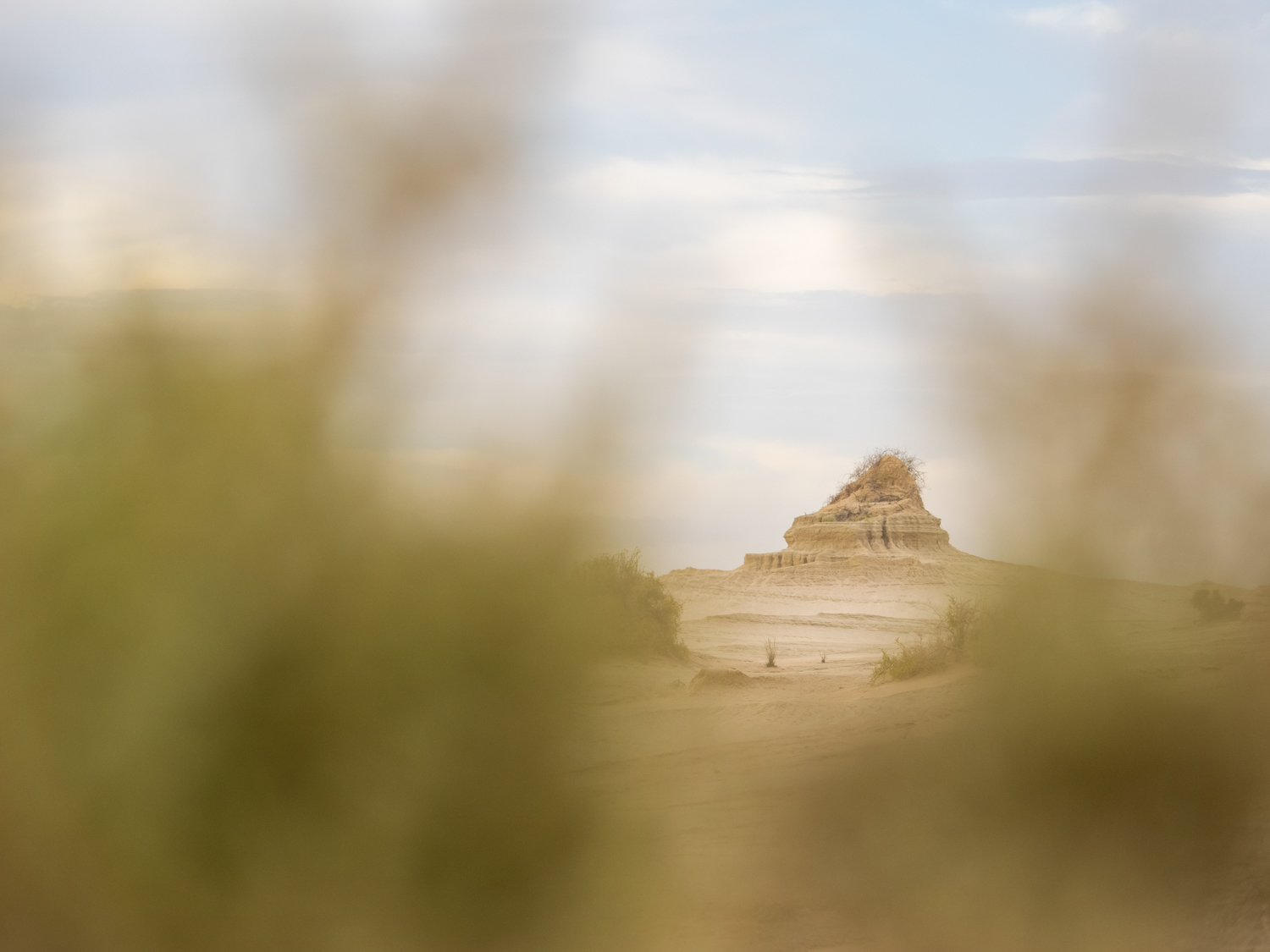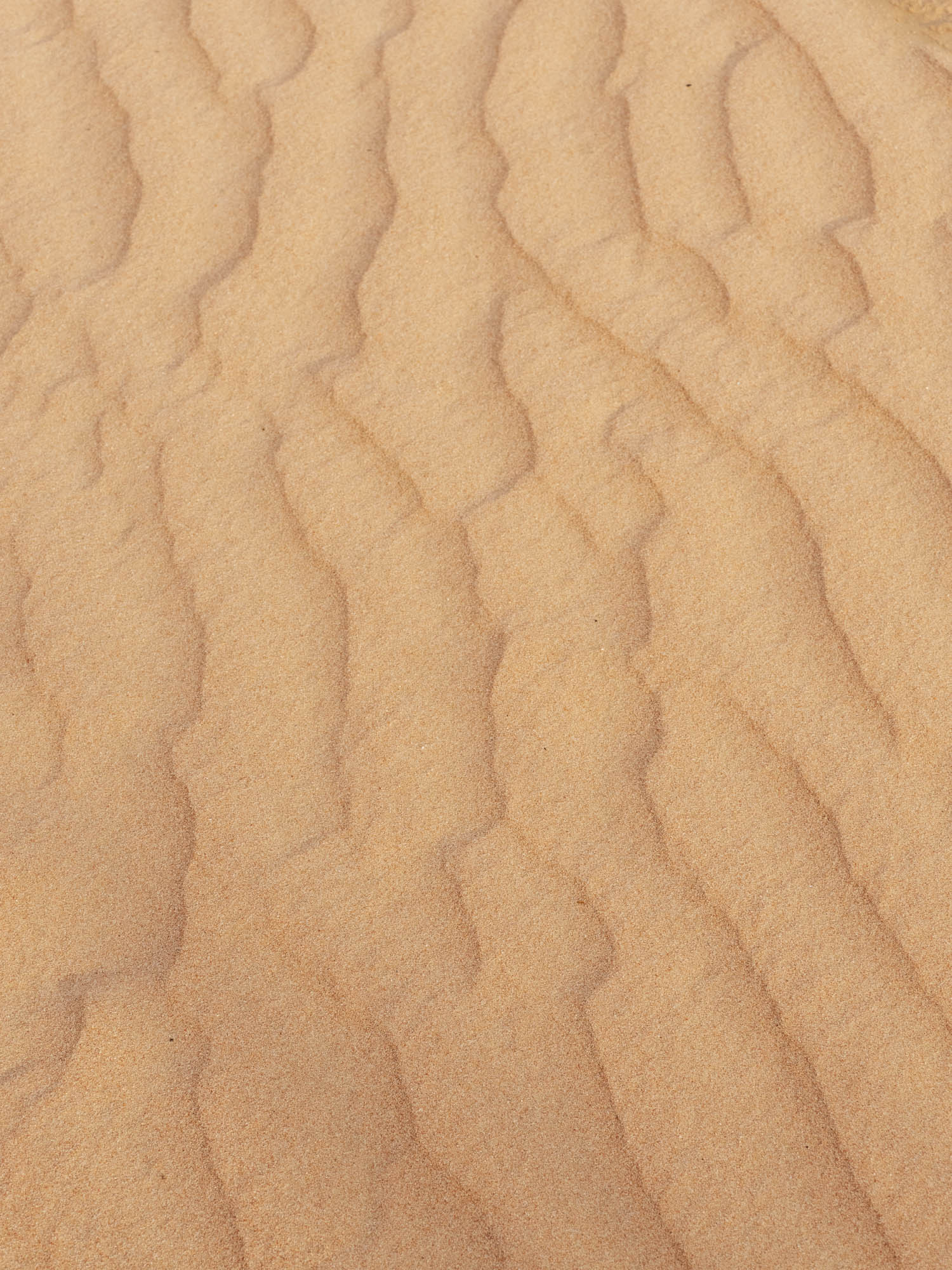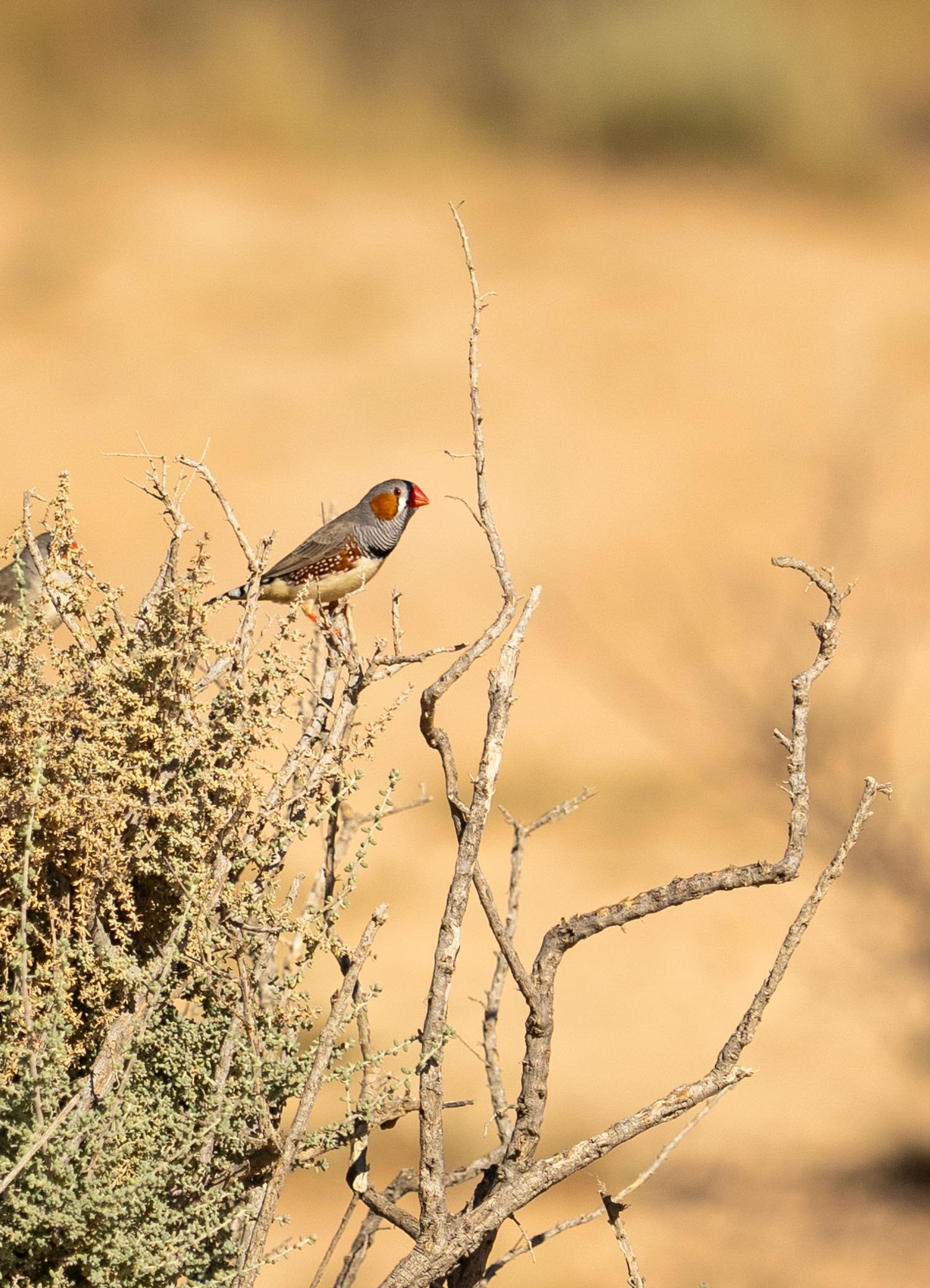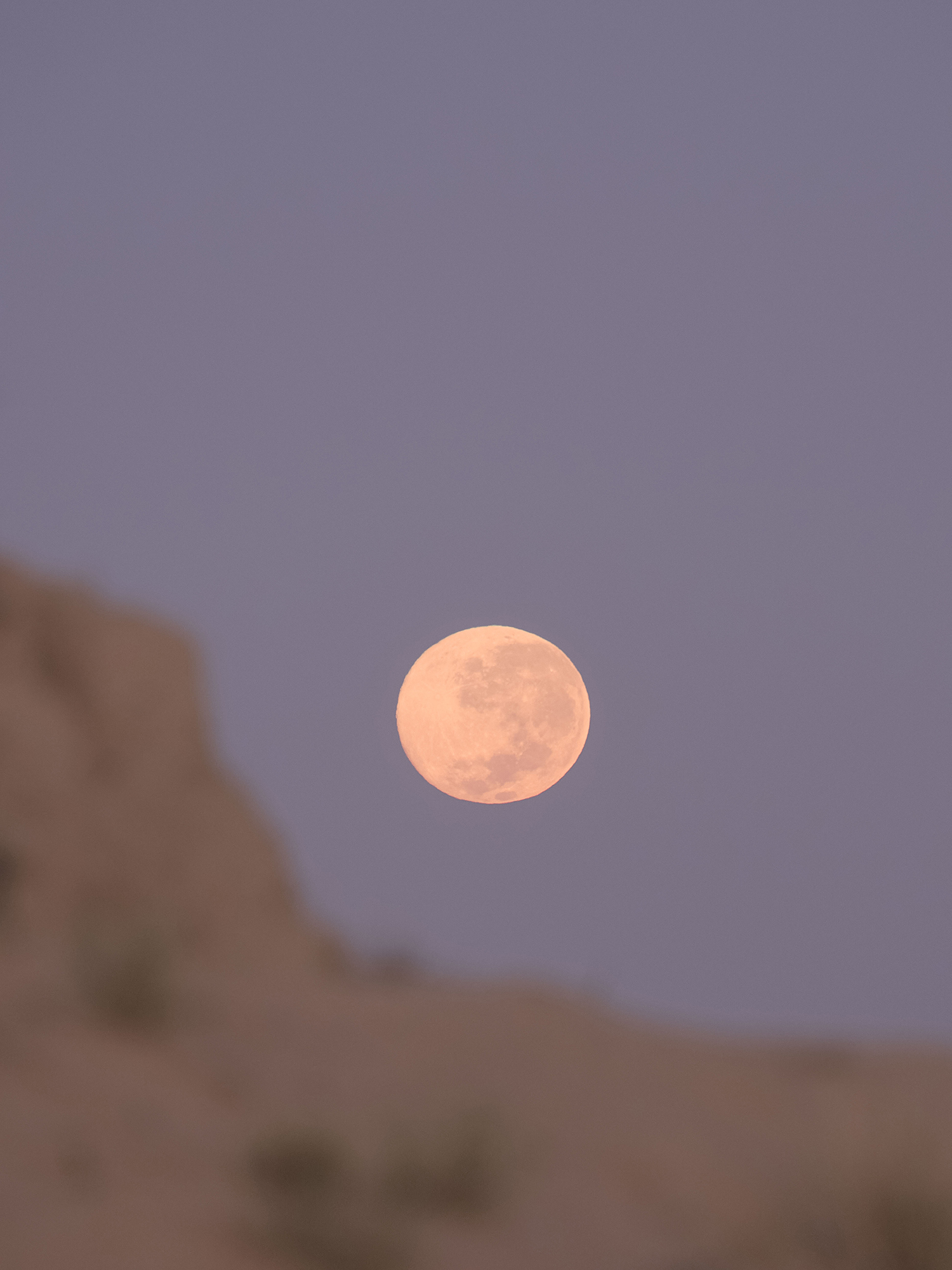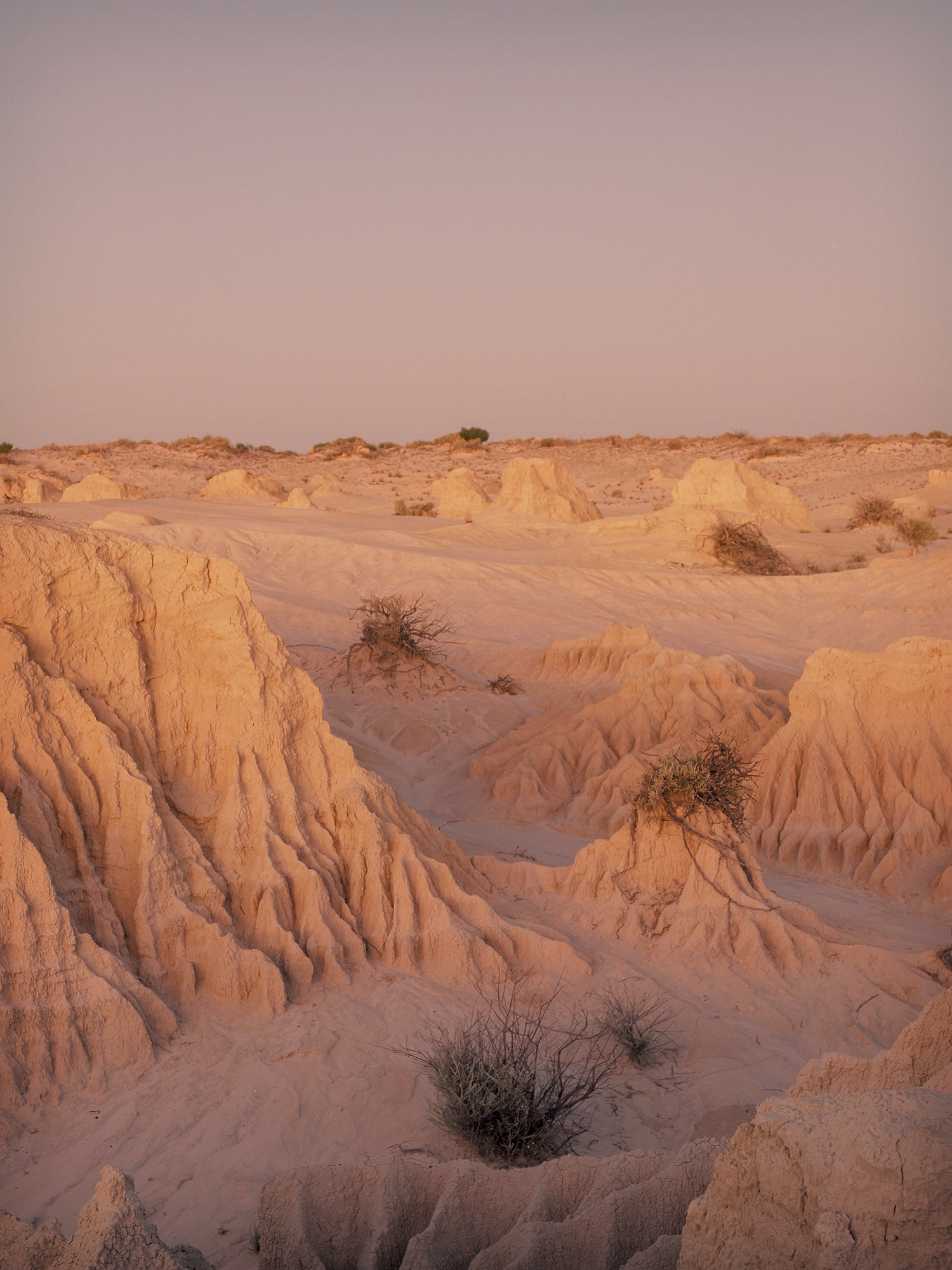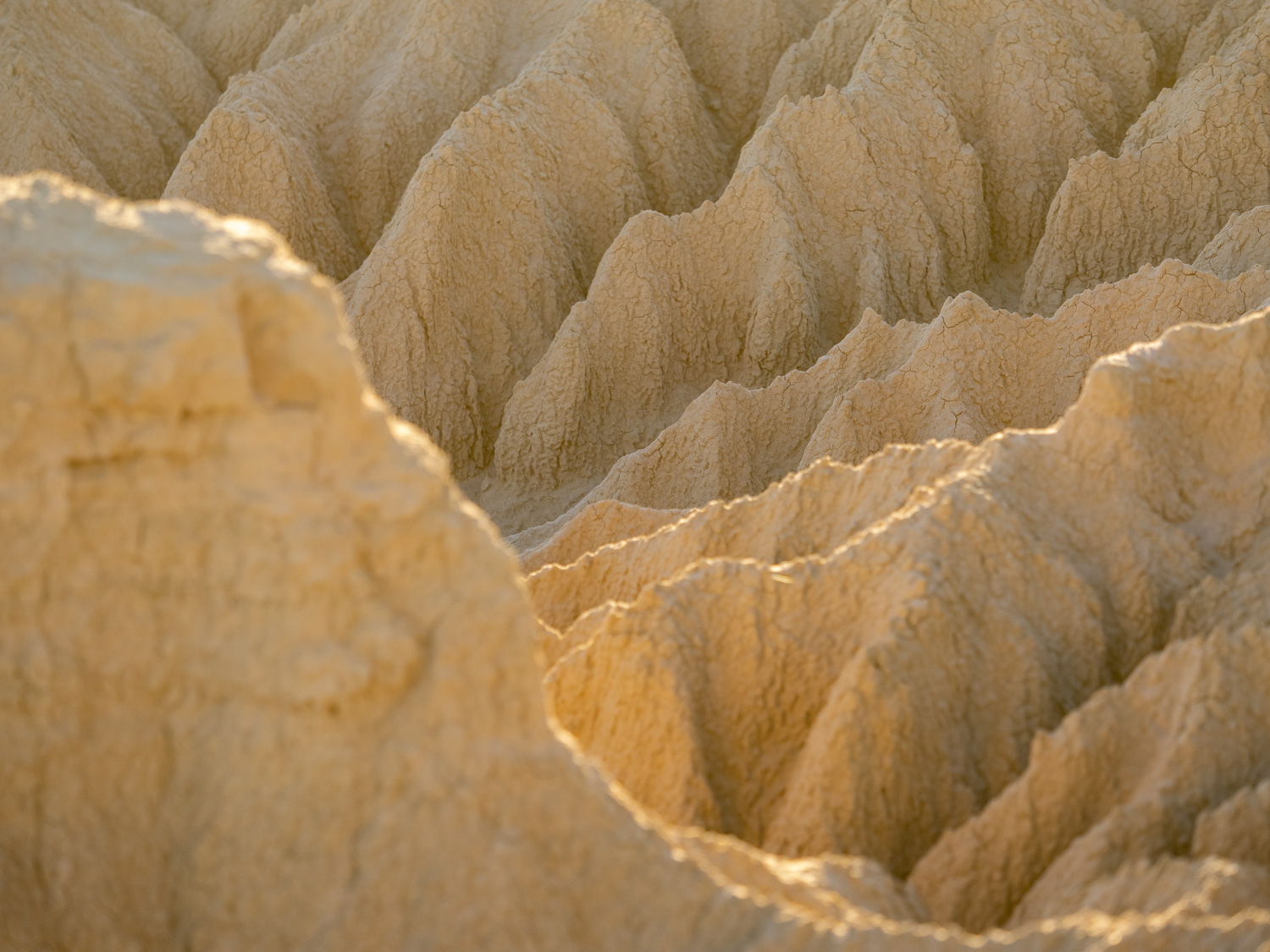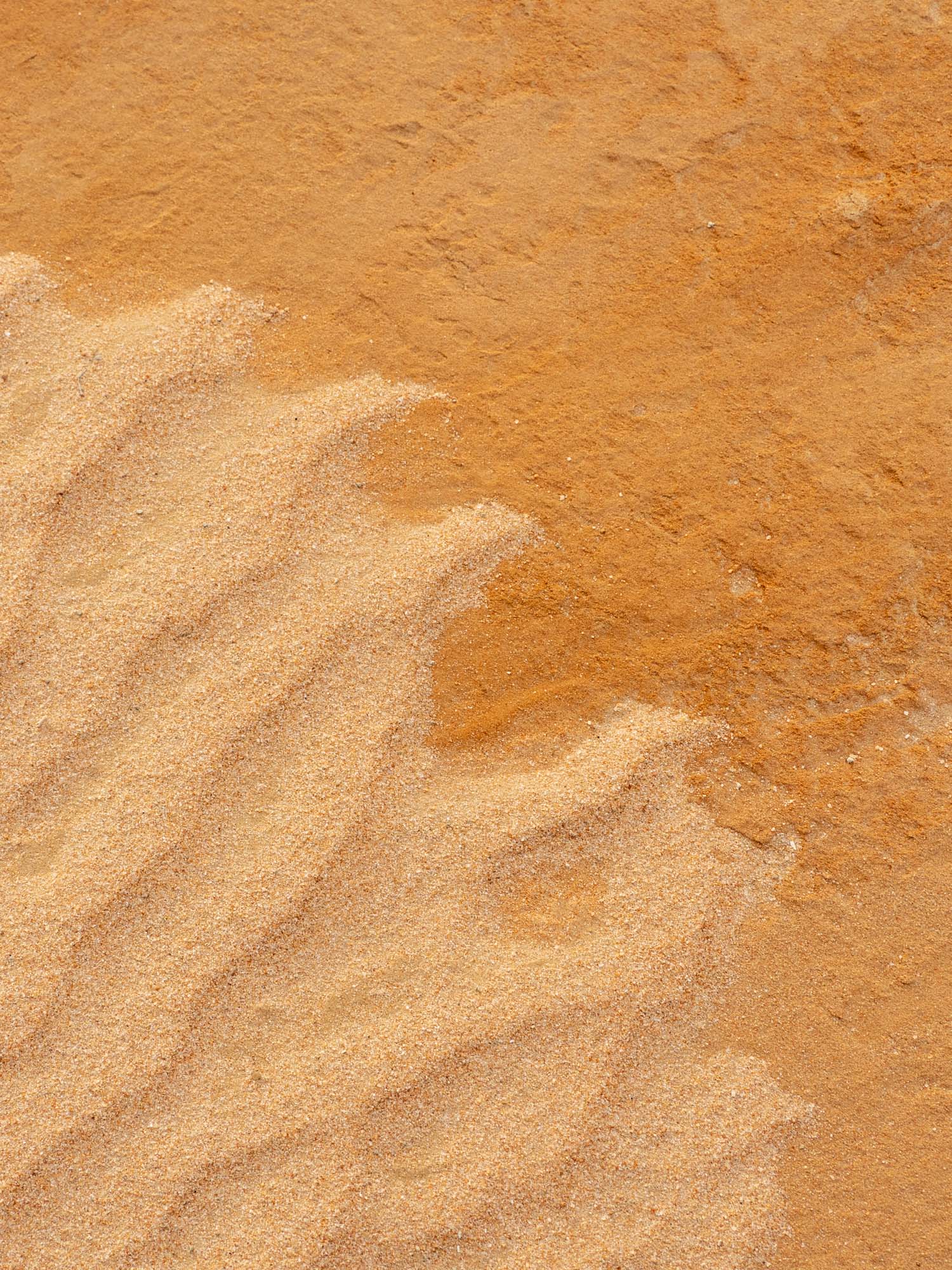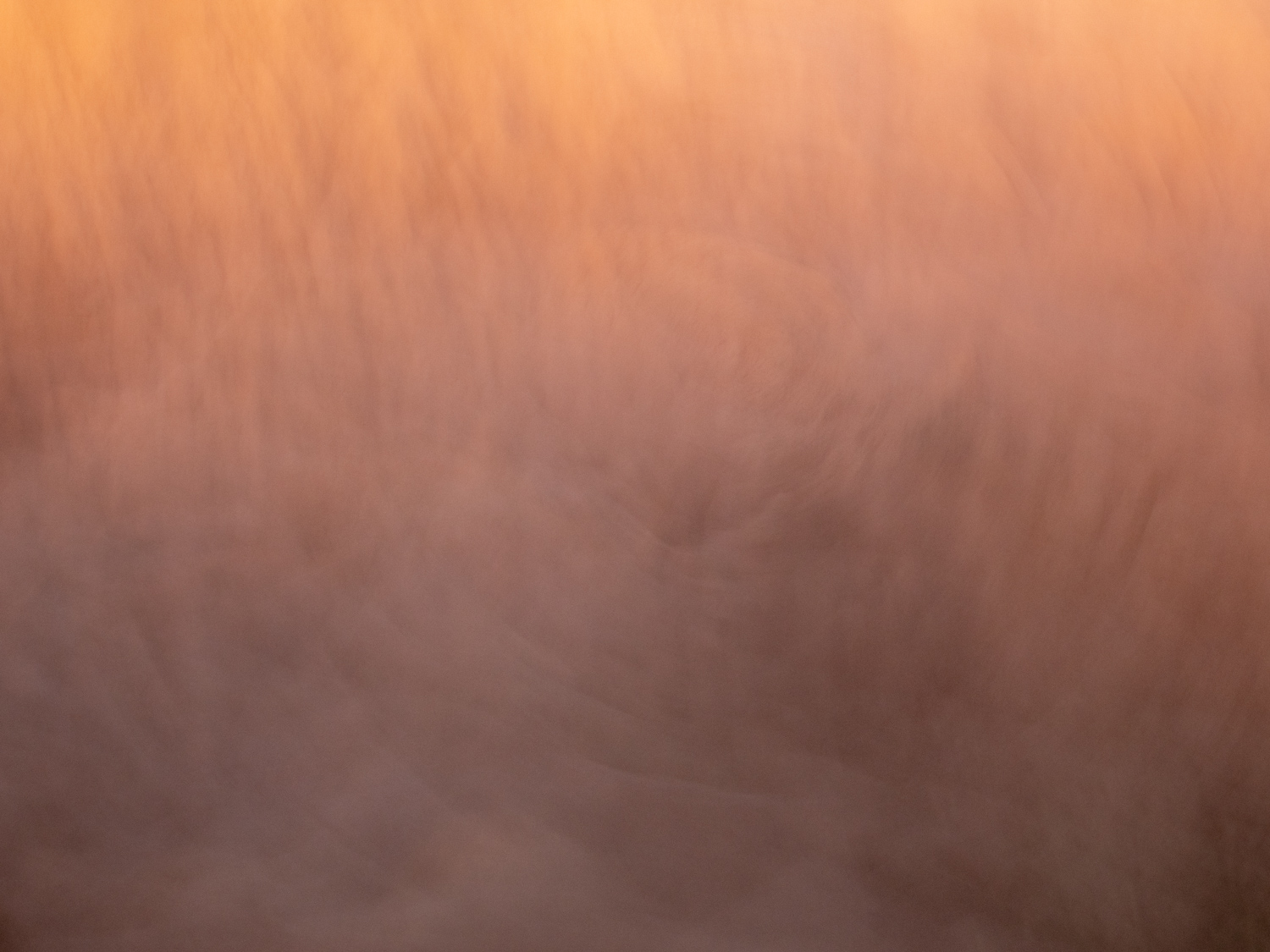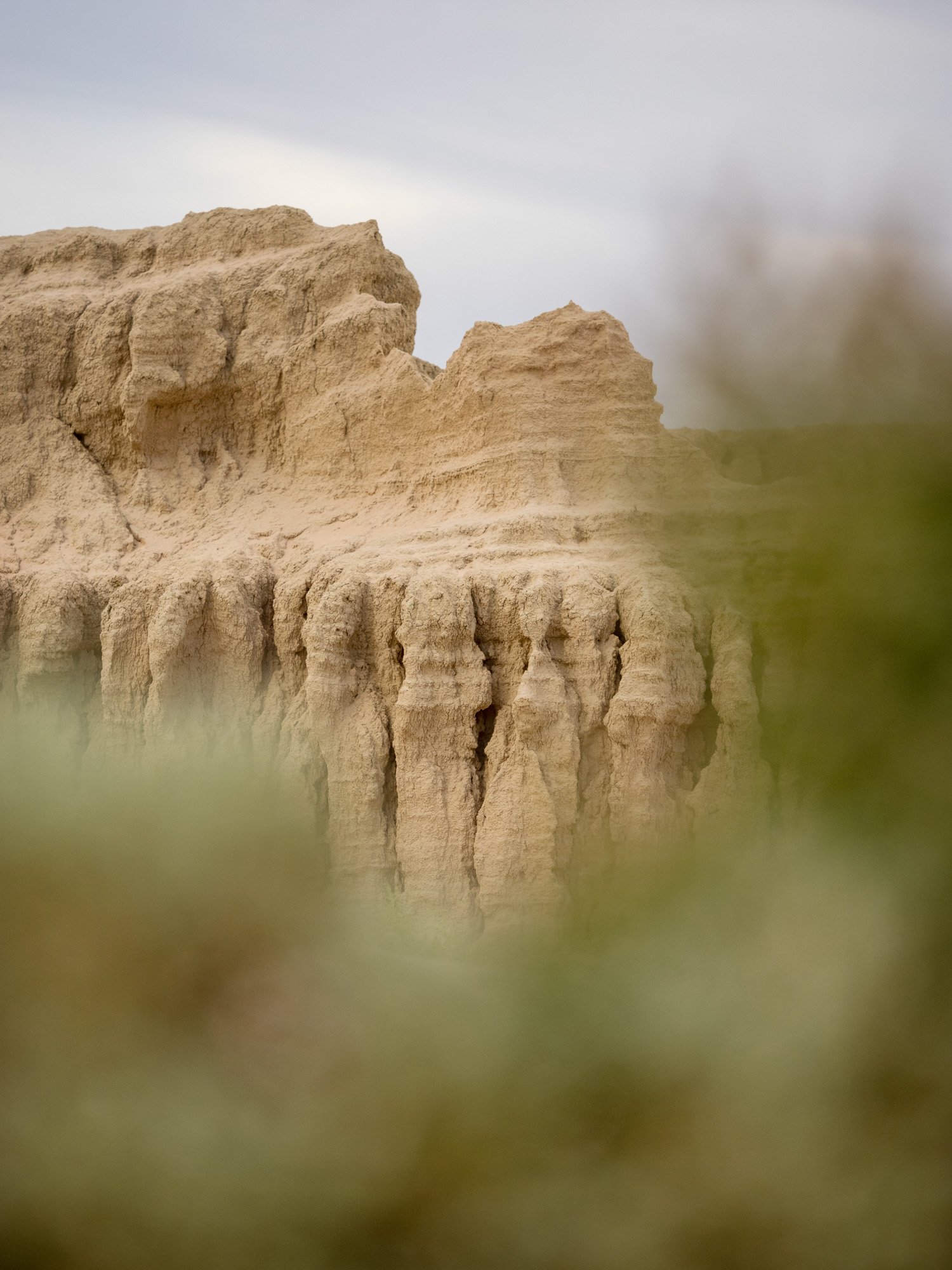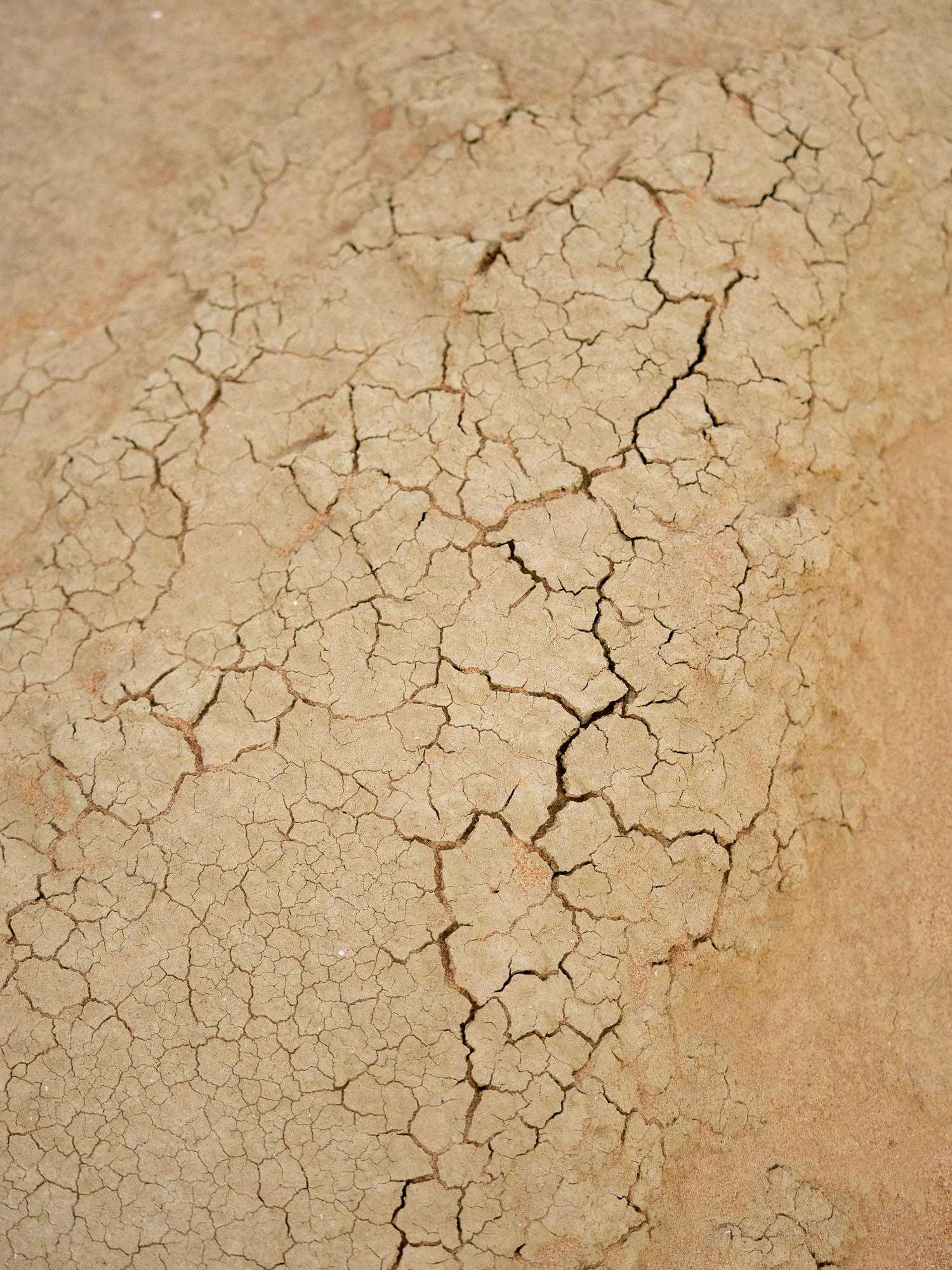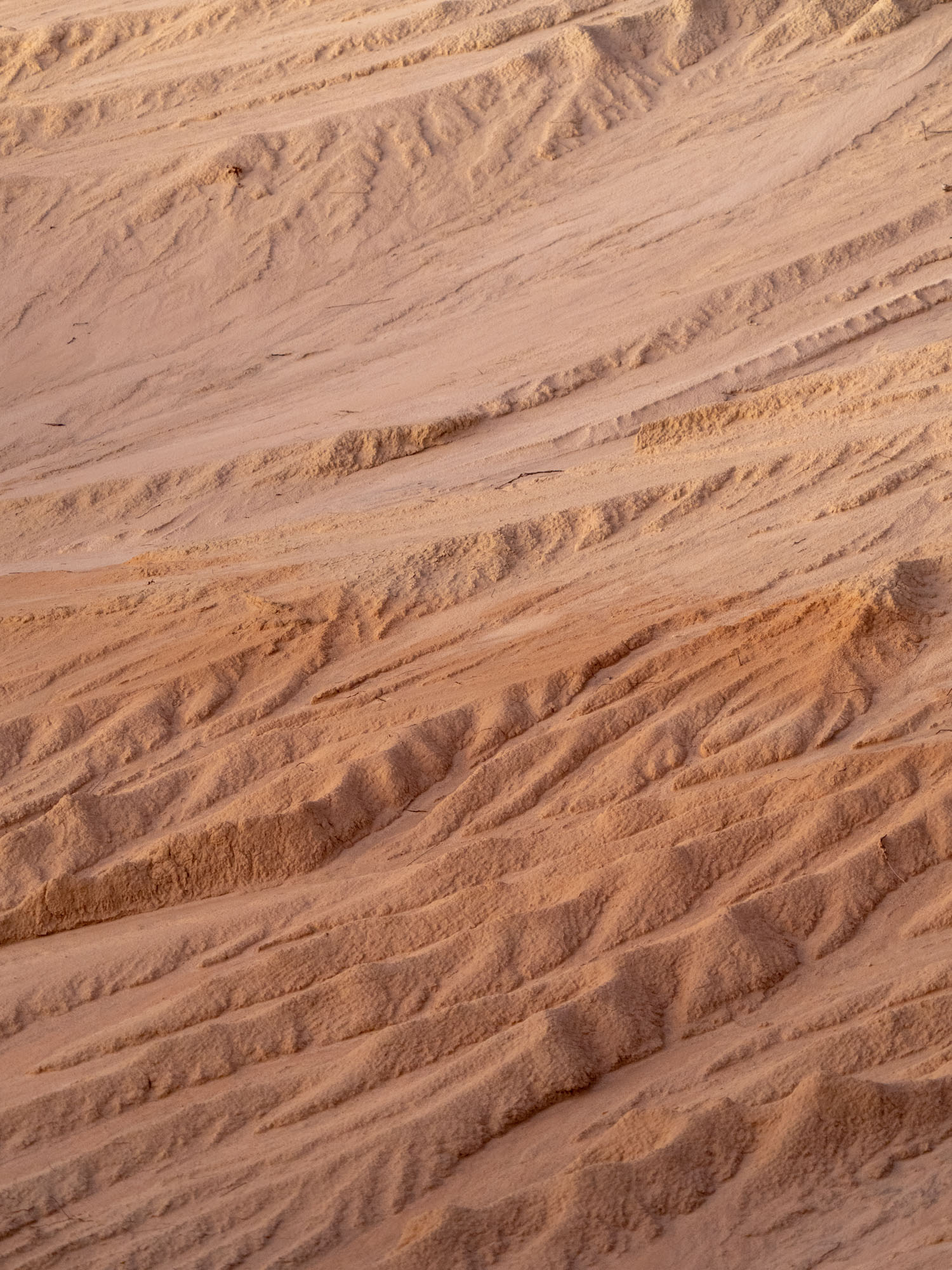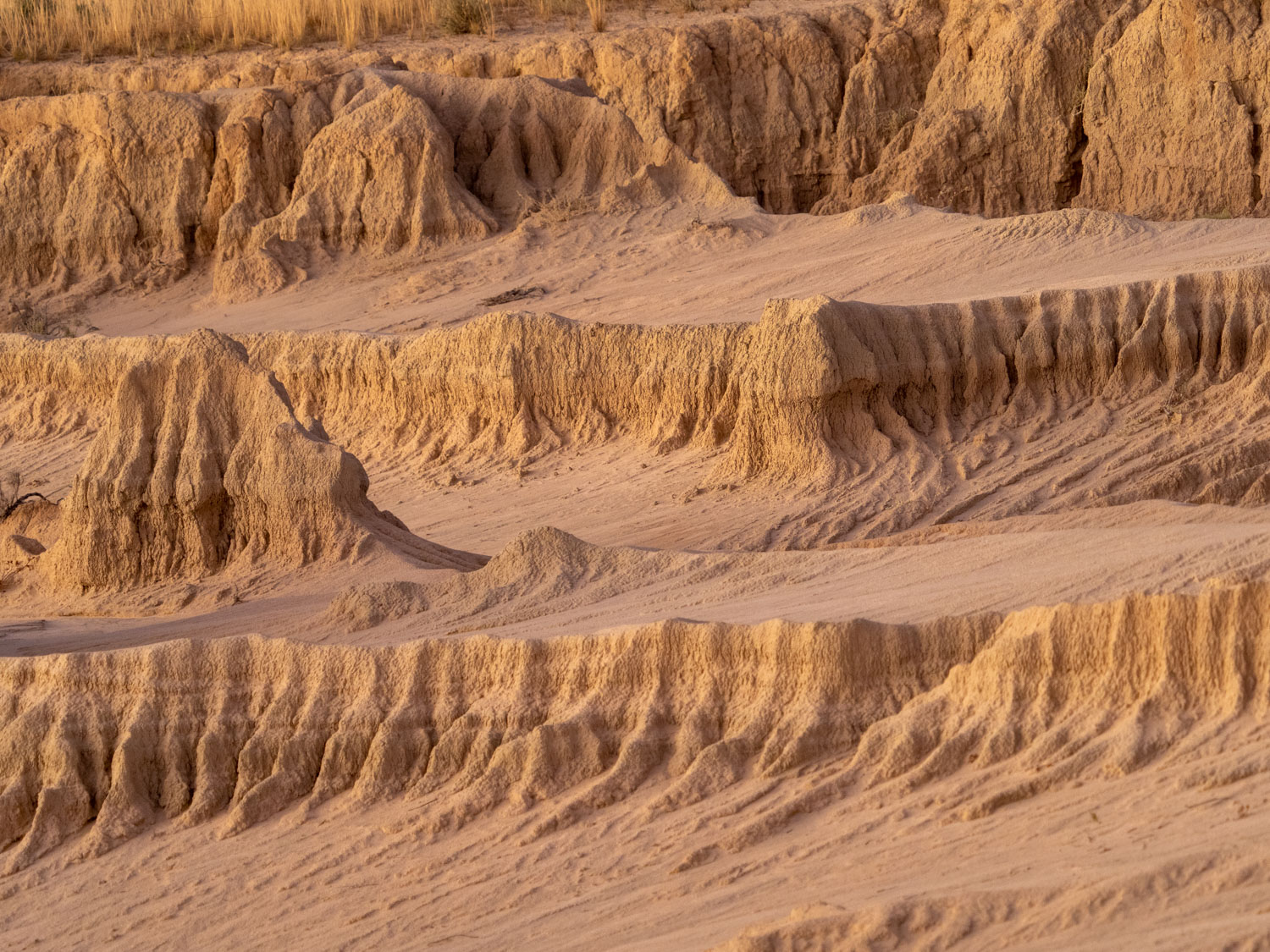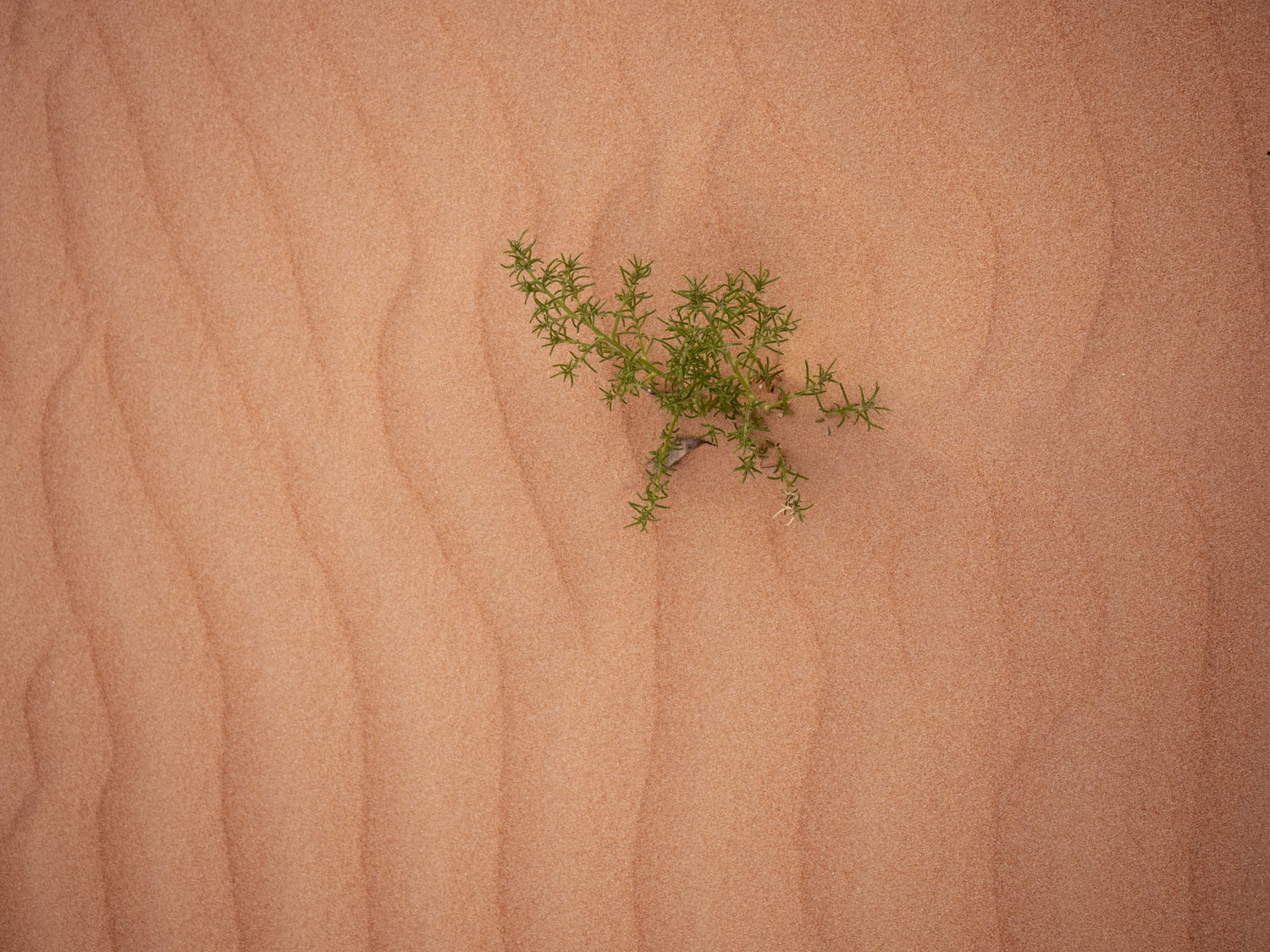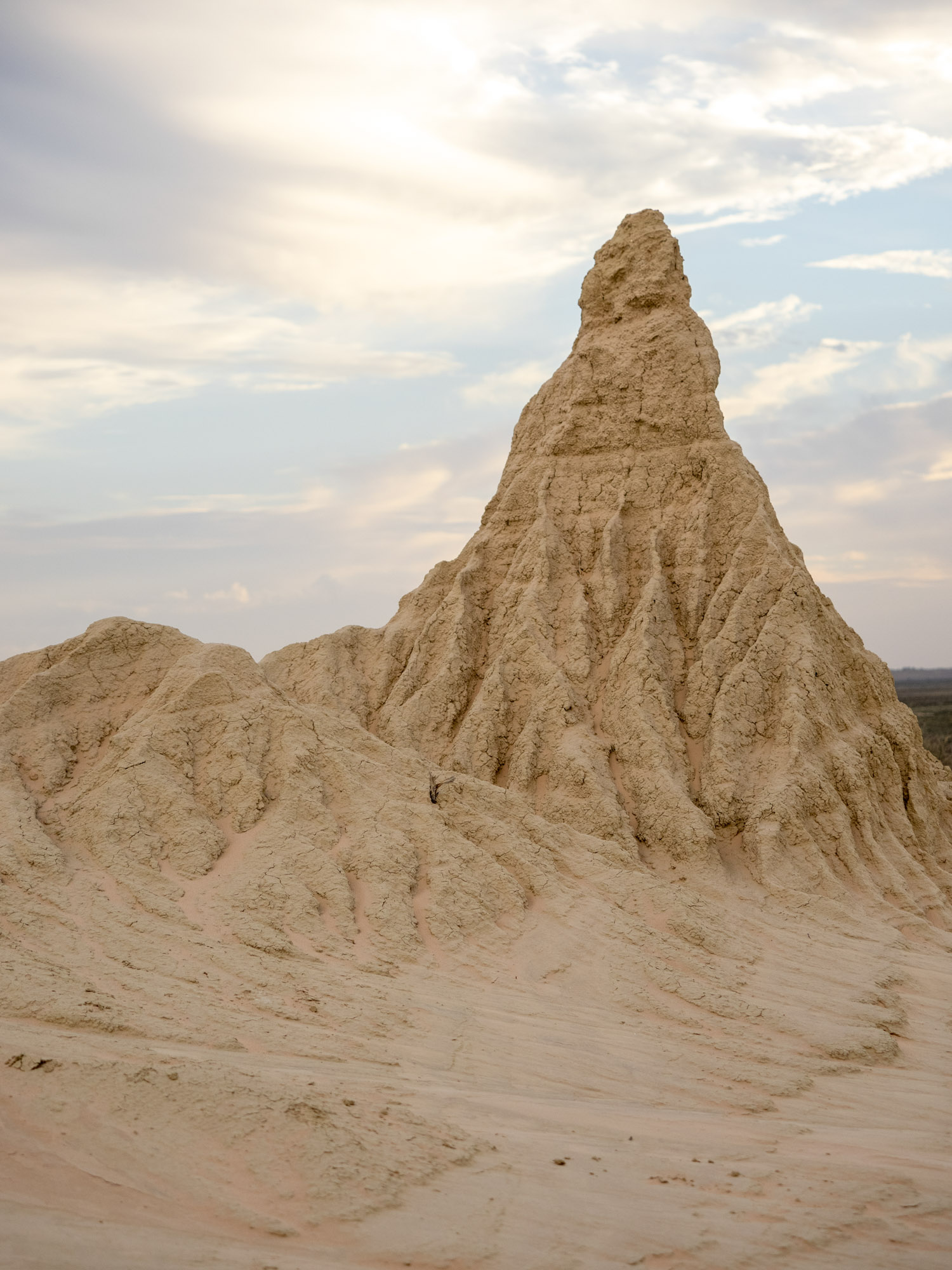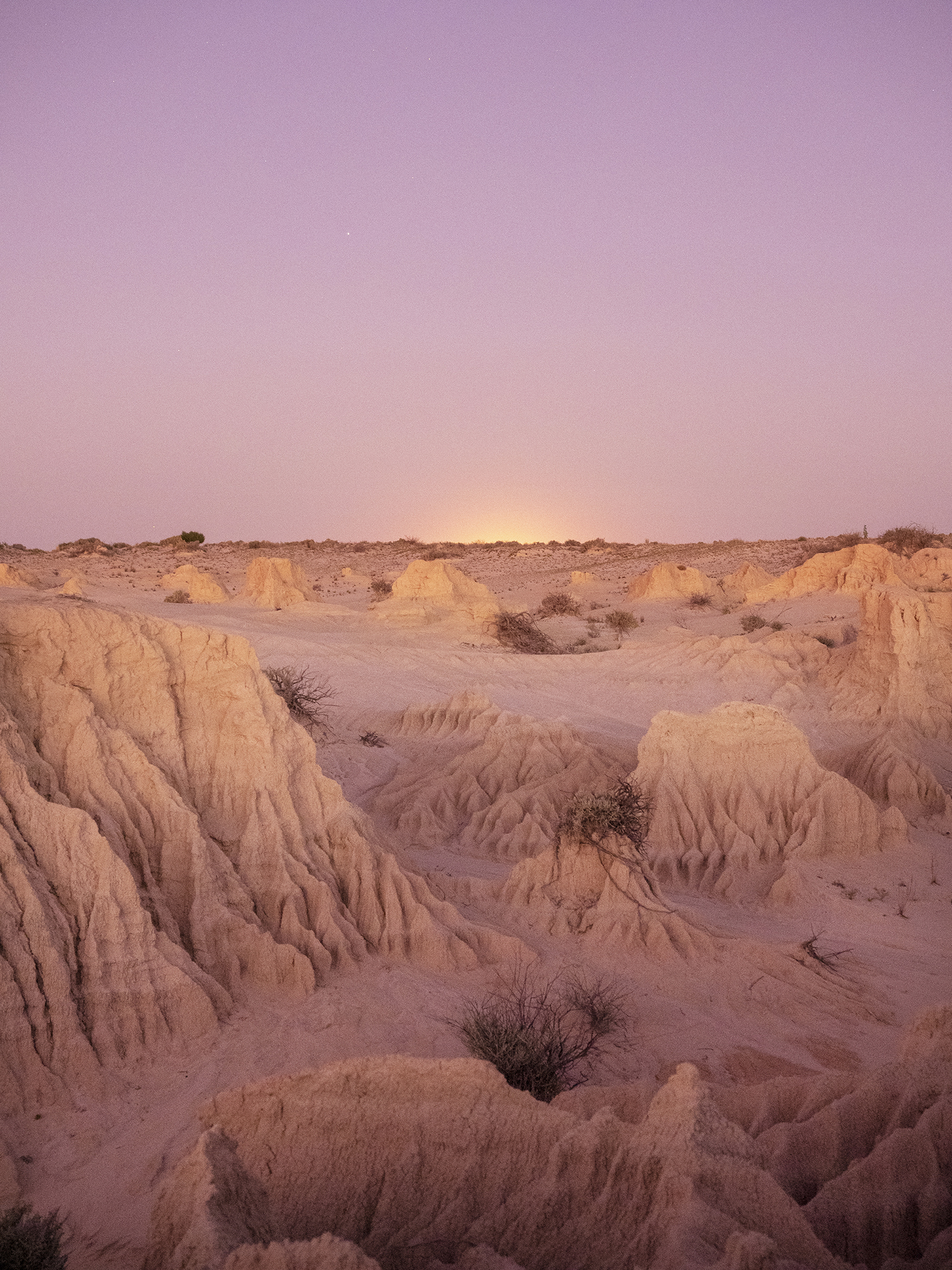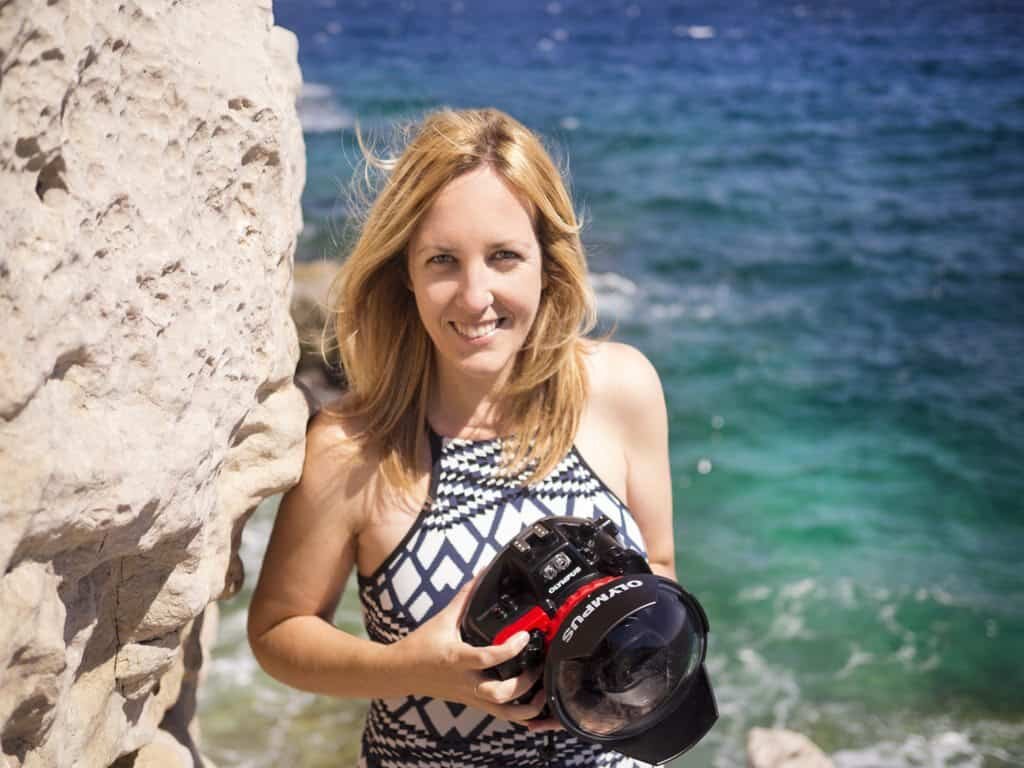 Hello! I'm the founder and photographer behind The Wandering Lens.
With 17+yrs experience as a professional travel and landscape photographer, all advice found on this site is from my personal experience on the road. I hope it's useful for your own travels and would love to hear in the comments about your trips and experiences around the world.