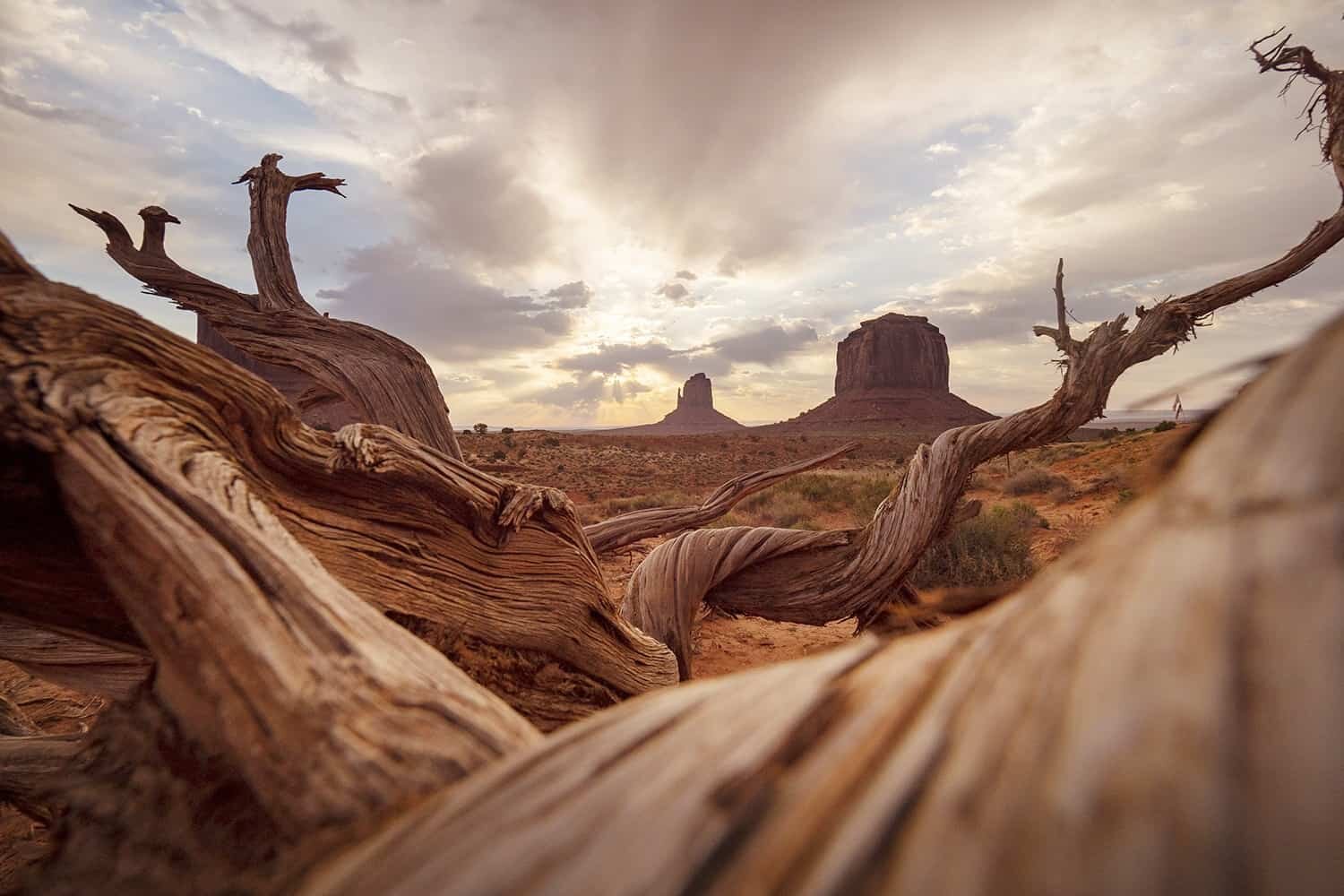 Northern Arizona Photography Locations
Expansive, inspirational and naturally beautiful, Arizona had me at A. Arizona photography locations include desert landscapes that meet canyons, mountains and even lakes to form one of the most photogenic regions I've ever visited, this guide is going to share some of the highlights.
From the mighty Grand Canyon to Monument Valley, these locations are possible to visit over a few days provided you've got a car to get around and battery charger for your camera because you'll need it! They're iconic, wow inducing wonders that have to be seen to be believed and even then you'll need to stare pretty hard to comprehend just how insanely immense these spaces are.
As always with my photography location guides scroll down to find a map that lists all the spots mentioned within this guide, you can open it up in Google Maps and take it with you!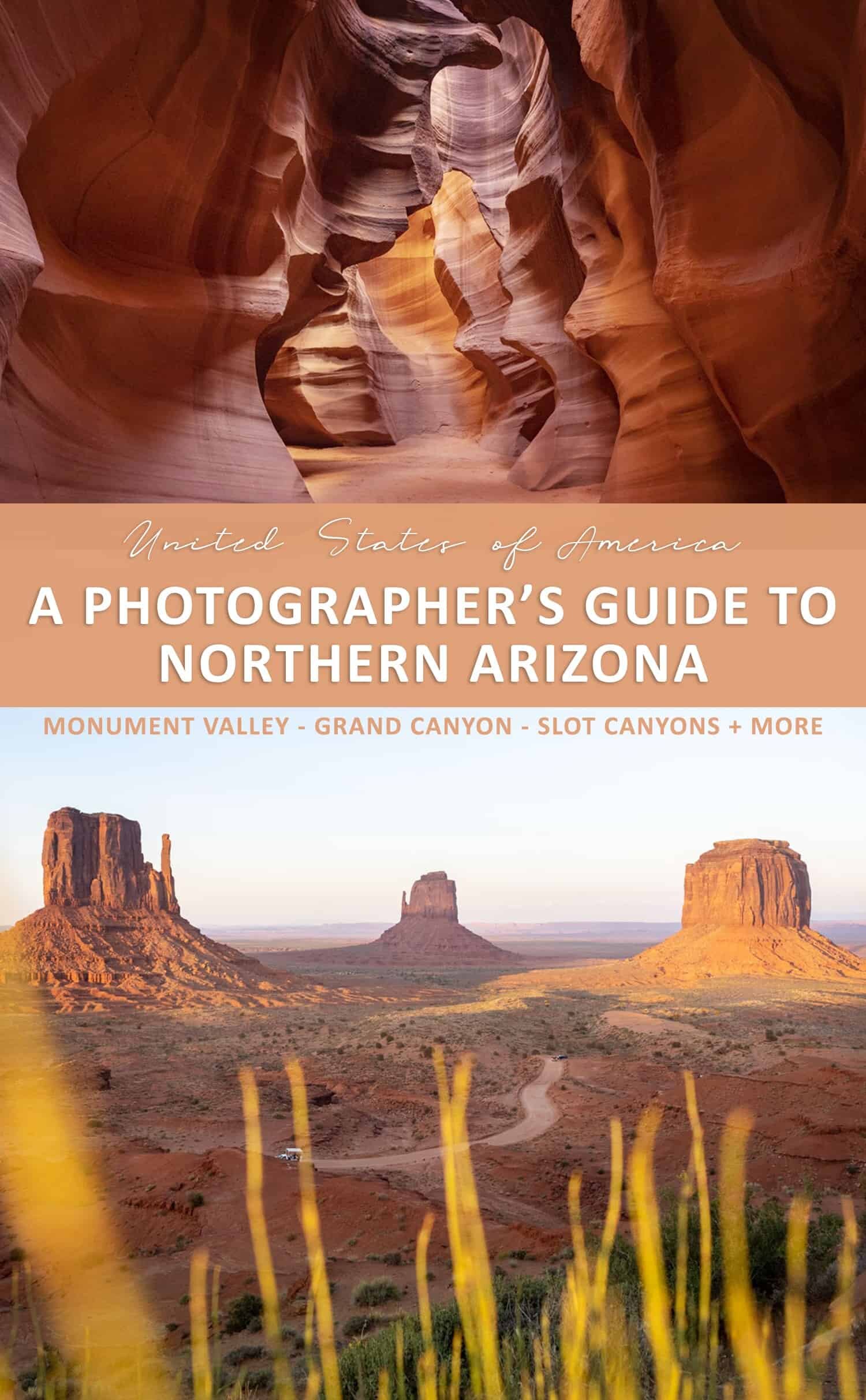 MONUMENT VALLEY
Rising in darkness, knowing you're surrounded by natural monuments that will soon catch the morning light is one of the most exciting experiences a photographer can have. Monument Valley is one of Arizona's highlights and a must visit location if you're interested in Navajo culture and landscape photography.
Located within the Navajo Nation on the border of Utah and Arizona, Monument Valley, also known as Tsé Bii' Ndzisgaii is a collective of sandstone buttes, the largest reaching 300m high and it's one of the most prominent 'western' landscapes of the US.
There's a self-drive route you can follow throughout Monument Valley which is roughly 17miles and I'd allow for up to 3 hours to ensure you can stop at all 27 viewpoints and take your time soaking in the scenery. It's a dirt road with plenty of holes and rocks so a 4WD is best as it's probably a little risky in a small rental car, especially if it's been raining.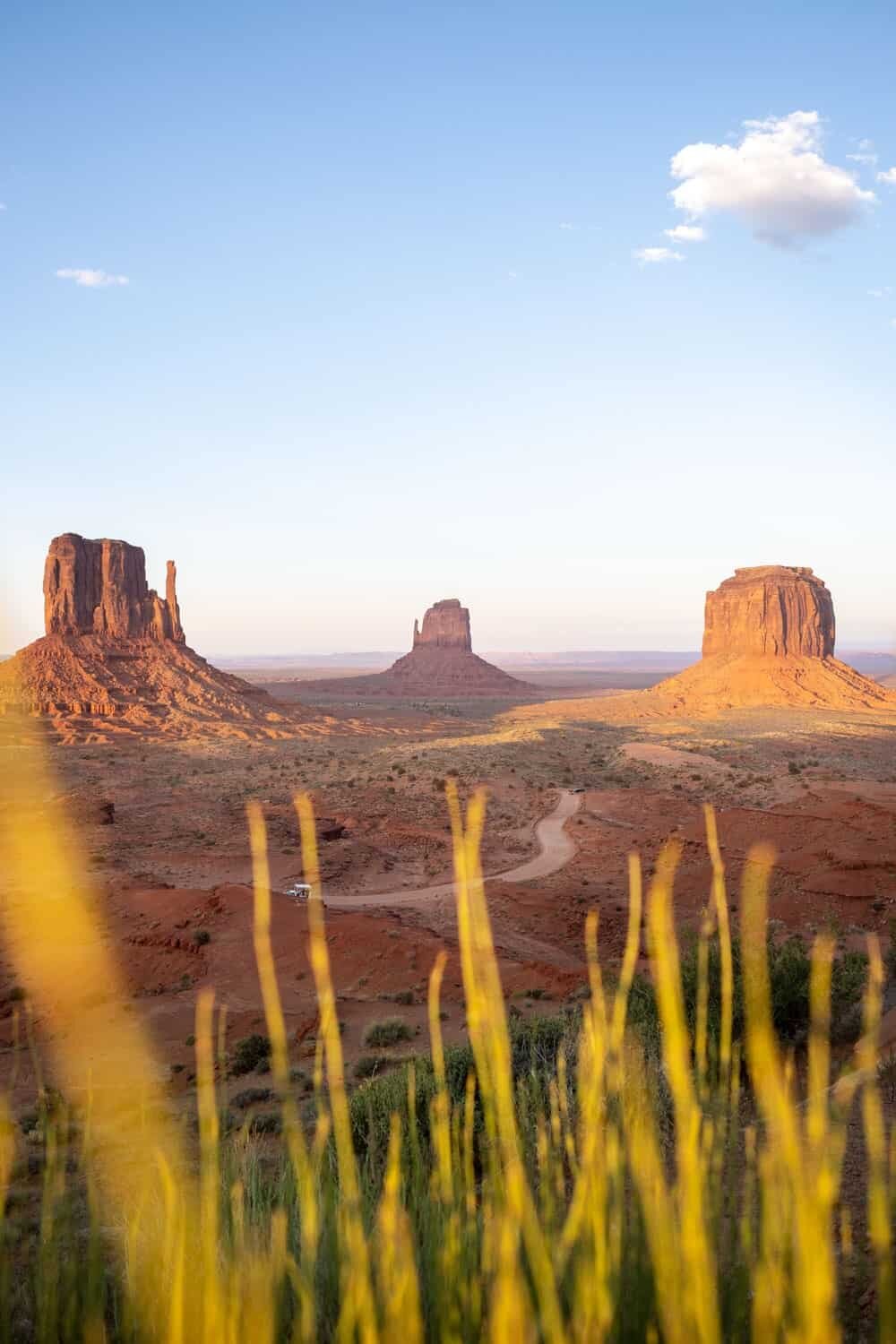 In my opinion, sunrise and morning light is the best time to photograph amongst these impressive structures and to access before dawn, you'll need to jump on a tour with Goulding's who are based just down the road from the park access.
Read more – Setting the Scene: Sunrise Photography Tips
Goulding's Tours will take you in an open air vehicle around Monument Valley, stopping at all the photogenic viewpoints in the stunning morning light. Being the first ones in the valley is such an inspiring experience and you can photograph the changing light as it rises and reveals the formations and their rugged beauty.
If you're planning to have a bit of time here, The View Hotel offers rooms cabins and a camping ground with views over The Mittens and valley making it possible to photograph from your balcony at all hours of the day. Pop your tripod out there to capture star trails at night or simply sit with a tea (or there's Starbucks coffee in the room) and take in the scenery.
*To access Monument Valley you'll need to pay $20 to receive a 24hr pass for your vehicle with up to 4pax inside. The self-drive route is open from 8am – 6pm but check times on the day as they can differ throughout the year.
*If you're a Forest Gump fan, you can drive about 20 minutes north into Utah to take a photo at the infamous "run, Forest, run" spot. The view of Monument Valley is worth the drive alone and there's something pretty picture perfect about how the road leads towards the monuments. Just be aware that there will be people standing on the road so please keep an eye out for oncoming traffic as it's quite a risky shot, it can be a bit of a waiting game! The exact coordinates for the location are 37.101393, -109.990973.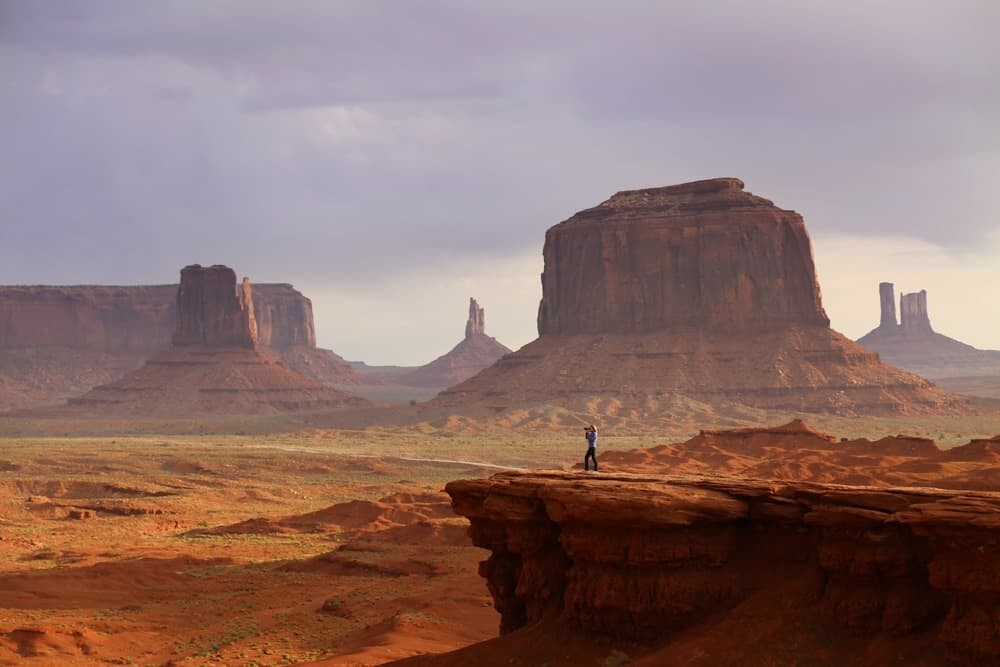 Monument Valley Photography Tip –
Staying 24hours at Monument Valley will ensure you can capture the landscape in every light. Despite saying earlier that sunrise and the morning is the best time for photos, the warm afternoon light is also special and casts shadows across the valley and produces a glow across the greenery and peaks.
Best Lens for Monument Valley – I found myself using the 12-40mm f2.8 most of the time as it's a nice versatile lens with a focal length that captures both the wider scene and each monument individually. Make sure your camera is dust resistant because along the route the roads are dirt and if it's windy you'll find it can get whipped up.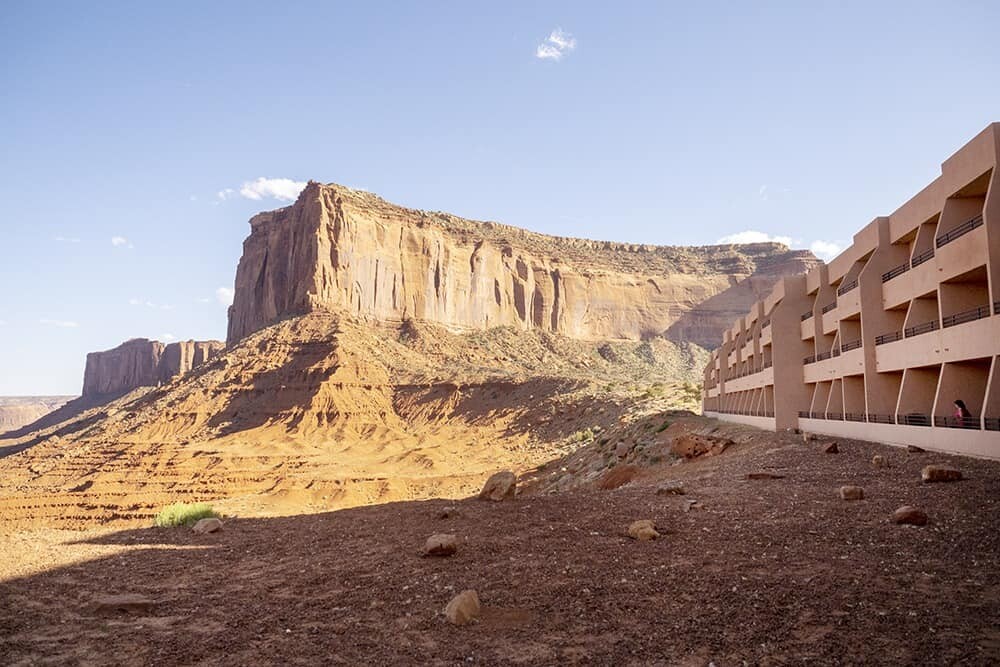 ---
LAKE POWELL
If arriving from Bryce Canyon you'll pass the Wahweep Viewpoint which provides views across Lake Powell from above and it's well worth a stop! After driving through desert, the sight of water is incredible not to mention the immense size of the lake and this viewpoint is ideal for sunrise, sunset and contrasting blues on whites in the middle of the day.
To photograph Lake Powell there's an endless amount of activities and adventures you can take. From hiking miles to hiring a boat, you can get above, below or cruise along the shoes of this mighty body of water but in terms of photogenic experiences, my pick is kayaking. Kayaking on Lake Powell allows you to photograph the landscape from water level and to slowly paddle your way amongst the scenery.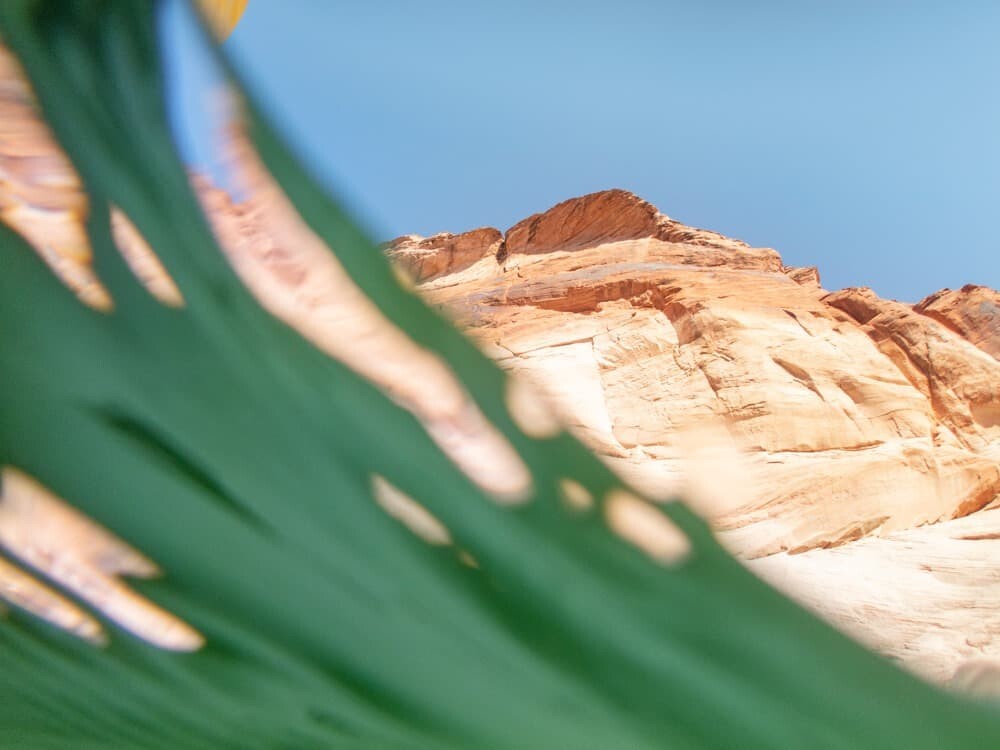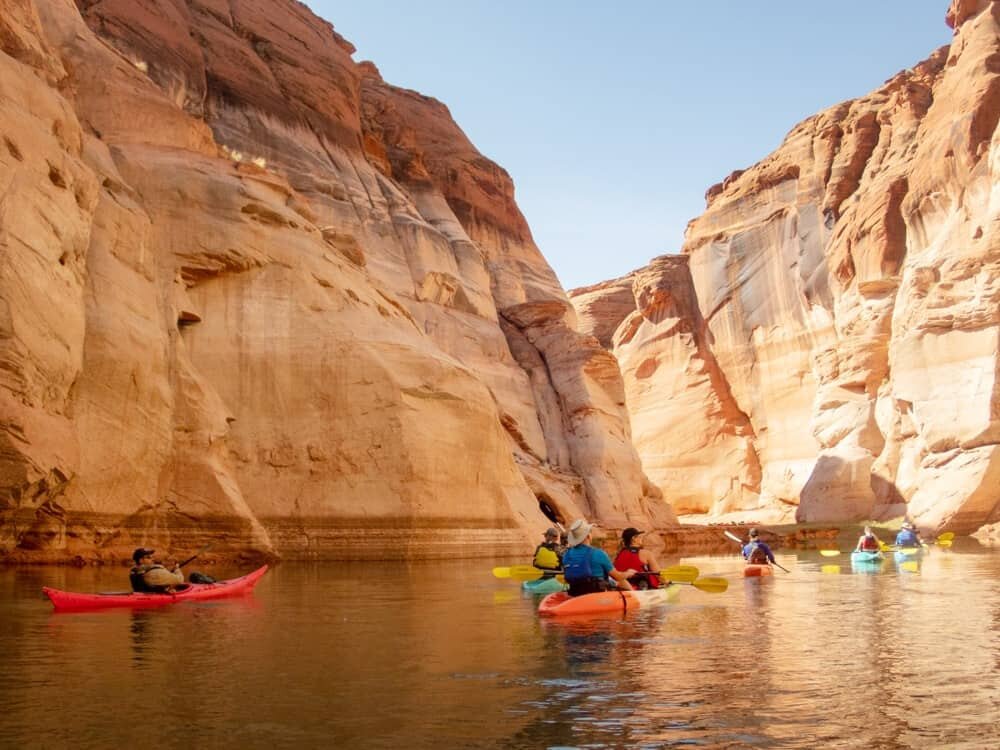 I did an early morning kayak trip with Hidden Canyon Kayak Tours starting at the Antelope Canyon Public Boat Launch and can't recommend the experience highly enough. To be out on the water, kayaking alongside walls over 12m high with the clear waters revealing the rocks as they disappear into the depths below. We paddled into Antelope Canyon, obviously the part that's filled with water as opposed to the very popular section that I'll mention later within this guide.
Photography Tip – While kayaking or exploring the shoes of Lake Powell, take a waterproof camera with you so you can capture split-level images. Using an aperture of f/8 or above will mean you can include detail above and below the water level, enabling you to include the rocks below and textures above the water. In some spots it'll just be deep water so I'd recommend switching to a larger aperture of f/2.8 or similar and taking a photo as the kayak is moving. The movement will allow the water to rush over your lens and produce an effect that looks like a wave against the landscape.
I'd suggest staying in Page as your base while exploring Lake Powell and had a great experience at the Days Inn, there was an amazing breakfast, it's close to the route in and our of town, also great for slot canyon adventures as it's right near the departure point for Horseshoe Bend Slot Canyon Tours!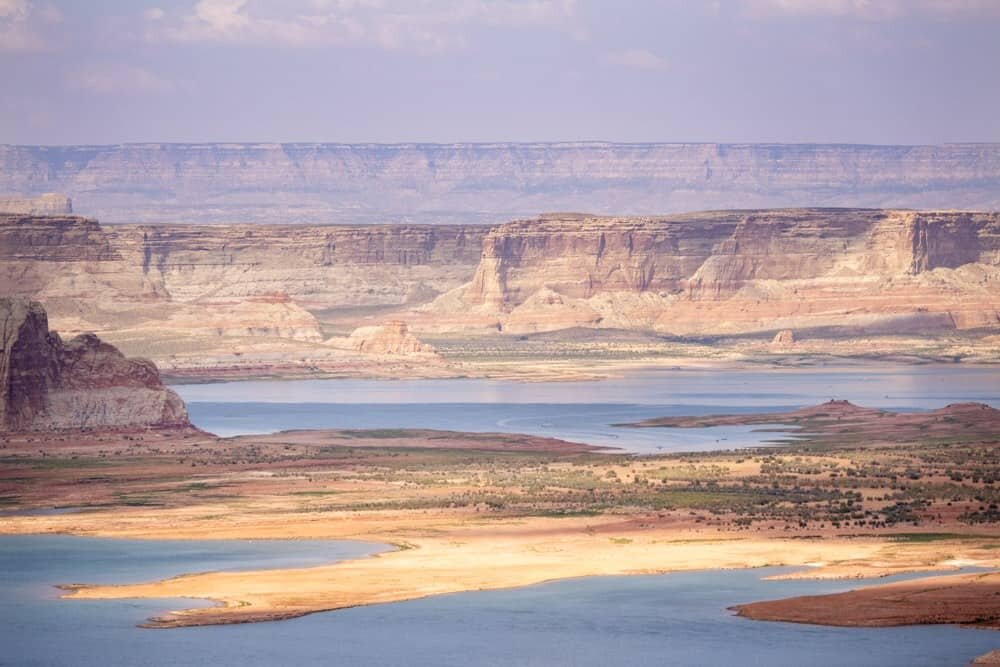 ---
HORSESHOE BEND
Just 4 miles from Page, Arizona you'll find this epic photography location is well worth a visit at both sunset and sunrise…and during the day if you love it as much as I did. Horseshoe Bend is one of the most popular sights in northern Arizona and if you visit at sunset, you won't be alone with hundreds flocking to the edges of this 4200ft high cliff.
Part of Glen Canyon, Horseshoe Bend is an impressive natural formation where the Colorado River (check river name) takes an almost 360 degree turn, providing a photographers dream scene.
At sunset the light drops directly behind the bend and from the public viewpoint you can capture sun stars as the sun dips on the horizon with the canyon below. One thing to note is that you will not be alone at sunset, it's a very popular spot so expect loads of people, lots of noise and not exactly a serene experience…unless you have headphones. Also be aware that you need to arrive well in advance of the sunset time, it's roughly a 10min walk (downhill) from the car park where you need to pay $10 to leave your vehicle. Also don't arrive in things (flip flops) like I did, if you need to run to beat the sunset it's best to be wearing sneakers!
Photography Tip – Be sure to have a wide angle lens so you can include as much of Horseshoe Bend as possible. For sun stars at sunset you'll want to use an aperture of around f/14 and above and wait for the sun to touch the horizon, read more about creating sun stars here.
Safety Tip – I'm a pretty cautious photographer and it makes me squirm to see someone perched on a rock with their tripod on the edge of a massive drop. There is a viewpoint with railings that's actually dead centre so if you arrive early enough you can secure a great vantage point without the need to risk your life.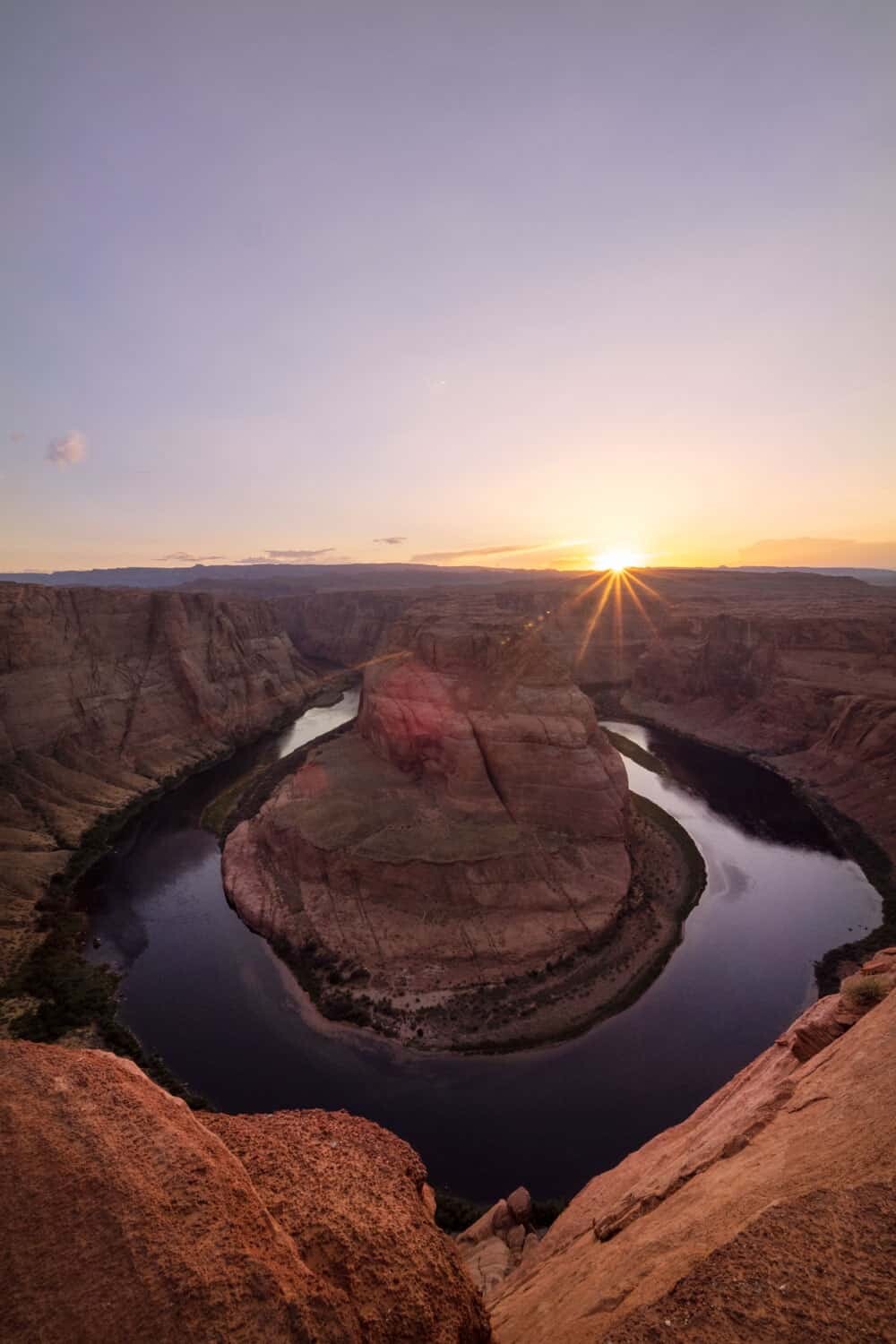 ---
THE SLOT CANYONS
Around Page, Arizona you'll find a number of slot canyons that are one of the most photogenic natural wonders in the US. If you're a landscape photographer, you've no doubt seen the rays of light glowing into the rouge canyons, a canvas that's inspired many to visit this area simply to capture one amazing photo inside.
There are a number of canyons you can visit, some more popular than others and it's important before visiting to read reviews and decide whether or not you're okay with seeing these beautiful places with crowds, or, if you'd prefer to risk it on a lesser known canyon for a more serene experience.
Carved by flowing water, the colours, shapes, shadows and patterns found within the slot canyon are inspirational in every direction. On my recent visit I photographed in three canyons to offer my readers a personal opinion…take a peek below at which ones I visited.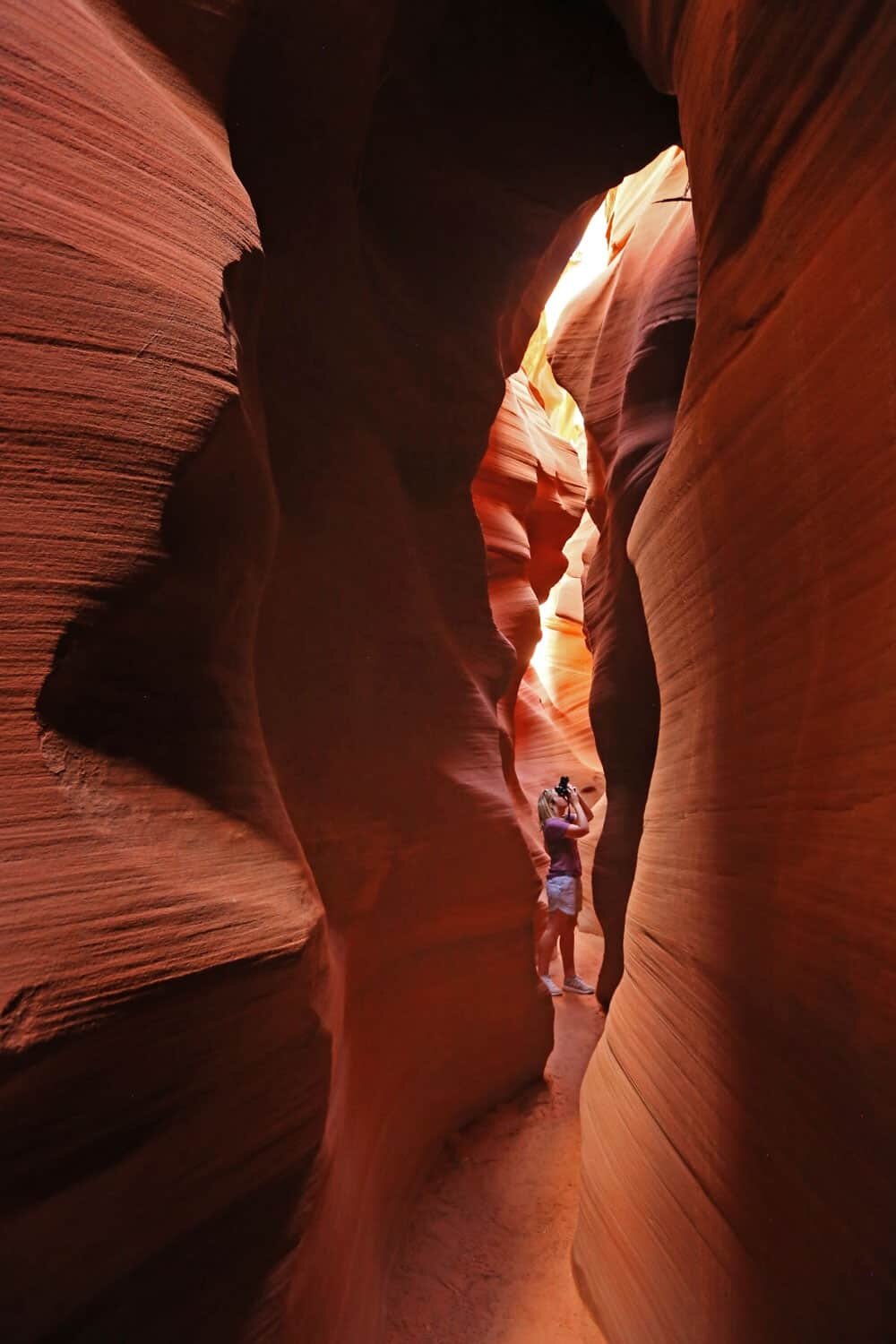 HORSESHOE BEND SLOT CANYON TOUR – Best for Photographer's
Booking a tour with Horseshoe Bend Slot Canyon Tours will grant you exclusive access to a slot canyon (not to be named) with a very small group to experience the true beauty of these formations.
Photograph inside this slot canyon just a few short miles from Page and Horseshoe Bend and really take your time capturing the area, listening to the silence (if that's possible!?), watching as the light changes within the hour and the colours blend from orange to red to deep purple. You'll have up to an hour to wander completely at your own pace throughout the canyon, read more about my experience and see a collection of images here.
UPPER ANTELOPE CANYON TOUR – Dramatic landscape but crowded
The most popular slot canyon due to the many incredible landscape images that have been captured inside, Upper Antelope Canyon is crowded…really crowded. It is however, for good reason. This slot canyon wows from the moment you walk inside!
I took a photography tour with Adventurous Antelope Canyon Tours and I can't stress enough the importance of booking a 'Photography' tour rather than just a standard tour if you want to take photos. I opted for tour number 7 (of the 7 options) and the difference is quite dramatic. You can read more about my experience inside Antelope Canyon here where I mention the good, the bad and the ugly. As a photographer who has marveled at images of Antelope Canyon for years, I'm really happy I took this tour because I loved the images I was able to capture…but it wasn't a peaceful and creatively inspiring experience by any means.
Timing is crucial too, try to opt for a morning or early afternoon tour because once the light starts to drop it can get quite dark inside the canyon. See more images and read my review of the experience here.
*I'd advise anyone who is claustrophobic or hates crowds to avoid Upper Antelope Canyon, especially in peak season. If you're travelling in the quieter months than I imagine the experience would be a lot different! Lower Antelope Canyon is apparently a little less busy so could be an option if you're set on seeing some part of Antelope Canyon.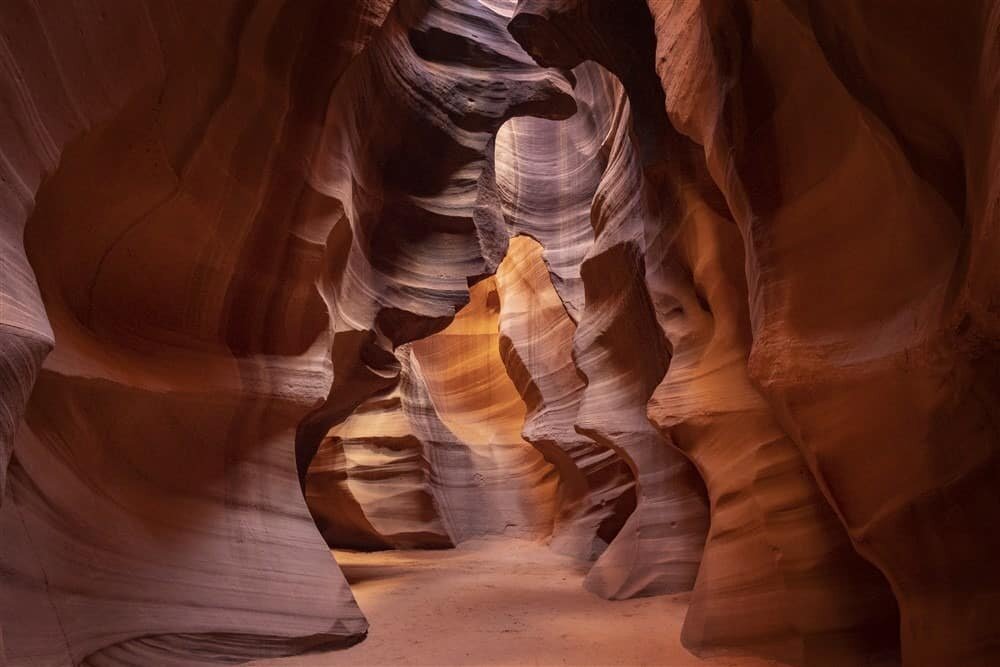 RATTLESNAKE CANYON TOUR – Relaxing Visit + Photogenic
With ladders, lower canyon walls and the feeling of a true adventure, I absolutely loved my time inside Rattlesnake Slot Canyon. Apparently similar in appearance to Lower Antelope Canyon, this was an additional option on the Adventurous Antelope Canyon Photography Tour and I can't recommend paying a little extra to see two or more canyons highly enough.
Despite being peak season (just after Memorial Day Weekend), there were just THREE of us inside Rattlesnake Canyon. Just to clarify, inside Antelope Canyon on the same tour slot there were about 200+, then a few minutes later, only 3 and wow was it a relief. I captured some of my best slot canyon images here and I think it was because I had the time to really look around and really see the formations.
Spending most of my time within the belly of the canyon, one of the best spots was actually right at the end where an arch forms over the path and provides a great structure to capture. Also be sure to keep your eyes peeled for small bird nests hidden within the walls! Read more about it here.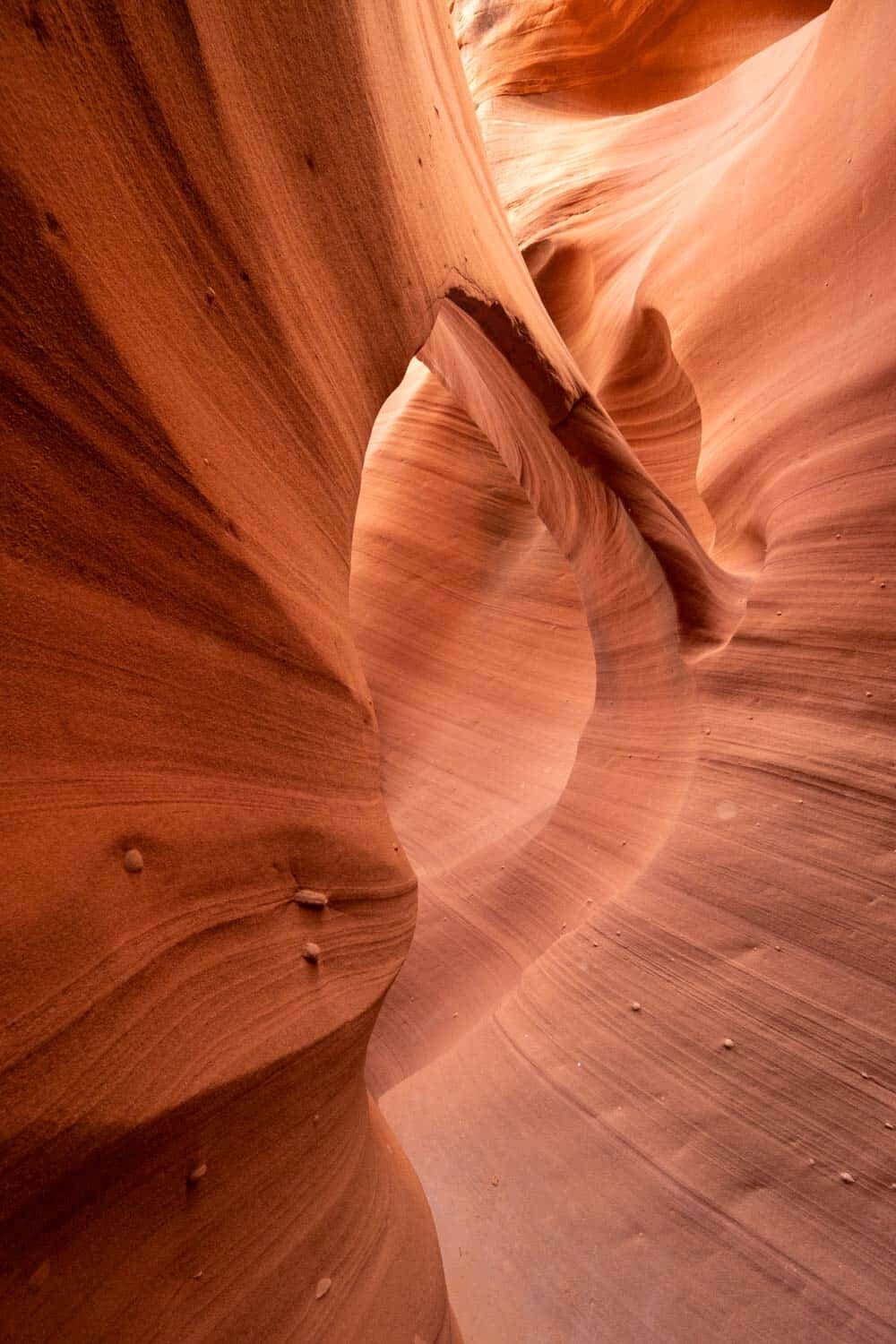 ---
NAVAJO NATIONAL MONUMENT
If you'd like a peek into the past, this spot between Page and Monument Valley offers the perfect insight. Blending natural beauty with history, the Navajo National Monument marks the start of a number of hiking trails, one of which leads to a viewpoint over the Betatakin Ruin, a 13th century cliff village.
The Sandal Trail is a short hike that starts at the visitor Centre and leads down hill toward the viewpoint. Visiting in early summer will ensure the trial is lines with loads of wildflowers in every colour of the rainbow. Don't forget you'll need to hike back uphill and while it's not too far, it is a little break taking in the heat so be sure to stop and "photograph the flowers".
Photography Tip – If you've got a zoom lens, this is the place to use it. The viewpoint sits across the valley so to capture a shot like the one below, you'll need to zoom in quite far to capture any detail. I used the Olympus 40-150mm f2.8 lens which is about 300mm full frame equivalent.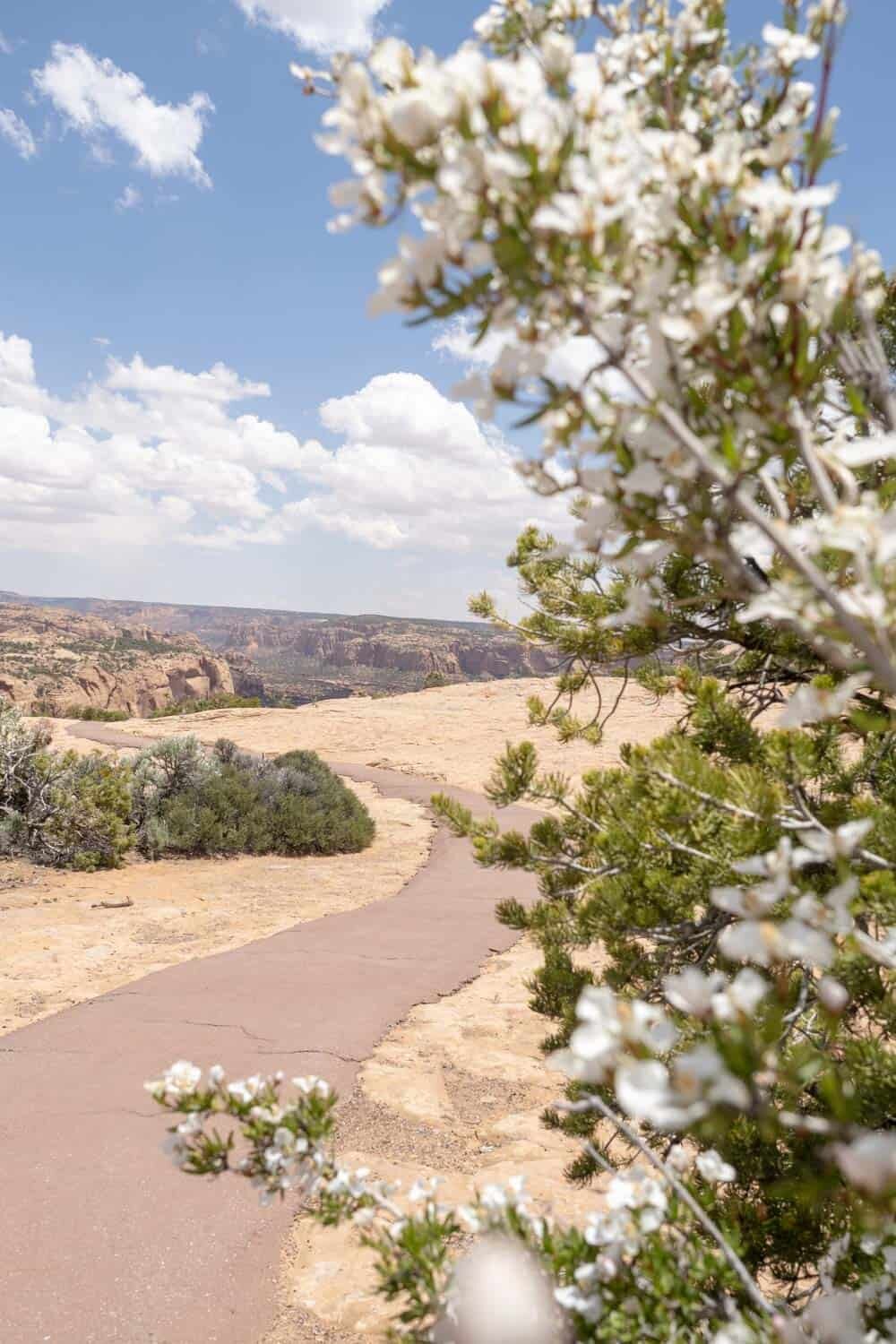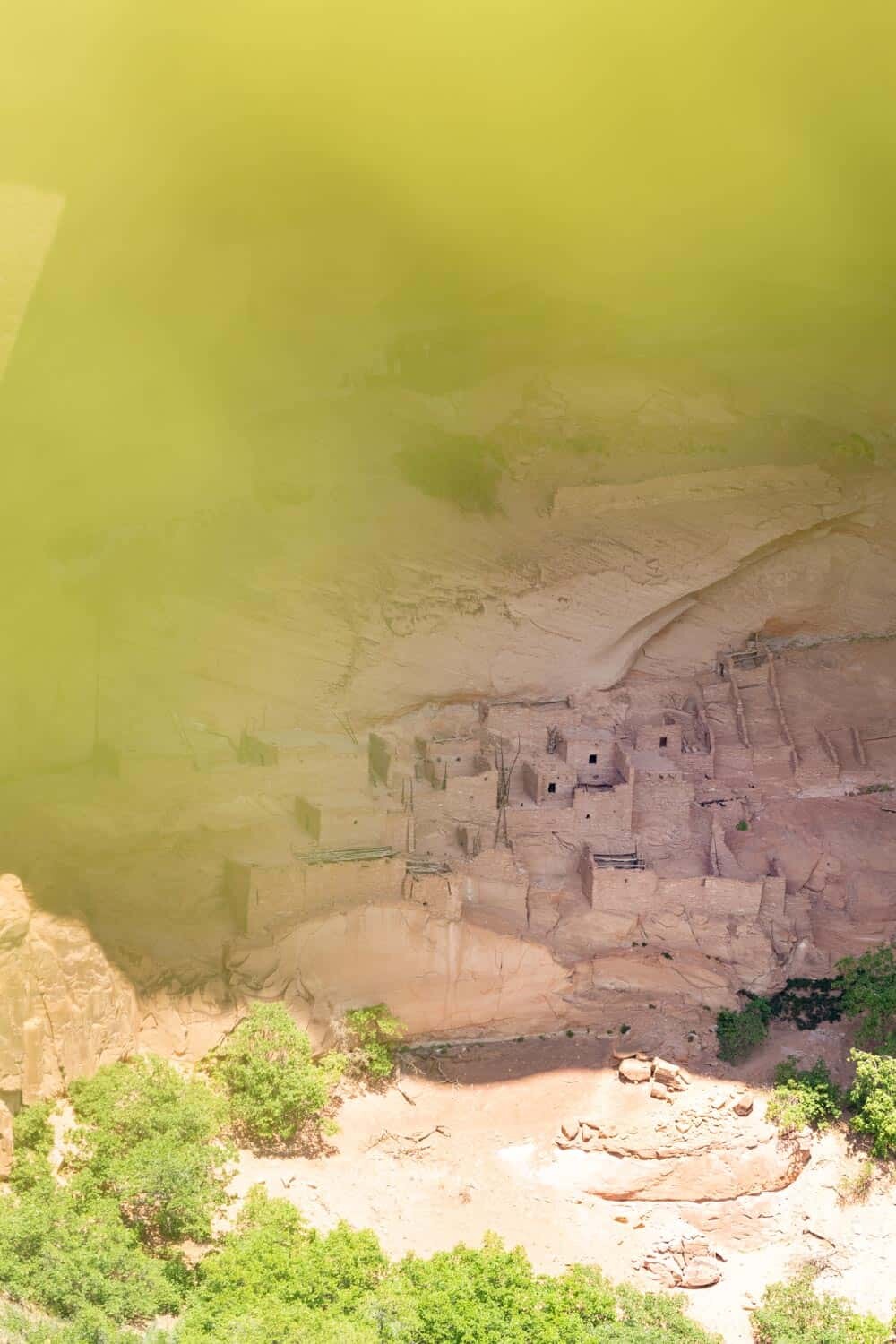 ---
THE GRAND CANYON
There's a number of words that come to mind when thinking about the Grand Canyon, none of them resemble anything small or insignificant. It's immense, epic, gigantic, huge…just one big, Grand Canyon and there are SO many vantage point to visit so be sure to allow plenty of time if you're into massive canyons.
Nothing can really prepare you for the first glimpse and if you're arriving from Horseshoe Bend or Page there'll be a sign that leads you in the right direction stating, "First View of Grand Canyon 500ft". This viewpoint is called the Watchtower and provides an insane first view into the canyon.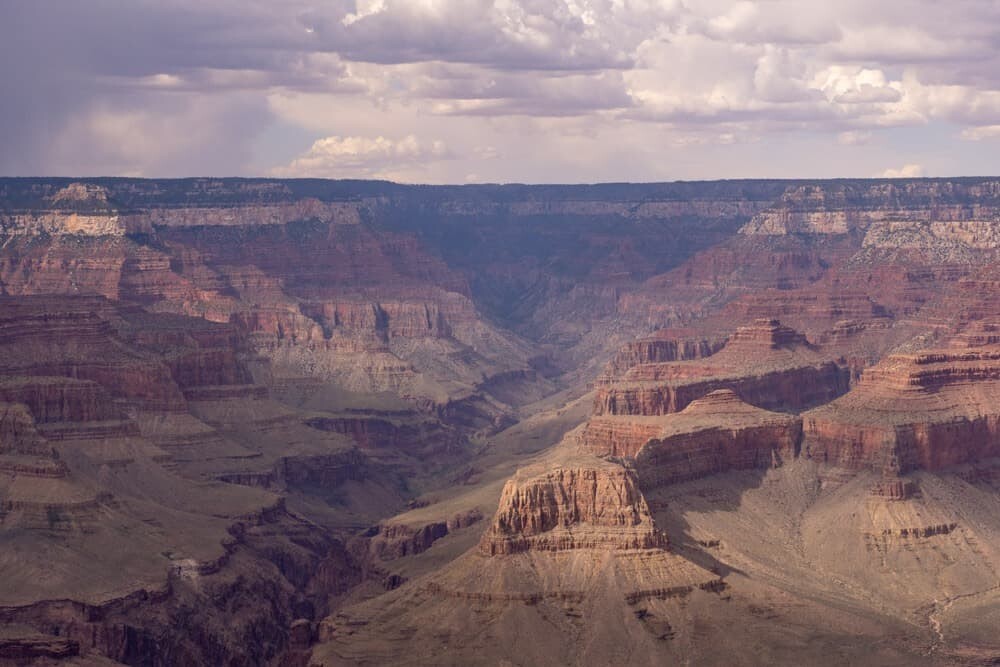 If you've got a car, there are a number of spots to stop and admire the view, I'll be publishing a more extensive guide to them soon but be sure to see Grandview Point (there's you know, a grand view!), Moran Point, Yaki Point and then you'll have to pop over to the Grand Canyon Visitor Center to jump on a shuttle bus which will take you further along the rim. There's plenty of stops to see along the route to Hermit's Rest and I'd recommend getting off at Mohave Point and walking the rim to Hopi Point for sunset. Sunset is a popular time to capture the canyon and Hopi Point is perhaps the best spot to do so. Buses wait those hanging around until after sunset and will take you directly back to the visitor center.
Photography Tip – The Grand Canyon is just that, freakin' big. You'll want to ensure you've got both a zoom and wide angle lens to capture the full beauty. Details of the rock formations and valleys within the canyon can be composed by using the lines and direction created by the Colorado River below or you can opt to include the trees along the rim as a contrast.
Grand Canyon Hotel: I stayed at the Red Feather Lodge in Tusayan just a short drive from the Visitor Center. It's a very comfortable hotel and there's plenty of dining options nearby.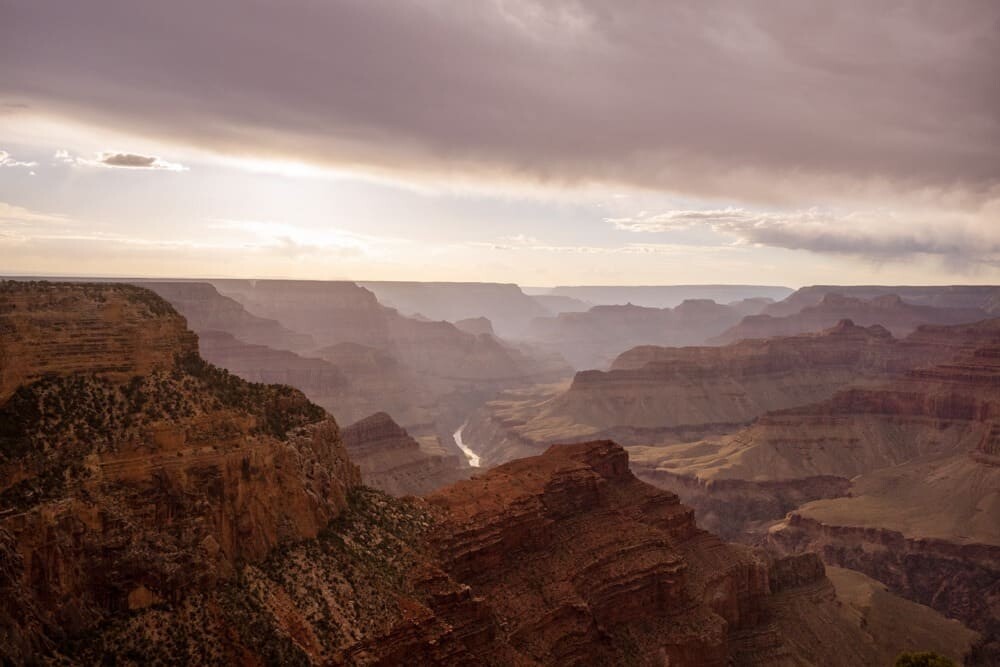 ---
FLAGSTAFF, ARIZONA
Driving from the Grand Canyon toward Flagstaff there's an evident change from desert to forest, then snow, then back to forest. Passing Humphrey's Peak, the highest mountain in Arizona, take a break at the top of the ski lift which glides over some of the world's largest contiguous ponderosa pine forest in Coconino National Park. The Arizona Snowbowl chairlift is open year round and in summer it operates at half speed giving you plenty of time to photograph the surrounding landscapes as you cruise up toward the summit. The chairlift will take you as high as 11,500ft then if you're keen you can hike the additional 4miles to 12,633ft and the highest point in the state.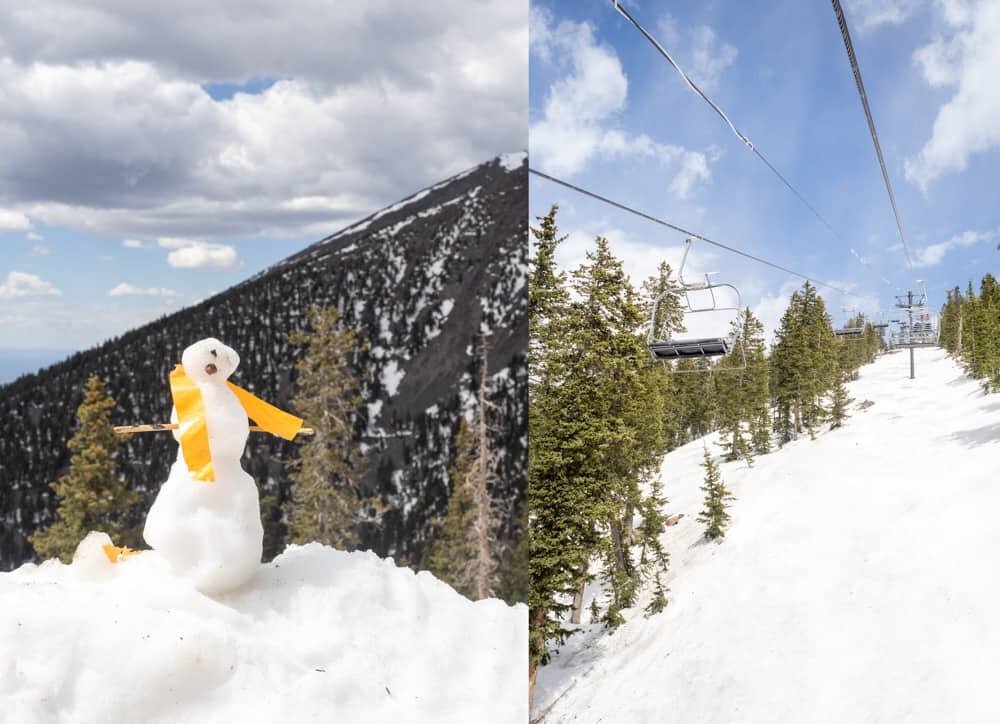 Now downtown Flagstaff is something I wasn't expecting. It's historic, quaint and such a fun place to wander around photographing the numerous murals and storefronts throughout the city. With Route 66 passing through Flagstaff, you can kick of your wanderings at the Flagstaff Visitor Center located at the train station then cross the road and you're already in the historic centre where there are super cute little boutiques, cafes and even a hotel and bar dating back to the earl 1900's.
We were based at the Embassy Suites by Hilton Flagstaff in Flagstaff and think it was the perfect choice with complimentary drinks upon arrival and a hearty breakfast…plus there's a pool to cool down after all the photos you'll have taken on the way! It's also right down the road from the next location and since you'll be travelling back quite late at night (stars are involved!), having a comfortable room close by is essential to getting an early start the next morning for more adventures.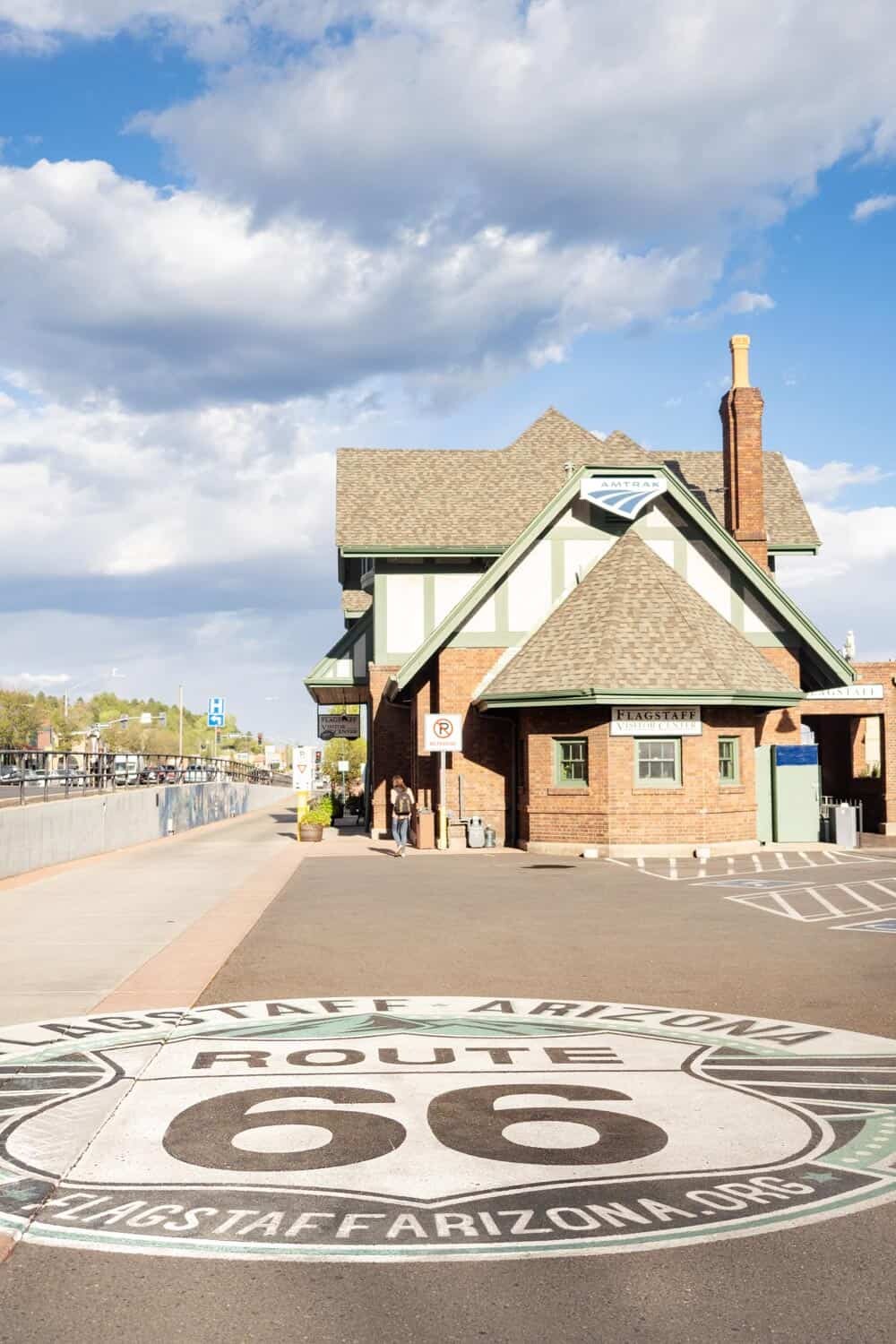 ---
THE LOWELL OBSERVATORY
Fancy yourself a bit of a space nerd? Same, and this place is seriously cool and a must see if you're passing through Flagstaff, Arizona. In fact, you'll be quite surprised at what's happened inside the Lowell Observatory and around the Flagstaff area relating to space travel.
Fun Flagstaff Facts –
You might've heard of a little dwarf planet in the sky that goes by the name of Pluto. Pluto, was discovered in Flagstaff at this observatory in 1930 by Clyde Tombaugh! Crazy right!?
Every astronaut that's ever walked on the moon was trained in Flagstaff
Buzz Aldrin, Neil Armstrong and more have looked through the very telescope you can!
The Lowell Observatory is open daily but for the best experience, I suggest going in the evening to take advantage of the star gazing and telescope tours. Peek inside the Rotunda Museum which houses some of the most precious artifacts and has letters and notes from when Pluto was discovered! Check out star clusters, be told the stories behind the stars while a laser points into the night sky then experience looking through the Clark Telescope.
For visiting hours and tour times check – The Lowell Observatory Website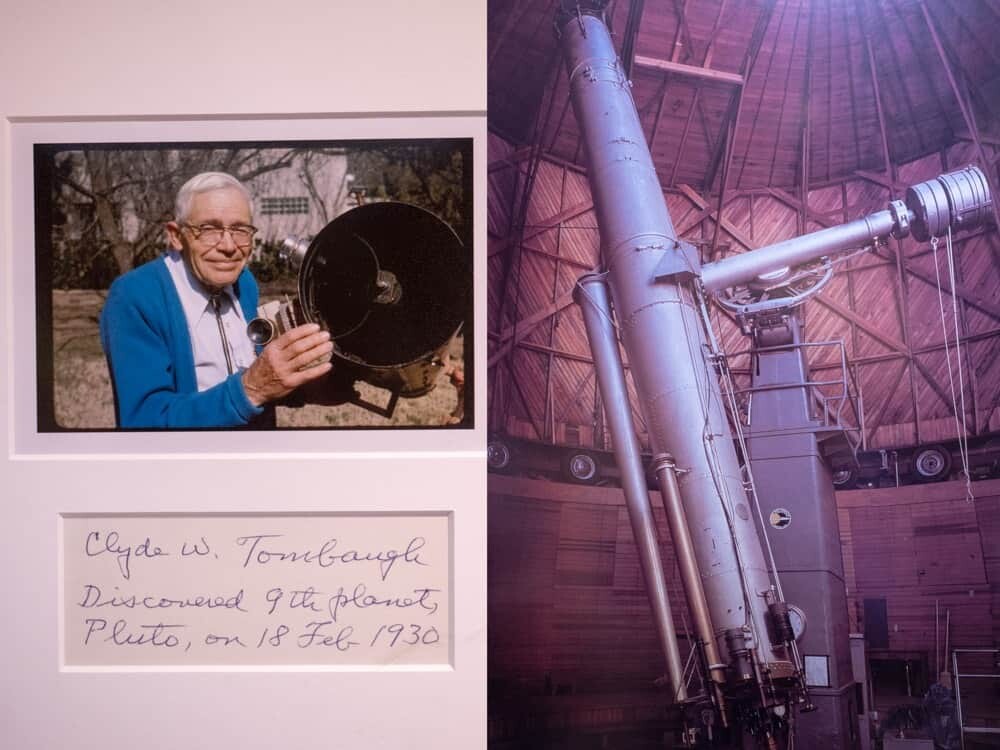 ---
MAP: Arizona Photography Locations
The map below can be opened directly in Google Maps to use as you travel throughout northern Arizona and follow the locations noted within this guide.
Depending on how you open it, you'll be able to add locations too so have a play around and try to fit in as many spots as you can, there's so much to see!
Have you been to Arizona and want to share a photography location? Comment below!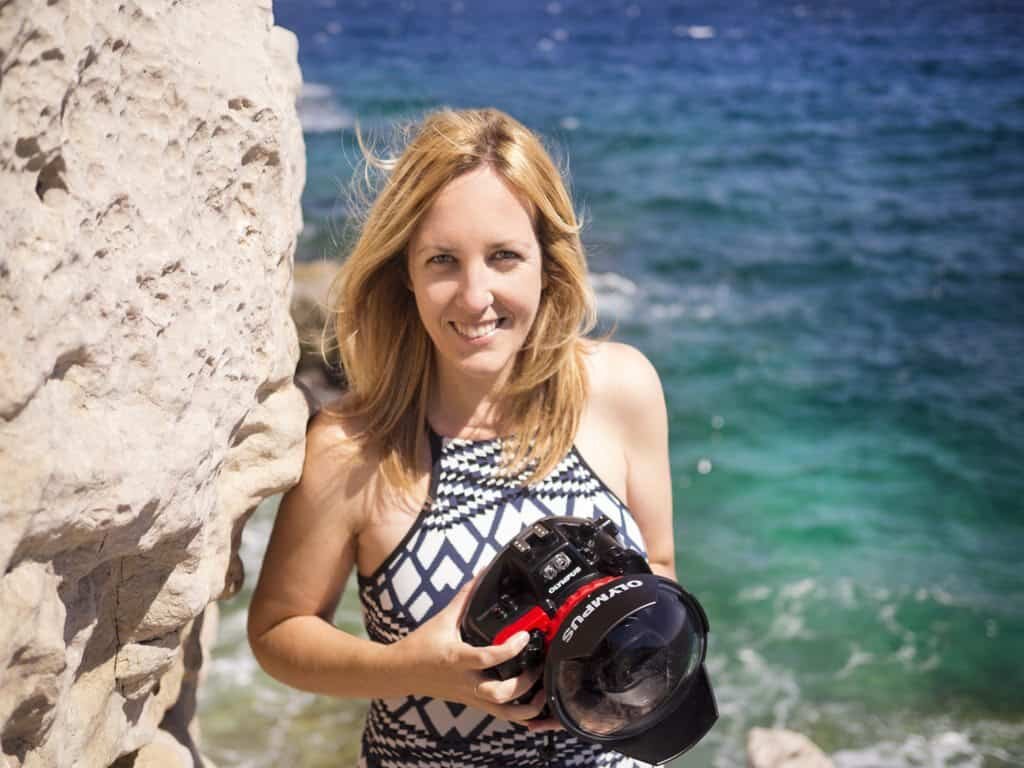 Hello! I'm the founder and photographer behind The Wandering Lens.
With 17+yrs experience as a professional travel and landscape photographer, all advice found on this site is from my personal experience on the road. I hope it's useful for your own travels and would love to hear in the comments about your trips and experiences around the world.