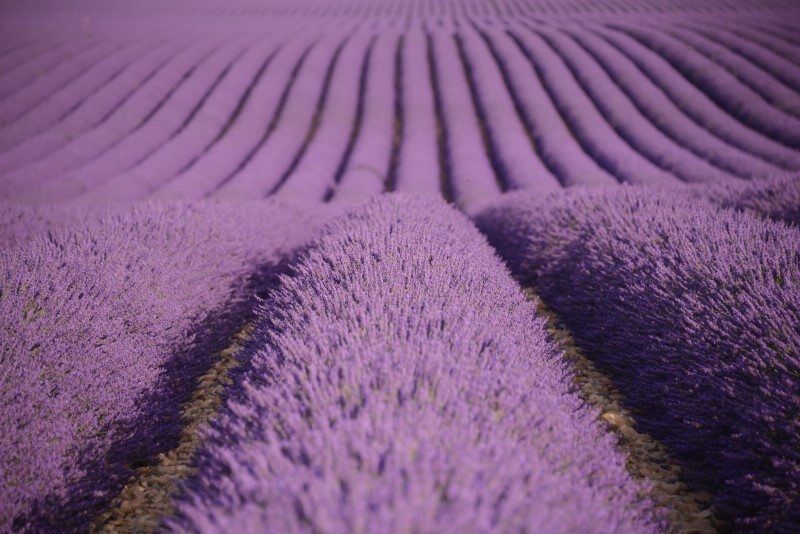 Provence Lavender Fields – The Best Locations to visit on the Valensole Plateau…
Want to skip through purple fields of Provence lavender as bees buzz happily around you and the warm summer sunshine lights up the sky above?
The Provence region of France is glowing in the summertime so if you're planning a trip to Europe this summer, be sure to include a little of this gorgeous region in your itinerary.
From mid June to mid July, you can witness the lavender at full bloom meaning rows of purple as far as you can see, rolling over hills and into the sunset.
People flock from all corners of the world to experience the magic of Provence during the summer months with lavender being just one of the many draw cards. You'll find fresh food markets in medieval villages, the crystal clear seas of the Mediterranean and about a 99% chance of sunny skies!
If your sole desire is to see the beauty of the lavender fields then, I've got you covered with this guide to Valensole, the best area in my opinion to photograph the fields. In order to get a great photograph you'll need a car to zip around because there are a lot of fields, some more maintained than others. It's also very warm in June and July so you don't want to be stuck at a bus stop and walking miles to get to each field. There is a lot of information about where is best to see the lavender, photography wise though, you need to think about what type of shot you want.
Are you after a pure blue sky, small cottage or single tree? Or do you prefer a warmer light with sunset glowing above? You'll need to take this into account otherwise you'll be spending a lot of time waiting around for the light to be just right instead of covering a bunch of locations and getting more amazing photos.
eBook Announcement – If you'd prefer to skip scrolling, ditch the ads and download a 48 page PDF to take with you while exploring Provence, I've published a Guide to Photographing the Villages and Lavender Fields of Provence…hooray!! Complete with photo tips, day trip ideas and itineraries of where to photograph and when. Provence Villages + Lavender Fields eBOOK: For a detailed PDF guide to the lavender fields + Provence region. Take a peek at my 48page eBOOK available now. Use it to plan your trip, then take it with you on your device for inspiration and photo tips!

I've also just released a Paris eBook, which means if you're visiting both regions of France, you can purchase the 'PARIS + PROVENCE eBook Bundle' here.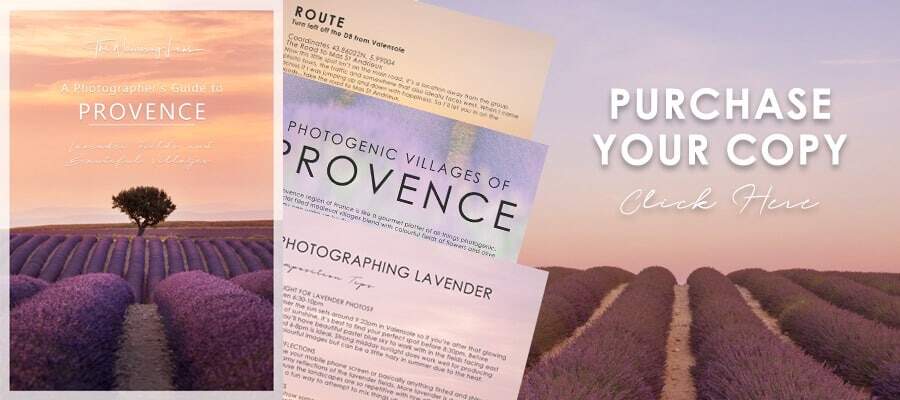 Otherwise, continue scrolling down for some tips on photographing the lavender fields this summer!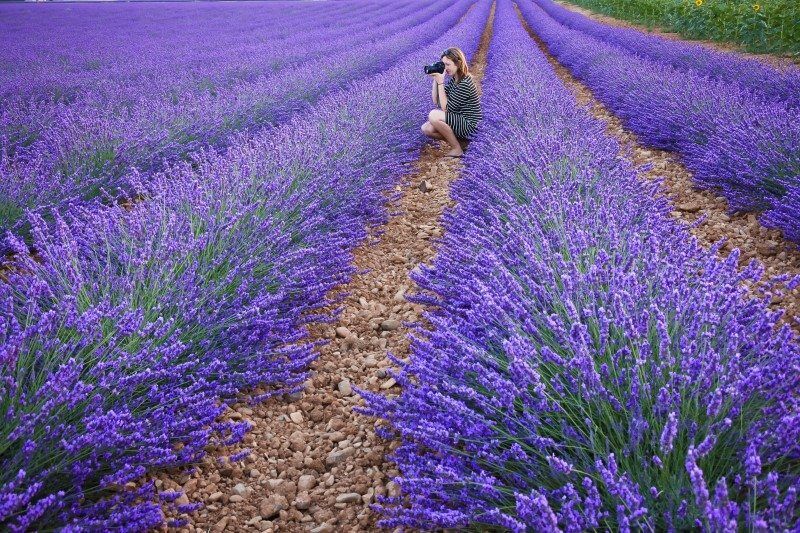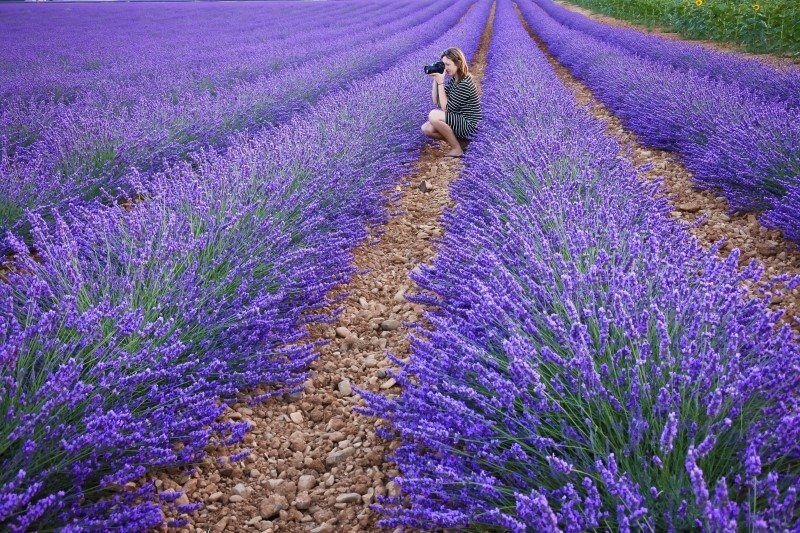 Around Provence you will find a collection of areas with lavender fields, from the base of Mount Ventoux, the magnificent Abbaye de Senanque or the regions around Apt, Forcalquier, Mezel and Nyons.
My favourite so far is the Plateau de Valensole. Rich in fields to choose between with a great selection of locations to shoot during the daylight and at sunset facing west.
Below is a map sharing the exact location of my favourite fields…
---
Photographing Lavender in Provence
Best light for lavender photos: Between 6:30-10pm
In summer the sun sets around 9:20pm in Valensole so if you're after that glowing sparkle of sunshine, it's best to find your perfect spot before 9pm. I would even suggest getting there at 8:30pm because the sun can do some beautiful things prior to dipping below the horizon so why not be there to capture it? Maybe I'm just that annoying person who always has to be everywhere way too early!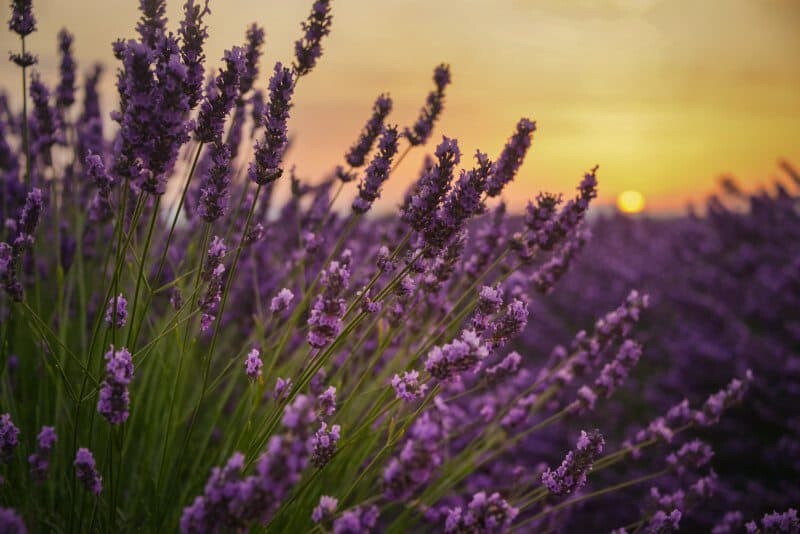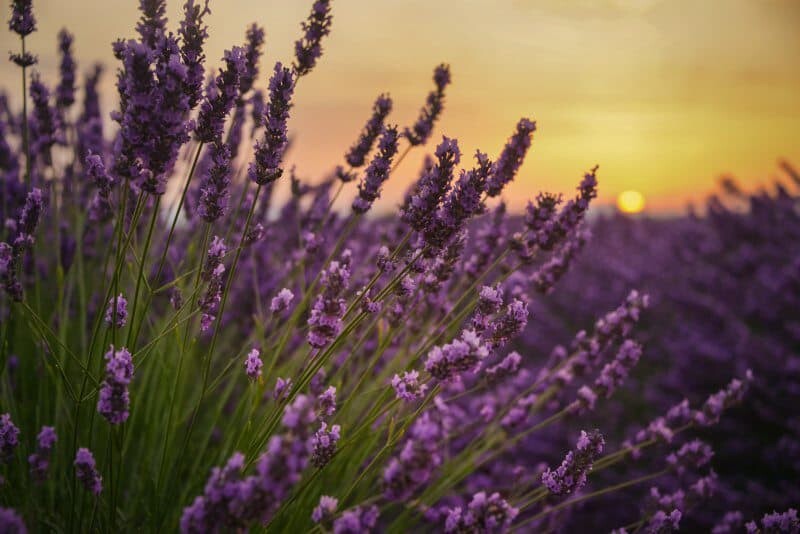 Before sunset you'll have beautiful blue sky to work with in the fields facing east so around 6-8pm is ideal. Any earlier and during summer you will find a light haze in the distance caused by the heat so it's best to avoid the middle of the day.
Now for the locations…
Lavender Location #1 D8 Valensole – Puimossion
Coordinates 43.89145N, 6.0668E
Best For Distant Landscapes (Google Maps) : Travelling along the road called D8 from Valensole toward Puimoisson you'll find a little hotel called Gite le Petit Tele, just before though is a great spot for photographs. Lavender fields sprawl east into the distance toward a row of trees that works as a great linear perspective.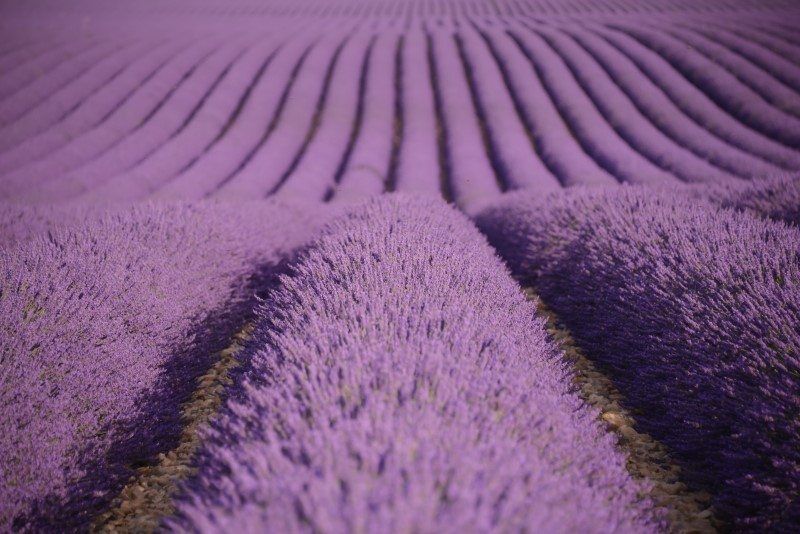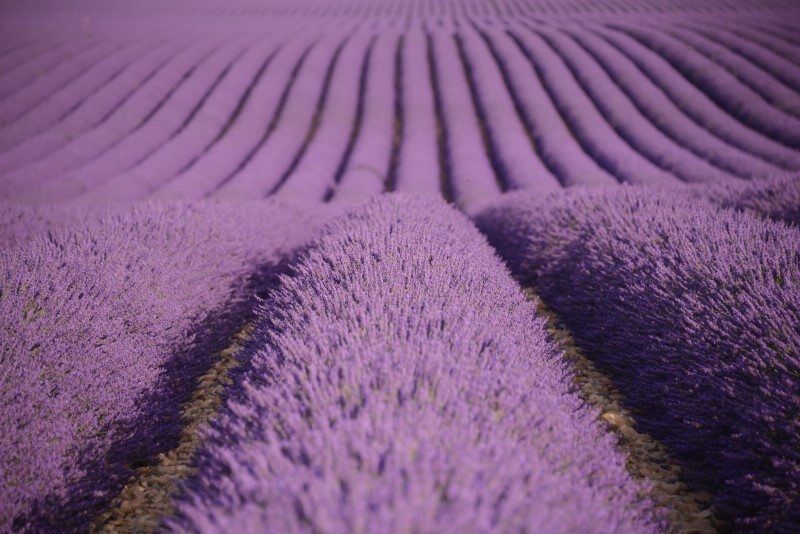 ---
Best For Tree + Cottage: For that quaint image of Provence, here a lavender field lines up beautifully with a cottage and tree that sit to the left on a wheat field. It makes a beautiful
Coordinates 43.85984N, 6.00298E
contrast to the purple colours and you can shoot this location in many ways, a great spot to get creative!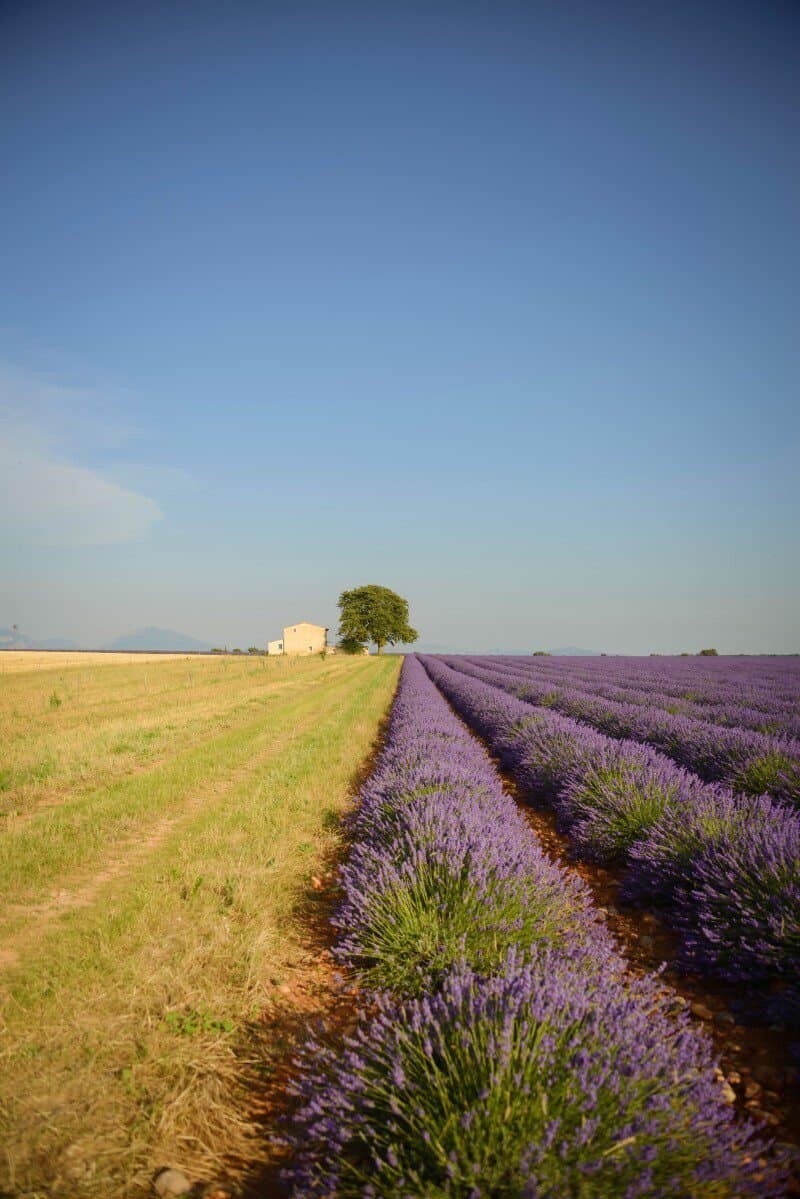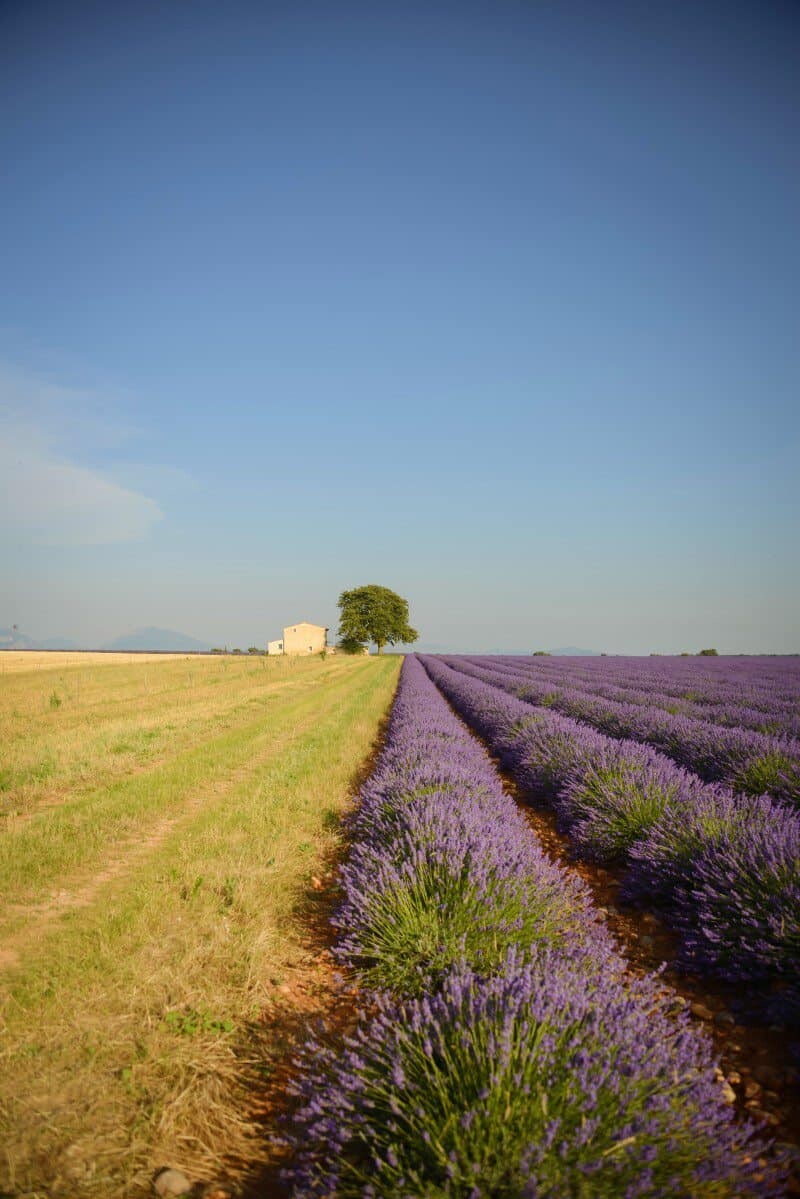 ---
Lavender Location #2 Route de Manosque D6, Lavandes Angelvin

Coordinates 43.82234N, 5.93658E
This road from Valensole to just outside of Manosque is lined with fields to shoot at, my tip is to just drive along and stop when you see somewhere you love! Just after the turn off to Lavandes Anglevin is a beautiful field that leads over the hill top. Sunset at this field can be quite the popular spot so it's best to arrive early and grab a spot…if it's too busy, you can always zoom to the horizon to cut out anyone in the foreground, it still offers a stunning landscape!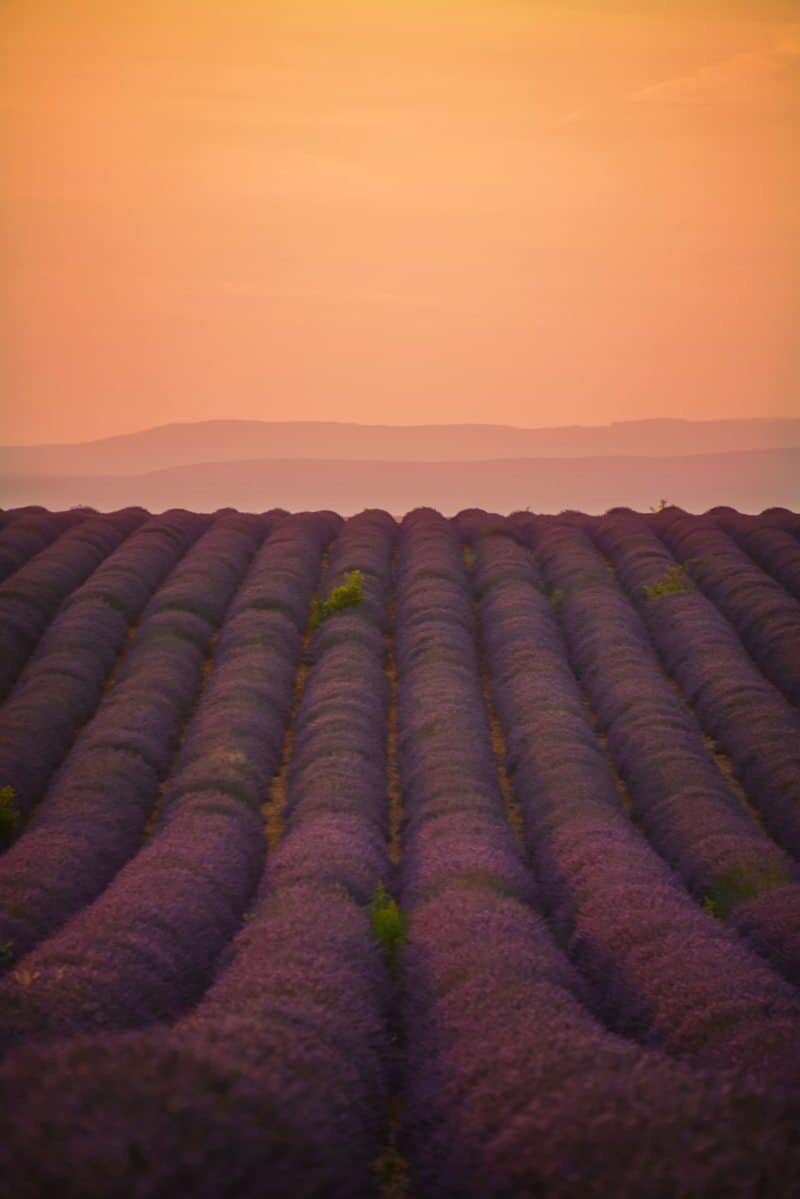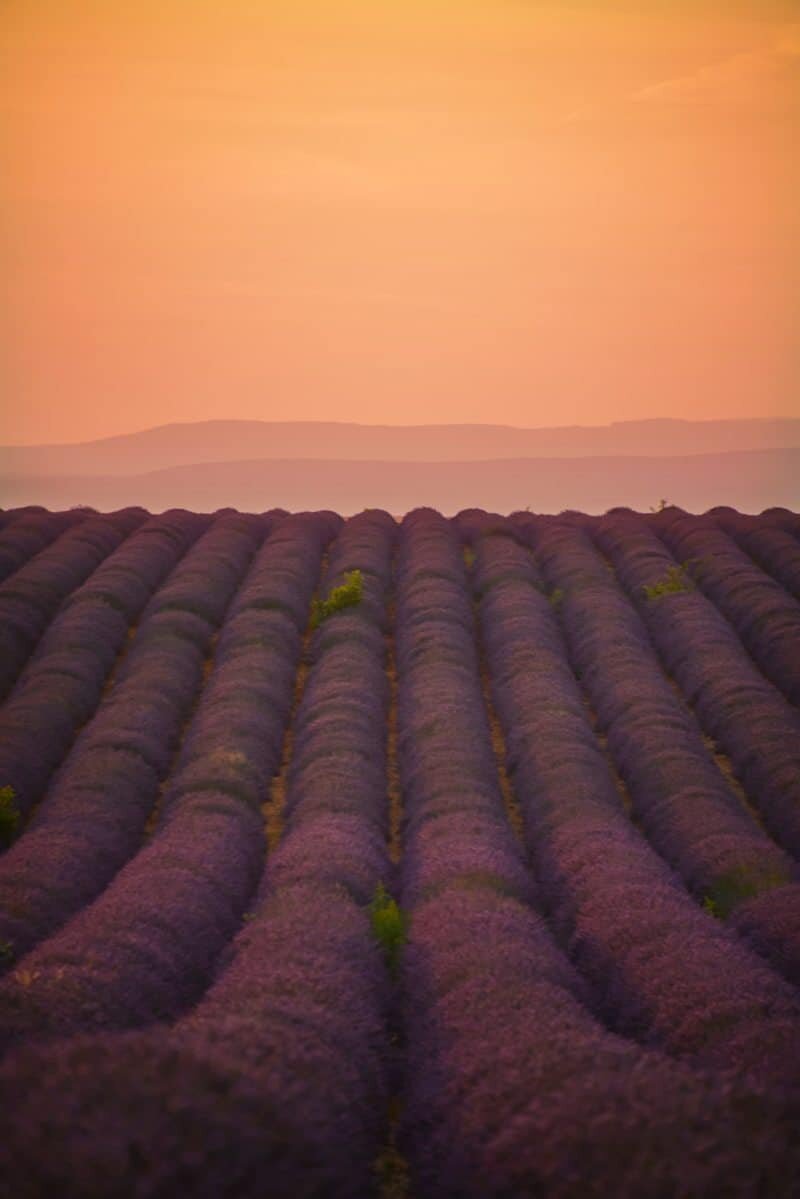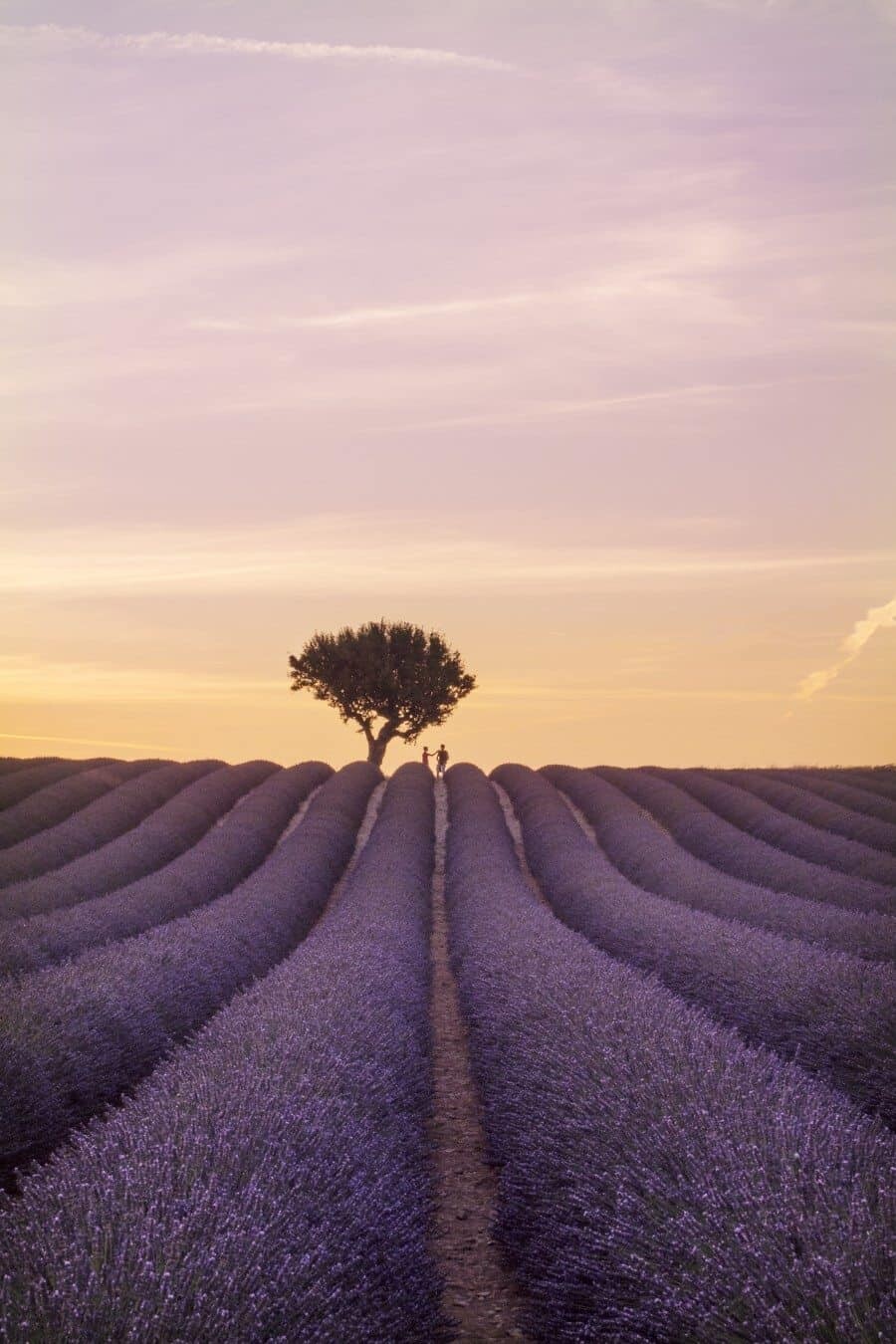 ---
Lavender Location # 3 The Road to Mas St Andrieux
Coordinates 43.86022N, 5.99004
Now this little spot wasn't on the main road. I wanted to find a location away from the group photo tours, the traffic and somewhere that faced west. When I came across it I was jumping up and down with happiness. So I'll let you in on the goods… the road to Mas St Andrieux.
I had it to myself one evening but I've been back since and there have been a few others there so it's best again to arrive early!
Down this little road is where the magic happens. Sunflowers stand tall in their bold yellow hats beside a field of perfectly grown lavender. Further along there is an old stone cottage with a tree branch nestled amongst bunches of lavender that faces directly west…hello sunset photos!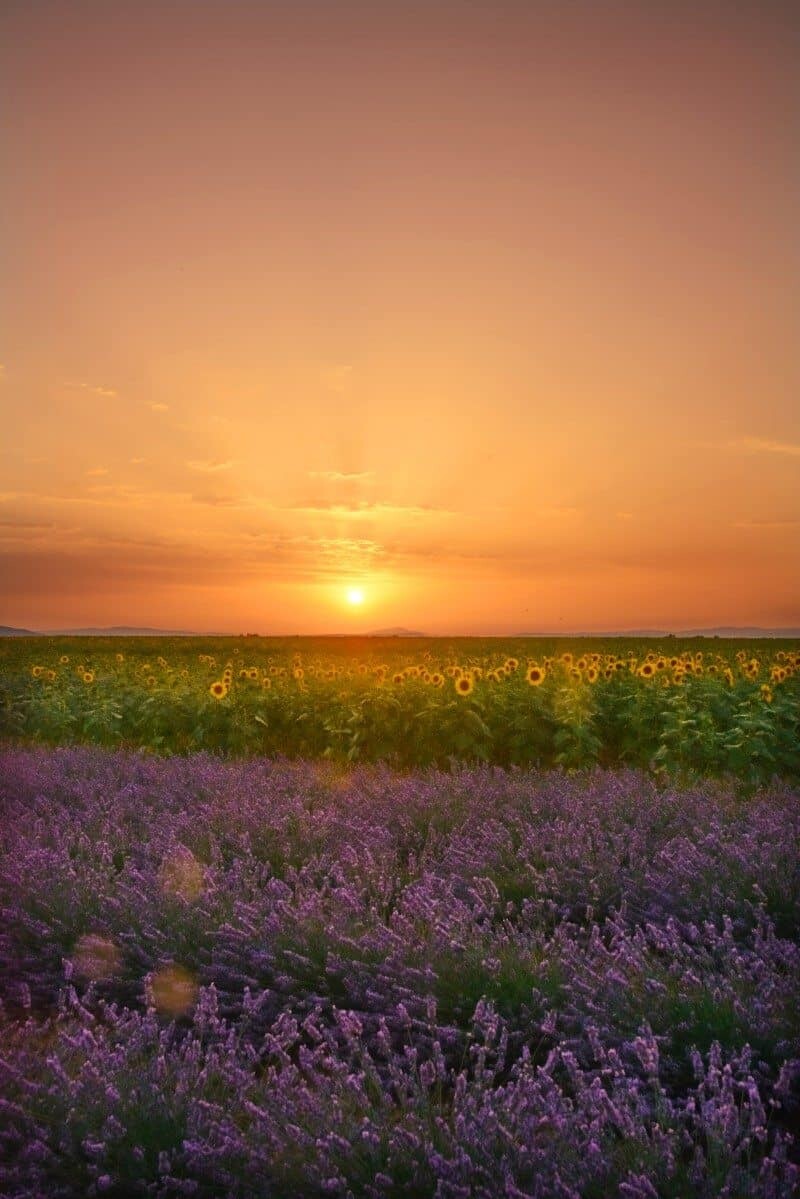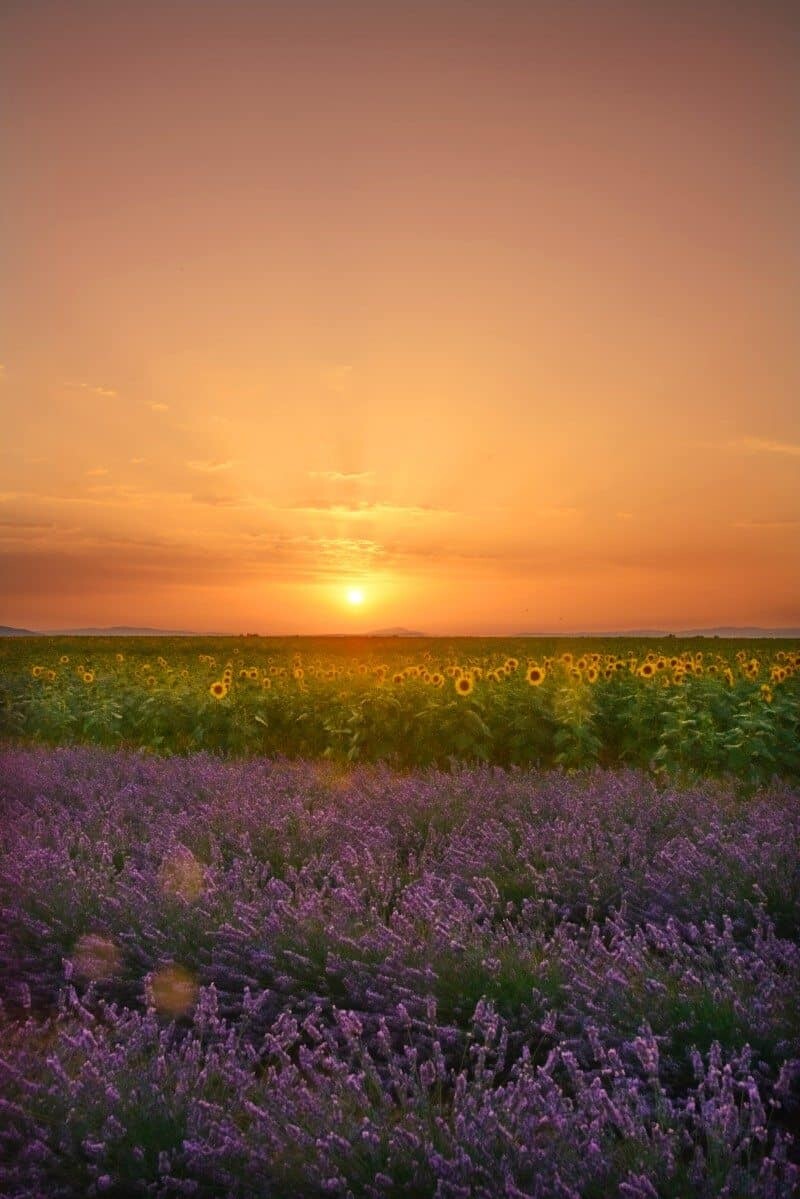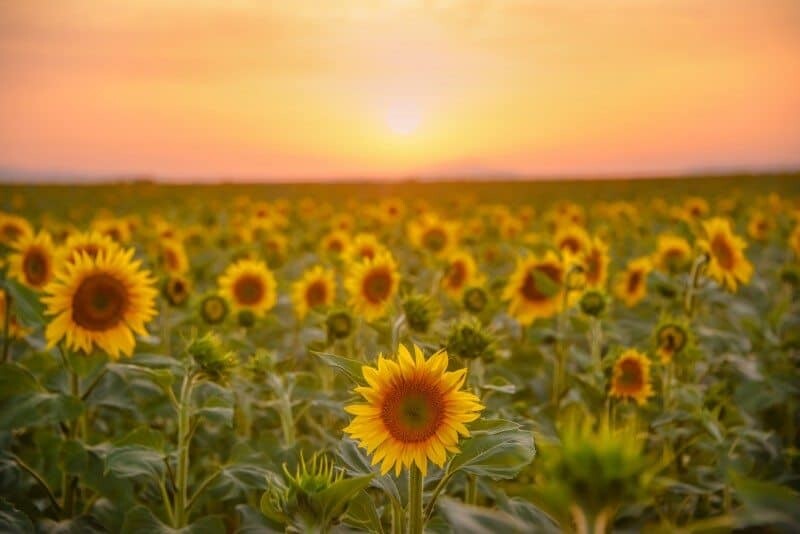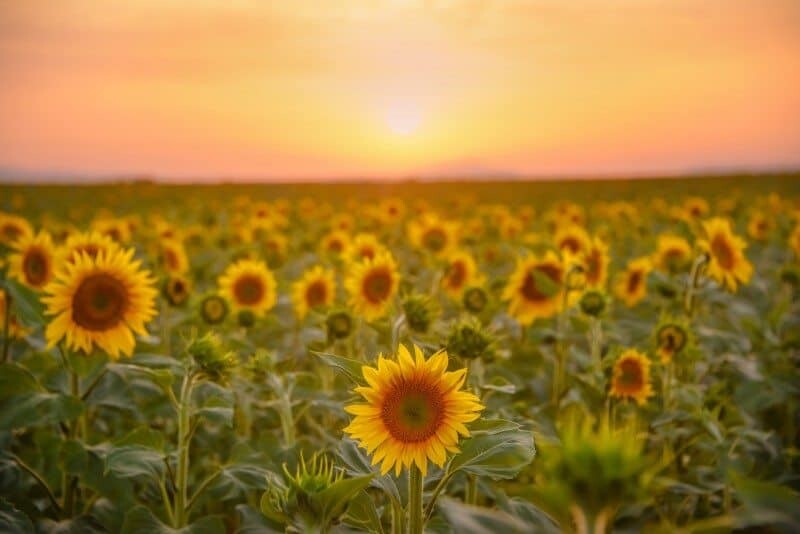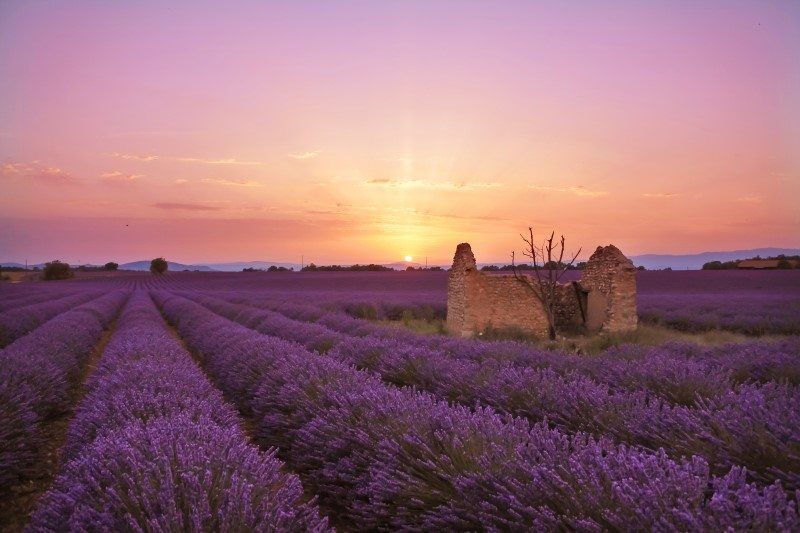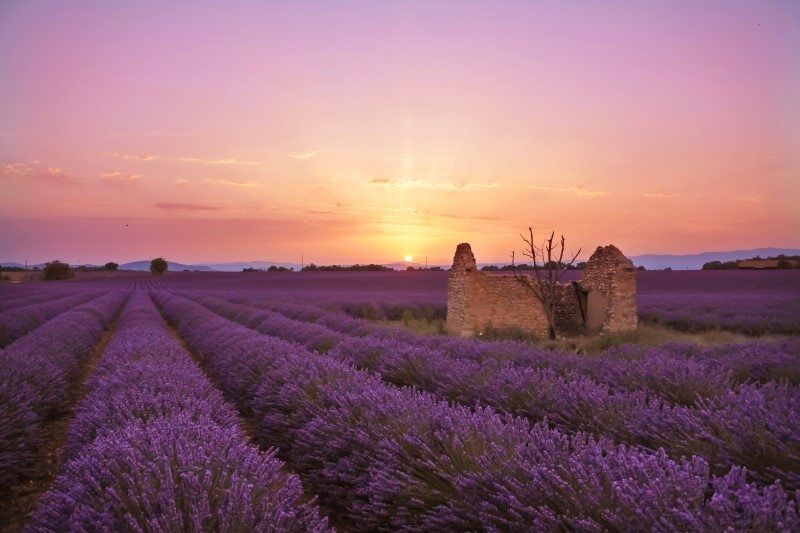 ---
Lavender Location #4 The Road to Riez
Coordinates 43.83447N, 6.02433E
Starting in Valensole, follow the 'Route de Riez' also known as the D6. After exiting Valensole you'll pass wheat fields then after about 5-10minutes on the left side of the road you'll see a sprawling field of lavender veering into the distance. It's rolling hills leading towards the mountains and there's also a little house in the distance. If you've started to follow a long winding road you've gone too far. I've marked the exact location on the map above so take a peek and there's a small place to park on the right side of the road to ensure you're out of the way.
I actually photographed star trails in these fields and loved that they were away from the crowds of Valensole and a sky of stars appeared above due to the minimal light pollution. Read more about 'Photographing Star Trails in the Lavender fields'.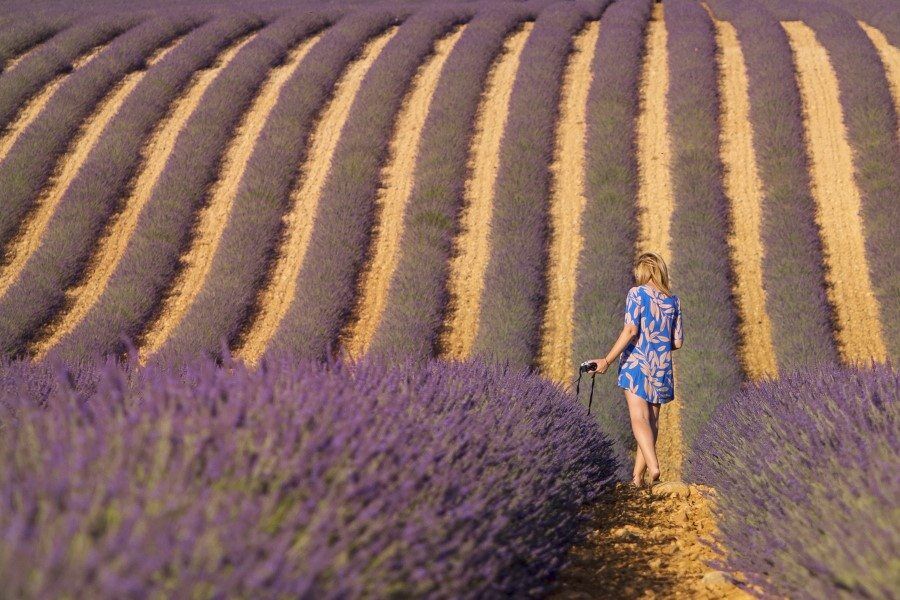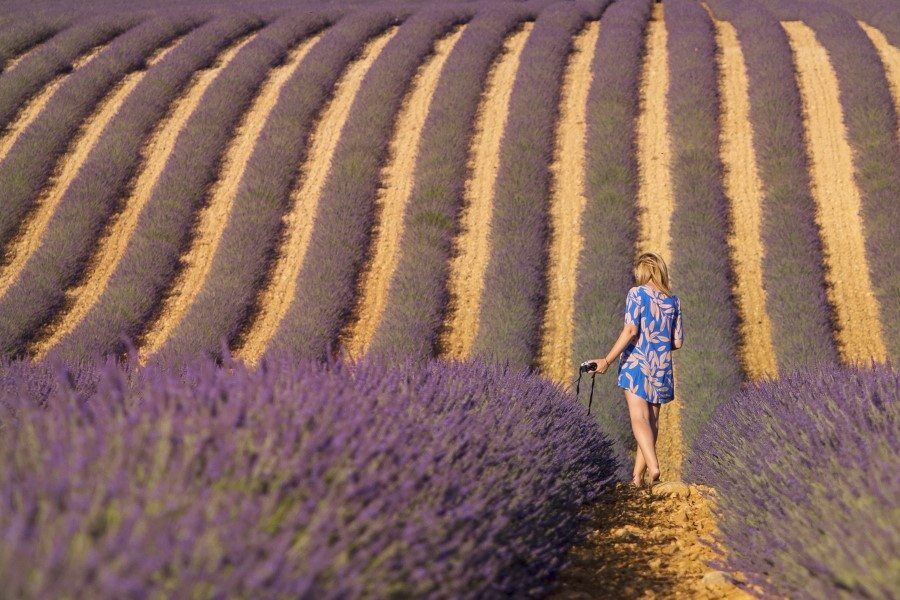 ---
Lavender Location #5 Puimoisson to Moustiers Sainte Marie
Coordinates 43.84672N, 6.15327E
Following the D56 route from Puimoisson towards Moustiers Sainte Marie there's so many fields to choose from it's almost necessary to spend a few hours focused on this area alone. This past 2017 season saw the route also lined with really tall sunflower fields that enhanced the beauty an extra notch and it definitely rose in my list of locations to recommend.
The fields here differ from Lavandes Angelvin and those closer to Valensole as they're surrounded by small forested areas, each seem to have their own unique quality and some rise up and over hill towards the rugged ranges of the Gorge du Verdon.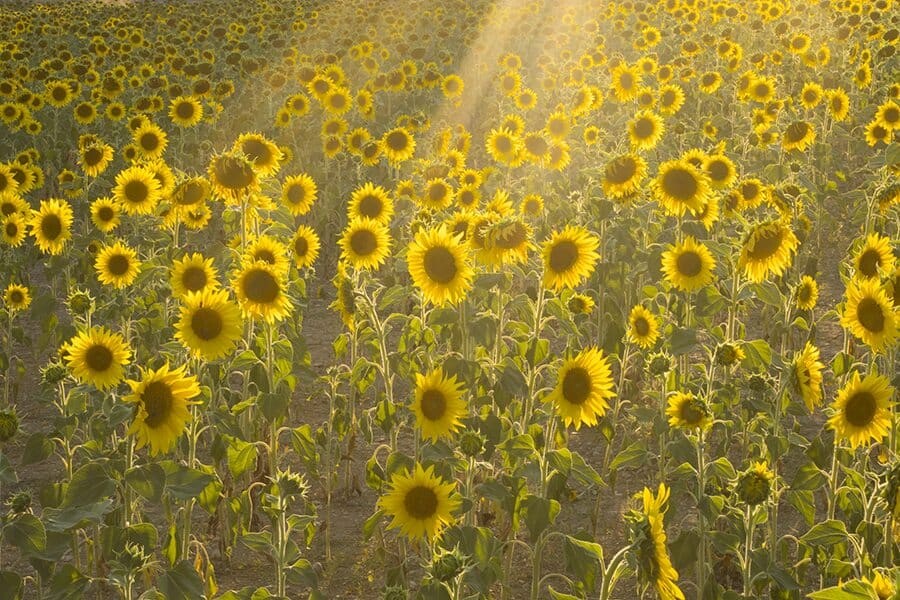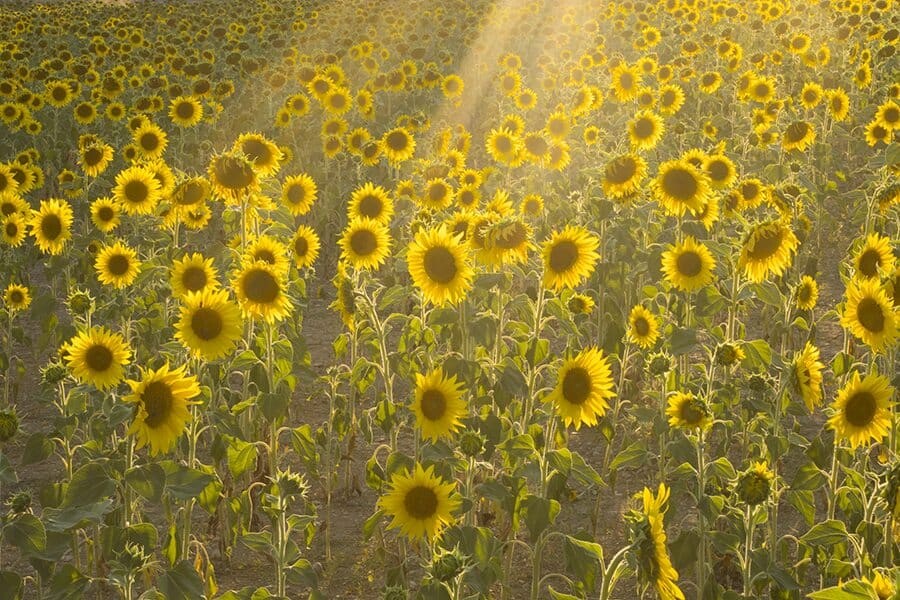 ---
Provence Lavender Photography – Composition Tips

Add an element – Whether it's a person, a hat, a bouquet of lavender or something even more creative, it can enhance your image or give a little unique touch.
Long lines – The linear effect of the lavender rows is what I find the most impressive, they are so identical and neat it's like photographing a set that's been composed just for you. Use the horizon to work with the rows of lavender.
Light – The strong midday light will create a different tone against the lavender than the warm evening sun. Be careful not to overexpose during the day or you will lose out on the incredible colour palette of the region. In the evening you can play with the sun to create a gorgeous glow against the fields or wait until dusk for the purple to blend with the evening sky.
Create Reflections – I recently wrote this post about 'Turning Trash into Photography Equipment' after spending an afternoon photographing the lavender fields using a piece of coffee table glass I found in a rubbish bin. You can use your mobile phone screen, basically anything tinted and shiny to create dreamy reflections of the lavender fields.
Read more – 'How to Creatively Compose Travel Images' or 'Tips for Wide Angle Landscape Photography'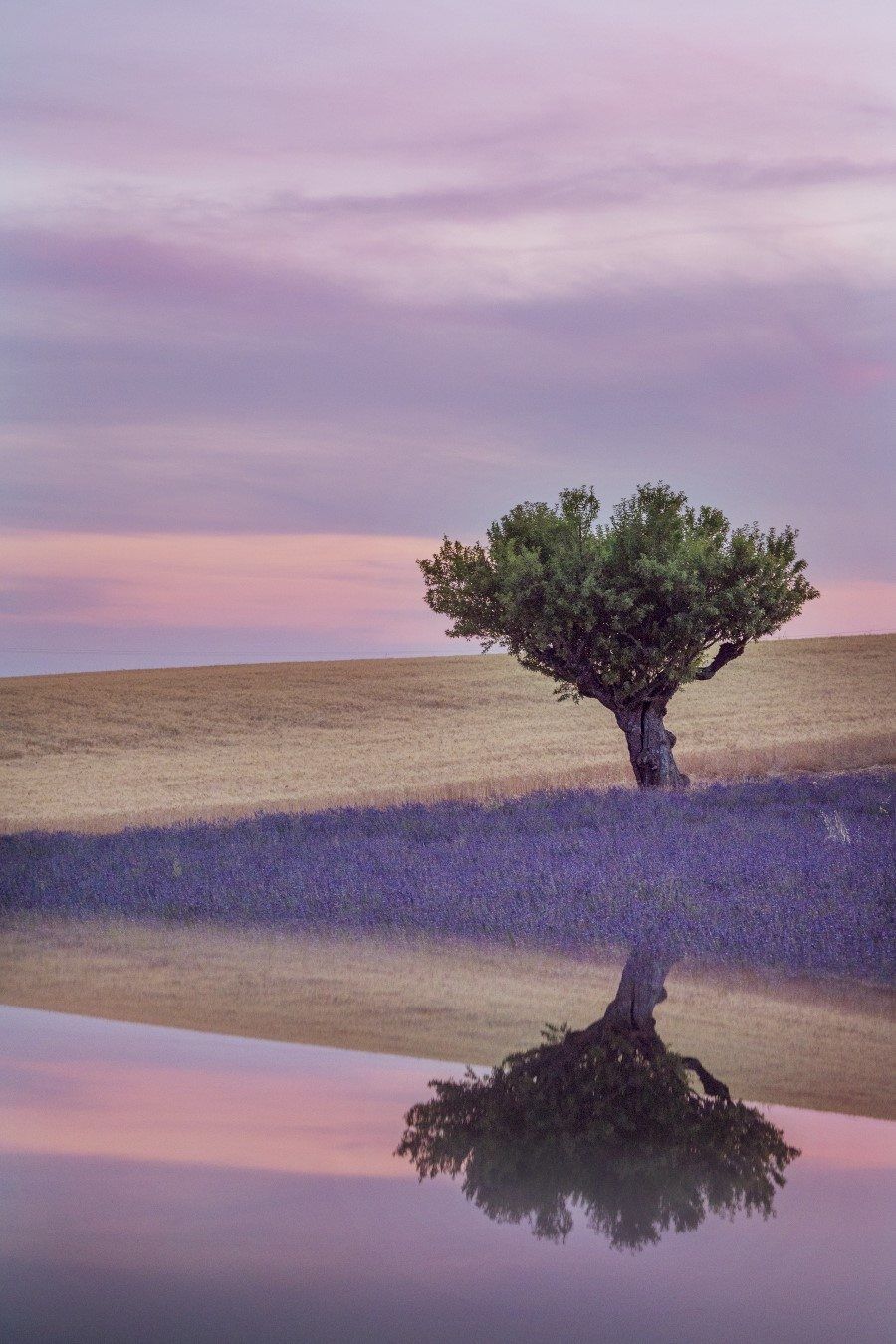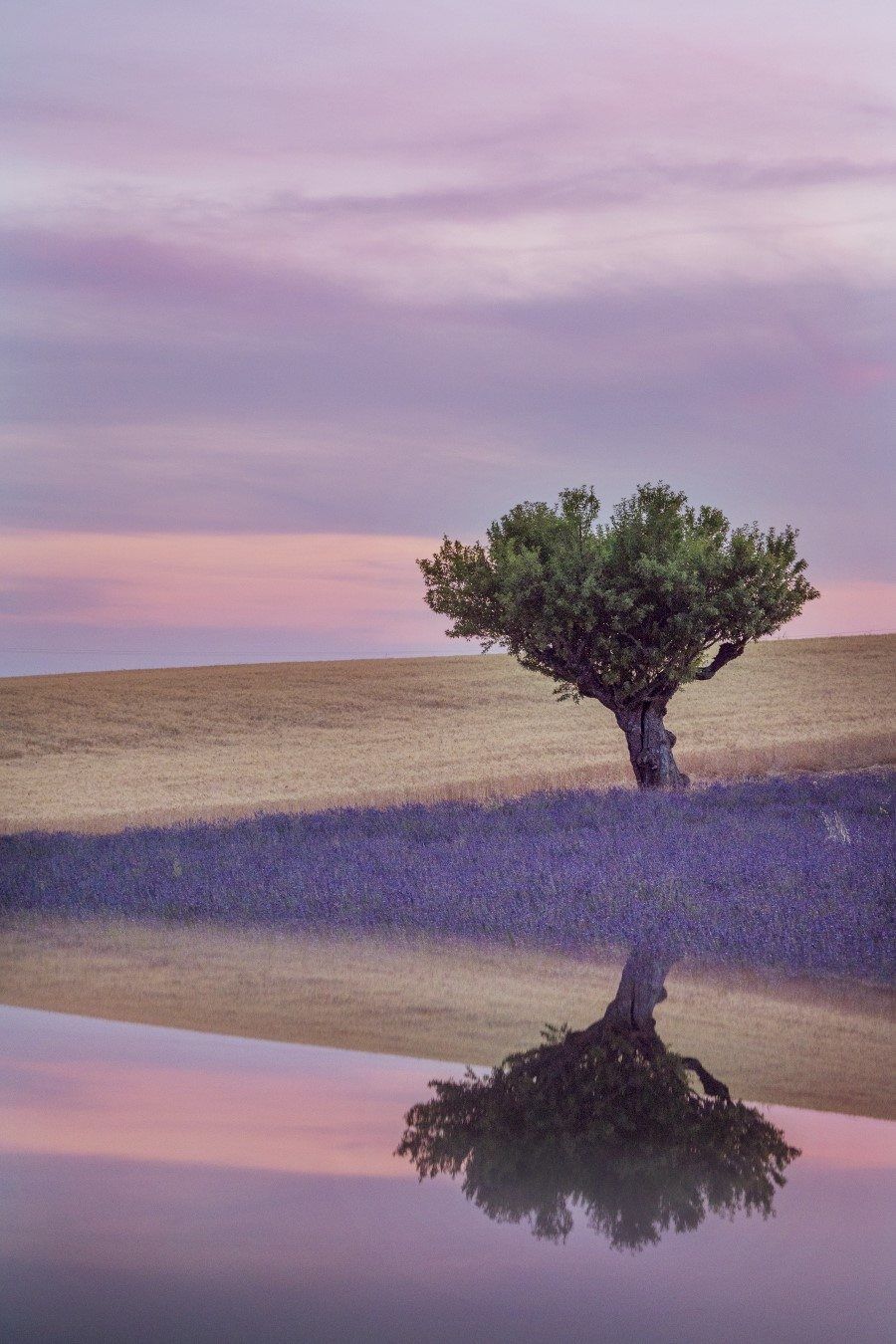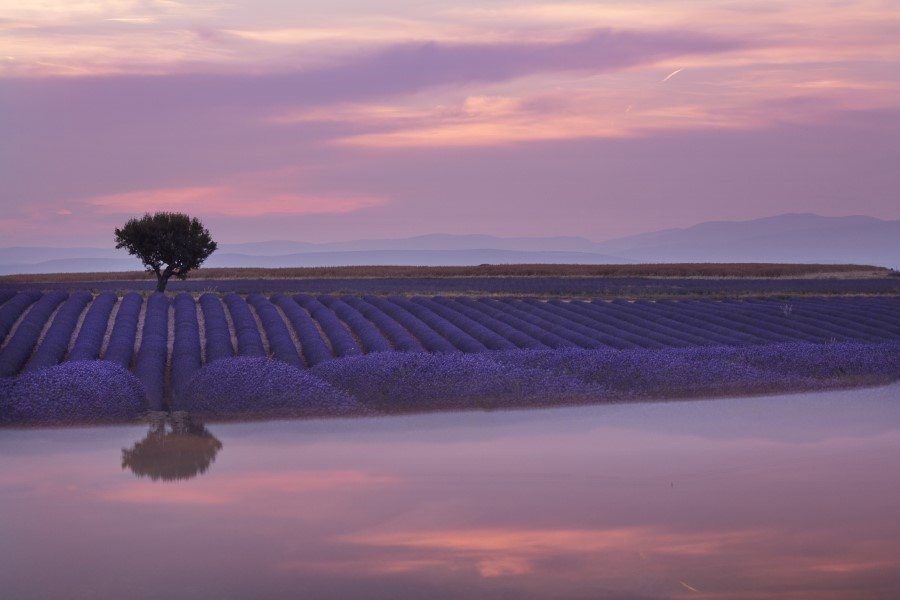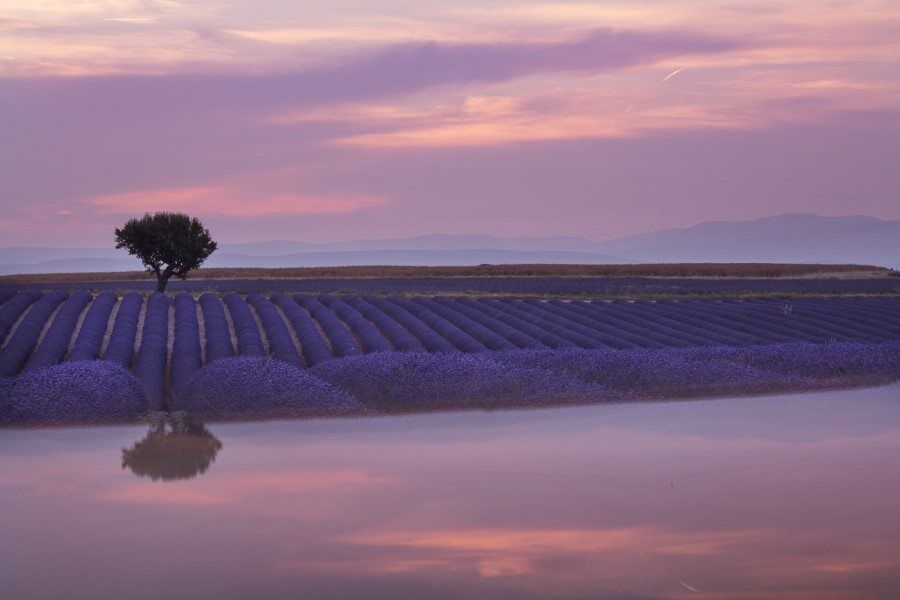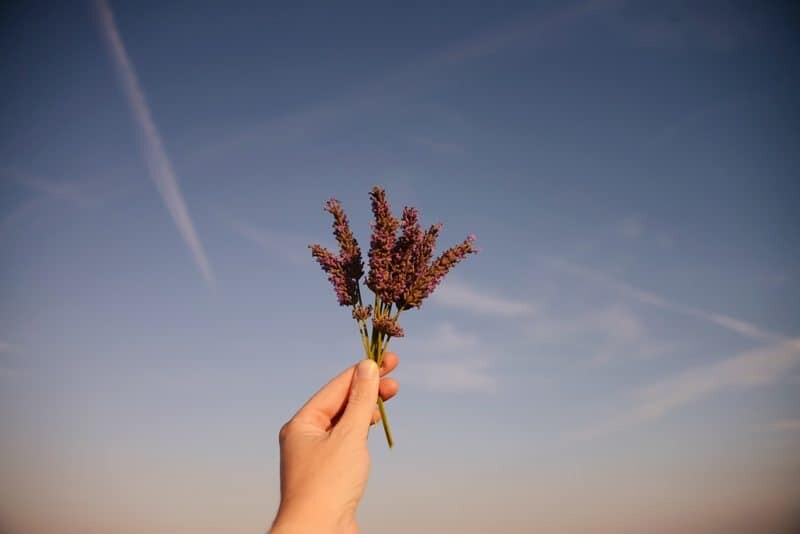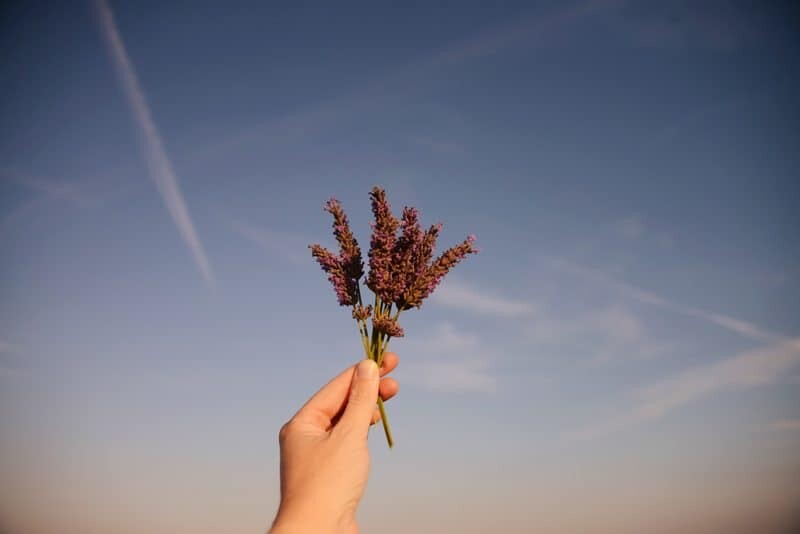 ---
Where to Stay in Valensole
There are a number of beautiful hotels in the region, some a little closer to the lavender fields than others. Here is my pick of the hotels and lodges located within a 10-20minute drive of the lavender fields of Valensole.
Located in the gorgeous town of Riez, about 20-30minutes drive from Valensole but the road here passes a number of stunning lavender fields also!
Oh and just a little side note…if you're allergic to bees, the lavender fields are probably not the best place for you to be! Their buzzing makes for a beautiful soundtrack though and they tend to keep to themselves since they are more than content.
Have fun photographing endless hues of purple!
Read More – The Most Beautiful Villages in Provence

14 Photogenic Experiences to have in Provence, France
If you're around Provence this summer and have a great shot of the lavender fields, be sure to use the hashtag #thewanderinglens on Instagram.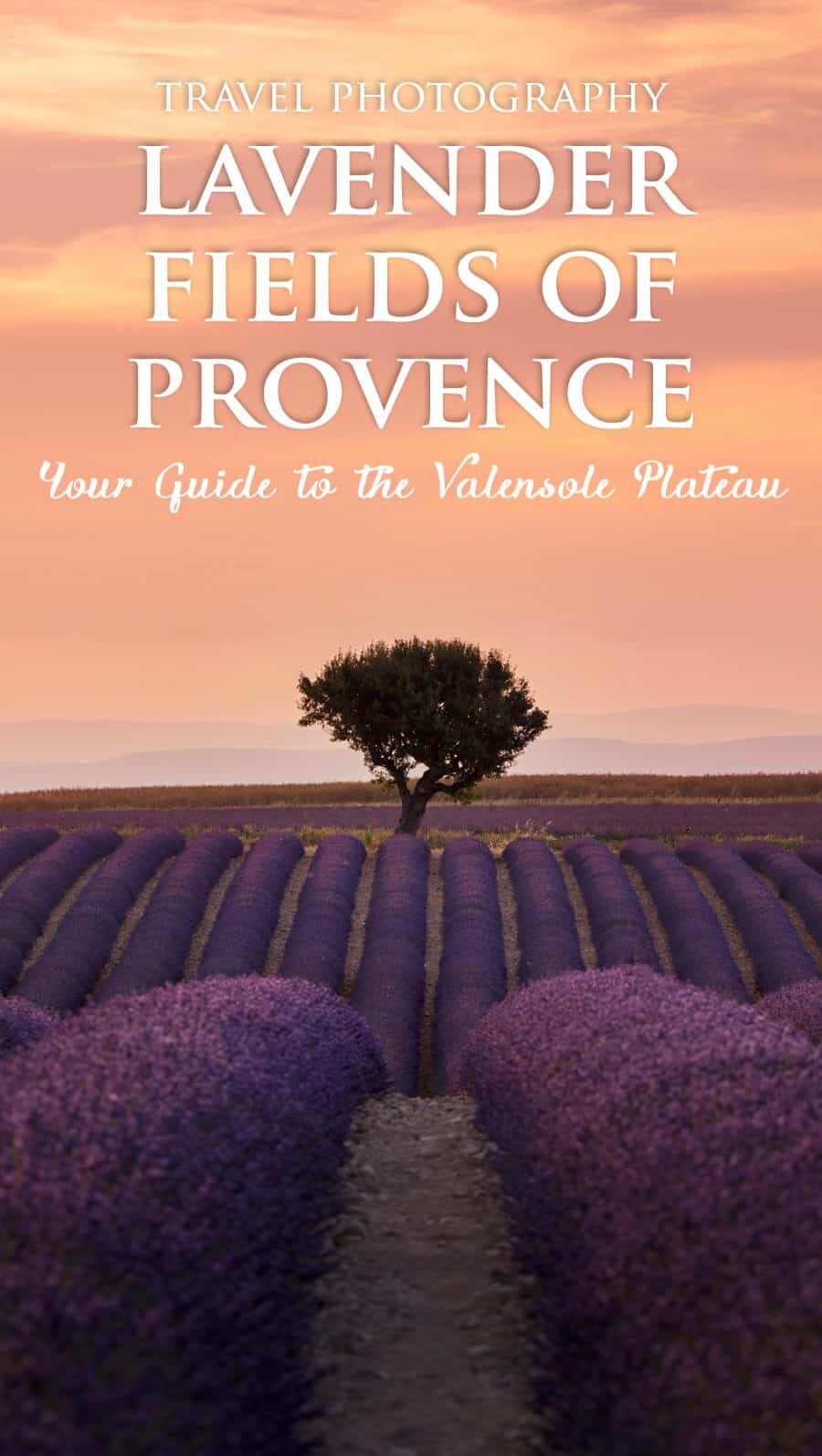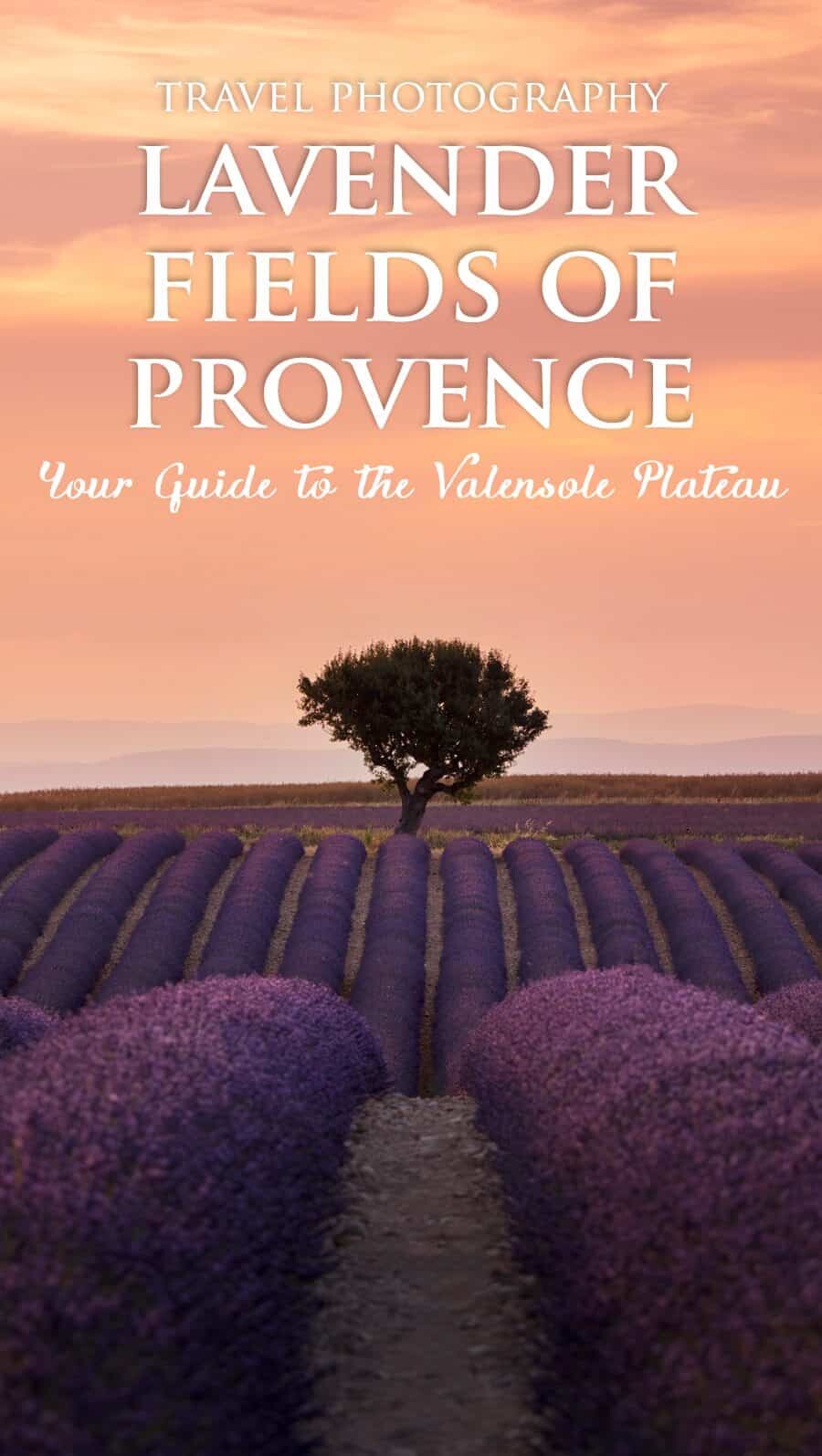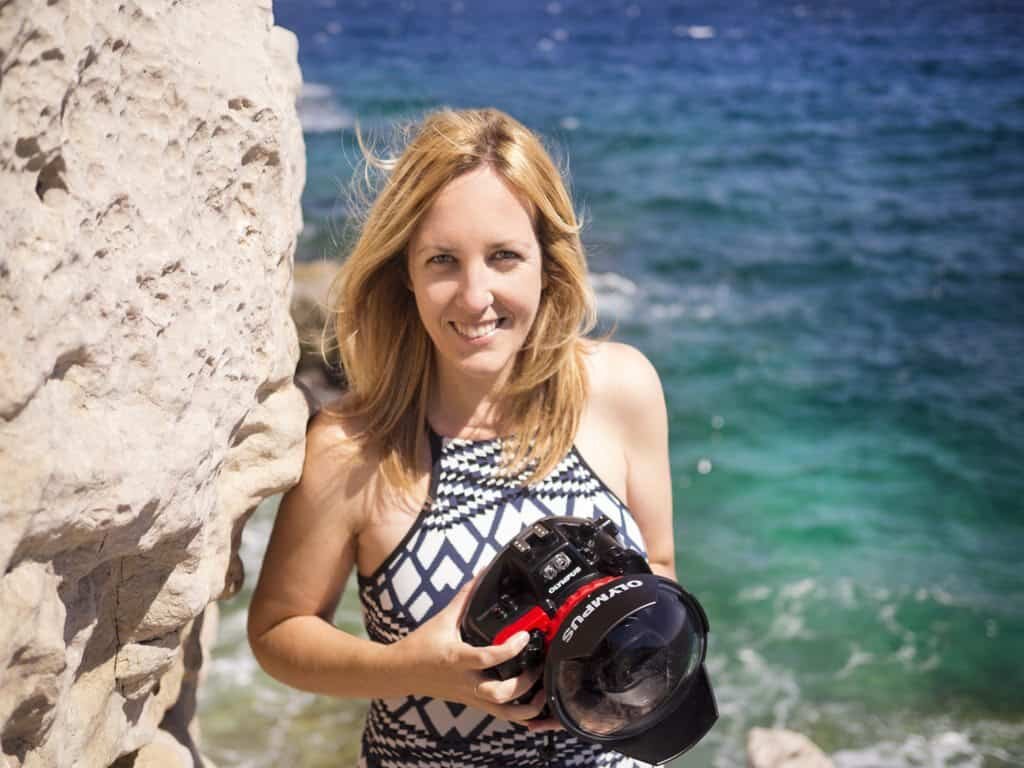 Hello! I'm the founder and photographer behind The Wandering Lens.
With 17+yrs experience as a professional travel and landscape photographer, all advice found on this site is from my personal experience on the road. I hope it's useful for your own travels and would love to hear in the comments about your trips and experiences around the world.