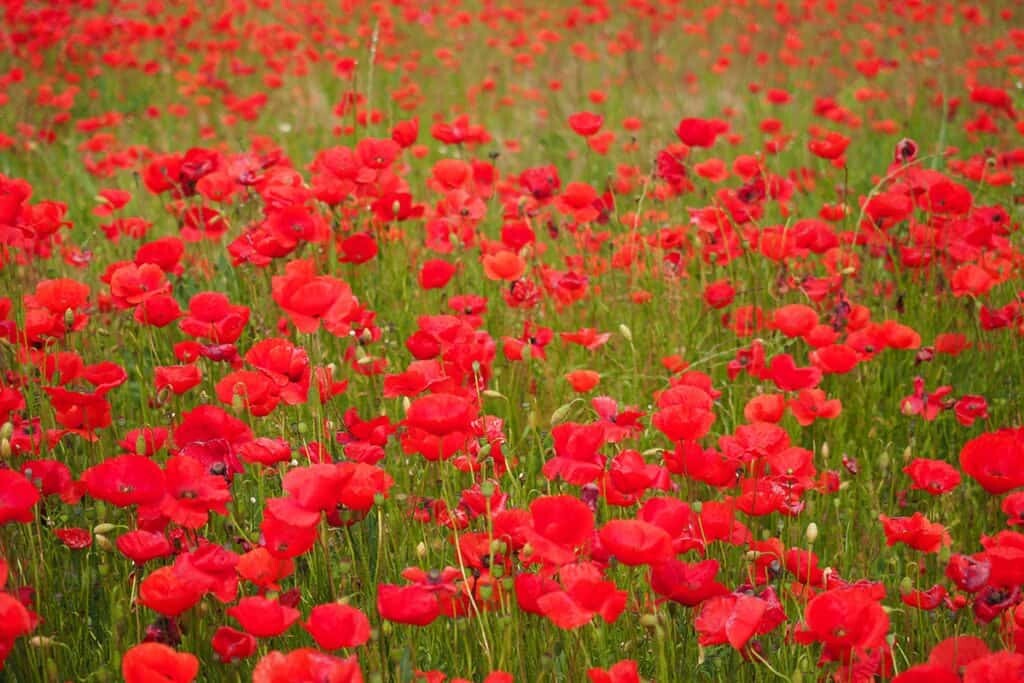 Landscapes of Provence, France – What Time of Year to Visit Provence
Awash with red, purple and yellow the landscapes of Provence are a landscape photographers dream canvas. Throughout the year various blooms come and go changing the scenery to keep us on our toes.
If you're planning a visit to Provence it's worth checking what's in season as sometimes, especially in the case of lavender, there's only a short window of time that's ideal for photographing the landscape.
Take a peek below at where and when to go to capture the colourful landscapes of Provence.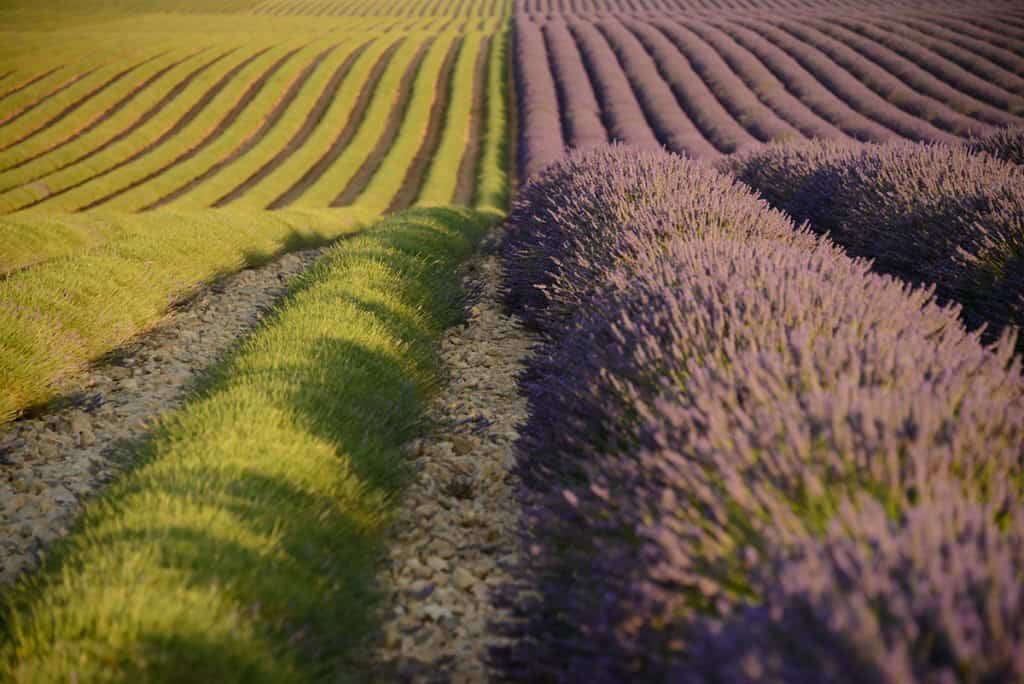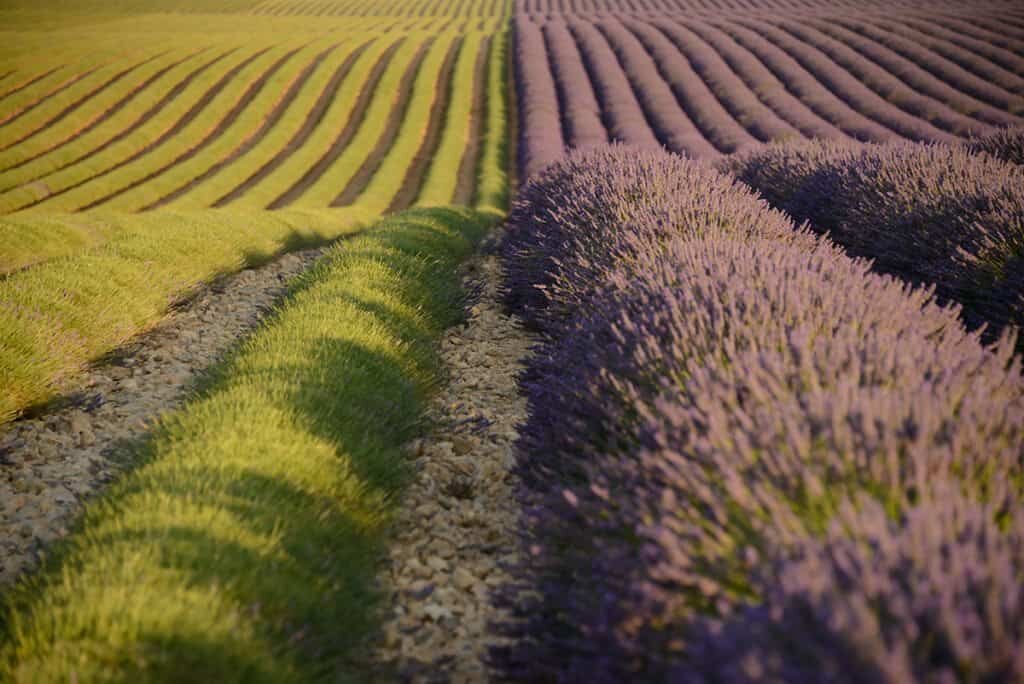 Poppy Fields
Best time of year: mid May – mid June
Best Area: Bonnieux
Pretty, petite and blooming with colour the Poppy Fields of Provence are simply beautiful. Like a red blanket thrown over to blend with the lush green grass, the fields are striking and ideal for landscape photography.
You'll find the poppies coming into bloom in early May and soon after the landscapes are awash with red. For the best chance of seeing poppies hire a car and take a drive into the Luberon. The area around Bonnieux is known to bloom regularly, then there's the Moulin de Sannes just near Ansouis otherwise simply stop the car once you see a field.
Unlike the lavender fields, the poppies aren't always found in the same place year after year. Known to populate inactive fields, they can really be found anywhere in the region and you'll also find the odd flowers sprouting within the villages.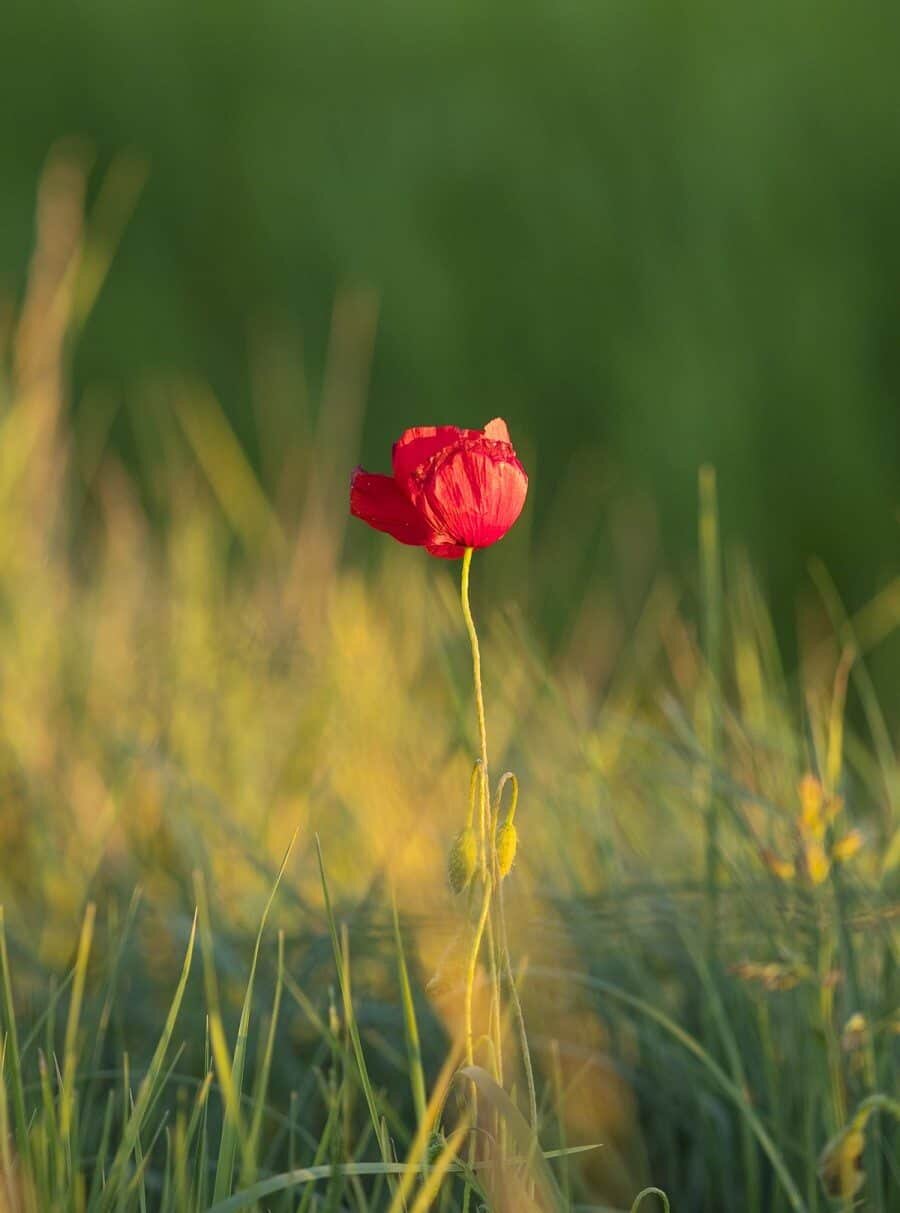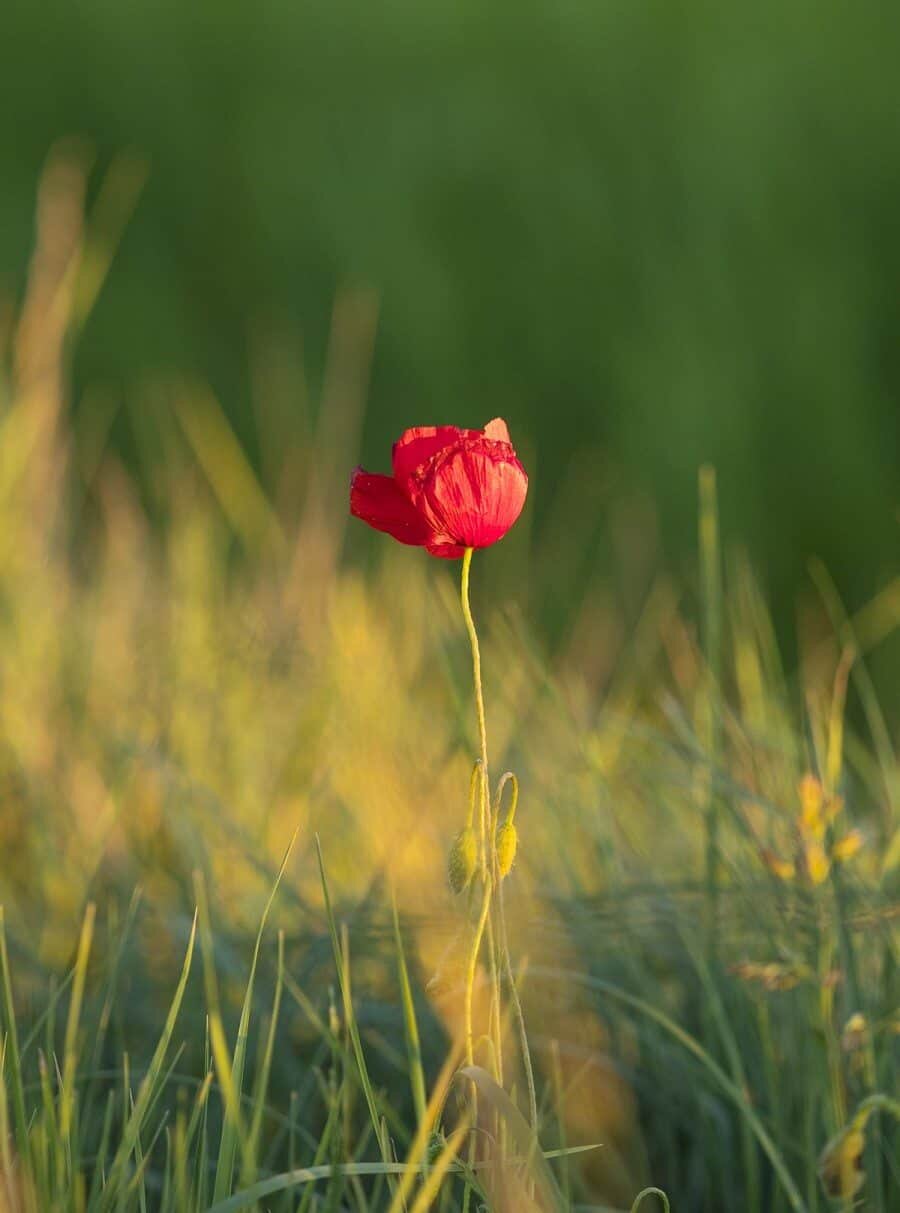 ---
Lavender Fields
Best time of year: mid June – early July
Best Area: Plateau de Valensole + Sault
The show stopper of the year, the lavender fields are what people come to Provence to see. When I mention living in Provence the one thing people always say is, oh that's where the lavender is!
Well, it's true but, only for a few weeks each year! The lavender is in full bloom in early July meaning if you want to capture those iconic shots, that's the time to visit! The exact timing is dependent on the season and how warm the weather has been so roughly its estimated lavender will be visible from mid June to early July.
I've visited fields in the first week of July, returned the following week only to find them already cut!
As the lavender fields are VERY popular, it can be best to time your visit with sunrise or sunset and try to make it mid-week if you can.
Read more: Guide to the Lavender Fields of Plateau de Valensole.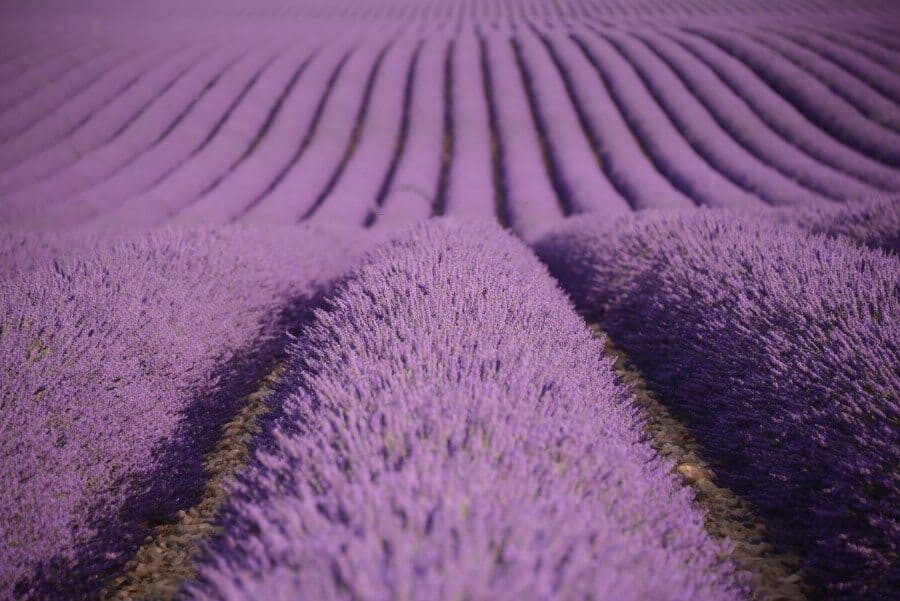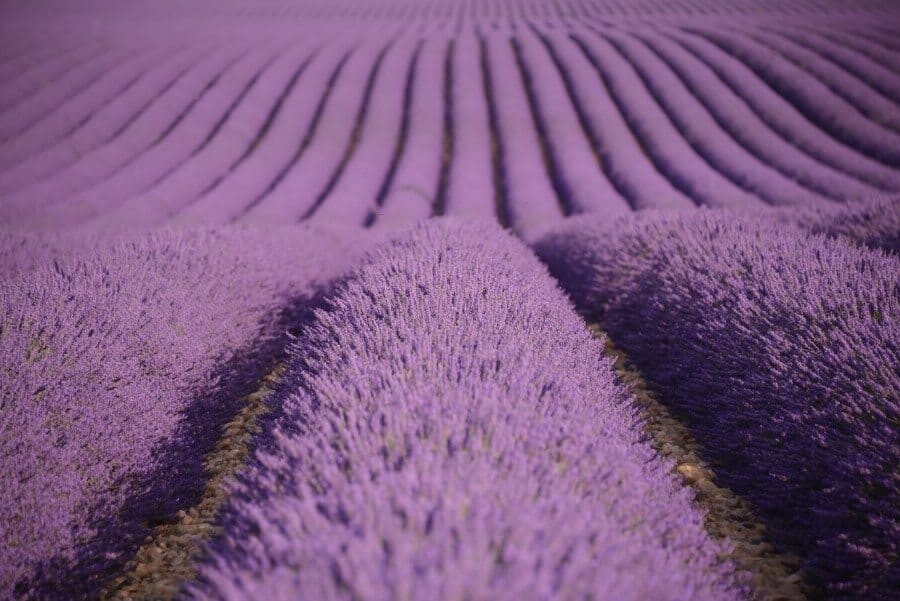 ---
Sunflower Fields
Best time of year: July
Best Area: Throughout Provence and the Luberon
You'll find these gems sitting right beside the lavender fields. Bright and bold the sunflower fields are my favourite and you won't need to look too hard to see them!
They're roadside and spread far and wide standing tall and changing direction based on the sunlight.
You can get amongst them to capture sun stars hitting their petals or find a field where sunflowers meet lavender and capture the two beauties combined.
My favourite field is located beside lavender in the Plateau de Valensole on the small road to Mas Saint-Andrieux and there's a gorgeous crumbling old building nearby that works well in photos too.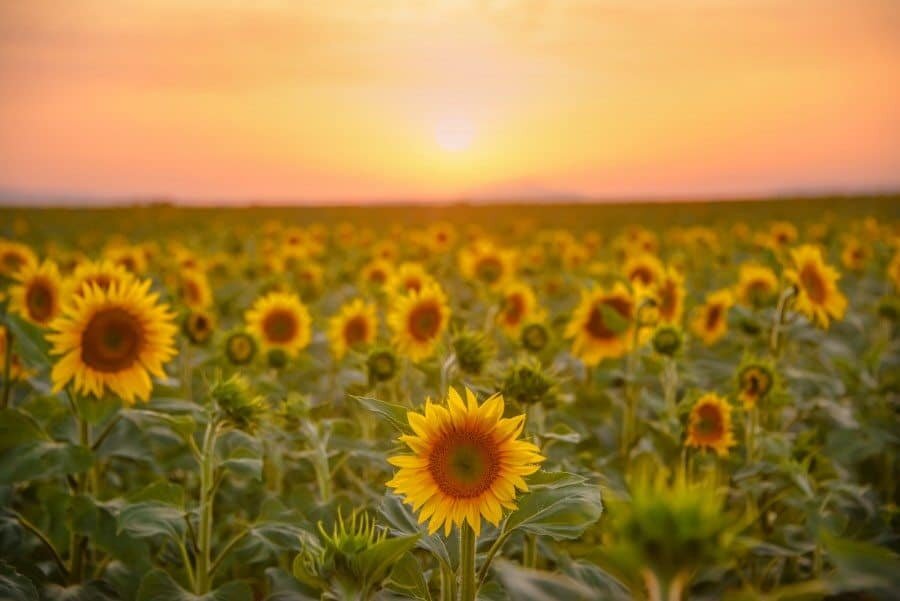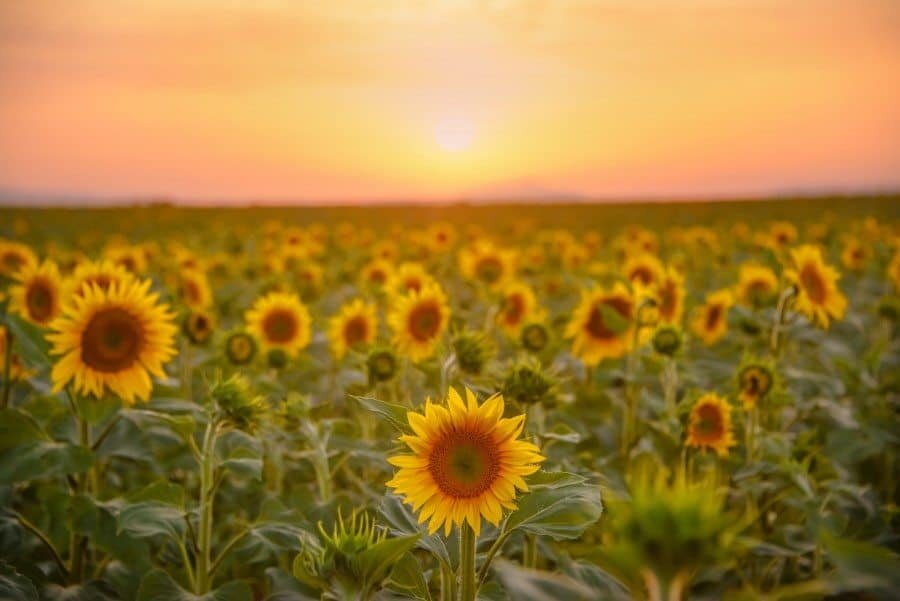 ---
Calanques
Best time of year: October-June
Best Area: Marseille to Cassis
Rising up from the Mediterranean Sea, these narrow inlets are a sight to see.
If you're into coastlines, the 20km stretch between Cassis and Marseille will have you saying wow every step of the way.
Clear water sparkles beneath tall limestone cliffs and boats bob in and out creating a beautiful active and ever changing landscape. There are a number of Calanques to choose between depending on how far you wish to hike. By far the most spectacular is the Calanque d'En Vau, striking
If you're keen to go a little further away from Cassis, along the coast to the west of Marseille you'll find some beautiful smaller calanques. There's Calanque de l'Erevine, Calanque des Anthenors both of which require a small hike to get to which is equally as beautiful as the final destination.
Also to the east in La Ciotat is one of my favourite calanques, the Calanque de Figuerolles. With parking right nearby, you can take a 5minute walk down a small staircase to arrive at a narrow calanque with a dramatic cliff at the entrance which I like to think looks like an eagle. It's also a popular spot for rock climbers which can be fun to watch as you soak up the sunshine.
Read more: Hiking to Calanque d'En Vau from Cassis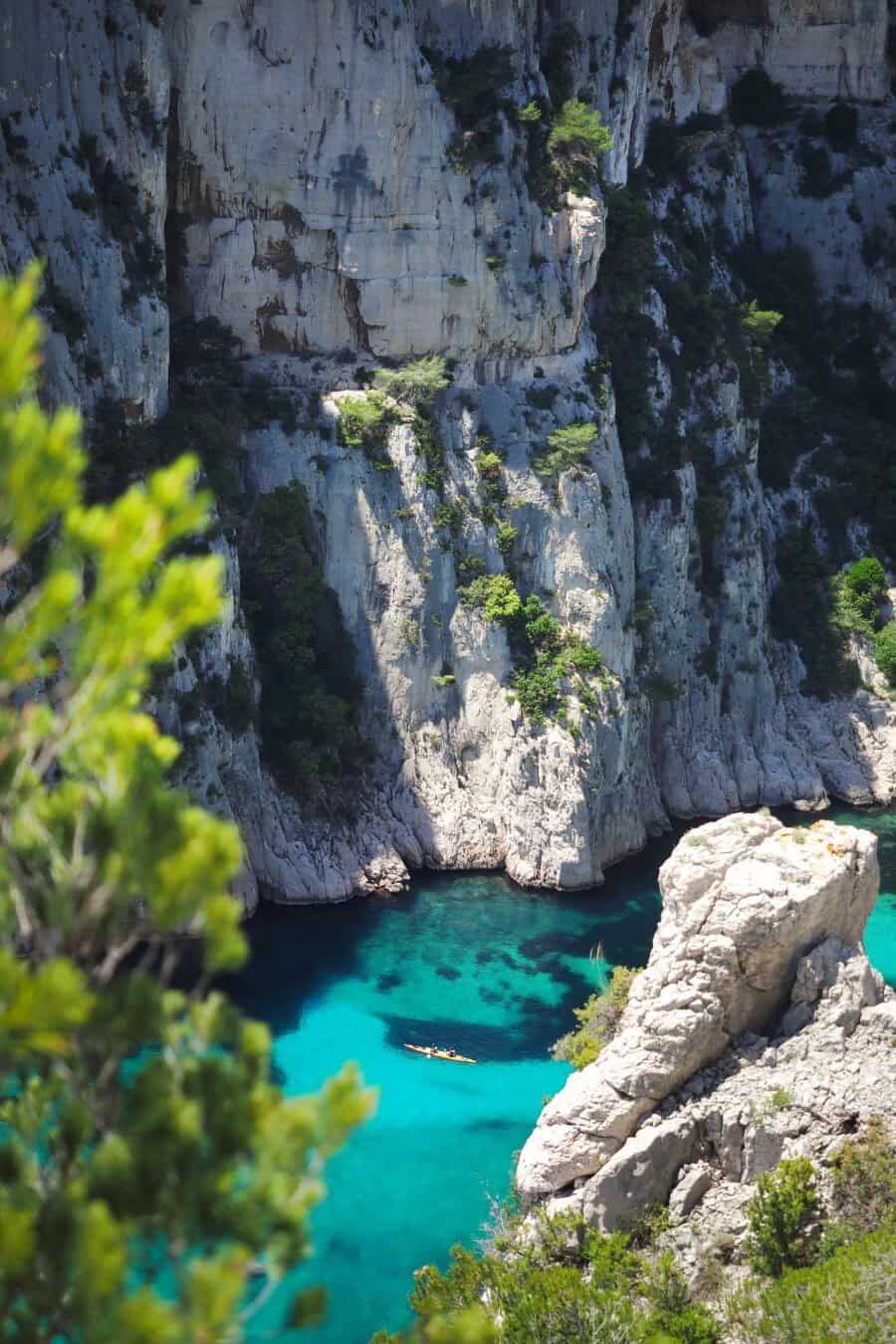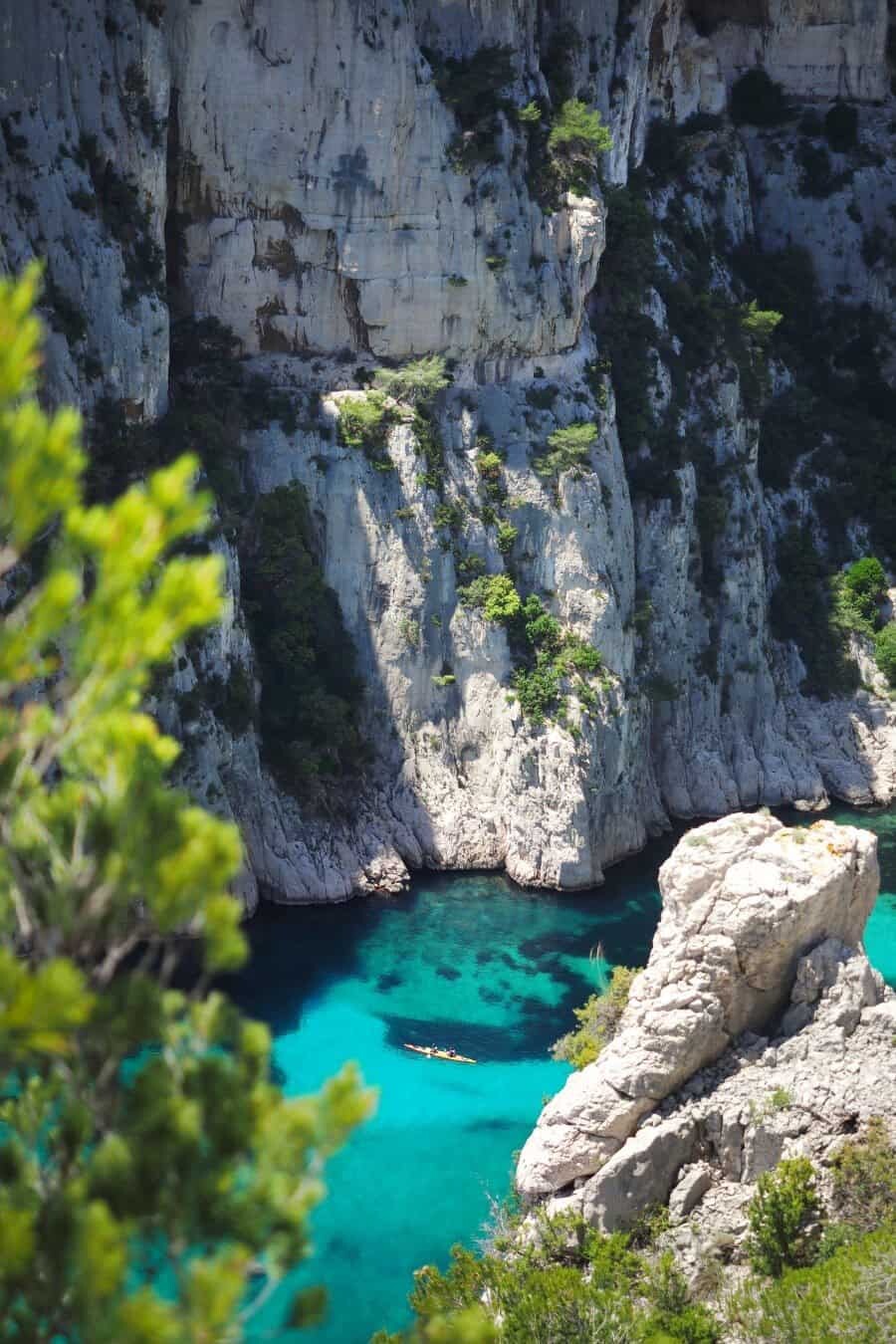 ---
Gorges
Best time of year: May – October
Best Area: Gorges du Verdon
So this is one spot that's getting pretty famous thanks to social media. Sure it was known before and was always a popular spot for locals and tourists alike, now however it's really popular. To avoid the crowds head to Gorges du Verdon in June or September when the weather is still nice and warm but the peak of the summer visitors aren't around.
Gorges du Verdon is best explored by boat or kayak and at the mount of the gorge you'll find rental outlets for both.
Starting in the north east corner of Lac Saint Croix, you'll venture under a bridge and into the gorge where epic cliffs rise beside you up to 700m high in places. You'll be treated to waterfalls, caves and water so bluey green you'll want to jump in!
When hiring a boat or kayak you can only go so far and the spot to turn around is clearly marked. Along the gorge there's a few spots to pull over and enjoy a picnic on the shores so plan a good few hours and make the most of all the paddling you'll be doing.
Make sure your camera is waterproof if you plan on kayaking! There's a lot of activity on the water in the summer months so even if you're the best paddler around, you could get tipped or splashed by someone less experienced.
Read more: Kayaking the Gorge du Verdon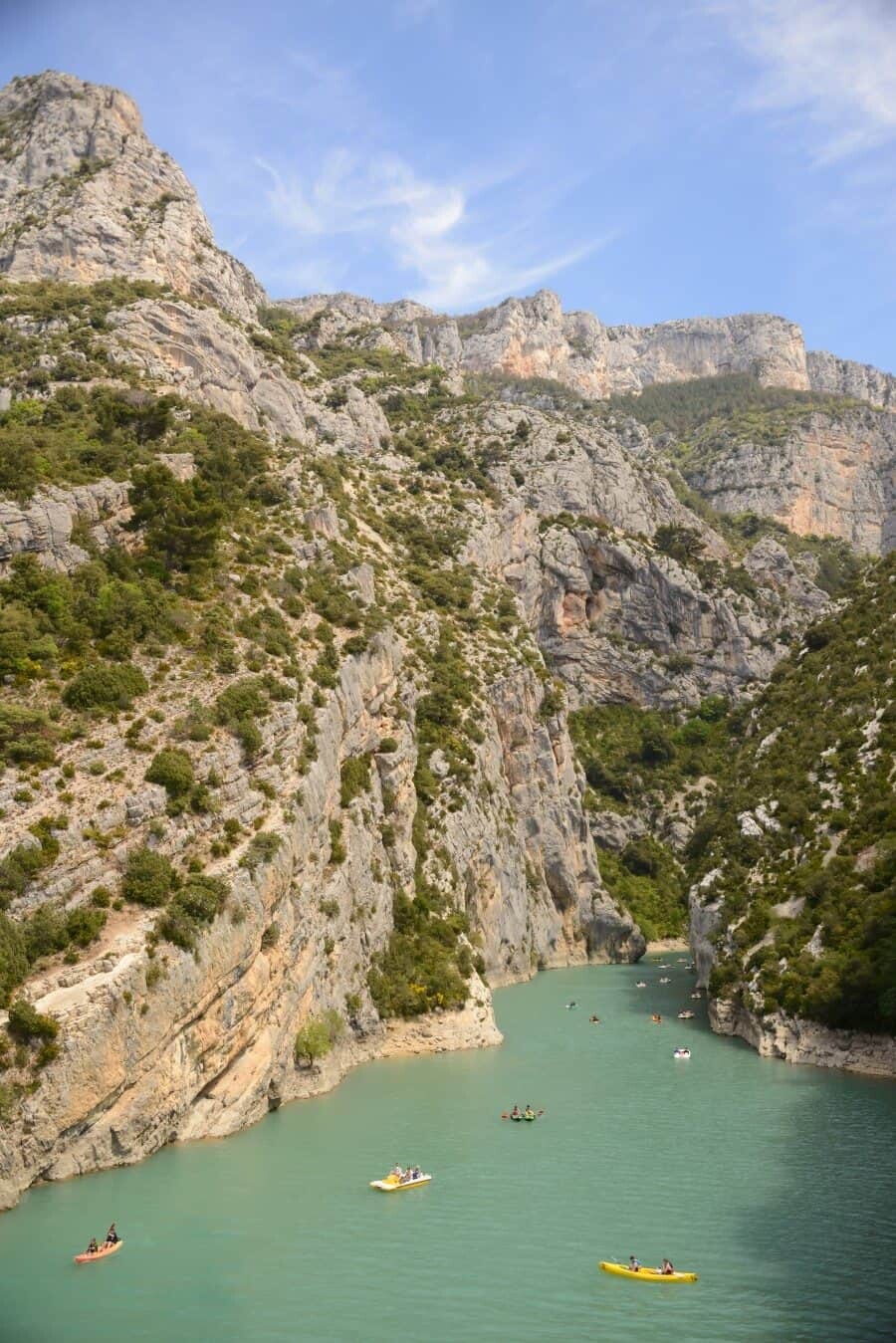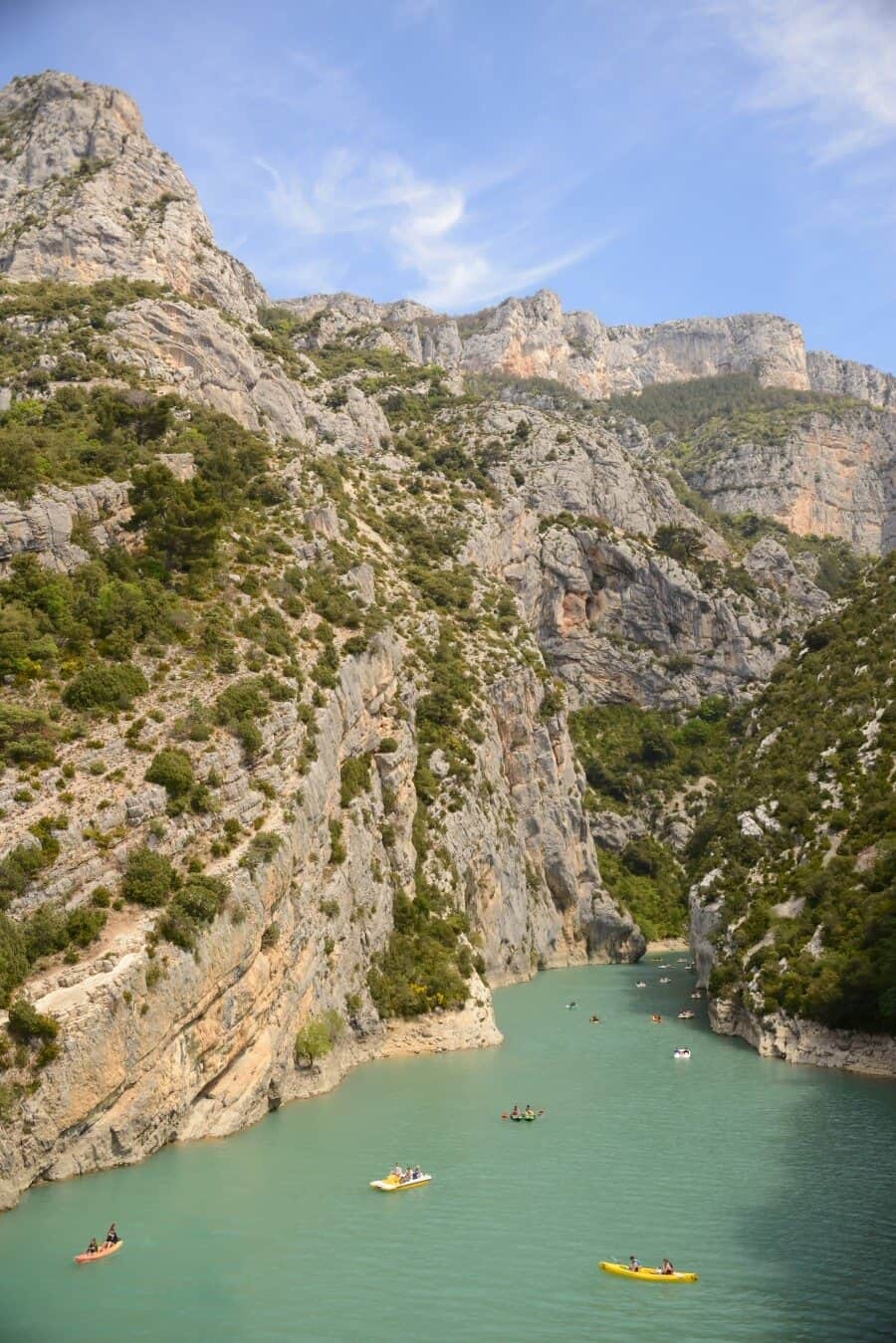 ---
The Ochre Trail
Best time of year: Any time of year! Check this site for opening times though as they vary depending on the month. Some sites may also be closed in January.
Best Area: Roussillon + Rustrel
Known for their rich ochre pigment, the landscapes in these two regions are home to minerals that create a rainbow of red hues throughout the sandy soil. From deep oranges and yellows to reds and purples, the colours are so vibrant and make for a great contrast to the surrounding forests.
Le Sentier des Ocres or The Ochre Trail is located on the edge of Roussillon and for a small entry fee you can wander through old quarries over the red and golden soil. The walk takes 30-60 minutes depending on which track you choose.
About 30minutes drive from Roussillon you'll find Le Colorado de Rustrel, another former mine that glows with rich colours. Previously used in the iron and ochre industry, you can now enter the site and stroll through during opening hours. You'll find this site is usually closed in January and opening times do vary but entry is free, there's just a small charge for parking.
Read more about travel and photography in Provence:
The Most Beautiful Villages to Photograph in Provence
14 Photogenic Experiences in Provence, France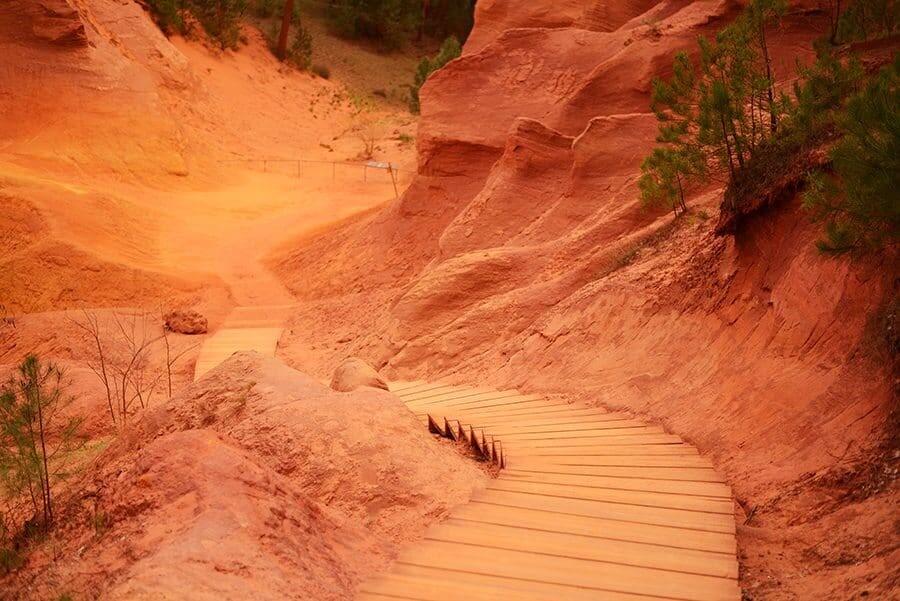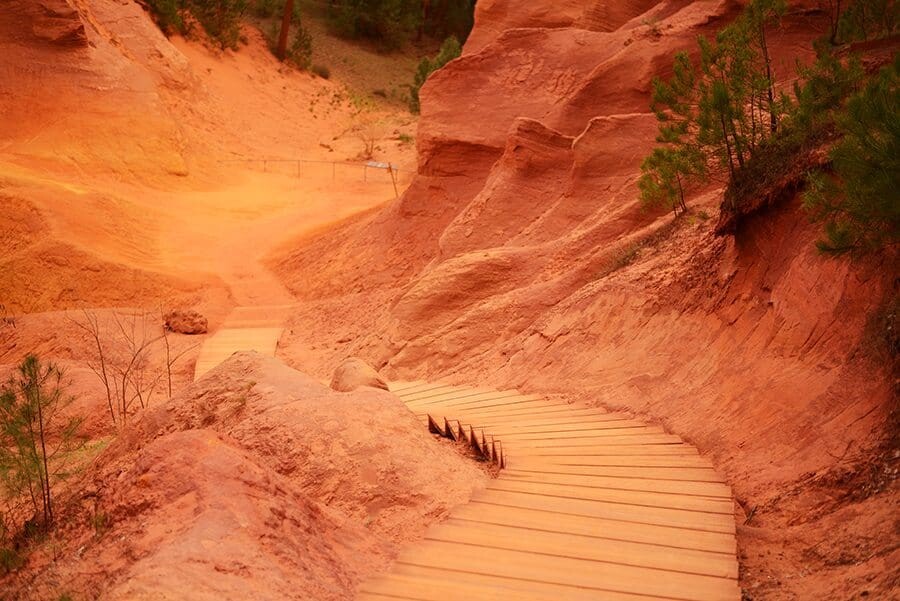 ---
To share this post or save it for later, use the image below on Pinterest…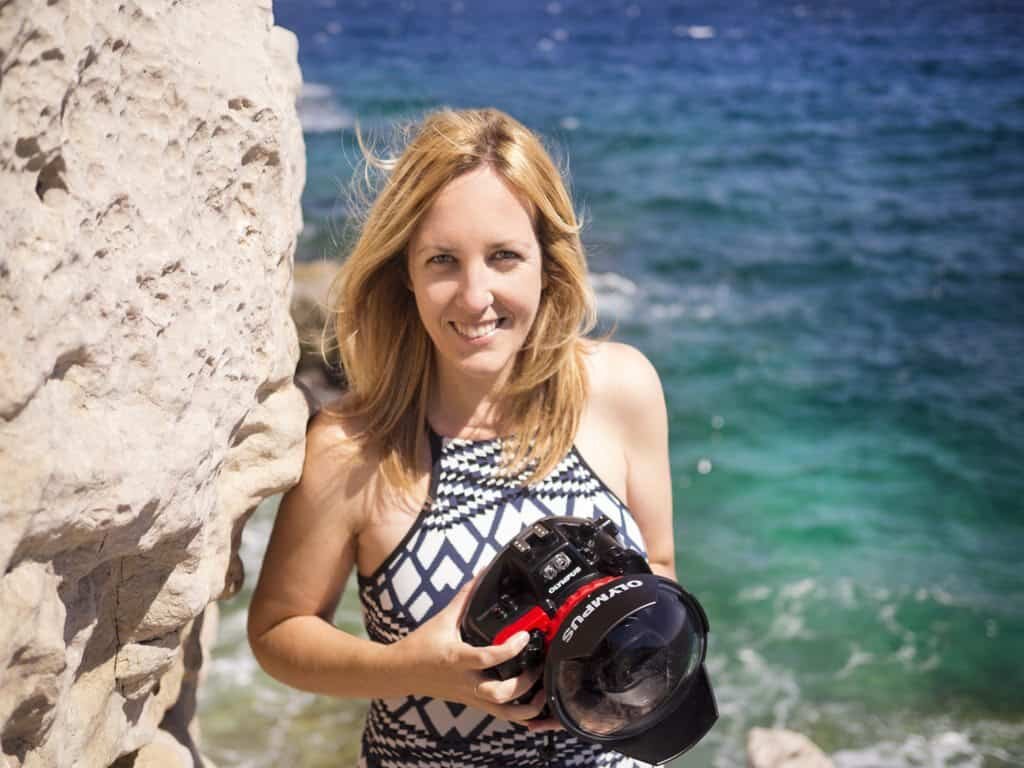 Hello! I'm the founder and photographer behind The Wandering Lens.
With 17+yrs experience as a professional travel and landscape photographer, all advice found on this site is from my personal experience on the road. I hope it's useful for your own travels and would love to hear in the comments about your trips and experiences around the world.