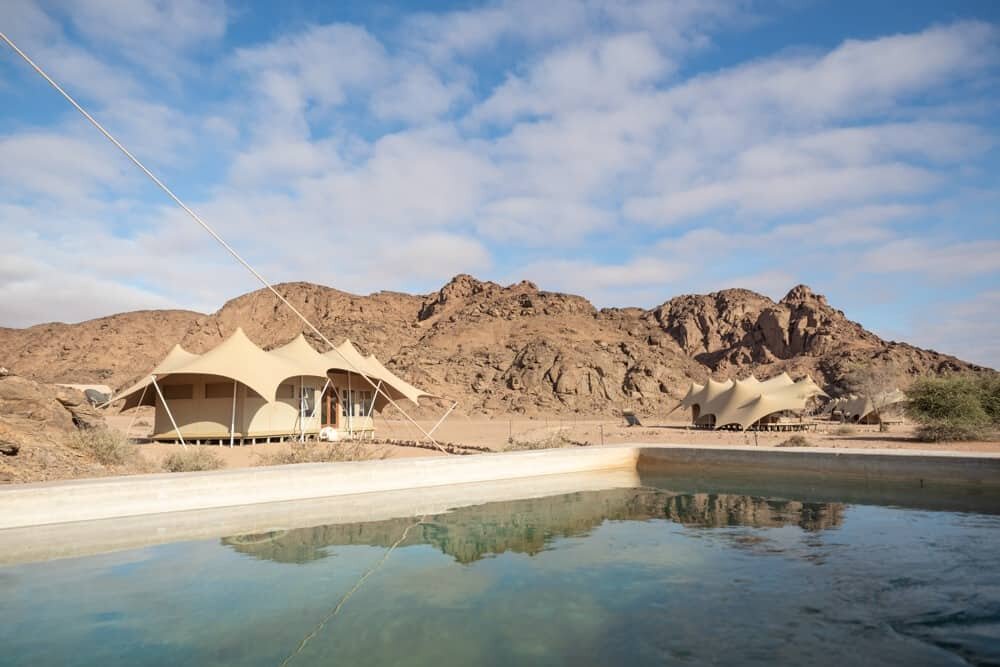 Hoanib Skeleton Coast – Wilderness Safaris
Let's start with this statement – once you've experienced Hoanib, you'll forever want to return.
I promise.
Be mesmerised and intrigued by the landscapes, animals and the atmosphere of this magnificent and even otherworldly glamping experience in Namibia. What the team have created here is almost beyond words, actually, it's best described in song and dance, something the staff are more than competent in performing; not me, I wouldn't put anyone through that.
Instead I've put together a collection of photographs from my time at Hoanib Skeleton Coast, where I took roughly 8500 images in 3 days. Not joking.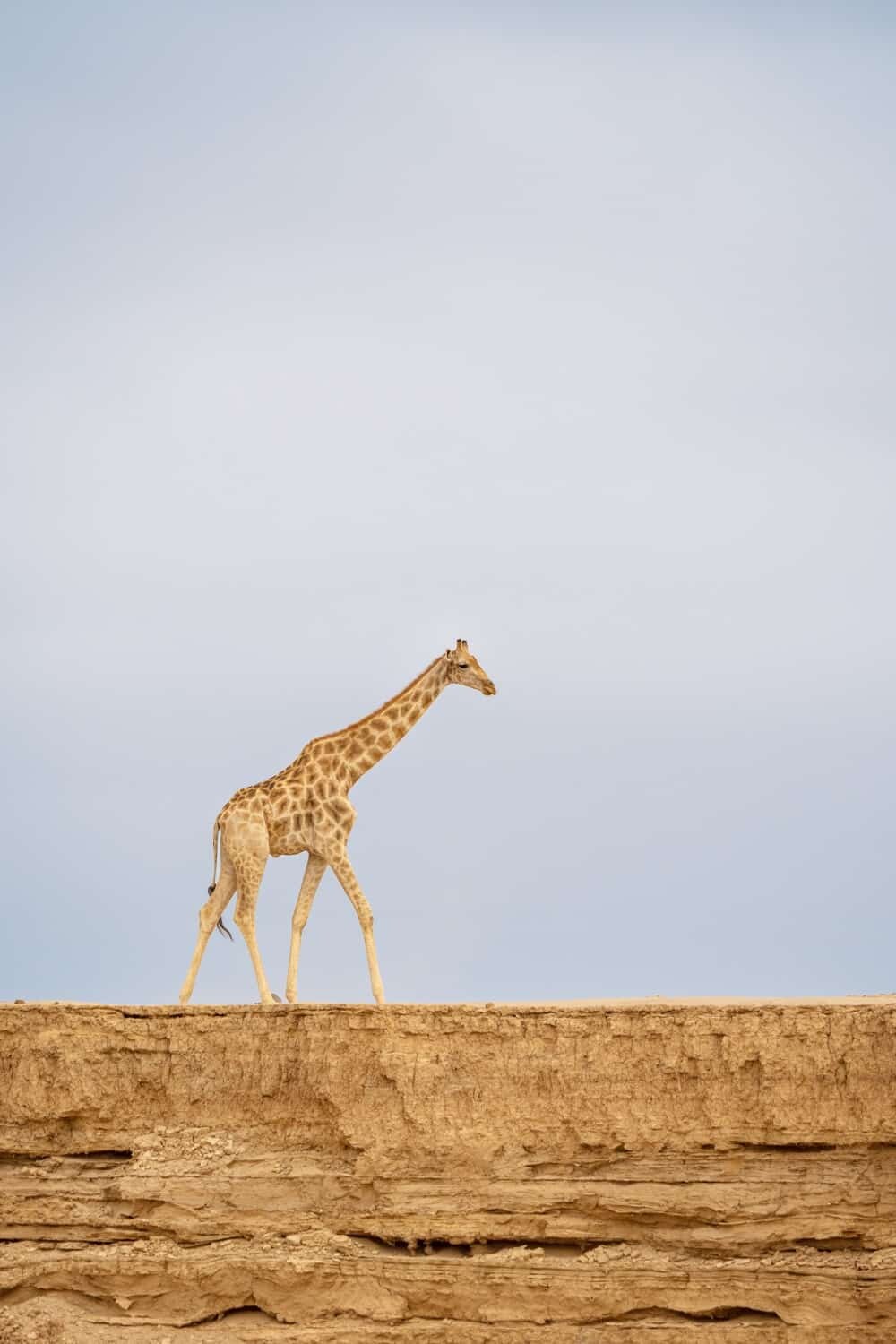 Located within a remote area of dry riverbeds in the Kaoloveld, it's where unforgiving conditions provide the setting for an adventure like no other. Here wildlife exists where it seems impossible, their habits adapted to the harsh desert environment of the Skeleton Coast.
Wake to a golden glow on the horizon that softly illuminates the scenes surrounding your tent. In the distance perhaps a giraffe is nibbling on acacia trees, a dust cloud is stirred by passing oryx and the fresh morning air provides a burst of energy on your walk to breakfast.
Then, a day of exploring awaits…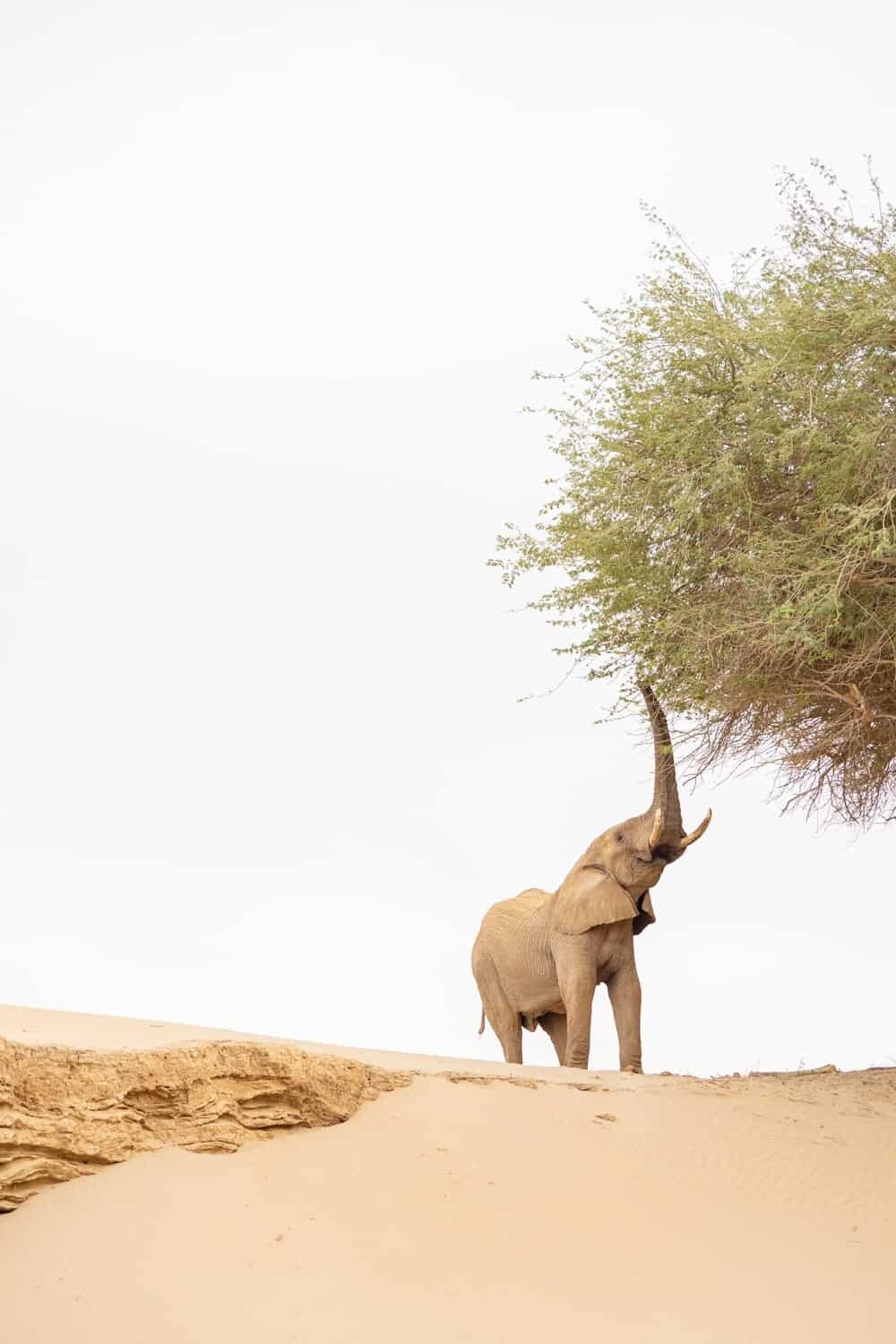 The Safari Experience
From sunrise to warm sandy sundown, expect the unexpected while cruising along the Hoanib River and Skeleton Coast with your experienced wilderness guide. The days at Hoanib are designed to fit your interest and time, chill by the pool with binoculars and a drink or venture out on an all-day safari.
To get things started, head off for an evening sundown safari where you'll drive along the riverbed and desert to seek out ostriches, giraffe, elephants, lions and oryx. As the sun gets closer to the horizon, your guide will find a special spot to set up a bush bar complete with snacks so you can photograph the surroundings and soak up the setting.
Those staying three nights or longer are treated to a day trip to the Skeleton Coast, one of the most diverse, rugged and photogenic days I've spent in a long time. Starting off nice and early, you'll drive for roughly 4 hours on a safari with a difference, covering varied environments from riverbeds to sand dunes, cracked dry mud flats until finally you reach the rocky coastline with beaches stretching for miles.
Related read – "Wildlife Photography Tips for Safari"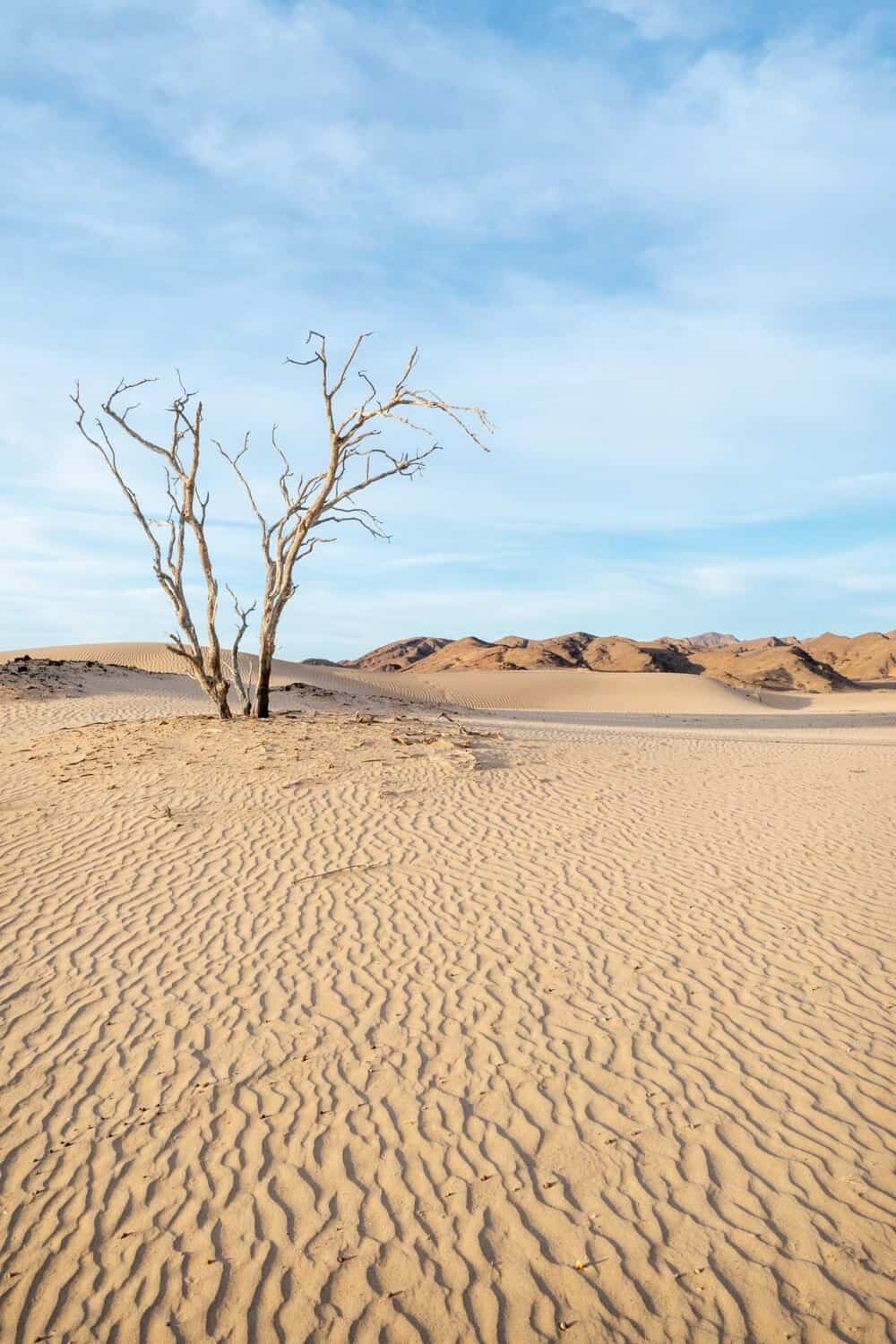 See everything from elephants to lions, spiders to seals then enjoy a hand made lunch by the sea as your guide shares stories of the shipwrecks. One of the most fascinating things I learnt was that the desert lions are starting to realise a feast awaits on the coast, with two of the females turning to seals for a fatty snack.
For the return journey you can forget the 4-hour drive and instead take to the skies, flying back in just 15 minutes over spectacular scenery that offers an ideal opportunity to capture aerial photographs. To read about my flight from Sossusvlei to the Skeleton Coast take a peek here.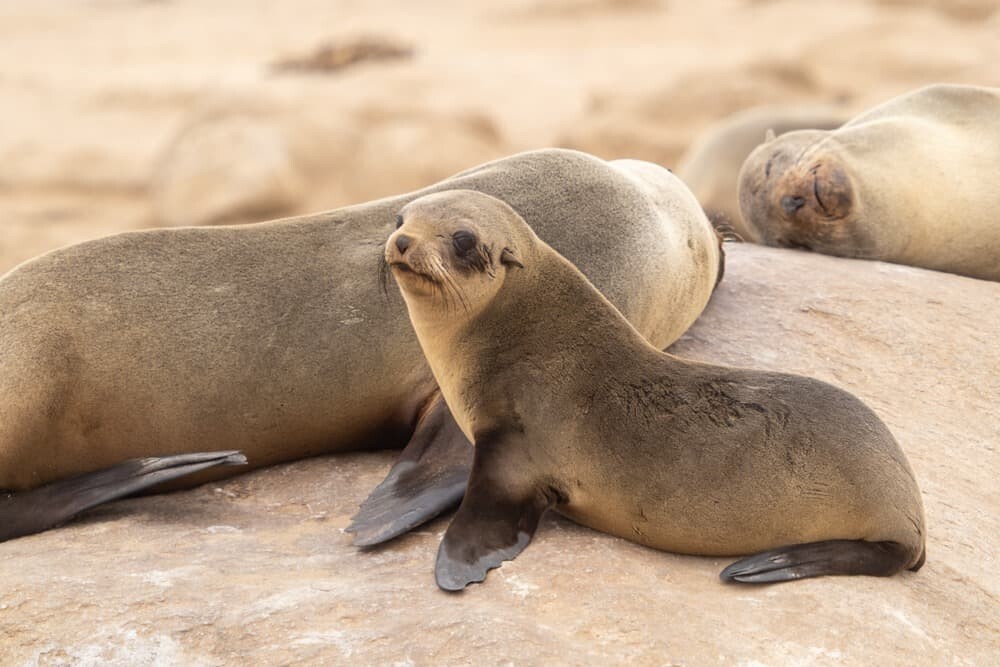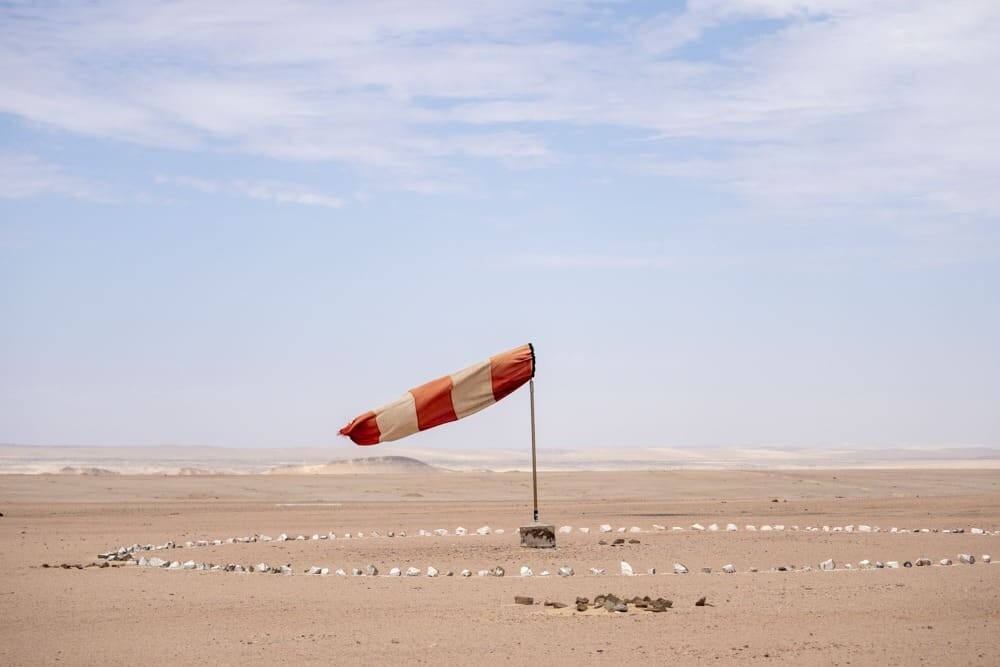 The Olympus Connection
Wilderness Safaris and Olympus have formed a partnership to enhance photographic skills for guests and guides while also making a positive impact on social development via a scholarship programme run by Children in the Wilderness.
For my time at the camp, I was lucky enough to have Moses as my driver and guide, not only was he a total character and all-round lovely guy, he was also an Olympus camera enthusiast! Having someone so passionate about photography means not only can you chat about all the geeky goodness the cameras offer but he's keeping his eyes peeled for photogenic opportunities. I never had to ask for the car to be moved into a better position because he was placing it perfectly to line up with roaming elephants, gorgeous light or had already seen something better to focus on.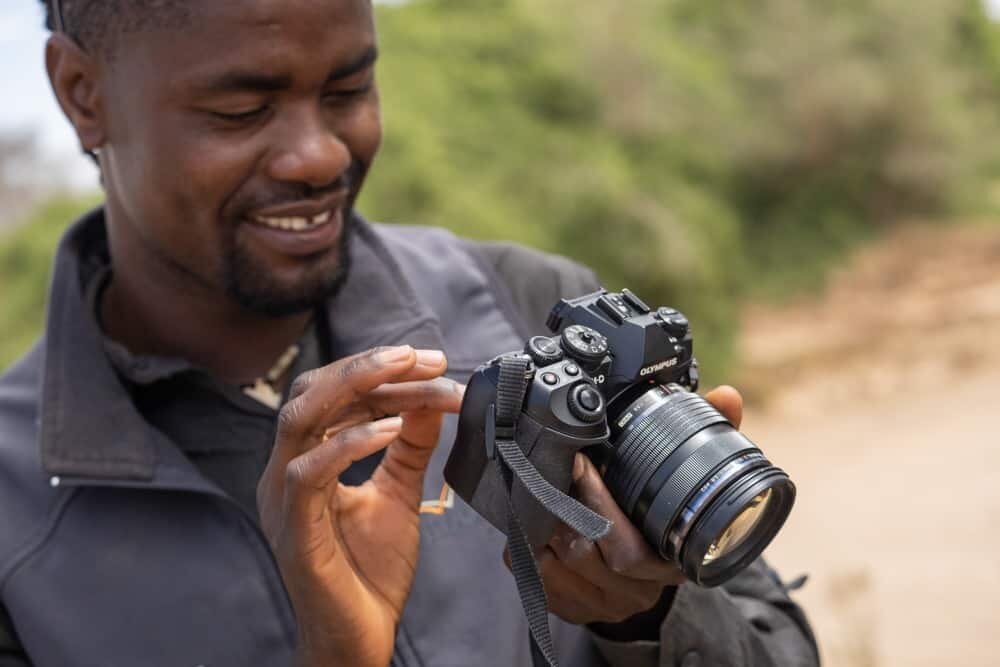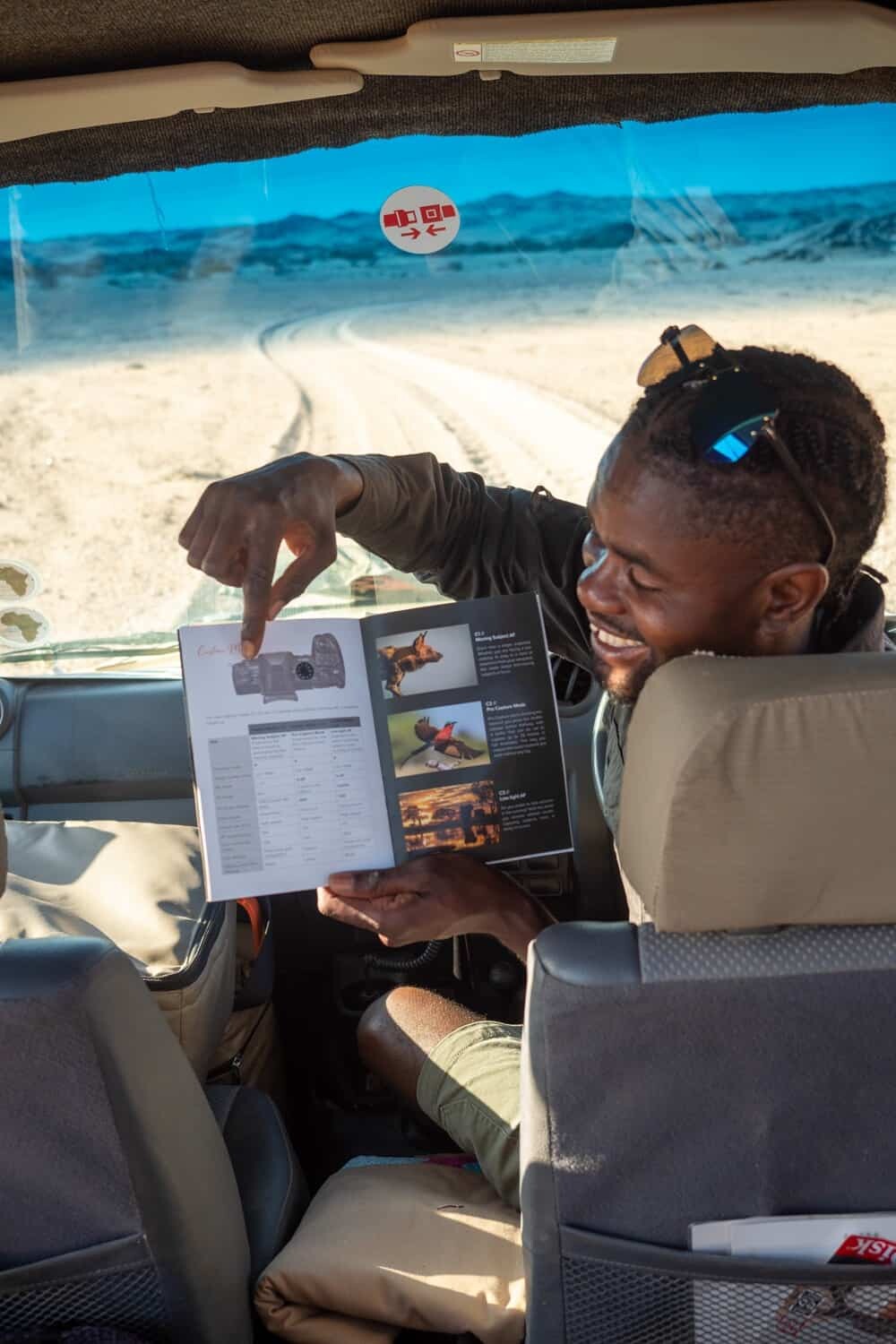 At Hoanib Skeleton Coast you can actually loan out an entire Olympus kit that's designed for wildlife photography. A camera bag is packed and ready to go with an Olympus E-M1 MKII, 300mm f4 PRO lens, 40-150mm f2.8 PRO lens + 12-100mm f4 lens plus a wide-angle too! During my stay I met with the lovely Cecilia who is head of housekeeping and shared some tips on photographing from the camp, using the 300mm lens to focus in on a giraffe drinking from the water hole in front of the main dining area.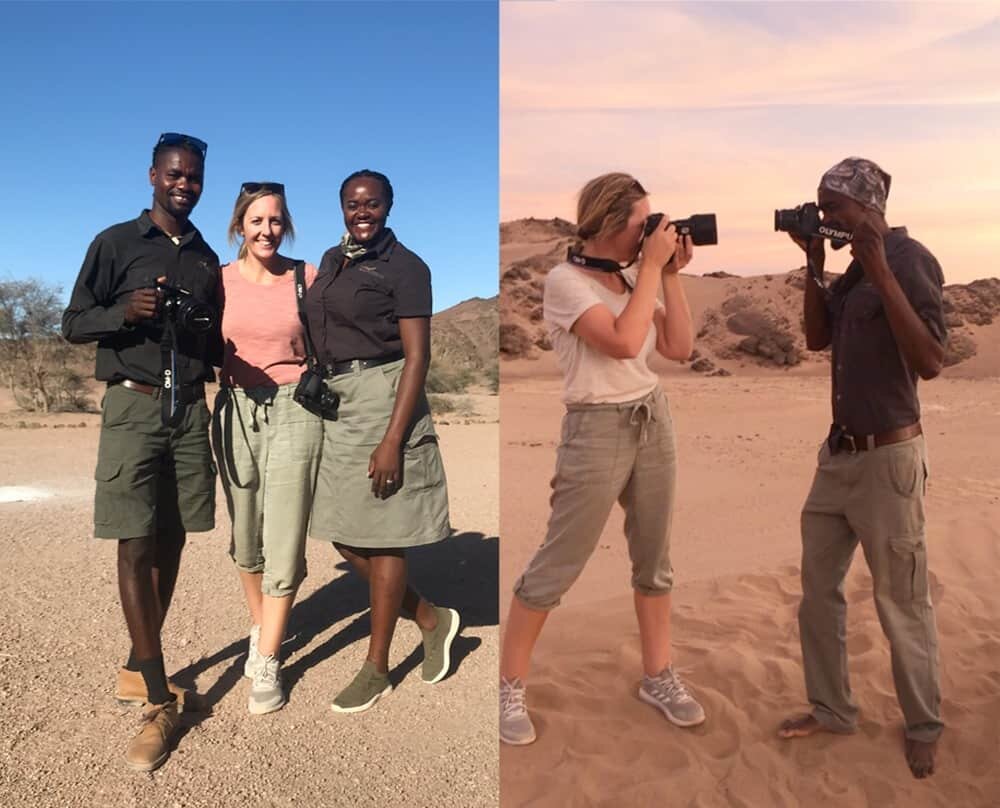 The Glamping Experience
Picture a tent, then imagine a five-star hotel room and throw in a gorgeous outdoor deck while you're at it. The word tent can often result in negative reactions, but I can assure you, the tents at Hoanib Skeleton Coast Camp are spacious havens of all the luxuries you could want for an African experience. And then some.
If your jaw doesn't drop when you walk into the tent for the first time then I'm not sure what could impress you. They're immaculate, stylish and blend beautifully with the surroundings. From your large floor to ceiling windows you can gaze out towards the water hole, see Giraffes, lions and any number of animals wander past.
In fact, there are no gates at the camps so after dark, you'll be escorted back to your tent just incase a little lion decides they want to join you on the path.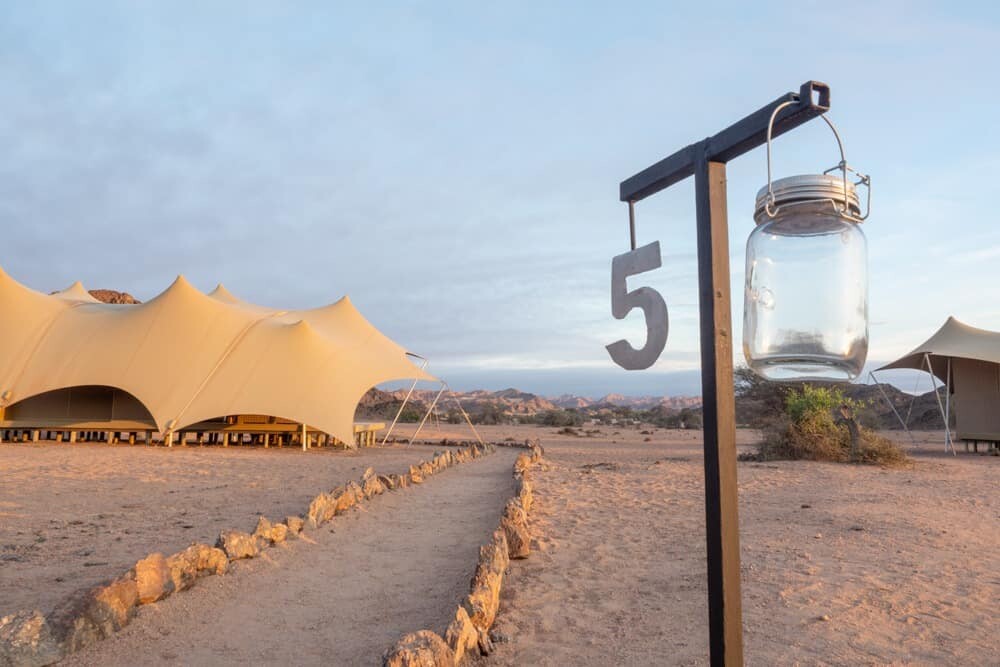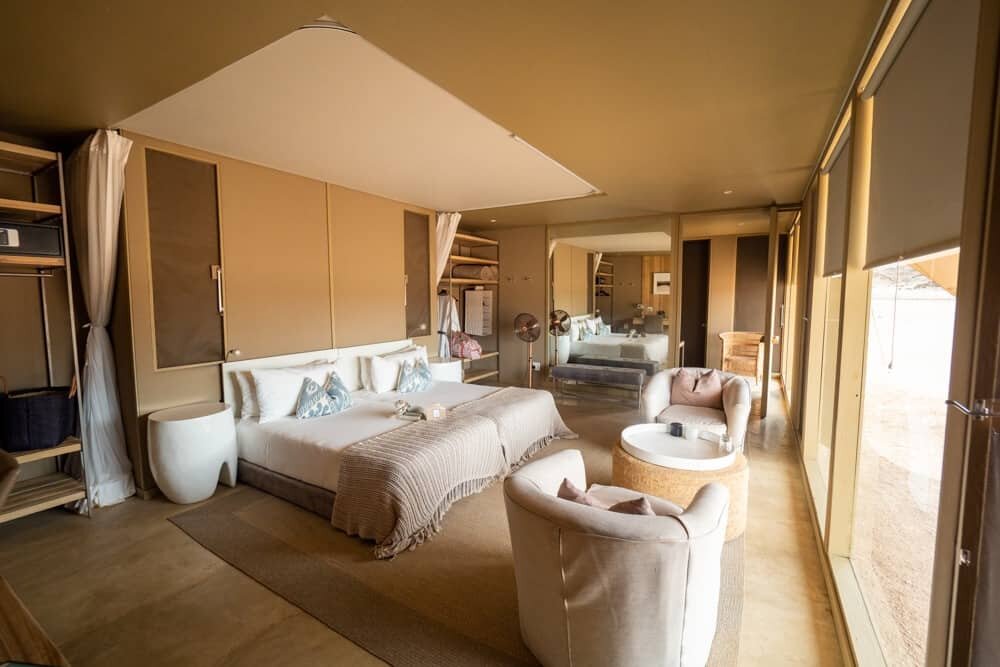 Each tent has dedicated WIFI which I find amazing considering the location, and you're also treated to a complimentary (giant) cookie jar and mini bar that's restocked daily with cool drinks. There's also a pair of Olympus binoculars for each room that you can take with you on safari and any other little comfort you can imagine is hiding somewhere within your room too including plush blankets, plump pillows, dressing gowns and slippers.
A stay at Hoanib Skeleton Coast includes full board so you're in for delicious meals three times daily, snacks by the fire pit while peering into the distance for visiting wildlife and of course the two daily excursions.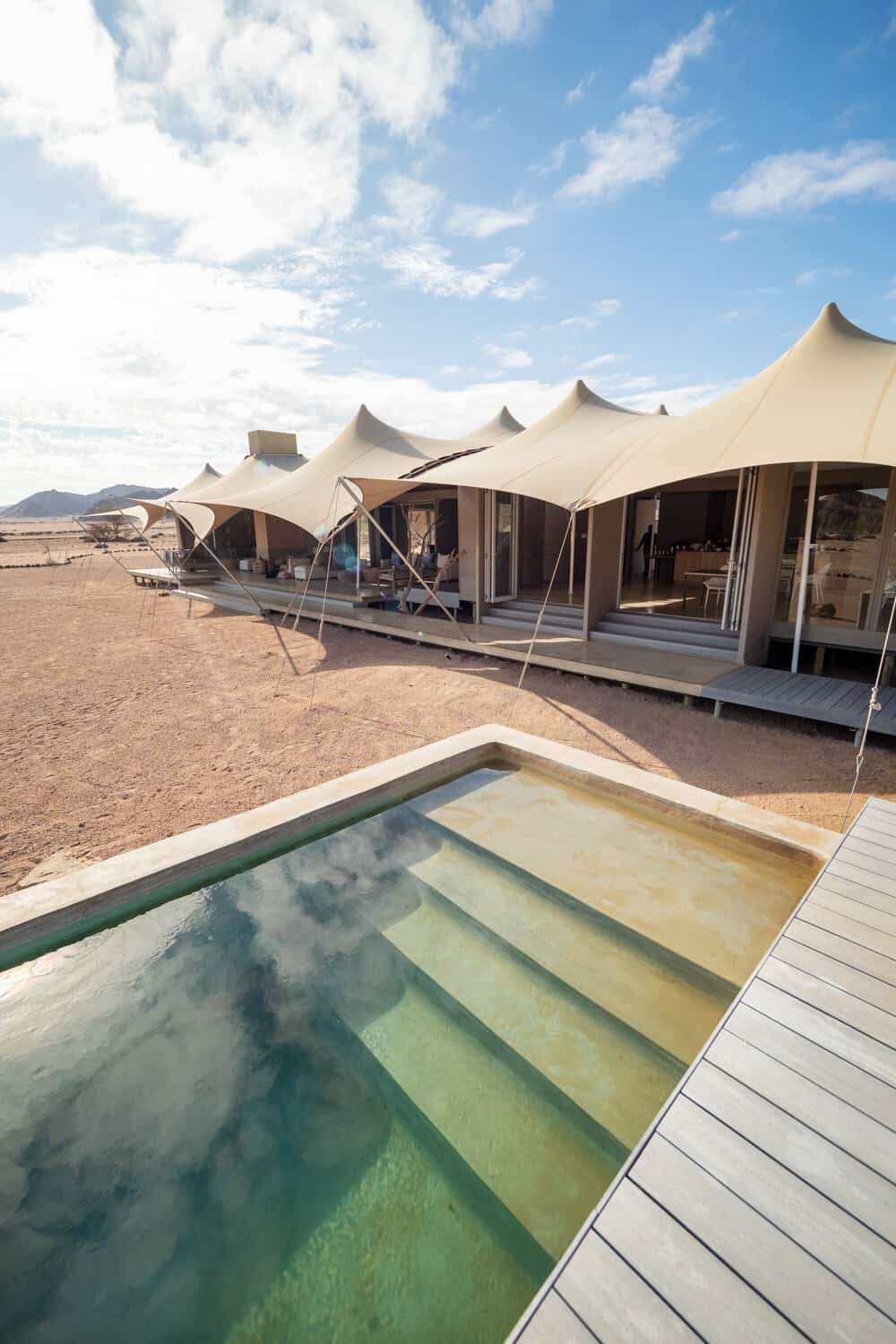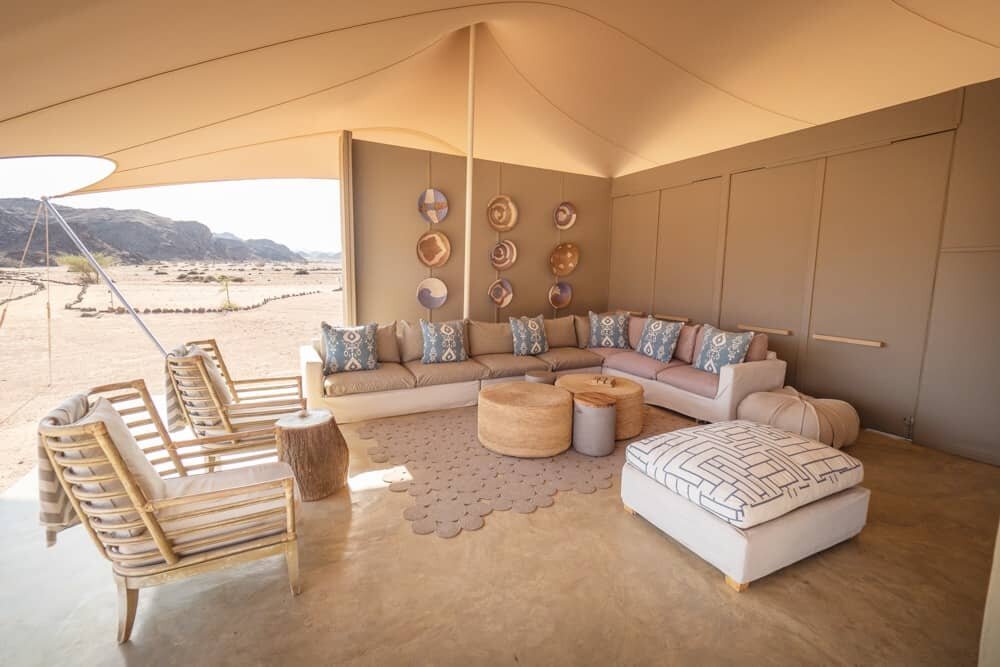 The Environmental Effort
Due to the isolated location and Wilderness Safaris commitment to having minimal impact on the environment, Hoanib Skeleton Coast Camp is 100% solar powered, with small solar geysers operating at each tent for guests.
Because the surrounding eco-system is so fragile, measures are in place to ensure use of bottled water is reduced by implementing reverse osmosis filtration. There's also a wooden bucket located in the shower to ensure that any additional water used while waiting for the temperature to be right is then later reused by housekeeping.
Each tent has been designed to ensure effective air movement, insulation and also take advantage of nature lighting to minimise the need for power usage.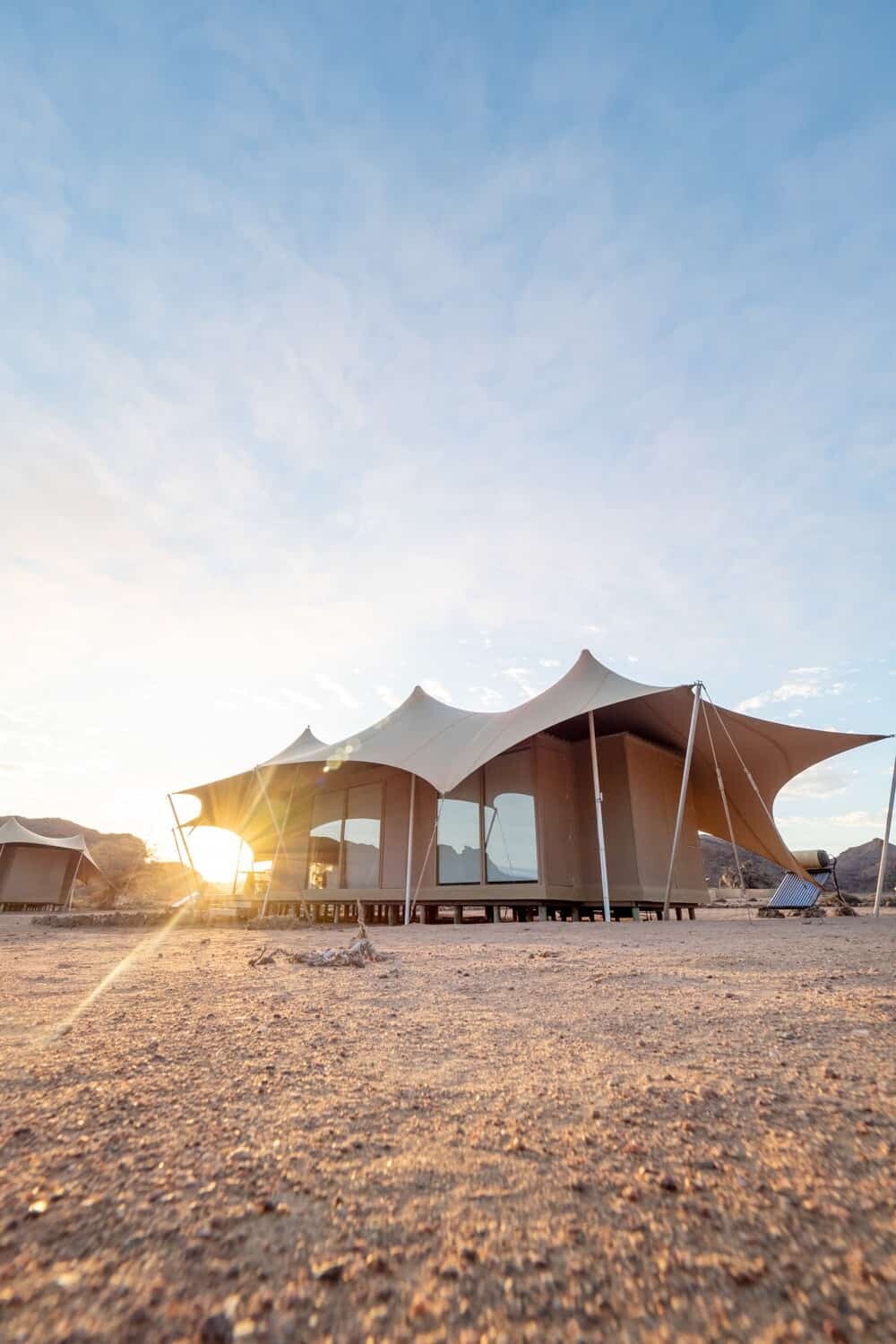 In a paragraph from the Wilderness Safaris website – "Hoanib Skeleton Coast Camp is a centre for research and conservation of the desert-adapted predators of this harsh region: the desert-adapted lion and brown hyaena. The camp is also part of a joint venture partnership with the neighbouring communities, so that ecotourism is able to benefit the people of the area. Hoanib supports a unique population of desert-adapted lions in the surrounding harsh desert environment. The "desert" lion is a prominent feature in Namibia and is highly valued by the growing tourism industry. However, the conflict between lions and the local people is of continued concern and it is this that the project seeks to mitigate."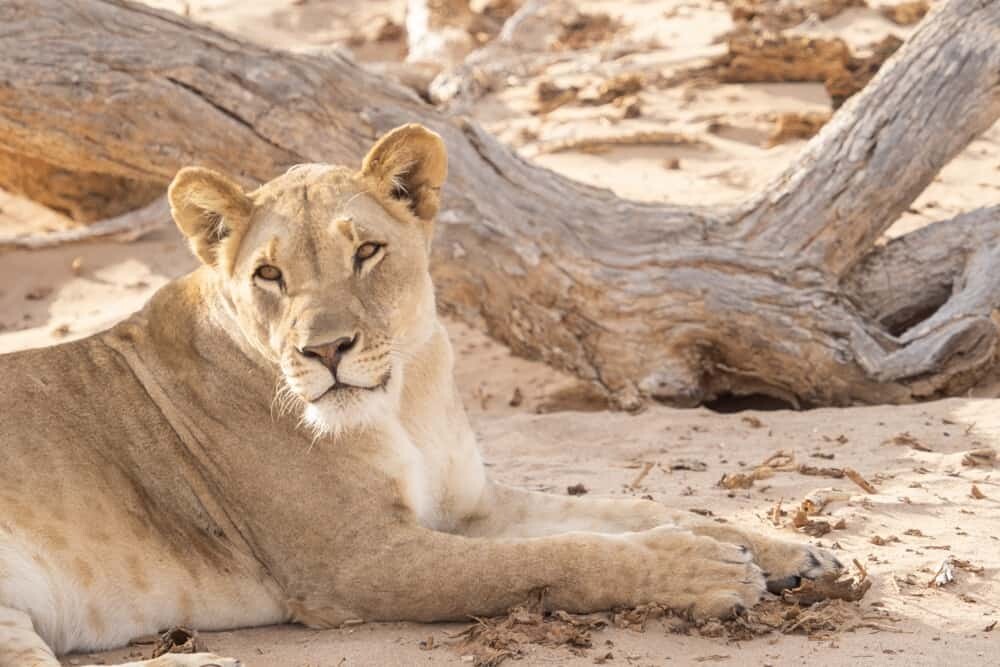 My Personal Experience –
Few places have the ability to make you completely relax and forget about the outside world. To be immersed in a region so photogenic, so wild and so unique is a true pleasure and I'll be forever grateful for my time at Hoanib Skeleton Coast. I couldn't fault any little bit of my stay, it was perfection.
Prior to arriving I'd done a little research into the Skeleton Coast but not so much the accommodation so was utterly blown away by the setting and design of the camp. Even the arrival via plane to a tiny dirt airstrip was unexpected, every minute feeling like I'd been hit with the surprise stick and constantly wore the 'wow' expression across my face.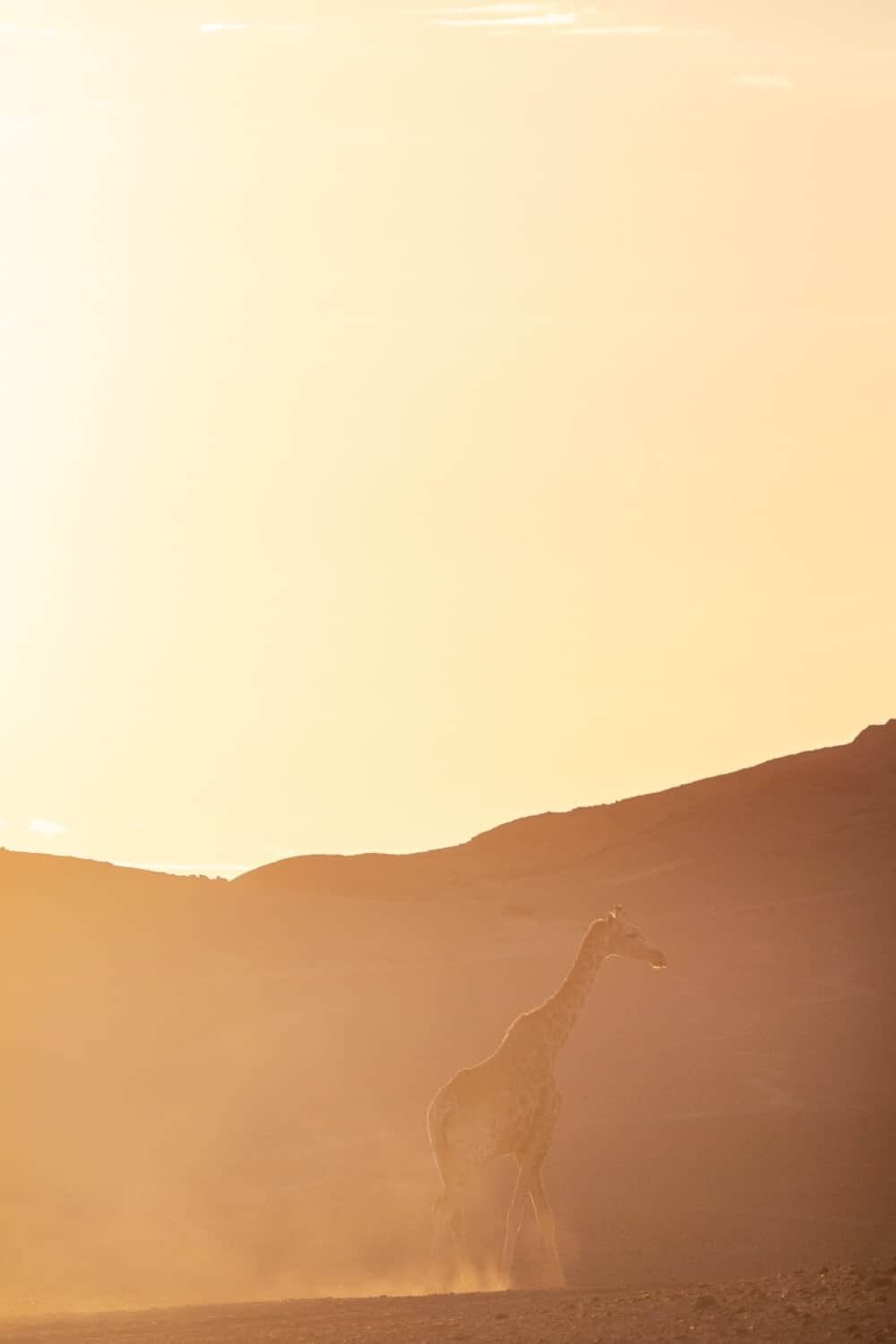 For the three days I spent at Hoanib I was focused on photographic opportunities and had been hoping to capture portraits of the desert adapted elephants. Within hours of arriving we were whisked off on a sunset safari and treated to sightings of almost every animal on my wish list. The stay couldn't have got off to a better start and for the following three days I took in excess of 8500 images with the wildlife but also environment a complete inspiration!
One moment in particular stood out while on a drive on the final day of my trip. My guide Moses found a herd of elephants along the riverbed and instead of sitting close by, he drove to find an alternate vantage point on top of the riverbed looking down. Checking the area was safe, we exited the vehicle and watched from above as the herd rummaged the trees beneath us. As the sun was setting and producing a strong glow across the landscape, one of the elephants decided to take a dirt bath, flicking up the dry sand with his trunk which was then illuminated by the light.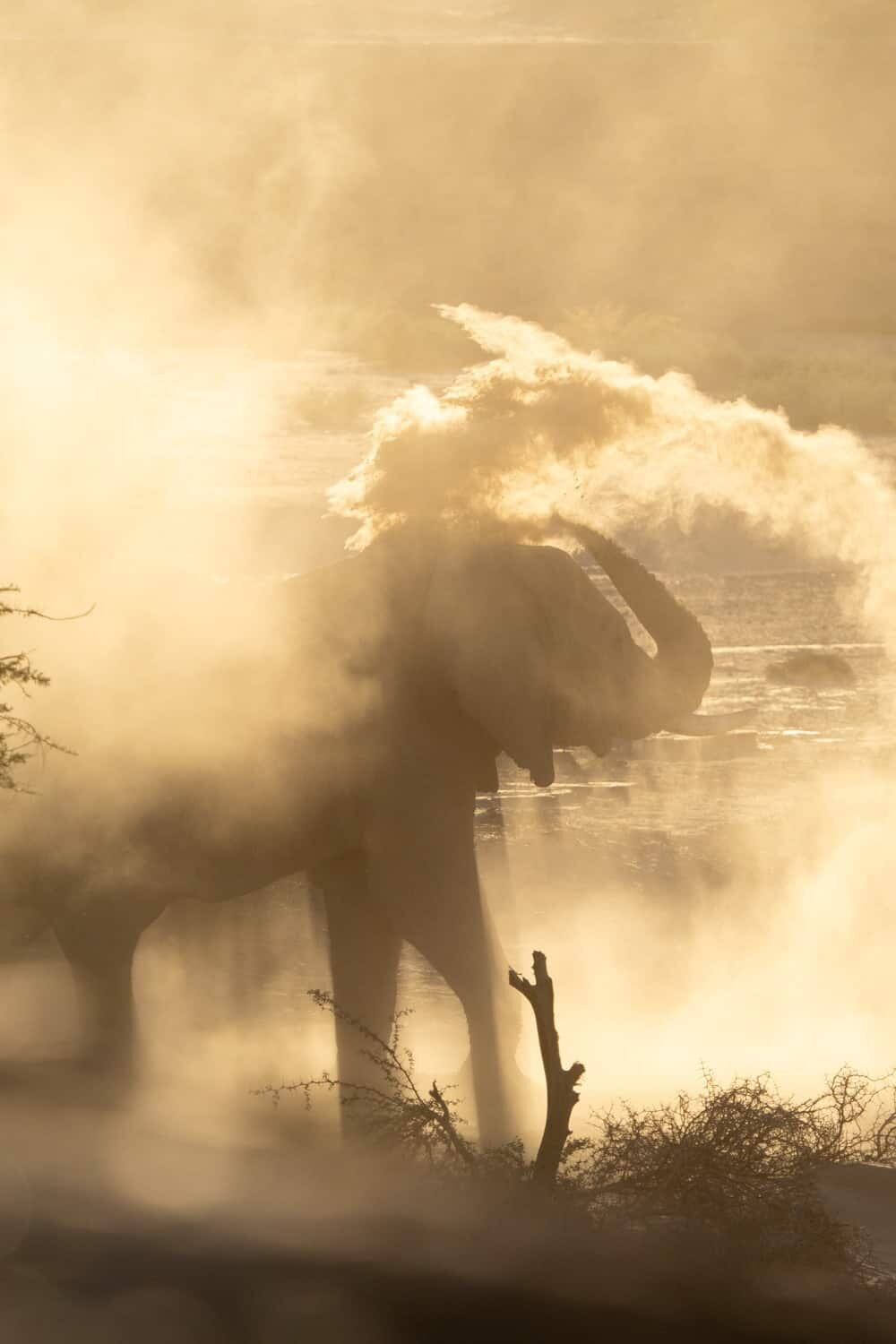 Further to this, on the final night staff gathered in the restaurant to perform what I can only describe as one of the most beautiful things my ears have ever listen to. A collection of songs of which everyone sang together while dancing amongst the guests. I'm not one to usually shed a tear but there was something so moving about this that I was filming while water welled in my eyes.
As with all visual hotel reviews, I'll continue now by letting the photos do the talking. If you're keen to find out more information about staying at Hoanib Skeleton Coast, visit the Wilderness Safaris website.
Take a read about my other adventure with Wilderness Safaris at the Kulala Desert Lodge.
*Please note, I was hosted during my stay and provided photography tuition to the Wilderness guides.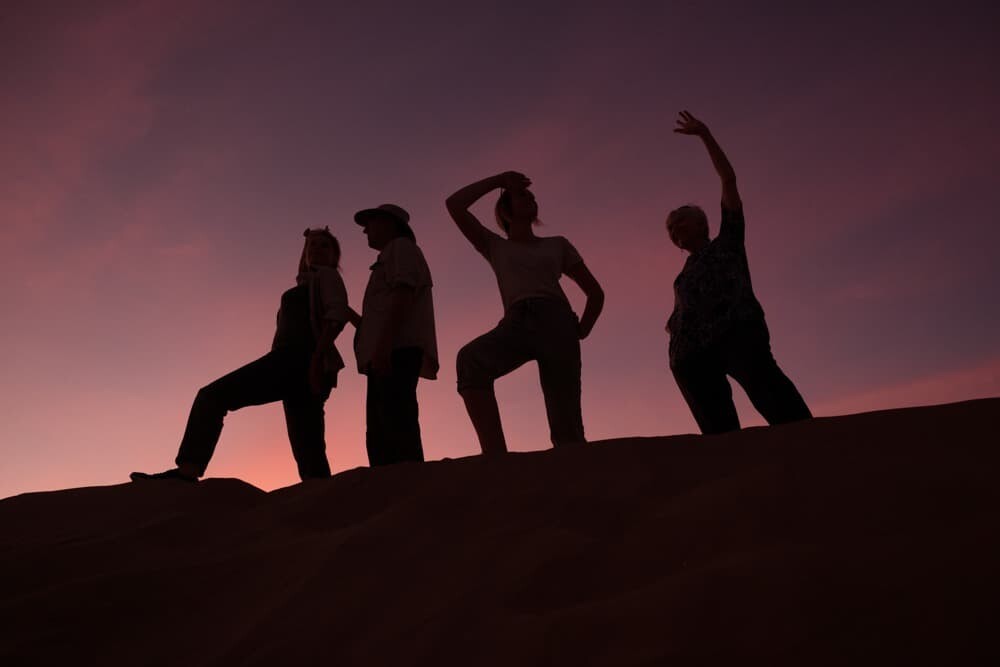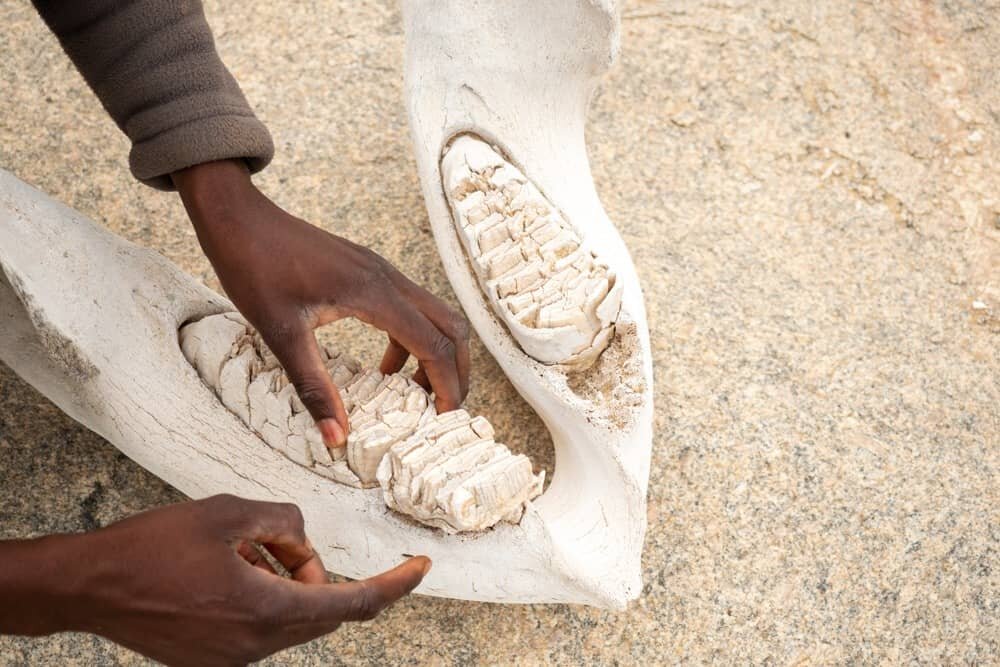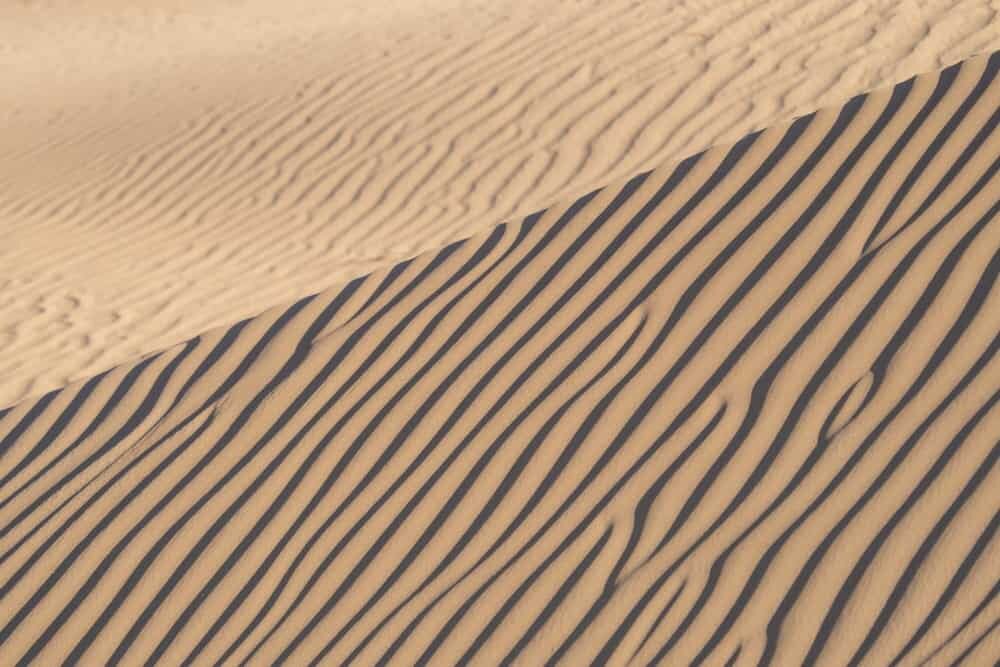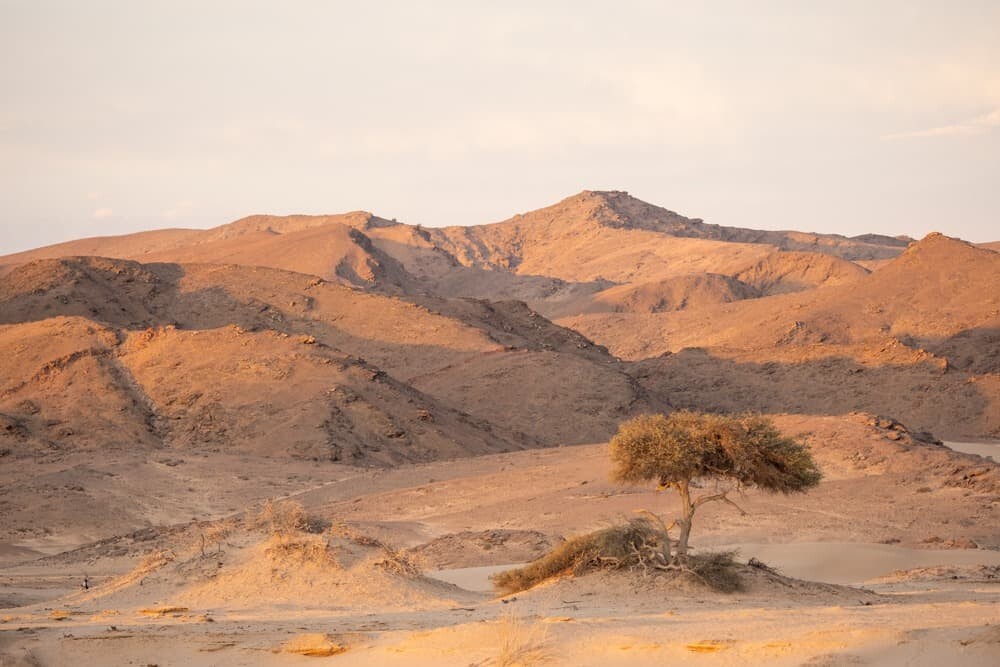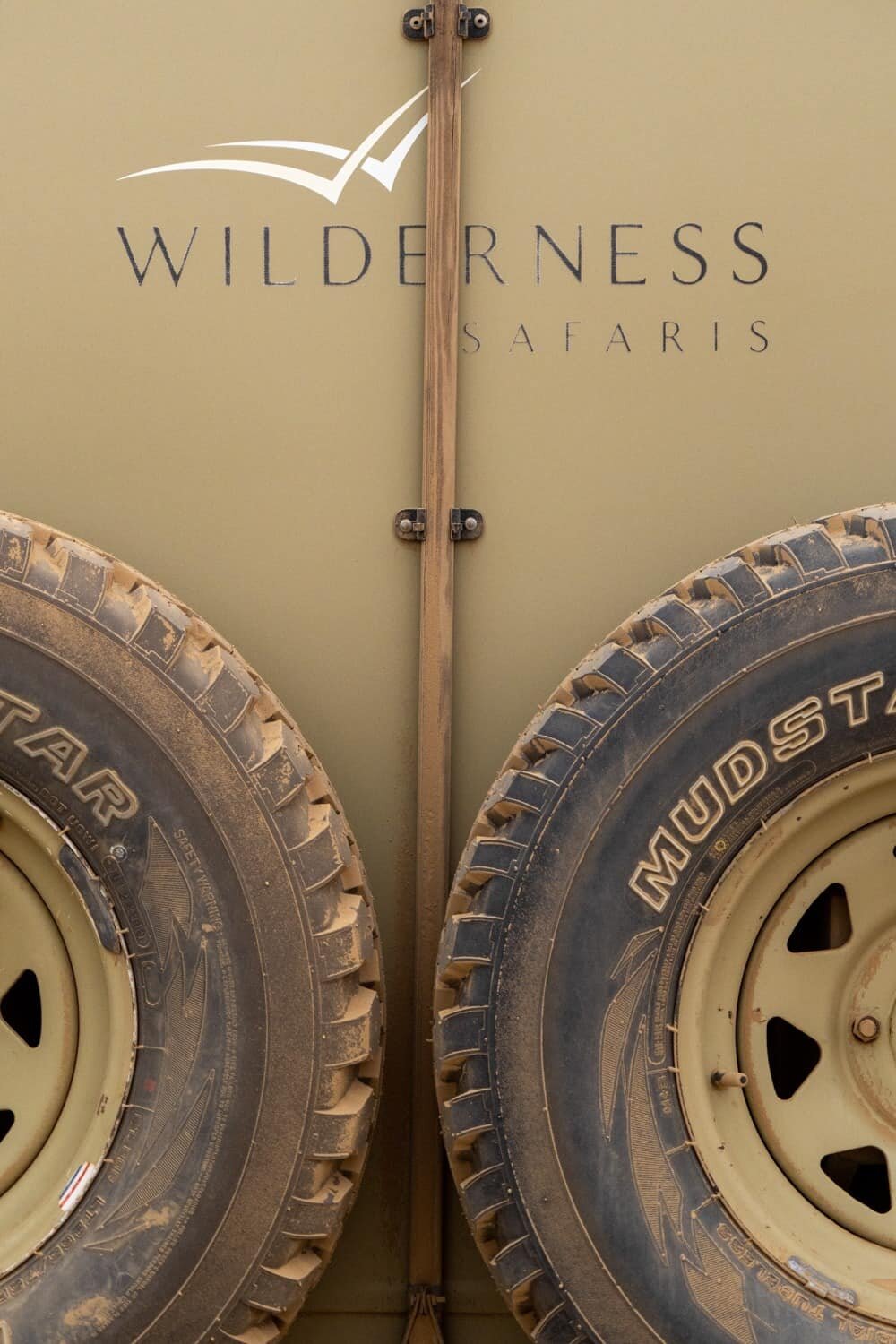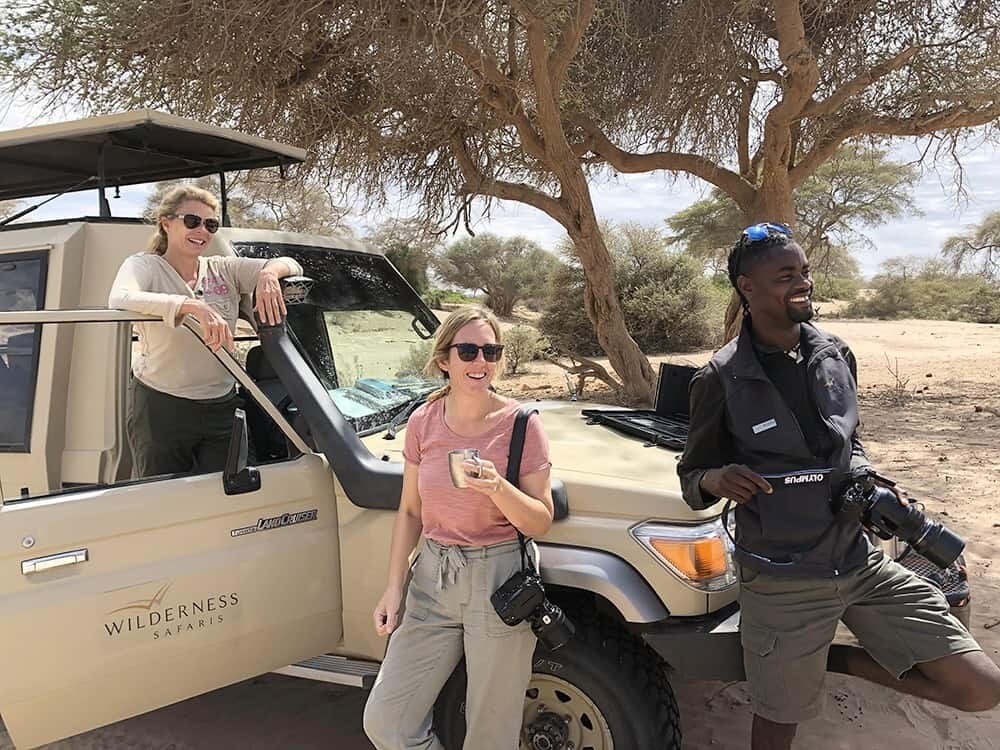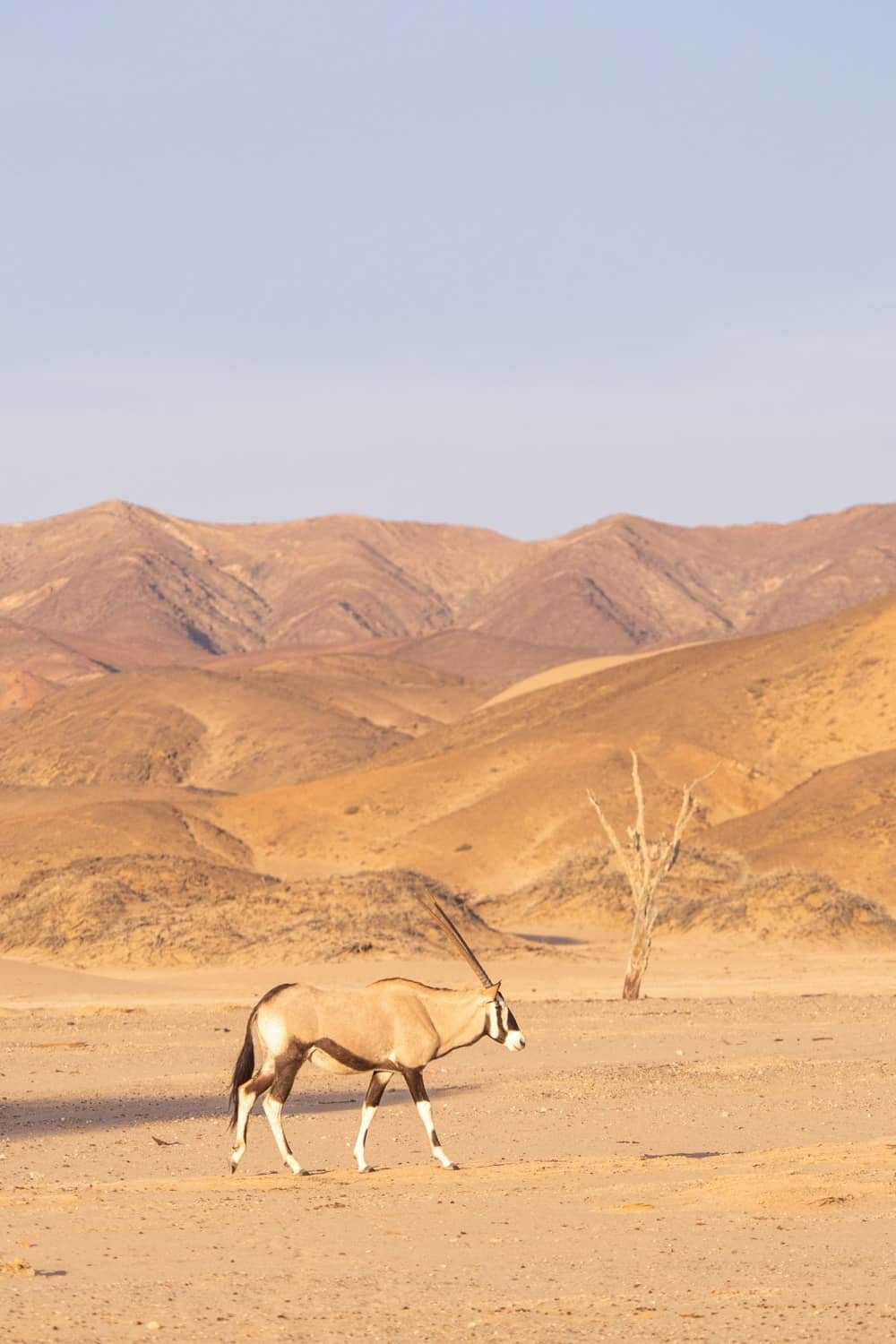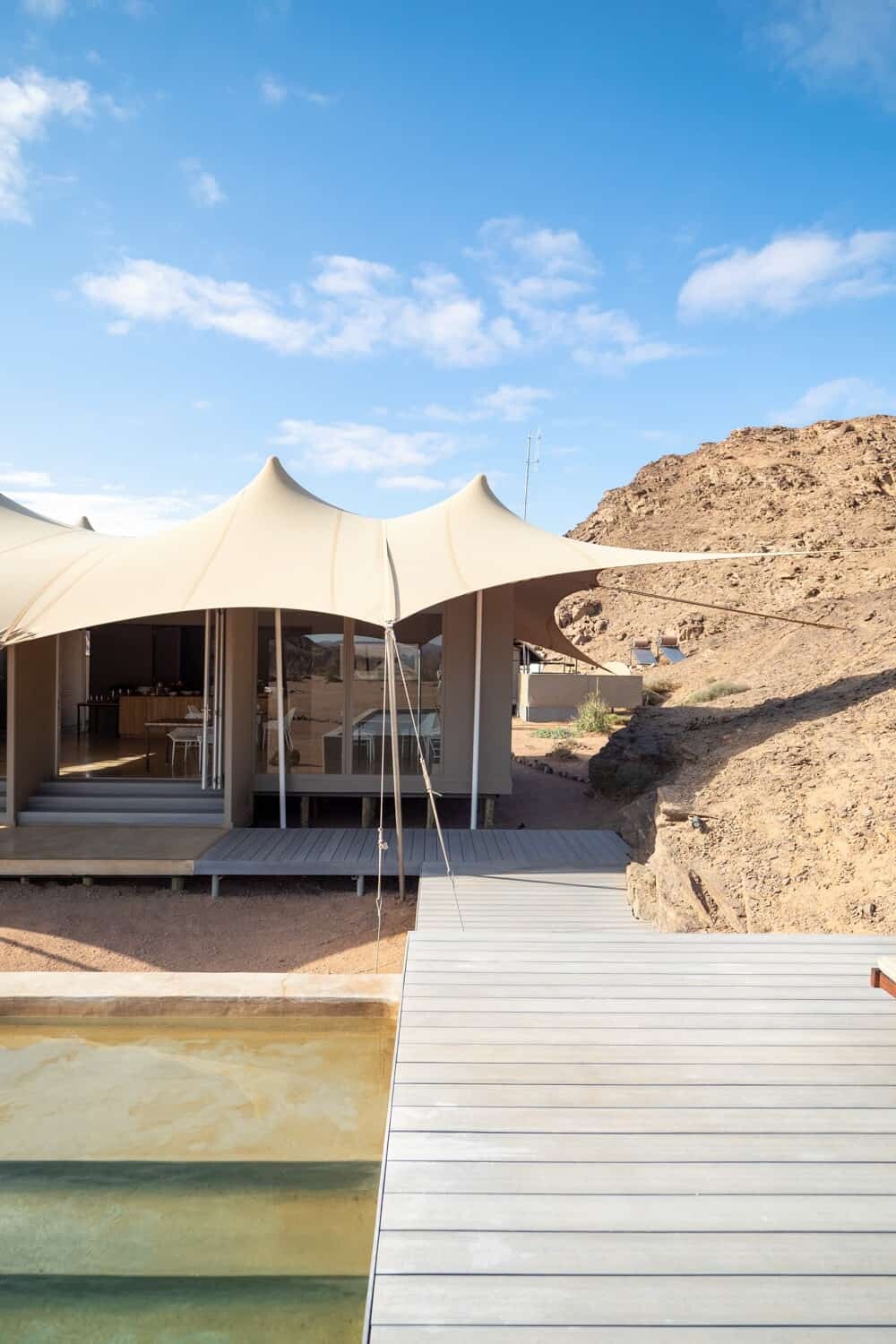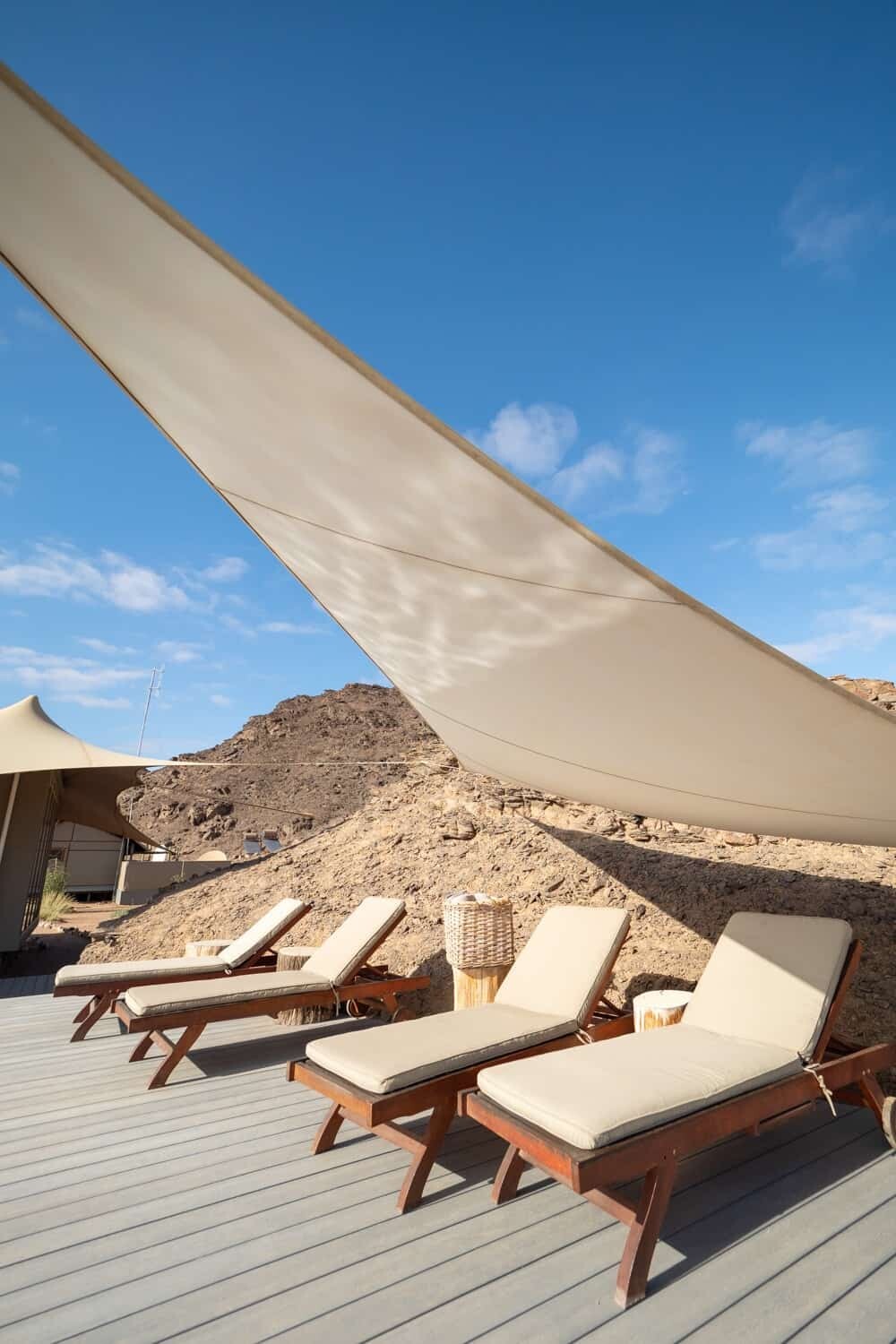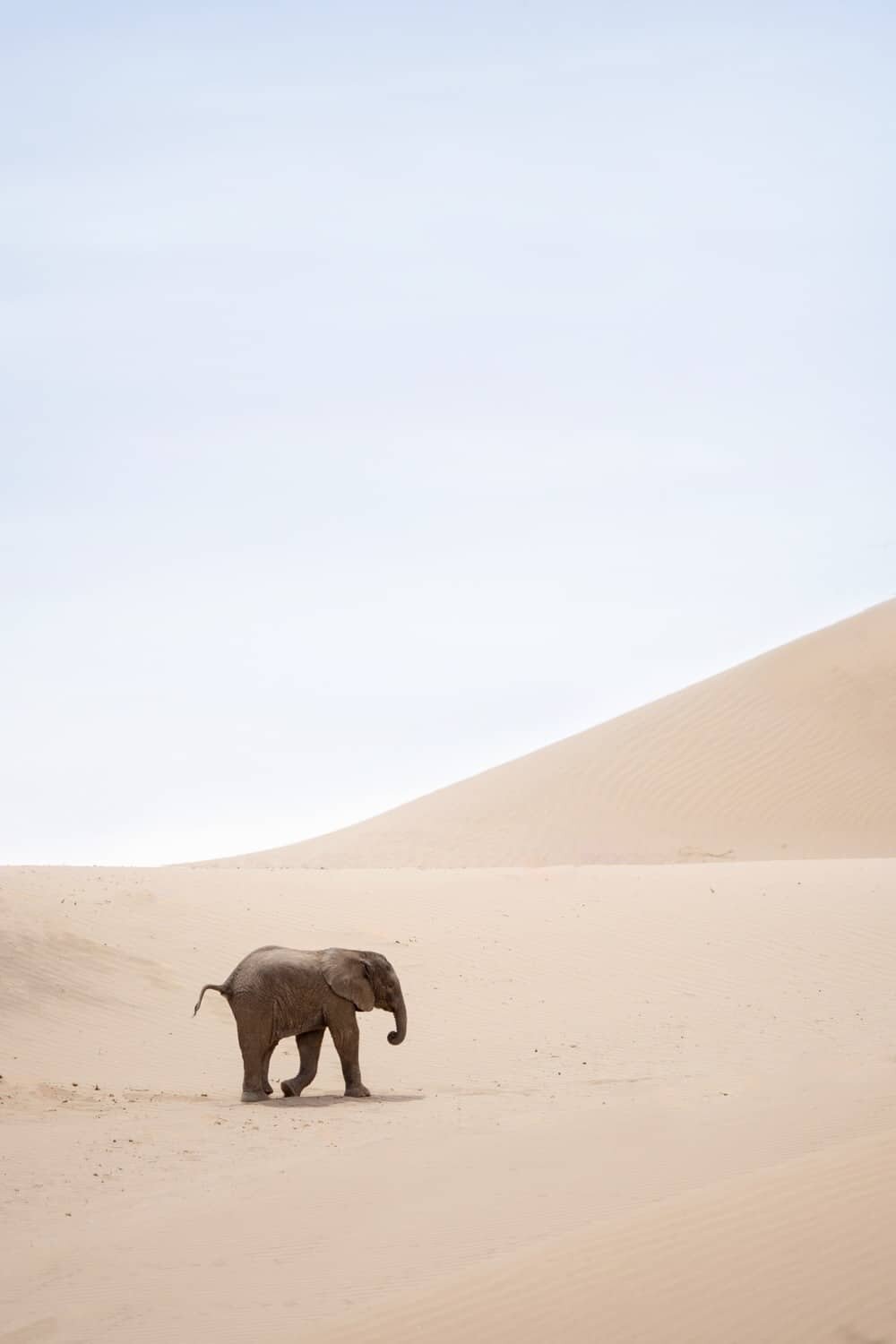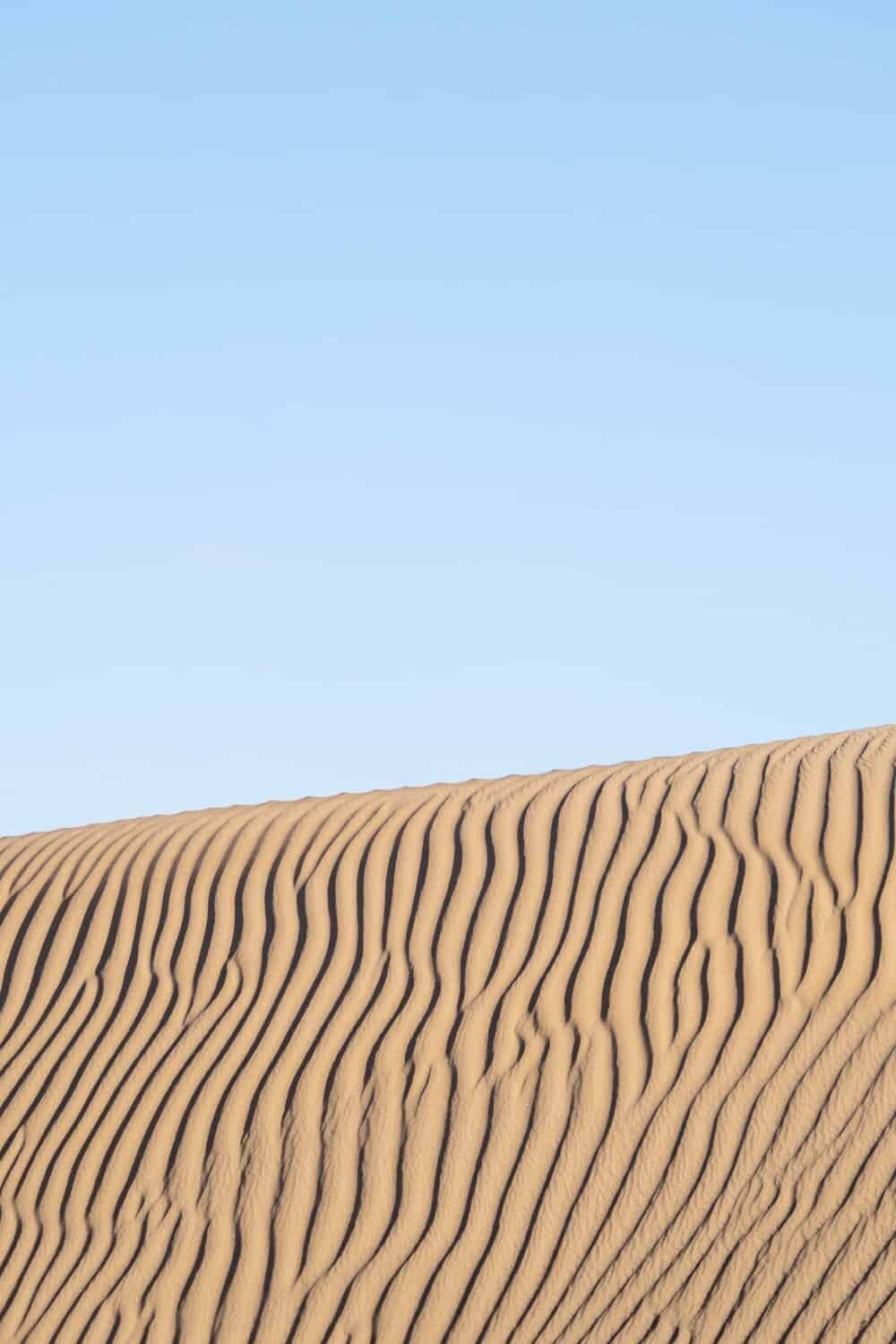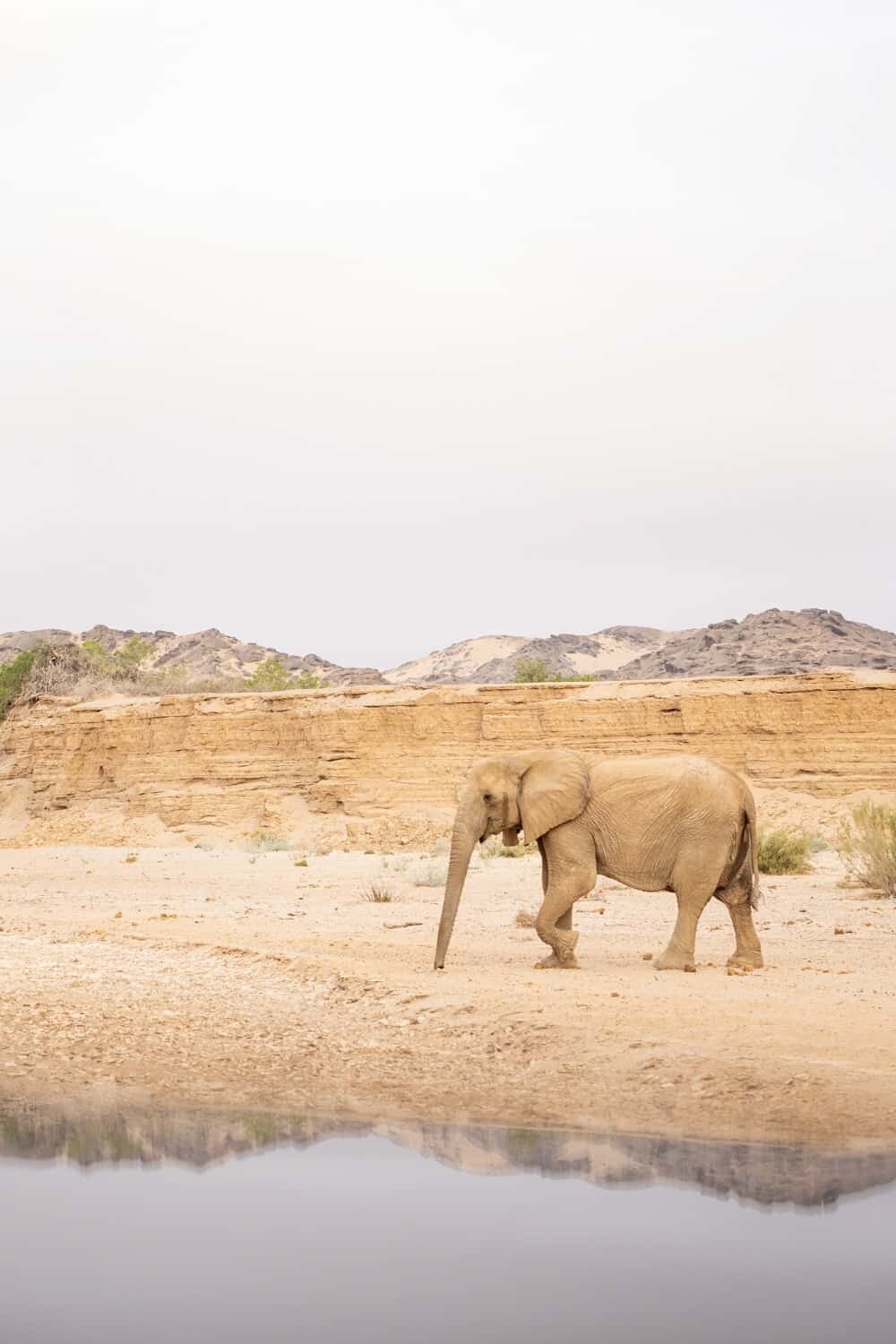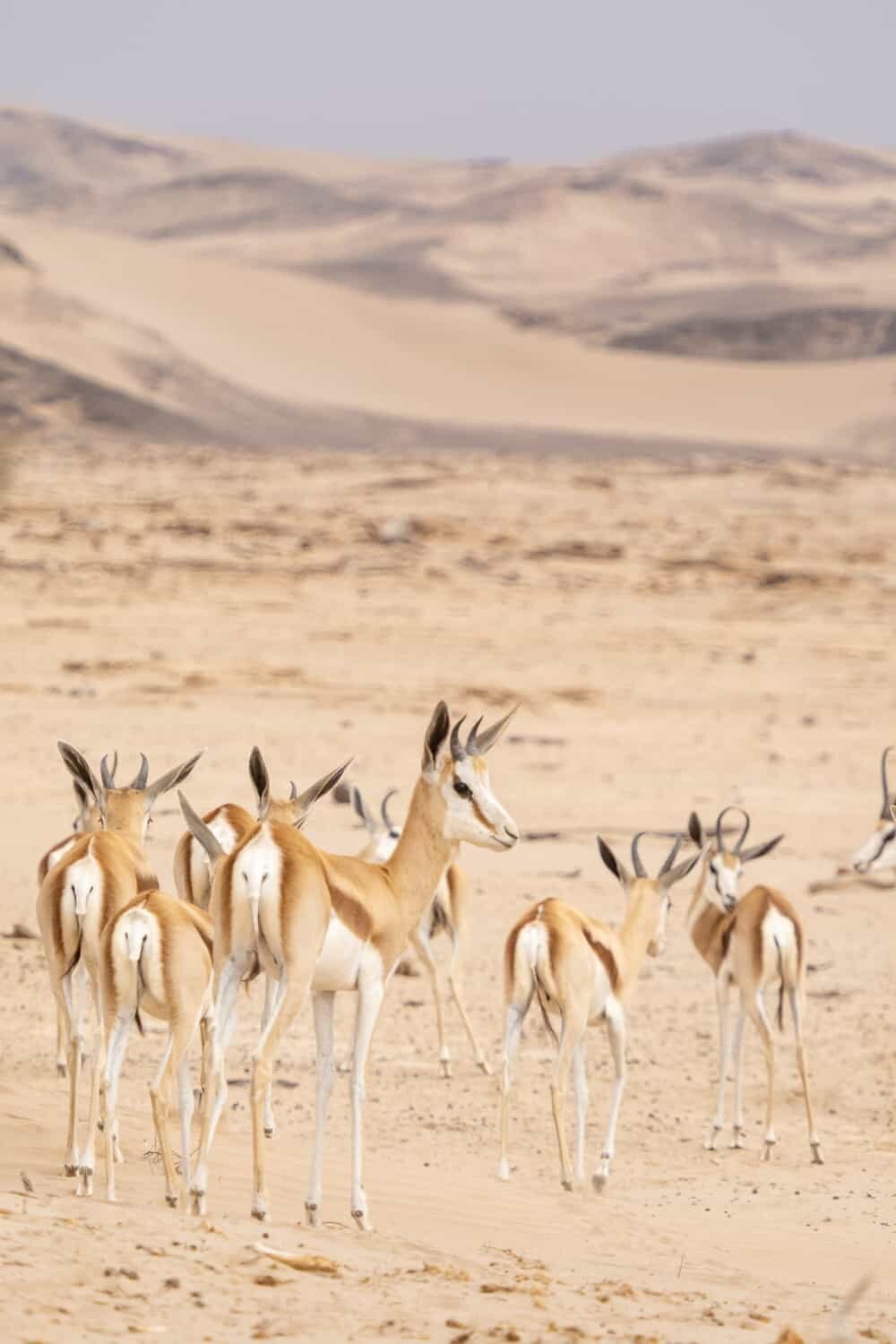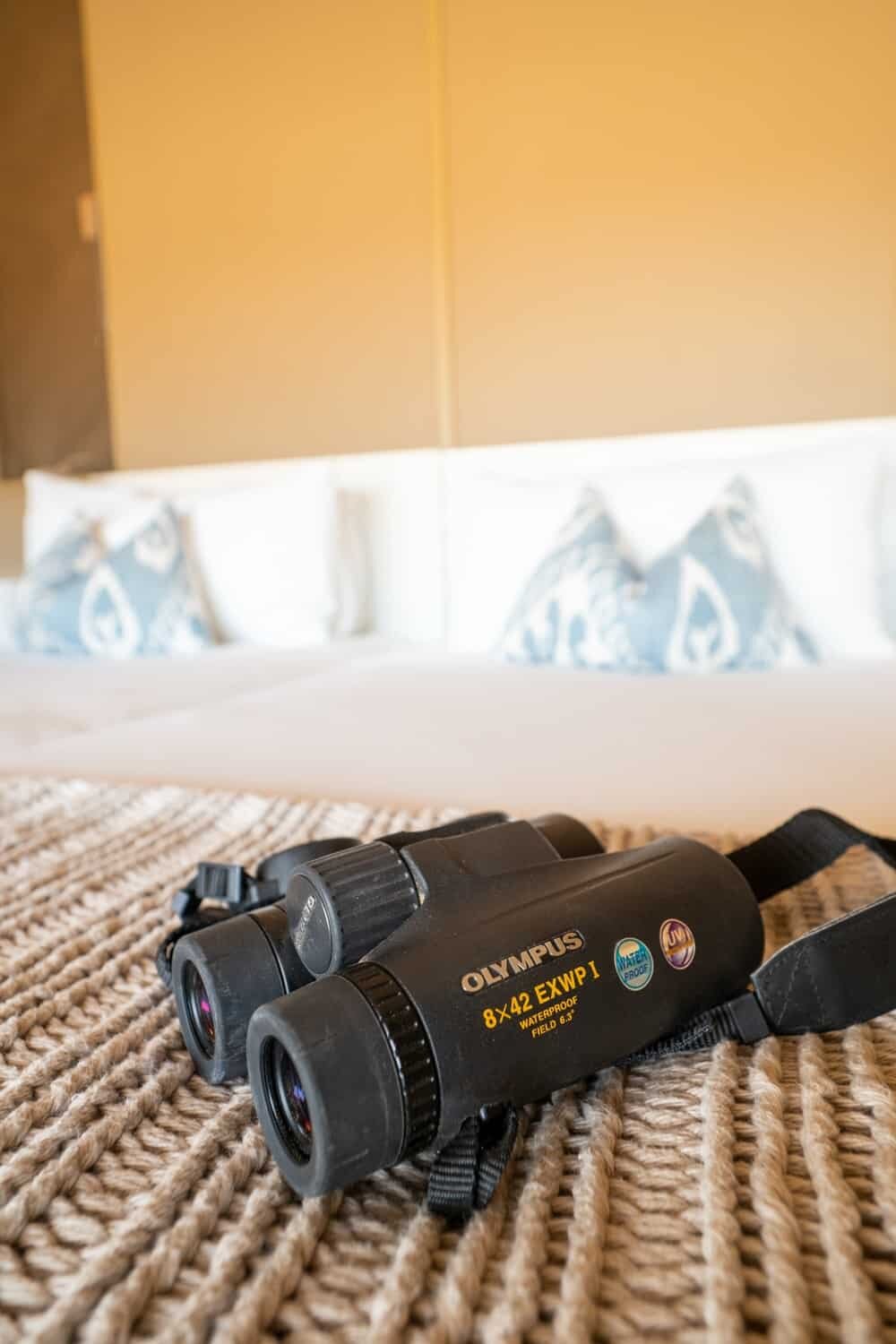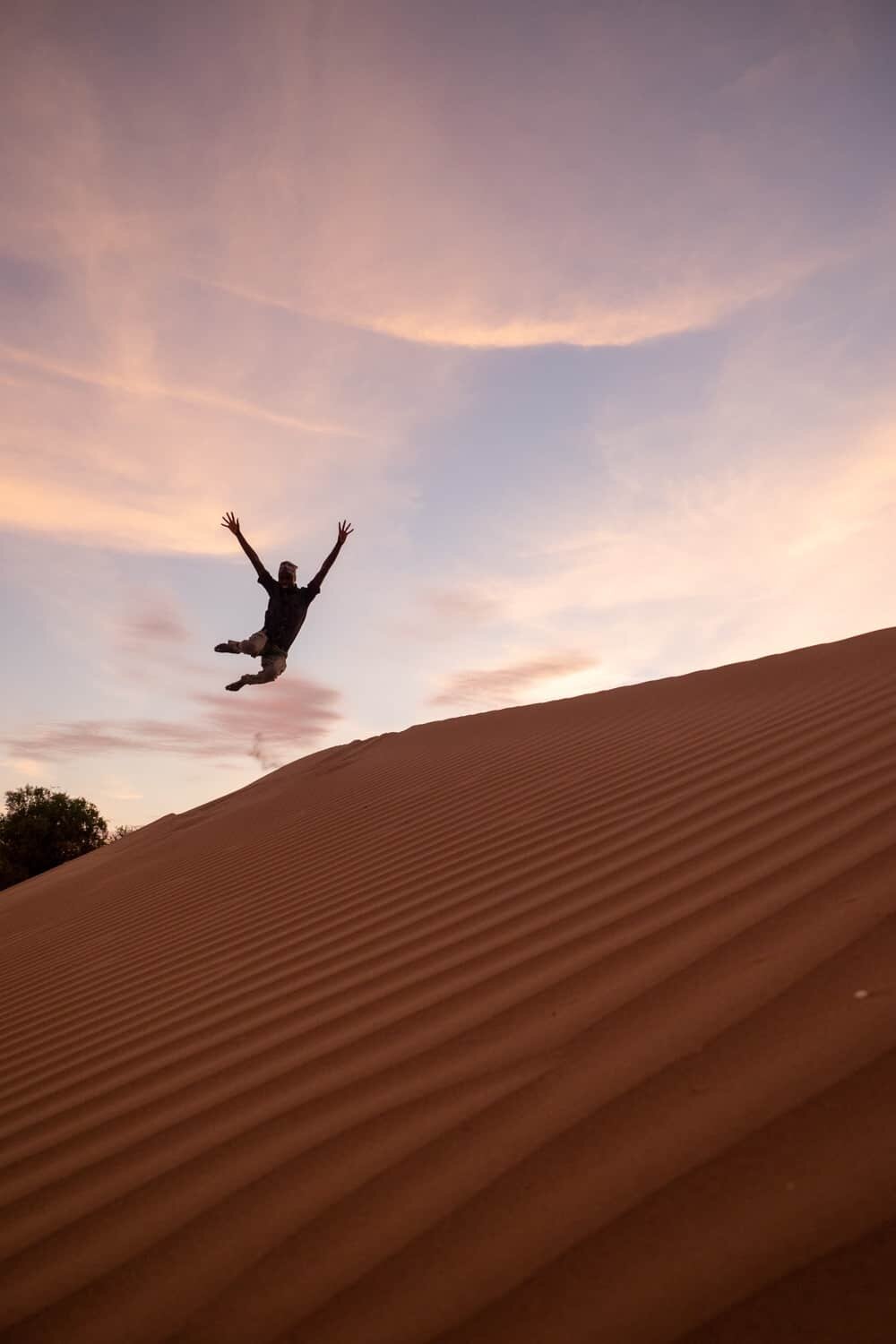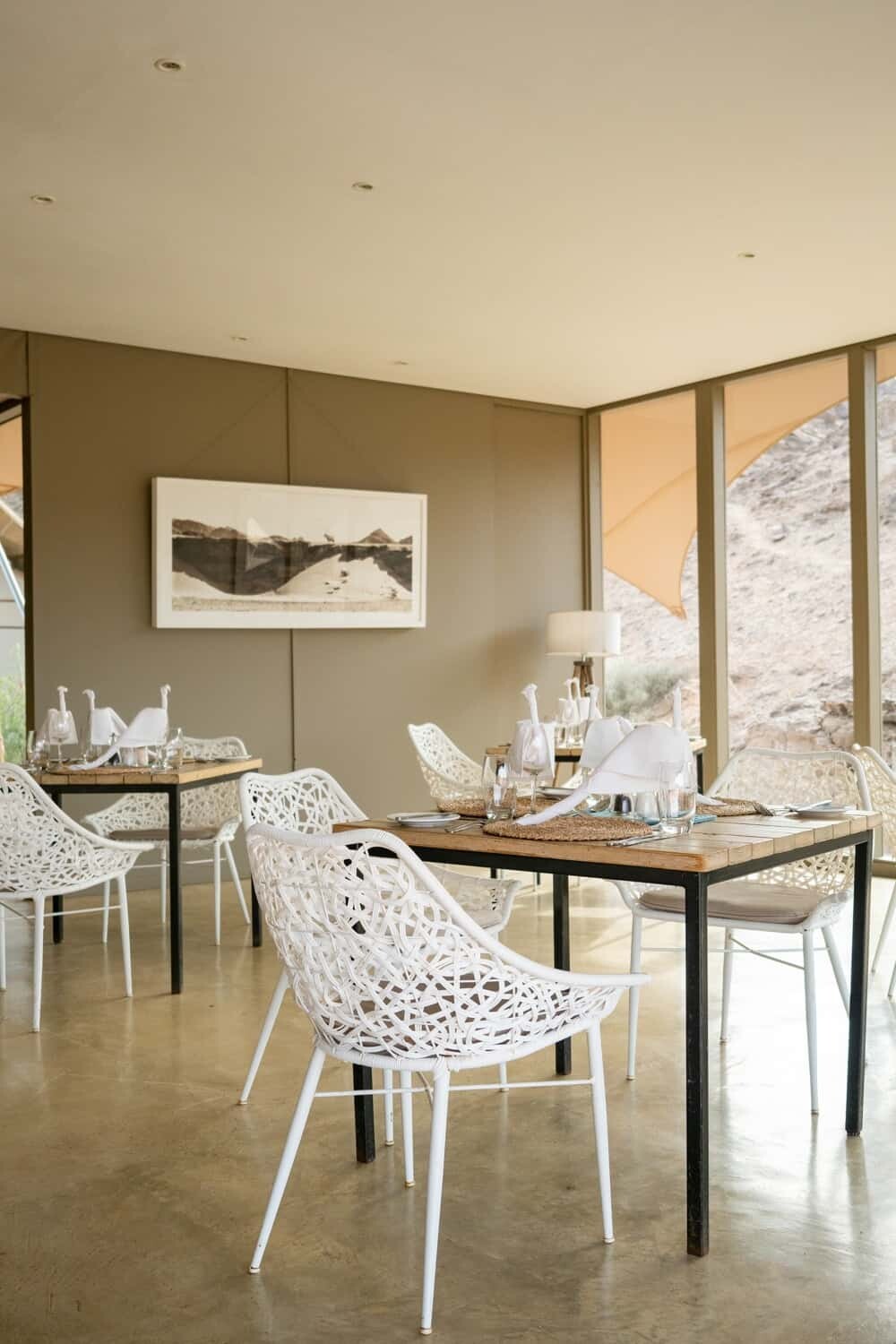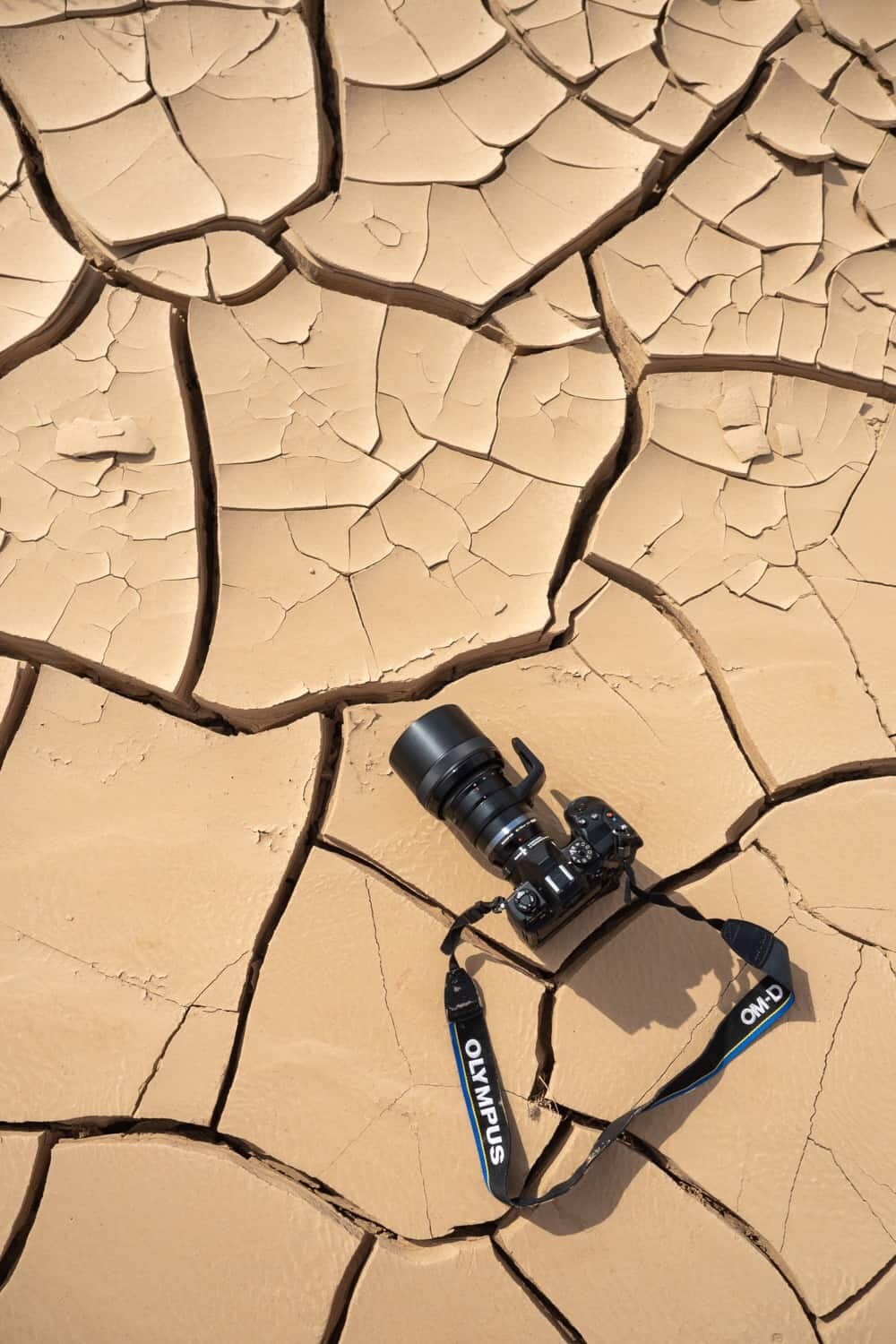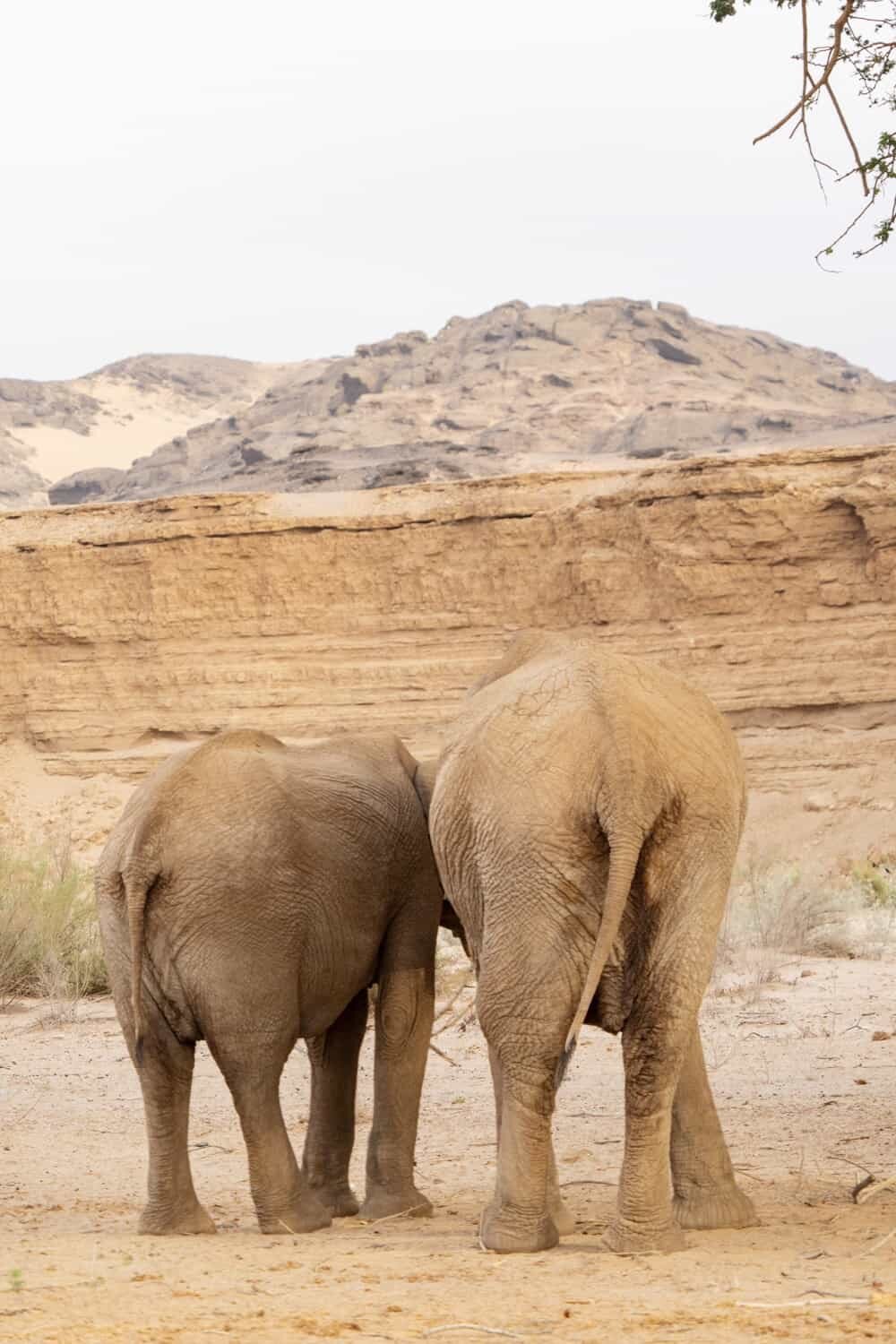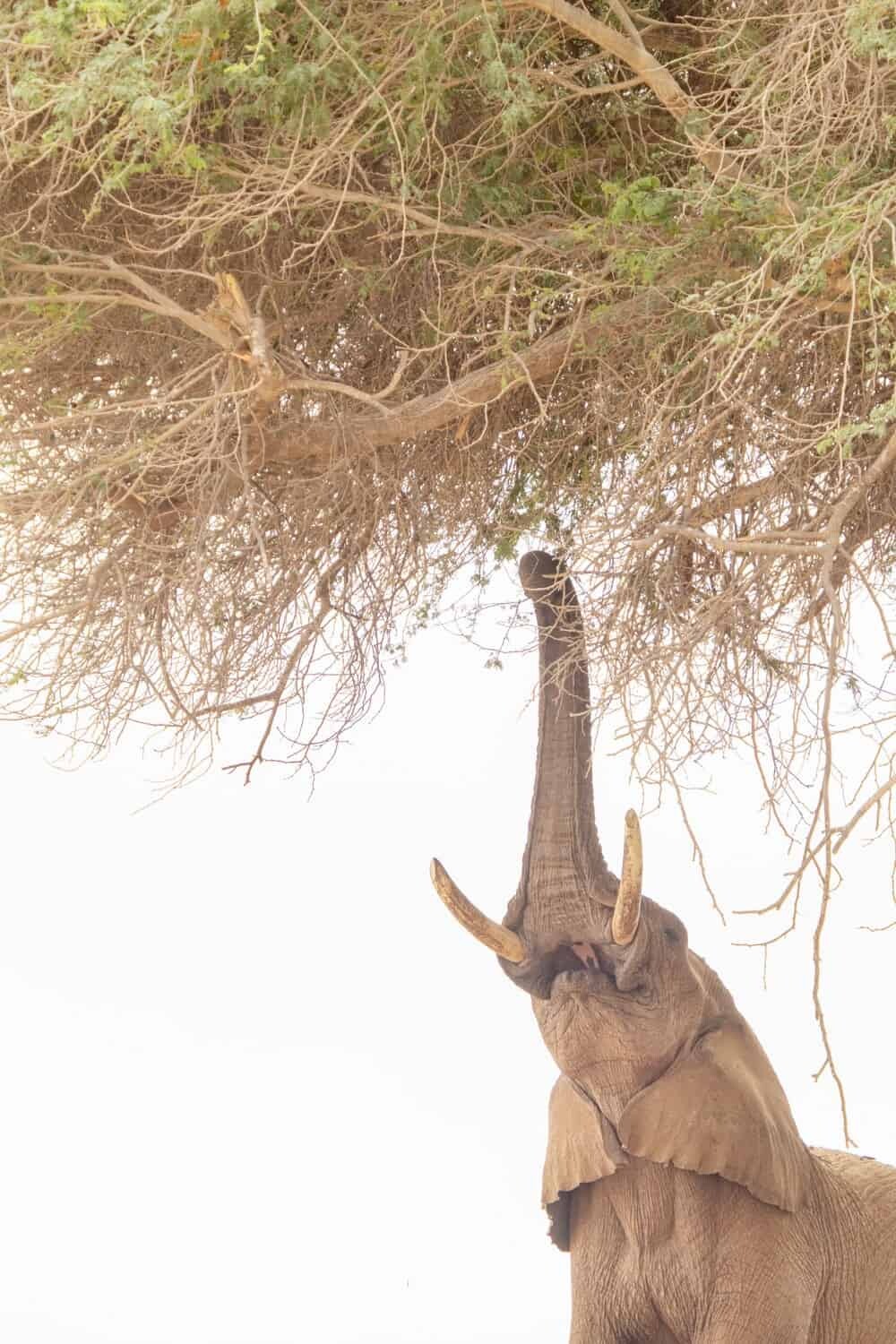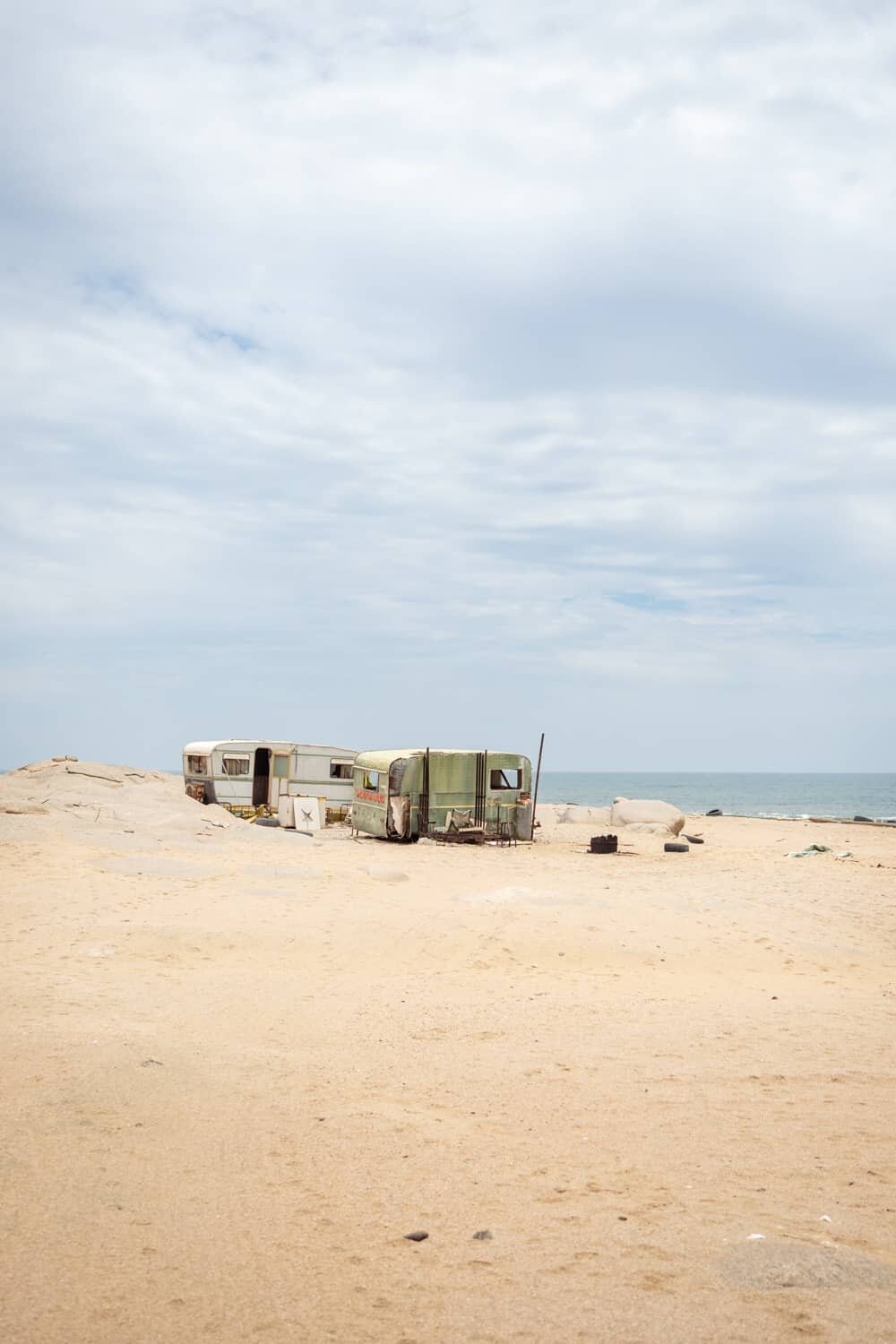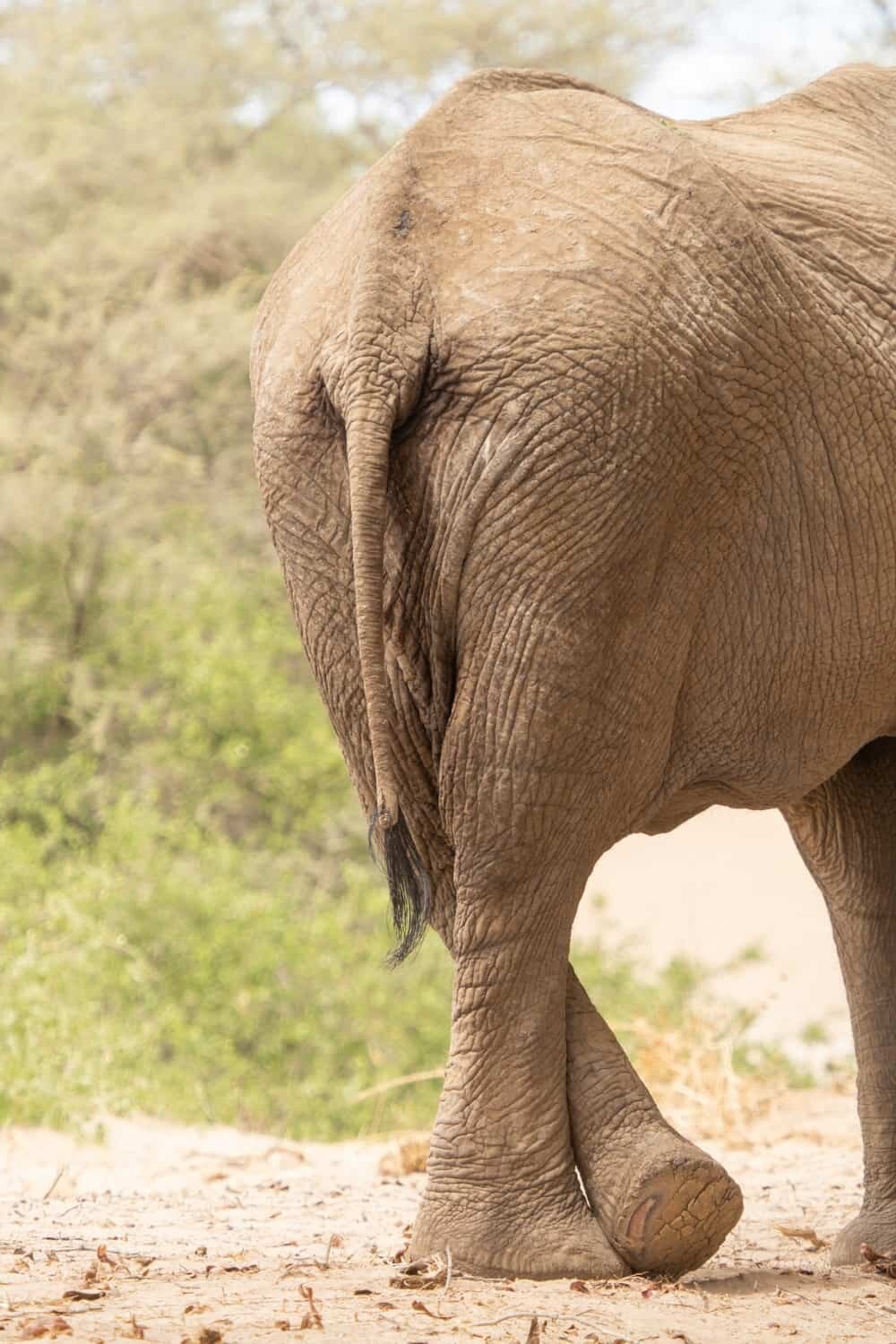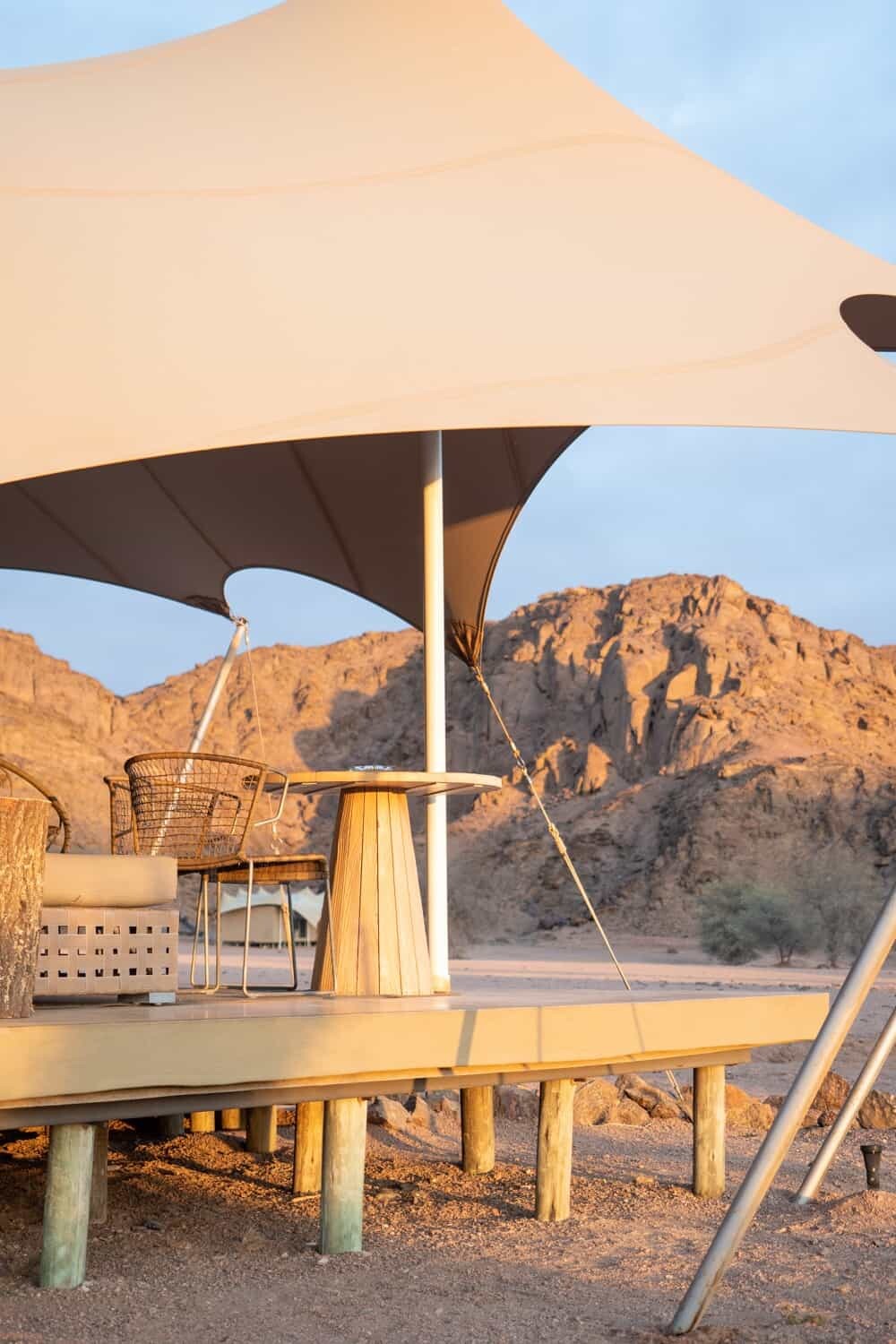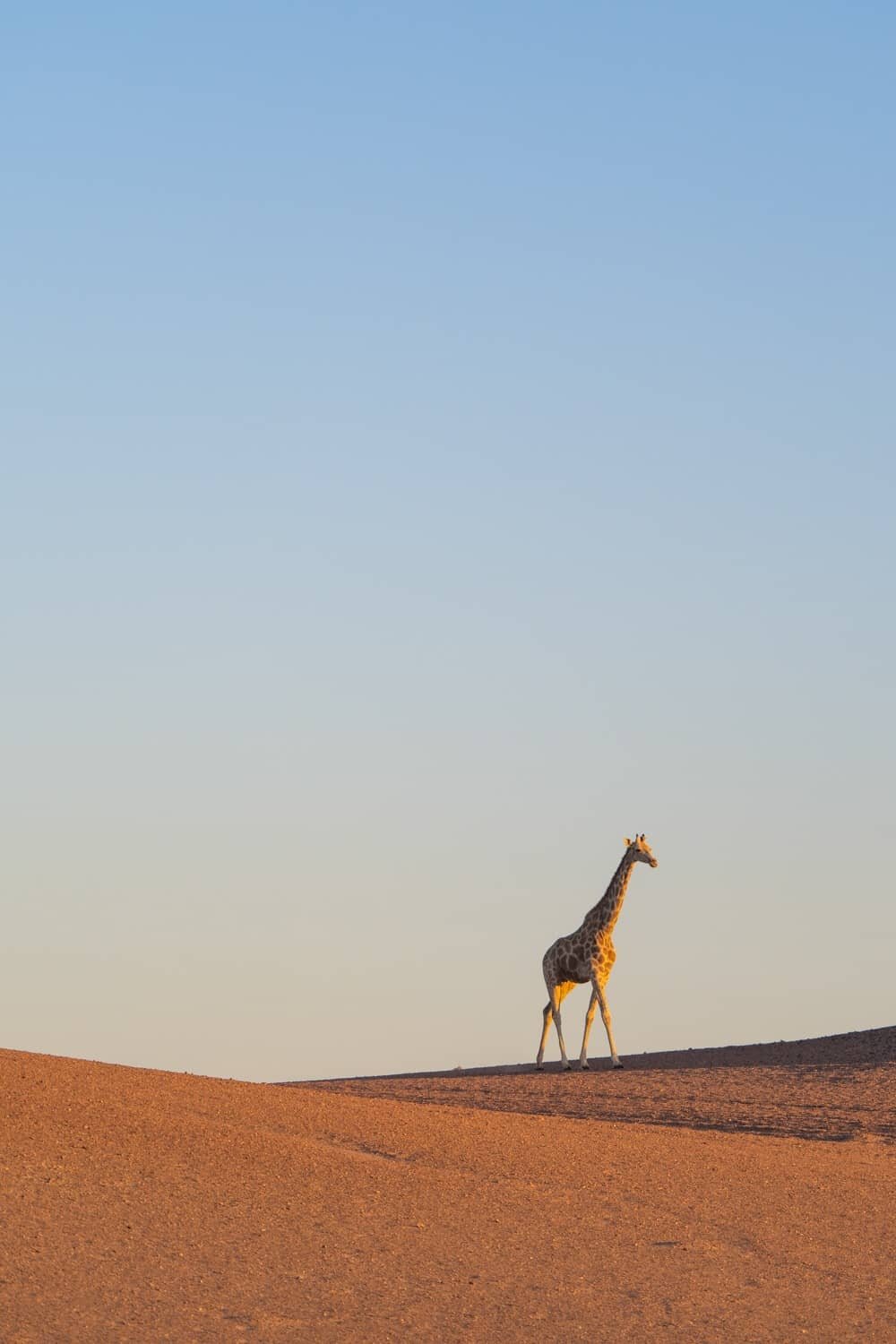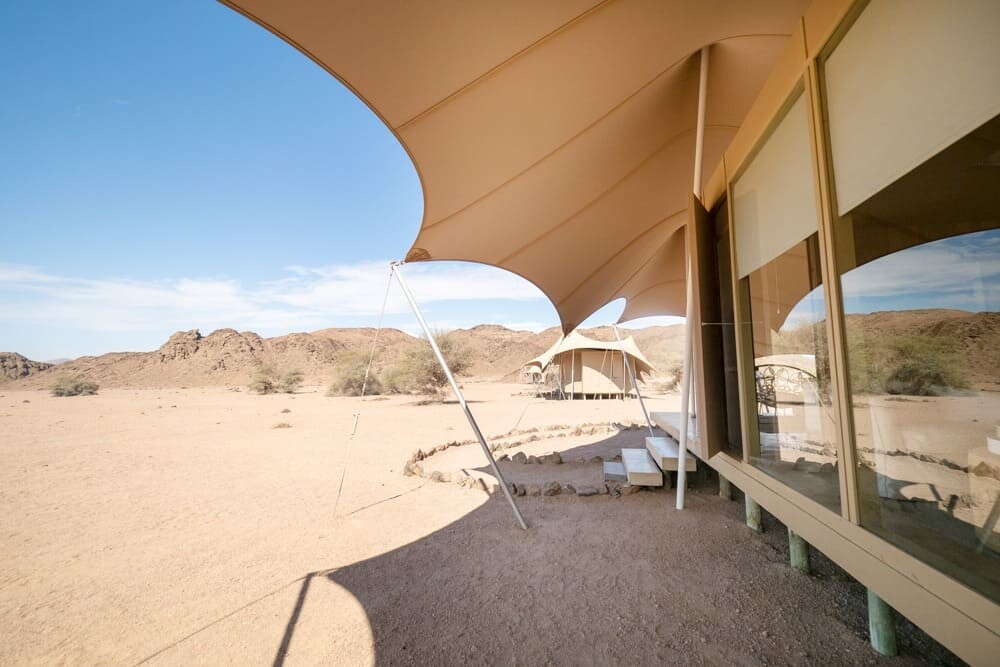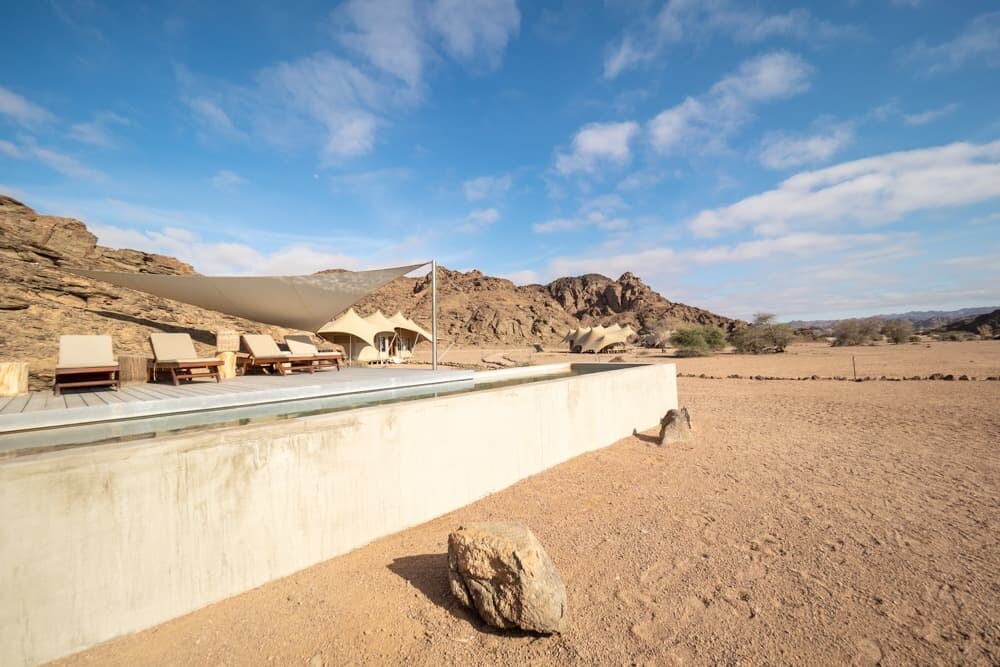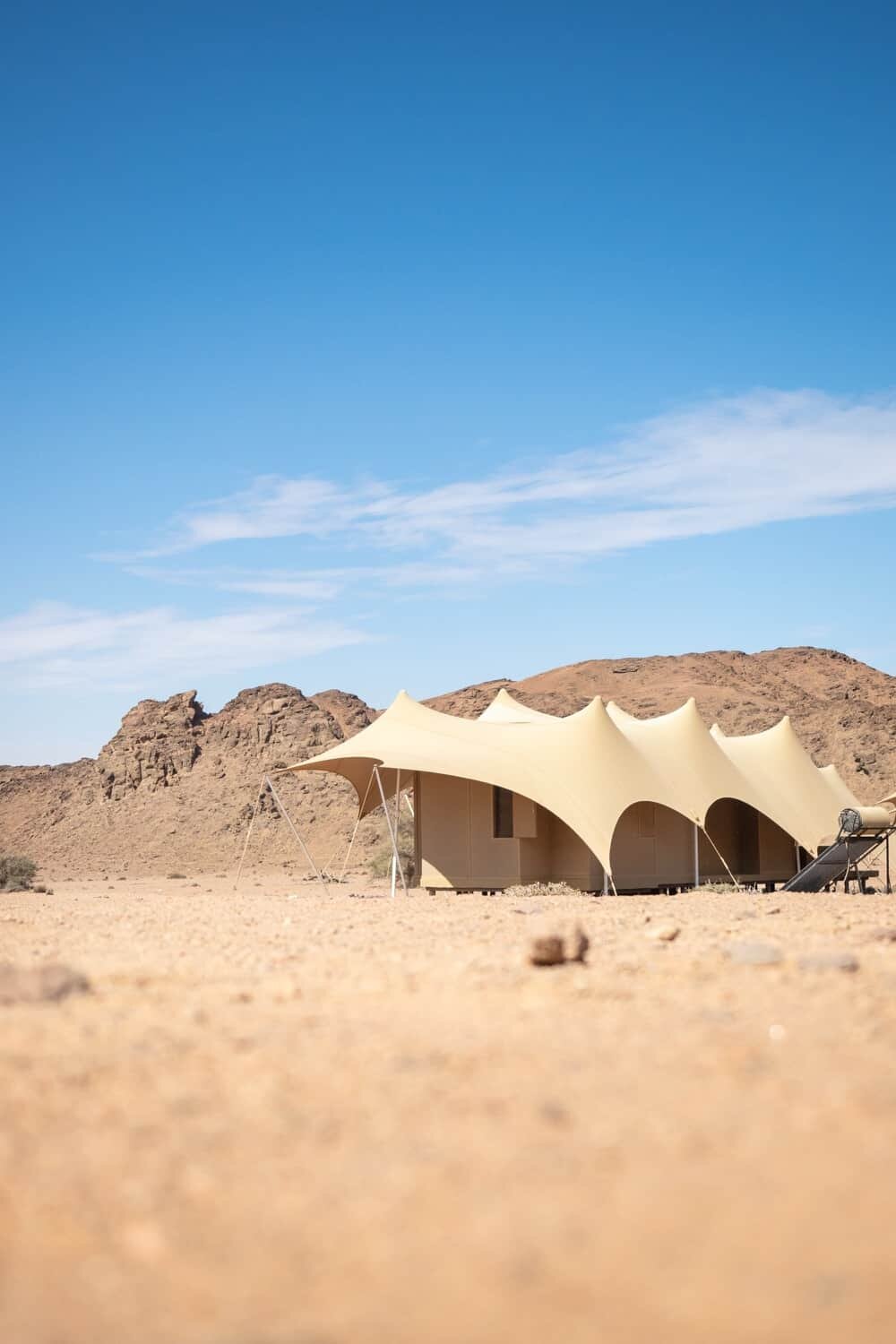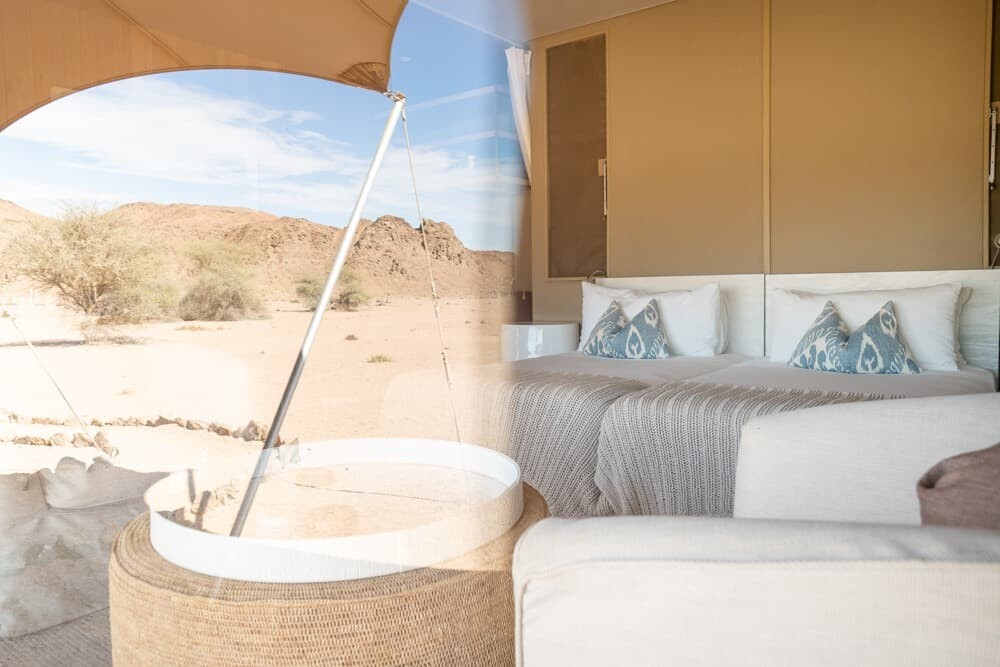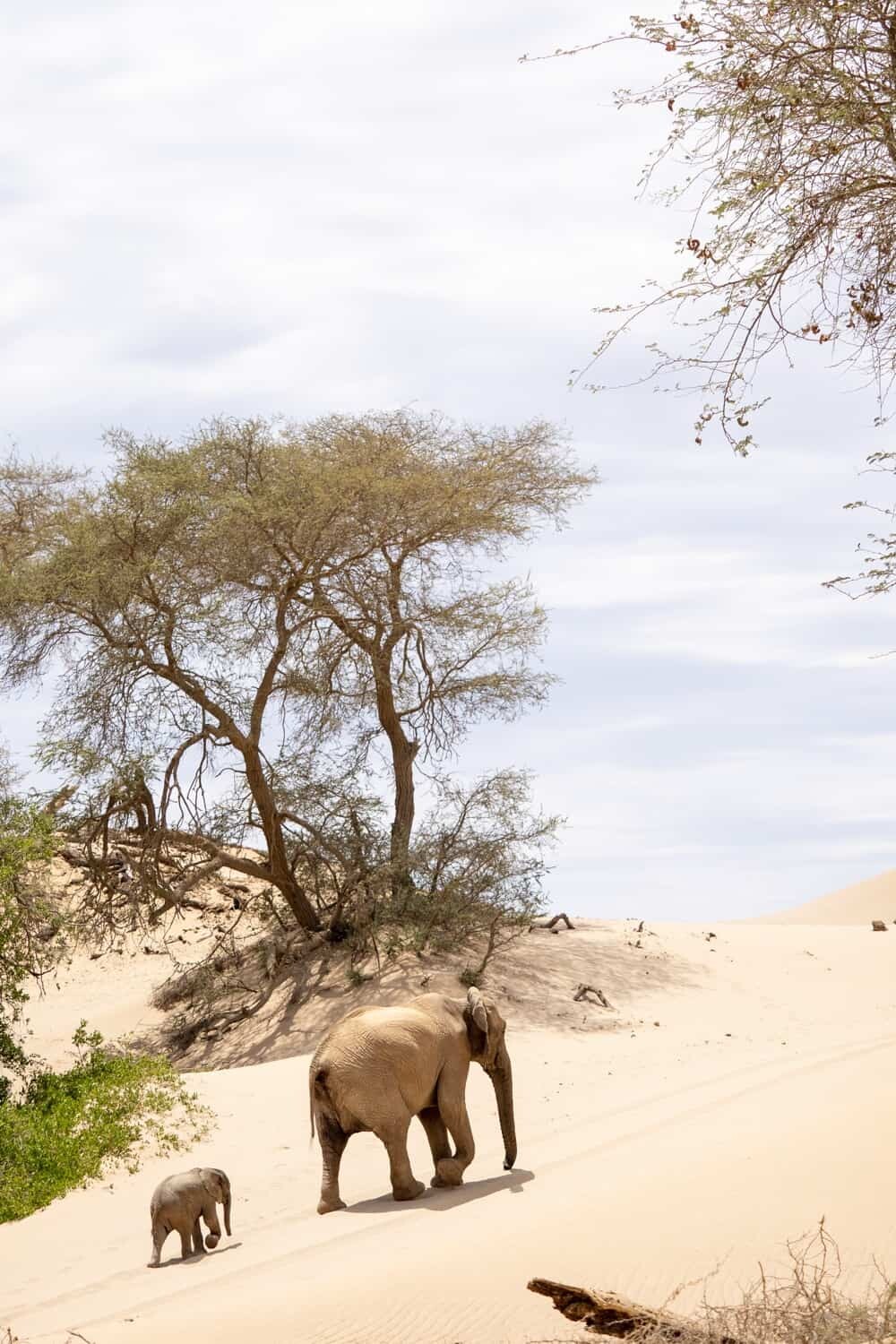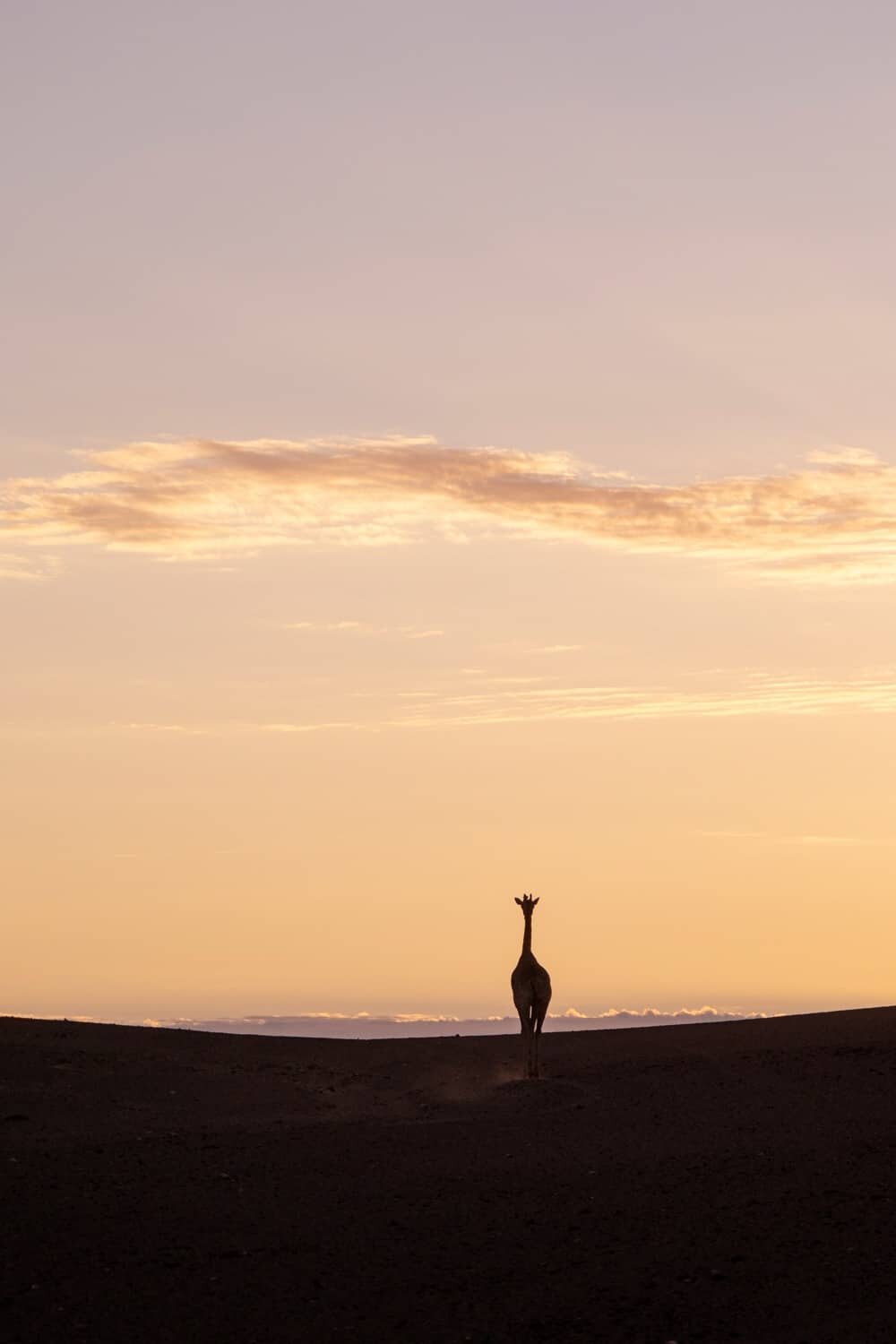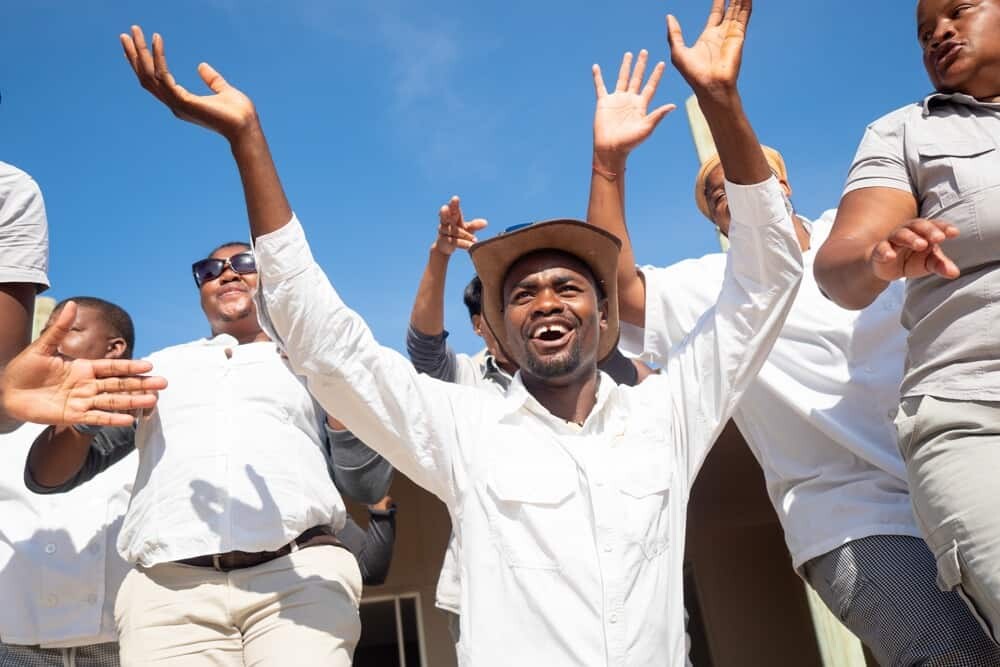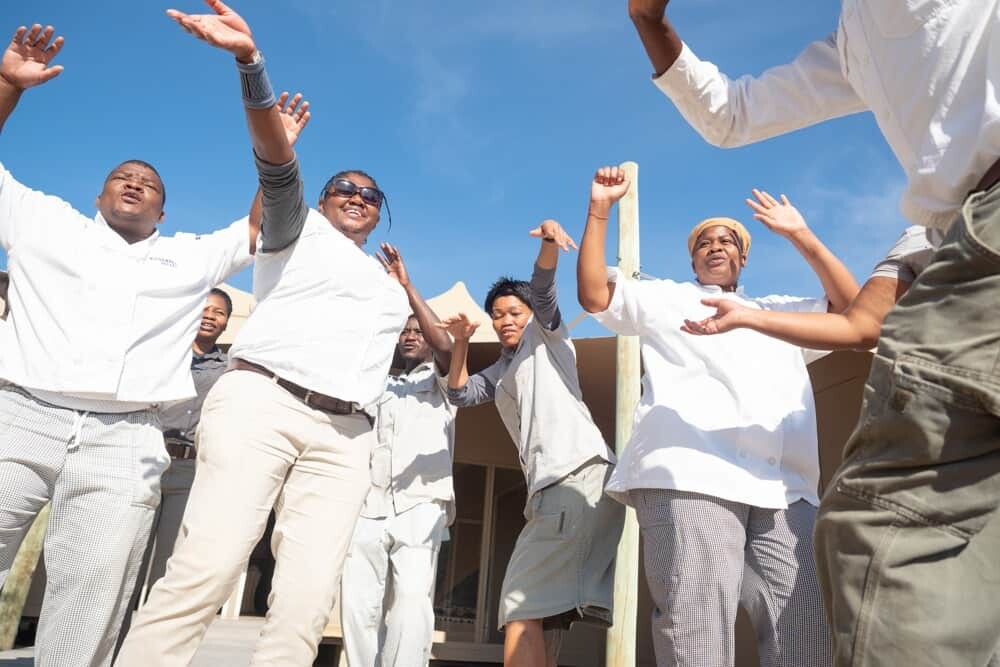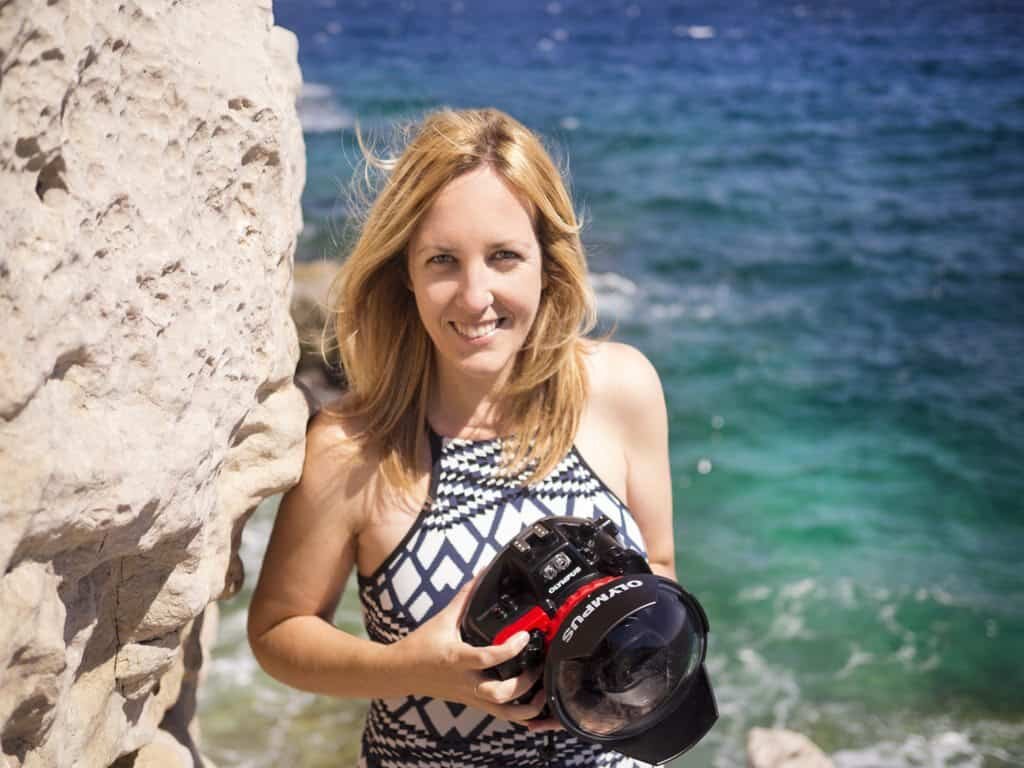 Hello! I'm the founder and photographer behind The Wandering Lens.
With 17+yrs experience as a professional travel and landscape photographer, all advice found on this site is from my personal experience on the road. I hope it's useful for your own travels and would love to hear in the comments about your trips and experiences around the world.