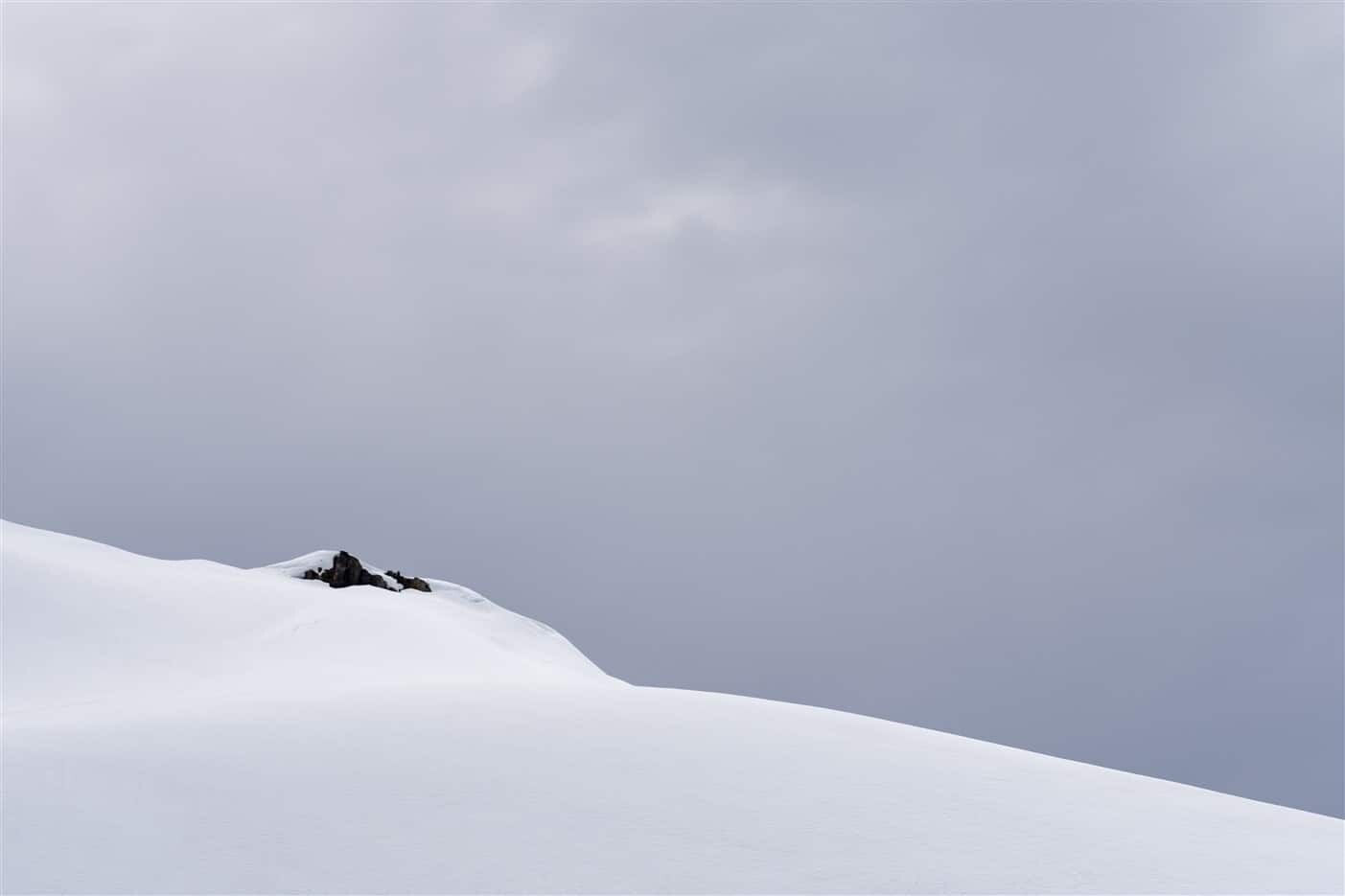 Getting snap happy in Whistler this summer!
Fresh mountain air…there's something so inspiring about being surrounded by it, letting it fill your lungs as you hike, paddle or simply sit and stare at the scenery. Alpine regions have long attracted photographers for their rugged landscapes and on a recent trip to Canada, I explored one of the best, Whistler.
Long known as the number one ski resort in North America, Whistler has been attracting international crowds for years, in fact it's quite a challenge to walk down the main street without hearing the odd Aussie accent. Whether you can ski (I can't!), snowboard, mountain bike or regular old hike there's something to fulfill every adrenaline junkie's dream but there's also some very photogenic experiences that funnily enough involve sitting down.
I'll confess, when I set out to write this guide I had a list of the locations and adventures I wanted to share, then I noticed that there was a comfy little connection between most of them…they involved sitting on your derrière and snapping happily away as the magnificent scenery passed by. Can photography get any better than that? Actually it can, there's always the chance of seeing a bear in the wilderness…you're in Canada after all!
Now I love a good outdoor adventure as much as anyone and if you've got a few days to explore around Whistler, it's well worth splitting your time between the more off-road, energy-filled activities and those a little more relaxing. If you're heading to Whistler in the warmer months there are of course loads of hikes you can do, some close to the village, others further afield leading to incredibly special spots. There's the Callaghan Valley, Ancient Cedars Hike and train wreck/suspension bridge trail or if you prefer a faster approach you can zip line across the scenery or quad bike over it.
In Whistler during my trip I explored some gems that are photogenic from the get go and it's these that I'll be sharing below. From zooming above glaciers in a helicopter to floating downstream in a canoe, take a peek at what I got up to and how you can experience the same on your next visit to Whistler…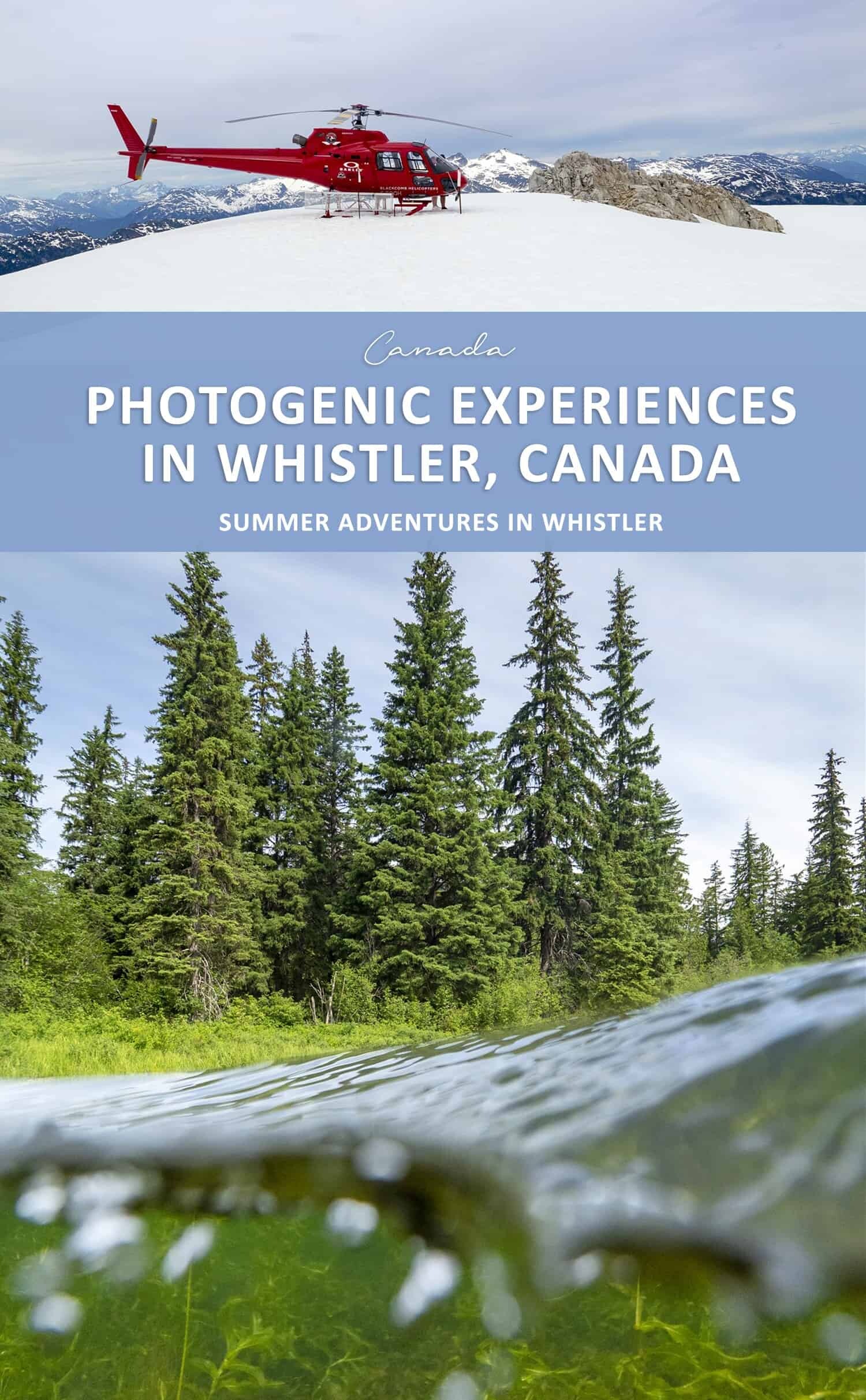 Glacier Landing + Flightseeing Experience with Blackcomb Helicopters
More info – www.blackcombhelicopters.com
As I buckled up and checked my camera was easily accessible for the flight ahead, I ran through some potential shots to keep in mind should the landscape be as I'd hoped. Within 4 minutes of taking off, those shots flew by the window as epic glacial crevasses and snow capped peaks met with lush forests to exceed every expectation I had.
Composing and clicking like I'd never seen blue sky before, I couldn't believe what we were flying over. Being early summer, glacial meltwater was illuminating pockets of sparkling blue water, contrasting like droplets of magic against the frozen white lakes. As the pilot expertly navigated through the valley, we rose above Cheakamus Glacier and one of the most impressive scenes revealed itself. Layers of ice varying in tone and shape were seemingly endless as we tilted from left to right ensuring everyone in the chopped had a chance to get their photos.
While you can opt for a 'flightseeing' experience, you can also upgrade to the extended BC Experience which includes 24minutes in the air and a 15minute glacier landing. Seeing the landscape from above is one thing, landing on a glacier and stepping out of the helicopter is another. With zero mountaineering skills required, you can capture the scene above 2200m on the 12,000yr old glacier of Rainbow Mountain. It's thrilling, a tad scary (if like me you're clumsy on surface related to winter) but oh so photogenic. Unspoilt ridges with snow rolling over rocky outcrops provide photo opportunities in all directions so be sure to use your time up top wisely by capturing both wide angle shots and zooming in a little closer to showcase the details of this natural spectacle.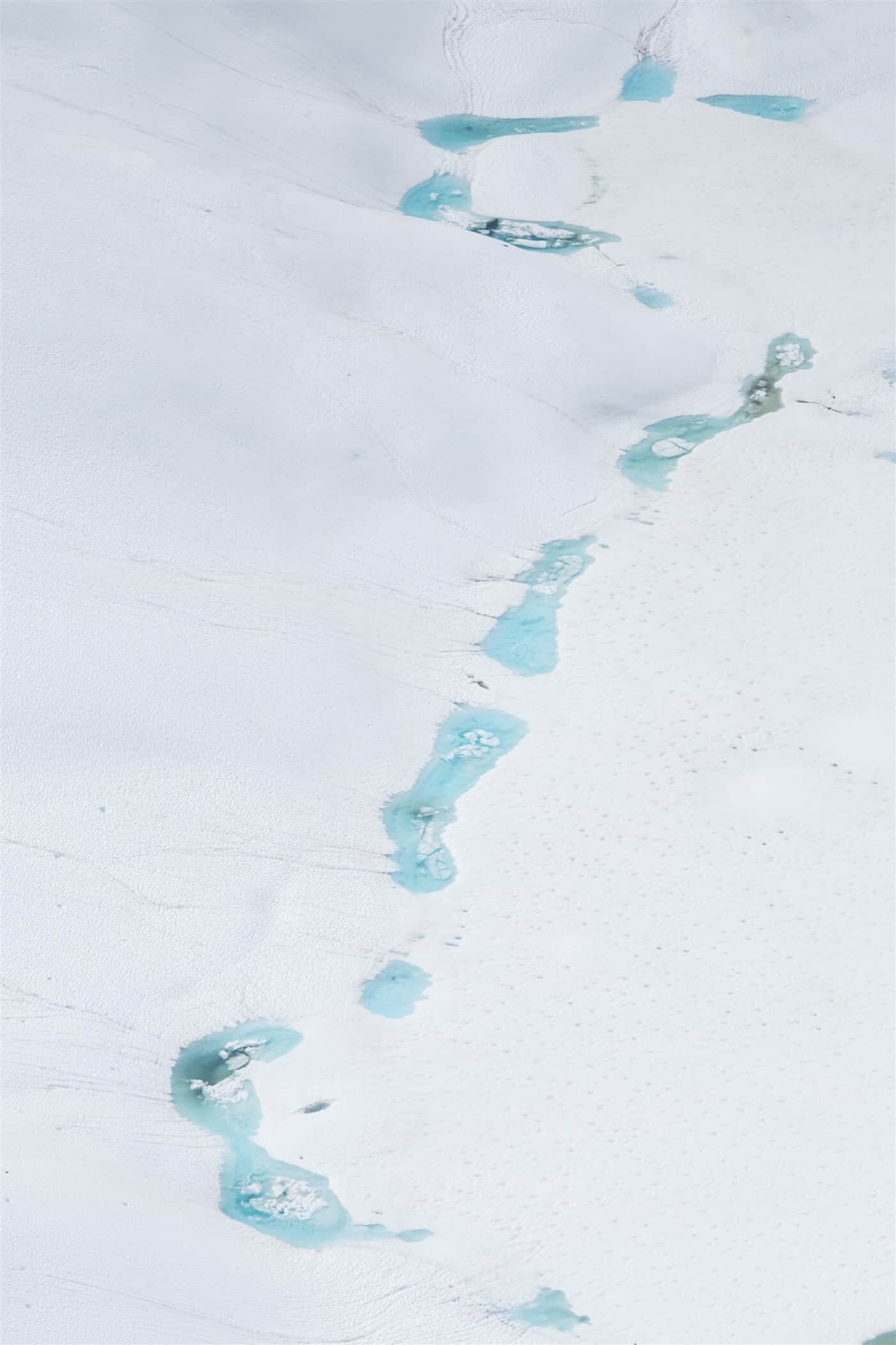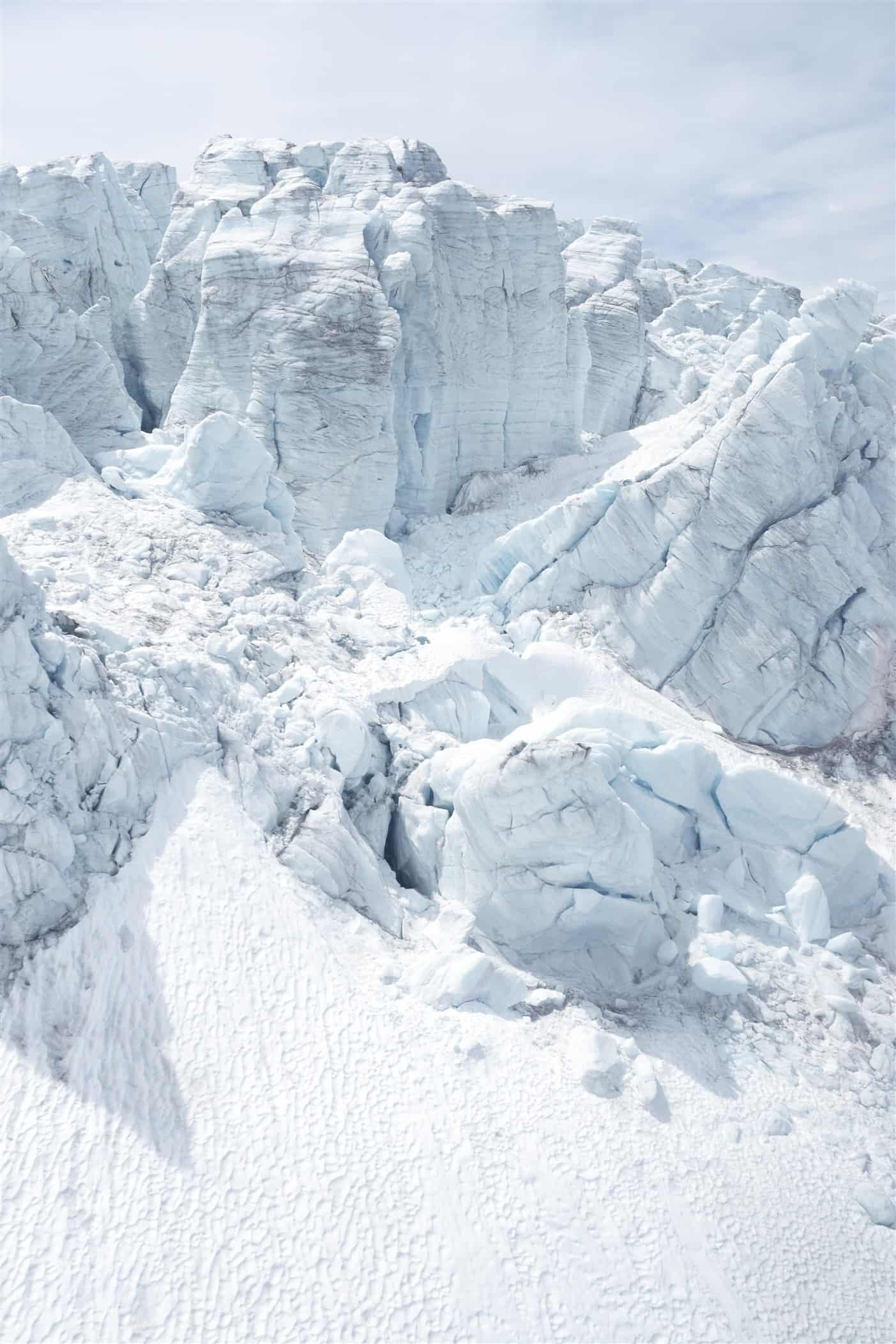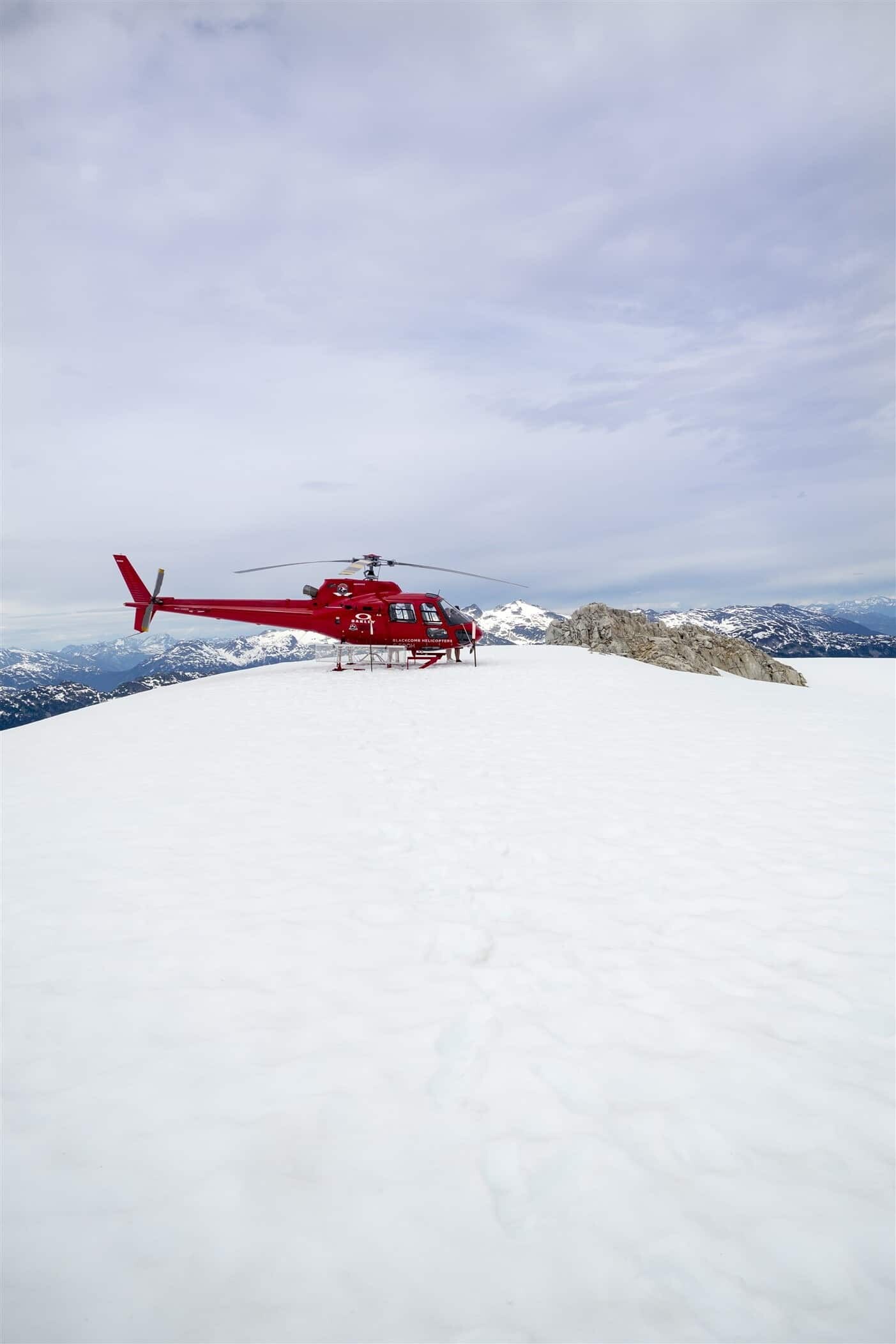 Canoe the River of Golden Dreams with Whistler Eco Tours
More info – www.whistlerecotours.com
Remember the part where I said you can sit and take photos!? This is it. You're sitting, floating and watching as the peaks of Whistler and Blackcomb pass by, as lakeside houses make you dream of a summer BBQ and as the water sparkles beneath the canoe. Now, one tiny detail…you do have to paddle, but that's all part of the fun.
Canoeing down the River of Golden Dreams is enchanting. It's the type of experience that forces you to take a deep breath and soak it all in. Ducklings, water flowers and even the potential to see bears along the shoreline of Alta Lake will keep you occupied until the pace of the river picks up. Then it's all action packed as you steer your way while the current pushes you and creates a fun challenge, especially if you're in the back and steering.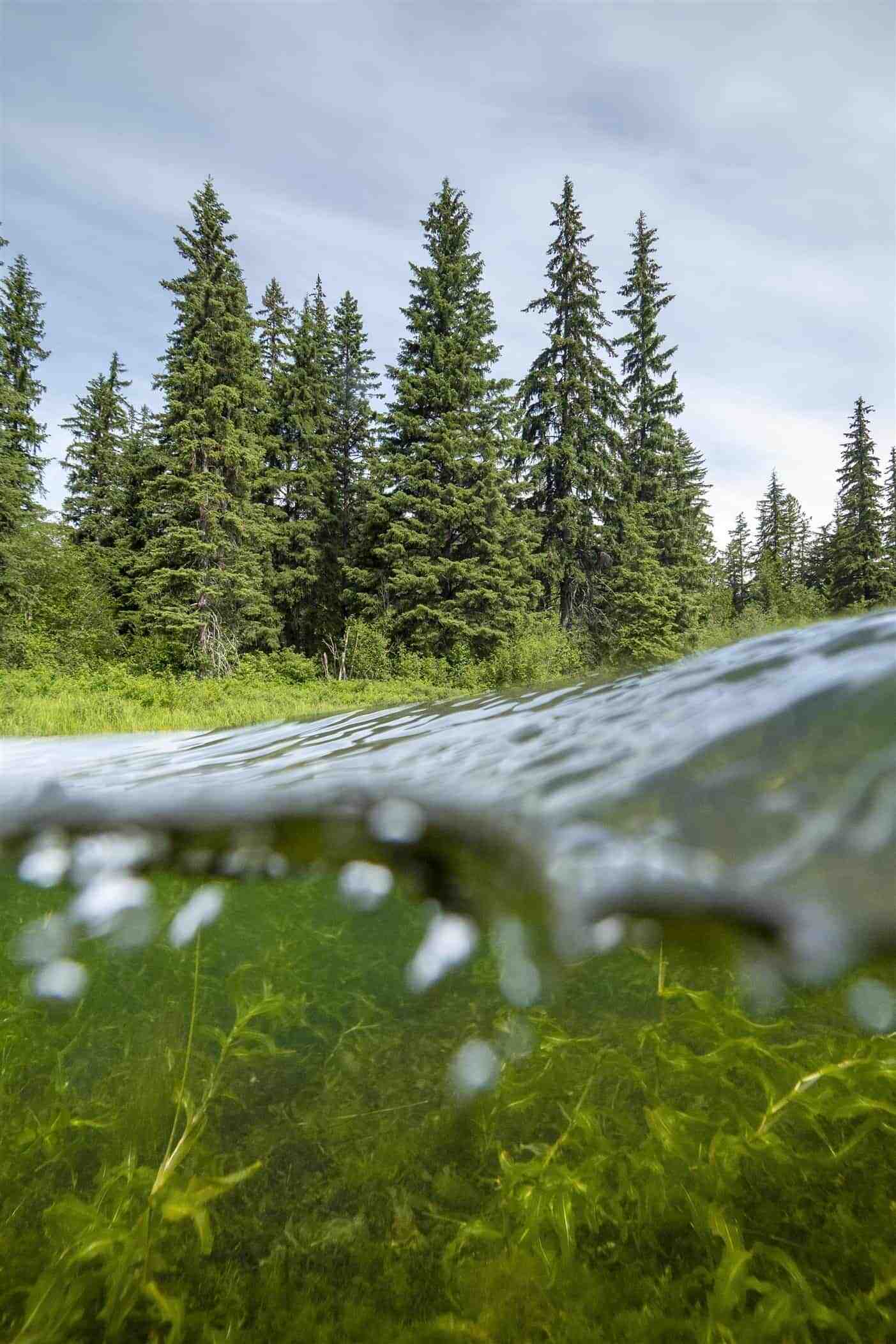 There's the option to paddle in an individual kayak too…if you're prone to being a control freak when in a two person kayak or canoe I'd definitely opt for the solo option, otherwise, the canoe can feel like a unique Canadian experience.
When it comes to photos be sure to have a waterproof camera handy to capture the adventure. I had my PT-EP14 underwater housing for the Olympus E-M1 MKII along for the ride and used the dome port to capture split-levels of the landscape above and below the water line. Otherwise, the TG-5 or similar action cameras will work a treat because they'll definitely get splashed so having an unprotected camera won't cut it…plus, it's way more fun to be able to dip your camera underwater or dunk it as the little rapids rush past the canoe, you'll get much more creative results!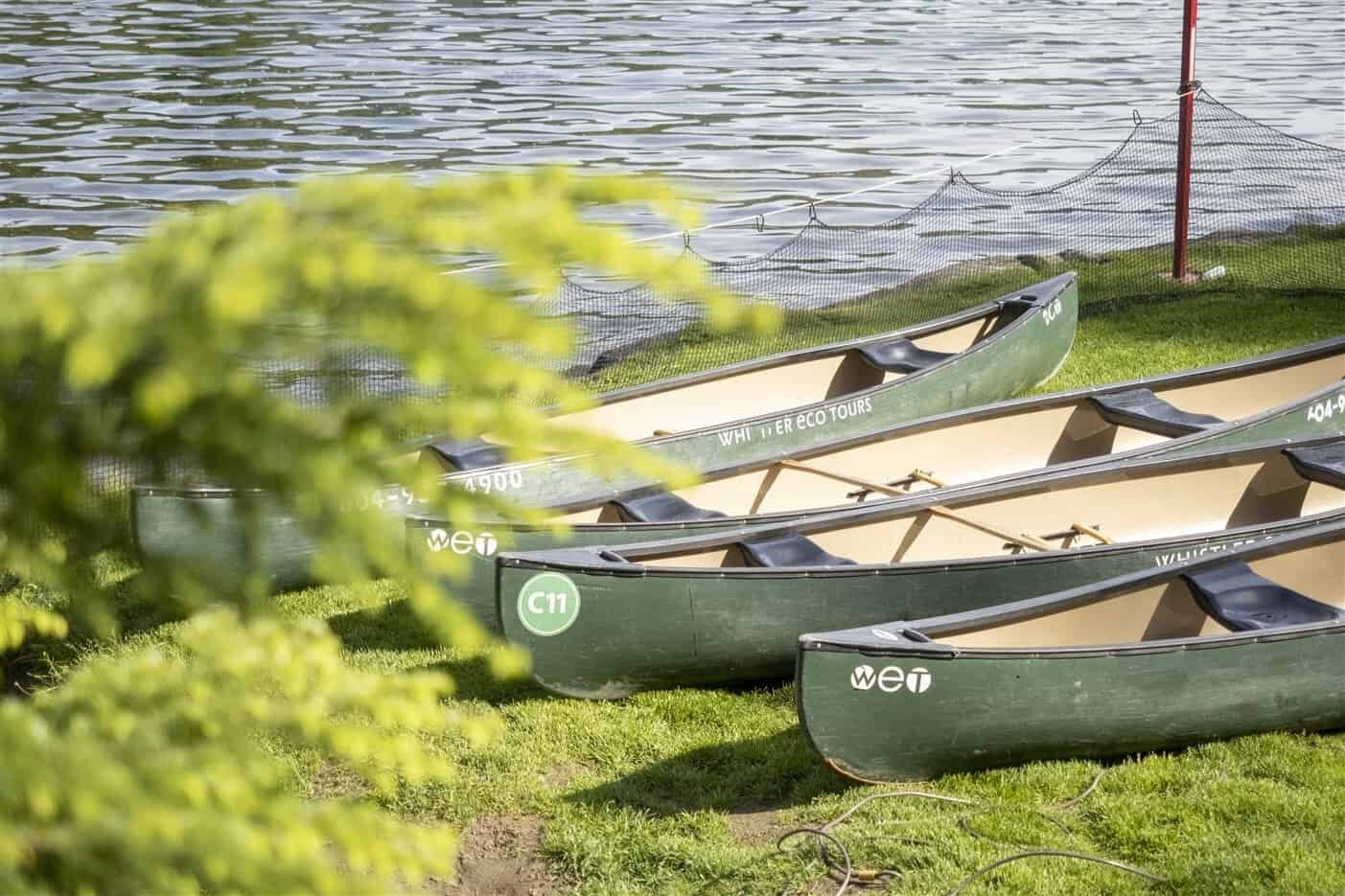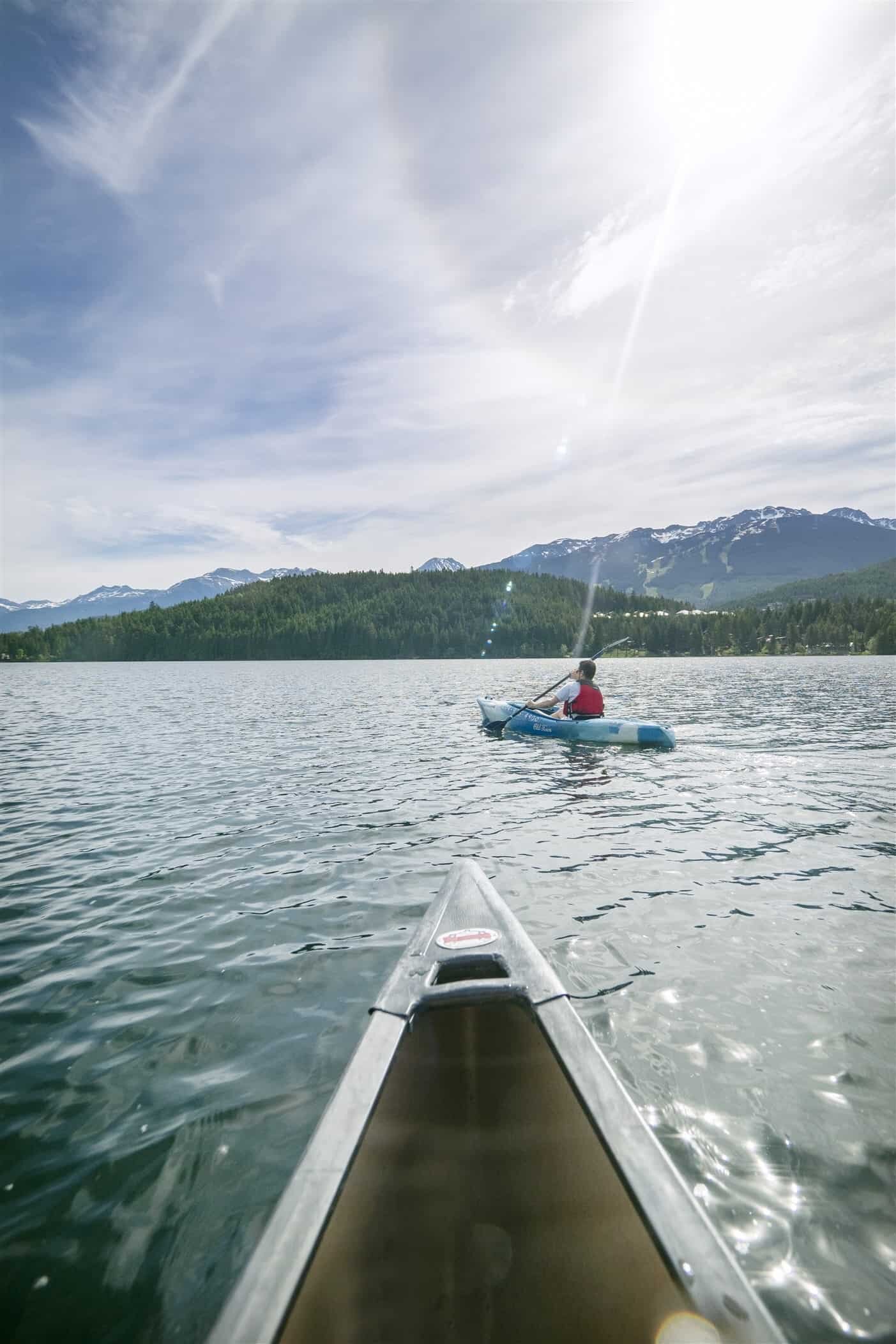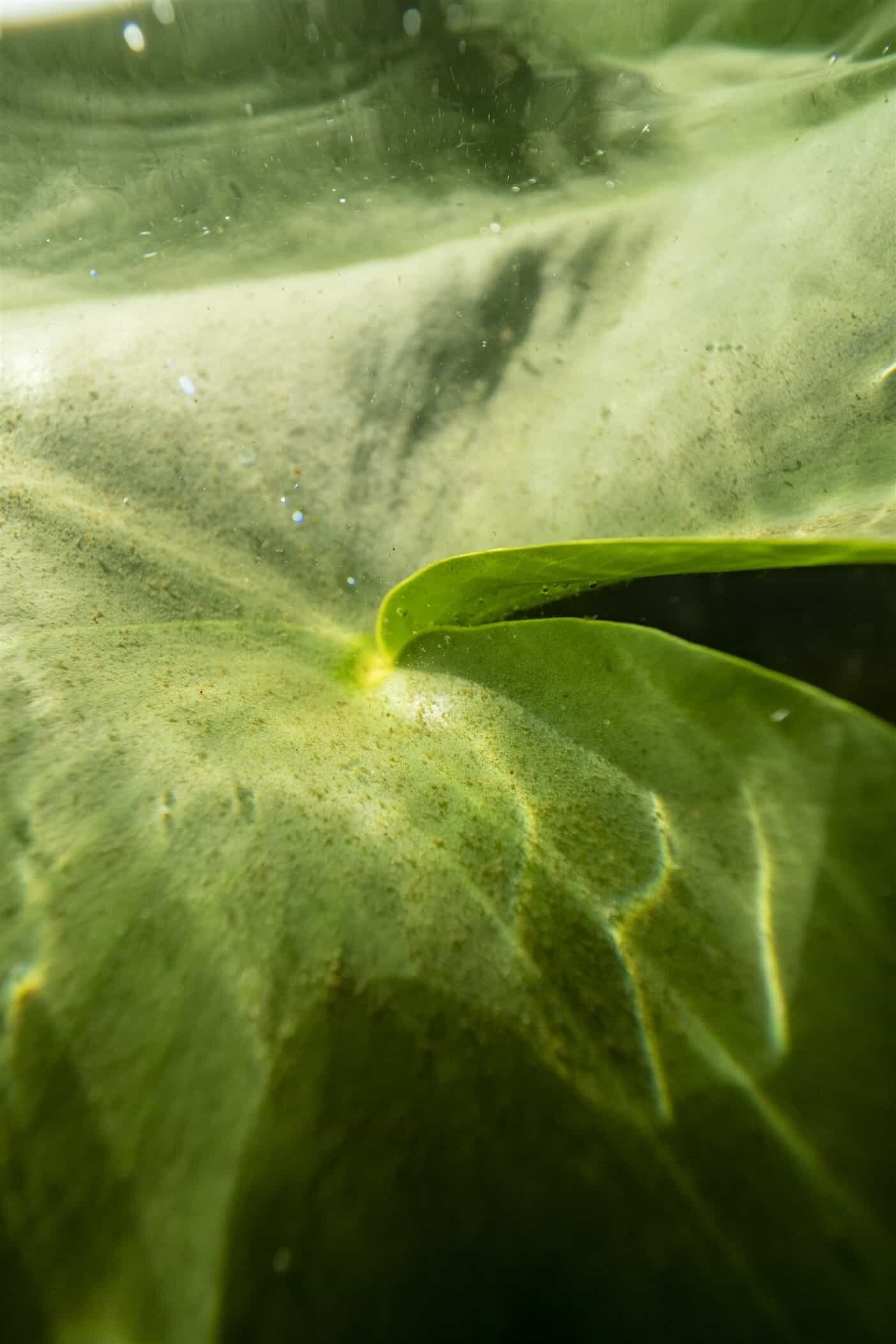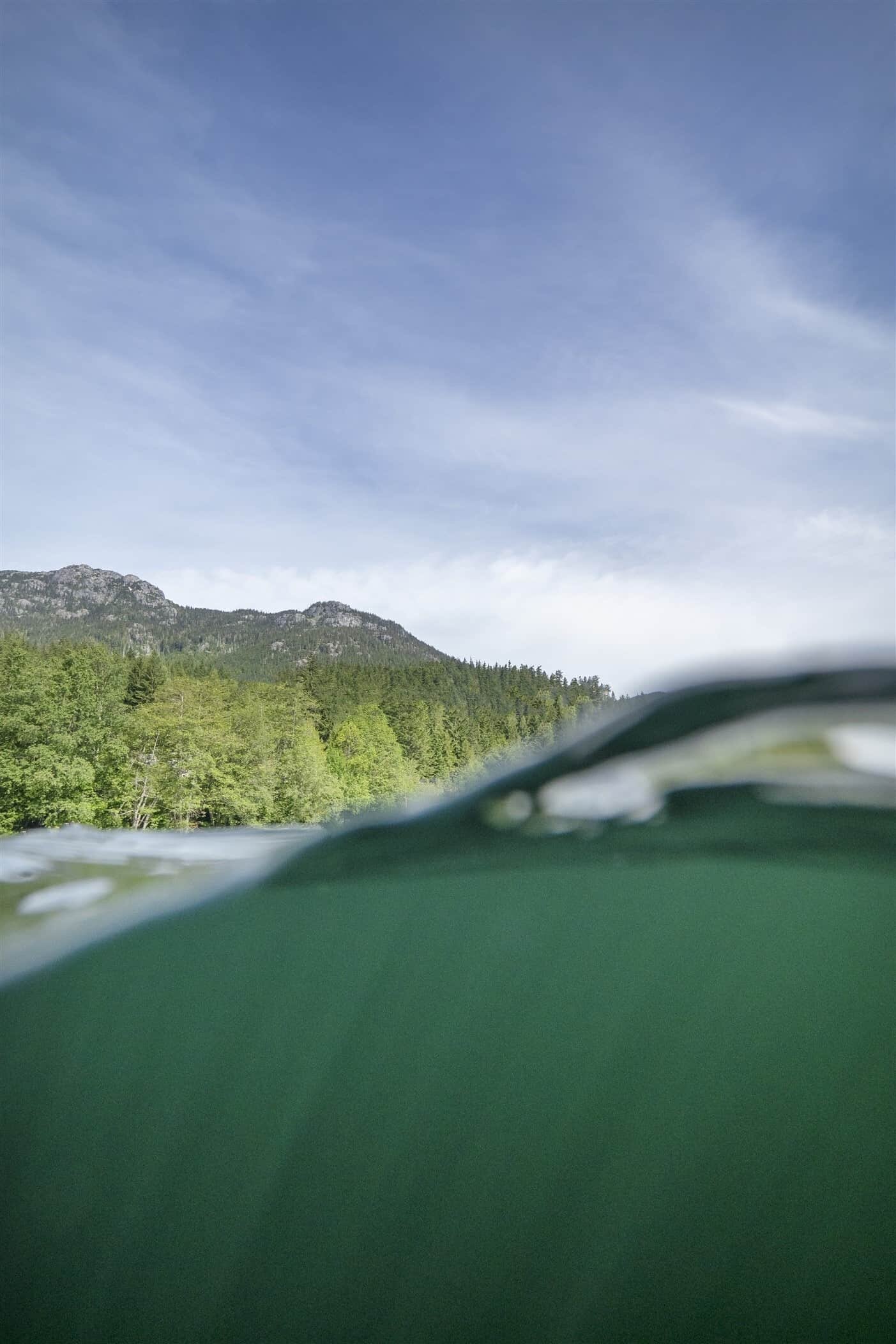 Ride the PEAK 2 PEAK Gondola –
More info – https://www.whistler.com/activities/peak-to-peak-gondola/
Offering 360 degree views as you venture up to Blackcomb Peak, the gondola is a quick and easy way to literally get above it all and photograph Whistler. I was glued to the window with my camera up against the glass (essential to block out any blur, scratches or light) but also because the potential to see bears below is so high that you just never know when that moment will happen.
The Peak 2 Peak Gondola is unlike any standard gondola, it just so happens to hold a Guinness World Record for the longest distance between stations, linking both Whistler and Blackcomb peaks together in 3.024km. There's also another thrilling part of the trip, the ride hovers at 436m above the valley floor, not exactly for those with a fear of heights but I can attest to it being super smooth and stable…I felt like a giddy kid the whole time gazing in wonder at the world below.
Those keen for some more heart racing activities can walk out on the Cloudraker Skybridge and Raven's Eye Cliff Walk, both open during the summer. At each peak you'll find a restaurant and patio so you can chill on the deck and photograph as light changes the appearance of surrounding valleys too!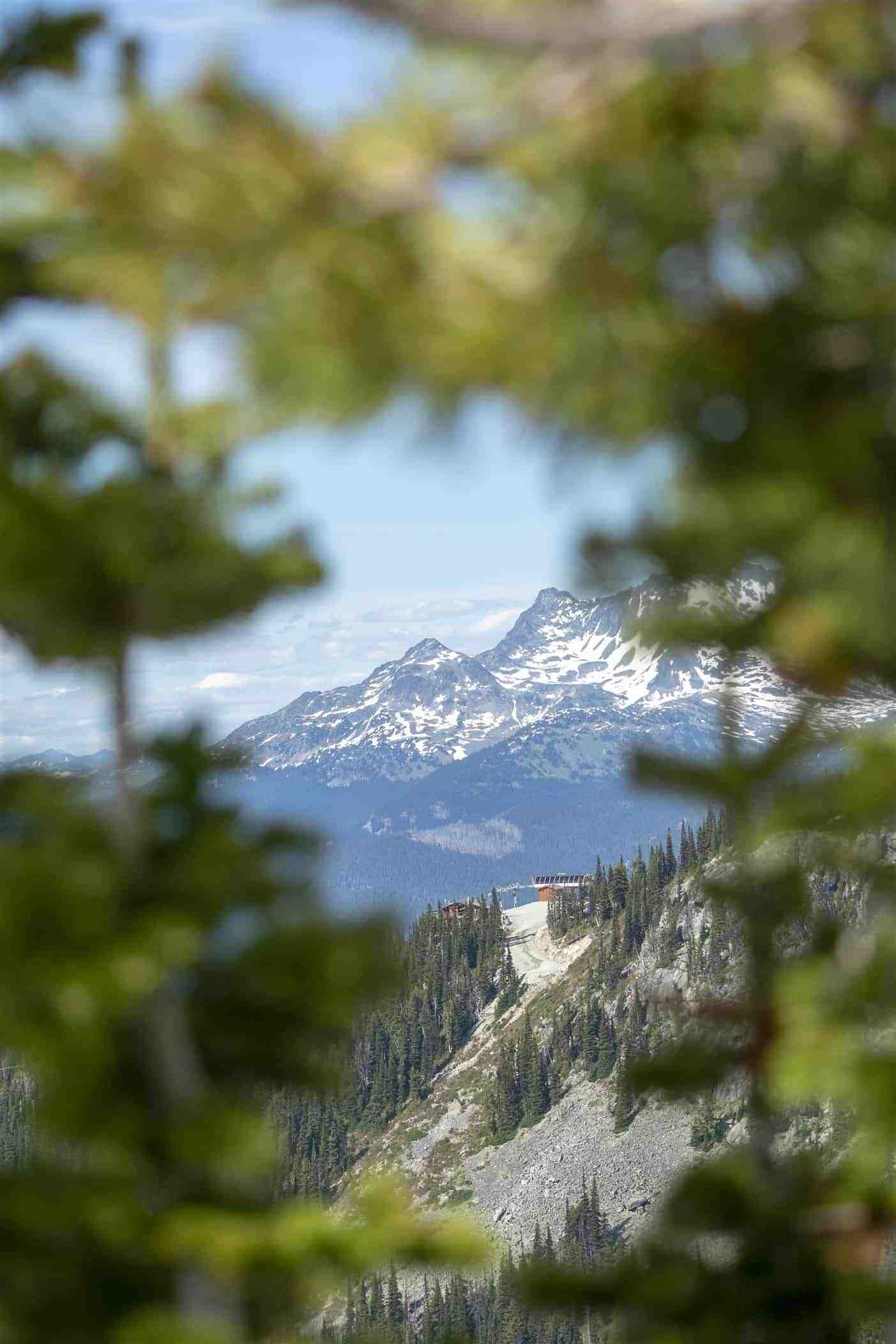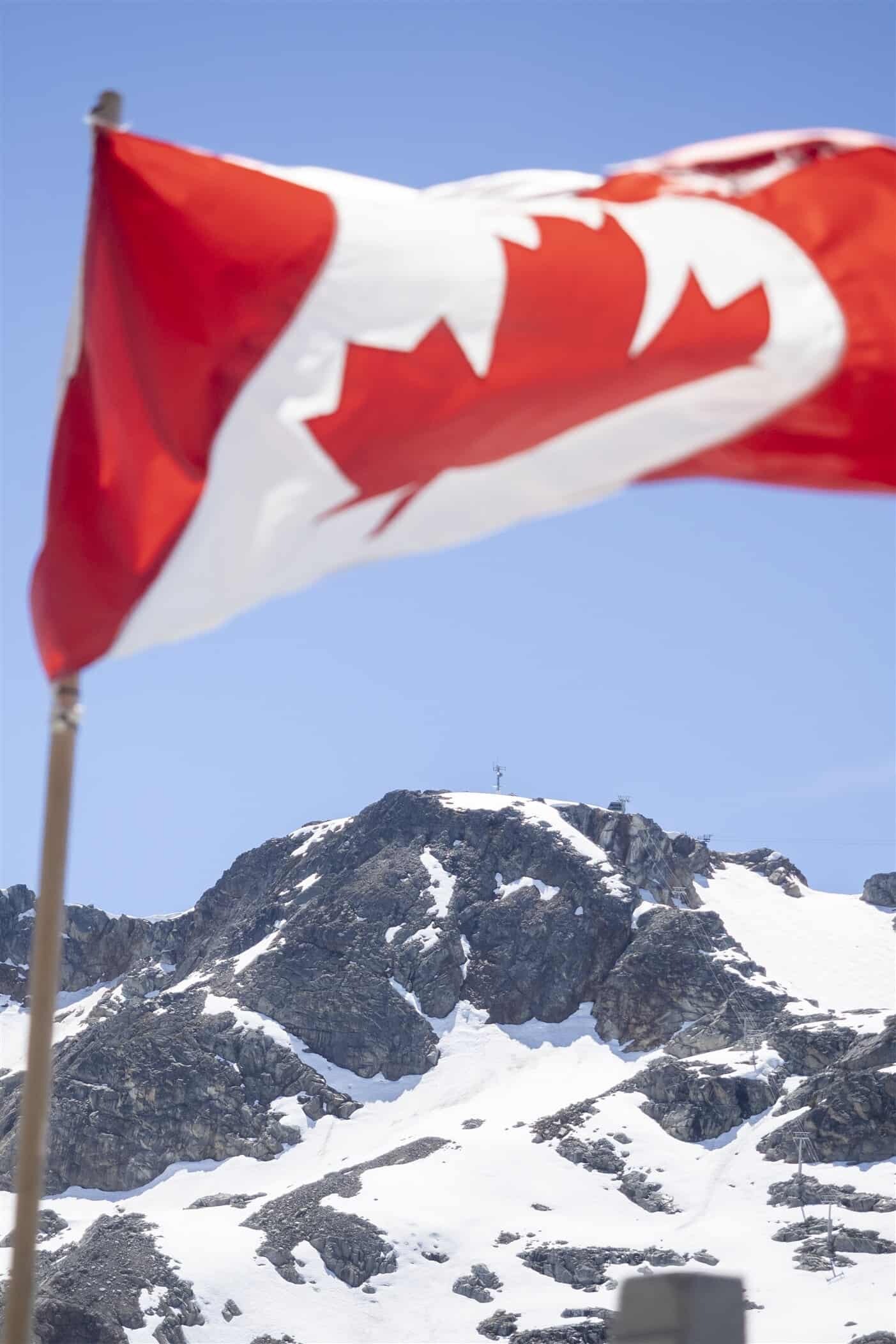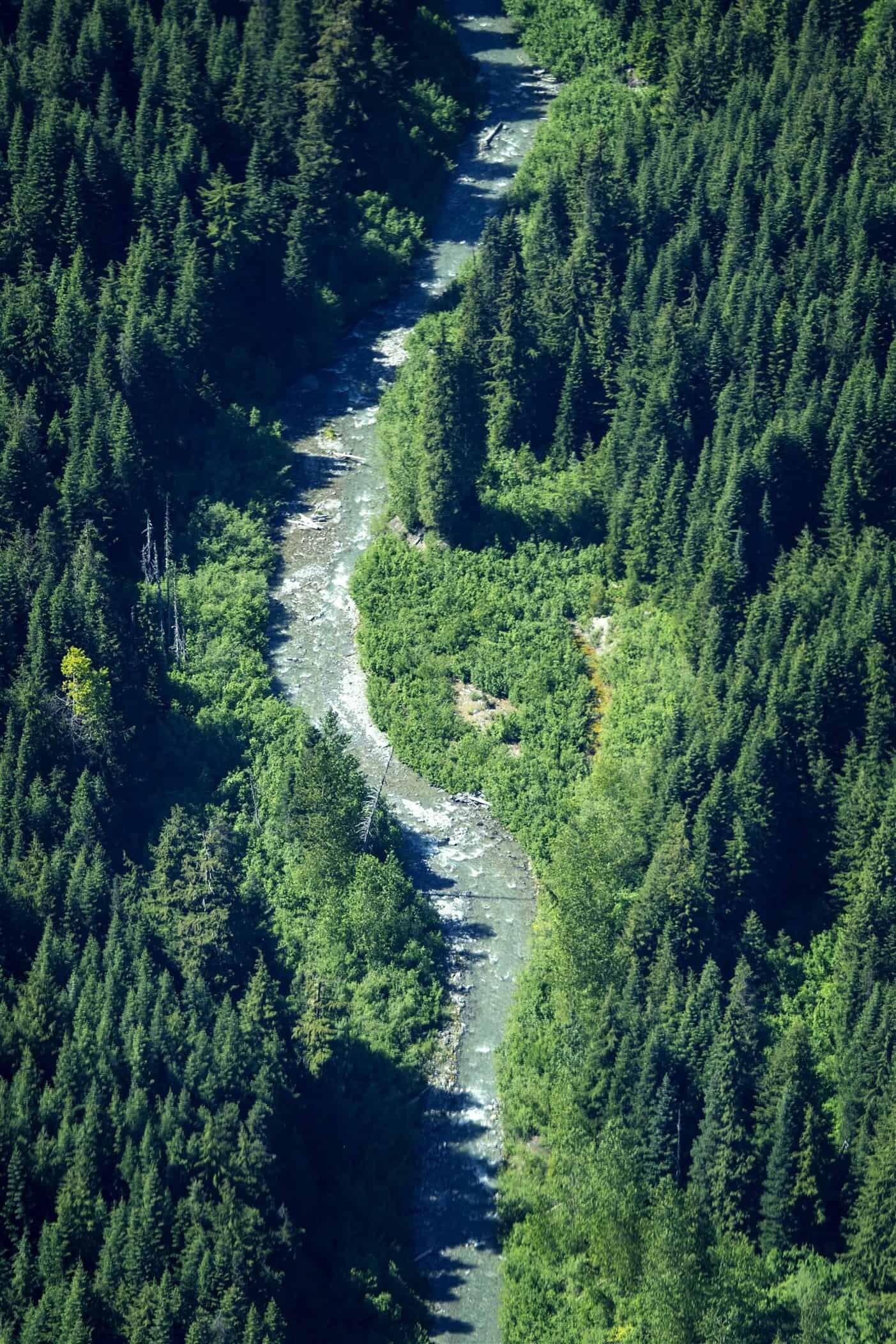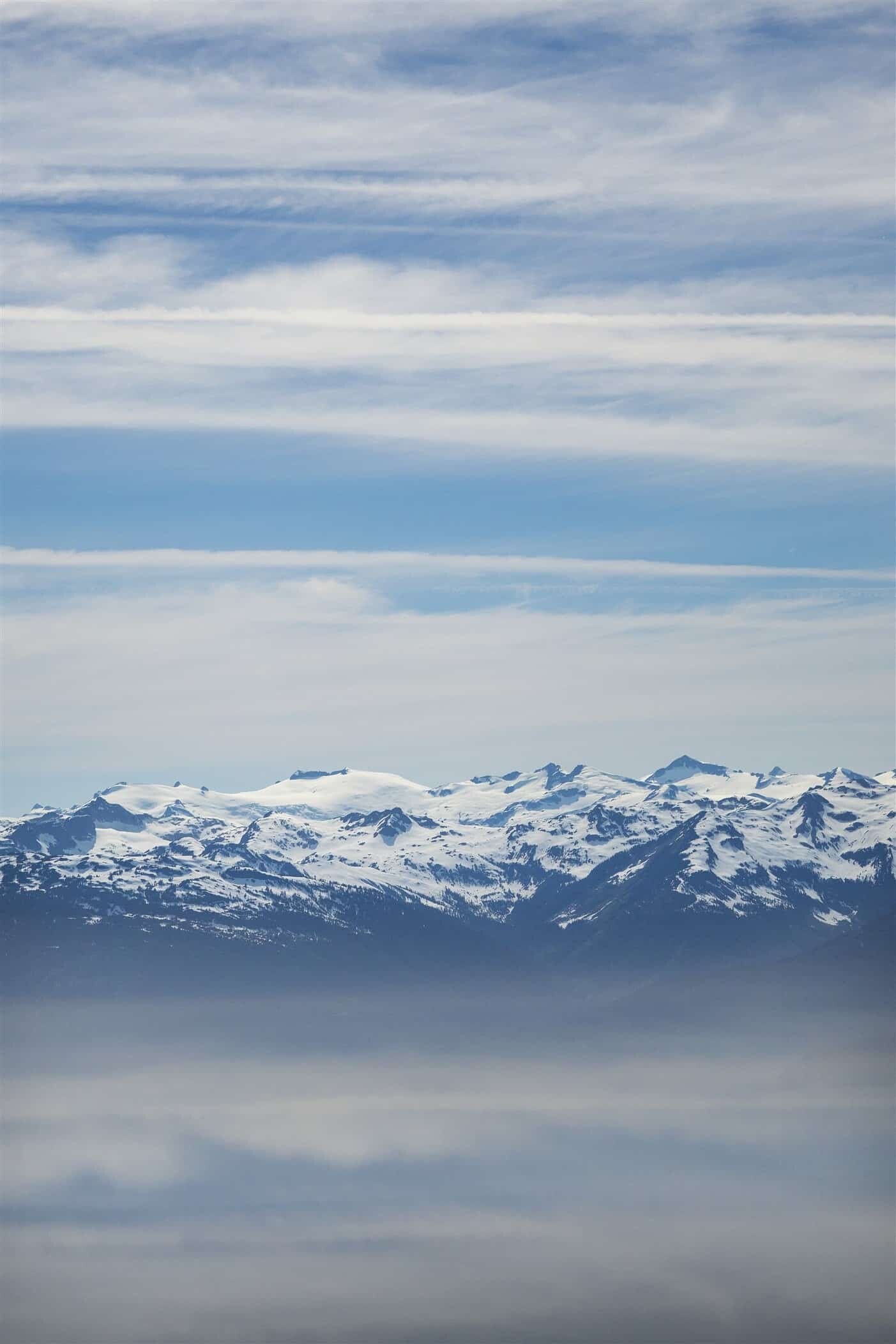 Photograph long exposures of Fitsimmons Creek
Linking the village of Whistler with the Blackcomb gondola station, the Valley Trail is a peaceful little wander over Fitsimmons Creek. In early summer, the creek is gushing with force as melted snow makes it's way down to the lakes and forms mini rapids, ideal for long exposures!
With the new Olympus OM-D E-M1X and it's fandangle built-in ND filter, I was photographing the moving water at exposures of up to 3-5 seconds hand held. The patterns created by rocks within the creek helped to carve compositions and honestly kept me busy for at least an hour.
In Whistler Village there's also a park that I found particularly pleasant and couldn't resist spending some time in. Florence Petersen Park is a lush little haven right in the center of the village yet it feels like you're in the depths of the mountains. Trickling water creates the perfect soundtrack to wander amongst the giant pines or sit in the bright yellow deckchairs and close your eyes. Well worth a look!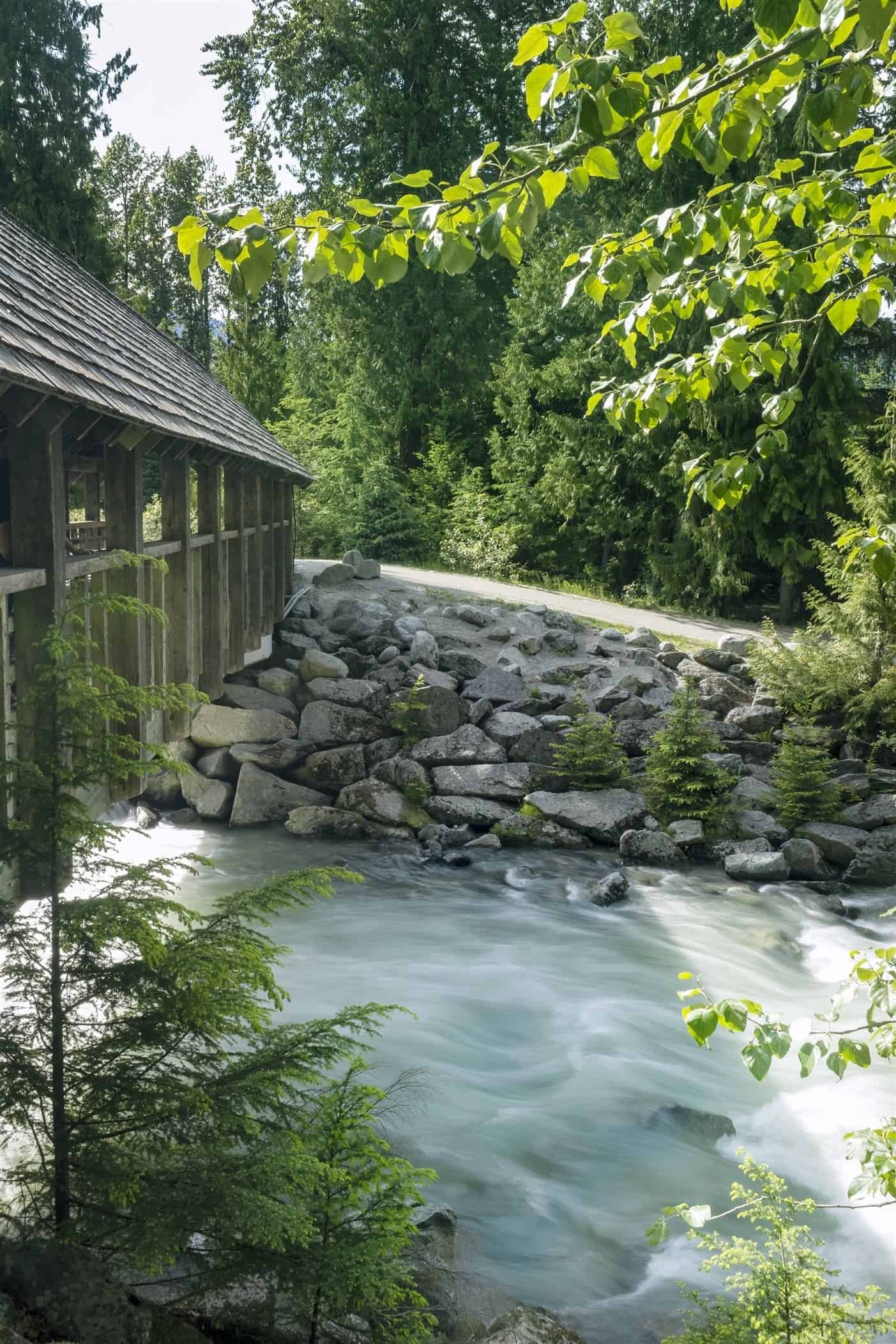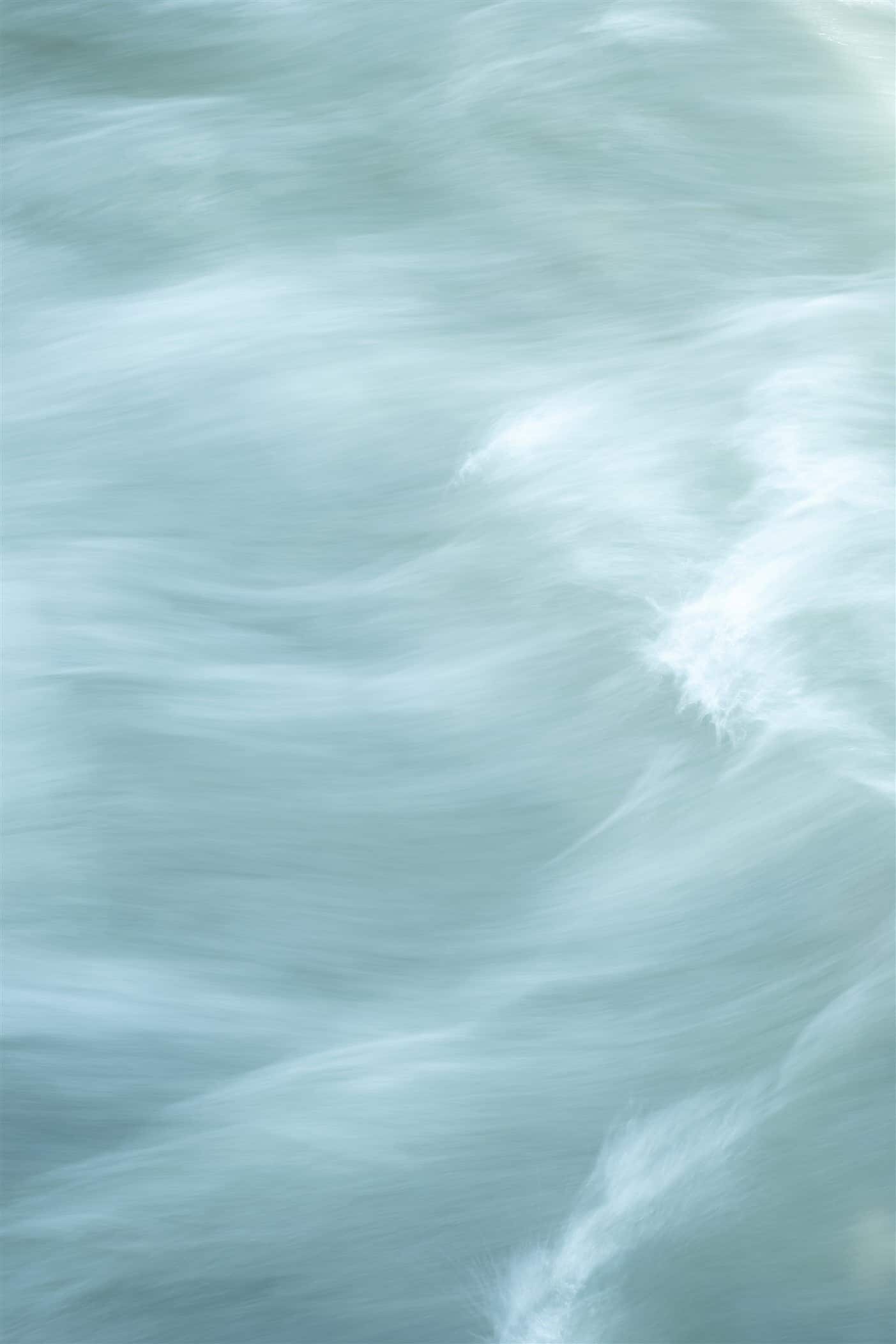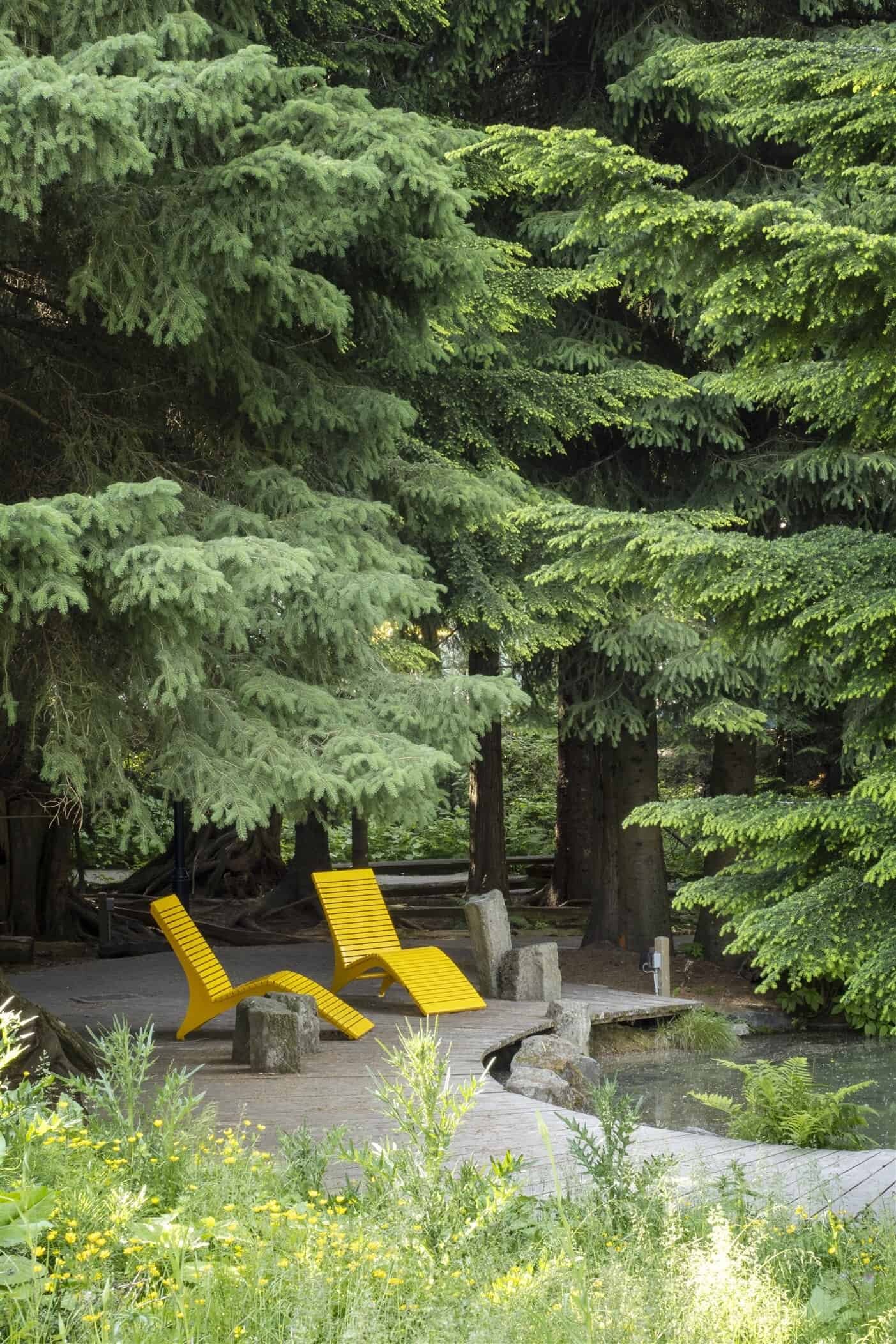 Hike the Lost Lake Trail
Feeling like you're truly in the middle of nowhere, the Lost Lake trail begins in the village and meanders towards the Lost Lake, a very popular spot for swimming in summer and snow shoeing or cross country skiing in winter.
Be prepared to use the flora and forests in your composition to help frame the stunning lake scene and as always when walking around Whistler, keep your eyes peeled for bears. There's a number of tracks you can use to venture off the trail, my favourite being along the shoreline, a slightly rougher track but photogenic and so peaceful.
It takes about 20-30minutes to walk to Lost Lake from downtown Whistler but once there, you can spend hours. Opt to do the entire loop trail or like me, venture to the lake and find a happy place to sit and soak it all in. Morning fog in the cooler months provides photographers with ideal landscape photography conditions, as do still days when reflections of the forest and mountains dazzle in the depths of the lake.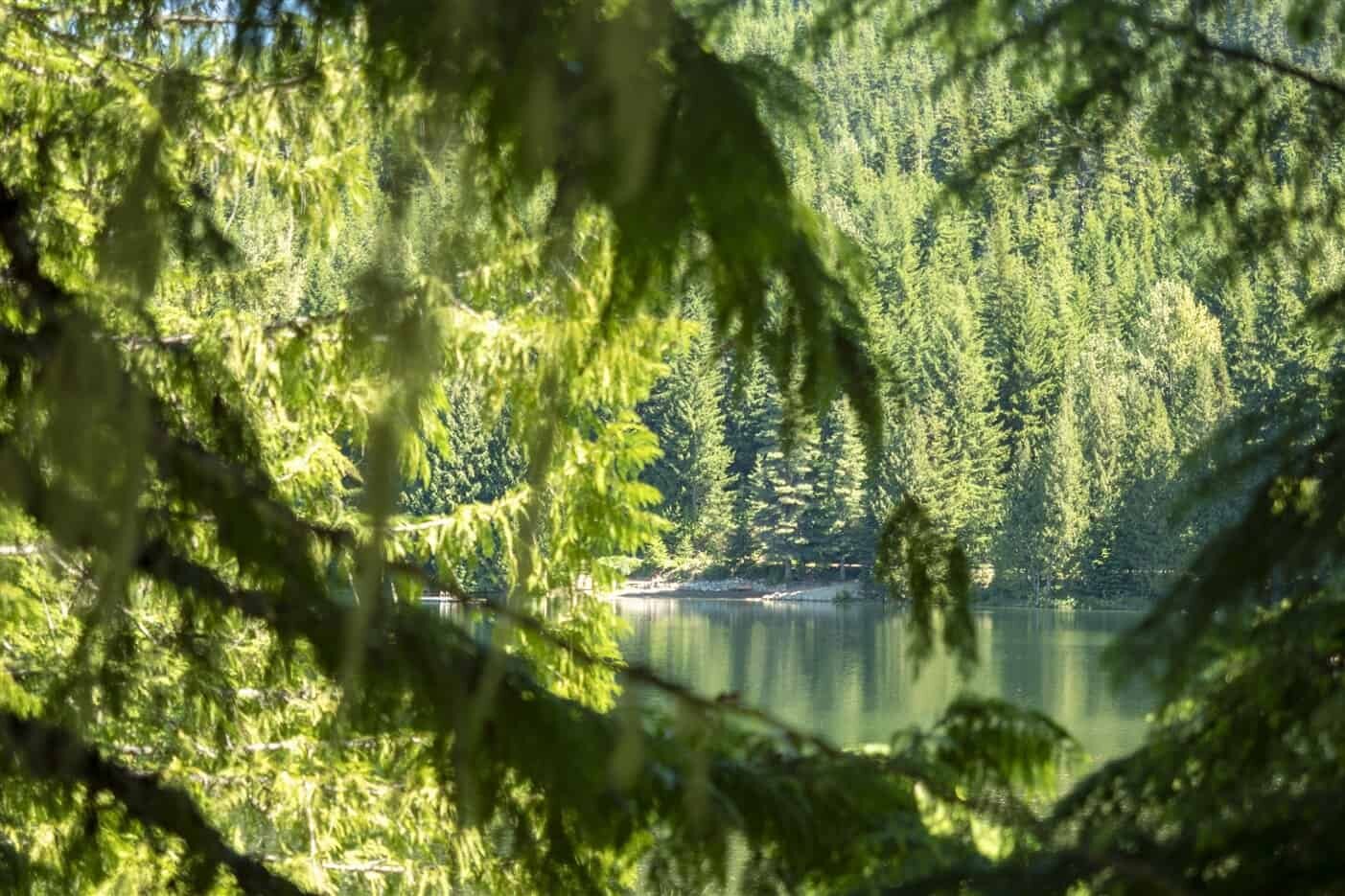 Where to Stay in Whistler?
Chalets, cabins and hotels make up a seemingly endless array of accommodation options in Whistler. I was lucky enough to stay at the Summit Lodge Boutique Hotel which won me over from the moment I walked into the lobby and saw two puppy dogs and a canine corner…hello dream hotel. The Summit Lodge has a funky yet stylish atmosphere with a fireplace welcoming you in the reception and even one in your room, ideal for conjuring up that alpine feeling.
The rooms are everything you could want and more with bright colours blending with calming textures and all the comforts you need. There's also cute little hand made toys on the bed which I thought was a gorgeous addition! What makes this hotel ideal is also it's location, smack bang in the centre of Whistler, right around the corner from the Visitor Center and across the road from coffee shops, cafes and every dining option from Mexican through to Italian and an IGA Marketplace too. Oh and downstairs there's a Japanese restaurant…perfection.
Breakfast at the hotel is an experience in itself with the Elements Urban Tapas Lounge cooking up some serious gourmet creations! There's a pool, co-working space and coffee shop plus, if you get lonely during your stay, you can even opt to adopt a fish to keep you company, if that's not caring about guest satisfaction I don't know what is.
To book a room at the Summit Lodge Hotel take a peek at their site here www.summitlodge.com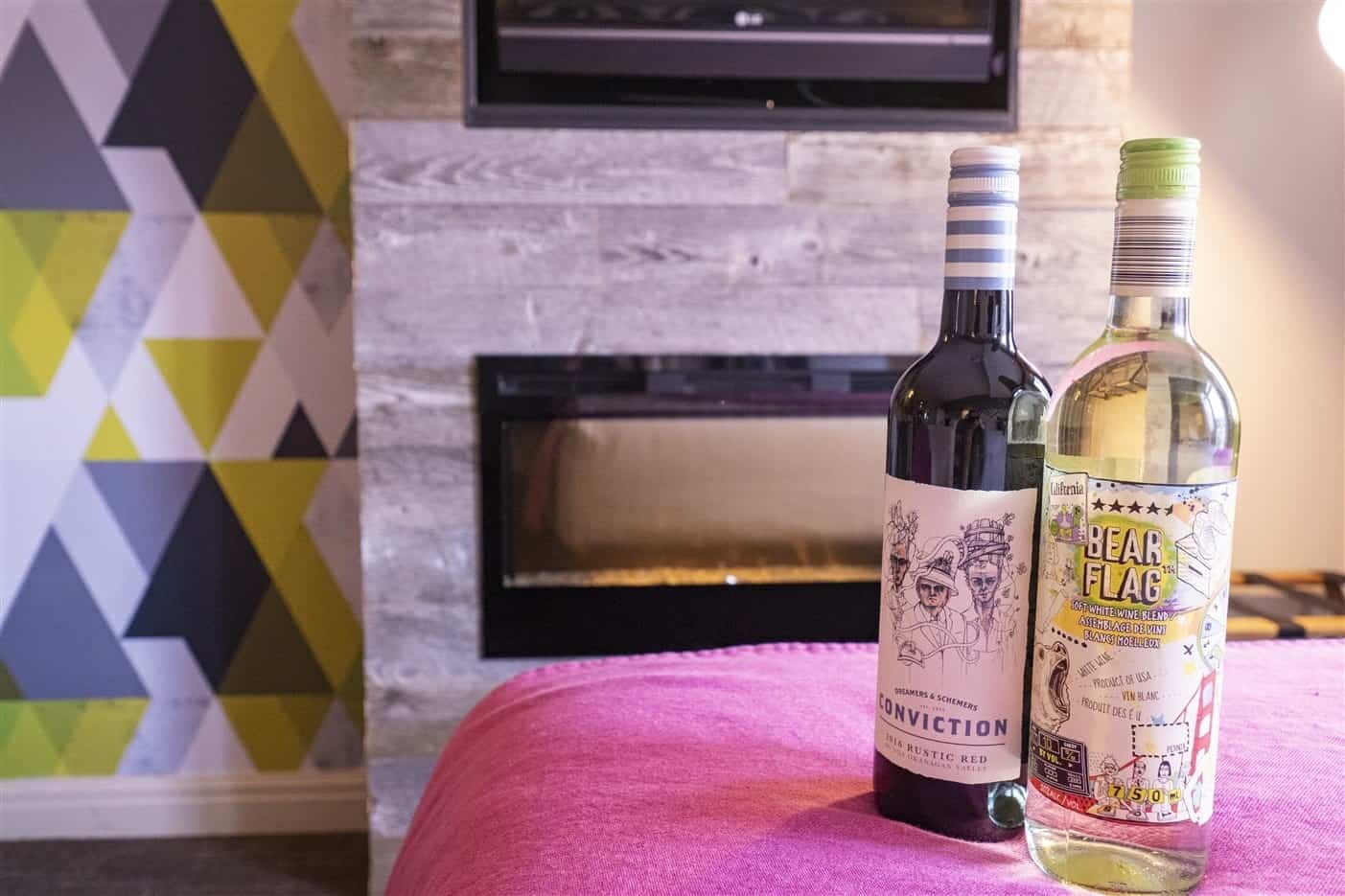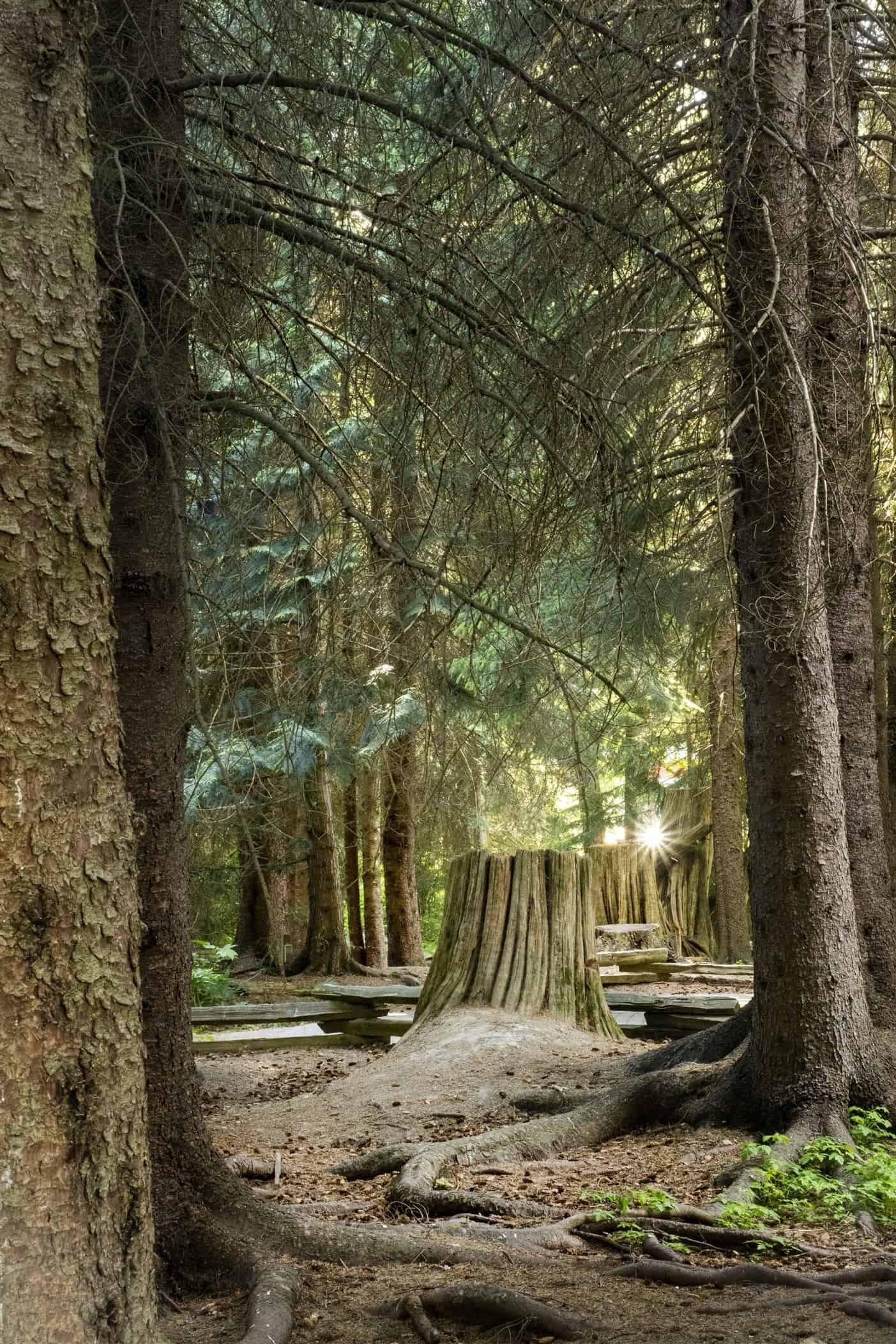 *The Wandering Lens was hosted by Tourism Whistler but as always, all opinions and images are my own and all details noted are based on personal experiences from my visit in June 2019.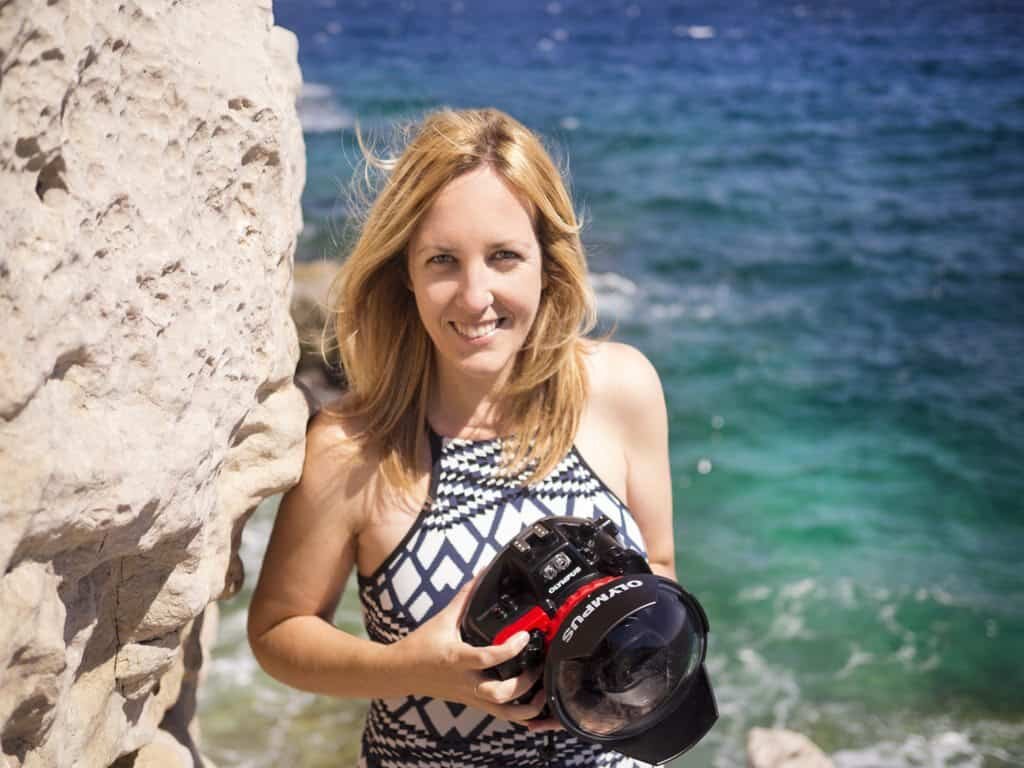 Hello! I'm the founder and photographer behind The Wandering Lens.
With 17+yrs experience as a professional travel and landscape photographer, all advice found on this site is from my personal experience on the road. I hope it's useful for your own travels and would love to hear in the comments about your trips and experiences around the world.