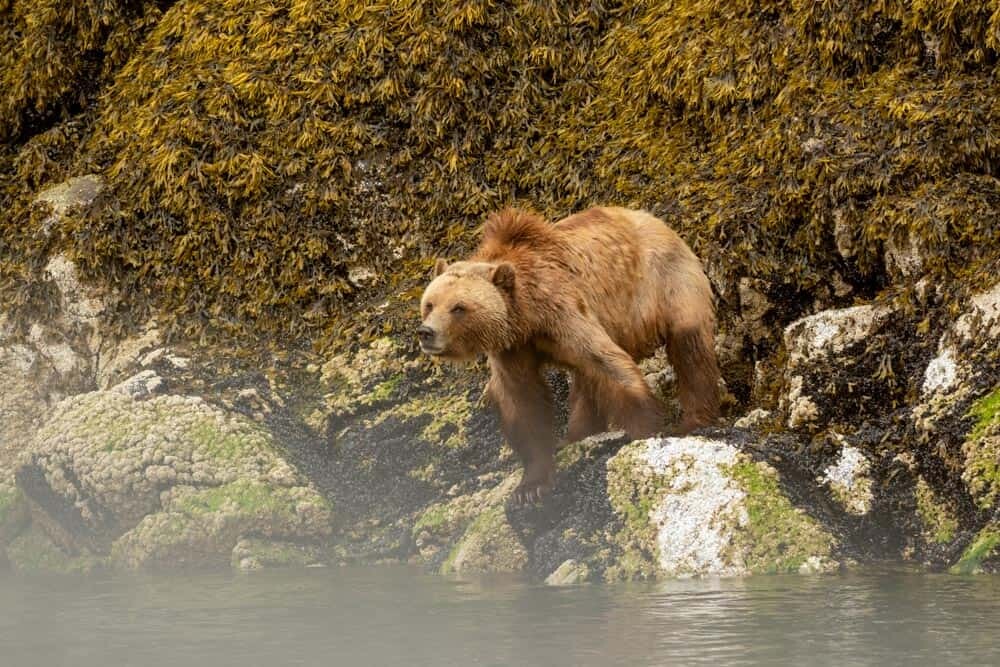 Visual Hotel Review: Farewell Harbour Lodge, Canada
Taking a deep breath as I sat on the boat's bow, sunshine as warm as the tea in my hand beaming down, water lapping gently on the hull and my camera already filled with images of Grizzly Bears. I closed my eyes and began to imagine what this scene must appear like when viewed from above…
There we were, a little boat floating amongst towering mountains rising from an archipelago of islands in a calm water cove where bears roam the shores while humpbacks and orcas cruise the seas. A palette of greens blending into blues within the largest intact temperate rainforest in the world!
Opening my eyes again proved this place is in fact a reality…
Welcome to the Great Bear Rainforest of Canada and in particular, one very special corner of it called Farewell Harbour Lodge on Berry Island. Here the word lush takes on a new meaning as forests home to some of the oldest and largest trees meet waters so full of life you can barely travel a few minutes without seeing seals, dolphins or the gentle giants of the sea cruising by.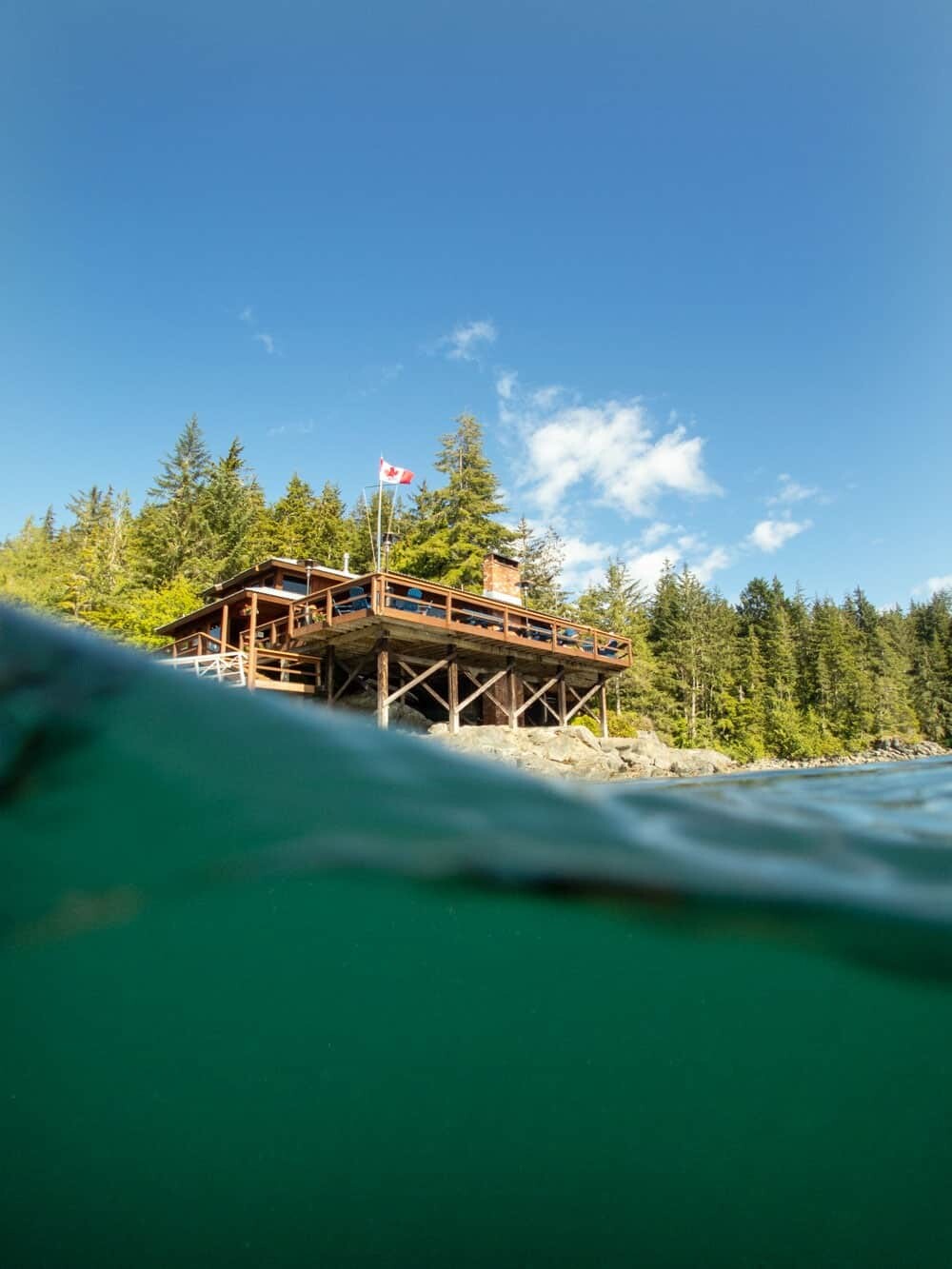 Words fail to describe the calmness that washes over you as the boat docks at Farewell Harbour Lodge. The peace, the quiet, the remoteness and the welcoming smiles all combine to make it very apparent you're arriving somewhere special. Located within the traditional territory of the Mamalilikulla first nations and owned by the Brockway and McGrady families, the lodge is for the adventurous at heart, those seeking to reconnect with nature and who wish to experience the magic of the Broughton Archipelago, a truly unique environment in British Columbia.
Whisked away for the first adventure of my four day stay, it only took one spout spray in the distance to get us out of our seats and up on the back deck with cameras at the ready to photograph our first whale. Due to restrictions in place for marine vessels, the engine was turned off and we were bobbing around in the middle of George Passage; listening, watching and waiting for the Humpback to surface again. As we would later learn, adrenaline and anticipation is high for most of the daily tours you can experience at the lodge and there's a constant feeling that something exciting is just around the corner. About 99% of the time, it's true.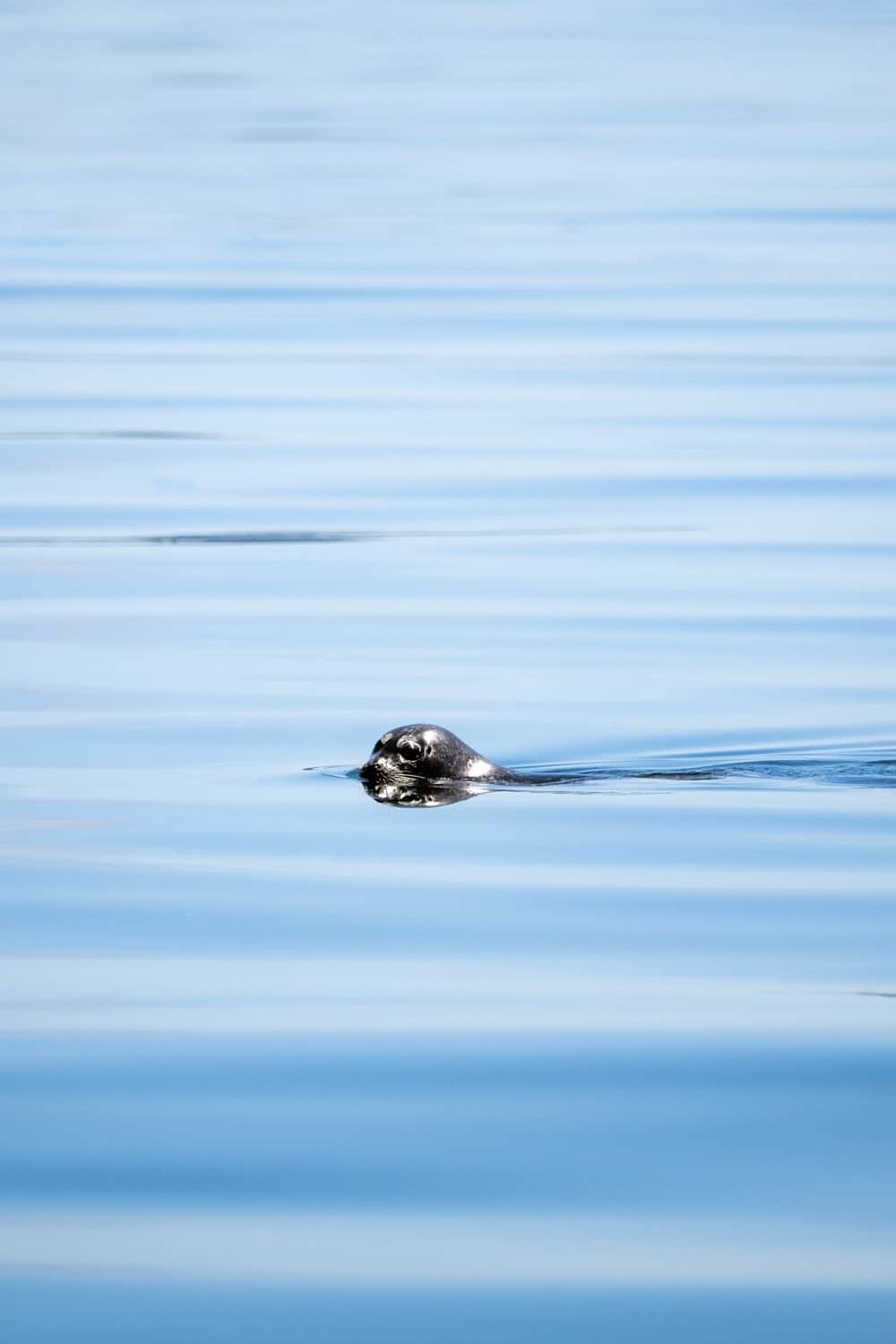 The Lodge + Accommodation
Named in named in 1870 by Commander Pender and officers of HMS Beaver, a Royal Navy surveying vessel, Farewell Harbour is a protected anchorage on the edge of the Broughton Archipelago, once a popular stop for yachties cruising the inside passage to Alaska. Now, the lodge has a warm, cosy feeling of home thanks to the amazing team of hosts and staff who invite you into their little piece of natural beauty. The lodge can comfortably accommodate up to 24 people at full capacity. You can be sure that it'll feel more like a big family home than a hotel with plenty of space to find a quiet nook or join others by the fireplace. Each of the eight suites on the upper deck have views of the West Pass towards Blackfish Sound and it's these you wake up to every morning before walking mere meters to your breakfast.
As of July 2019 there is brand new floating accommodation located on a dock from the original Bones Bay Lodge which offer those keen to listen to the sound of water as they sleep the perfect place to do so. The rooms are fitted out in a similar format as the current suites found along a boardwalk so it's a matter of personal choice. You really can't go wrong either way!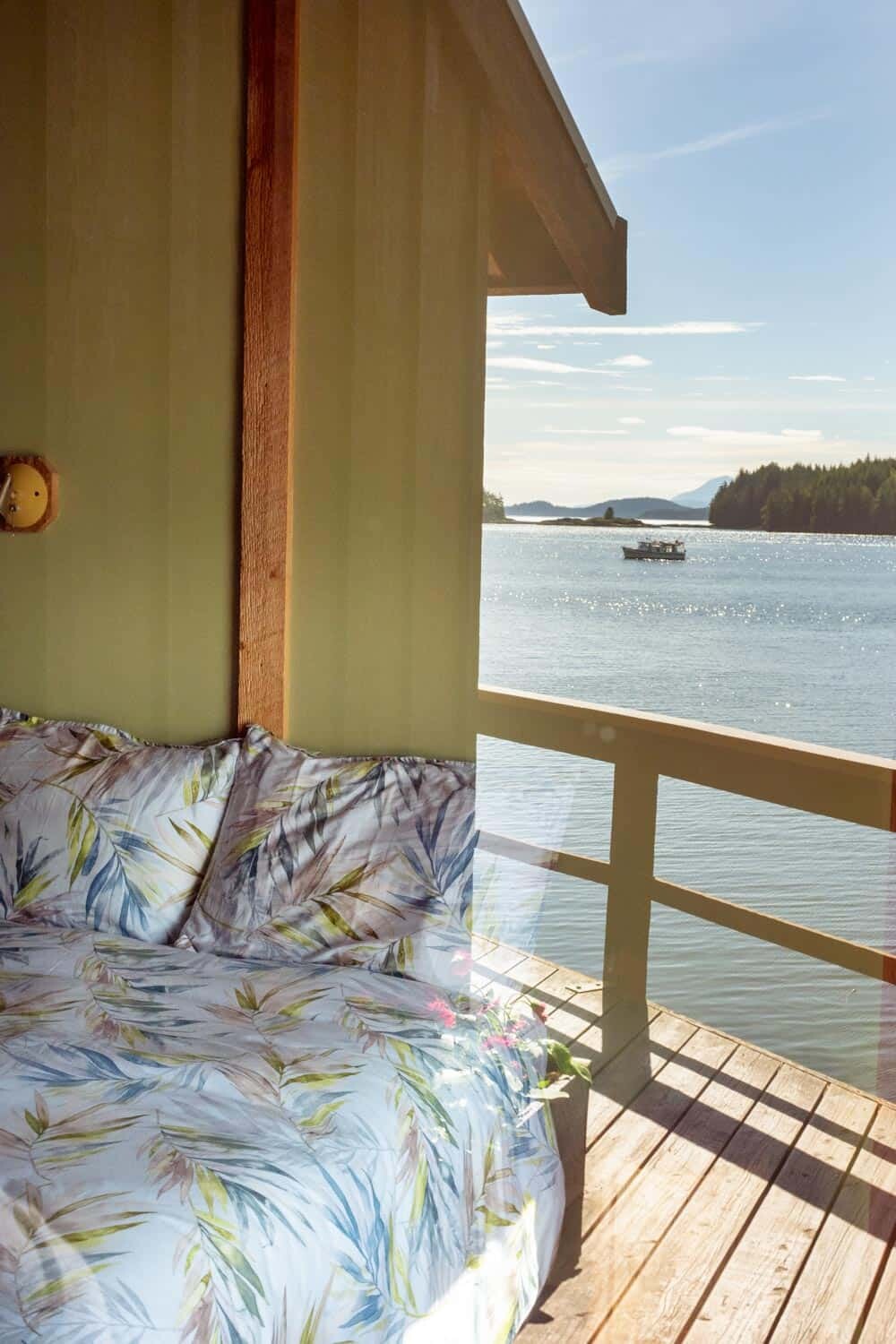 Inside each room are beds that feel like clouds (really, I slept SO well!), natural cedar features, private bathrooms and controlled heating so if you're feeling a little chilly, bump up the temperature and watch as your fireplace automatically comes to life. Each evening after coming back from an adventure I found myself sitting on the floor beside the heater, saving photos on my laptop and staring out the window at the scenery…it's hard to find a more idyllic setting as a landscape photographer! There's even wifi but to be honest, it's probably the last thing you'll think about after arriving in this peaceful paradise, do yourself a favour and switch off.
Due to the remote location, a stay at Farewell Harbour is all-inclusive with Matt Preston, an incredible chef and his team catering for all dietary requirements and whipping up some seriously delicious meals. Everything from seafood through to curry, hearty and vibrant salads to crispy spring rolls. You won't go hungry with each meal served buffet style then you're welcome to join other guests and staff on the large communal tables to chat about the adventures ahead.
Each evening there are educational talks held in the lounge area with the wildlife guides sharing further insights into the bears and marine life you'll see during your stay, along with some of the more unique underwater creatures like nudibranchs which happen to call the dock of Farewell Harbour home. These fascinating little colourful wonders are quite the conversation starter so I won't spoil it any further and just ask that if you visit the lodge, ask to see Marlie's little friends.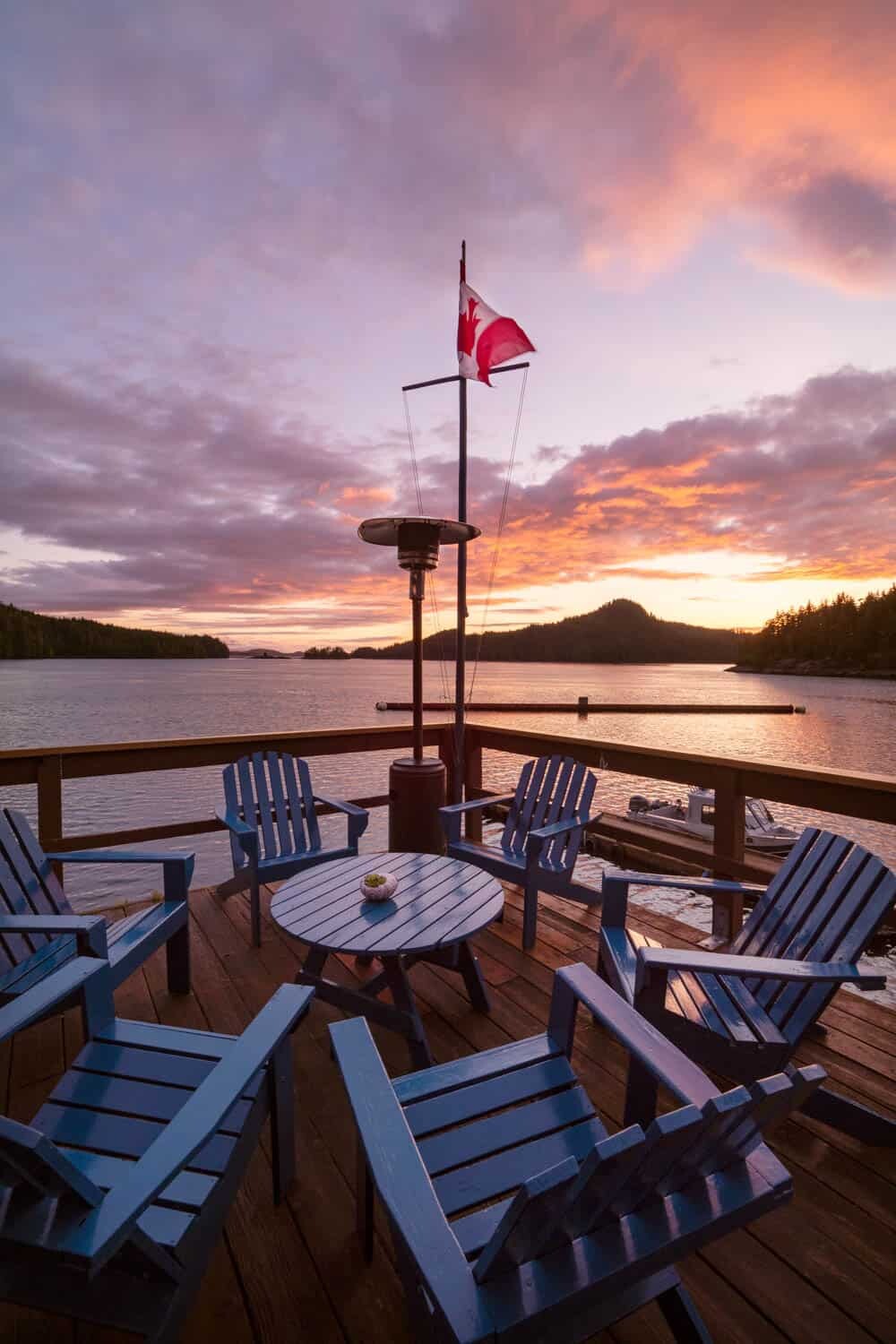 Outdoor Adventures at Farewell Harbour Lodge
Each evening as you sip drinks on the deck, you'll be informed of the possible activities for the following day. Depending on the amount of people at the lodge, there may multiple small groups heading in different directions, or you may be together to explore a particular area. It's dependent on the weather, your wishes and of course, what the team may have heard is out and about. It's not uncommon for them to hear of a pod of orcas cruising close by, meaning you have the chance to head out for a little spontaneous boat trip!
*A quick note – Unlike my other articles, specific locations of where these images were taken have been intentionally left out. Due to poachers unfortunately still operating in the region, if you do happen to visit, please avoid tagging the location of your images online or on social media. It's best the bears are left to roam freely and poachers don't need a road map to their exact location. Thank you!
Staying for three nights and four days gave me the opportunity to take part in three key activities that should be at the top of everyone's list; a bear viewing adventure, whale watching and sea kayaking. Below are some short stories from my experience…
Bear Viewing
Having visited Canada before and witnessed one grizzly bear munching on berries in the far distance near Banff, I was hopeful this would be my chance to photograph them up close. Little did I know just how close this would be. The team at Farewell Lodge have over 25yrs of experience guiding in this environment so they know how to read wildlife tracks, smells and also, importantly, how to stay safe should any surprises come about. They'll also recognise some bears they see regularly which I loved as their stories of previous run-ins really give the bears a personality.
Our first day was to a new location with a hike involved and some bush bashing to reach a river system where the guides expected to see bears. Trying some cloudberries (with sweetness making it easy to understand why it's a bear favourite) and roots along the way, the aim was to keep our eyes peeled and stay alert. I didn't realise how quickly my heart rate would rise with the possibility a bear was nearby. The group had split into two to cross the river with the idea we would meet in the middle and cover the opposite half of the track back to the respective vehicles.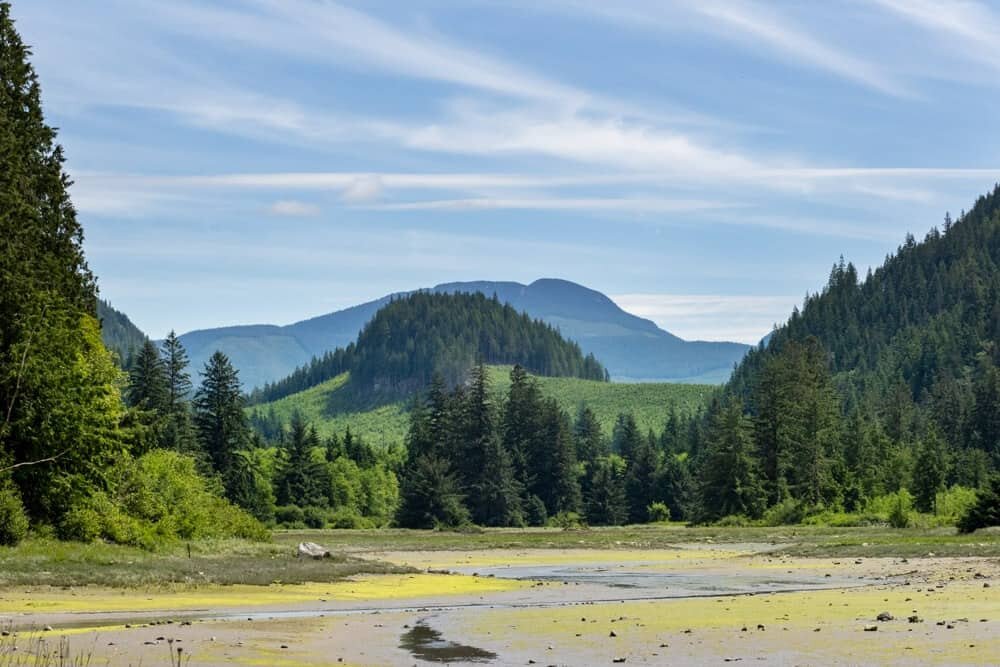 Closing in on a blind corner, the radio suddenly came to life with the voice of James (an experienced wildlife guide) whispering that two bears were within his sight, a male and female. Not knowing exactly how close we were to their position, we stayed as low as possible, walking slowly and quietly, me trying not to be the clumsy person I usually am and fall in a ditch. The thrill of knowing we were in the same area of a bear was enough to send my mind into a crazy mix of nerves and excitement. A few minutes passing, James communicated the bears seemed to have retreated into the forest…close to our position.
With my camera + 40-150mm zoom lens at the ready, I started wondering if it would be wide enough should the bear be really close, not to mention the fact I couldn't get the Mariah Carey song "Honey" out of my head. Obviously though, we weren't going to bump into Pooh bear…
Then, a large noise in the forest beside us, the sound of breaking branches.
Our guide Tim, the co-owner of Farewell Harbour quickly made our position clear to the bear by shouting 'Hey Bear, Yo Bear' as we gathered into a huddle with Marlie, another Farewell guide in front. At no moment did I feel in danger, but boy was it exciting. We didn't see the bear on this occasion but I'm guessing the warning noises meant it saw us and it only set the adventurous mood for the rest of the hike.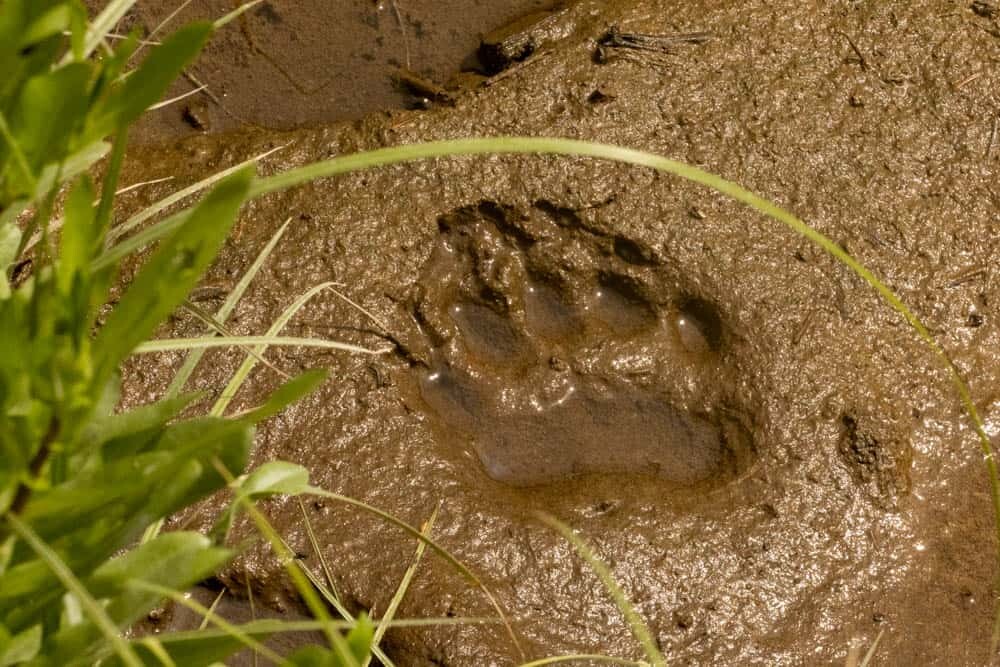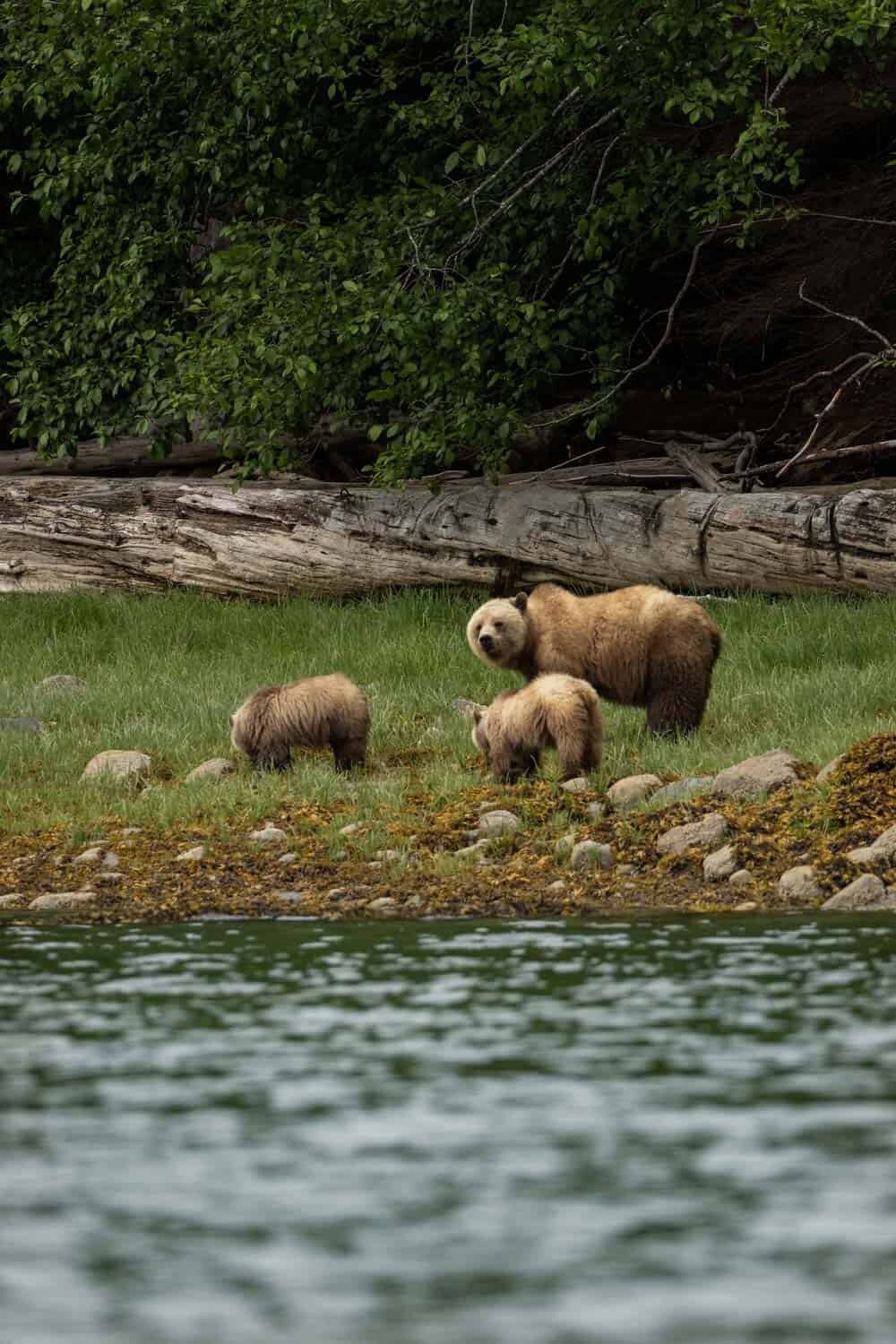 A mother grizzly and her three cubs were soon sighted along the shoreline, lifting rocks with their claws and grazing slowly without any idea we were zooming in from afar…exactly the way it should be. We were in their habitat and it's important to remember that no matter how much you want a great photo, it's about letting the bear remain relaxed and comfortable, especially a mumma bear.
Day three saw us venture to a more known location for grizzlies, apparently it was almost guaranteed they'd be quite close. On the way we passed pods of dolphins, seals and even saw a black bear roaming the shoreline however within minutes of anchoring in our destination (the same one described in my opening paragraph), two grizzlies were already in sight, both by the rocks, turning them over and snaffling up any goodies that lay underneath. Golly goodness I was going to get my bear photo!
Jumping in the zodiac, we slowly floated towards the shore and to my surprise the bears had much more important things to do that worry about the fact we were mere metres away. Obviously they'd grown up in this inlet and were quite used to people passing by (numbers are closely monitored and restricted!) so it was such a treat to see them go about their beary business in the wild.
While having lunch back onboard the boat I witnessed something I never thought I'd see…the same grizzly I'd been photographing as she snacked her way along the shore earlier started wandering slowly down into the water to take a dip. Just like any human heading to the beach on a warm summer day, it was obvious she was hot and bothered from all that eating and just wanted that cold water to soak into her fur. We watched as she sat like a giant bear berg bobbing in the water, I imagined the only thing going through her mind was 'dayum this is beary good'.
The camera gear I used will be shared along with photography tips in an upcoming article, for those curious though, I had my Olympus OM-D E-M1X paired with the 300mm f4 and 40-150mm when we were a little closer to the bears. Obviously you won't be right beside them so it's essential to have at least a standard zoom lens in your kit if you're keen to capture a great bear photo.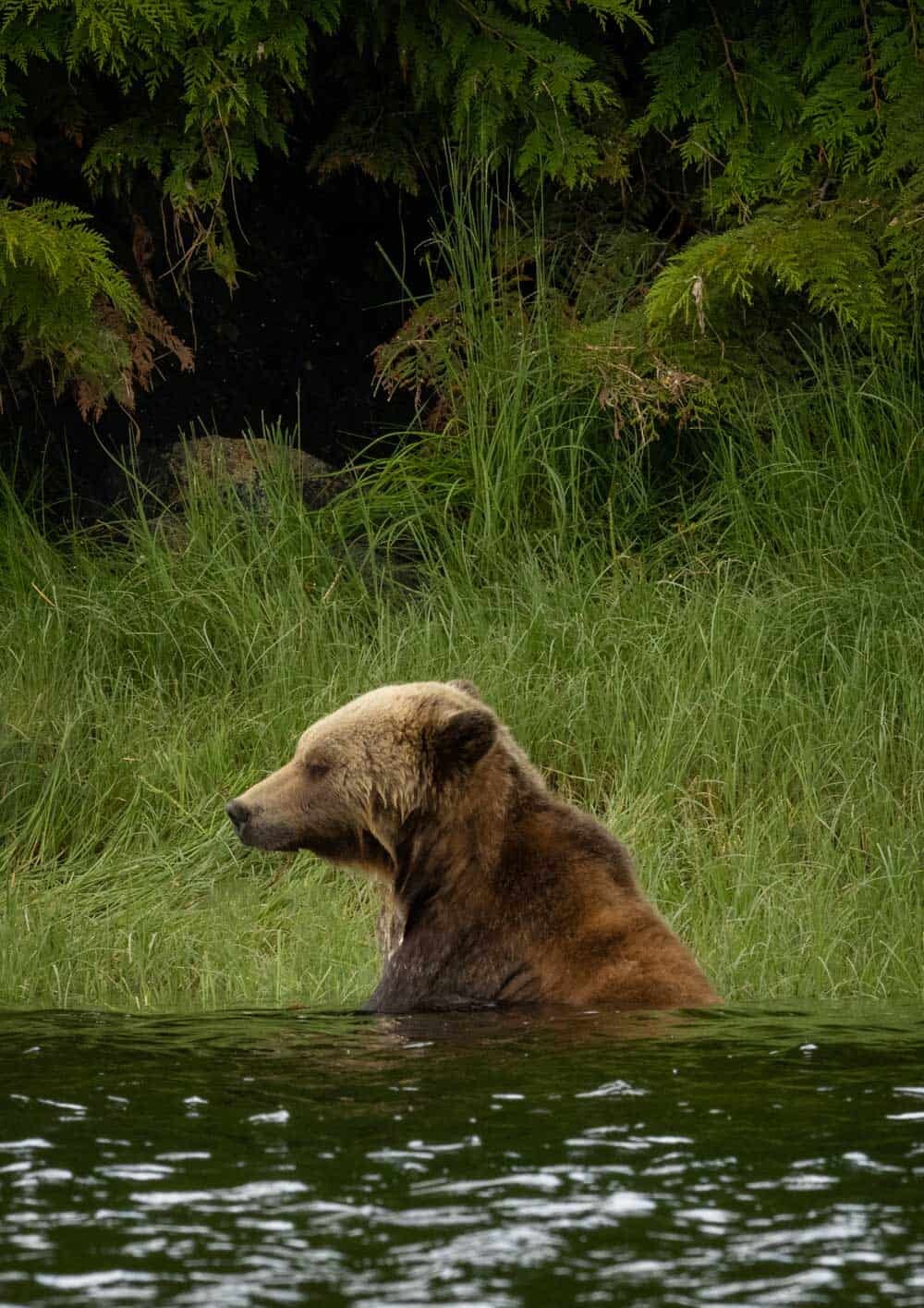 Whale Watching
I've seen Free Willy multiple times, not to mention 'Tadpole and the Whale' a movie that everyone seems to make everyone think I'm crazy when I start describing a young girl who can hold her breath and befriend dolphins and whales…anyway, they're both filmed in Canada (there was a point), so I had scenes already set in my mind as to what I'd be witnessing in the waters around Farewell Harbour.
Being summer, humpbacks had returned to the northern waters from Hawaii and while I was a little early for orcas, recent sightings had my hopes up. For every activity offered by the lodge, a boat ride is involved or you'll be near to water so the chances of seeing these graceful mammals is extremely high. While we saw humpbacks on the transfer boat to the lodge and on our way to bear viewing, it's the orcas I'll describe because I couldn't believe my prescription glasses-less eyes.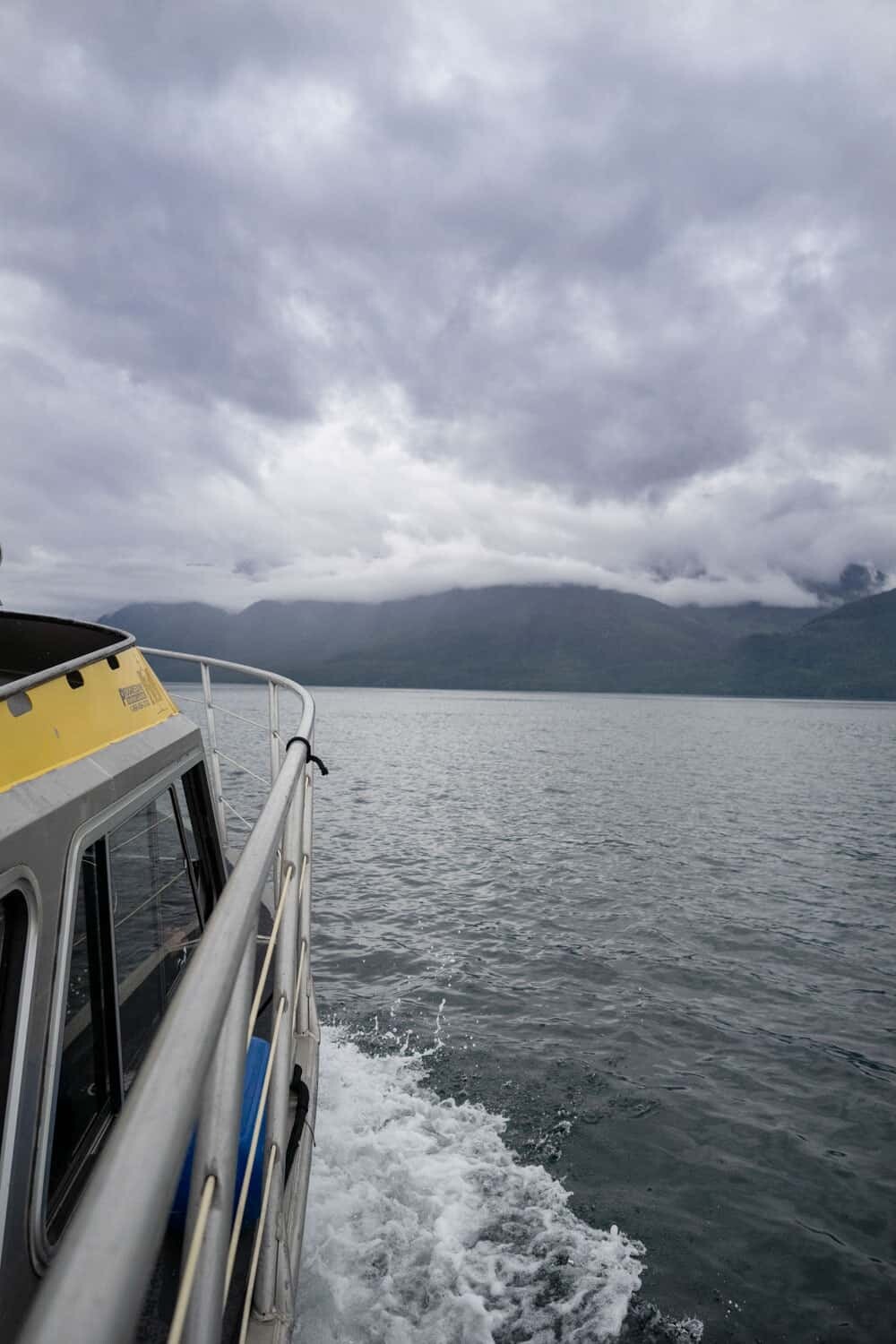 The weather was misty and fog covered the surrounding peaks like a blanket as we made our way to the trailhead for our bear hike. Staring out to sea as the islands passed by, my mind drifting as it usually does suddenly Marnie saw them, a pod of transient orcas in the distance. I don't even know how I got onto the back deck but suddenly there I was, photographing these beauties as they swam by with their calves.
Three, sometimes four would spurt at once, contrasting beautifully with the dark wooded forests in the background and providing a natural spectacle that's simply mesmerizing. It's moments like this that are so very special they make me want to put the camera down. After knowing I had at least one photo, I just watched as their fins surfaced, so elegantly and quietly before they disappeared into the depths of Blackfish Sound…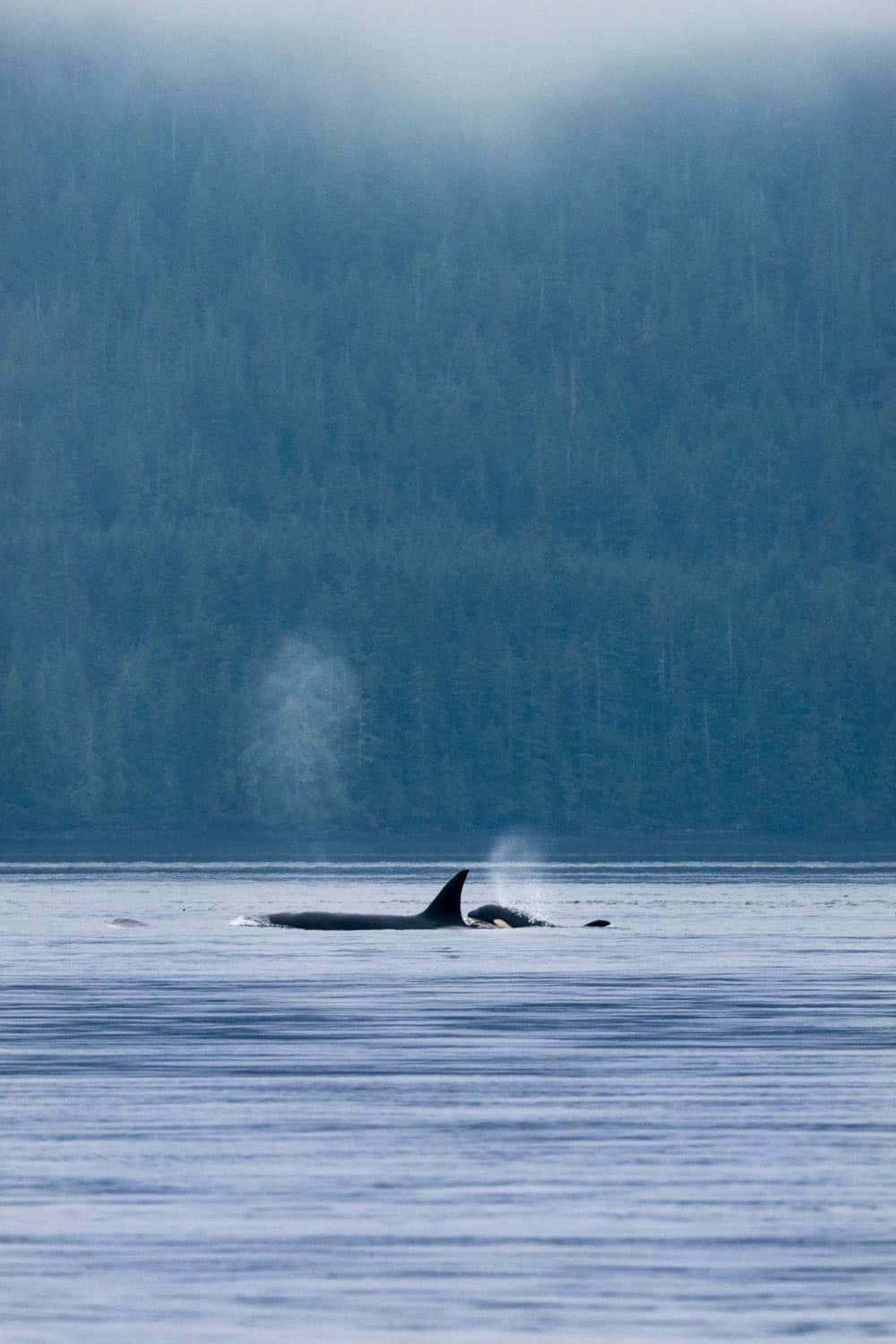 Sea Kayaking
Whenever kayaking is on the agenda it keeps my split-level underwater photography addiction very happy. The chance to be at water level, paddling slowly through a landscape is one of the best ways to soak up the atmosphere and see the scenery up close.
On our final morning, we ventured off for a sea kayak around Berry Island, where the lodge is located. Taking with me the compact Olympus TG-5 so I could focus on paddling and photos (rather than the larger underwater housing which I use more for planning photos with more time underwater) we were soon cruising over giant kelp gardens, passed rocky coves and of course my favourite, peering into the island's forest to see if a bear was gazing back.
The water clarity ensured we could see deep below and because we were paddling with the current, could chill a little and stare at the scenery passing us by. Peaceful, relaxing and informative as Tim (a kayaking expert!) shared stories and tales of the island's history. There are other option available for your final morning that include cultural insights or more whale watching but if the conditions are right, doing a lap around the island I found was such a fitting way to end the adventure.

---
Photography Tips for Visiting Farewell Harbour
– Ensure you've got a zoom lens with you, this will enable you to capture the wildlife easily! I packed the Olympus M.Zuiko PRO 300mm f4 and 40-150mm lenses along with the 12-40mm lens for landscapes. I did have the 7-14mm wide angle with me also but found because the scenery is so epic, it can get lost when photographing this wide.
– Be alert, something can pop out of the water or bushes at any moment so being comfortable with your equipment is essential to snapping a clear image.
– If your camera isn't weather resistant or waterproof, pack some kind of protection for it as there can be sea spray while on the boat or of course the weather might be a little wet. My Olympus gear can sustain rain showers so I had no concerns however the last thing you want is your camera to conk out just as a bear appears…
– Have a camera ready for the initial transfer boat over, you'll no doubt see wildlife along the way so don't wait until you get to the lodge to prepare your gear!
– Sunset from the deck is stunning with the islands of West Past providing great subjects to photograph.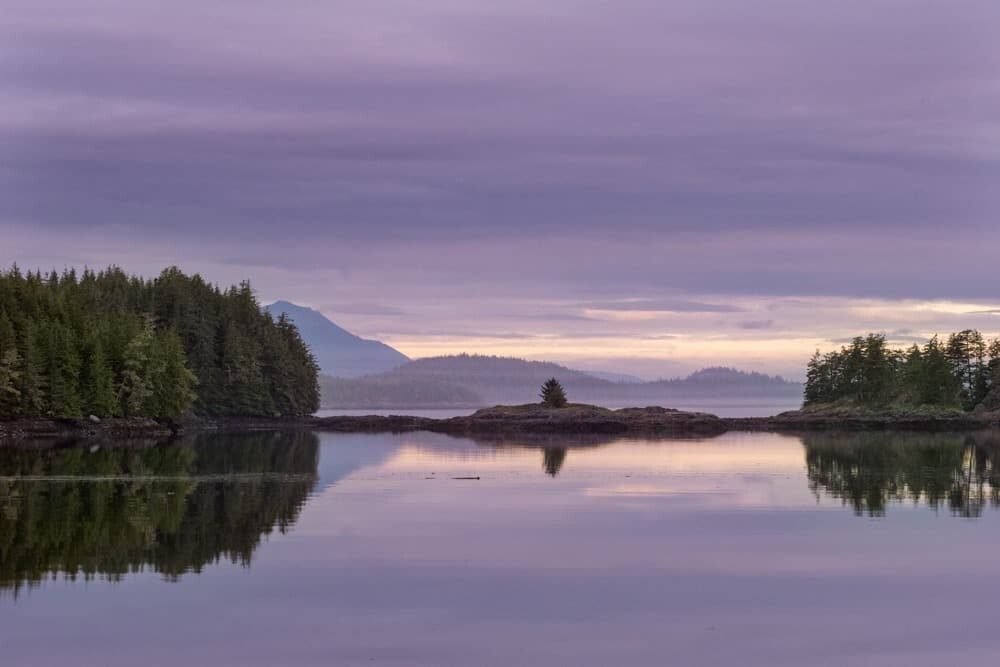 – If you're an early riser, keep your eyes peeled for morning fog which on calm conditions will float through the bay. Getting down on the dock at water level will enable you to capture a stunning shot as it rolls through, or you can remain in your pjs and photograph directly in front of your room.
To enquire about an experience at Farewell Harbour Lodge, speak to Kelli via stay@farewellharbour.com or visit www.farewellharbour.com for more information.
Take a peek at some more images from my stay in mid June…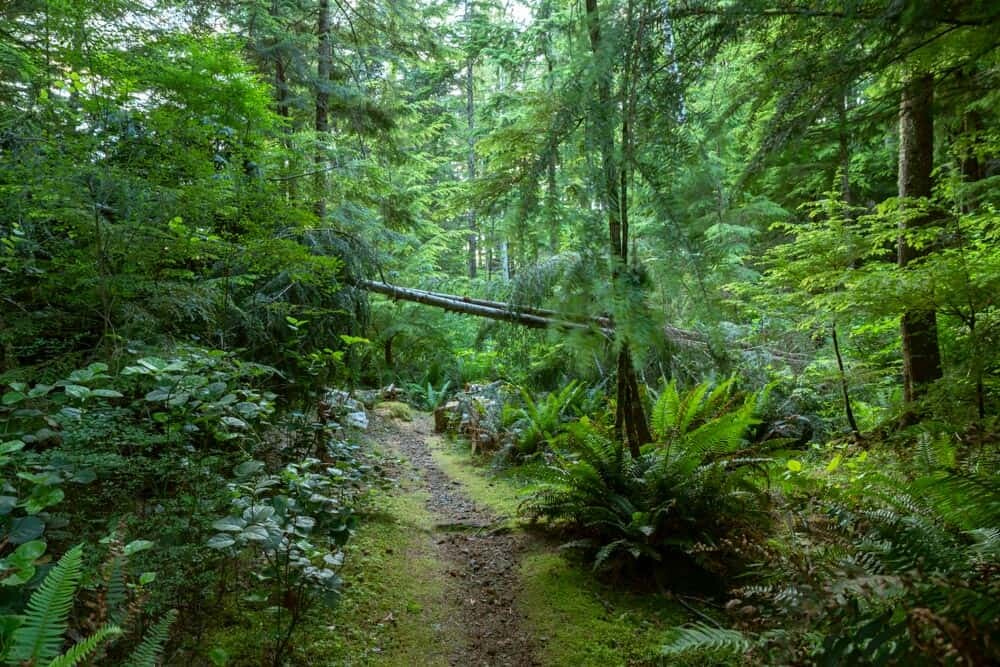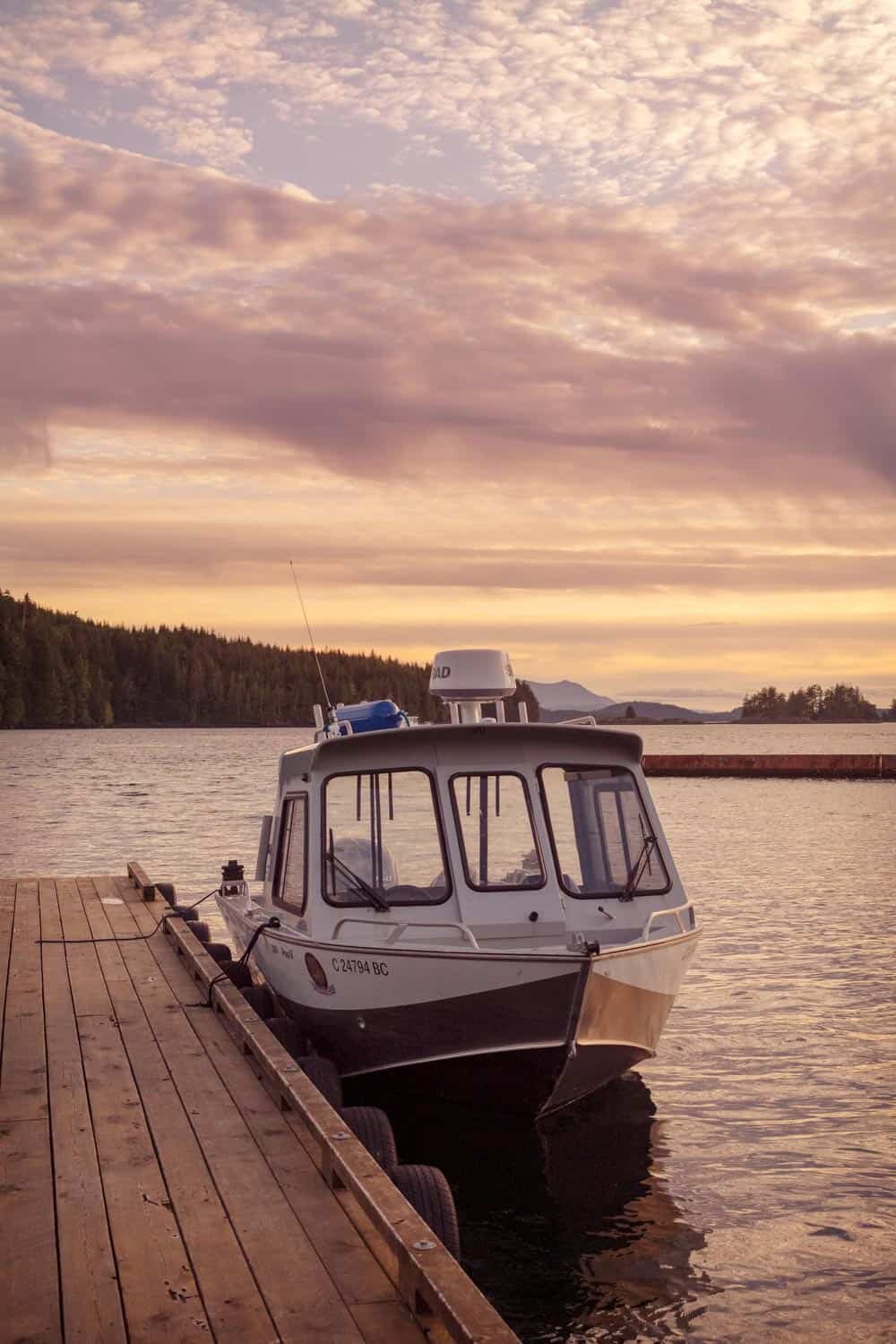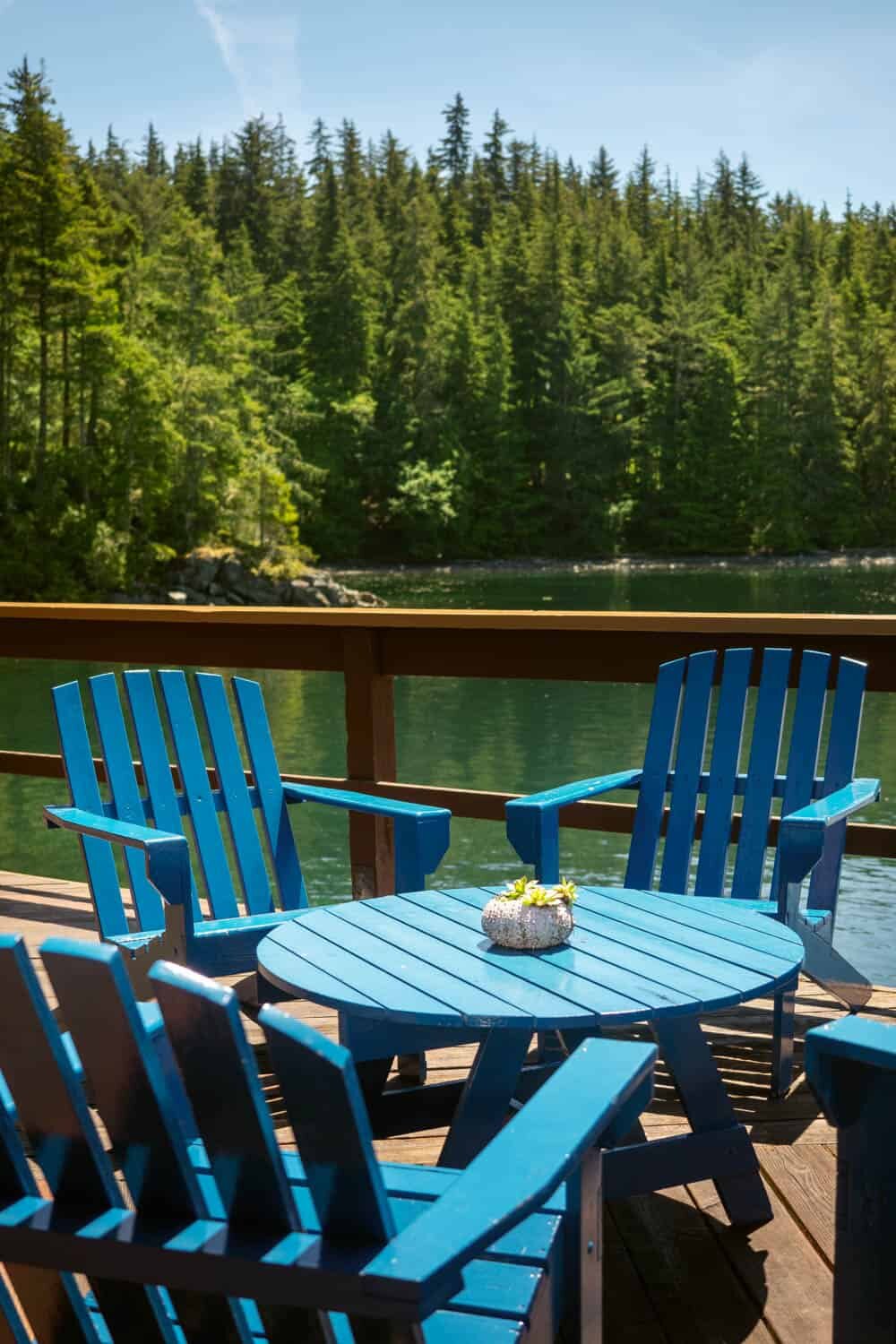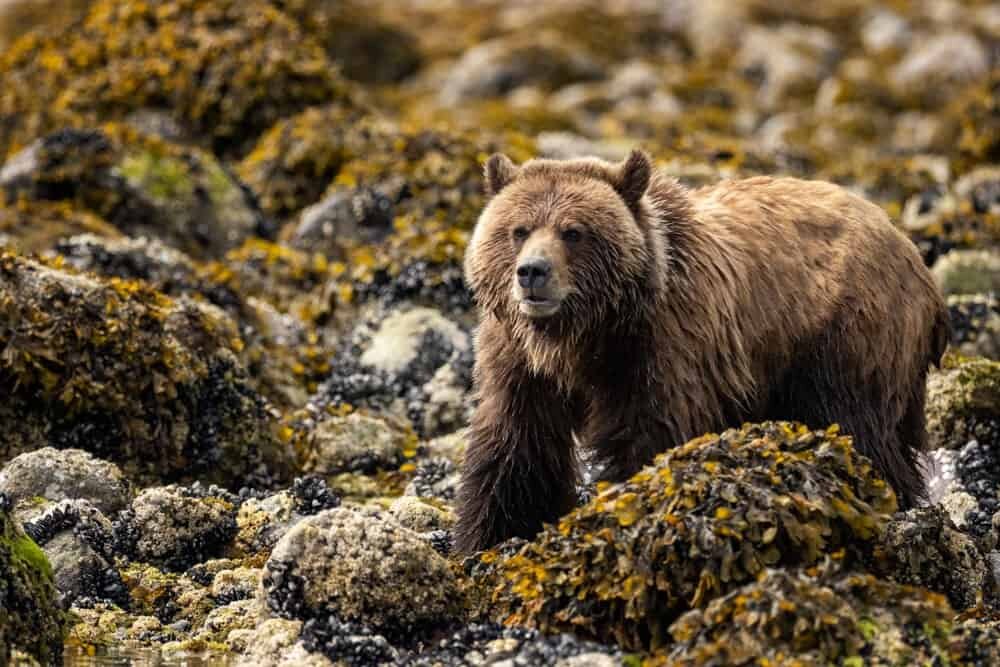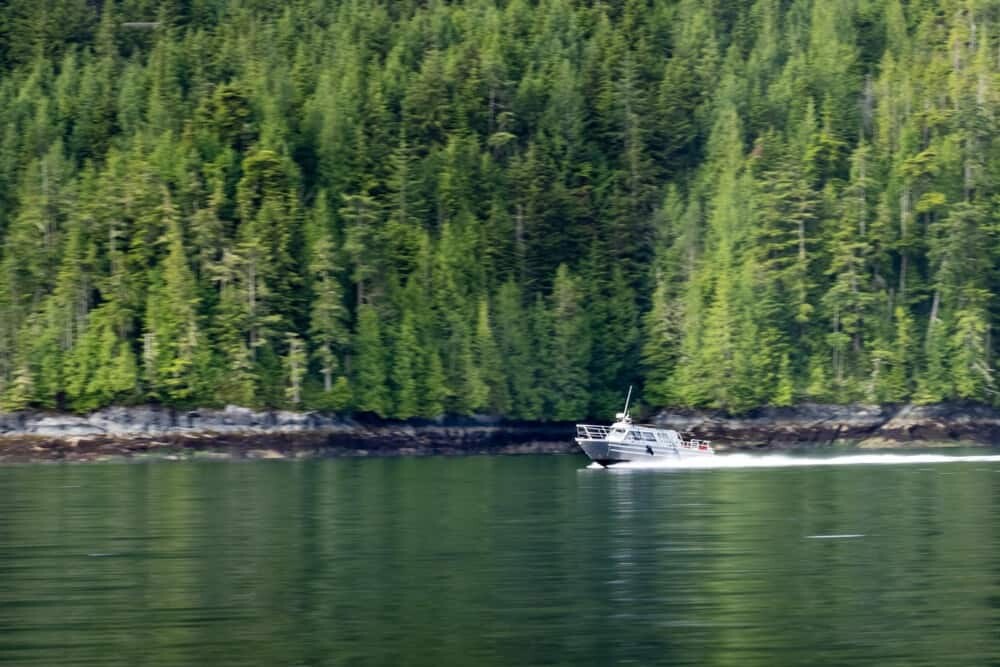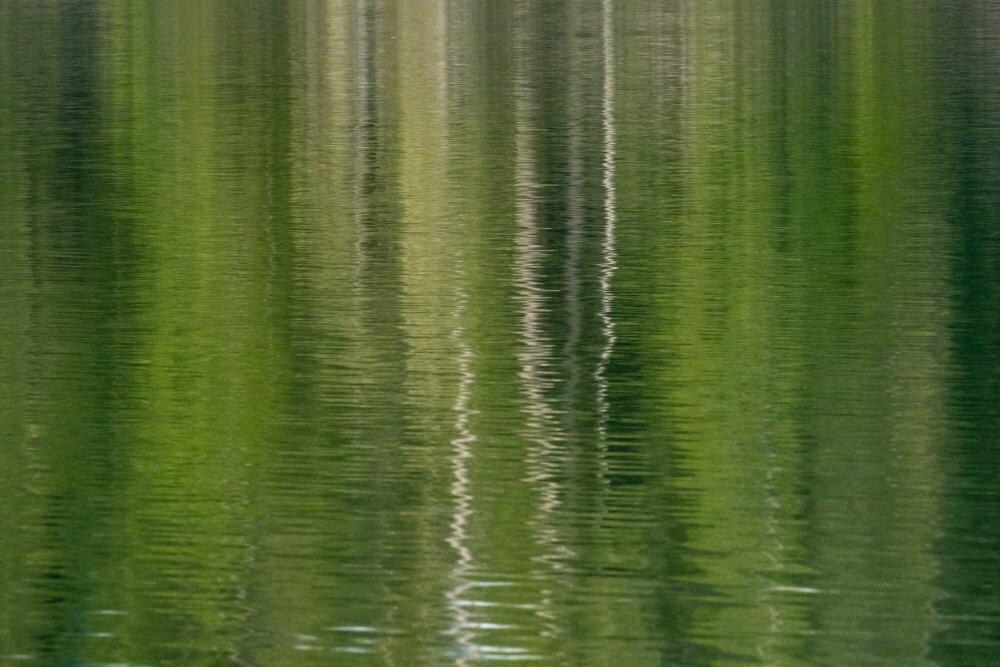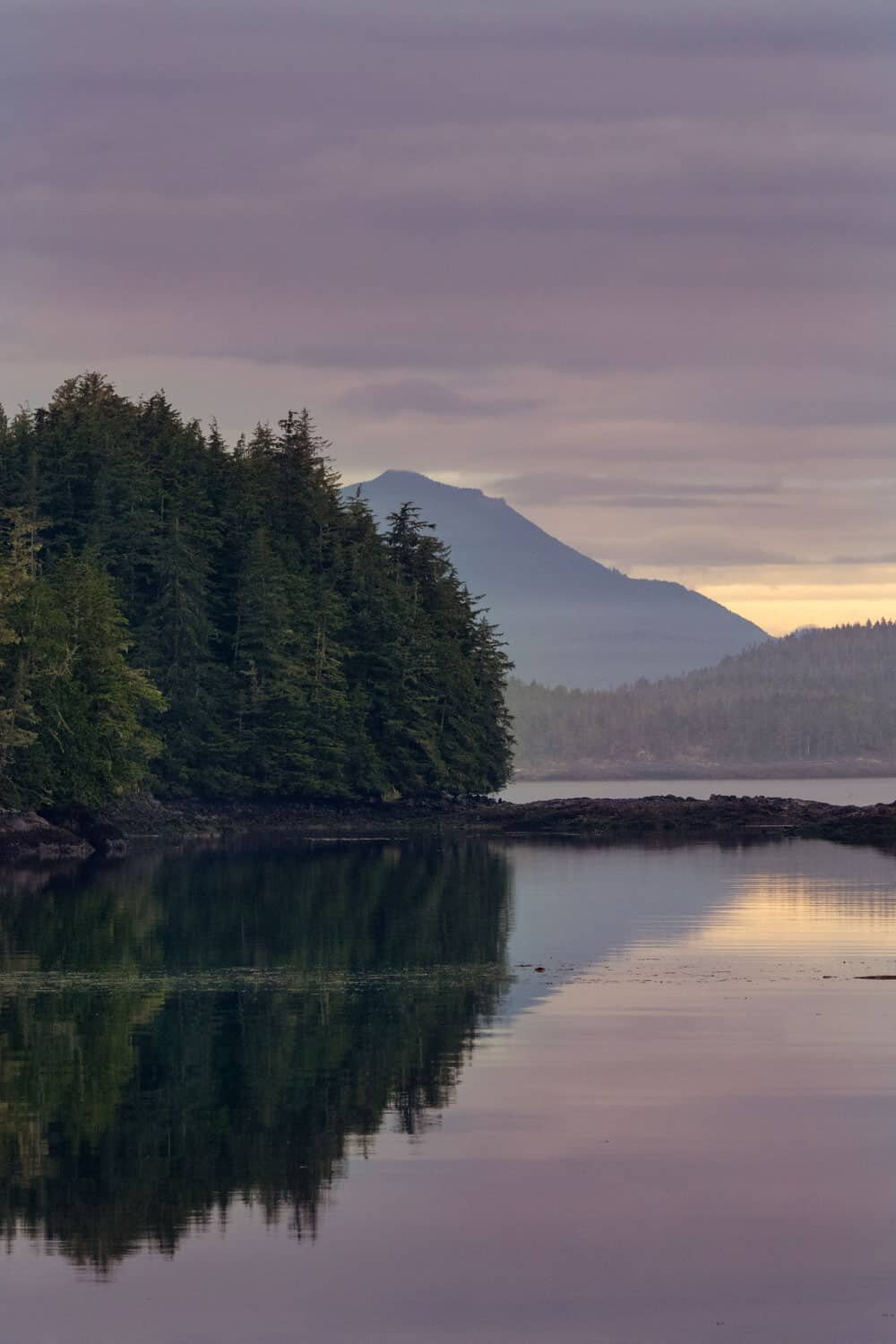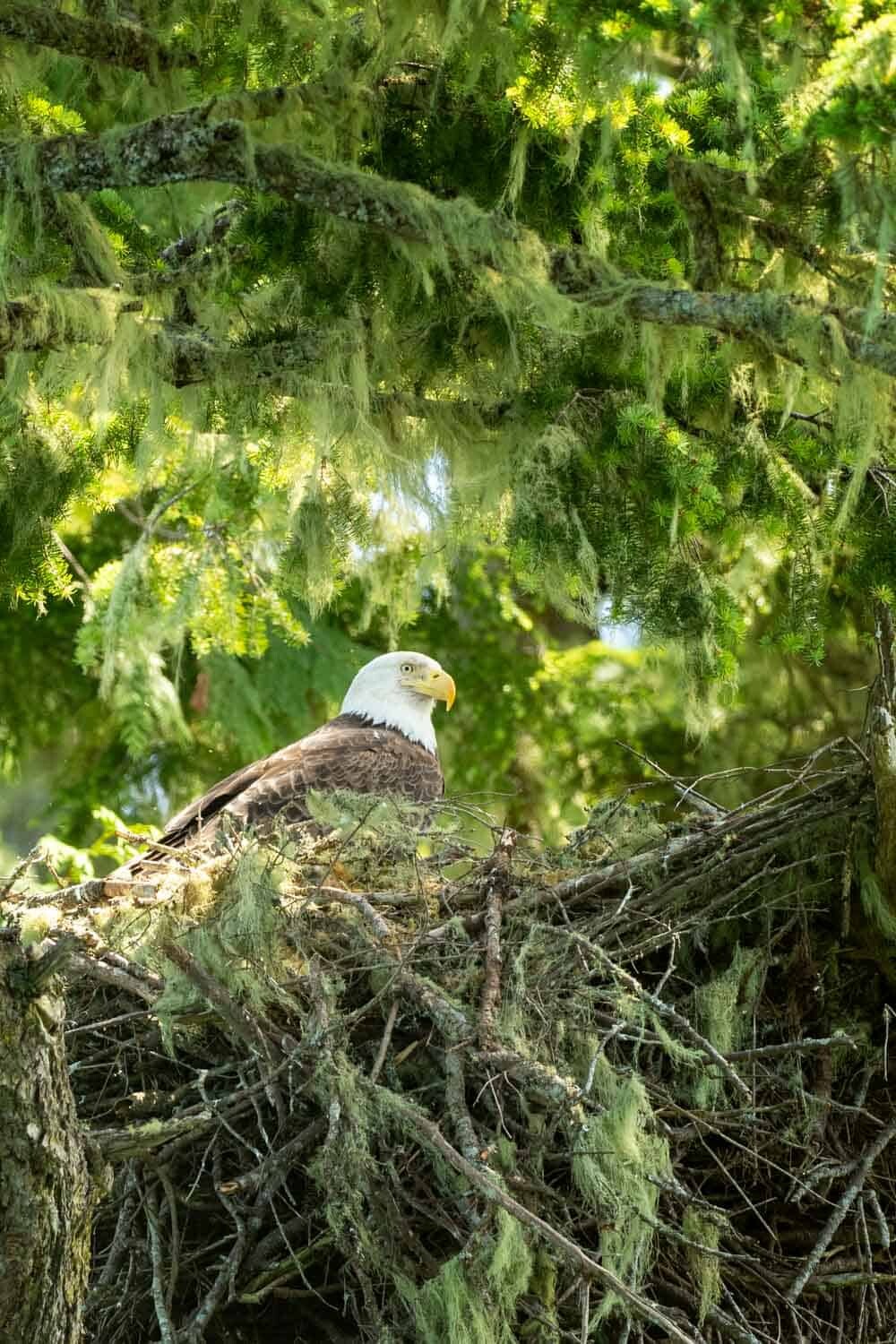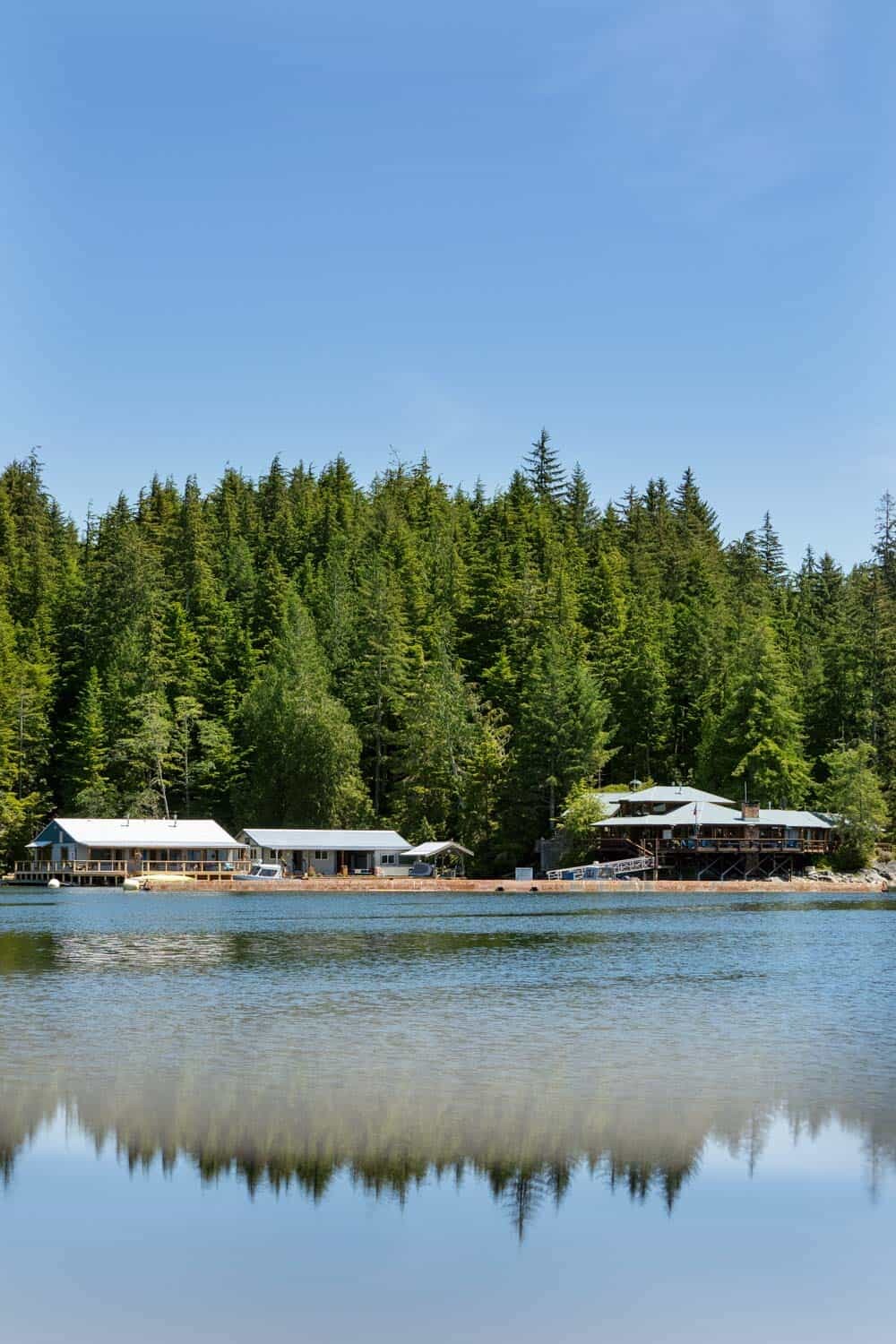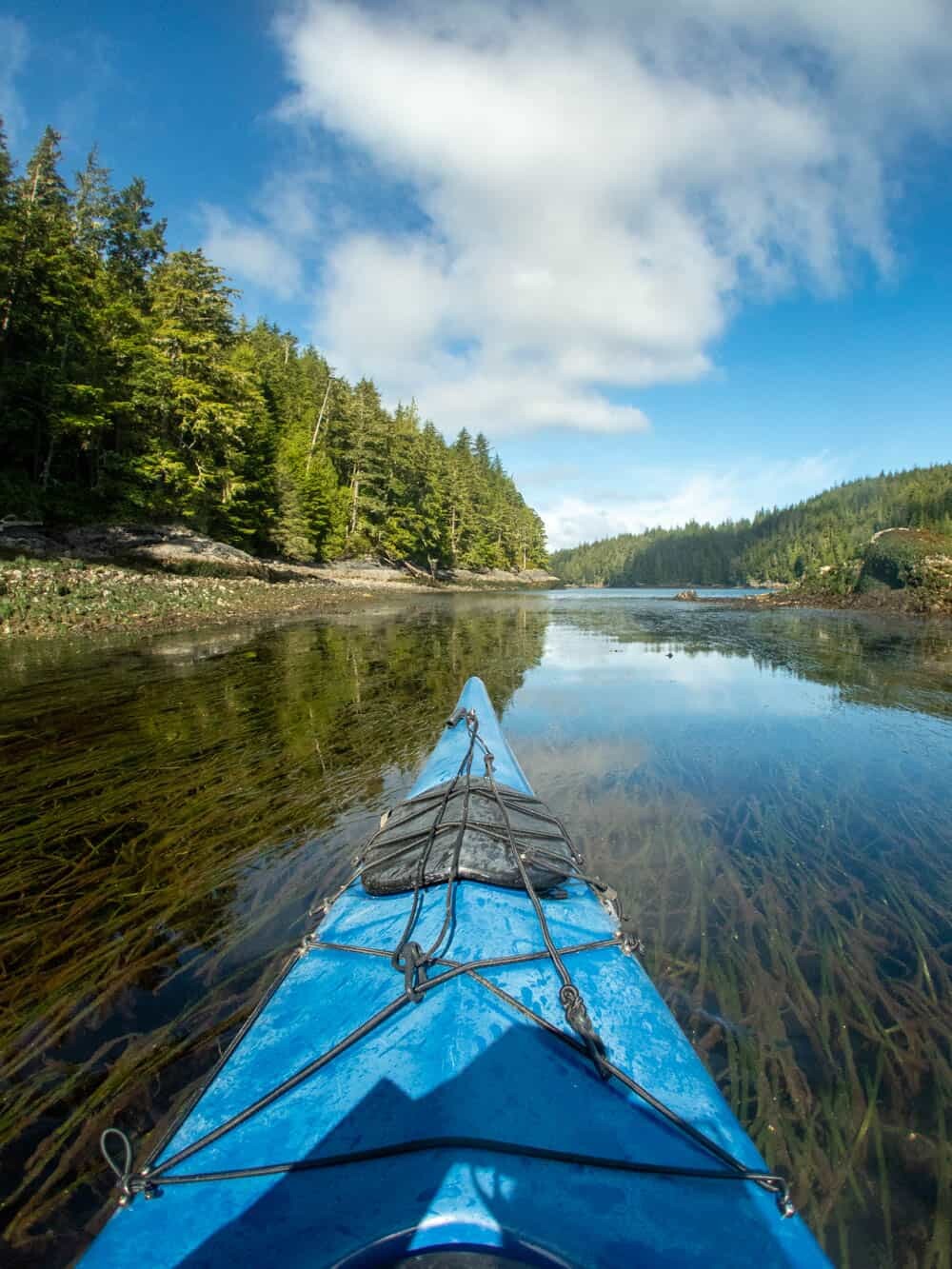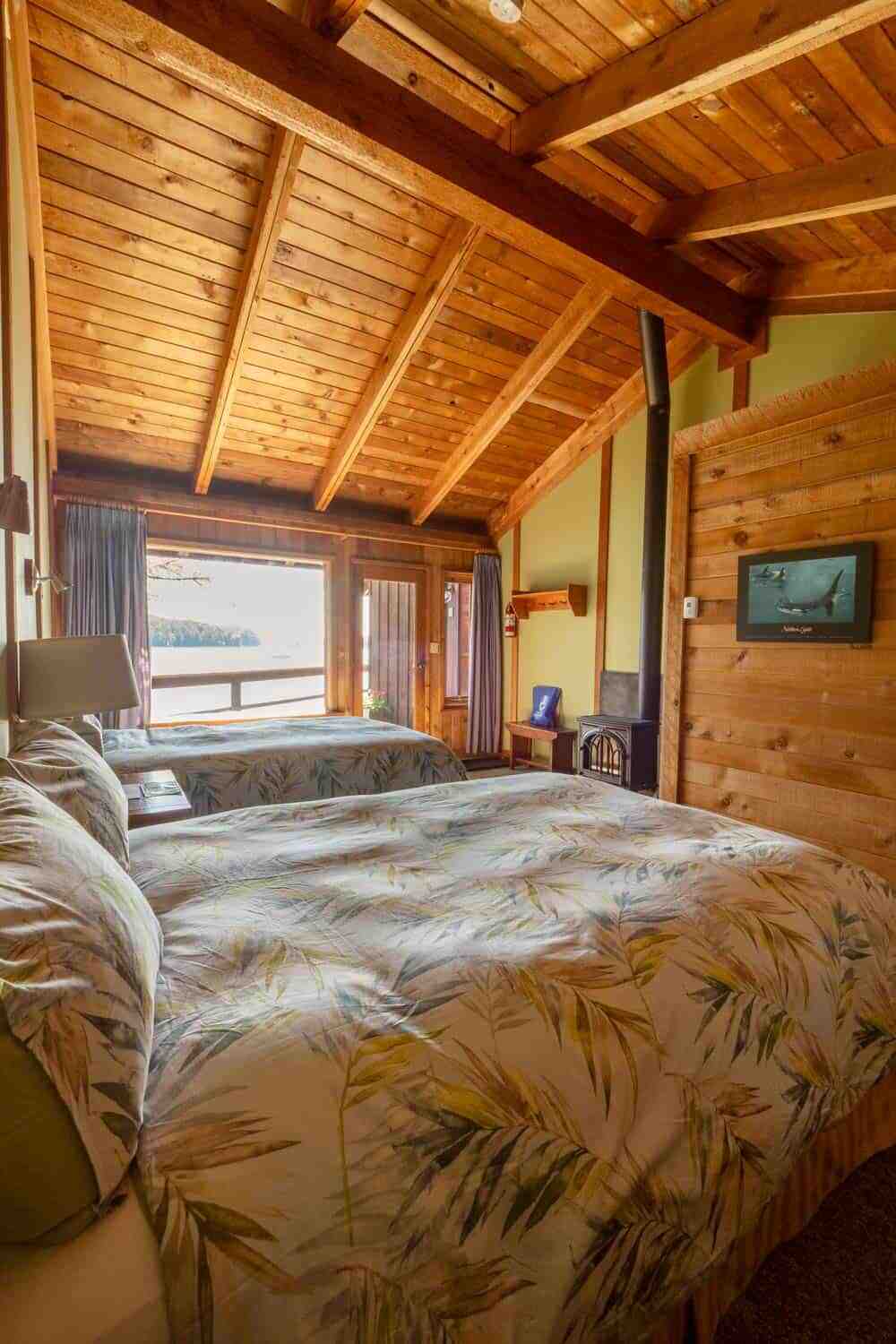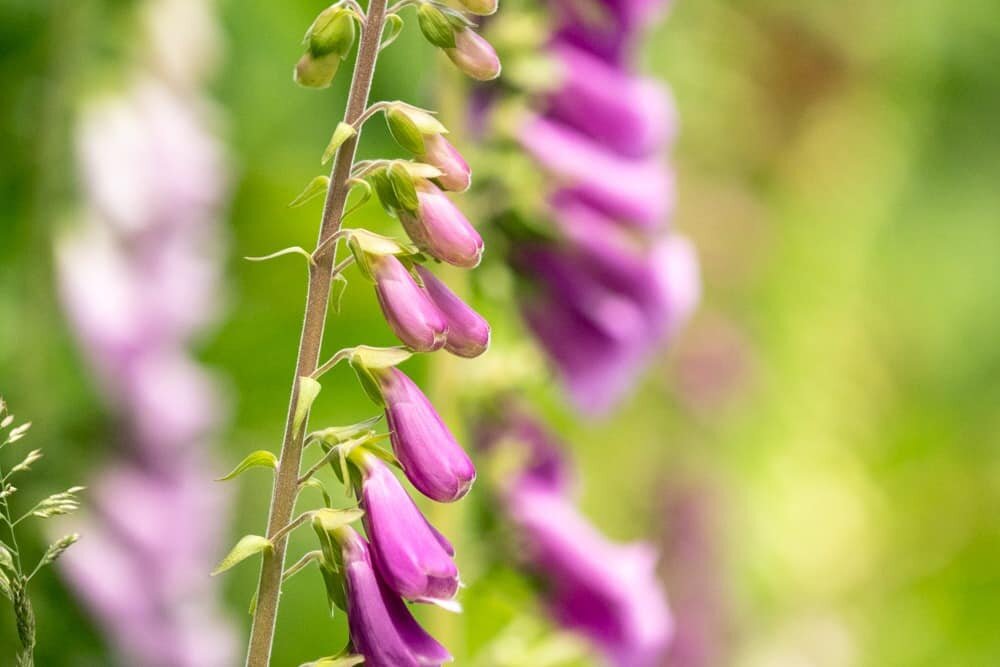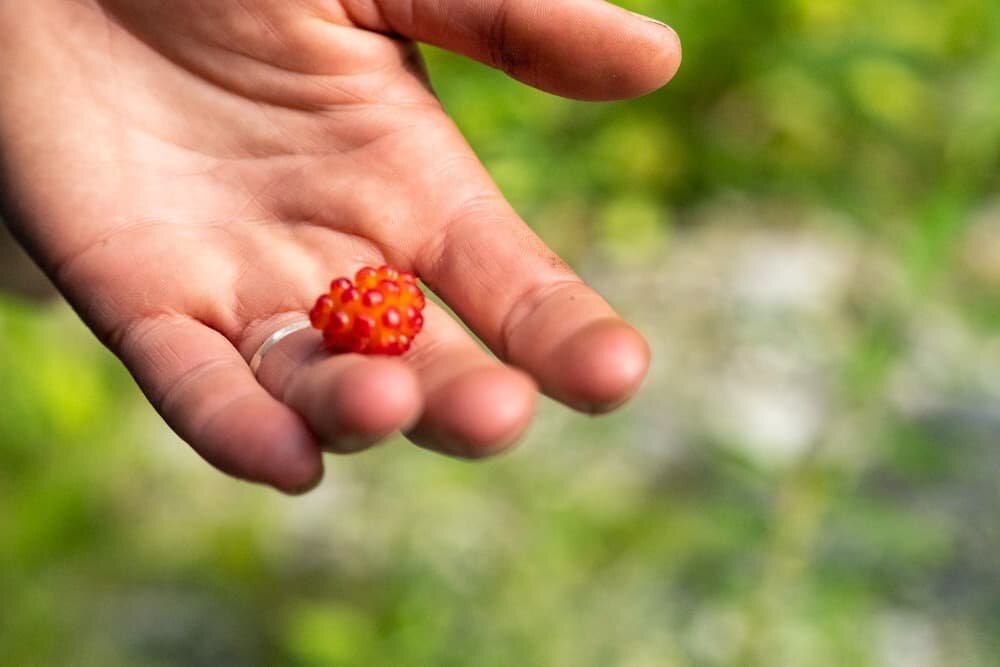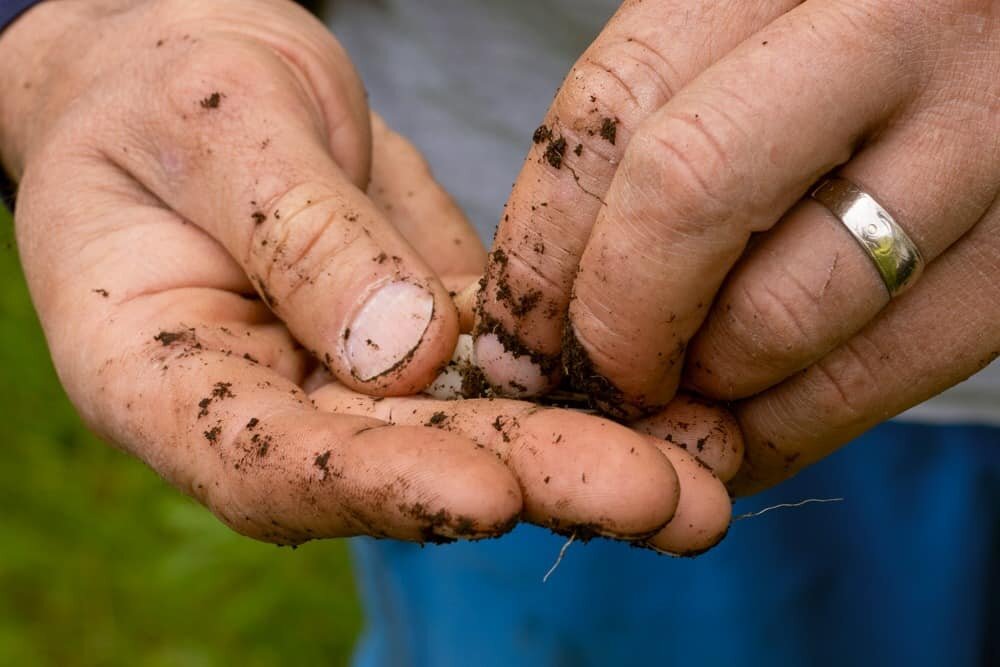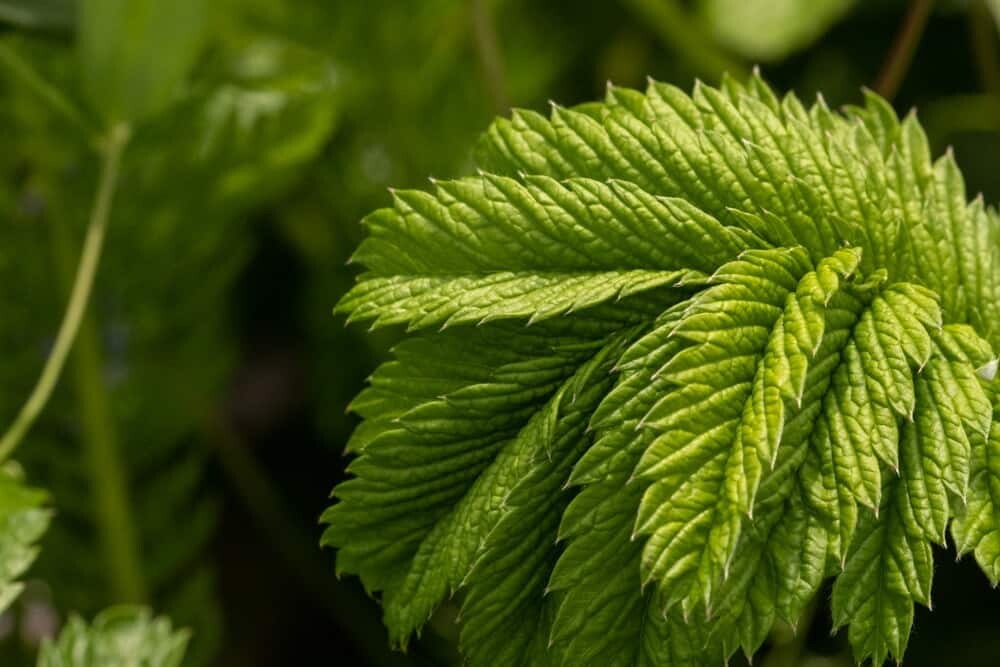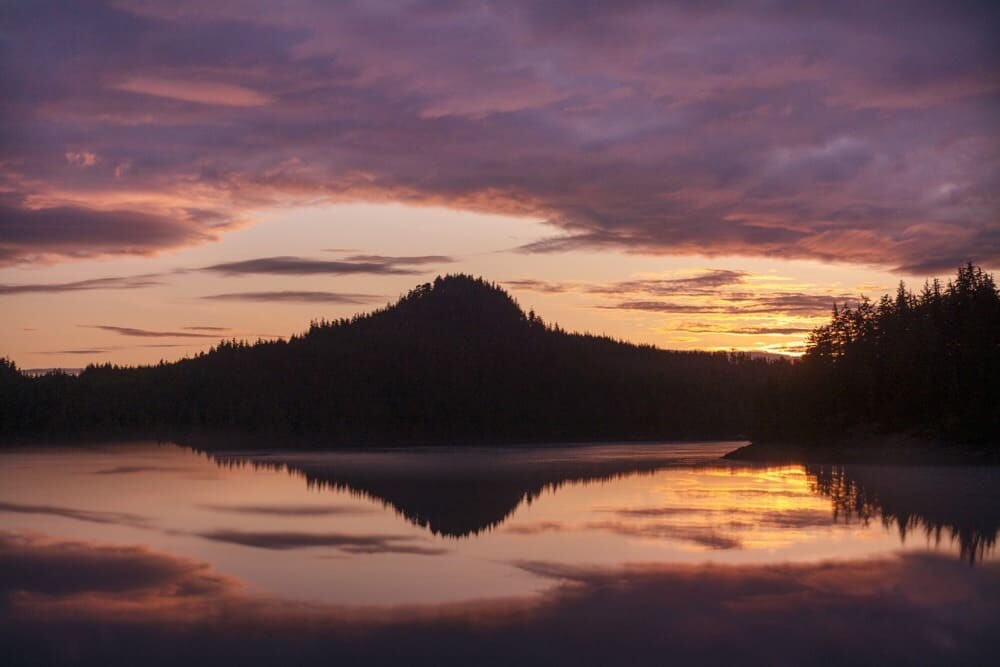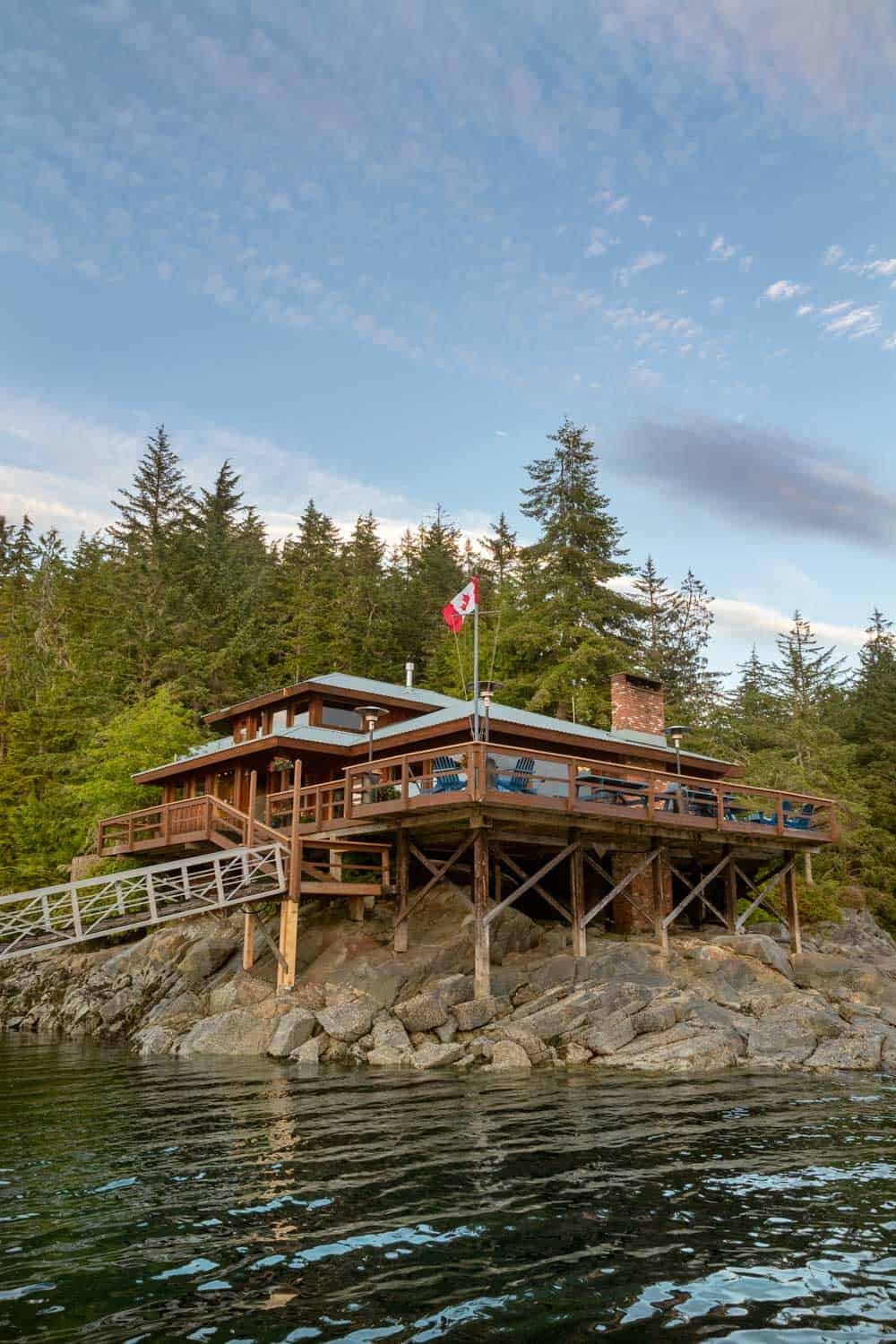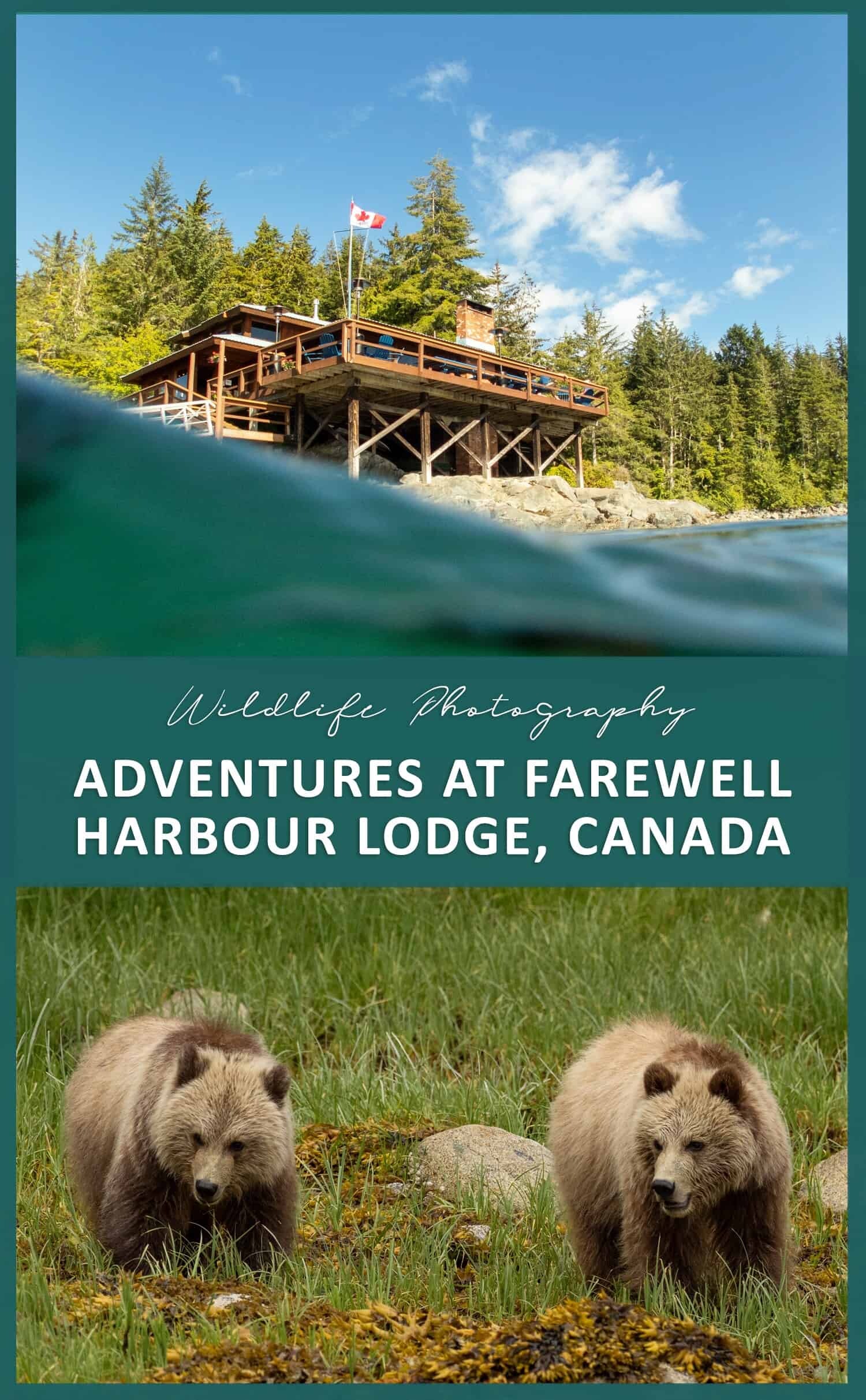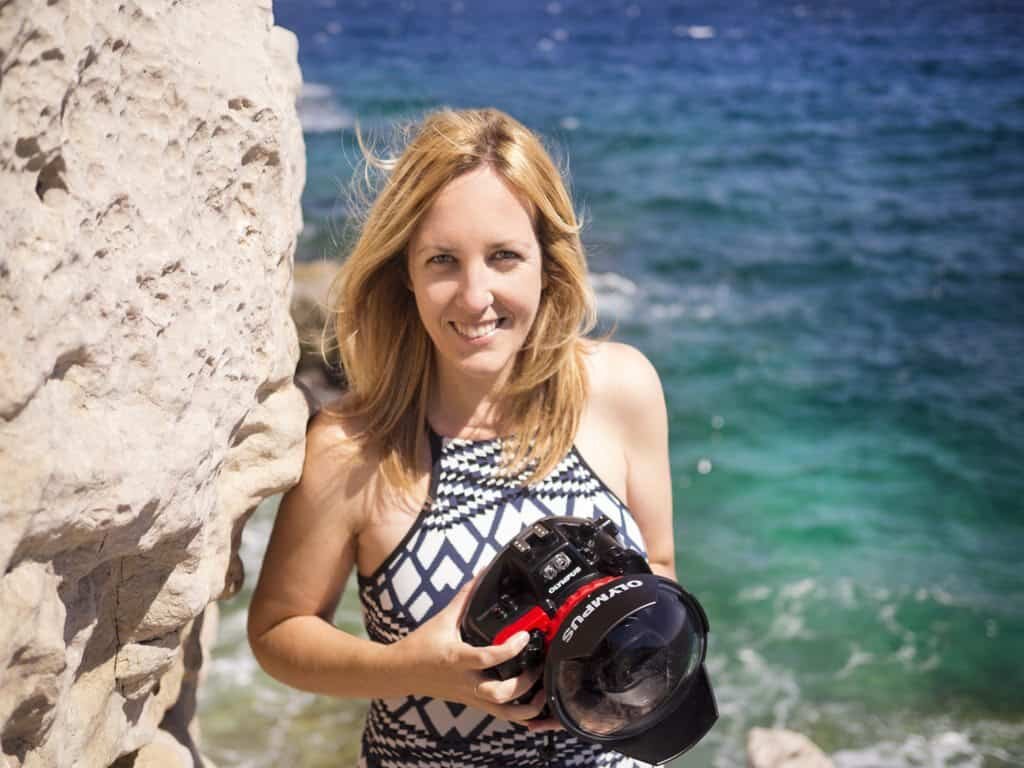 Hello! I'm the founder and photographer behind The Wandering Lens.
With 17+yrs experience as a professional travel and landscape photographer, all advice found on this site is from my personal experience on the road. I hope it's useful for your own travels and would love to hear in the comments about your trips and experiences around the world.