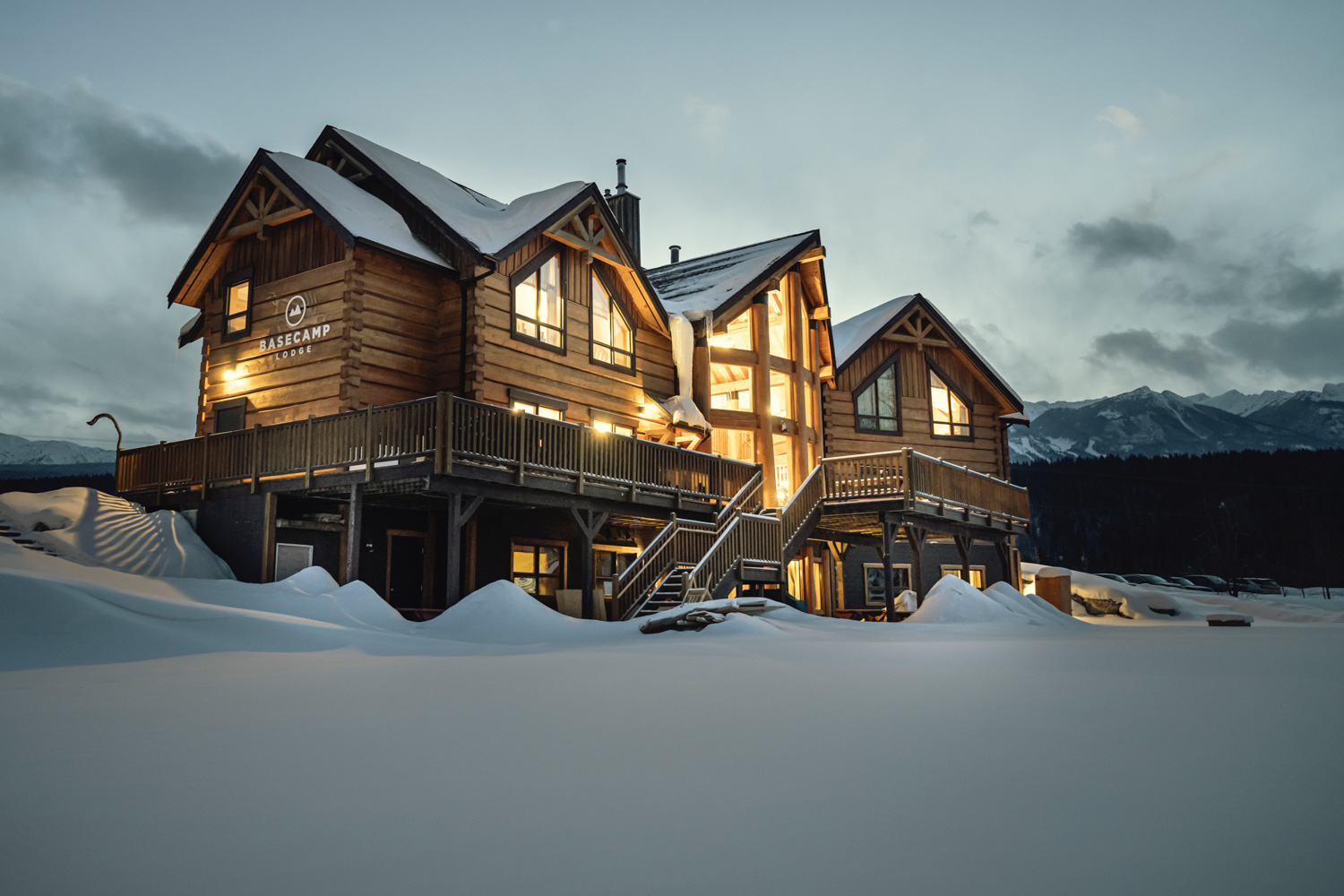 Hotels in Banff + Beyond – Where to stay in Canmore, cosy cabins and more…
The Canadian Rockies conjure up visions of days spent hiking, photographing wildlife, canyons, alpine lakes, and epic scenery. If you're planning a trip, I want to share a personal accommodation recommendation with you that will allow you to experience staying in a few spots, soaking up a little of each town and its surrounding photography locations.
Let me introduce you to Basecamp Resorts. A collection of lodges, apartments and cosy cabins scattered throughout the Rockies region of Alberta, and Kootenay Rockies of British Columbia. You'll find them in Canmore, Banff, Baker Creek, Golden and Revelstoke, all the spots I'd suggest someone visit if they're exploring the Rockies for the first time.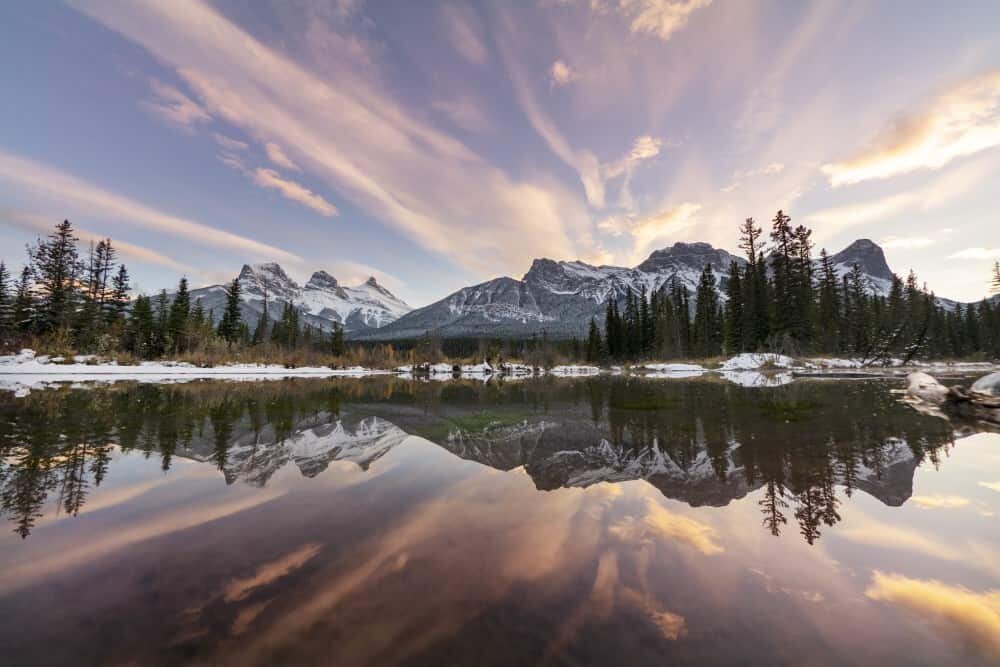 They're well-located, sustainably focused, affordable, and stylish – quite the blend of goodies I look for when researching where to stay. From May 1st 2023, they've also partnered with One Tree Planted and are donating a percentage of each guest's reservation to replant trees in either Alberta or British Columbia. With the goal of planting 75,000 trees annually to help restore local forests, create habitats that encourage biodiversity, and make a positive social impact in their areas of operation, it's nice to know that staying at a Basecamp Resorts property is also contributing to keeping the environment pristine.
Due to the variety of locations, you can opt to plan an itinerary that encompasses a few nights at each location as you make your way from Canmore to Revelstoke, or take it easy and pick one to unpack and call home for a week or two if you're planning to spend more time in Banff National Park for example. Most photography locations listed in The Wandering Lens Banff Photography Location guide can be reached on day trip adventures from any of the Basecamp properties in Canmore, Banff or Golden!
On my recent trip to Canada I stayed at two locations, Canmore and Banff. While they're just 20 minutes apart, it was great to get an insight into both properties as each town has its own atmosphere. Back in 2018 I'd also stayed at the lodge in Canmore too, so it's with three properties under my belt that I bring this article to you.
Let's take a peek at my stays –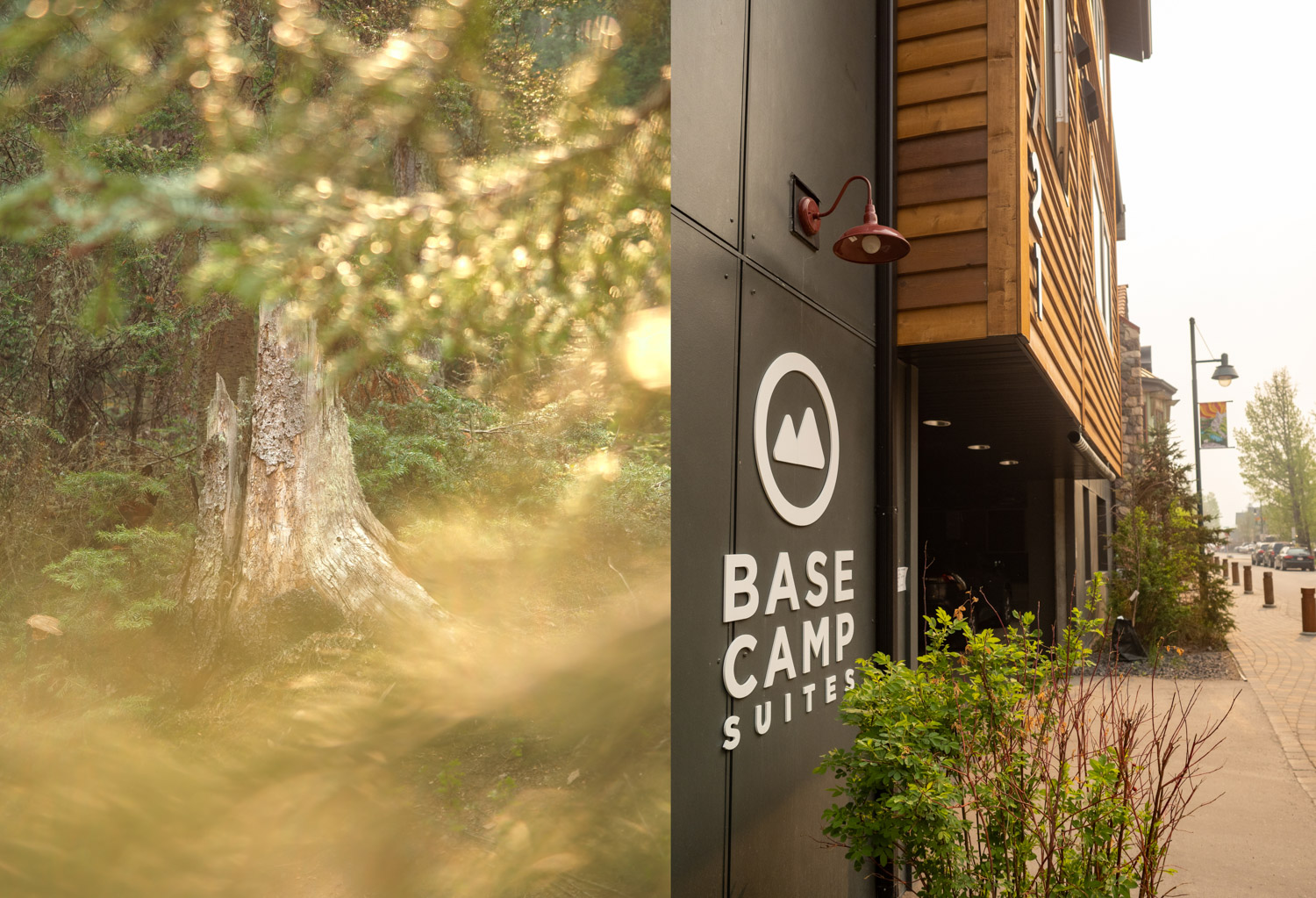 BASECAMP SUITES CANMORE

The brightly coloured yellow doors are a sign of the sunshine and good times waiting inside. A welcome space filled with home comforts, stylish decor and beds that will help you recharge and rest after a day exploring outdoors.
Our stay in Canmore began after a 26hr stint without sleep after flying into Calgary from Australia. Having visited the area before, I was excited to try one of the newer offerings located in the town centre. I knew all I wanted after landing was to get to Canmore and wake up surrounded by mountains and my previous experience at Basecamp Lodge had been brilliant!
Check-in at Basecamp Suites Canmore was a breeze with coded keypad entry and stay details emailed prior to arrival. What greeted us inside was almost more exciting than the mountains themselves. Art featuring local wildlife and a calming colour palette, exactly what we needed after our flight. Not to mention there was space to stretch out, a bath tub, and comfortable lounge area with views toward the Three Sisters.
Little extras like 100% natural lemongrass soaps and oat milk lotions made by the Rocky Mountain Soap Co, pair with thick, fluffy towels and home comforts. Oh, and did I mention there's a rooftop hot tub!?
Just a two-minute walk from Basecamp Suites Canmore is the start of the river walk, a beautiful boardwalk that meanders alongside a clear water stream toward Spring Creek. The perfect spot to wander with a coffee and camera while listening to birdsong and taking in the views.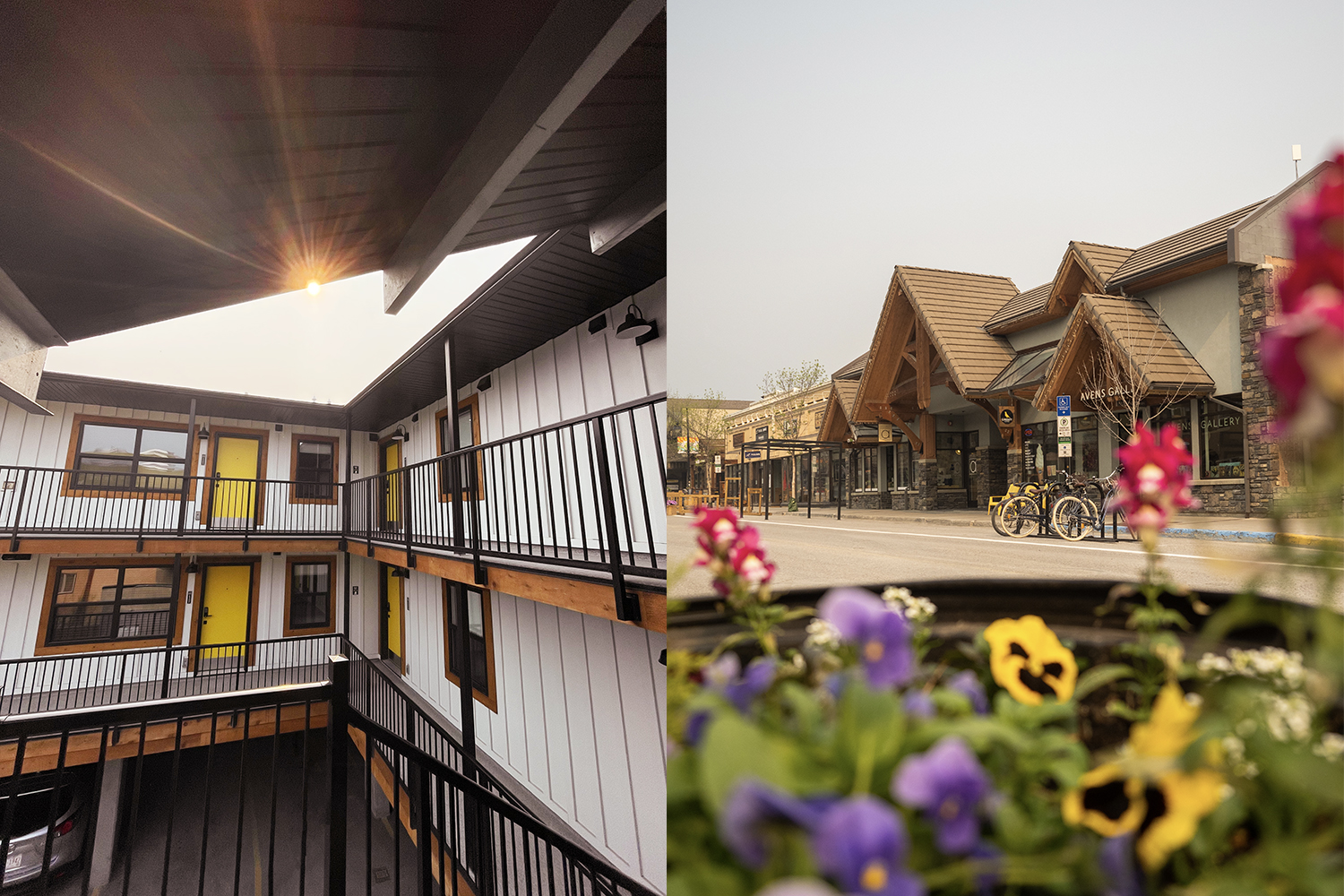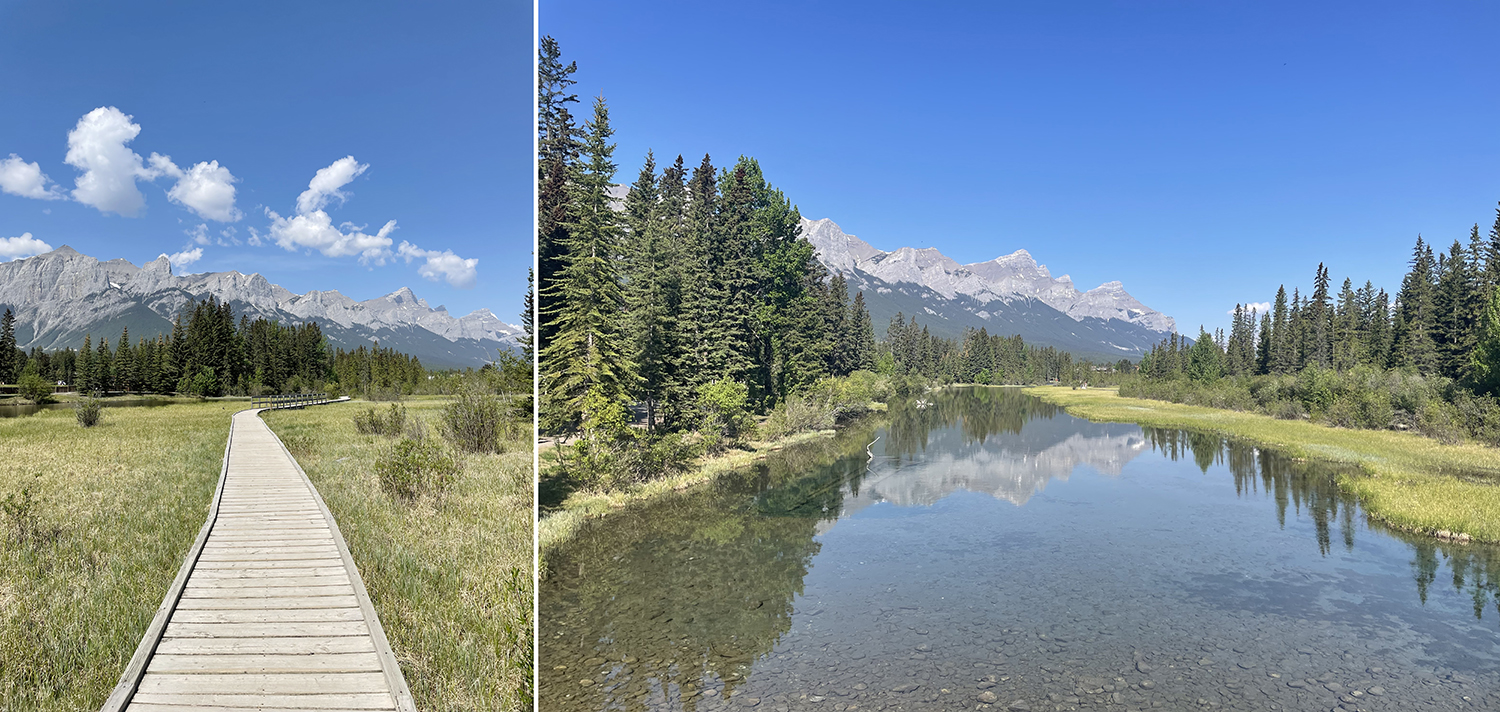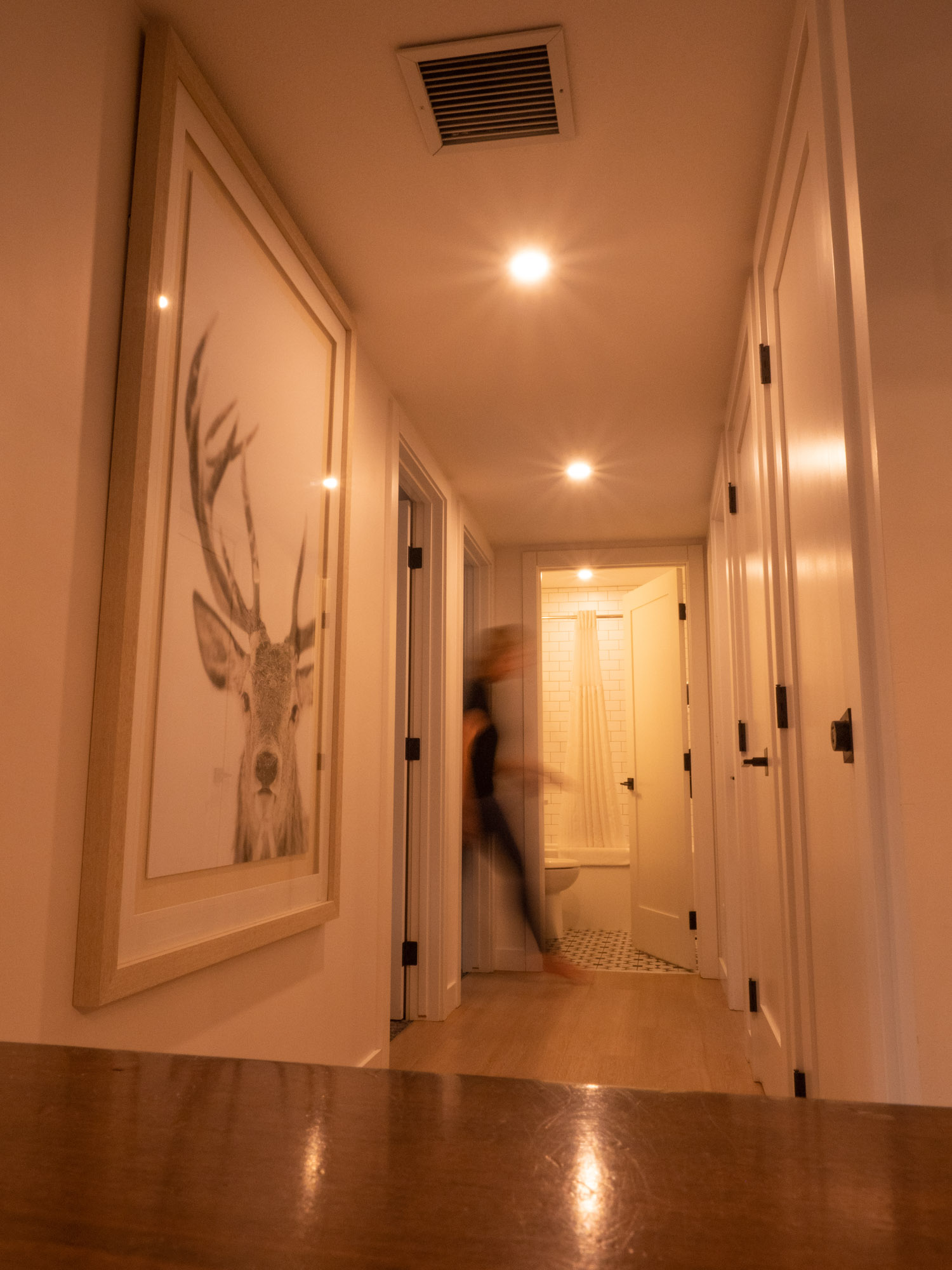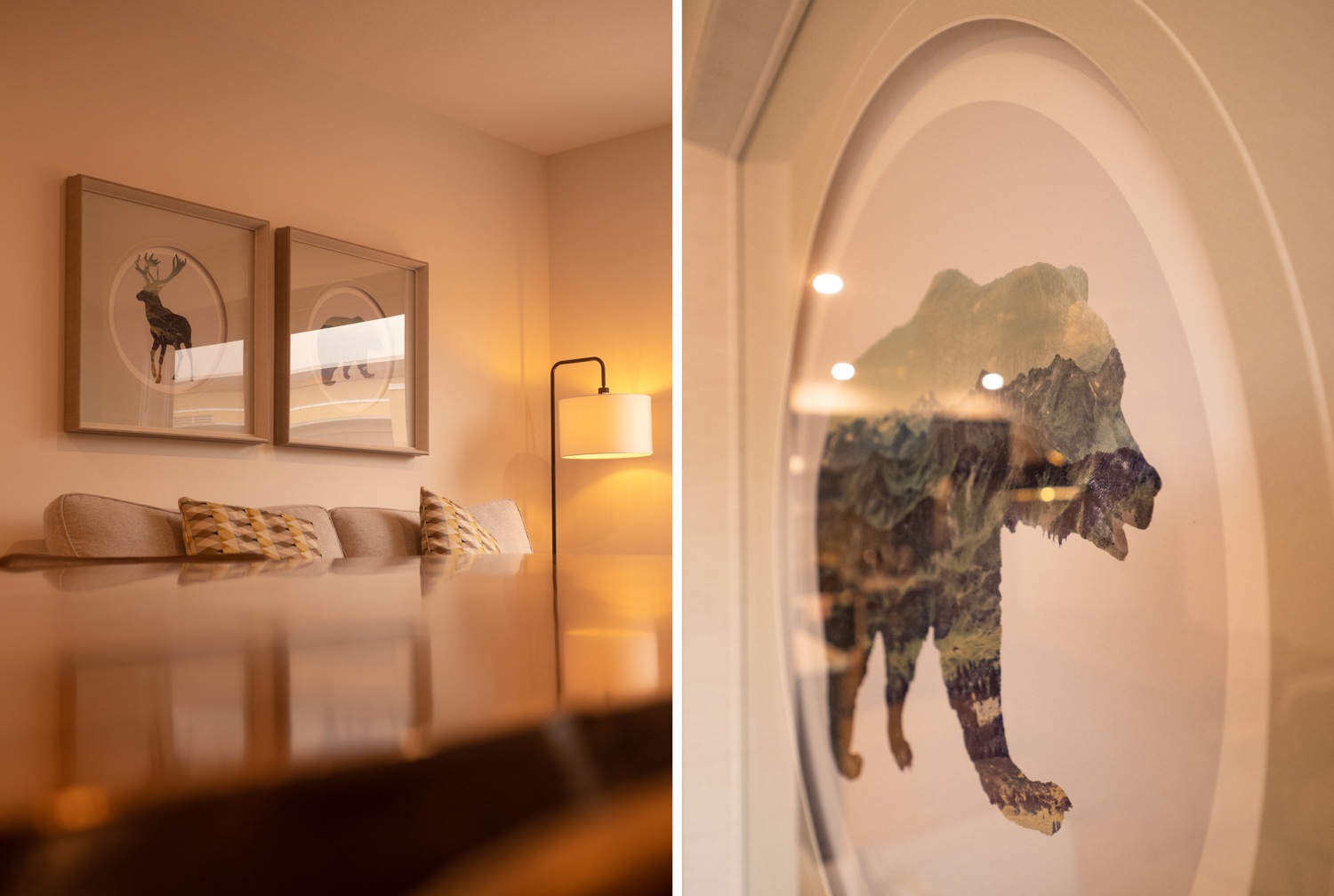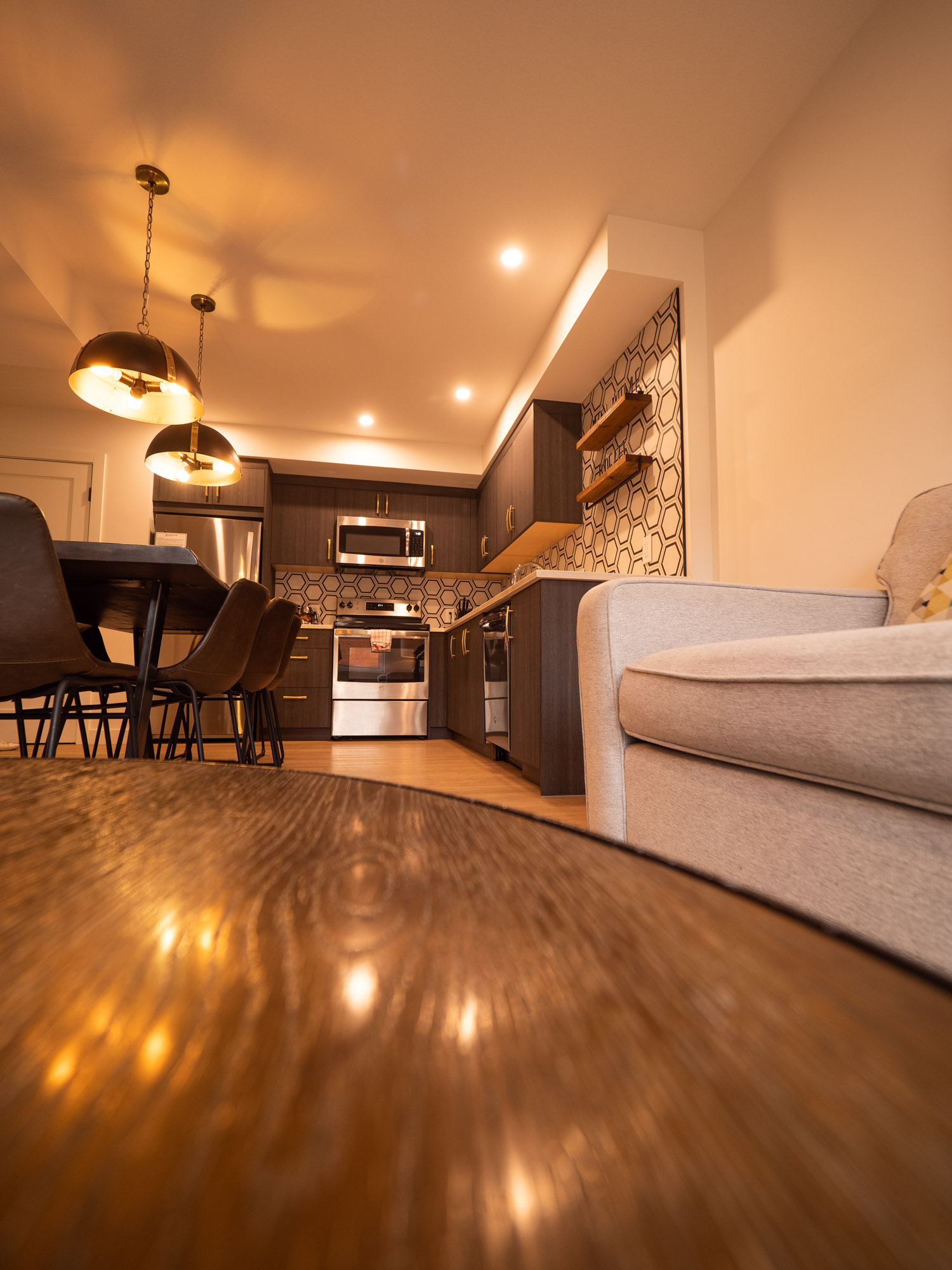 Nearby recommendations for nibbles and coffee –
CommuniTEA – the ideal spot for a healthy breakfast, takeaway salads and snacks, just a few doors down from Basecamp Suites Canmore
Canary Coffee – try the Macadamia Milk iced latte…so yum!
The Bicycle Cafe – a great mix of plants, bikes, delicious coffee + friendly service!
Photogenic Highlights within 30mins:
Three Sisters vantage point at Policeman Creek (read behind the scenes article here)
Quarry Lake
Rundle Forebay
Elbow Lake
Scenic Heli Flight with Alpine Helicopters
Kananaskis Country
Lake Minnewanka
Banff and the Bow River Trails
See more locations within The Wandering Lens guide to Banff National Park, which begins just north of Canmore.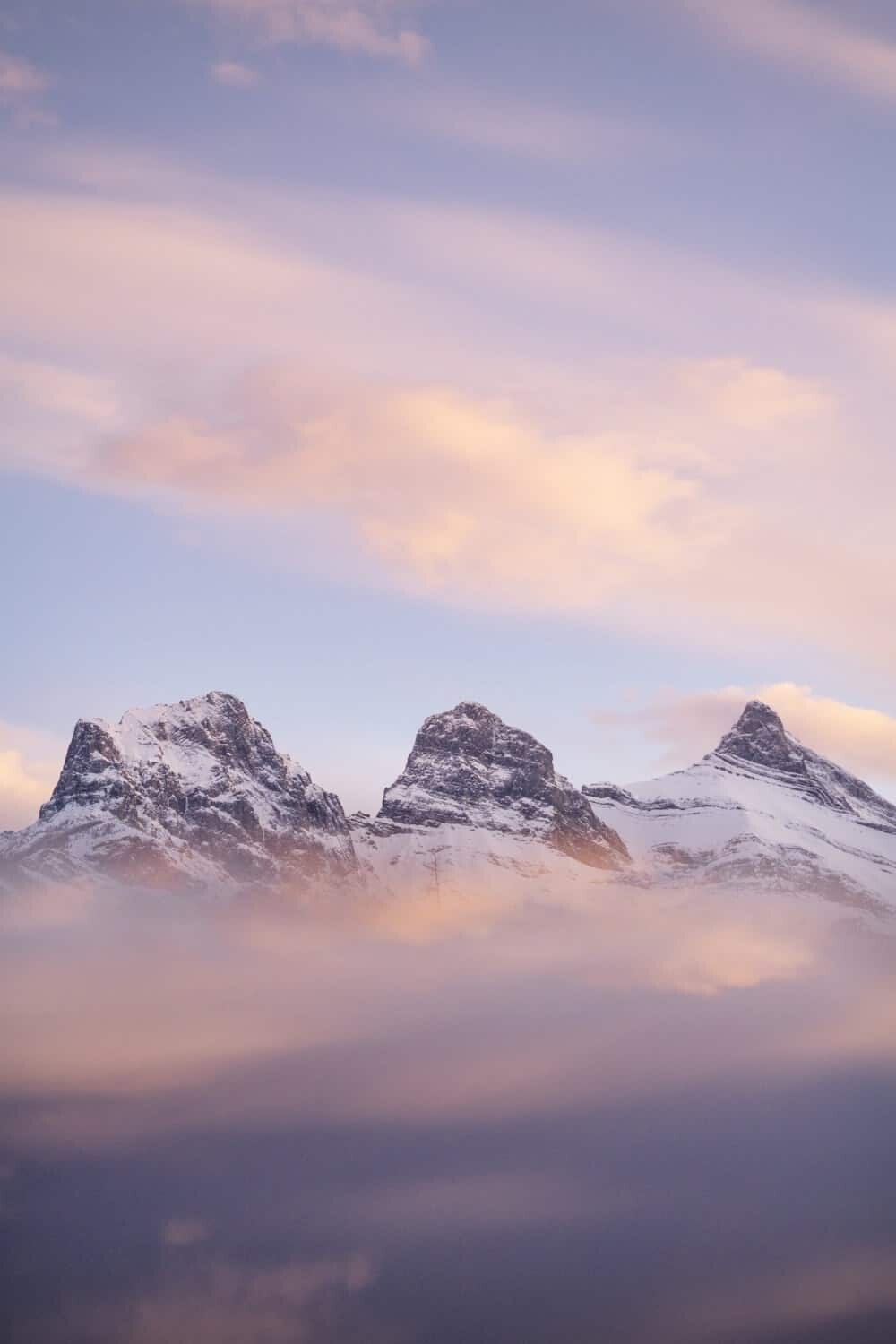 ---
BASECAMP SUITES BANFF

Banff is the busiest town in the Canadian Rockies but it's for good reason, it's gorgeous. Not only does the town itself offer enough to keep anyone and their camera happy for a week, but it's also the ideal base for exploring all the beauty that Banff National Park has to offer right up to the Icefields Parkway. I spent a long time researching hotels in Banff but struggled to find anywhere better priced, located and equipped than this property.
I was in town to update The Wandering Lens guide to Banff National Park, and every day set out from Basecamp Suites Banff to photograph somewhere new. From the nearby Bow River Falls and Sulphur Mountain to Johnston Canyon, Lake Louise and the natural wonders that line the Icefields Parkway.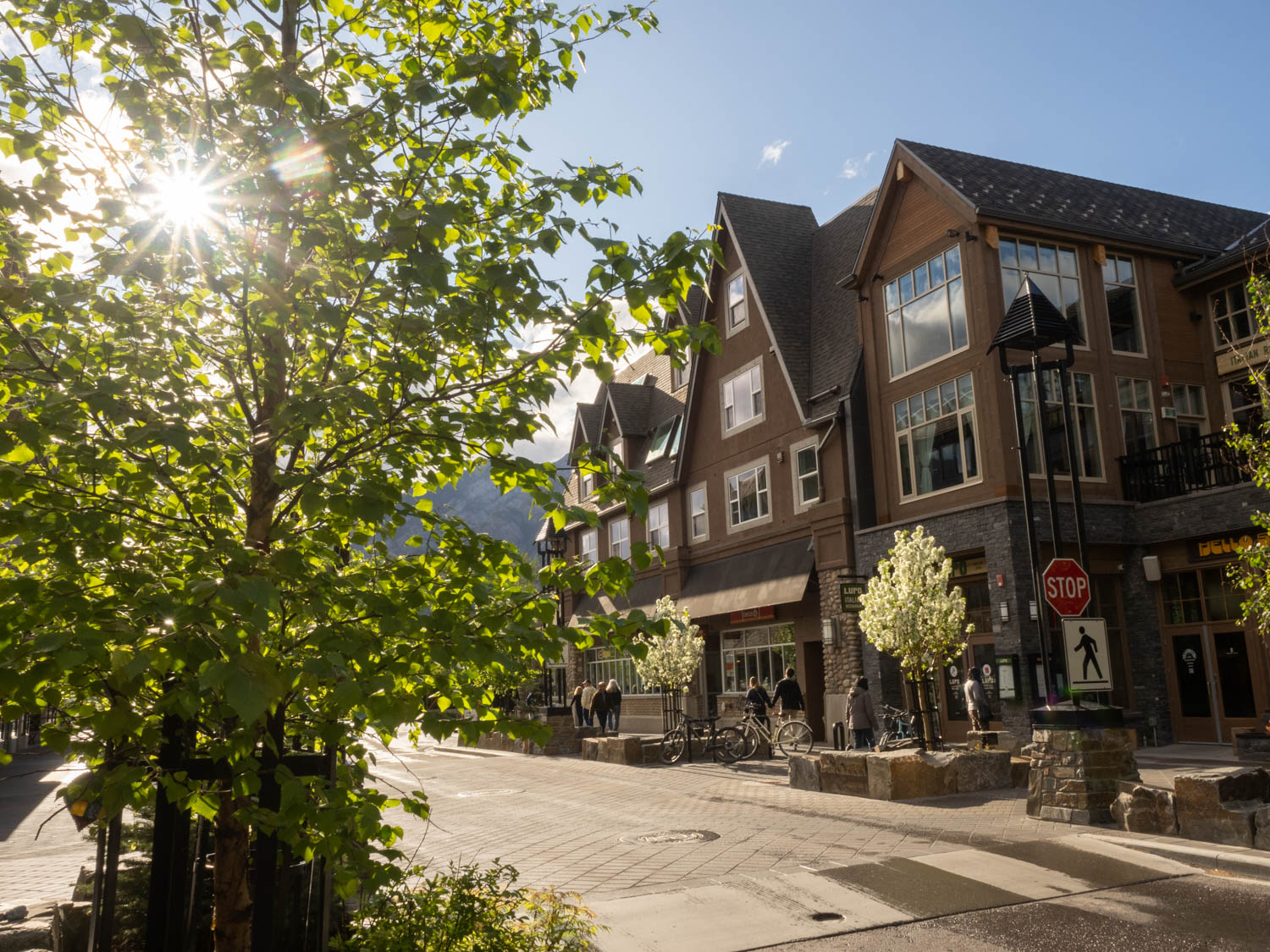 Similar in style and level of comfort to Basecamp Suites Canmore, the moment I walked into suite 304, I knew it would be a great base for the week. Natural light flowed through every window and every morning presented the chance to open the curtains and see how the mountain peaks were looking so I could plan where to go first.
Basecamp Suites Banff is located smack bang in the middle of town, ideal for grabbing a coffee and lunch for your day trip or enjoying an evening meal after adventures. Depending on the season you're visiting, you'll either be soaking up sunshine late into the night, or enjoying a warm bath after a day on the slopes. My pick for coffee is the Whitebark Café, and as a creature of habit, I took an Earl's salad with me for picnics by Bow Lake three days in a row, my goodness it was good!
Opting to base yourself in Banff opens the door to photogenic sunrise and sunset experiences nearby. In the summer months, you're within walking distance or a short drive to the Sulphur Mountain Trail (or gondola!), or you can wander the Bow River Trail and capture the mountain scenery as cascading falls and little rapids create the soundtrack. The town has a stunning connecting web of walking trails, walk out the front door of Basecamp Suites and wander less than 400m to start the Bow River Trail. A little further down the road is the Fenland Trailhead and Echo Creek, both super close to Banff yet offering a peaceful stroll amongst natural surroundings.
If you're up for a longer hike and want to summit a mountain, turn left once you exit the suites, left again on to Wolf Street and follow it for roughly 10mins until turning right on to St Julien Rd for another 5mins to reach to the start of the Tunnel Mountain Trailhead. In less than two hours in total you'll be on top of Tunnel Mountains where extraordinary views look out over Banff and the surrounding peaks.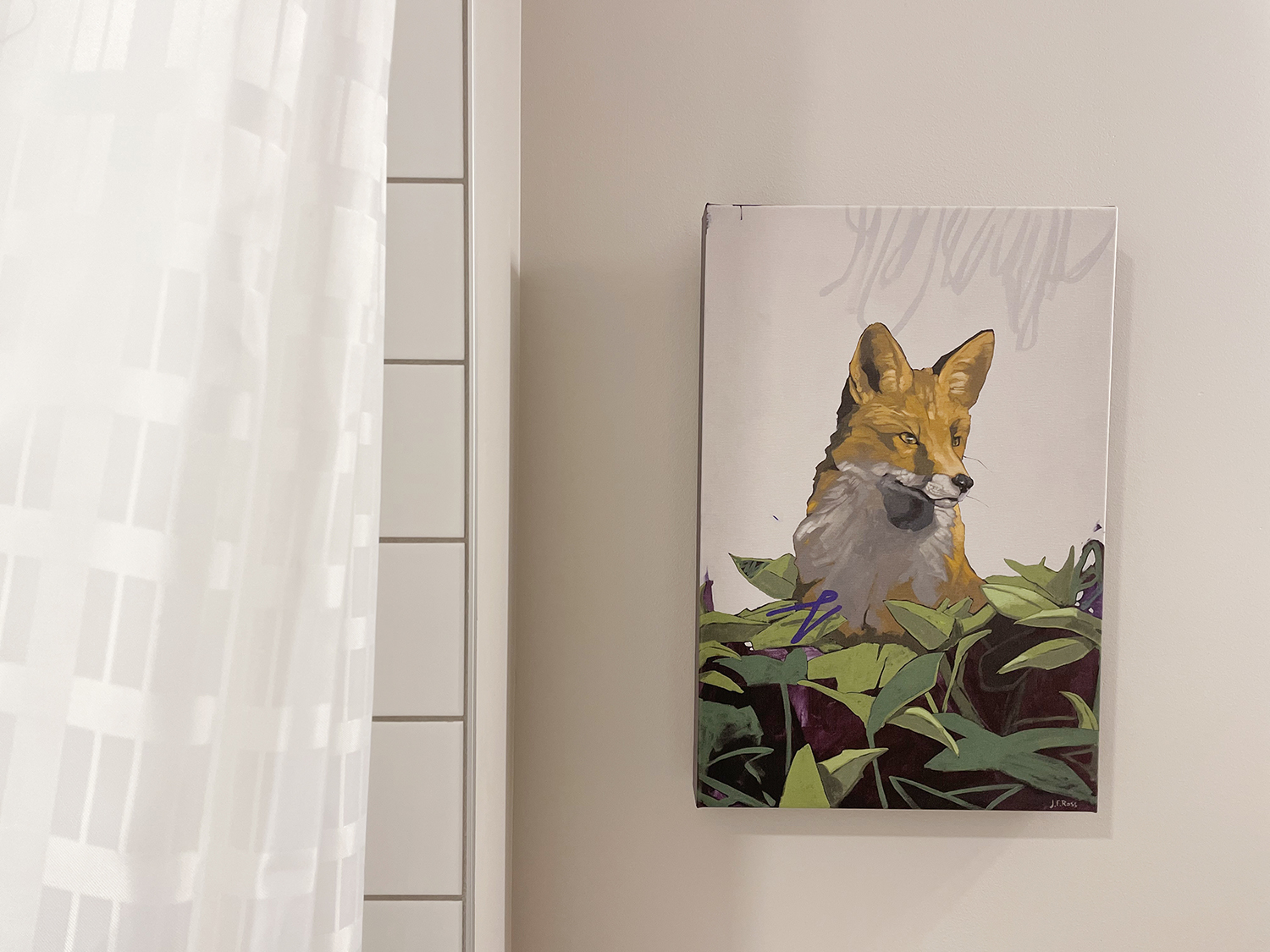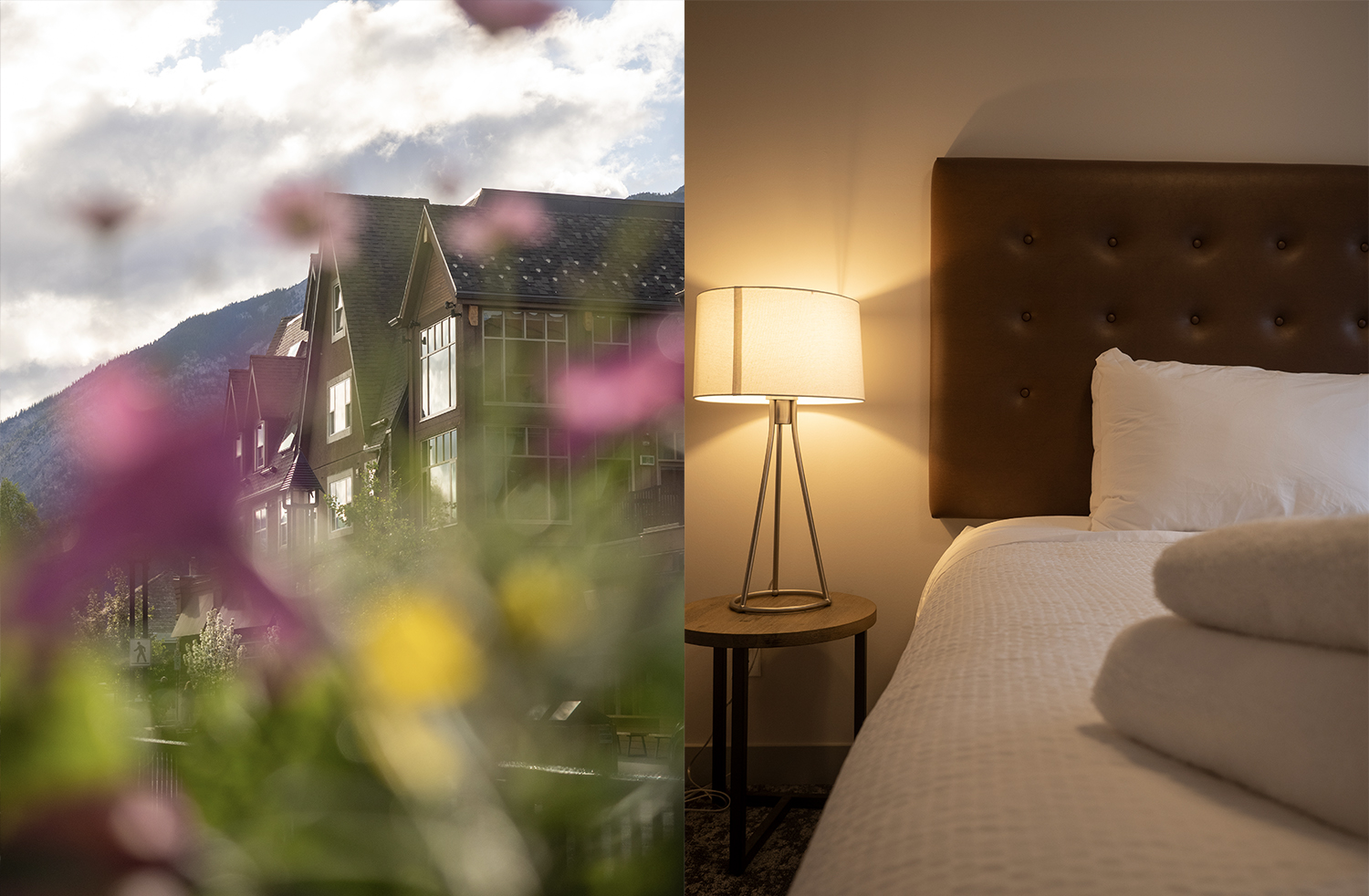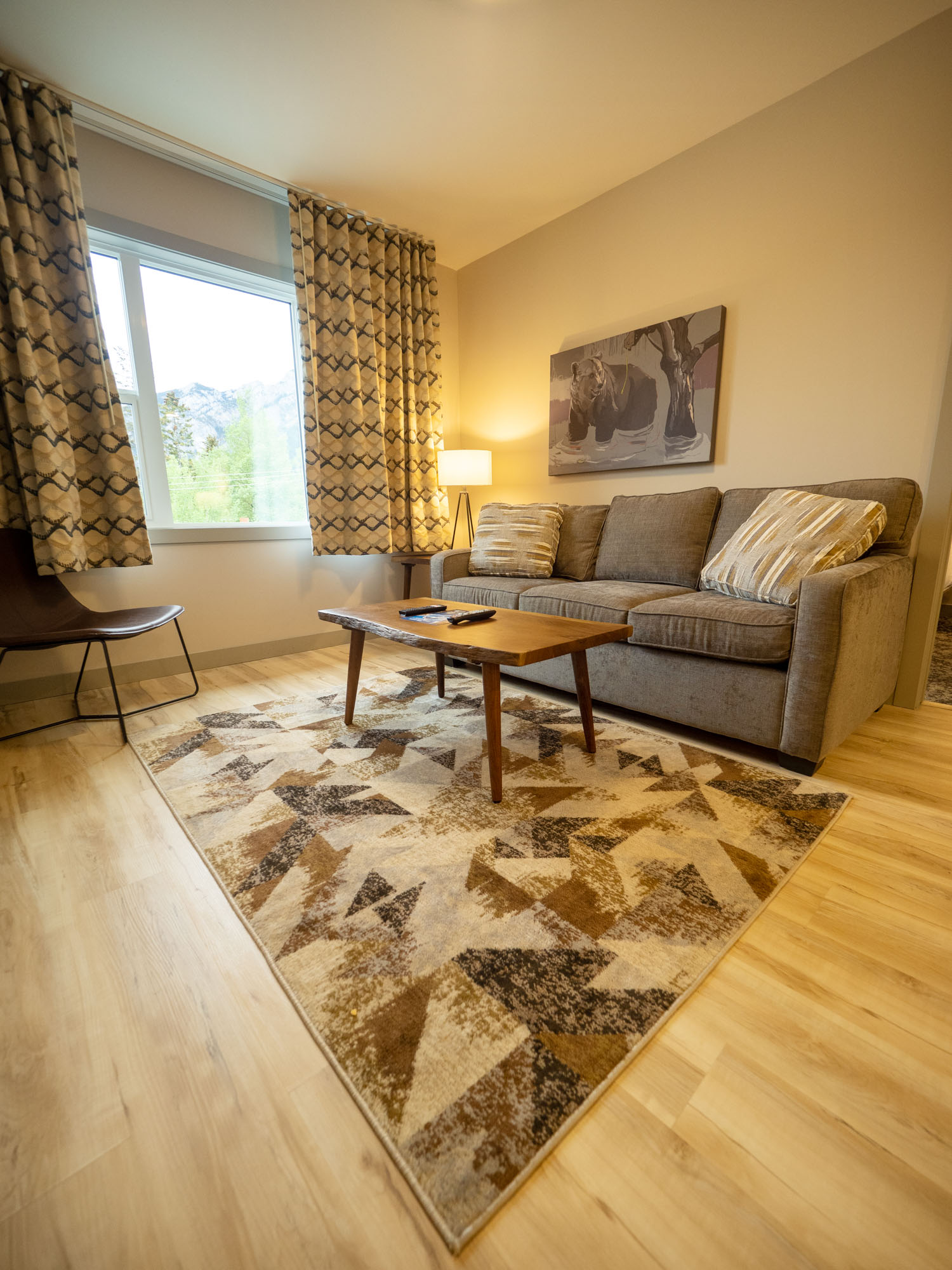 Less than one minute's walk from the suites is a brand new IGA, allowing you to take full advantage of the spacious and well-equipped kitchen in every apartment. Because I lack basic skills in the kitchen, I only made a warm tea each night to accompany me as I cosied up on the couch and edited my images from the day.
If like me, you'll have a car with you, parking is available inside the complex for a daily fee with plenty of spaces spread across two levels, allowing easy access to each floor of Basecamp Suites Banff. Alternatively, there are numerous free parking areas around Banff if you don't mind a short walk!
One tip, if you're staying in Banff and travelling north on a day trip, ditch the highway and take Route 1A to slow things down a little, increase your chances of seeing wildlife and give yourself plenty of opportunities to pull over and capture some images.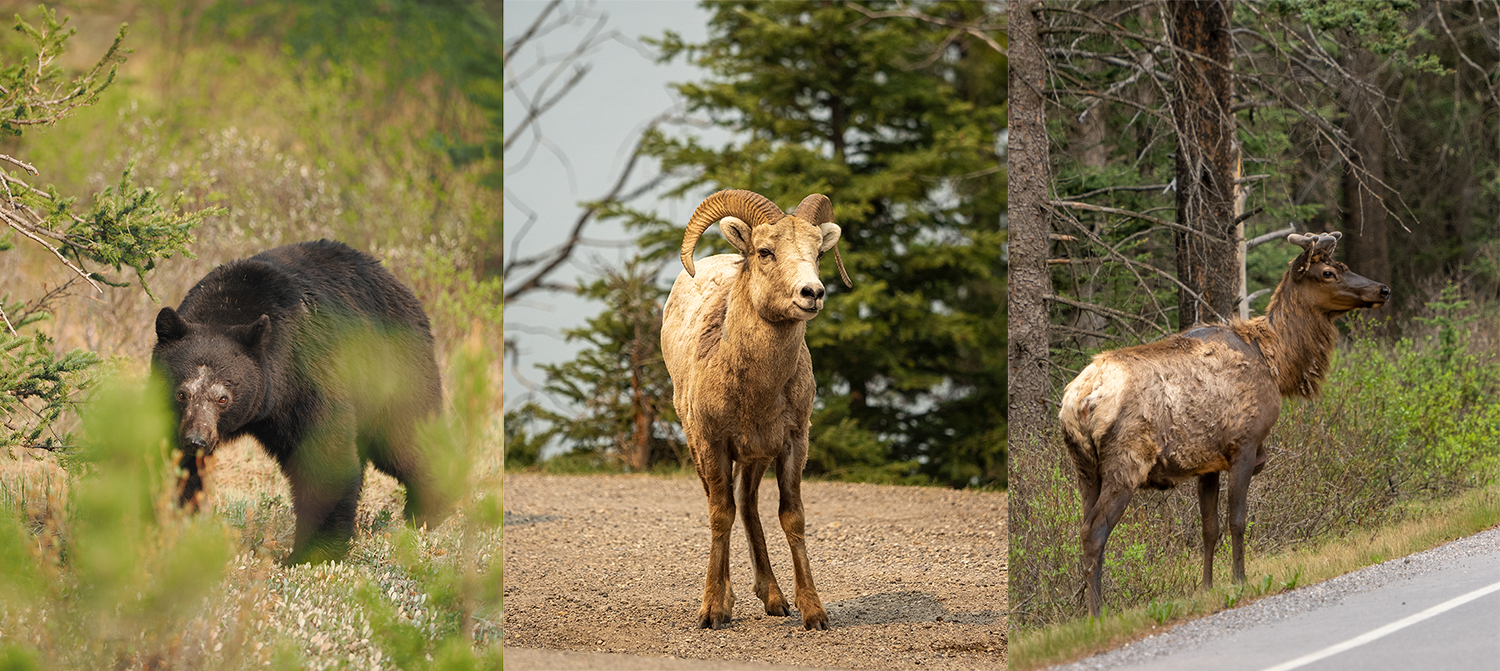 Nearby recommendations for nibbles and coffee –
Whitebark Cafe – as noted above, this was my pick of places to get a coffee for the road…I may have ordered 1 x hot latte, and 1 x iced latte, it was Spring after all!
Wildflower Bakery – pastries, cakes, sandwiches, soup and coffee…plus there's a courtyard if you prefer to sit and enjoy.
Peak Cafe – Delicious Vietnamese food, no fuss, great quality.
Photogenic Highlights within 60mins:
Johnston Canyon
Lake Louise
Lake Minnewanka and Two Jack Lake (take the Lake Minnewanka Scenic Drive to see both, within 15mins of Banff)
Vermilion Lakes
Sulphur Mountain
Castle Mountain
Bow Lake
Peyto Lake
Emerald Lake
See more locations within The Wandering Lens guide to Banff National Park.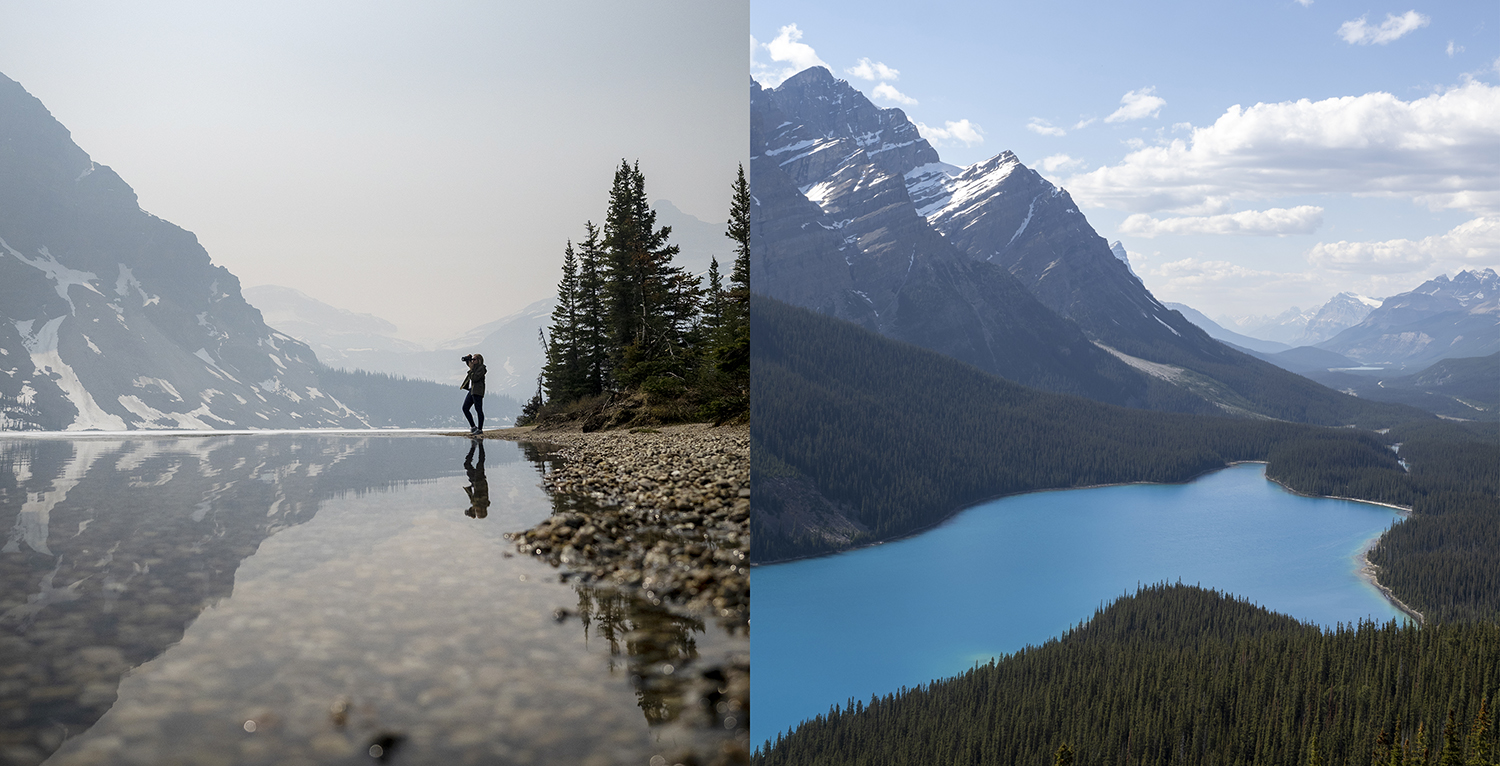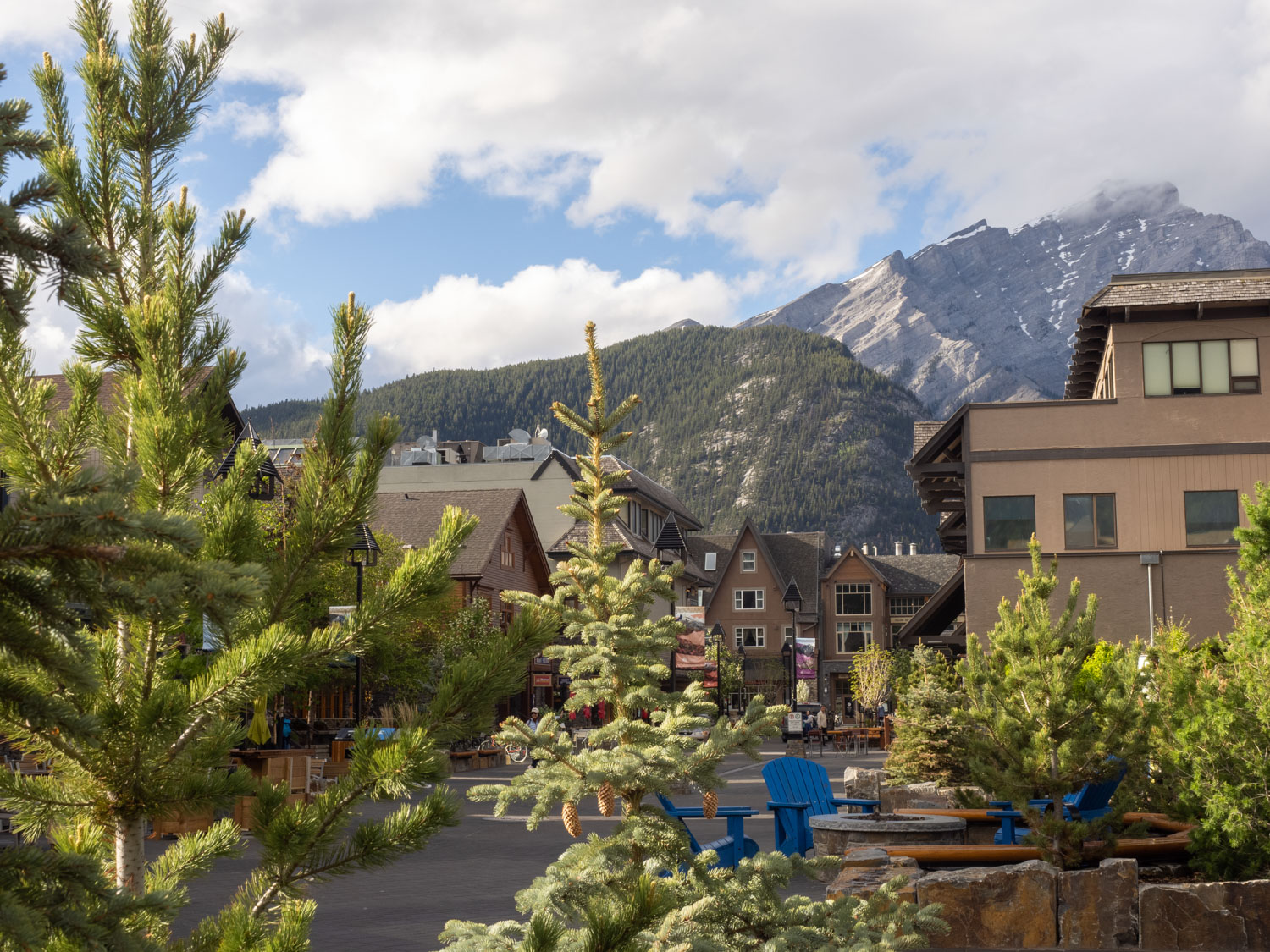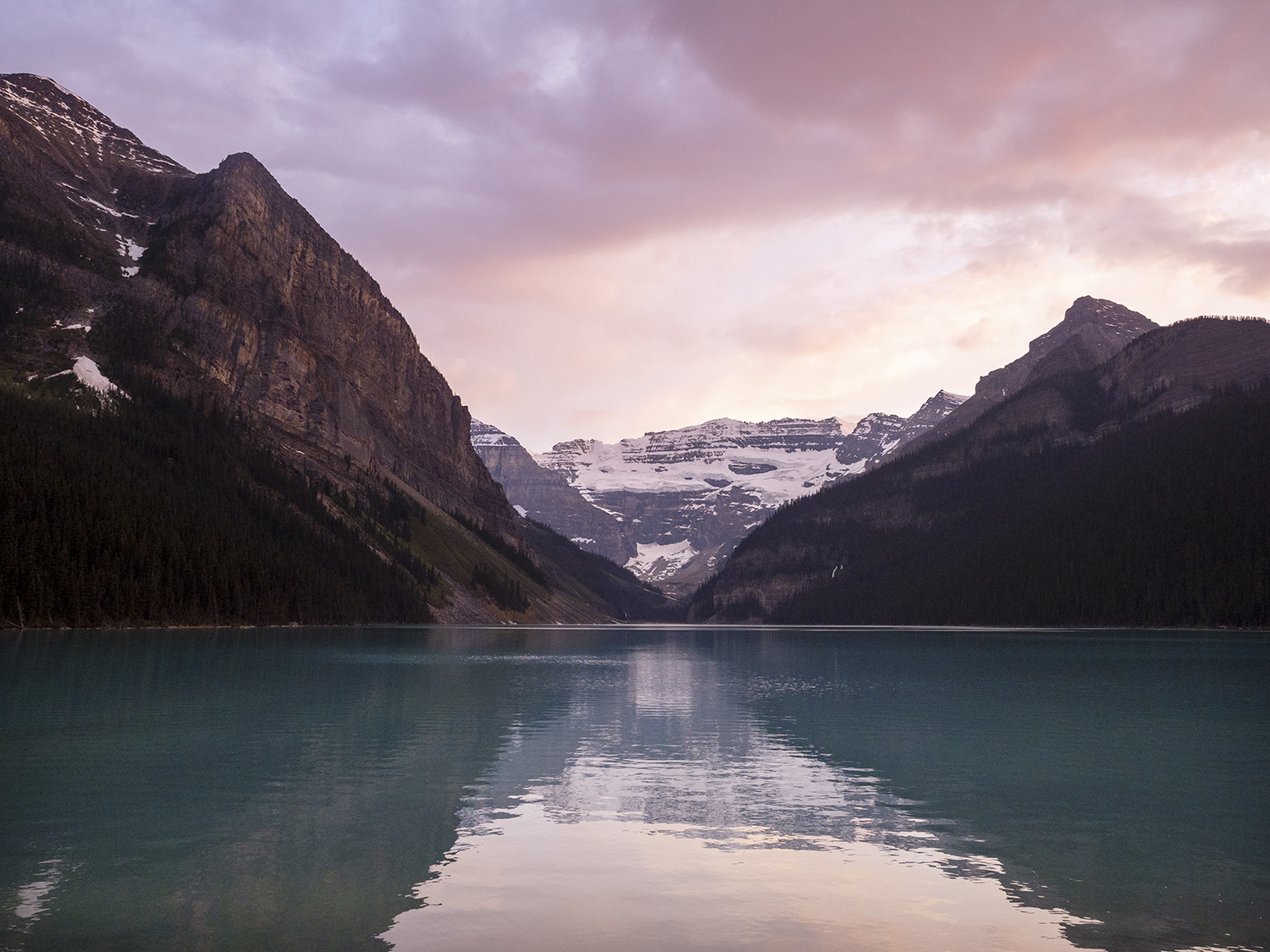 Wish list of Basecamp Resorts –
On my next visit to Canada I'll be hoping to try out some of the cabins, tents and brand new resorts that are opening their doors for the first time this summer!
If you're able to get to Canada before I do, here's a list of places to check out –
Luxurious wooden cabins located beside a gorgeous creek, surrounded by forests and mountain peaks. Staying here vastly increases your chances of a bear sighting (I'm guessing!), as you're out of the bustle of downtown Banff and located right on Route 1A, my preferred road to photograph wildlife.
Opt for a room with a jacuzzi, fireplace, loft space, kitchens, multiple bedrooms and then enjoy the scenic outdoor fire pits, an ice rink in winter, access to nearby hiking trails or jump on board a shuttle bus direct to Moraine Lake….the only way to access the lake now is via a shuttle service so why not travel direct from your cabin!
Recent Basecamp Resorts Openings –
MTN House by Basecamp, Canmore
Below imagery supplied by Basecamp Resorts –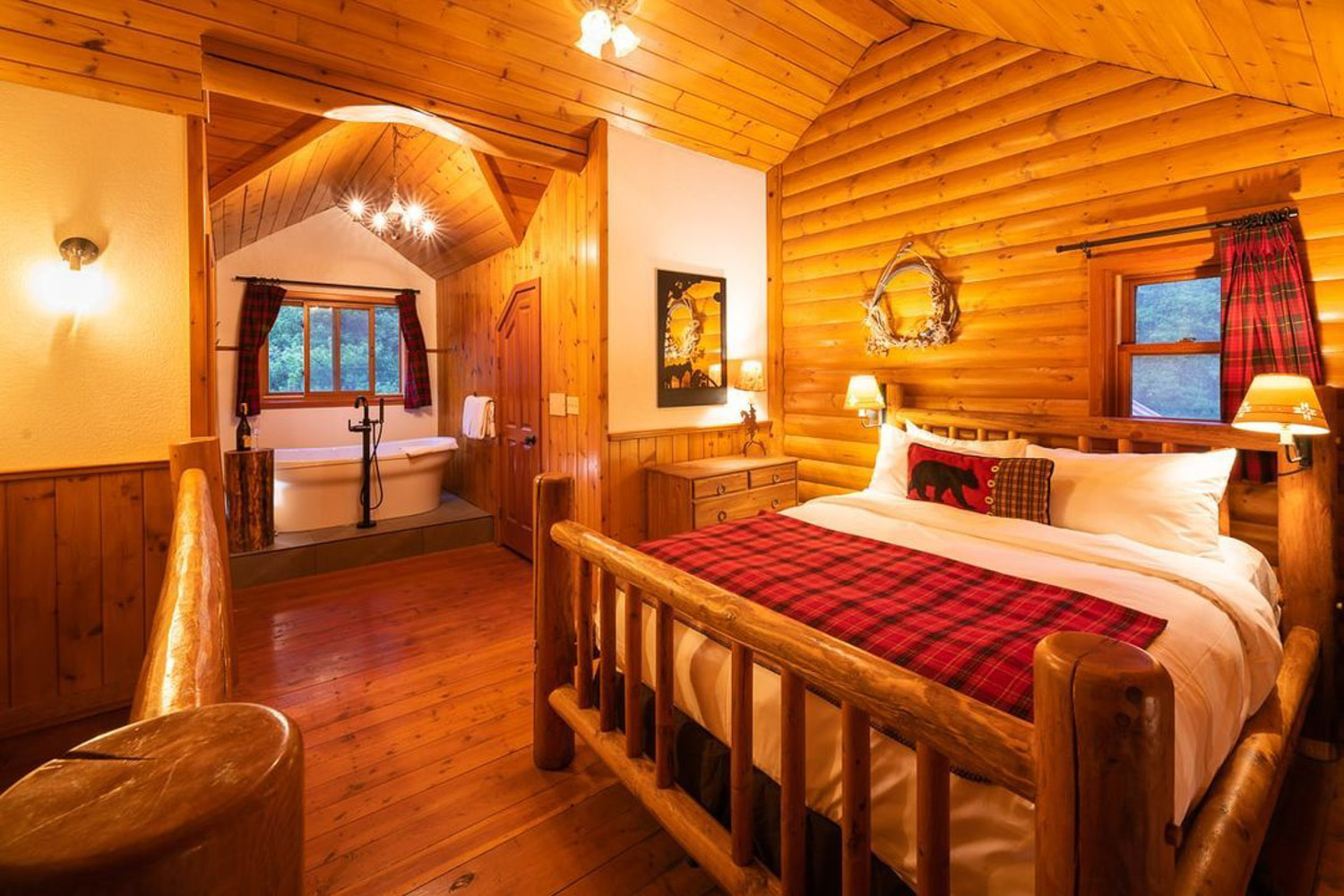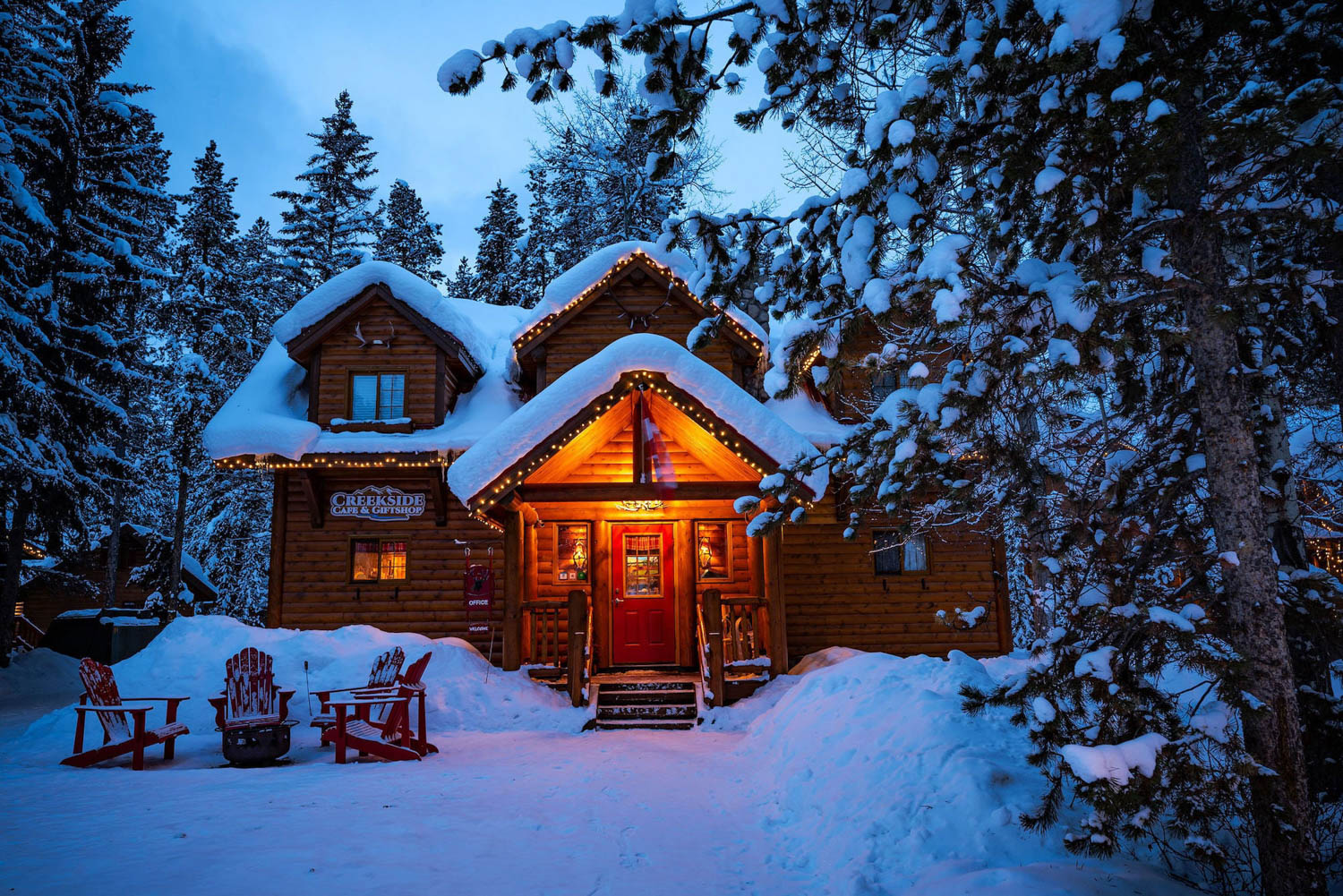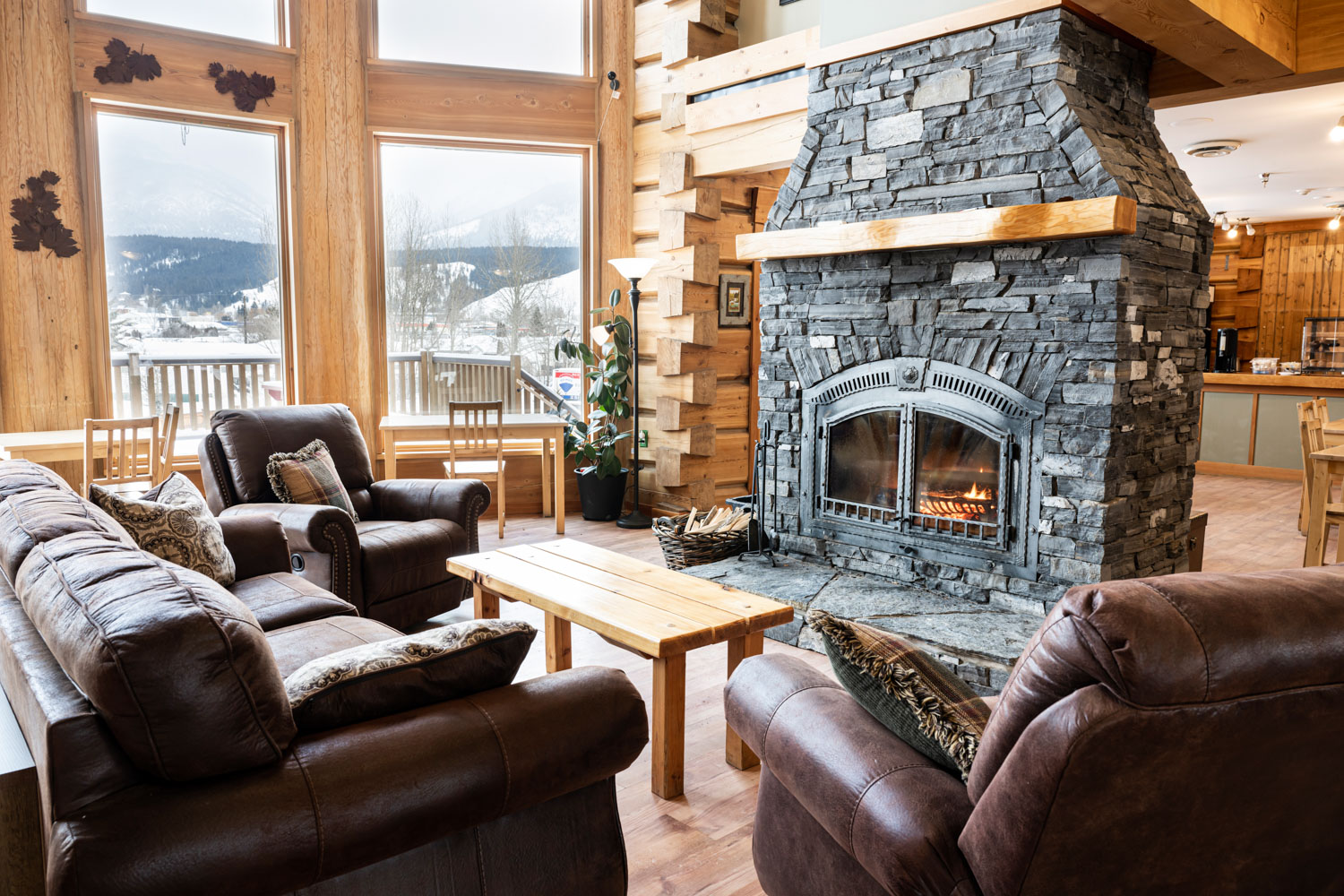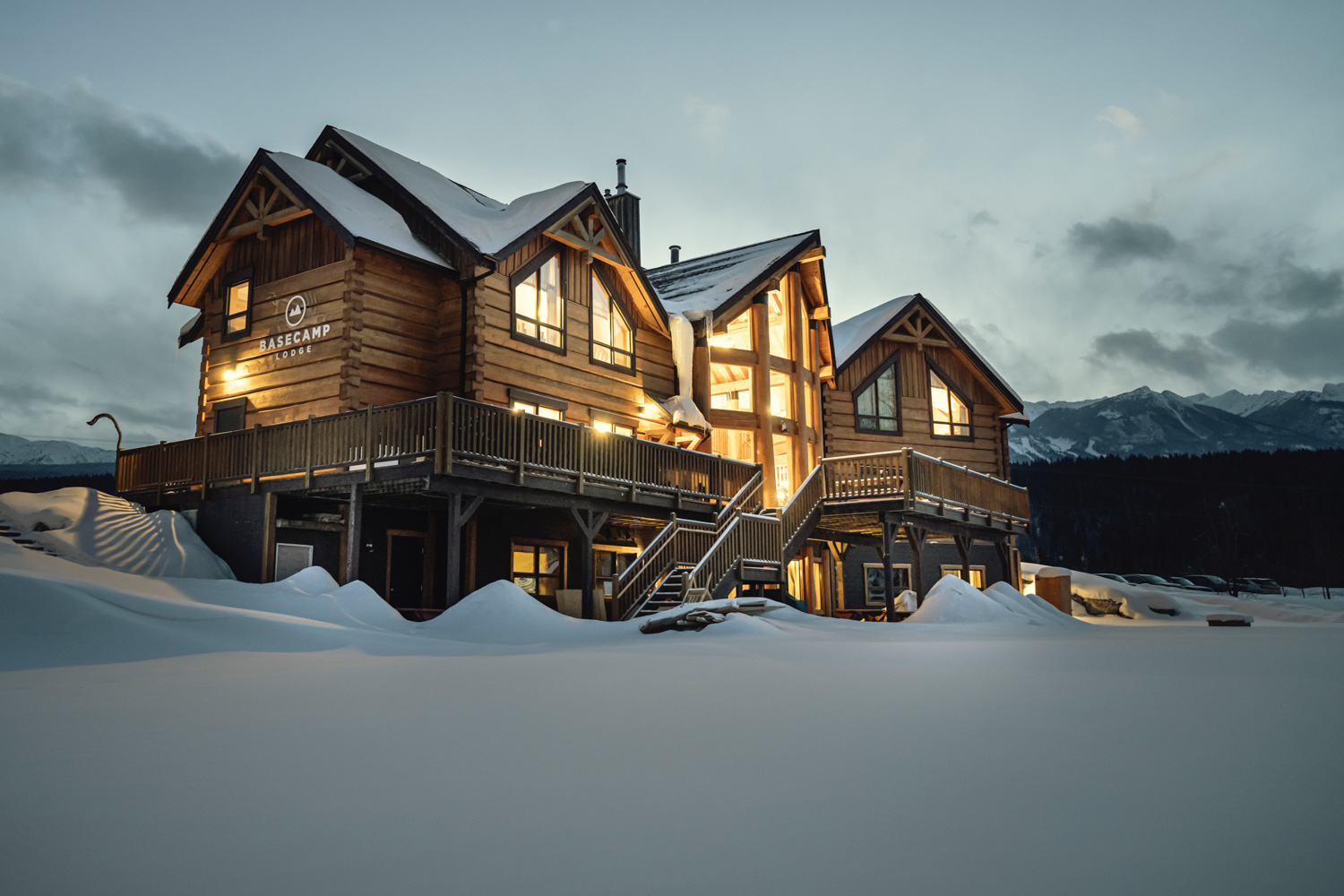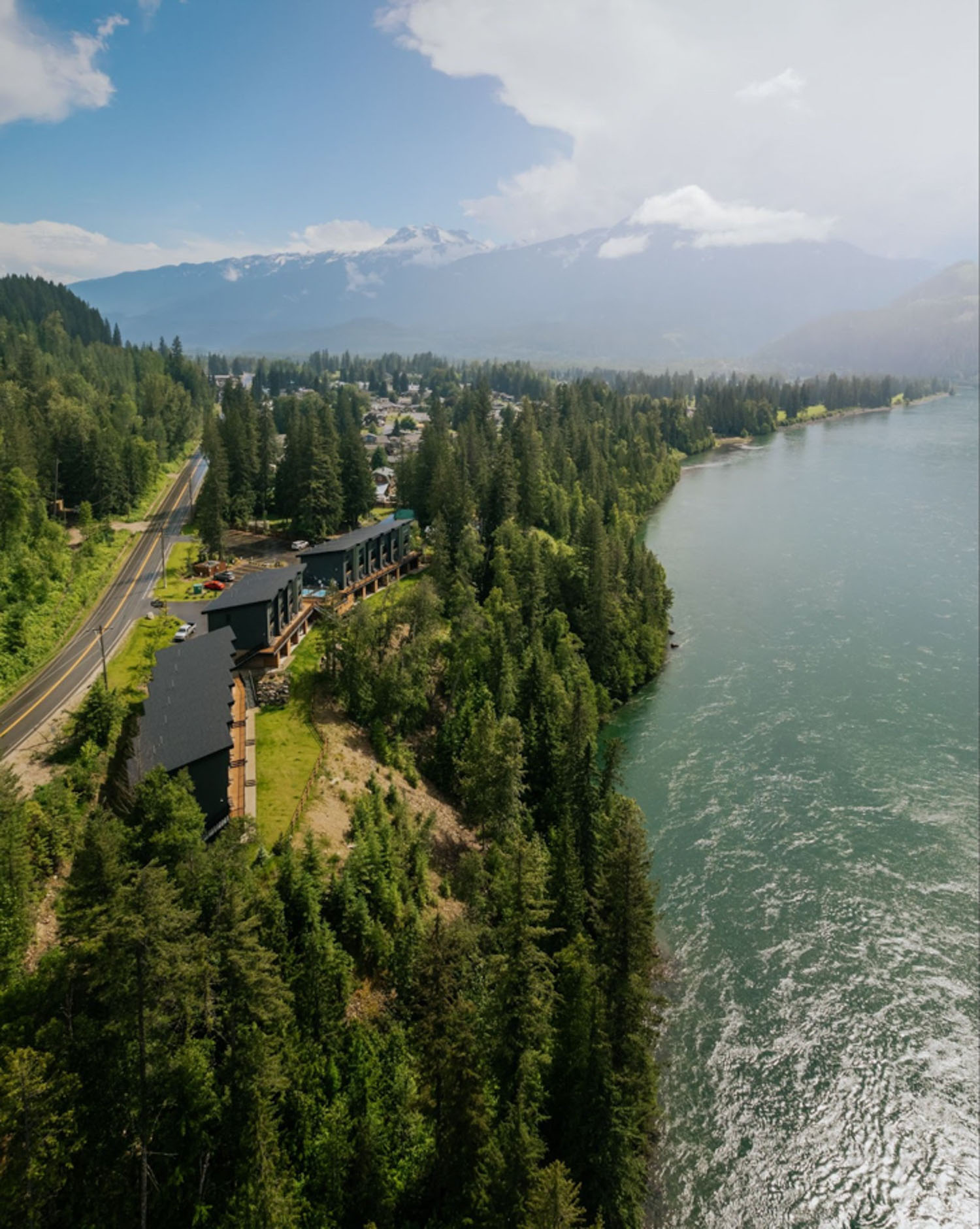 *The Wandering Lens was provided a media rate in order to photograph and share the experience of staying with Basecamp Resorts. Just to note, this was upon my request as a previous guest as I wanted to highlight their other incredible properties because I loved my stay back in 2018 so much. As always, opinions are my own and I like to let the photos do the talking 😊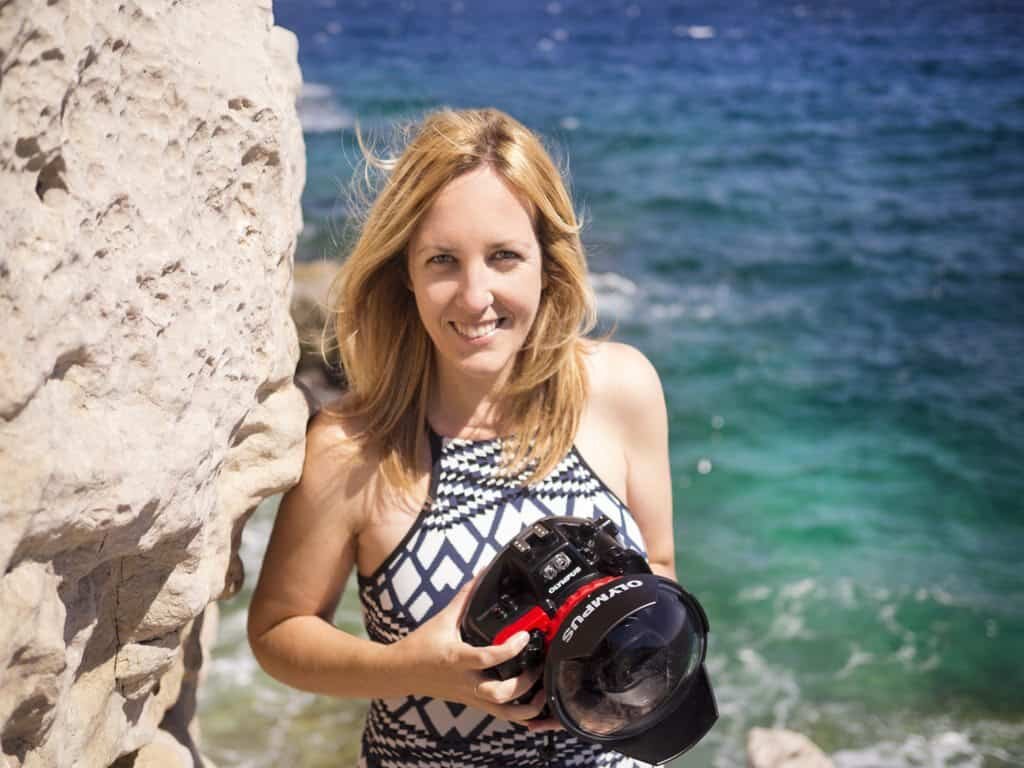 Hello! I'm the founder and photographer behind The Wandering Lens.
With 17+yrs experience as a professional travel and landscape photographer, all advice found on this site is from my personal experience on the road. I hope it's useful for your own travels and would love to hear in the comments about your trips and experiences around the world.