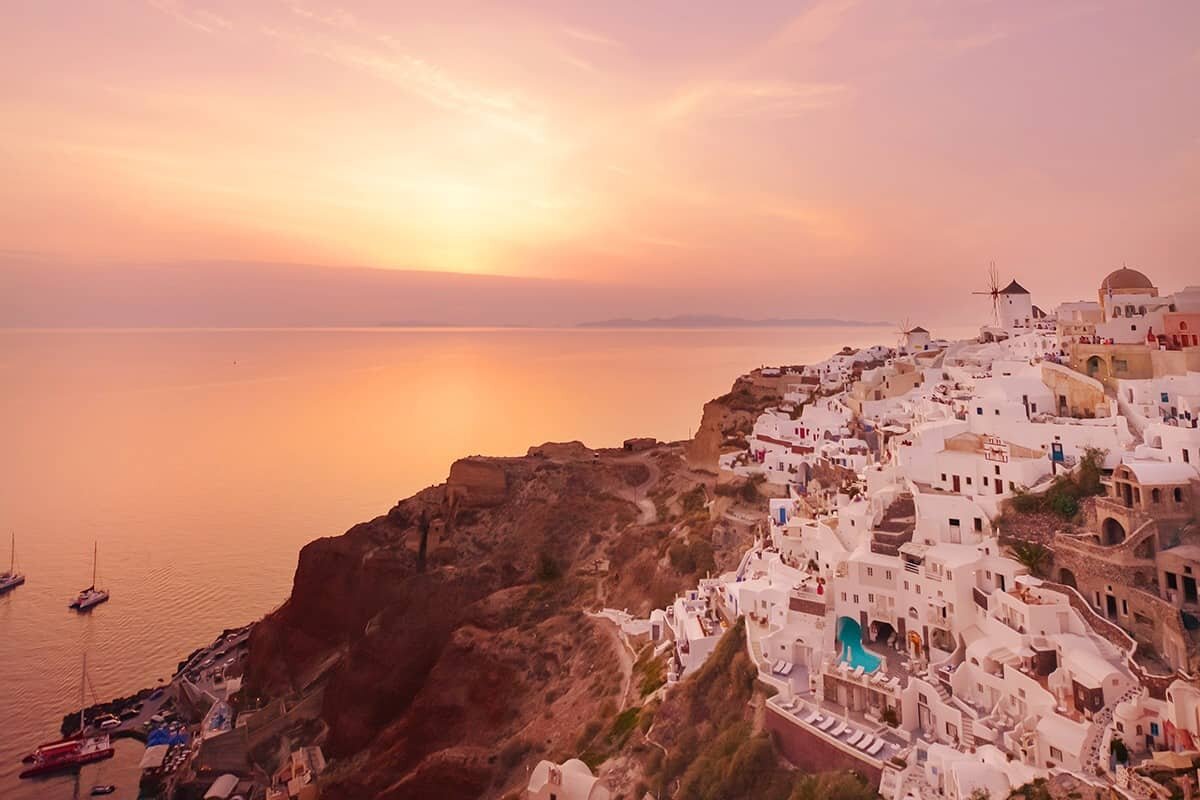 Where to photograph Sunset on Santorini
When the sun dips into the Aegean Sea of Santorini you want to make sure you're in the best spot possible to capture this iconic scene in the Greek Islands.
With millions of visitors filling the cliff top paths of Santorini each year, it's no wonder you've probably found this article by googling 'Where to find the best sunset spot in Santorini?', you may have even added 'without crowds'. If you did, I'm totally with you. I can't stand photographing alongside hordes of tourists and it's the reason I wanted to write this article to steer you in the right direction!
I've previously written a guide to the 'Best Photography Locations on Santorini', but this time I'm focusing on just the sunset worthy spots. Oia is the most popular location for sunset and that's because of it's location right on the north-western tip of the island. That said, most villages located along the rim of the caldera offer some kind of sunset views because they all face west, it's just a matter of what time of year to visit Santorini to benefit from the direct sun falling into the sea scenario.
So, without further chatter, let's get started with some great spots to photograph sunset in Santorini, Greece. Oh and if you're keen to learn how to photograph during the golden hour light, be sure to also read my guide to 'Golden Hour Settings + Tips' or the 'Setting the Scene' series.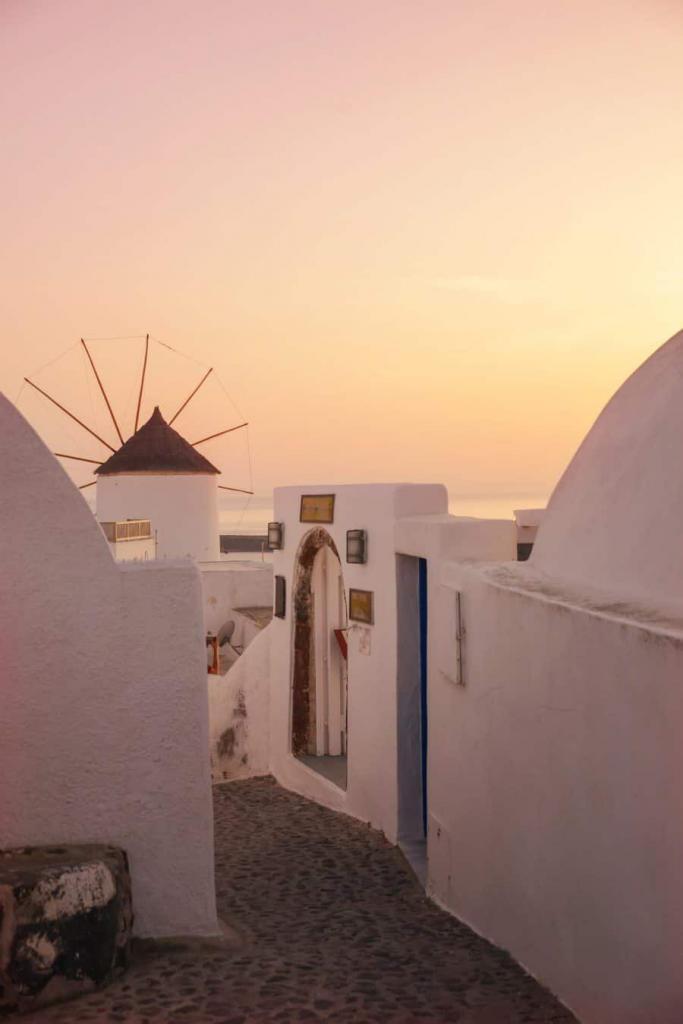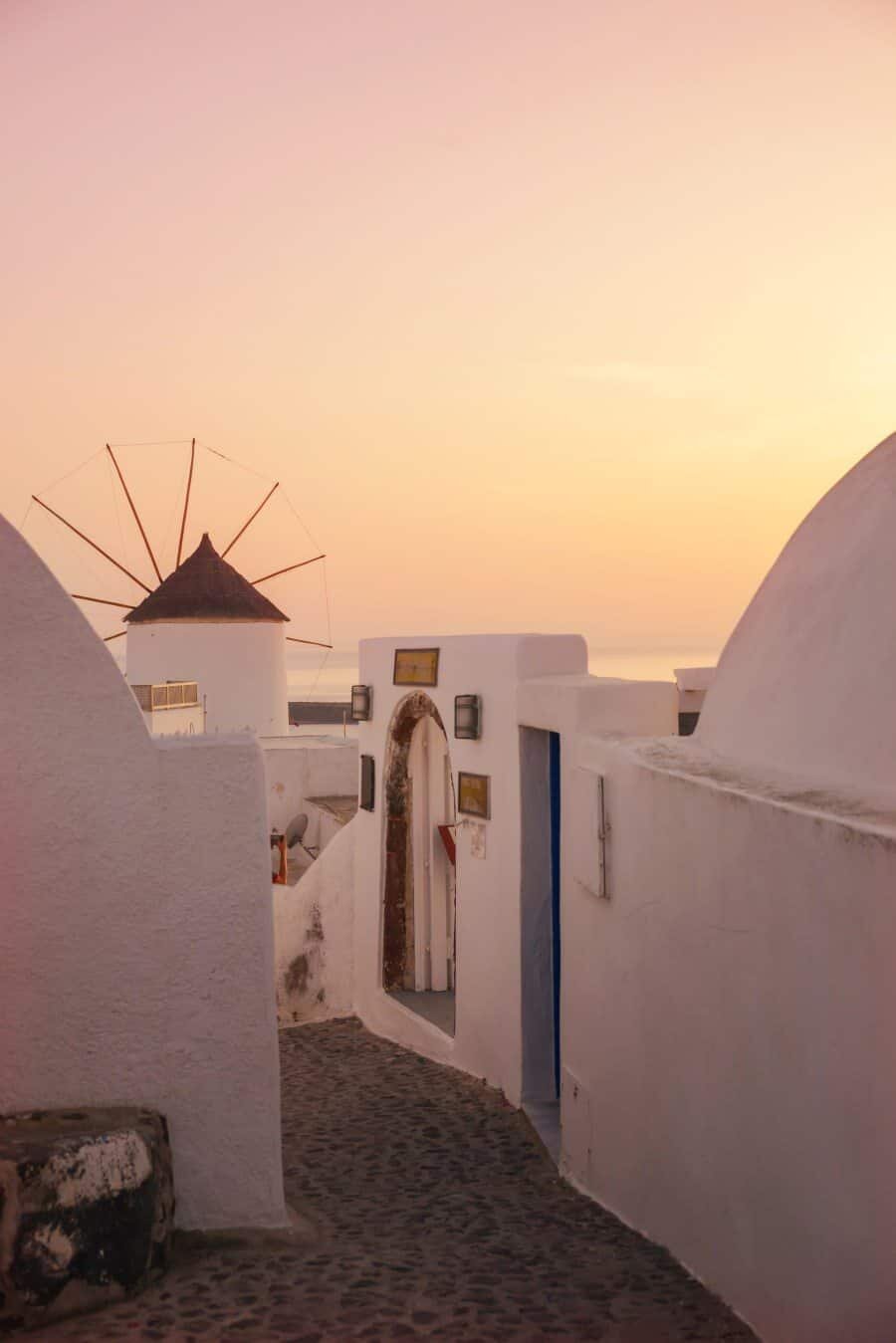 Photograph a Santorini Sunset in Oia's Northern Alleys
While most of the crowds will be gathered at Oia Castle (see further in this post), take the time to spend an evening wandering through the back alleys of Oia towards the Lioyerma Lounge Café & Pool. While I've never been to the café so can't recommend it's cuisine, the small streets around are ideal for capturing the colours of sunset against the striking white, blue and yellow painted houses of the village. There are even a few windmills to compose within your shots too!
Because a lot of the tourists will be using the main thoroughfare through Oia towards the castle, head off in this direction to experience the glow of sunset without fighting for a clear shot.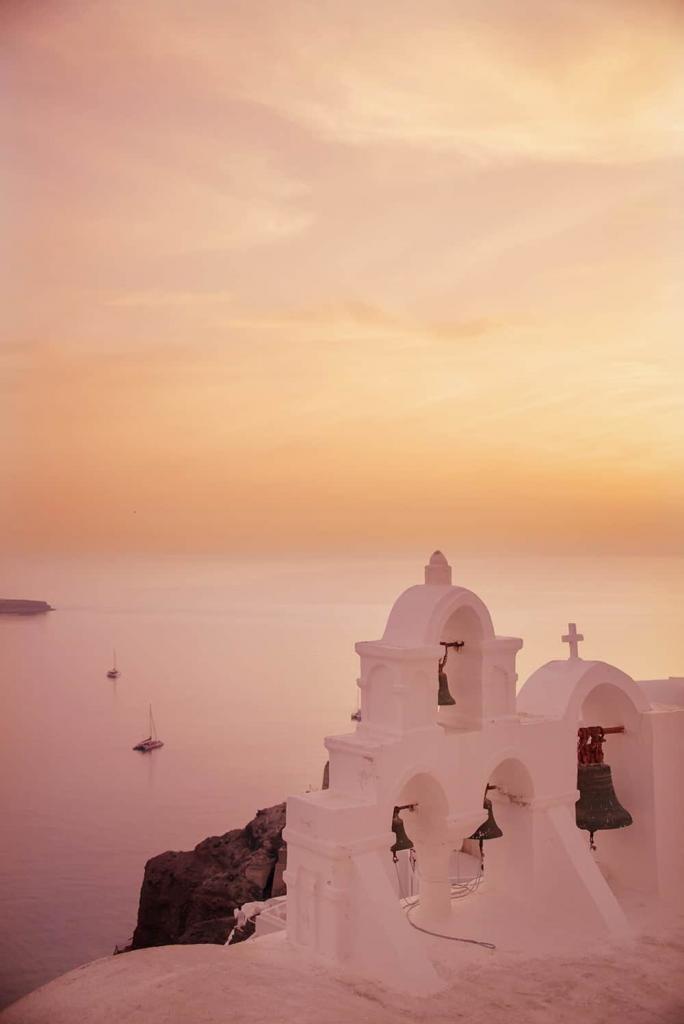 It's worth not only looking within the alleys themselves but more often than not a street will lead you to an unexpected view like the one below. Roof tops can be great subjects to use within your composition against the golden shimmer of sunset.
Santorini Sunset Photo Tip: Because these alleys don't always have a direct view of sunset, aim to include details like cracked wooden doors, stones and patterns within your image instead. These alleys helped produce some of my favourite shots from Santorini so hopefully they do the same for you too!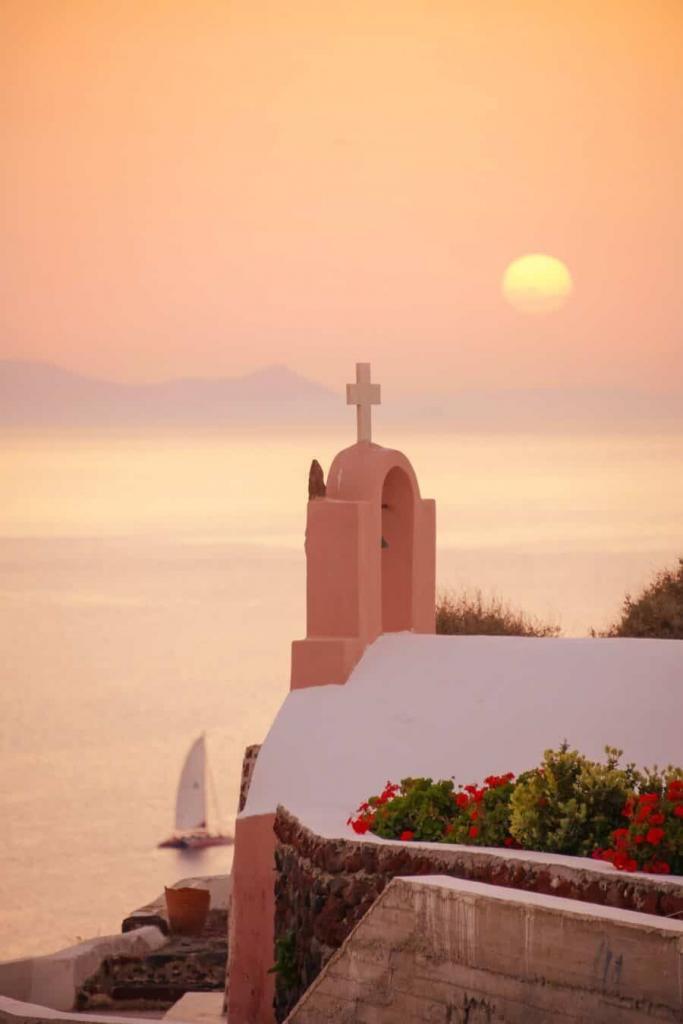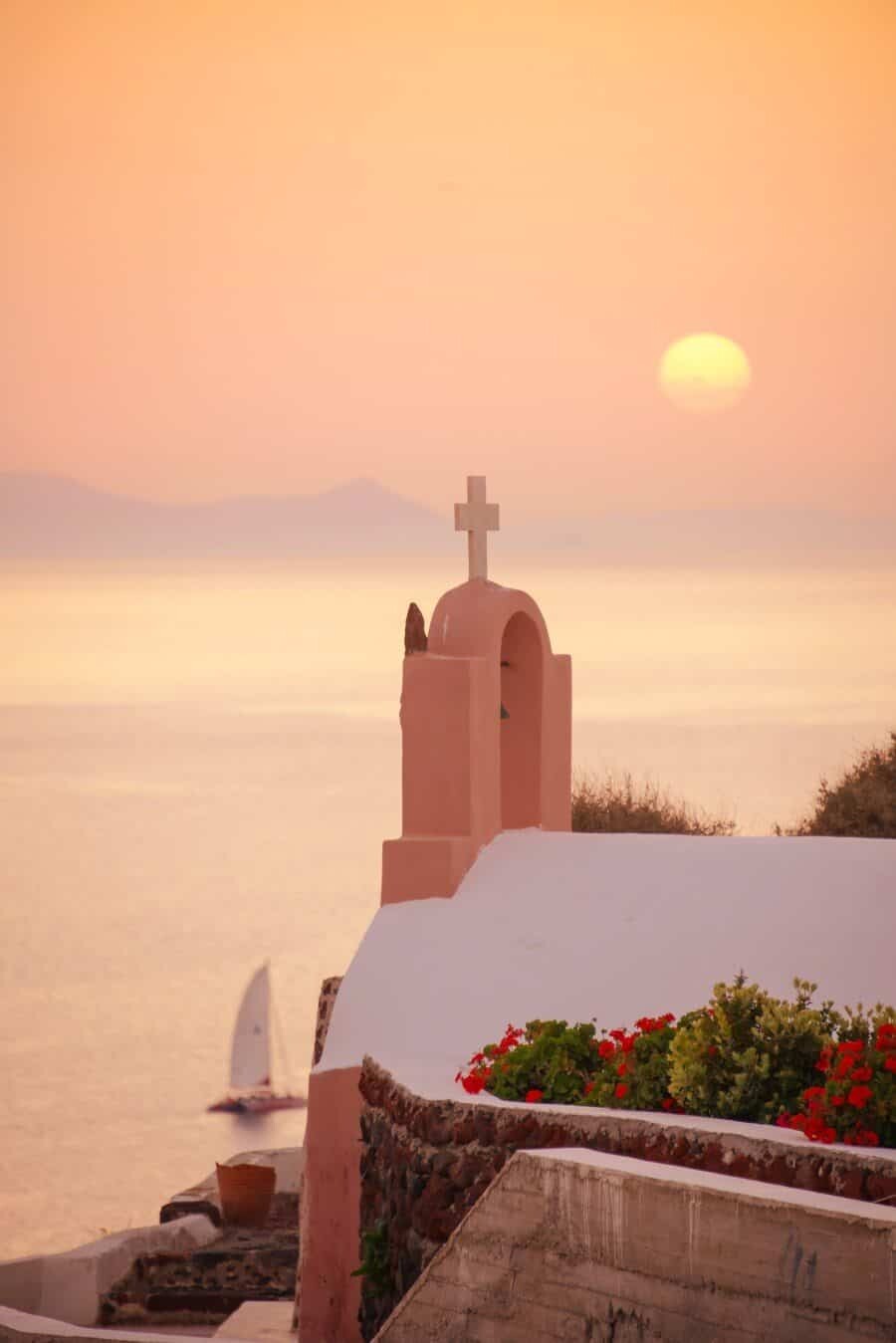 Skaros Rock, Imerovigli
This is included purely because it's a great vantage point for sunset, not because I think it's a super safe path to walk. It's definitely not, or maybe I'm just over cautious and a scaredy cat. Loose rocks make the path a little tricky to wander along so be sure to look where you're walking at all times, especially if you're staying to photograph sunset and are walking back in low light or darkness.
But, Skaros Rock does offer a stunning view across the caldera and you can photograph the village of Oia in the distance with the setting sun behind. If you happen to be staying in Imerovigli it makes for a great subject to include within your photographs too.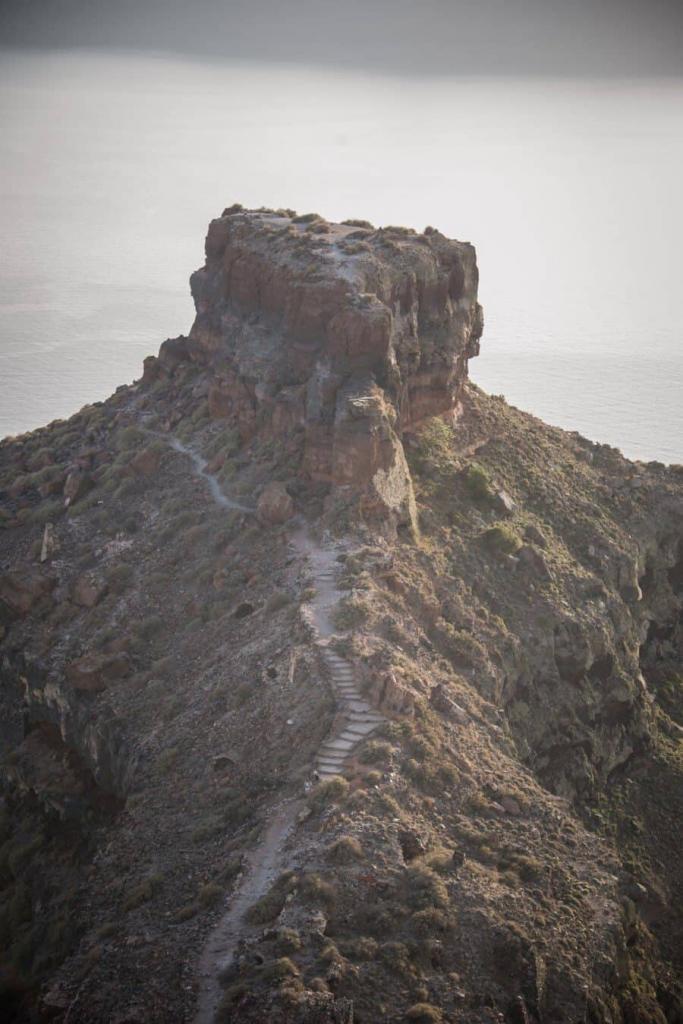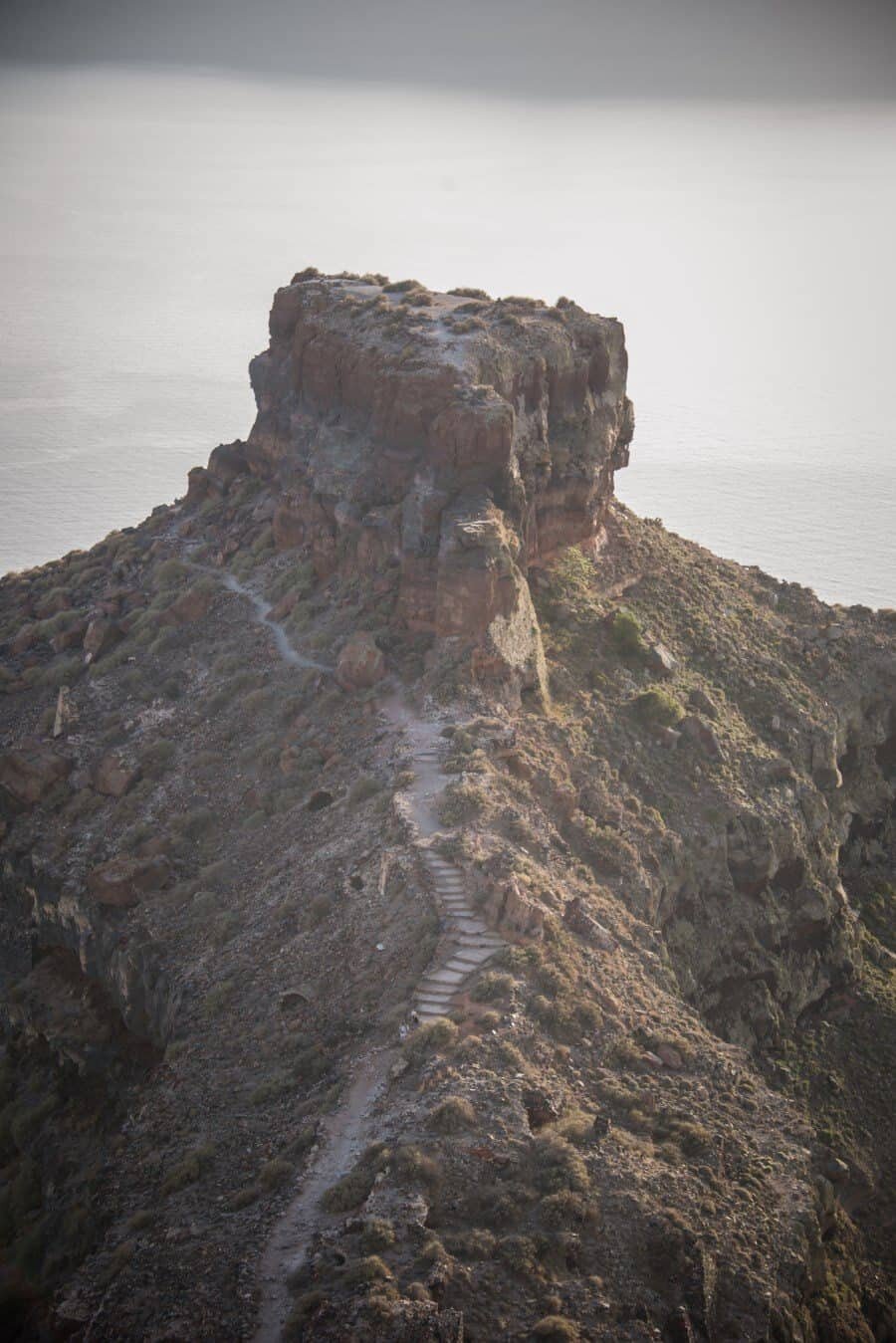 The Fira to Oia Cliff Walk
Now if you're a photographer who likes to lug around a tonne of gear, a tripod and lots of snacks, this might not be the best option for you as this hiking trail is a pretty decent workout.
It stretches for 10.5km between the villages of Fira and Oia and wow does it offer some incredible vantage points over Santorini. If you have some lightweight camera gear like my Olympus OM-D E-M1 MKII, this path provides endless vantage points to photograph the golden hour and sunset of Santorini.
The hike can take between 2 and 5 hours depending on your speed and how much you like walking uphill so if you're hoping to capture sunset, you'll want to time your hike so that you're leaving Fira with plenty of time to complete a good chunk of the path before sunset.
Alternatively, you can start in Oia and walk backwards a little to complete a smaller section of the path, then turn around and wander back. In the summer months buses run between the villages so if you're hoping to just do from Imerovigli to Oia or less, you're able to jump off at a bus stop and commence your hike at any stage.
Be warned that in the summer months it gets VERY warm because there's no protection from shade and that gorgeous Santorini sun just keeps gazing down upon you.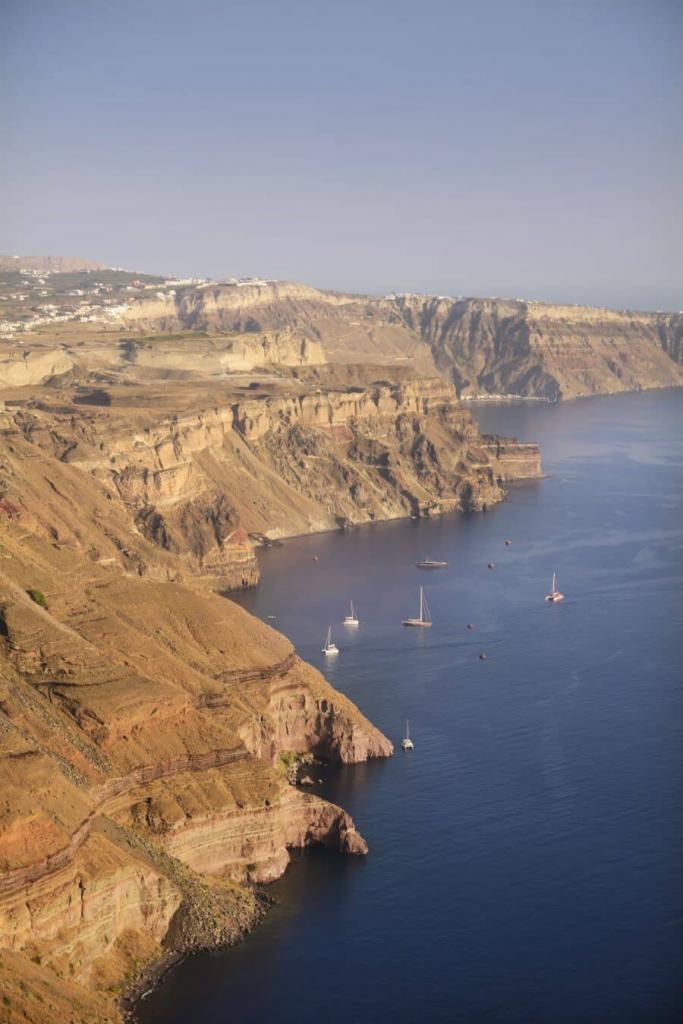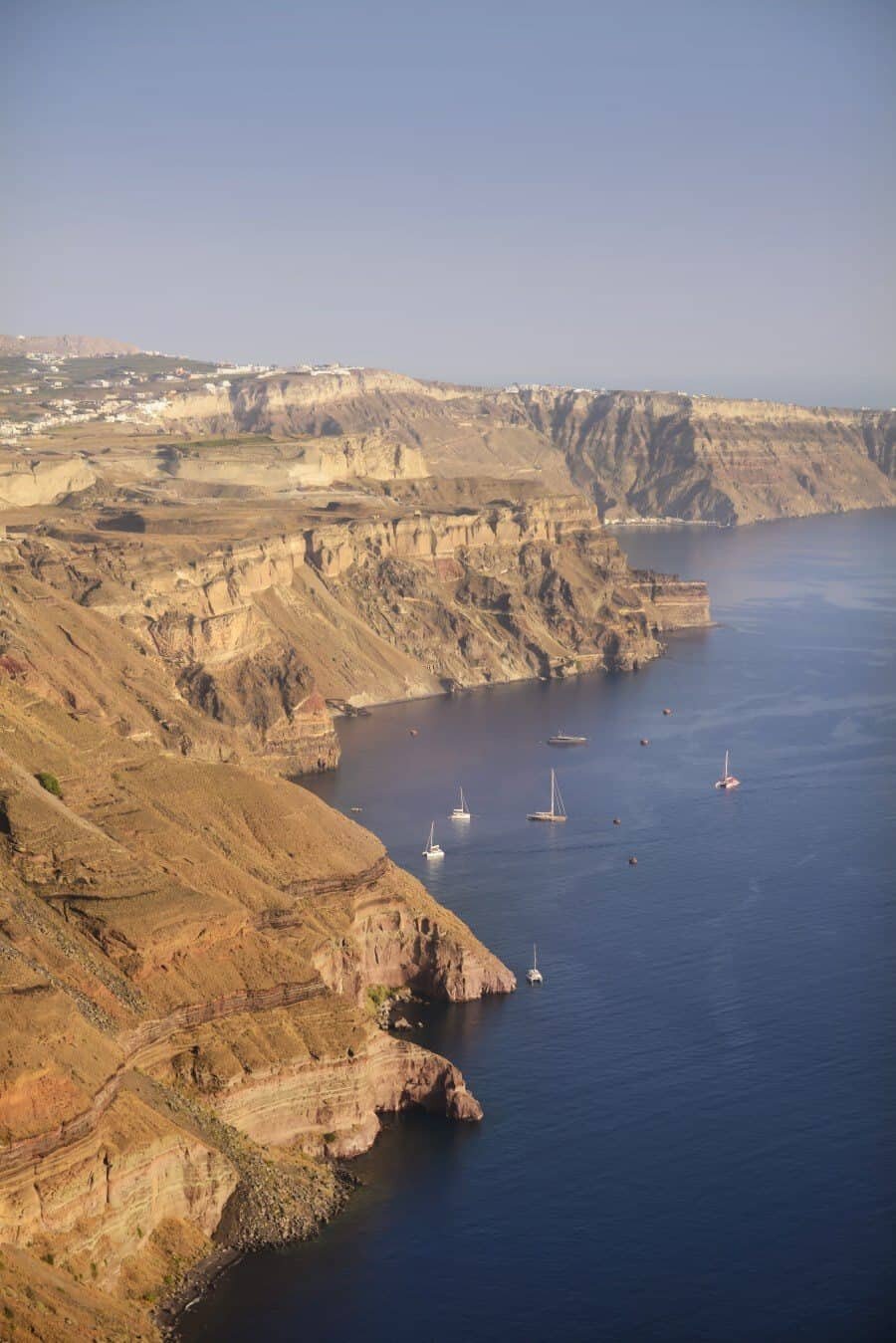 Photograph Sunset in Santorini from Oia Castle
This is where you can capture the iconic sunset image of Santorini but only if you love the idea of sitting amongst hundreds of people, being squished as someone leans over you to take a photo and getting stuck on a path because there's too many people blocking the way…this is the place to go.
Okay, that made it sound absolutely horrible BUT, this is THE sunset spot on Santorini so you need to be aware that you won't be alone. Allowing for time to get to Oia Castle and then enough time to walk away after the sunset before your bus or dinner reservation is essential to avoid disappointment.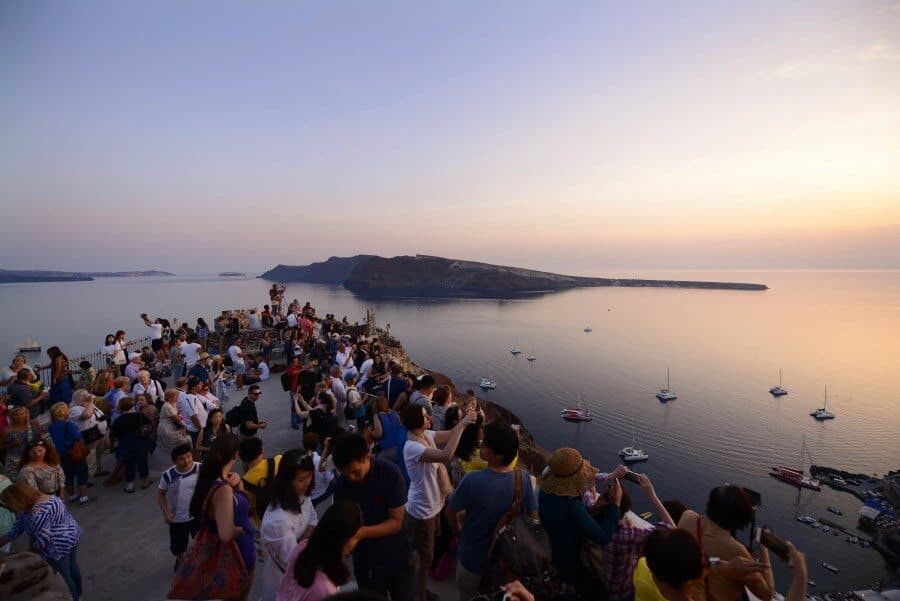 To capture that iconic shot of sunset here I recommend arriving at least an hour before sunset, even more if possible. Take some snacks and find a good spot to sit on the walls because if you don't, someone will no doubt sit in front of you later.
Once you've secured your spot simply stare straight ahead and look over the sprawling cliffs of Santorini before sunset dips directly into the Aegean Sea in front of you.
From the castle there's also the potential to photograph boats below, the surrounding white Santorini villas on the cliff tops and the caldera below.
Santorini Sunset Photo Tip: Take your time zooming in to search for alternate angles and features to compose within your image. Be sure to take a wide-angle lens to you can incorporate the entire scene into your shot, then a zoom lens for taking photos of the boats below and fancy hotels of Santorini along the cliff top.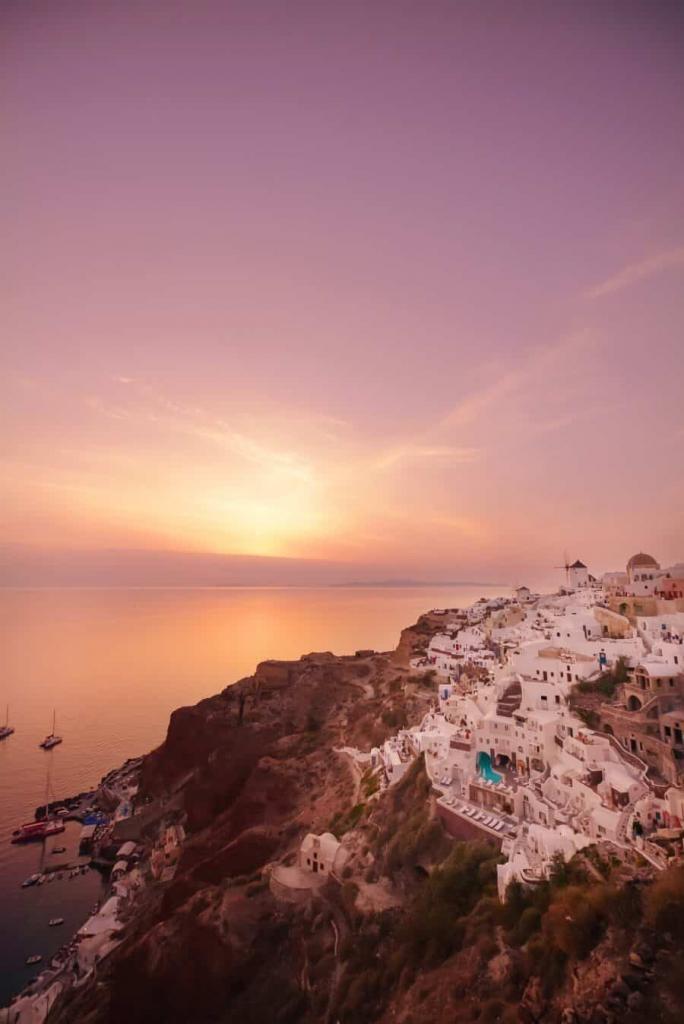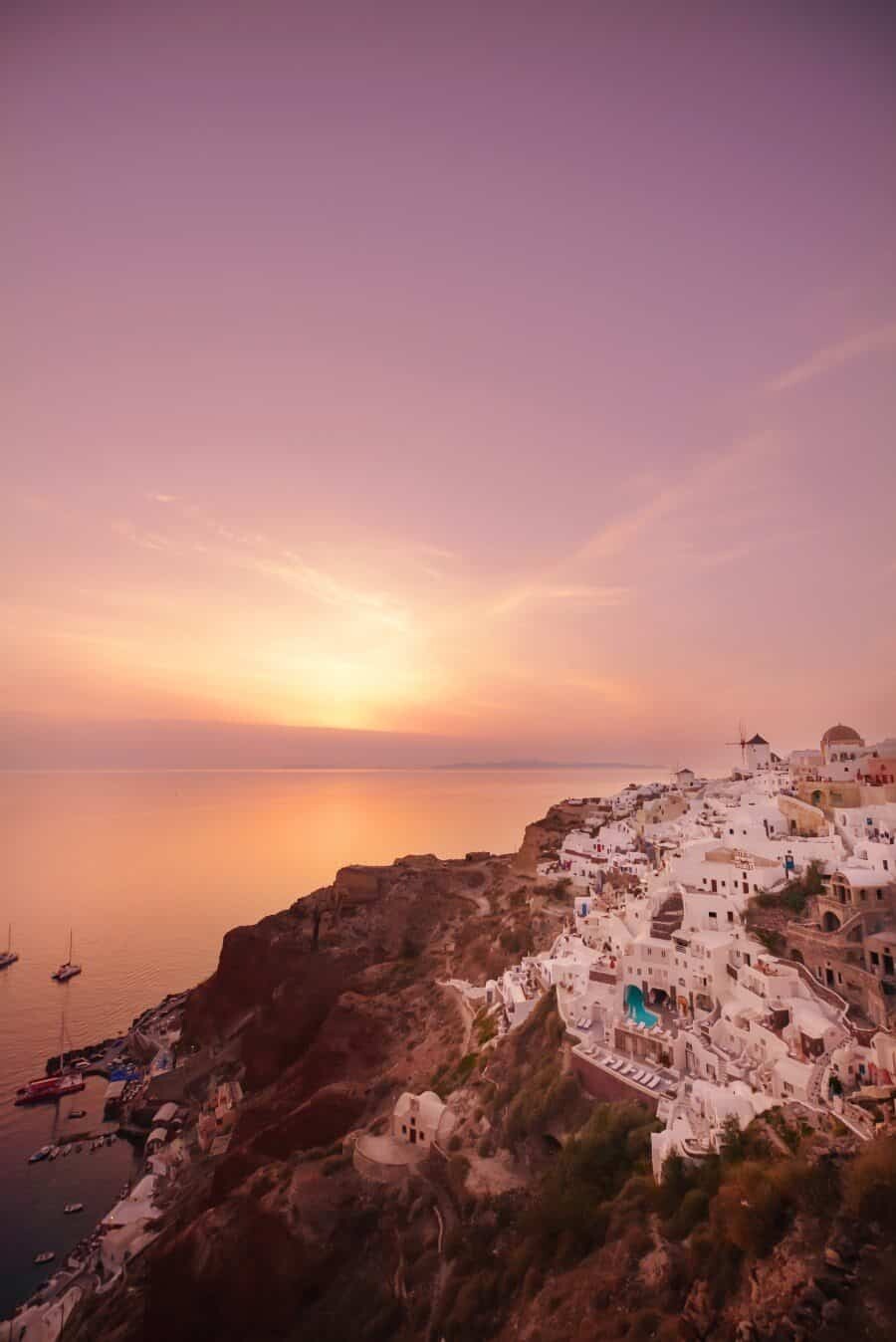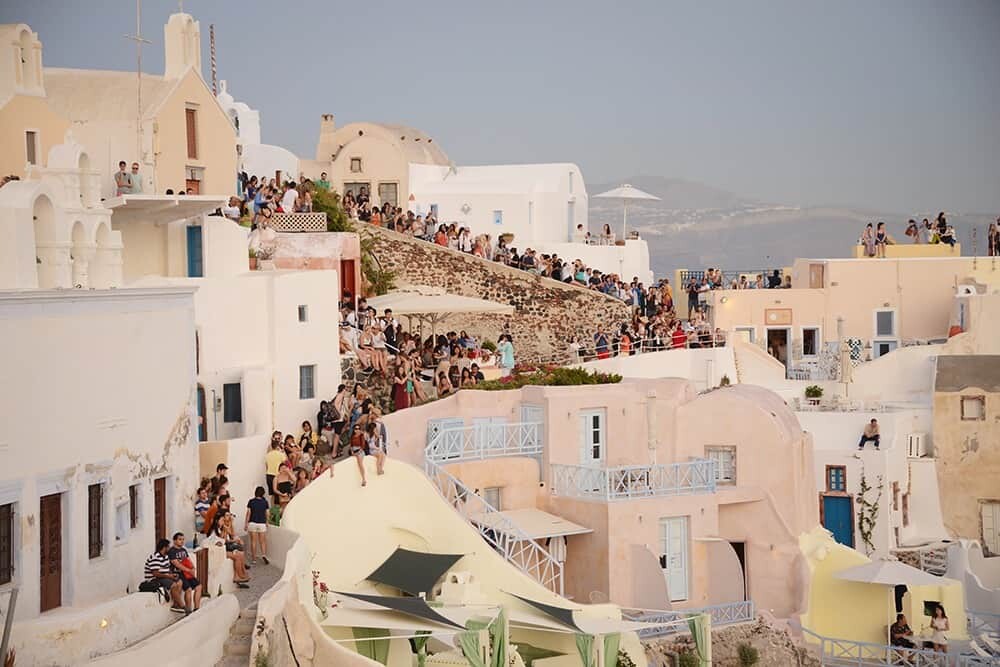 On a Boat in the Caldera
As the water laps beneath the boat, gaze across the sea towards the shimmering sunset of Santorini. The calm, quiet and relaxing atmosphere of being on board a yacht in Santorini's caldera during sunset is infectious and you'll no doubt capture some beautiful images from this alternate vantage point.
There are a number of boat cruises that depart the various ports of Santorini. One of the easiest to access is at Amoudi Bay which is located right beneath Oia. Here you can jump on board a catamaran or yacht to cruise the caldera until your captain perfectly positions the boat for sunset photos.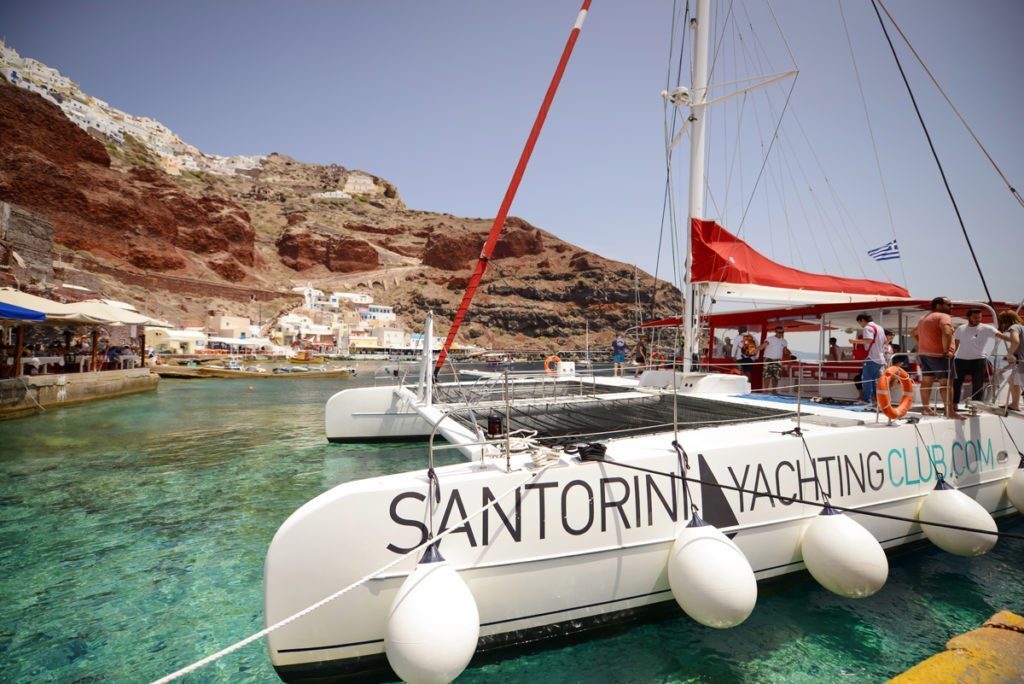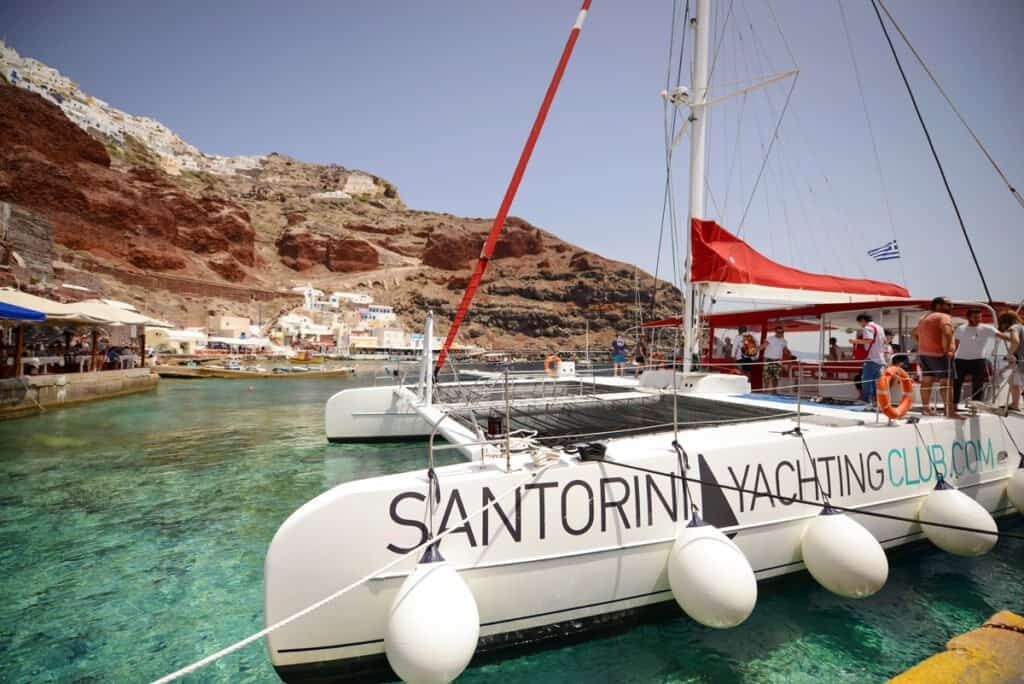 A major benefit of being on the sea for sunset in Santorini is that you can gaze up at the villages and cliffs above. While the sun will set over the sea, if you've got a wide-angle lens you can photograph the landscape including water, villages and the setting sun…pretty magical!
Santorini Sunset Photo Tip: Because you're on a boat be sure to have a lens cloth handy incase there's any splashes from waves as they won't work well with the glow of sunset.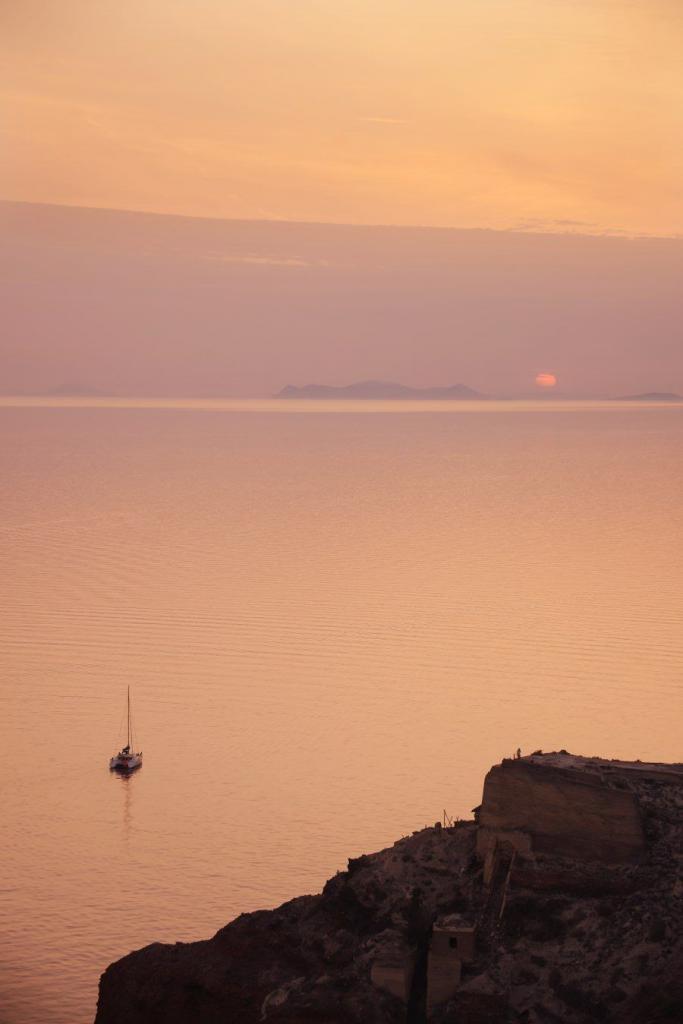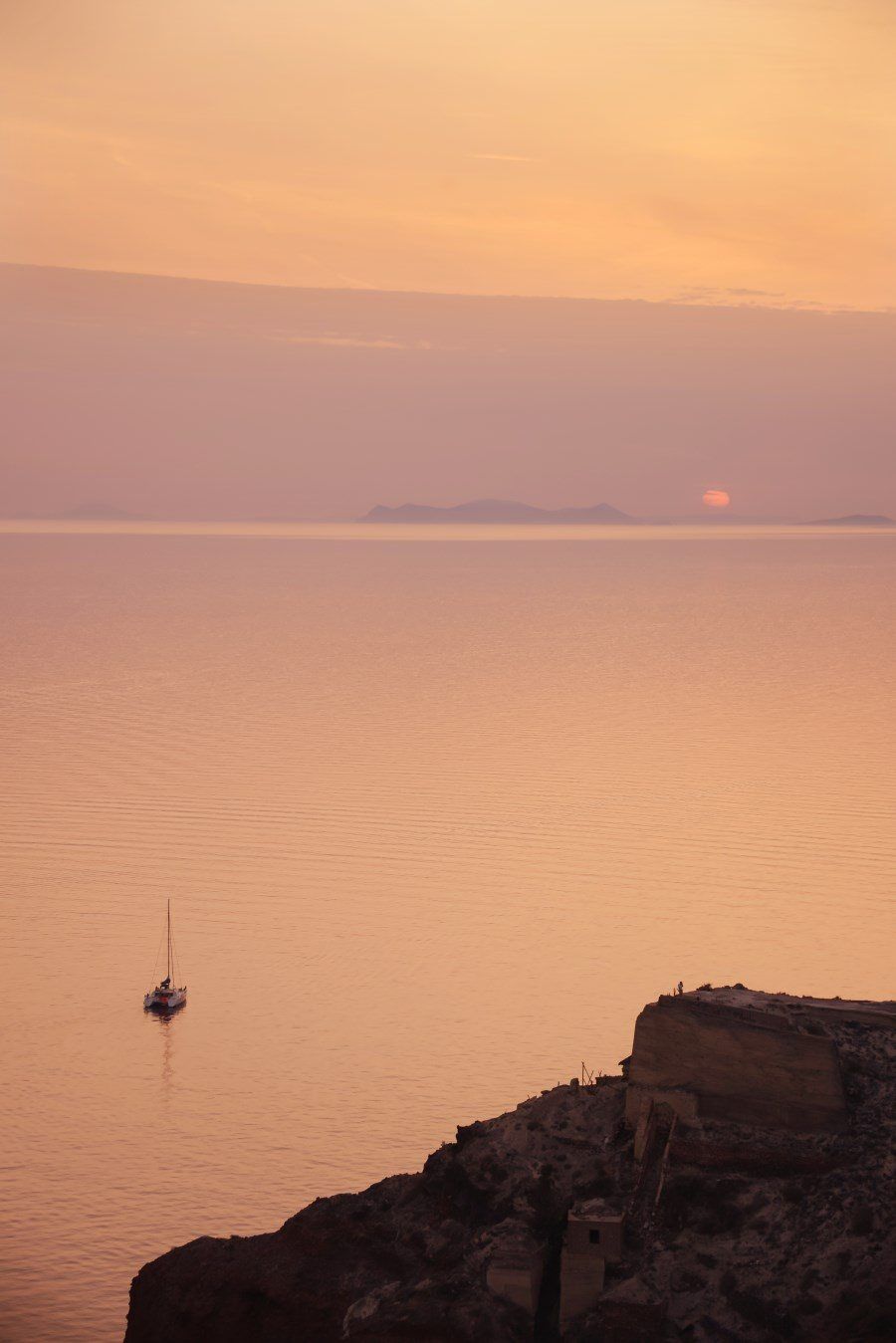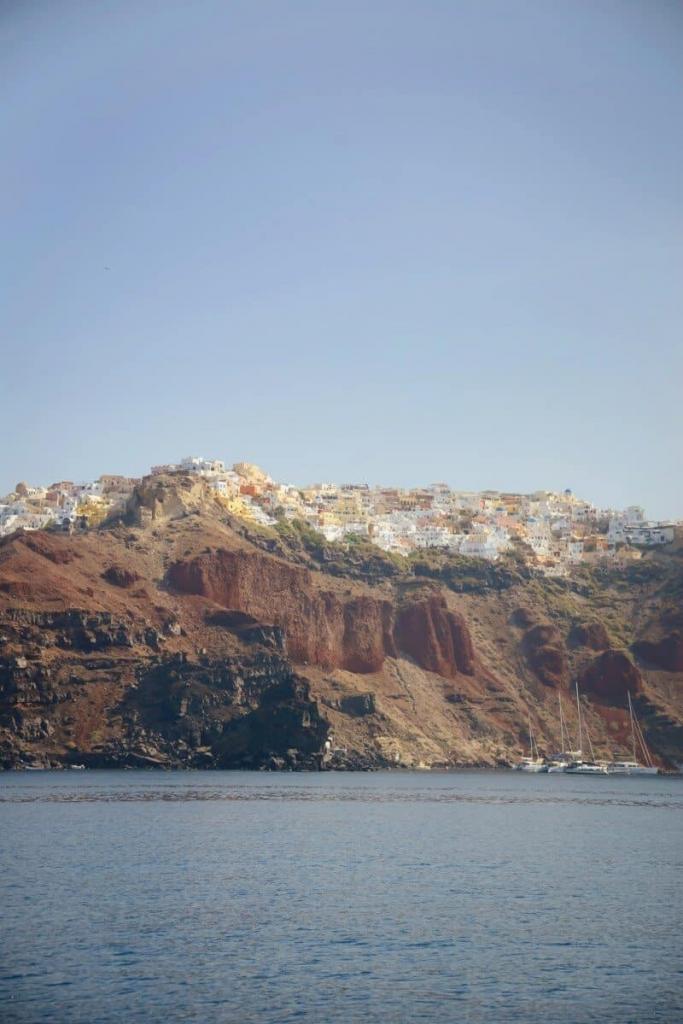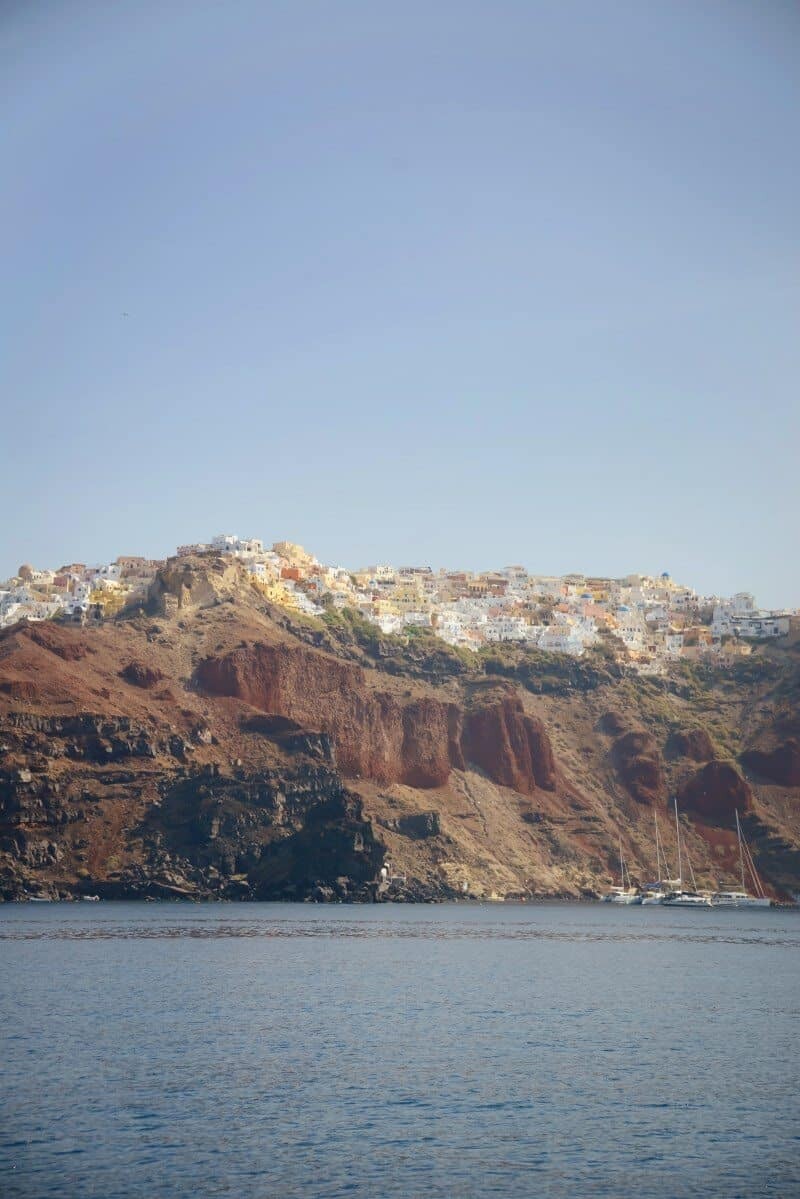 Photograph Sunset in Santorini from uour Cliff Top Villa
Surprisingly, there are some pretty affordable Santorini villas that offer views over the Caldera and even sunset if you choose correctly. A lot of people think that Santorini is only for honeymooners and most of the villas are expensive but if you have a good search, there are some gems to be found that provide a good mix of views, comfort and are budget friendly!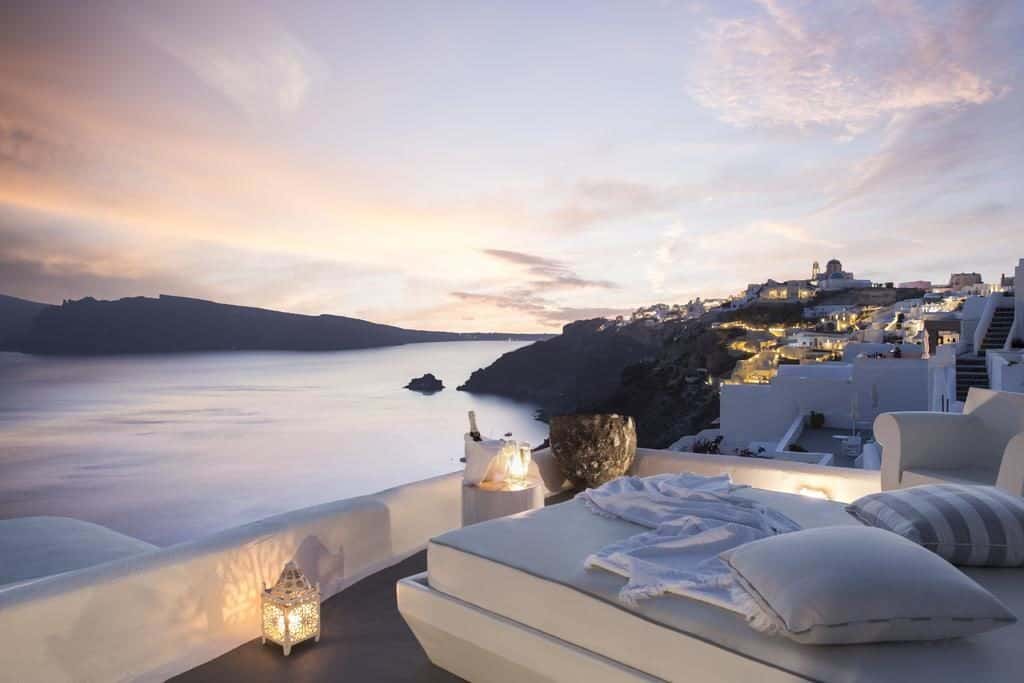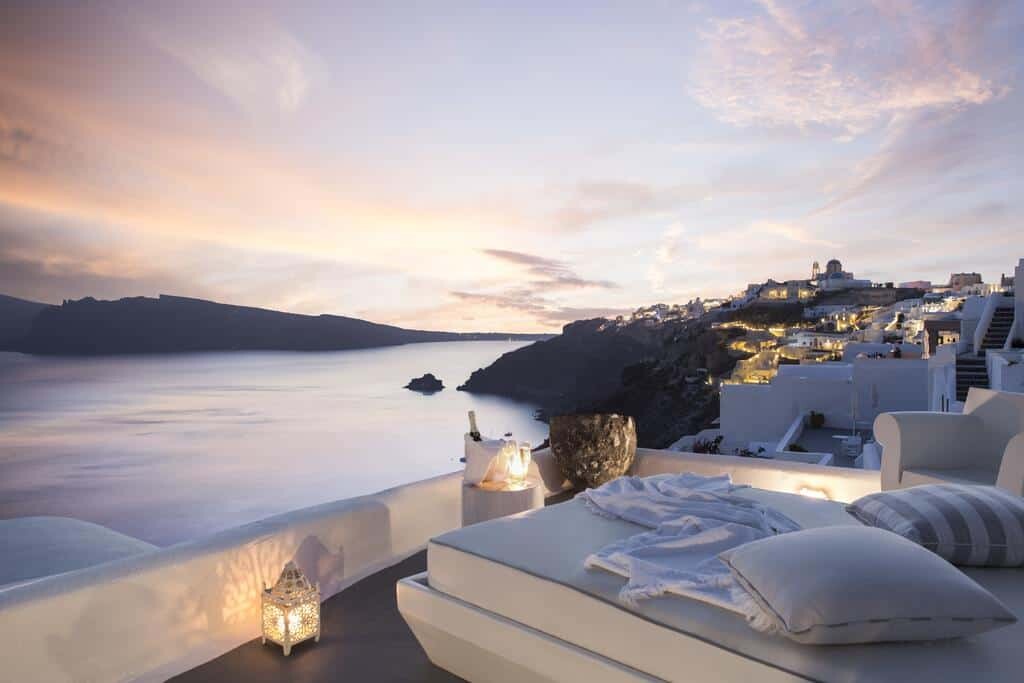 Some Santorini Villas I recommend are below –
Oia – Caldera Premium Villas, located opposite the iconic blue domed church these villas are an ideal base for photographing Santorini and are about half the price of the higher end hotels but have all the same features and little luxuries.
Oia – White Side Suites, with direct access facing towards sunset, you can stand on your balcony and photograph without having to worry about crowds. These suites get you in the right spot for sunrise, sunset and for general view gazing throughout the day.
Imerovigli – Remezzo Villas, all it might take is one look at what sunset looks like from these villas to be sold on booking a stay here. They're located in the quieter village of Imerovigli and from here you're treated to crowd free sunsets!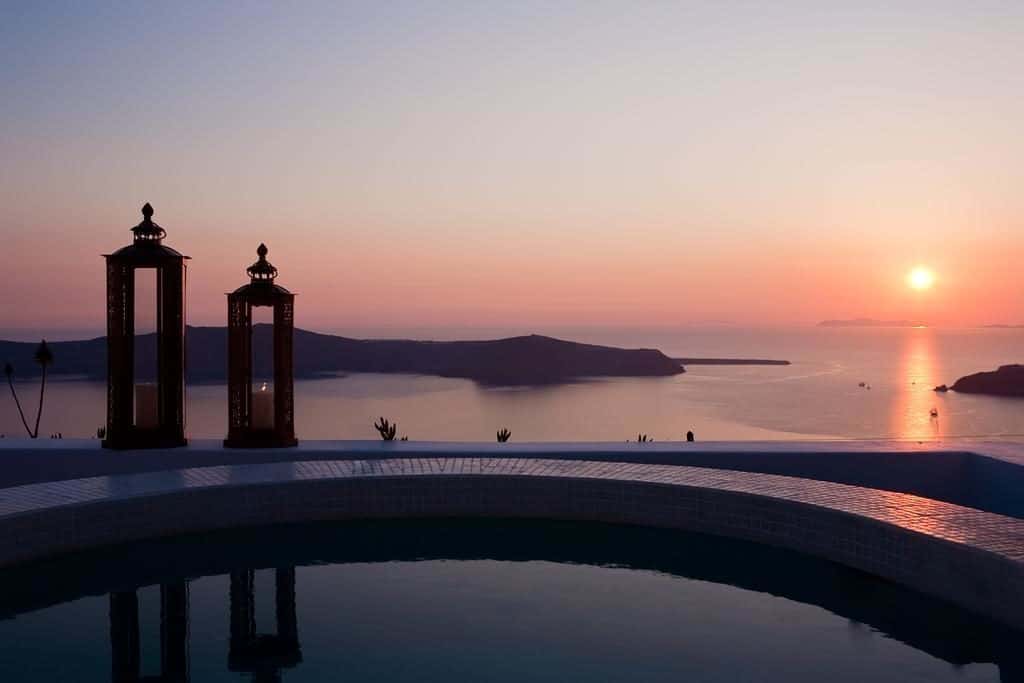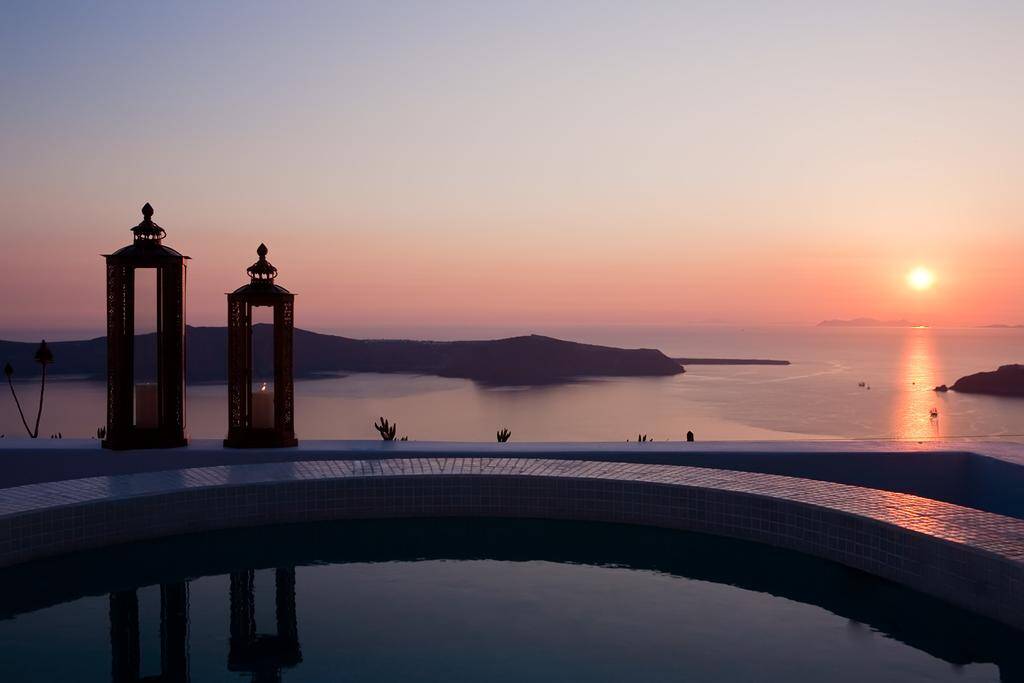 Imerovigli – Krokos Villas, I'd like to say that these villas should remain a secret because not only are they budget friendly, they're beautiful and offer a gorgeous vantage point over the caldera of Santorini! Take a peek to see what I mean!
Firostefani – Vallas Apartments & Suites, just a short walk from Fira these apartments are possibly the most affordable with a panoramic view of the caldera. Seriously, the views from this spot are incredible! While apartments located in Fira don't always get a direct view of sunset (due to the shape of the island, not lack of scenic views), you can still watch as the sky changes colours above the caldera, sea and surrounding cliff tops.
Splurge Alert – If you're after somewhere luxurious, elegant and well located, the Astra Suites of Imerovigli are worth a peek. Stunning design features lead out to panoramic views where you can photograph until your memory card fills up with all the beauty of Santorini.
Otherwise, for a REALLY special stay there's Kirini Santorini, listed as one of the Leading Hotels of the World, this beauty is one of those once in a lifetime places. Where everything is taken care of, your room is a haven and you can step outside to photograph not only sunset in Santorini but twilight when all the lights are turned on in Oia, a stunning place to capture landscape images from.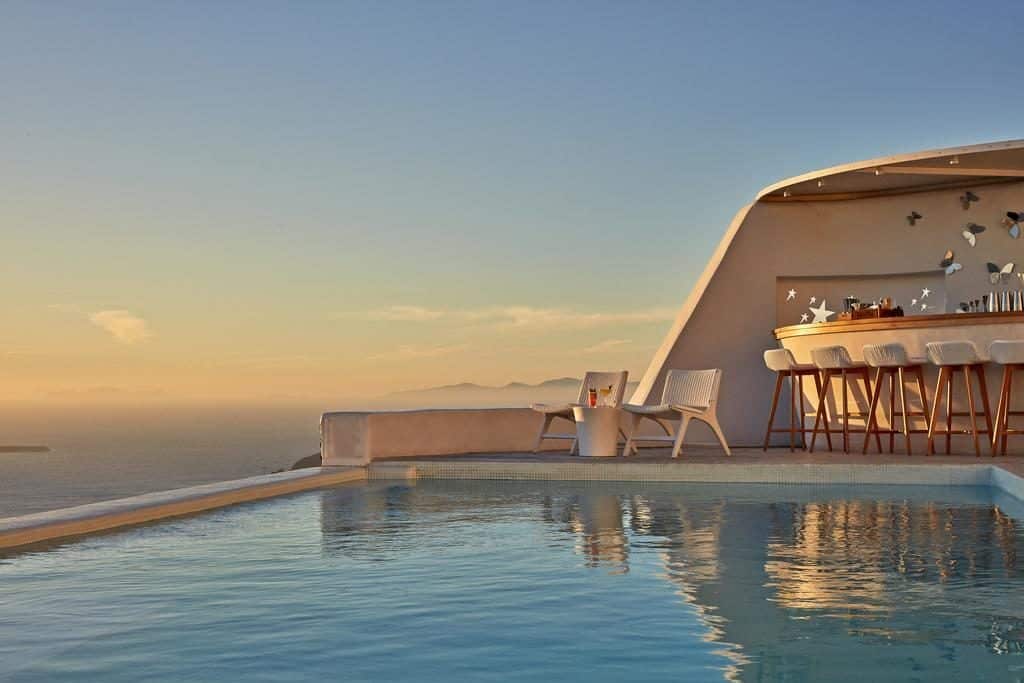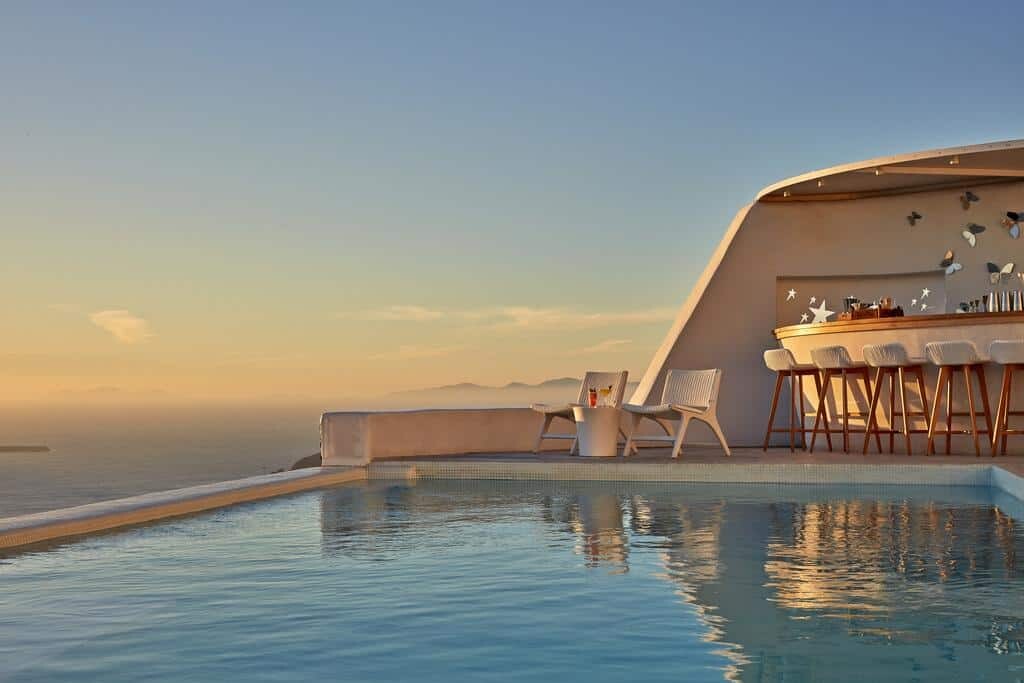 Have you visited Santorini and have a sunset photography spot to share? Feel free to include a comment below letting us know where it is, or even better, you can leave a link in the comments so we can have a peek at your photo on Instagram or your website!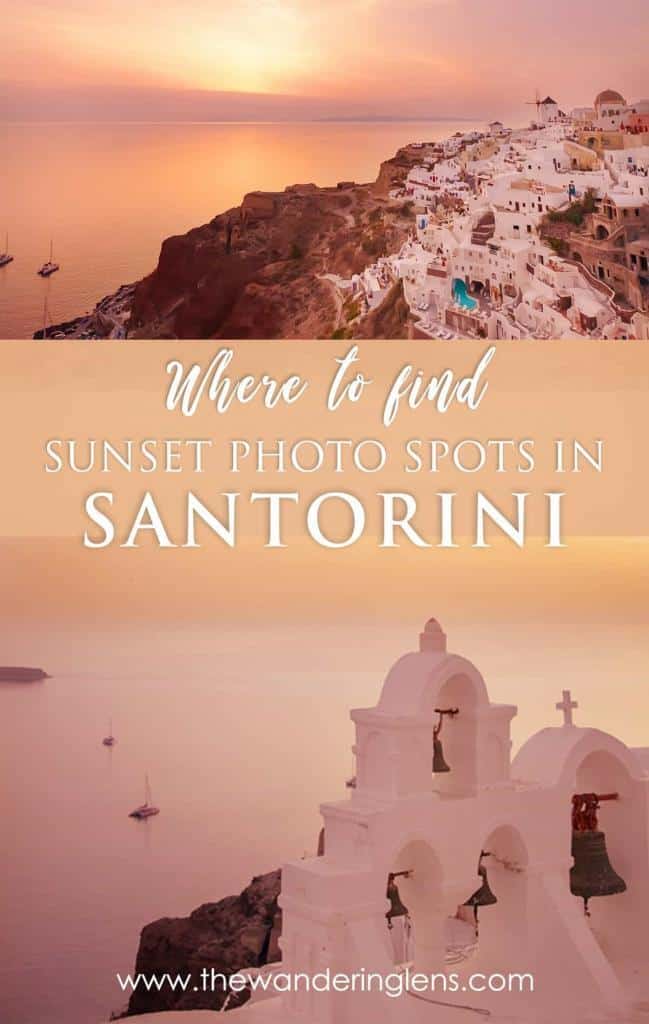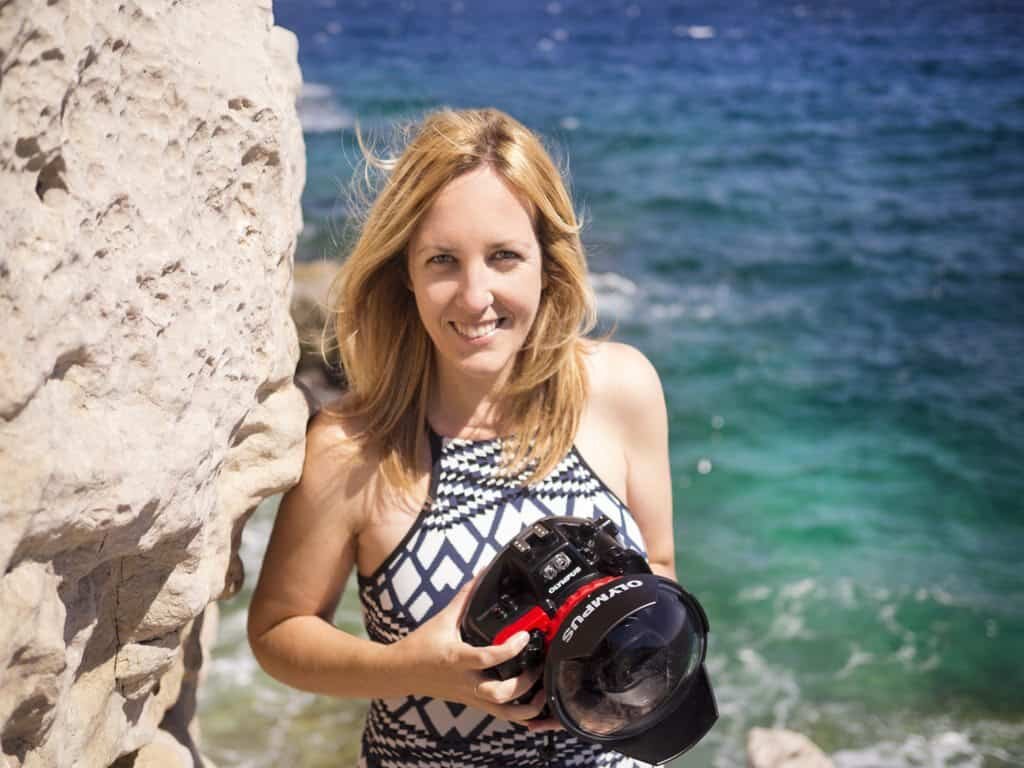 Hello! I'm the founder and photographer behind The Wandering Lens.
With 17+yrs experience as a professional travel and landscape photographer, all advice found on this site is from my personal experience on the road. I hope it's useful for your own travels and would love to hear in the comments about your trips and experiences around the world.