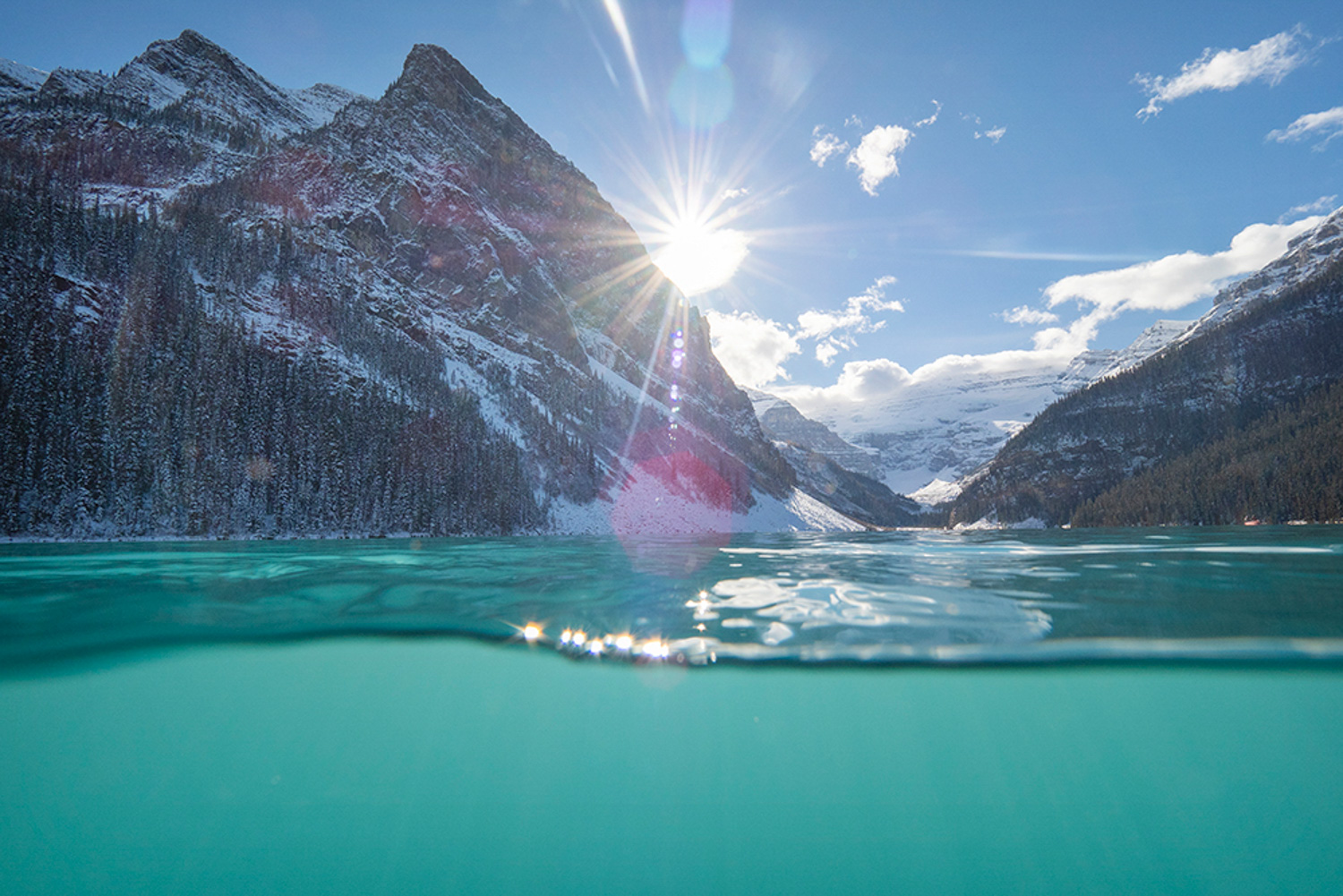 Lake Louise Canoe Hire – A little tale of my experience
Paddling across the turquoise glacial wonder that is Lake Louise, I had a very reluctant paddler on board, my underwater housing. Along for the ride to purely capture the views, I tucked it safely in front of the canoe and cruised around to find some great vantage points for split-level underwater images.
With an overnight dumping of snow, the surroundings of Lake Louise were like the inside of a snow globe. Forest pines were covered in a think powdery coating, rocks along the shore had their fair share of snow sprinkles too and the mountain peaks were looking tip top.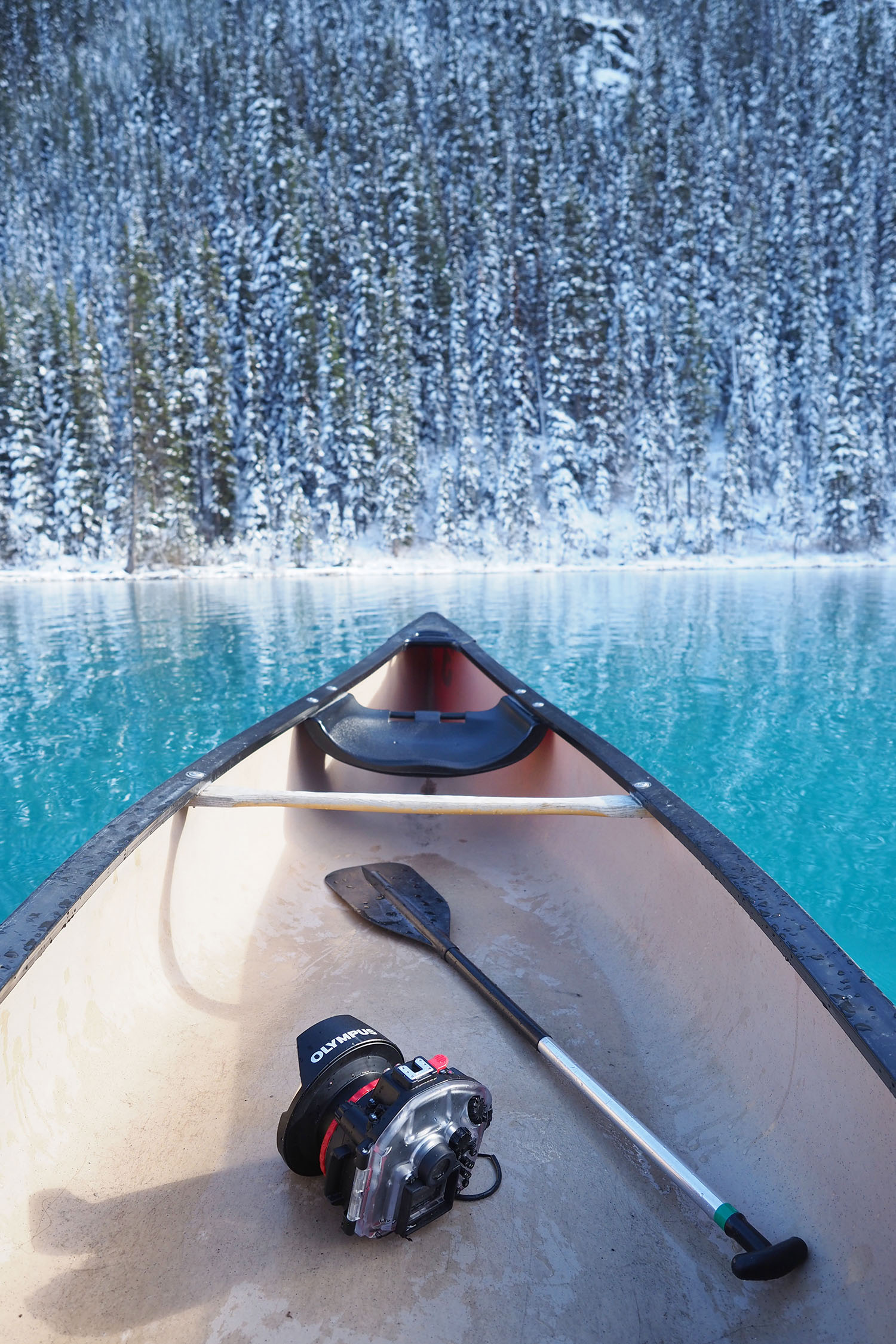 Getting their intense blue hues from glacial rock flour that's carried by melt-water from the overhanging glaciers, the lakes of Banff National Park are extremely photogenic. Rather than standing on the shore with my camera, having an underwater housing provided me with the opportunity to photograph a fresh angle from the lakes surface.
Standing in line to hire a canoe, I was the only solo traveller, everyone else was paddling away from the boathouse at a pretty decent speed, having 2-3 paddlers on board. There I was, feeling like I was paddling my hardest and speediest, probably looking like I was splashing about like a child. It sure was fun though! I attempted to quickly paddle away from where other canoes were heading as I wanted a calm water surface and no one else in my images.
Upon finding an interesting angle, I hung over the side of the canoe, dipping the housing in half way to capture both above and below the water surface. Repeating this very slowly to avoid toppling the canoe into the freezing cold lake, the scene was filled with endless angles and appeared to get prettier by the minute. There were definitely some near misses as I got carried away with taking the photos, rather than checking which angle the canoe was leaning!
The mountain peaks above and frosted tree lines were so photogenic, not even frozen fingers were going to stop me photographing this scene. I slowly paddled along the left side of the lake, trying to compose the scenery above the water level with the vibrant colour beneath. Sunlight was dropping quickly so while I wish I had a little more light on the snow to brighten it up, this experience was such a pinch me moment, I think I'd be just as happy if I didn't even capture a single shot…okay, maybe just one good shot.
Because there were no subjects underwater to focus on, I shot with a wider aperture in an attempt to add some sparkly bokeh to the water surface. I used an ISO of 320 and shot at 1/2500 sec so I could move the housing around to create bubbles, without in turn creating any blur above the water surface. Gear used included the Olympus OM-D E-M1 MKII with the 7-14mm M.Zuiko f2.8 PRO lens and PT-EP14 housing.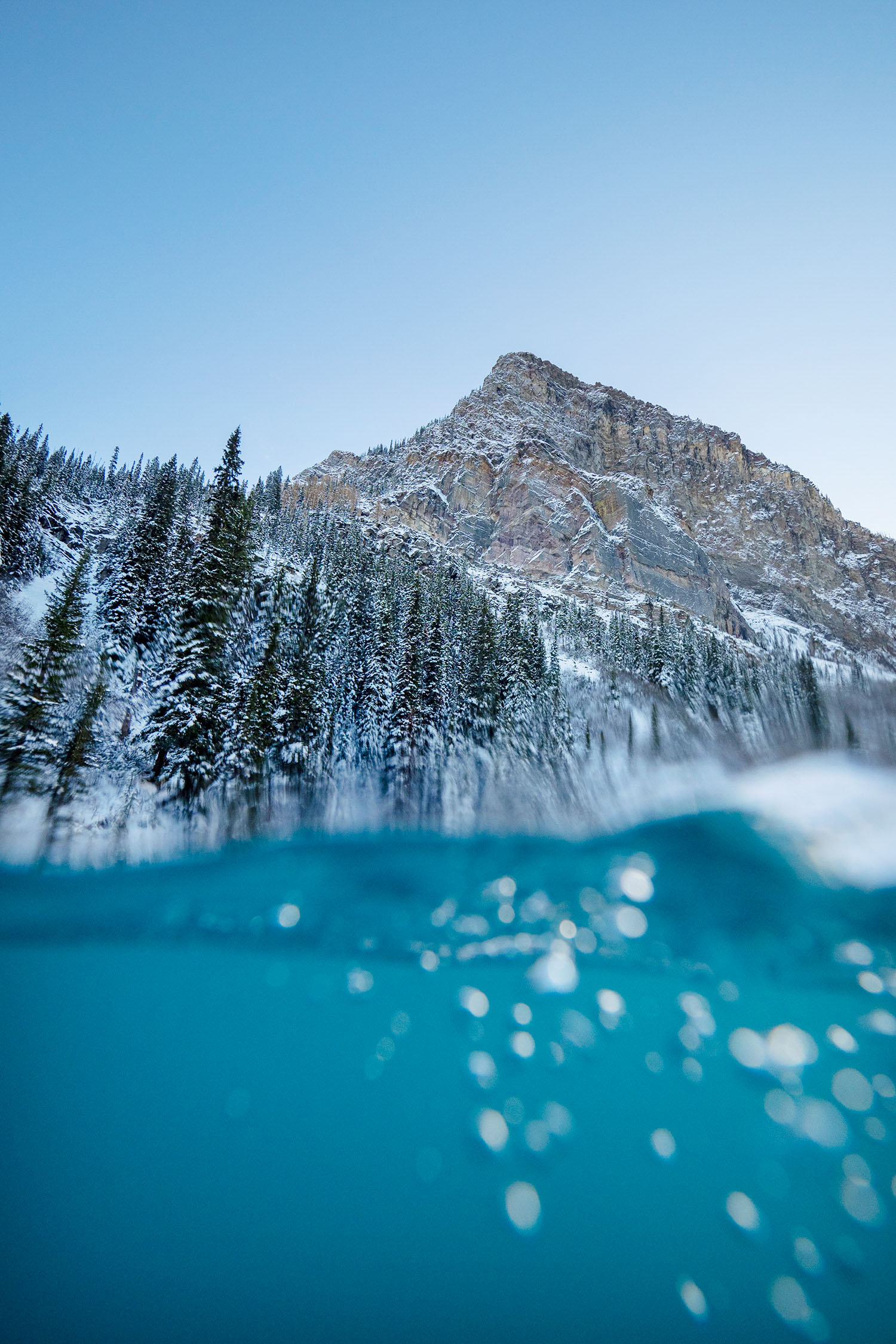 How to canoe on Lake Louise –
The Boathouse, located beside Fairmont Chateau Lake Louise is open throughout the summer season. Dates are dependent on the conditions each season. The images featured in this article were captured late in the season, the week prior to closure. Canoe hire is $135+taxes per hour for day guests or $95 if you're staying at the hotel. You can find out more details here.
Below you'll find some images from this gorgeous autumn day in Canada.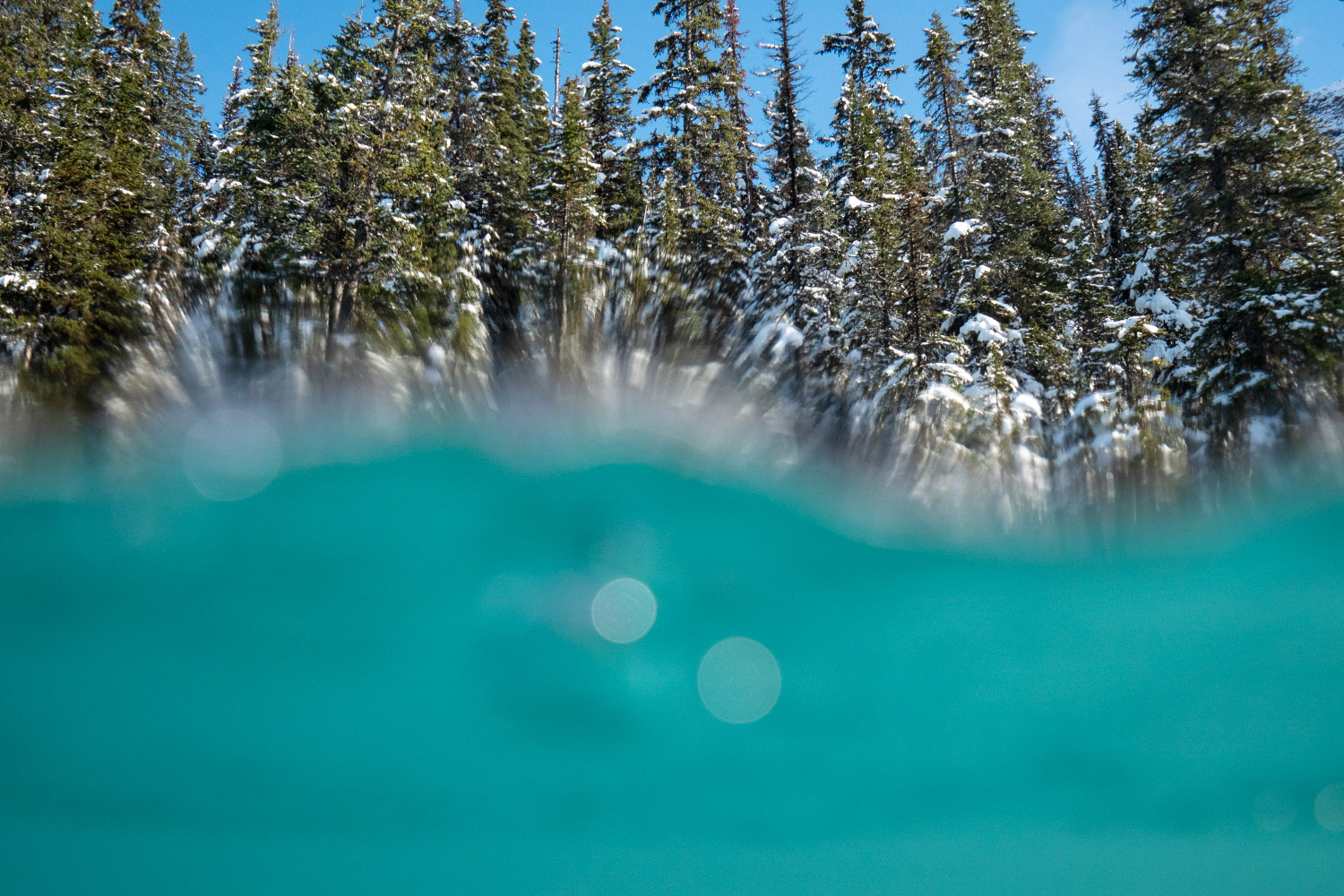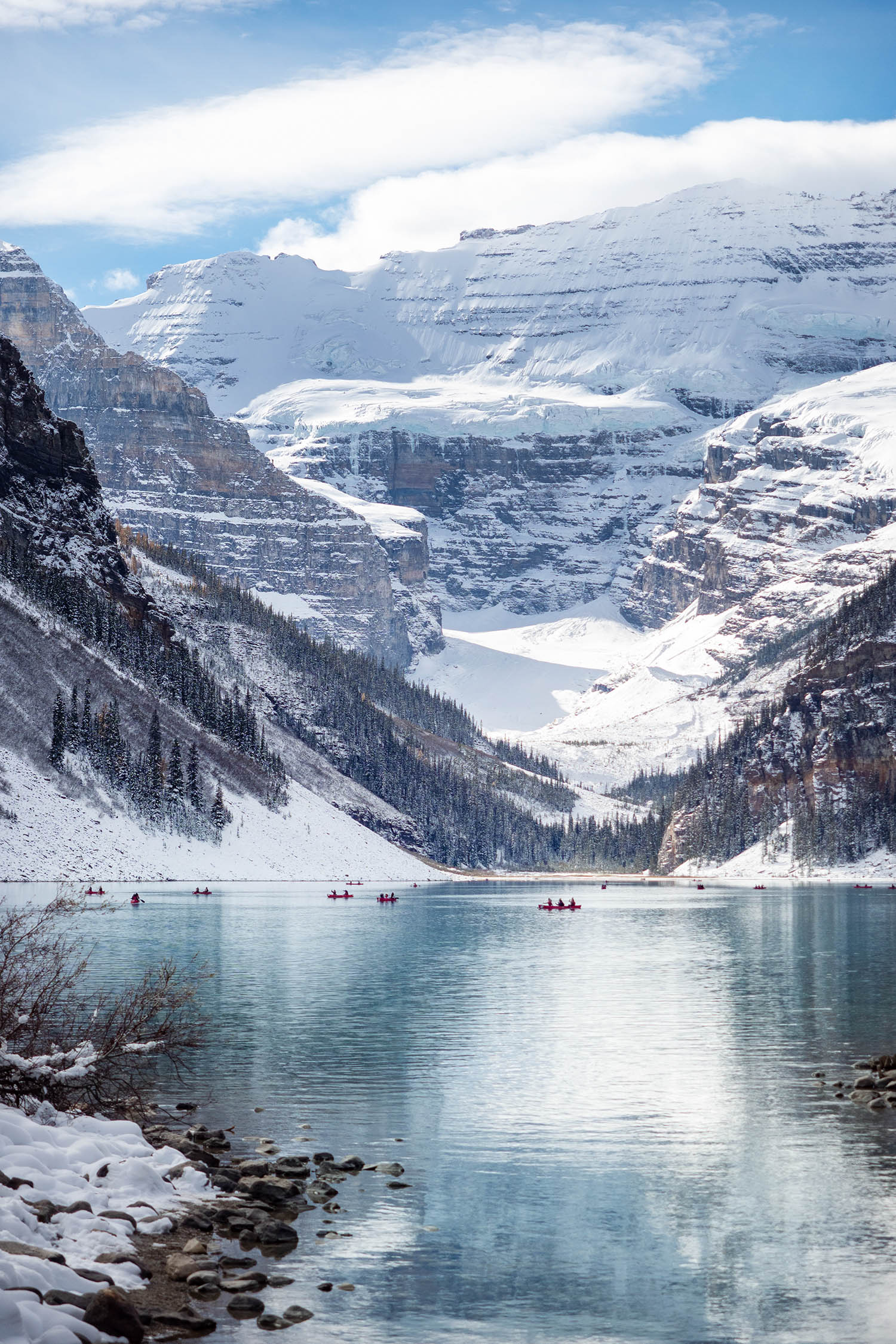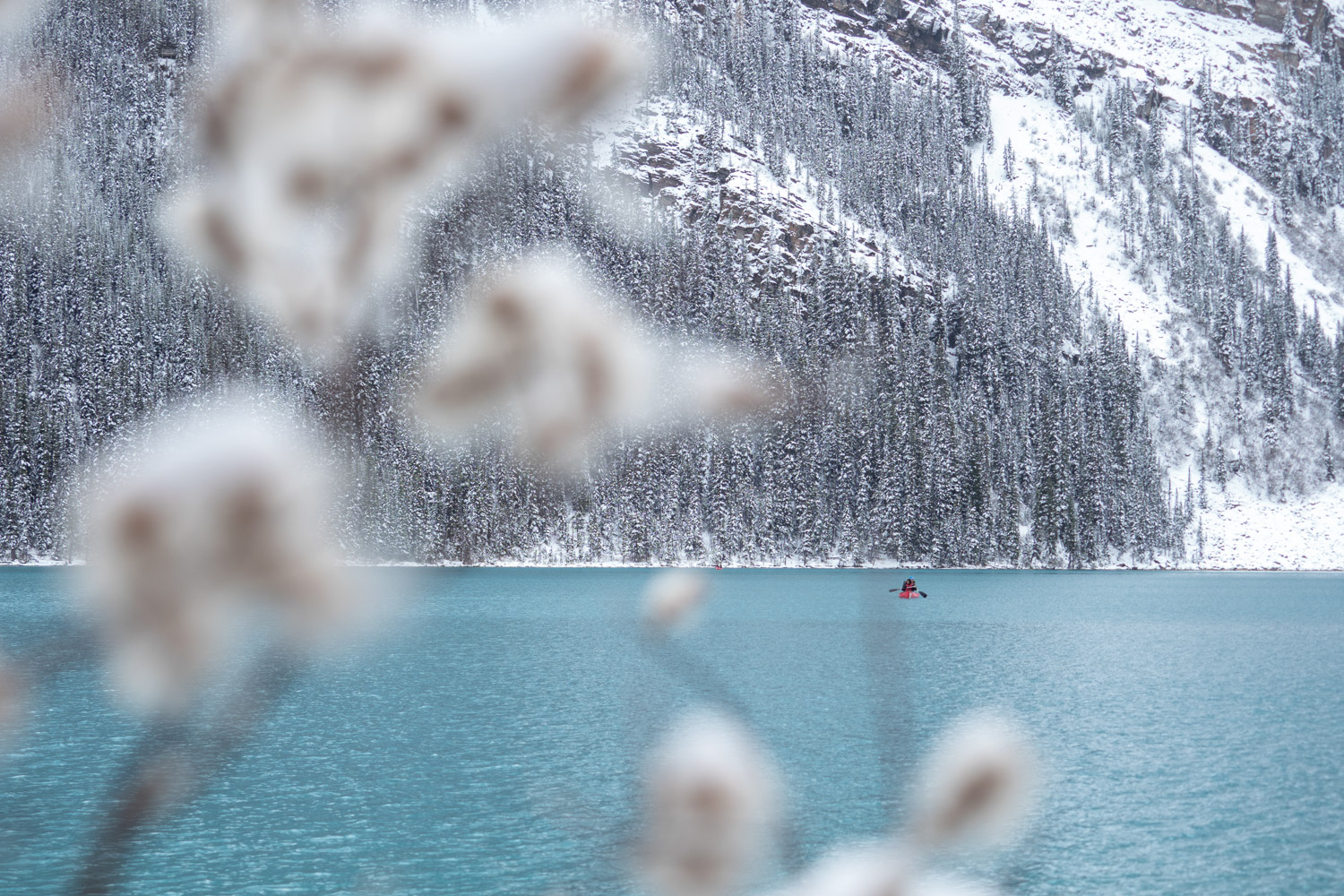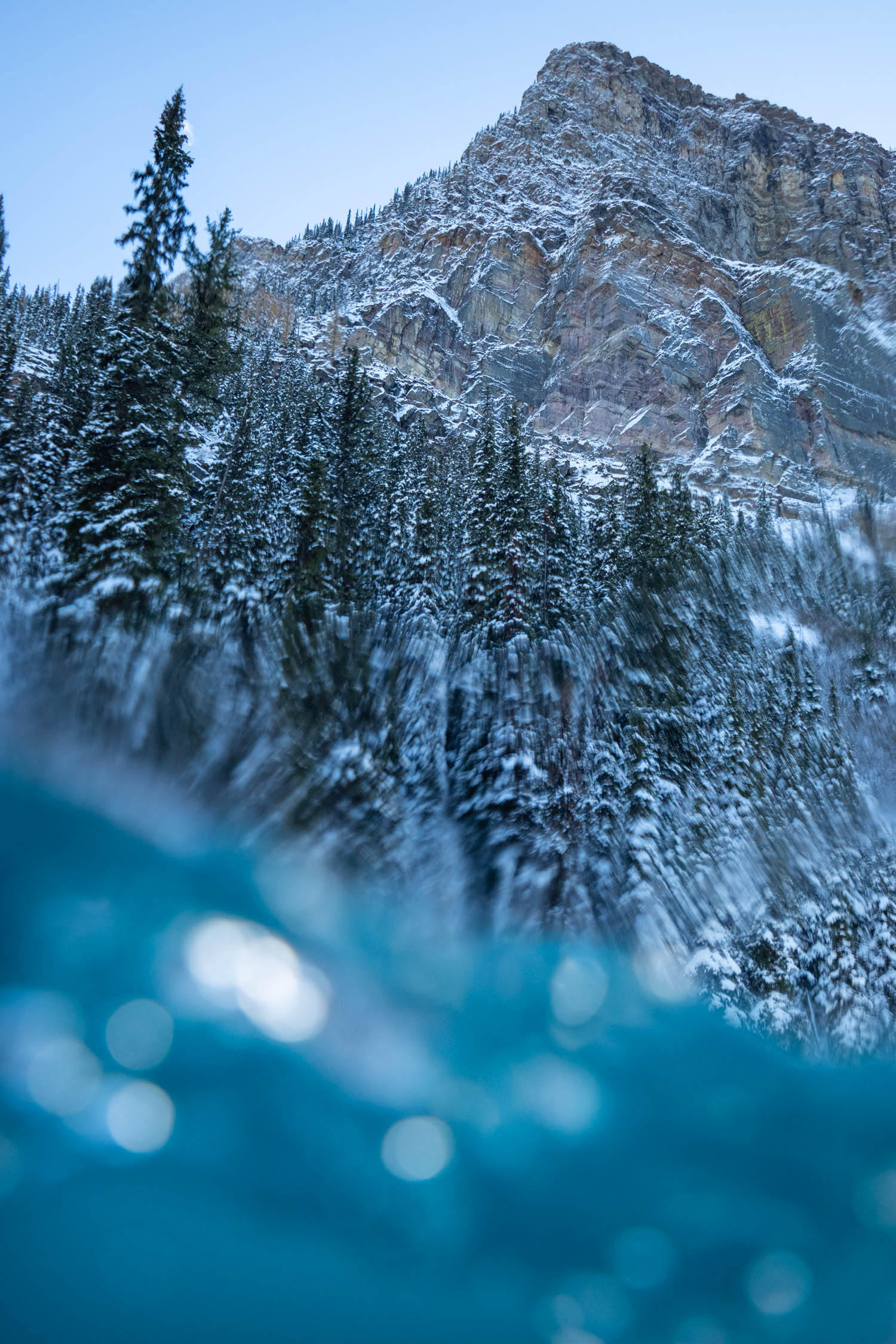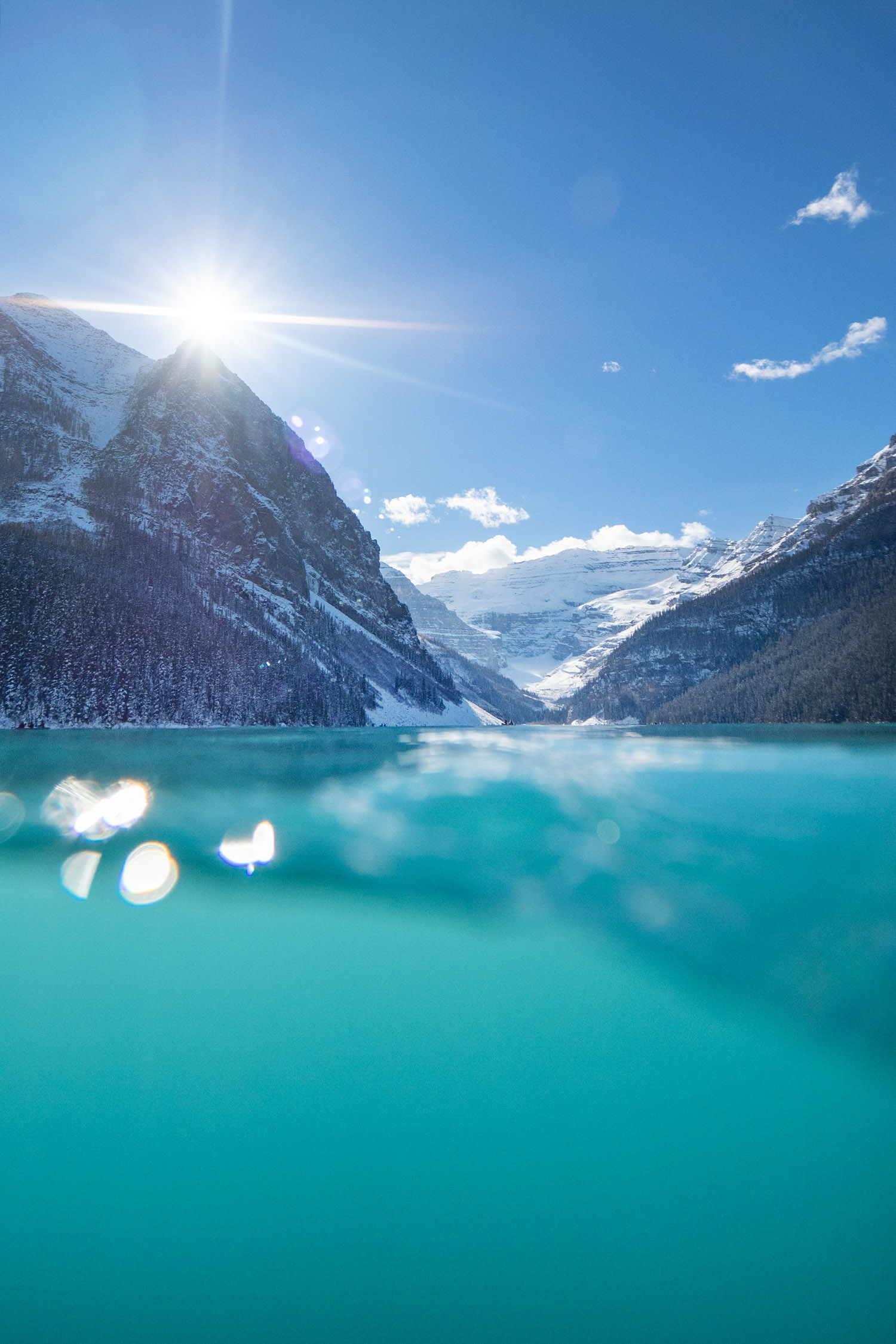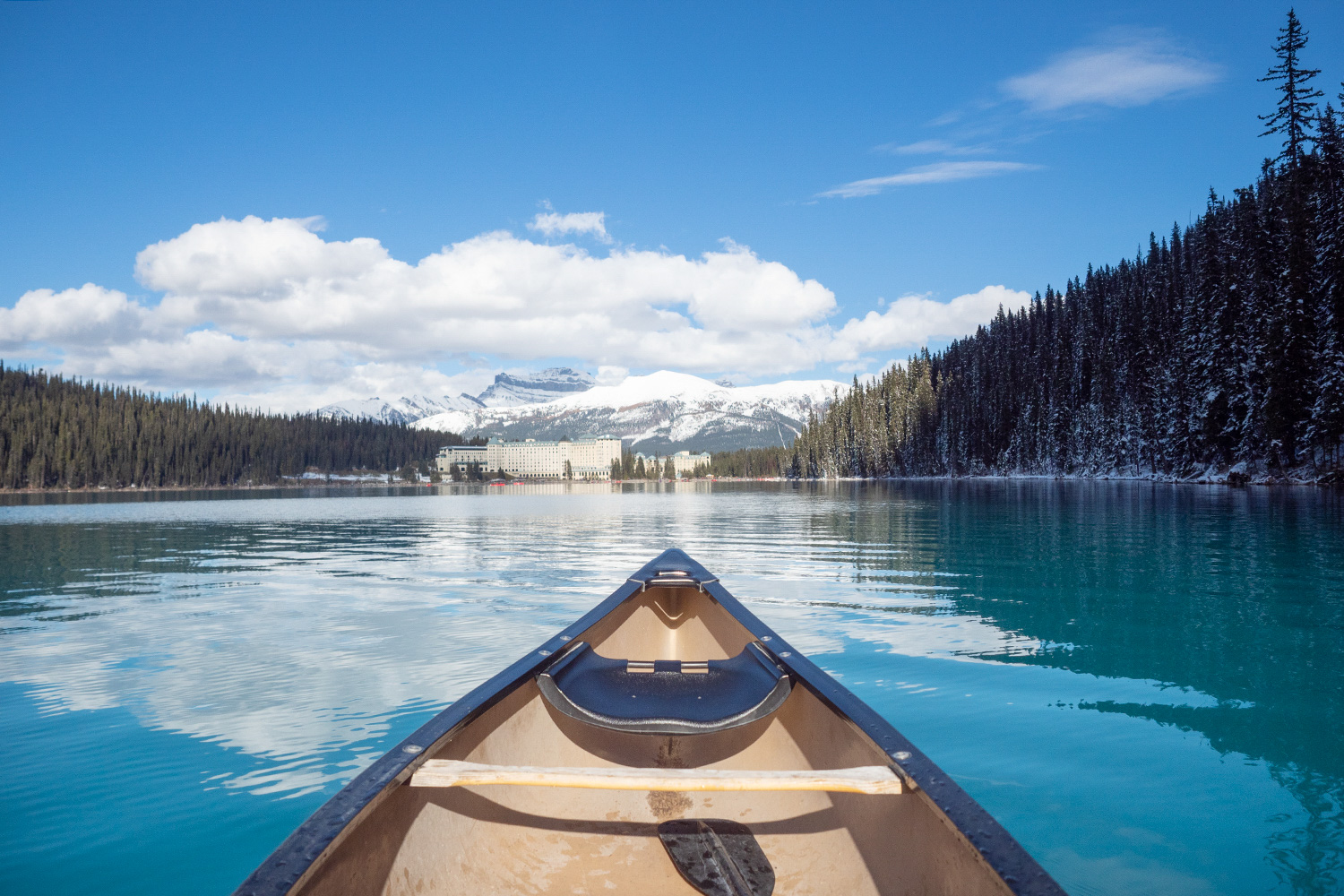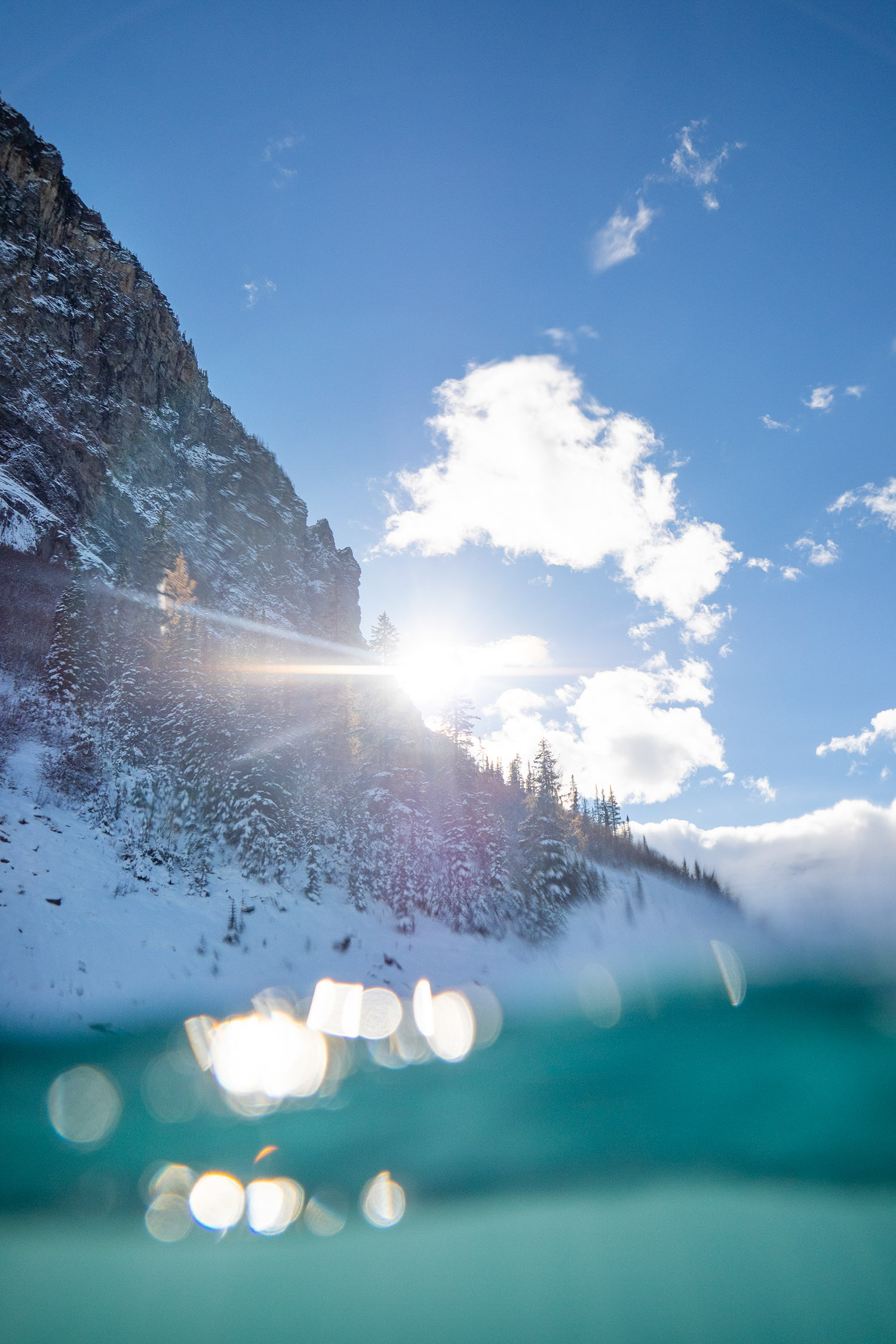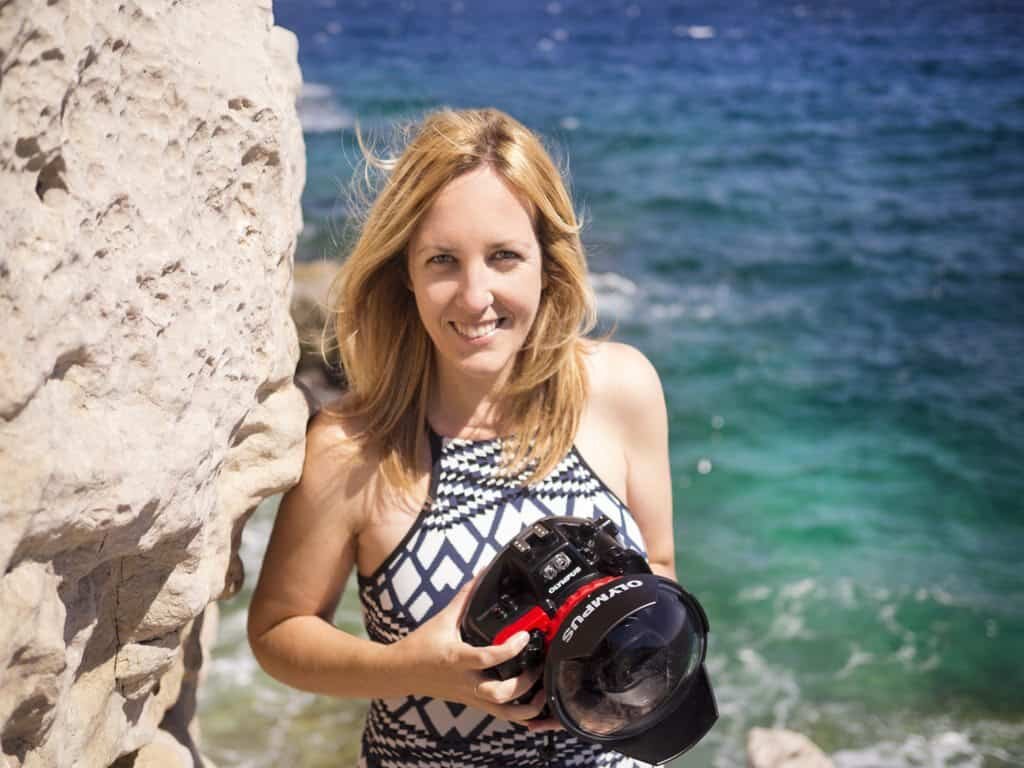 Hello! I'm the founder and photographer behind The Wandering Lens.
With 17+yrs experience as a professional travel and landscape photographer, all advice found on this site is from my personal experience on the road. I hope it's useful for your own travels and would love to hear in the comments about your trips and experiences around the world.