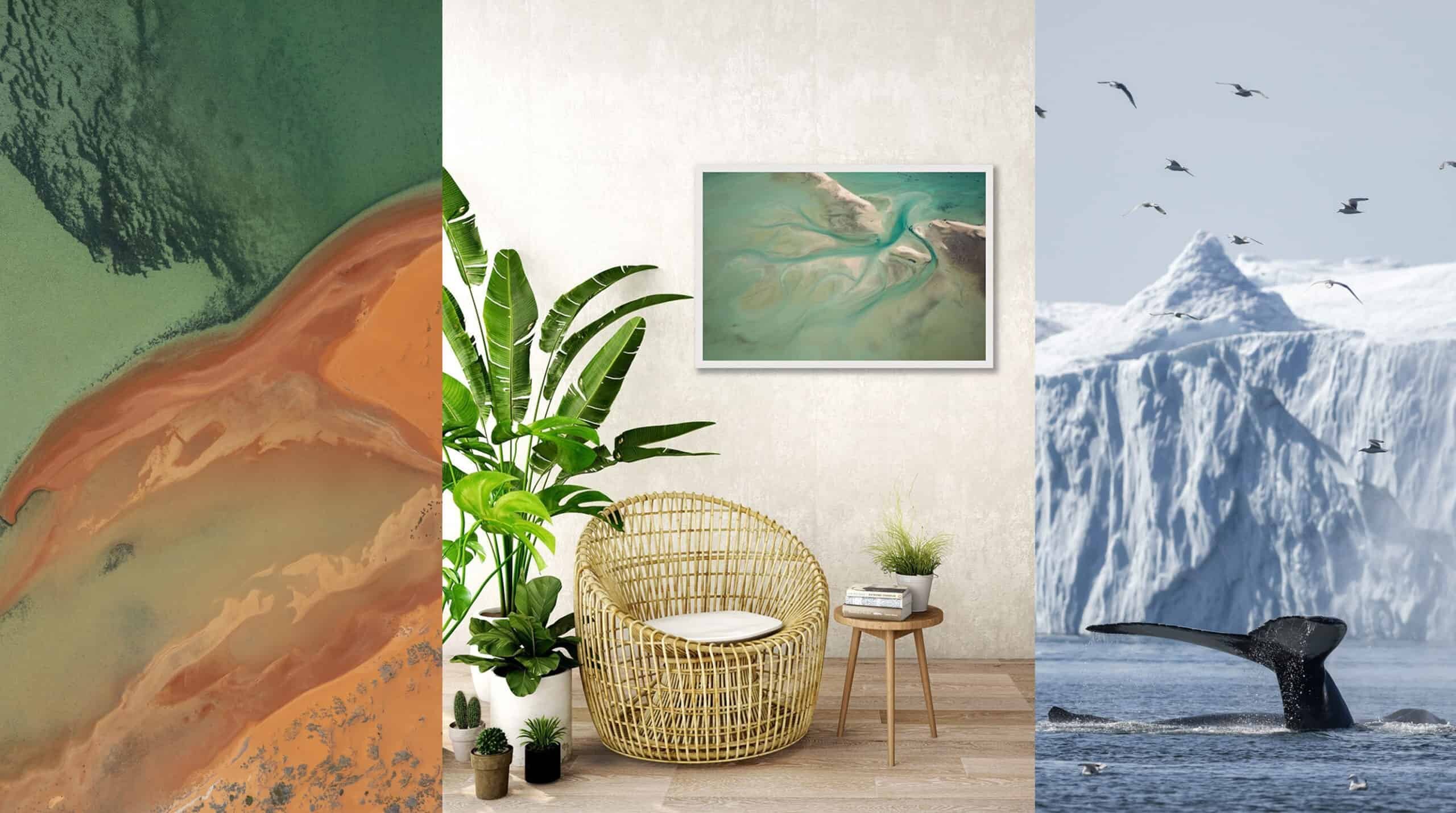 How the print collection came to life…
A humpback whale appeared just meters away as I sat on the rocky shores of the Ilulissat Icefjord in Greenland. On the final day of my three month journey around the world to photograph my print collection, I ventured out on an 8 hour hike to soak up every last second of the adventure. As the midnight sun lit the path back to my boat, I thought back over what a wild time I'd had hiking in deserts, cruising past icebergs, flying above spectacular scenery and wondered just how many thousands of photographs I had taken since leaving Australia. Editing was going to be fun.
But that's jumping to the end, let's go back first.
Framing photographs to display on a wall was always a dream when I started my career. Well, that and having an image on the cover of a magazine. To have people slowly meander past and gaze toward the frame, staring at the landscapes and details within always felt like the pinnacle of being a photographer.
Back in 2009 I opened my first landscape gallery on Hayman Island and while it may sound like that dream became a reality ages ago, it was a local gallery focusing on only the landscapes of the Whitsundays. Of course, that was incredible while it lasted and taught me many invaluable lessons but six years after opening I needed to branch out again, to see and photograph more of the world. I not only needed to expand my physical surroundings but my creative boundaries.
Fast forward nearly 10years (yikes!) and my years spent working as a landscape photographer along with studies in tourism management and climate science feel like they've come together in the perfect way.
A print collection to fund climate and conservation initiatives.
In early 2019 I formulated a plan to visit regions with extreme climatic conditions. I've been a weather geek most of my life and the idea of photographing landscapes that had been carved by the elements was enough inspiration to plot an ambitious itinerary from Australia to Greenland.
The Photographic Forecast project was hatched.
Researching the driest regions along with environments impacted by a changing climate, I listed out locations that were not only of global significance climate wise but were also photogenic in order to work as landscape prints for the project.
The only problem was that most locations were continents apart from one another, they didn't have international airports (voiding any chance of an easily connectable RTW ticket) and putting together an itinerary required every element of my travel agent training which luckily I geek out on as much as the weather, phonetic alphabet anyone!? Yankee Zulu!
Of course the list is far from completed but for now, I've photographed in Greenland where the Sermeq Kujalleq glacier is moving at a pace that will impact global climate patterns over the coming years along with deserts in Chile, Namibia, the US and coastal zones in Australia. There are so many more locations I'm yet to photograph and I'll make sure I get there one day but for now, the print collection is a blend of desert sands, frozen wonders and coastal contrasts.
A map of the photographed locations so far…
On April 19th, 2019 I flew out of Sydney headed for Calama, Chile where I'd then take a car towards the Atacama Desert, the driest region on earth (with the exception of McMurdo Dry Valleys, Antarctica). I had researched and planned everything for my few weeks here but nothing could prepare me first the first glimpse of this planet-like landscape.
In a total jet-laggy haze, I stopped at a lookout that offered views down into Valle de la Luna (Valley of the Moon). My mind struggled to comprehend where I'd landed, instead of a 26hr flight from Australia it felt like I'd been on board a space shuttle to another world. This feeling may also have been caused by the altitude getting to my head ha!
With two days needed to acclimatise to the altitude before I could venture any higher to photograph the various landscapes, I went on hikes through the valley and desert dunes near San Pedro de Atacama. These days blended together with continuous moments of 'wow, I'm actually doing this', a professional and personal clarity I hadn't felt in years. That my work could soon be helping to contribute to something bigger than just producing pretty pictures felt almost overwhelming.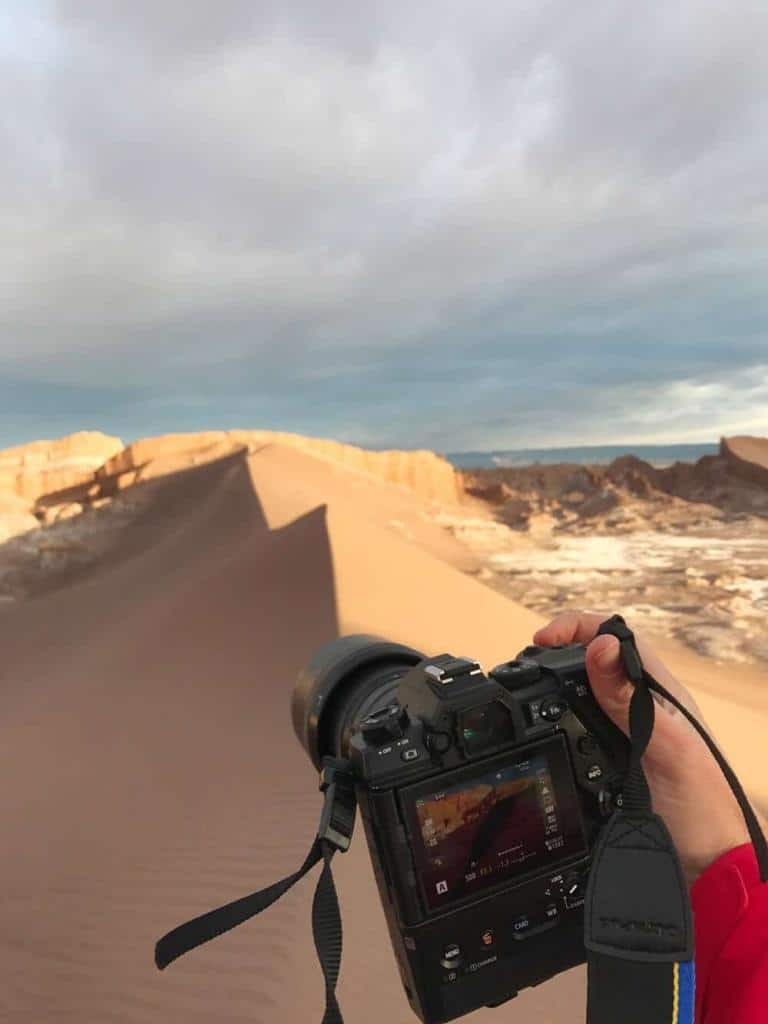 You can read more about my time in Chile here and here and I'll be sharing some further stories from behind the scenes in the US, Greenland, Namibia and Australia over the coming weeks on Instagram @the_wanderinglens and published here on The Wandering Lens. Rather than delve into every moment of the trip in one article, I'll be publishing small stories along with the images captured in each location featured throughout the collection.
The project was created on the idea that as a photographer it was a way to give back to the environment and communities in these harsh but photogenic regions. Capturing beautiful images isn't enough to motivate me to visit somewhere and after years of travelling and photographing for both clients and personal projects, I'm now really selective in where I go. The Photographic Forecast allowed me to further hone my focus to these landscapes and regions of extreme climatic conditions that tell a story with evident patterns, textures and tones etched into the earth.
It's not a business move I would suggest everyone makes but taking those three months and dedicating them to solely photographing content for this project and print collection is perhaps the best thing I've ever done in my career. To say no to every bit of work that came my way felt so silly and risky at the time but creatively, I knew it was time for a change that has now led me to this moment, the launch of my first print collection. The web design, editing, research, planning and development of the print store has taken almost a year alongside other jobs, and it feels so exciting to finally be ready to launch these prints into the world.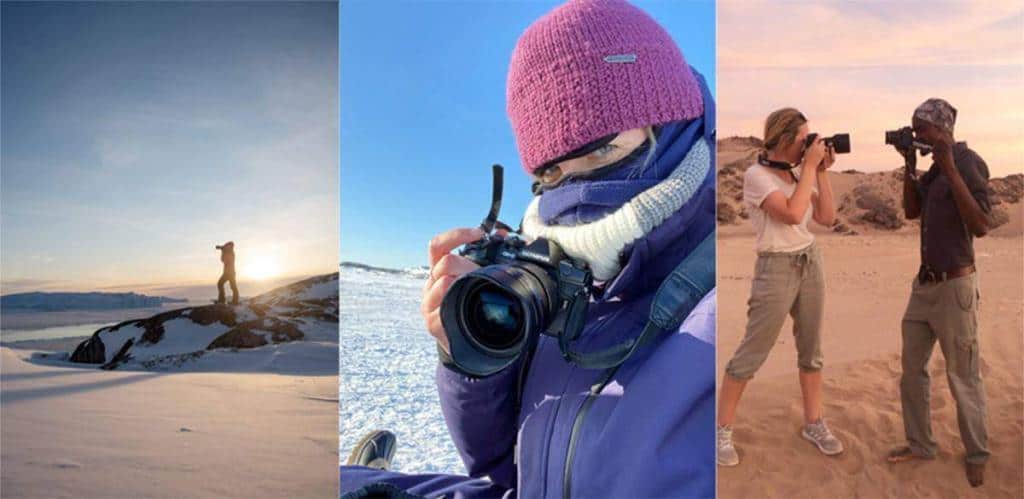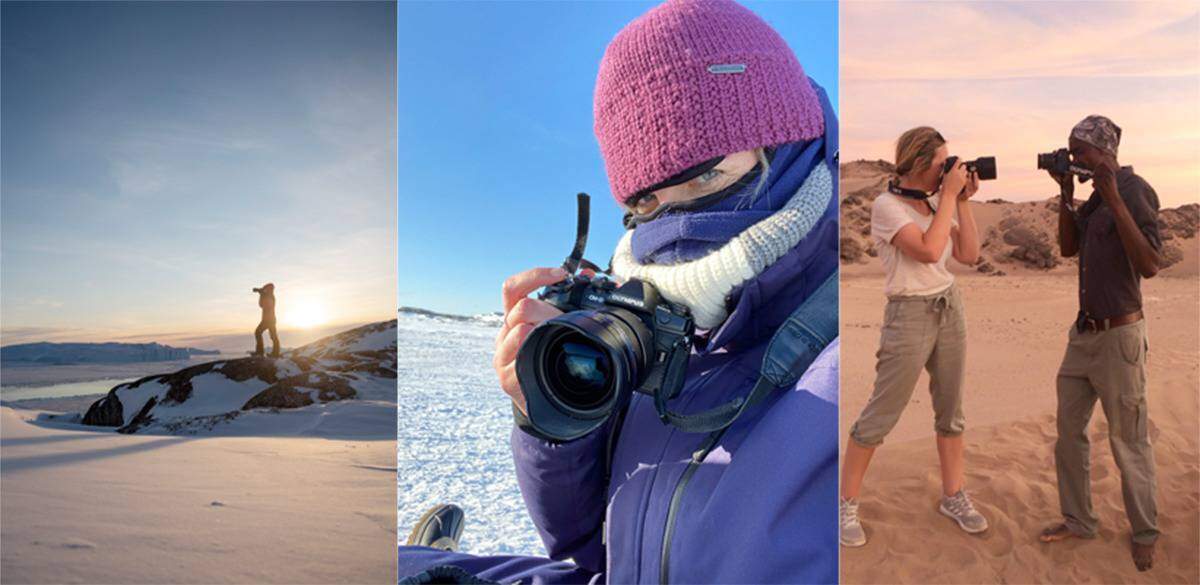 Releasing this collection of images feels so personal yet I want these prints to help make a difference, no matter how tiny or large that turns out to be. From the sale of each print I'll be donating a minimum of $15 to initiatives focused on wildlife conservation and climate change adaptation projects. The larger the print purchased, the greater the donation is made, you can read more about the 'Decorate and Donate' system here.
A series of limited edition A0 and A1 prints are also available of my favourite photographs, the ones that really made me stop and breathe a little deeper in the moment, when the landscape truly shone as a natural wonder or when I was looking down the lens directly into the eyes of a lion. I hope these prints will generate the same butterflies I felt when taking them.
The collection is split into the following categories; ARCTIC | COASTAL | DESERT | WILDLIFE
To read more about each location, I've written some factual pieces about the climate and environment in each of the following locations and you'll find the related prints available to have a peek at also –
The Great Barrier Reef, Australia
While there's always so much more I could write (I tend to ramble), I wanted to publish this article to simply introduce the print collection, share the backstory and say a big thank you to everyone who has supported me in my career until this moment.
It feels a little strange to be releasing my first print collection after working in the photographic industry for 16 years but the time also feels so very right. From my days as a rural journalist to travel writer, destination wedding and underwater photographer, landscapes have always been a constant inspiration throughout my career and now they're almost a sole focus.
I hope these little pieces of nature find their way into your home and if not, thank you for simply taking a look at store.thewanderinglens.com
Thanks again,
Lisa Michele Burns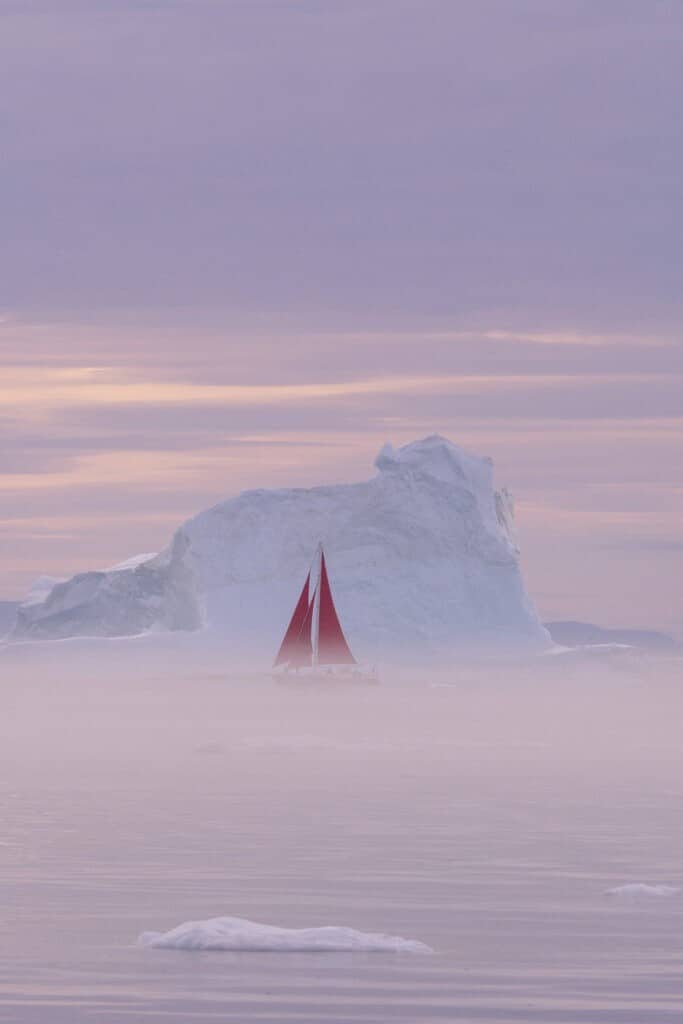 Travel and landscape photographer from Australia who is far more comfortable in a pair of flippers than heels! Having worked for publications such as Lonely Planet, Wanderlust and the Sunday Times, Lisa founded The Wandering Lens to share destination guides to the worlds most photogenic places and outdoor experiences.