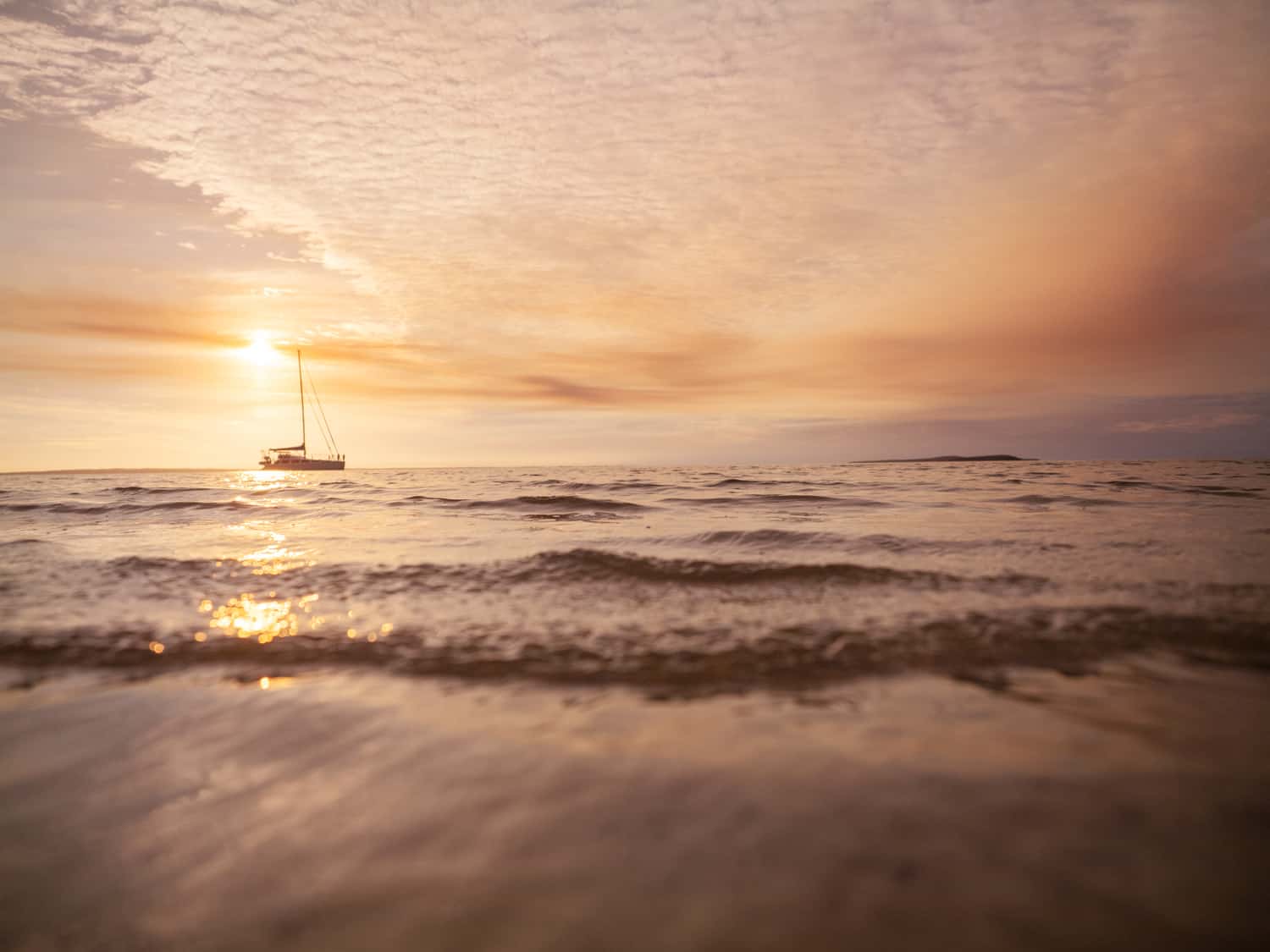 Fraser Island Photography Location Guide
Imagine somewhere with a colour palette featuring many of the world's natural wonders. Ocean blues, rainforest greens, sandy whites, mineral reds, sunset yellows and pink pastel dusks…they're all here.
As a landscape photographer, the chance to capture these colours and landscapes in one location is rather rare but after a recent visit to Fraser Island, I can confirm, it's completely possible and I've got just the guide to show you where and how.
The traditional name for Fraser is K'gari, meaning paradise, and once you lay your eyes upon the scenery found here off Queensland's coast you'll see why. Stretching for over 120km with a width up to 22km in places, K'gari is the world's largest sand island. It's not only an adventure and outdoor lover's utopia, it's for those who love the gentle sounds of birdsong, nature walks and getting creative while photographing wildlife and a plethora of diverse environments.
Based at Kingfisher Bay Resort on the island's western coast, I recently spent three days photographing across K'gari and below you'll find a series of photogenic locations, experiences and photo tips for your upcoming visit.
Let's get exploring…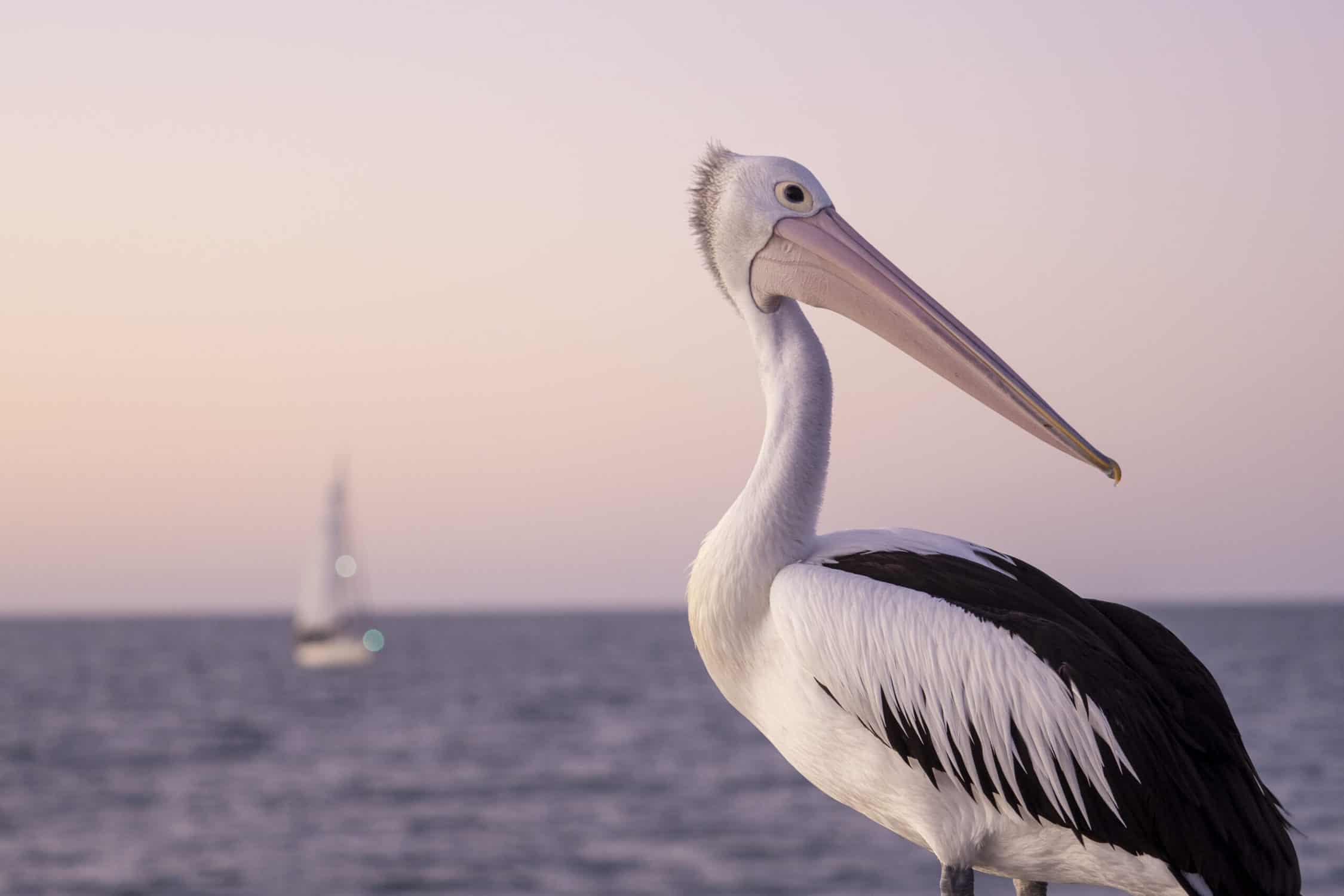 A little note – The lovely team at Kingfisher Bay Resort hosted me during my time on Fraser Island. To reach the locations mentioned within this guide I was onboard the Beauty Spots tour (a full day tour) in addition to doing some self-guided walking trails.

Boorangoora – Lake McKenzie
Let's start with one of the main gems…
White silica sand forms the base and shores of this wonder, perhaps the most visited location on Fraser Island and definitely the spot everyone wants to visit (I'll share why in a moment). Here, the water is so clear because it's a 'perched' lake meaning there are no streams, tides or run-offs from any additional water source and the silica sand acts as a filter. The blue tones produced within the lake are so inspiring for photographers that you'll no doubt take so many images of water that you won't know where to start when it comes to editing!
Due to its acidity levels, you won't find any large marine life underwater in Lake McKenzie, and actually just a few species like the tiny little Gobio Gobio, Honey Blue-eye and Oxleyan Pygmy Perch call these waters home.
Not only is the lake stunning visually, but it's waters offer the chance for swimmers to have a rejuvenation of sorts. A dip in the lake will have your hair shining, skin glowing and face appearing ten years younger…well, we can dream. But, because the water has a low ph level, it's great for your skin so exfoliate with the silica sand then immerse yourself underwater!
Photo tip – Try to capture a collection of shots above and below the water. There are a few feature trees along the shore that help to add a sense of place then underwater you'll find the clarity is crazy good so don't forget to take a dip with your underwater camera. When photographing underwater, always remember to tilt your camera slightly upward to benefit from the beautiful patterns found under the surface of the water.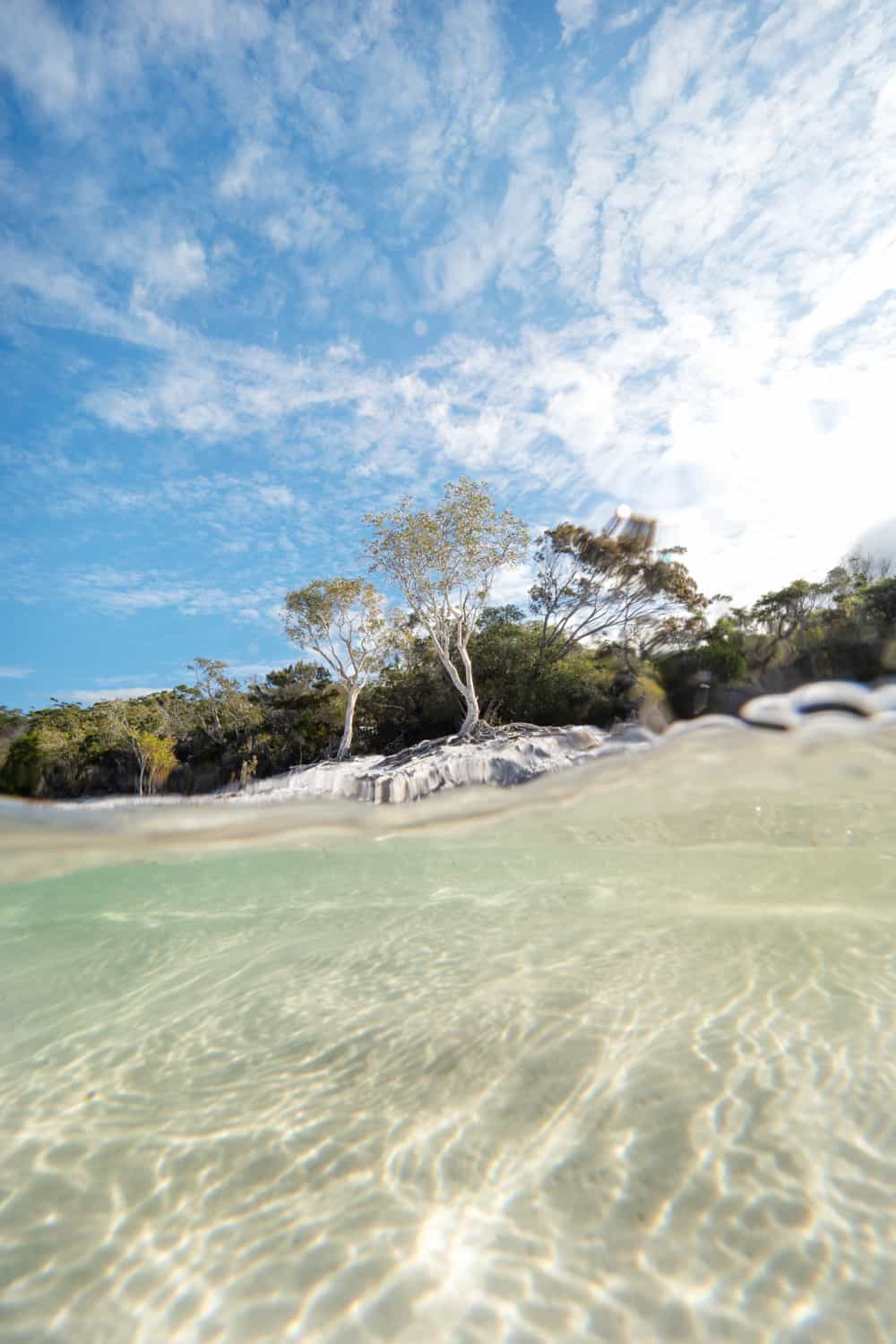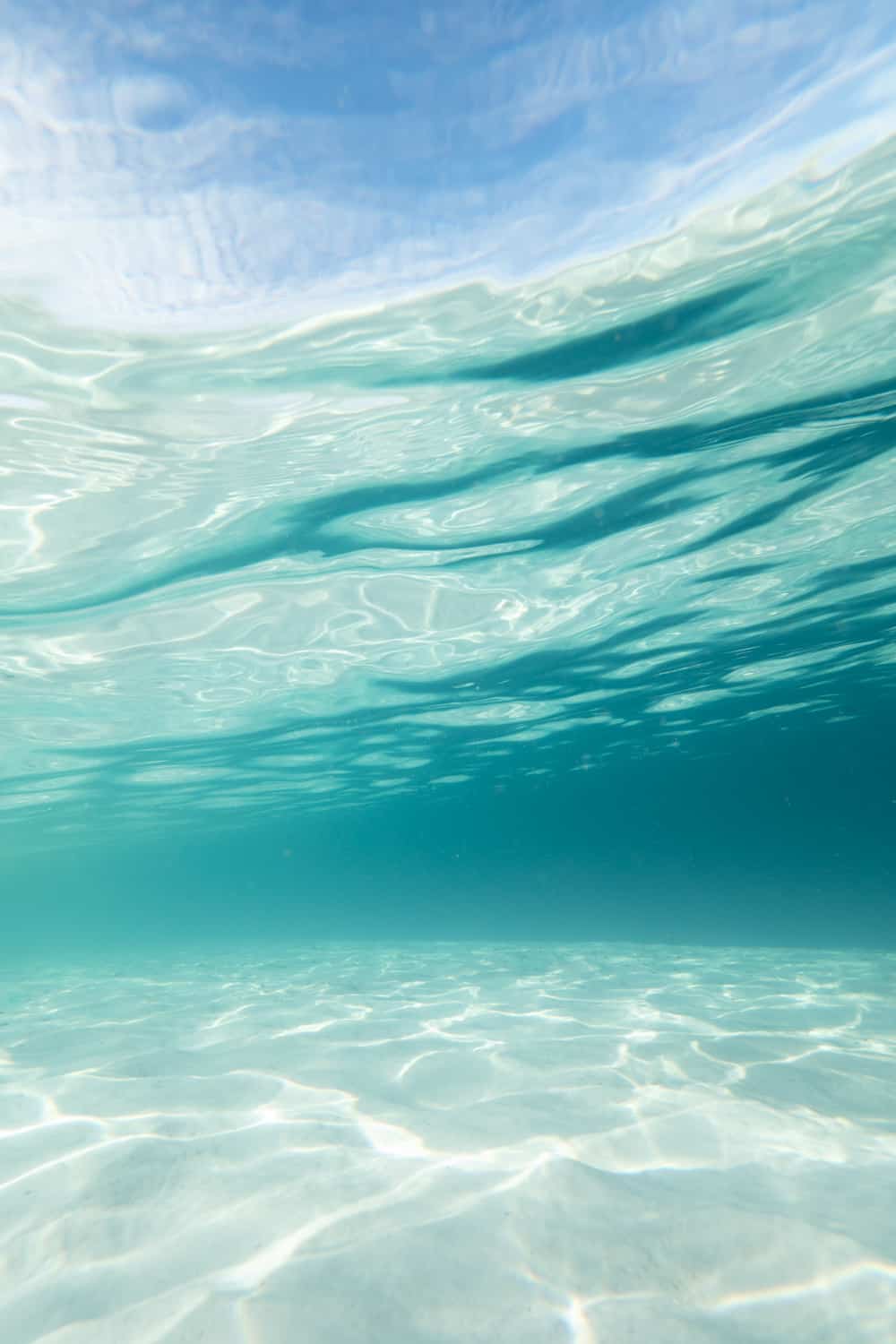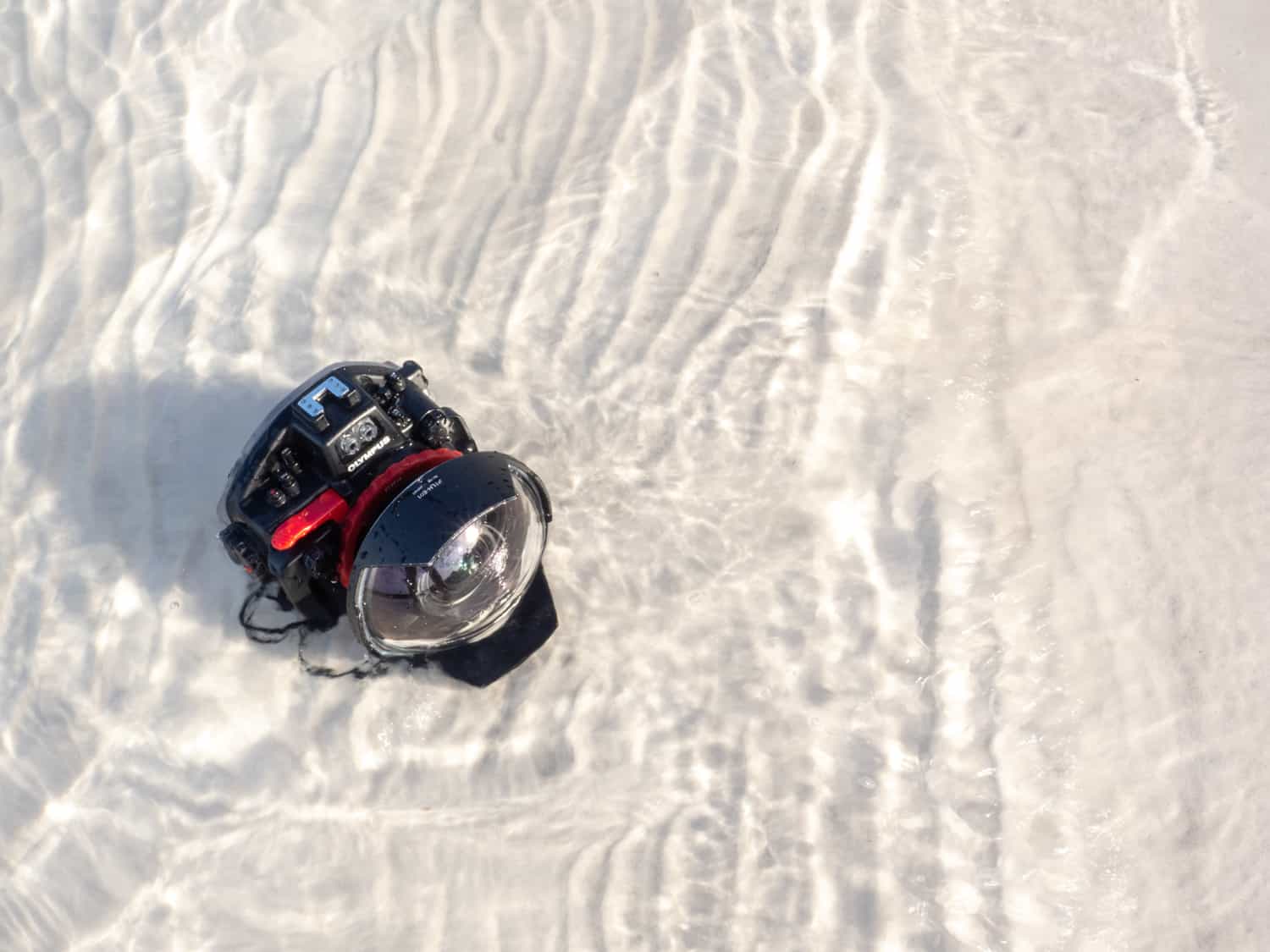 ---
The Pier + Ponds of Kingfisher Bay Resort
If you're arriving by barge to Fraser Island, the main entry point is located at Kingfisher Bay Resort and it's here you'll find one of the most photogenic locations on the island, the pier!
Reaching out west toward sunset, the pier at Kingfisher Bay Resort creates one of the best photography locations to get snapping and capture a blend of man-made elements with the surrounding natural beauty. If you're a fan of working with leading lines, the pier should be your first stop to get comfortable with the light and location.
Don't just stand on top and photograph, get creative and capture it from various angles, from underneath, seek out reflections in the sand or shallow water or wait until the lights turn on after dusk.
Kingfisher Bay Resort is an Eco-friendly resort and within the grounds you'll find numerous paths that lead to beautiful areas of flora and fauna. From the central resort complex you can wander along the Wallum Boardwalks to photograph the ponds, reeds and lily pads.
Tip – Venture out at sunrise and wander throughout the Dingo Den and Wallum Boardwalks to the beach to hear the bird song. I couldn't believe how beautiful it was so stand solo amongst this stunning natural environment and listen to the birds as the sun rose. *The sun of course rises on the eastern side of the island but you'll still be treated to calm water and beautiful changing light if you're keen to photograph at sunrise too!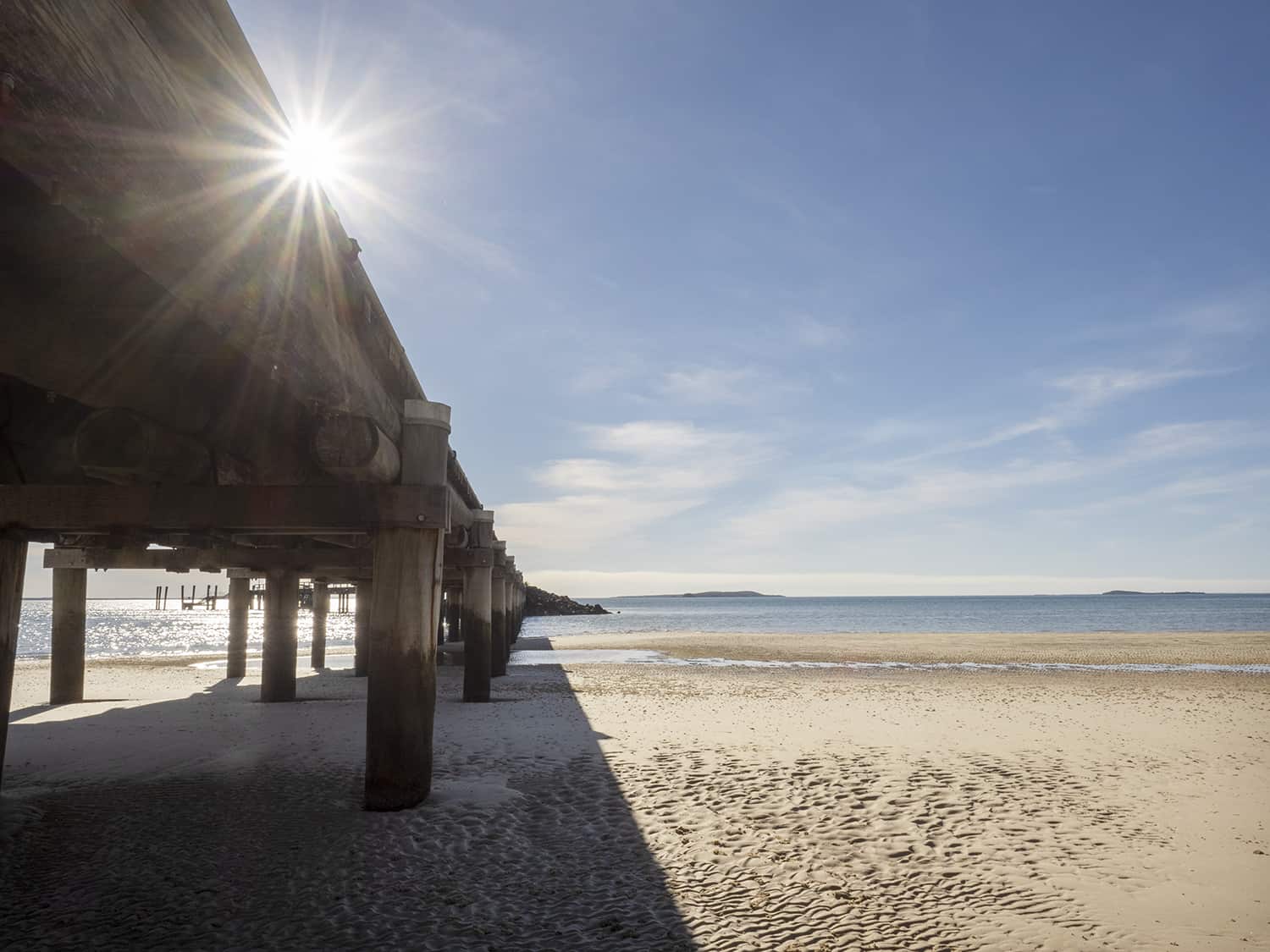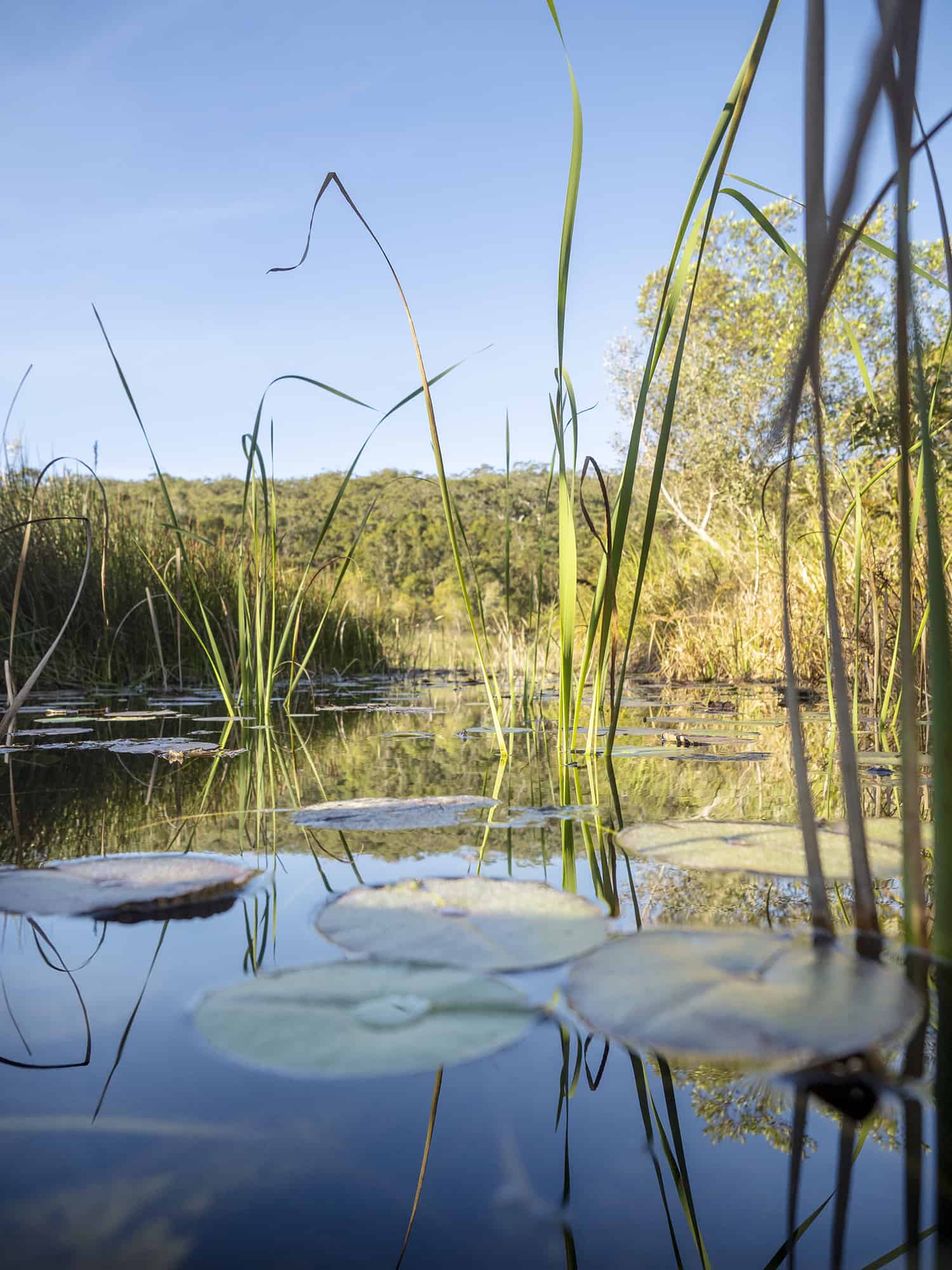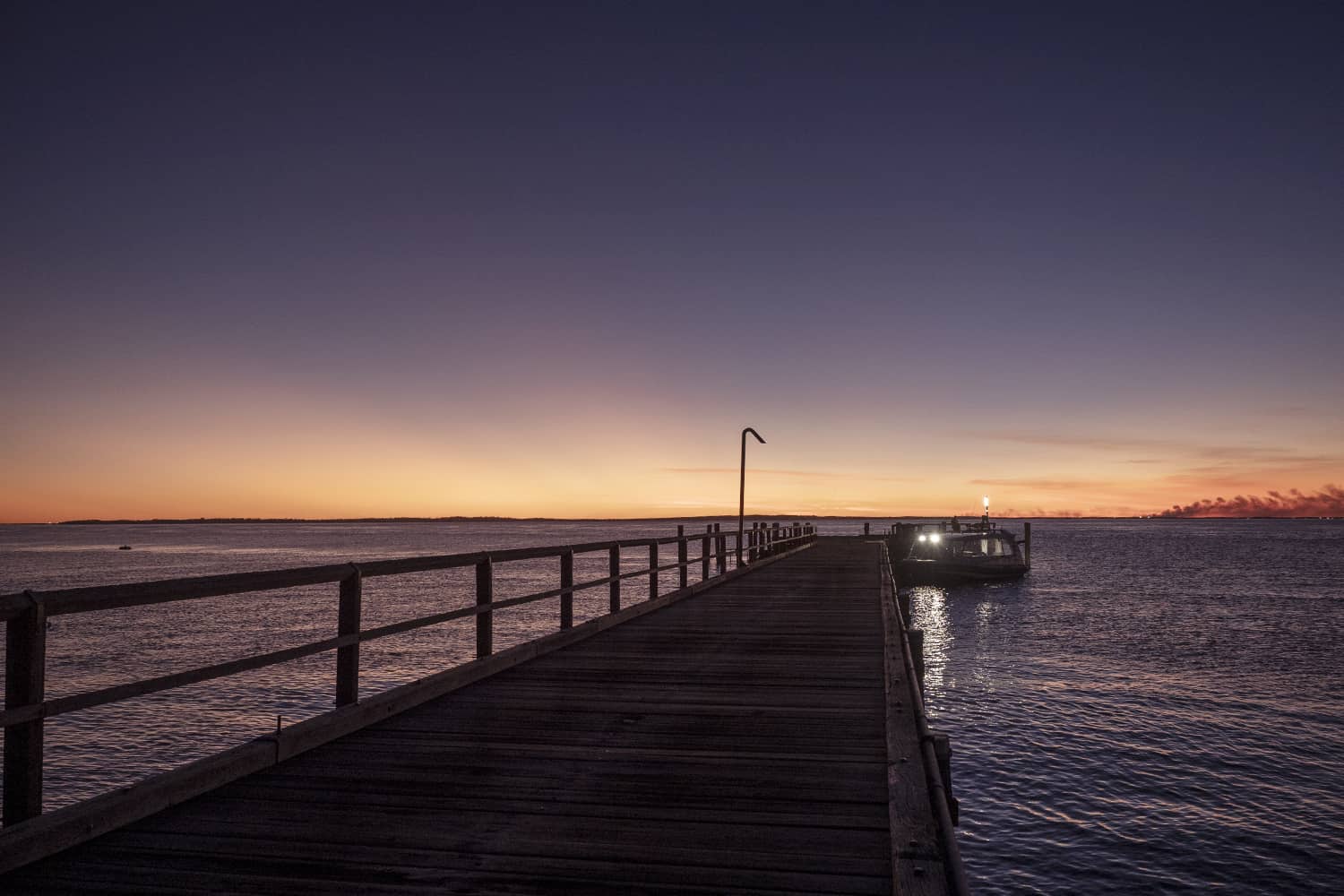 ---
McKenzie Jetty Walk + Beach Trail
Whenever I'm staying somewhere as remote and beautiful as Kingfisher Bay Resort I always try to do at least one hike or short walk with my camera. From the resort there are numerous self-guided walks you can do that can take up to 3hrs return, or the longer Lake McKenzie circuit that is 2-3hrs each way. Click here to view a map of the available walks.
After returning from a full-day Beauty Spots tour, I knew I wanted to wander along the beach on the 5km McKenzie Jetty Walk. The golden glow of afternoon light follows you along the shores of the Great Sandy Strait and I can promise you'll have your camera out and ready the entire way.
I had spotted a few mangrove trees from the Sea Explorer sunset cruise the day before (more on this later) and wanted to head straight for them to use a subject with the setting sun behind. Due to the tides, sand patterns were adding to the overall beauty of the scene and I got so carried away that I ended up spending sunset and dusk there as the sky completely lit up in a palette of pinks and purples.
*Note – this walk is tidal so always check the tides before you depart as it comes in fast and could mean there's no beach left for the walk back! There's an inland route that leads from the main resort complex to McKenzie jetty but you'll want to know where the track starts at the other end before it's too late.
Photo Tip – Photographing sunset should be about working with the light and landscapes to capture what you're feeling and seeing in that moment. You can read my guide to golden hour here and I suggest looking for patterns, movement and subjects that will enhance your composition and allow you to showcase the scene. Experiment by getting low to the ground and photographing across the sand and water to see what additional tones and patterns are available.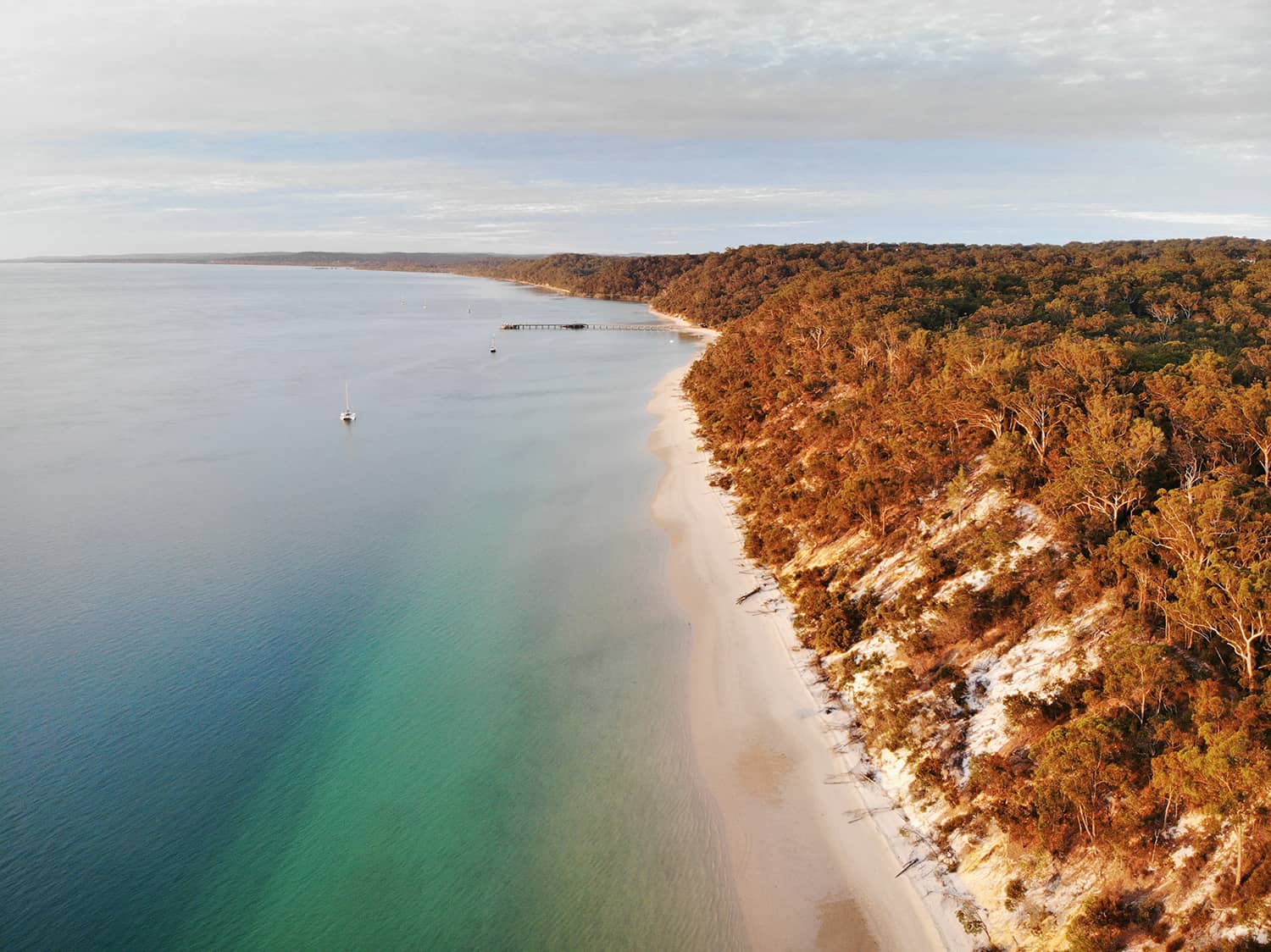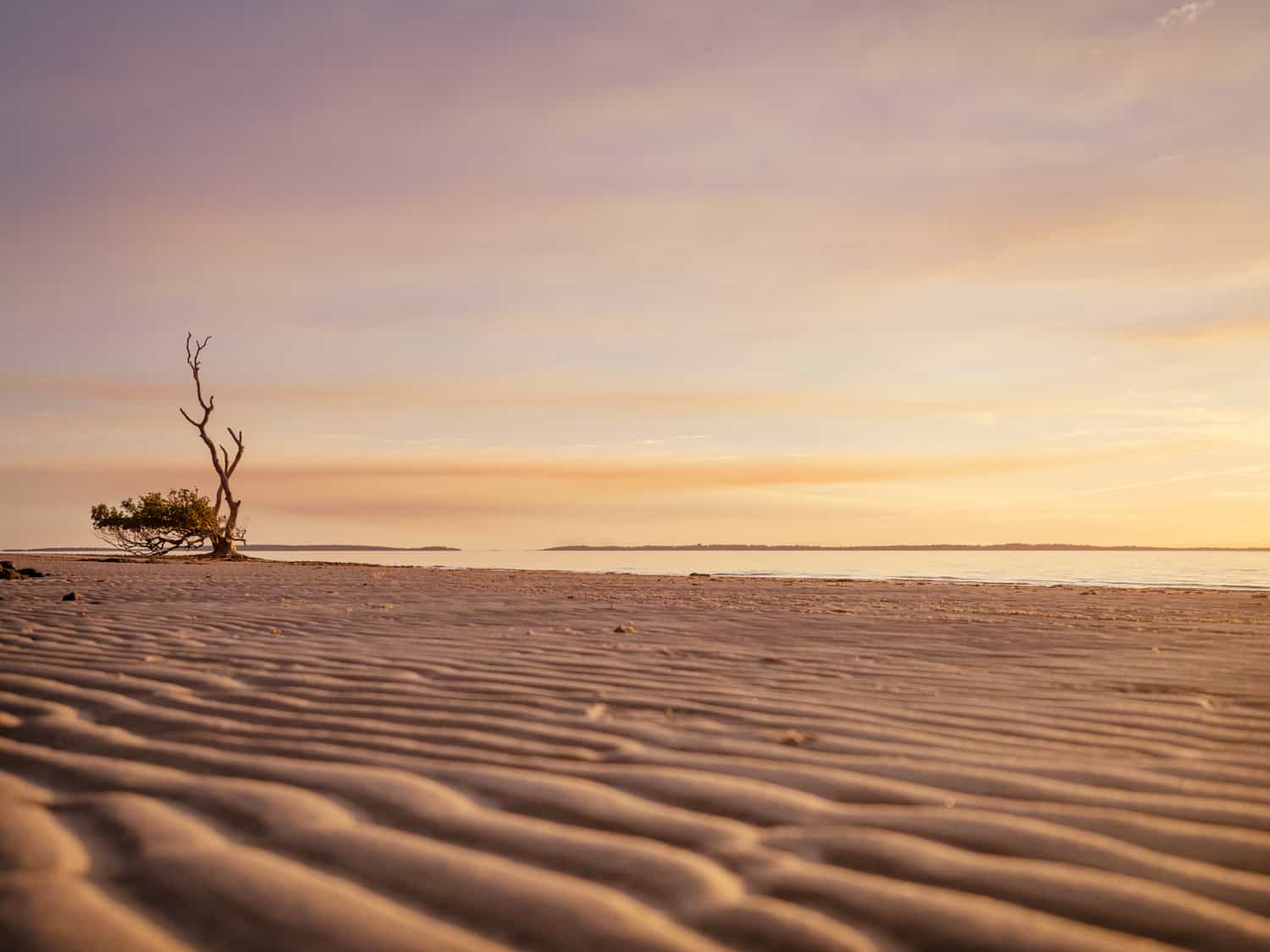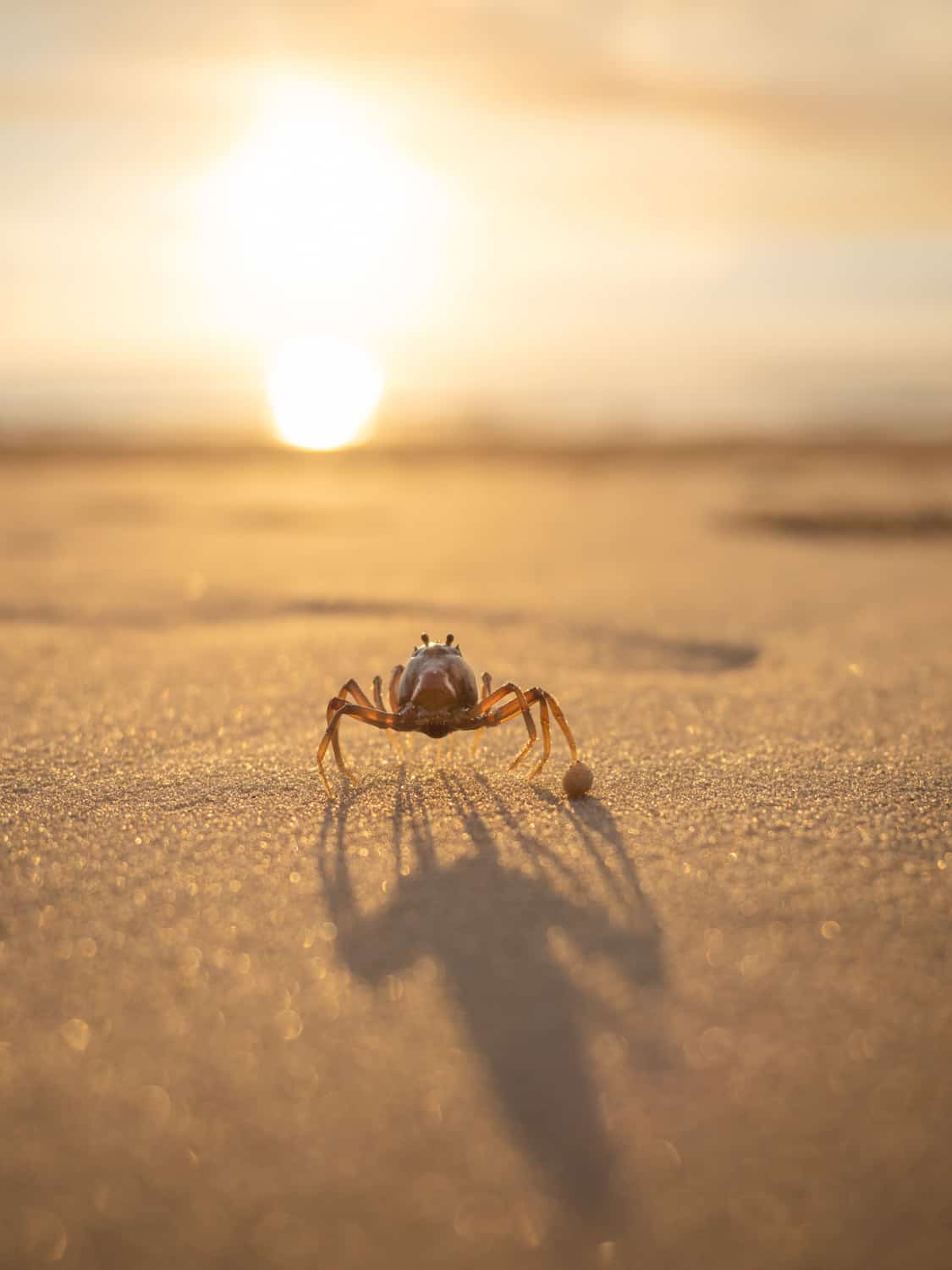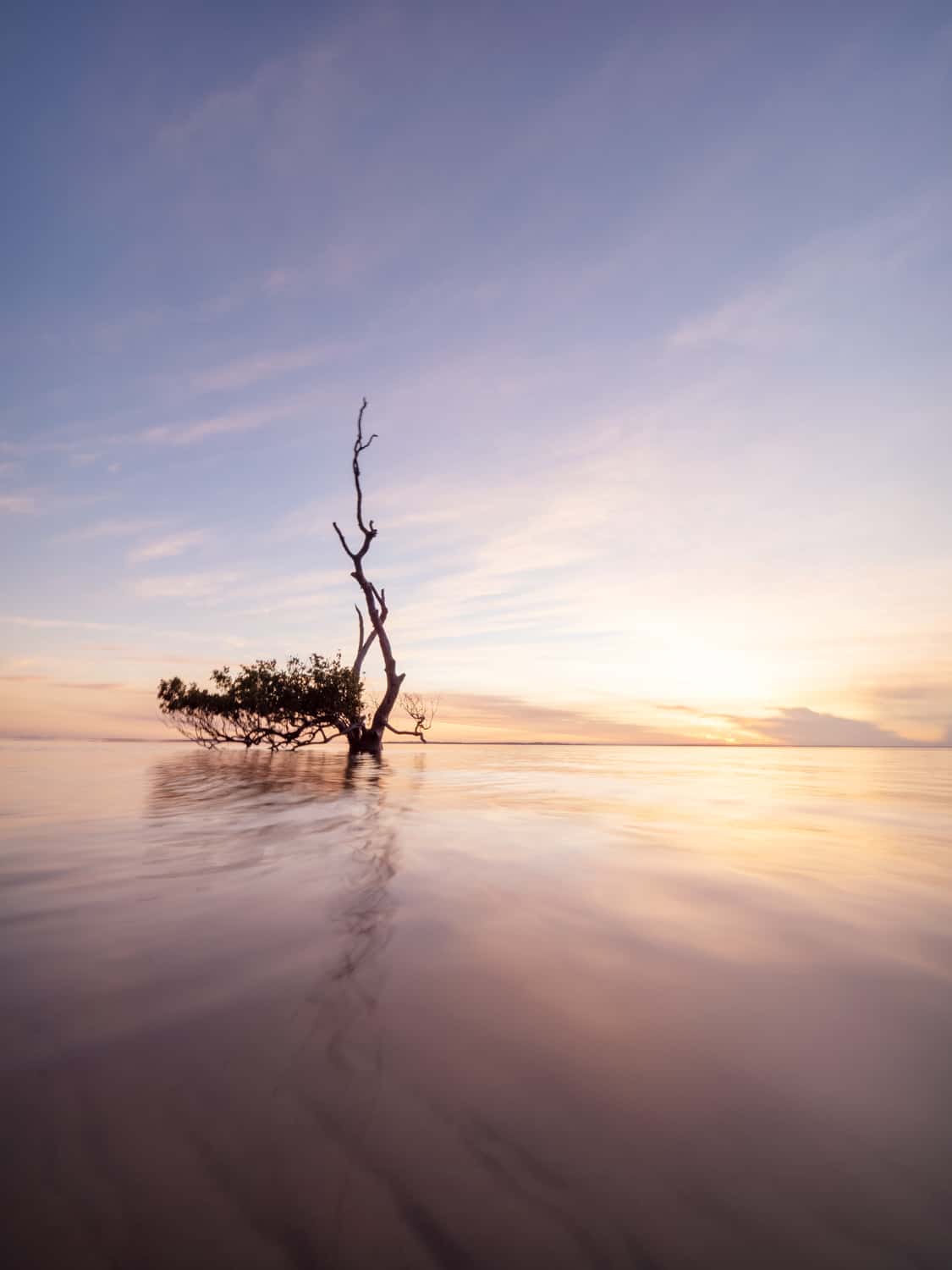 ---
Eli Creek
If you've got an underwater camera, this is the place to visit, I could've spent hours photographing this natural wonder! Up to four million litres of crystal clear, fresh water flows through Eli Creek towards the ocean each hour and here you get the chance to wade through and explore the environment closely.
It's an outdoor experience that makes you stop, take a breath and truly soak it all in whether you're floating or walking along this sparkling gem. Water temperature in the creek remains around a consistent 19 degrees, ensuring a nice and refreshing dip. There's plenty of features along the creek to keep you and your camera inspired with paperbarks, reeds and even the resident eels peeking out to say hello.
Eli Creek provides a great chance to test out split-level photographs capturing both above and below the water in a single image. Combine the clear water with the landscape above and showcase the surrounding trees and plants with the sand patterns visible underwater.
Photo Tip – To capture a split-level image and ensure image clarity both above and below the water level, it's best to shoot with an aperture of around f/9 or smaller. Using a wider aperture like f2.8 will result in one of the aspects being blurred…which can sometimes create a beautiful effect too and it's one I love to use particularly if the scene is quite open. I use the Olympus E-M1 MKII + 7-14mm f2.8 pro lens inside the PT-EP14 underwater housing which you'll see in my hand in the photos below.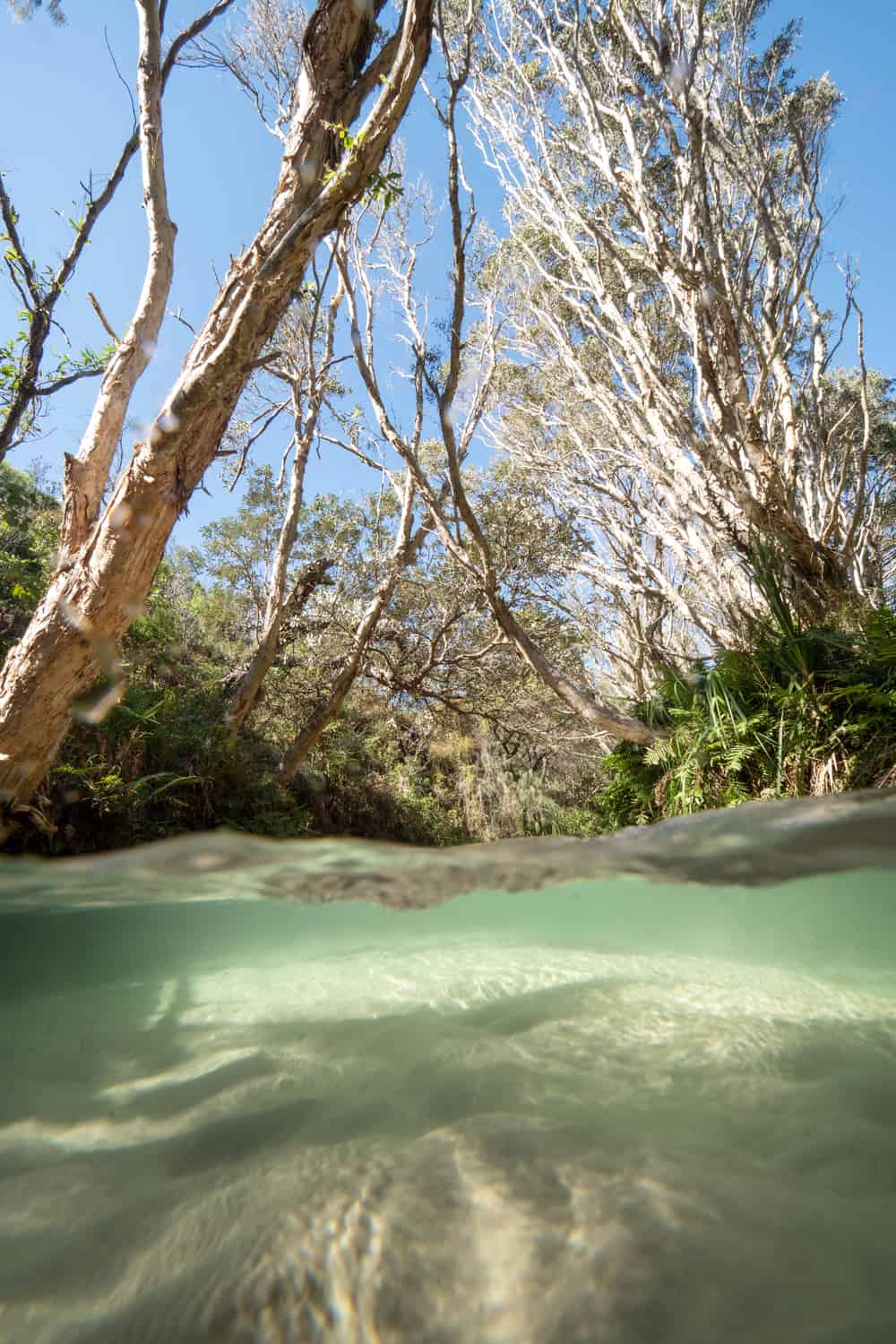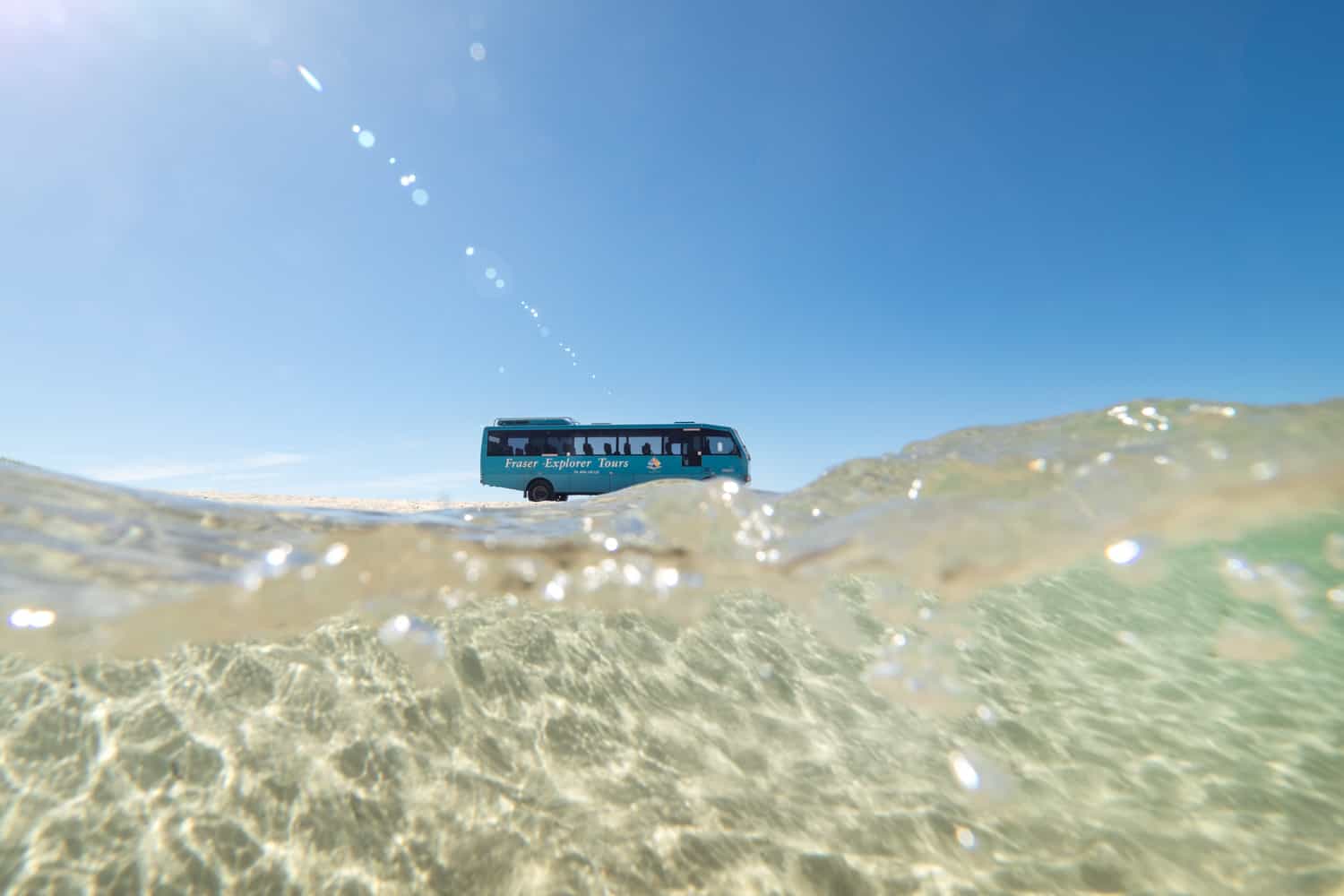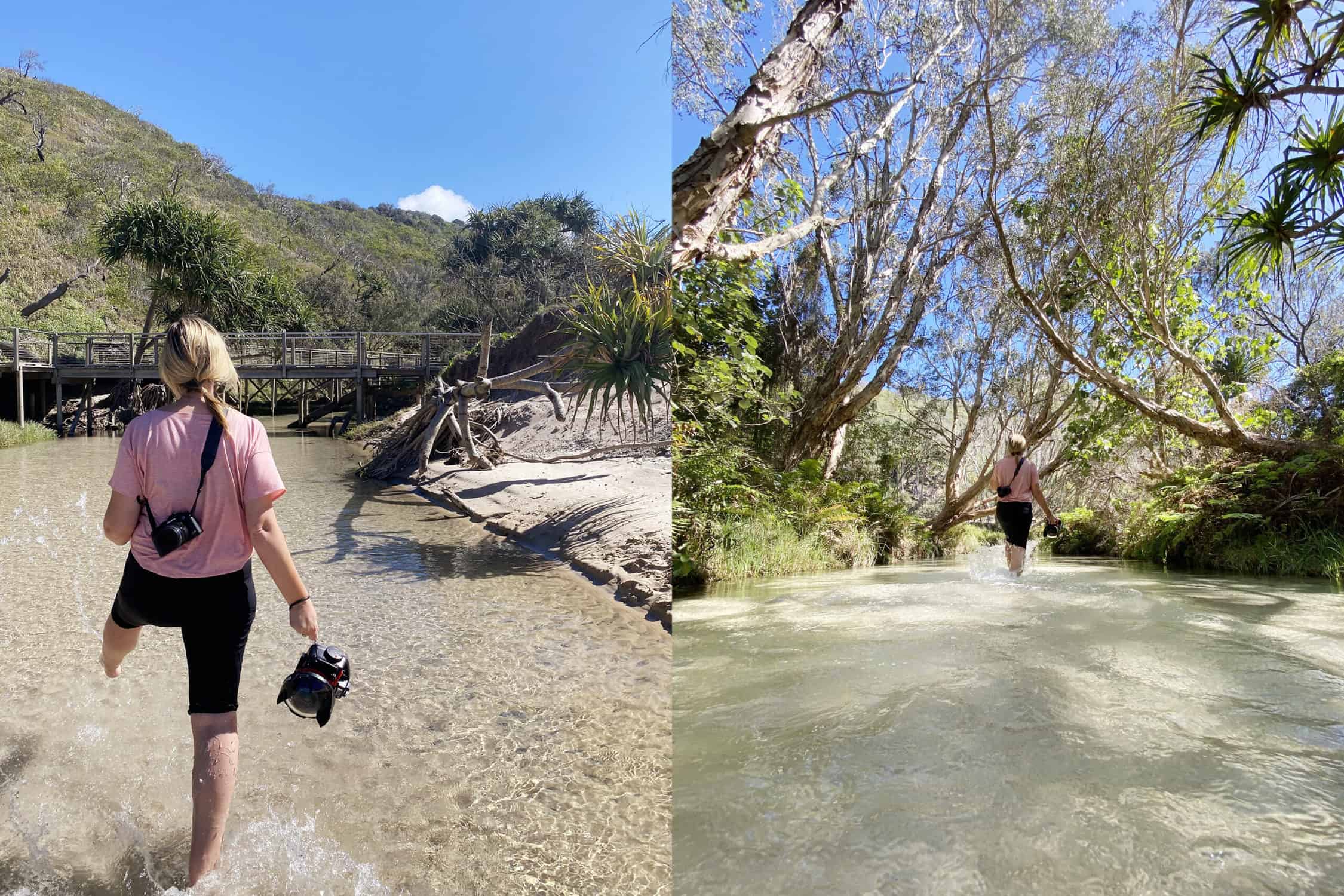 ---
SS Maheno Wreck
There are numerous shipwrecks found on Fraser Island with 23 being recorded between the years 1856-1935. Perhaps the most well-known and easiest to access and photograph is the SS Maheno Wreck, found on the shores of Seventy-Five Mile Beach.
As one of the first turbine-driven steam ships, the SS Maheno sailed routes between Australia and New Zealand in Europe and in 1935 was eventually sold for scrap to Japan. Whilst being towed to Japan, stormy seas whipped up by a cyclone snapped the tow chain and sent the ship adrift to its eventual resting place on the shores of Fraser.
Today, you can photograph this landmark as the waves crash around its rusted frame with the golden hour and low light of dusk or sunrise providing a wonderful opportunity to play around with long exposures and movement.
If you're visiting the wreck during the Beauty Spots tour from Kingfisher Bay Resort, you can use an ND Filter to blur the wave movement or get creative with reflections and sand patterns that surround the ship. *Just note that you're not permitted to be within 3m of the wreck but can still capture plenty of images, usually even better composed shots by standing further back.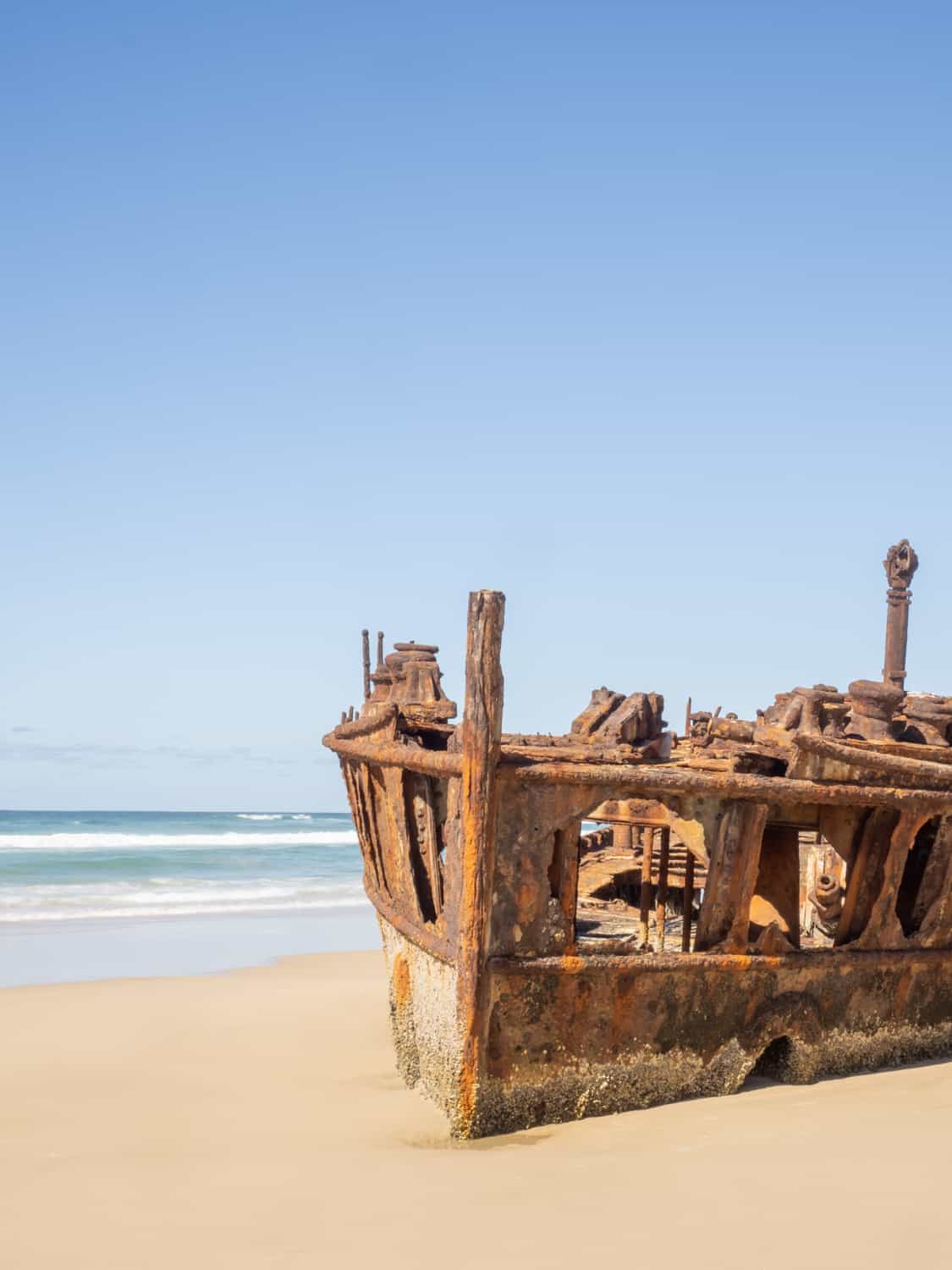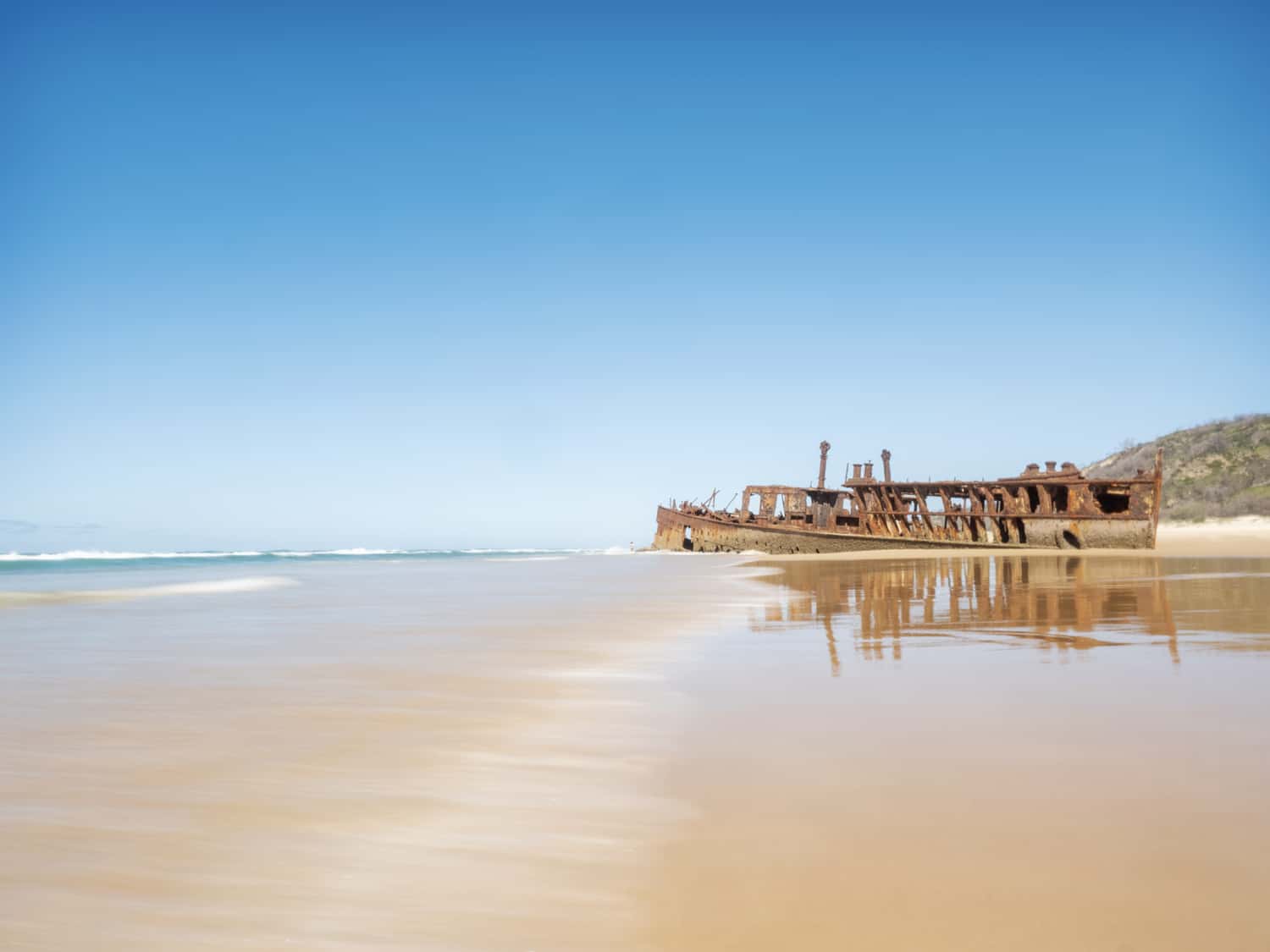 ---
Central Station + Wanggoolba Creek
Once a forestry camp, Central Station is found within the heart of the island and is one of the best examples of how truly lush and diverse the landscapes are. Tall palms, satinay and kauri pines rise within the forest while massive King Ferns dot the edge of the Wanggoolba Creek system that flows through the area.
If you're a fan of the colour green, this is the place for you! A boardwalk winds from the parking area down alongside the creek but there are also numerous walks you can take to venture deeper into the rainforest.
The creek was my favourite part of this location as the water is so clear, at first glance it actually appears like there's no water at all. Once you're gazing down at the creek, take a moment to look around and see how sunlight filters through the canopy and what details it might be highlight for you to capture with your camera.
Photo tip – Shooting with a wide aperture like f2.8 will allow you to find a subject (in this case leaf/plant) and allow those surrounding greens to pop in a blur of bokeh. I love shooting with a wide aperture then moving around to find the best position to bring together the final result and make the colours really enhance the image. Learn more about aperture mode and depth of field here.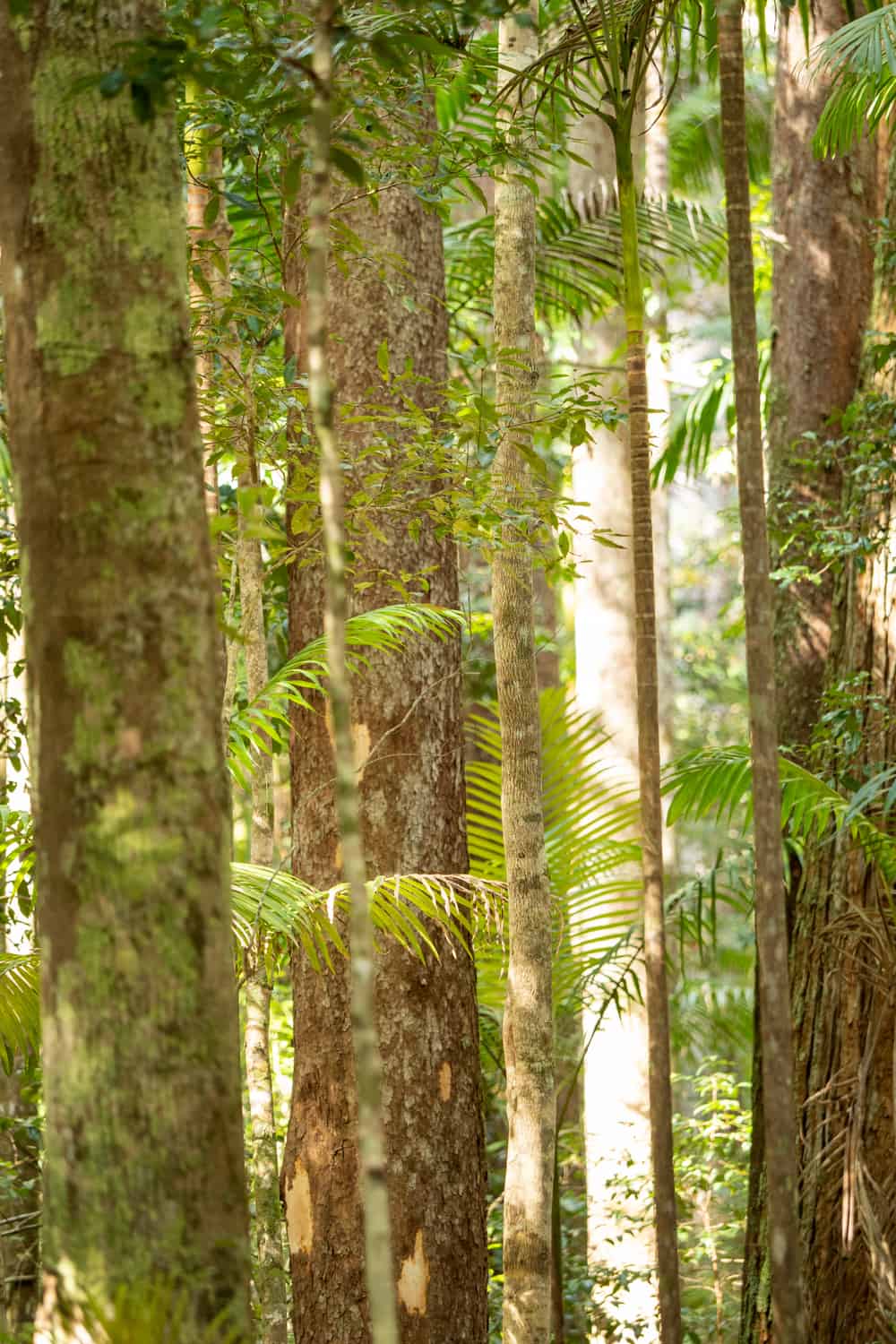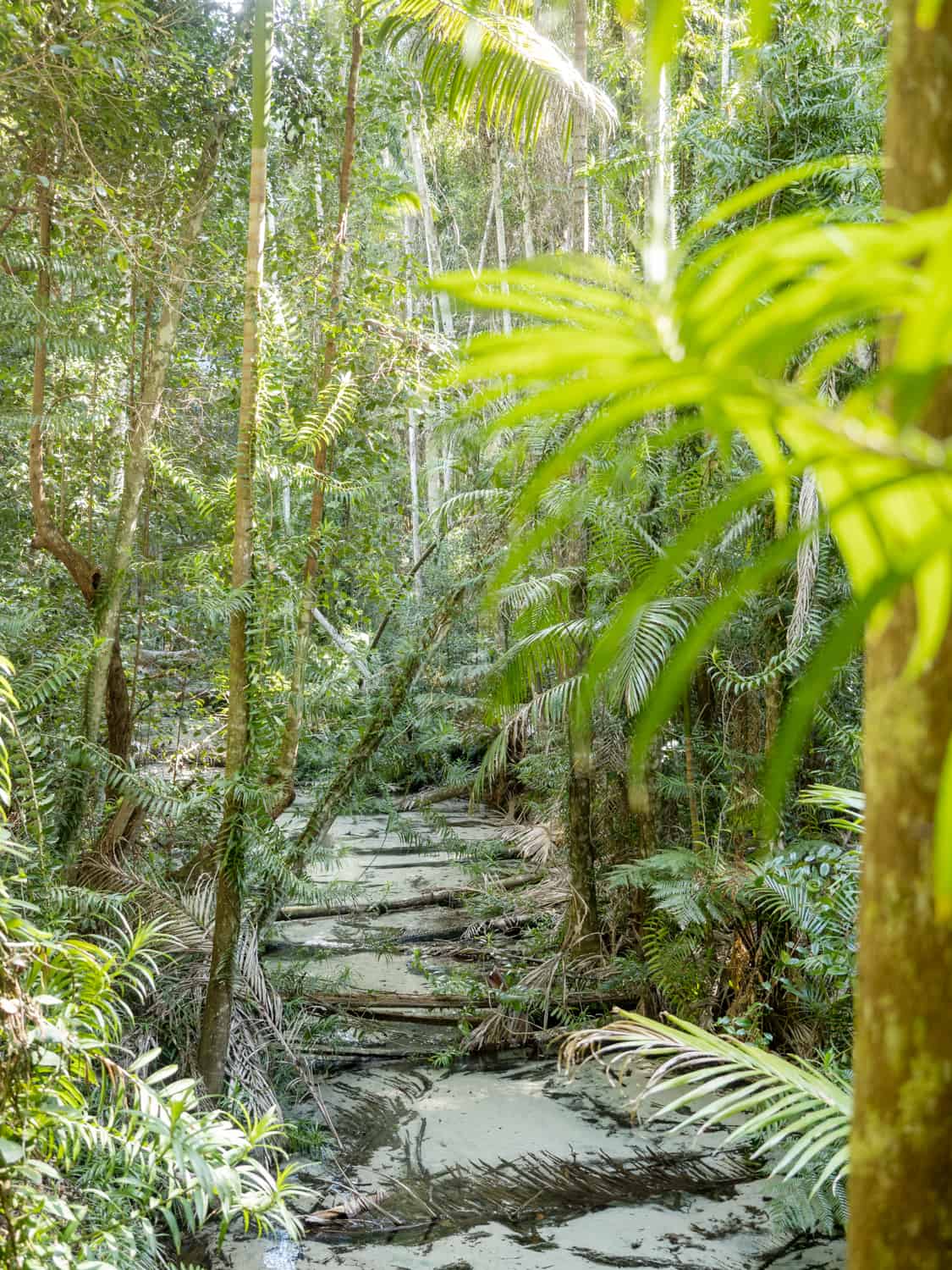 ---
Pile Valley – Satinay and Brush Box forests
Get your wide-angle lens ready because Pile Valley is home to trees that are growing in sand to a height of over 50m! Venture through this UNESCO World Heritage rainforest to experience the silence, beauty and unique environment that exists in the heart of Fraser Island.
The magnificent Satinay trees rising amongst the greenery here have called Pile Valley home for over 1000yrs, a thought that can only really be comprehended once you're up close and seeing the immense girth of these giants.
When exploring on the Beauty Spots tour, your time here is relatively short but with the bus parked close by, it provides a great chance to capture some images along the 100m walk into the forest. Don't forget to capture some wide-angle shots tilting your camera up into the sky to showcase the height of this location.
Photo tip – Balancing the bright and dark areas when photographing within a rainforest can be tricky as you'll typically come across a very contrasting scene of bright sunlight above the canopy and shaded areas beneath. To combat this, you can aim to balance the light within your image by focusing on the edge of where the treetops meet the sky. Ensure you're not overexposing your image but also not capturing an image that's too dark and this will allow you to have enough detail to work with when bringing out those shadows and highlights in the editing process.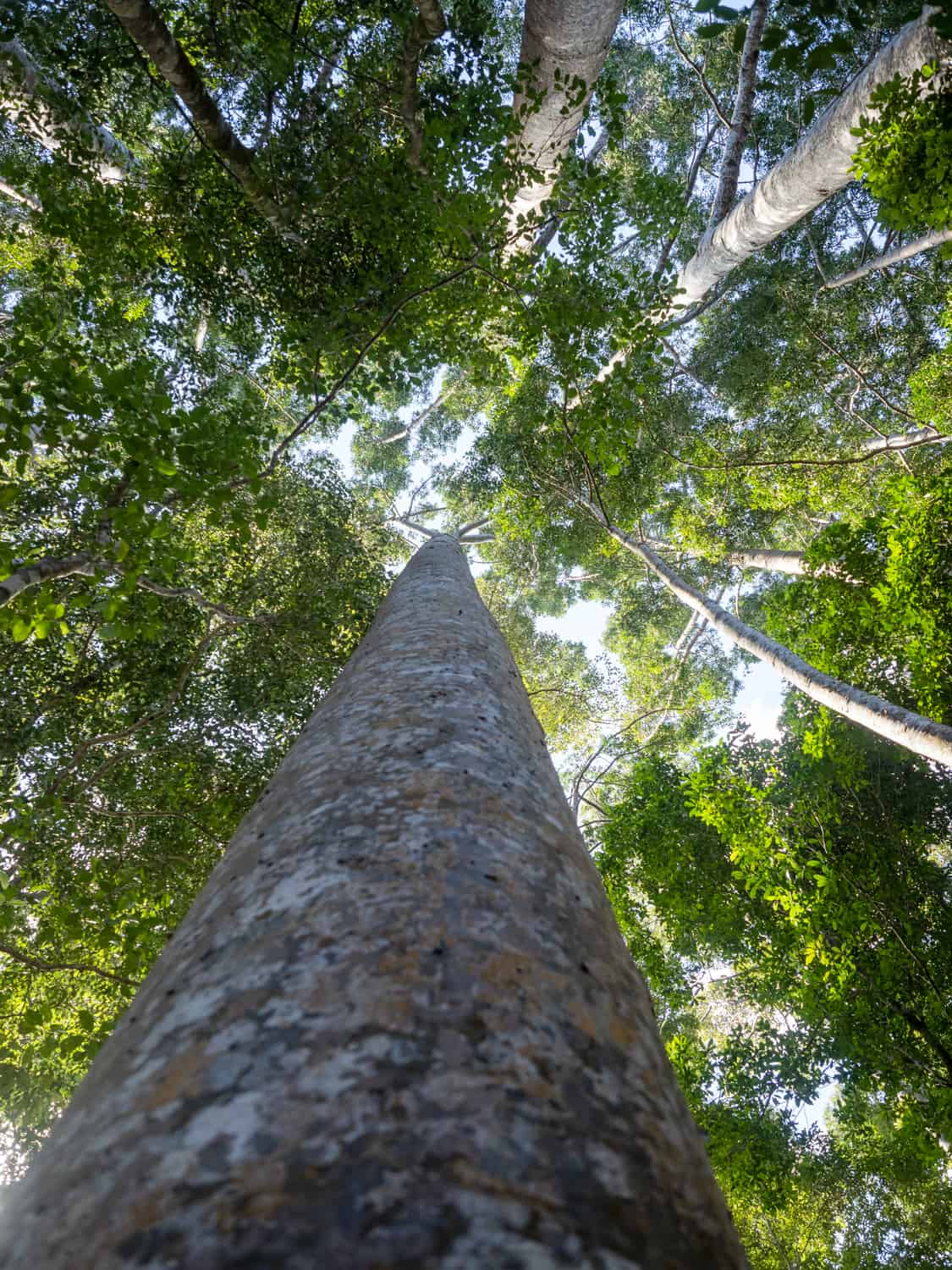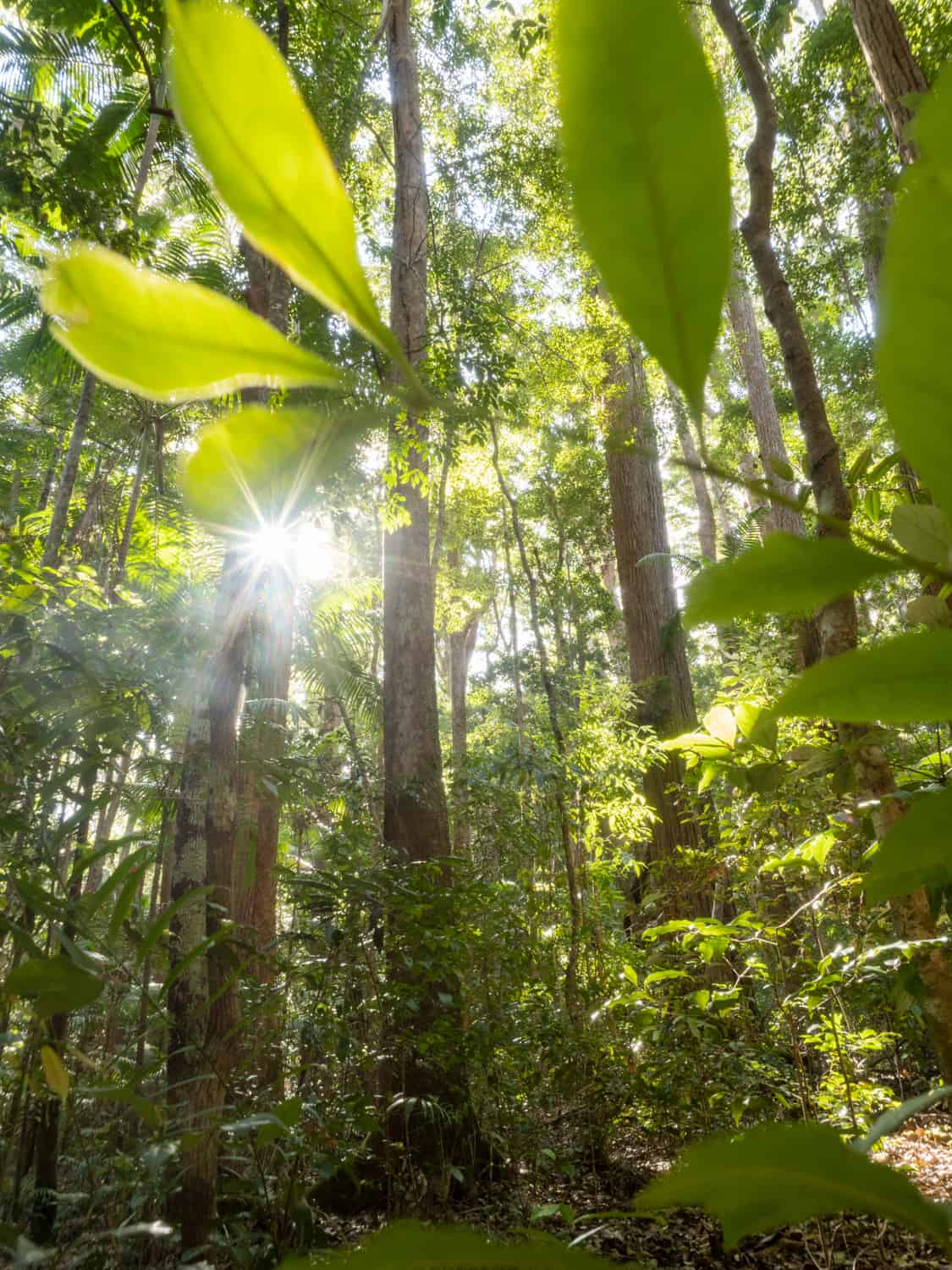 ---
Seventy-Five Mile Beach
Stretching along the eastern shores of K'gari is one of the longest beaches in Australia. It's essentially a 4WD highway in which you're able to travel great distances up and down the island and then take one of the many tracks inward to explore deeper.
While a long stretch of beach may sound like it's going to look the same the entire way along, you'll be surprised to find sections of coffee rock and coastal formations that make various areas unique. On the northern end of the beach there's The Pinnacles and Red Canyon (see next section), and depending on the tides you'll find lots of beach gutters and creek outlets to keep things interesting.
Photography wise you've got plenty to stay occupied. From the waves and water movement through to the plethora of wildlife you may see, it's wise to have your camera ready for those just incase moments. My favourites are the red/orange beaked oyster catchers that tend to be found in pairs (I'm a total romantic) and of course then there's the Dingo. A sight on everyone's wish list is the intriguing Dingo, with Fraser being home to the purest breed of this intelligent species. While they may look like wild dogs, they're closely related to wolves and have some crazy characteristics like being able to spin their head 180 degrees in each direction (almost 360 degrees!), and also rotate their wrists to make opening things, burrowing and hunting more efficient.
Photo Tip – While driving along the beach, give ICM photography a go to blur the coastal blues together. Either slow your shutter speed and use an exposure time of around 1second if the vehicle is moving or spin from left to right if you're standing still. You'll find a more detailed guide on ICM photography here.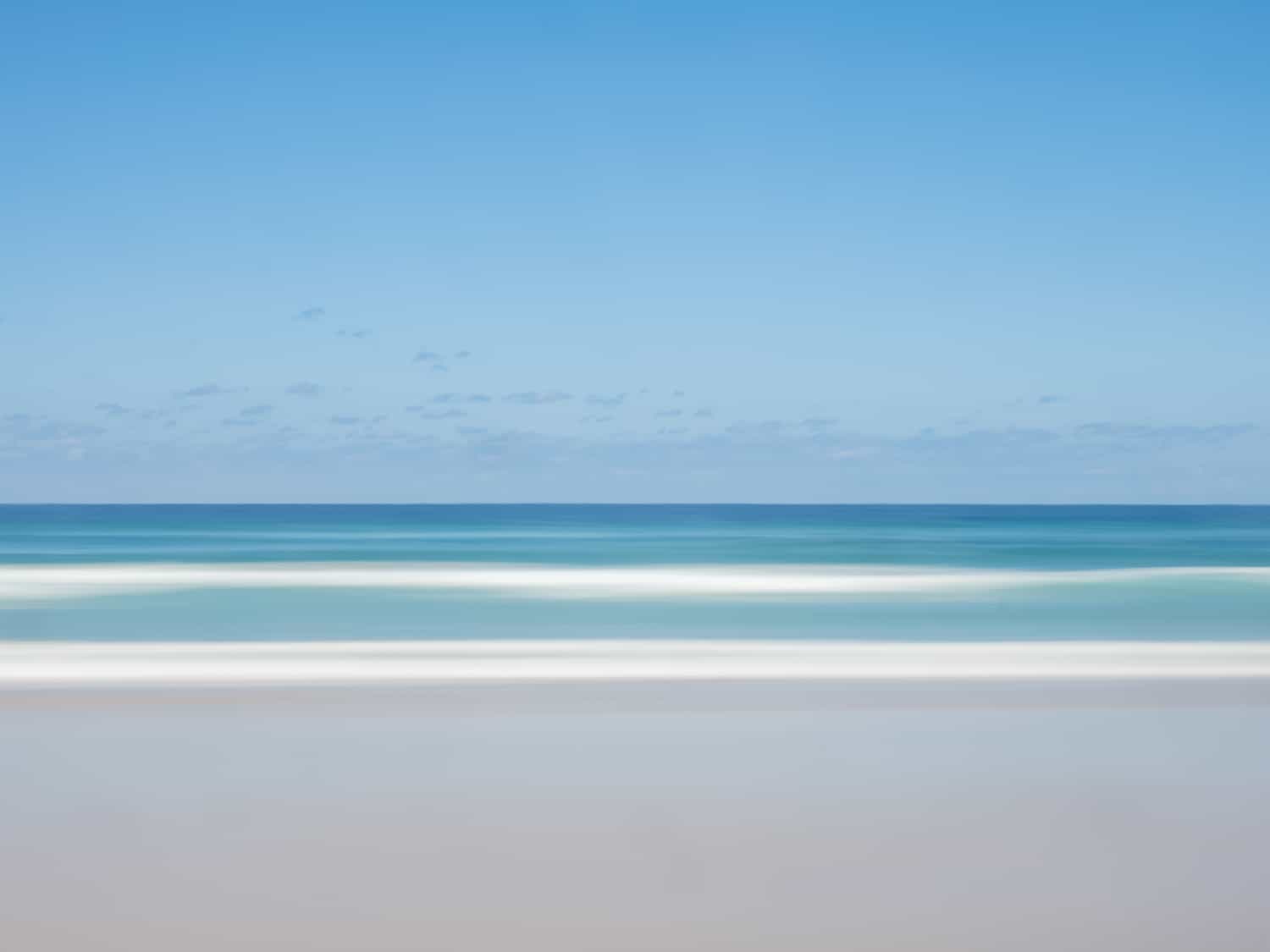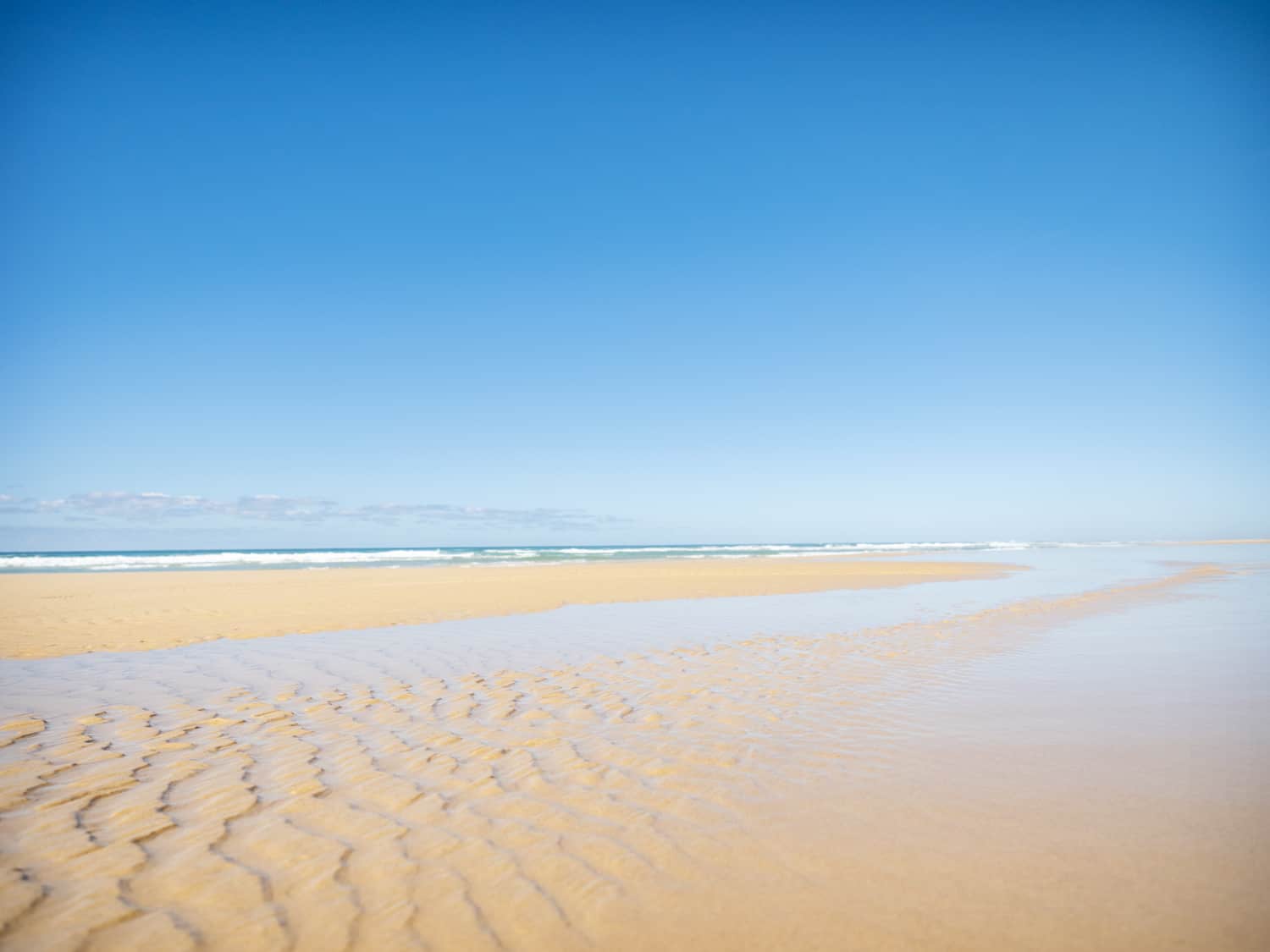 ---
Red Canyon and The Pinnacles (Coloured Sands)
If there's anything I appreciate more than a sandy beach it's a dune or coastline of coloured sands. Formed by a combination of clay, iron-rich minerals and sand, you'll find a few spots on Fraser Island that showcase a rainbow of reds and earthy tones.
Two of the easier to access locations are found along Seventy-Five Mile Beach in the norther section; The Pinnacles and Red Canyon. Formed by erosion and the elements of wind and rain, these locations are worthy of a visit, especially if you have a chance to sit for a while and watch as the changing light moves across the landscape.
I only had a quick visit during the middle of the day on my recent trip so just wanted to capture what the scene looked like however I can only imagine what the colours look like at sunrise/sunset or what an aerial image would look like when combining the nearby sea as a contrasting colour palette. *You're able to fly drones on Fraser Island but always check permissions, ensure you have the training/licence (if applicable) and if any permits are needed in relation to your personal circumstances. Small planes do operate in the area so it's always worth checking with locals and your trusted aerial flight safe app before getting sky high.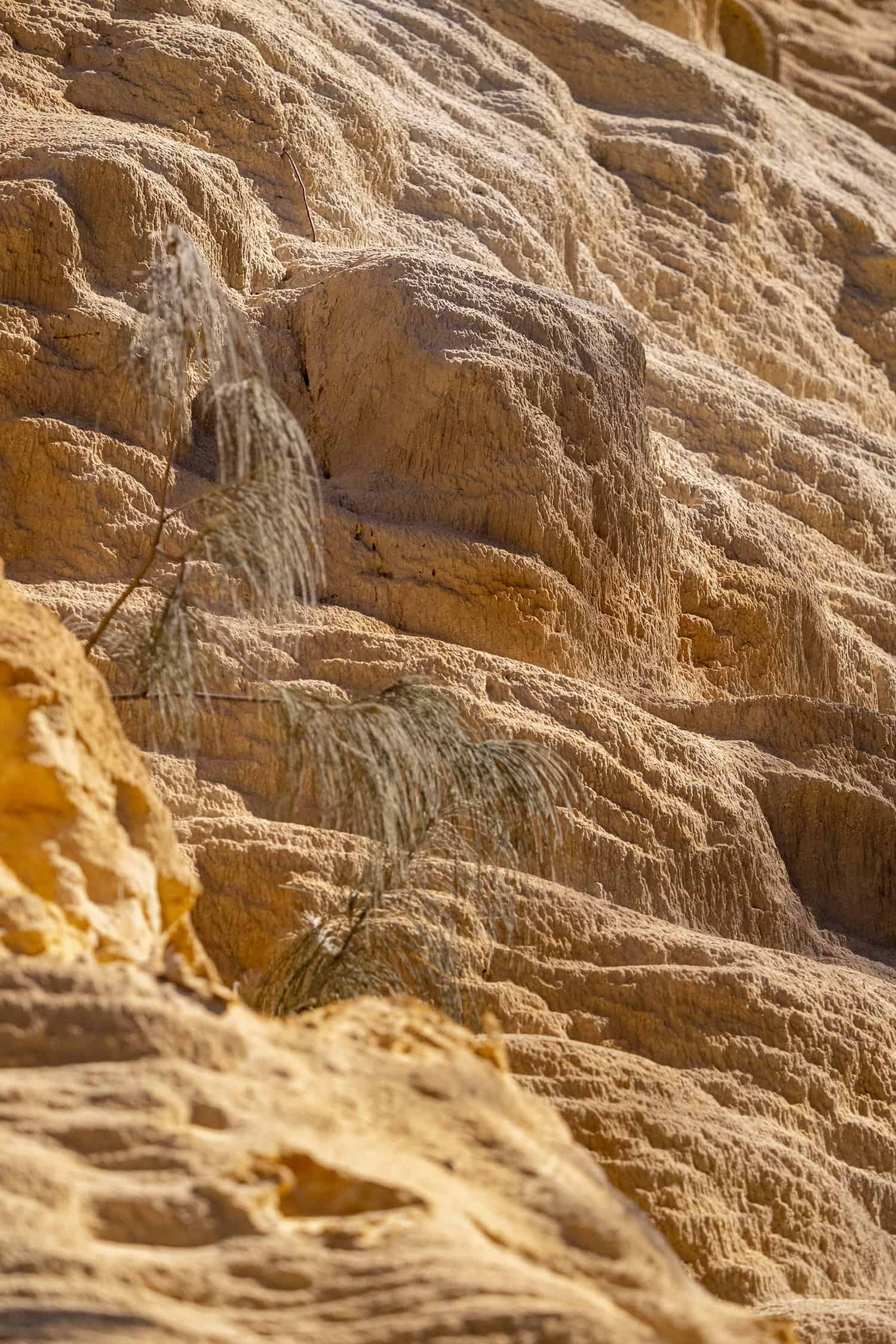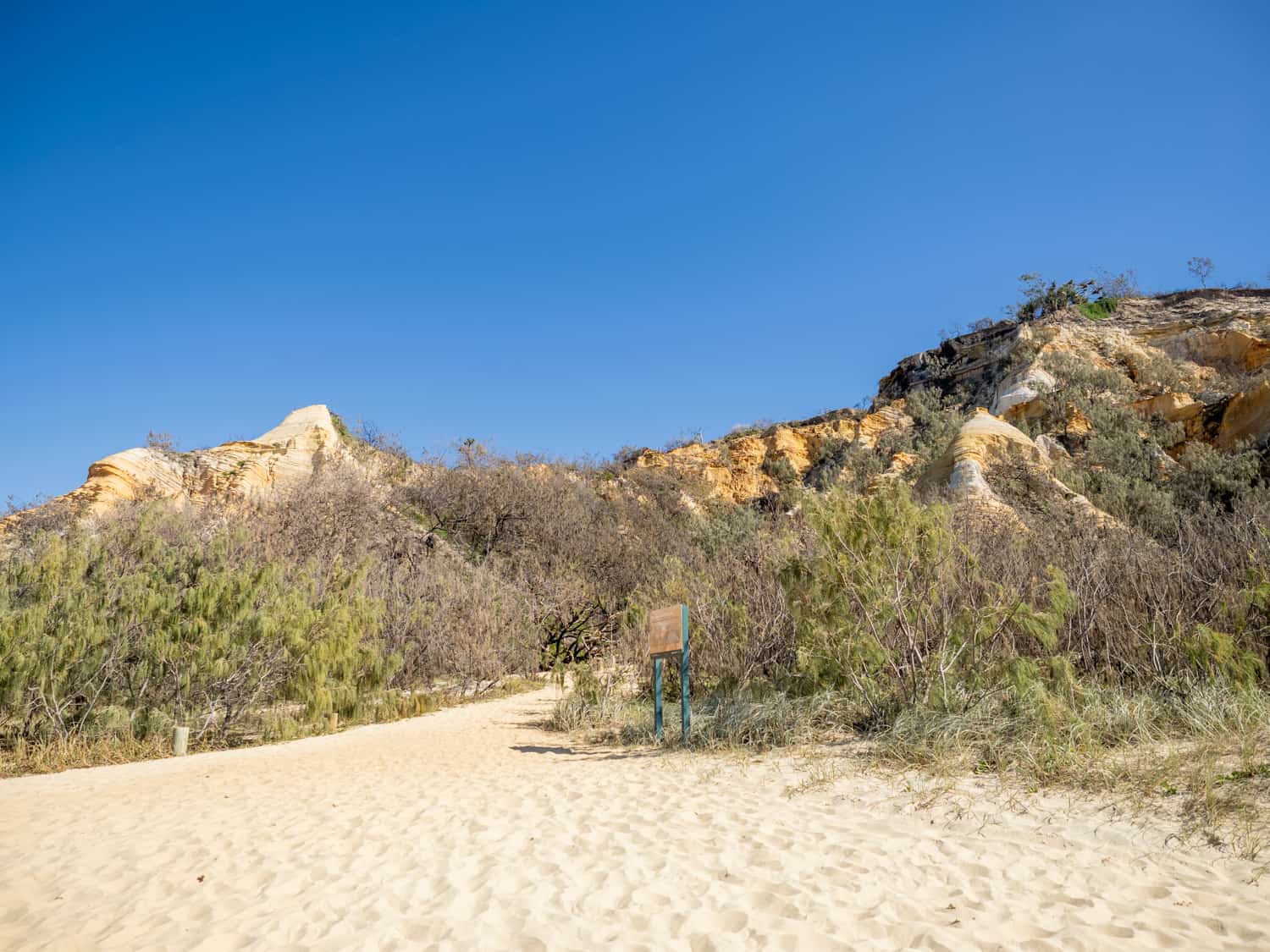 ---
Photograph K'gari From the water
Being out on the water and feeling the movement as you watch the coastline of K'gari is such a relaxing experience. From Kingfisher Bay Resort, you can jump on board the Sea Explorer Sunset Session and soak up golden hour while photographing the surroundings.
The cruise ventures slowly along the coastline of the island, staying relatively close to shore so you can see the sunlight transforming the dunes, trees and sand. While it's weather dependent, due to the resorts location within the Great Sandy Strait, the sea conditions are typically calm so you can enjoy a sunset drink, snack and snap photos at the same time!
Photo tip – Because you're photographing from a moving vessel, ensure your shutter speed is fast enough to avoid any motion blur. You'll need to work with the movement and low light conditions but an ISO of around 200-400 (when the light is still bright) then 800-1000 once it gets darker should be fine.
Whale Watching – If you're staying on the island between the months of May-October you can also venture out on the water for a whale watching cruise. Nothing prepares you for the moment these graceful giants of the sea appear beside the boat and it's one of those once in a lifetime experiences you'll want to have again and again…and again.
When photographing the whales, you'll want to have your camera ready for breaches, tail slaps and spy-hops! Keep your shutter speed fast, have a zoom lens (if possible) or cross your fingers and hope you're one of the many people that gets to witness these beauties up close as they're known to circle boats in the waters around Fraser Island for a closer, curious look.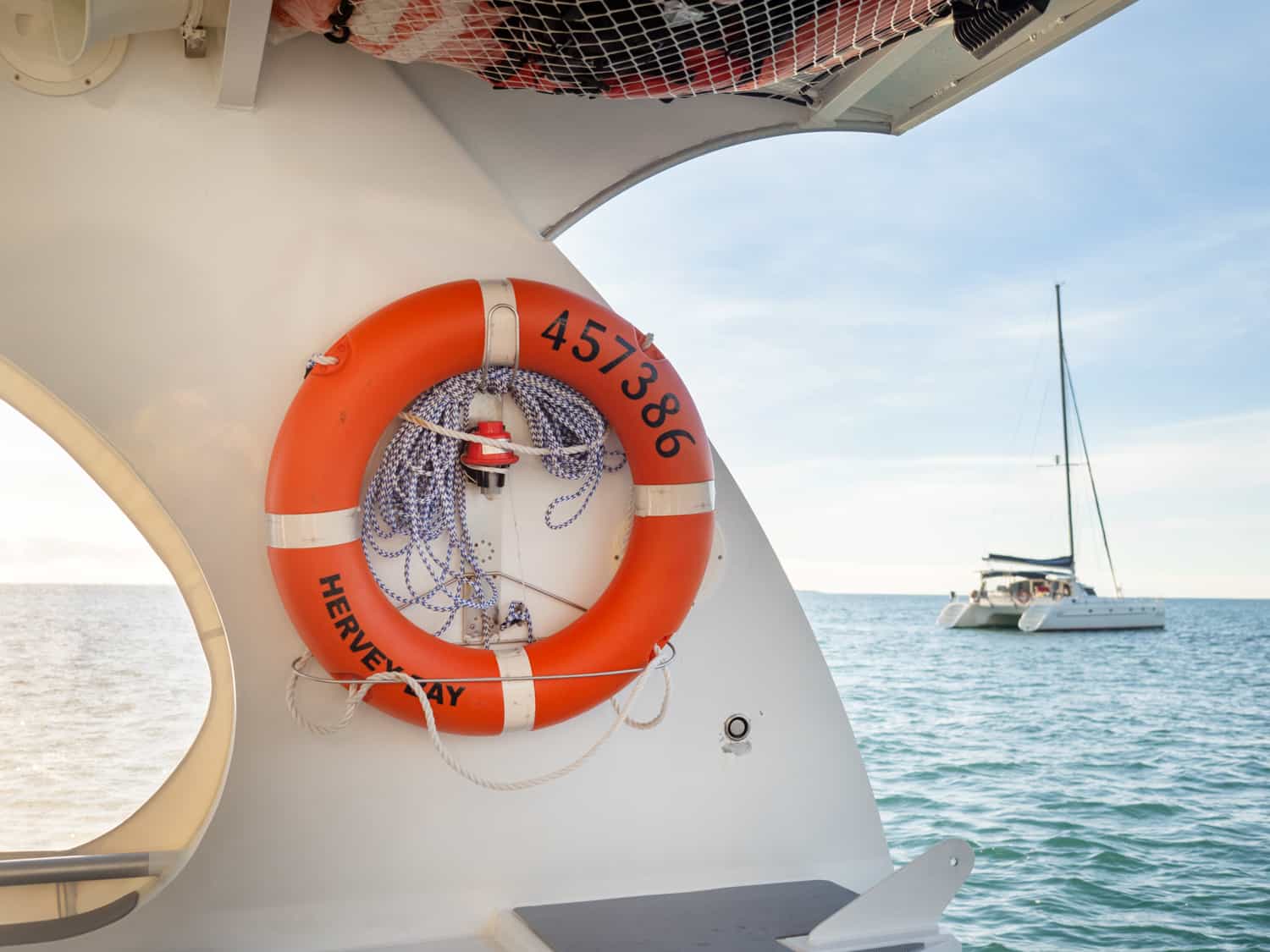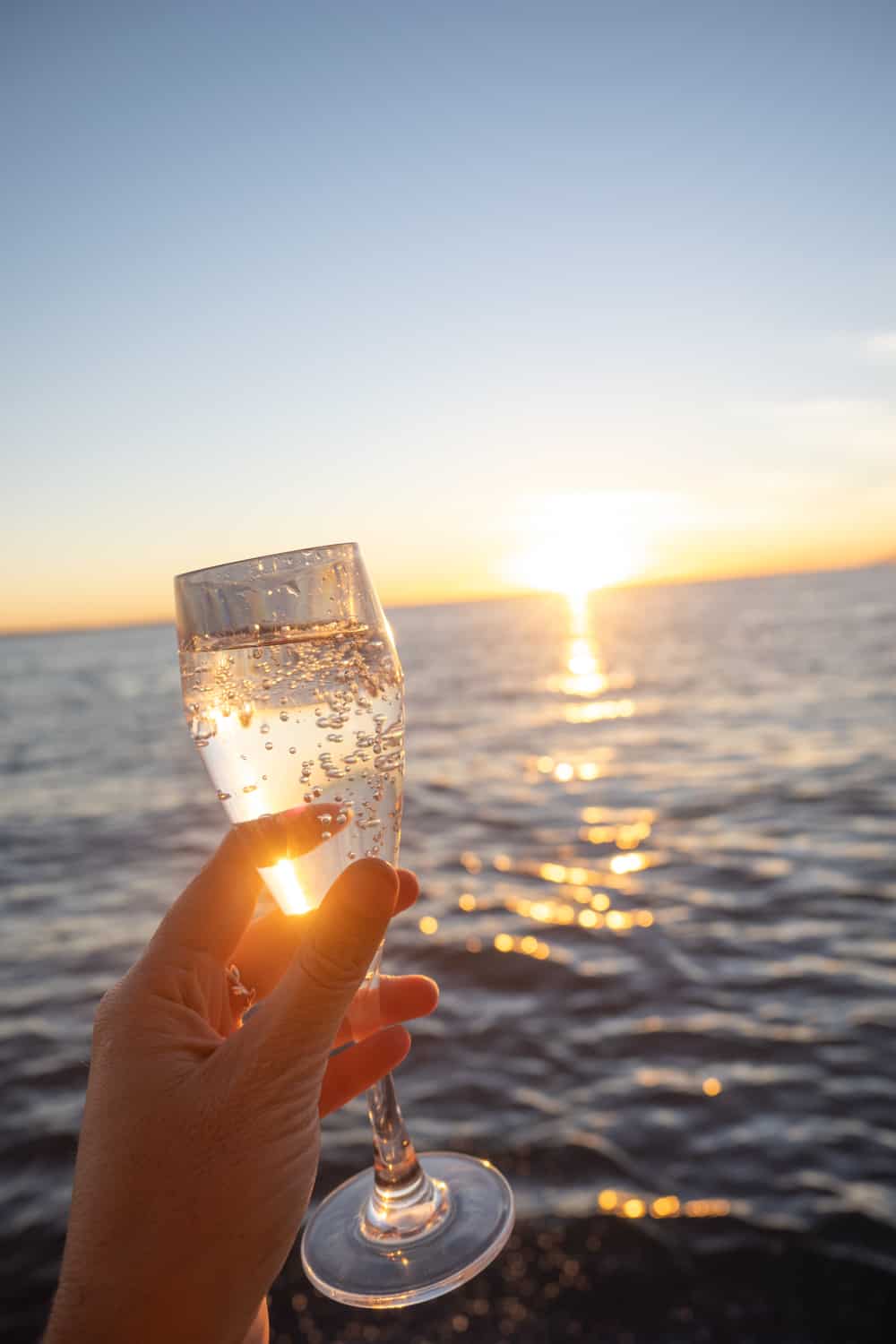 ---
Photograph K'gari from the skies
Did you know it's possible to take off in a plane on a sand runway? I found out the quick way and jumped on board Air Fraser to experience a quick 15minute flight from the eastern beach, flying over Lake McKenzie, dunes and coastline to see the wilderness from above!
Apparently, Fraser is one of only two places in the world, the other being in Scotland, where you can land on the beach in a small plane. Watching as the waves get closer and closer before touchdown is such a surreal experience and seeing K'gari from above is something I highly recommend if you get the chance!
Photo tip – When capturing aerial photos (read the full guide here), you're working with a flat canvas so always look for details you can use within your image composition. Things like contrasting colours, patterns and shadows work well rather than just pointing down at greens or blues that blend together.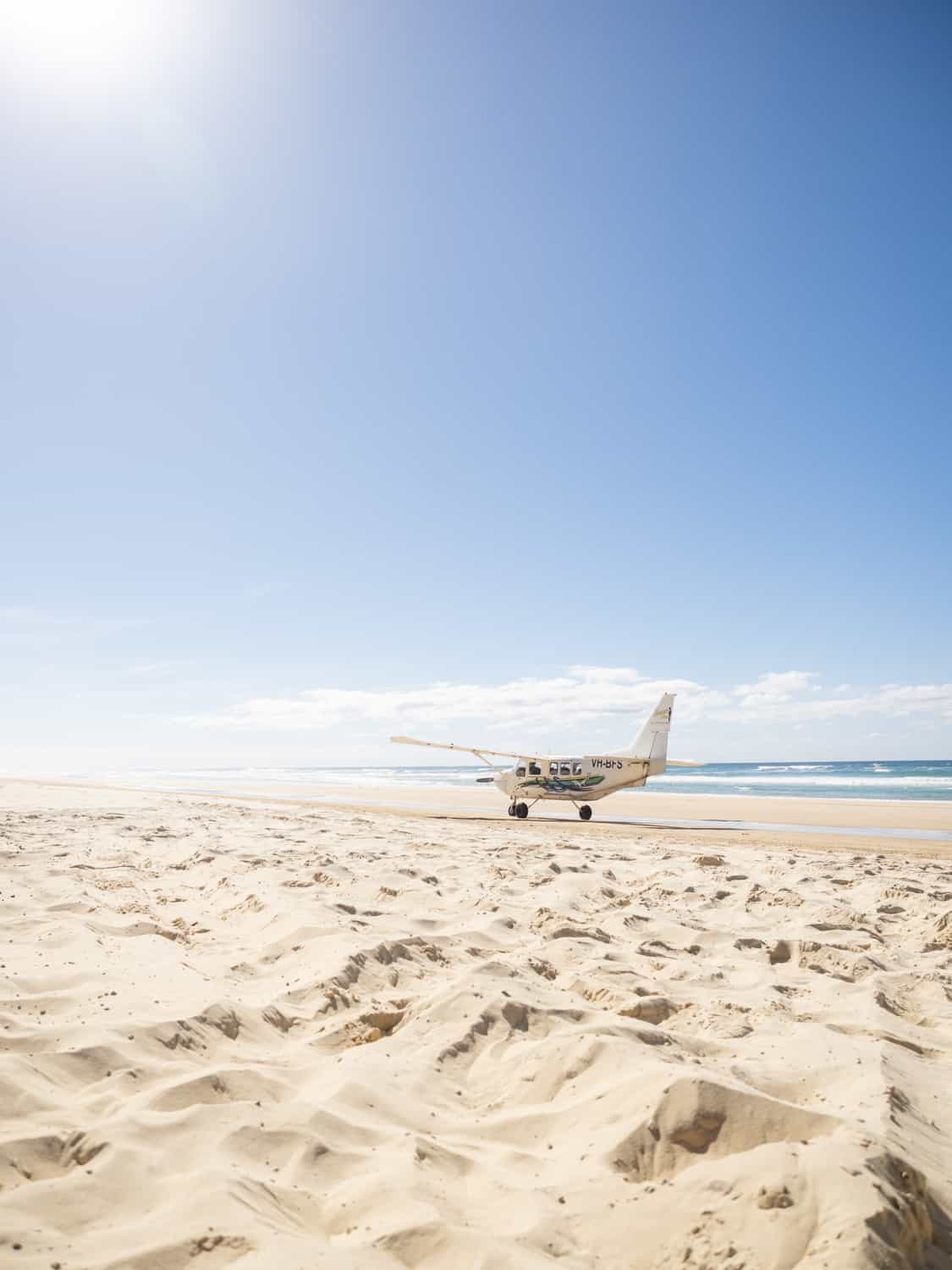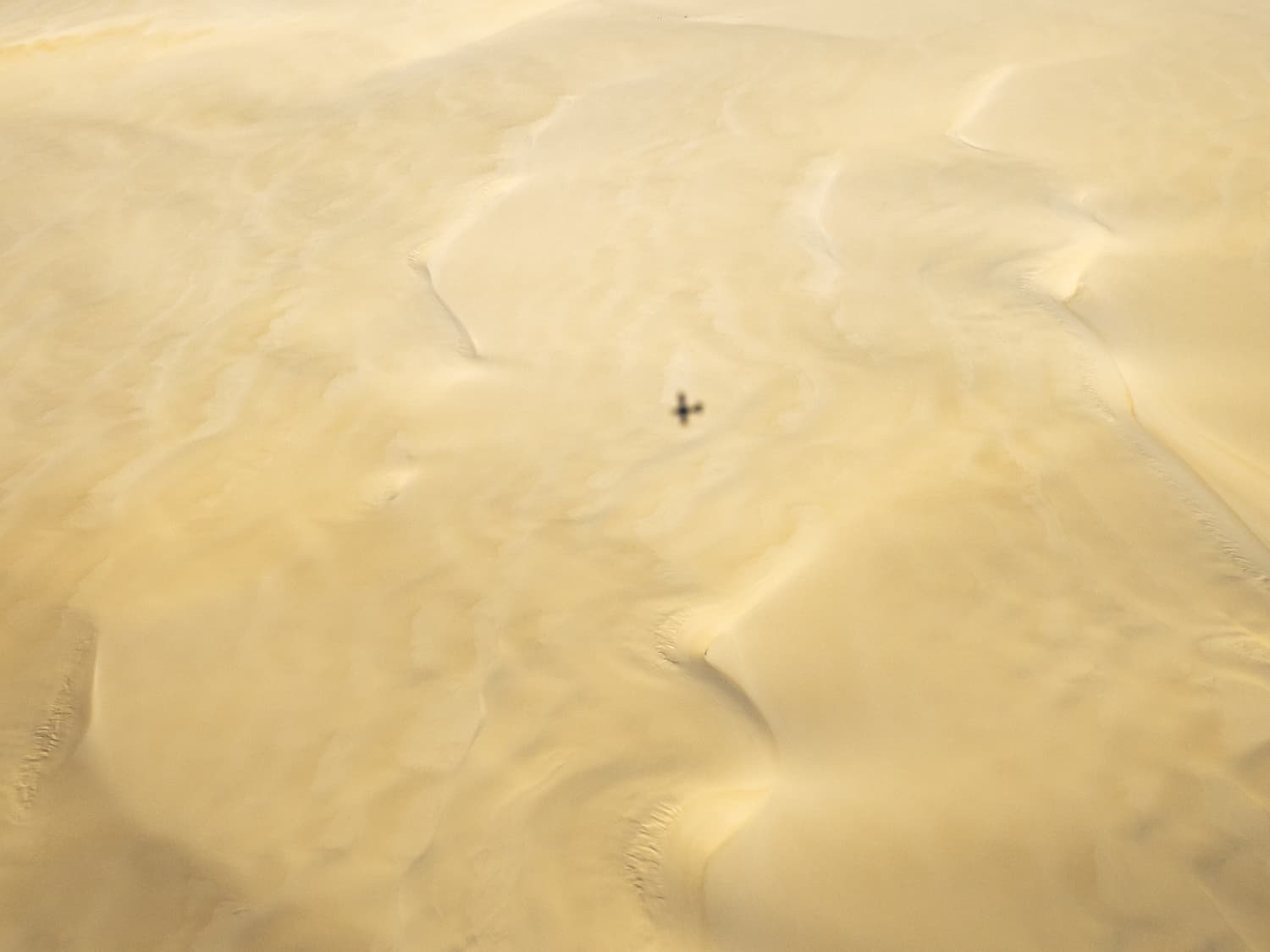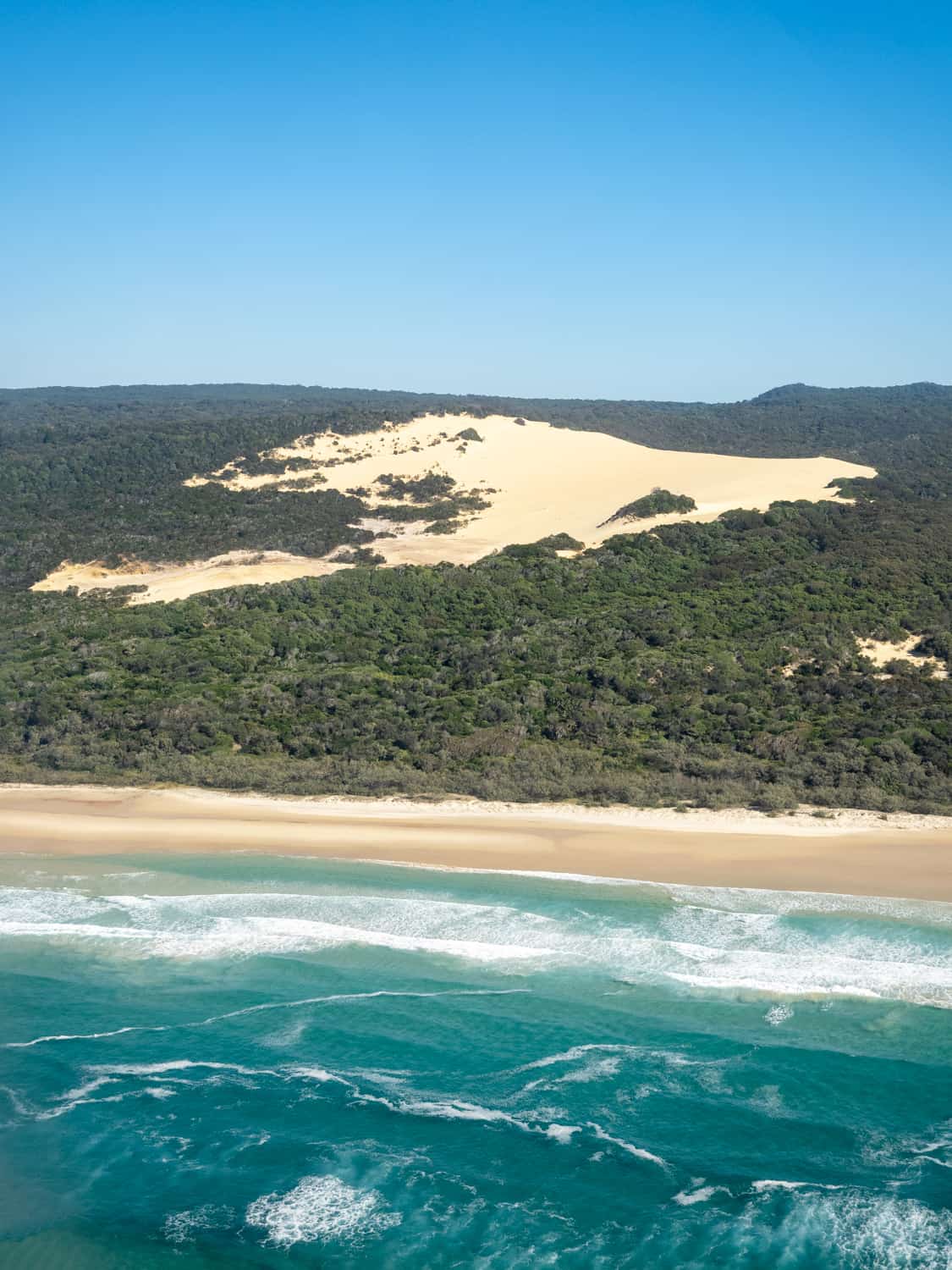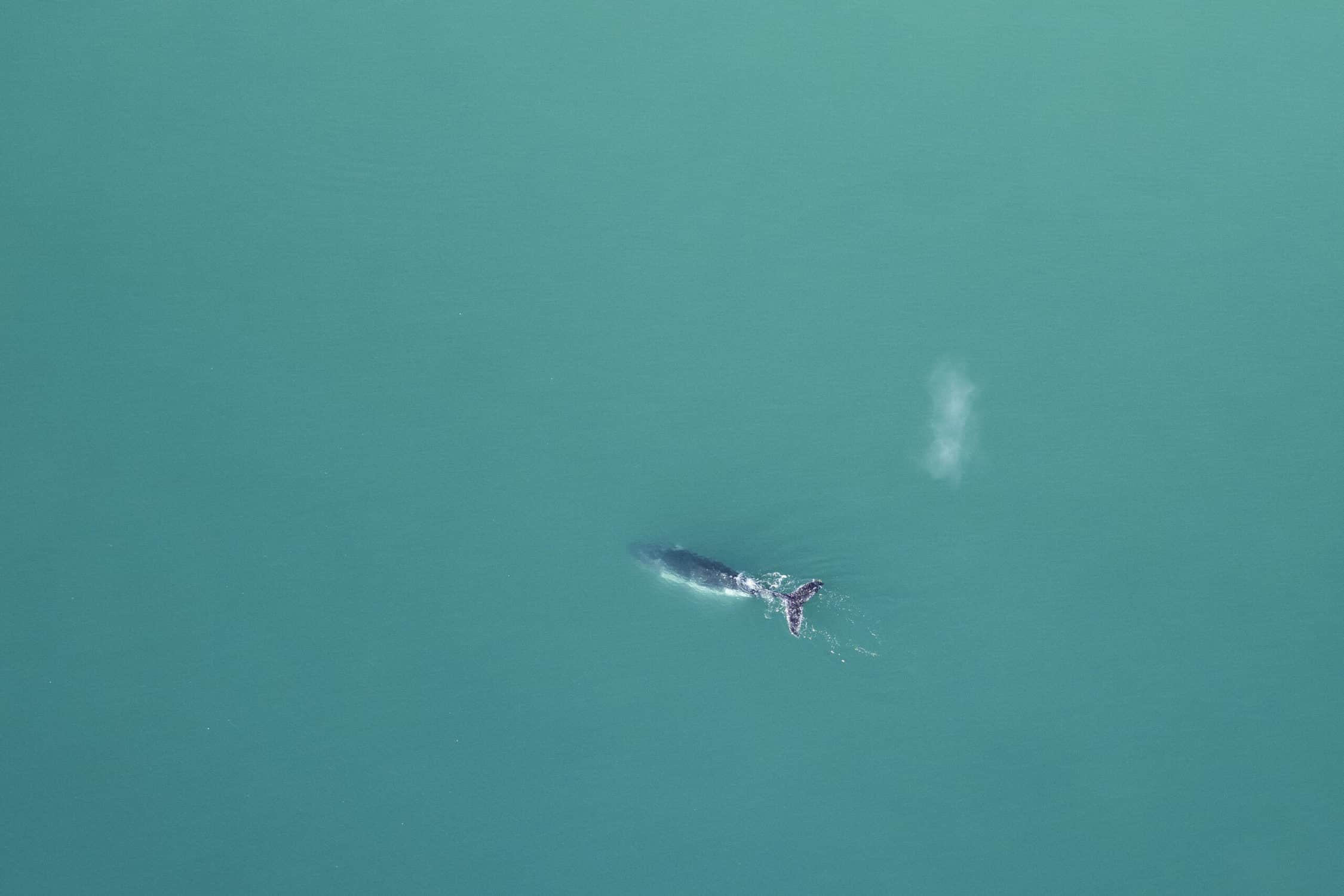 ---
Where to Stay? Kingfisher Bay Resort!

Long time readers of The Wandering Lens will know I only recommend places I believe are great bases for photographers and I can assure you, staying at Kingfisher Bay Resort will be one of the best experiences you have.
Nestled amongst the natural scenery of Fraser Island's western coast, Kingfisher Bay Resort blends seamlessly with its surroundings and offers visitors the chance to have all the luxuries and comforts of a hotel mixed with adventure and outdoor experiences.
There are lagoon like pools for a dip, nature trails, a general store, spa and three restaurants, one of which I visited each night because it was the best meal I'd had in such a long time! I can't recommend the Vegetable Pakoras Herb Crusted Barramundi and from Sand + Wood highly enough…and I'm not even a foodie!
In terms of accommodation there are a variety of room styles to choose from. I stayed in a King Bay Resort Room (B Wing) which overlooked the stunning natural ponds toward the water. If you're looking for a larger space, there are villas and wilderness lodges to check out too. My stay was hosted but as always, I only recommend and share what I love.
Getting there: To get to the resort you can book a transfer ticket and jump on the ferry from River Heads on the mainland, just a 20minute drive from Hervey Bay. The check-in process is nice and easy with secure parking available throughout your stay beside the mainland office or alternatively, you can drive your 4WD over and explore the island while having a comfy base. Ferry times change throughout the year but typically there are three daily sailing times to choose from depending on your arrival and departure schedule. It takes between 45-60mins to cross and along the way there's plenty of time to sit outside and watch the scenery go by.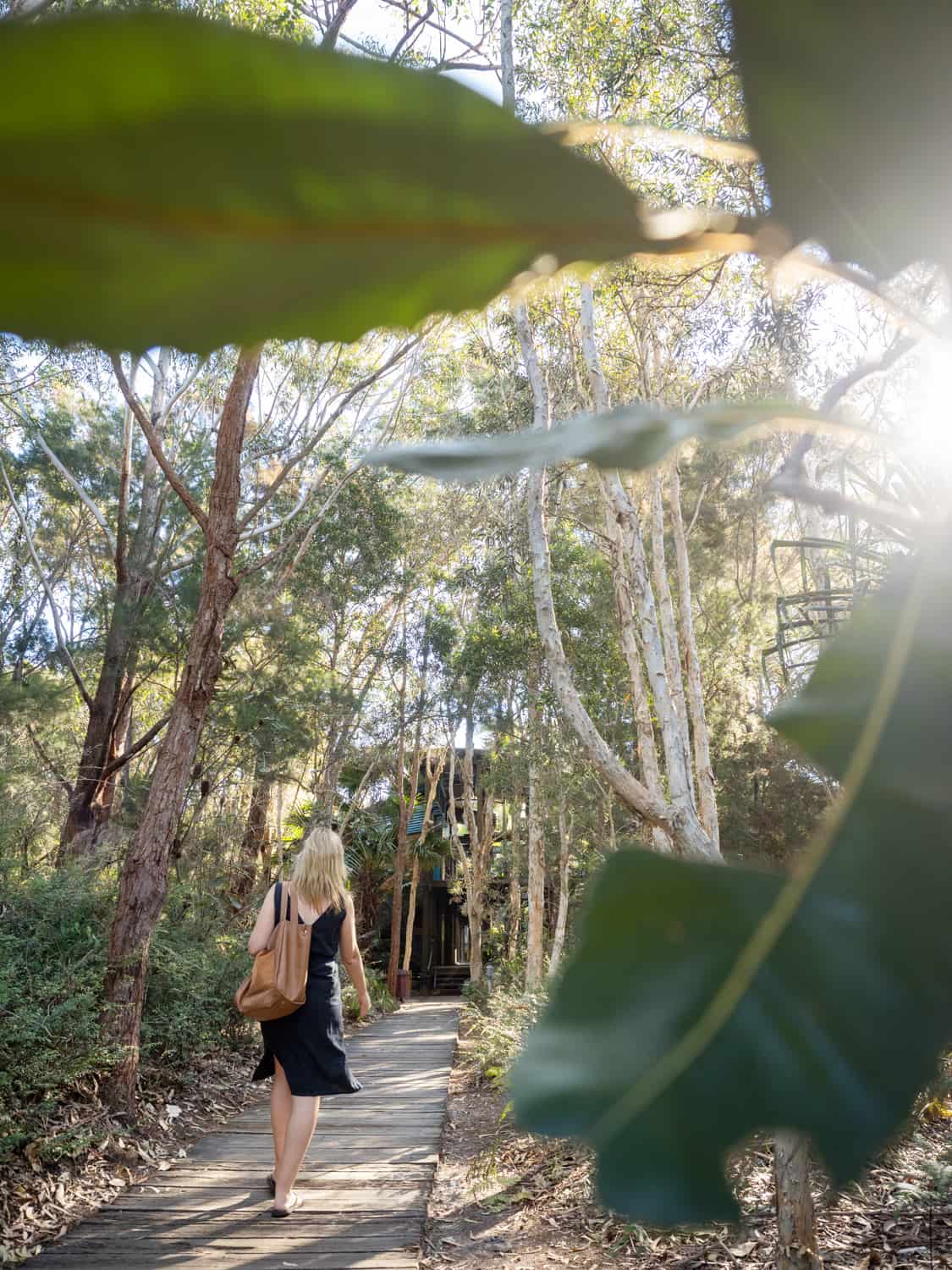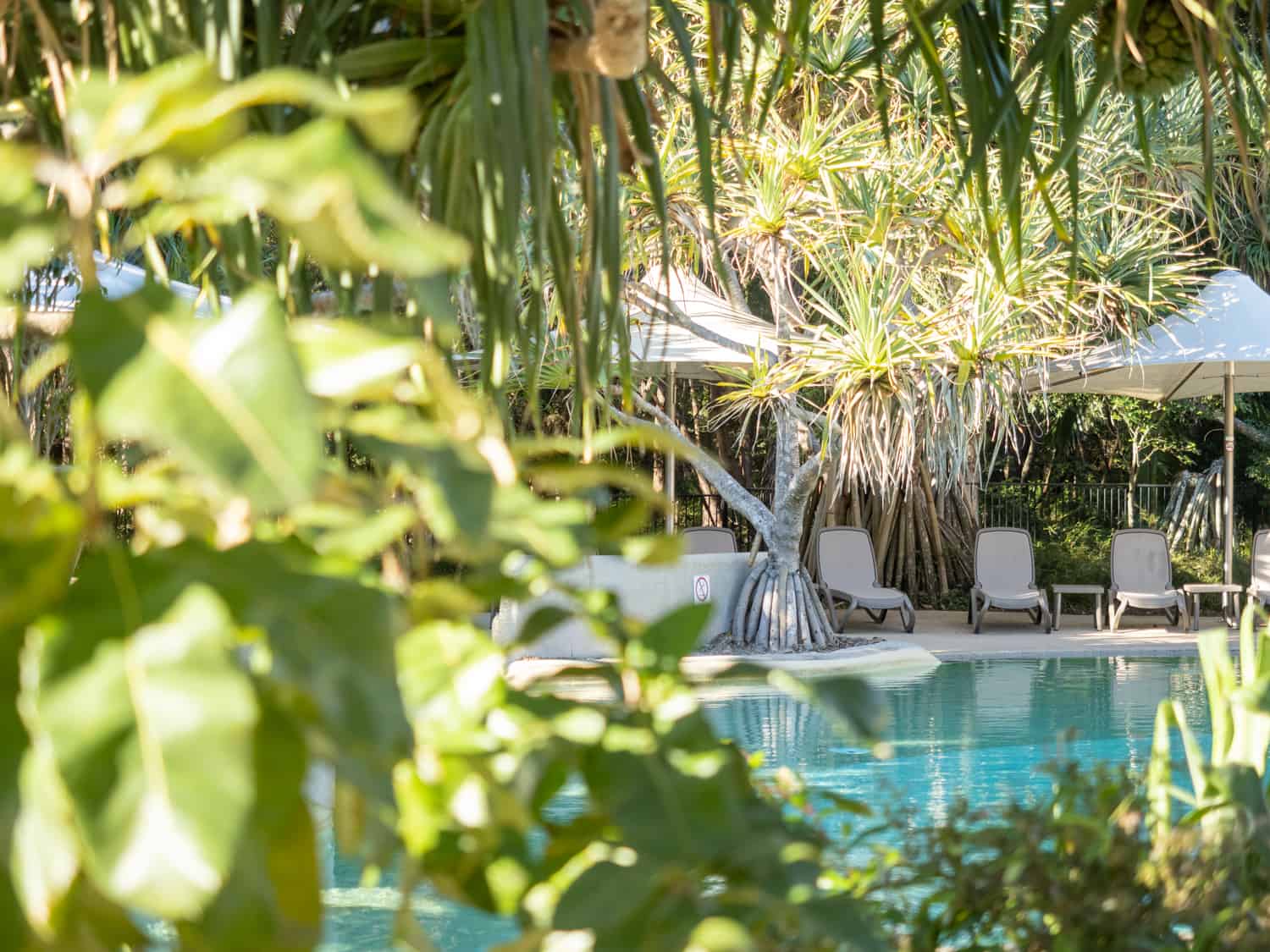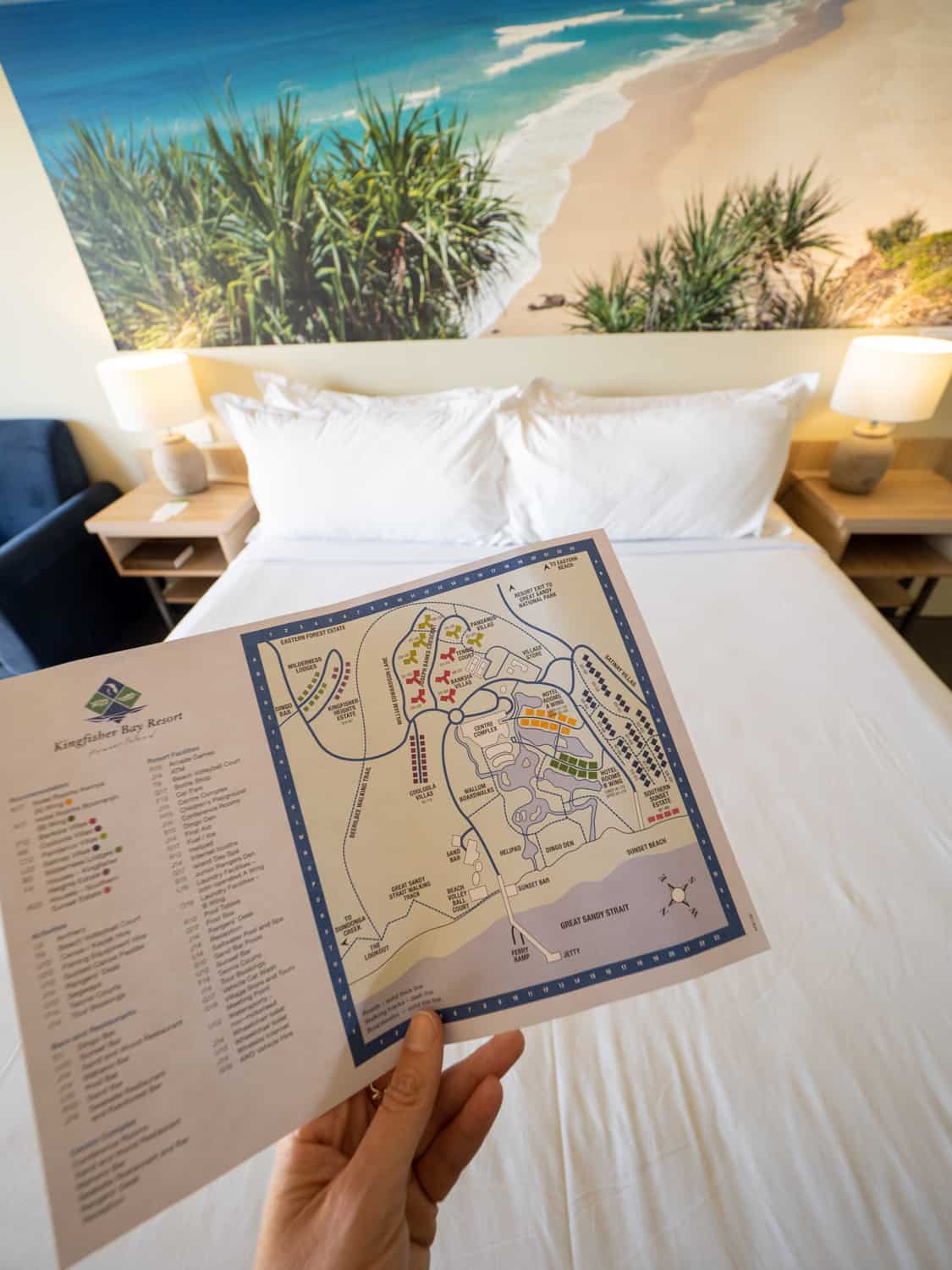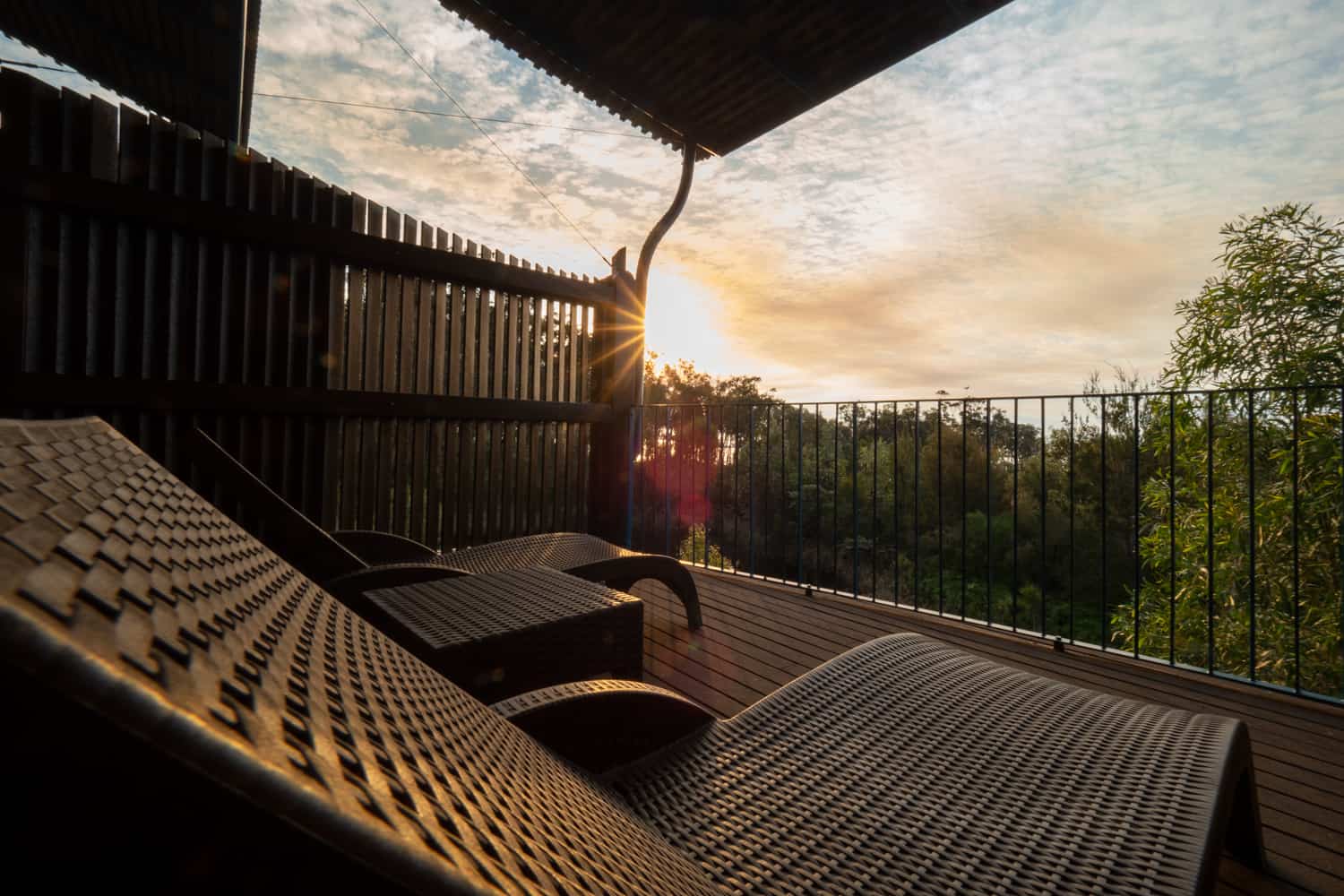 ---
Additional Island Locations –
As I wasn't able to cover the entire island during my stay, this guide isn't a complete coverage of the locations available on K'gari but if you have the chance to stay longer or explore with your own 4WD you'll find additional information of spots to visit on the Kingfisher Bay website or via the National Parks and Wildlife website. Lake Wabby, Indian Head (the eastern most point) and Champagne Pools are just three of many spots I'll be aiming to visit on my next trip!
Here's a Google map of the spots mentioned within this guide plus the extras I believe would be worth visiting!
When photographing in national parks and pristine environments like Fraser Island, it's always important to only leave footprints behind and respect the landscapes you're exploring.
Have you been to Fraser Island and have a favourite spot to add to the list? Share it in the comments below!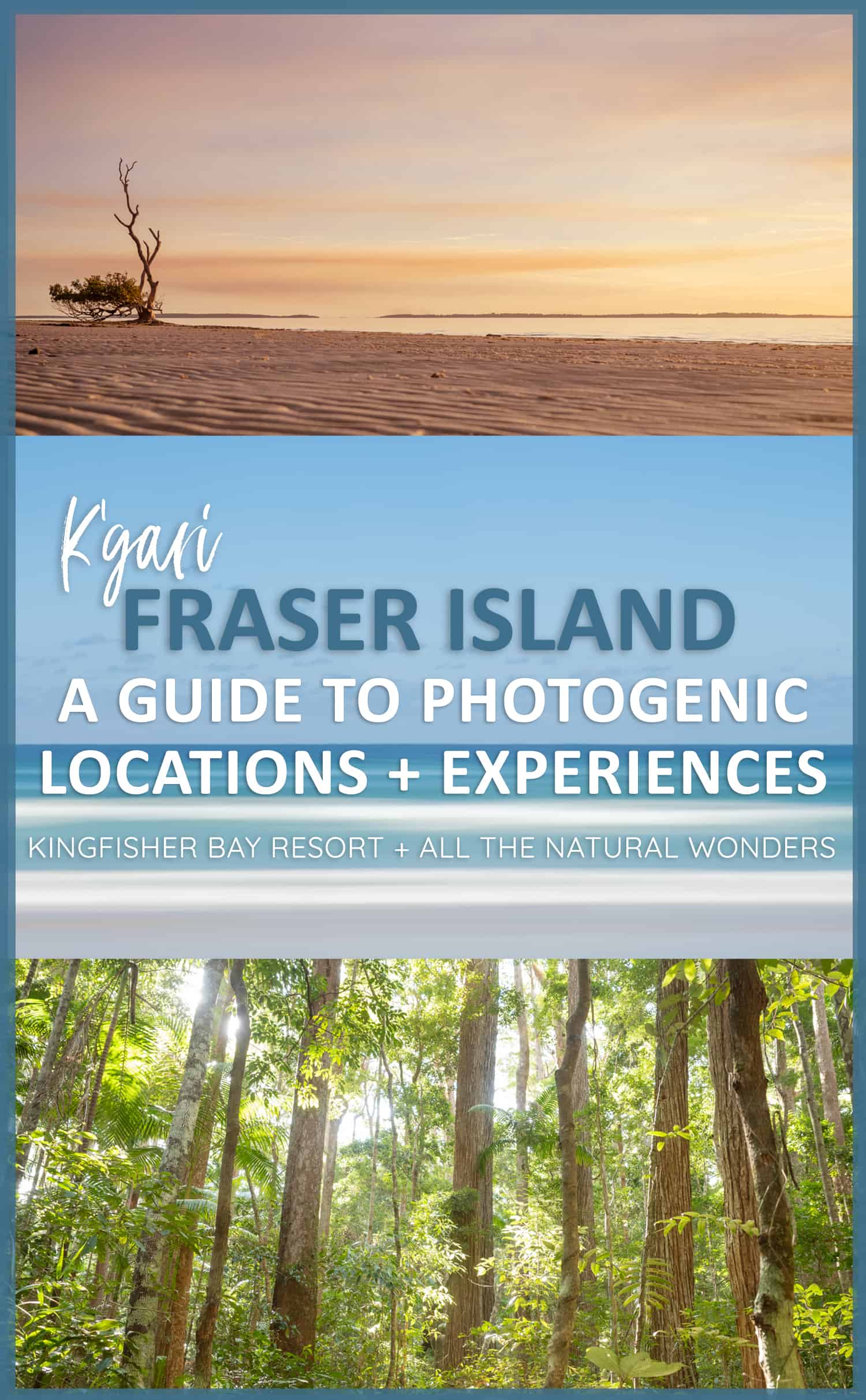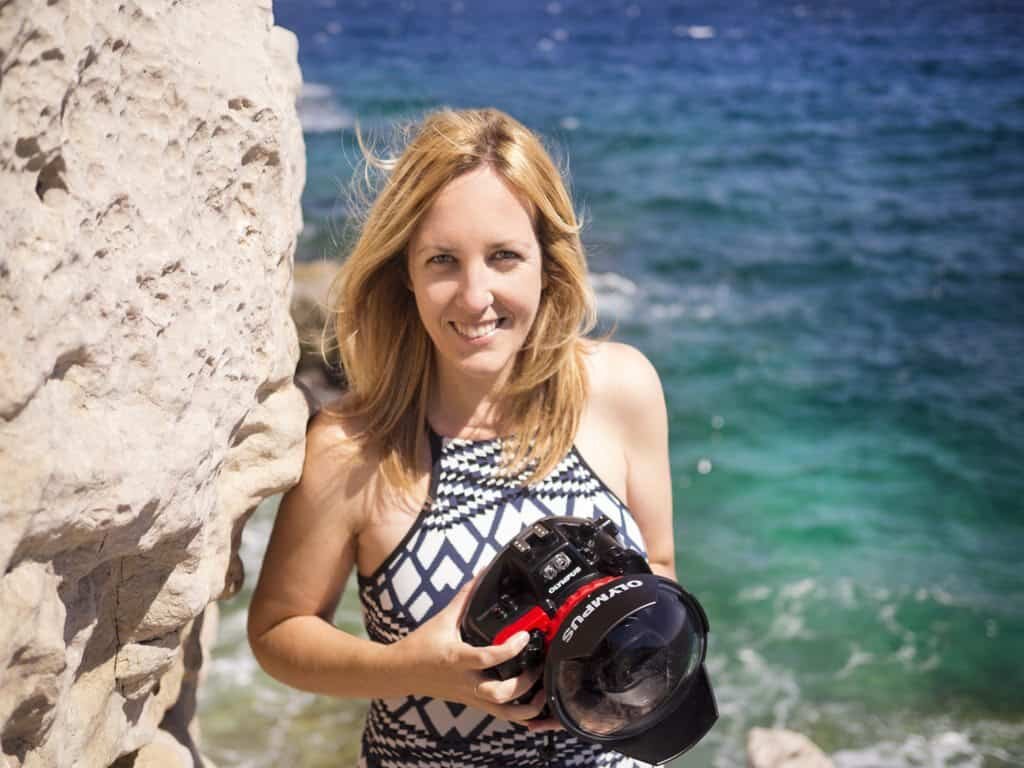 Hello! I'm the founder and photographer behind The Wandering Lens.
With 17+yrs experience as a professional travel and landscape photographer, all advice found on this site is from my personal experience on the road. I hope it's useful for your own travels and would love to hear in the comments about your trips and experiences around the world.