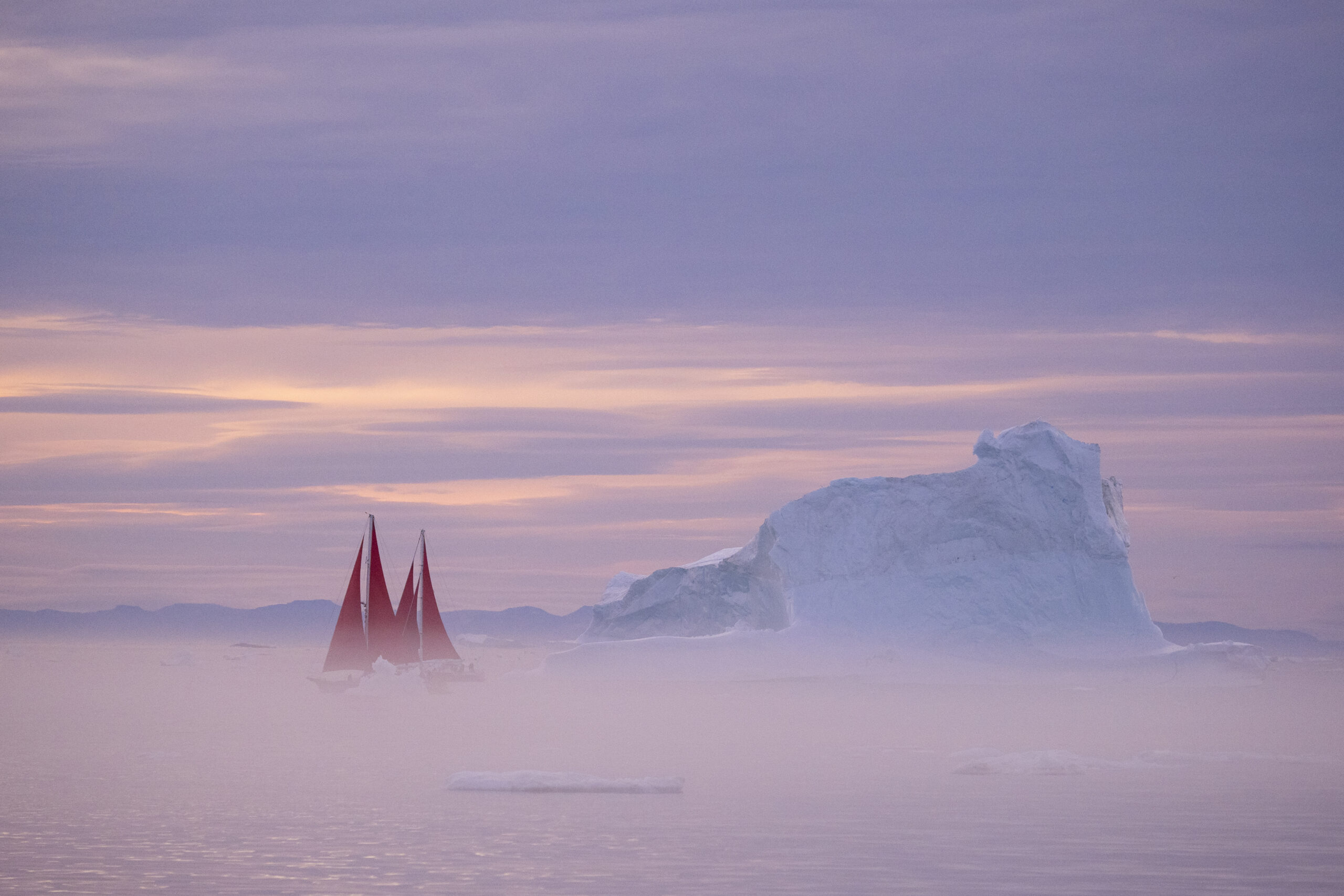 Photographing in Greenland – What to Pack
Endless hours of sunshine shimmer along the coastline of Ilulissat in the summer months. A land of climatic extremes,historic adventures and a culture that's as fascinating as it is friendly, Greenland is quickly becoming somewhere photographers are flocking too.
The frozen wonders of glaciers and icebergs meet humpback whales and arctic foxes with vibrant villages making up the trifecta of photogenic delights.
Icebergs over 50m in height drift into the northern waters of The Atlantic Ocean, providing not only an epic sight to see, but to photograph.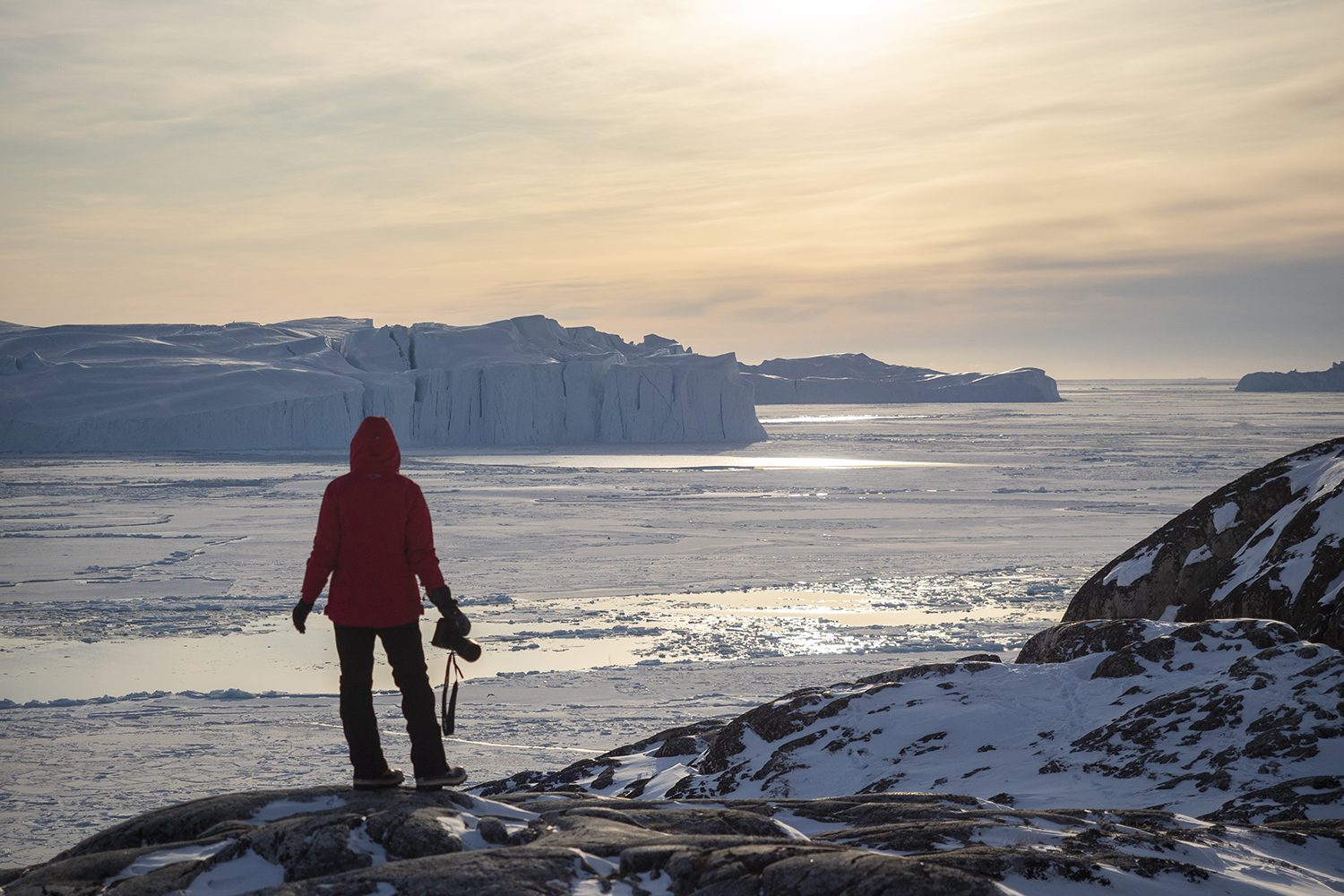 Still relatively remote, Greenland requires a well planned trip to ensure success with your images. There are of course very distinct differences in seasons so it's essential to research the type of images you're after and plan ahead with plenty of wriggle room to account for weather related delays.
The winter months offer a chance to photograph aurora over the snow covered scenery, see the Greenlandic Sled Dogs in action and even sleep in an igloo. There will also be a considerable amount of darkness over the winter months, with polar night meaning the sun doesn't rise above the horizon from a certain latitude.
Read more – The Photographer's Guide to Ilulissat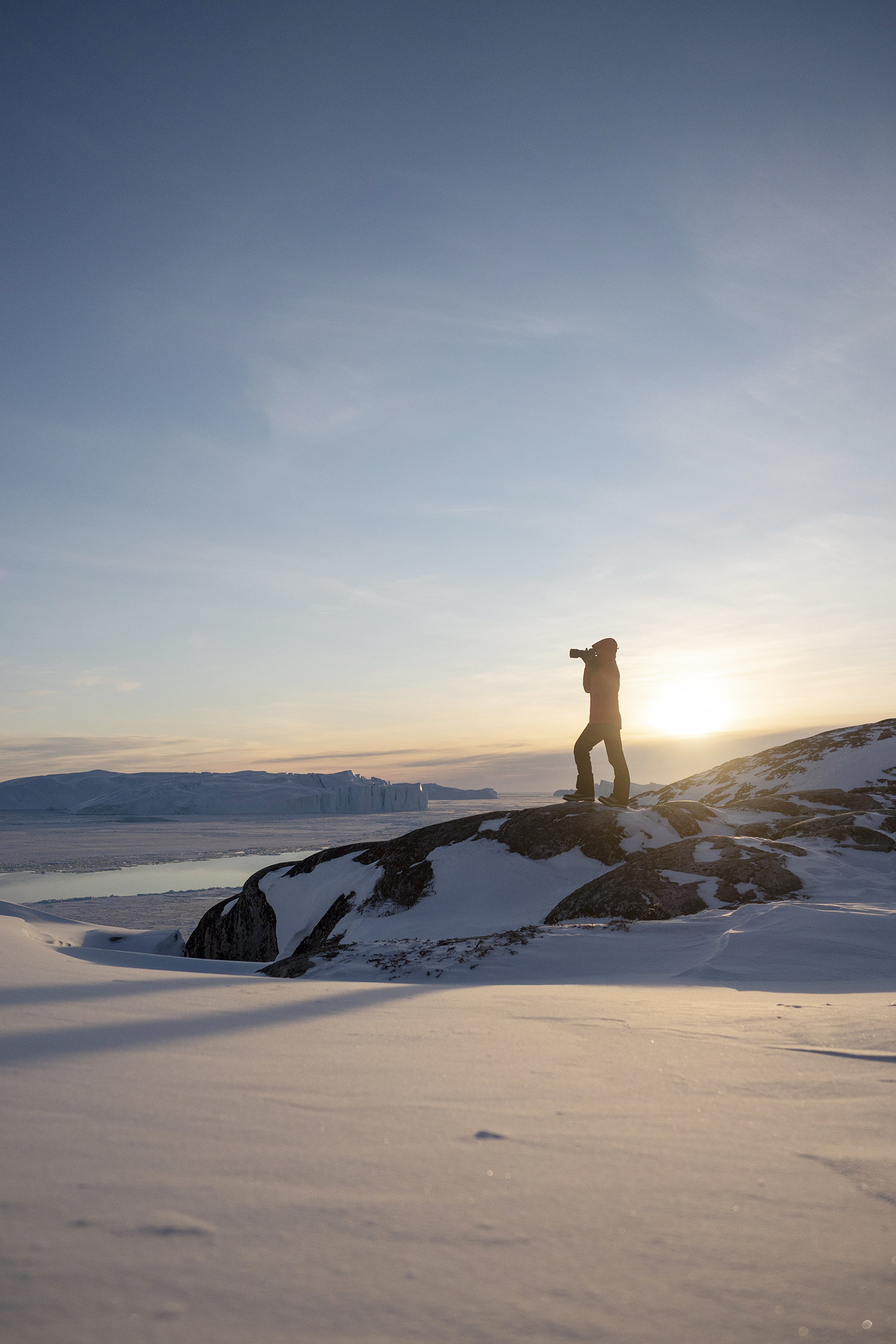 Alternatively, the summer months mean 24hr sunlight, a phenomenon that I highly recommend experiencing at least once in your life! Long days offer the opportunity to hike vast distances, traversing alongside the Ilulissat Icefjord and soaking up not only the landscape, but sounds of spouting whales and crackling ice.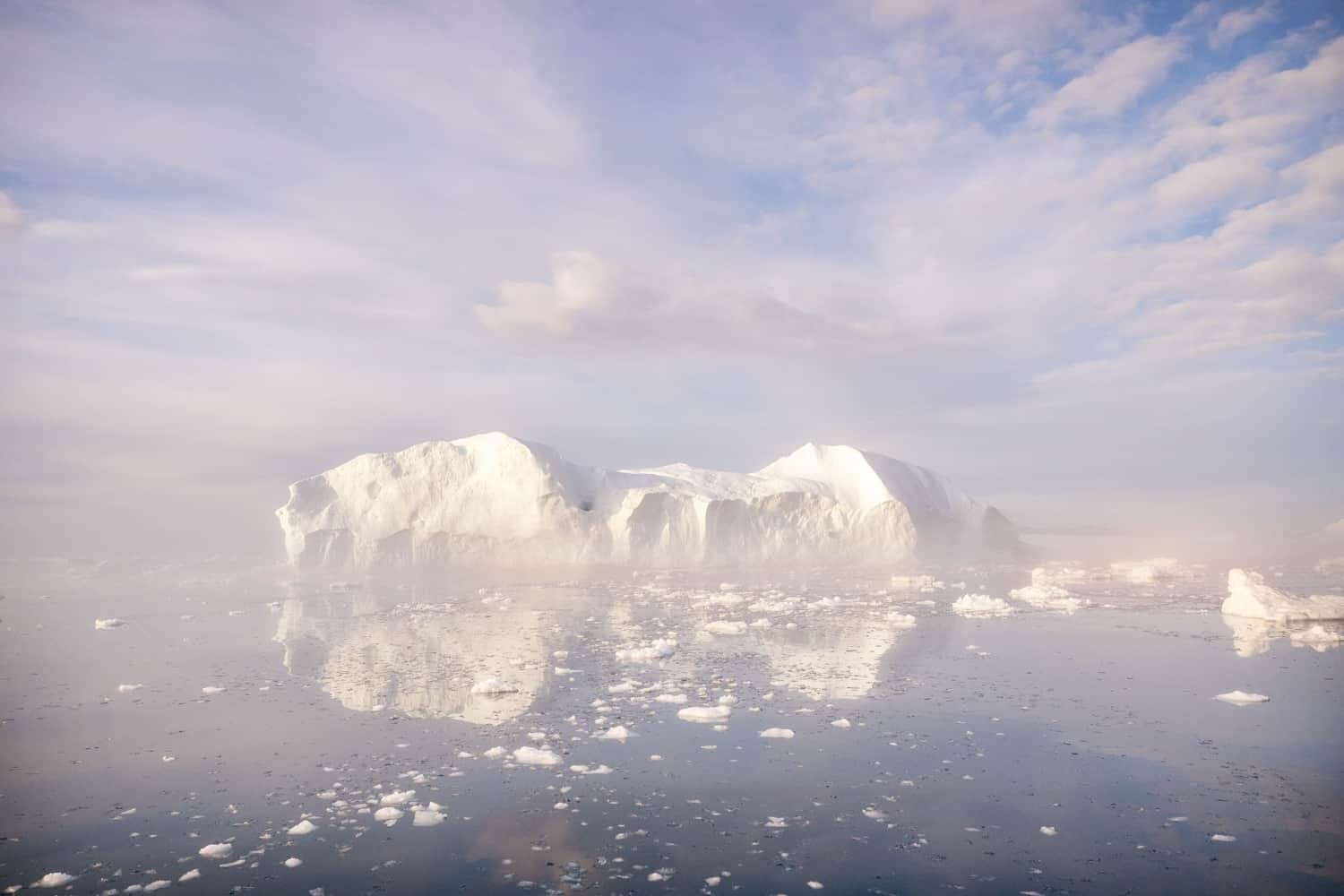 Due to the smaller aircraft servicing most destinations, luggage can be very restricted on flights to Greenland, and it's this fact that can dampen a photo trip if you're unaware. Because the OM SYSTEM gear is so lightweight and travel friendly, I was still able to visit Greenland and take all of my essential equipment. Air Iceland Connect (now merged with Icelandair) for example has a carry on weight limit of 6kg however you can have a camera slung over your shoulder which then meant the following came with me on board…
Cameras for Greenland
M.Zuiko 7-14mm f2.8 pro lens
M.Zuiko 12-40mm f2.8 pro lens
M.Zuiko 40-150mm f2.8 pro lens
MC20 2x Teleconverter+ batteries, charger,memory cards and of course snacks.
(see what's in my bag)
*Please note should I be going again tomorrow, I would be travelling with the OM-1 and E-M1 MKIII due to the new bodies being released.
The above gear provides the ideal range of focal lengths to shoot landscapes, wildlife and general travel shots while still keeping in check with airline restrictions and keeping your kit light for hiking.
It's important to mention that you can fly via Copenhagen with Air Greenland which has a higher cabin luggage limit of 8kg (see limits here), however depending on your final destination in Greenland, you may be required to board a much smaller plane and therefore have reduced luggage allowances. Always check with your airline and check for the entire route to avoid having to check in your camera gear!
Also, as of March 16th, 2023, Air Iceland Connect will operate as one with Icelandair, for all flight details check the Icelandair website. Just to note, they state the cabin baggage limit of 6kg remains.
Below are a series of images that were captured with the equipment mentioned. You'll find settings, a short story and gear info noted.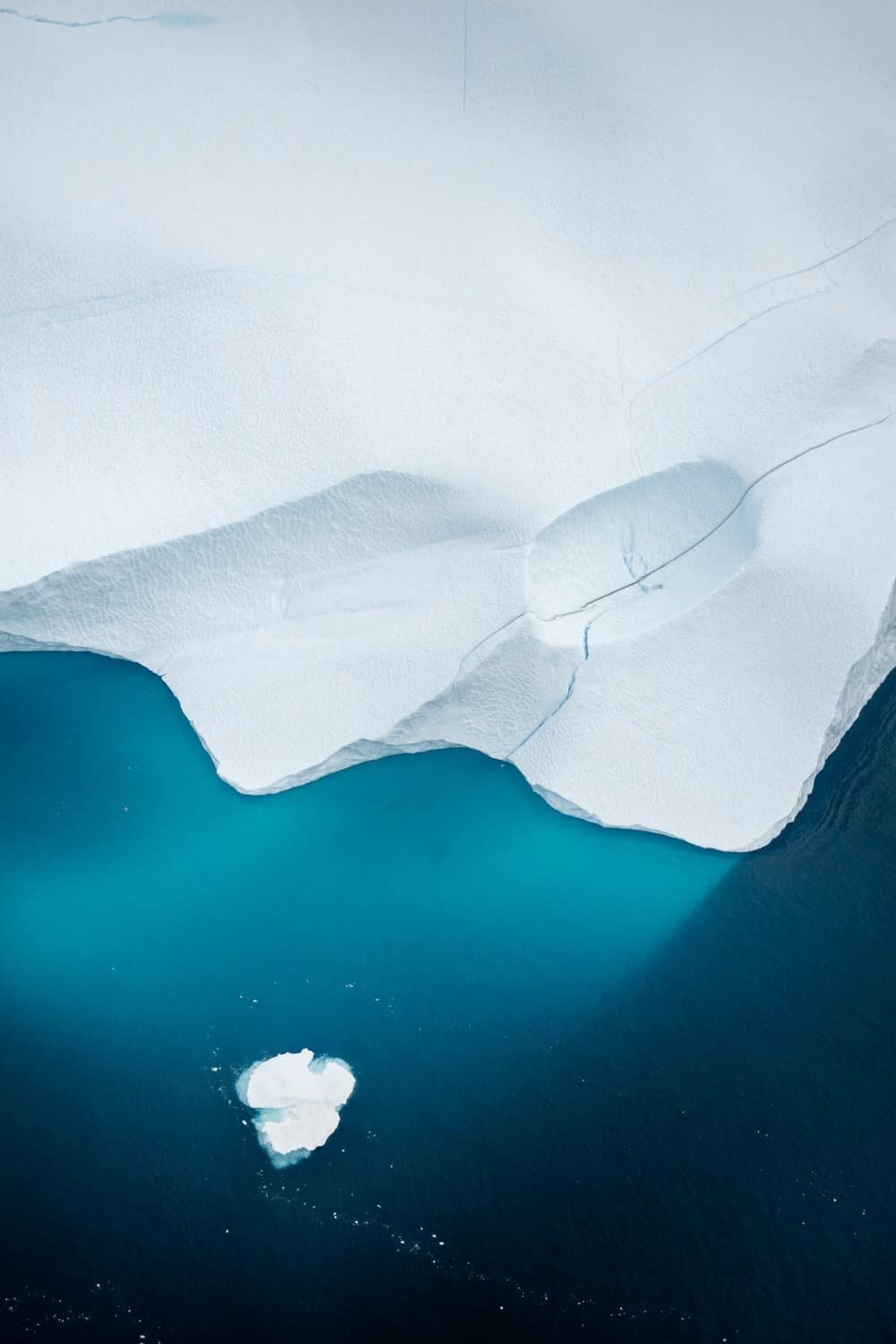 Image #1 –Ilulissat Icefjord E-M1X + 12-40mm f2.8 M.Zuiko Lens ISO 200 | 1/8000sec | f2.8 Taken from the window of a small plane while flying over the Icefjord where over 55km of ice is banked up waiting for it's journey out into Disko Bay. This image shows the final area known as the 'Ice Bank', where large icebergs are grounded and once warmer currents flow beneath them, they'll break up and drift out to sea.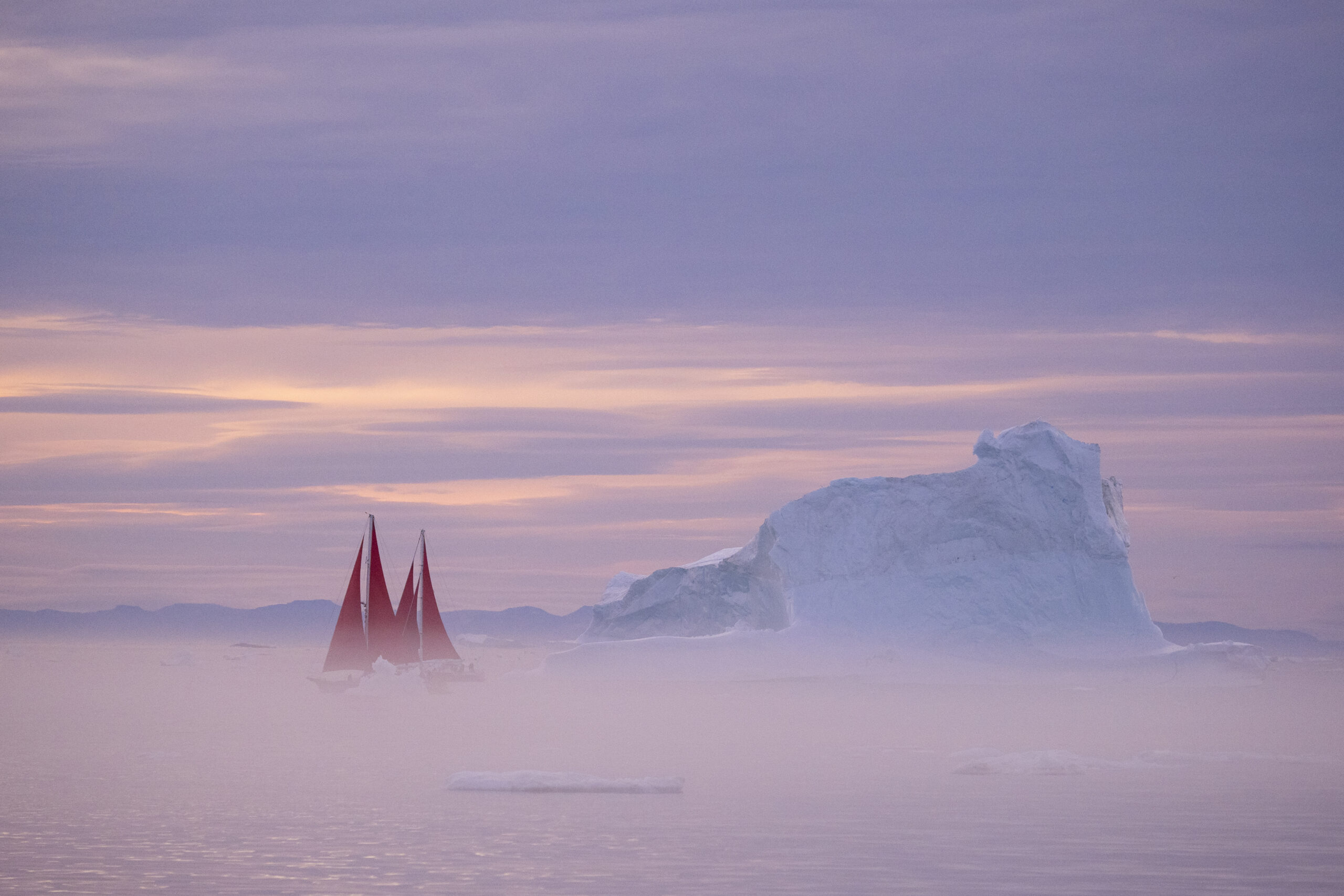 Image #2 –Midnight Sun SailingE-M1X + 40 –150mm f2.8 M.Zuiko Lens ISO 640 | 1/3200sec | f2.8 An adventure on the water as the midnight sun approaches the horizon is a perfect opportunity to photograph icebergs in the soft dusk light. Here two ice breaker yachts cruise through the calm seas, photographed with the 40-150mm lens at 115mm. The stability of the E-M1X meant shooting not only in low light but on a moving vessel was a total breeze..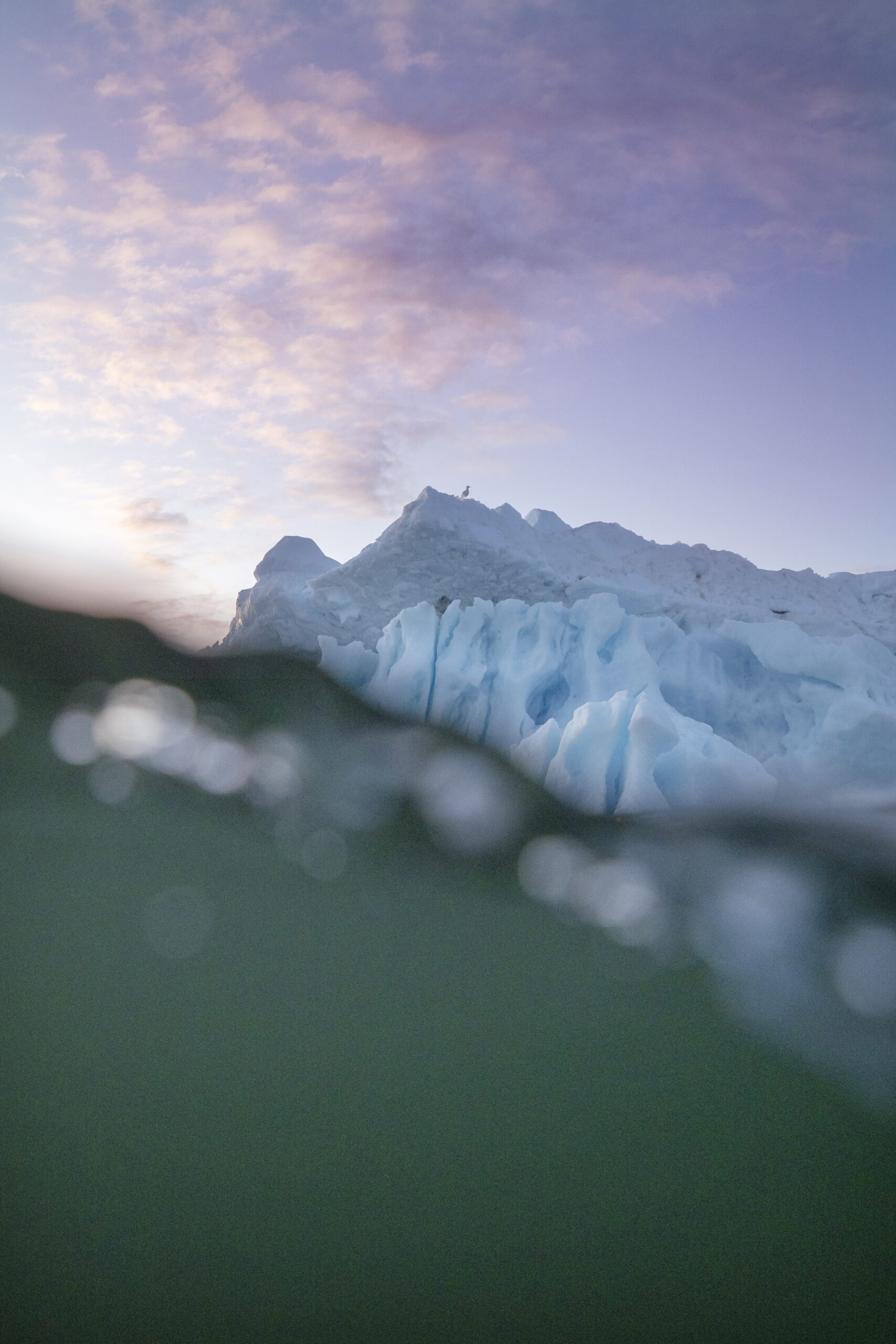 Image #3 –Beneath the berg E-M1 MK11 + 7-14mm f2.8 M.Zuiko Lens ISO 400 | 1/3200sec | f2.8 The PT-EP14 underwater housing is a great addition to your photography kit if water is an element you're keen to work with. The chilly waters of Greenland offered a great chance to capture a different perspective of the icebergs, even though it meant frozen fingers! The larger icebergs are too dangerous to hover beneath so this smaller iceberg provided a great chance to dip the E-M1 MKII underwater and photograph this iceberg as it drifted beneath the midnight sun at 1am.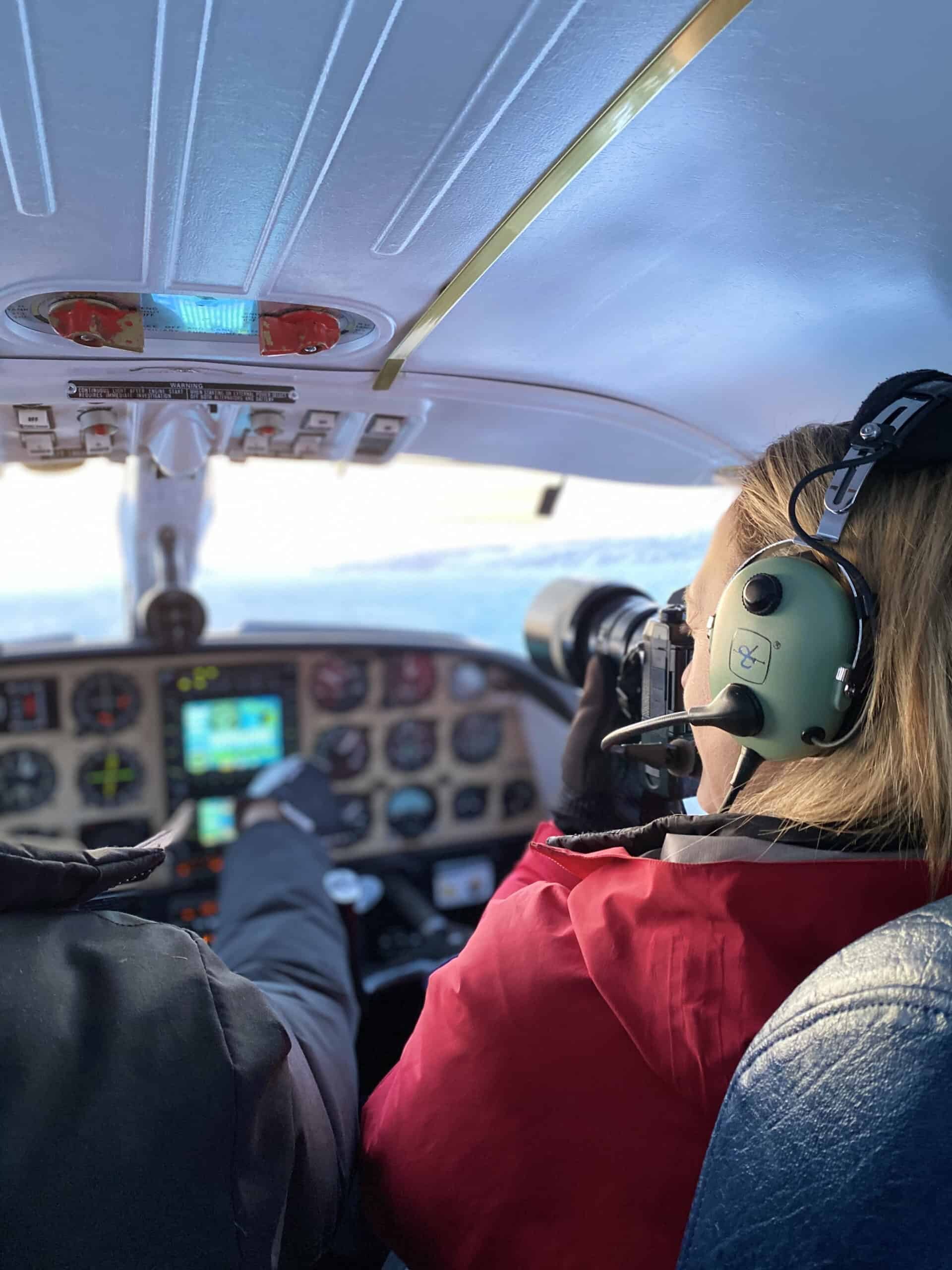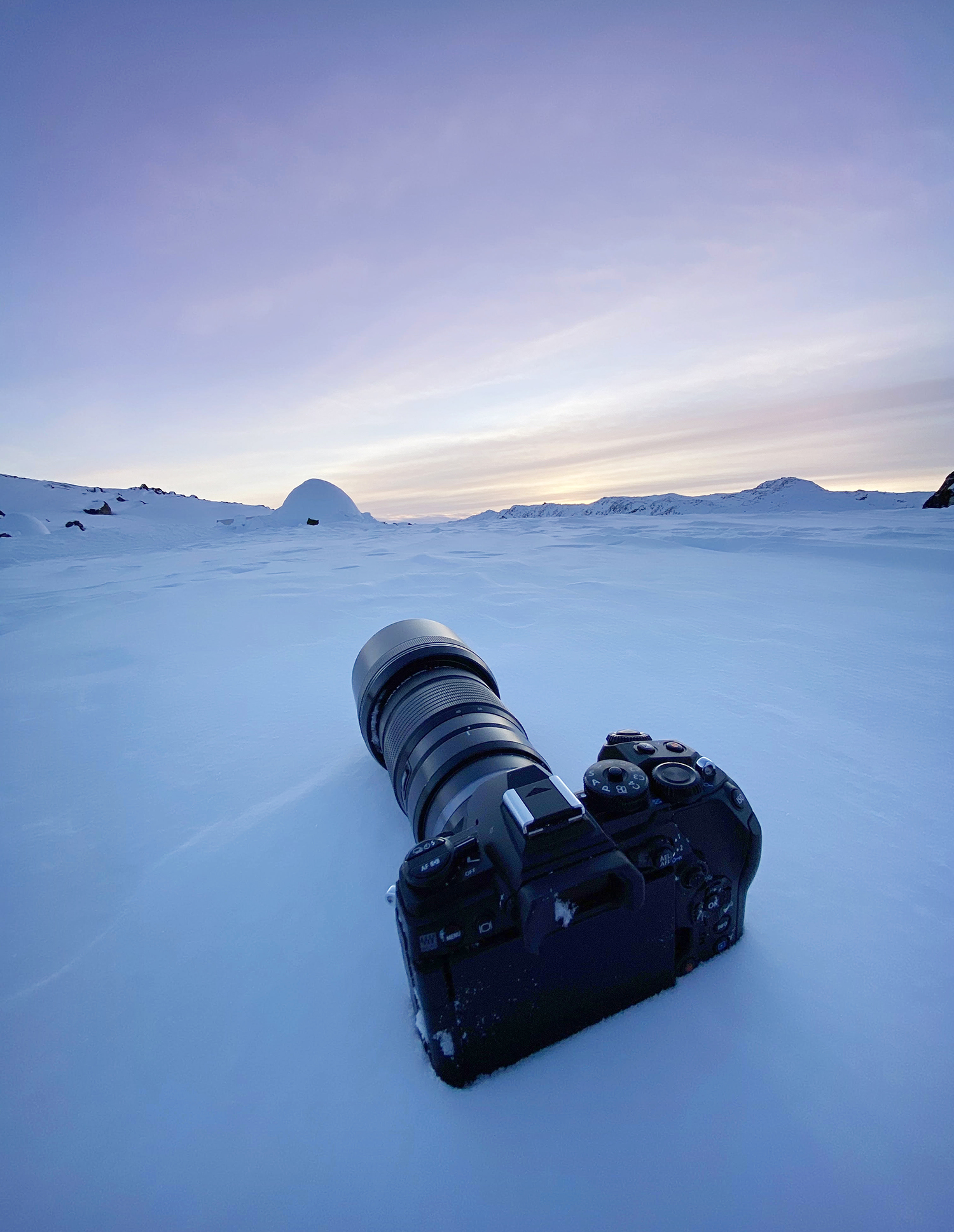 Continue reading about Greenland adventures with these articles: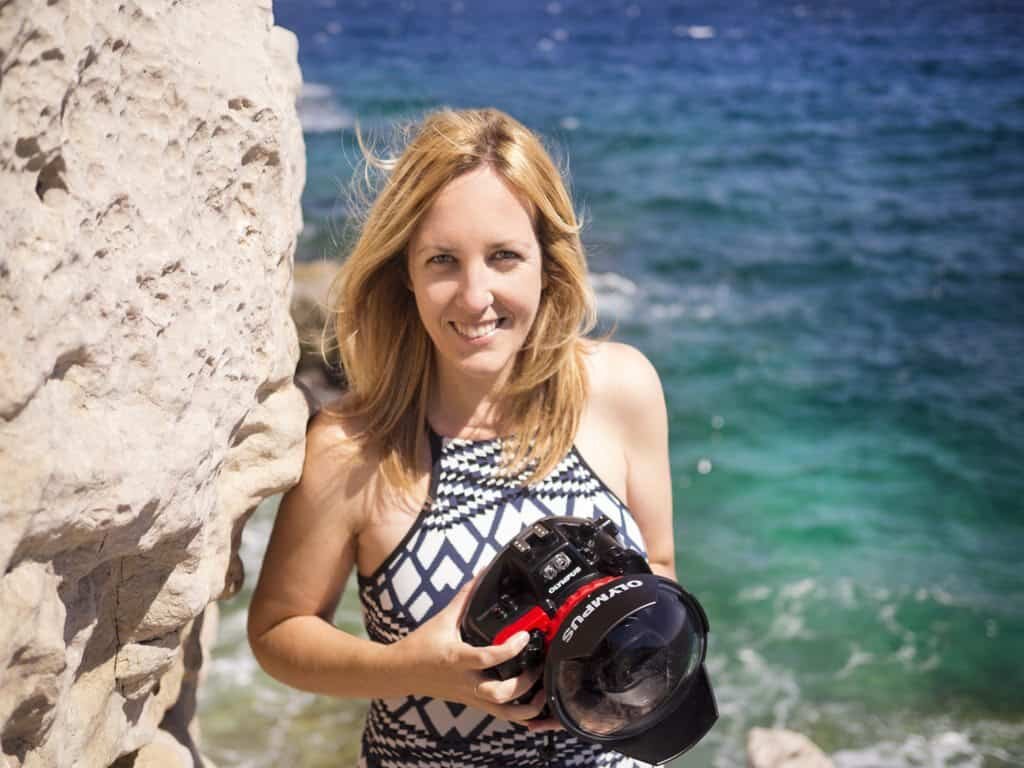 Hello! I'm the founder and photographer behind The Wandering Lens.
With 17+yrs experience as a professional travel and landscape photographer, all advice found on this site is from my personal experience on the road. I hope it's useful for your own travels and would love to hear in the comments about your trips and experiences around the world.