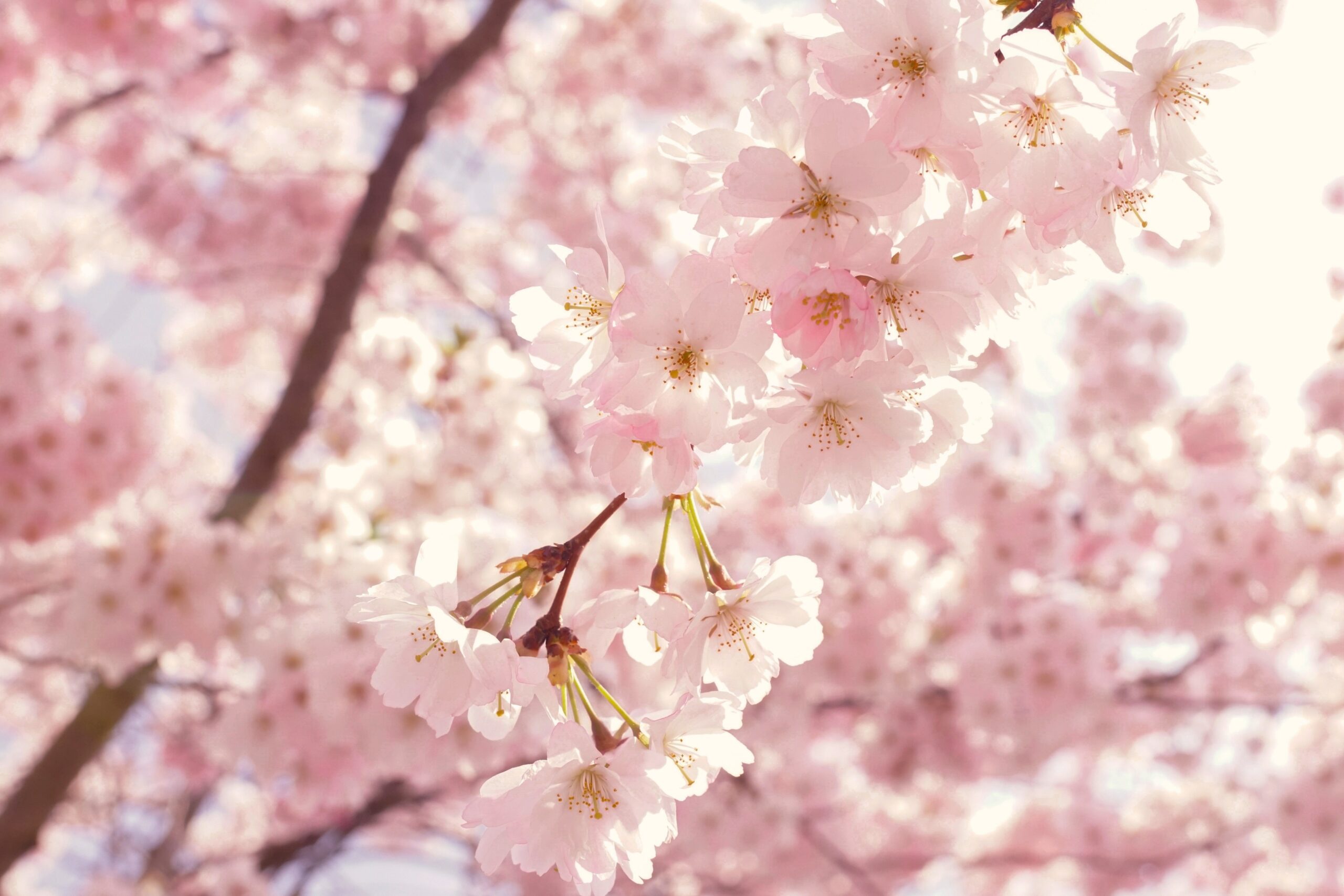 Where + When to Photograph Cherry Blossoms
Cherry blossoms are pink, floral puffs of perfection. Photographers flock to blossom filled parks around the world each Spring to capture landscape photographs, romantic portraits under the cherry blossoms or simply to take photos of these stunning flowers.
Thriving in cold climates, they bloom in early spring and their appearance can be rather fleeting with wind, rain and temperature impacting their bloom.
Knowing where to photograph cherry blossoms in Japan, for example, is crucial. Not only is it peak season for tourism due to these beauties drawing large crowds, the season can be very short lived. Planning ahead and following the cherry blossom forecasts can be the difference between photographing flowers and photographing branches.
Let's take a peek at the best places to see cherry blossoms, and of course, when to photograph cherry blossoms so you don't miss your chance this upcoming spring!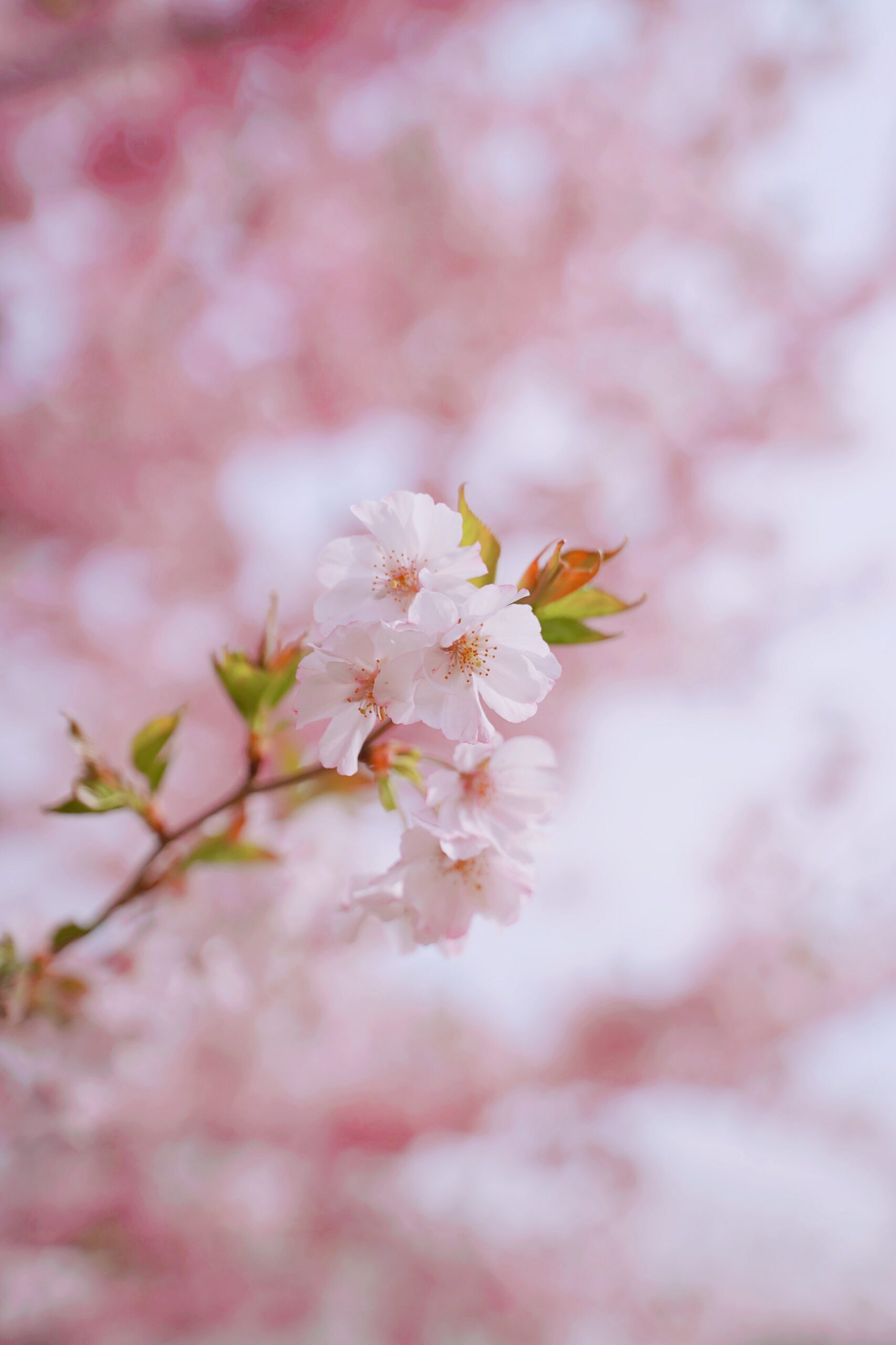 ---
Cherry Blossoms in Japan, Seeking Sakura –
Celebrated with Hanami (cherry blossom viewing) parties, Sakura 桜 (cherry blossoms) are much loved in Japan. Domestic tourism in late March to early April is largely focused on popular places to see cherry blossoms throughout Japan, with international tourists then adding to the crowds to create an exciting atmosphere of floral appreciation.
The best time to see cherry blossoms in Japan differs by region, with the southern areas in bloom from late March, and northern areas in Hokkaido swathed in pink blossoms from early May.
Popular places to photograph cherry blossoms in Japan:
#1 Okinawa – Let's begin with the earliest bloom, on the islands of Okinawa in southern Japan. Here you'll find beaches, warmer weather and a slightly different variety of cherry trees called hikanzakura, also known as the Ryukyu kanhizakura. Appearing from mid-January, if you're hoping to avoid the crowds of the popular areas, head for Okinawa and explore this stunning island area of Japan.
#2 Mt Fuji – Frame your photographs with Sakura from the shores of Lake Kawaguchiko. An iconic scene! If you can time your visit to align with a bloom, sunshine and snow on top of Mt Fuji, you'll be one very happy photographer! Nearby you can also photograph blossoms at Chureito Pagoda where a carpet of blossoms will provide a beautiful foreground for a landscape photograph of Mt Fuji and the pagoda.
#3 Tokyo – With more than 1000 cherry trees, Shinkjuku Gyoen is a beautiful park for photographing cherry blossoms. Numerous varieties exist within the park which extends the season a little with some blooming in late March, and others into April. For a special experience, head to Chidorigafuchi where you can rent boats and row down along the former Edo Castle moat as cherry blossoms line the shores at Kitanomaru Park. Read the Tokyo Photography Location guide here.
#4 Kyoto – The Philosopher's Path is well worth a visit any time of year, but when the Sakura are in bloom, it's transformed into an intimate walking trail under a petal filled canopy. Connecting Ginkakuji (Silver Pavilion) with Nanzenji, the path is a tranquil escape from the bustle of downtown. It's a place to enjoy nature, catch your breath and roam from temple to temple, exploring the neighbourhood and soaking in the lush landscapes at the foothills of Kyoto's eastern mountains. Reach the Kyoto Photography Location guide here.
For more information on photographing and seeing cherry blossoms in Japan, visit the JNTO website here.
---
Where to Photograph Cherry Blossoms Around the World –
#5 Washington DC, USA – Cherry Blossom Festival
From March 20th – April 16th, the National Cherry Blossom Festival will be in full swing to celebrate these gorgeous flowers. The Tidal Basin area of Washington DC is awash with cherry blossoms and perfect photography opportunities.
Pair historic national monuments with a frame of florals when capturing landscape photographs, you'll find the Thomas Jefferson Memorial and Washington Monument offer great subjects to compose alongside the blossoms.
To make the most of the colourful blossoms in bloom, time your visit to The Tidal Basin for golden hour, either early morning or later in the afternoon. Blend the golden hour glow with reflections on the water, sun sparkles in the blossom trees and iconic monuments and views of Washington DC cherry blossom season.
Check out the Cherry Blossom Watch here – detailed information and forecast for the best time to see the cherry blossoms in Washington DC.
---
#6 Paris, France – Seine + Soft Pastel Pinks
Stroll along the banks of the Seine as pink petals provide the perfect subject to frame iconic sights with. It's my favourite time of year in this photogenic city, the mornings are still a little chilly, days are warming up and providing the perfect temperate to wander outside with your camera to capture as many blossom spots as you can.
The Champ de Mars offers those iconic shots of the Eiffel Tower with the addition of blossoms from late March – early April, from here venture down the Seine toward The Louvre and the magnificent Tuileries Gardens.
You'll find pockets of cherry blossoms all over Paris, from peaceful gardens attached to museums, public parks like the Jardin du Luxembourg and dotted alongside photogenic streets.
Visiting Paris Soon? Take a peek at my eBook 'A Photographer's Guide to Paris' here which includes self-guided walking tours and more.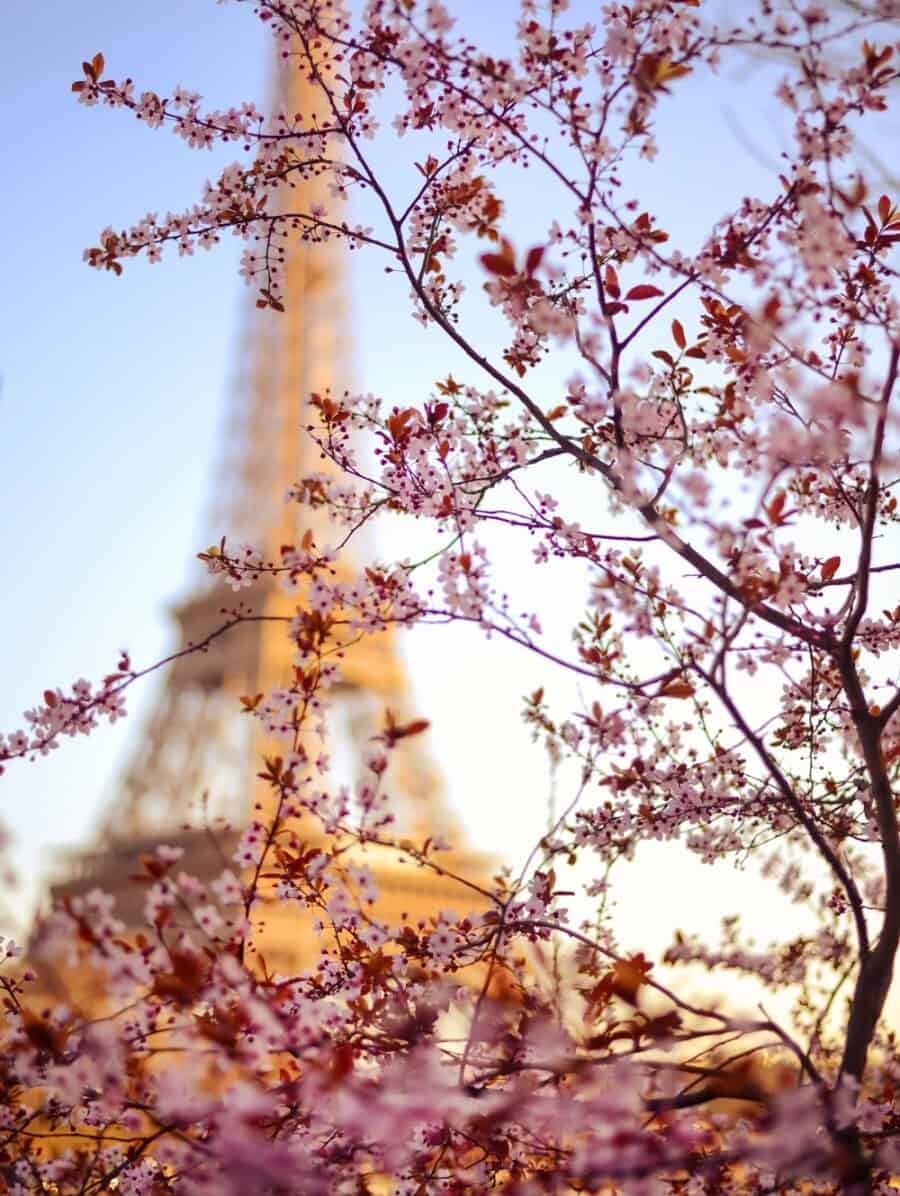 ---
#7 Vancouver, Canada – Petals and Pristine Forests
Home to more than 40,000 cherry trees, you can be sure that a visit to Vancouver in early Spring will result in some beautiful cherry blossom photos!
Head straight for Queen Elizabeth Park where a variety of blossoms bloom from late March to early April and don't miss Stanley Park, where wooded forests, a stunning waterfront trail and gorgeous gardens provide plenty of photographic opportunities for both blossoms and landscape photos.
The Nitobe Memorial Garden at the University of British Columbia offers a peaceful setting where cherry blossom bloom amongst a Japanese garden. On your way to/from the university, be sure to explore the neighbourhood of Kitsilano, where blossoms bloom along Yew Street.
In the 1930s, 500 cherry blossoms were gifted to the city of Vancouver from the mayors of Yokohama and Kobe, Japan, as a thank you for honouring the Japanese Canadians who served in WW1. Every year in VanDusen Park you'll find the Sakura Days Japan Fair, celebrating this friendship with Japan with tea ceremonies, geisha dances and many other family activities. A great opportunity to feel like you're experiencing Sakura season in Japan if you haven't yet!
Take a peek at my last adventure in Vancouver when staying at the Fairmont Waterfront…and the incredible day I had photographing the Glacial Meltwater a little later in Spring.
---
#8 Canberra, Australia – The Capital's Gardens
An unexpected but beautiful surprise, Canberra has a host of stunning gardens to explore and photograph. Time your visit for late September, and you'll be treated to cherry blossoms lining Lake Burley Griffin, and sprinkled through the lush national gardens.
Along the southern shores of the lake you'll find Weston Park, where a rainbow of pinks fill the trees in Spring. From white blossoms to pastel pink and deep magenta, photographing in the early morning light will allow you to capture a sunrise glow as it shines through the trees.
Read more via the Canberra Guide for Creatives here.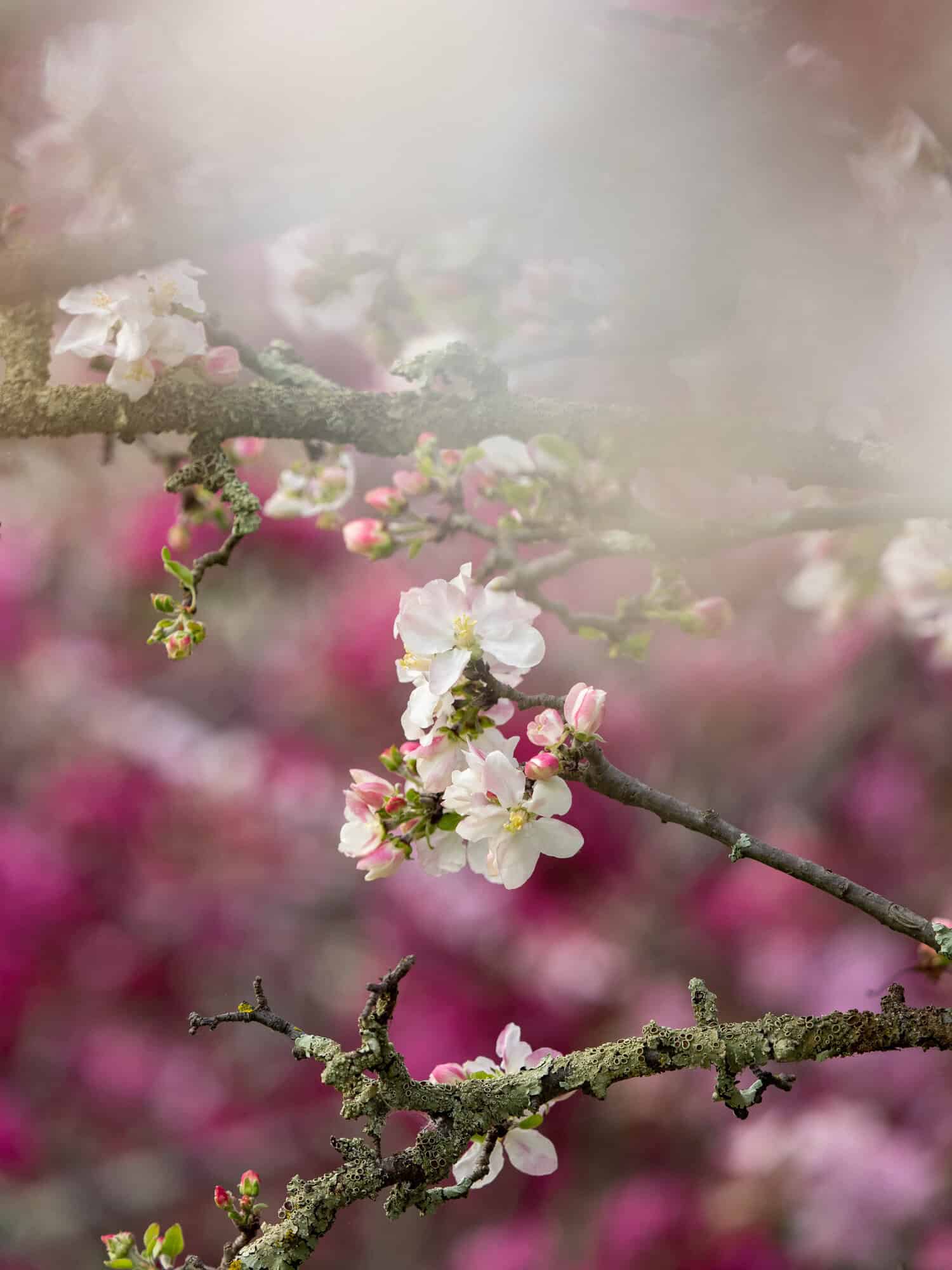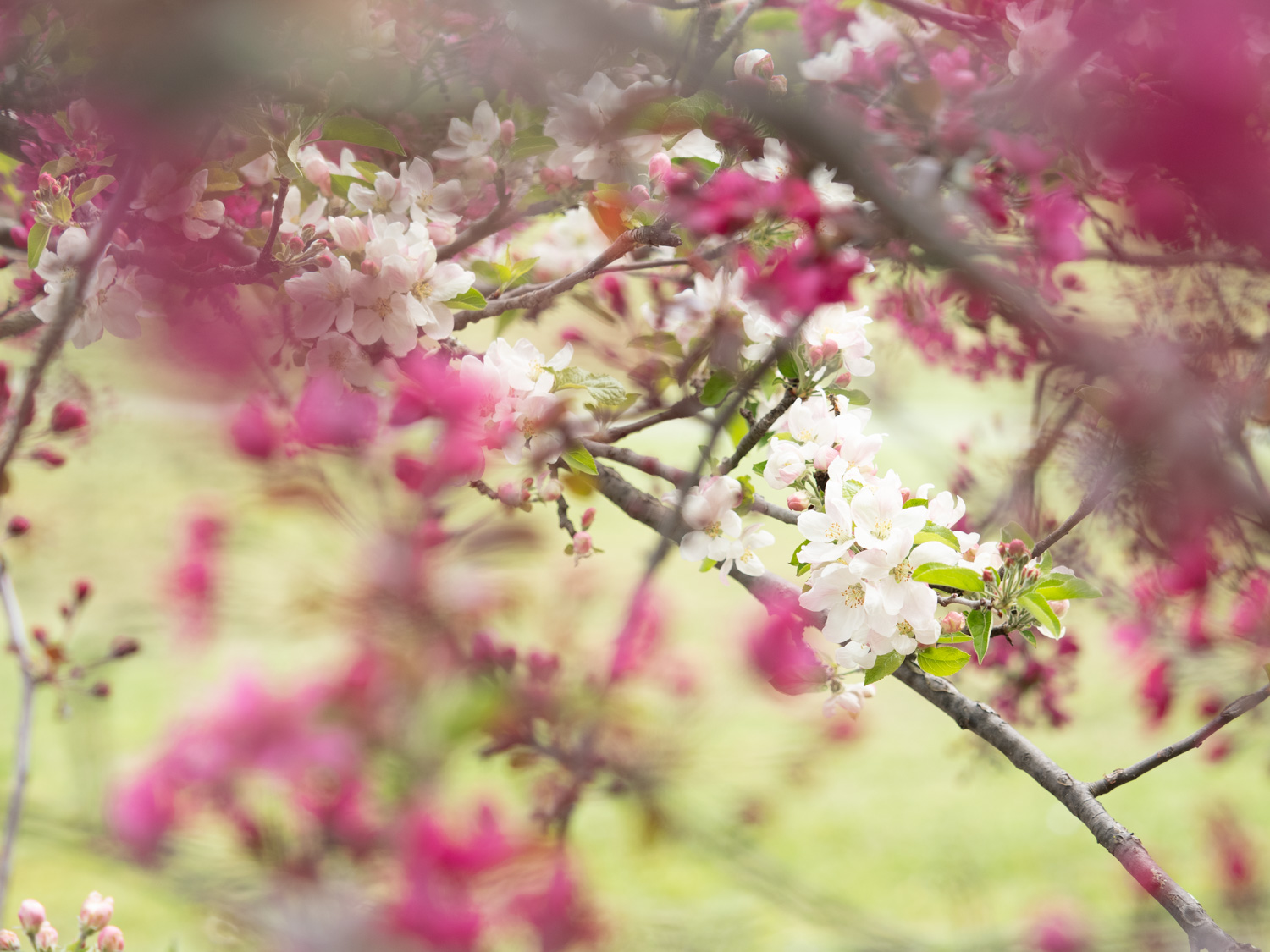 ---
#9 Bonn, Germany
Known for its tree tunnels, this gorgeous town really steals the show in Spring. Regularly making the list of 'best tree tunnels around the world', the Altstadt Cherry Festival is a chance to celebrate and enjoy the natural phenomenon as the streets fill with pink and white flowers.
---
#10 London, England – Florals and Royalty
From Greenwich Park to Kew Gardens, Kensington Gardens, St James's Park and Regent's Park too, you'll find blossoms filling the parks of London. From mid-April to May, London has pops of pinks prettying the streets and offering photographers the opportunity to add a little pastel palette to their street photography.
Wandering through St James's Park as the blossoms are in bloom is such a special experience. Photograph historic monuments, the iconic London skyline and frame your compositions with a little blossom here and there.
Don't just visit the main parks and gardens either, get lost wandering the streets and take a peek in the quieter squares to combine Georgian architecture and facades with floral wonders.
There's a London Photography Location Guide coming soon to The Wandering Lens! For now, if you're booking to visit this year, take a peek at hotels around Westminster, my favourite place to stay because it's close to Buckingham Palace, iconic monuments but also, the magnificent gardens like St James's Park, Green Park and Hyde Park.
---
When to Photograph Cherry Blossoms
Weather conditions make a big difference every year and will impact when the cherry trees bloom. If you've got a spot in mind, research the predicted bloom and ensure you're there a few days before, just incase wind or rain makes those gorgeous petals fall earlier.
Northern Hemisphere – When Spring nears in March, it's time to start checking weather forecasts and blossom watch alerts (yes, they're a thing!). More exact timings are noted under each location in the guide above, however for Japan, you'll find this incredibly well informed site sharing daily updates for all regions.
Southern Hemisphere – As our temperatures are a little warmer, locations are few and far between compared to the northern hemisphere, but stick to the colder regions, and be on the look out in early Spring. Alpine regions or towns close to the mountains will hopefully provide a chance to see these beauties in bloom.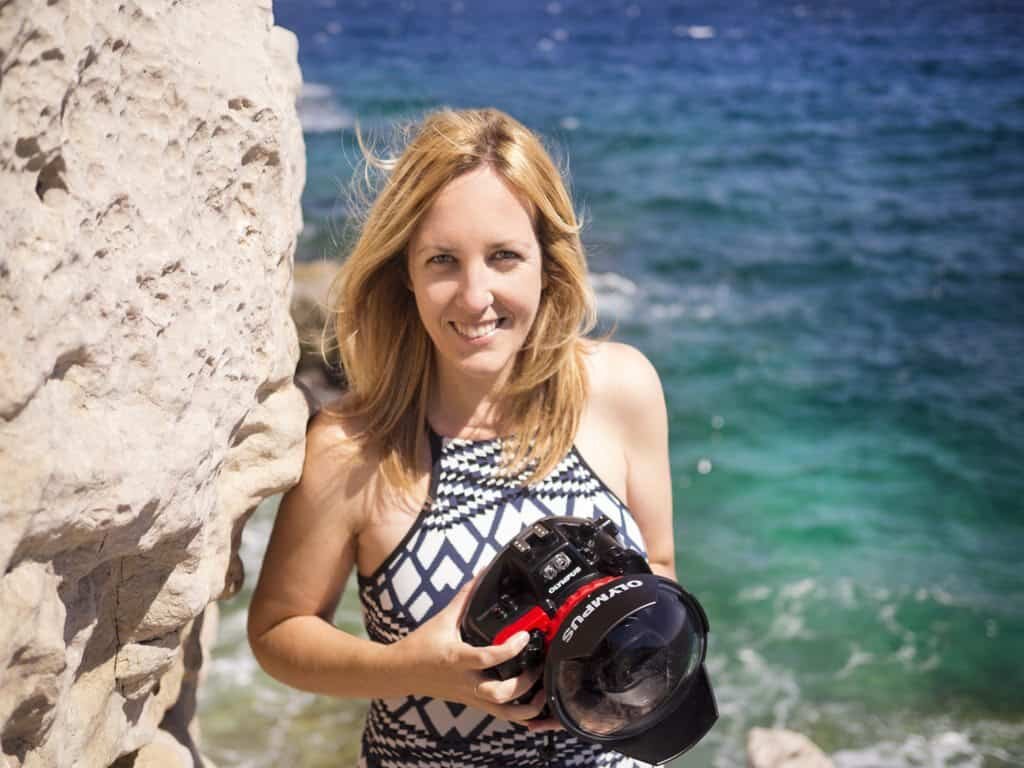 Hello! I'm the founder and photographer behind The Wandering Lens.
With 17+yrs experience as a professional travel and landscape photographer, all advice found on this site is from my personal experience on the road. I hope it's useful for your own travels and would love to hear in the comments about your trips and experiences around the world.