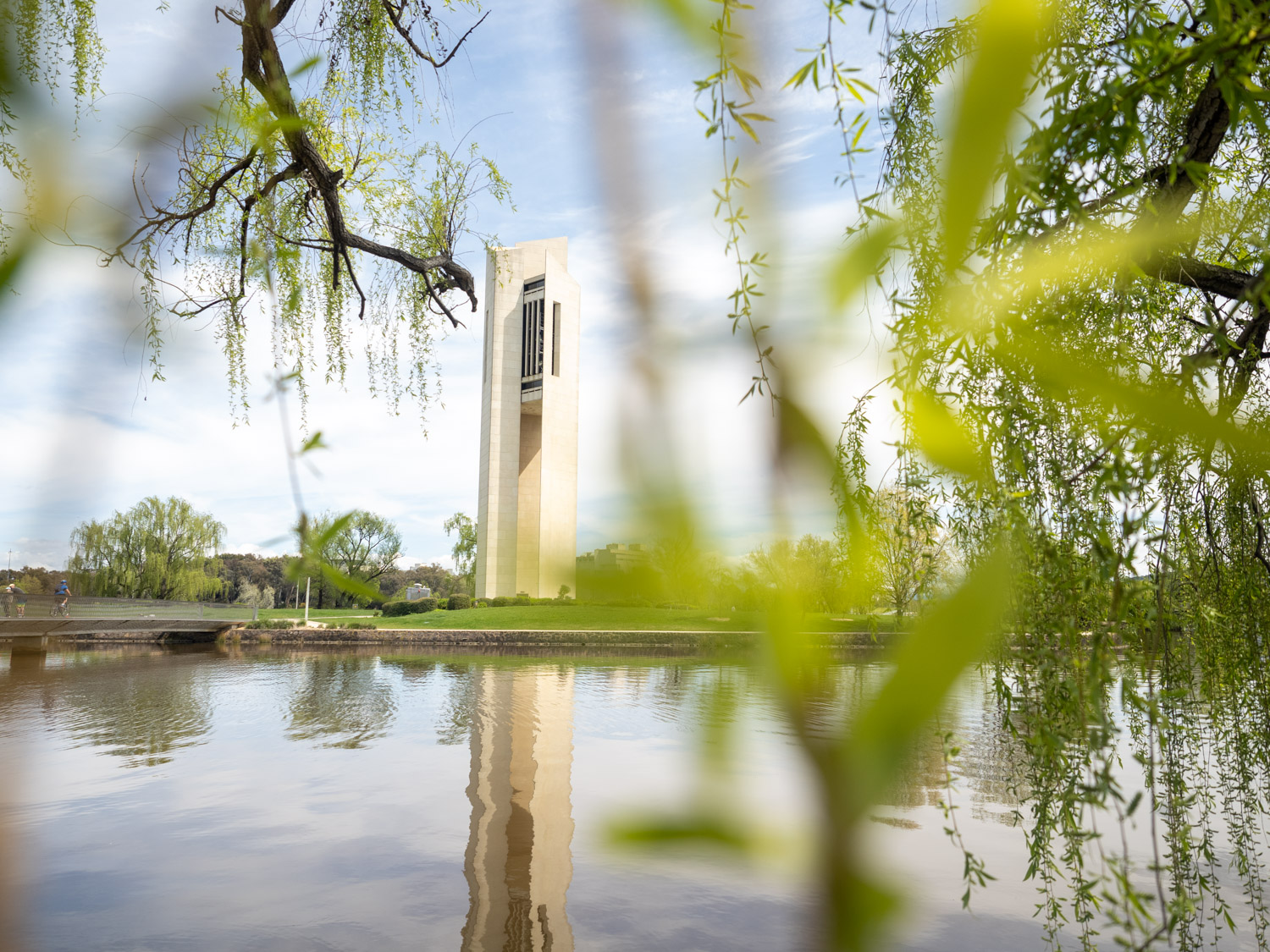 A Creatives Guide to Canberra, Australia

Let's paint a picture. As the sun rises, gentle ripples start to sparkle as they hit the shores of Lake Burley Griffin. The day ahead will be filled with gallery hopping, history, cafes and nature walks, ending with a sunset stroll along a path lined with blossoms and birdsong.
Welcome to Canberra, Australia's capital.
For photographers, Canberra is a creative hub blending natural wonders with architectural spaces celebrating our nations talents, both past and present. The peaks of the snowy mountains rise to the south, coastal coves and beautiful beaches 90mins to the east and there's stunning countryside and vineyards in all directions.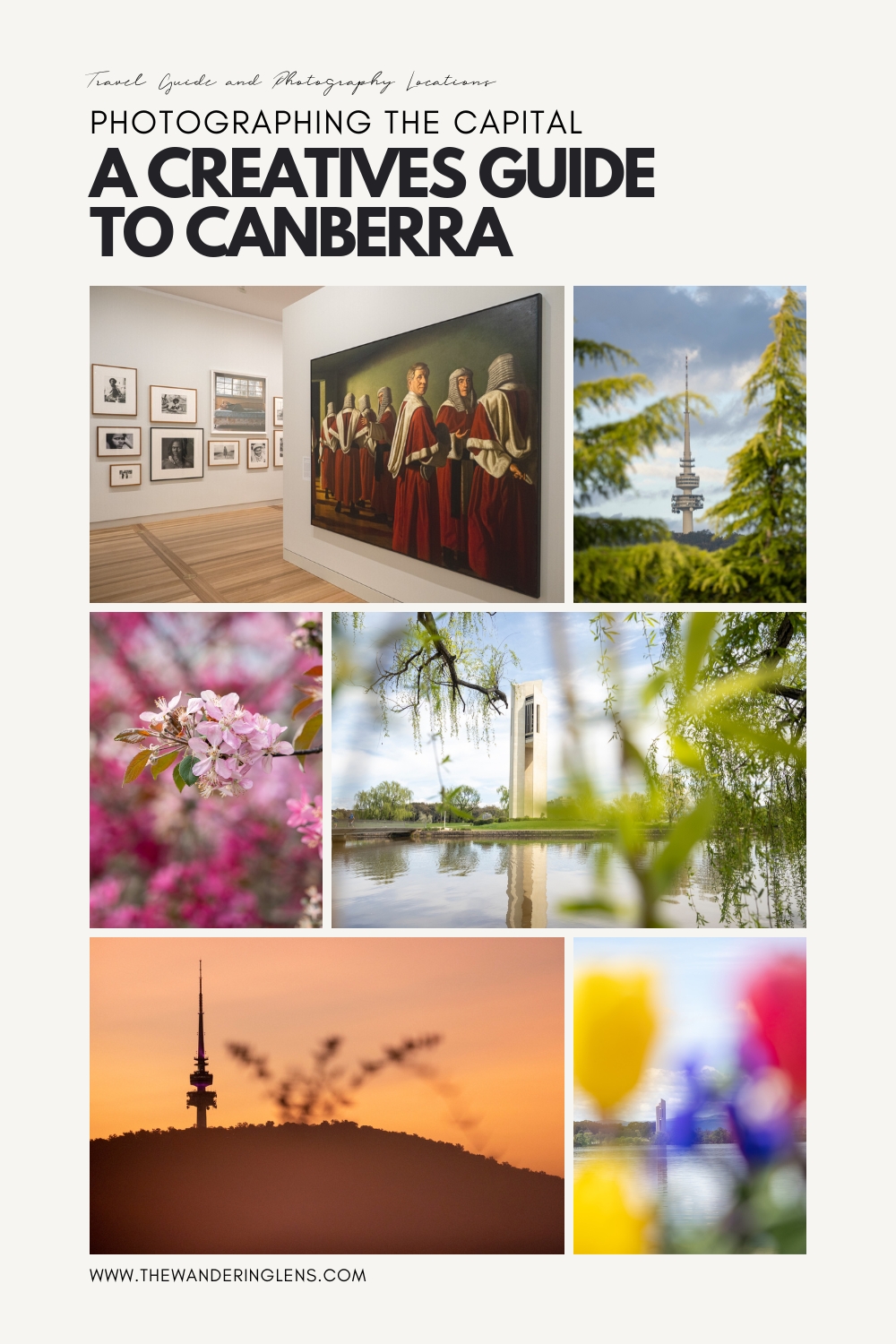 My family is from Canberra and the nearby South Coast, so I thought it only fitting after so many visits over the years, to compile a guide to my favourite places to photograph and get inspired.
Before we get started, I wanted to mention one thing that enhances my love for Canberra. It's planned.
Back in 1912, a drawing by architect Marion Mahoney Griffin, on behalf of her husband Walter Burley Griffin, also an architect, won an international competition to design the city. The design was based on the natural topography of the site, proposing to place the city between three mountains, Black Mountain, Mount Ainslie and Mugga Mugga.
Due to this design, the lake acts as a central point with each suburb to the north and south acting like small village centers. Large avenues encircle Parliament House and viewpoints are arranged perfectly to point to something of interest. Symmetry and linear layouts of streets in places makes my design focused brain happy, all you need to do is visit the top of Mount Ainslie to see what I'm talking about. The original drawing is such an impressive piece of design to view!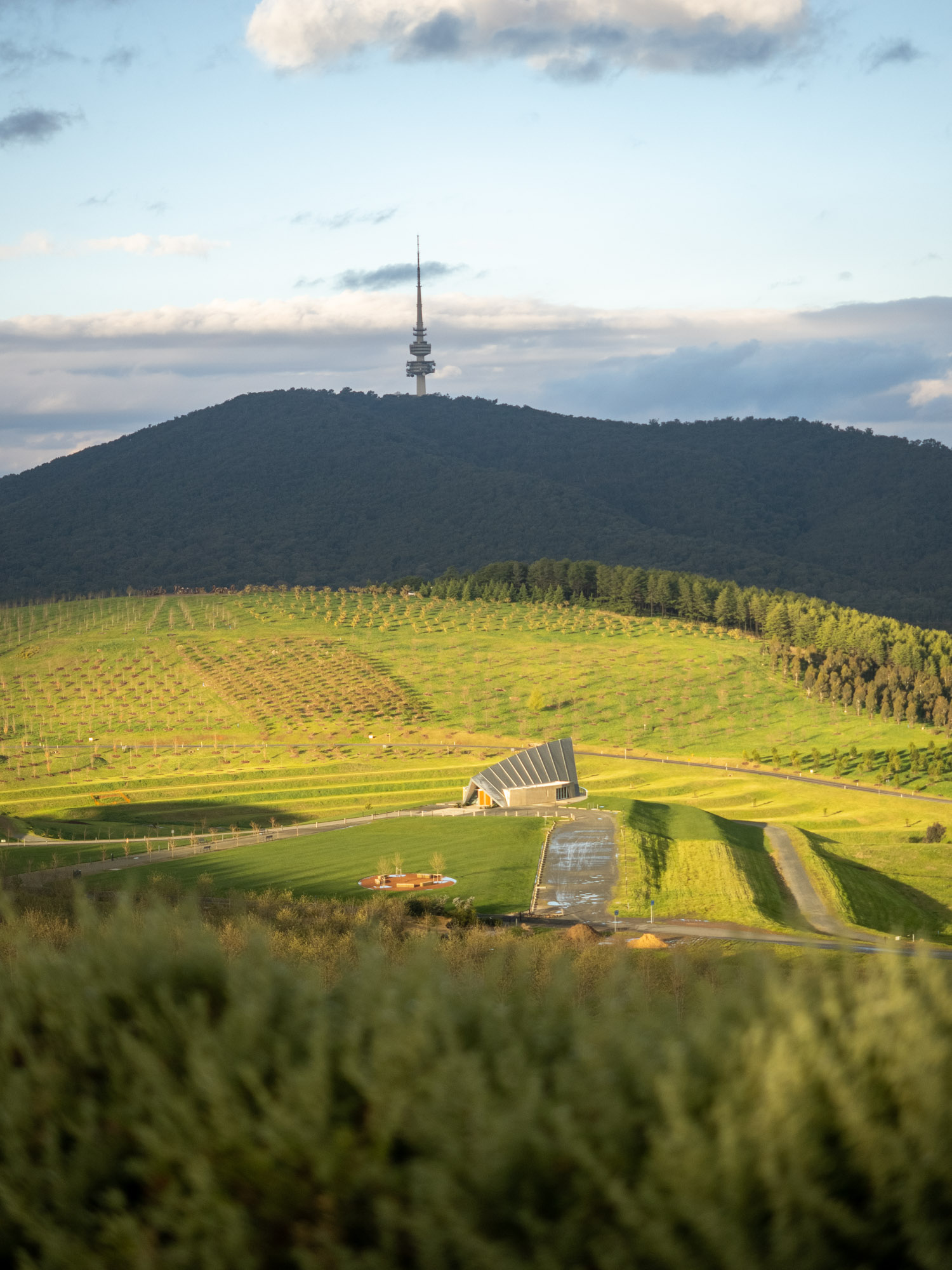 Below you'll find places to seek inspiration, photograph and explore Canberra's natural beauty. Image samples for each location noted are included and were captured in early October. As a seasonal city, you'll find gorgeous autumnal tones in April/May, snow sprinkles on the surrounding mountains in winter and florals of some kind are visible year-round, particularly in Spring when the Floriade is underway!
A map at the end of this guide will share just how accessible everything is. I like to think you can get almost anywhere within 10minutes, which makes dashing to photograph sunset, nice and easy!
The Natural Wonders –
Rejuvenate, Relax and Photograph Landscapes
#01 Weston Park
For sunset strolls or morning walks
Take in the fresh air with a stroll along the shores of the Molonglo River. From the English Garden to Government House, you'll be treated to established trees, parkland and florals of all shapes and shades. If photographing flowers brightens your day, the English Garden found at the end of Robert Boden Grove should be at the top of your list. Varied species bloom throughout the year and blend alongside larger trees and textured trunks.
Time your walk for an hour before sunset to enjoy a wander with plenty of time to place yourself in the perfect position for sunset. Continue along the path which runs between the shoreline and Royal Canberra Golf Club. Kangaroos are regularly sighted on the greens while birds will give you plenty of chances to hear their song and capture their feathered brilliance.
Toward Government House, there's a bridge offering a beautiful photo opportunity, personally though, I love a little spot through the reeds closer to the English Garden. The serenity, smells and scenery will guide to you find your own special spot along this trail, if you can, visit twice during your time in Canberra, once at sunset, once in the morning!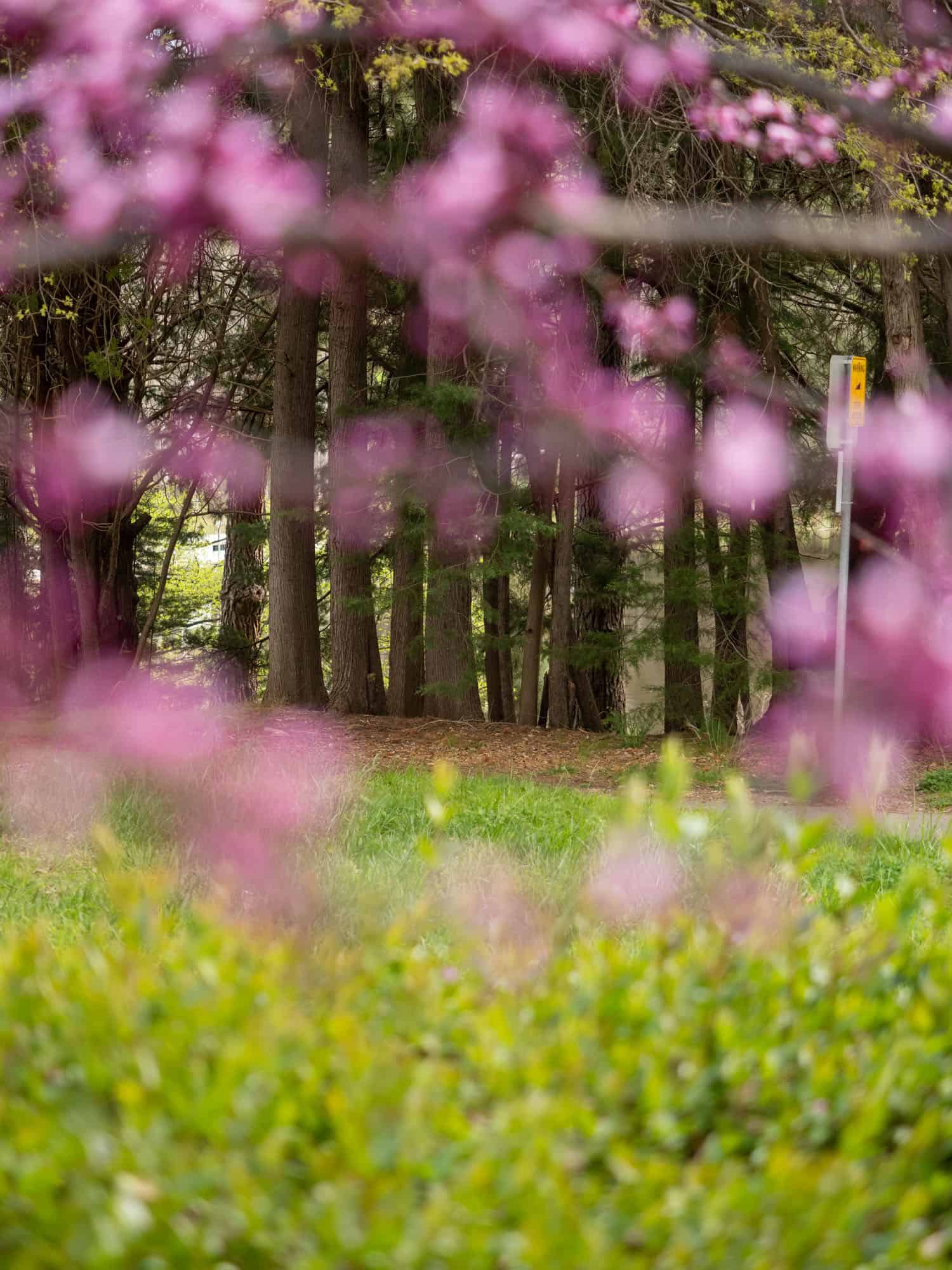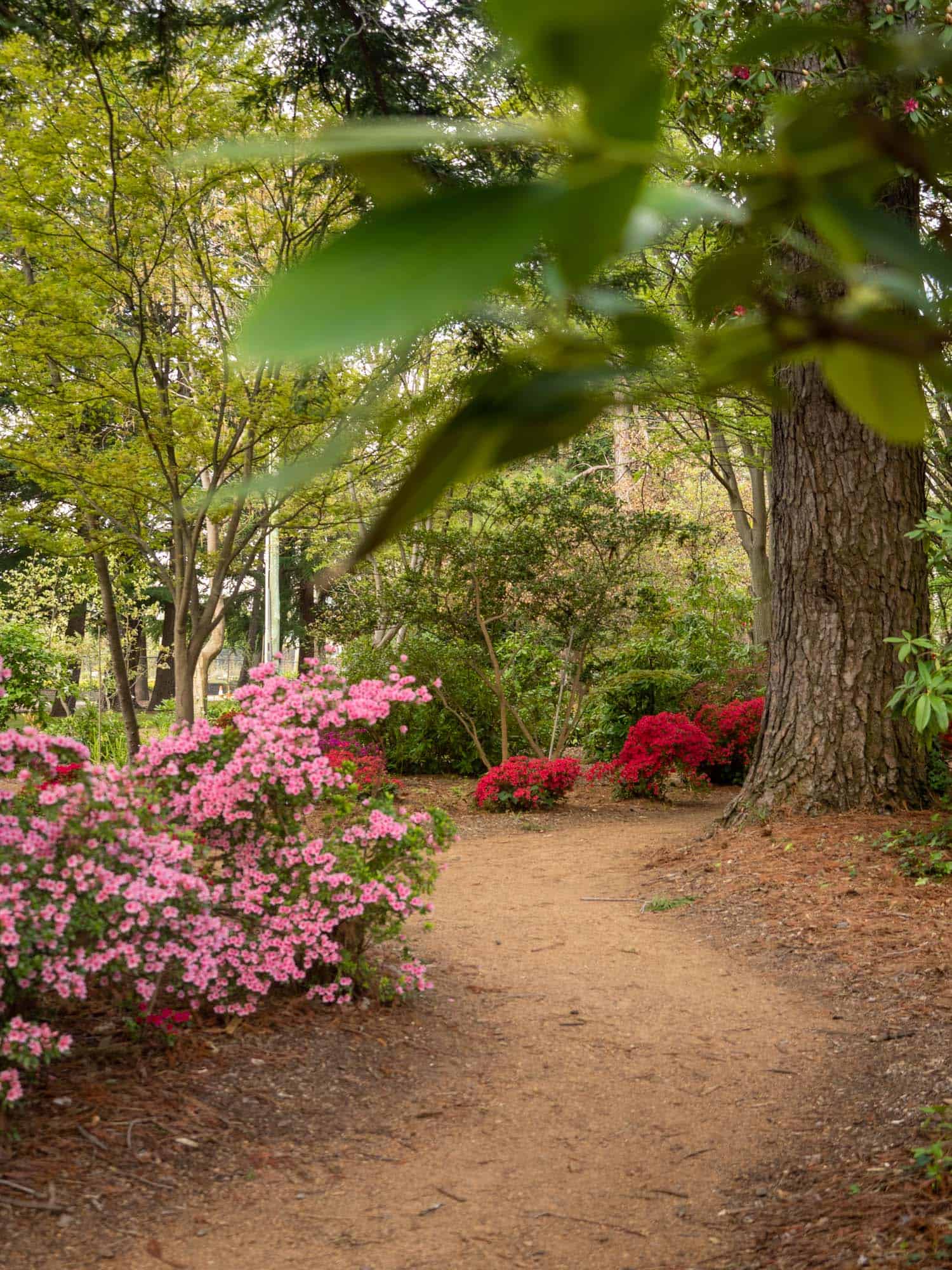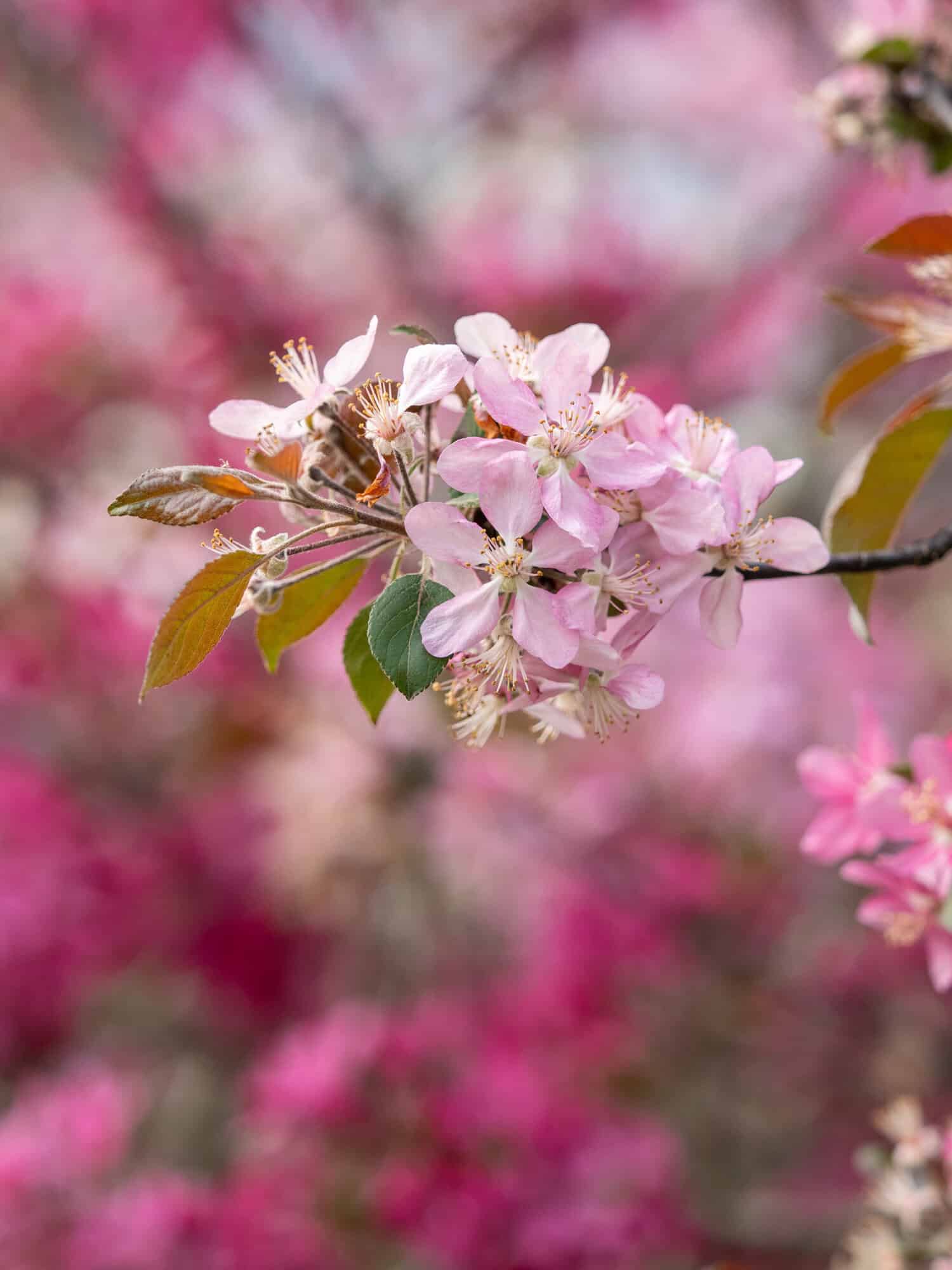 #02 National Arboretum
For garden lovers + great views
Tracks and trails weave between the forests and gardens of this botanical wonderland, just 10minutes west of Parliament House. Covering over 250 hectares, the arboretum is one of the world's largest living collections of endangered, rare and significant trees. Not only will it make green thumbs happy, it's perched high above the city, offering photographers the ideal opportunity to capture some beautiful shots over Canberra and Lake Burley Griffin.
For the best angles, first head straight for the Himalayan Cedar Forest for a great vantage point looking toward Government House. Using the Californian Fan Palms, shoot with a wide aperture to frame the house, one of my favourite techniques when working with plants!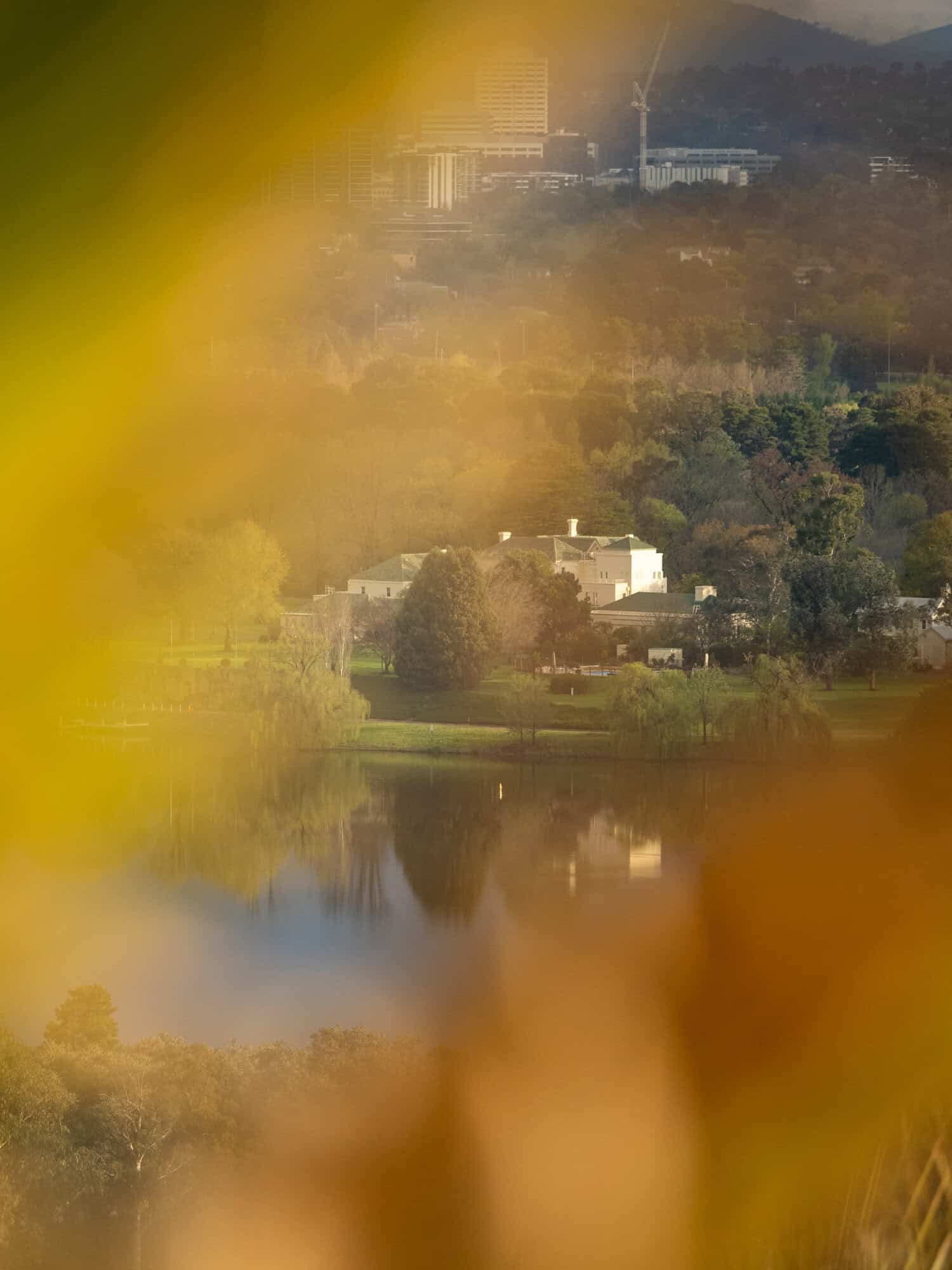 Stop by the Village Centre to gaze upon the National Bonsai and Penjing Collection, filled with ornate potted beauties dating back hundreds of years. Next up, venture along the Dairy Farmers Hill track (2.3km) or continue driving along Forest Drive and park a little closer to photograph from this stunning vantage point. From the hill, look out toward Black Mountain and Telstra Tower and frame them creatively using the rock features and flora. Time your visit for sunset to watch as a soft glow falls upon the city and surrounding mountain ranges to the south and west.
See the map of tracks and trails here, plus there's an interactive map with all the trees you can find and where!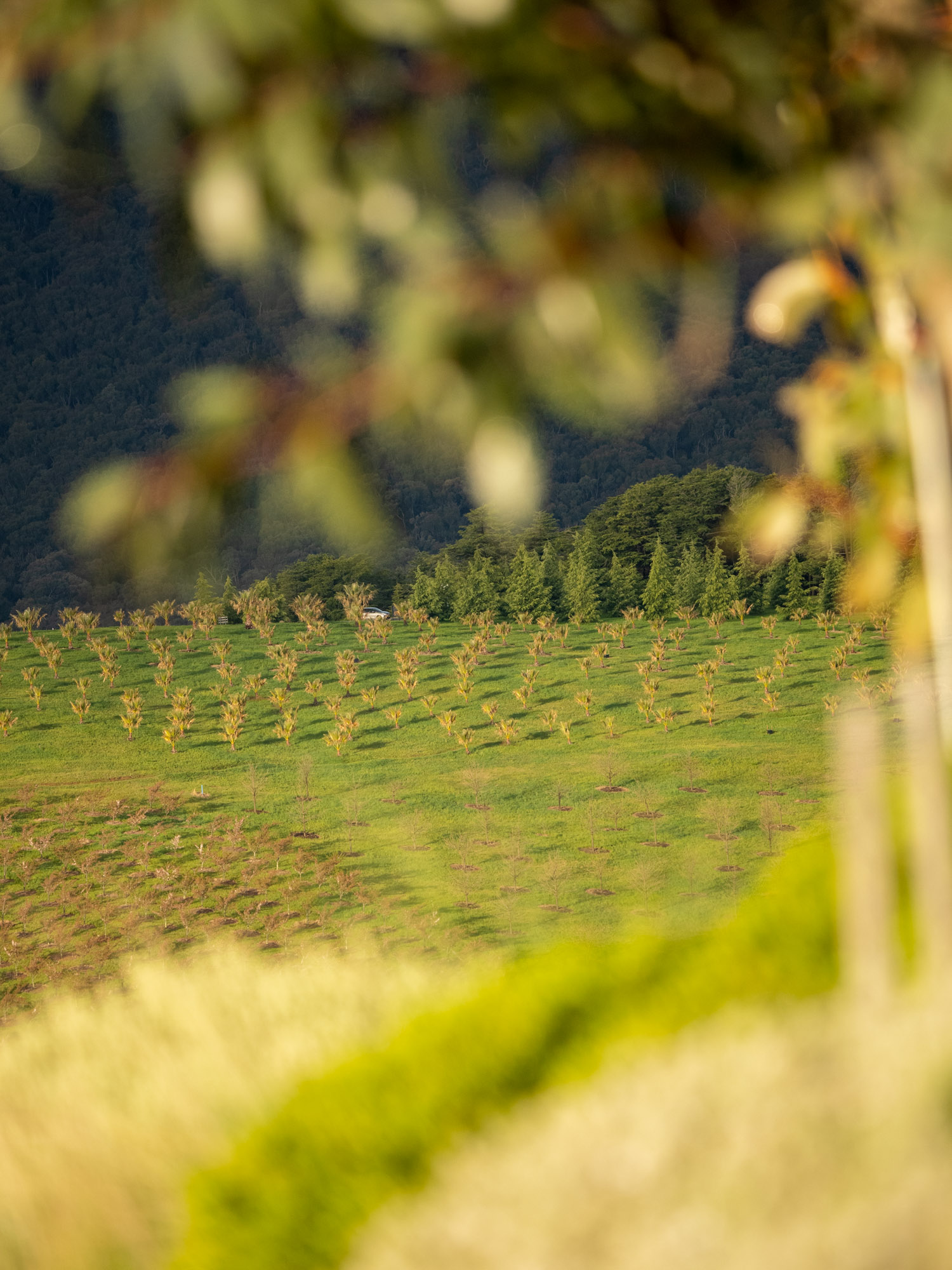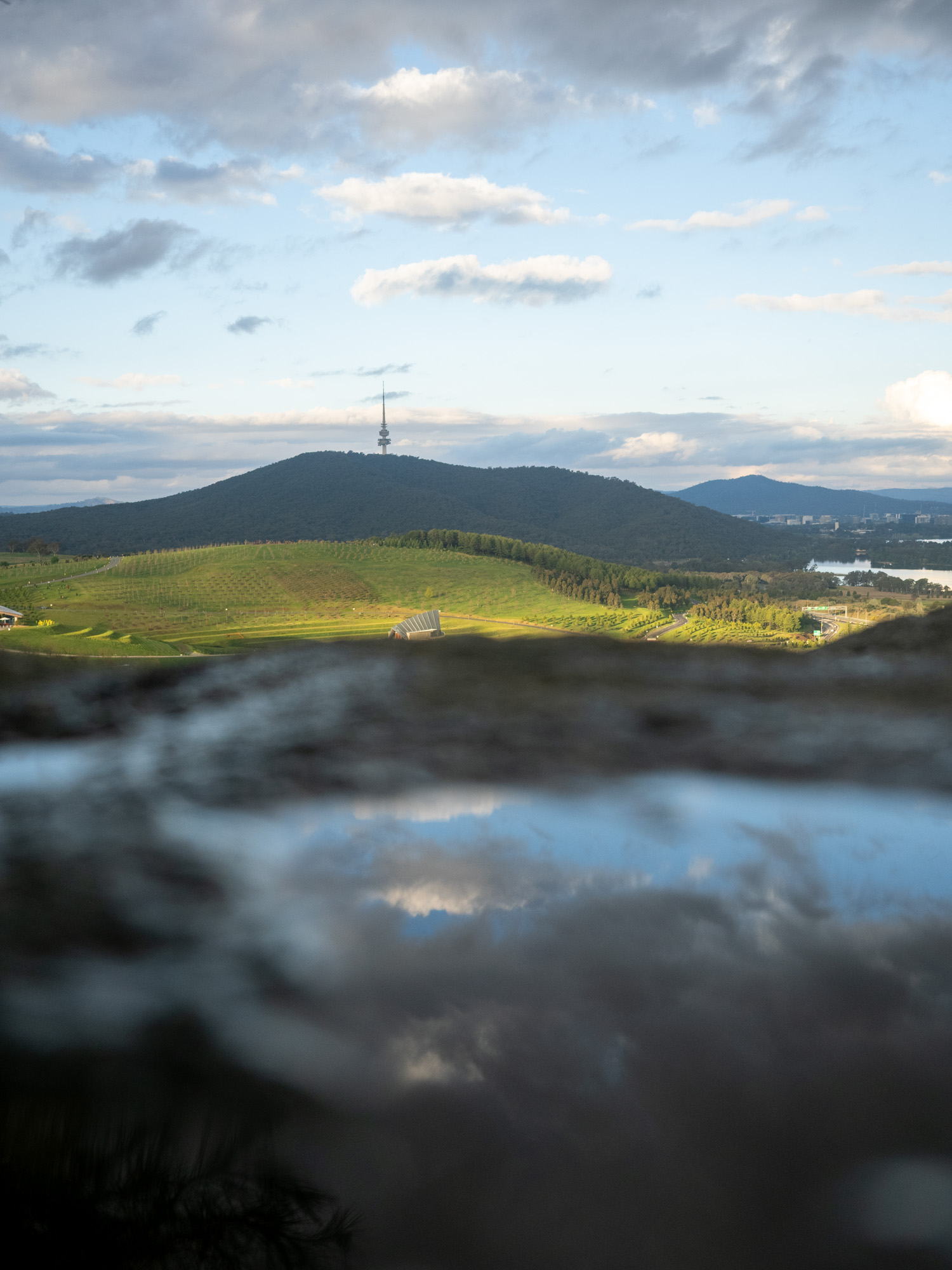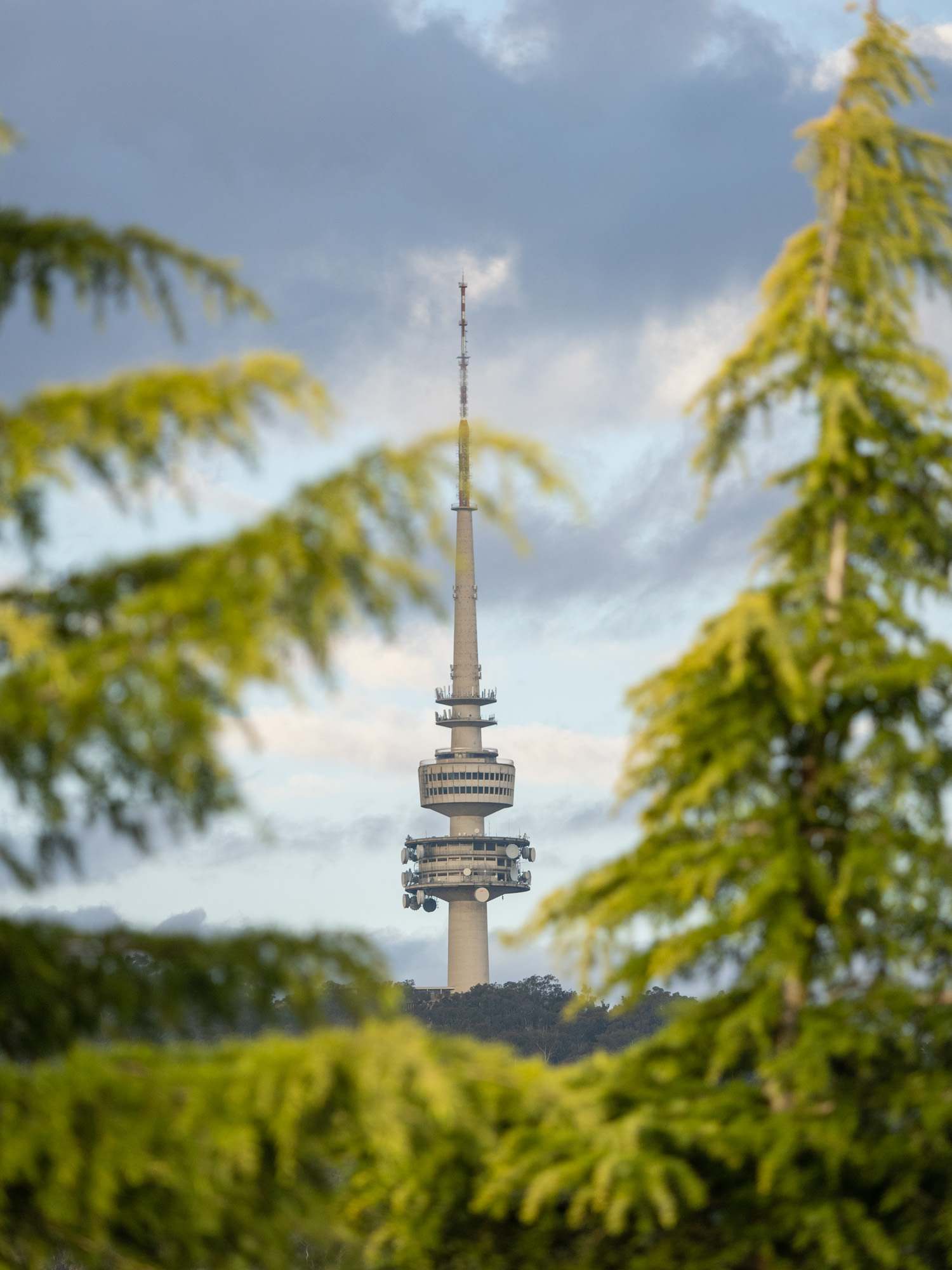 #03 Tidbinbilla Nature Reserve
For hiking and wildlife
Experience the Ngunnawal culture and heritage while exploring the nature trails, wildlife and viewpoints of the Tidbinbilla Valley.
With conservation and heritage at the forefront of this reserve since the 1930s, an entry fee ensures the reserve is managed and maintained. Grab a map at the visitor centre then once you're through the gate, cruise around to enjoy short hikes, longer walks and take in the complete calm of this area, just 30minutes from the city.
From the Eucalypt Forest, to wetlands, cascades and significant boulders and rocky outcrops, this reserve is a beautiful reminder of how stunning the Australian bush is. Wander through alpine snow gum forests, spy platypus, lyrebirds and wallabies. Photograph the reflections of eucalyptus trees at Black Flats Dam while listening to a chorus of frogs and crickets.
Also keep your eyes peeled for the Northern Corroboree Frog, while they're now listed as critically endangered, their bright yellow spots against black make them stand out a little amongst the green foliage!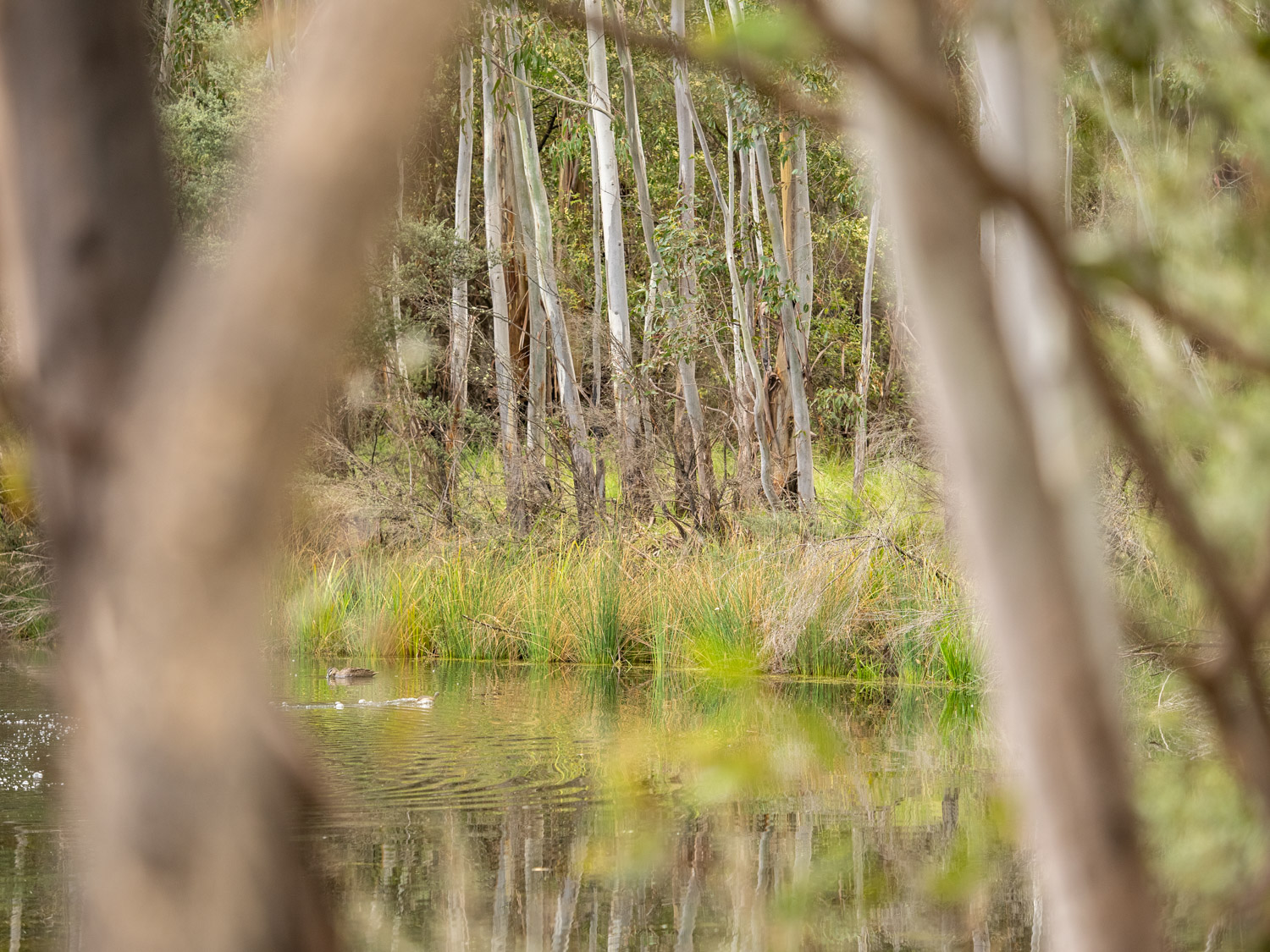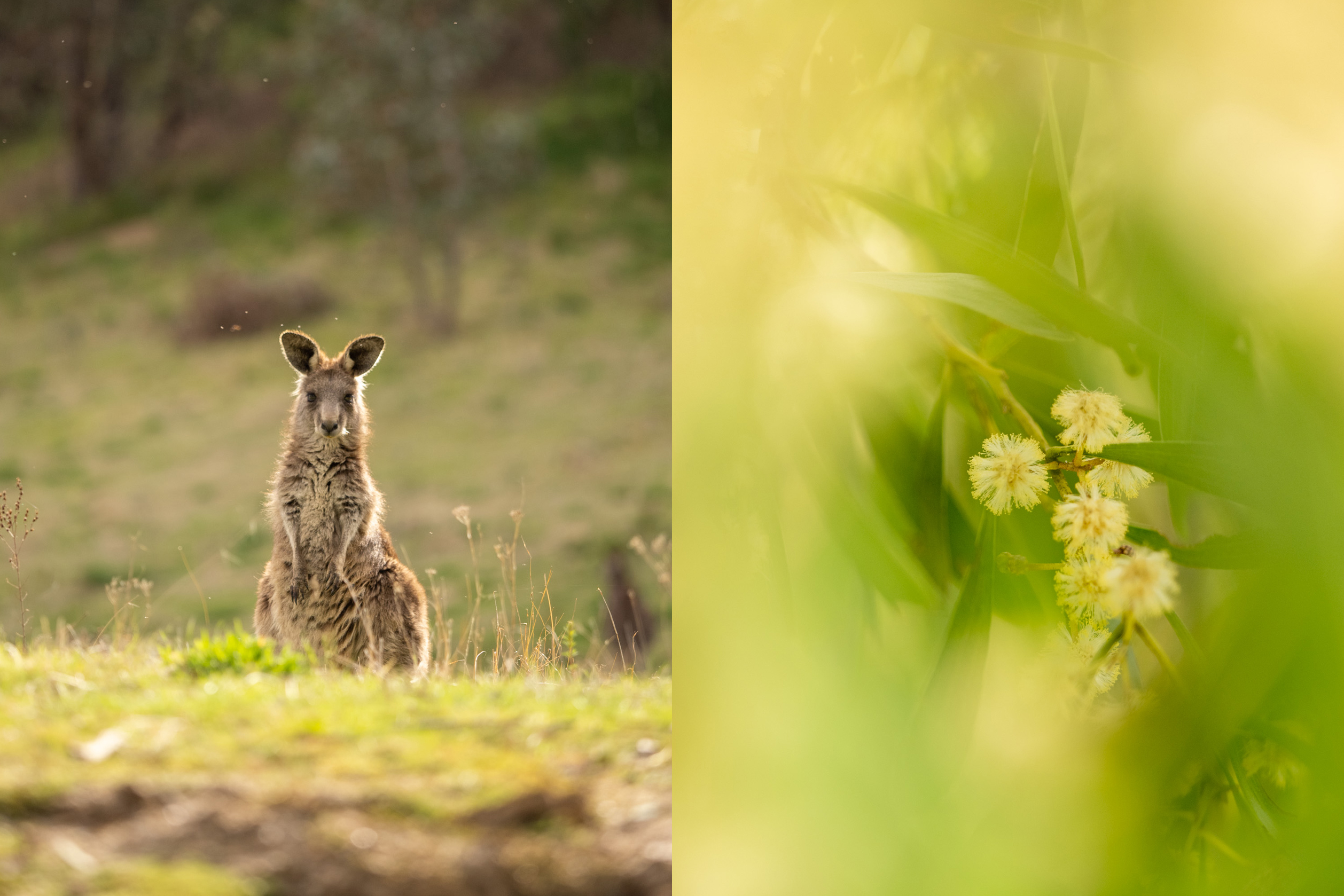 #04 Gibraltar Falls
Cascading beauty
Nestled in a ruggedly scenic valley south of the city, Gibraltar Falls are a sight to see after a decent rain. Tumbling down a rocky cliff, the falls drop approximately 50m and can be viewed from a platform a short walk from the car park.
Practice your long exposure photography here by setting your camera with a slow shutter speed to blur the water and allow the rock textures to shine through. Visiting in the afternoon will make this a little easier and avoid strong sunlight over the water. If however you're hoping to see the scene all lit under broad daylight, time your trip for earlier in the day before the sun dips behind the surrounding mountain peaks.
Photo tip – on the drive up to Gibraltar Falls, you get a quick glimpse from across the valley, I'd suggest taking a creative shot here using the colourful leaves to frame the falls. Be sure to pack your zoom lens if this angle interests you!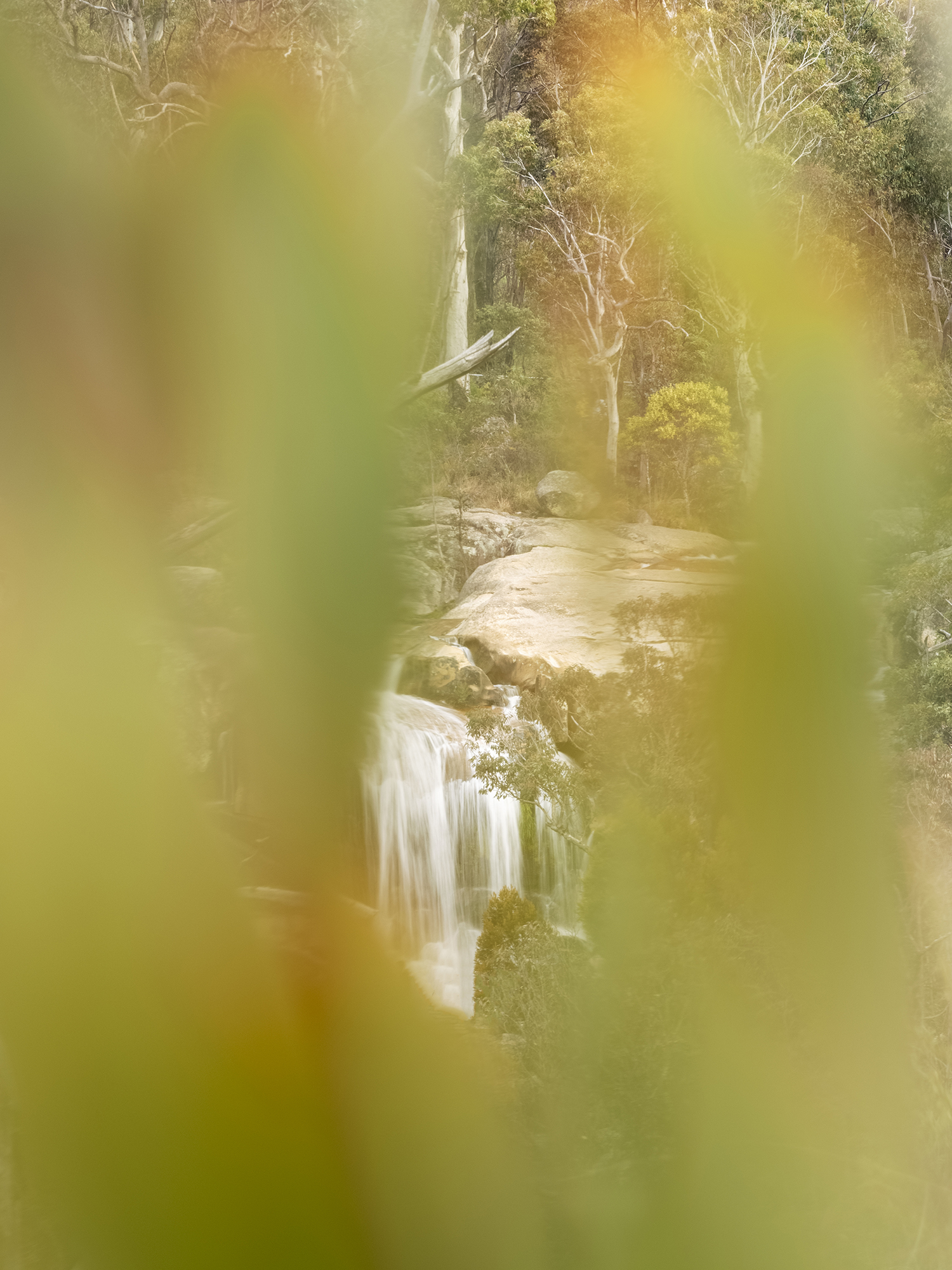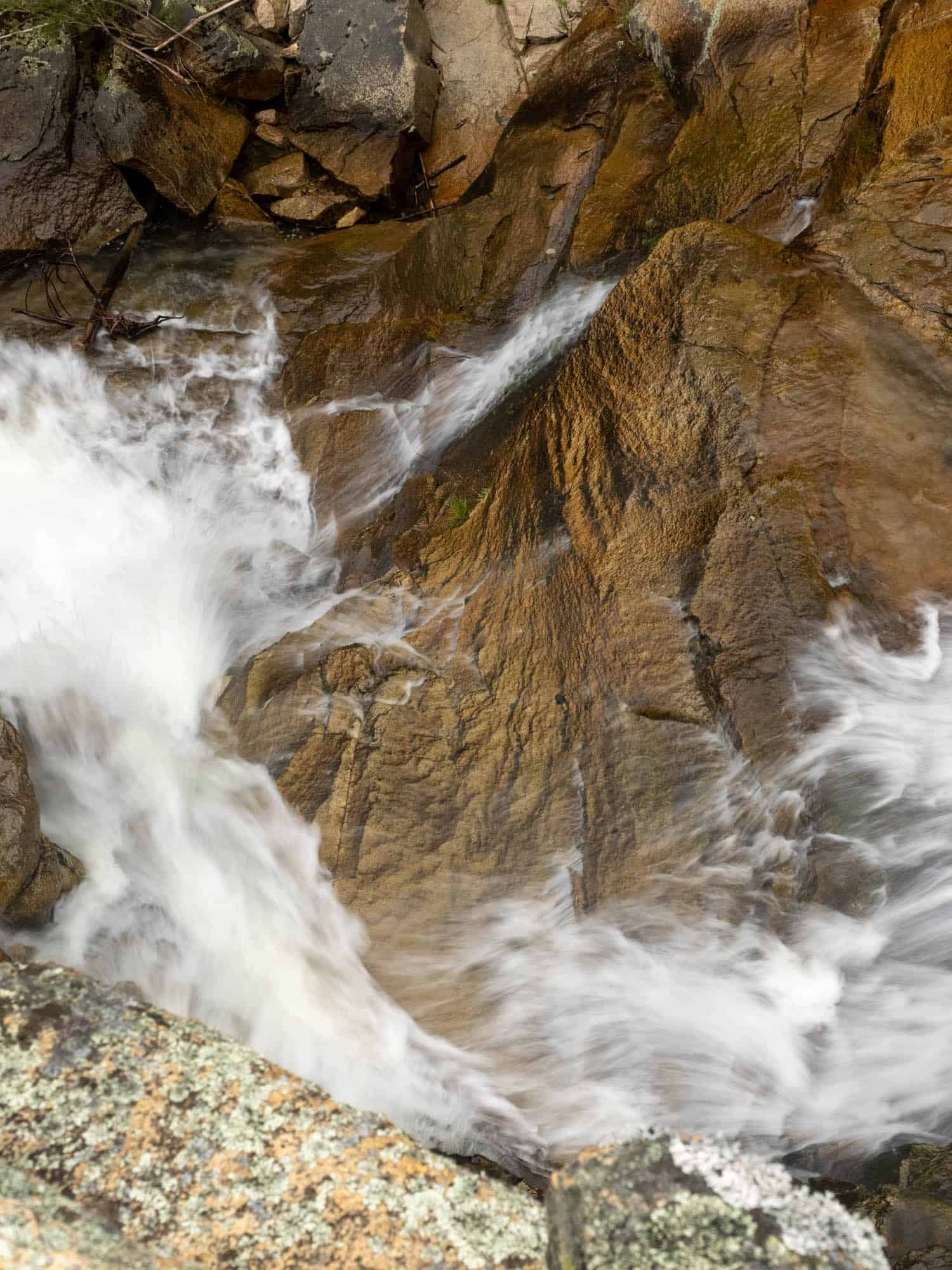 #05 Mulligans Flat
Where the (tiny) wild things roam
Quite the hidden gem, Mulligans Flat is tucked above the new suburb of Throsby in Canberra's north, just before the NSW border. Originally farmland, the reserve is home to some of Australia's most vulnerable and endangered species including the Eastern Bettong, once driven to extinction on the mainland before it's reintroduction at Mulligan's Flat in 2012.
The reserve is free from predators such as foxes, rabbits and deers, providing a safe space for the wildlife to thrive and regenerate. At first glance, the fences and gates may appear a little off-putting, but these are in place for the benefit of these tiny creatures that call Mulligans Flat home. Read more about the conservation work here.
Photographers tend to head for one spot in particular, the wetlands. A collection of large dead trees form stunning shapes across the wetlands area of the reserve, a short walk north from the car park at the new 'Wildbark at Mulligans Flat' visitor centre. Alternatively, there are two further gates (turn left upon entering the reserve) along Shingleback Street with plenty of car parking available. On the drive in, you may notice the street names of Throsby resemble the marsupials living within the reserve!
For the best shots, take a wander along the boardwalk toward the wetlands close to sunset. Kangaroos will be out and about, the sky will illuminate and reveal photo opportunities across the wetlands. Depending on the time of year you visit, you'll find they're either full of life, or dry and crusty…both offering the chance for a great landscape shot. Just to note, if you've only got a short stay in Canberra, I'd opt for Gibraltar Falls and Tidbinbilla instead as they offer a wider range of experiences and landscapes to photograph.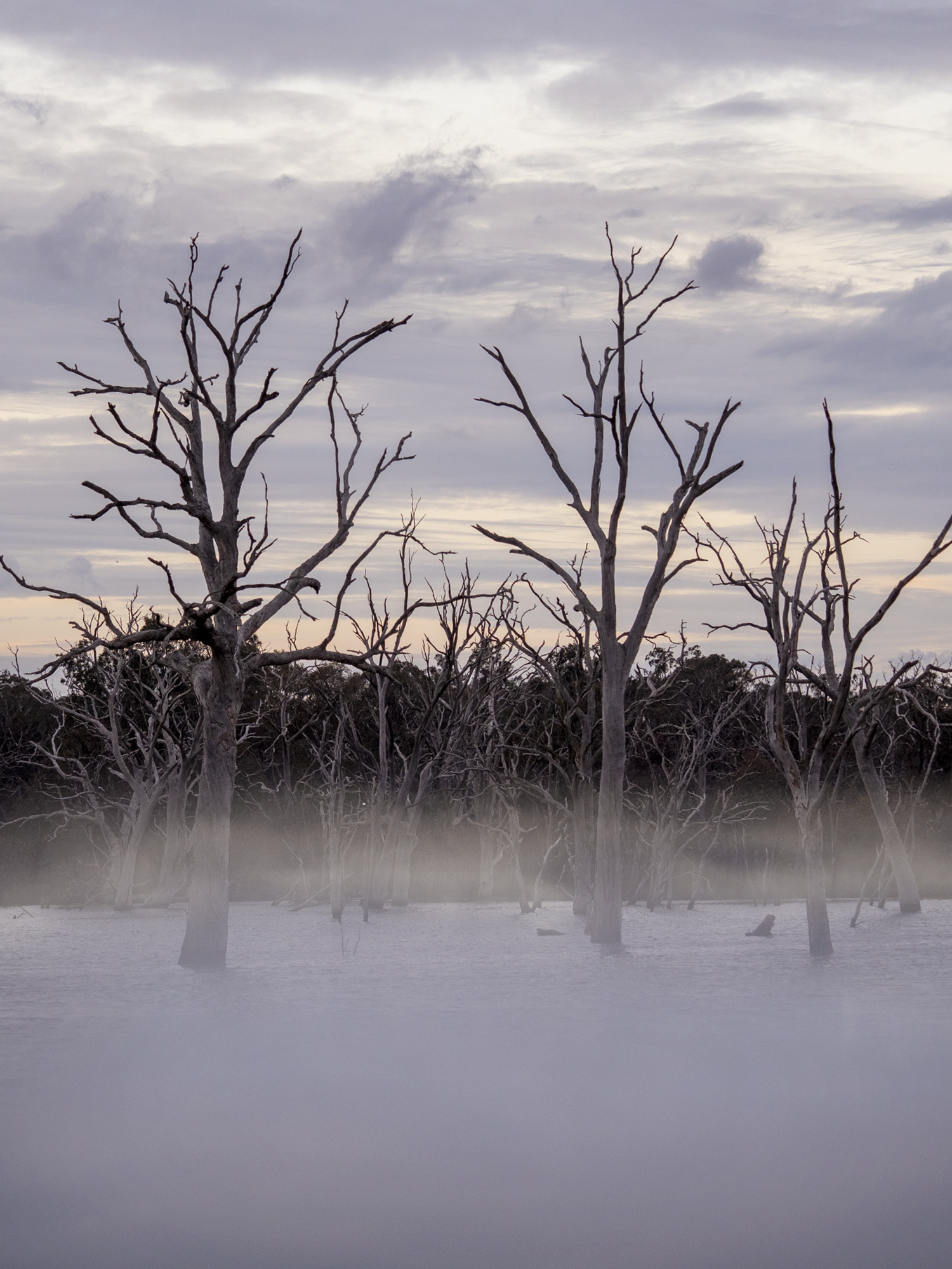 ---
The Monuments –
Show stoppers and scenic sights
#06 National Carillon + Kings Park
For a little history, music and shoreline views
A lovely spot to visit along the shores of Lake Burley Griffin is Kings Park. Family friendly, easy to access and ideal for sunset and sunrise it's also home to the National Carillon, a musical monument.
The Carillon is found on Queen Elizabeth II Island and was gifted by the British Government to celebrate the 50th anniversary of Canberra. Surprisingly, you may hear it before you see it, with 57 bronze bells carrying music to all corners of the lake.
Along the shore of Kings Park you'll find my favourite trees of Canberra, the weeping willows. Found in numerous places throughout the parks and gardens of the city, these trees act as beautiful foreground subjects for photographing monuments like the National Carillon. Even better of the sunlight shines through in the late afternoon!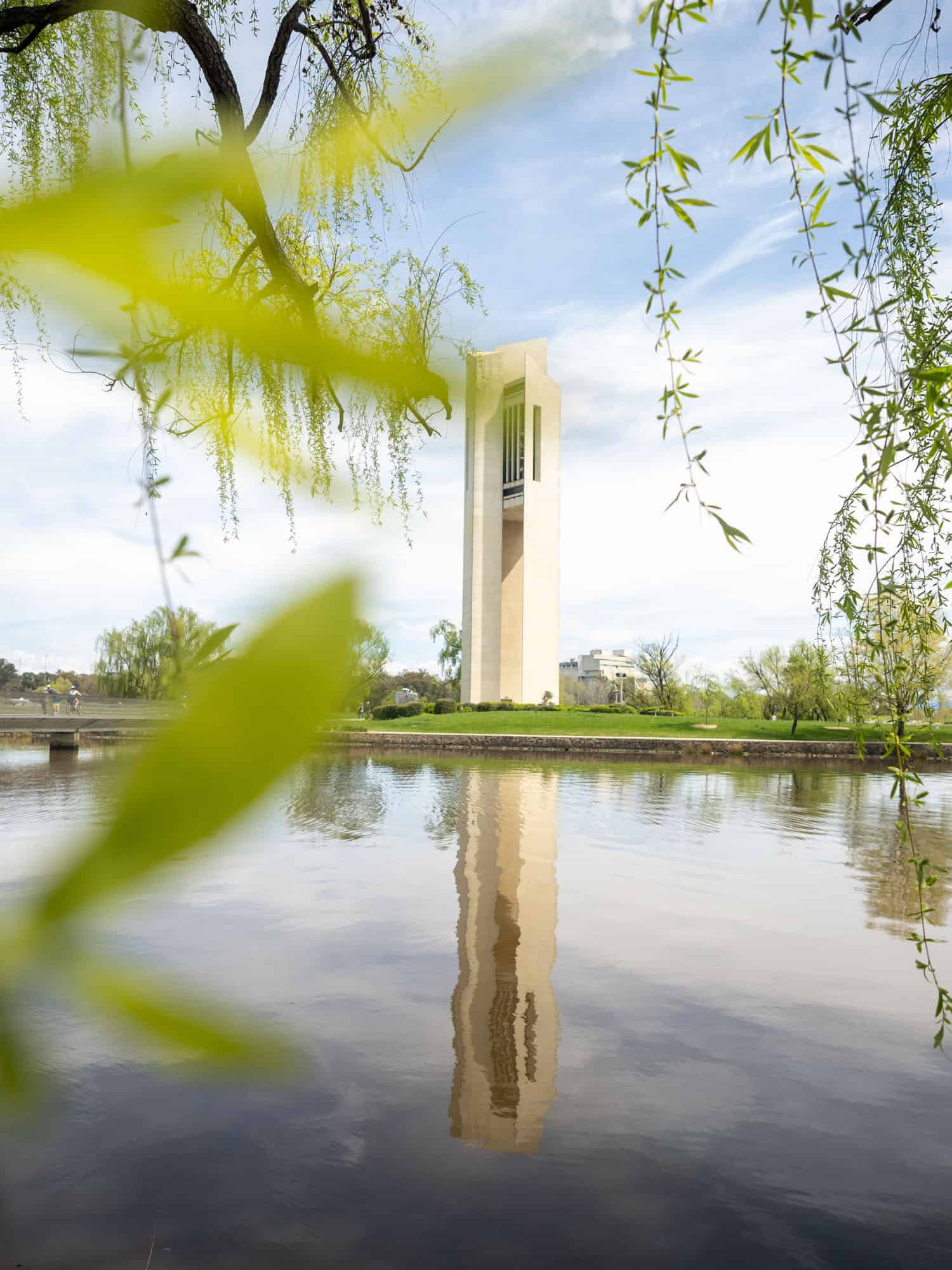 #07 Commonwealth Park
Blooms and the best views
Home to Floriade each year, Commonwealth Park is centrally located and offers incredible views towards the main sights of Canberra. From the park, you can see the National Library of Australia, National Carillon, across to Questacon (a must for science lovers + kids!), the High Court of Australia and galleries. Of course, Parliament House is also peeking above the skyline too! It's a great place to photograph at sunrise and sunset.
The Captain Cook Memorial Jet blasts water up to 152m above the lake and if you're standing at Regatta Point, you'll be sure to get a little spray if the wind is blowing, very welcome on a summers day! The memorial was officially inaugurated in 1970 by Queen Elizabeth.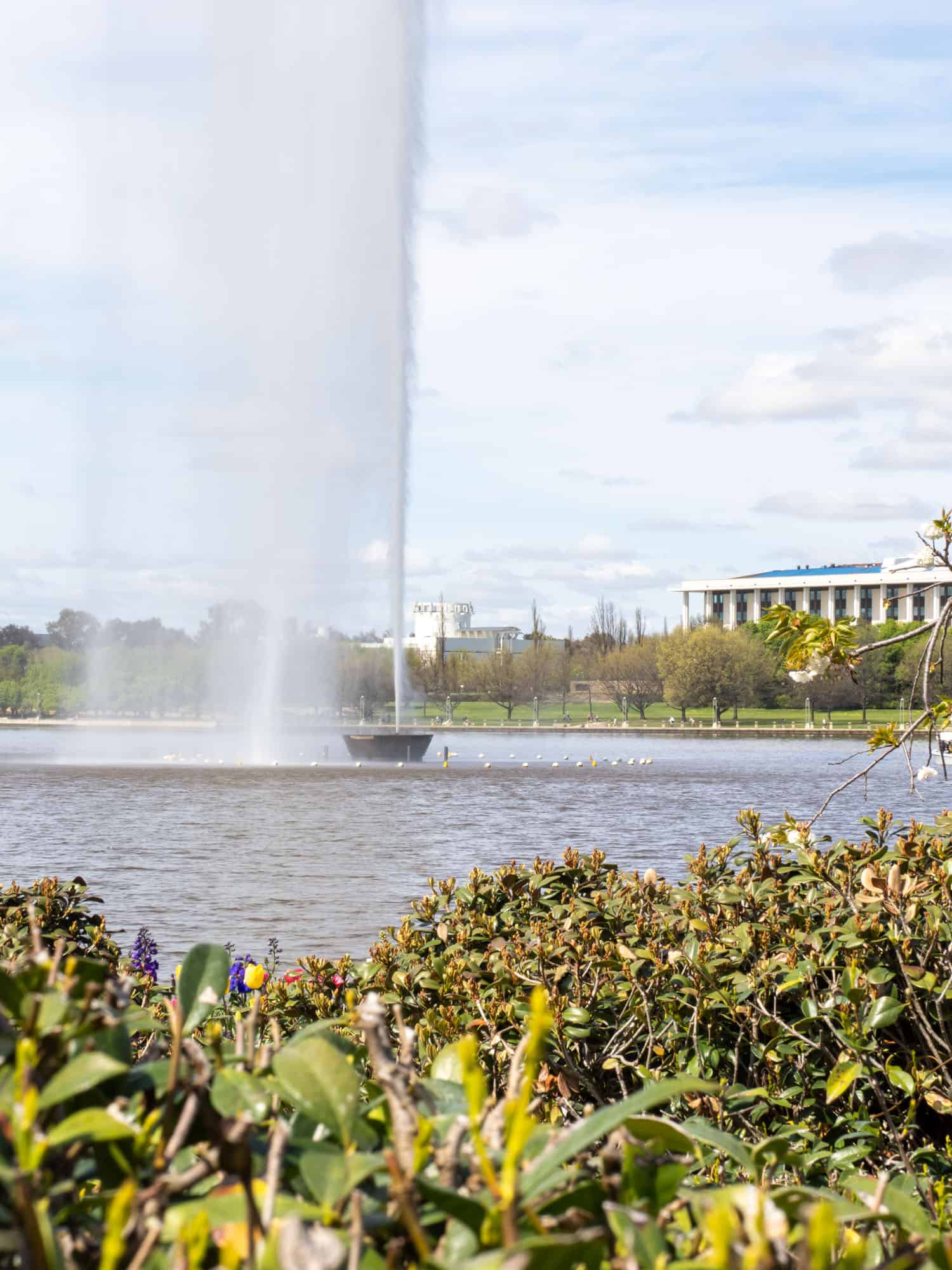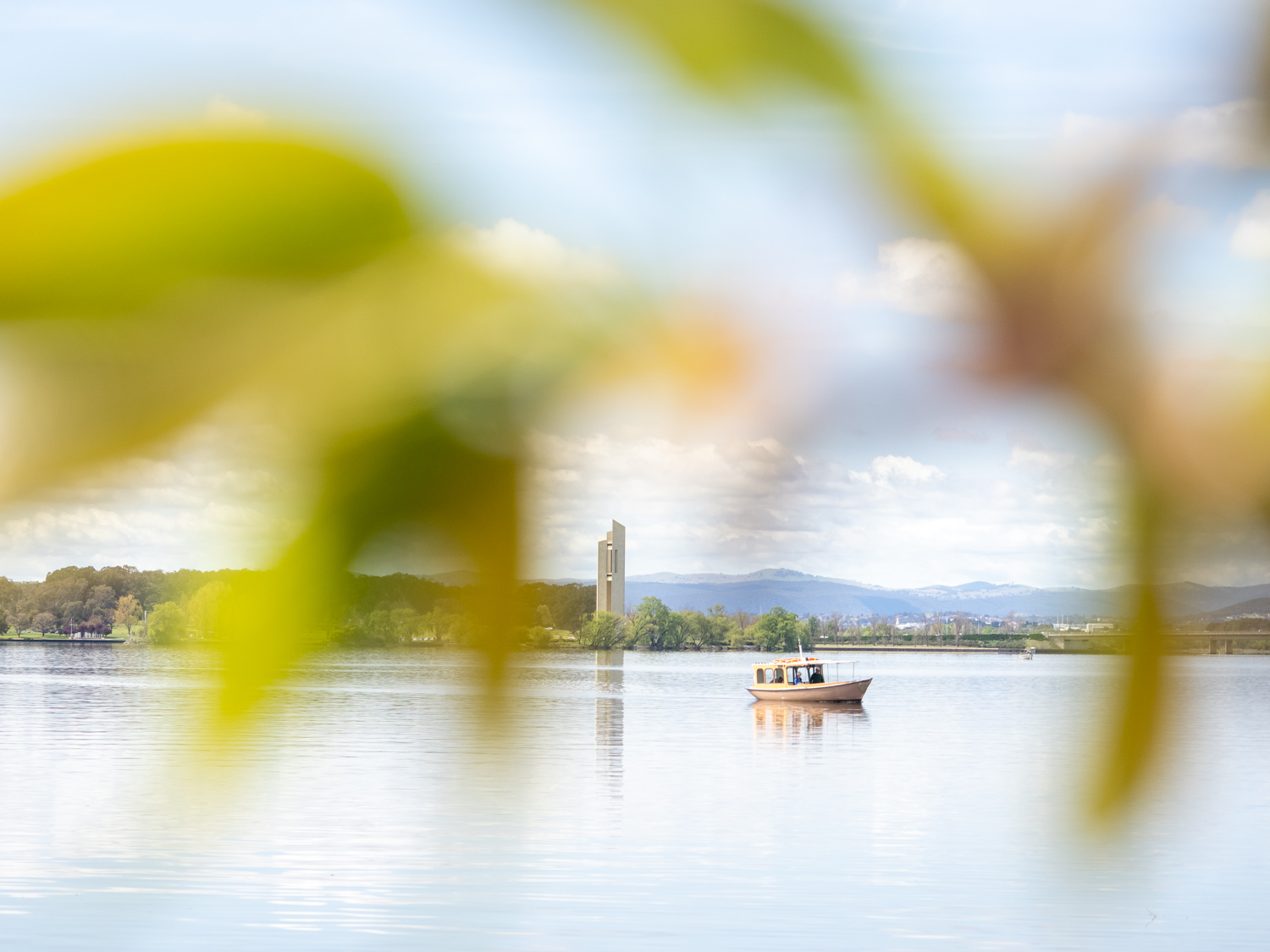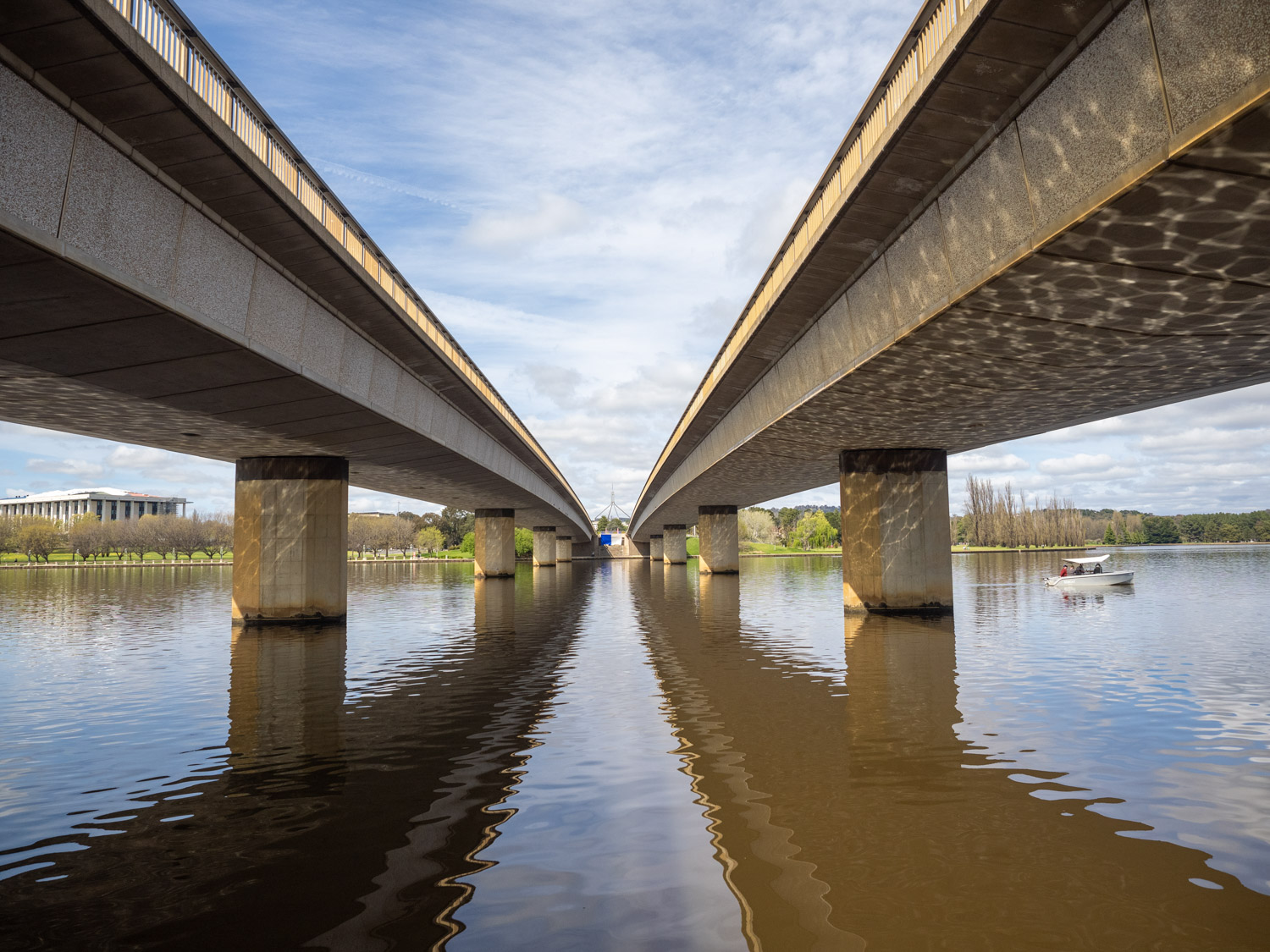 #08 Old Parliament House
Step back in time
Located on Camp Hill, placed due to the winning design by Walter Burley Griffin in 1912, Old Parliament House is one of my favourite buildings in Canberra. From Rond Terrace on the northern side of Lake Burley Griffin, you can see directly toward the building, with the current Parliament House peeking out from behind and above.
The striking white exterior holds some of Australia's most fascinating stories and historic moments within its walls. Not only could the walls talk, the construction includes timber from nearly every state of Australia to reflect the federal nature and purpose of the building.
If you're prone to a little trip down memory lane, take a walk through the halls and offices of Old Parliament House. For anyone older than 34(ish), you may think it all looks quite familiar at first, then you'll notice the television, the filing cabinets and clothing, all seemingly frozen in 1988.
On either side of the building, you'll find the stunning Senate Garden, and House of Representatives Garden. Both feature roses, fountains and floral filled spaces that have been beautifully designed to provide quiet retreats to sit and soak up the sunshine. By the tennis courts in the House of Representatives Garden are wisteria vines in bloom during spring and summer with a vibrant purple colour palette. The vines form the perfect backdrop to the Centenary of Women's Suffrage Commemorative Fountain.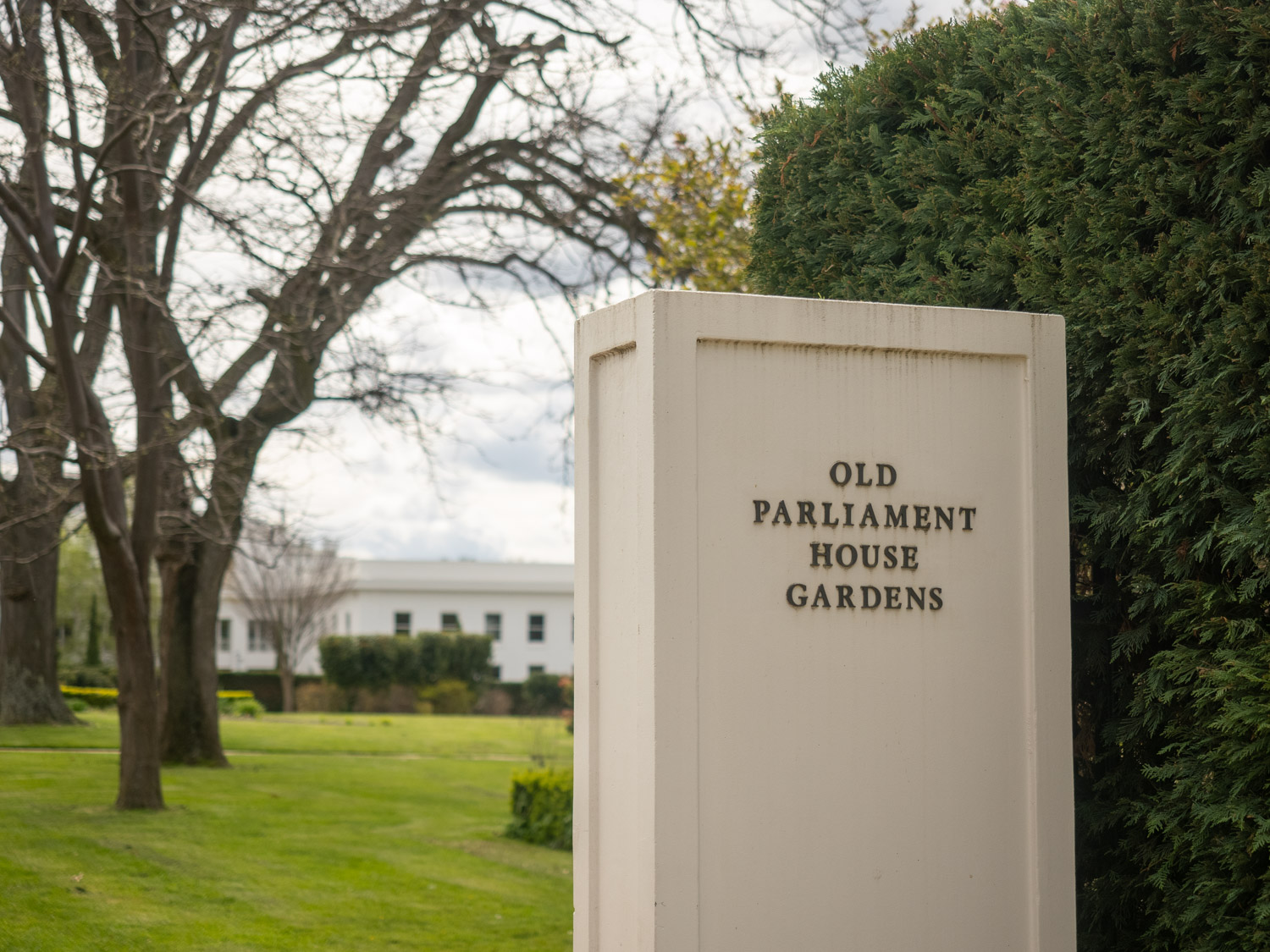 #09 Parliament House
A hidden hive of activity
From afar you'll likely see the large spire and Australian flag before you see any of the actual building. It can actually be quite a game to try and spot the spire from all corners of Canberra!
Parliament House feels illusive and hidden, and it is somewhat invisible from above with a grassy roof top. However, once you're driving across Waterloo Bridge, you'll start to see it appearing.
Inside are dazzling columns, you can attend Question Time and watch within the House of Representatives, or, my preference, stand on the lawns in front and photograph the shapes, architecture, tones and textures of this intriguing structure.
A number of small car parking spaces exist along Federation Mall, allowing you to quickly access the lawns and capture shots of the exterior and front façade. Venture up the mall to the front forecourt to use the small pebbles and central fountain for foreground elements in your photos too!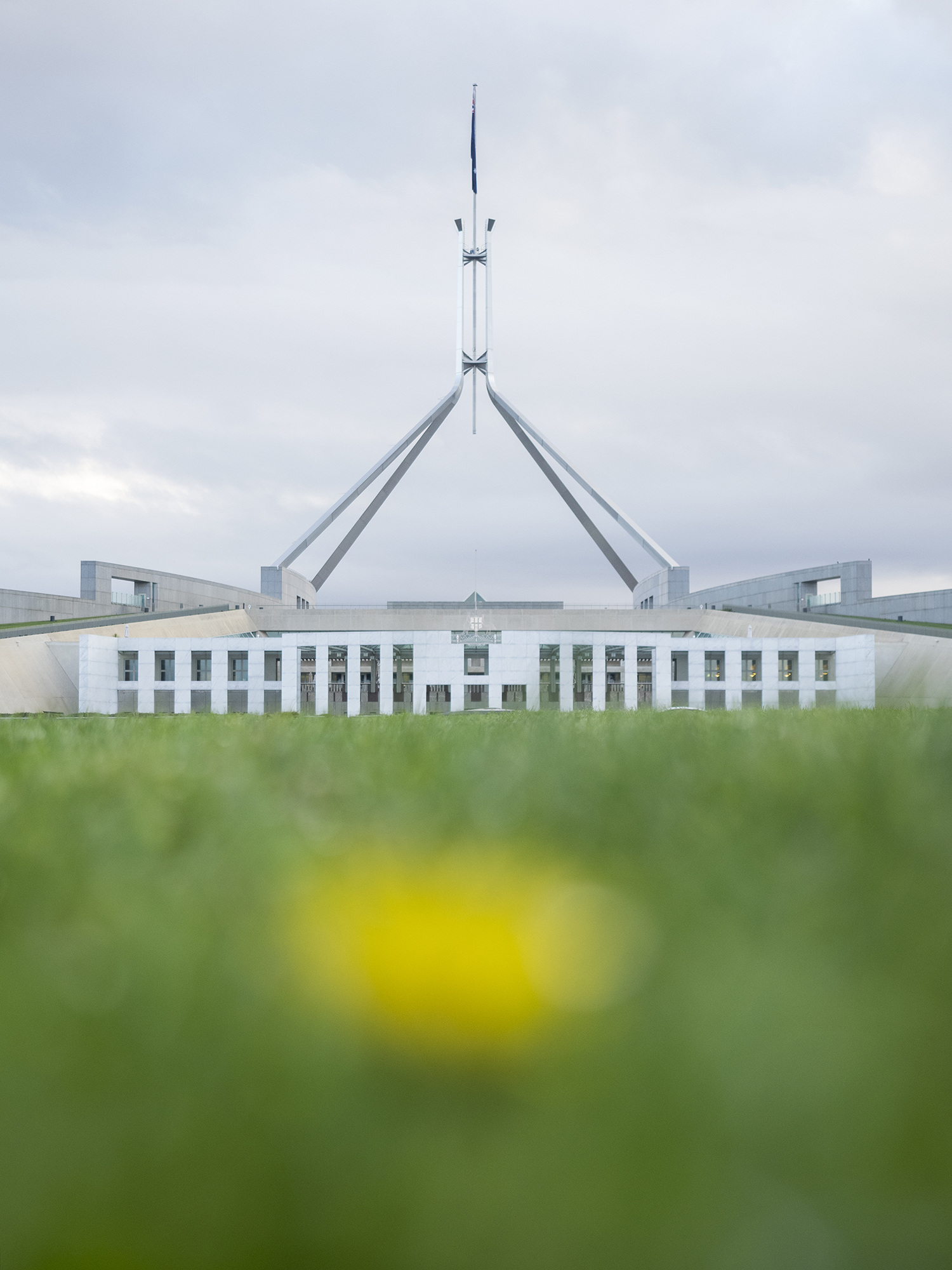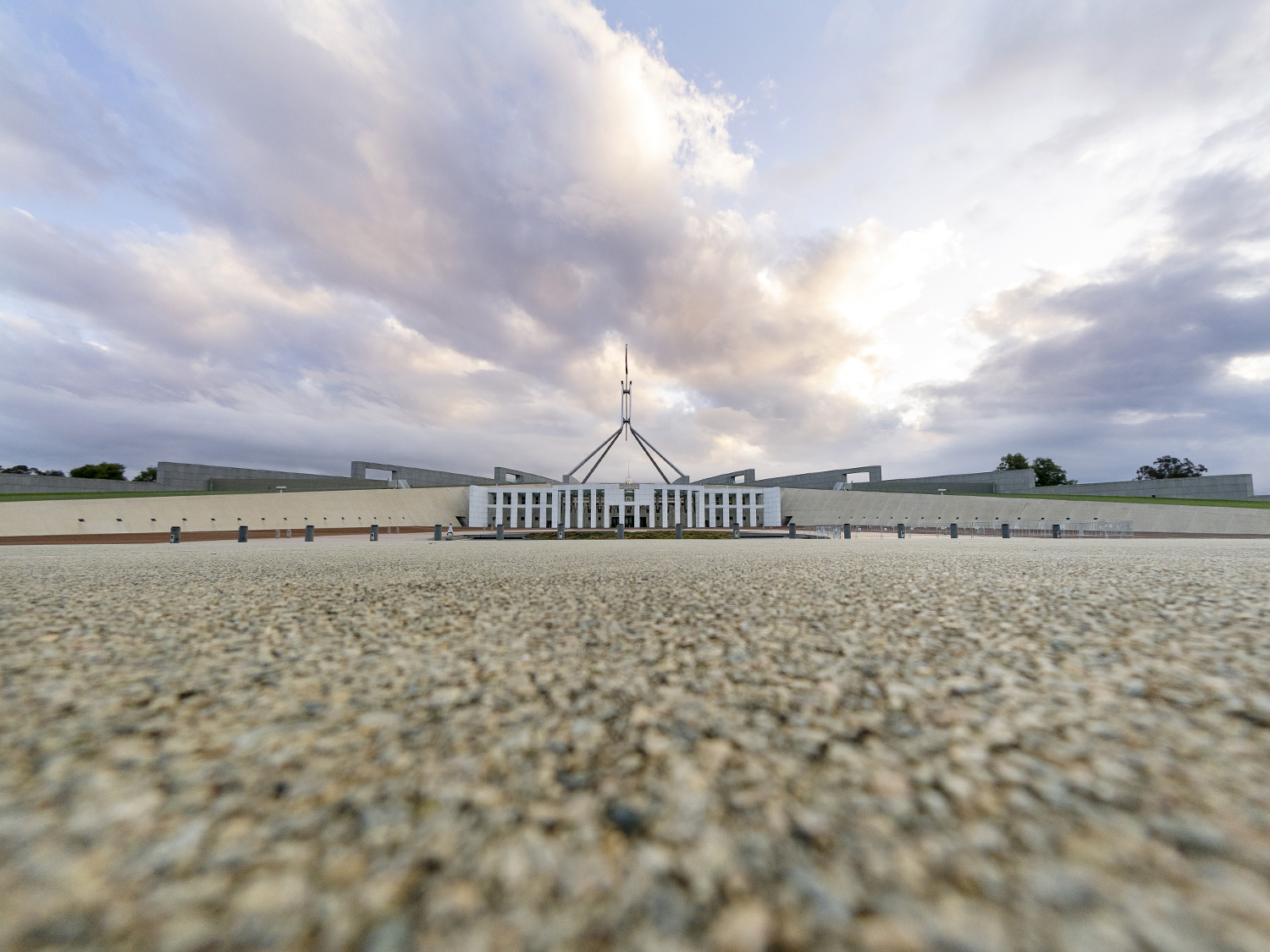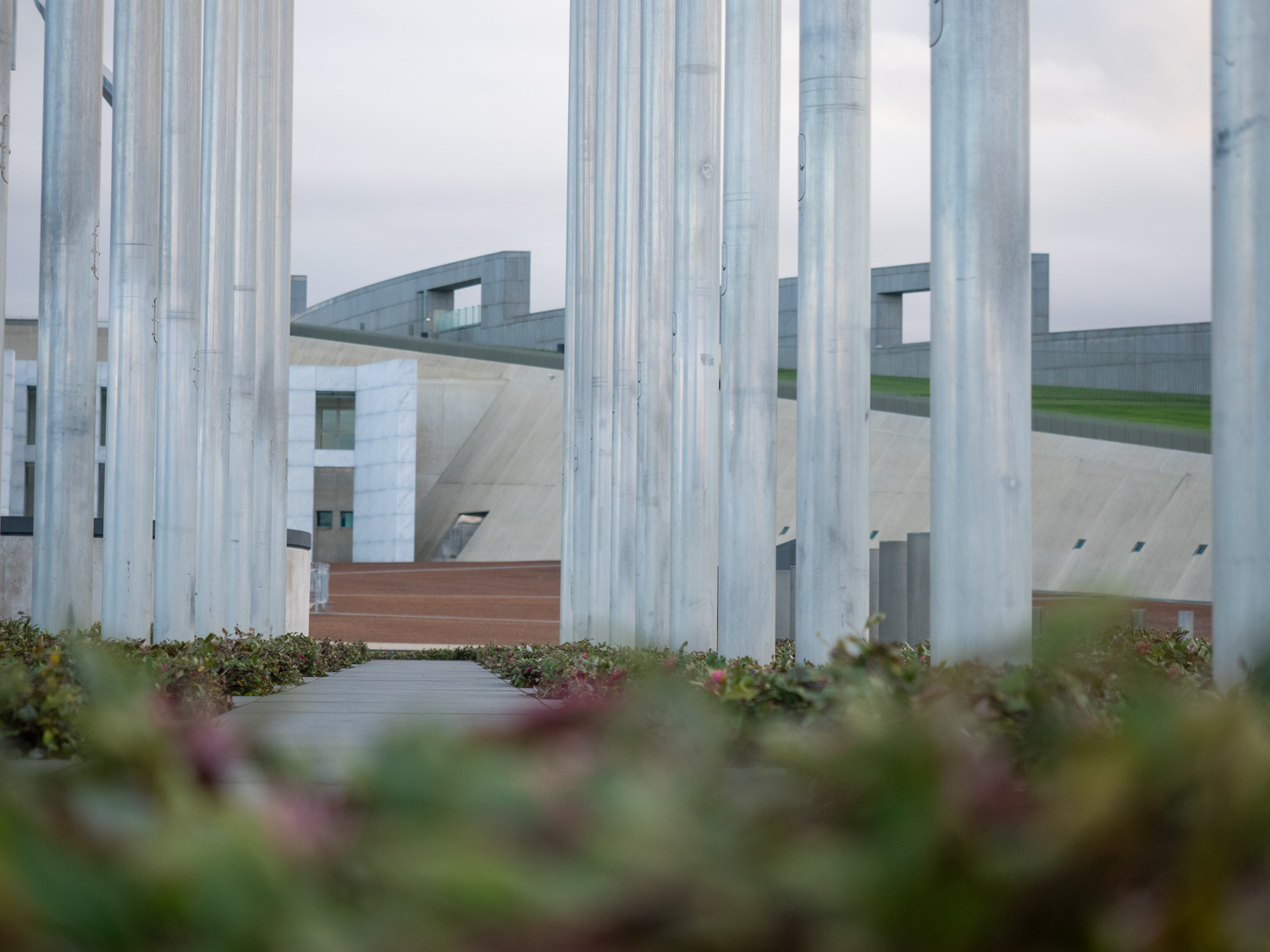 #10 The Australian War Memorial
Somber and significant
Located opposite Parliament House on the northern end of Anzac Parade, The Australian War Memorial is well worth a visit. Wander the museum to learn about past wars and view the impressive collection of memorabilia and dioramas, the detail and depth of knowledge is truly remarkable!
The Commemorative Area within the memorial is particularly moving. Wander the Roll of Honour where bright red poppy's line the walls above the Pool of Reflection and see the Eternal Flame.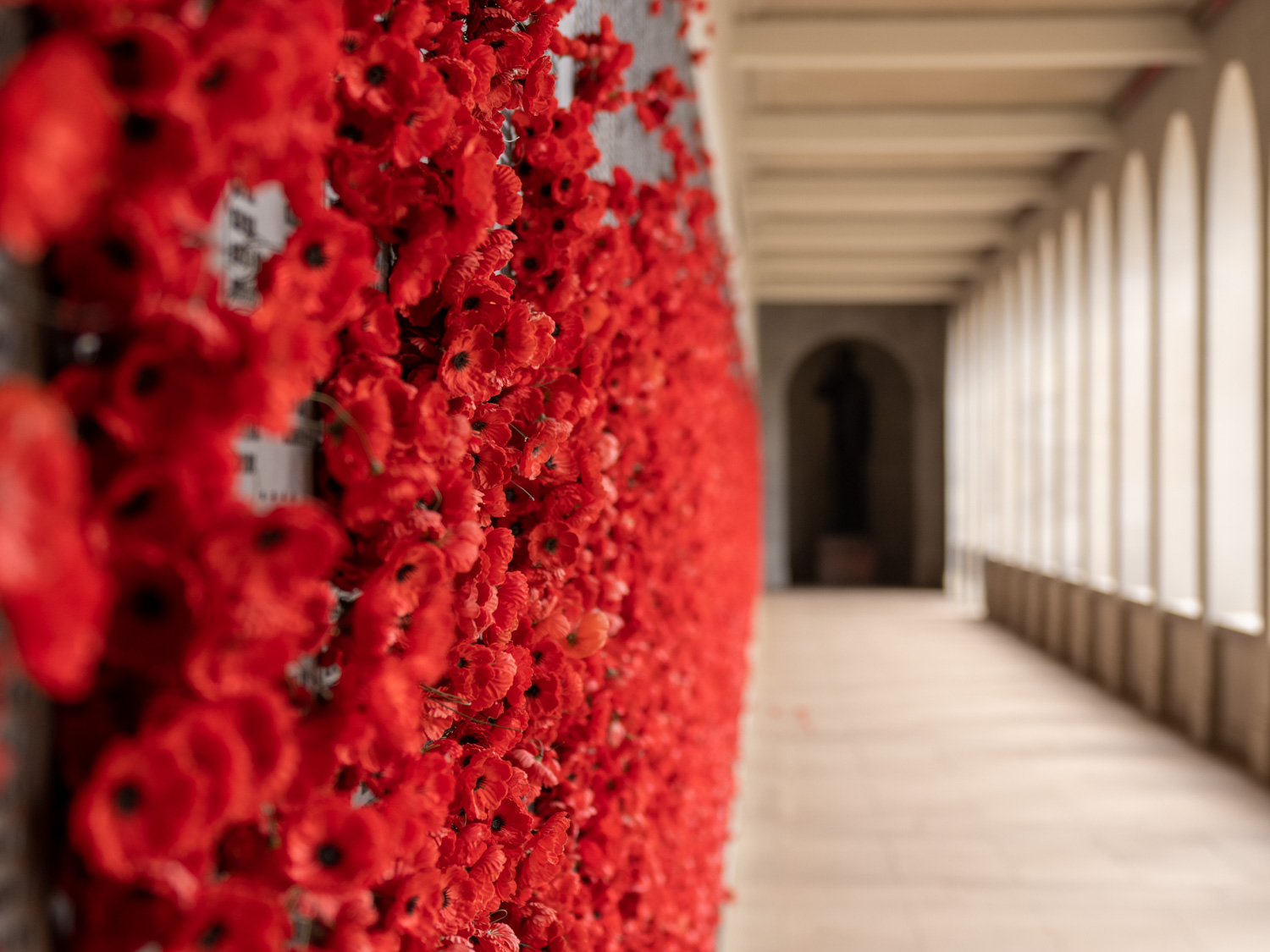 Exploring the relationship between war and society and the commemoration of war, the Tomb of the Unknown Soldier is a striking and silent space to reflect. Behind the tomb, four 11m tall pillars represent the platonic elements of water, earth, fire and air. The walls are adorned with mosaics and stained-glass windows, similar to the Napier Waller mosaics found within the dome of the Hall of Memory, designed in 1937.
Open daily from 10-4pm, time your visit to allowed time to browse the museum then connect with the Last Post ceremony and hear the bugle echo through the halls. The ceremony commences at 4:45pm daily however you need to enter prior to 4:20pm to gain admission.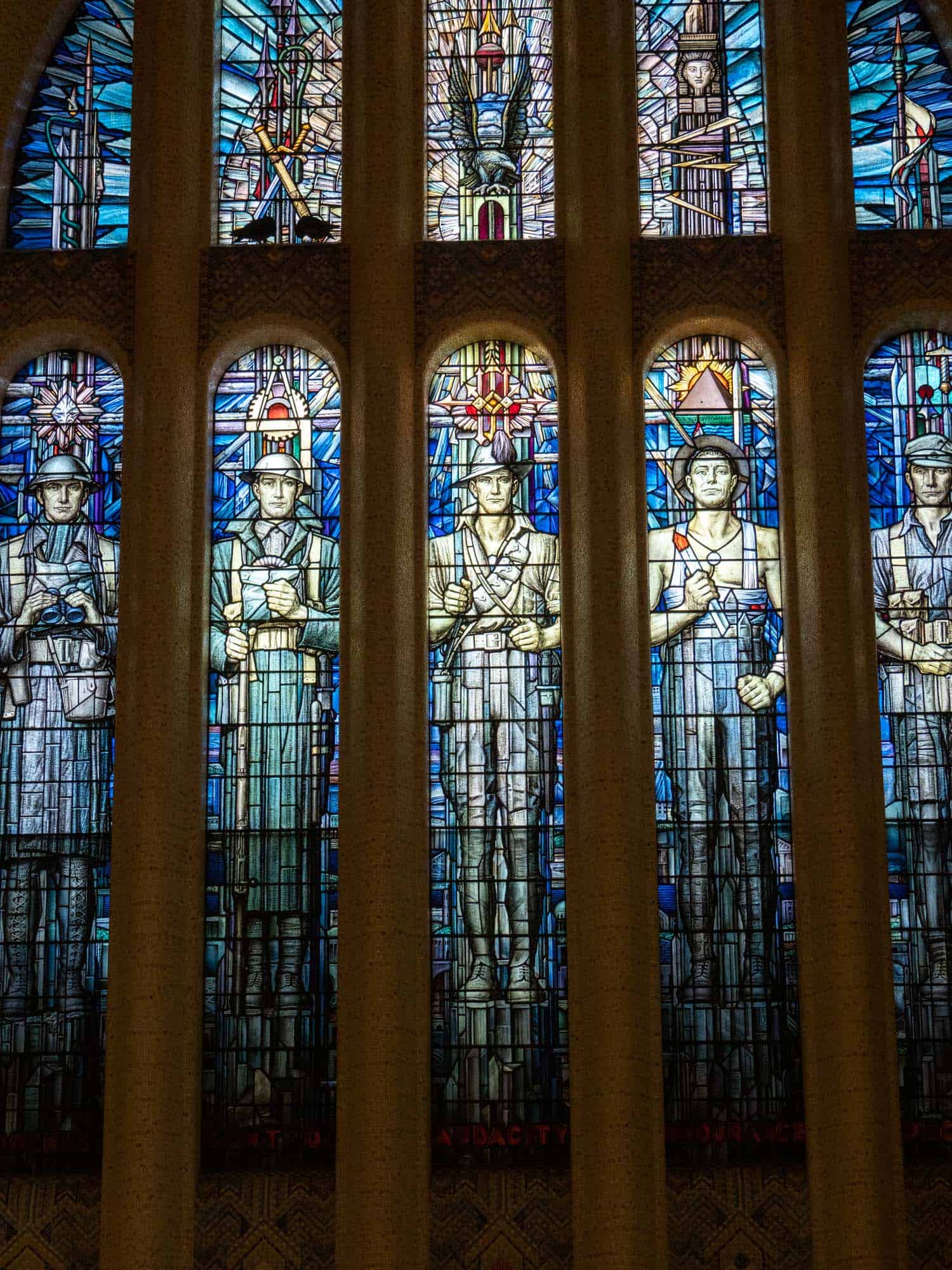 #11 Telstra Tower
An iconic vision
Sitting atop Black Mountain, Telstra Tower is visible from all over the city. I like to think it's Canberra's version of the Eiffel Tower, even glowing in the evenings from it's perch above the Botanic Gardens and Nature Reserve.
While the tower is currently closed for restoration, you can still photograph it from various points around the city. Capture reflections from Lake Burley Griffin, use plants and flowers to frame its shape from Weston Park or the National Arboretum!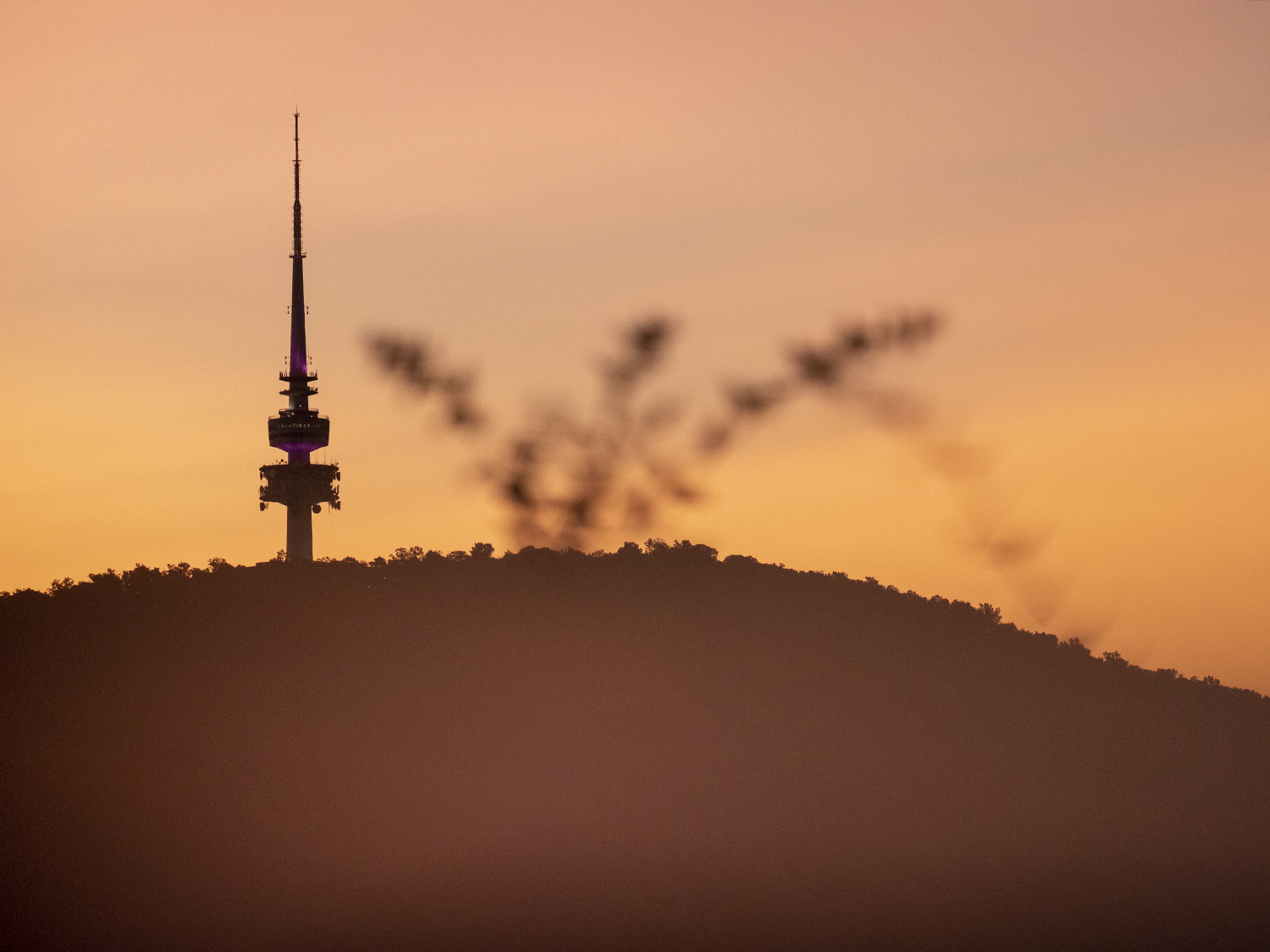 Creative Spaces
#12 National Library of Australia
A quiet space
If you're in Canberra and need to do a little work, writing or want to edit your photographs somewhere calm and quiet, I can absolutely recommend the National Library of Australia. Canberra offers a number of fabulous co-working spaces in the city, however I've always found there's something so peaceful about sitting in a library, even if it's with a laptop!
Sit amongst heritage collections, browse cabinets of newspapers dating back to the early 1900s and soak up inspiration from the artwork on display. There are plenty of desks and study nooks on offer, my tip is to take a walk around and suss out which spot feels the most comfortable.
#13 National Portrait Gallery
Exhibitions and inspiration
Blending modern and traditional artwork, the National Portrait Gallery is a beautiful space to spend a morning soaking up the work of talented artists. Filled with a growing collection of work representative of our nation's past and present, it's a wonderful insight into a wide spectrum of creative techniques, methods and styles.
I was drawn to William Yang's work and the photographic portraits of Robert Fielding, a contemporary artist of Pakistani, Afghan and Western Arrente and Yankunytjatjara descent.
On my recent visit, I wandered the rooms until I found the portrait of HRH Crown Princess Mary of Denmark by Jiawei Shen, commissioned in 2005.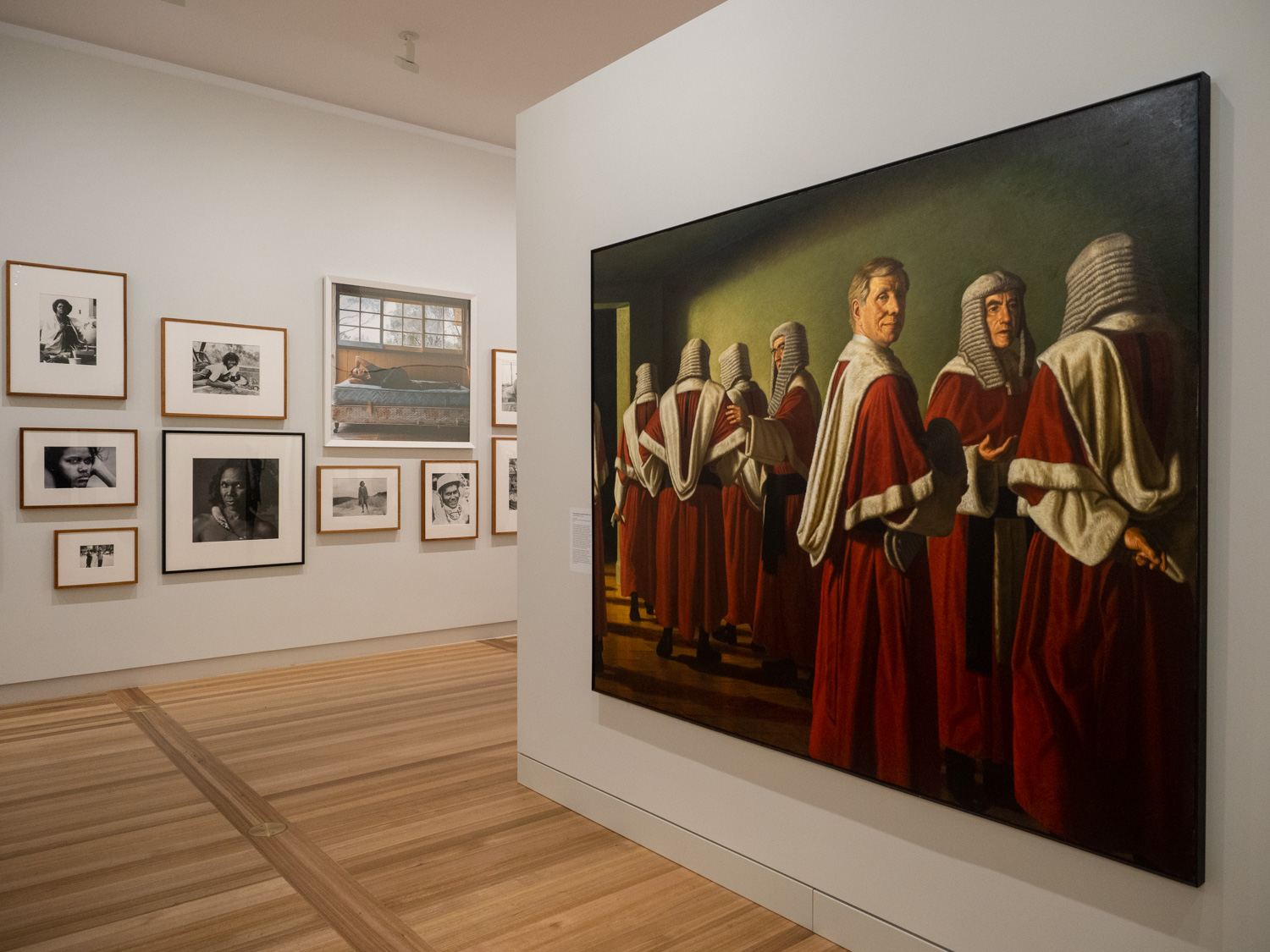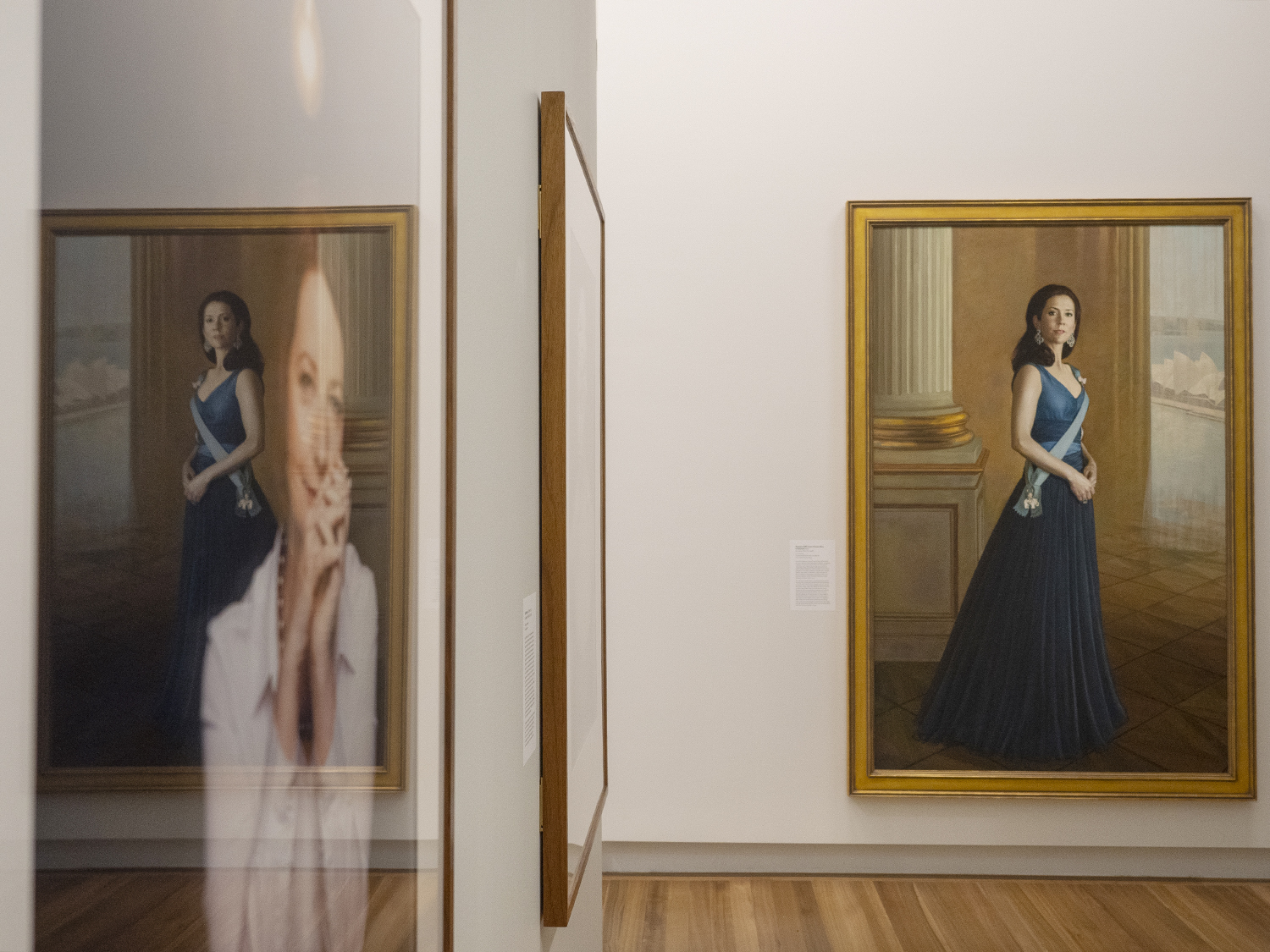 #14 Sculpture Garden – National Gallery of Australia
One of my favourite places to wander is the Sculpture Garden found on the shores of Lake Burley Griffin, part of the National Gallery of Australia. This open-air space is free to access and you can pass through as part of a walk around the lake, or combine it with a visit to the interior gallery and exhibitions also.
A highlight of the garden is without a doubt, Fujiko Nakaya's fog sculpture 'Foggy wake in a desert: An ecosphere'. Stand amongst the garden as fog wafts through, creating a whimsical scene like a fairytale. This particular sculpture is only in operation between 12:30-2pm daily, a must-see when visiting Canberra!
On the southern side of the gallery you'll find another outdoor exhibition, the work of James Turrell's 'Within without'. Just like photographers, James works with the medium of light and this 'Skyspace' created in 2010, is a viewing chamber that explores the way we perceive the sky. Light shimmers on the shallow pool, tonal elements and structural heights work together to alter the sculpture throughout the day. It's suggested the best time to experience the Skyspace is at dawn and dusk, when the transition between night and day is at it's most dramatic.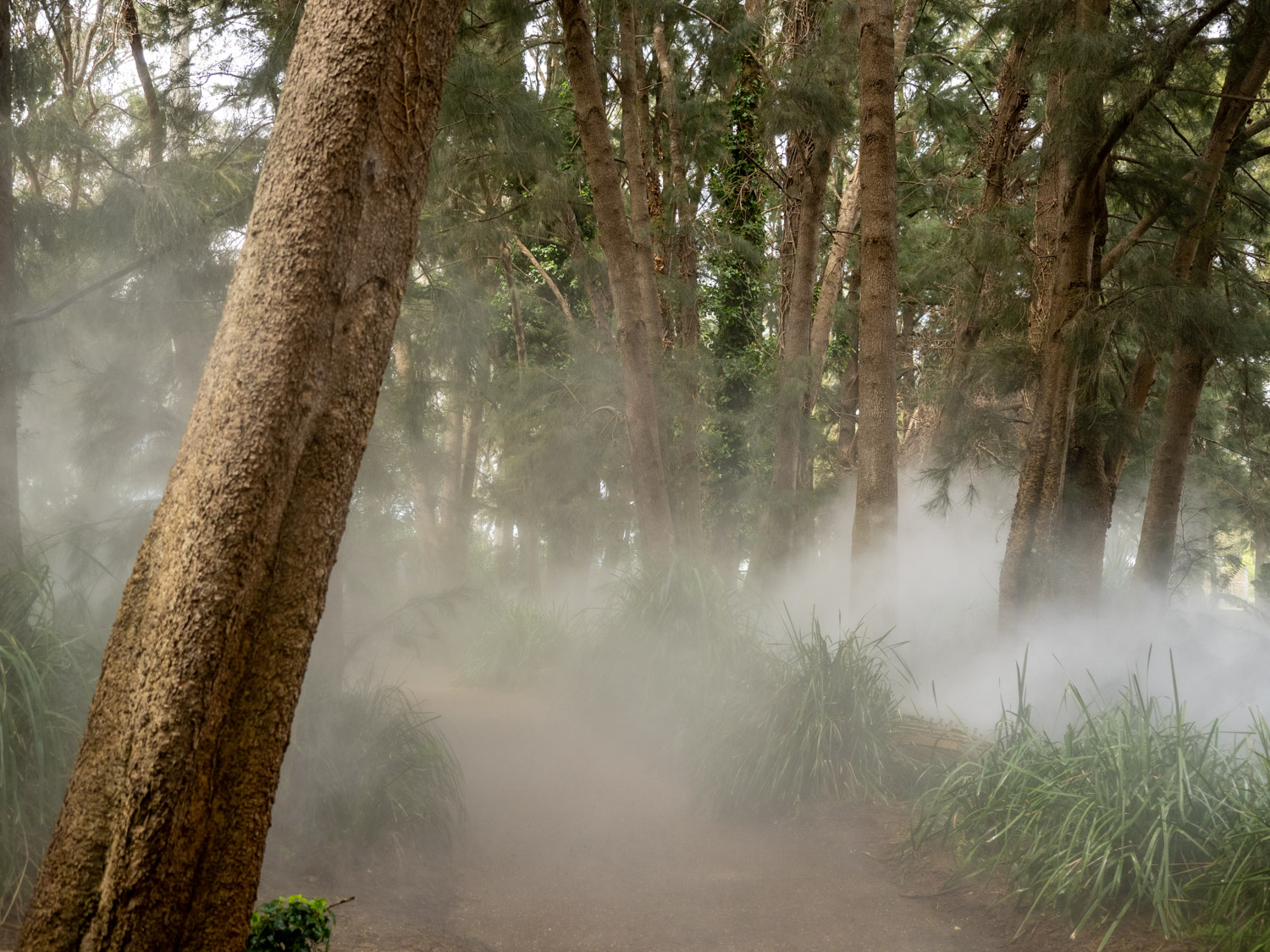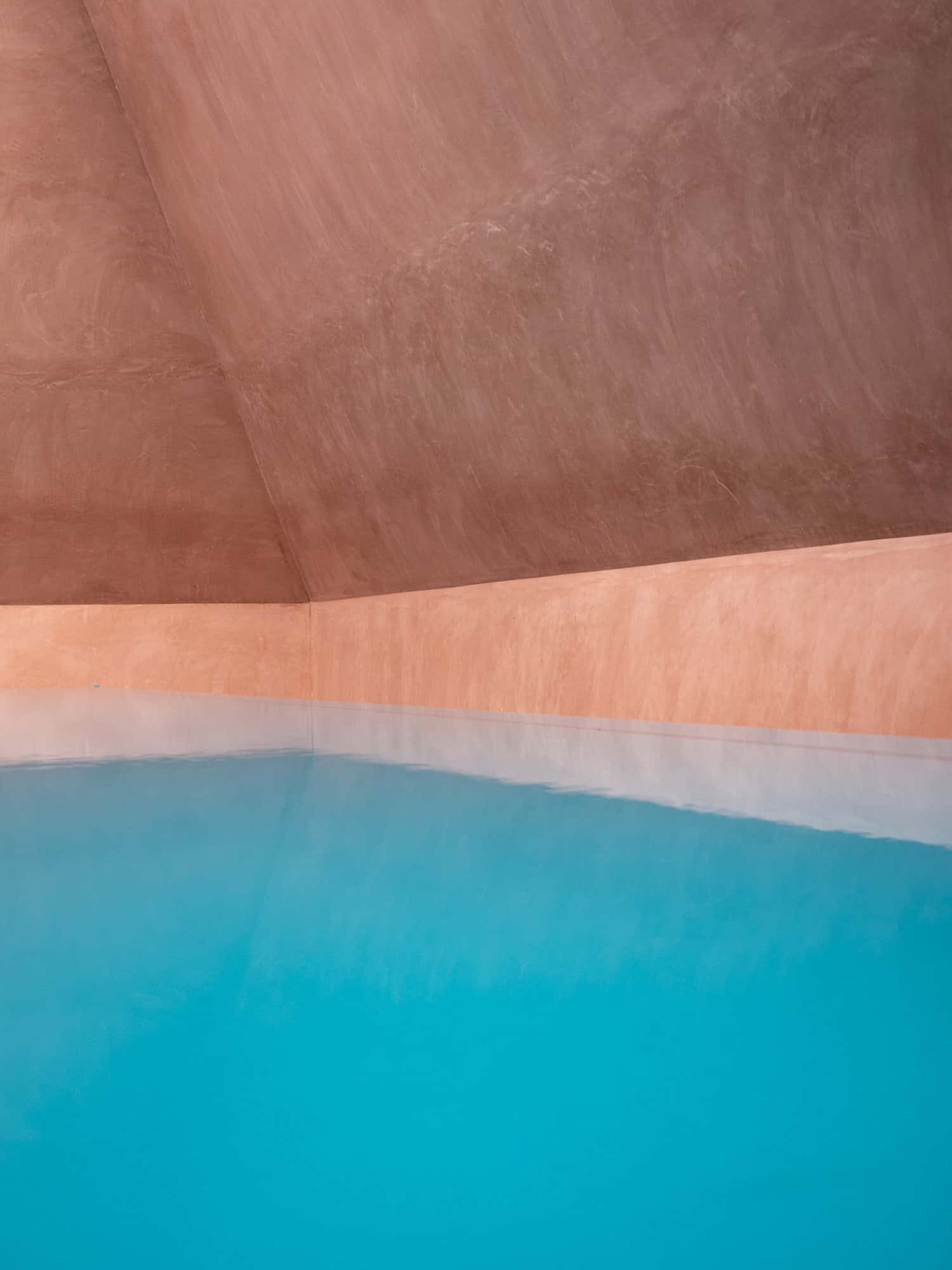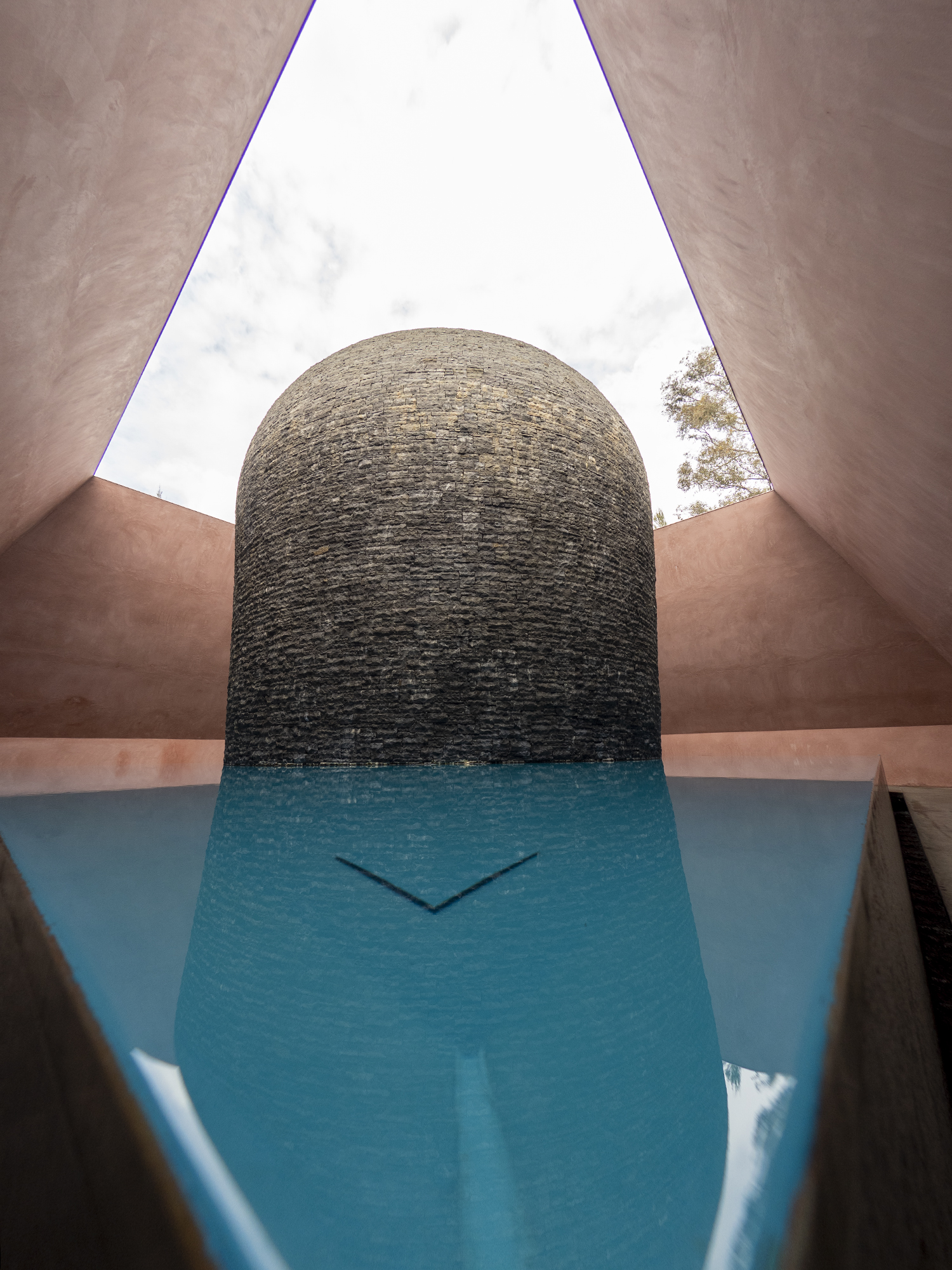 Where to Stay in Canberra –
Finding somewhere to sleep should be part of the creative process and I love seeking out those special spaces that help to refresh and ignite your energy for exploring each day. In Canberra, look no further than the Ovolo Nishi.
This building is artsy and imaginative inside and out. Located in the New Acton precinct on the northern shores of Lake Burley Griffin, it's the ideal place to relax, dine and base yourself in the city, just five minutes from almost everything mentioned within this guide.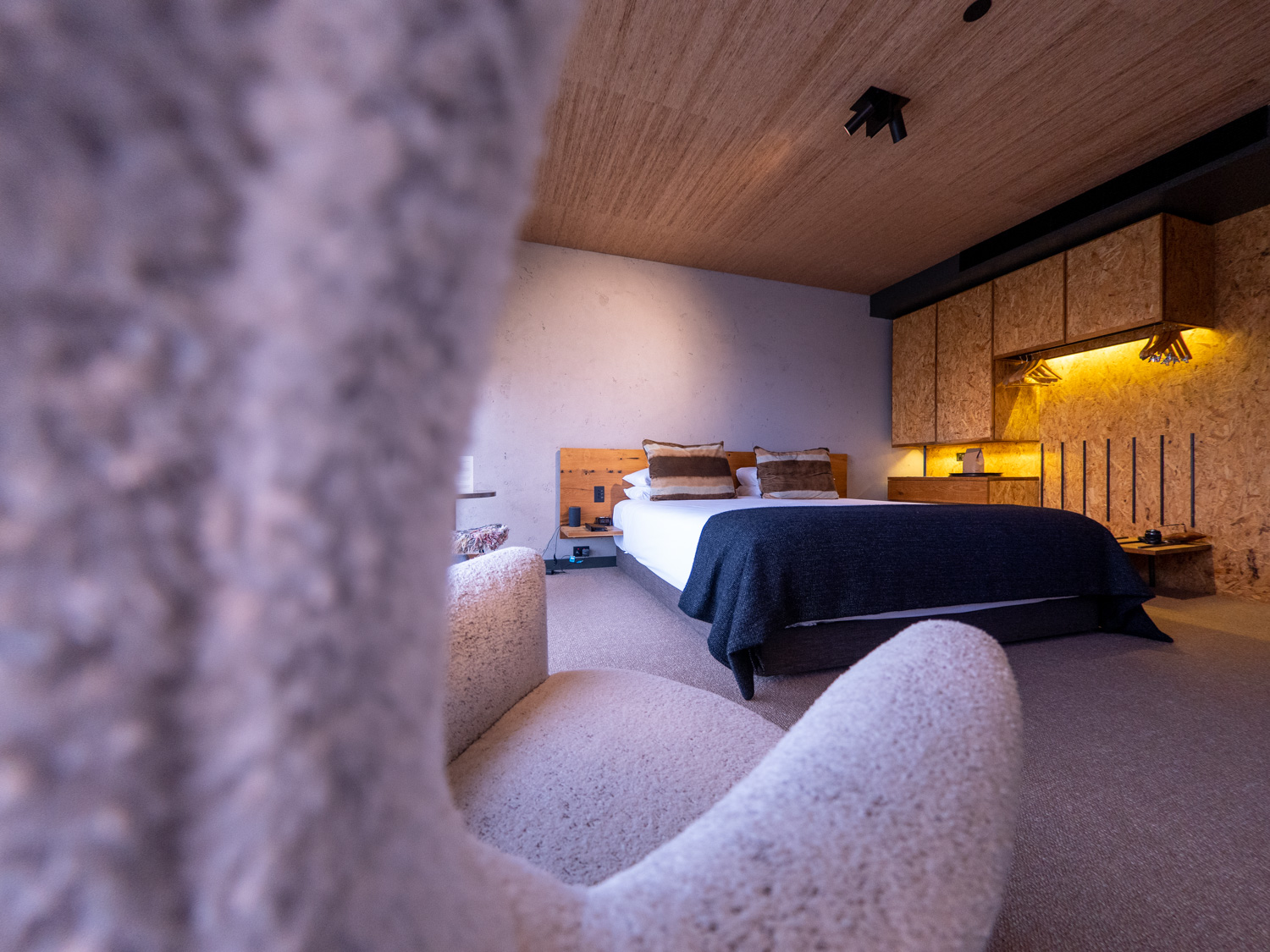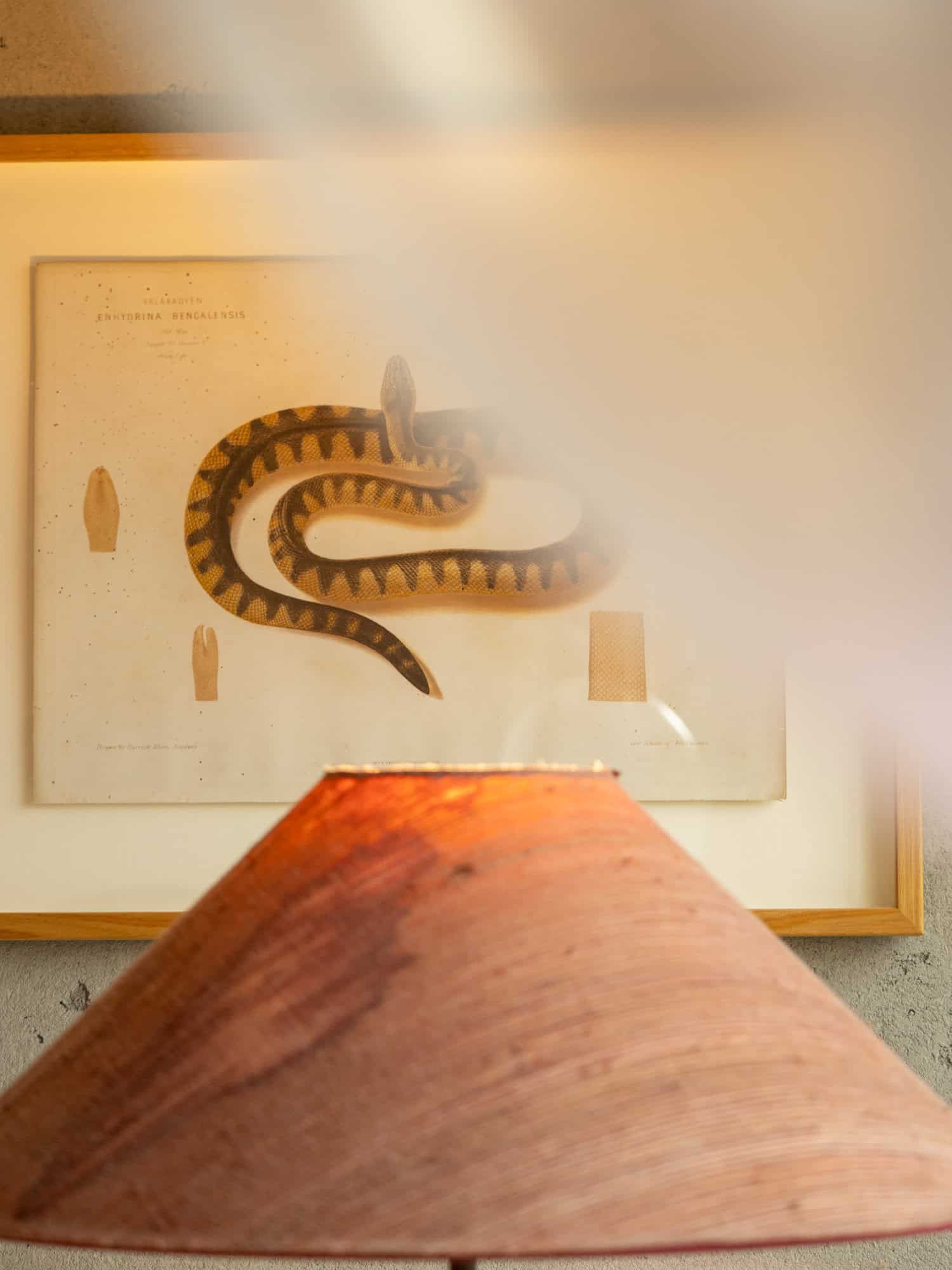 Each room offers a dose of creative character with restored vintage furniture blending with luxurious décor, original artwork and some snazzy modern fixtures. There's little treats and goody bags upon arrival, complimentary drinks in the lobby each evening and it's home to the Monster Kitchen & Bar, a dining experience you need to have when visiting Canberra. Vegetarian share plates are created with local and seasonal produce to create a infusion of Japanese and Middle Eastern flavours, it's a wow kind of dinner!
Choose between room styles that differ in size and sunlight. If you're seeking a dimly lit snug space, opt for the Cosy Atrium or go a little larger and take a peek at the Creative Atrium rooms that overlook an internal atrium forest of reclaimed Tasmanian tree ferns. If you need more sparkle and sunshine to wake up in the mornings, I highly recommend the Original or Creative Sun rooms, my preference for a beautiful view, light and giant King Bed!
Oh and don't miss out on the staircase, it's stunning.
Reserve a room at Ovolo Nishi here, or take a peek at the menu of Monster Bar + Kitchen here.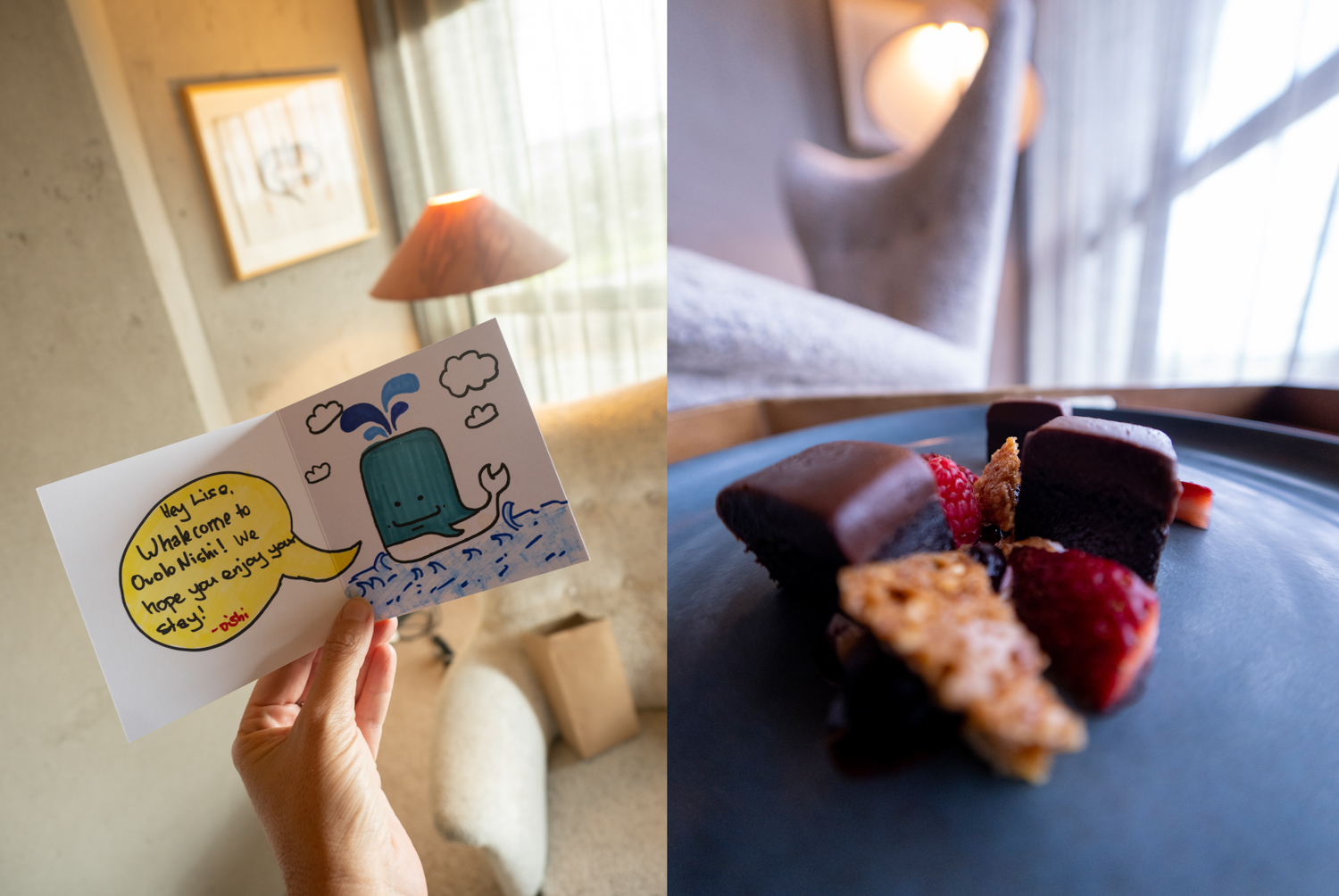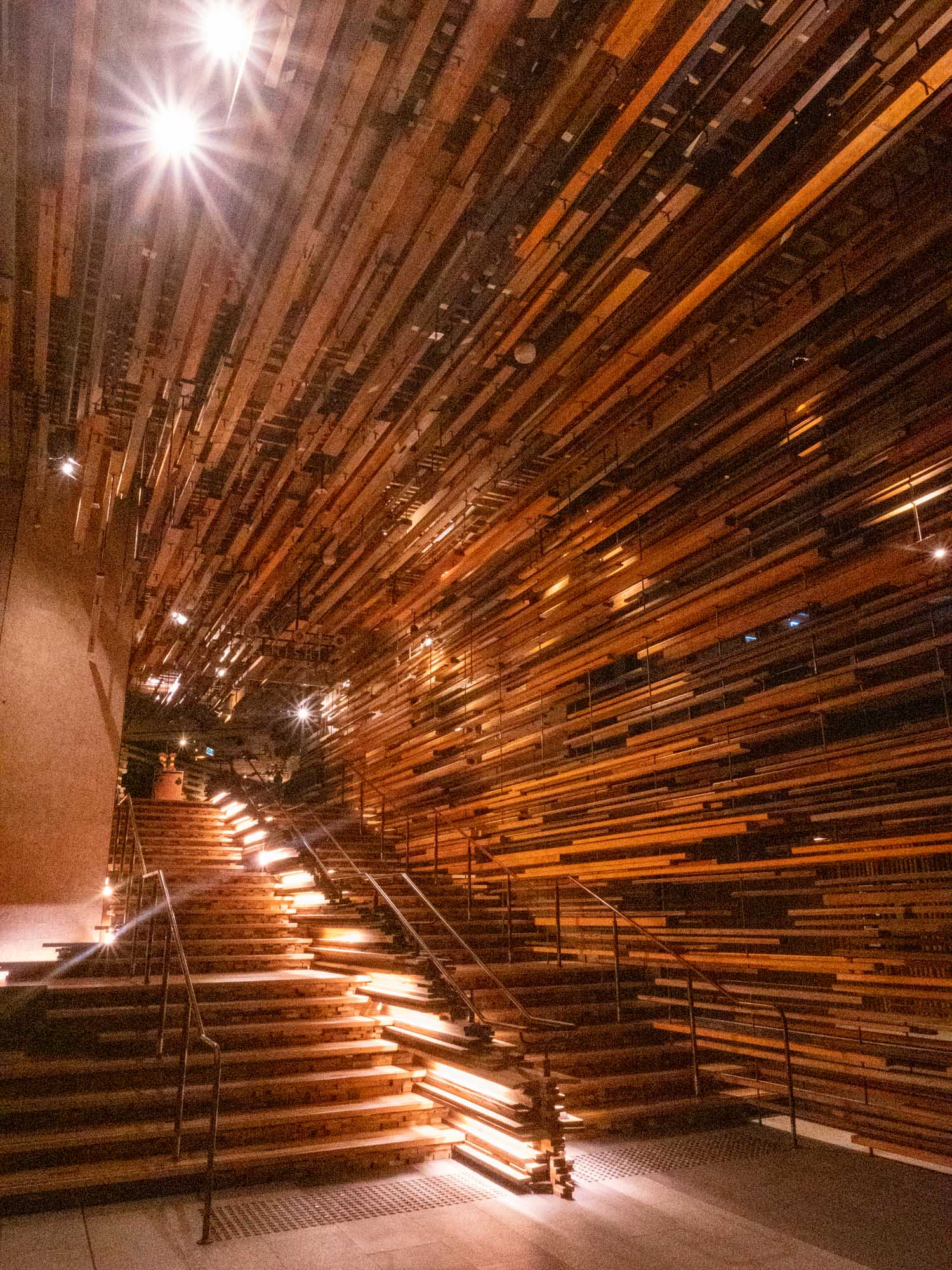 ---
Notable Extras
Fill your days!
Braddon Murals + Urban Art – This trendy suburb is home to giant murals, cafes and bars. Canberra hosted its first urban art festival in March 2022 and this saw the streets transformed into works of art. Head for Lonsdale Street!
Kingston – One of my favourite areas of Canberra, Kingston offers a lovely village atmosphere and a few blocks down, a modern lakeside boulevard with cafes and restaurants. Ideal for morning walks along the lake, pick up a coffee from On-Lake Cafe or Bean & Table and wander through Bowen Park in either direction. There's a lovely little bookshop in Kingston too called 'The Book Cow Kingston'.
Muse Canberra – A fabulous blend of books, food and wine with regular events, book launches and author in-conversations. You'll find this gem in Griffith, a short walk from Kingston. Take a peek at their menu, store and events calendar here.
High Tea @ The Hyatt – Step inside the heritage listed Tea Lounge to indulge in a decadent afternoon tea. Not only are the towers of savoury and sweet goodies worthy of a visit, the building and interiors are very photo-worthy!
Two Before Ten – Perhaps my favourite place for breakfast or brunch in Canberra, the concept here is so inspiring and every meal is deliciously fresh. With multiple cafes, a roastery and urban farm, they also host workshops teaching you how to brew your own kombucha, coffee, make cheese or cocktails! Check out their locations + cafe details here, my pick is Aranda.
Meet Gather Collect – Downstairs from Two Before Ten Aranda is this lovely little gift shop called Meet Gather Collect, such a beautifully curated store of creative goodies! Inside you'll find custom furniture, fashion and gifts created by Australian artists, designers and makers.
Namadgi National Park – Giant boulders and hiking trails await at this gorgeous national park, bordering Kosciuszko National Park in the south-west of the ACT. Unfortunately I wasn't able to visit on my recent trip, however it's on my to-do list next time and if you visit before me, send me a photo! Visit this site for more details.
Hot Air Ballooning – Last, but certainly not least, if the conditions are right, treat yourself to a sunrise hot air balloon flight over Lake Burley Griffin to see Canberra from above! I'm yet to time it well, but have seen some stunning images of the balloons hovering above the lake as mist wafts below. There's also an annual balloon festival, next year it'll be held from 12-20th of March, 2023, more info here.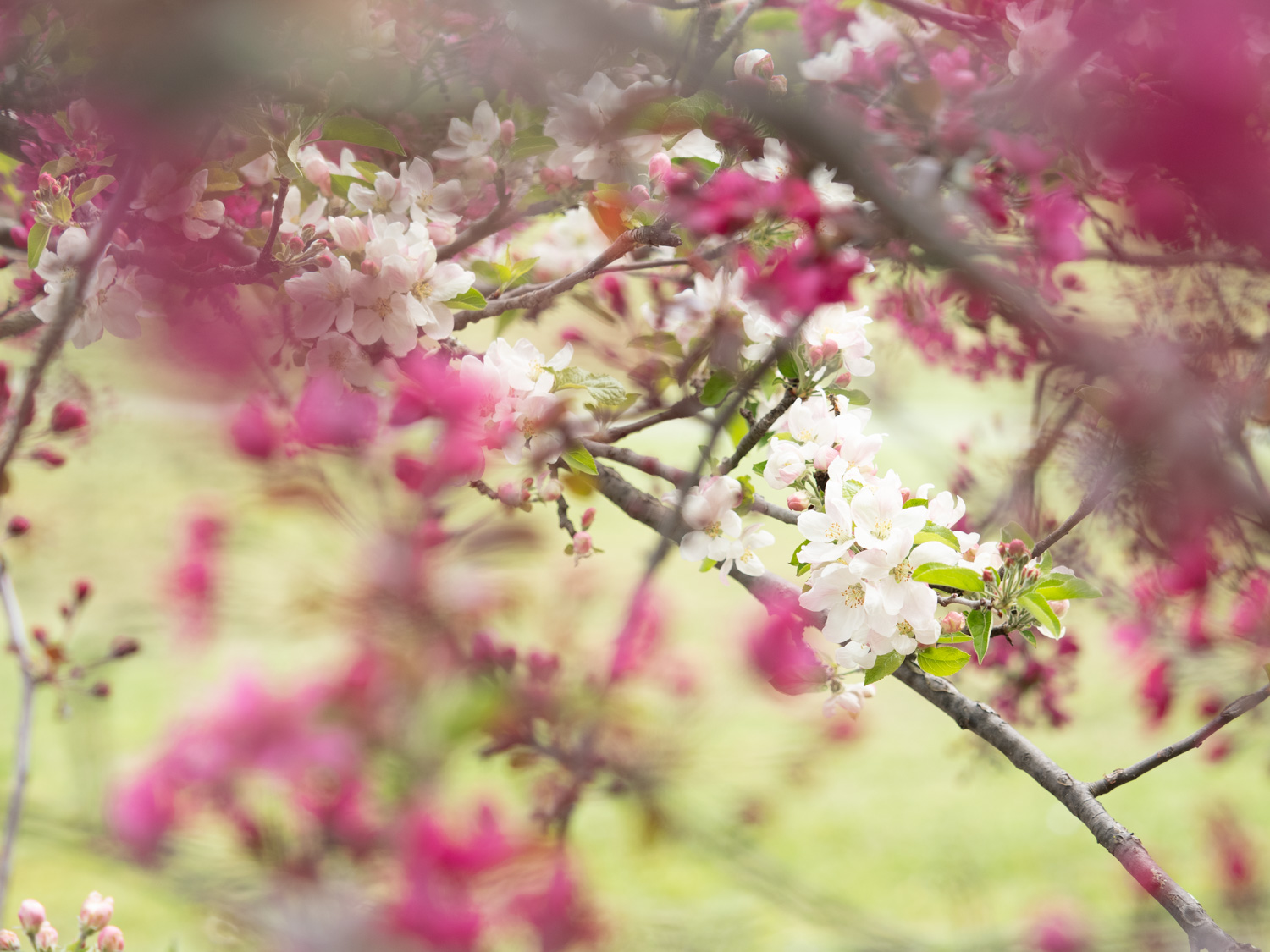 ---
Mapped For You
Canberra for Creatives – Google Map
If you're a regular reader of The Wandering Lens, you know very well how much I love a good map. Below you'll find an interactive Google Map where I've noted all the spots mentioned within this guide to Canberra. You can open it up in the Google Maps app for easy access while you're travelling around.
Enjoy your time in Canberra if you get a chance to visit, and if you discover anywhere not mentioned within this guide, please note it in the comments below!
To read more about what Canberra can offer, visit the Visit Canberra website for more information.
Please note, part of this trip was possible due to the support of Visit Canberra however all opinions, recommendations and suggestions are my own.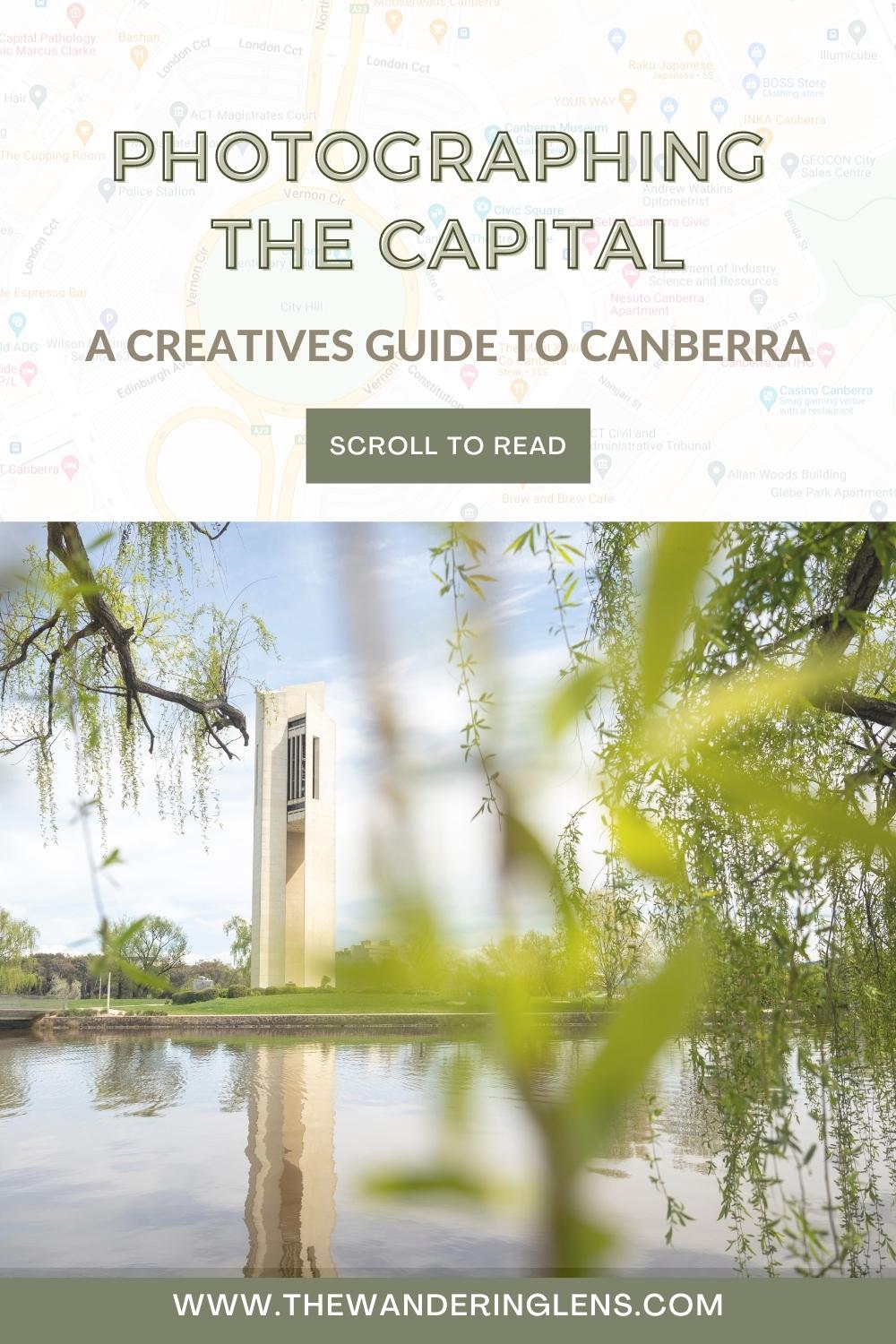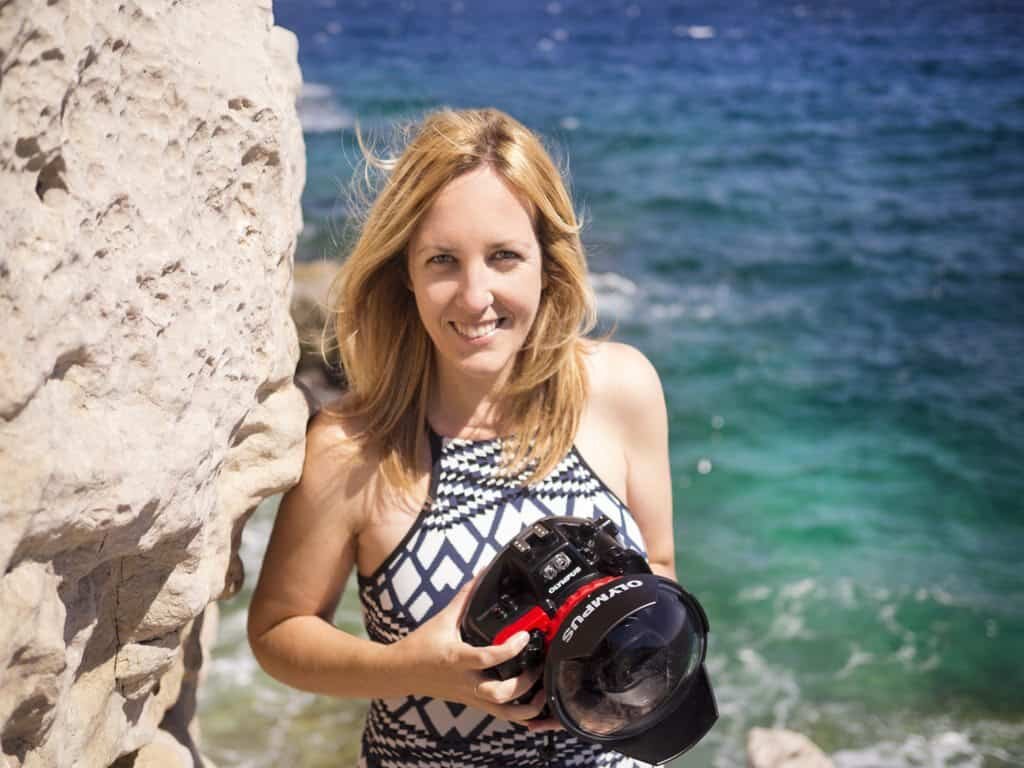 Hello! I'm the founder and photographer behind The Wandering Lens.
With 17+yrs experience as a professional travel and landscape photographer, all advice found on this site is from my personal experience on the road. I hope it's useful for your own travels and would love to hear in the comments about your trips and experiences around the world.