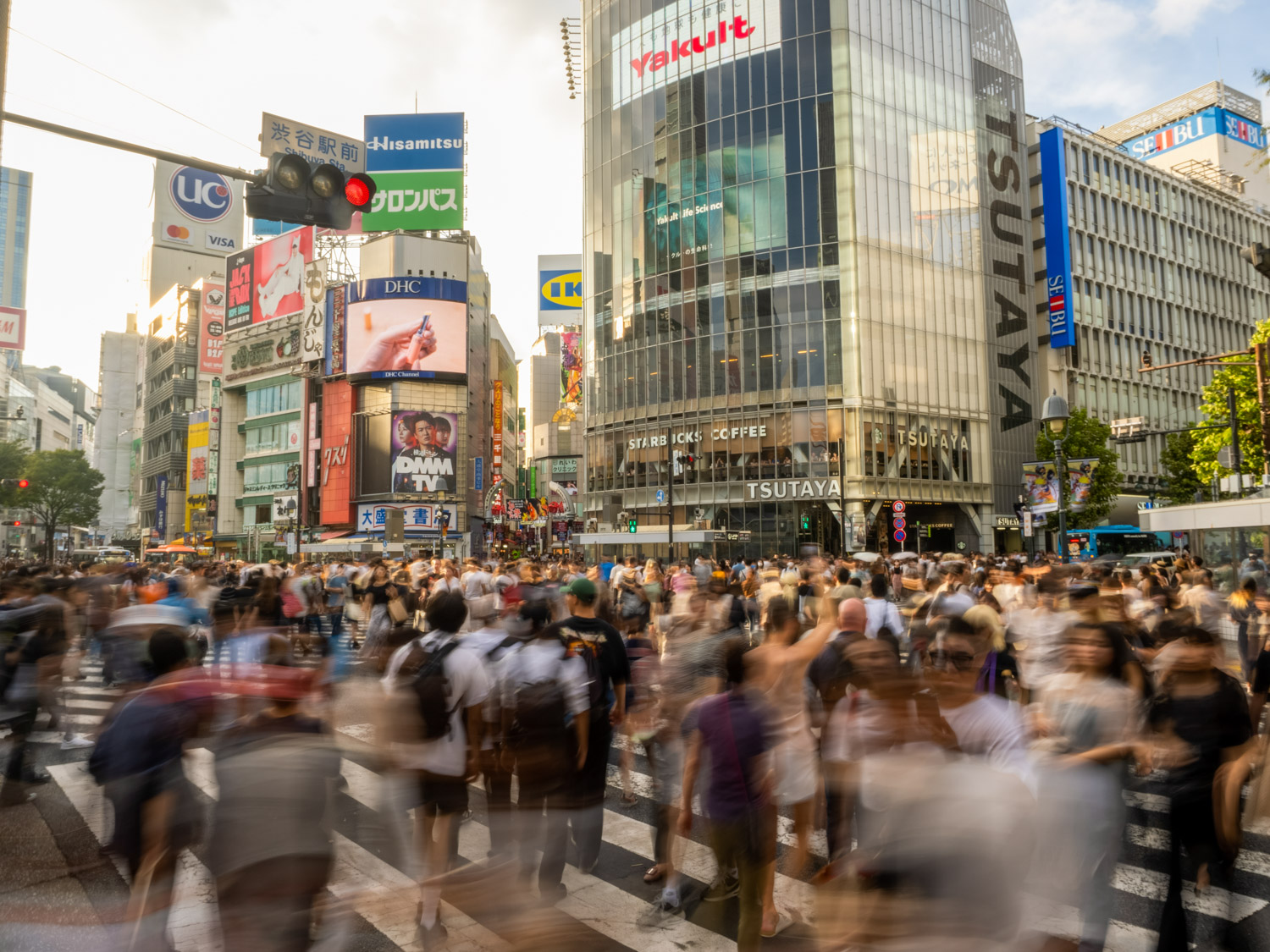 Shibuya Crossing Viewpoints and Photo Spots
Shibuya Crossing is an iconic location in Tokyo, Japan, that has captured the imagination of photographers around the world. With its bustling streets, vibrant lights, and mass of pedestrians, this intersection has become a symbol of modern urban life and a visual feast for photographers.
A staggering 2.4million people use this crossing daily and if you're seeking for the best viewpoint to photograph Shibuya Crossing, this guide is for you. I'll be sharing where you can photograph the crossing from up high and on the ground to ensure you make the most of your time in Shibuya. Covering all four corners of the crossing, the spots listed range in
Shibuya Crossing represents the energy and dynamism of Tokyo. As one of the world's busiest pedestrian crossings, Shibuya Crossing is a hive of activity, with close to 2,500 people crossing the street every time the traffic lights change. This constant motion creates a mesmerising visual display, with streams of people flowing in all directions.
Scroll down to find a Google Map listing all of the vantage points noted in this article.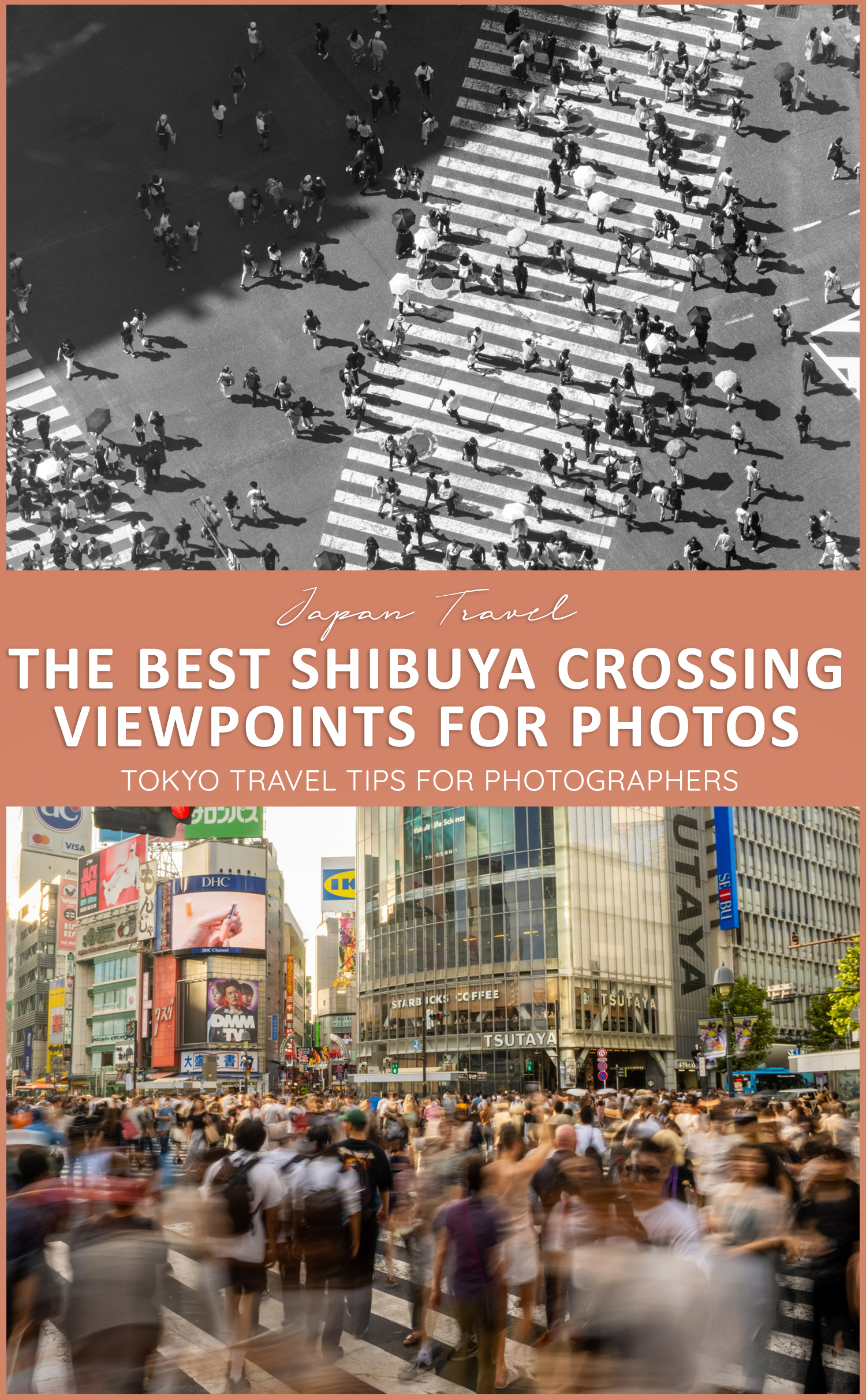 I've personally photographed this crossing in summer, winter and autumn, when it's busy, not so busy and when it's absolutely heaving with people. Even still, I need a few crosses before starting to photograph, the experience of walking with everyone is something you can't miss, so start out by taking the walk, looking around and soaking up the incredible atmosphere this intersection creates.
The surrounding cityscape adds to the appeal of photographing Shibuya Crossing. The tall buildings and neon lights that envelop the area create a striking backdrop, especially during the evening when the lights reflect off the streets and create a surreal atmosphere.
So, let's get to where you can photograph Shibuya Crossing from, and how to capture this epicentre of contemporary Tokyo. I've saved the best (in my opinion) for last!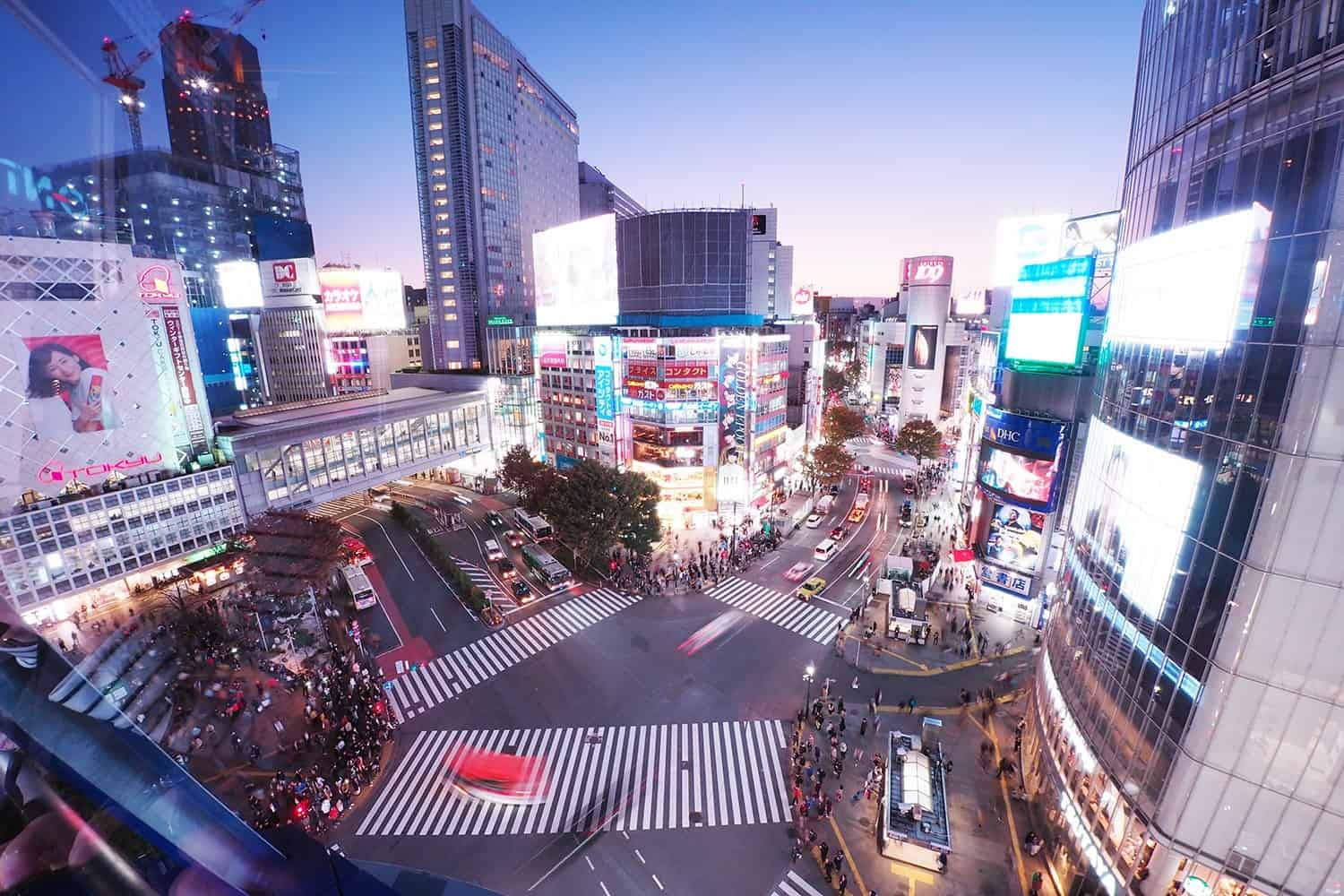 1. Hachiko Square
In the heart of the action, Hachiko Square is at the entrance to Shibuya Station (bottom left corner in the image above). This is ground level where you can walk amongst the pedestrians and soak up the experience of actually crossing the road…far more thrilling than if you're just crossing the road at home!
I'd recommend walking across multiple times to get a feel for the type of photos you want to capture. The lights on every corner show how long is left as the little green dots count down until only one remains. If you want to allow yourself time in the middle, run out (if safe to do so) the moment the lights turn green so you have a few extra seconds to spare! From Hachiko Square, position yourself for a great shot by standing beside the garden beds to shield yourself from the crowd while they walk by and onto the crossing. This way you can capture a series of photos as people cross, without getting bumped as they walk by you.
It's called Hachiko Square due to the story of the loyal dog Hachiko who waited for his owner day after day, unaware that his owner had passed and wasn't coming home. There's a statue dedicated to this dog in the square and it's you'll find lots of people lining up to have their photo taken beside it. Both images below are taken from the edge of the square on the side of the road.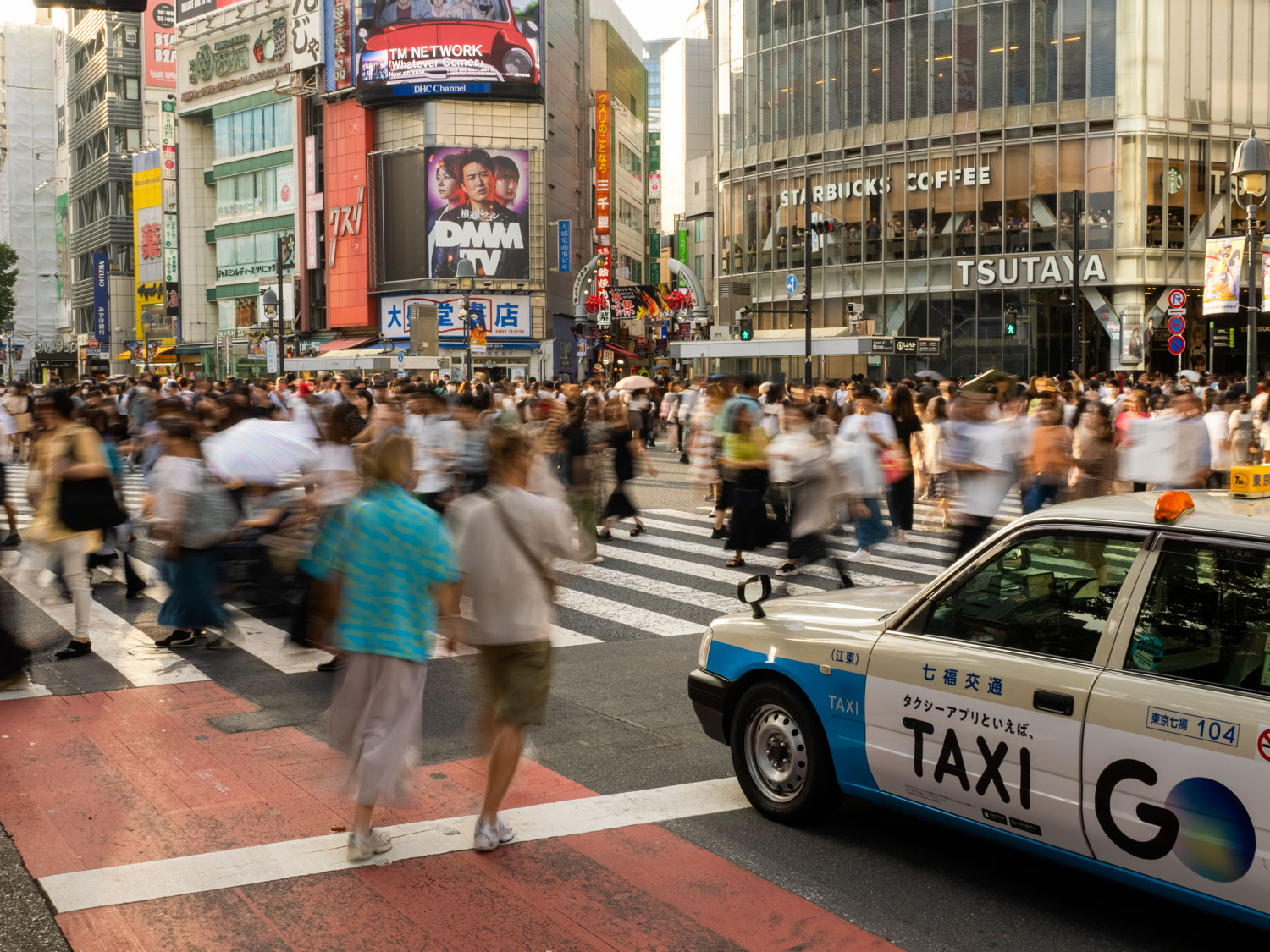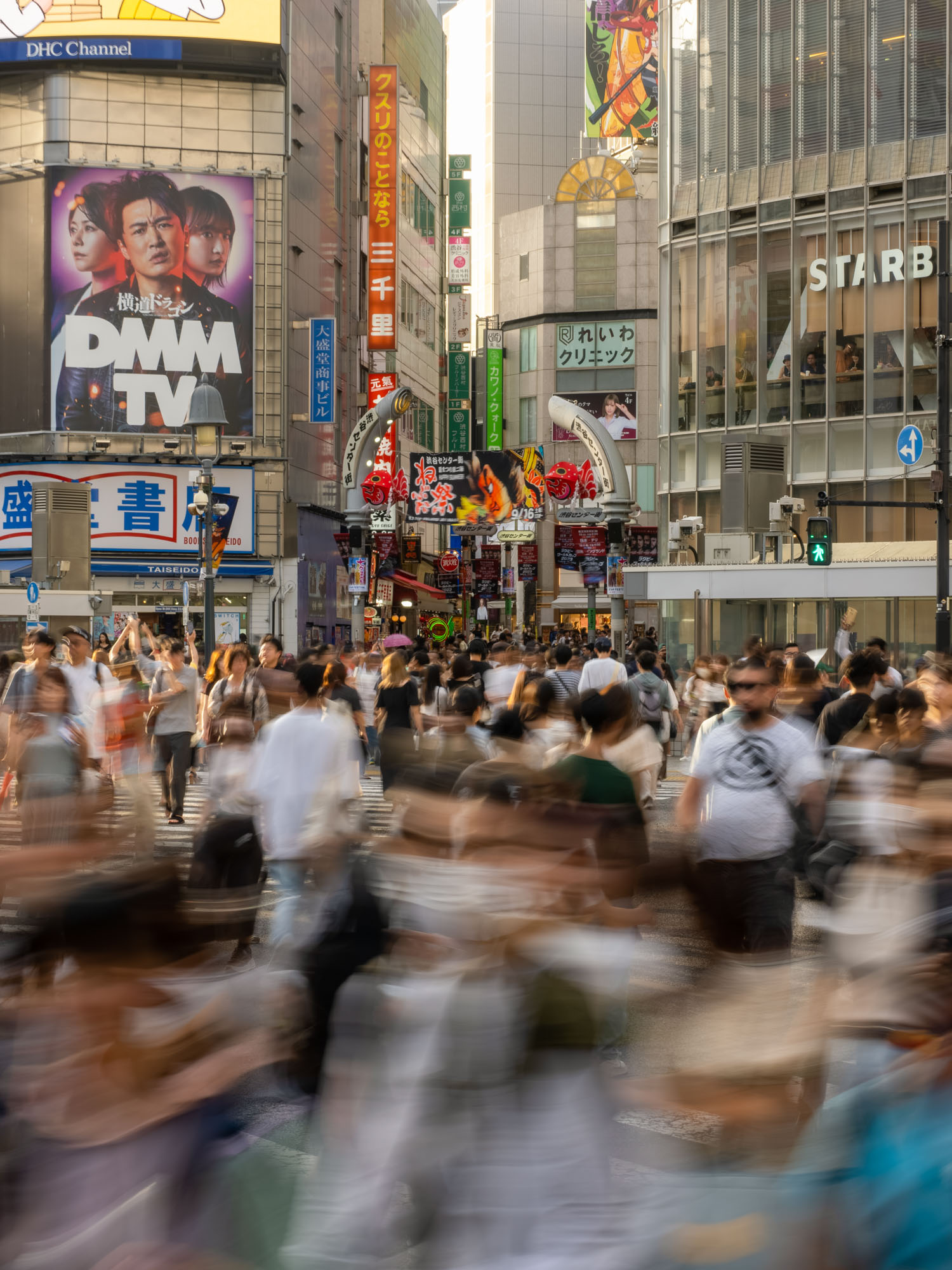 2. Shibuya Station Bridge to Mark City
This indoor viewpoint is located on the opposite side of the crossing to Starbucks. While it provides a raised view to photograph toward the bright lights of Shibuya, there's currently a lot of construction just in front, and there would be a few obstacles to shoot above this. There's also a bus turning station below the bridge, this can work well at night, but during the day, it deters from the magic, visible from other viewpoints. It is free though, so why not stop by here and take a few shots while walking to another vantage point!
3. Shibuya Sky
If you want sky-high views over Shibuya Crossing, this is the place to go. A recent addition to the Tokyo skyline, this experience needs to be planned in advance to ensure you're arriving at the best time and secure a ticket. Tickets sell out in advance, especially for the popular times, and if they've sold out online, there won't be any available in person.
You can book tickets online here to secure a time you want, I'd recommend closer to sunset so you can experience the golden glow over Tokyo, and the sparkling lights!
You'll find a more extensive guide about photographing from Shibuya Sky here. There are no bags allowed on the observation deck, so be sure to take a versatile zoom lens up with you to capture Shibuya Crossing below. It's also not just the crossing visible from the top, you'll be treated to 360 degree views across the city, even Mount Fuji is visible on a clear day.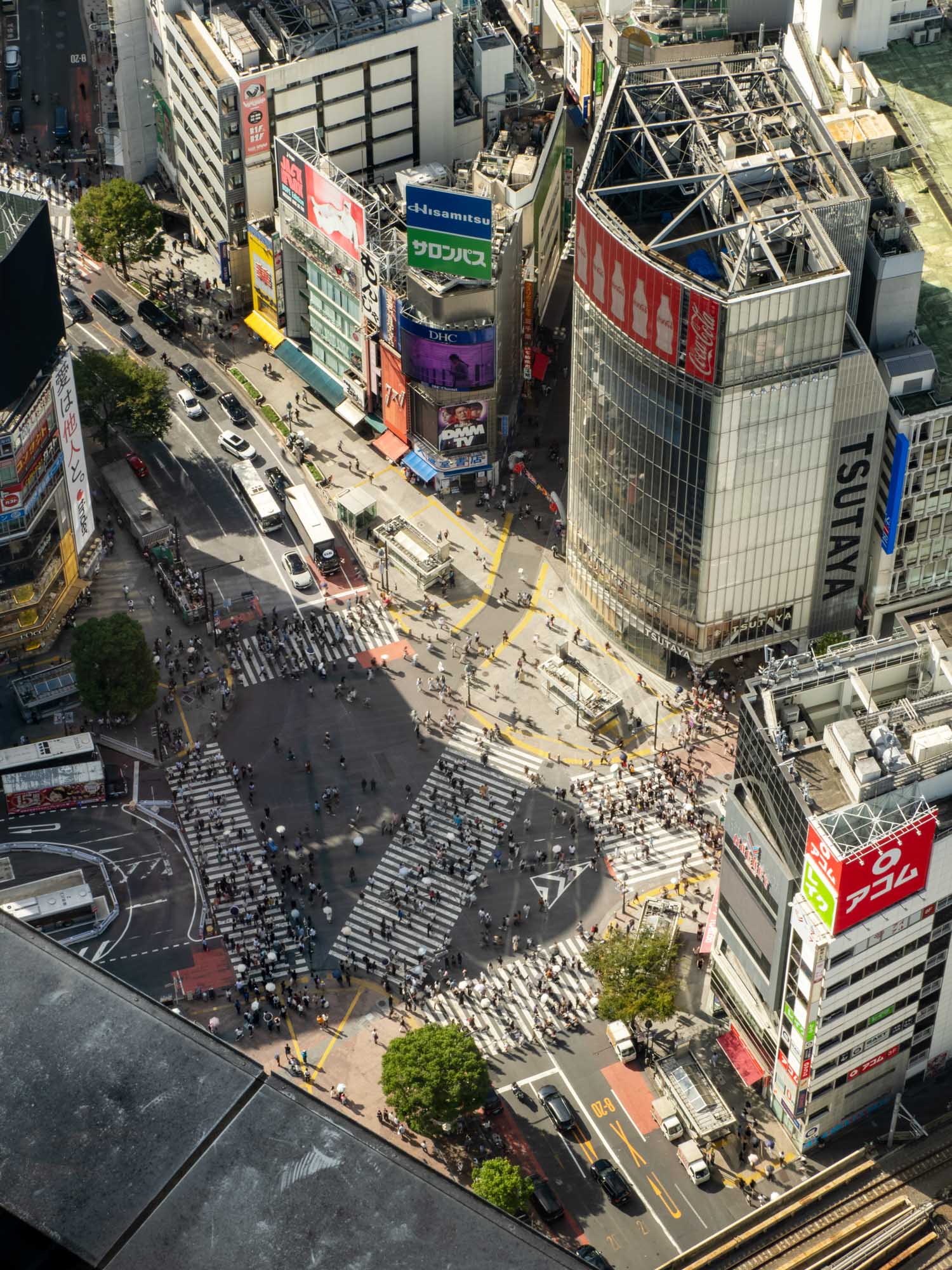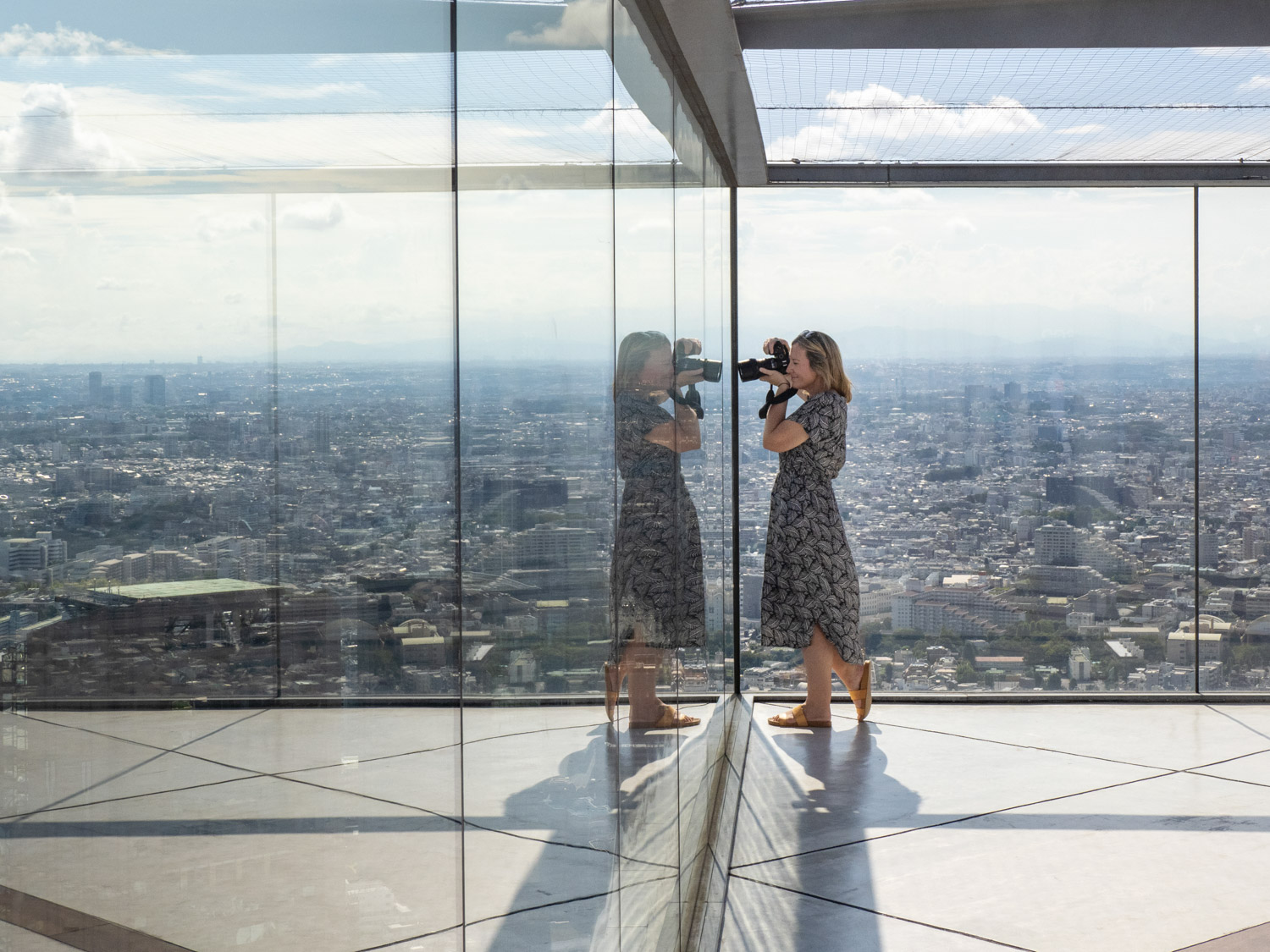 4. Starbucks Shibuya Tsutaya
Grab yourself a Matcha Latte and attempt to secure one of the window seats at Starbucks Shibuya, located with a great view directly over Shibuya Crossing.
To access the area with views over the crossing, you'll need to order, collect your drink and then take the stairs up to the next level. Now, a tiny warning, this place is crowded. I'm actually not a fan of photographing from this position because not only are you hustled for a seat (if you managed to secure one), you'll likely have people trying to photograph over you, there's noise, and if you're like me and don't enjoy a lot of people around, it's just not creatively inspiring. The vantage point is also a little restricted, with a subway entrance located in front, slightly blocking part of the crossing.
5. L'Occitane Café
Located on the corner opposite Mag's Park, this café offers views over the crossing, but they're slightly obstructed by a tree. If you're a fan of the gorgeous perfumes and creams available at the store, venture on through and enjoy a tea while watching the crossing below.
Similar to Starbucks, it's not a particularly high vantage point, so if you're seeking those downward aerial type angles of the crossing, this isn't the spot for you.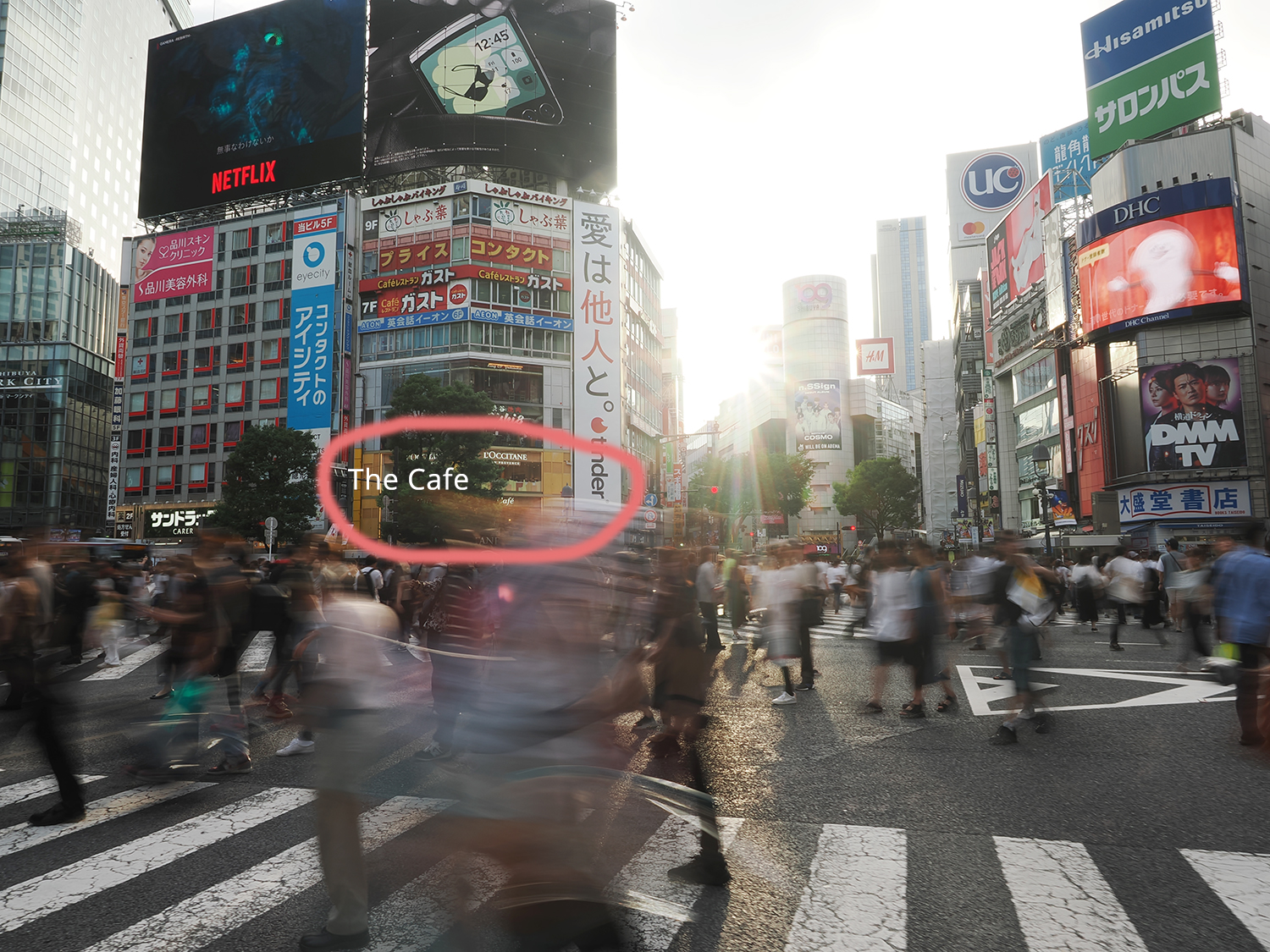 6. Mag's Park at Magnet by Shibuya 109
Rising 8 floors above Shibuya Crossing, this rooftop viewpoint is actually my favourite. You're high enough to capture great aerials above the crossing, but not too high that it's impossible to get creative. It's also possible to wait around and capture sunset then the flashing lights and twinkling traffic as the evening takes over.
From this level you can spend time capturing long exposures, experimenting with composition and have an unobstructed view across the entire scene. All four corners of the crossing are within sight, allowing you to capture a full collection of shots including wide-angle images and tighter shots that include the street patterns, light reflections and movement.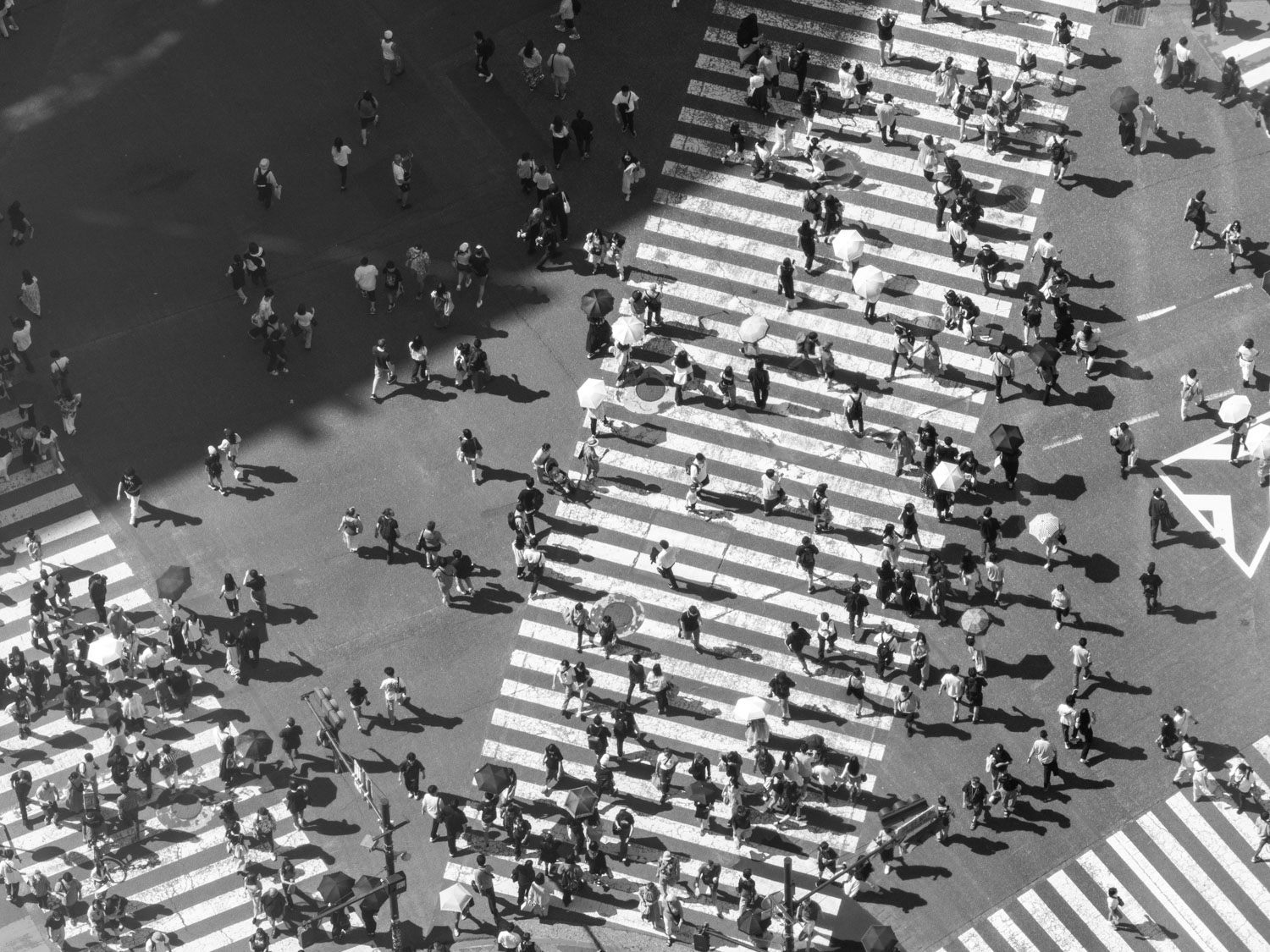 You'll find access to the observation deck within the Magnet by Shibuya 109 building. Most floors include fashion, gaming and gifts, but if you take the lift straight up to level 8 (roof), it'll reveal the rooftop viewing area. Now, don't be surprised when you exit the lift to find a makeshift tent area selling drinks. Currently, you need to buy a drink to gain access to the viewing area with pricing ranging from 600-900YEN depending on your choice of beverage. It's not an official ticket office, more of an outdoor venue that offers their viewing deck and the chance to hydrate!
It actually feels like you're enjoying the view from someone's balcony, and they've installed some great protective glass, have drinks available and some chairs to sit on when changing lenses. It's a casual atmosphere with far less restrictions than Shibuya Sky.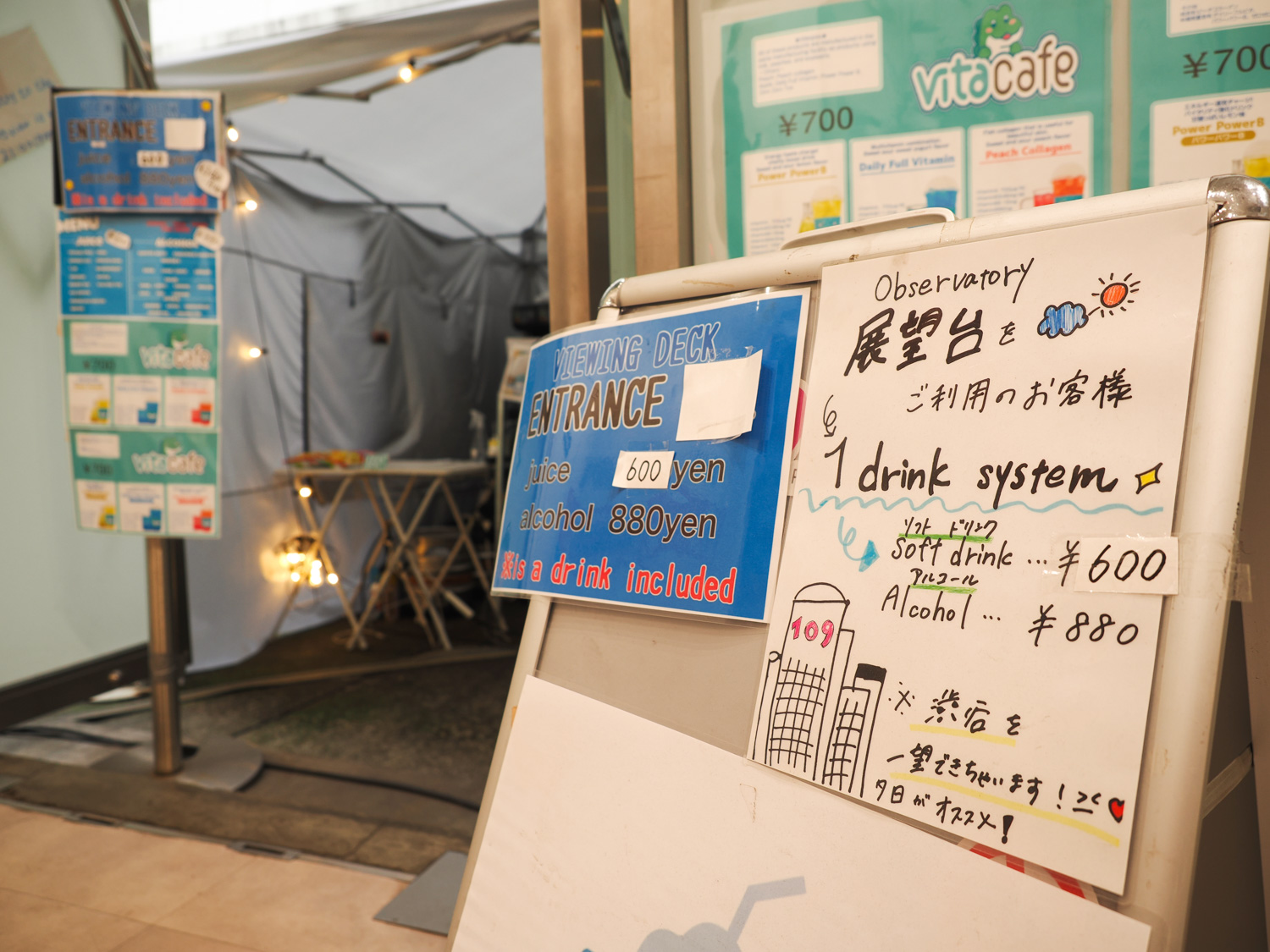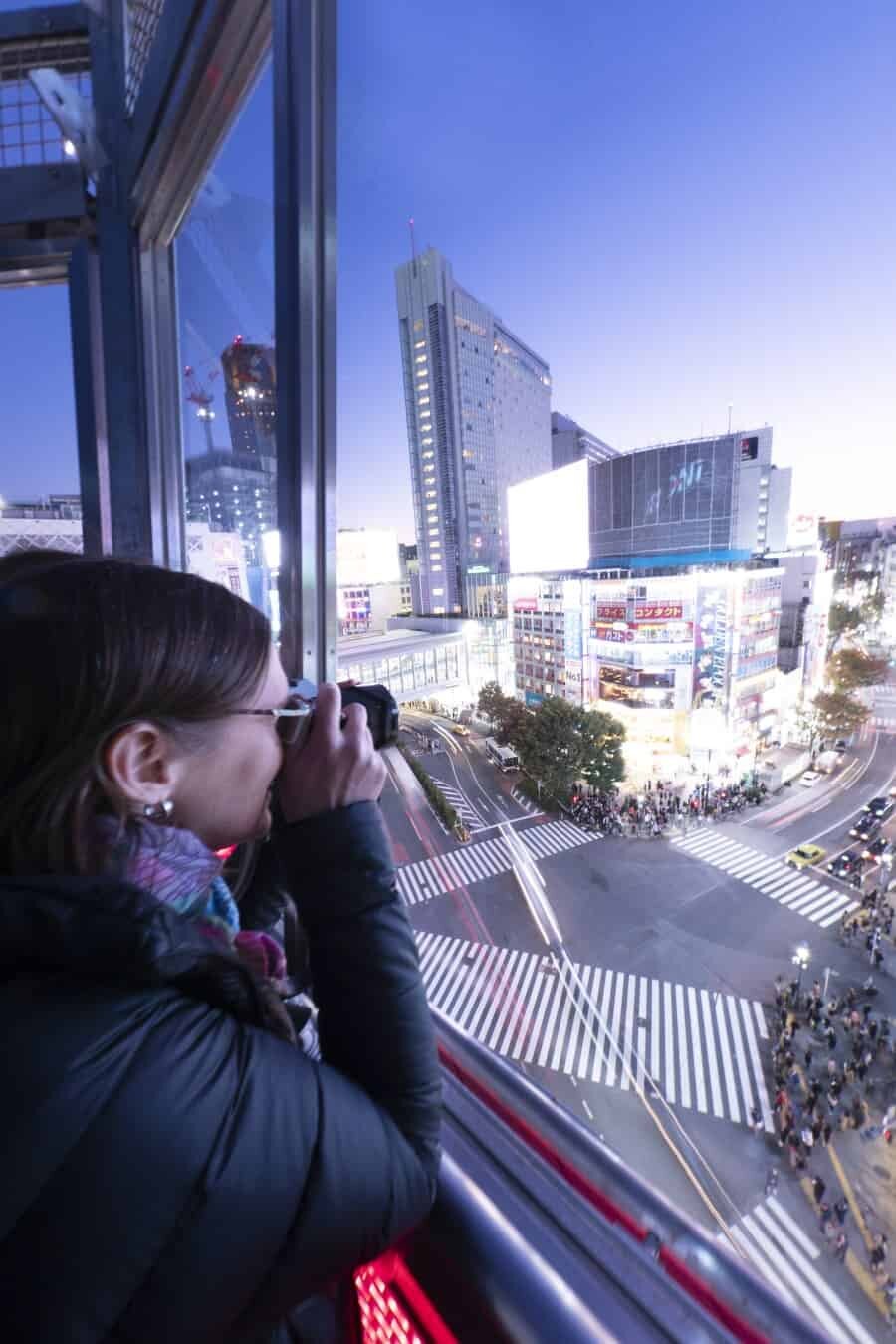 7. Finally, photographing the crossing itself while crossing!
Get amongst the movement, lights and chaos and take your camera on an adventure as you become a pedestrian at Shibuya Crossing. A few tips to note, I'd encourage using a longer exposure so you can blur the movement and faces, this is only because if you're hoping to use the images commercially, any visible faces may cause an issue.
However, capturing the movement is all part of the fun! Adjust your camera settings to suit your position and the available light, then wait until the lights turn green and snap away. It can help to position yourself at the base of one of the traffic lights in order to be first out on the crossing, otherwise you'll get caught up in the crowd because there really are, hundreds of people crossing every time the lights change.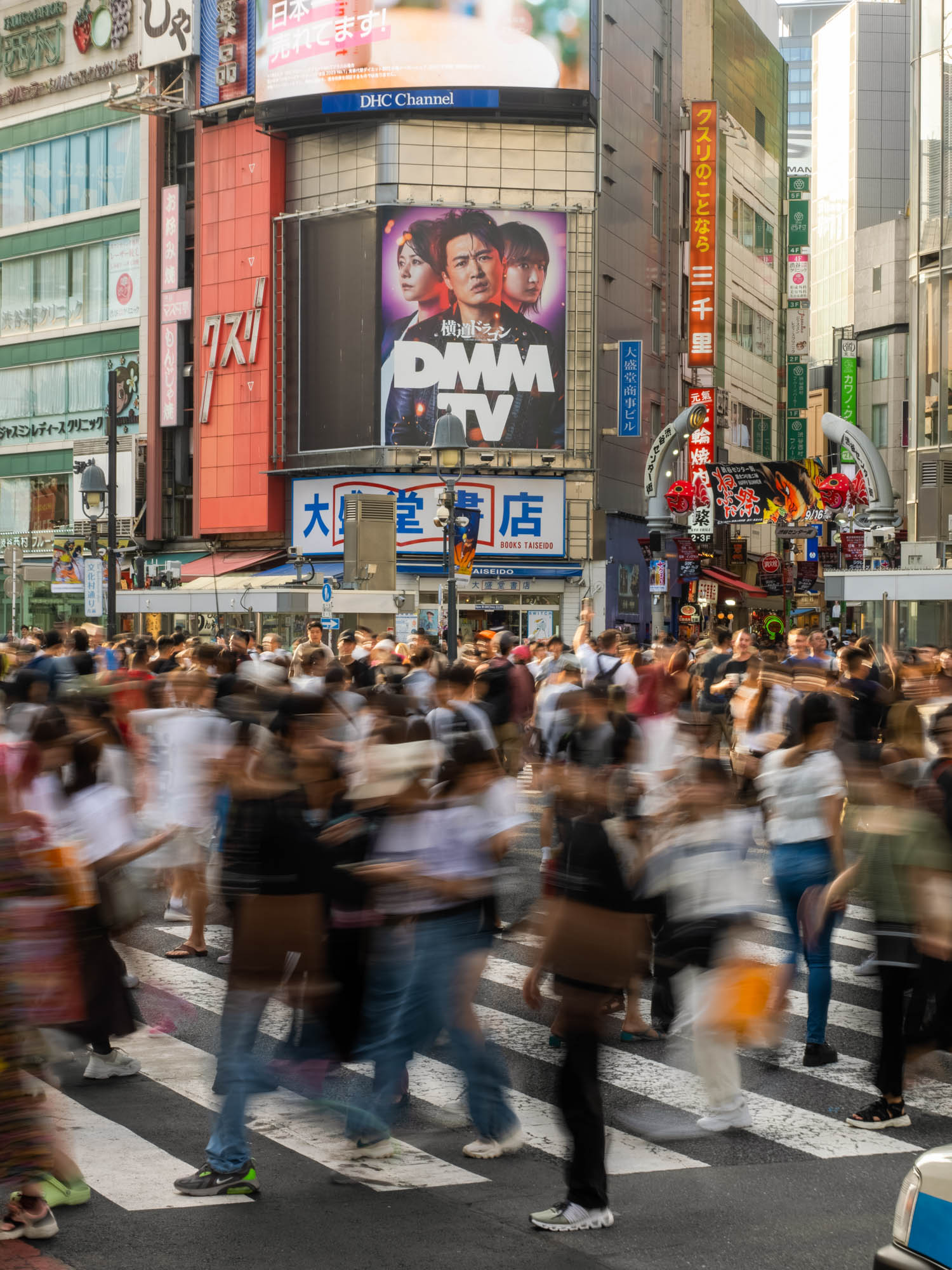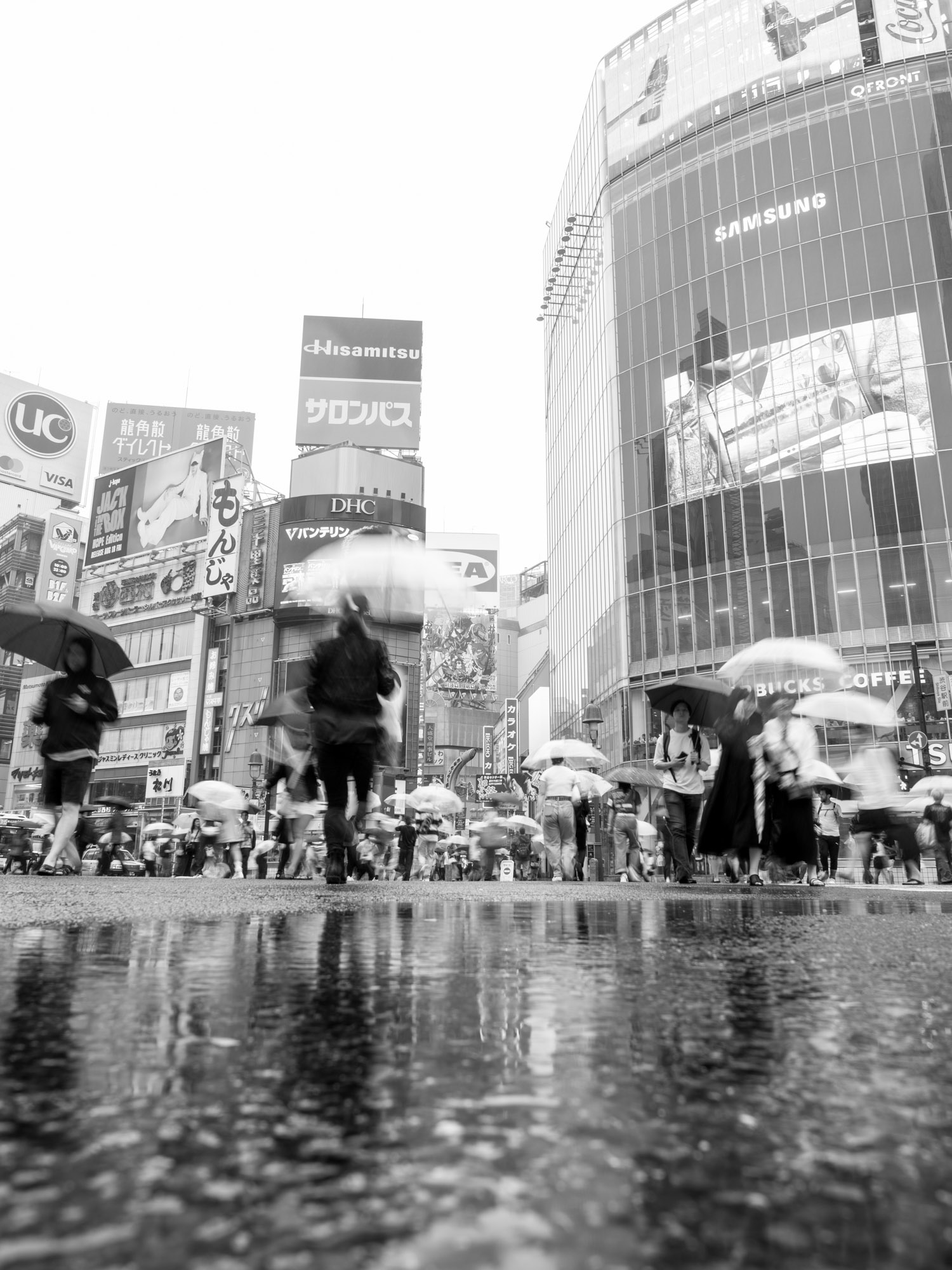 Try to work with the surrounding buildings and cityscape too, zooming toward the facades and advertisements as people move through the frame. Get low to the ground (but with discretion) if there are puddles/rain to capture reflections, shoot with a wide-angle lens to photograph the movement around you, then switch back to a versatile zoom lens.
Shibuya Crossing has been photographed millions, if not billions of times. You only need to stop and watch how many people are photographing or filming each crossing to get inspired to try something different. It's a chance to get creative, experiment and just have fun with the experience of shooting this iconic scene.
A Map of Shibuya Crossing Vantage Points
Related Tokyo Travel Guides –
A Photographer's Guide to Tokyo
Photographing Sunrise at Senso-ji Temple, Asakusa
Behind the Lens: Photographing a Sumo Tournament in Tokyo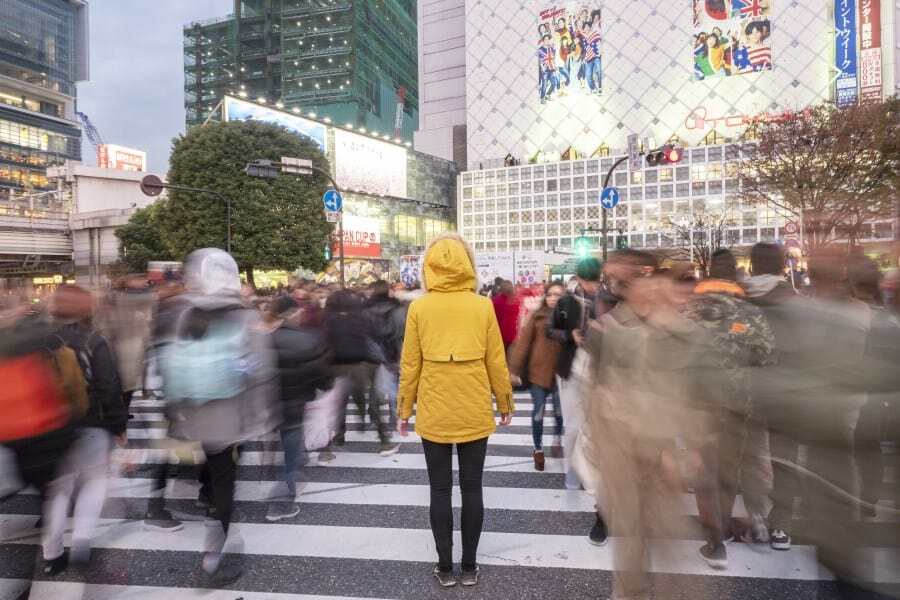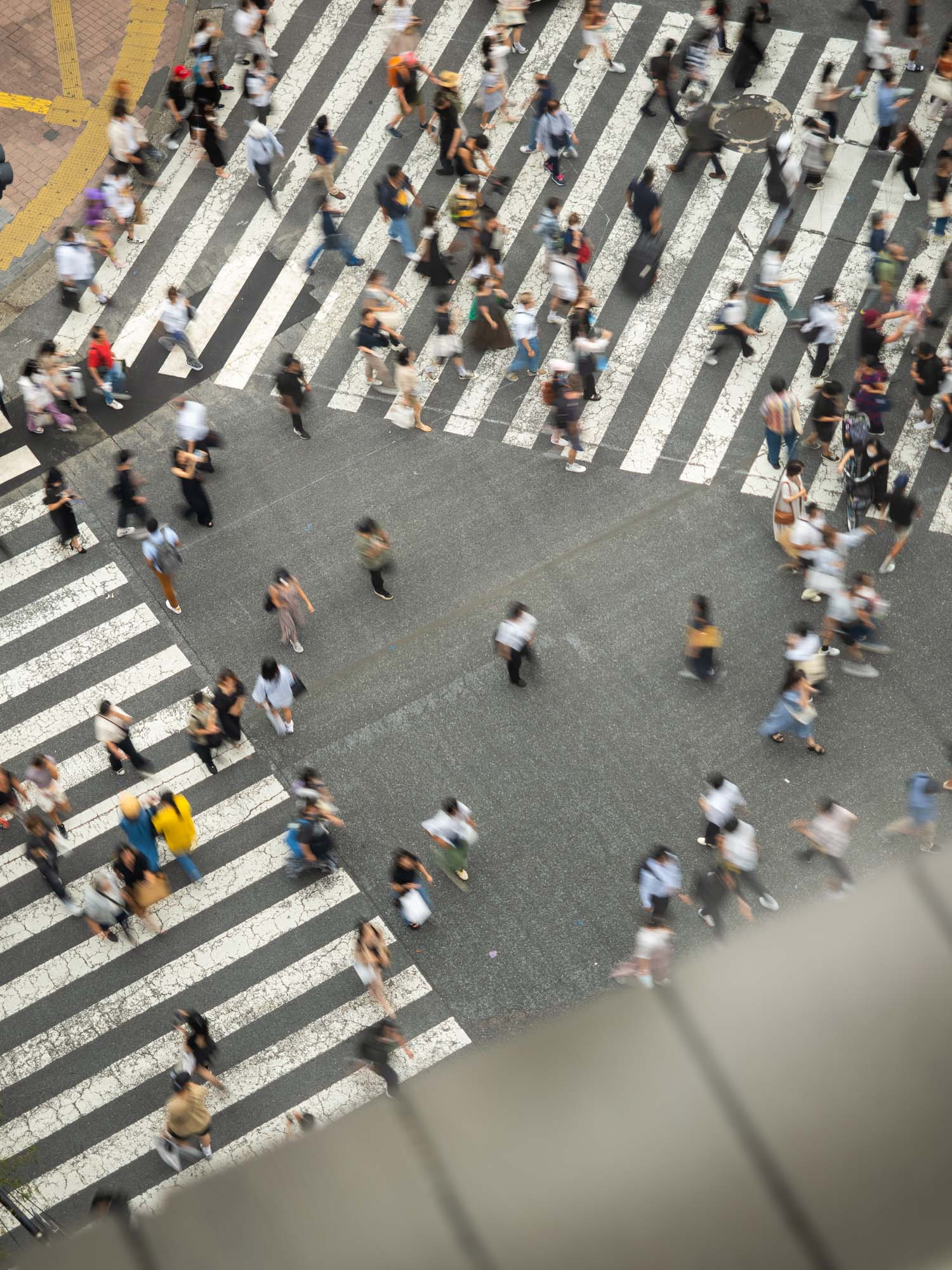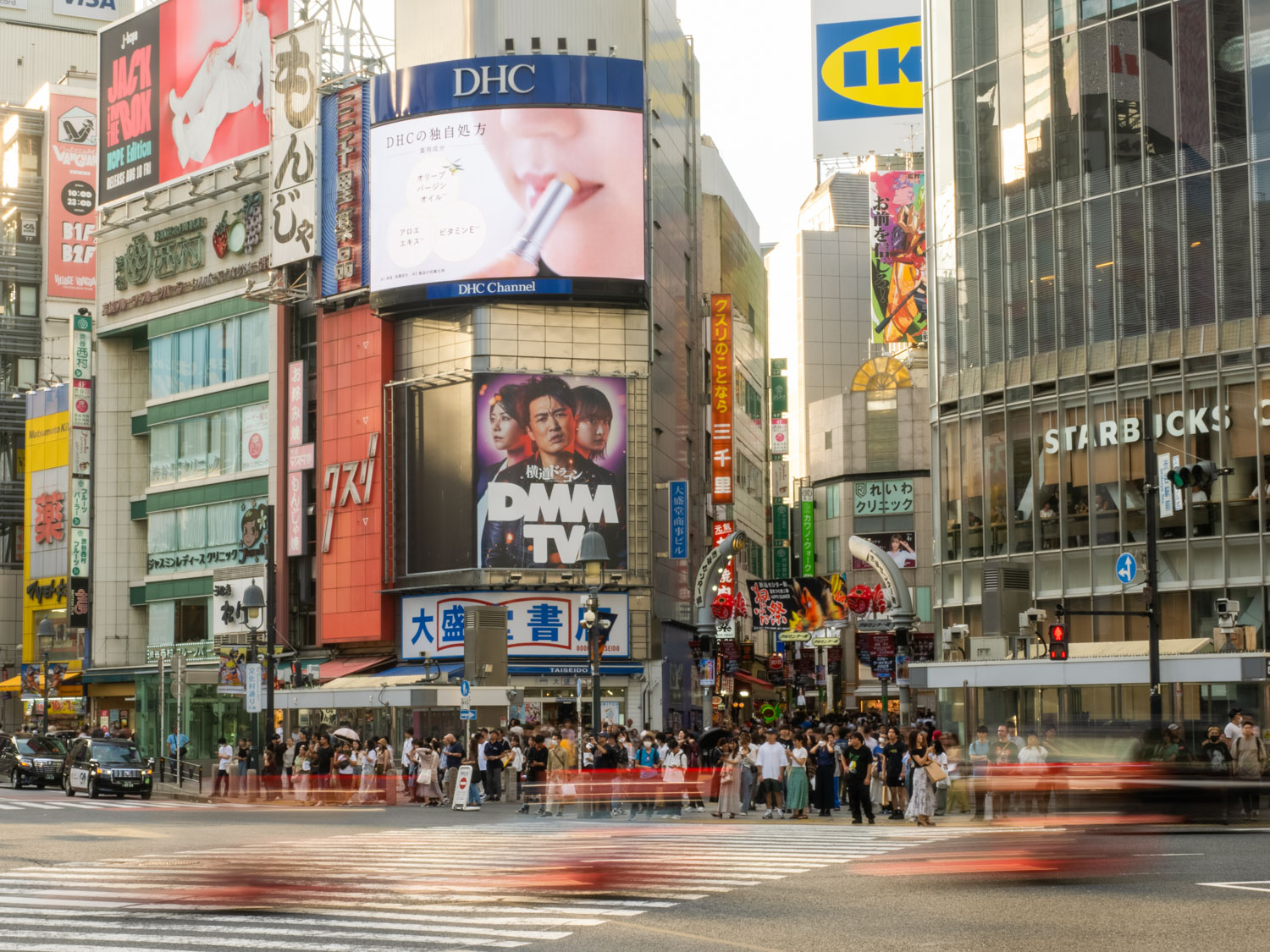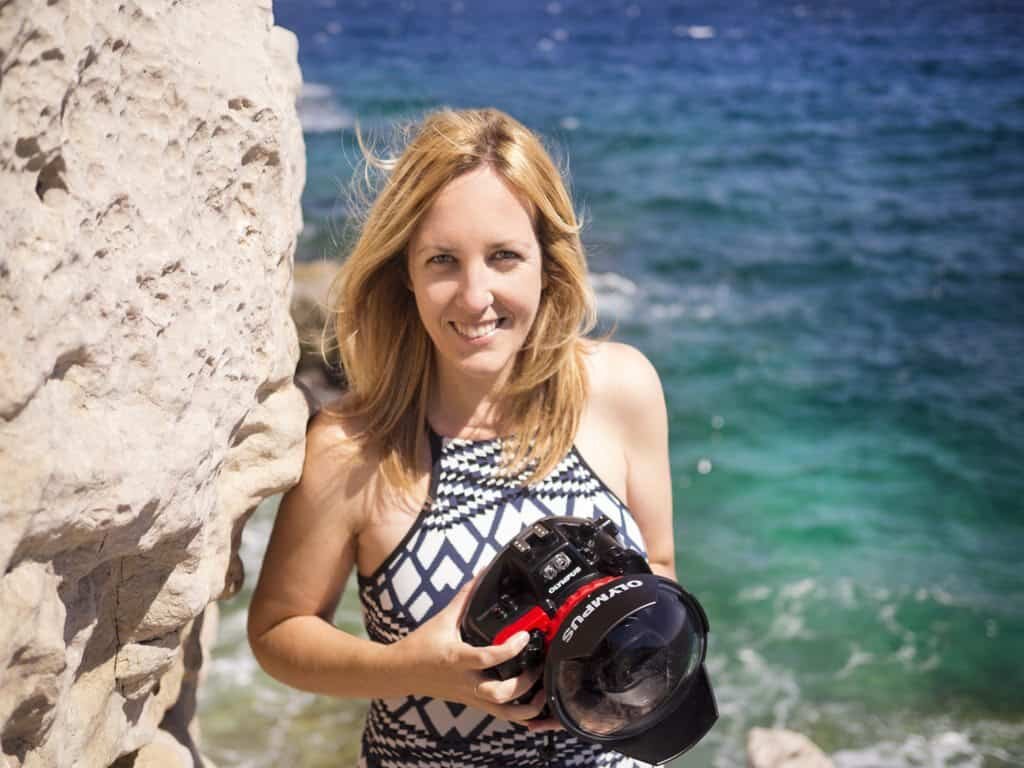 Hello! I'm the founder and photographer behind The Wandering Lens.
With 17+yrs experience as a professional travel and landscape photographer, all advice found on this site is from my personal experience on the road. I hope it's useful for your own travels and would love to hear in the comments about your trips and experiences around the world.