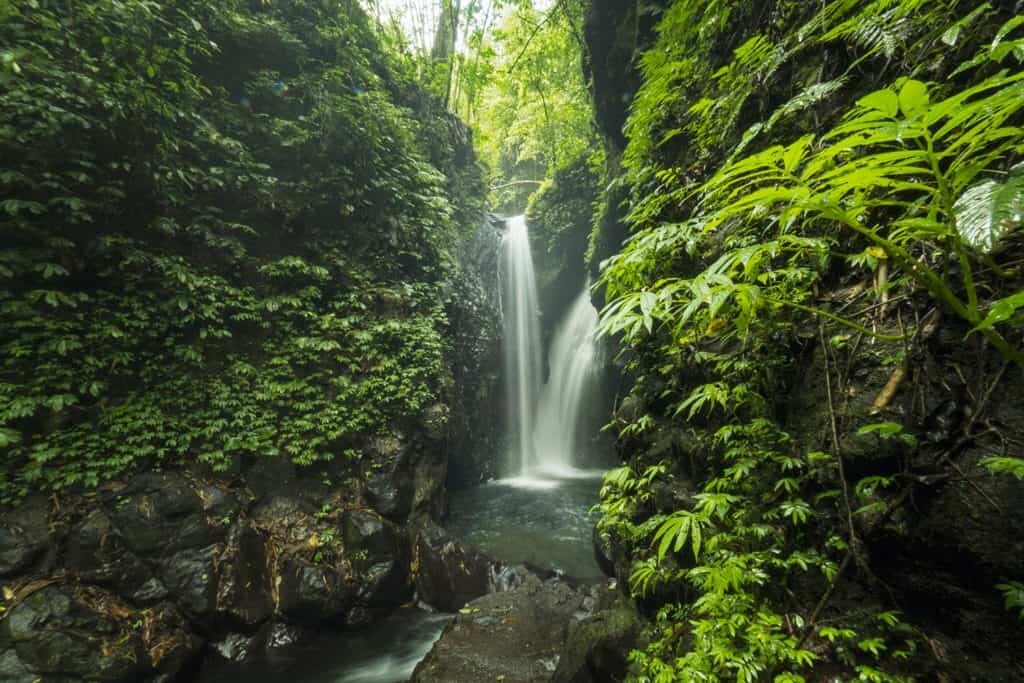 Bali is lush.
It's a tropical paradise where rainforest grows rampant, greens are greener than anywhere you've been before and where waterfalls shower their way through mist-filled gullies.
If you're heading for Bali and want to explore some natural wonders away from the coastline head north and be treated to cascading delights in the island's central heart.
Visiting every waterfall in the region can be quite a challenge since most are located down long, winding roads in different directions and each require about a 20minute hike to access.  That said, if you're hiring a driver for a day, it's definitely possible to see a few beauties, just pick your favourites and put together a plan!
During my recent trip to Bali I visited three waterfalls and wanted to give a little rundown on each so you can decide if all, or any are worth visiting on your own holiday.
First up though a few little tips for visiting the waterfalls…
Make sure your camera gear is weatherproof or waterproof. They can generate a lot of spray and it's very humid and wet on the hike down! I used my Olympus OM-D E-M1 Mk II which can handle a little downpour every now and then so I knew I could happily snap regardless of how wet it got.
If you don't have a weatherproof camera, take a small towel to keep it as dry as possible.
Don't forget your swimmers + towel, most waterfalls have natural pools, ideal for a dip!
Each waterfall listed below requires a 15-20min hike downhill (which means, 25mins back up!)
Take a tripod if you want to capture long exposures of the waterfalls, it can get quite dark in the rainforest. Or shoot hand-held if you can stay nice and still. All shots included in this article were shot hand-held with my gear using a range of fast lenses like the M.Zuiko 12-40mm f/2.8 + 7-14mm f/2.8 PRO lenses.
Lastly, have some cash handy as you'll need to pay a small entrance fee upon arrival.
Bali Waterfalls – Three Beauties!
---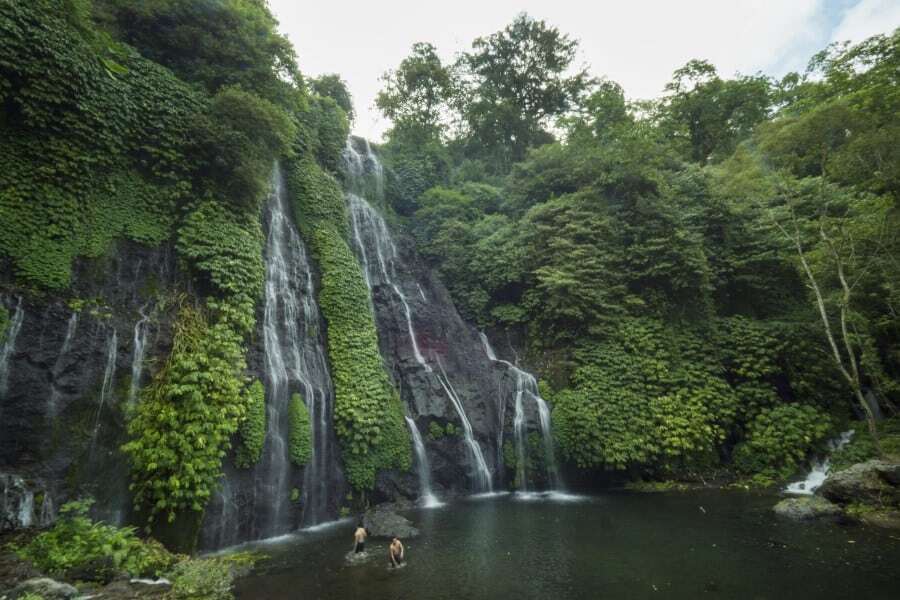 Banyumala Twin Waterfall: A Hidden Treasure
Rocking and rolling down a broken and bruised dirt road, we questioned whether or not our driver knew where he was going.
In fact, he didn't really. He admitted to never driving further north than Ulun Danu Beratan Temple which was totally fine with us, until we ended up in the middle of nowhere on what appeared to be a one-way road heading deep into the mist-filled Balinese hills.
Hydrangea fields passed our windows one by one (so beautiful!) and we were both feeling a little queasy after already spending a few hours on winding roads.
At each passing farm house we assumed the waterfall was surely nearby and were assured that it's just a short walk once we arrived.
Well, spoiler alert, it was of course ALL WORTH IT. It turned out to be a shortish* 20minute walk, most of it down a very steep and slippery path that weaves between tree roots and beneath streams flowing out from lush green moss.
But the moment we laid eyes upon Banyumala Twin Waterfall we were both speechless and couldn't get our cameras out quick enough.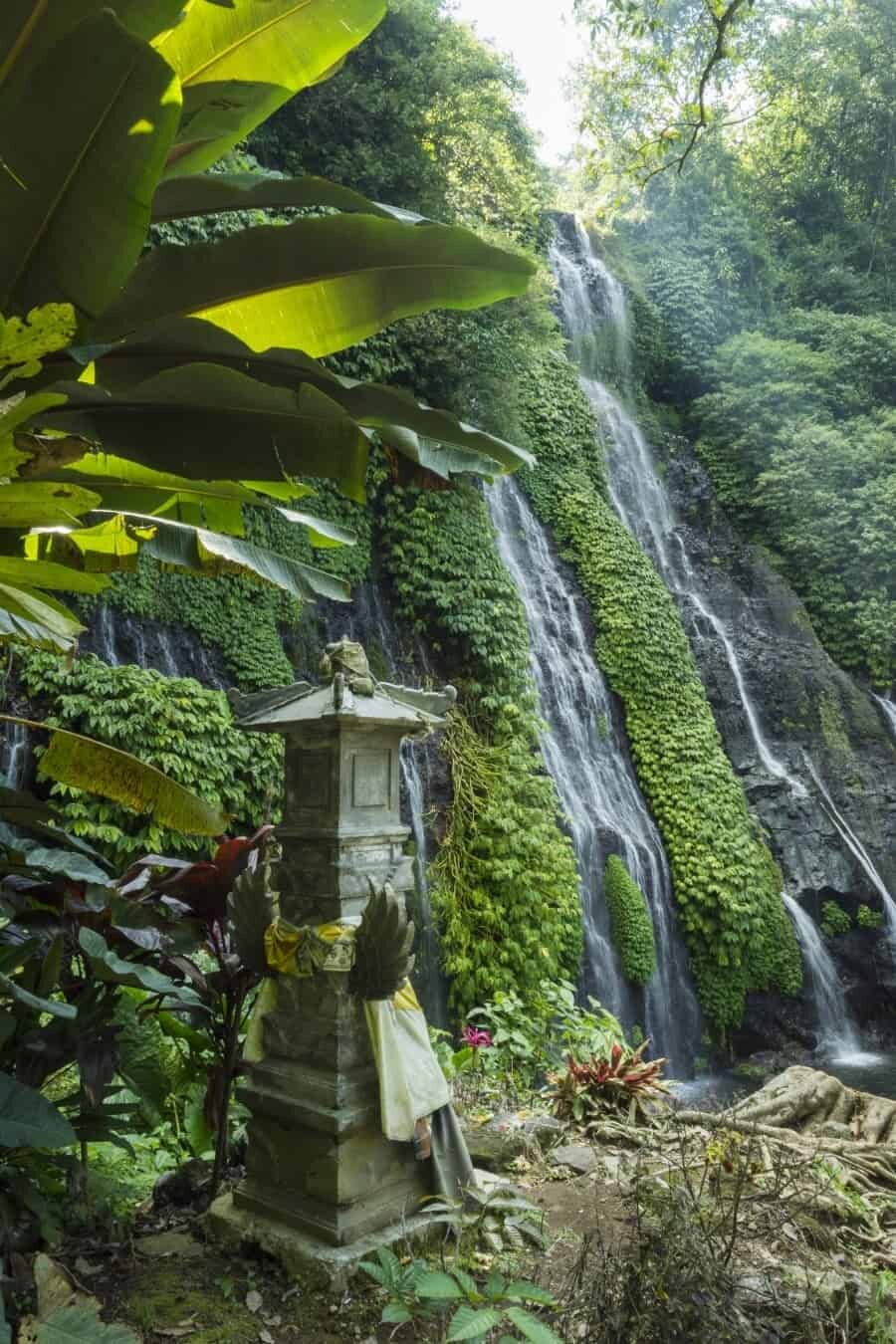 Sarah (from The Wanderblogger) had a list of waterfalls we should visit during our trip to Bali and Banyumala was one that immediately stood out based on a quick peek at Google.
The way the path leads down toward the base of the waterfall adds to the dramatic reveal of its veil-like twin curtains. Little glimpses appeared as we photographed our way along the path using the surrounding trees and scenery to frame the landscape.
As one of the lesser known waterfalls in Bali, and as mentioned above, one of the harder ones to find, there was only a handful of people bathing in the huge natural pool. Actually, there was only a group of four guys in there having a great time taking photos of each other beneath the falls, they worked perfectly for our photos too, adding some perspective!
These falls were my favourite of the three I visited, the entire scene looks just like one of those shampoo commercials where the model is showering in a waterfall.
READ MORE: "How to Make Water Dance – Photographing Long Exposures"
Getting There
Banyumala Twin Waterfalls are located near Buyan Lake within the Sambangan area of Northern Bali. They're roughly a two-hour drive from Ubud but this can change very quickly due to traffic or just general hold ups along the route. Be prepared to get stuck in traffic on the return journey especially if it's late afternoon.
The Banyumala Twin Waterfalls are actually visible on Google Maps so if you've got a local SIM card and your driver gets stuck finding the location, just look it up and it'll lead the way. Basically you turn right down a small road opposite Hidden Hills, one of the many selfie-parks you'll pass if you're arriving from Ubud.
The best thing to do is make the trip to the falls an all-day trip including the Ulun Danu Beratan Temple, Munduk and some of the other beautiful attractions in this area of Bali. You can even include a trip to the rice terraces on the way there like we did with the Jatiluwih Rice Terraces, a UNESCO Heritage Site.
We hired a driver in Ubud for 700,000IDR (roughly $50USD) which included 10hours to wherever we wanted.
Entrance Fee: 15,000IDR per person
 
---
Git Git Twin Waterfall (Also known as Air Terjun Campuhan)
Following a path that led deep down into the valley, I had no idea what to expect as we headed for Git Git Twin Waterfall. In fact, once we got about 15minutes into the walk and I thought we had already made it.
A dream-like scene appears as you enter the gully where the water gushes down through a scene reminiscent of the Jungle Book. There's even a wooden bridge that crosses between rocks and leads towards the actual star of the show, the Git Git Twin Waterfall.
Funnelling down through what can only be described as a giant cave opening, the waterfalls are powerful and dramatic. The first sight you get of the falls is from the narrow trail which is ideal for framing your shot as the wooden railing rises up toward the cascading falls.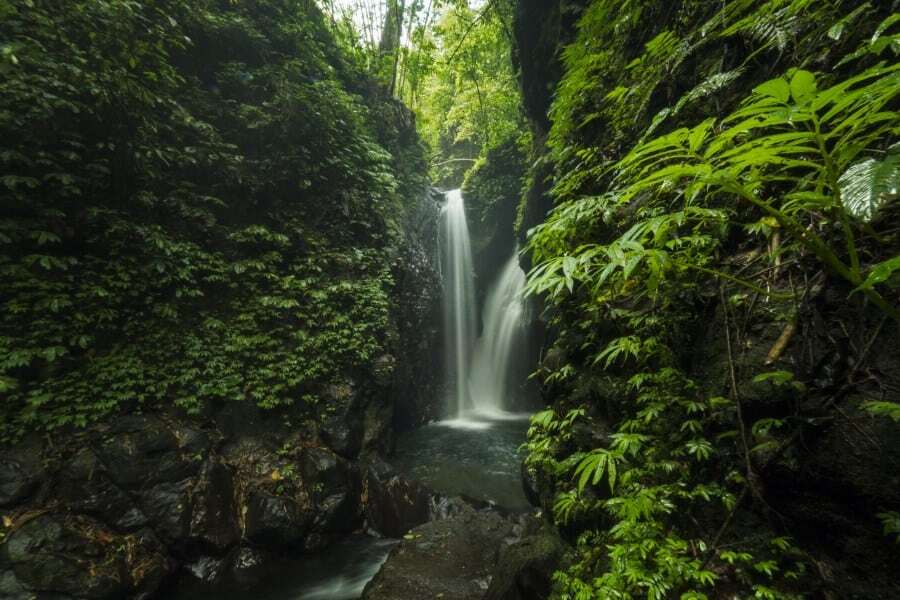 It's the perfect place to live out that tropical island waterfall swim scene, getting drenched as you let the water pummel down upon you but feeling so darn refreshed afterwards.
Apparently if you're feeling game there's another waterfall higher up that you can hike to, but be warned, the path isn't well maintained and can get super muddy!
Getting There
As with the other waterfalls listed here, it's best to have a driver take you here. It's roughly 2hrs and 20minutes from Seminyak (traffic depending) or 2hours from Ubud. There's a bit of a windy road required to drive down for about 20-30minutes so if you're prone to car sickness, be sure to sit in the front! It's a stunning drive though through some beautiful lush landscapes.
Entrance fee: 5,000 IDR per person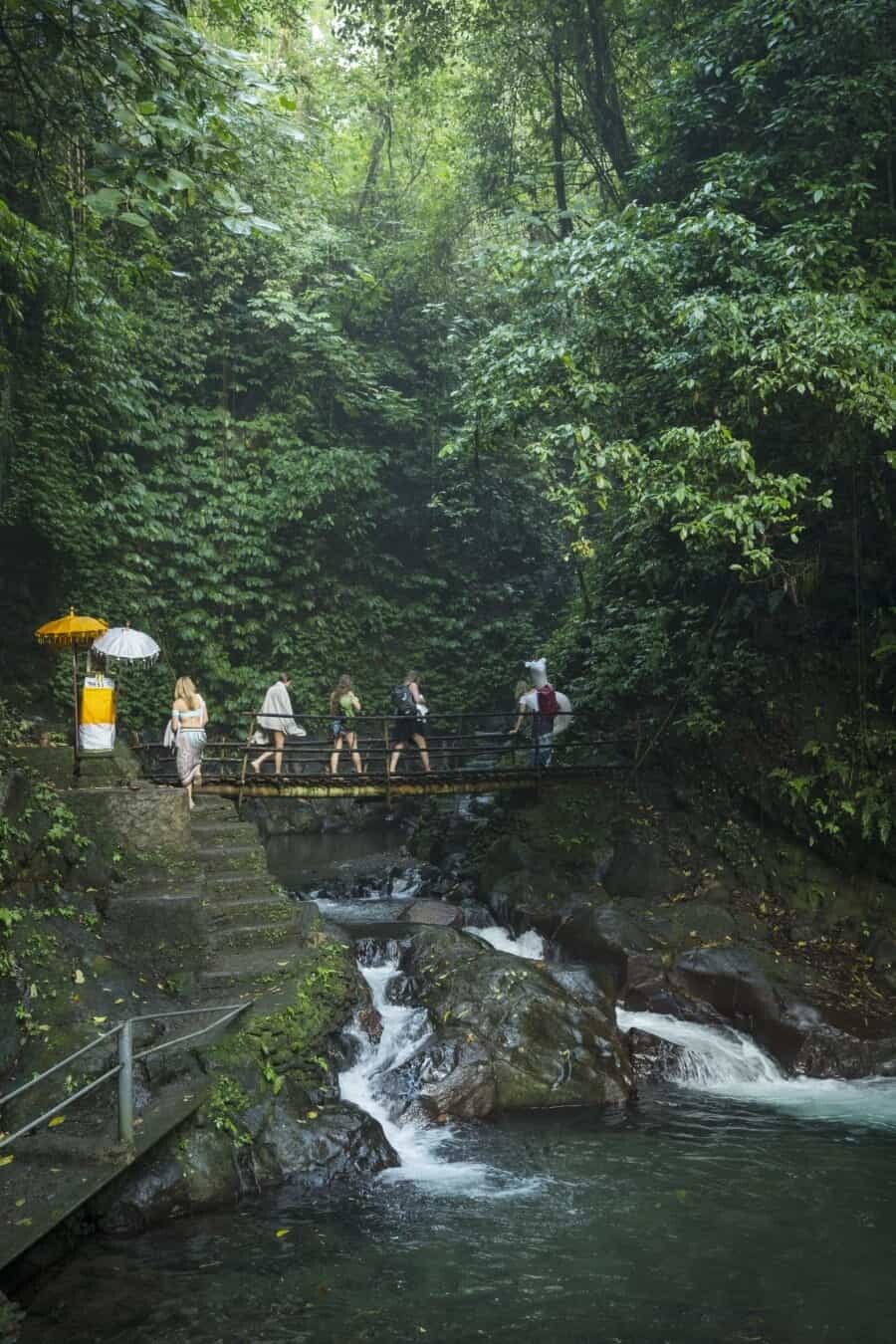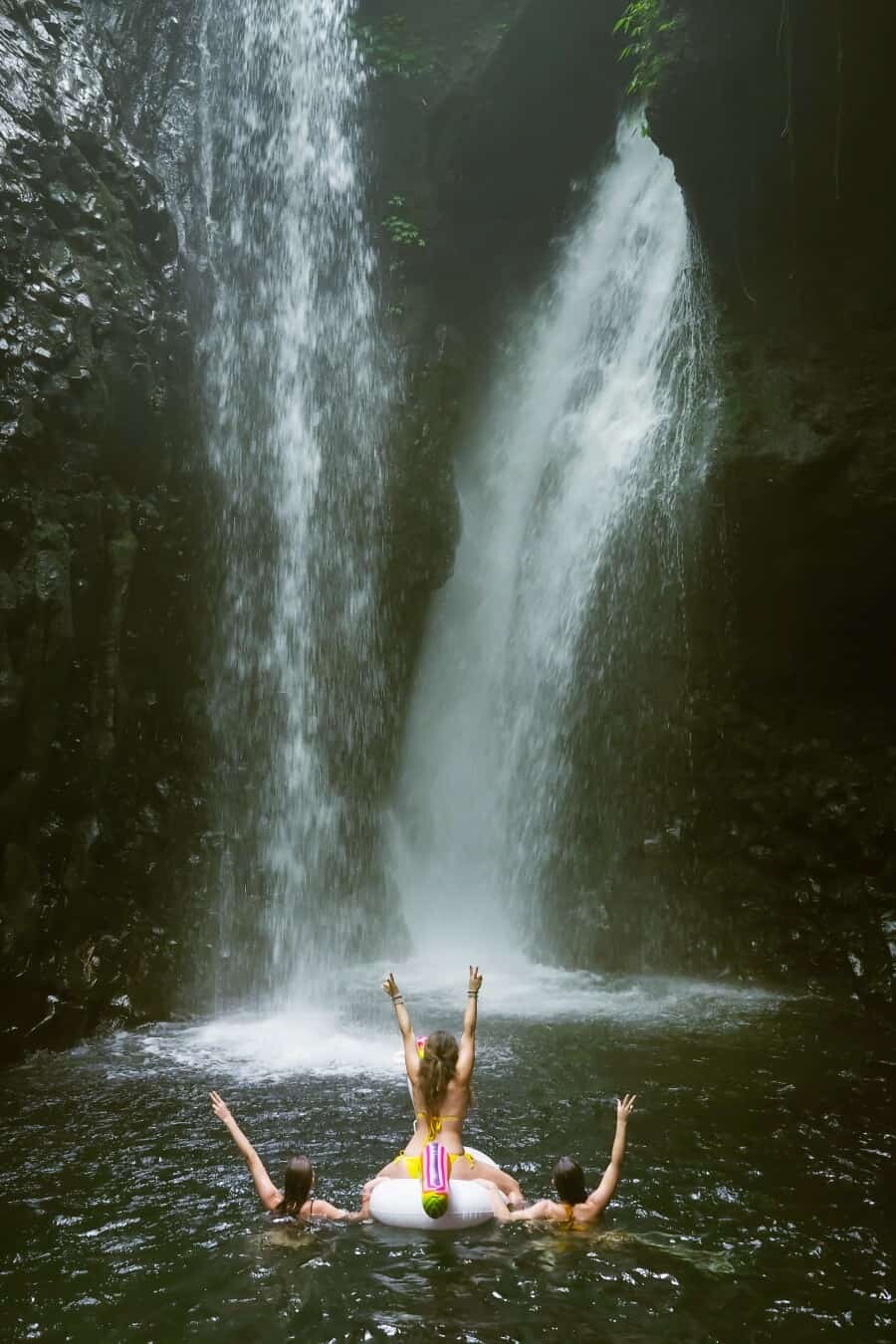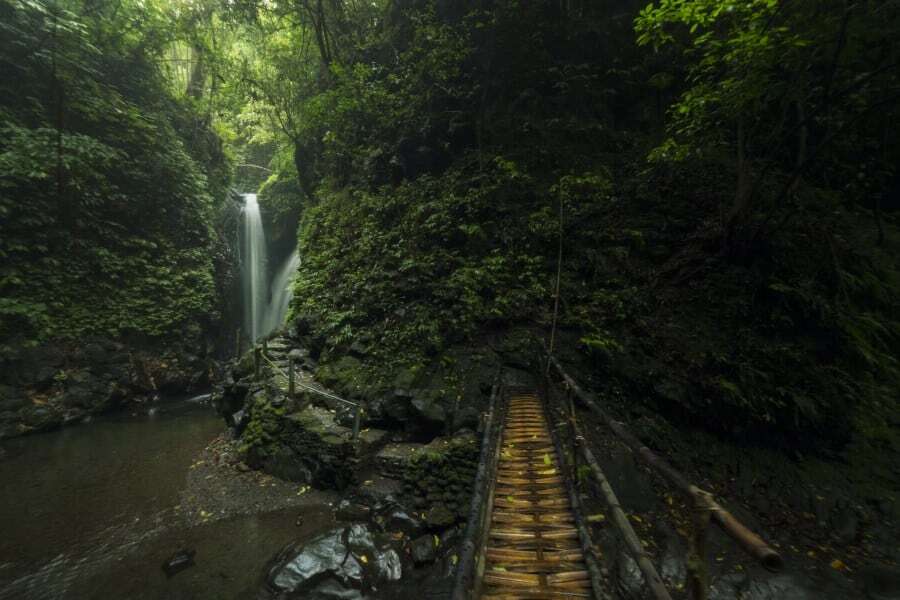 ---
Munduk Waterfall
A little surprise for us, Munduk Waterfall was really impressive! Wandering down a steep path (seemingly necessary no matter which waterfall you're visiting in Bali), you pass chickens, small local stalls selling nibbles and nuts and have to get out of the way for the odd motorbike zooming up the trail that's way too small to accommodate much more.
Hearing the intense gushing of water, we knew we were close as we ventured further down towards something…we couldn't really see anything resembling a waterfall until we were almost right under it.
After paying an entrance fee of 10,000IDR it was pretty obvious what lay ahead. A giant wall of rainforest was visible with a thin but strong waterfall rambling down the cliff.
Clambering across some little rocks, we were soon entering an opening where the full force of Munduk Waterfall was visible.
This waterfall is stunningly simple and dramatically beautiful. If you're in the Munduk area, be sure to make a stop here whether it's for a swim or photo stop. There's plenty of little streams and angles to capture this waterfall from so allow yourself a bit of time to explore.
Getting There:
Because it's a little easier to access due to the roads being a bit straight to get here, the timing is still similar to the other two falls, roughly 2hours from Ubud and 2.5 from Kuta/Seminyak.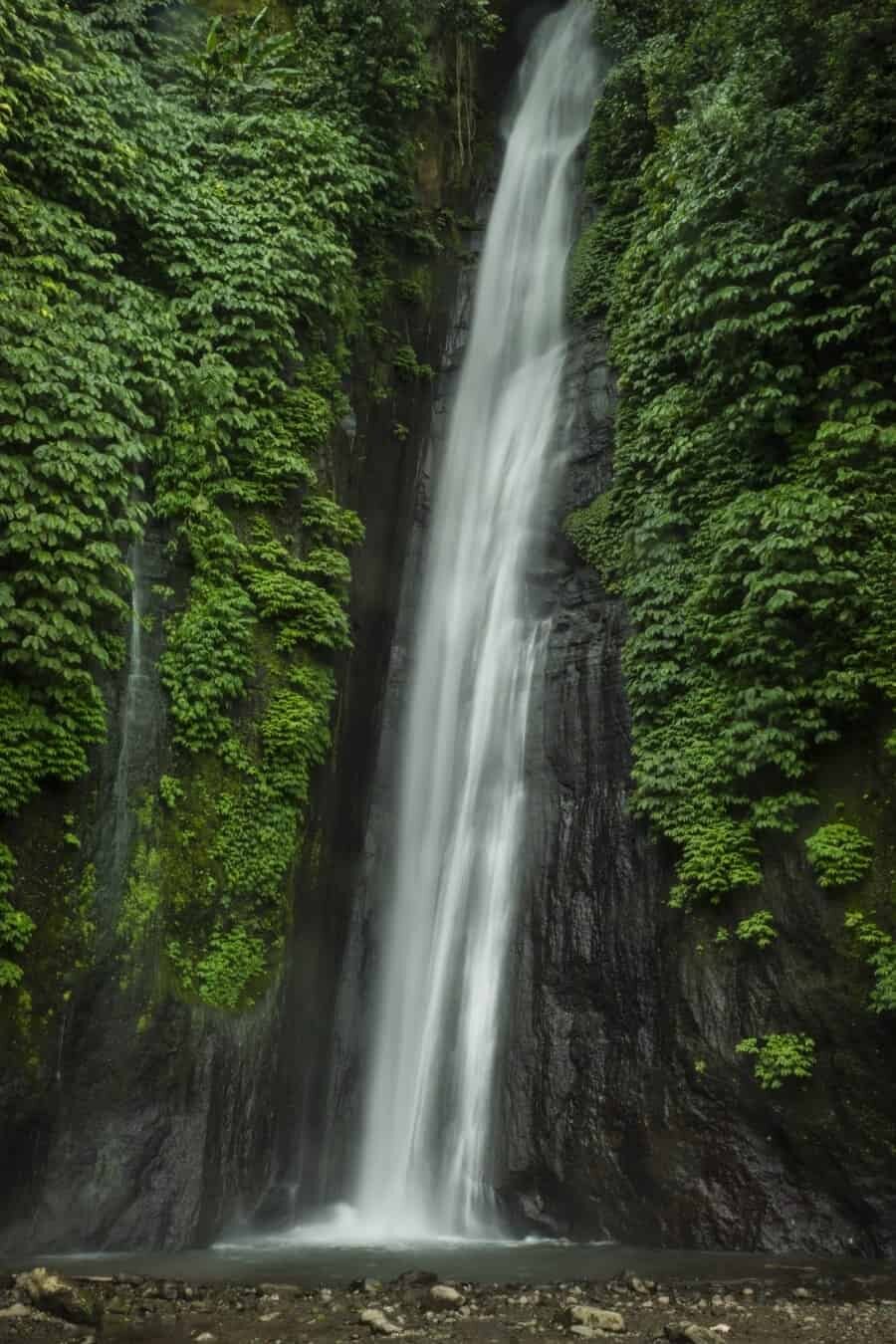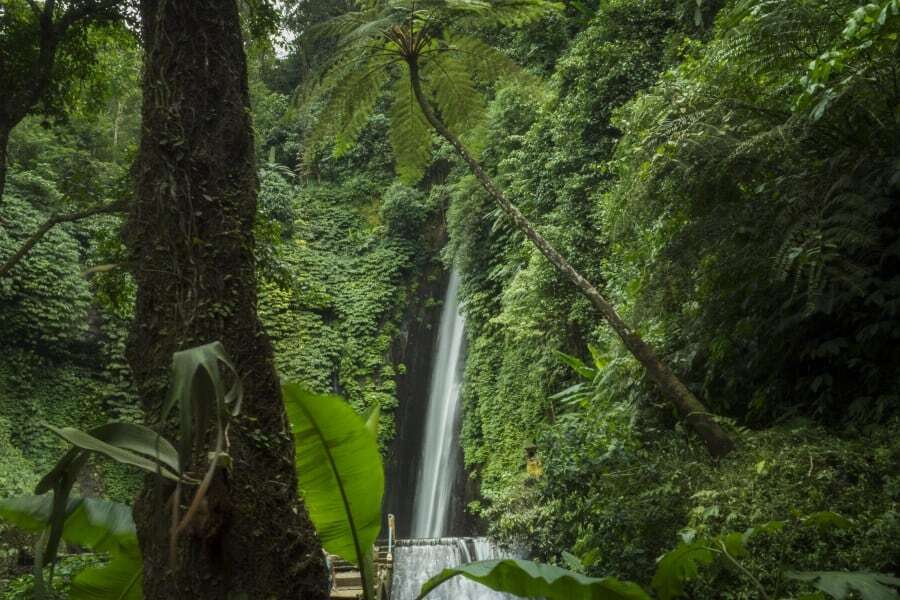 And here's a photo of Sarah and I at Munduk Waterfall…despite being hot messes after a day waterfall wandering in the humidity, we love this photo because the M.Zuiko 7-14mm 2.8 PRO lens makes us look super tall…almost like models!? No? Ha! Wide-lens = Long Legs 🙂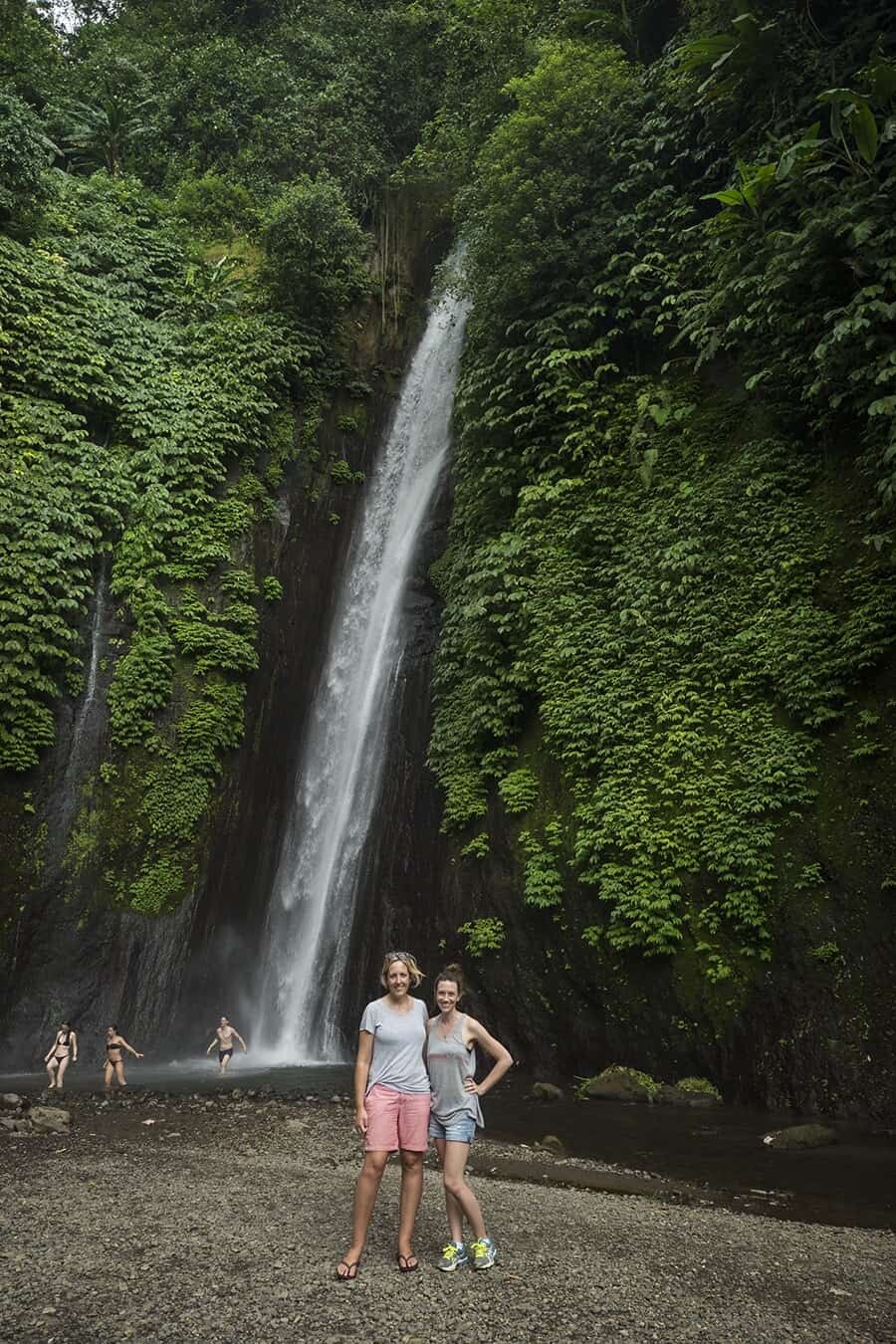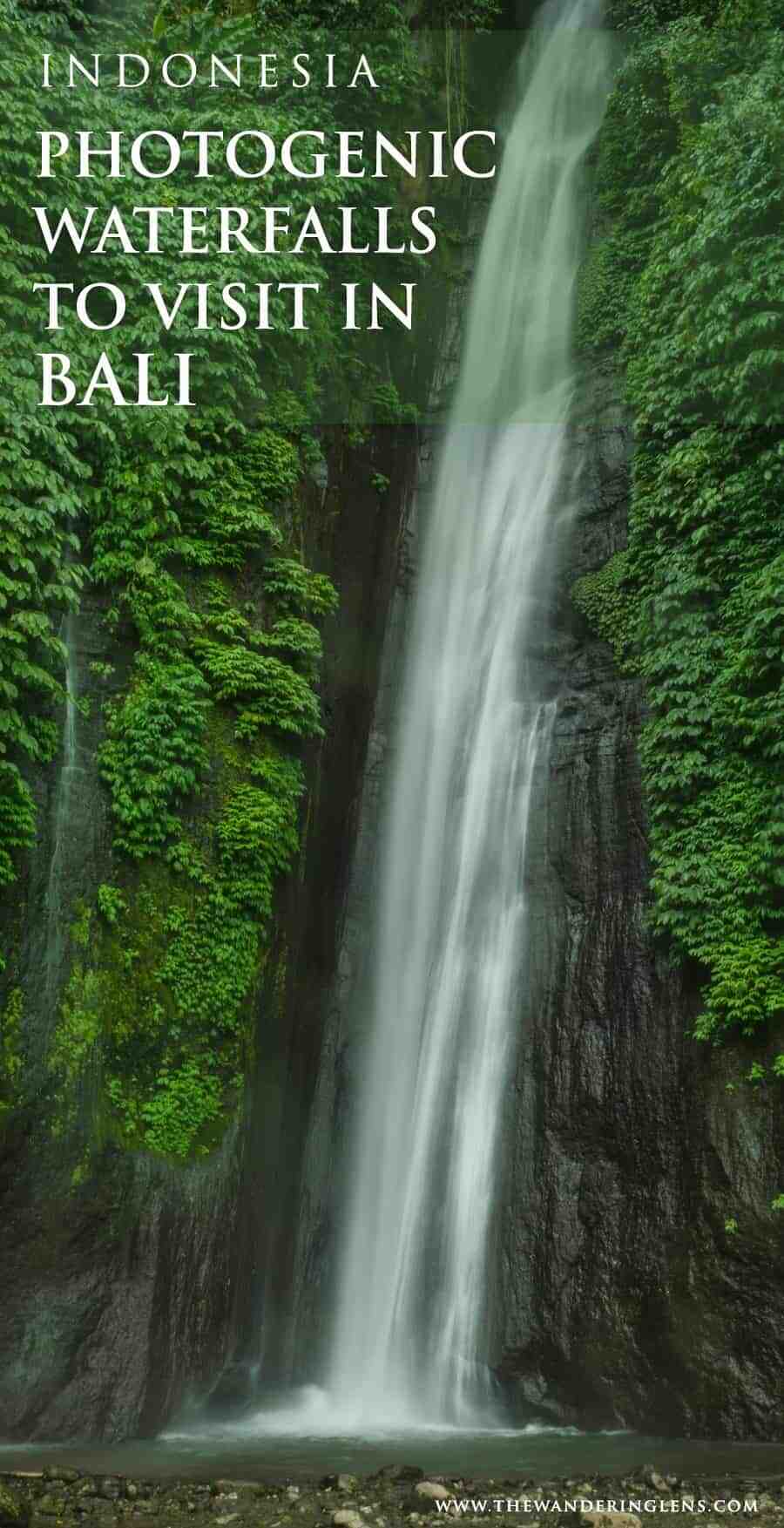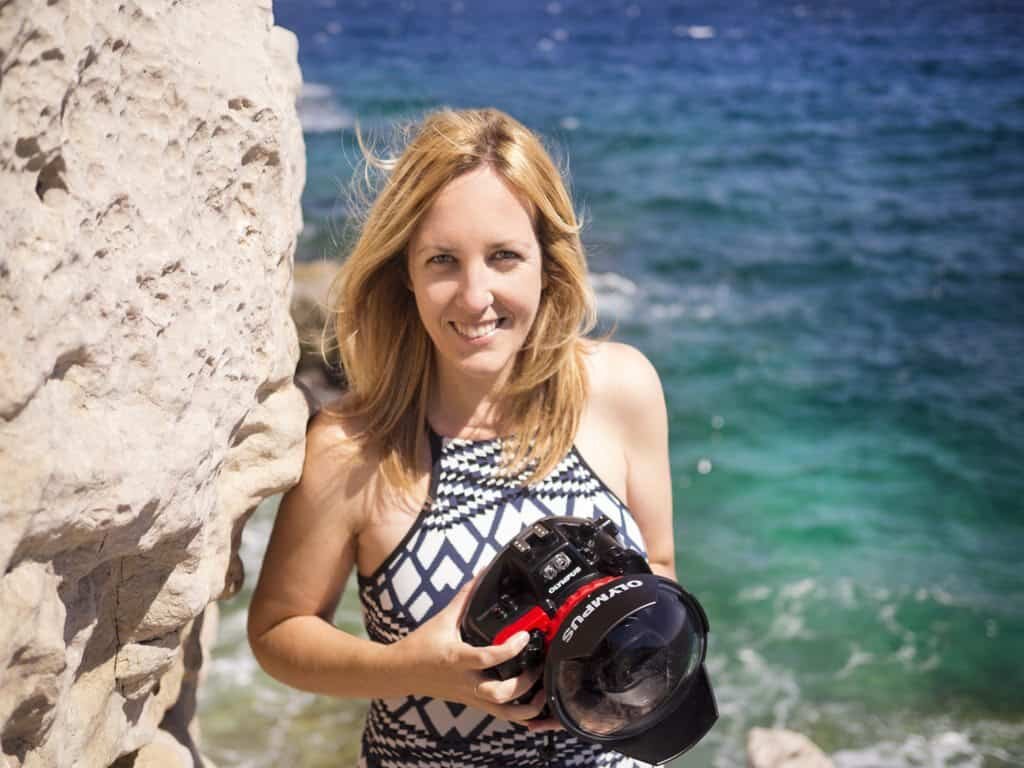 Hello! I'm the founder and photographer behind The Wandering Lens.
With 17+yrs experience as a professional travel and landscape photographer, all advice found on this site is from my personal experience on the road. I hope it's useful for your own travels and would love to hear in the comments about your trips and experiences around the world.