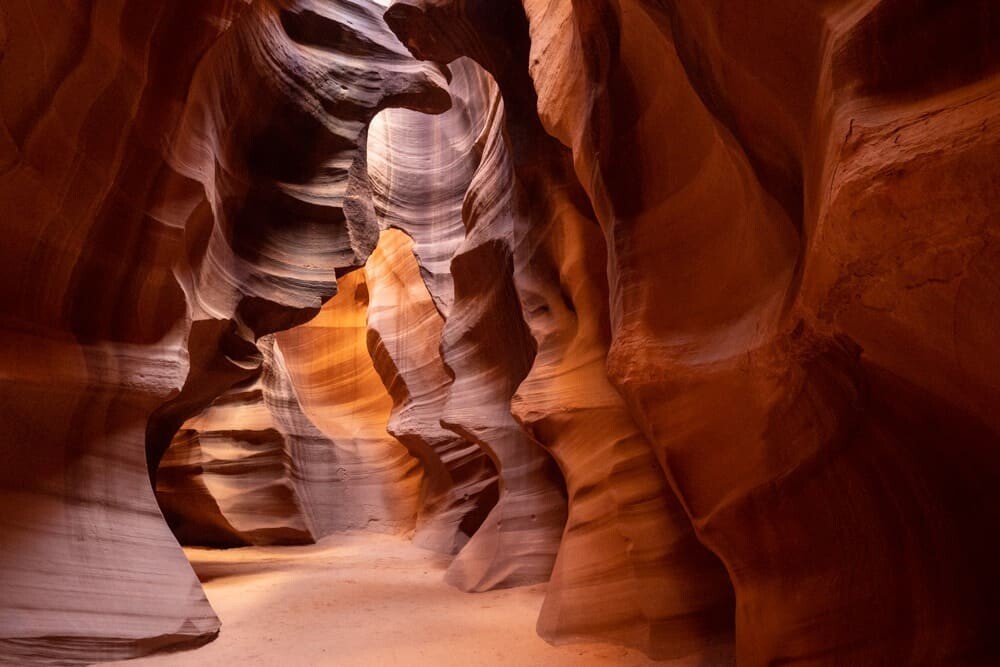 Photographing Upper Antelope Canyon + Photo Tips for Inside
Long before photography became part of my life I saw an image of Antelope Canyon that drew me in. The lines, the light, tones, vibrancy and marvels of nature in one photograph. It was an image that perhaps unconsciously inspired my path within landscape photography and for this reason Antelope Canyon has been on my wish list ever since I purchased my first camera.
Antelope Canyon is somewhere that defies the imagination. Carved by water over centuries as it gushes through the canyon, the formations within are otherworldly.
On a recent visit to Arizona I couldn't resist a tour of Upper Antelope Canyon despite knowing that it's one of the most visited sights in the US, something that usually turns me off in preference for more remote locations. I've written here about how to visit a secret slot canyon without the crowds, but for now, wanted to share all about photographing inside Upper Antelope Canyon; the good, the bad and how to be prepared to capture beautiful photos.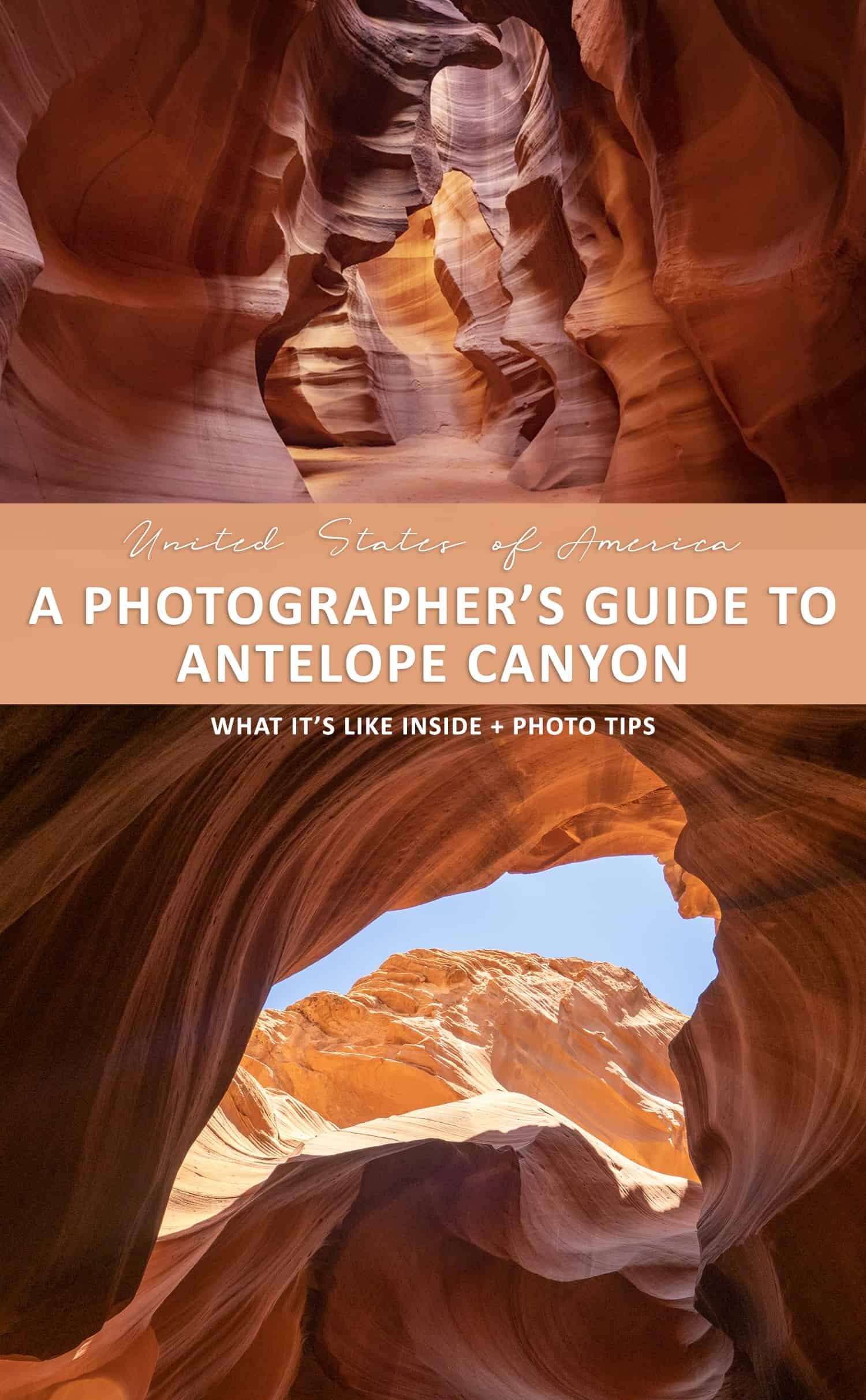 Where is Antelope Canyon?
In the American Southwest, located a 10 minute drive from Page, Arizona. You'll need to book a guided tour for access as it's on private Navajo land but doing so ensures you'll learn about the canyons formation, wildlife and best photography locations. There are roughly 15 canyons within a 10 mile radius however as most are located on private land, only a few are possible to photograph.
Tour companies have access to certain canyons so it's important to do your research beforehand to find the best company to lead the way. You can access both Upper and Lower Antelope Canyon, sometimes on the same tour, individually or I paid $150USD for a two canyon photography tour of Upper Antelope Canyon and Rattlesnake Canyon with Adventurous Antelope Canyon Tours…only now as I'm writing this am I thinking about the fact the second canyon is named after a Rattlesnake. Sometimes I guess it's good to be lost in the moment while photographing, yikes!
You can base yourself in Page (I stayed at the Days Inn) and explore not only Antelope Canyon but Lake Powell, Horseshoe Bend and other canyons like Rattlesnake, Owl, Mountain Sheep and Lower Antelope Canyon. I'd recommend two full days in the area or a little longer if you're looking to hire a boat and soak up the sunshine on the shores of Lake Powell.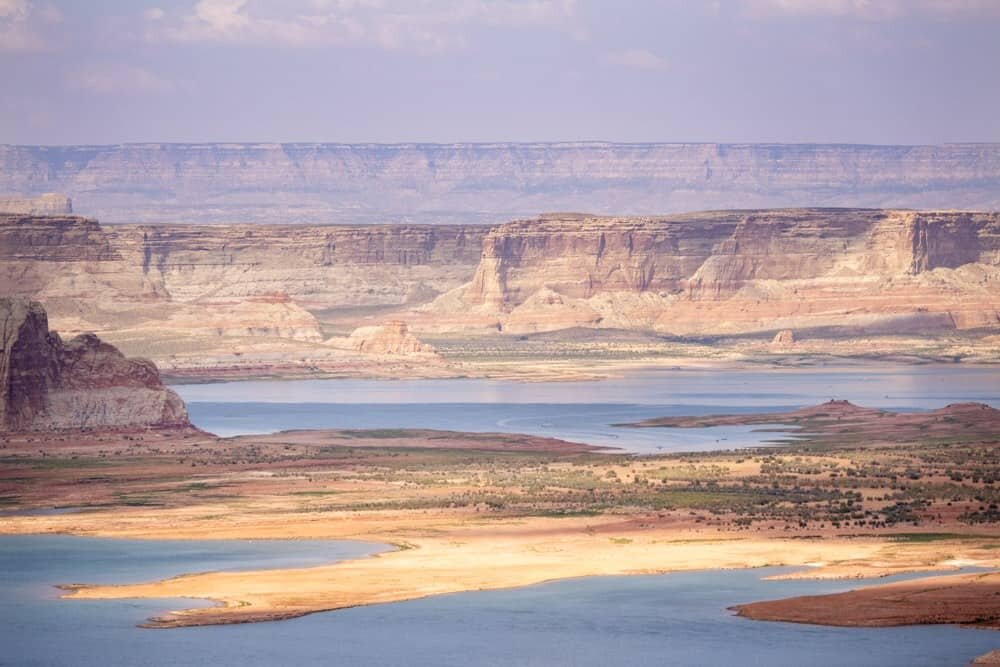 Upper Antelope Canyon: The Crowds + Chaos
Firstly, no matter how many people are inside it's worth visiting but, apparently I wasn't the only one inspired by an image to visit Antelope Canyon. I had read about it being busy inside but nothing prepared me for the chaos that exists within those swirly rock walls. Now don't get me wrong, it's worth ever squishy second inside but I wanted to write about my experience just to ensure anyone booking a tour in future can be as prepared as possible to get the most out of a visit.
Book a Photography Tour, I can't stress enough how important it is to book a photographer's tour instead of a standard tour of Upper Antelope Canyon. The difference is dramatic and will result in a series of stunning crowd-free photos over a series of photos featuring hundreds of people. The photography tours are small groups with a guide who will block crowds to ensure you get the shot. It doesn't by any means grant you private access to Antelope Canyon and you will still be sharing with hundreds of people, the key difference is that you'll get roughly 2 minutes (yes, just 120 seconds) to capture a shot in various spots within the canyon without crowds.
If you're a photographer who needs to set up their tripod and take time to compose your shot, unfortunately you'll need to get a wriggle on because those 120 seconds are timed and if you miss your chance, people will walk through your shot at 121 seconds and there's no stopping them. It's essential to photograph quickly and be prepared with settings before entering so you can make small adjustments as you go.
To avoid peak crowds I'd suggest visiting in low or shoulder season, my visit was in the first week of June so the summer crowds were starting to appear and hence almost every tour was fully booked. My guide said November – February was a lot quieter so if you're looking for a calmer experience, I'd highly suggest visiting in the off season. Just be sure to check weather conditions because flash flooding can cause closures of Antelope Canyon.
A little gripe: One small thing I wanted to mention that may be controversial but was blaringly obvious to me was the way people are treated within the canyon. Guides were whistling at Asian tour groups, yelling at them to move to the side so our group could get through. Not only did I hate that this was being done to benefit my experience, but it was ruining theirs. They were visiting Antelope Canyon for the very same reason I was, to gaze at the natural beauty and take photos. Unfortunately they were all booked on the standard tour due to their larger numbers but in my opinion, there's absolutely no need to treat people any differently simply because they don't speak English (although many did and no doubt understood how horribly they were being treated), travel in a larger tour group or aren't aware that there's a difference in tour styles. It was actually shocking to witness as I love how passionate these groups were about taking photos so was happy to wait a few minutes so they could also get their photos, regardless of what tour they were on or where they were visiting from.
I think in future numbers should be restricted inside the canyon during the high season, not only was it chaotic, loud and quite frankly a bit of a mess, it took away from the overall experience of witnessing such a stunning natural formation.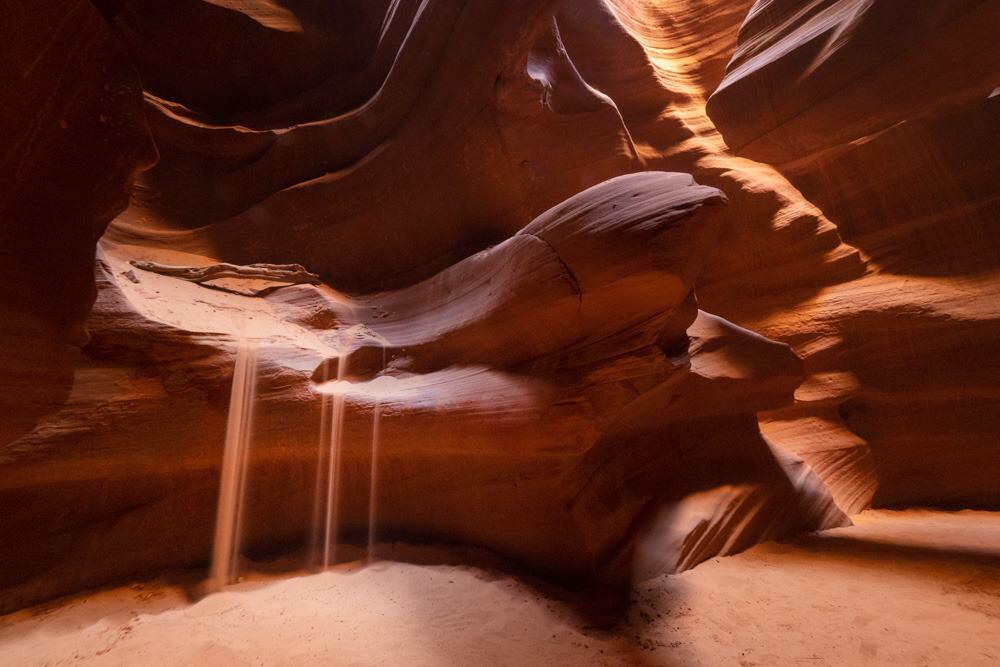 The Best Lens for Antelope Canyon
Inside the walls are tall and close together so having a wide angle lens is essential to capturing the immense beauty within Upper Antelope Canyon. As light filters through the canyon, shadows help to highlight or hide certain areas so with a wide angle lens, you can capture it all then reveal the details within shadows in post processing.
Alternatively, use your lens to work with the curved walls and shoot both portrait and landscape perspectives incorporating close up features with a wide aperture, then don't forget total sharpness with a smaller aperture of around f8-11 depending on your lens.
I photographed primarily with the Olympus M.Zuiko 7-14mm f2.8 PRO wide angle lens on the E-M1X, which not only allowed me to capture the beauty within the canyon, but it performed really well in the low light conditions. Inside Antelope Canyon the light varies in brightness with some areas barely visible due to the tight spaces and minimal light creeping in. Be sure to test your camera and lens in low light conditions to ensure you're comfortable using it in cramped and rushed circumstances.
Knowing your gear is crucial to capturing beautiful images inside the canyon. As I mentioned before the time you've got to take photos is 120 seconds, sometimes less so it's not the place to be fiddling with settings or lenses.
IMPORTANT- You are unable to take a backpack into Antelope Canyon so choose wisely which lens you put on your camera. On photography tours you can take a tripod and sling two cameras over your shoulder so if you have two bodies, I'd suggest a wide angle lens and standard zoom like the 12-40mm f2.8 which I also took in and put on the OM-D E-M1 MKII. On the photography tours they'll let you take a bag in the vehicle but you'll be made to leave it there while you're inside the canyon so think about which you prefer, locked away in your vehicle, or theirs. Also you can't run back to get something from your bag.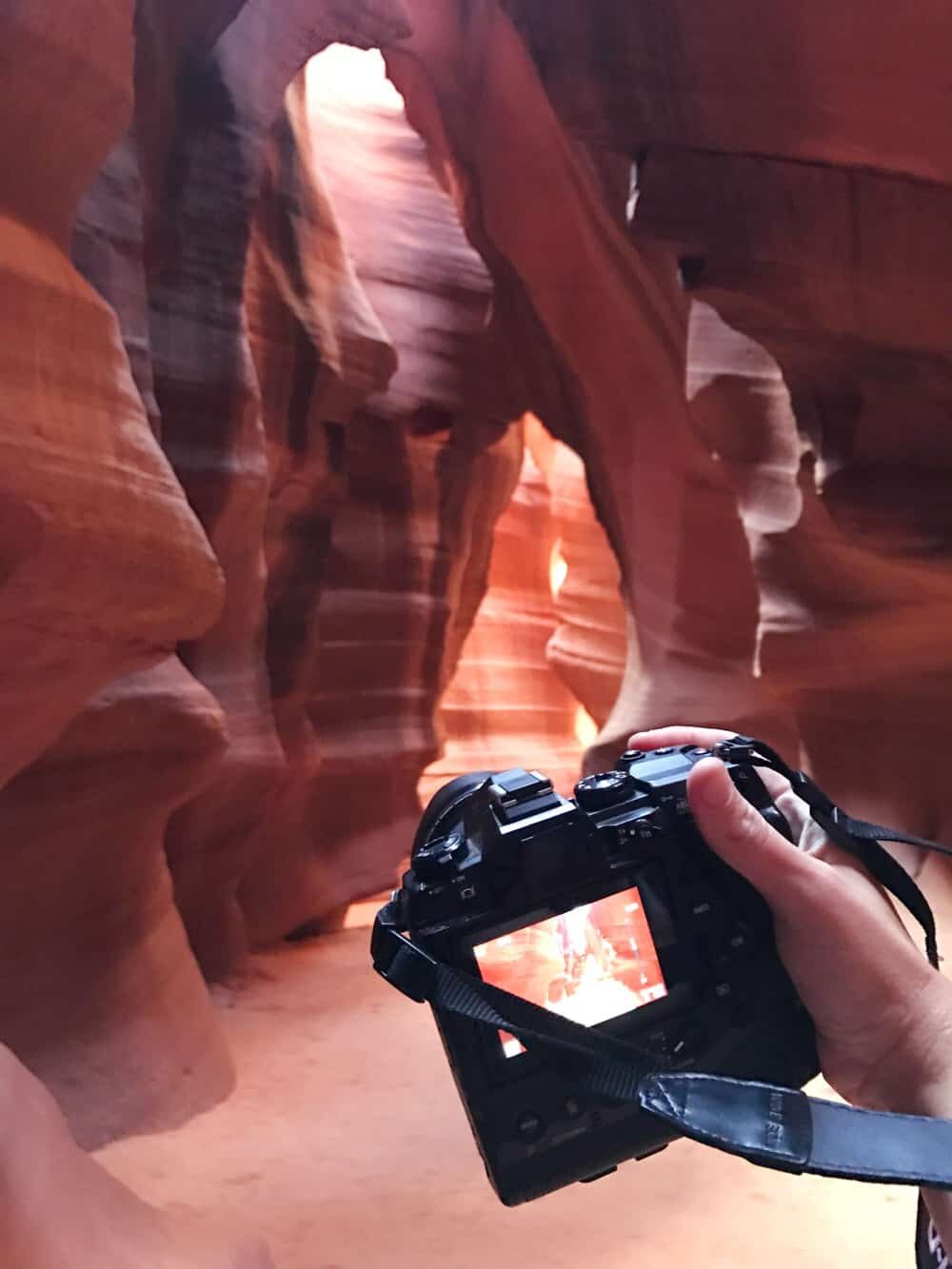 Composing Shots in Antelope Canyon
Be prepared to be overwhelmed and inspired by nature! While you may have preconceived ideas of the type of photos you want to take in Antelope Canyon, l can almost promise these will change the moment you step inside and set eyes upon the spectacular formations. Not only will your shots be influenced by your first impressions, the crowds, light and shadows, it will depend on where your guide ushers you to photograph.
The best advice I can offer is to try and relax and soak it all in. Despite feeling rushed, take the time to really look around you and decide which angle and elements you want to include in your photographs. On a photography tour your guide will point out which angle is best but as always with photography, this is completely subjective so I urge you to try out your own angles and creative ideas too.
#1 – Look for the light and use it within your images. Don't be afraid to capture a number of shots at different exposures to incorporate the highlights and shadows which can be adjusted later on. Filtered light will showcase the lines and patterns within the canyon and it's these that will help your image tell a story.
#2 – Leading lines will shape your image. As the canyon walls turn and twist, keep an eye out for leading lines that will guide viewers into your image. Work with the lines as they lead into the canyon, it'll transform your images!
#3 – Zoom to add depth. Look for a section within the canyon that works with a tighter crop and zoom to remove any distracting elements and add depth. Shadows within the canyon will help you to add depth and draw eyes into your photograph, see below for an example of this.
Read more –
Creative Composition within Travel Photography
How to Master Wide-Angle Landscape Photography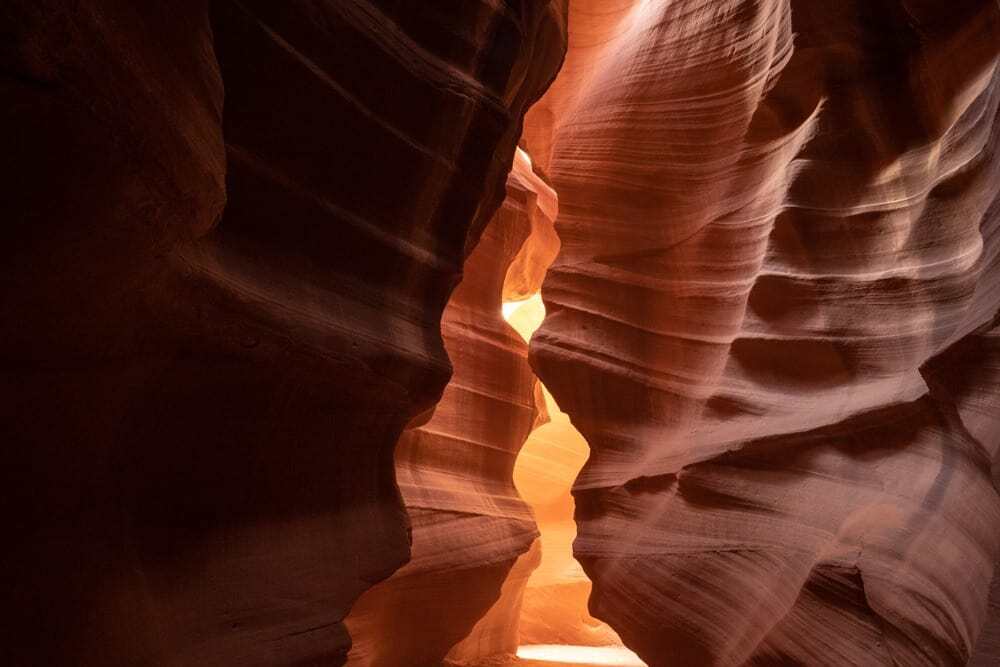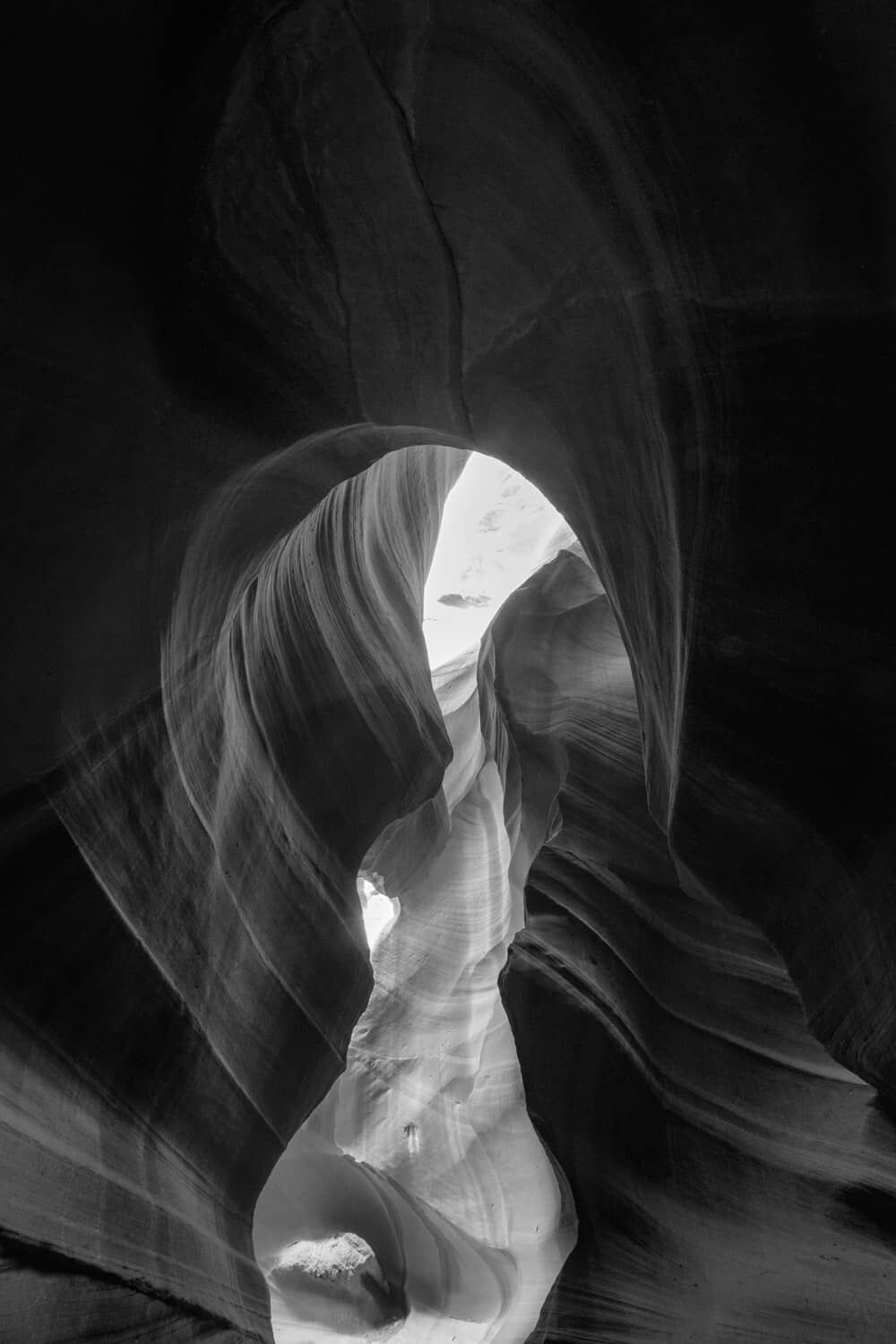 Final tip, combine your Antelope Canyon experience with a visit to a second canyon so you've got two chances at capturing these beauties. Visiting the Upper Antelope Canyon first will be quite an overwhelming experience so having a second canyon to visit afterwards, will offer the chance to do a retake and refresh your creative mindset. I highly recommend an early morning visit to the Secret Canyon with Horseshoe Bend Tours where you'll have private access to this canyon in a small group with up to an hour to wander through at your own pace…an absolute photographer's dream in comparison to the Antelope Canyon experience.
Have you photographed inside Antelope Canyon before or have any questions about the experience? If so, leave a comment below!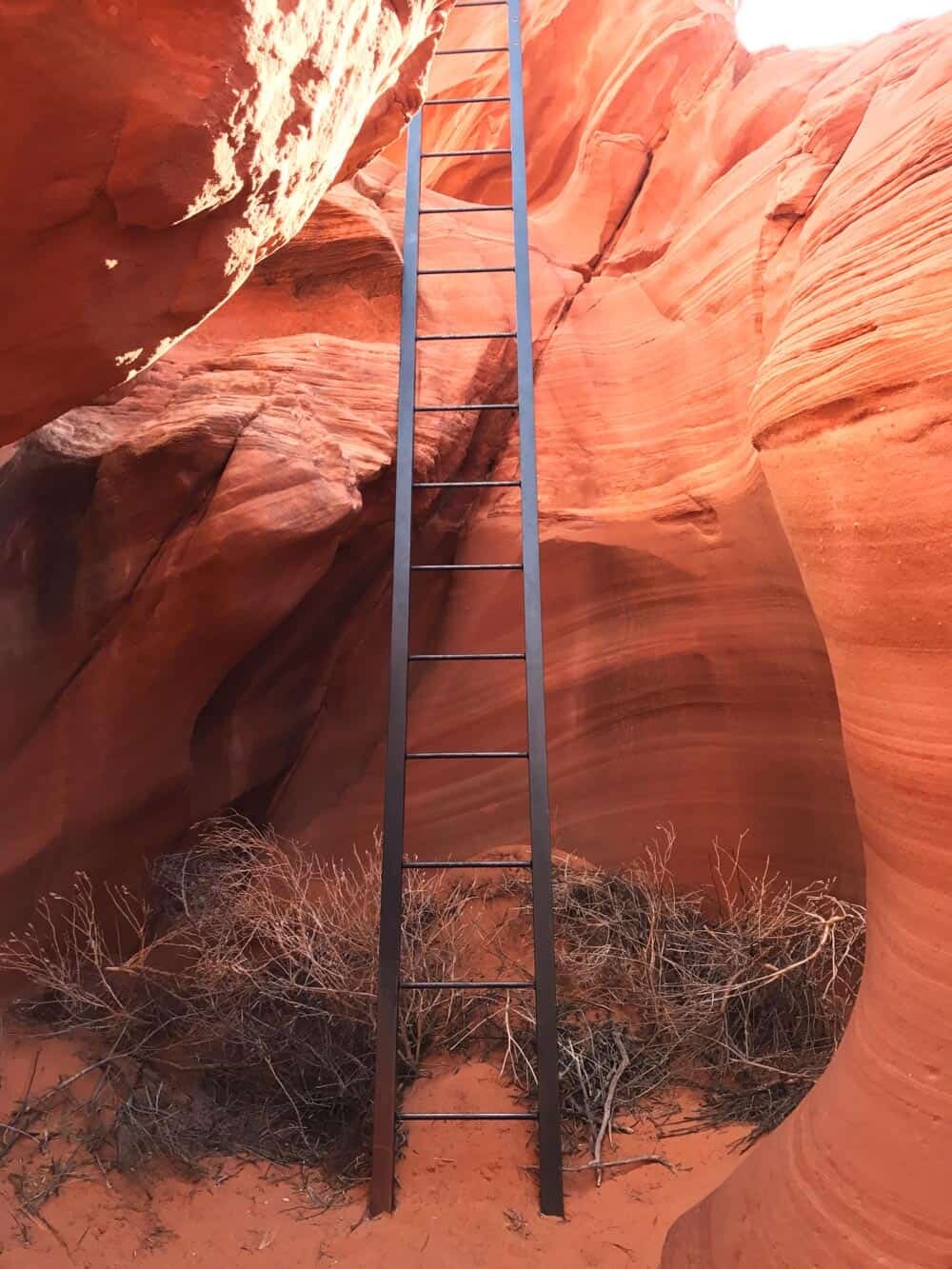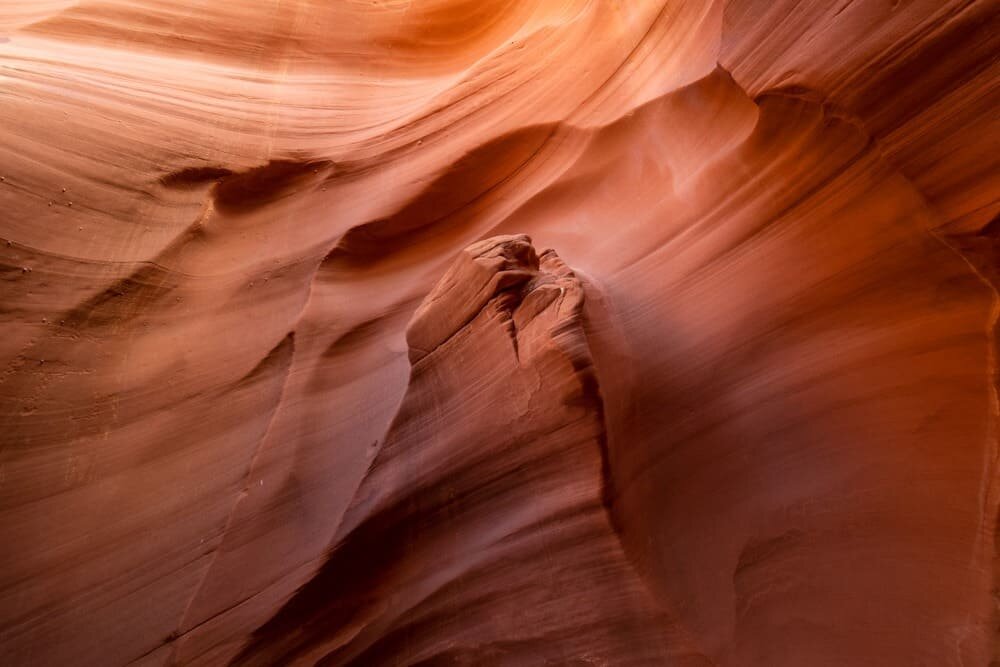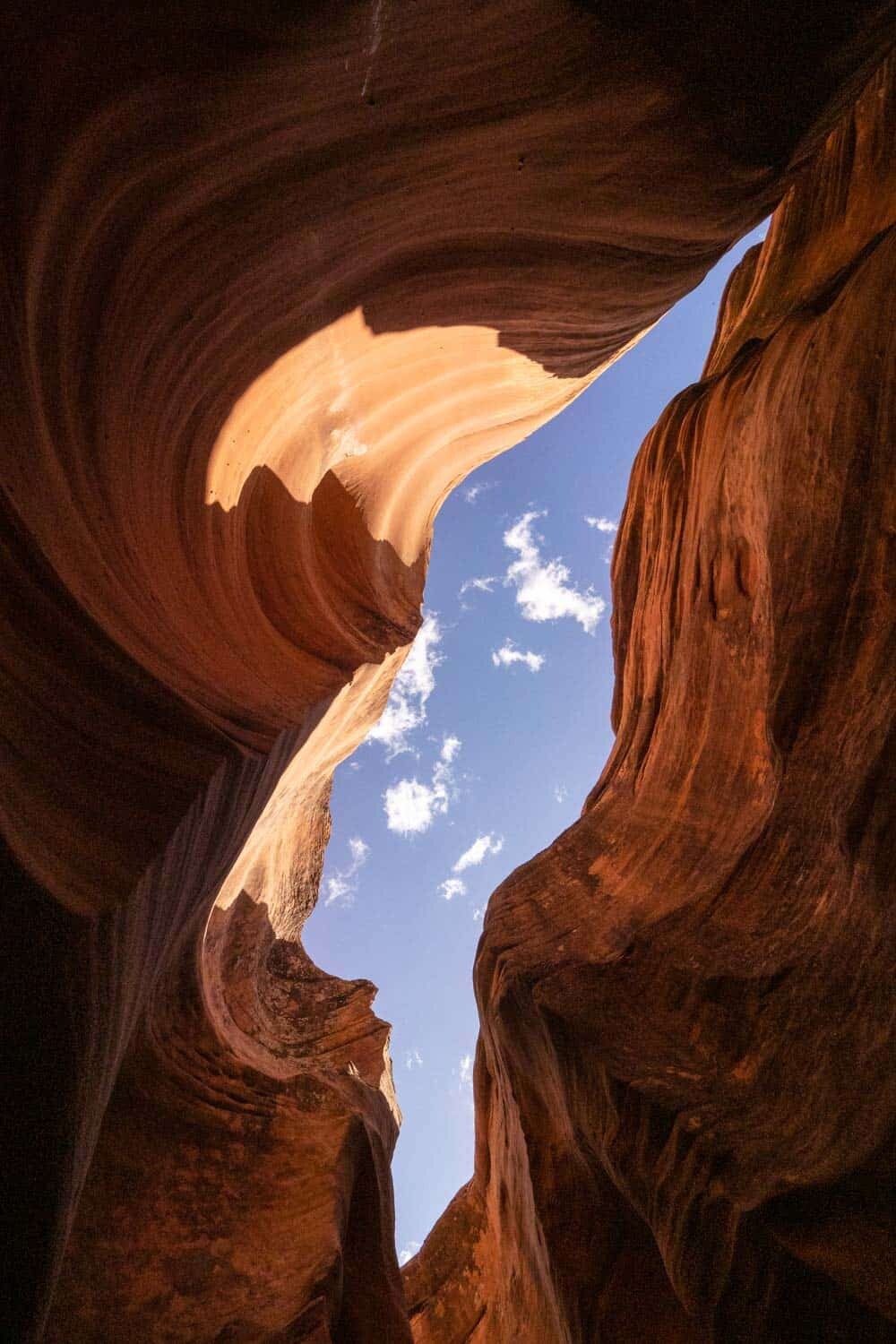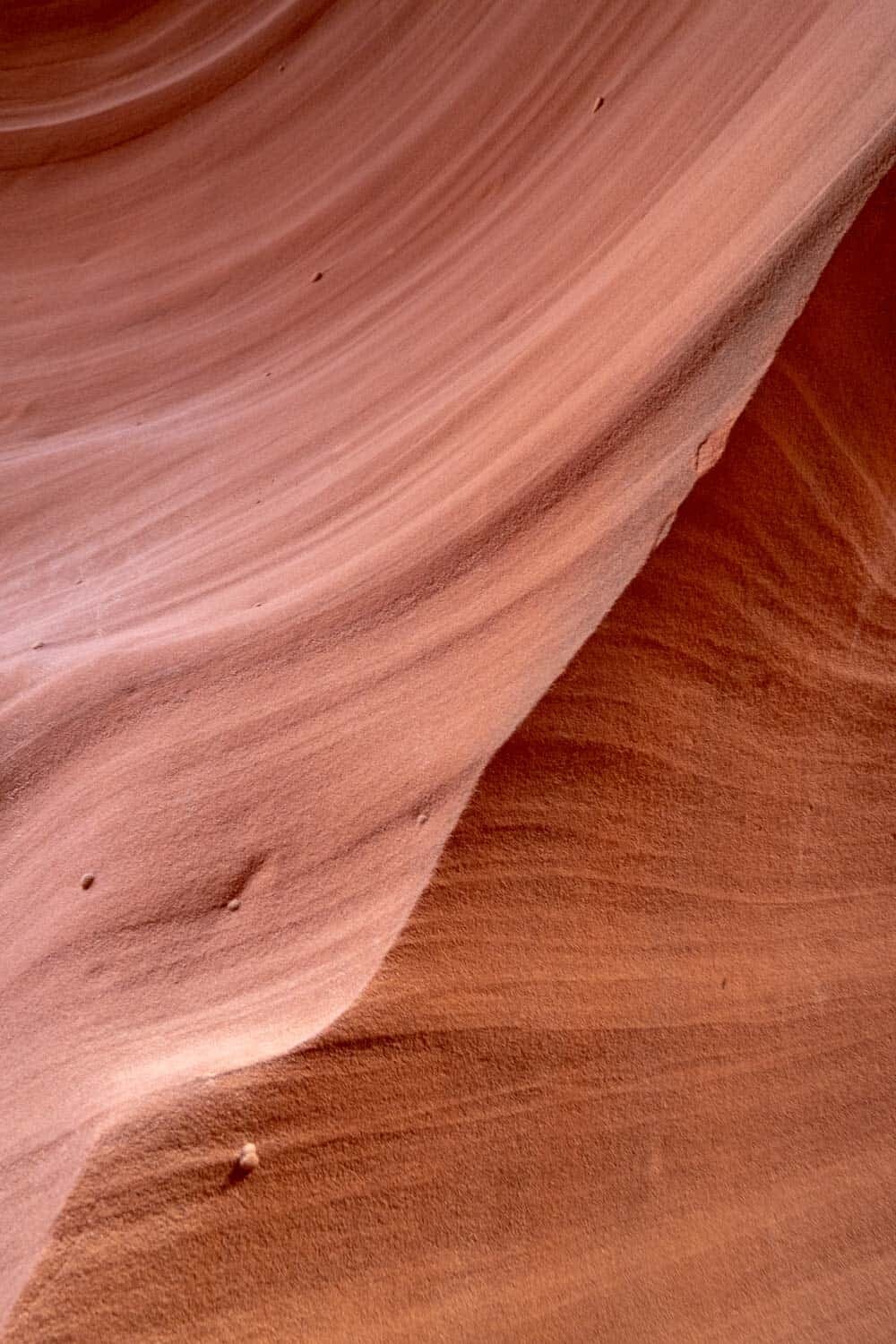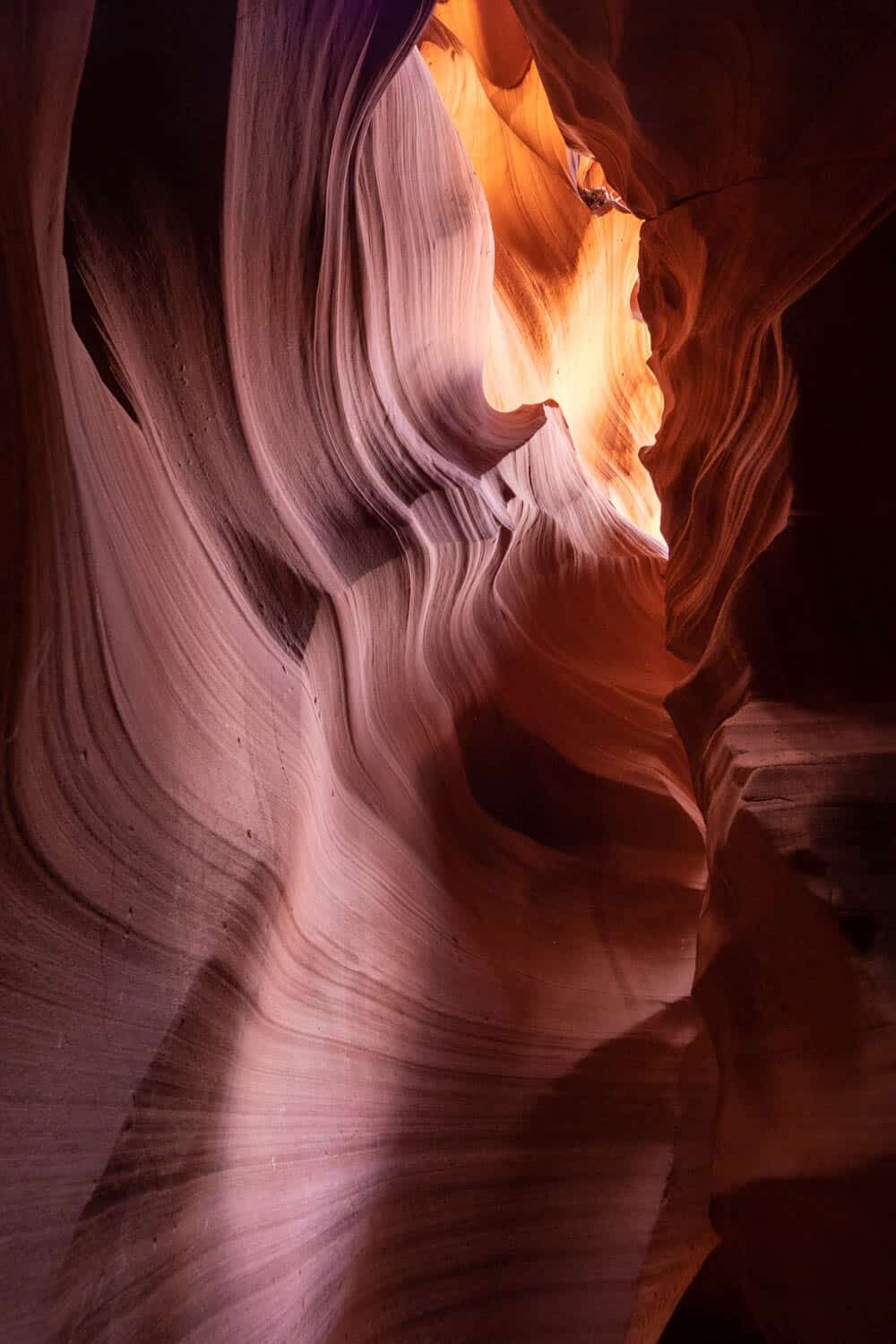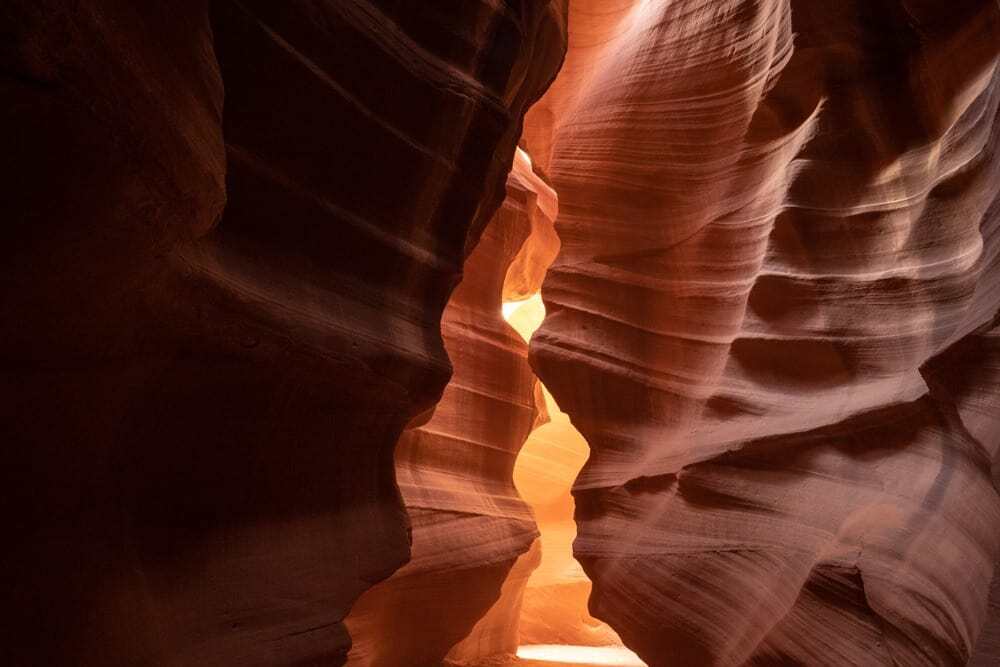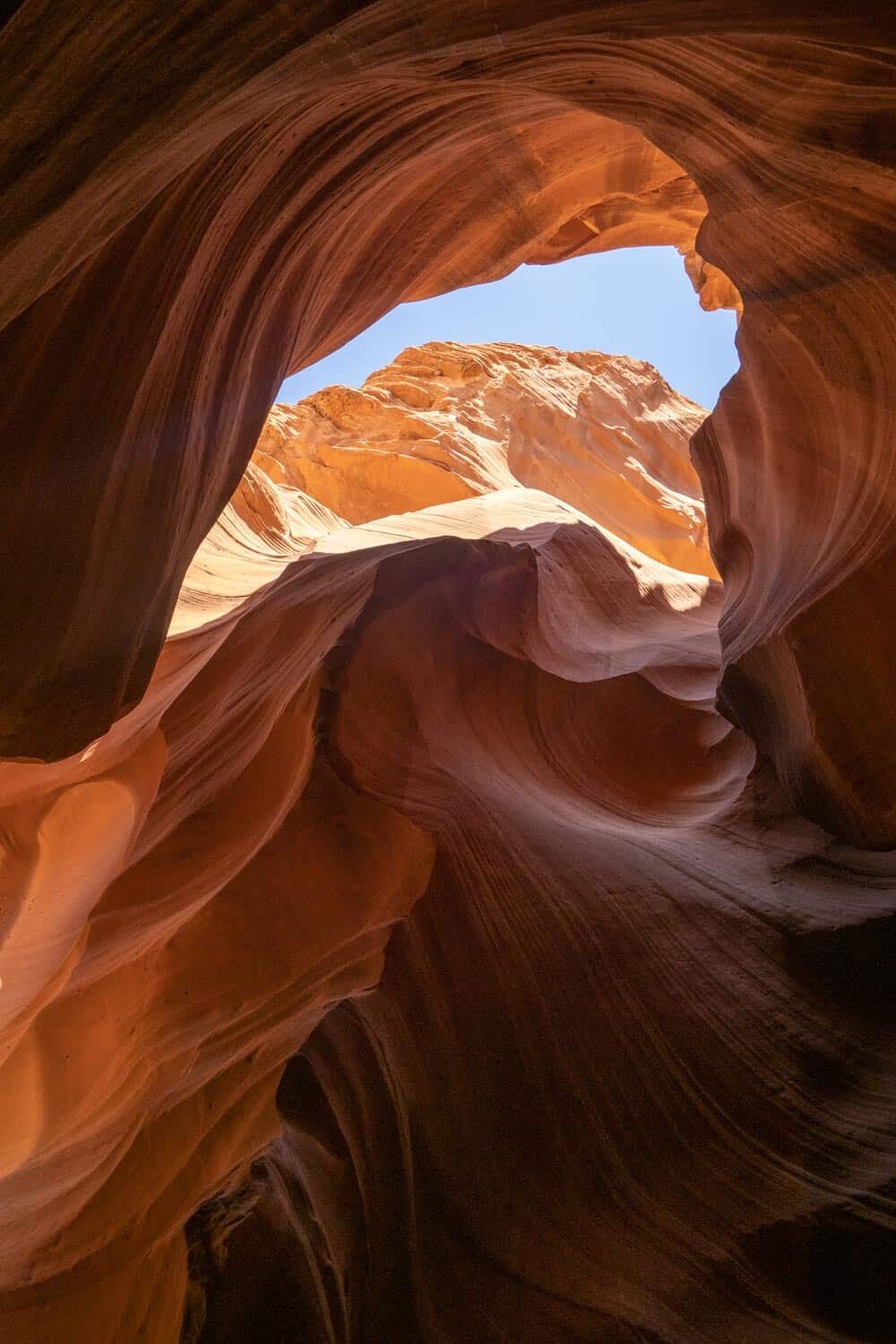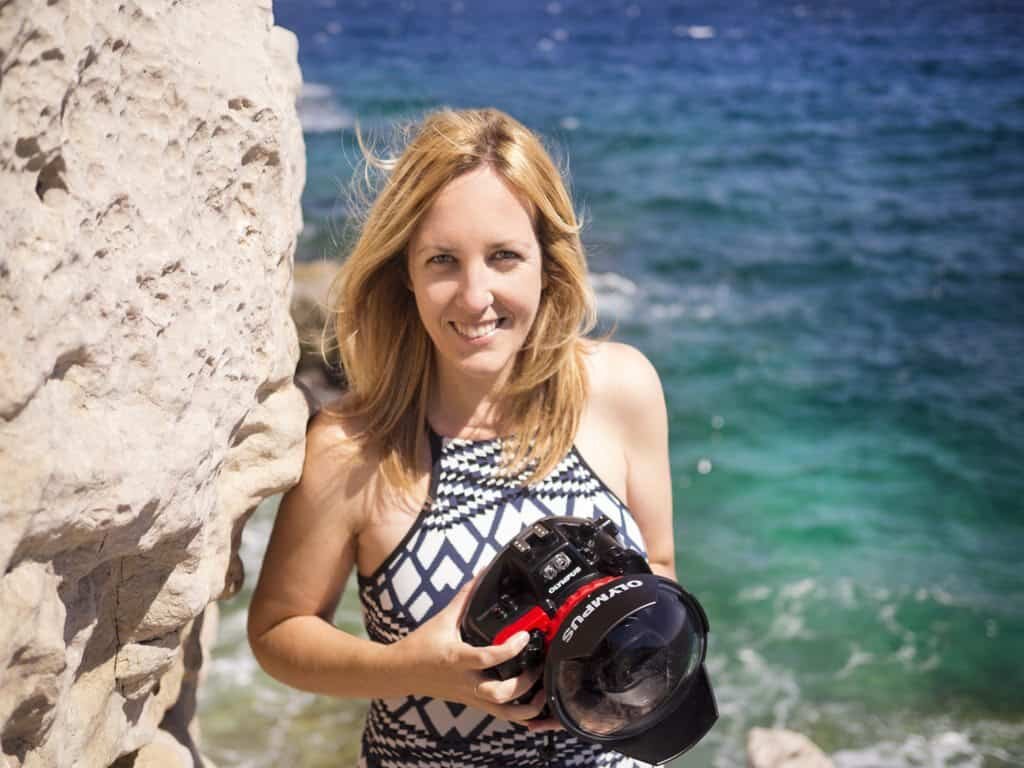 Hello! I'm the founder and photographer behind The Wandering Lens.
With 17+yrs experience as a professional travel and landscape photographer, all advice found on this site is from my personal experience on the road. I hope it's useful for your own travels and would love to hear in the comments about your trips and experiences around the world.