Photographing the Arashiyama Bamboo Grove
The immense size of bamboo stalks rising above is enough to overwhelm you in the best possible way. Natural beauty is on full display here at the Arashiyama Bamboo Grove, one of the most photographed locations in Kyoto, Japan.
Nestled in the quiet but bustling suburb of Arashiyama, the bamboo grove is a popular, no wait, extremely popular tourist attraction and it's not hard to see why. Rivalling the Fushimi-Inari torii gates and the Golden Pavilion for top spot on the tourist wish list, it's a destination you need to see to believe.
Not only does Arashiyama have the bamboo grove but it's home to an abundant collection of temples and areas of natural beauty so no trip to the bamboo grove should be complete without spending an entire day (or more if you end up loving it as much as I do!) exploring the surrounding photo spots.
Day after day, people swarm in the thousands to photography and marvel at these impressive stalks of bamboo. You'll no doubt stumble across numerous photoshoots, insta poses and selfie sticks when visiting during the peak daytime hours, but if you're hoping to capture the bamboo grove in it's peaceful, quiet glory, you need to plan ahead. I'm about to tell you how…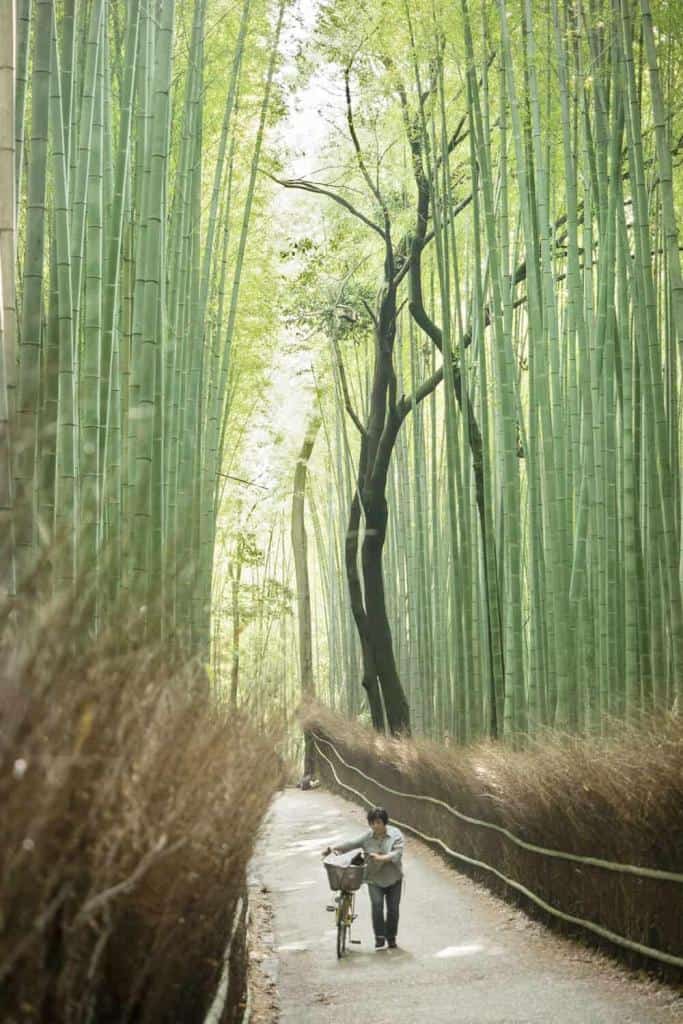 ---
Best time to visit Arashiyama

Arashiyama Bamboo Grove is photogenic throughout the year, it's the surrounding scenes that will change as the seasons progress. To experience the magic of Japan blending with the colours of autumn, visiting around mid-late November to early December will ensure you're hitting the peak of the beauty. I host my photo tours usually in the last week of November which has consistently produced gorgeous colours to photograph!
If you have a little flexibility in when you visit, you can keep an eye on the Autumn Report to check when the exact times of peak will be. Even changing your schedule and going to Tokyo before or after Kyoto for example could be the difference between experiencing Arashiyama and Kyoto under a full cloak of rich reds or seeing them either fallen from trees or still a light yellow.
Weather conditions play a big part in how long the autumn leaves will be visible, calm conditions can mean they stick around a little longer however all it takes is some wind and rain to make them fall quickly and bring forward the season.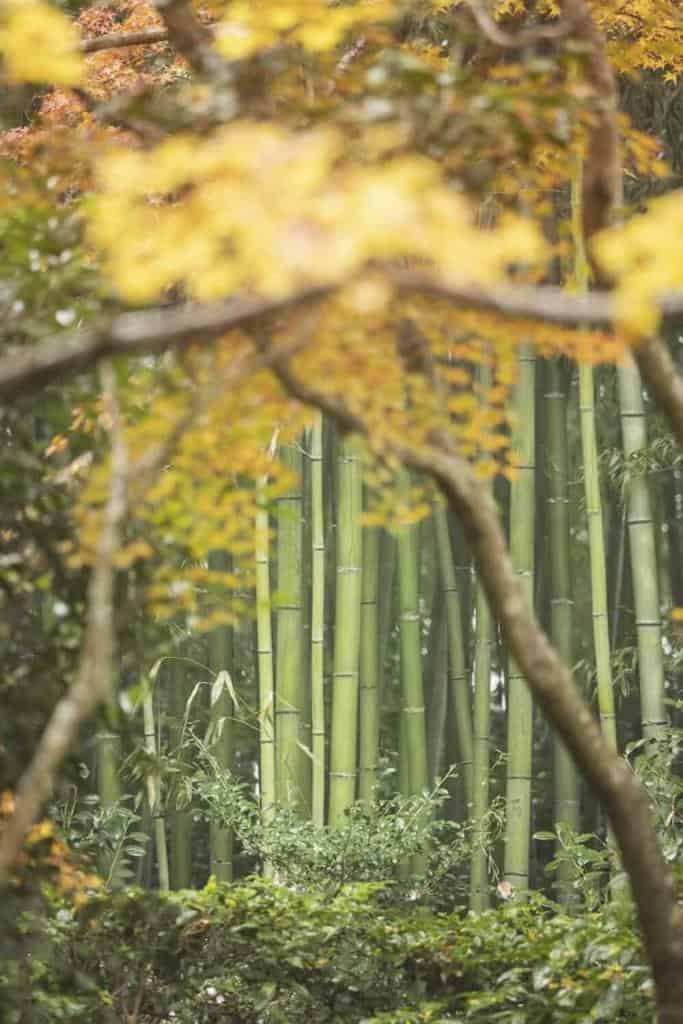 Summer is another gorgeous time to visit as the greens appear even more lush! You will need to prepare for some intense humidity in summer though, it can get quite hot and sticky so having water and cooling aids is essential…I'm from Australia and have lived in the tropics and still found it near unbearable! However, you'll find the summer heat will reduce the crowds quite significantly so if you visit in the late afternoon once tour buses have gone through, you may well have some beautiful light to capture without too many people around!
If you're looking to avoid the peak seasons of Sakura (Cherry Blossom) and Kyoto (Autumn Leaves), planning for a shoulder season might be best to allow for the possibility of less crowds and a better chance to book some nice accommodation at a good rate.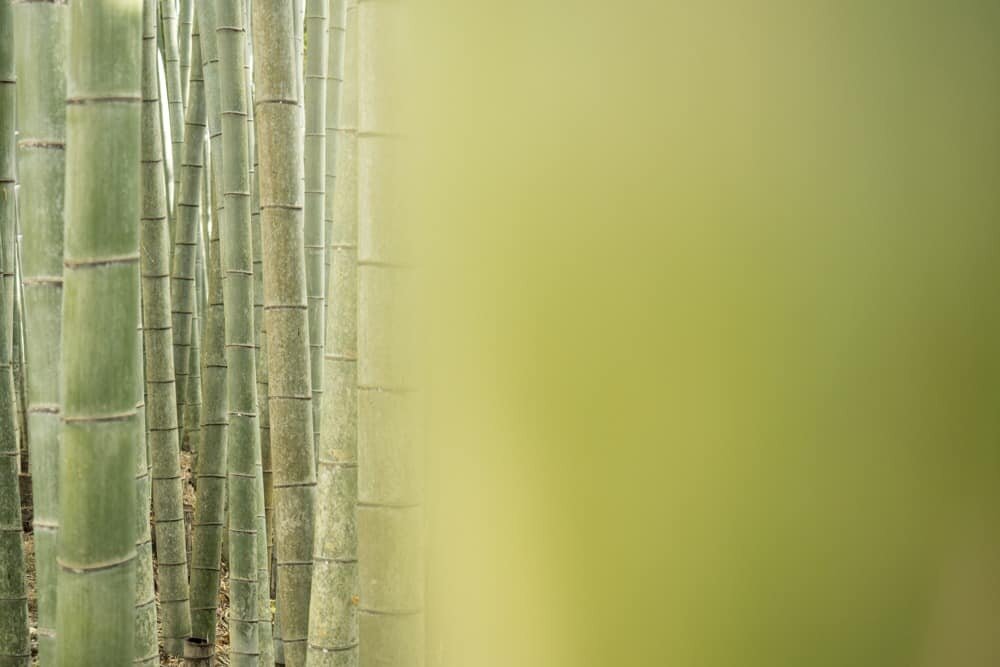 ---
Composition and Photography tips for Arashiyama

One of the benefits of arriving to photograph the bamboo grove at sunrise is that you'll only be joined by a handful of other people. That said, the light can be quite tricky to photograph in because the grove is so lush, it's also quite dark until the sun rises higher in the sky.
To combat that you'll need a tripod or a camera that performs well in low light conditions like my Olympus OM-D gear. I've photographed the bamboo grove for 4 consecutive years on multiple occasions at sunrise and the E-M1X, E-M1 MKIII,E-M1 MKII and E-M10 MKIII have all been incredible shoot with completely handheld. While others were stuck in tripod wars with other photographers, I was on the side capturing new angles without the need to balance my camera for stability despite the lack of light.
If however you know you'll need a tripod due to your current gear, arriving early is even more important to ensure you can set up your tripod.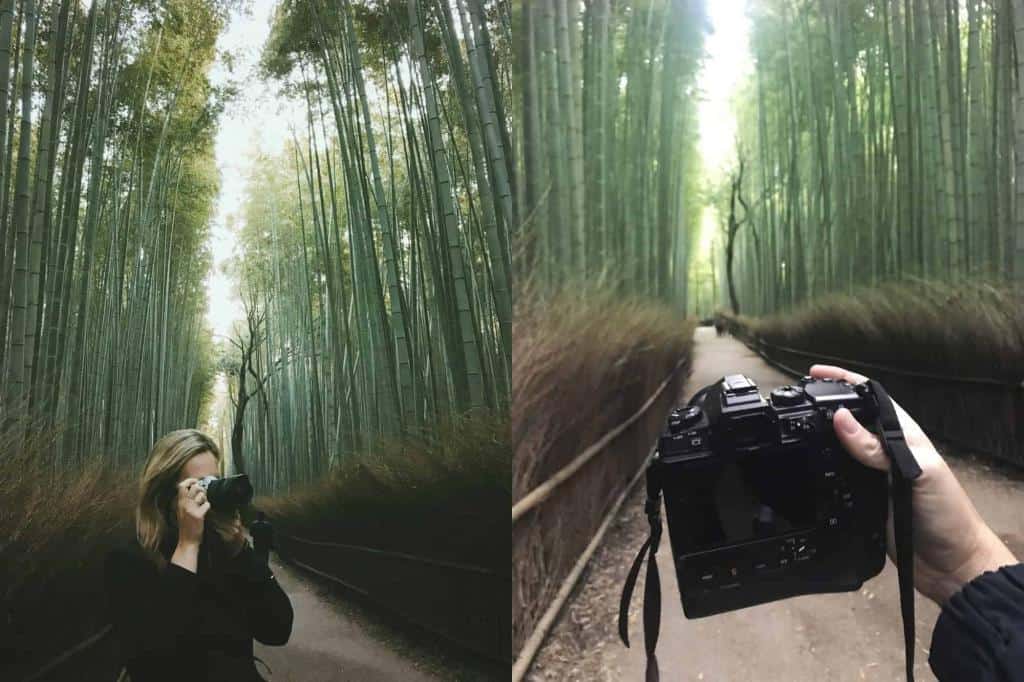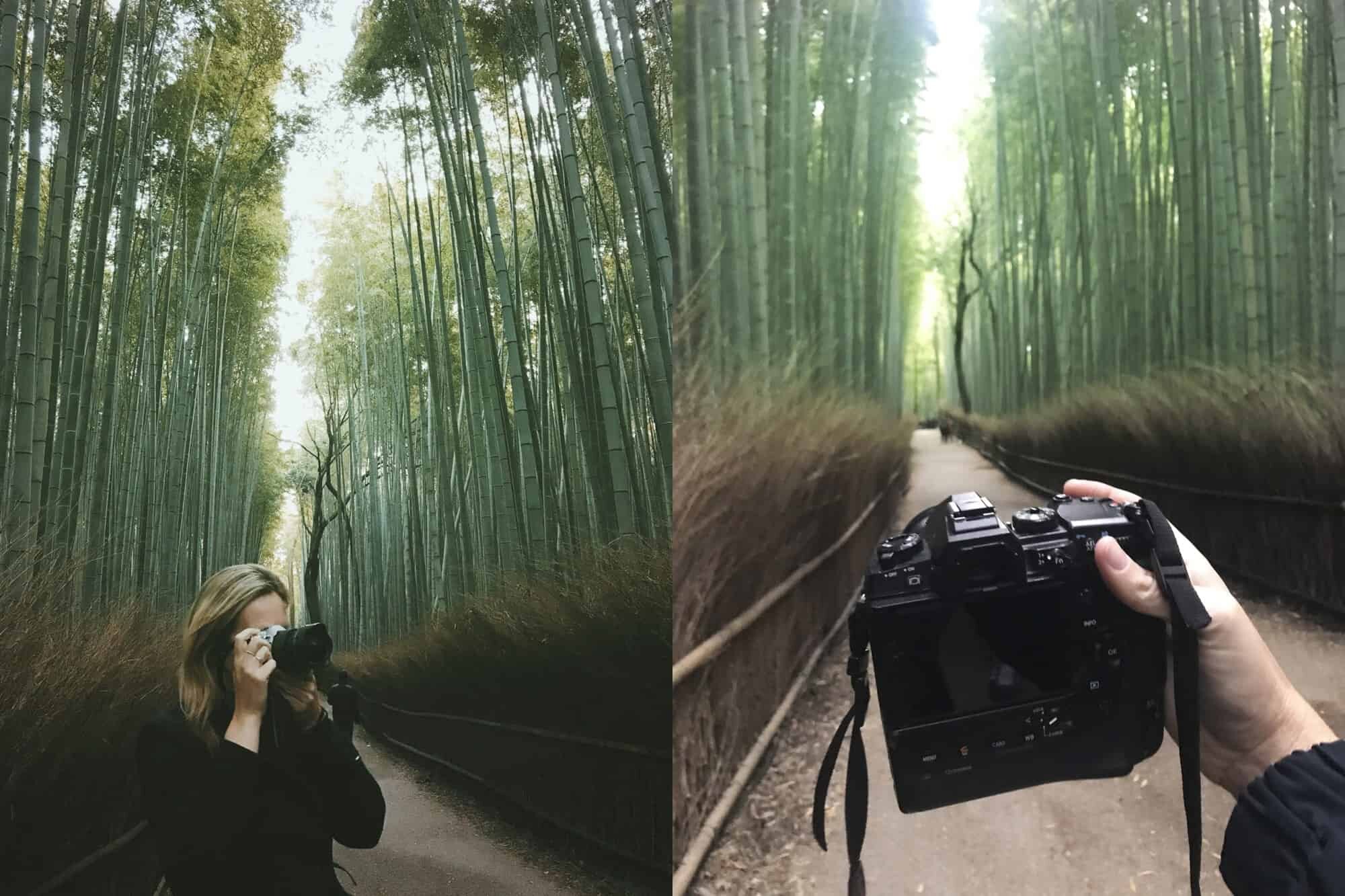 ---
Composition Tips for the Bamboo Grove
Look up. That's my first piece of advice because you need to soak it up and really see the bamboo grove before photographing it.
Compose your shots with the towering stalks by using a wide-angle lens and tilt your camera slightly upward which will not only help to include more of the bamboo, but it will help you avoid any people in the foreground.
The classic photo of Arashiyama Bamboo Grove is taken from the western end of the path looking back east. When entering you'll no doubt wander in on the path from the main street where the cafes, stores and train station is, keep walking as far as you can, even once the bamboo is all around you until you hit the end of the path. Then turn around and you'll see the view you're seeking 😊
An alternate way of reaching the photo spot is by walking along the northern side of the Katsura River (past Arabica Coffee) and into Kameyama Park. Stick on the eastern path that ventures along the edge of the park and it'll lead you around to the point spot mentioned above. Just note, this way doesn't have bamboo along the route so you may start to wonder if you're ever going to find it! It's kind of like the secret back entrance which will also help you avoid the crowds!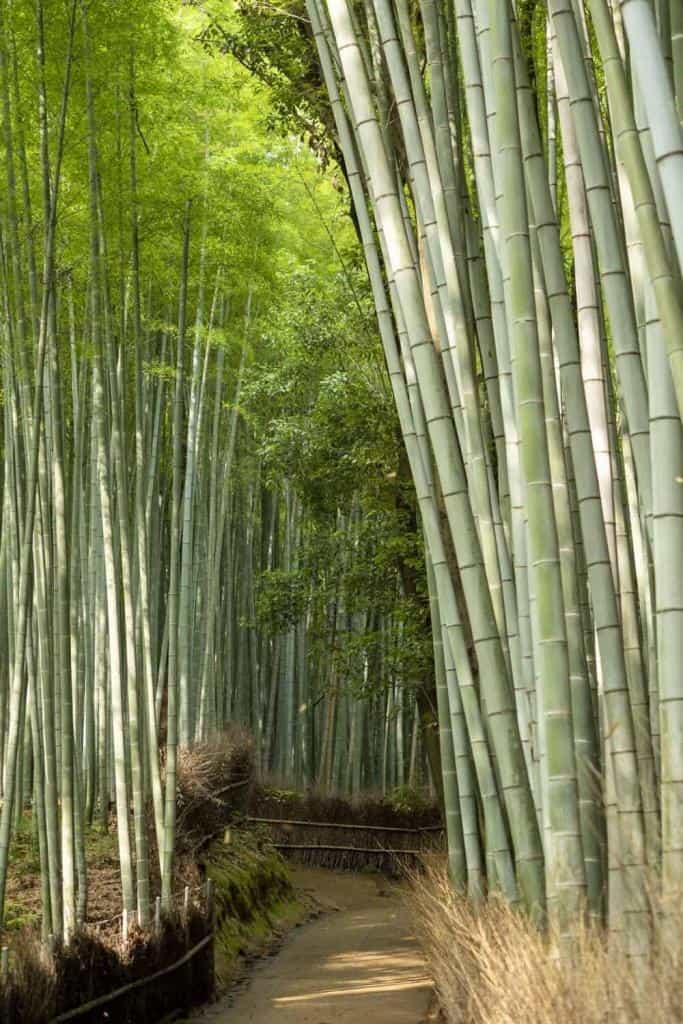 Composition Examples –
Zoom a little to capture the patterns of the stalks and their gorgeous green tones. I used a 40-150mm Olympus M.Zuiko Lens for the shot below and got completely addicted to finding new stalks to compose together and form that perfect image.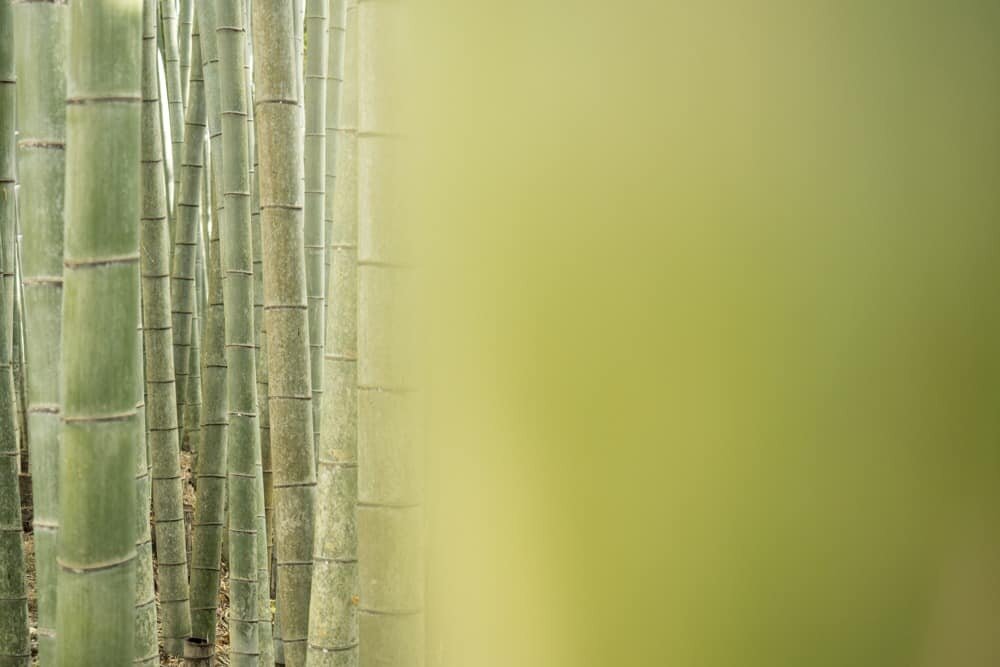 You'll find some leaves in the nearby park and can always shoot with a wide aperture like f2.8 to play with foreground bokeh and capture something unique! The twig fencing that lines the path works wonders too.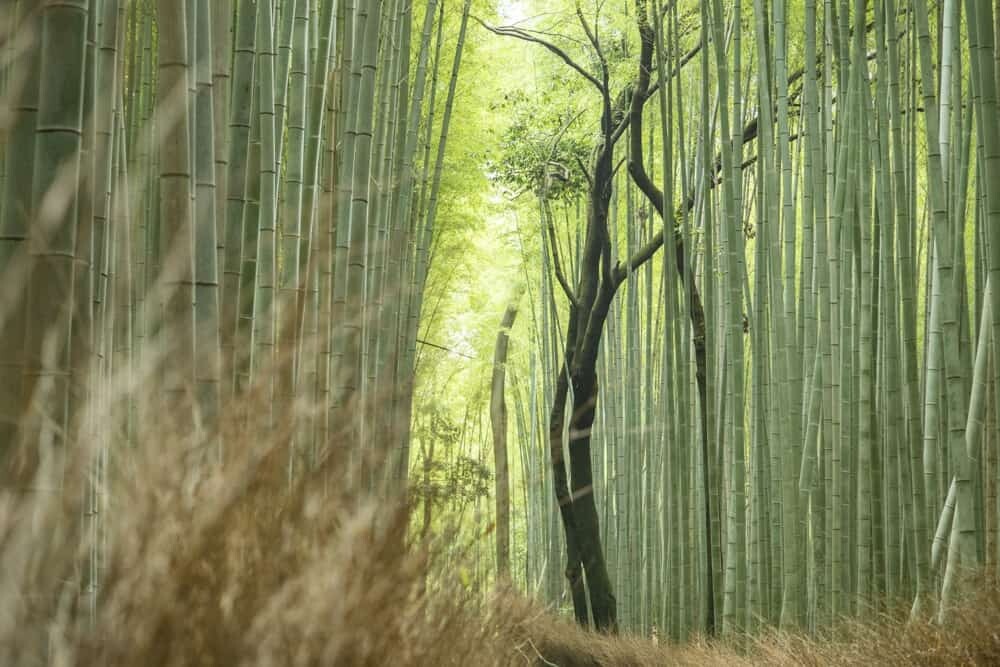 Shoot straight up, either getting close to a bamboo stalk and pointing your camera directly to the sky or by standing in the middle of the path and letting the height of the bamboo tower into your image. Both images below were taken with a wide-angle lens.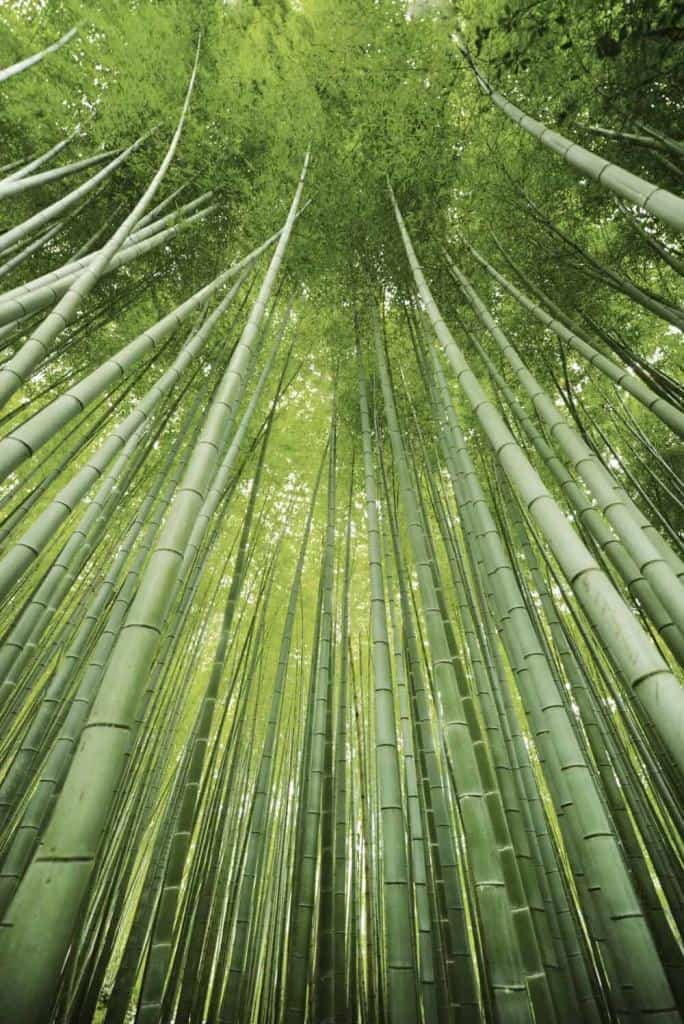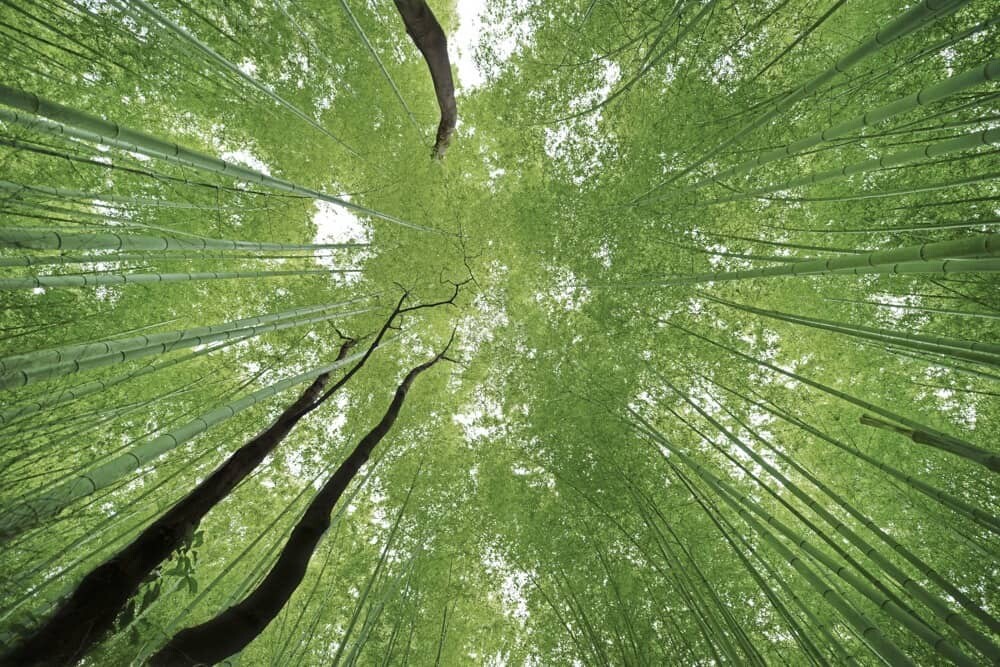 ---
How to avoid the crowds at Arashiyama Bamboo Grove

Having led photo tours in the bamboo grove for a number of years, I'm always very, very strict about getting to the best spot to photograph before sunrise. Yep, in the dark. Typically in November I'll leave downtown Kyoto with my group around 4:30am, jump on the train to Arashiyama and then arrive at the bamboo grove as a little bit of light is starting to appear. Any later and you'll find you've been beaten to the best spot! Actually…why am I sharing this!? Haha hopefully this doesn't spoil the sunrise peace and quiet in the future!
I suggest standing on the western end of the path for sunrise to capture those iconic scenes before crowds arrive, then once it gets a little busier, you can move on to capturing closer details within the grove.
Tip – Treat yourself to the incredible HOSHINOYA, nestled amongst the banks of the Katsura River, just a short walk from the Bamboo Grove. Read about my stay here.
More often than not, there'll be a friendly bunch of photographers you need to share the spot with and work together to make sure you're not in anyone else's shot. However…I have also been here when people take over with Instagram photoshoots, multiple costume changes and refuse to cooperate and work together as a group to enjoy the beauty without crowds. If that happens during your visit, try not to get cranky or start a tripod war (what I call it when people start interlinking tripods to get the better vantage point just a tiny bit in front of someone else), instead gently suggest they need to share the spot with everyone else and to take turns.
Unfortunately, after about 8am the entire bamboo grove can be filled with people. And I'm not talking a few people walking down the path, I'm talking about fence to fence people jam packed while slowly moving through the grove providing absolutely no chance of a clear shot. It really is a sunrise session or capturing a really, really long exposure to ensure there aren't people in your shot.
You'll also find lots of other bamboo forests scattered around Kyoto, especially amongst the hillside temples Higashiyama. Enkoji Temple has a beautiful area of bamboo, as does Ginkaku-ji, the Silver Pavilion.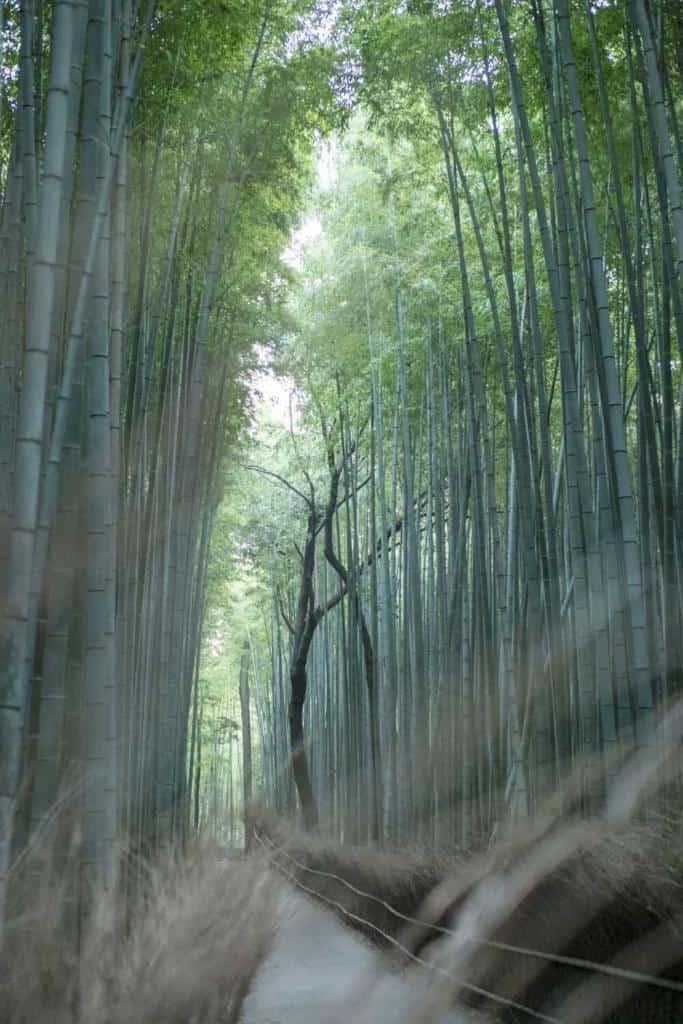 ---
How to get to Arashiyama –
While it appears to be out of the way, there are multiple transport options to get you over to Arashiyama quickly. My favourite is the Keifuku Randen tramline from Shijō-Ōmiya Station in Kyoto, it's an older, vintage tram that arrives directly at Arahisyama Station in the centre of the town. It's also one of the fastest ways of getting there at sunrise, especially if you're staying in the area of Gion.
Other options –
JR Train: From Kyoto Station, take the JR Sagano/San-in Line to Saga-Arashiyama Station (you'll then need to walk about 15 minutes to the bamboo grove)
Bus: Take Kyoto City Bus #28 from Kyoto Station and get off at Arashiyama-Tenryuji-mae, from which you'll need to walk a little to the bamboo grove!
The Hankyu Line: If travelling from Osaka or Kyoto, you can take any train from Kawaramachi, Karasuma, Omiya or Saiin station, and get off at Katsura Station. After this you'll need to switch and take the Hankyu Arashiyama Line directly to Arashiyama Station.
Taxi: The most expensive but fastest option is a taxi from downtown Kyoto which will only take about 25minutes in good traffic and cost roughly Y2000-3000.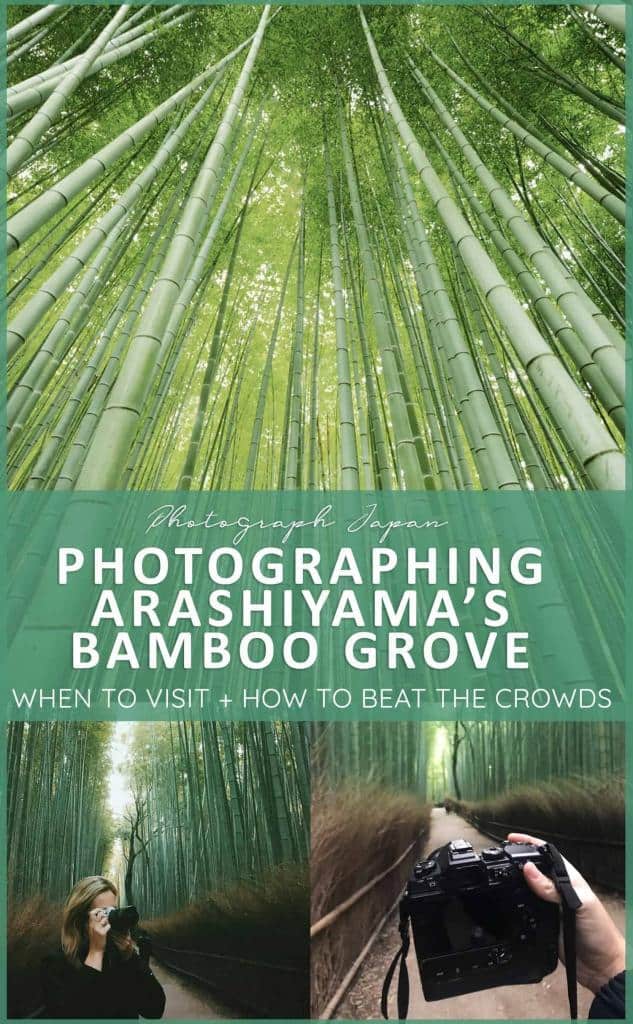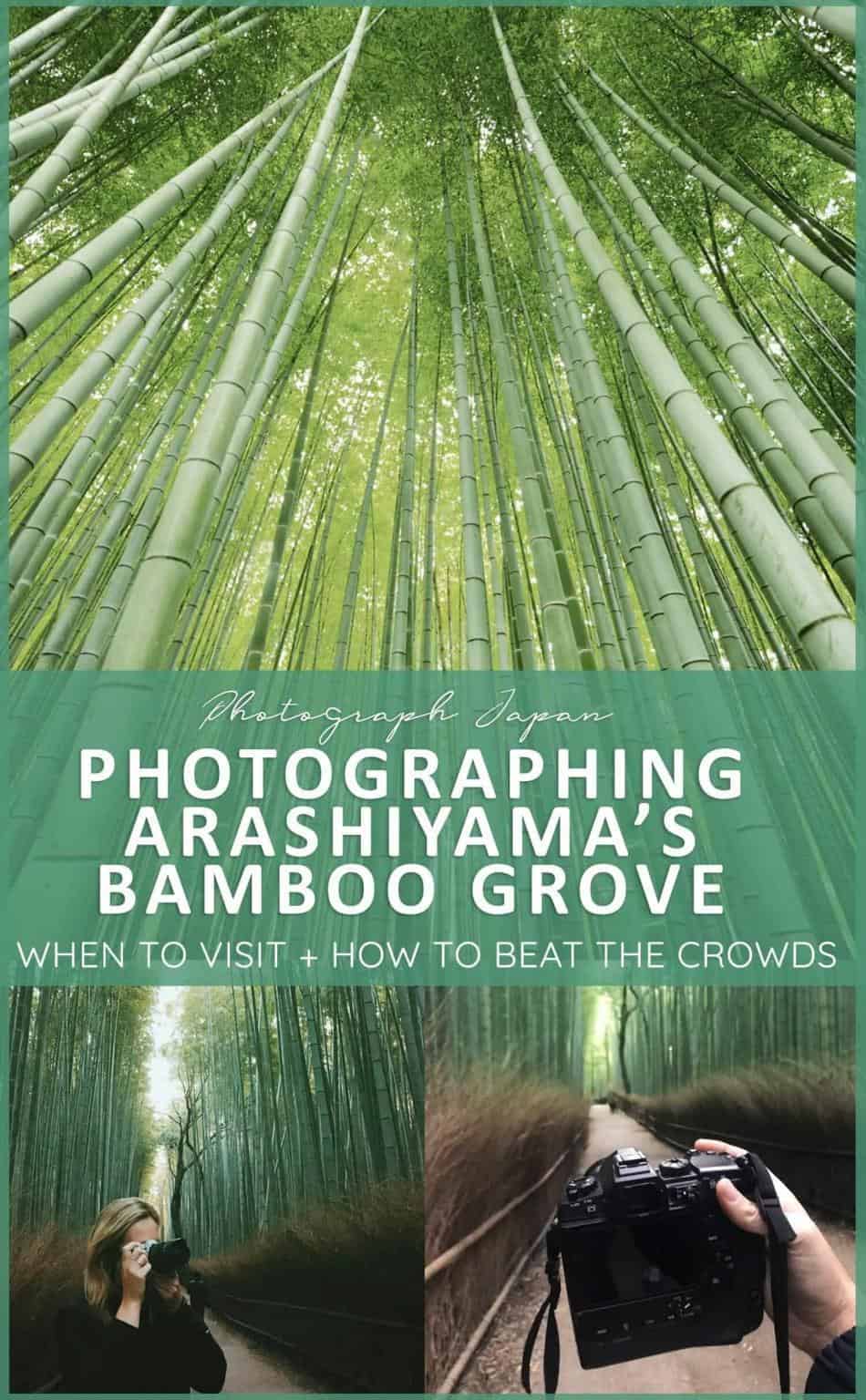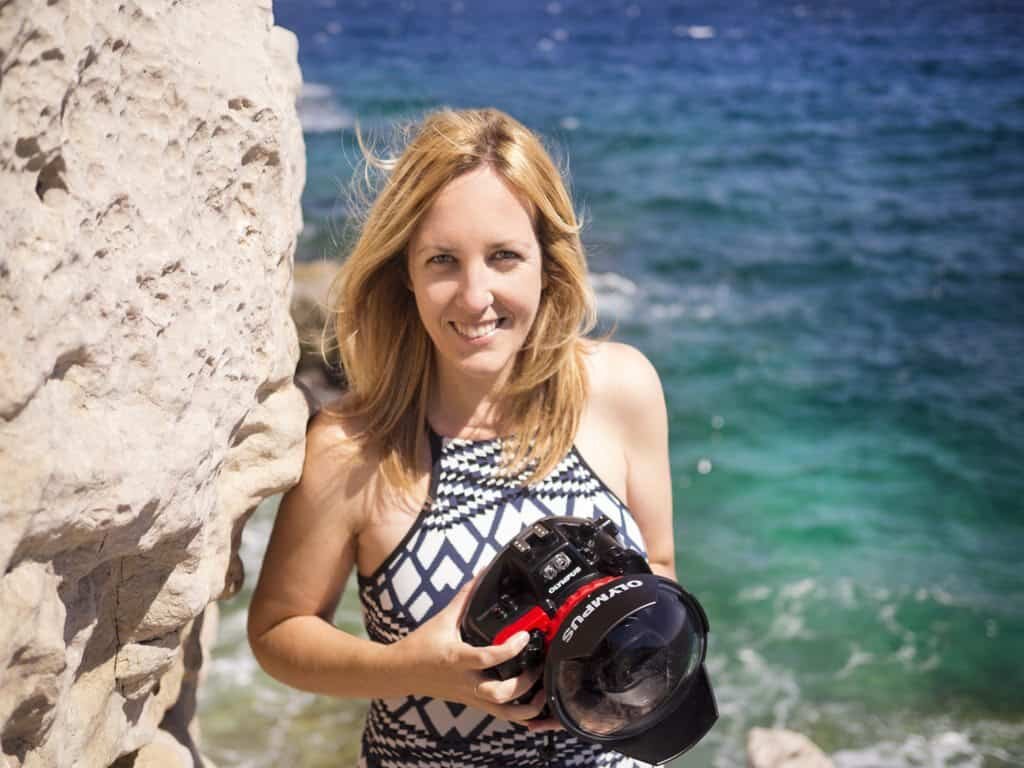 Hello! I'm the founder and photographer behind The Wandering Lens.
With 17+yrs experience as a professional travel and landscape photographer, all advice found on this site is from my personal experience on the road. I hope it's useful for your own travels and would love to hear in the comments about your trips and experiences around the world.