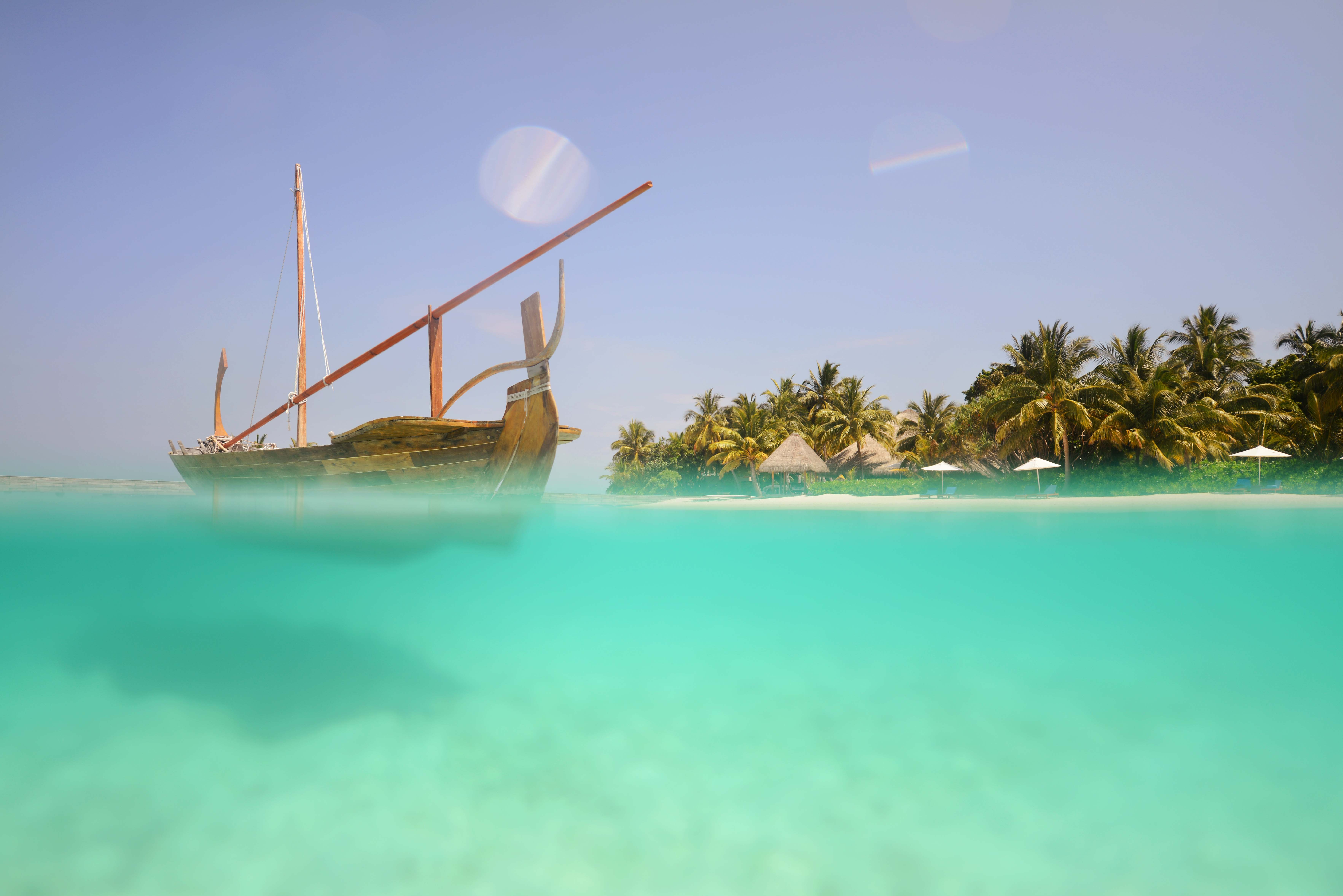 Career Talk – Travel Photographer Income Expectations
I'll begin with saying there are many, many ways to work and generate an income as a travel photographer. If this is a career path you're considering, you'll likely have various income streams, multiple clients and months when it's quiet, then months when it's too busy and you're trying to juggle itineraries and jobs.
Too much travel sounds like a pretty good problem to have as a travel photographer, and while it is, it's important to have realistic expectations about what you can expect to earn.
Firstly, there are no set rates. Your earning potential is essentially untapped because you set the rates for your own services as a photographer if you work for yourself/freelance. That said, there are guidelines to work within because if a client is comparing two photographers who offer a very similar style, they're more than likely to go with the photographer closer to their budget if that's all that is separating you both.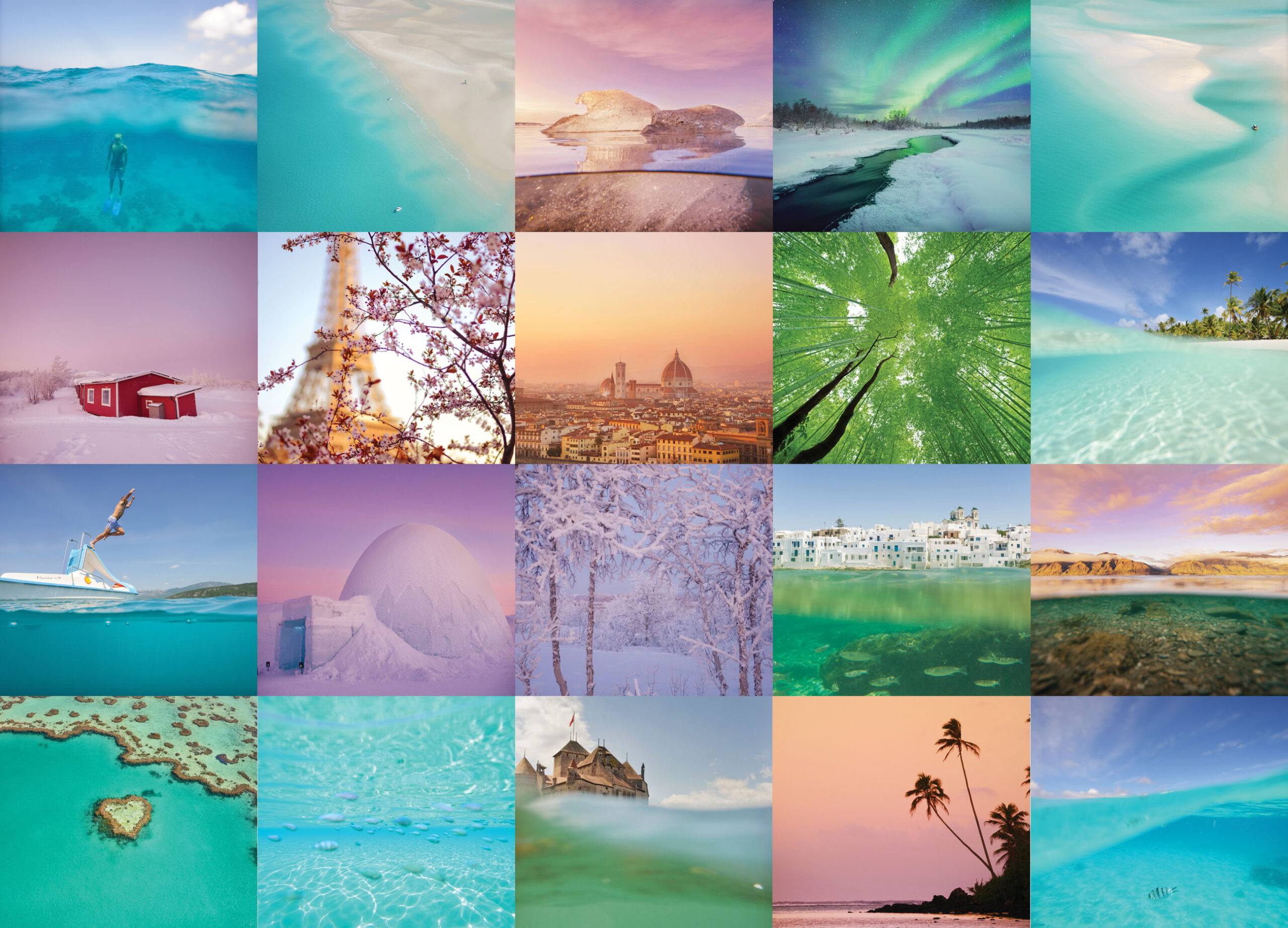 So, the main question is usually what can I expect to earn as a travel photographer?
More importantly though, you also want to ask, how can you work as a travel photographer to generate enough income to support your lifestyle and what can you do to ensure you're providing quality work for your clients?
As an example, you could be employed to work casually for a resort as a holiday portrait photographer, being paid an hourly wage. That same job, in some circumstances, can be done via your own business, offering destination portrait services and partnering local hotels to provide their guests with a discount.
Option one would mean you could be photographing a portrait session for $25 an hour, option two could mean you're working for $400 an hour with the potential to upsell with prints. All it takes is a little negotiating and research to see if option two is possible in your area.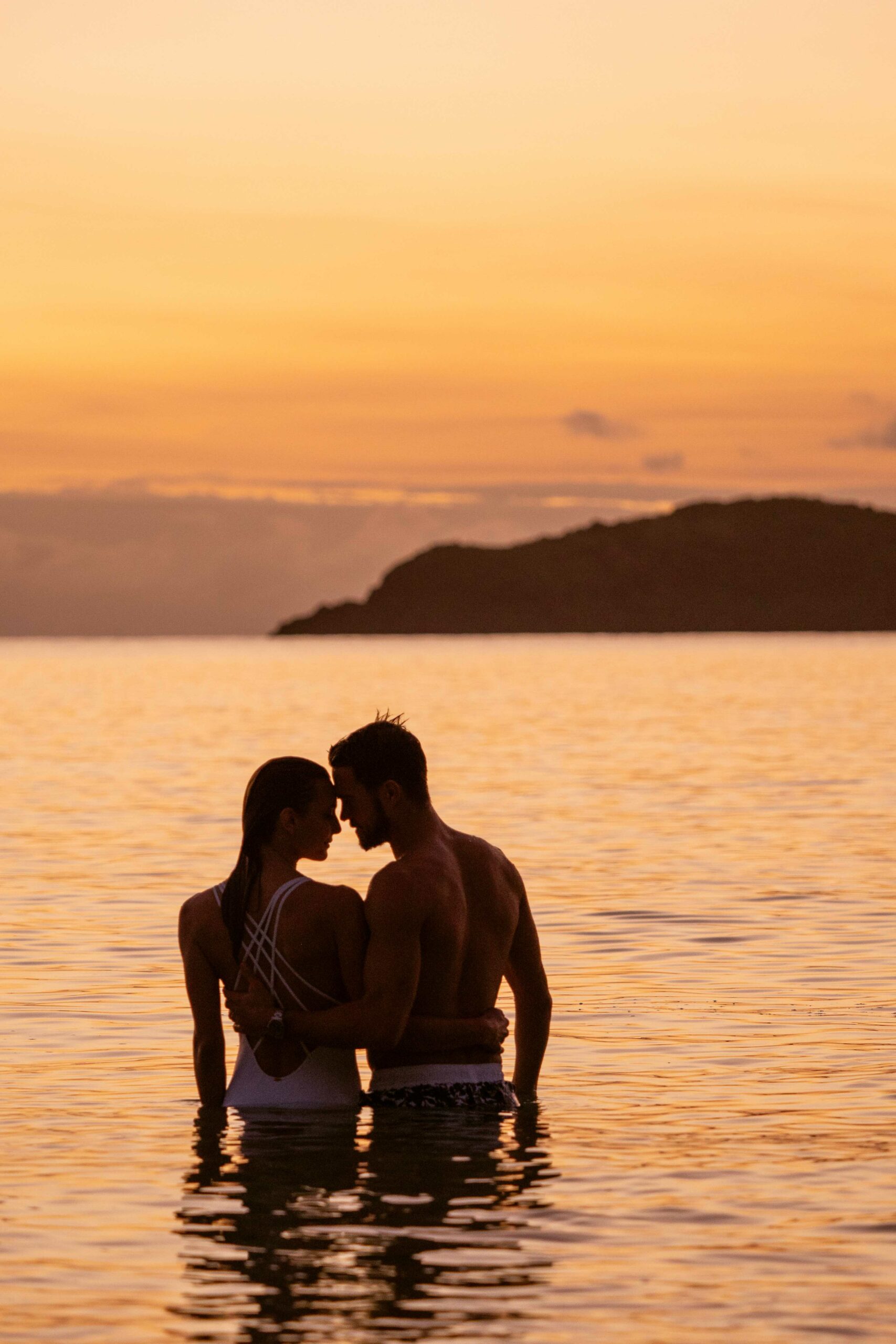 When most people think of working as a travel photographer, they think of getting published in magazines, books or online publications. This part of working as a travel photographer is one of the most exciting, however rates tend to be set by the publisher. While it's not necessarily a bad thing at all, it definitely pays to do your research and pitch to publications that pay well for your images.
One magazine may offer a free copy or credit in exchange for using an image, while a reputable magazine may offer $50-$2000+ depending on where the image is placed and how large it is. If you manage to pitch an entire photo feature/essay, then it's also more likely the editor will negotiate rates with you.
If you can write well alongside your beautiful photos, your chances of getting published are even higher. Pitching a complete story with supporting images makes an editor's job far easier, especially if you've done your research before and ensured your story idea fits well with their publication. Not only this, but you'll be paid for your words and images! I'll be sharing pitching templates and tips in the upcoming Freelance Travel Photography Course starting soon!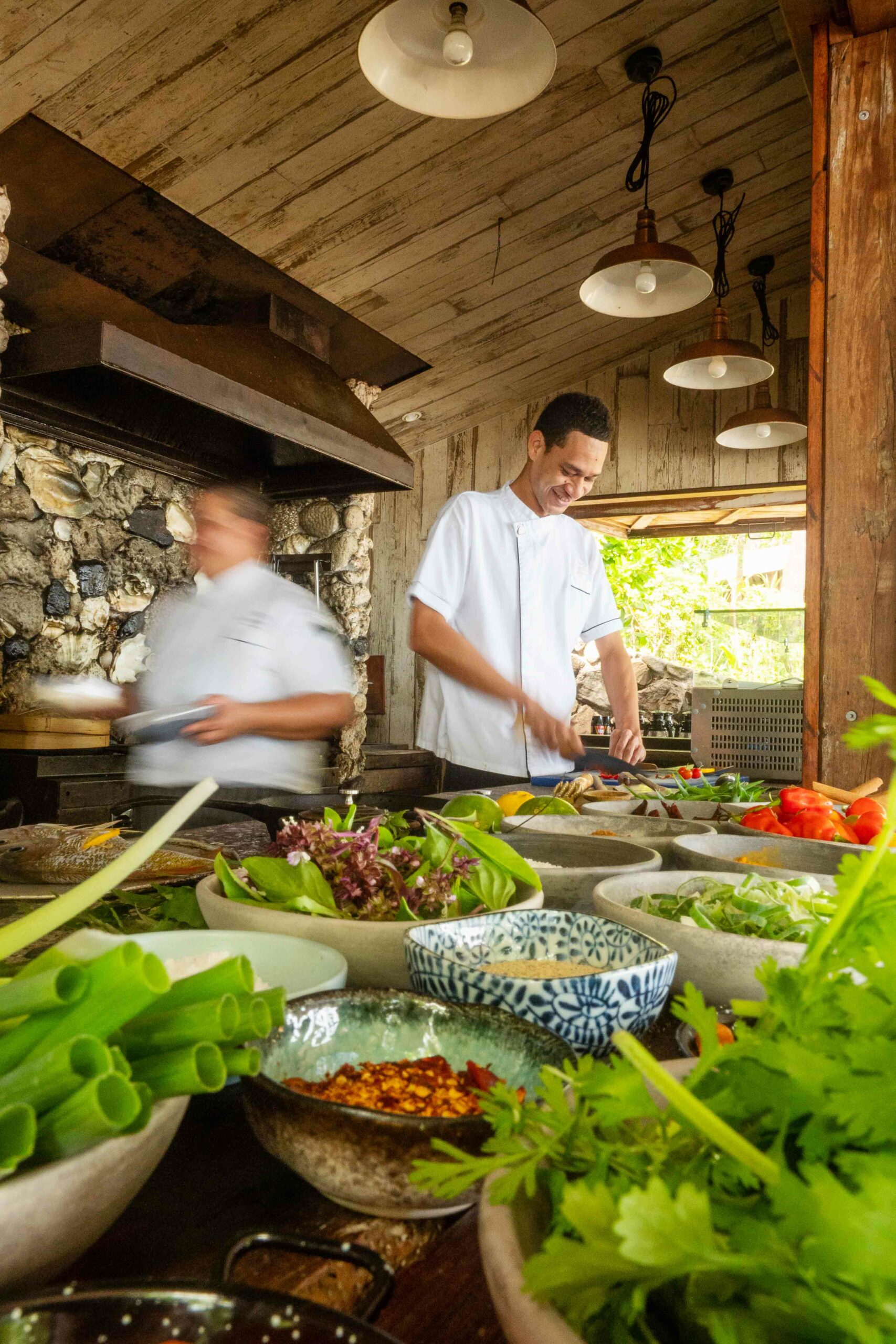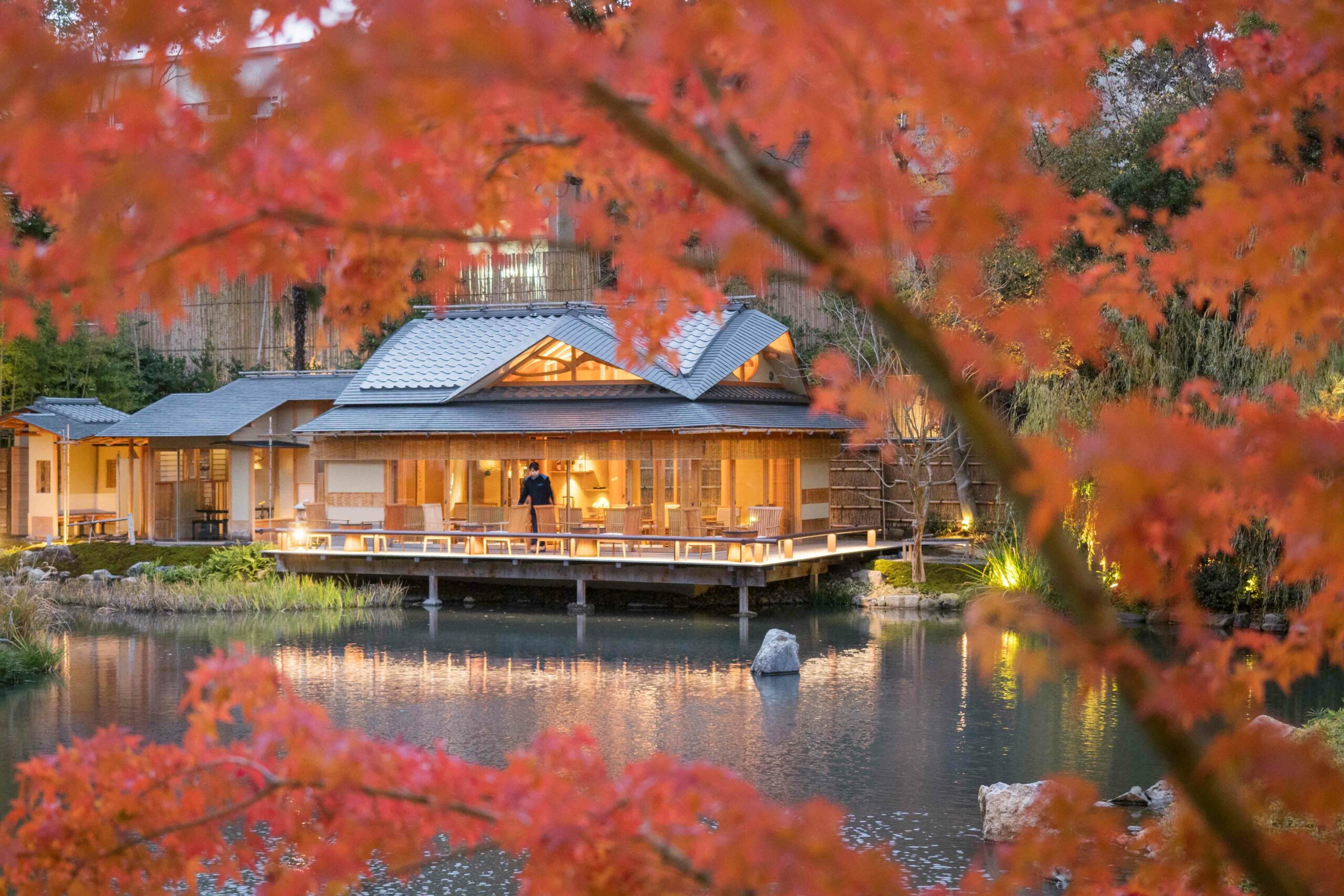 Various income streams you could have as a travel photographer:
Published work (magazines, online)
Social media content creation
Selling prints
Collaborations with tourism brands/hotels/tour operators
Creating image libraries for marketing purposes
Commercial campaigns
Destination wedding + portrait photography (a great side income to help you progress to full-time!)
Airbnb/Rental property photography services
Business branding and/or corporate head shots for tourism clients
Resort photographer/Tour photographer
This list is not exhaustive, there are so many possibilities that connect travel, beautiful destinations or cultural experiences with the skill of photography. I'd like to challenge you to write a list of five places you want to travel, and potential angles at which you could pair a trip to each with photography work.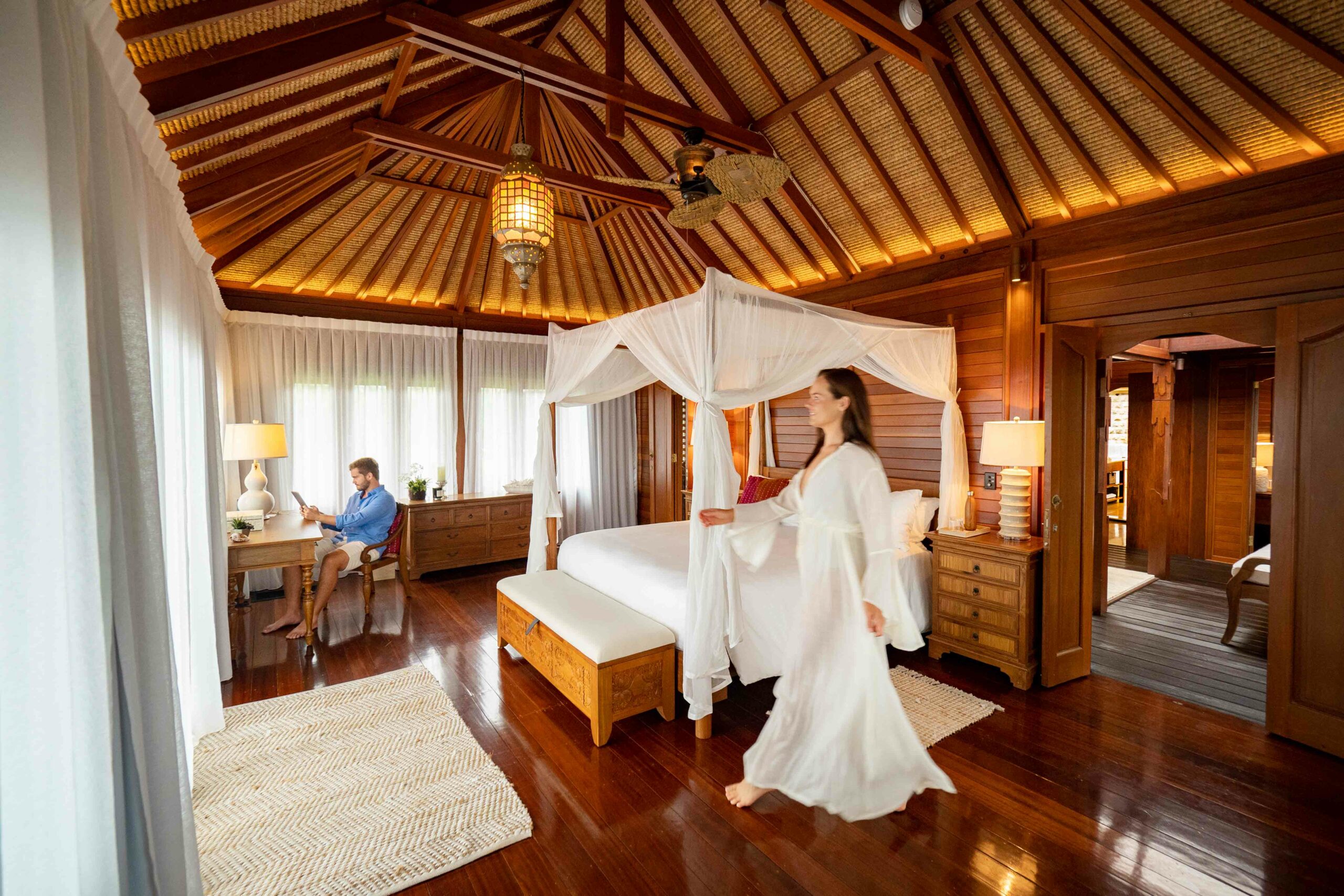 The important thing to weigh up when working as a travel photographer is your expenses vs income. Income may be inconsistent so when you're starting out, plan to have your living expenses covered until you're confident in your income streams and have work scheduled for the months ahead. For example, in one month with varied income streams, you could potentially sell 5 x prints for $100 profit each ($500 total), plus photograph a content creation campaign for a travel company which gathered a fee of $1400, 2 x destination portraits for $600 each ($1200 total), get 1 x image published in a magazine article for $200 and shoot 1 x Airbnb property for $800. All up, that's a potential monthly income of $4100. Of course, months will differ, but it's exciting to consider the possibilities and diversity available to us as travel photographers.
This is a very average estimation by the way, I've personally had $24,000 months, followed by a $4000 month, $1000, then back up to around the $8000 mark – the point I'm trying to make is, the income potential is up to you and will differ depending on the type and amount of work you generate.
We don't have to sit at a desk from 9-5 doing the same job five days a week. We have the ability to mix it up, seek out opportunities, create diversity within our weeks and provide photography for a range of clients and campaigns. One day you might be photographing hotel interiors, the next you might be photographing a wildlife experience.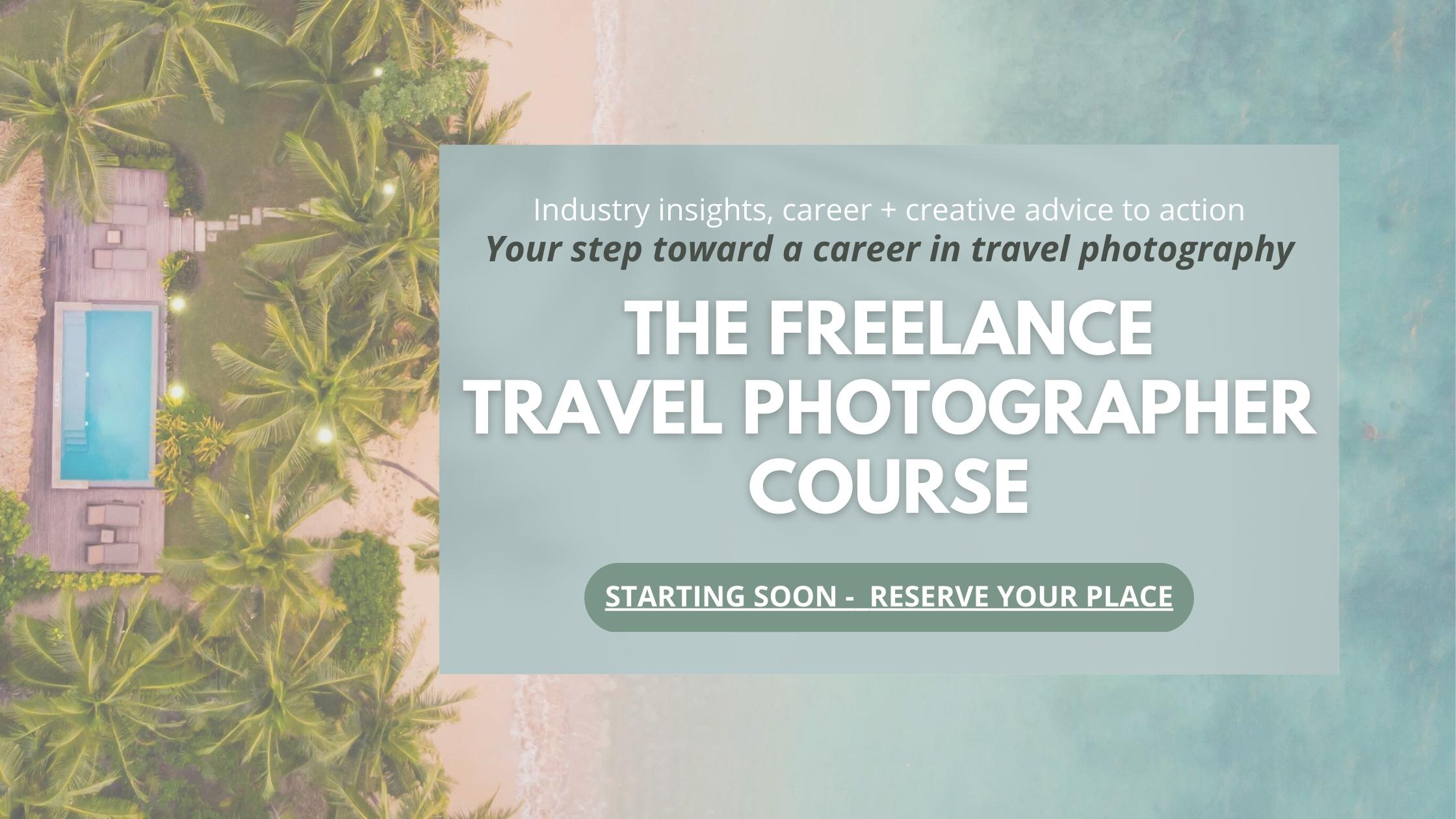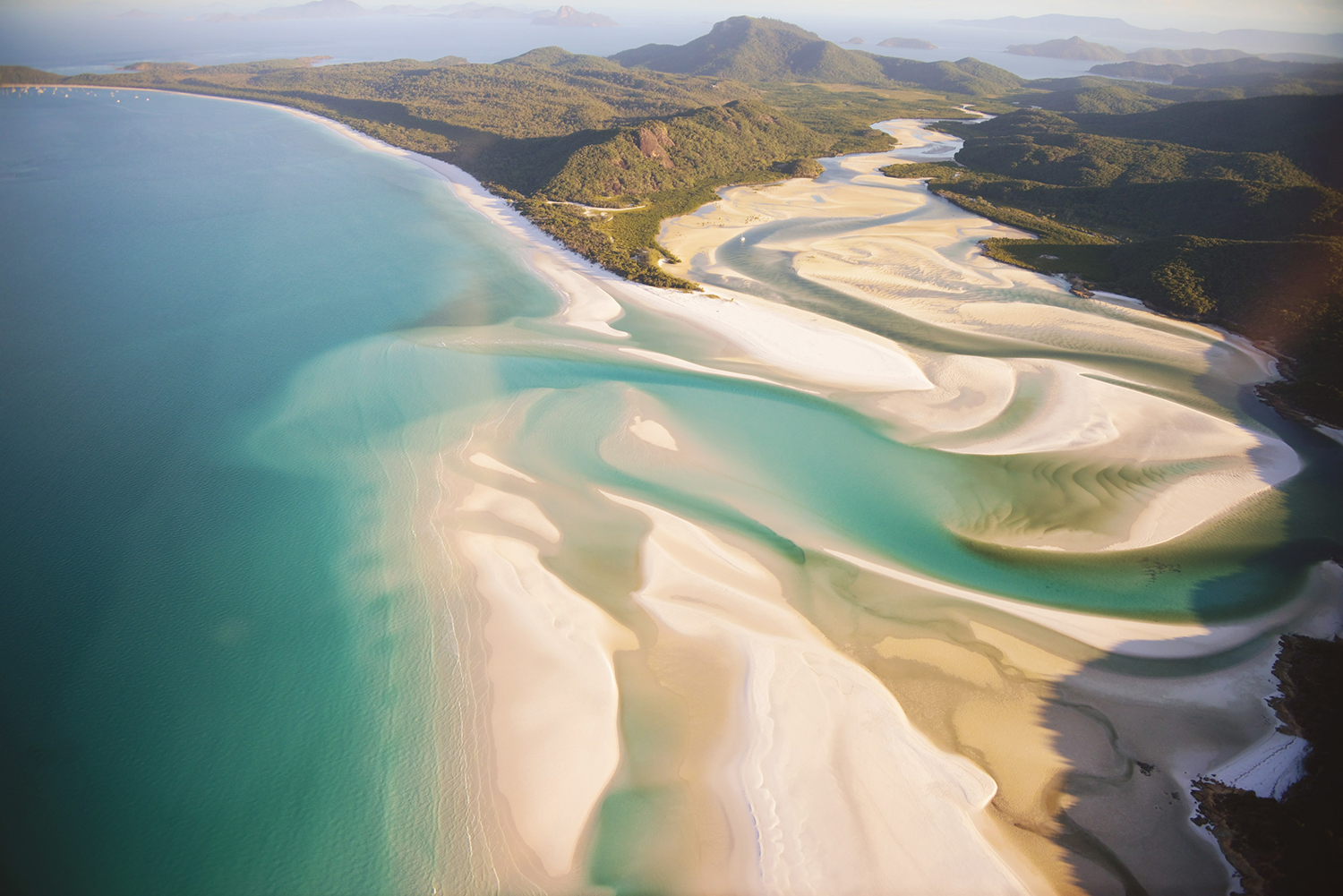 To summarise, your income expectations are only limited by your ideas and the opportunities you create for yourself. I can share all the secrets to finding work as a photographer, and then it's up to you to make those jobs pay off! Take a peek at The Freelance Travel Photographer Course, I've dedicated an entire workbook to pricing services and products as a photographer.
If you decide to venture down the path towards working as a travel photographer, I'm already excited for you just typing this up, as I know how many incredible moments I've had within my own career and can't wait for you and others to experience them too! 😊
The legalities of working freelance as a travel photographer
It's important to note, when travelling abroad, you usually can't be employed by companies in other countries without appropriate work visas. Every situation is different depending on your nationality and reason for visiting, but it's always worth checking immigration rules about where you can and can't work. That said, the rules differ if you own a business or are working freelance, more often than not, a tourist visa is fine if you're not being paid locally, won't be employed and are paying taxes in your home country. Some countries now offer remote working visas, amazing news for freelancers! *This advice is to be considered general, always check immigration rules relating to your personal circumstances.
Also read –
How to Develop Your Portfolio as a Travel Photographer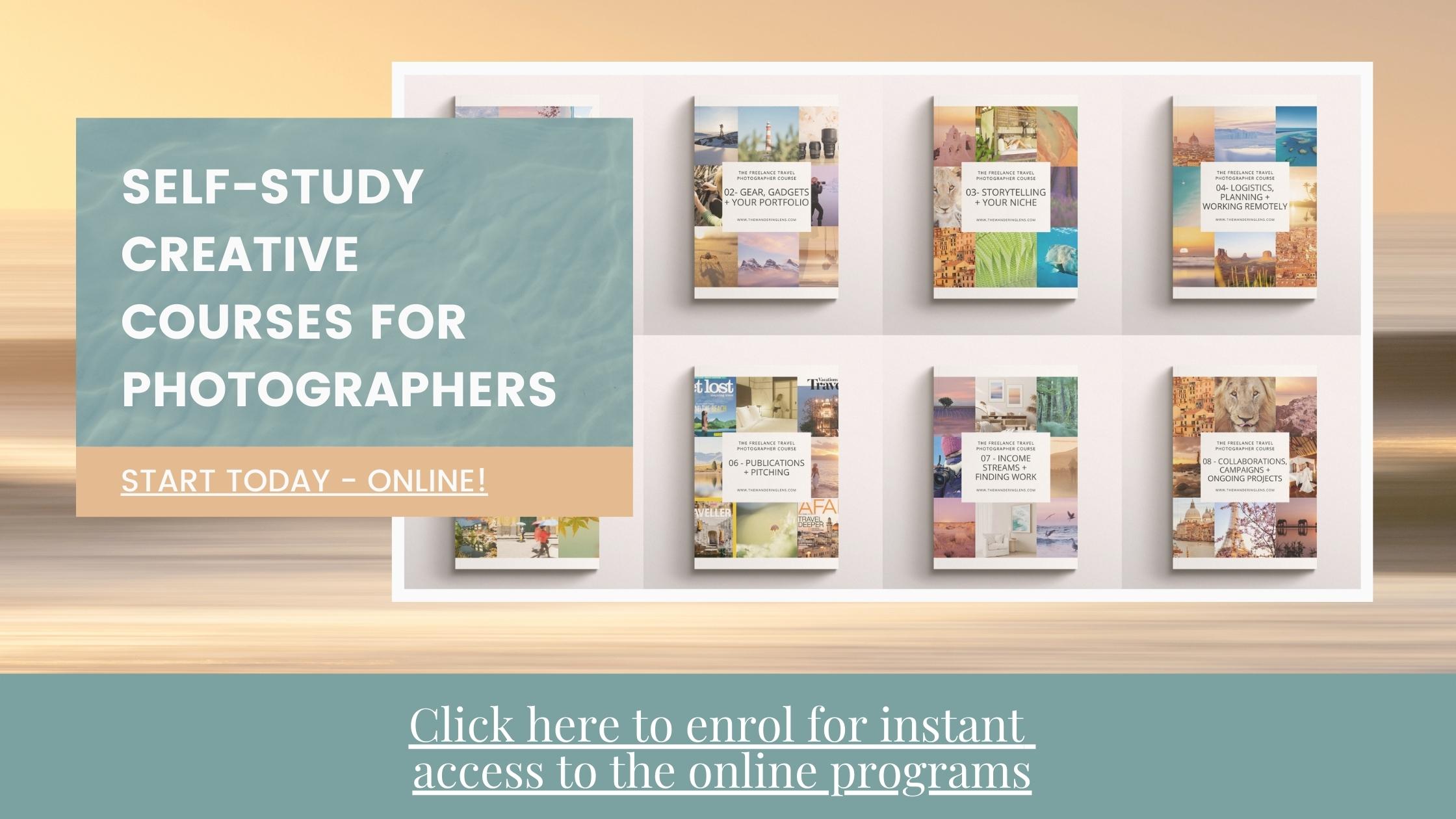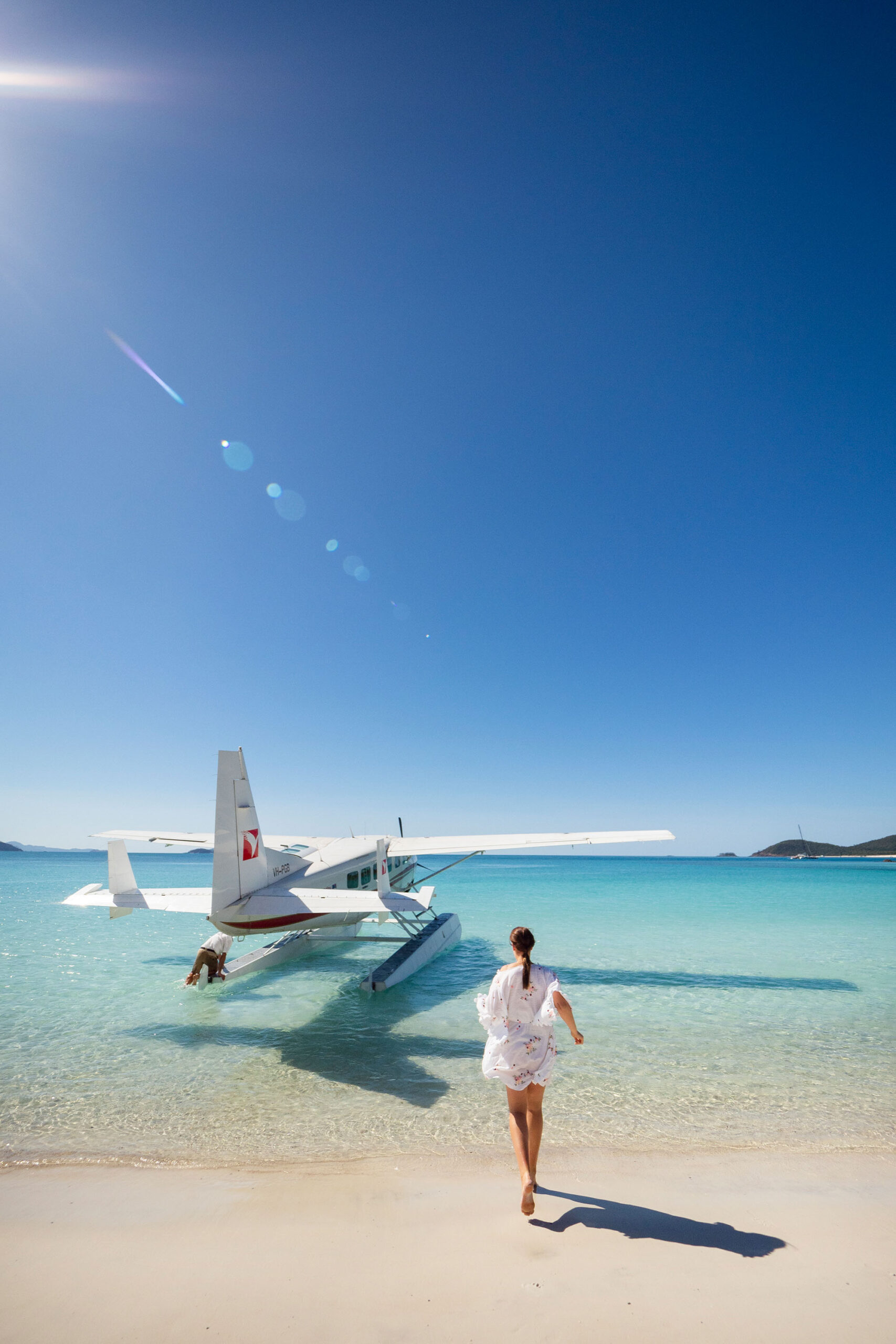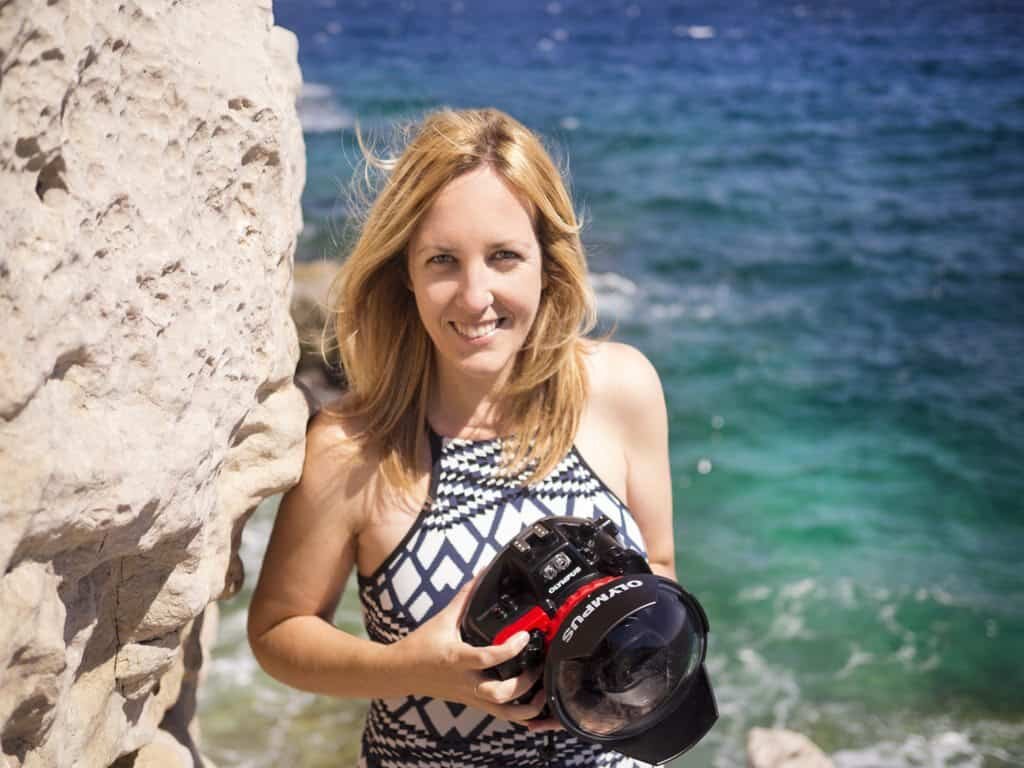 Hello! I'm the founder and photographer behind The Wandering Lens.
With 17+yrs experience as a professional travel and landscape photographer, all advice found on this site is from my personal experience on the road. I hope it's useful for your own travels and would love to hear in the comments about your trips and experiences around the world.