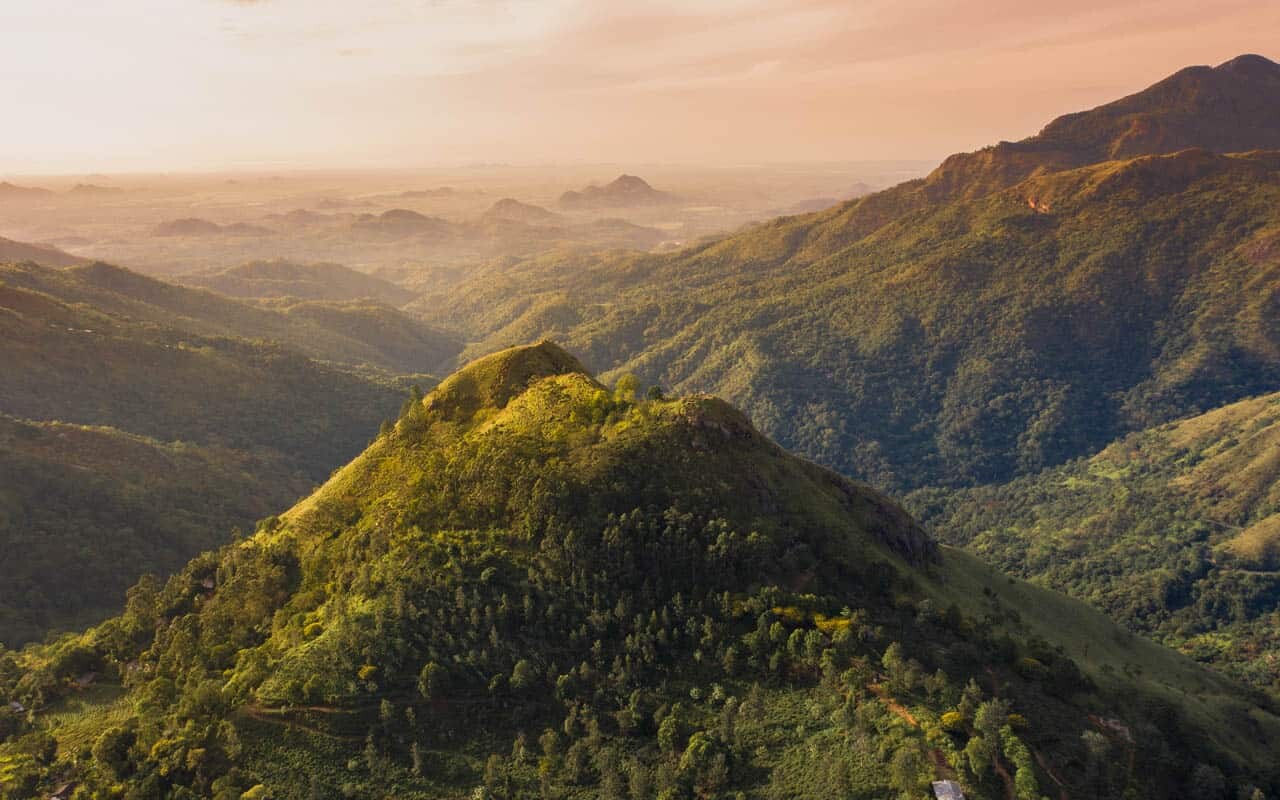 Sri Lanka Photography Location Guide
Sri Lanka is a beautiful and photogenic island of mesmerizing landscapes, lush tea plantations, waterfalls, palm fringed beaches and friendly locals. Also known as the 'Pearl of the Indian Ocean', the island offers diverse landscapes, cultures and experiences from North to South. With something to entice anyone to visit, photographers won't be able to put their cameras down for too long with photography opportunities existing around every corner.
Having never visited Sri Lanka personally, the lovely (and talented) Ilse de Groot from Digital Travel Couple has put together this guide for readers of The Wandering Lens based on her experiences travelling around the island.
Let's take a peek at some of the best places to visit in Sri Lanka…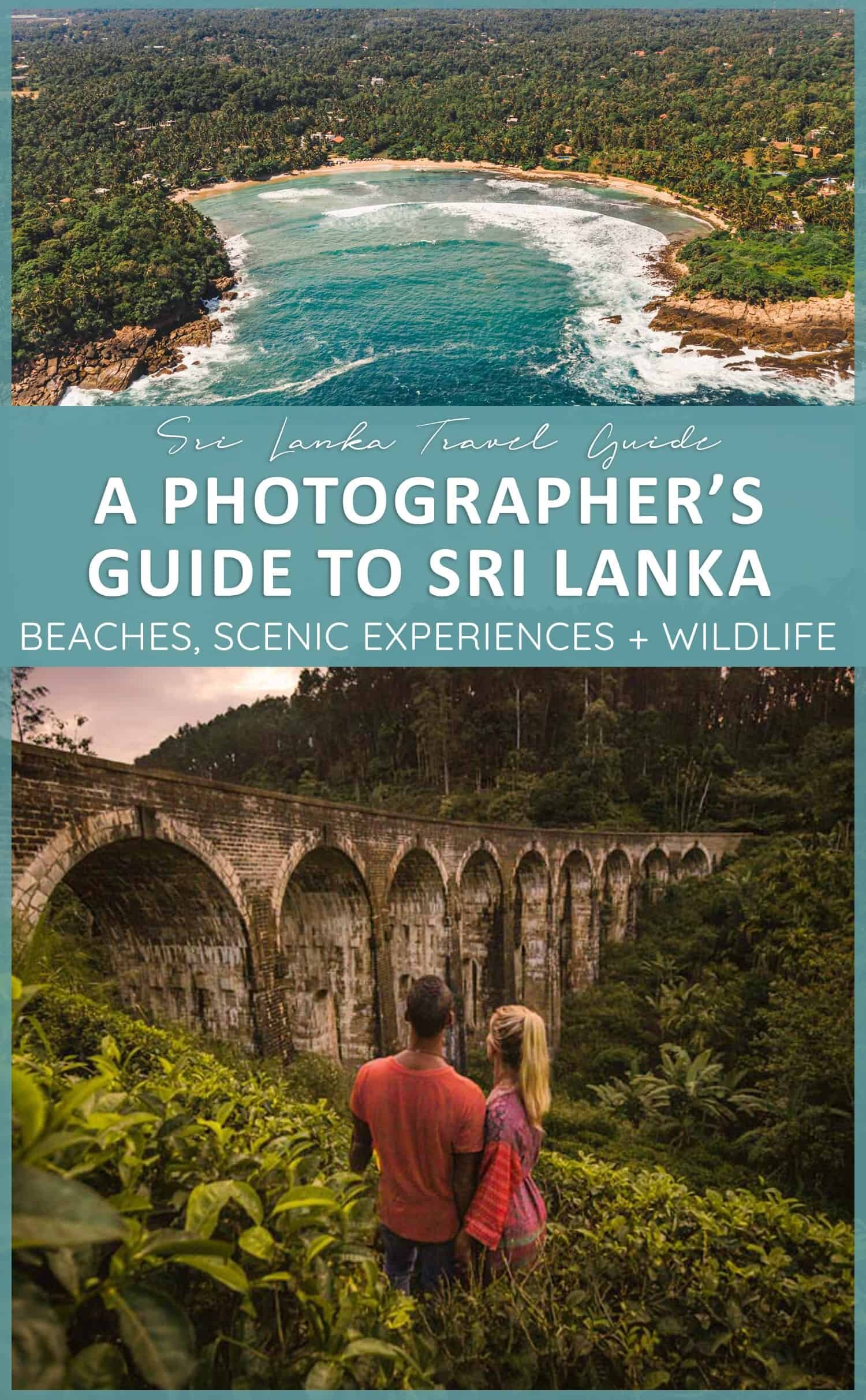 ---
Best Sri Lank Photography Locations + Experiences –

Little Adams Peak
Little Adams Peak is a short 20 – 30 minute hike to a breathtaking viewpoint in Ella, one of the most scenic Sri Lanka photography locations. With views over Ella Gap as far as the eye can see, this is a great way to spend your morning in Ella.
Little Adams Peak sits at 1141m above sea-level, although you already begin at a high elevation so you only have to hike up a few hundred meters along the trail. The whole way up to the top is a well-maintained dirt path and stairs to the first set of viewpoints.
The best view and light for photography is with sunrise. Sunset is of course also an option, but depending on the season you'll have more chance of clouds rolling in with sunset.
Photography tip: Bring a tele lens to Little Adams Peak if you have one. There are amazing spots to use it, especially if your model stands on a rock further up on the mountain ridge with the other mountains looming in the background. Also the layers you can catch using a zoom lens is just something magical! Make sure your model wears a color that stands out from the background. A drone also works great up here as you can really get a sense of scale of the peak with a birds-eye view. But be aware of the signs that drones may cause bee attacks.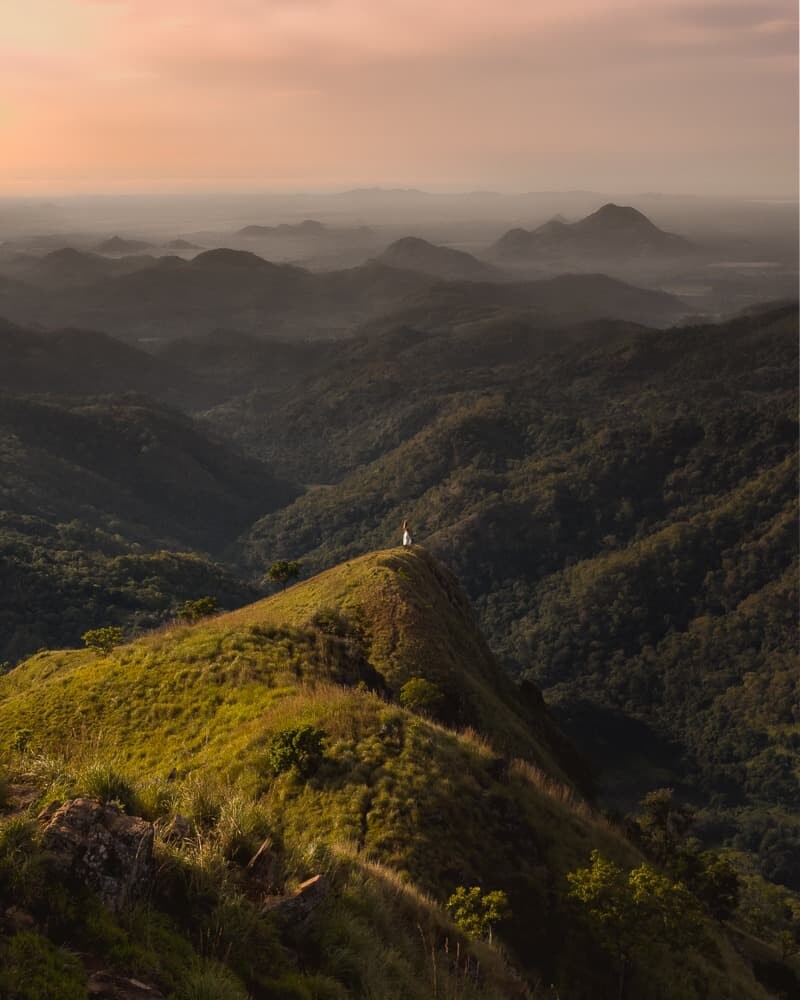 ---
Sri Lanka Photography Experience – The Kandy to Ella train
The famous train ride through the tea plantations is something you can't miss during your time in Sri Lanka. Said to be one of the most scenic and beautiful train rides in the world, if you travel from Kandy to Ella or the other way around, it's really worth hopping on this epic train ride! Keep your camera handy because there will be lots of things to capture along the journey.
While it's always best to ask for permission, most locals are super friendly and happy to be part of your pictures. The views from the train are spectacular. If you travel with someone who is keen to hang out of the open doors of the train, it will be a great action shot. But there is a limit to pushing boundaries responsibly, and safety should always be your number one priority! There are tunnels and trees that come really close to the train, so make sure to only hang outside of the train when it moves really slow and there are no tunnels or trees in sight.
Photography tip: Use a fast shutter speed so your pictures won't be blurry. Put a zoom lens on your camera so you can easily switch from capturing landscapes to shooting portraits. Use Auto Focus so your pictures will be sharp and you don't have to get the focus manually. Use burst mode, especially if you want to get THE shot hanging out of the train doors. Focus your camera inside the train too! Don't forget to capture the local life. The entire journey is a super unique and authentic cultural experience. One that's absolutely worthy of being documented in a respectful way!
*Read more about the Kandy to Ella train ride https://digitaltravelcouple.com/kandy-to-ella-train-tips/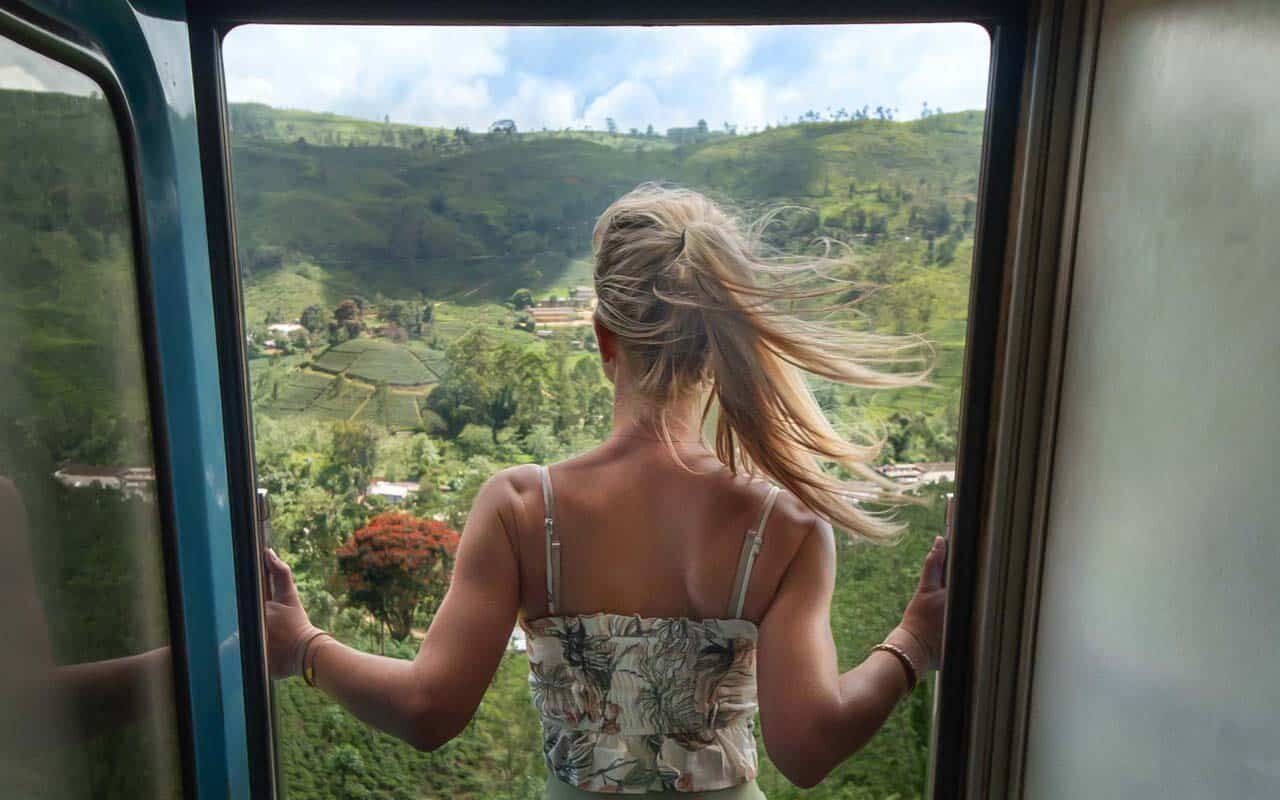 ---
Hiriketiya horseshoe shaped bay
Great for drone photography!
Hiriketiya is located on the south coast of Sri Lanka in a horseshoe-shaped bay. Intense turquoise waters hit the golden beach flanked by a lush palm tree jungle. This laid-back beach town can still be considered as a hidden gem. It attracts a certain type of visitor, mainly surfers, yoga enthusiasts and creatives, who have made a vibrant melting pot of cultures from this tiny beach town. There are different types of photography to do in Hiriketiya. Capture surfers in action, either from the coast with a tele lens, or if you have a waterproof case from closer up in the water. But if you have a drone, the perspective the horseshoe shaped bay is a beautiful sight from above and ideal for drone photography.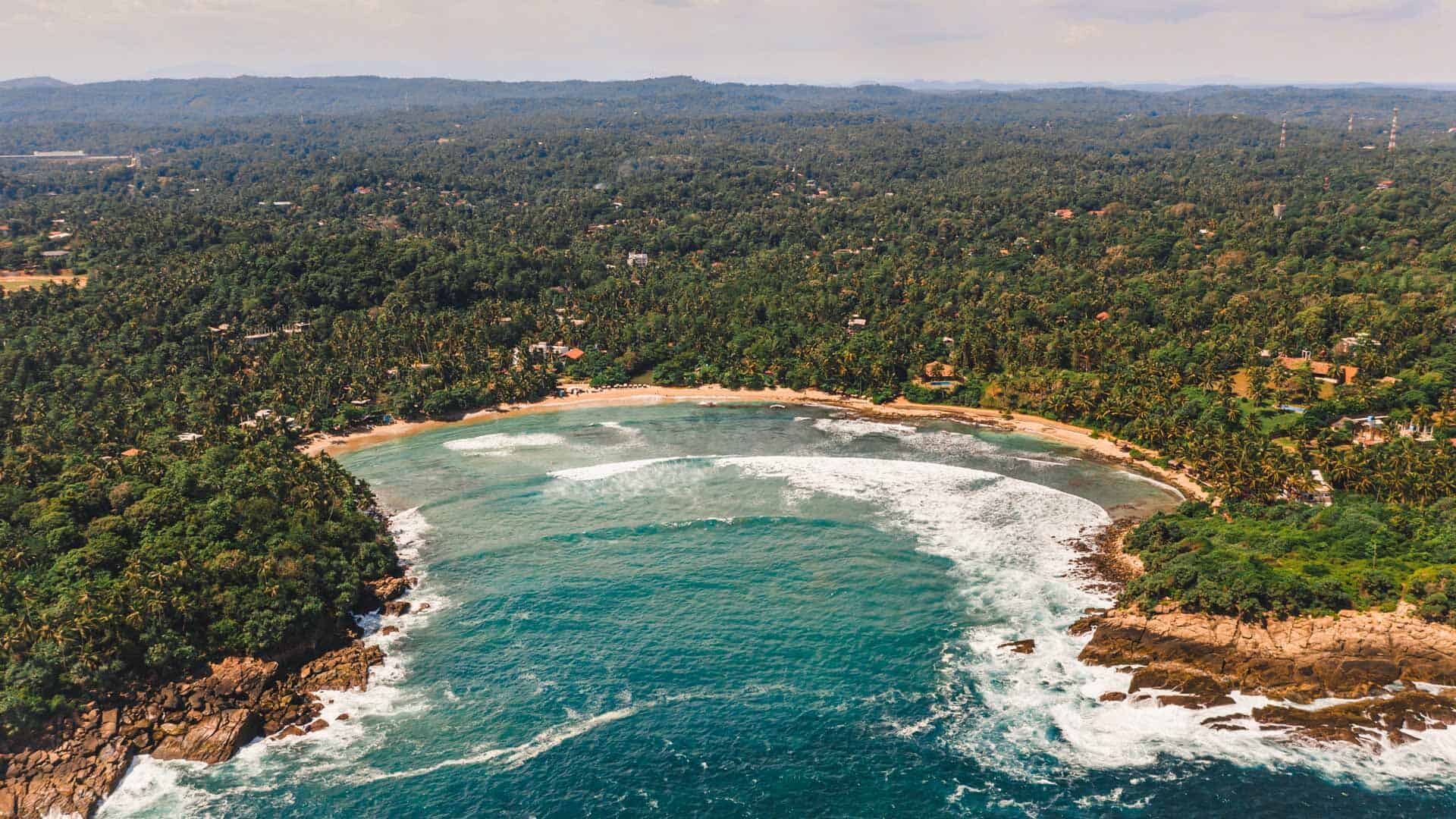 ---
Pidurangala Rock
Pidurangala Rock is a massive rock formation located just a few kilometres outside of Sigiriya in central Sri Lanka. With an interesting history closely related to that of the Sigiriya Rock Fortress, climbing Pidurangala Rock must be on your Sri Lanka to do list. It is just a 30 – 40 minute hike up to the top, and the reward is incredible. With a 360 degrees view over the lush jungle and the Rock Fortrewss, hiking up Pidurangala Rock is an awesome experience and a great photo spot in Sri Lanka. Especially with sunrise or sunset when the golden light comes through. It doesn't really matter if you go with sunrise or sunset, because with both occasions you will see the sun rising or setting as the rock is just a huge plateau in the middle of the jungle. There are endless angles to work with, but the most famous one is with the Sigiriya Rock Fortress in your shot.
*Read more about the Pidurangala hike https://digitaltravelcouple.com/pidurangala-rock-hike-the-complete-guide/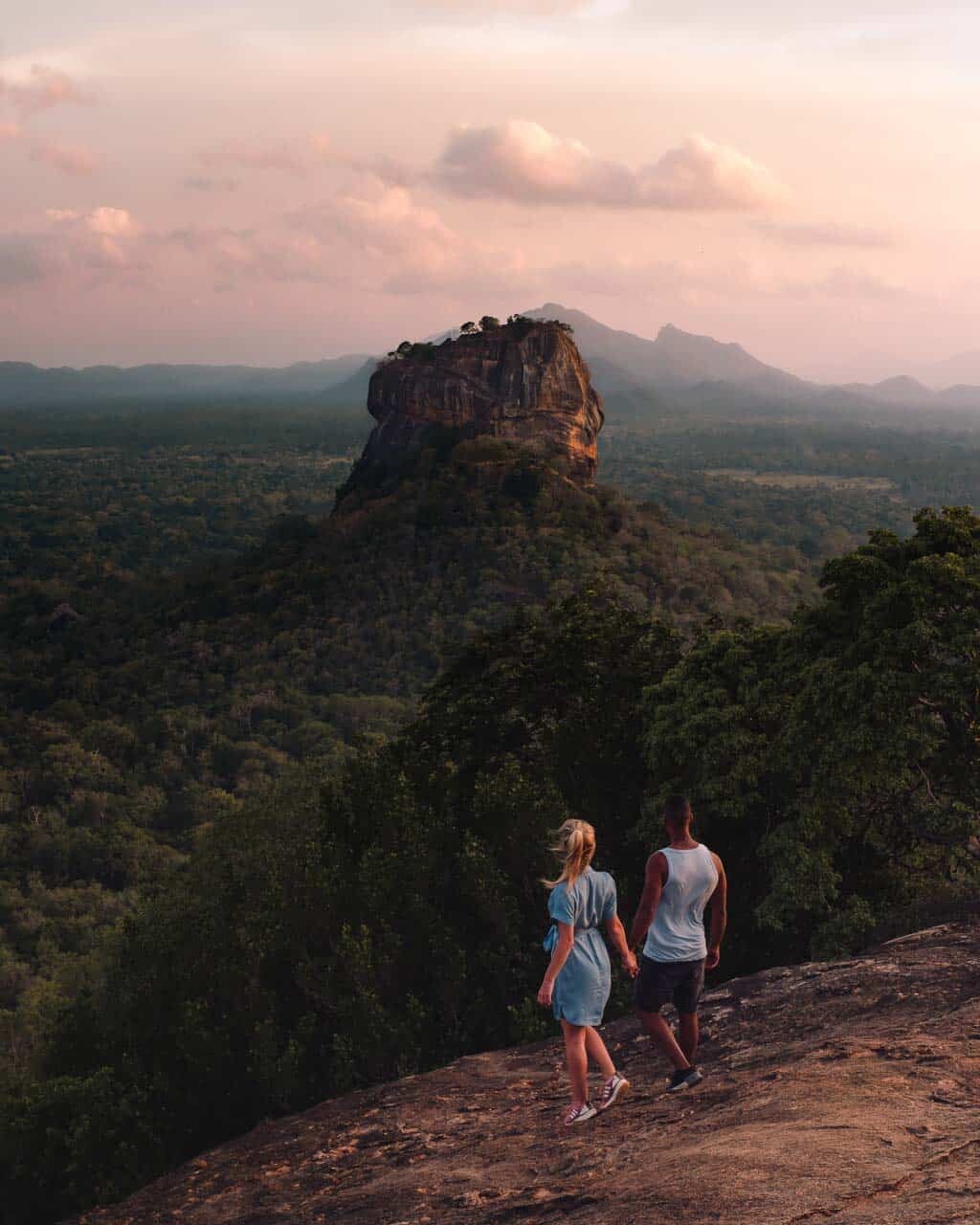 ---
Nine Arch Bridge Ella
With its beautiful setting in between the tea fields and with the dense jungle in the background, the Nine Arch Bridge is a very picturesque spot. It gained more popularity and even became very famous for its architectural ingenuity and similarity with the bridge towards Hogwarts in Harry Potter movies.
The Nine Arch Bridge has become one of the main tourist hot spots of Sri Lanka thanks to its epic scenery. There are several vantage points to photograph this famous bridge. From the tea fields beneath you will have a beautiful side view on the bridge. But there are also several viewpoints to get a great perspective of the bridge.

---
Impressive waterfalls
Sri Lanka has over 400 beautiful waterfalls to offer. Some have natural pools to bathe in, while others are more tucked away and only can be seen from a distance. If you have a drone, you can fly closer to them and capture the beauty and height of the waterfall. Most of the waterfalls are located in hilly inlands of Sri Lanka which makes the chance of rain a bit higher. But don't be put off by some rain, rent a car or book a private driver and explore the amazing waterfalls of Nuwara Eliya or Ella and the surroundings! After rainfall there is even a bigger chance of fog which gives a magical and moody touch to your pictures. And rainfall means an even more powerful waterfall which is great to get an impressive waterfall shot!
For some waterfalls in Sri Lanka it is great to use a long shutter speed, but for the bigger ones with lots of water pouring down, it is more impressive to show the power with a short shutter speed.
*Read more about the best waterfalls in Sri Lanka here – https://digitaltravelcouple.com/best-waterfalls-in-sri-lanka-the-ultimate-guide/
---
Galle Fort
Galle Fort is an UNESCO World Heritage Site in the south of Sri Lanka. There are many beautiful places to visit in this old town and you can enjoy yourself a full day exploring and photographing. With its charming and narrow laneways, imposing Dutch-colonial buildings, ancient mosques, churches and the famous lighthouse, there is lots of history to see and capture. You can walk over the thick ramparts built by the Dutch merchants that controlled the city in the 17th century. The highlight of Galle is the beautiful, picture perfect lighthouse. Framed by palm trees with the Indian Ocean in the background, it is the postcard-perfect Sri Lanka picture. Go around sunset for beautiful pastel colours.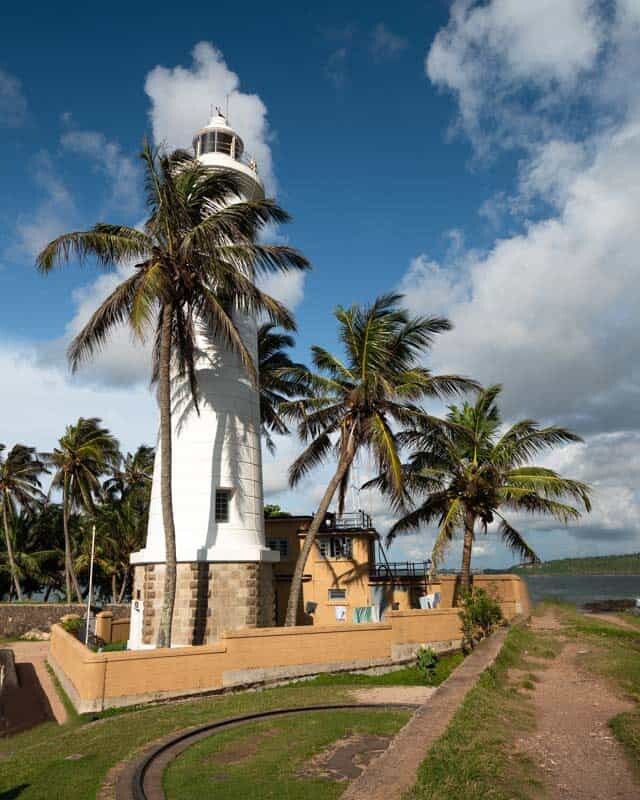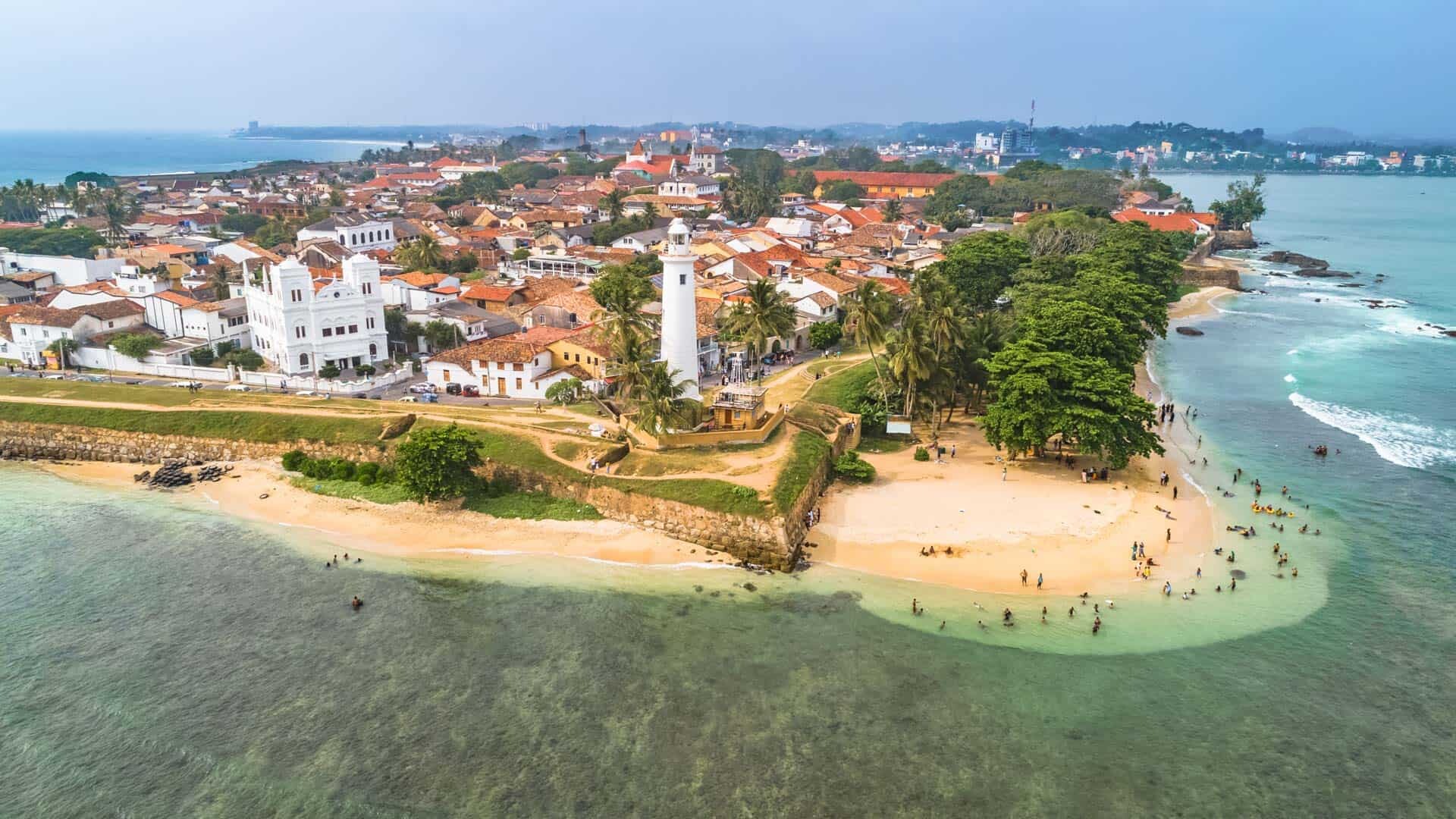 ---
Red Mosque in Colombo
One of the main attractions in Colombo is the beautiful Red Mosque. This mesmerising architectural wonder, also known as Jami Ul-Alfar Masjid, will take your breath away with its unusual red-and-white pattern. If you only have one day in Colombo, you should definitely put this on your list to do. Its tall minarets can be seen from almost every street, towering over the busy city. It is said that the Red Mosque has been a landmark for sailors approaching the port of Colombo ever since it was built in 1908. You can easily imagine that being true when you look at the mesmerising red an white color pattern.
Sri Lanka's Red Mosque is one of the architectural wonders of the world and is therefore very interesting for photography. It is possible for women to go inside the mosque to look around and take photos. But note that you will need to cover your hair, arms and legs and of course take your shoes off. Be respectful to their religion if you plan to enter, and enjoy capturing this architectural wonder.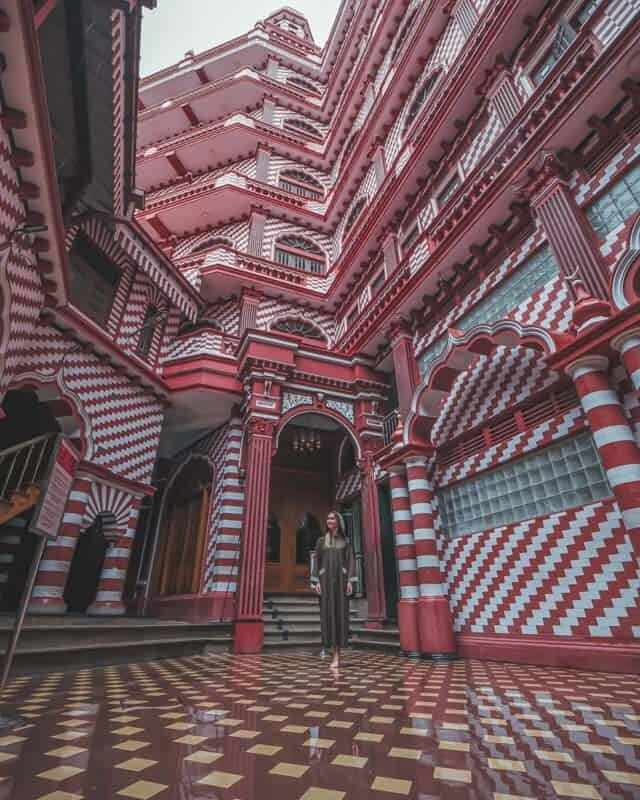 ---
National Parks of Sri Lanka
Great for Safari and wildlife photography
One of the things you can't miss in Sri Lanka, especially as a photographer, is going on a safari. There are many National Parks in Sri Lanka, 22 to be precise. Covering 13% of its landmass which is protected as National Parks, all with their own types of wildlife. The leopard and Sri Lankan elephant are the most famous animals to spot in Sri Lanka. But leopards only live in specific National Parks and are most easy to spot in the dry season from February to July. The water levels are then lower which is why they come out to the lagoons to drink. But also bird photographers will have their best time during a safari in Sri Lanka. In Yala National Park for example are more than 215 different species of birds to spot!
Photography tip: Take a tele lens with you on safari because the wild animals will be far away from the jeep. Especially leopards will be hard to capture, and might disappear quickly into the jungle again. Use a fast shutter speed or even burst mode if you want to be sure to capture the animals sharp in your pictures.
*Read this blog post to learn more about the Sri Lankan National Parks https://digitaltravelcouple.com/sri-lanka-safari-the-ultimate-guide/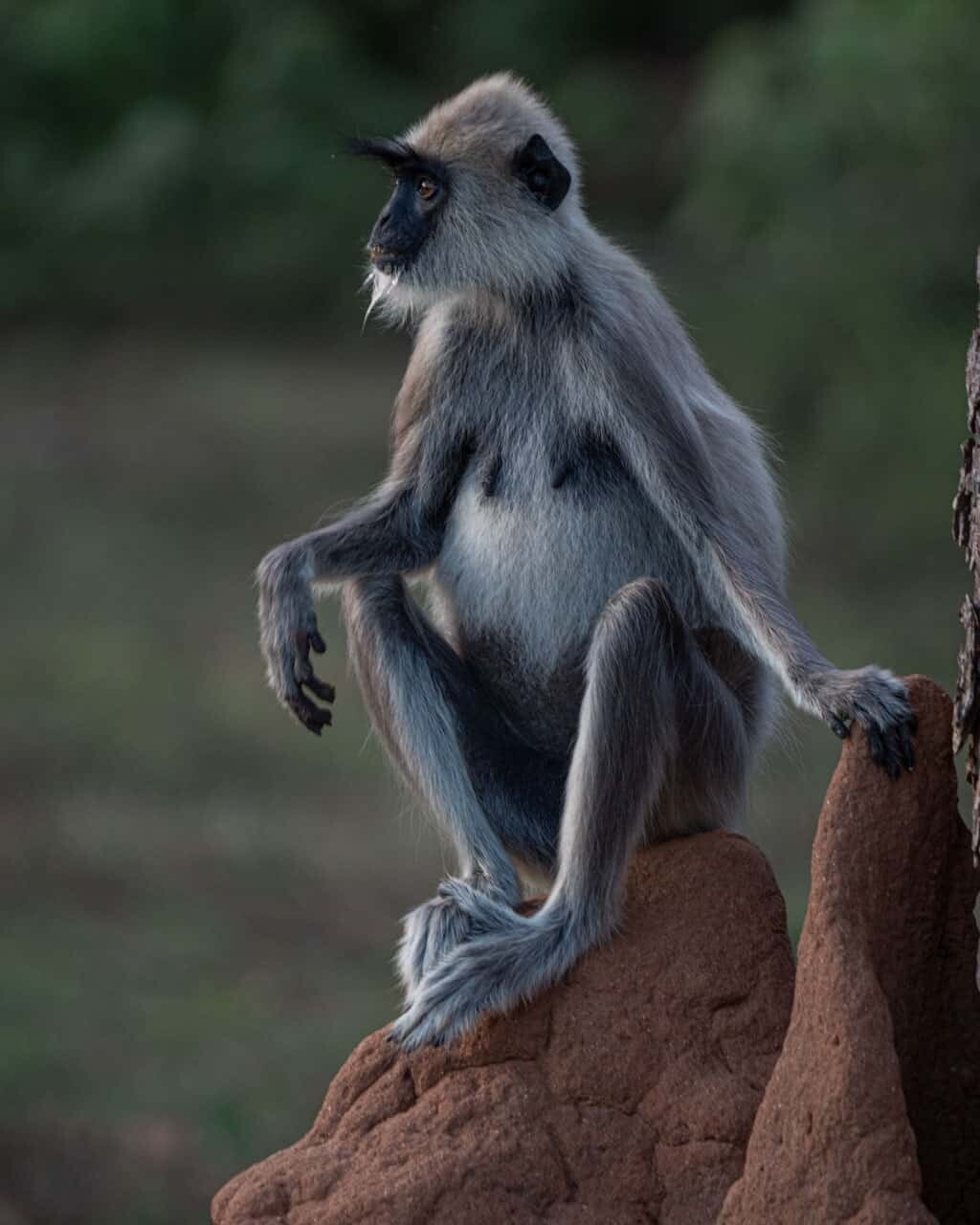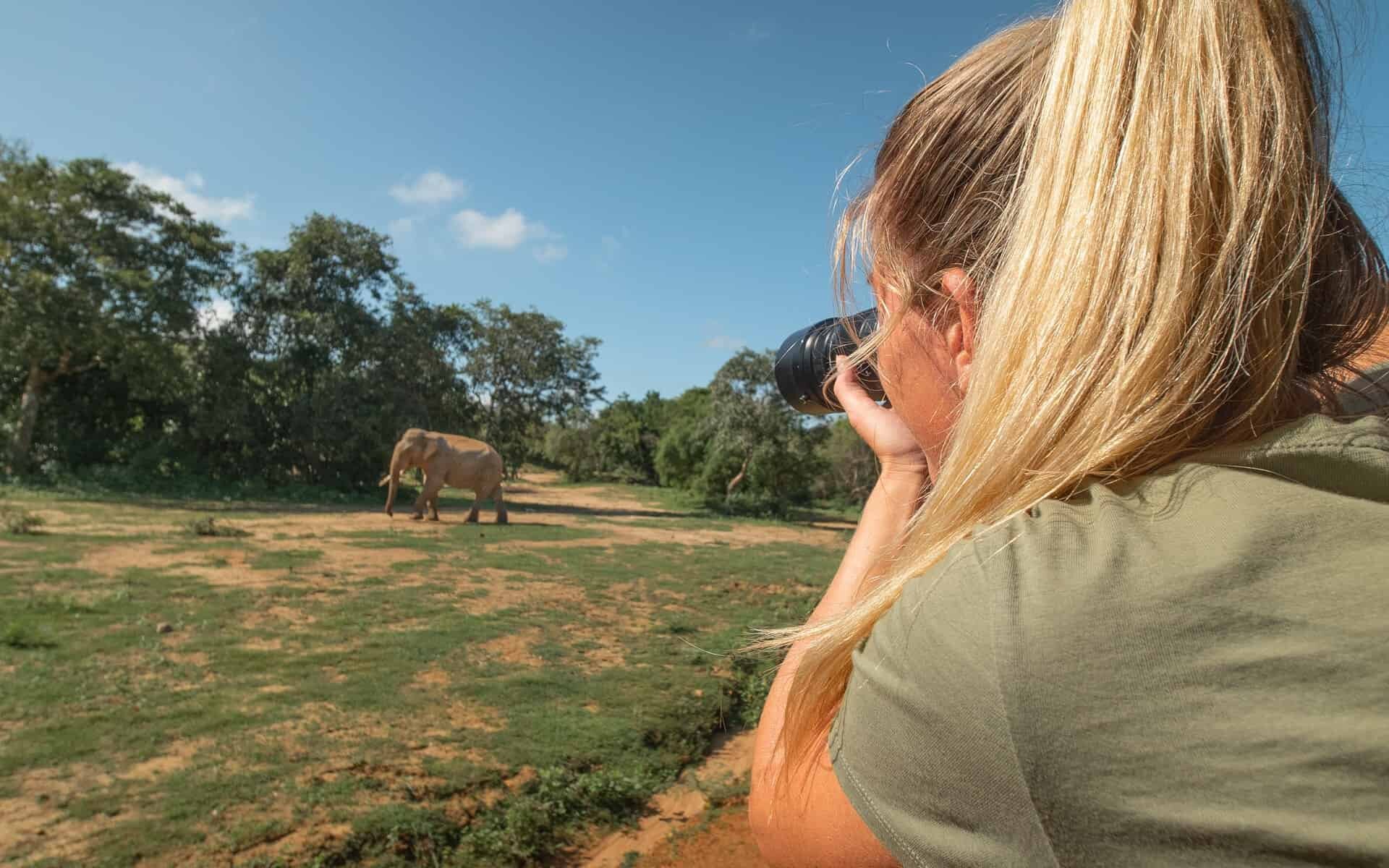 ---
Tea plantations Nuwara Eliya
Nuwara Eliya is probably the best known tea-growing district of Sri Lanka with her impressive lush green tea plantations. The history of tea goes way back to 1824 when tea came for the first time to Sri Lanka for a botanical exhibit. Go in the morning to catch the tea pickers at work and of course for the best light. You need to pay the tea pickers, but they will be happy to let you take photos of them.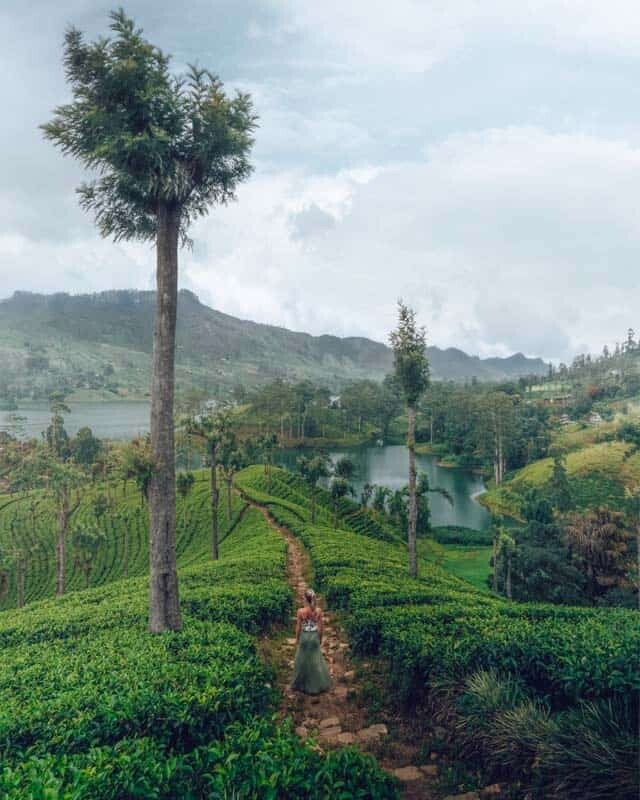 ---
Thanks so much to Ilse de Groot from Digital Travel Couple for sharing this article about her experiences in Sri Lanka!
Have you been to Sri Lanka? Share your experience or favourite photo locations in the comments below!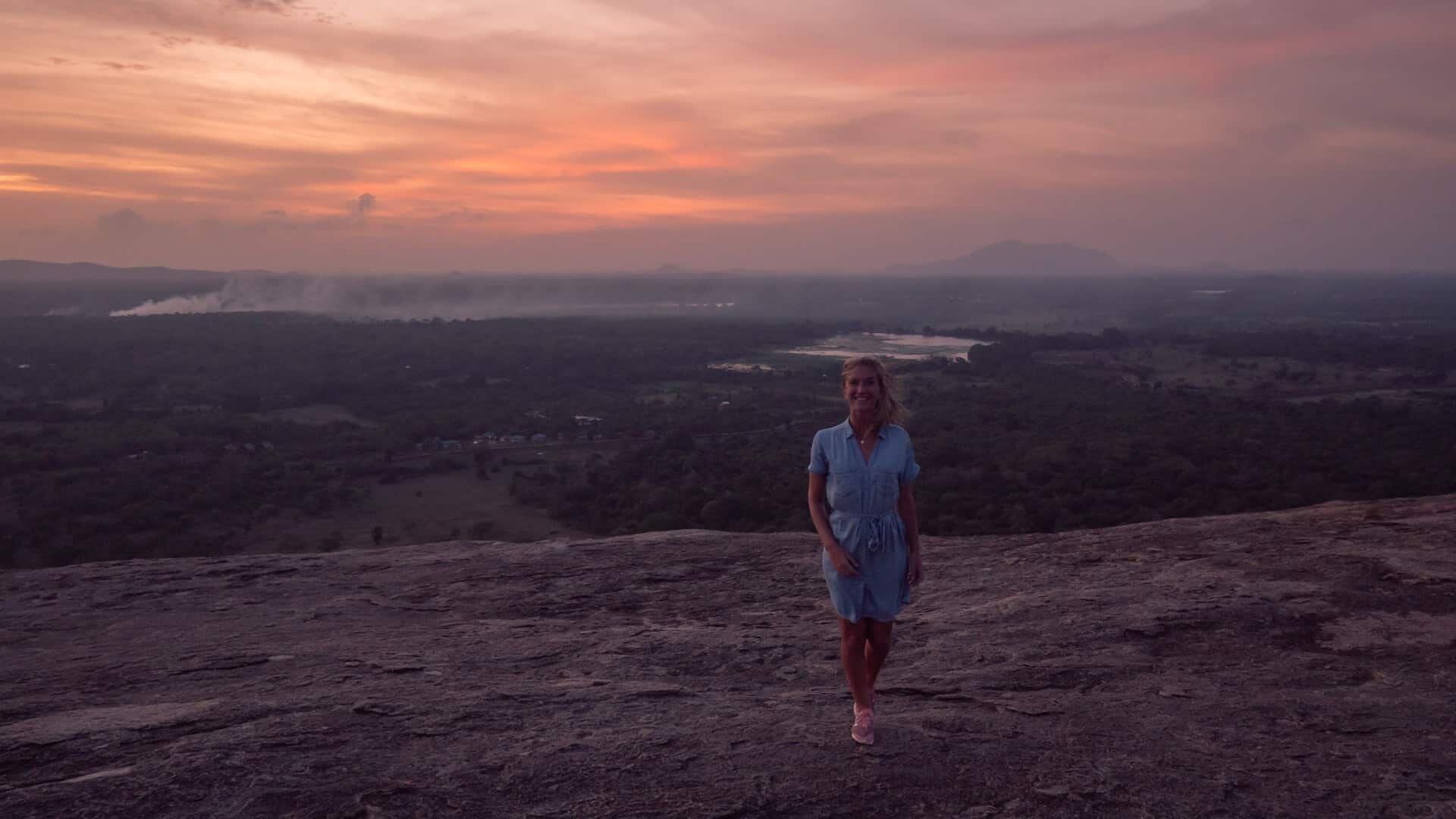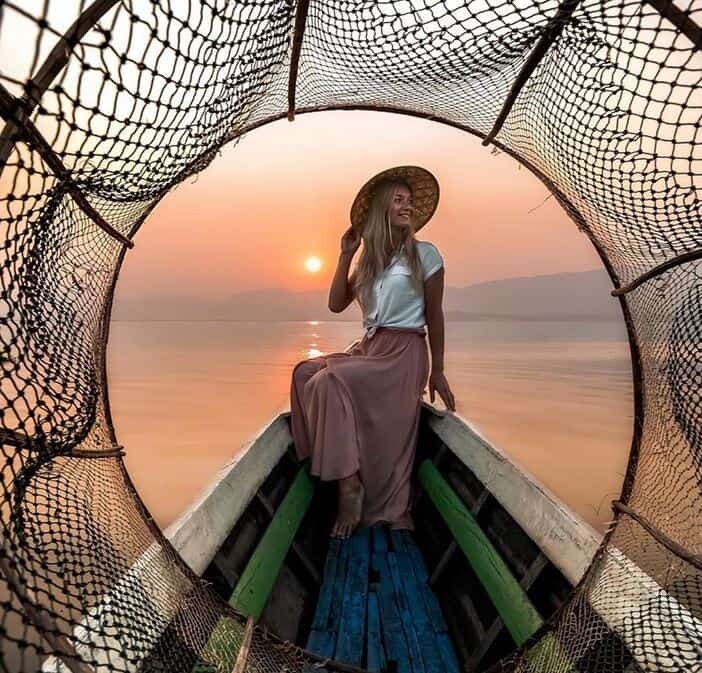 Originally from the Netherlands, Ilse is traveling the world with her partner Atiba as "Digital Travel Couple" since 2018. Living as nomads, they travel slow to explore a country in every corner. Their love for photography, film making and writing came perfectly together. They share travel tips on their blog, publish cinematic travel films on YouTube and share the highlights of each country on Instagram.