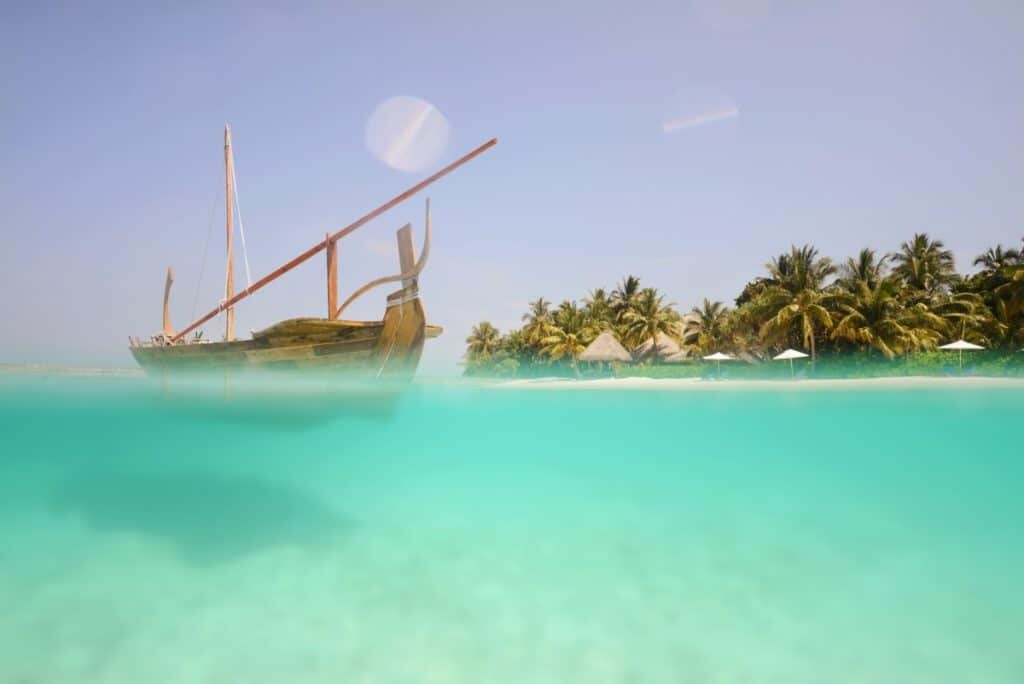 Beautiful Beaches to Photograph Around the World
Coastal landscapes have a way of drawing photographers to their shores. Whether it's their crystal white sands, alluring clear waters, rugged rock formations or people watching potential. Beaches can be considered photogenic for a number of reasons, and they're often different for everyone. Some will see a shining gem worth a thousand photos while others take a quick snap and move along.
I've reached out to the experts to help me compile a list of the most photogenic beaches around the world. As travel bloggers and photographers, the contributors below have described their choice for most photogenic beach with a photo they've personally taken to show you why it's so photo worthy!
You'll find a map below detailing where each location is and then it's onto the pretty pictures and words to make you pack your beach towel and jump on a plane.
Let's kick things off with…
Bay of Fires, Tasmania – Australia
Nicola Easterby of Polka Dot Passport
Named one of Lonely Planet's Top 50 destinations, the Bay of Fires is a photographic paradise. Located on Tasmania's east coast, these endless stretches of beaches offer miles of powdery white sand, mesmerizing turquoise waters and most notably, lichen-covered rocks, which have transformed quartz into unique, orange stained works of art. One of the best spots to see the contrast of these rocks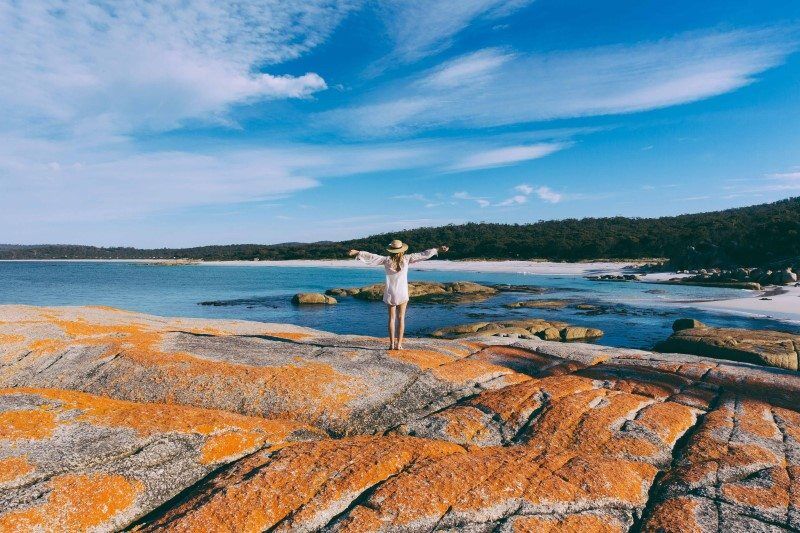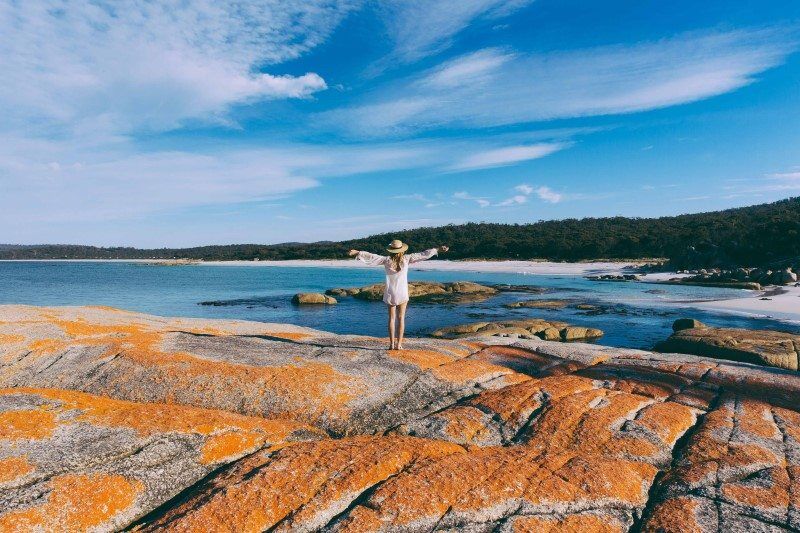 ---
Red Beach, Santorini Island – Greece
Flo Shih of Yoga Wine Travel
Ruby and turquoise: that's what you can expect to see at Santorini's famous Red Beach, aptly named for its scarlet-coloured volcanic sand and black pebbles that line its shores. The beach can be easily reached by boat or by car/ATV/scooter – just follow the signs from Akrotiri, park your vehicle and follow the rocky path to the beach. The coloured sand and pebbles get hot under the sun, so visit in the afternoon to save your soles and snap amazing shots of the beach!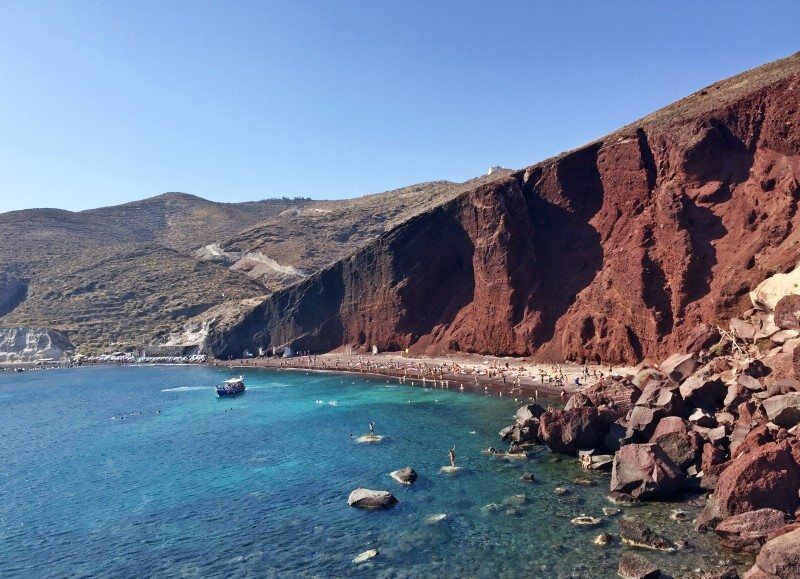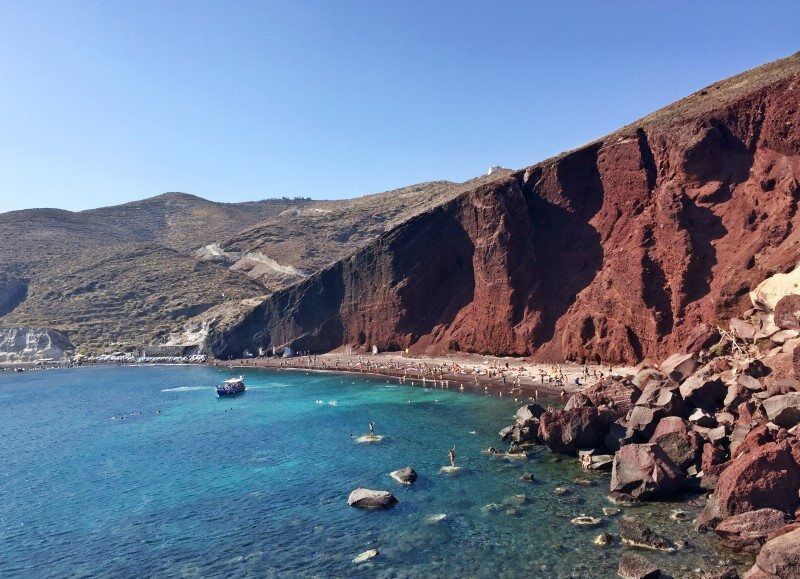 Isla Holbox, Mexico
Kiersten Rich of The Blonde Abroad
Isla Holbox has been one of my favorite beach escapes to date. Just off the coast of the Yucatan Peninsula in Mexico, there are expansive, white sand beaches all the way around the 26-mile long island. If you venture to the northwestern side of the island, you'll find these freestanding hammocks, and to get an awesome shot, you'll want the lowest tide possible. I found the best lighting to be high noon, which also meant less people walking on the beach!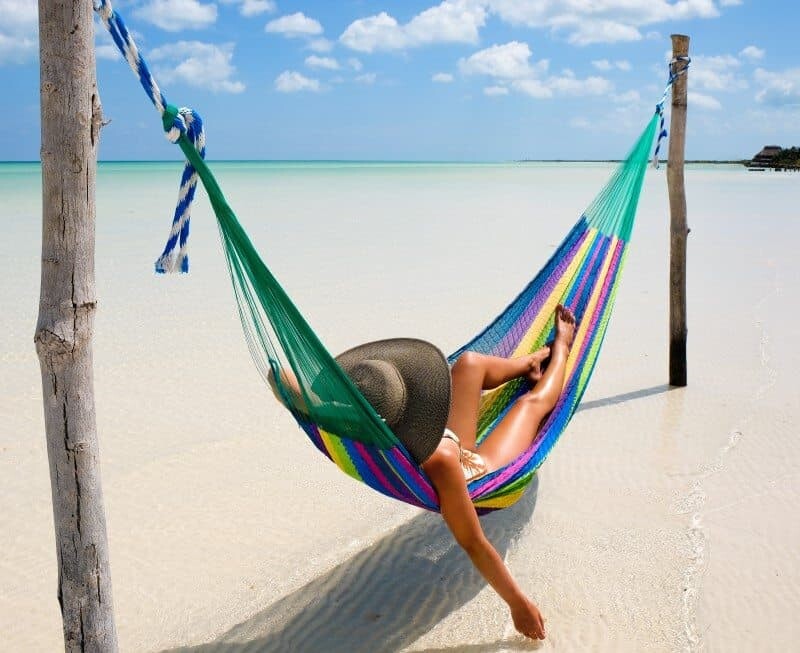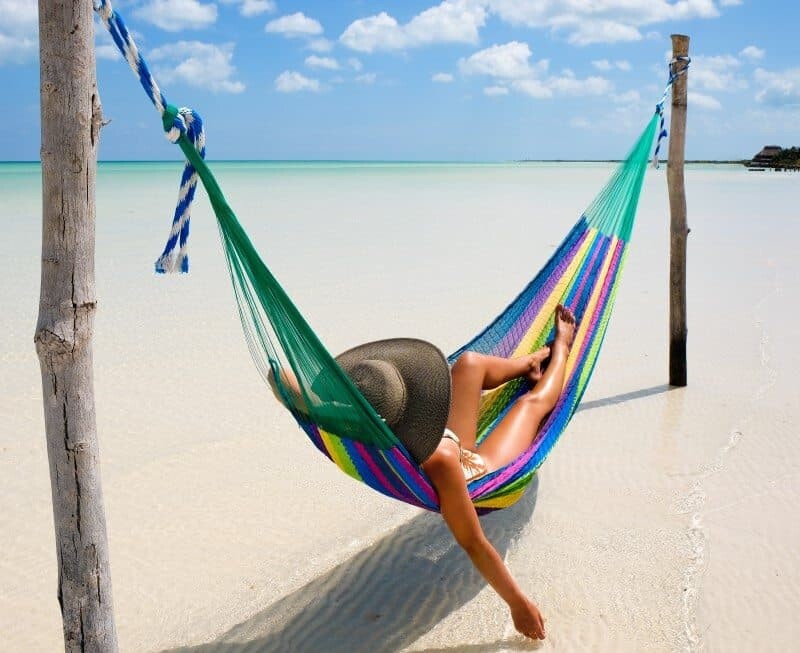 ---
Cathedral Cove, New Zealand
Brent Purcell of LE.NZ Photography
Cathedral Cove is situated just north of Hahei on the Coromandel Peninsula, North Island, New Zealand. It's a beautiful 40 minute stroll that weaves through bush with glimpses of the coastline and outer Islands. Once down on the beach you are greeted with a beautiful bay with Mares Leg Rock in the centre.  To the left is Cathedral Cove and Te Hoho rock is beyond.  Gorgeous white sand with clear water for swimming it's not only a stunning place for sunrise but a magic place to witness the Galactica Core rising from the Pacific Ocean.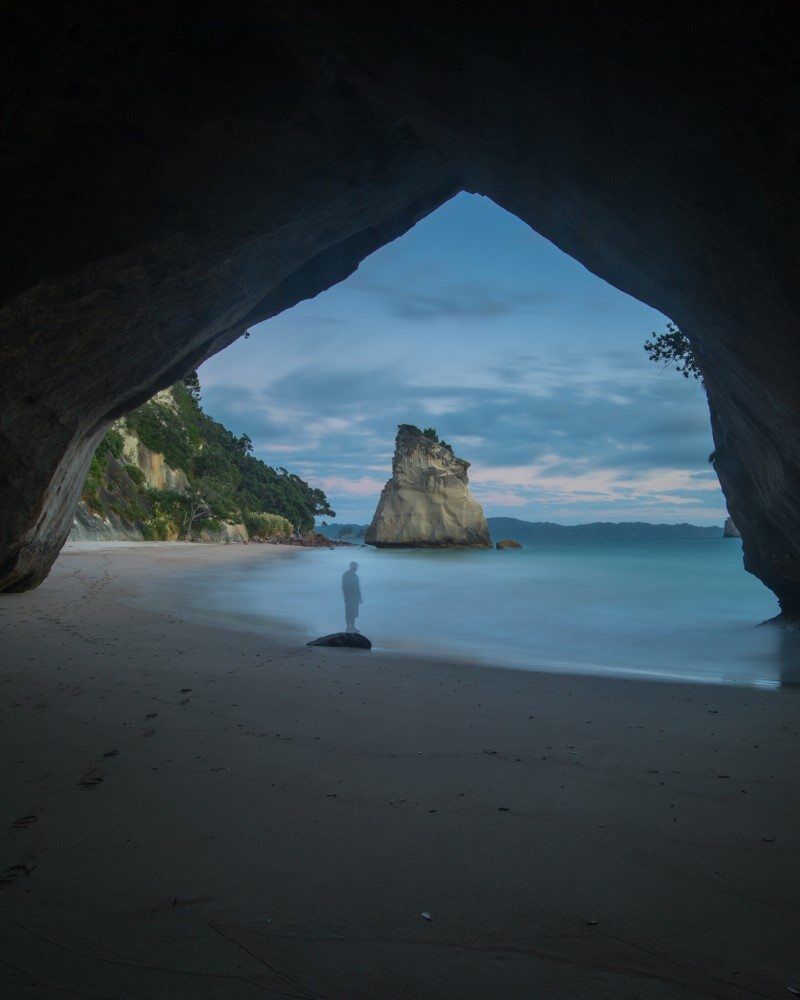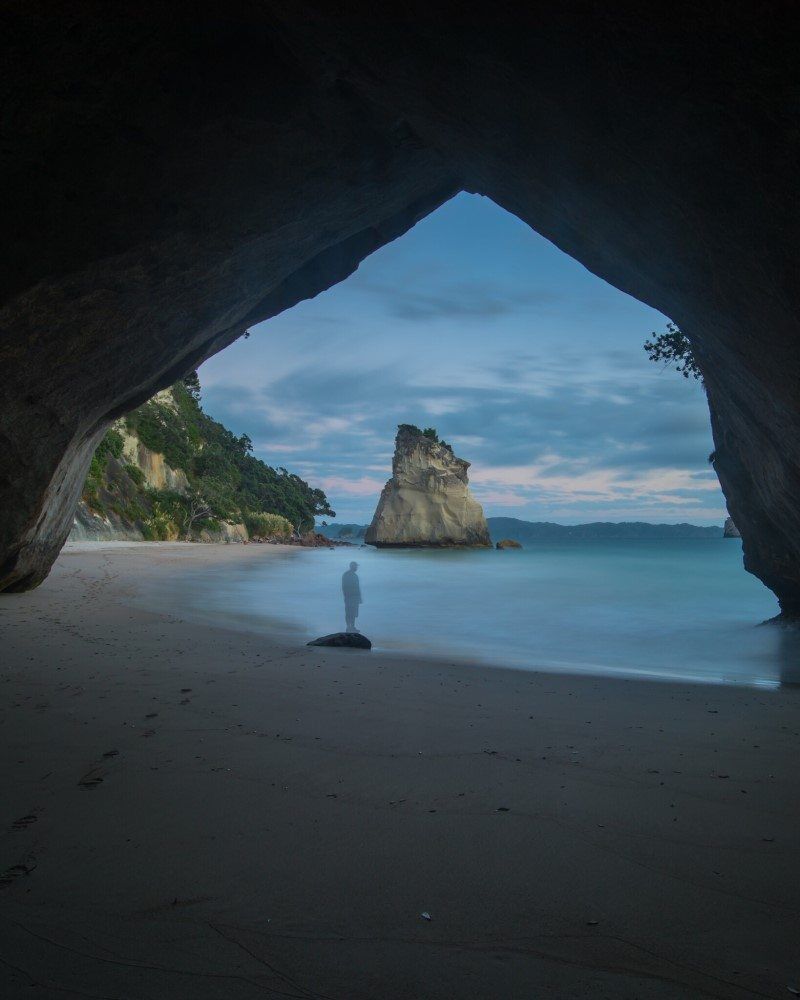 ---
Motu Auira, Maupiti Island – French Polynesia
Avichai Ben Tzur of X Days In Y
This beach is located on a small islet at the very edge of Maupiti's blue lagoon. To reach it, you can either take a boat or better yet, walk from the main island in waist high waters, with stingrays and small reef sharks showing you the way. It kind of feels like Moses and the Israelites crossing the Red Sea, only the Promised Land in this case is this magnificent tropical beach. Aside from a few fishermen napping after another successful night of fishing, you'll probably be the only tourist around here.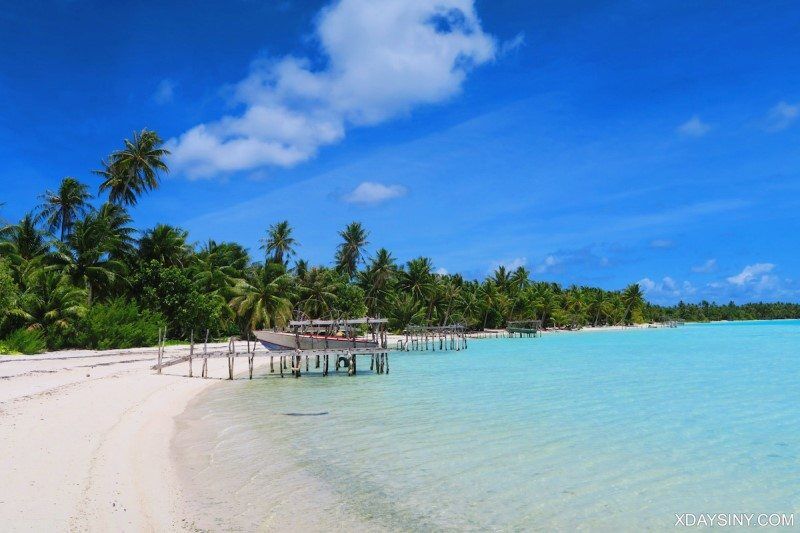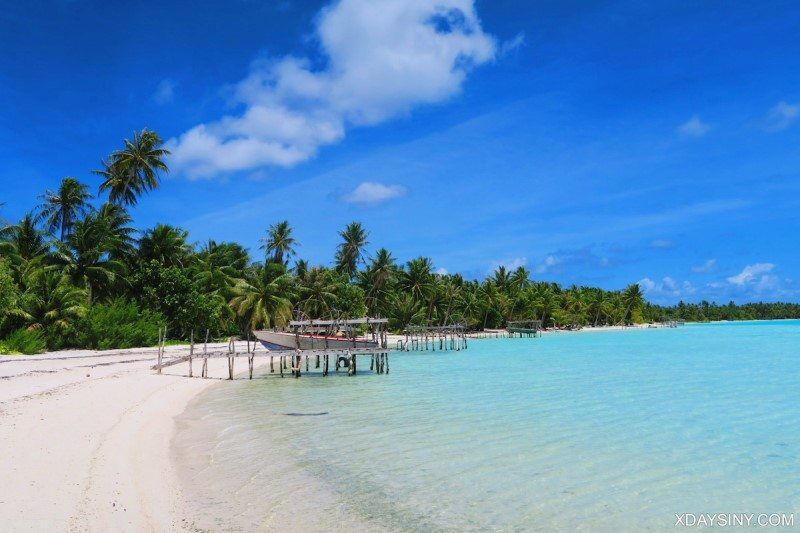 ---
Boracay Beach, Philippines
Phoebe Lee of Little Grey Box
Boracay Beach on the island of Boracay, in the Philippines, is a must-visit spot for any travel lover! It offers up picture-perfect white sand, set against the most inviting, beautiful, bright blue water you've ever seen. It does get crowded with tourists as the day wears on, so your best bet is to get up early to enjoy it peacefully then spend the day island hopping around Boracay. I know, it's a hard life, right?!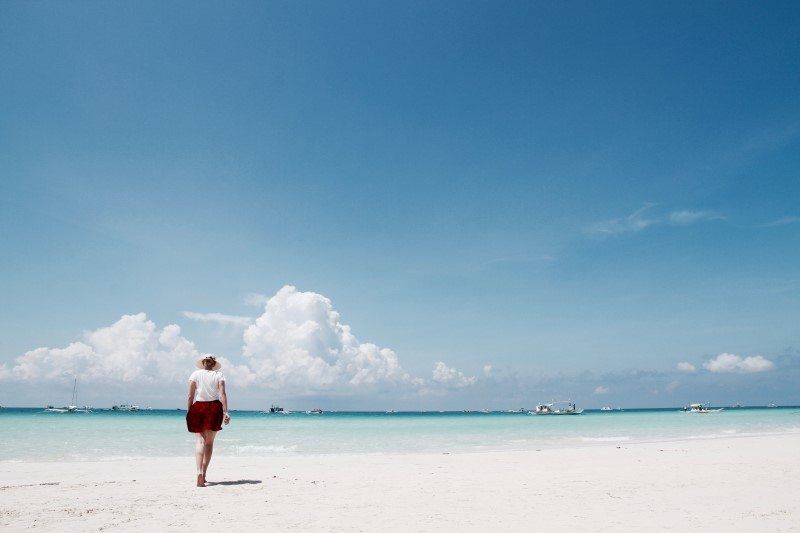 ---
Camilo Beach, Portugal
Laura Smith of Musings of a Rover 
Camilo Beach was the reason I planned an entire trip to Portugal. I needed to see its towering cliffs, spectacular blue water, and hidden tunnels in person. And while there's not too much to do there but enjoy the sun and water, the view is one of the best. And that is the reason why we made the journey out to Camilo Beach (and why you should to). But, even though Camilo Beach feels like it's a secret, it's not. If you want the beach to yourself, you'll need to get there early.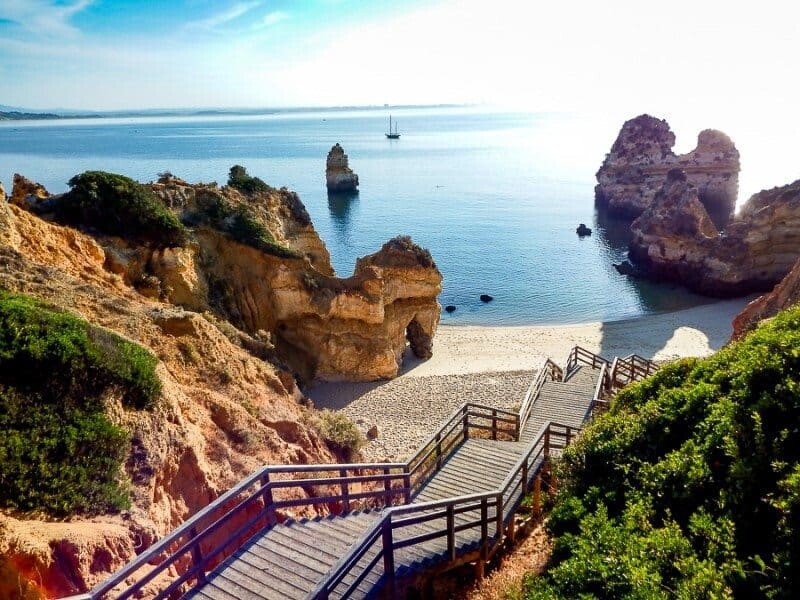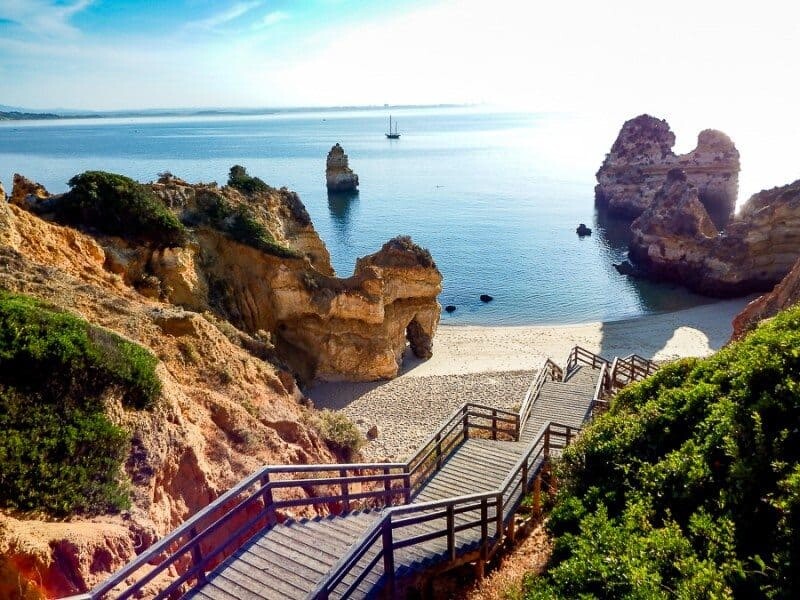 ---
Koh Lipe, Thailand
Hannah Lukaszewicz of Getting Stamped
Sunrise Beach on Koh Lipe Thailand is regularly called the Maldives of Thailand for its stunning turquoise waters and white sands. Sunrise beach is amazing to photograph at several times during the day. The eastward facing beach is called sunrise beach for obvious reasons, but the island is so small you also get great sunsets from the same stretch of sand. Personally, my favorite time to shoot this beach is during midday when the intense sun is illuminating the water and the reflecting rays are at a minimum. Install a polarizing filter and capture the beauty of the water and the idyllic long tails boats around Koh Lipe.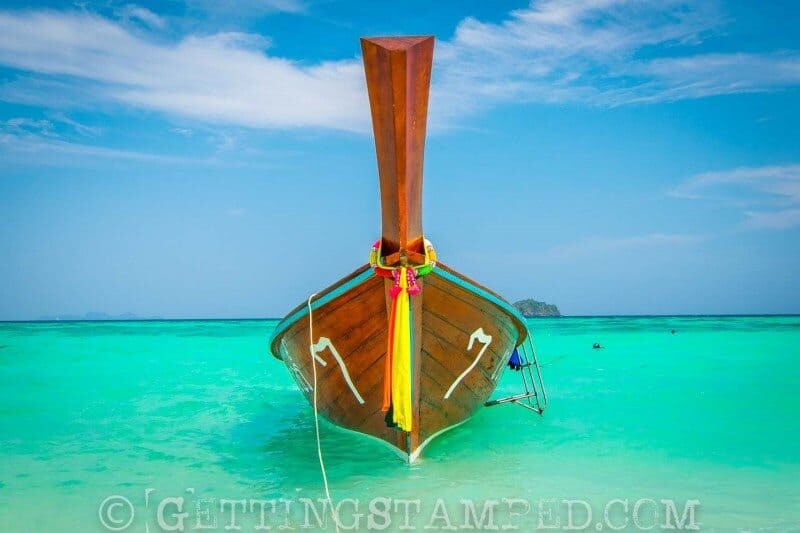 ---
Champagne Bay, Vanuatu
Scotty Pass of @scottypass
Nestled in among the jungle cladded mountains of Espiritu Santo, Champagne Bay boasts one of the worlds most pristine white sand beaches coupled with some of the most translucent and vibrant blue water. Rivalling that of the Whitehaven Beach in the Whitsundays, Champagne Bay is unique in that a freshwater spring flows into the bay. This creates a spa-like bubbling that can be seen on low tide.  Visits to this remote section of Vanuatu provide the ultimate island seclusion on your own stretch of paradise.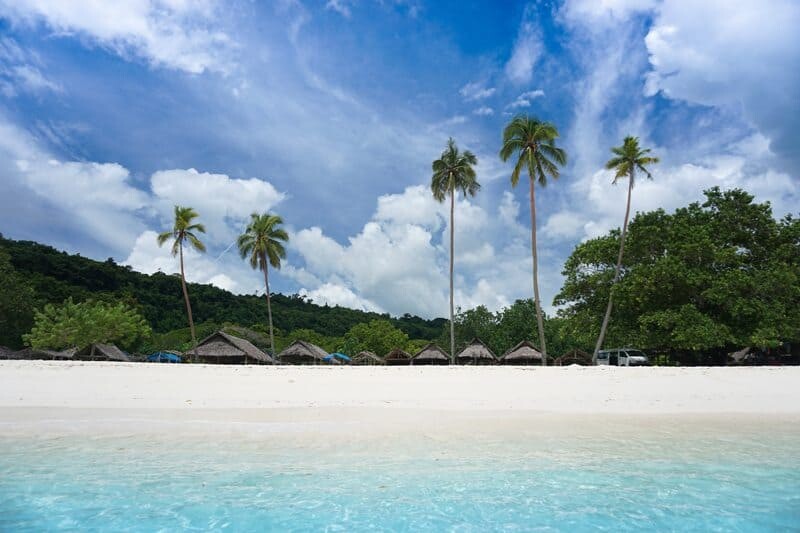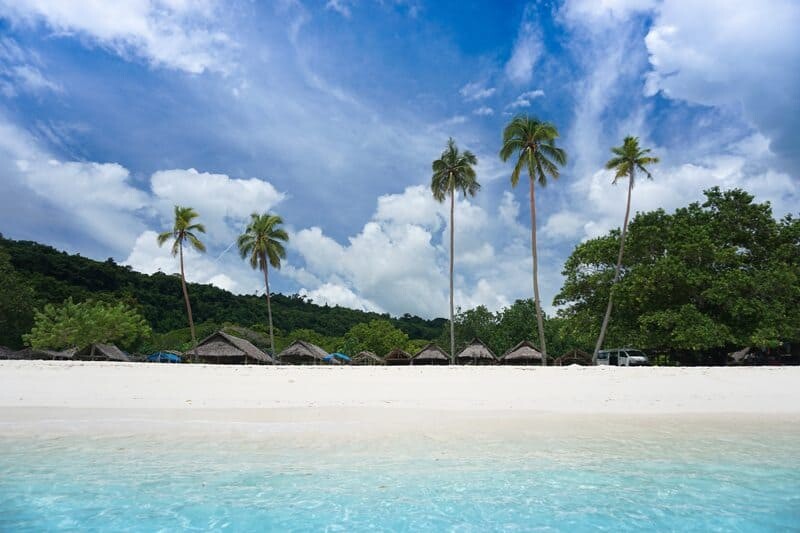 ---
Cape Le Grande National Park – Australia
Anjuli Waybright of Anjuliglobal
I lived on a sailboat in Australia and following a half circumnavigation of the country I came upon some of the most stunning and lesser known beaches I've ever seen. Here a photo barely does justice to the depth of blue on white sand beaches. Kangaroo and emu tracks cross the sands as they enjoy a day at the beach too!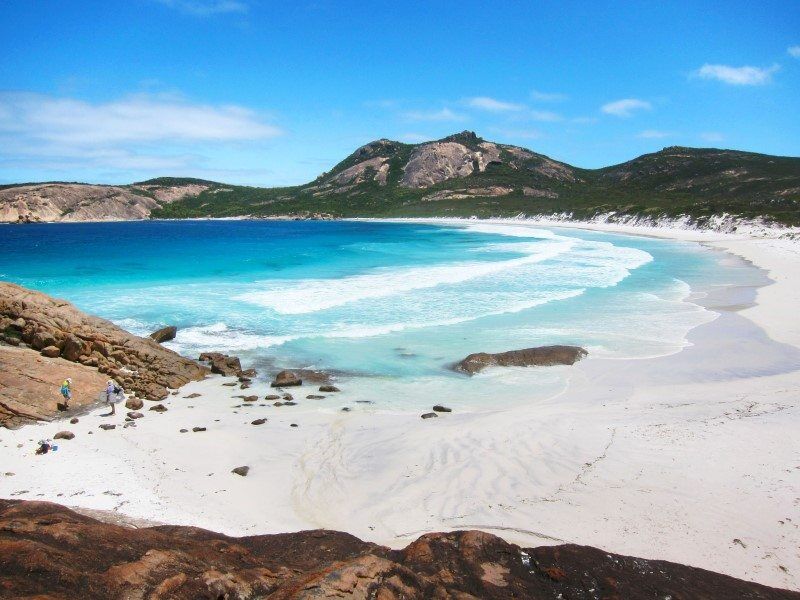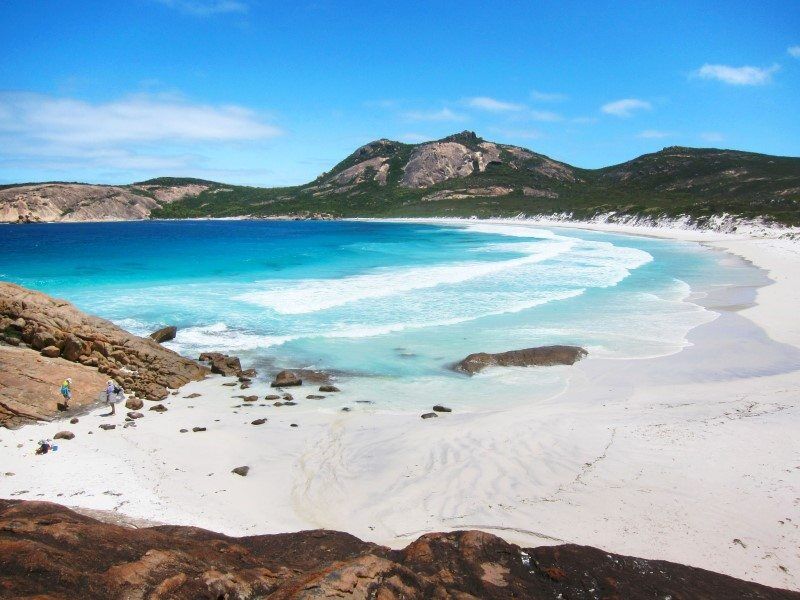 ---
Kehoe Beach, California, USA
Jess Sern of The Longest Bus Ride
Turn north on the wide beach flanked by an immense cliffside and the hypothermic Pacific Ocean. Or, walk south where low sand dunes sparsely covered in light green grass parallel the ocean. Most people stay near the trail that leads back to the road, so walk south for miles, and enjoy your own private beach. Summer or winter, the beach is cold and foggy. However, in mid-afternoon the sun shines for a few hours before a colorful sunset lights up the wet sand.
Continue driving past the beach trail about 10 minutes and hike at the Tule elk preserve. The huge antlered animals are easily photographed from the roadside and hiking trail.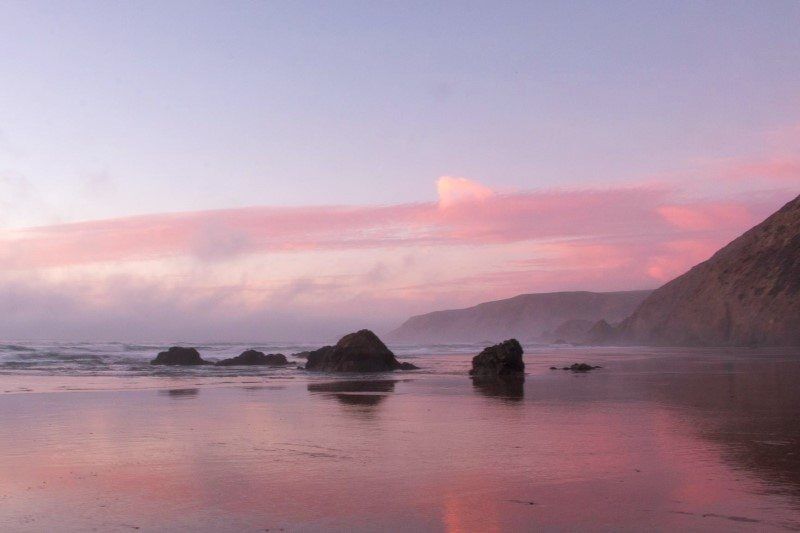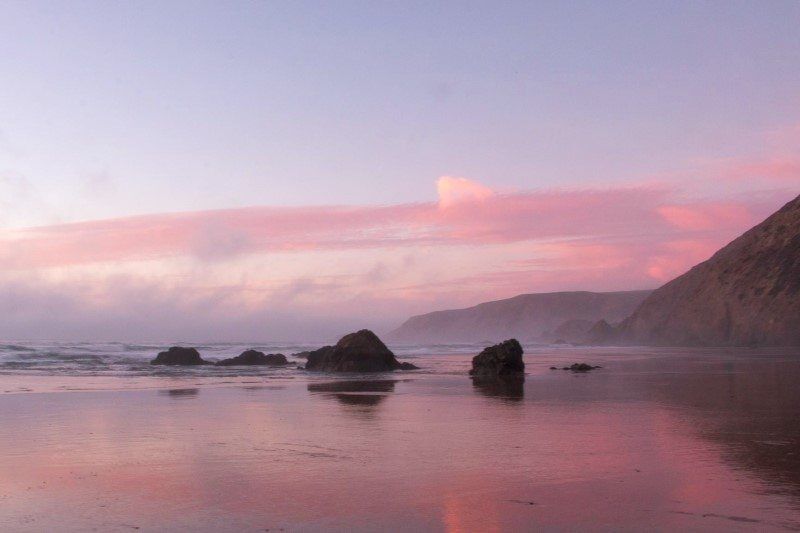 ---
Mikri Vigla Area, Naxos Greece
Jessica Wright of Bon Traveler
Nestled along the coastline of Naxos, Greece, ths Mikri Vigla area is photo-worthy. The best time of day is the late afternoon as the sun starts to come down, and the ocean glows. Mid-afternoon is still equally pretty with a more highlights. The boulders billowing out of the ocean are dreamy, and don't be afraid to do a little rock-climbing to get the best shot!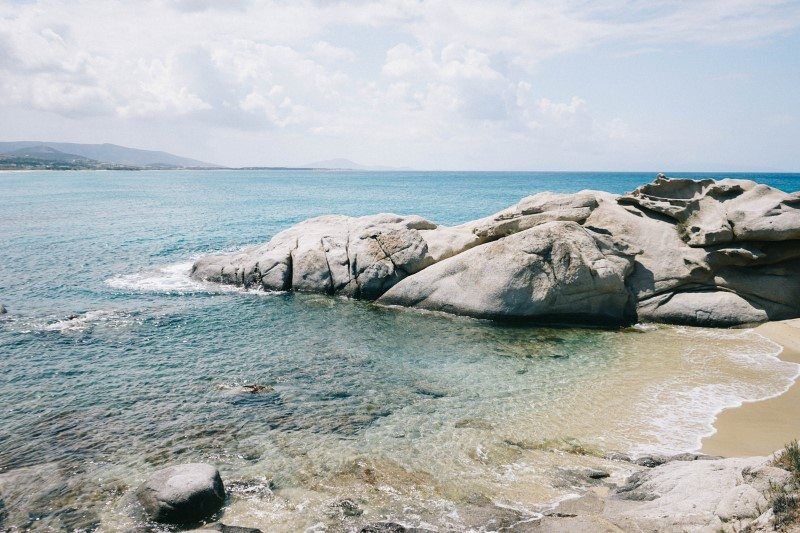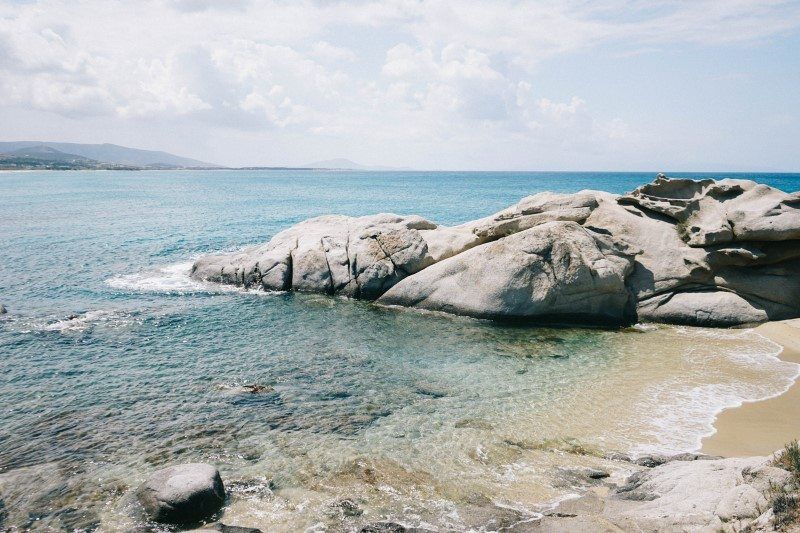 ---
Venice Beach, California, USA
Yulia Denisyuk of In Search of Perfect
Venice Beach is the bloodline of Southern California. It's a great beach for people-watching as locals frequent it often, especially on the weekends. It offers a stunning, expansive view of the Pacific waters set against the backdrop of the nearby Santa Monica mountains. The beach pier is loved by local fishermen, while the waters are always welcoming surfers, making Venice Beach a great destination not only for landscape, but also for people photography. Best time of day to visit is sunrise for still, emotional scenes and afternoon to sunset for more energetic, people-focused imagery.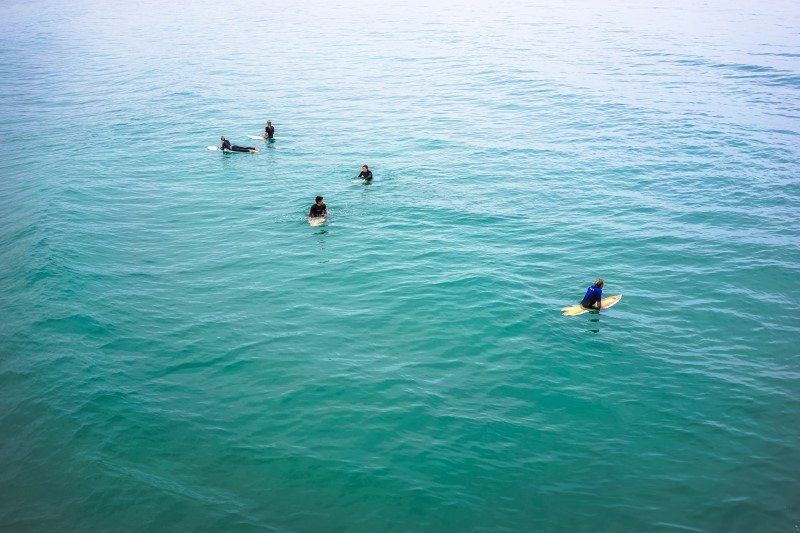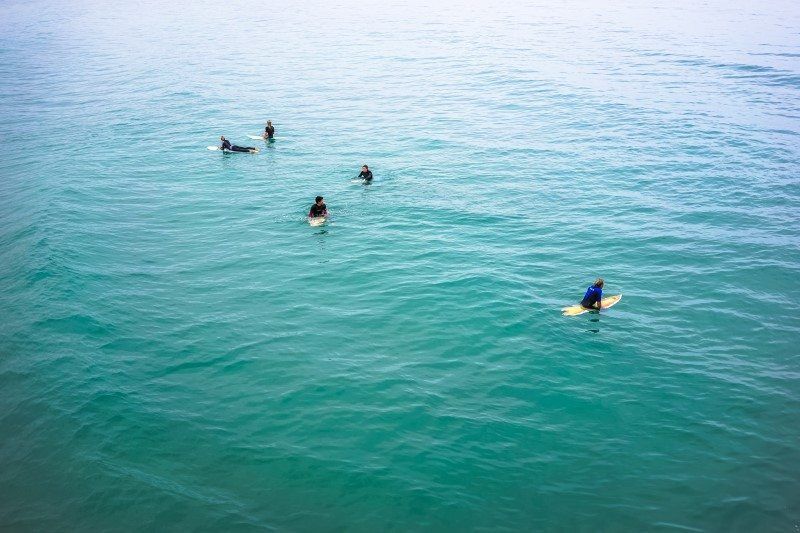 ---
Vallugola Beach, Le Marche, Italy
Katie McKnoulty of The Travelling Light
Vallugola beach is a local's secret in the decidedly un-touristy region of Le Marche. In summer it teems with Italians on their summer holiday or locals escaping the heat with a dip. The beach is covered in big white pebbles and marble rocks line the shore, you can catch local nonnos and nonnas basking in the sun or cooling off in the clear, blue water. Come during the day with your camera, late afternoon for softer lighting, to capture all the local characters sunbathing under big orange umbrellas and the sail boats floating by. There's two amazing seafood restaurants right on the beach for an afternoon meal or aperol spritz.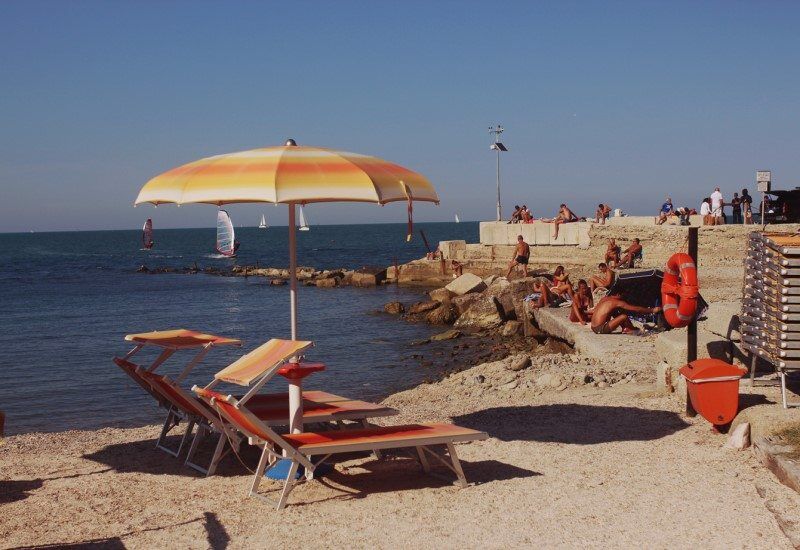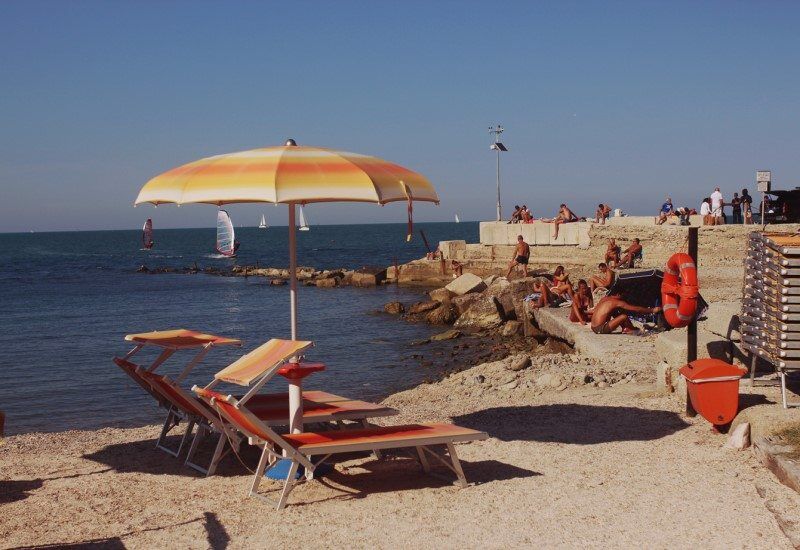 ---
Prassa Beach, Kimolos – Greece
Stefanie Acworth of A Modern Wayfarer
Prassa Beach on the tiny, headache-to-reach Greek Island of Kimolos is as far-away from mainstream civilisation you may as well be on the moon. That is, if the moon had a beautiful bay made up of glistening, turquoise water, natural rocky outcrops, a few straw umbrellas and a shack-bar serving refreshing mango mojitos. You must drive through the arid, dusty landscape of the Cycladic Island in order to find this Aegean oasis. The bar is open from May through September and the water warm enough to swim during those months.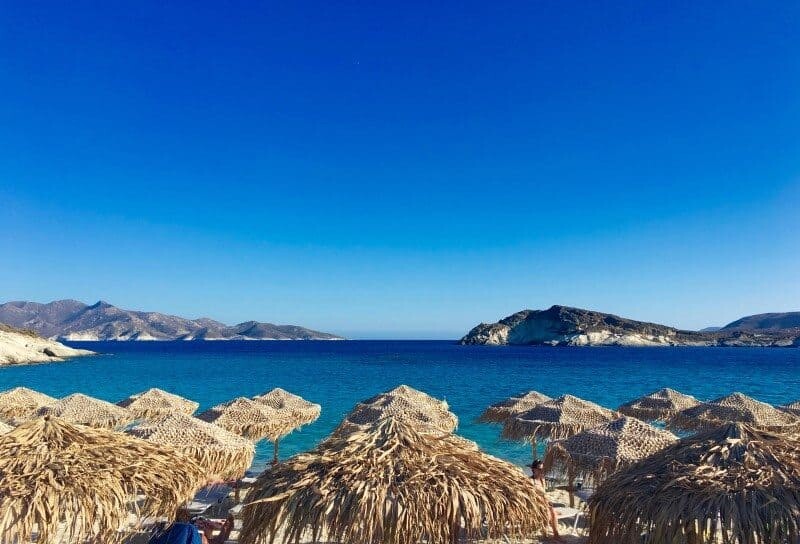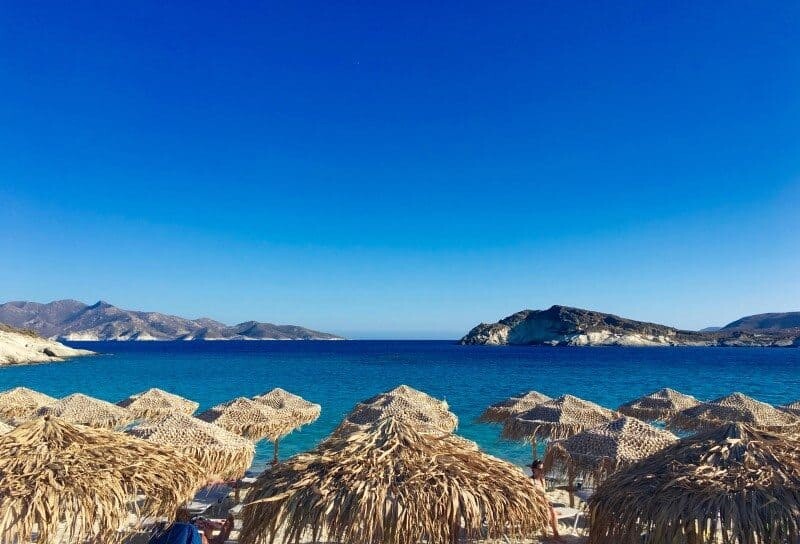 ---
Nudey Beach, Fitzroy Island, Cairns
Scotty Pass of Scottypass.com
Situated twenty-nine kilometres South-East of Cairns in the Great Barrier Reef, Fitzroy Island is the perfect beach getaway, free from the hustle and bustle of Cairns City. Channel you inner castaway for the day by adventuring to Nudey Beach, soaking up the tropical vibes and enjoying the white coral bay. Sit back and relax as the gentle surrounding waters lap gently against the infamous Fitzroy Island boulders. Jungle meets pristine azure waters in this part of the world, so prepare to be blown away at the pure beauty. (not an actual nudist beach, just nudey by name!)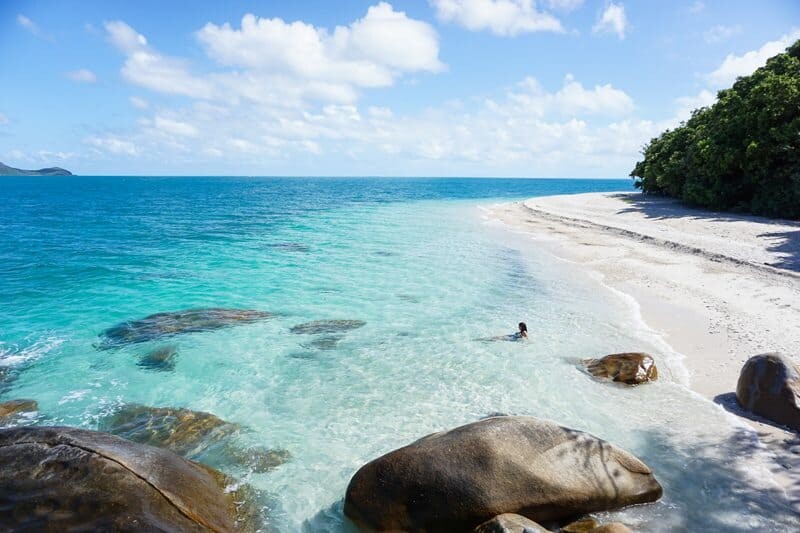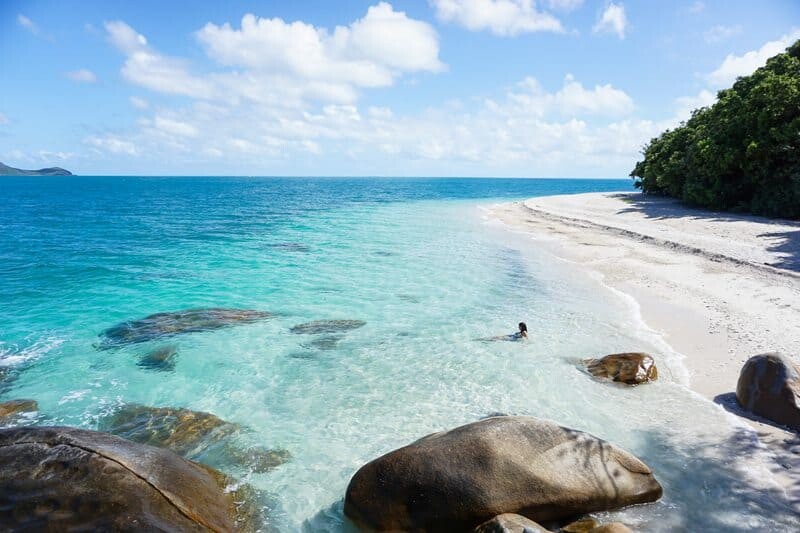 ---
 Maya Bay, Thailand
Vic Advisor of VicAdvisor.com
When it comes to photogenic beaches, Maya Bay is a tough one to beat – with powder white sand, teal green water, and dramatic limestone cliffs which perfectly frames the entrance, it's no wonder why thousands of sun-seekers flock to this slice of paradise every day.
You don't have to look far to find a tour operator who'll take you there from the mainland, but if you want to see it before the crowds, consider renting your own private long-tail boat or booking a sunrise tour of Koh Phi Phi instead.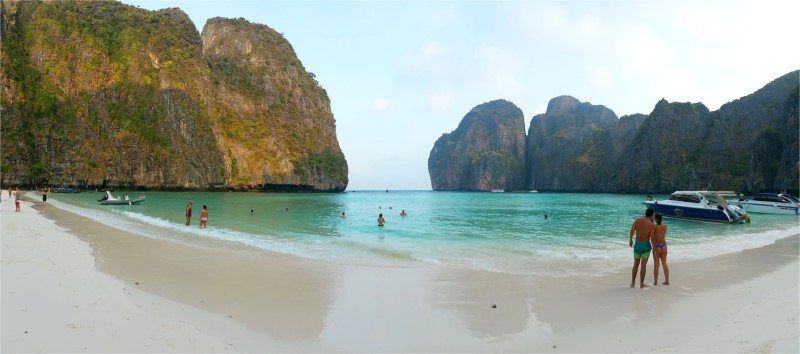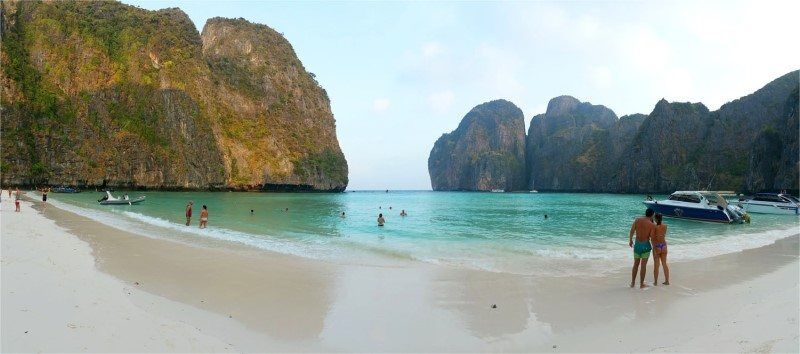 ---
Moreré Beach, Boipeba Island, Brazil
Pericles Rosa of 7continents1passport
The beaches on the island of Boipeba are gorgeous with soft sand and unbelievably warm water. Among all of them, Moreré is the most visited and one of the most beautiful beaches in the Thinharé Archipelago. The island is part of the Tinharé Archipelago and is situated 356 Km (222 mi) from Salvador, Bahia's capital. To get there you can take an air taxi from Salvador straight to Boipeba, or take a bus to Valença and than a ferry.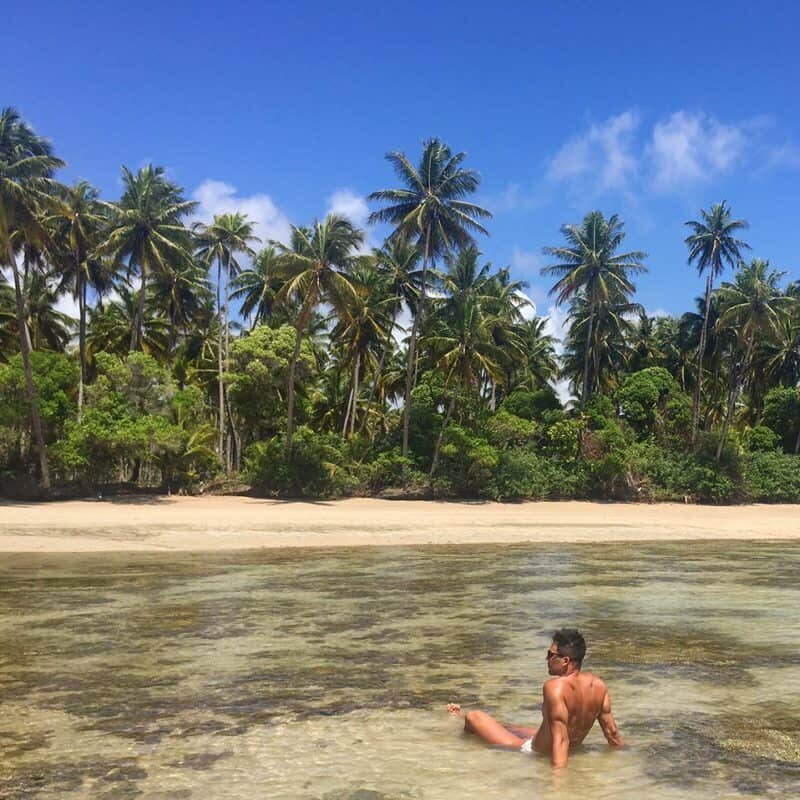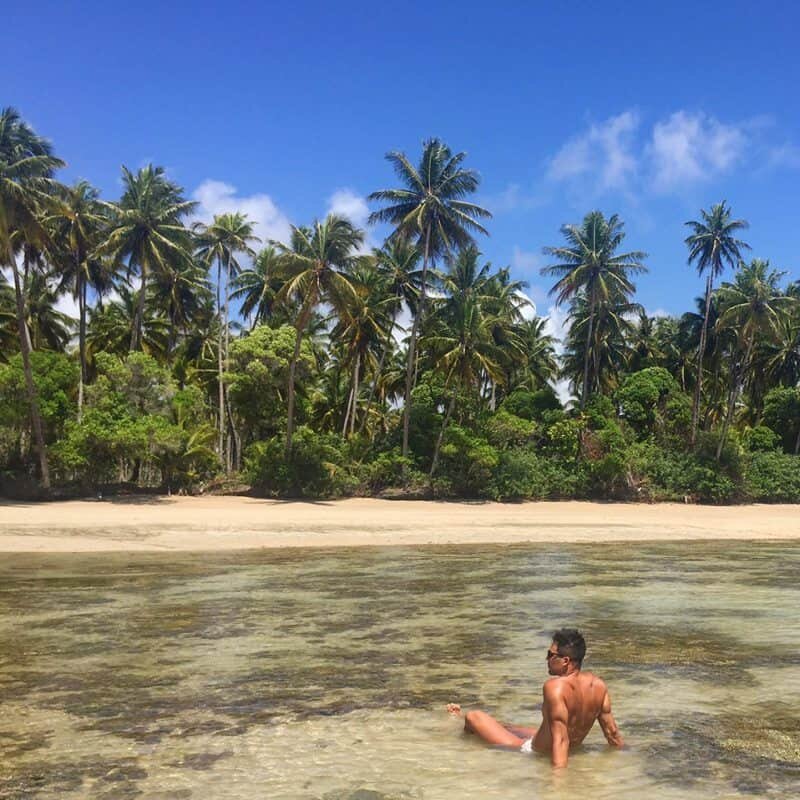 ---
Elafonnisi, Greece
Sofie Couwenbergh of Wonderful Wanderings
Elafonnisi on Crete is better known as "the Pink Beach" because in spring and summer, the sand colors pink with corals and other things coming from the sea. The water is really shallow there and ideal if you just want to get your feet wet, or take a relaxing dip without bringing a bikini filled with sand back out.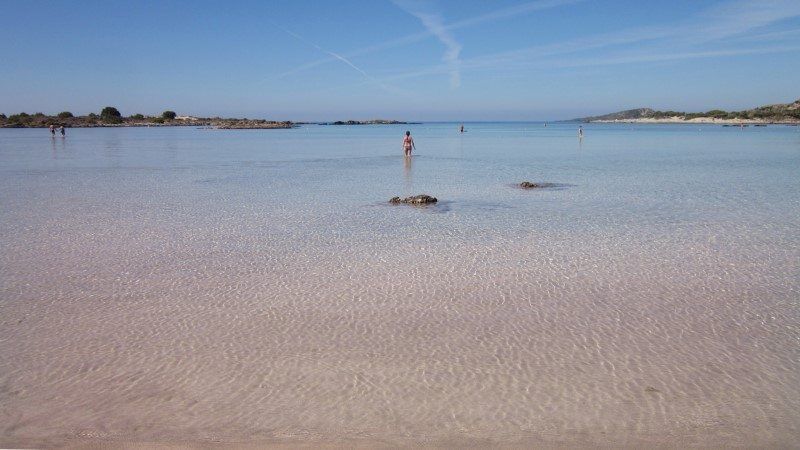 ---
Cabbage Tree Beach, NSW – Australia
Jen Seligmann of The Trusted Traveller
Beaches don't come much more secluded and untouched as this! Cabbage Tree Beach is located on the Beecroft Peninsula on the NSW South Coast of Australia. To access it, you need to enter the Department of Defence Weapon Range which is only open to the public at certain times. If you can get there early in the morning or late in the afternoon, you might find yourself walking the beach with local kangaroos.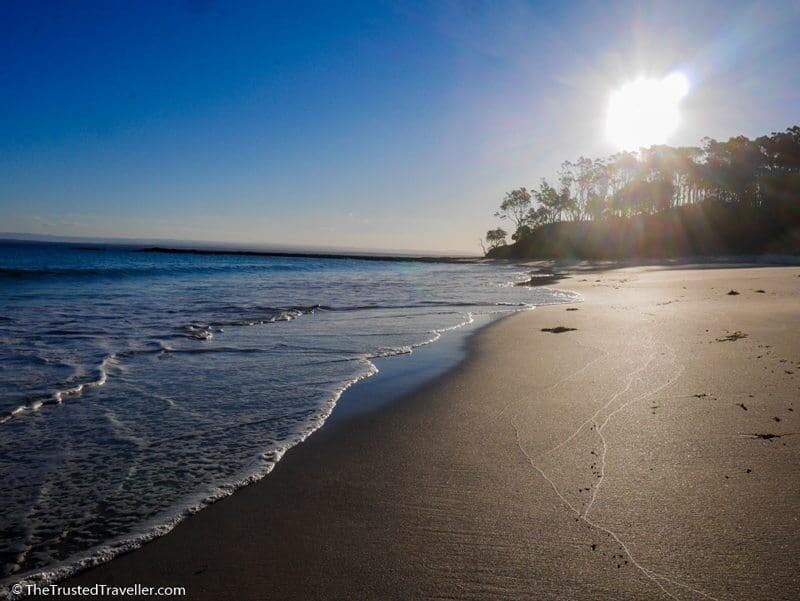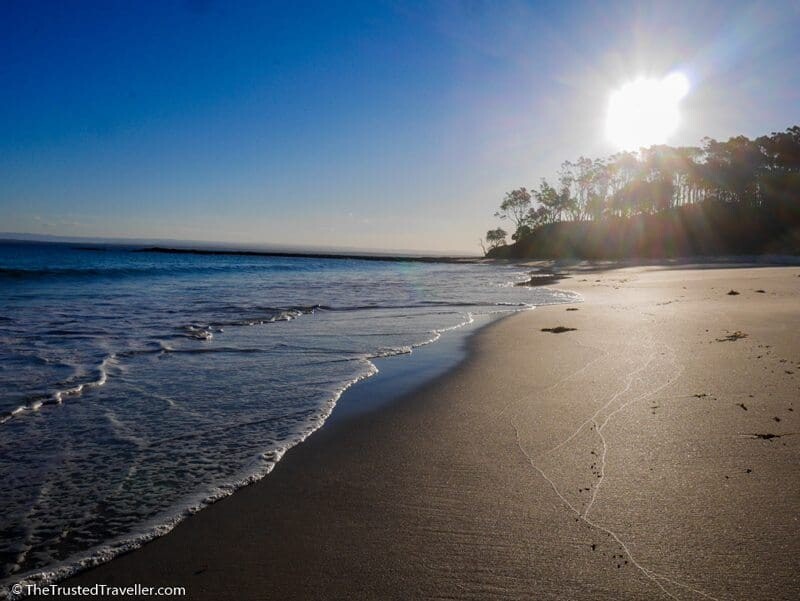 ---
Cua Dai Beach, Vietnam
Yulia Denisyuk of In Search of Perfect
Cua Dai Beach is located in central Vietnam on the shores of East Vietnam Sea. It is one of primary attractions for travelers visiting nearby Hoi An, a UNESCO World Heritage Site. Cua Dai is not a beach for swimmers and loungers as the waters are quite rough. Instead, it provides an opportunity to capture the force of nature in a more unusual scene than those we come to expect of Vietnam. Best time to visit depends on your image mood goals: the surf is strong in the mornings with high winds and powerful waves crashing onshore. Afternoons are quieter for more evocative, still images.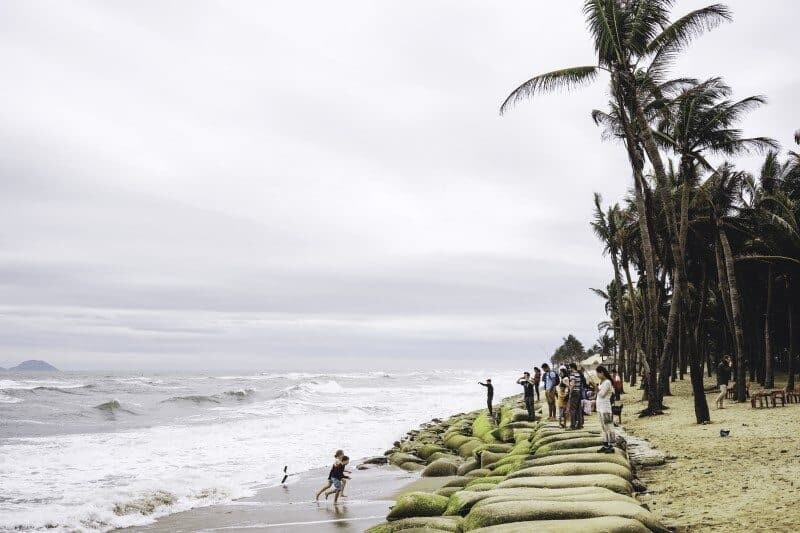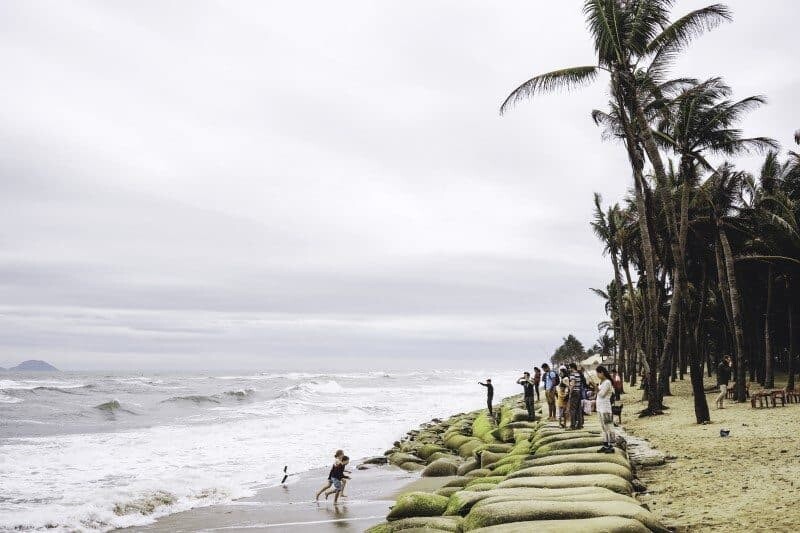 ---
Rottnest Island Beaches, Australia
Sarah Cash of The Cash Odyssey
Rottnest Island, a short ferry ride from Perth, Australia, is home to the most beautiful beach I've visited. On NYE in 2015 I escaped to this small, quaint island, replete with beach shops and quokkas- friendly marsupials who famously smile in your selfies while trying to sneak a bite of the lunch you packed. The crystalline waters beg to be explored, but it was the relative seclusion that made this beach stunning. For a few hours, my friend and I were the only ones sitting on the white sand, splashing in the cool waves, and sipping our festive wine. That's a beach to remember!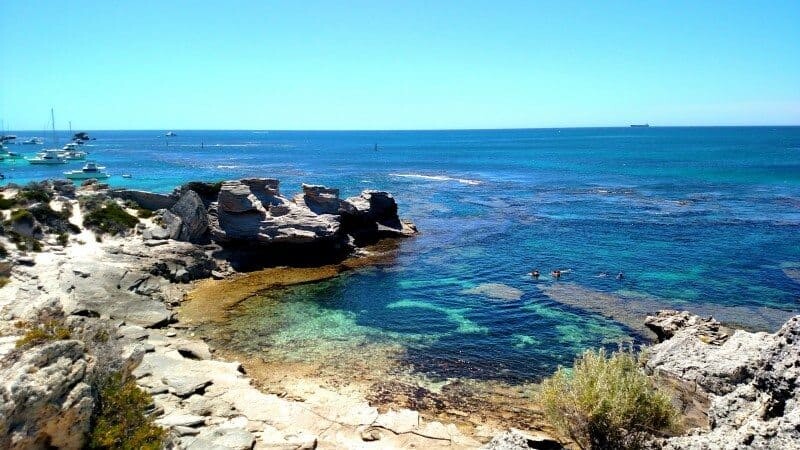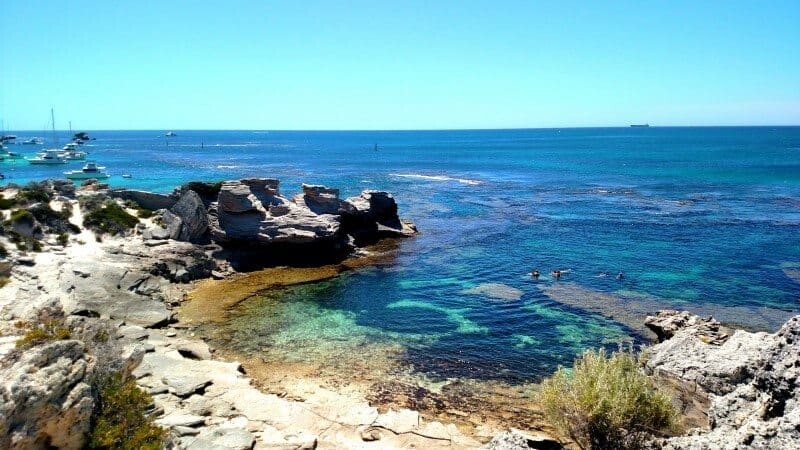 ---
And a few beaches from my travels that I need to include so you can add them to your list…
Whitehaven Beach, Australia
It's swirling white sands, teal blue water and dramatic landscape makes Whitehaven Beach a regular on best beach lists every year. Located on Whitsunday Island in Queensland, Australia this beach sparkles like it already knows it's a bit of a celebrity. For a great photo opportunity, take a hike up to the lookout for views over Hill Inlet at the northern end of Whitehaven. Alternatively if you can get in a helicopter or seaplane the best view of Whitehaven Beach is from the air…after you take a dip in the sea and laze on the beach of course! Destination guide here.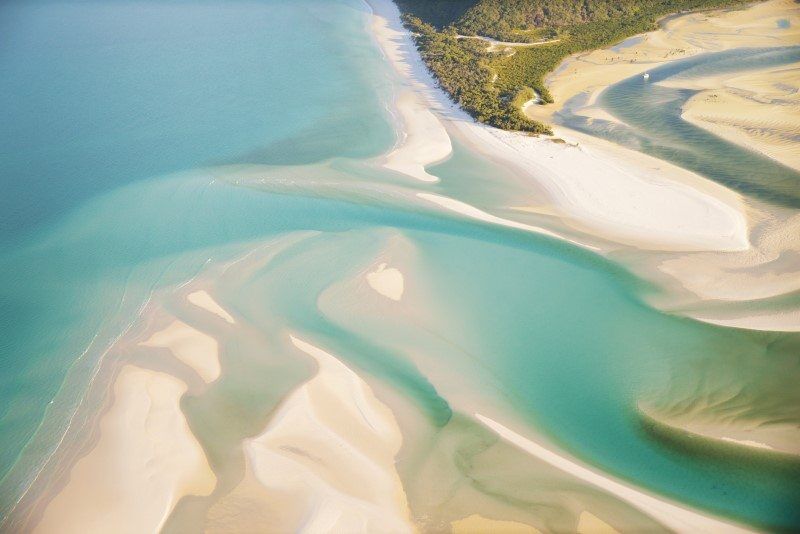 ---
Heaven, Aitutaki Lagoon, Cook Islands
With a name like Heaven, it's obvious someone saw this beach and though well…it's probably as close as we'll get! This strip of bright white sand rests in the drop dead gorgeous Aitutaki Lagoon. It doesn't really get more photogenic that this lagoon and Heaven tops it off with the aqua blue merging with white sand to form a rainbow of all things tropically wonderful. Right beside Heaven is One Foot Island, perhaps the definition of paradise.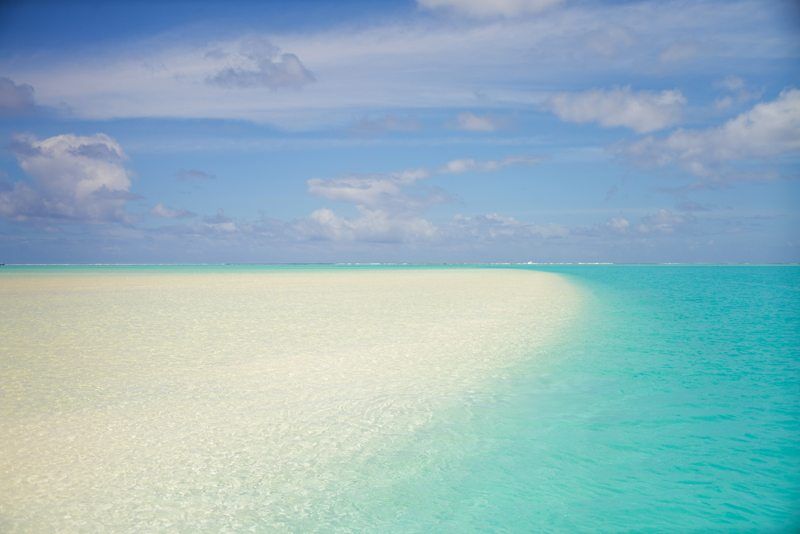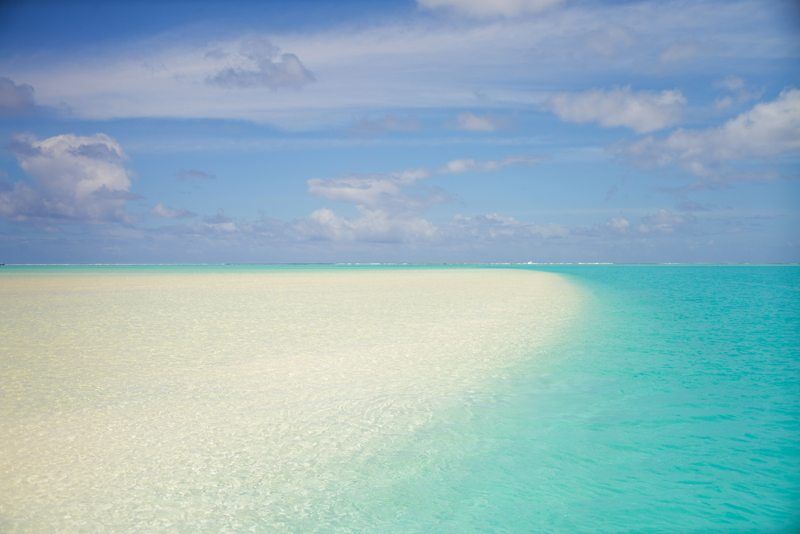 ---
Banje Beach, Dubrovnik, Croatia
This beach is actually located just over the rocks from Banje Beach but technically it doesn't have a name. Head to Banje Beach (well sign posted) and then wander around the shore and over the rocks for an incredibly photogenic view back toward the old town of Dubrovnik. The beach has a ladder you can enter from if you're keen to take underwater photos or you can visit at dusk to merge the colours of the city with the orangey pink sky. Dubrovnik City Guide here.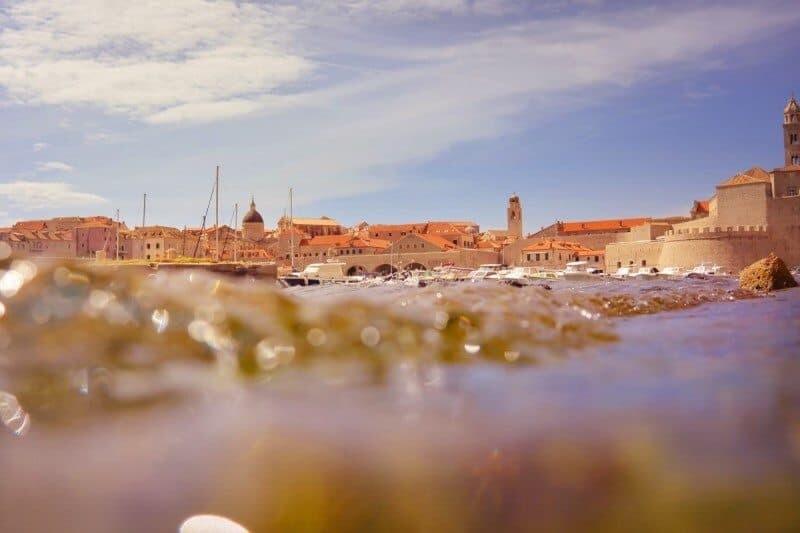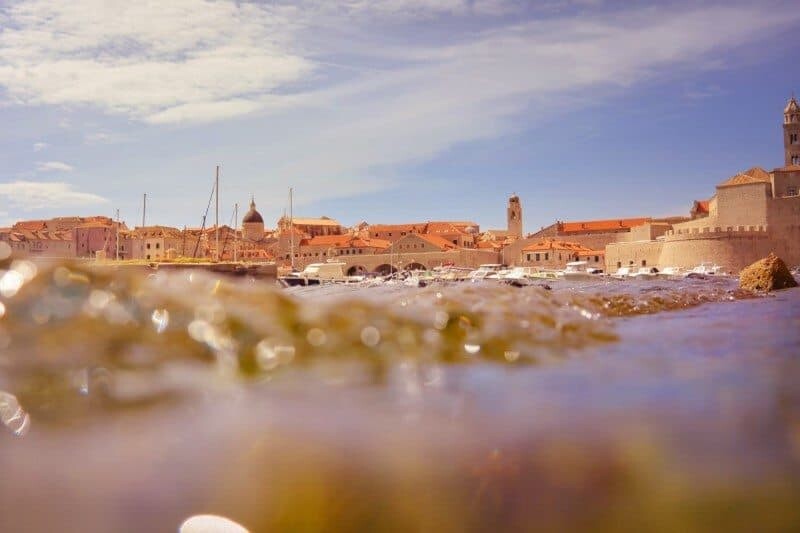 ---
Whitesands Beach, Vanuatu
Not to be confused with the earlier listing of Whitehaven Beach in Australia, Whitesands Beach on Efate Island in Vanuatu is isolated, rarely visited by tourists but is quite the stunner. If you hire a car you can tackle the long dirt road that leads towards Tamanu on the Beach, a rustic hotel built out of coral. It's here you'll find a long white sandy beach that looks over a shallow coral reef as waves break in the distance. It's photogenic in the daylight with bright blue water, colourful hermit crabs and coconut trees but come sunset, this beach likes to put on a good show.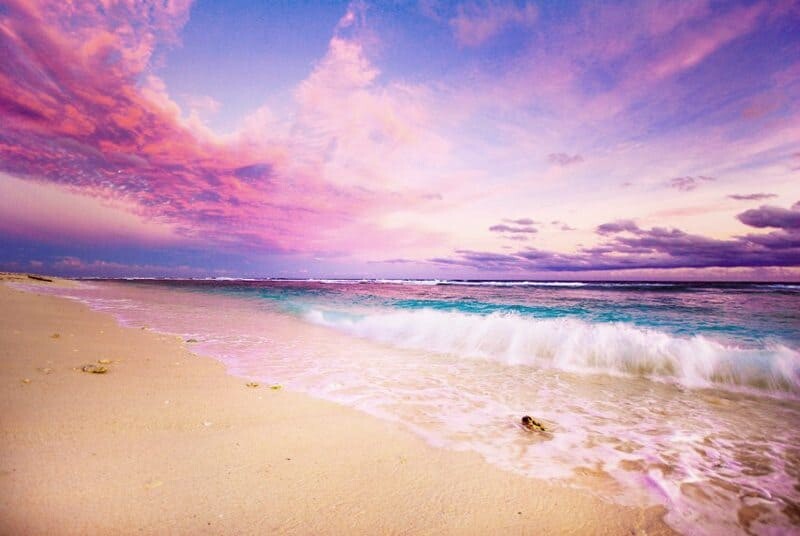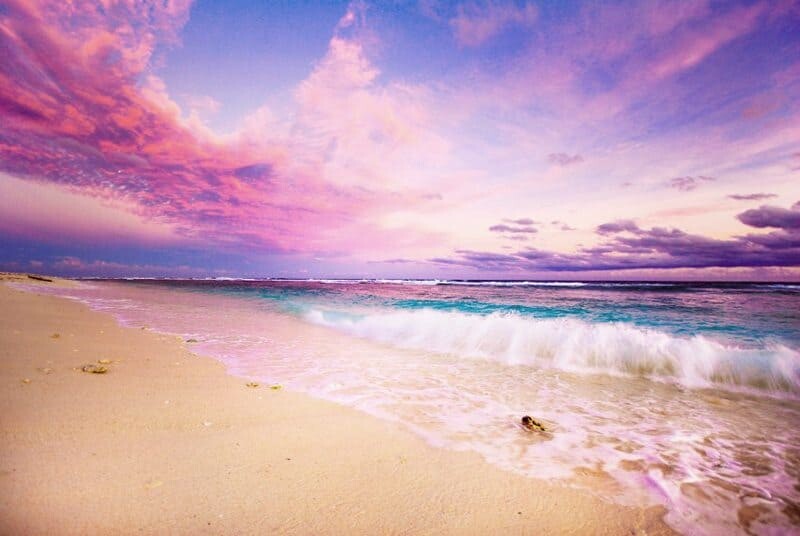 ---
Diamond Beach, Iceland
Few beaches in the world will offer surfable waves, black volcanic sand and…icebergs. On Diamond Beach you'll find huge icebergs sitting in the crashing waves, propped up on the sand with sun shining through their glacial water core. It's a popular place for landscape photographers so be sure to arrive early if you're looking to grab a great iceberg to focus on. It's also a great location to catch the sunrise which is also a lot less popular so you might find it's just you, your camera and a beach of diamonds! Iceland South Coast guide here.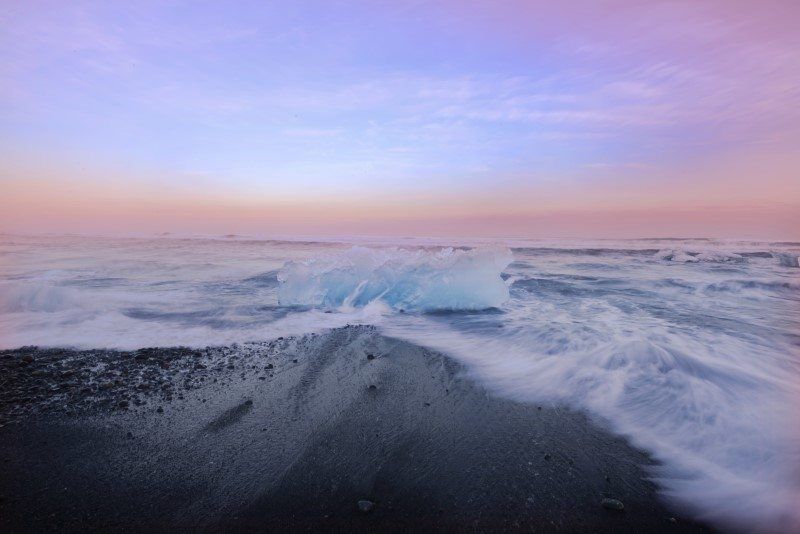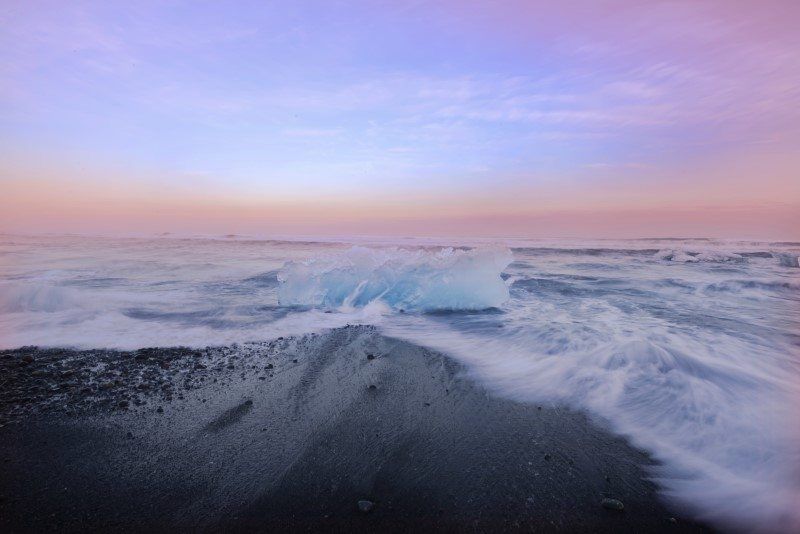 ---
Fesdhoo Island, Maldives
With a traditional Maldivian Dhoni floating on warm tropical waters inside a coral fringed lagoon, this spot is idyllic. Located in North Ari Atoll in the Maldives, Fesdhoo Island is home to the luxurious and funky W Hotel but the real drawcard is the beach that surrounds every inch of the island. Lush palms hang over the sparkling water and the reef is filled with underwater wonders like turtles, colourful fish and even the occasional whale shark might cruise by.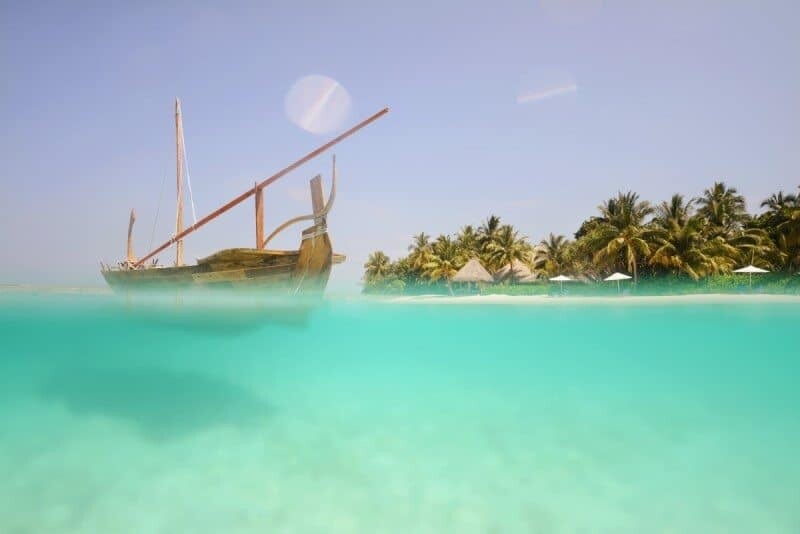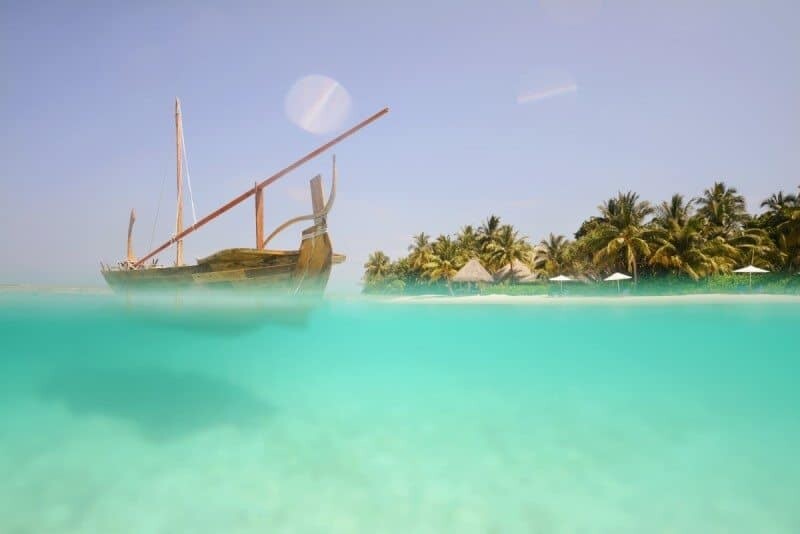 ---
The Pass, Byron Bay – Australia
Iconic Australian beach scenes can be found here as the sun sets and surfers head in for a last attempt at catching a perfect wave. Palm Valley sits behind the beach with a beautiful nature walk through rainforest and down on the beach is a rocky outcrop with a staircase and lookout built on top. The lookout offers great vantage points looking over the surf and all the way back to the town of Byron Bay.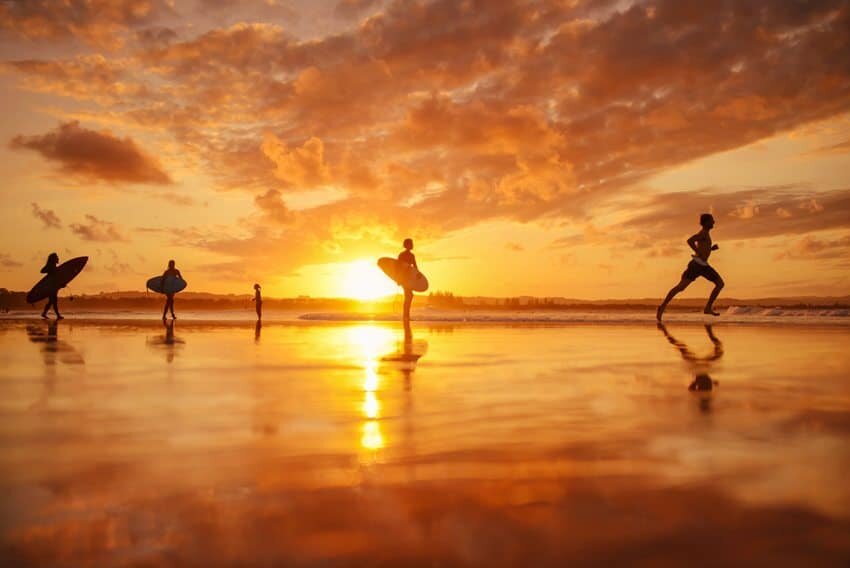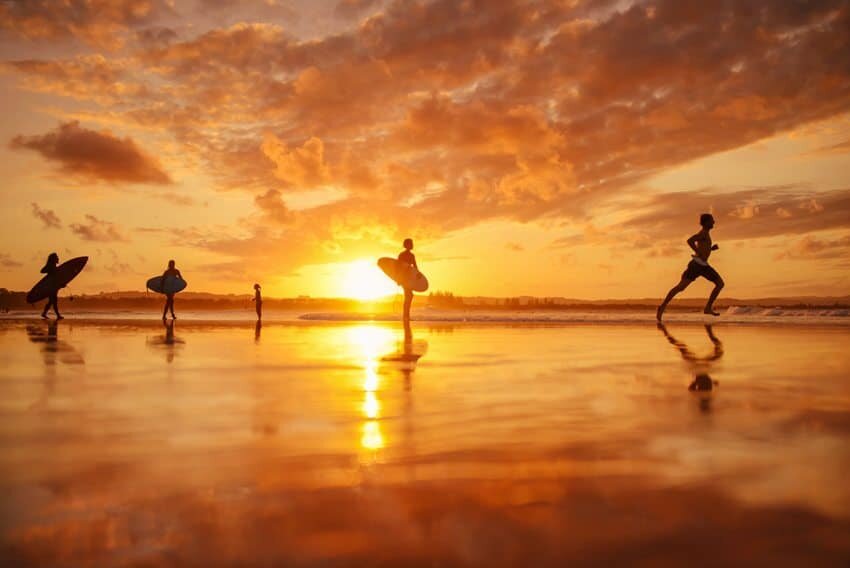 ---
Alexandria Bay, Queensland – Australia
Away from the crowds, Alexandria Bay known locally as 'A Bay' is a gem sitting within the Noosa National Park. You can hike here from Sunshine Beach to the south or from Little Cove in the north. The track leads along the coastline of the national park and offers scenic viewpoints, caves, cliffs and of course a lot of surfers! At the southern end of Alexandria Bay is a great rocky ledge that is perfect for landscape photography especially at sunset when the waves can be blurred as the slam into the rocks.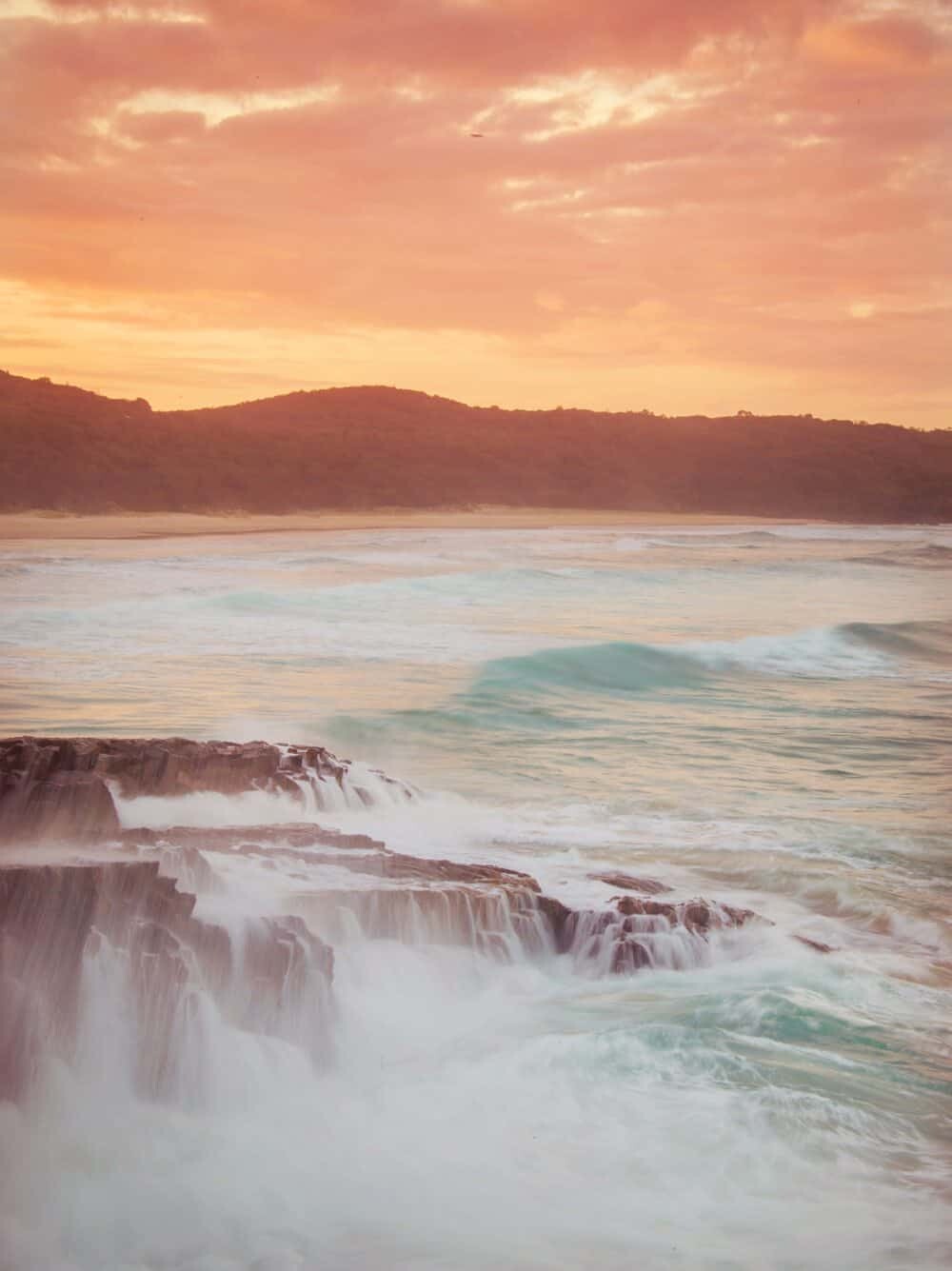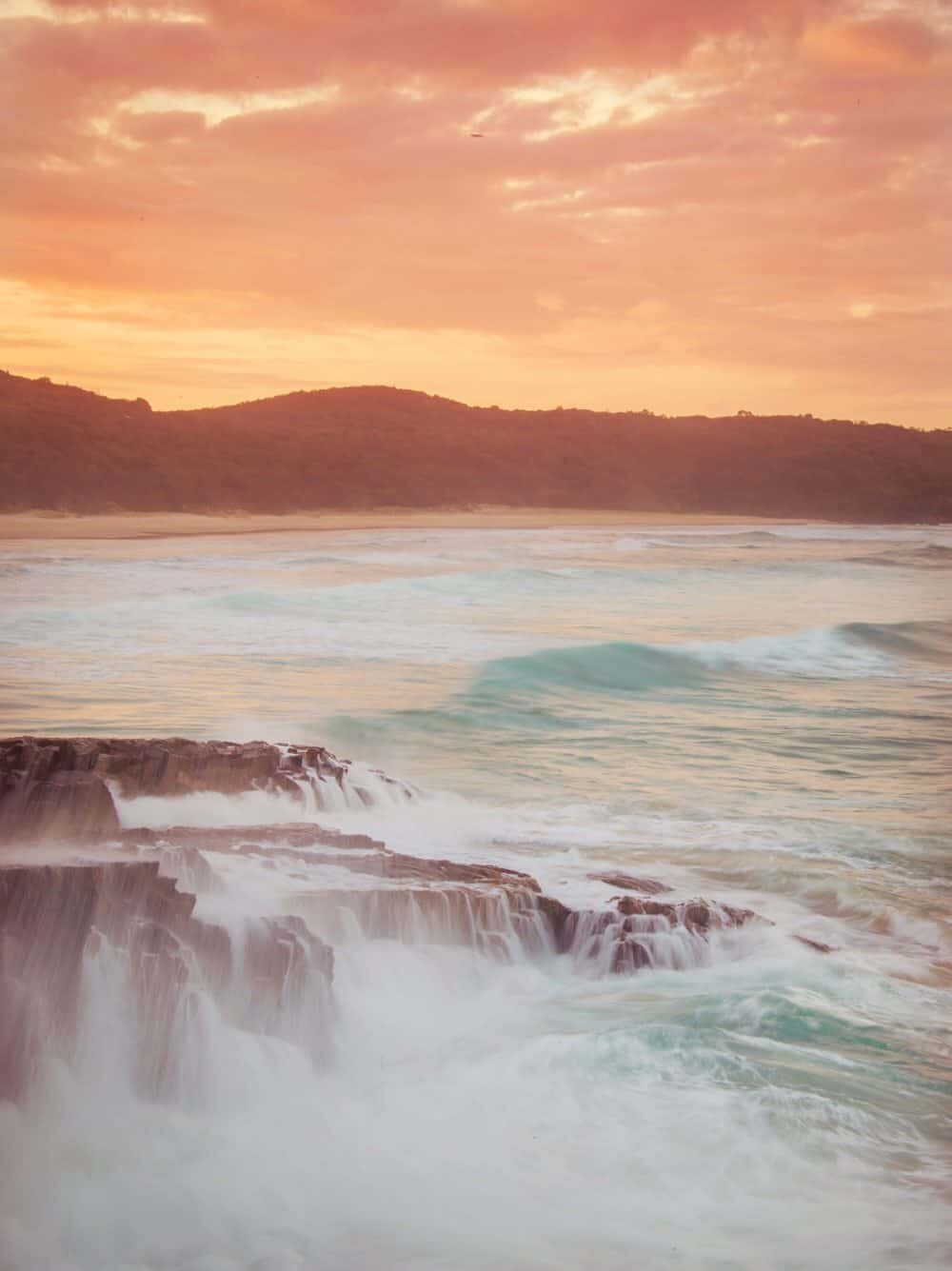 Calanque de Morgiou, France
Beaches in the South of France can get a little over populated in summer. With their colourful umbrellas, deck chairs and beach bars it's definitely a sight to see but not exactly natural. The Calanques found between Cassis and Marseille are like little hidden treasures waiting to be explored. You can hike for 20minutes or 4hours depending on which one you decide to visit…my picks are Calanque de Morgiou (pictured) or Calanque de Figuerolles!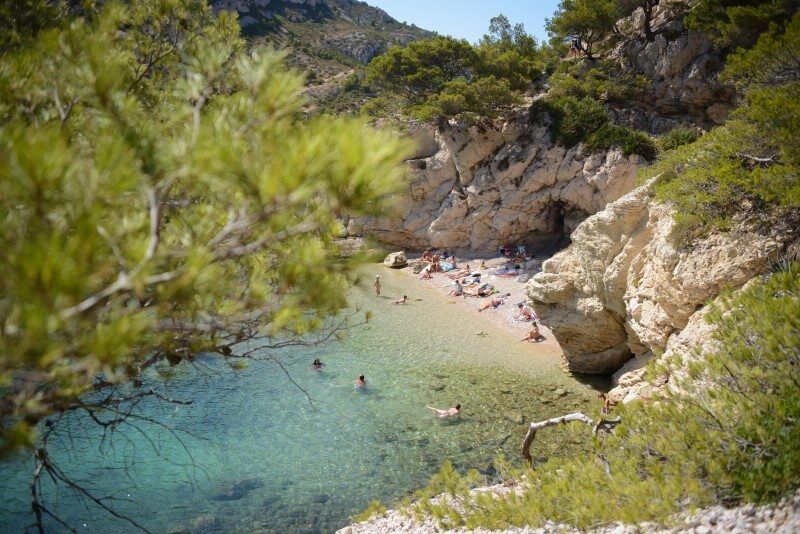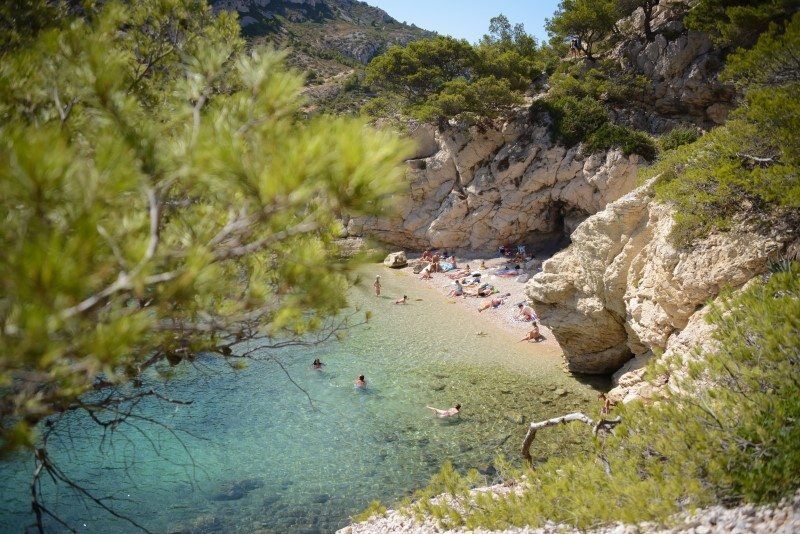 So, after all those beach scenes is everyone keen for a swim!?
If you've got a photogenic beach, let us know in the comments below and you're welcome to leave a link to where we can find a photo too…
And for the Pinterest lovers…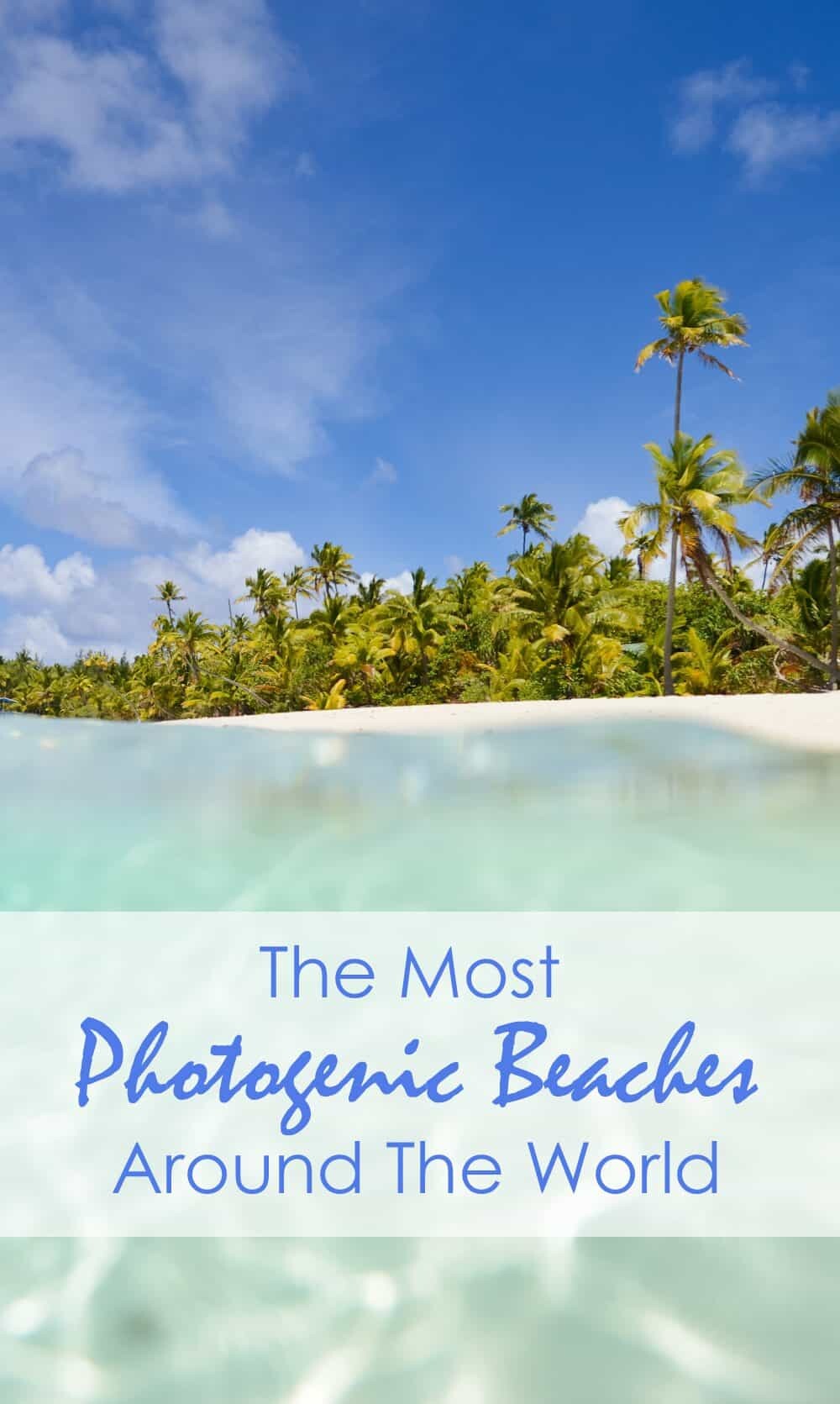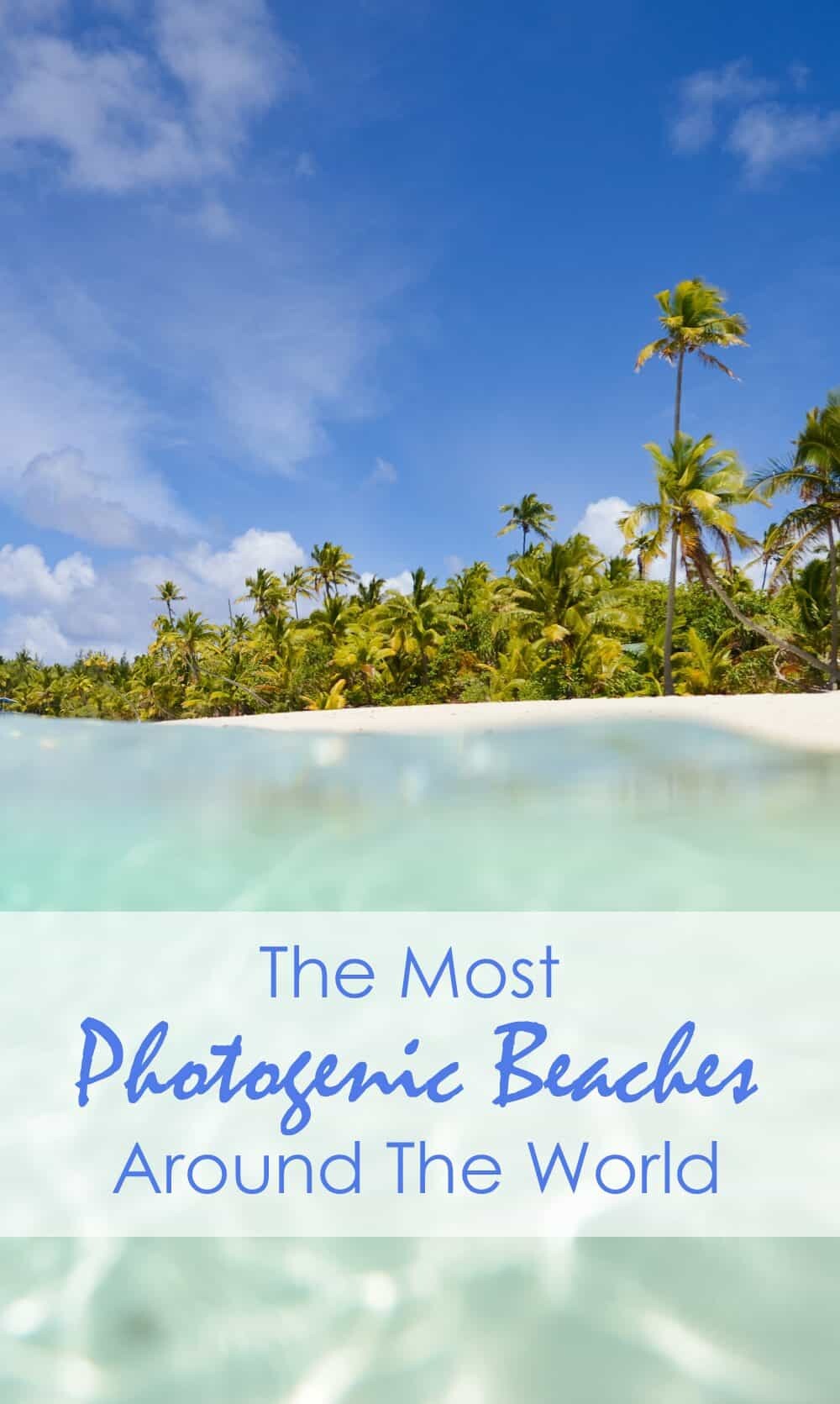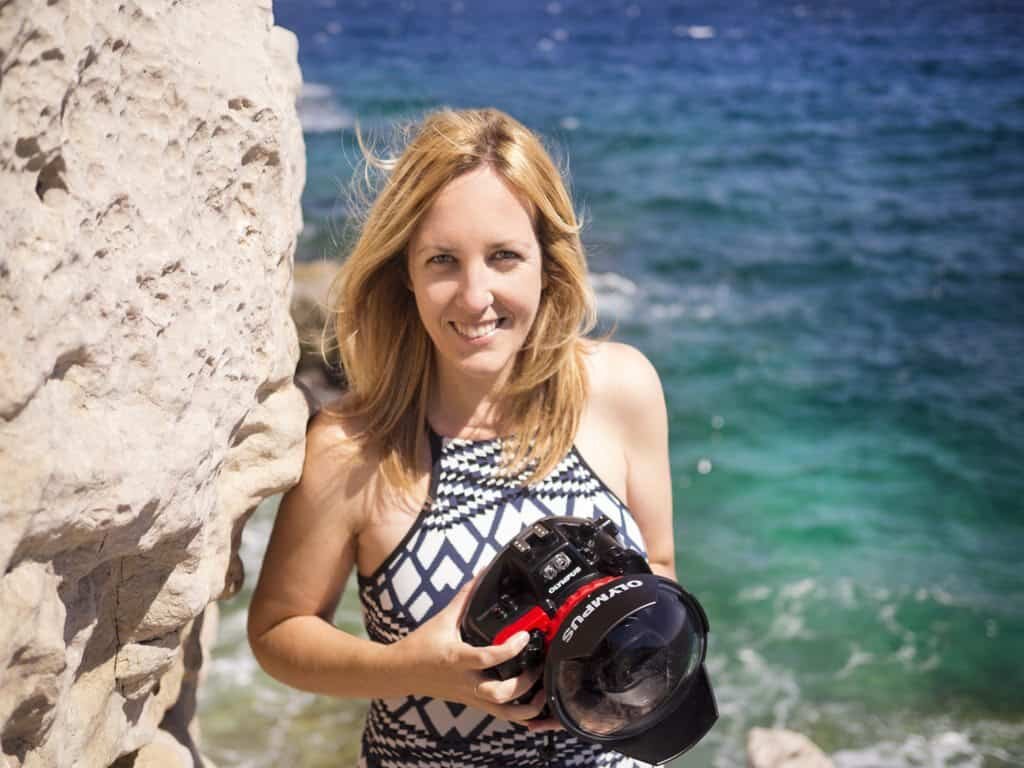 Hello! I'm the founder and photographer behind The Wandering Lens.
With 17+yrs experience as a professional travel and landscape photographer, all advice found on this site is from my personal experience on the road. I hope it's useful for your own travels and would love to hear in the comments about your trips and experiences around the world.