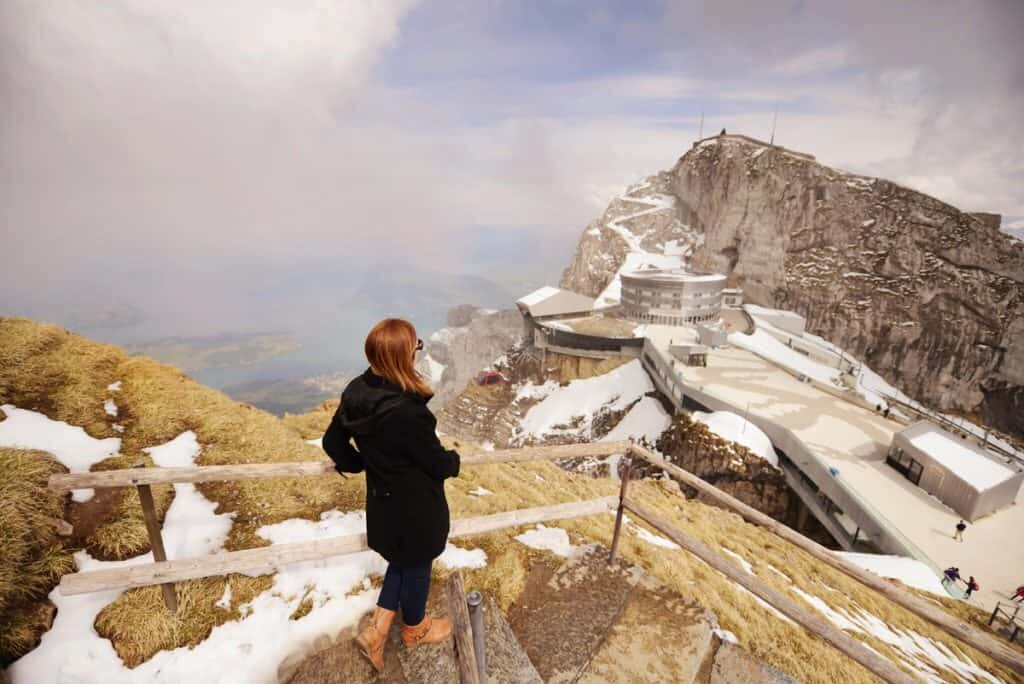 There's something romantic about being in the mountains. The crisp fresh air, sweeping views and majestic heights of rugged peaks as far as the eye can see.
If you're after a unique hotel experience, I've found one that's pretty special!
The beautiful Swiss Alps are home to ski villages and chalets aplenty, but on top of Mount Pilatus which overlooks Lucerne, you'll find Hotel Pilatus Kulm.
Originally opened in 1890, the hotel has been recently been refurbished and offers an experience like no other…sleeping at 2132m above sea level.
During the day it's a popular tourist attraction and you'll find it can get quite busy. During the evening however if you're lucky enough to be spending the night, it's just you, the mountain air, the odd mountain goat and the stars.
From 5pm until 8am Mount Pilatus is yours to explore without any selfie sticks or tour groups getting in the way.
Sit outside with a giant rug and a hot chocolate while you watch the stars twinkle over the snow covered mountains, or take a hike to watch the lights of Lucerne sparkle below.
Staying at Hotel Pilatus Kulm can be as romantic or adventurous as you wish. As a photographer my main objective was of course to take landscape photos!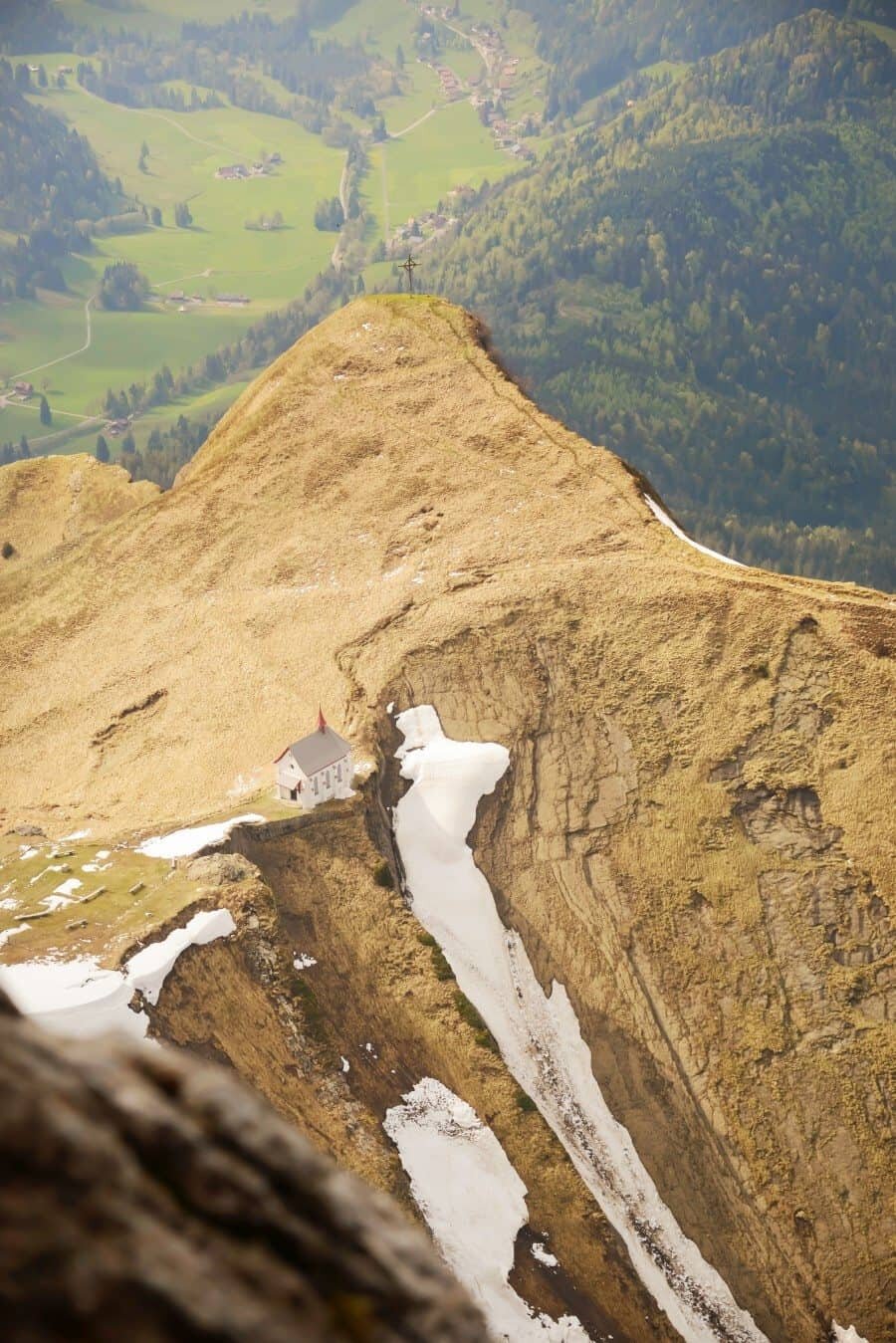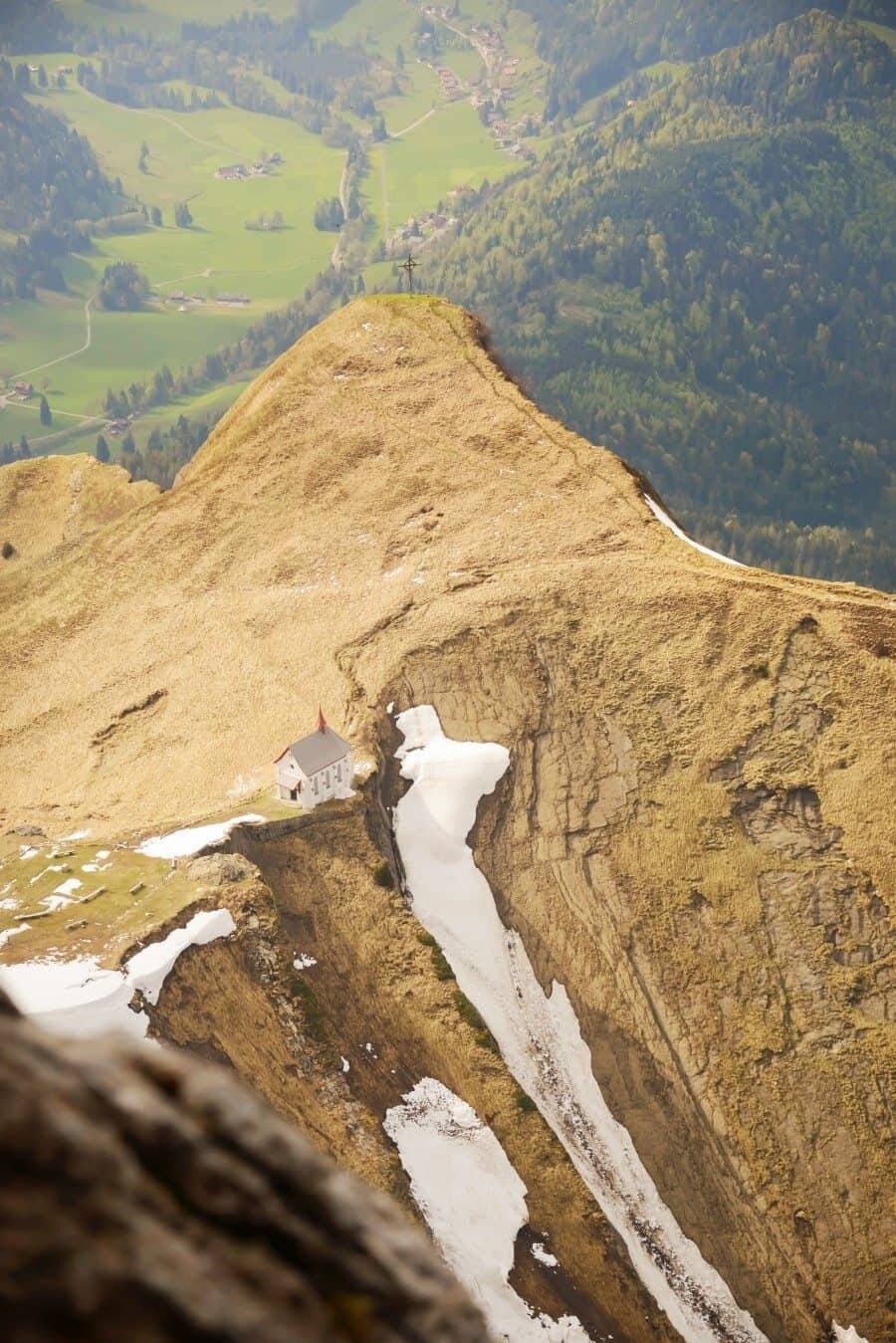 From the main hotel reception you can access plenty of walking trails to provide a variety of vantage points for photos.
There's also a cave track which is built into the cliff and tells the legend of a dragon that is said to have protected a local farmer. In winter the track can be a little dangerous, during my stay there were giant icicles hanging from the rocky ceiling…it felt very eerie like a dragon den!
If you're keen to have a little adrenaline rush, you can jump on a toboggan and take on Switzerland's longest summer run at just over 1.3km. Operating from April until September you can get up to 40 or 50kmph while you zip around the course and take in the views at the same time. I felt like I was going really, really fast and then when I zoomed past the speed camera found out I had only reached 20kmph….I know, super wimpy.
There are two ways to access the top of Mount Pilatus, you can ride the cable car from Lucerne or my preferred mode, the world's steepest cog railway!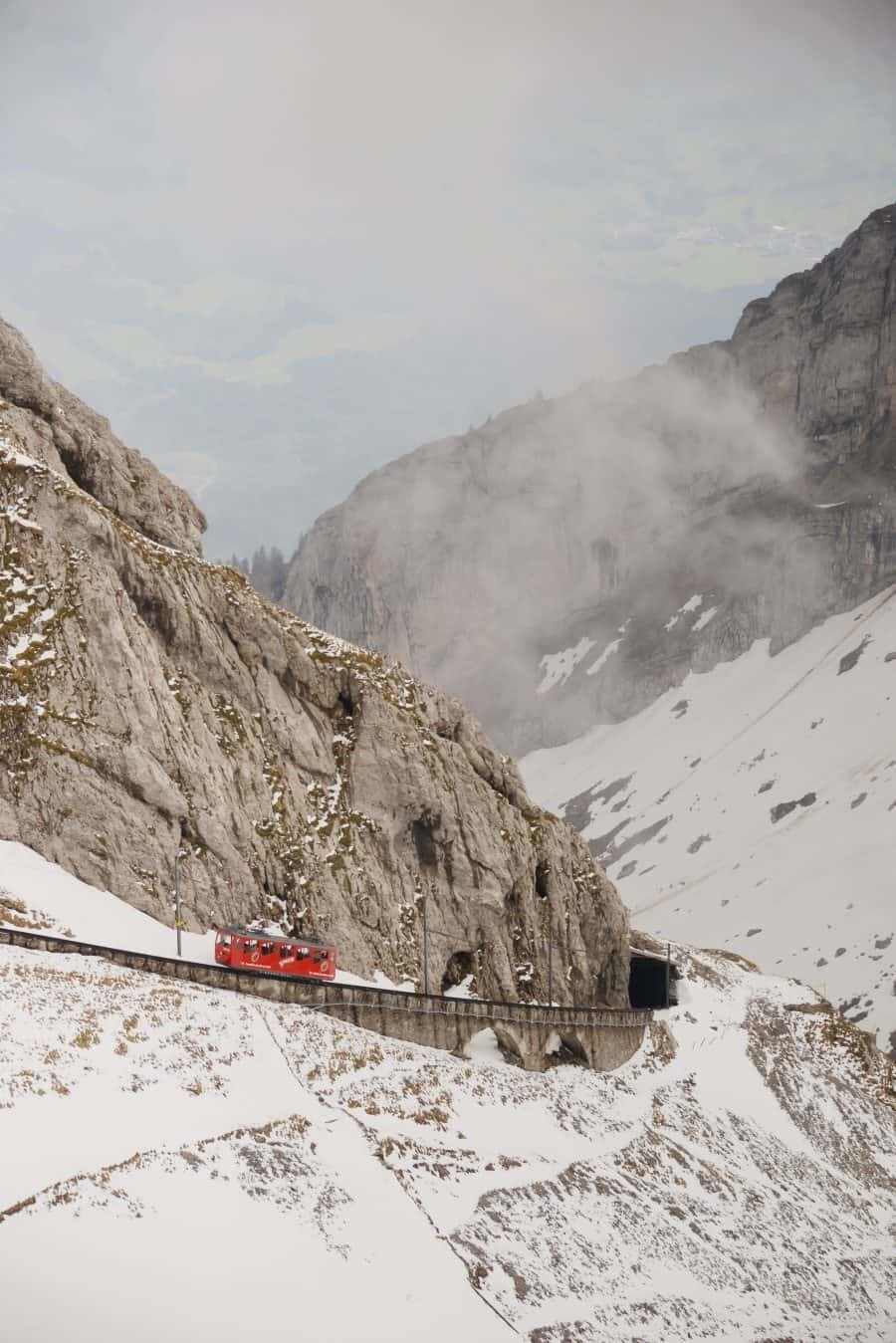 With an average gradient of 38%, the climb up from Alpnachstad Station travels past meadows filled with wild flowers, incredible views over Lake Lucerne and then dramatic mountain scenery near the top. Keep an eye out for wild deers, cows, mountain goats and there's also a traditional cheese making hut half way up the hill.
As for the hotel rooms, they're super cosy with window shutters you can open to stare out into the valley. If you're a foodie the Queen Victoria restaurant offers exceptionally gourmet meals inside an elegant dining room, only adding to the unique experience!
During my stay I went to sleep knowing there was a chance of snow falling overnight…then I woke up to a white wonderland. My window was covered in so much snow I couldn't see outside, the ground below was frozen and the mountains had a fresh coat of powder.
It made waking up on top of a mountain even more enchanting.
Like always with my hotel reviews, I prefer to let the photos do more of the talking.
Take a peek below at my stay on top of Mount Pilatus…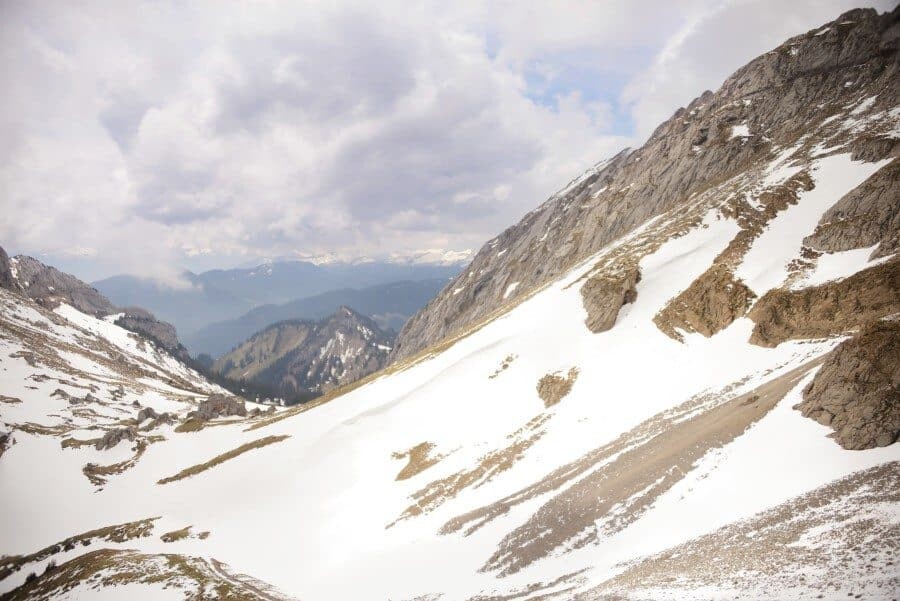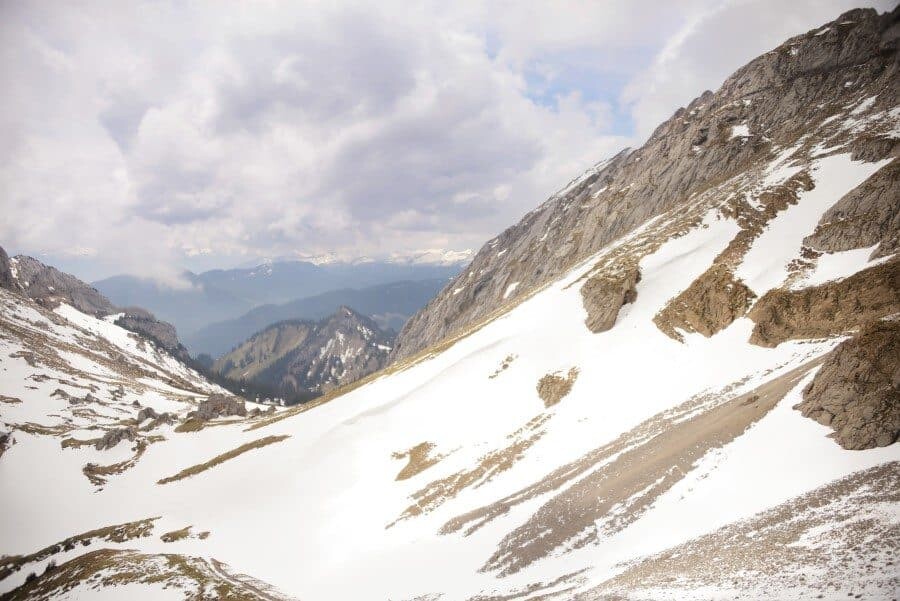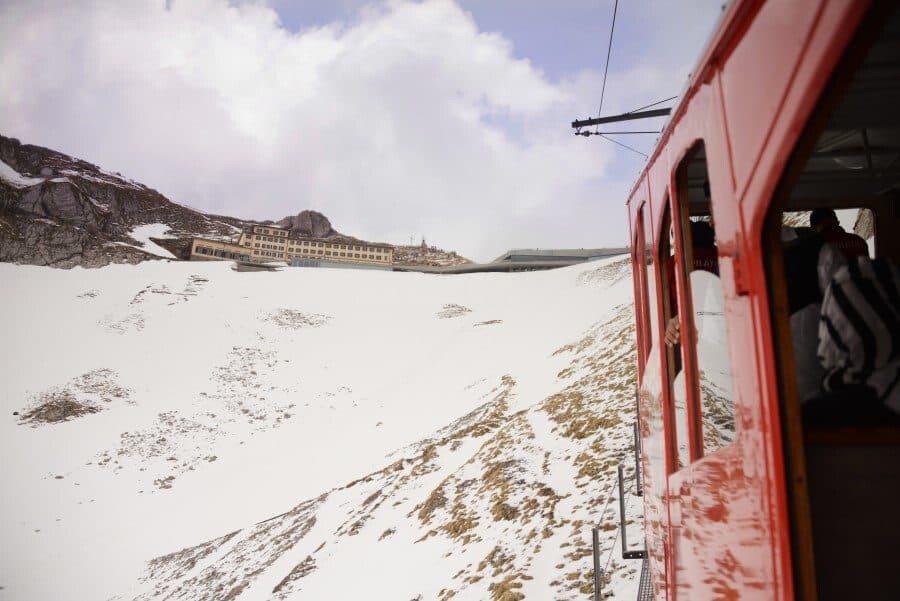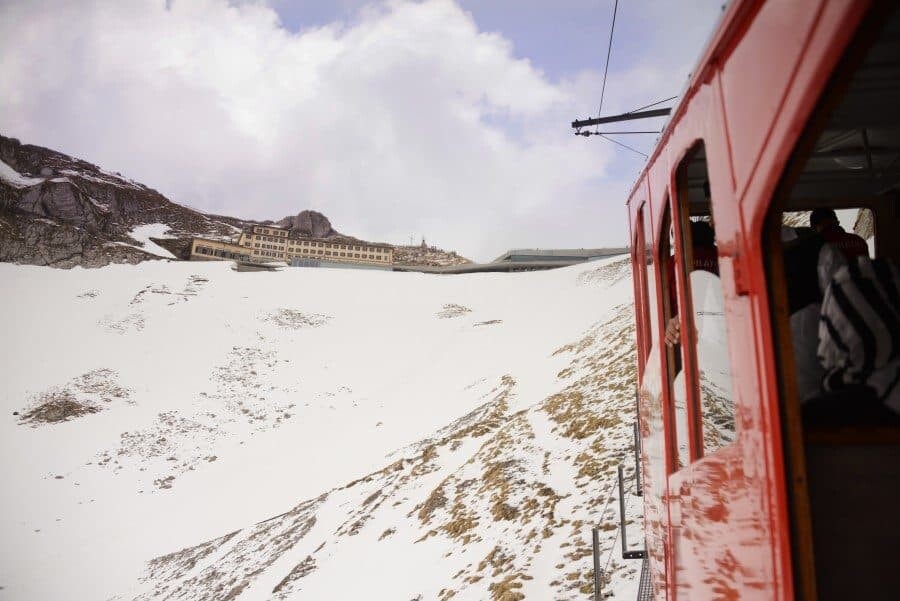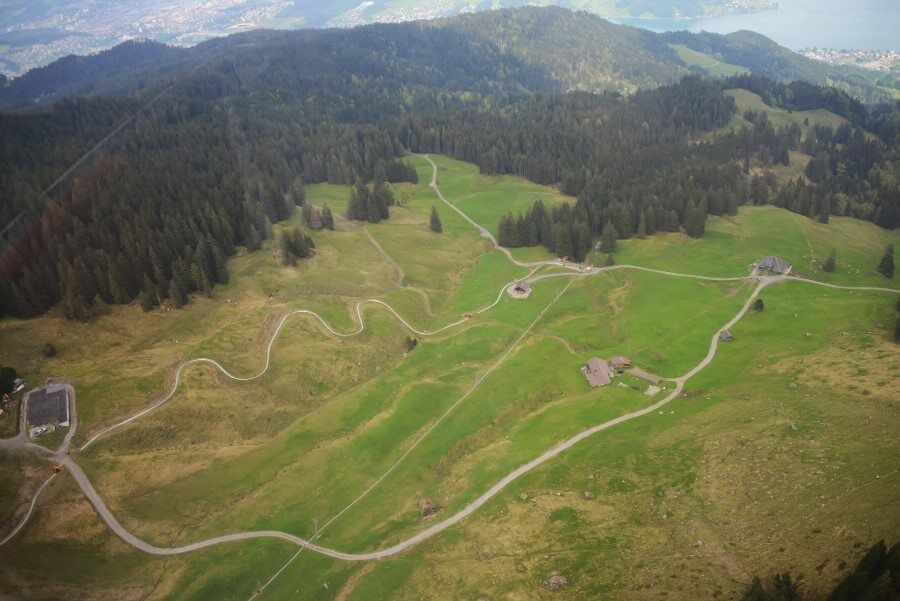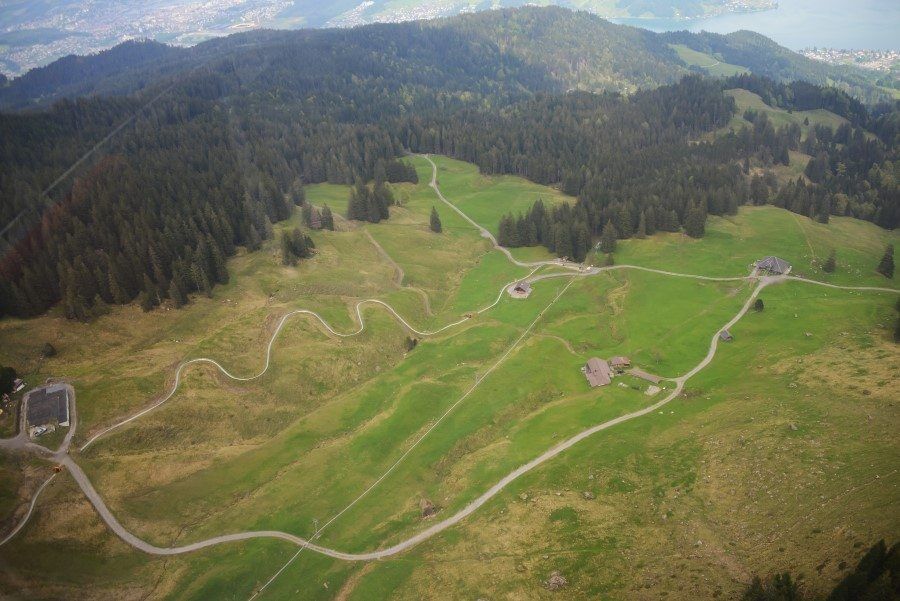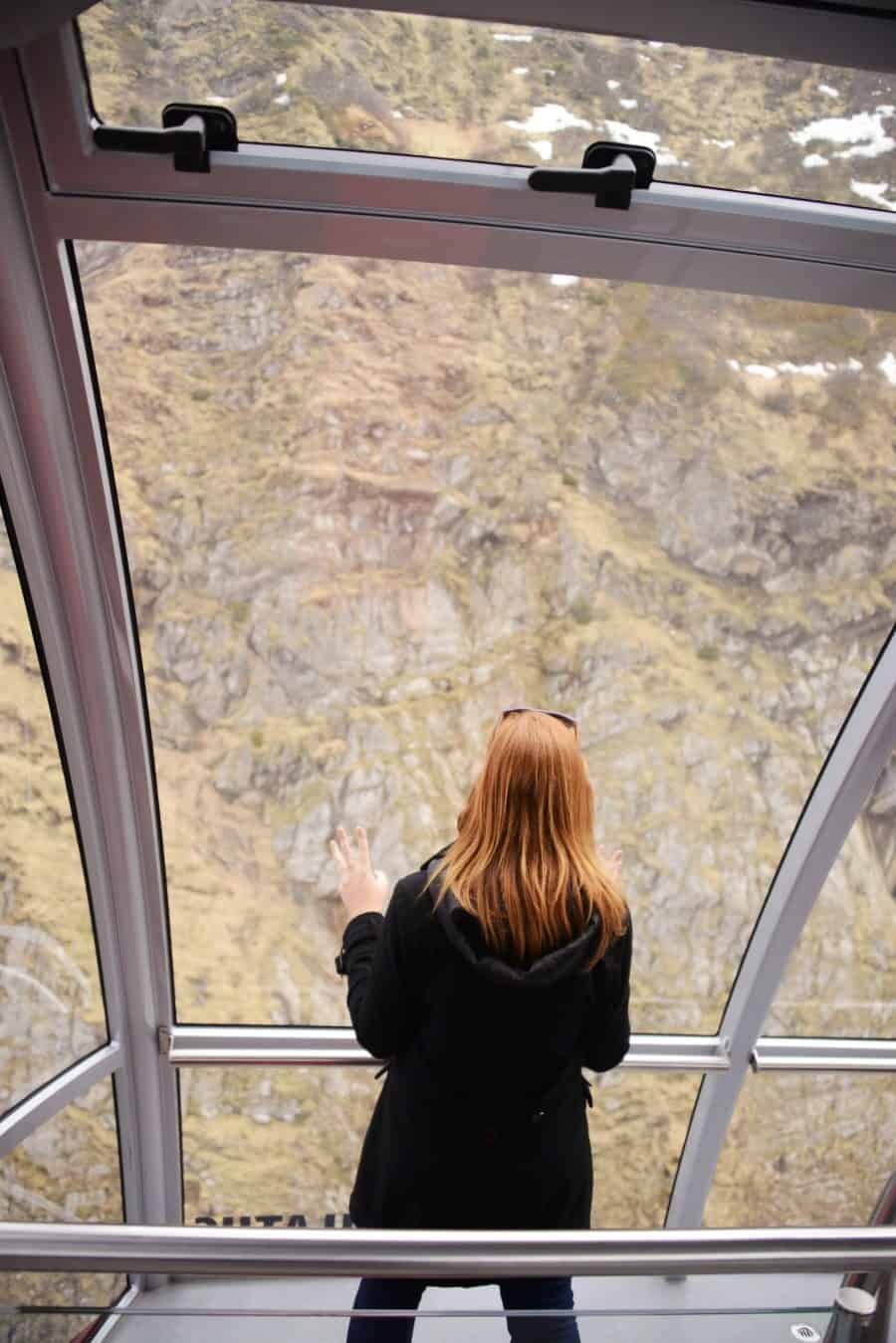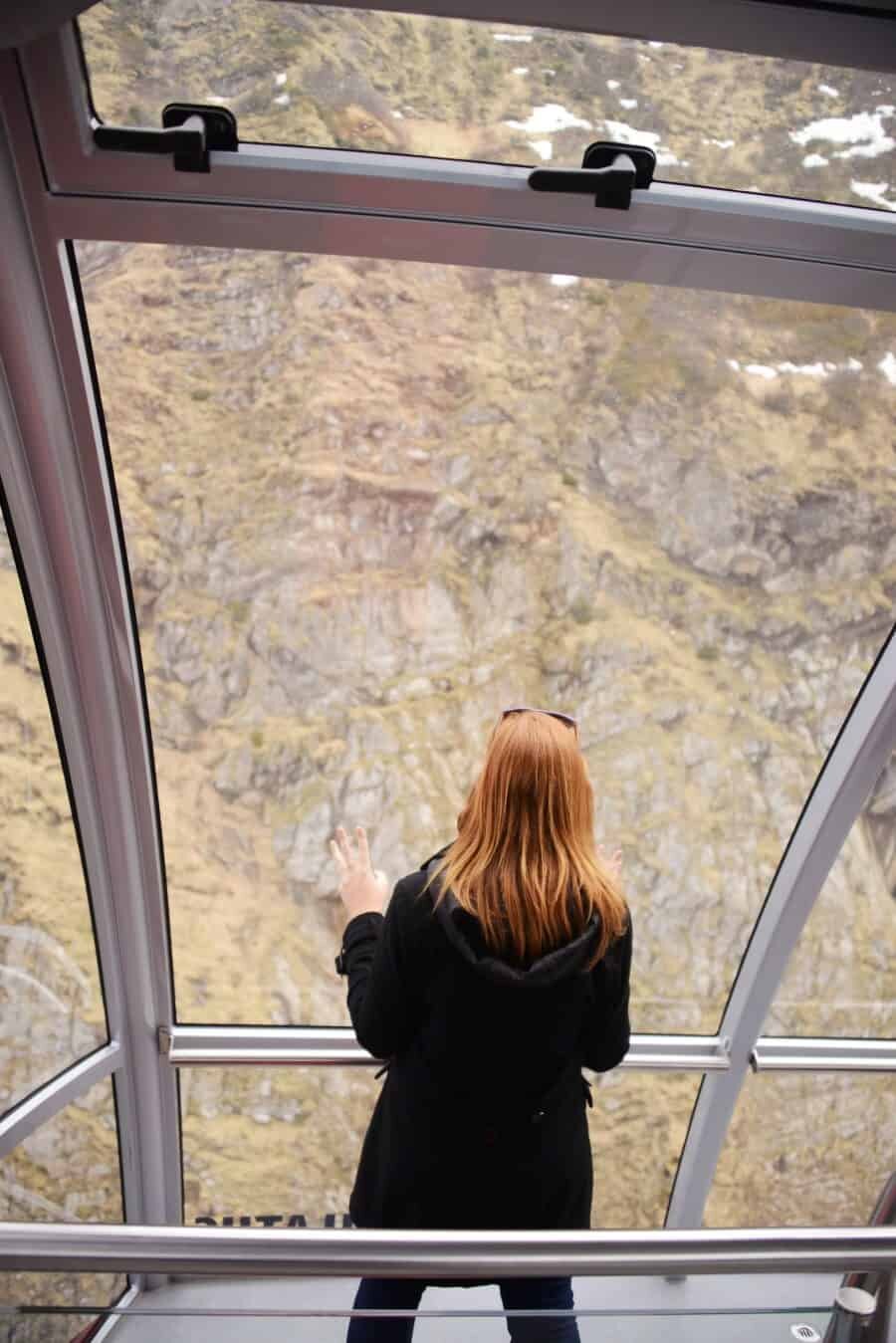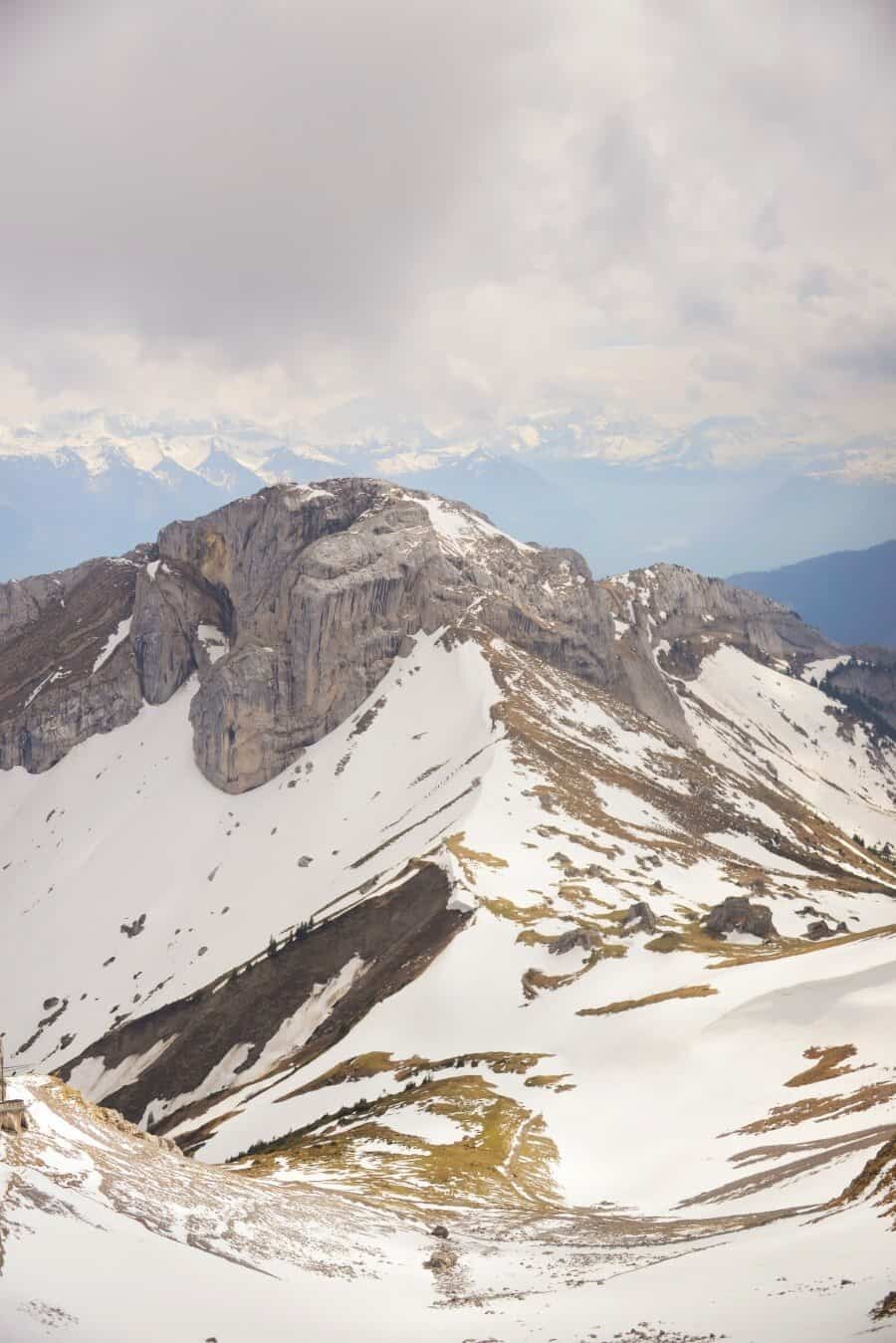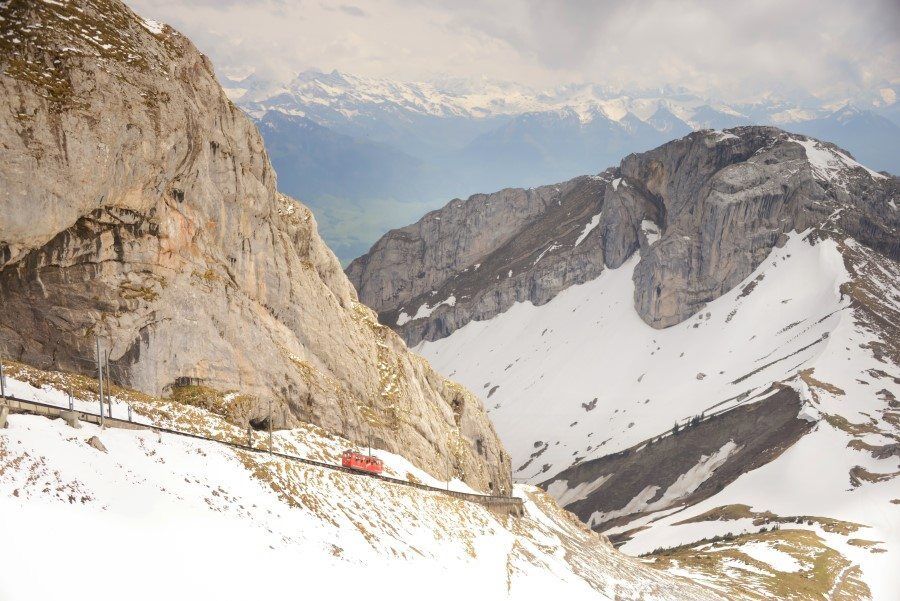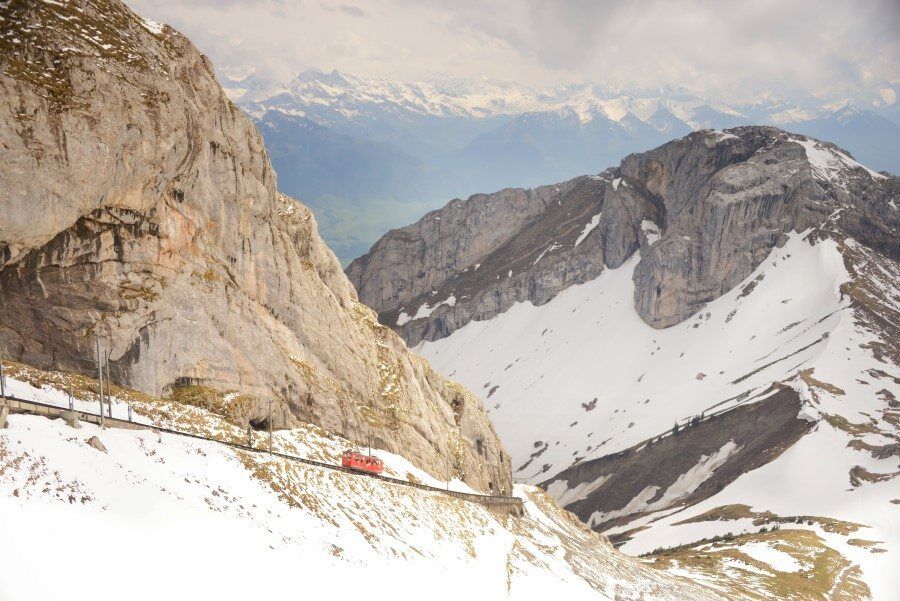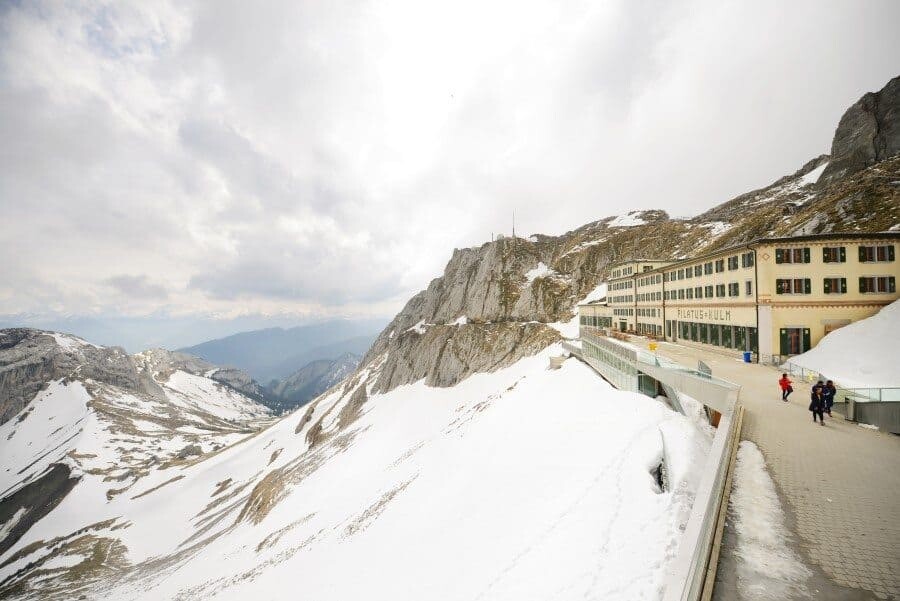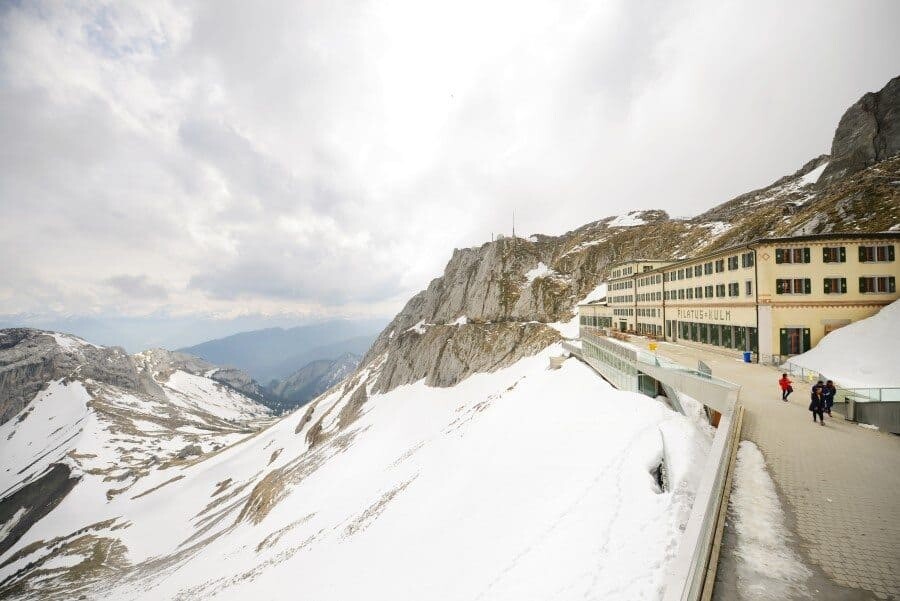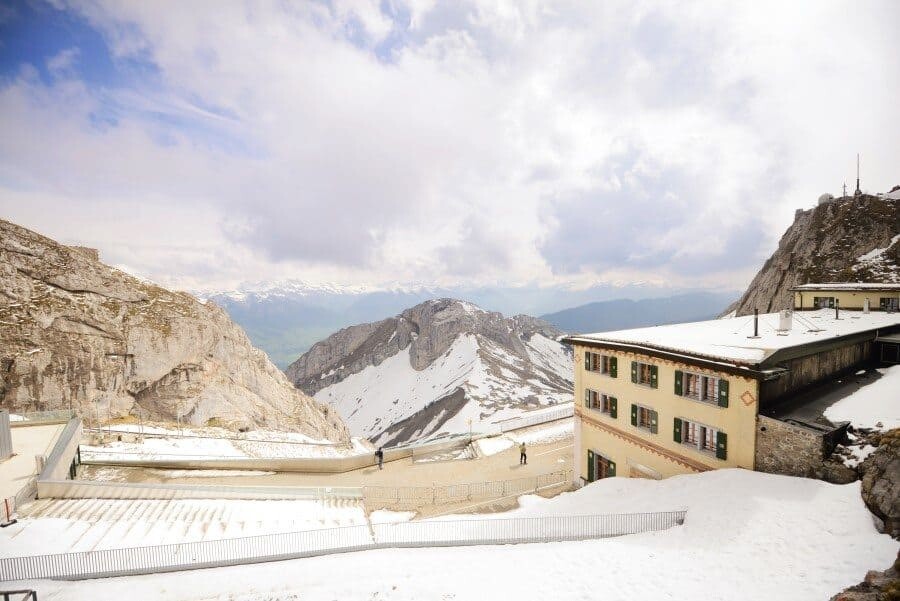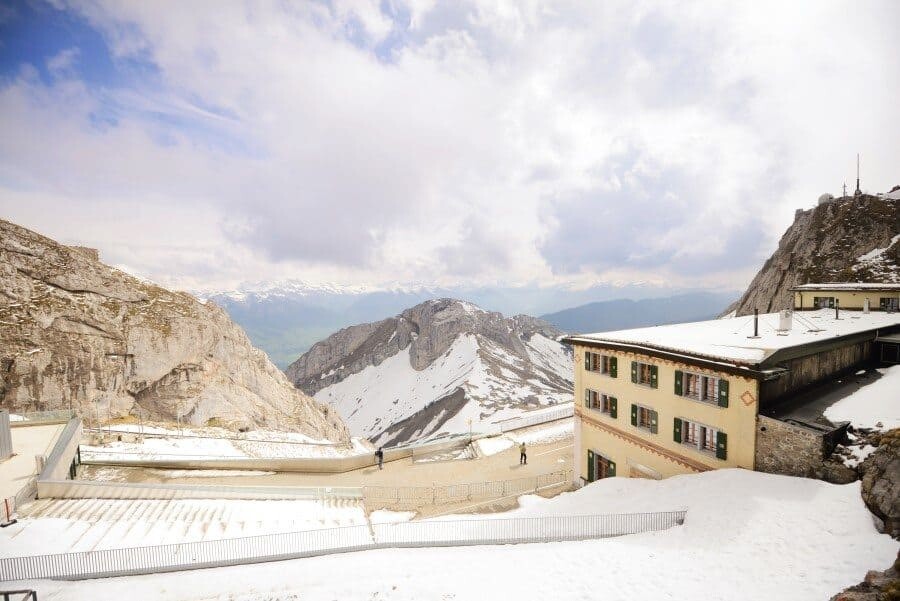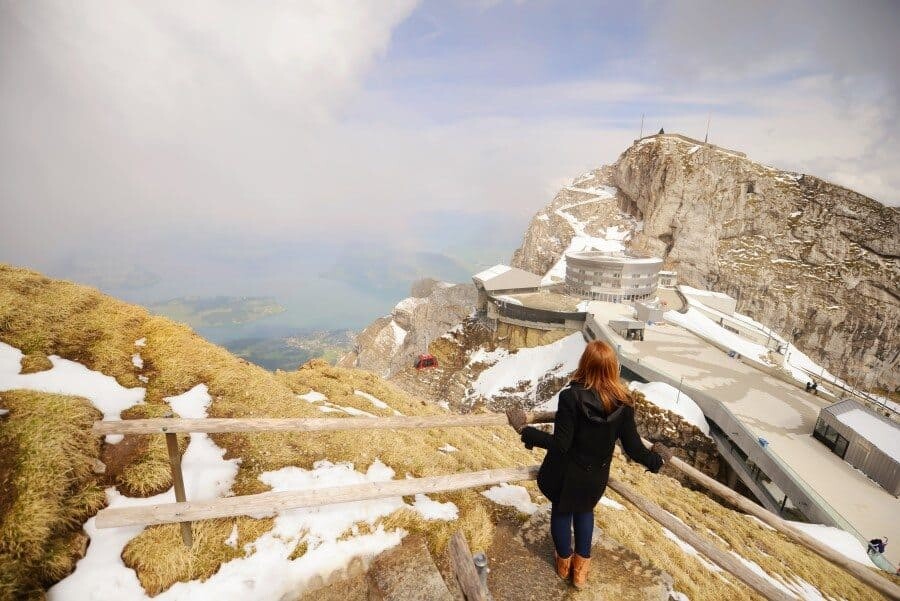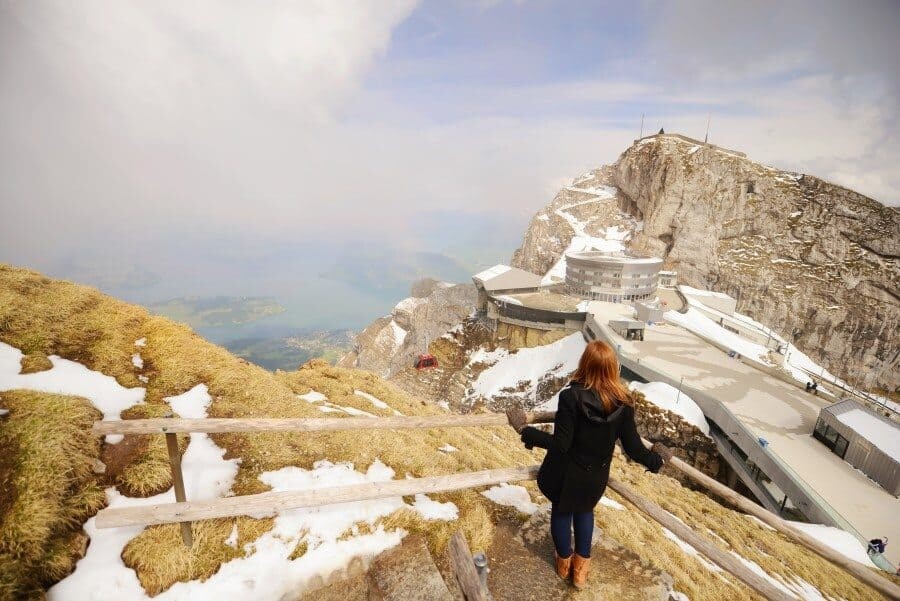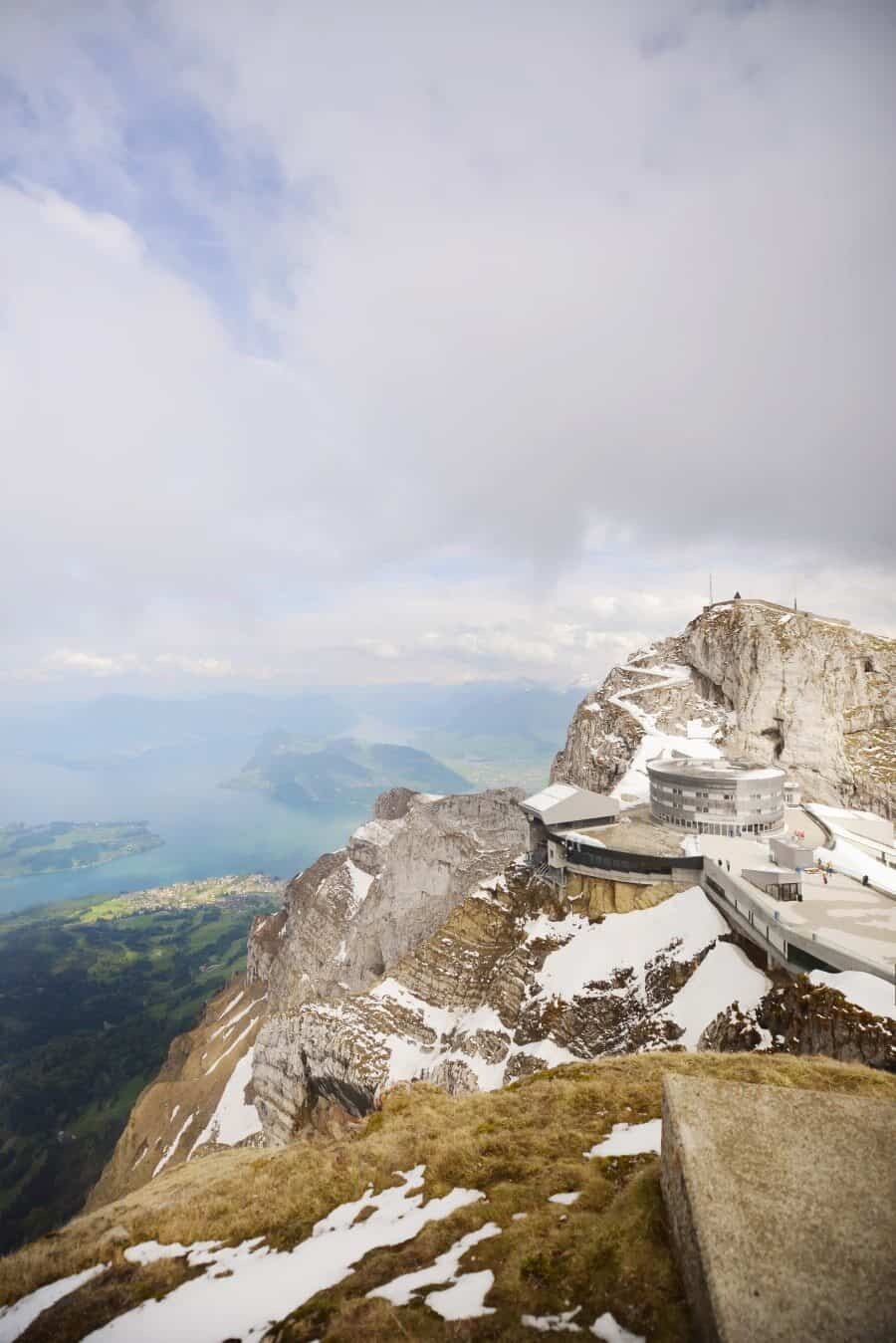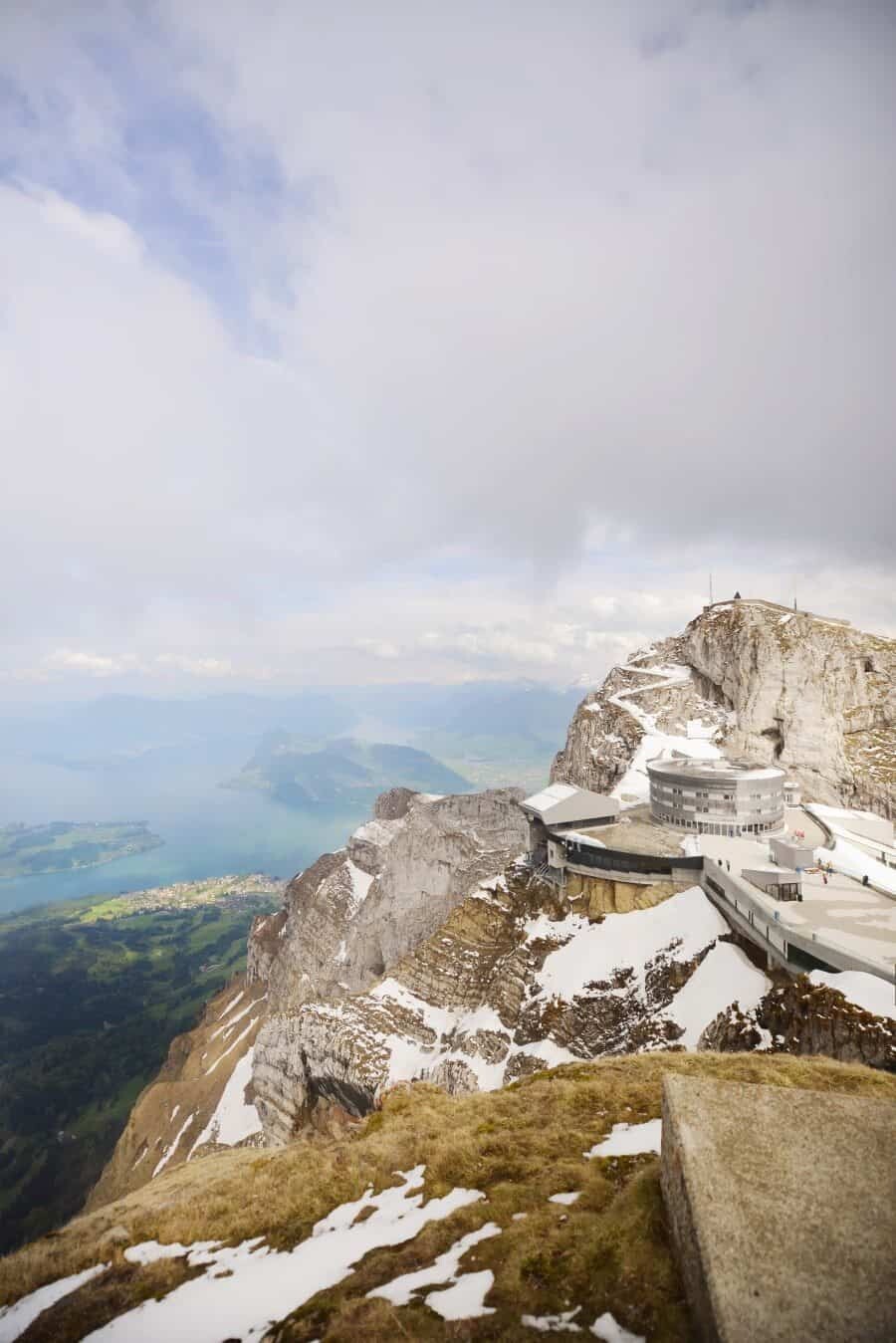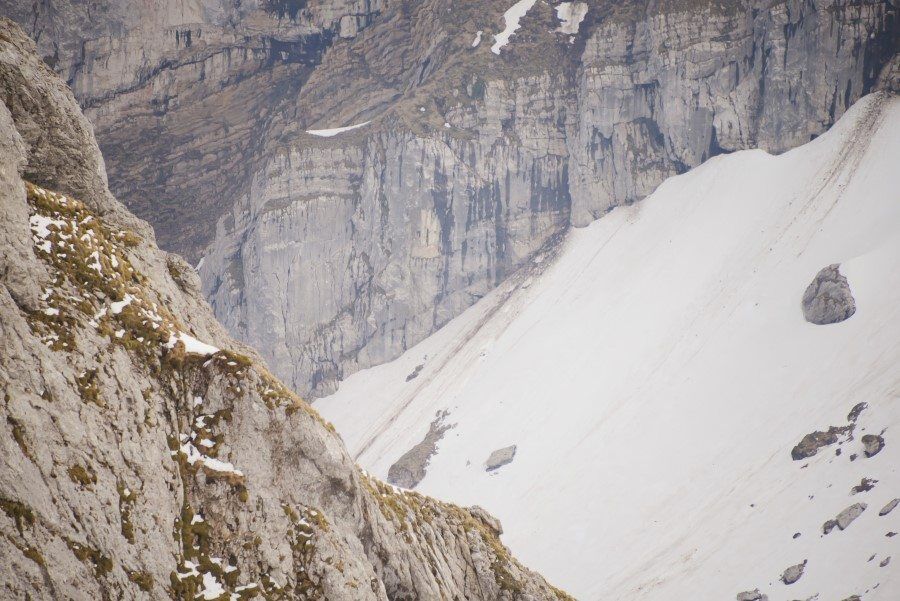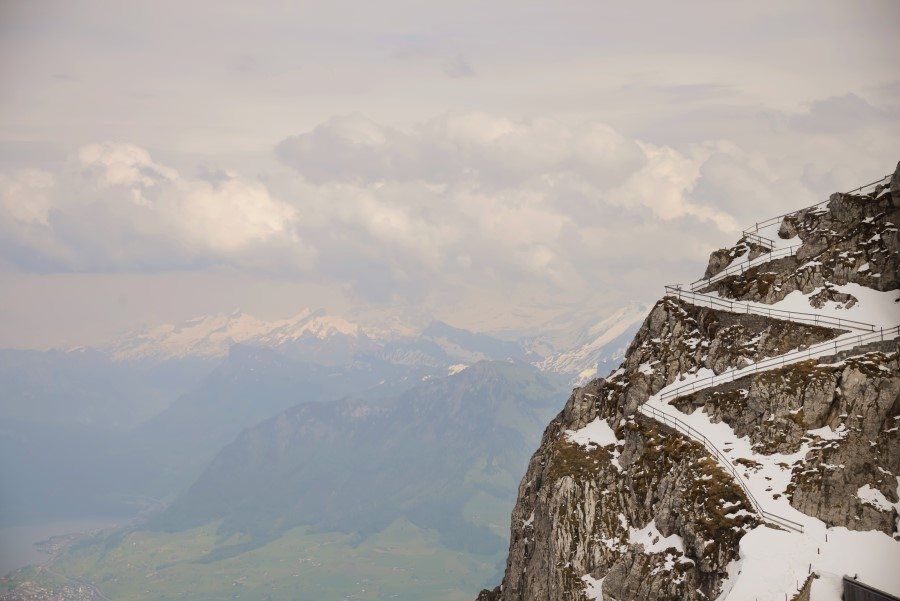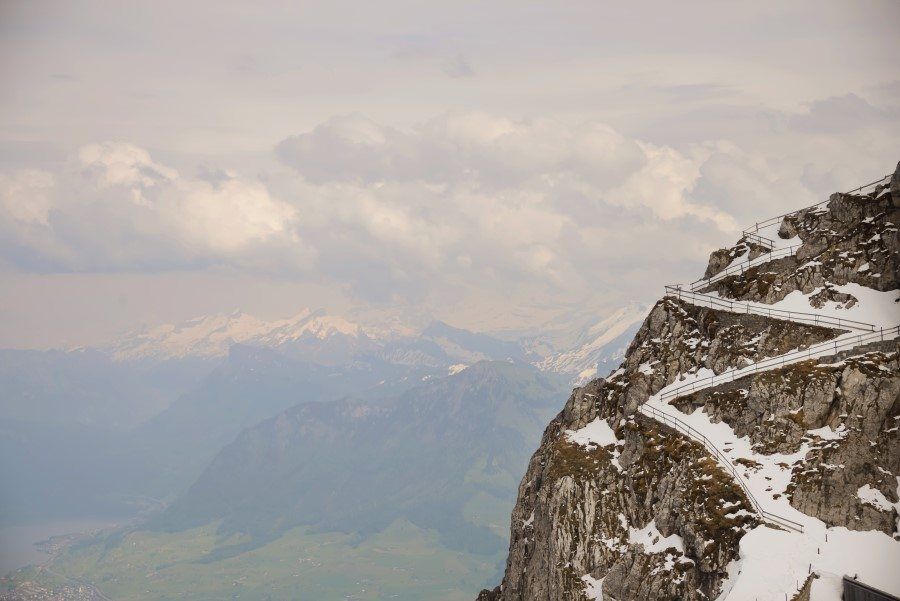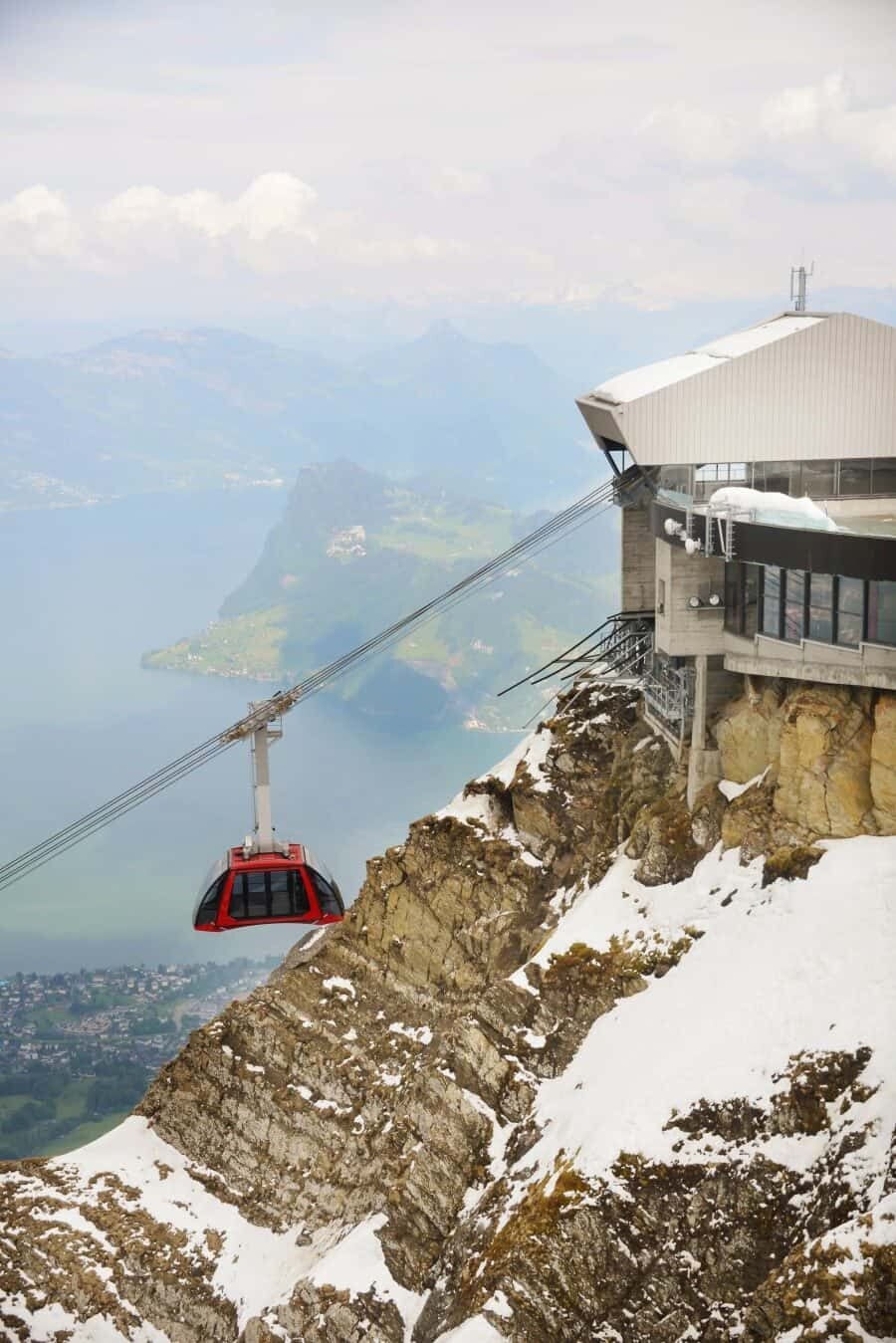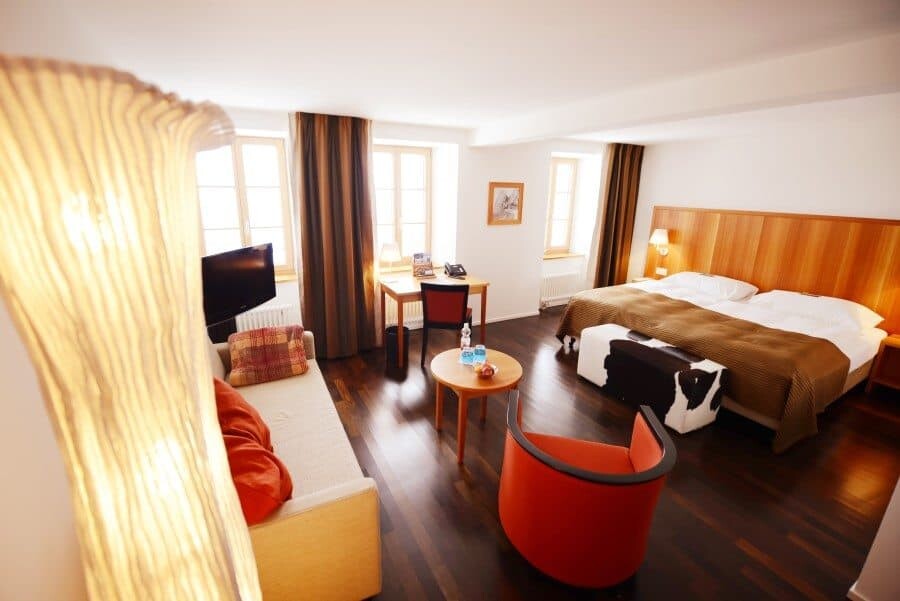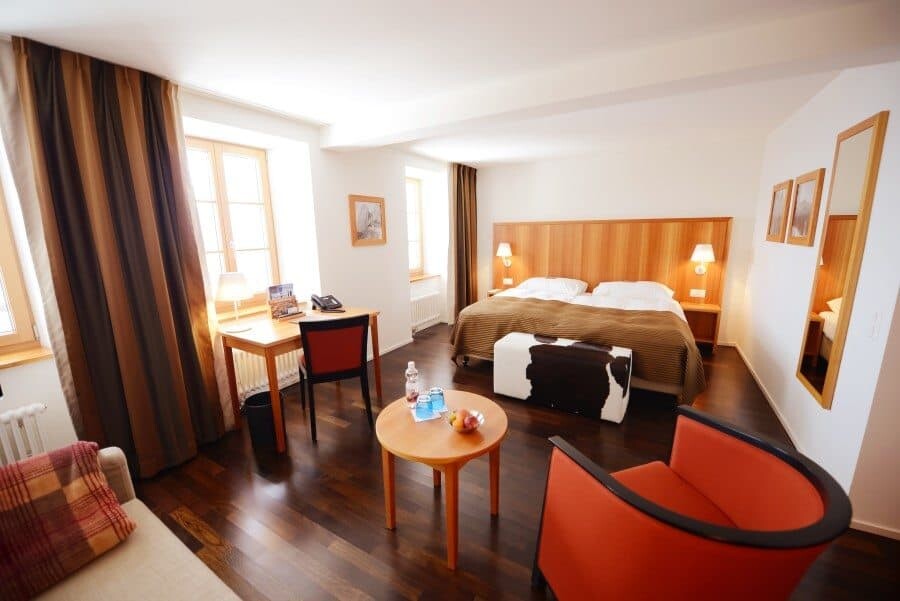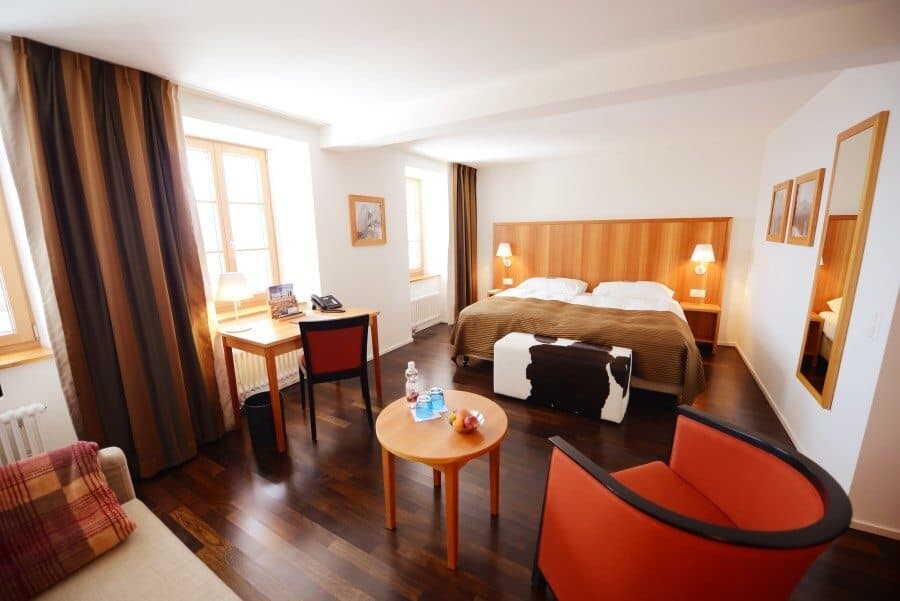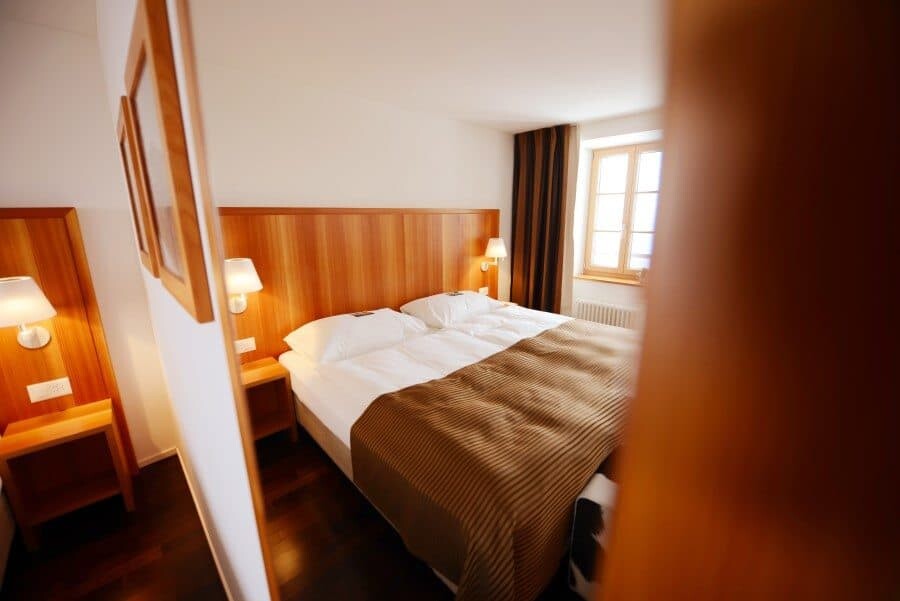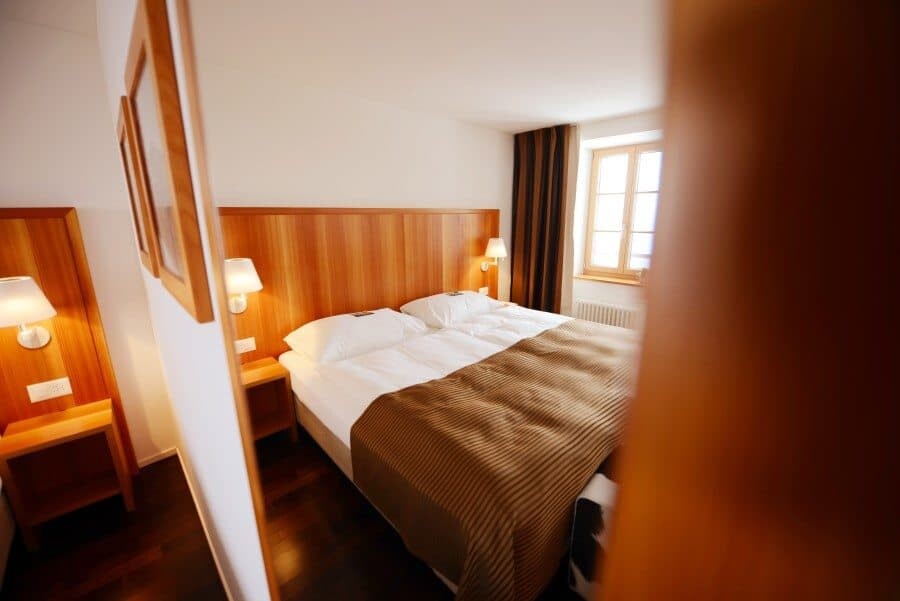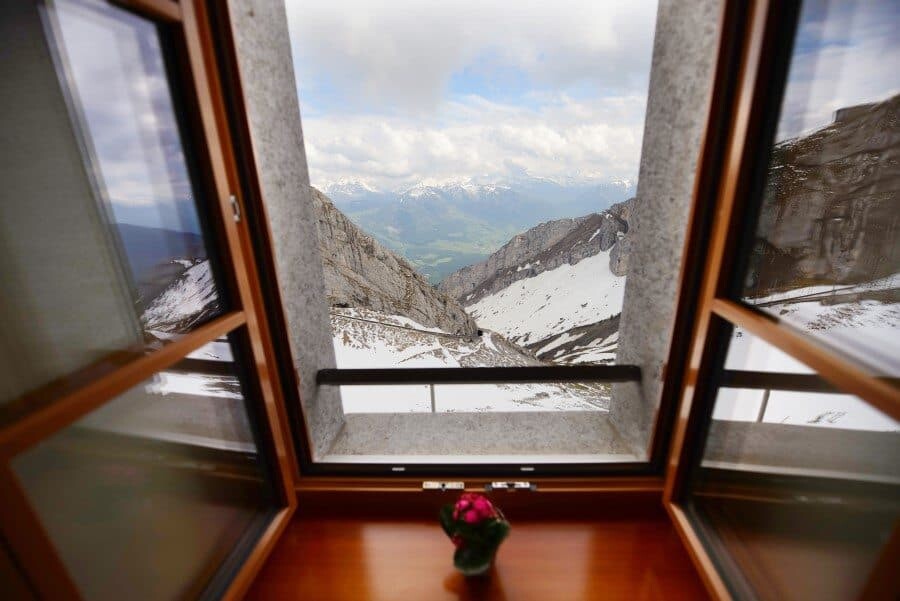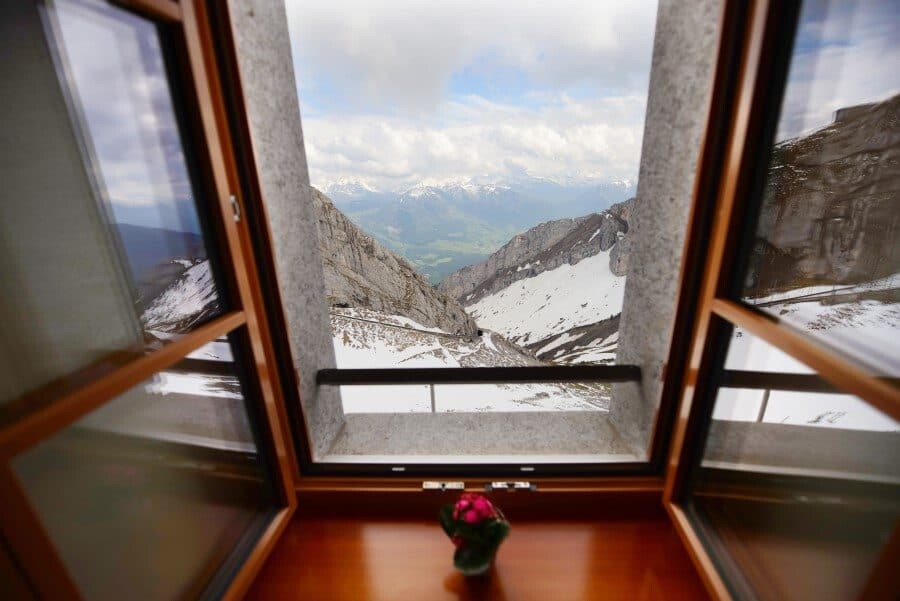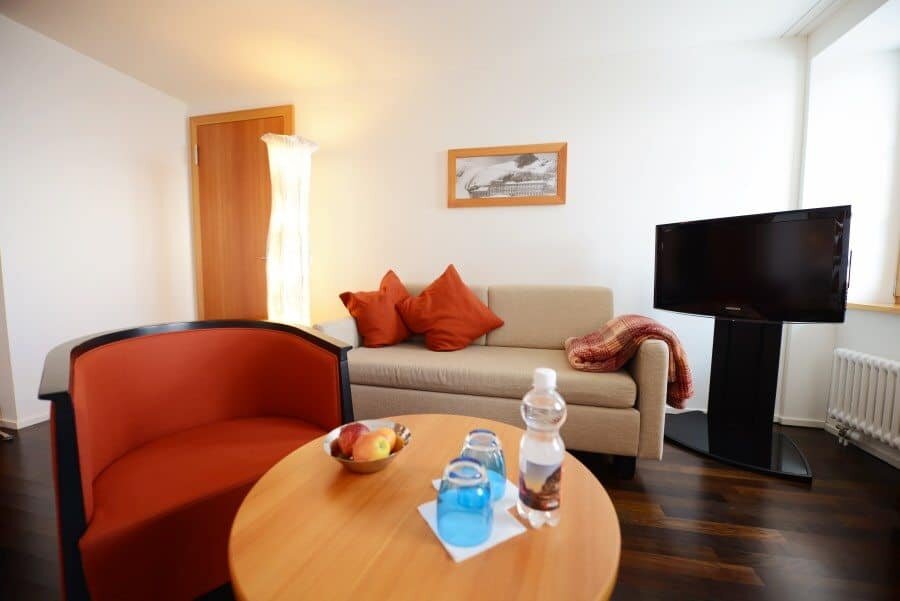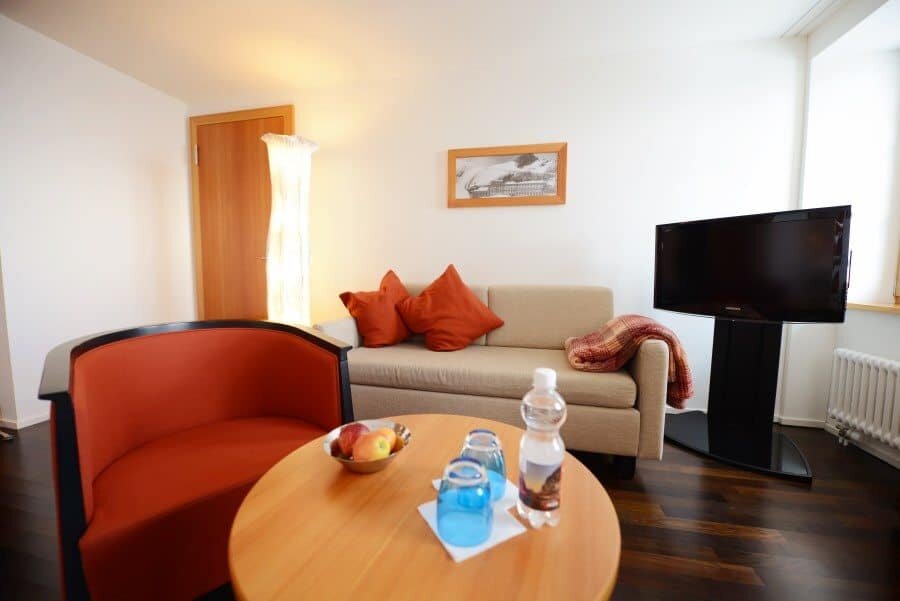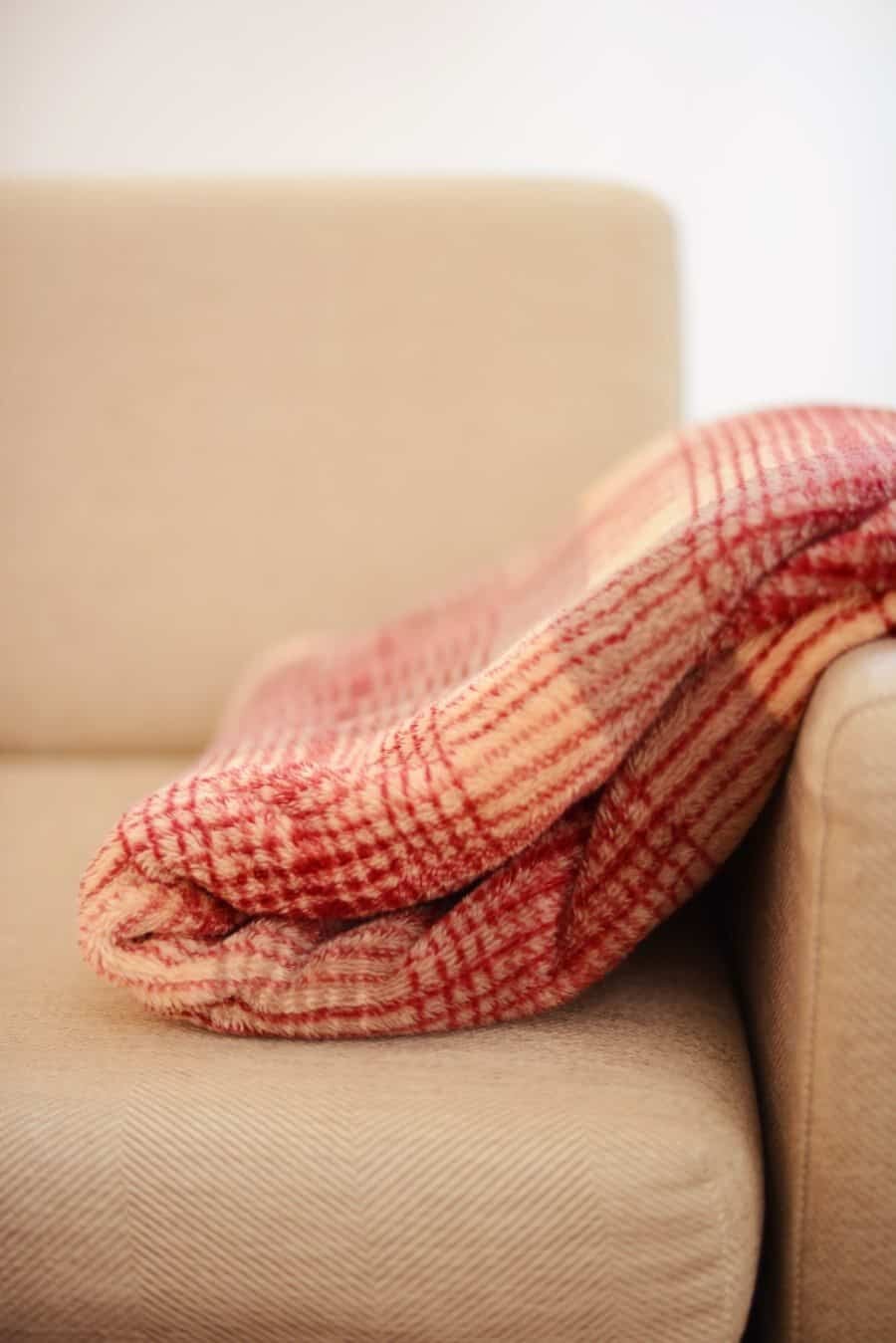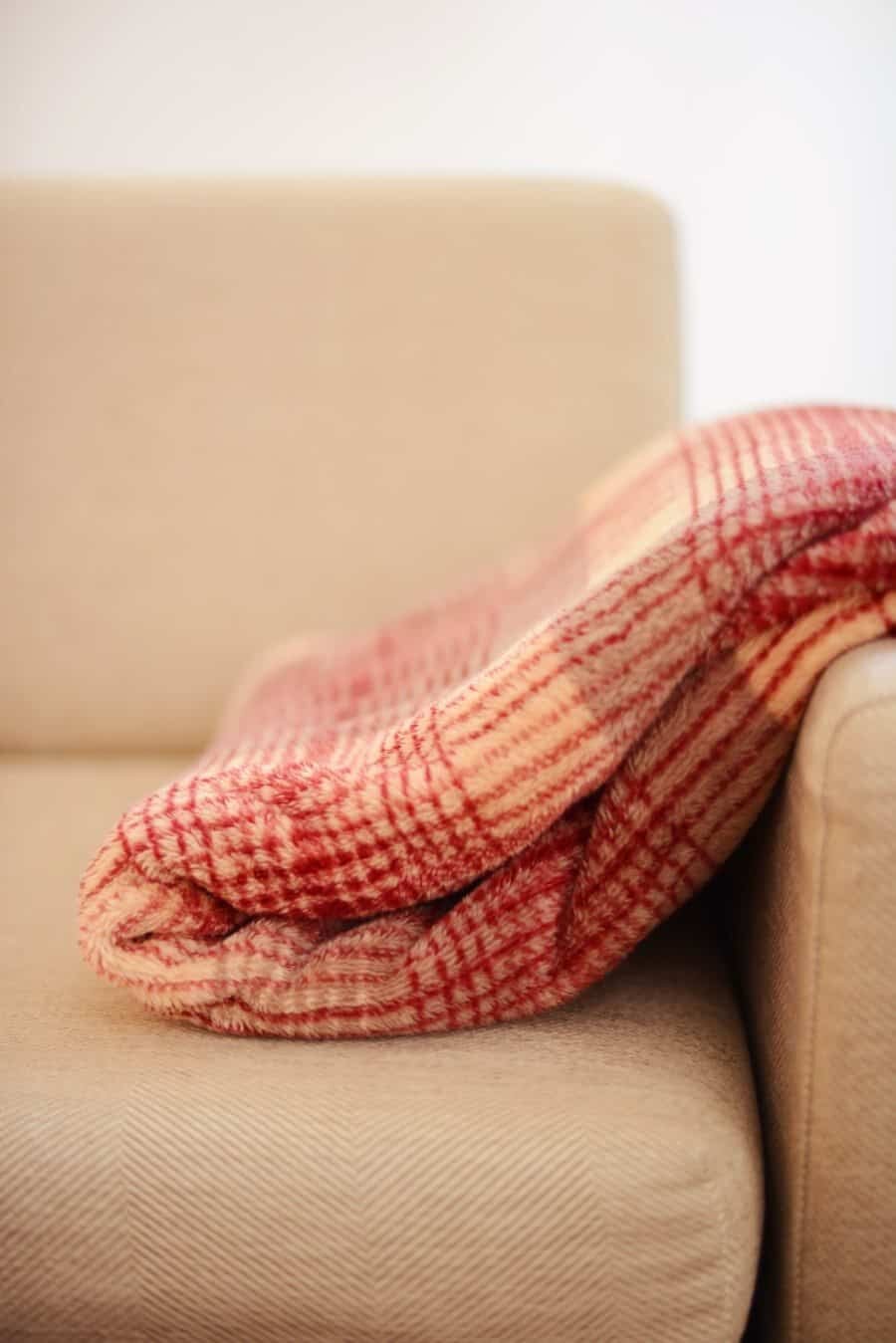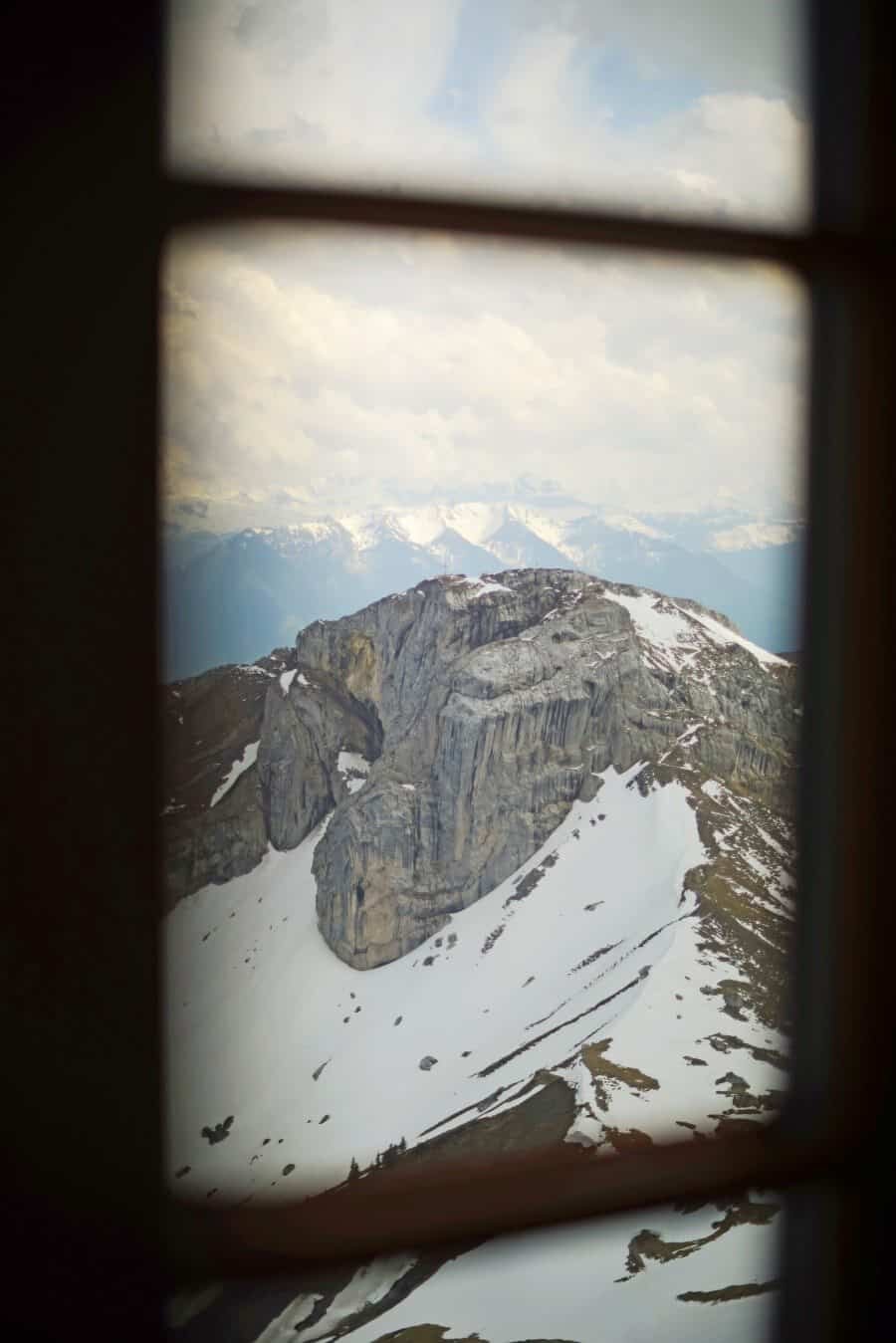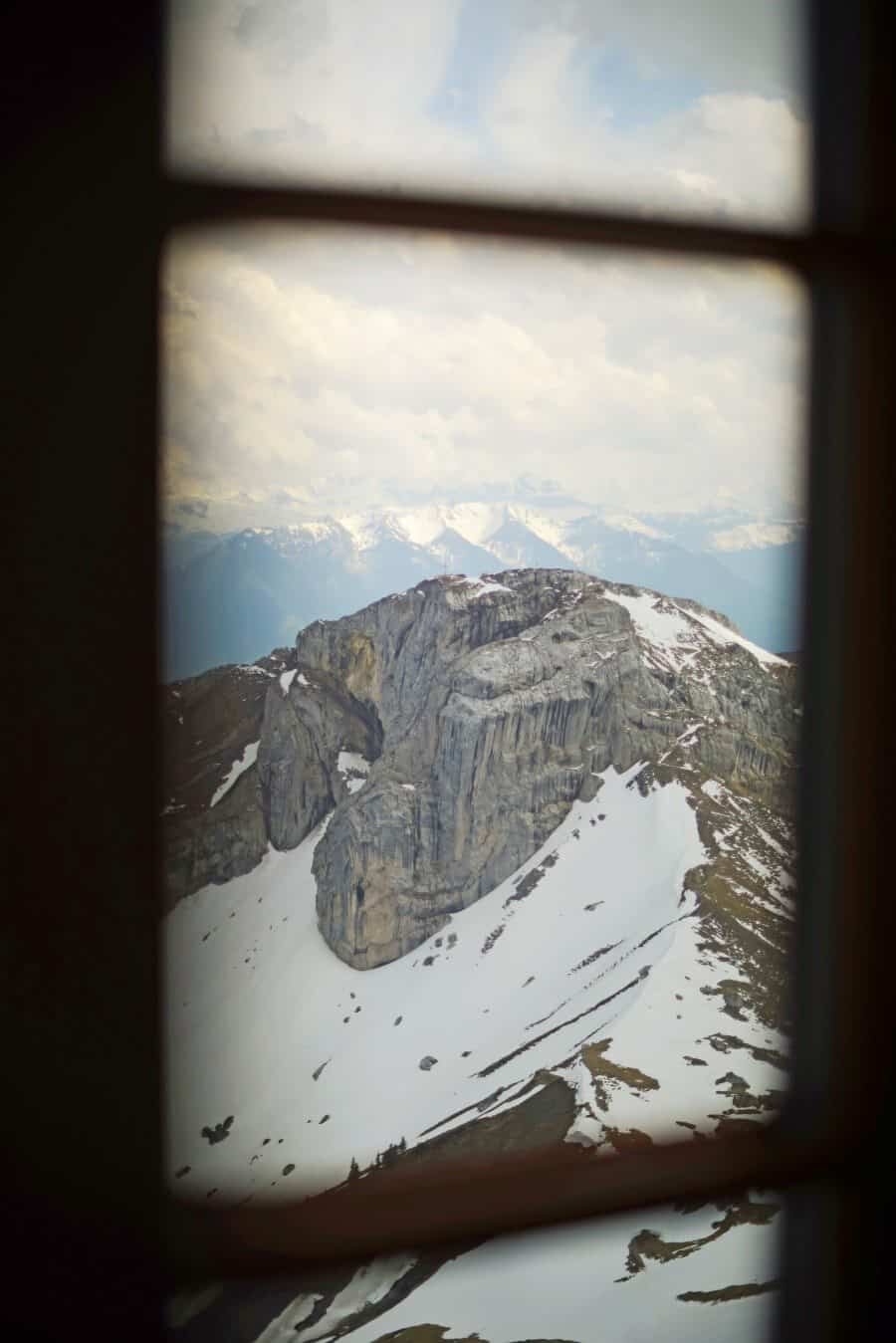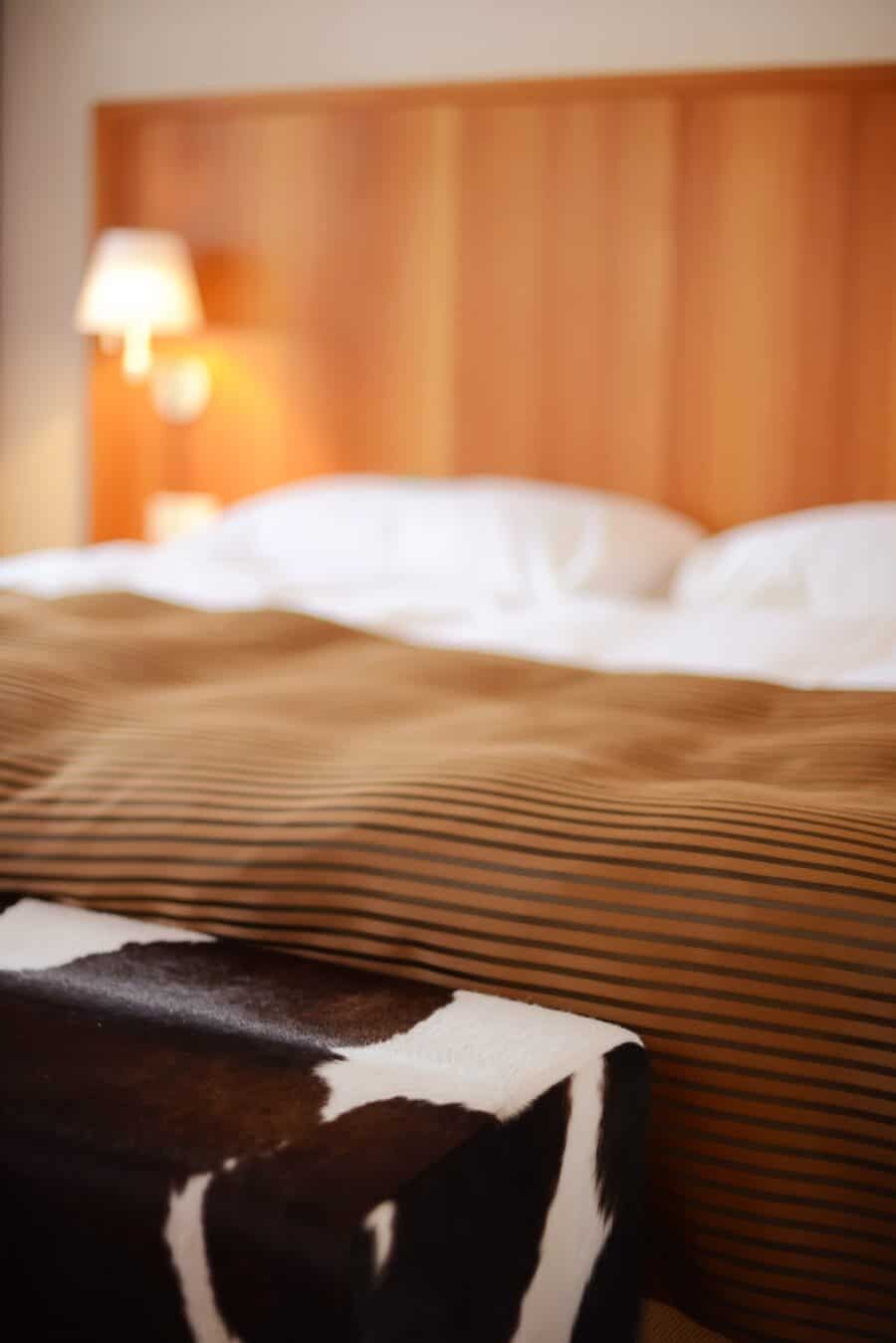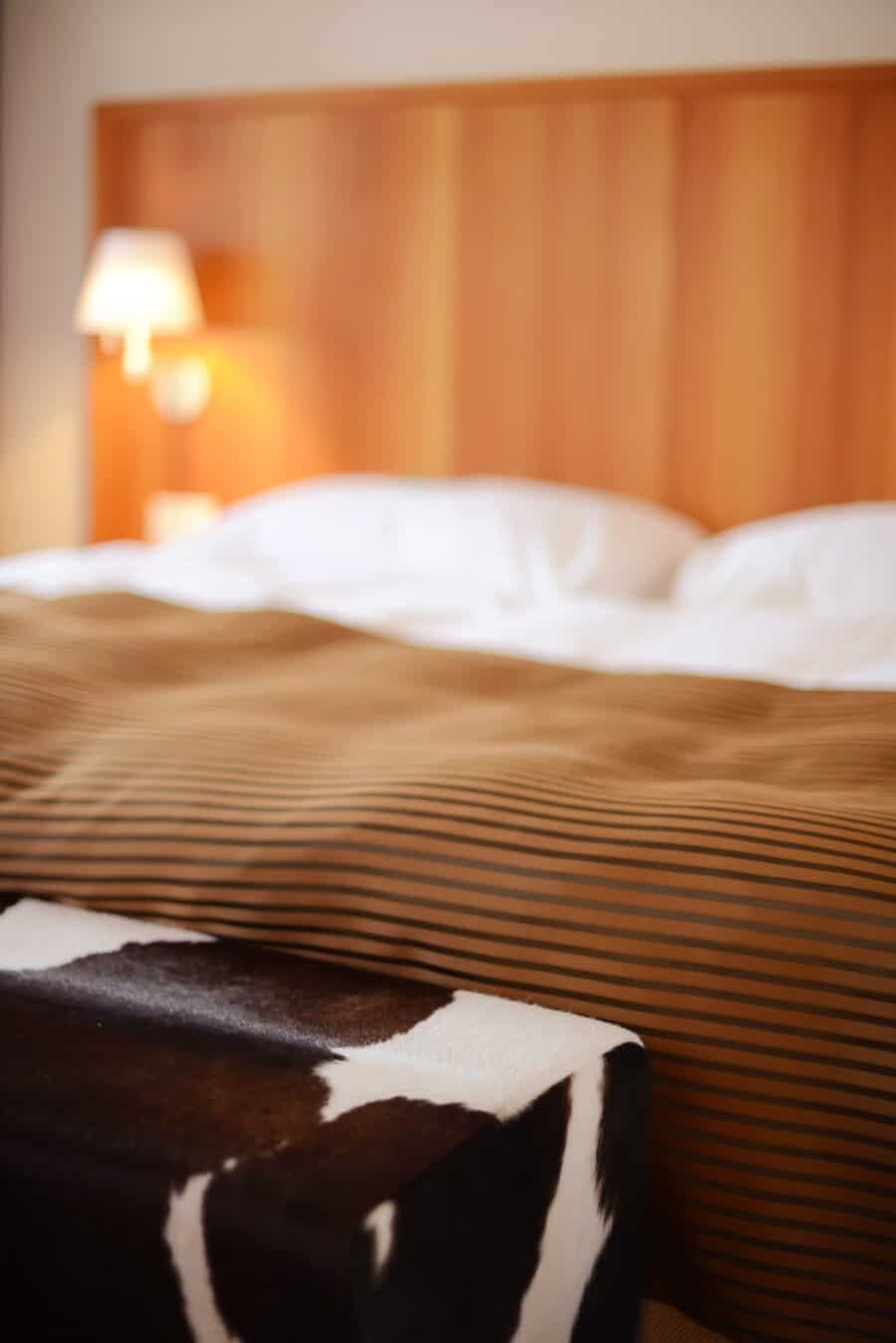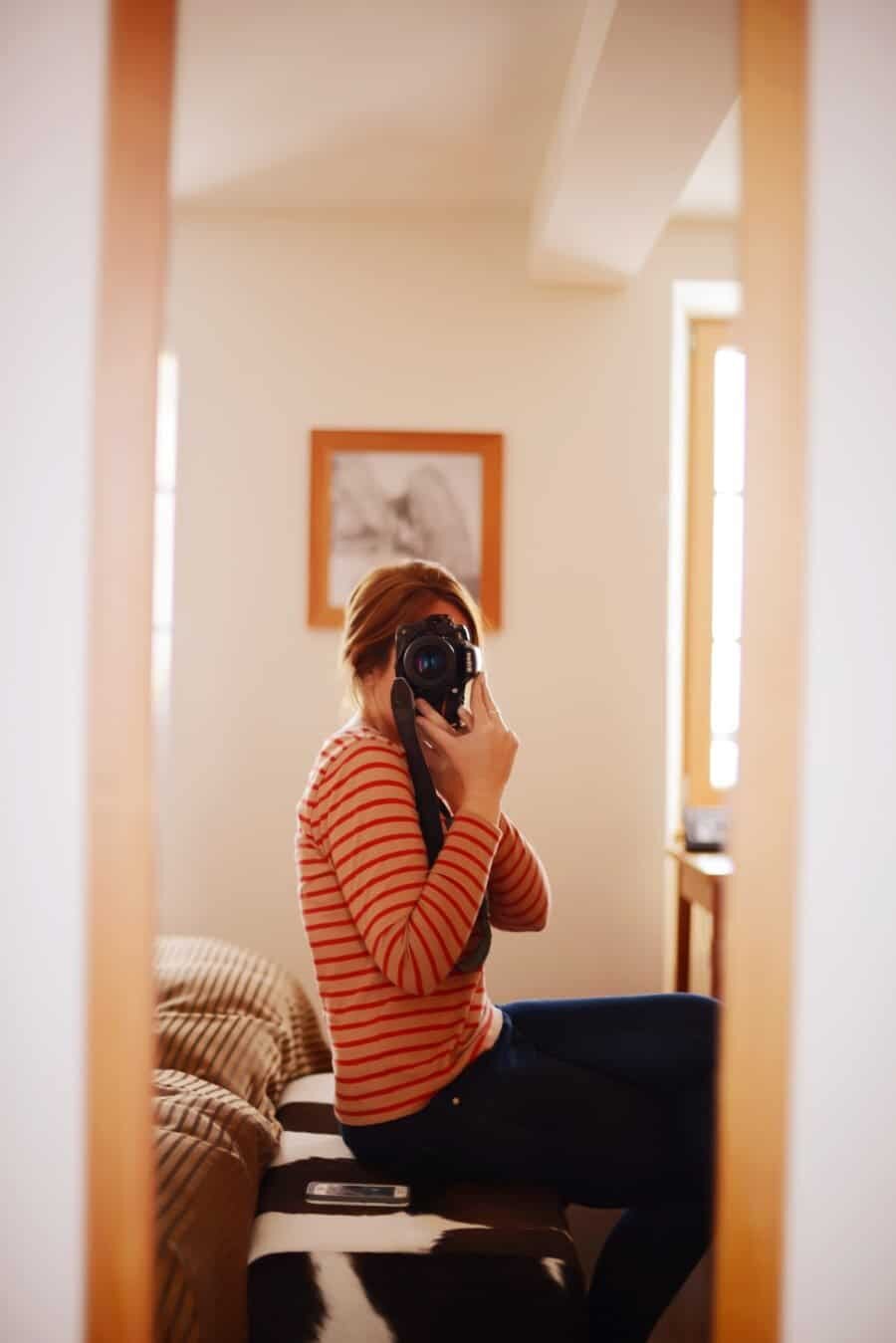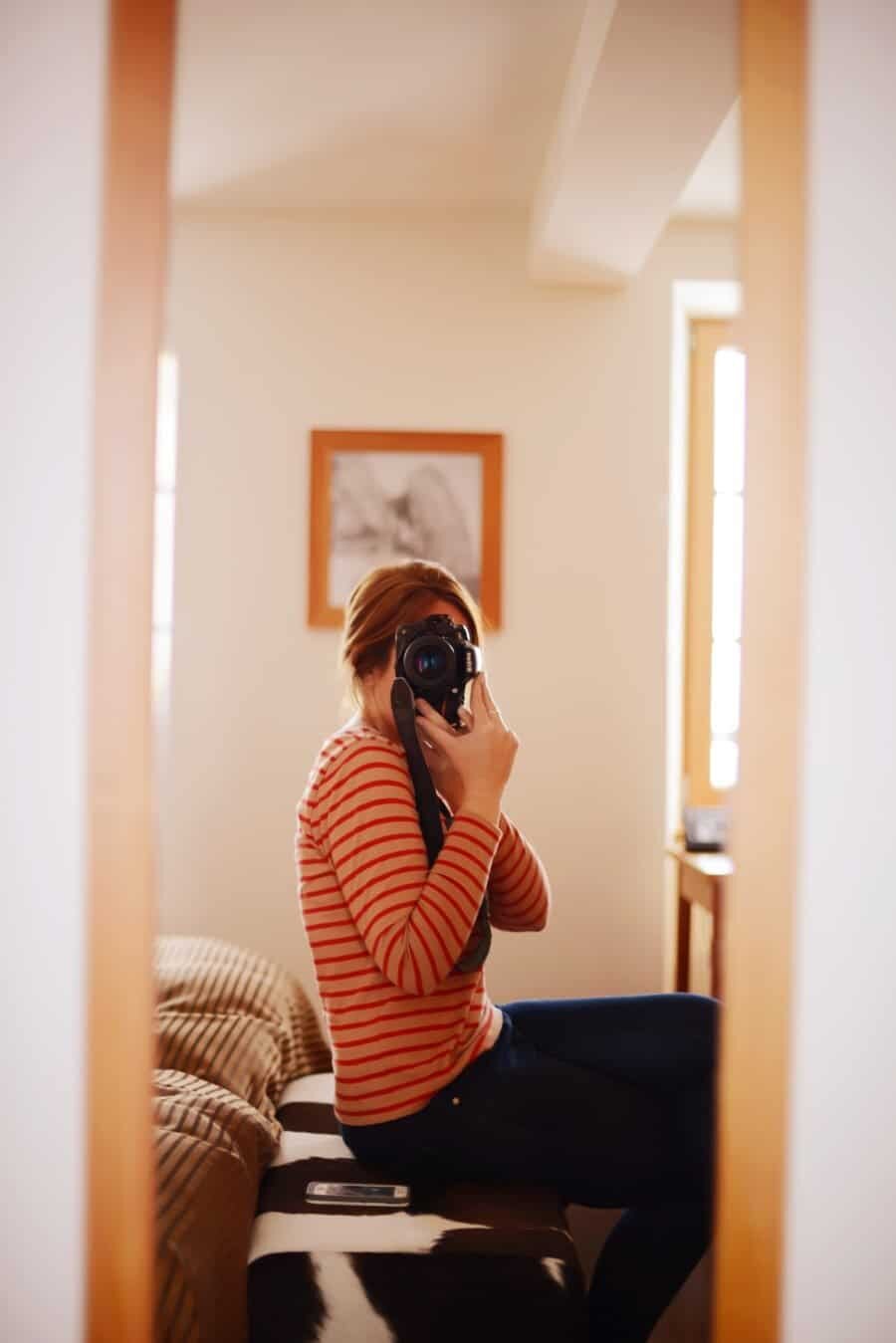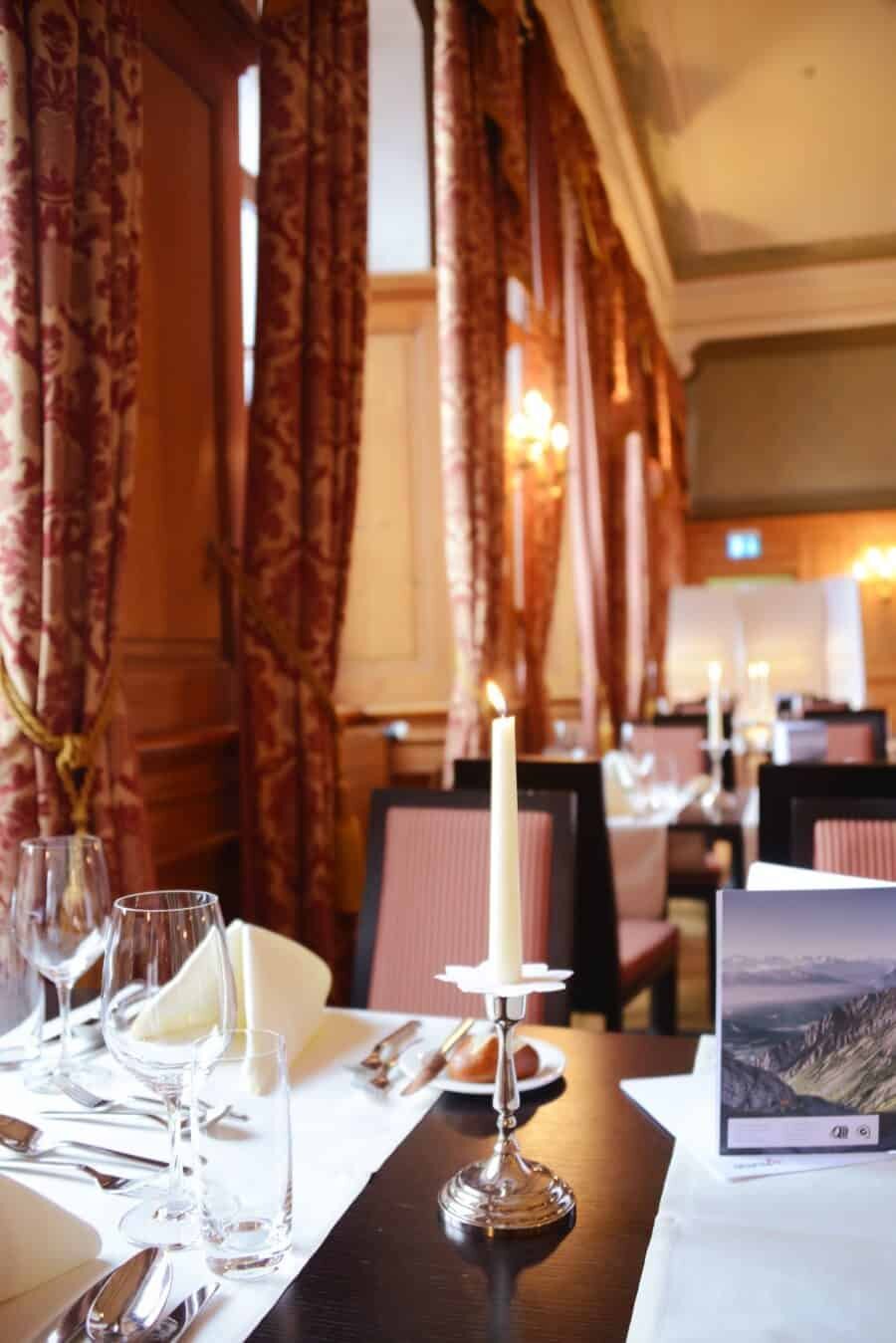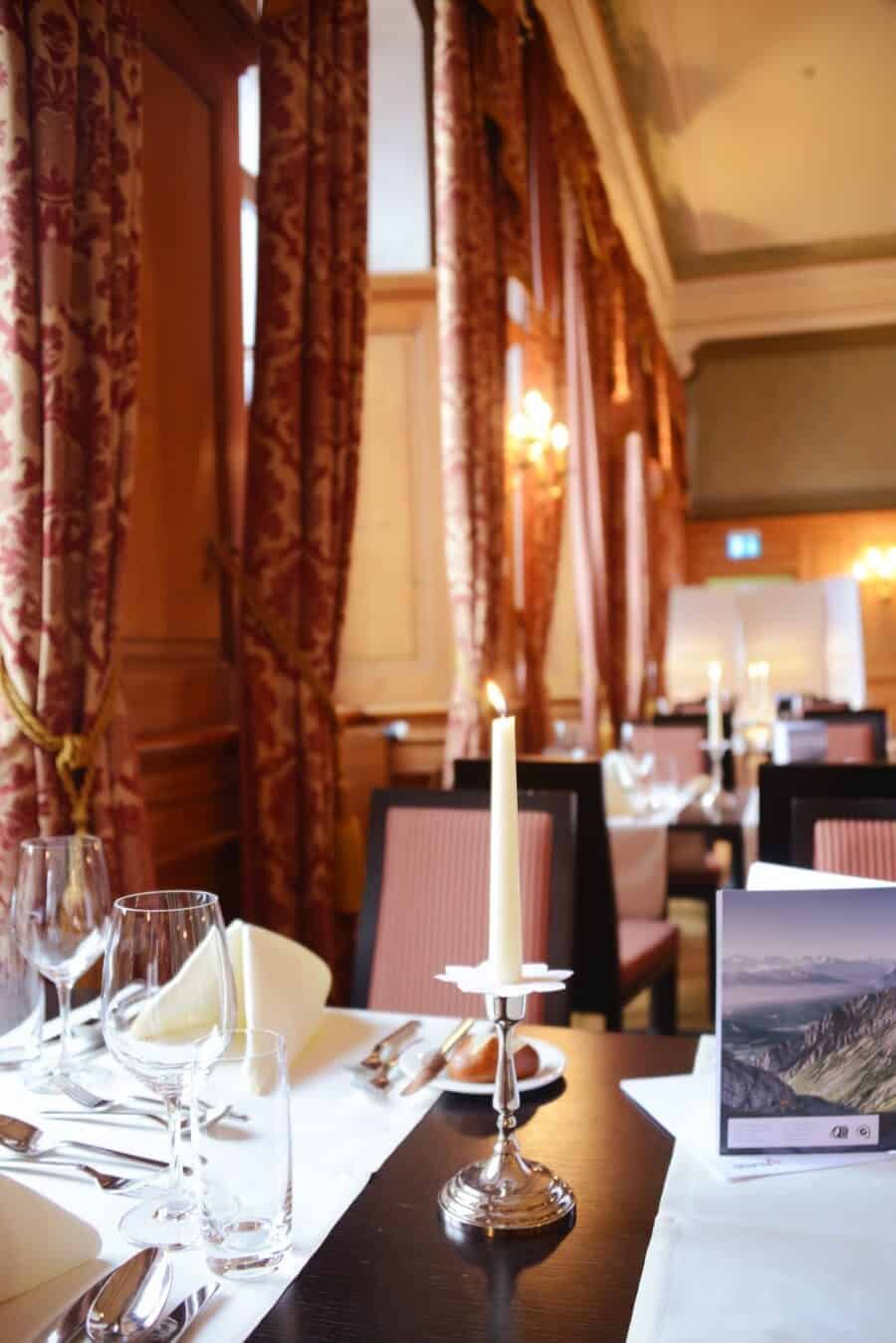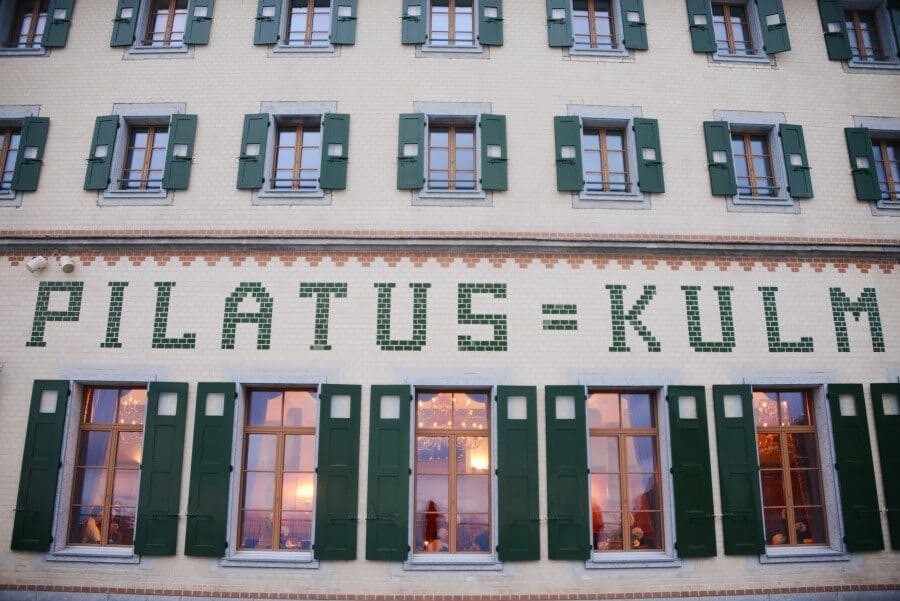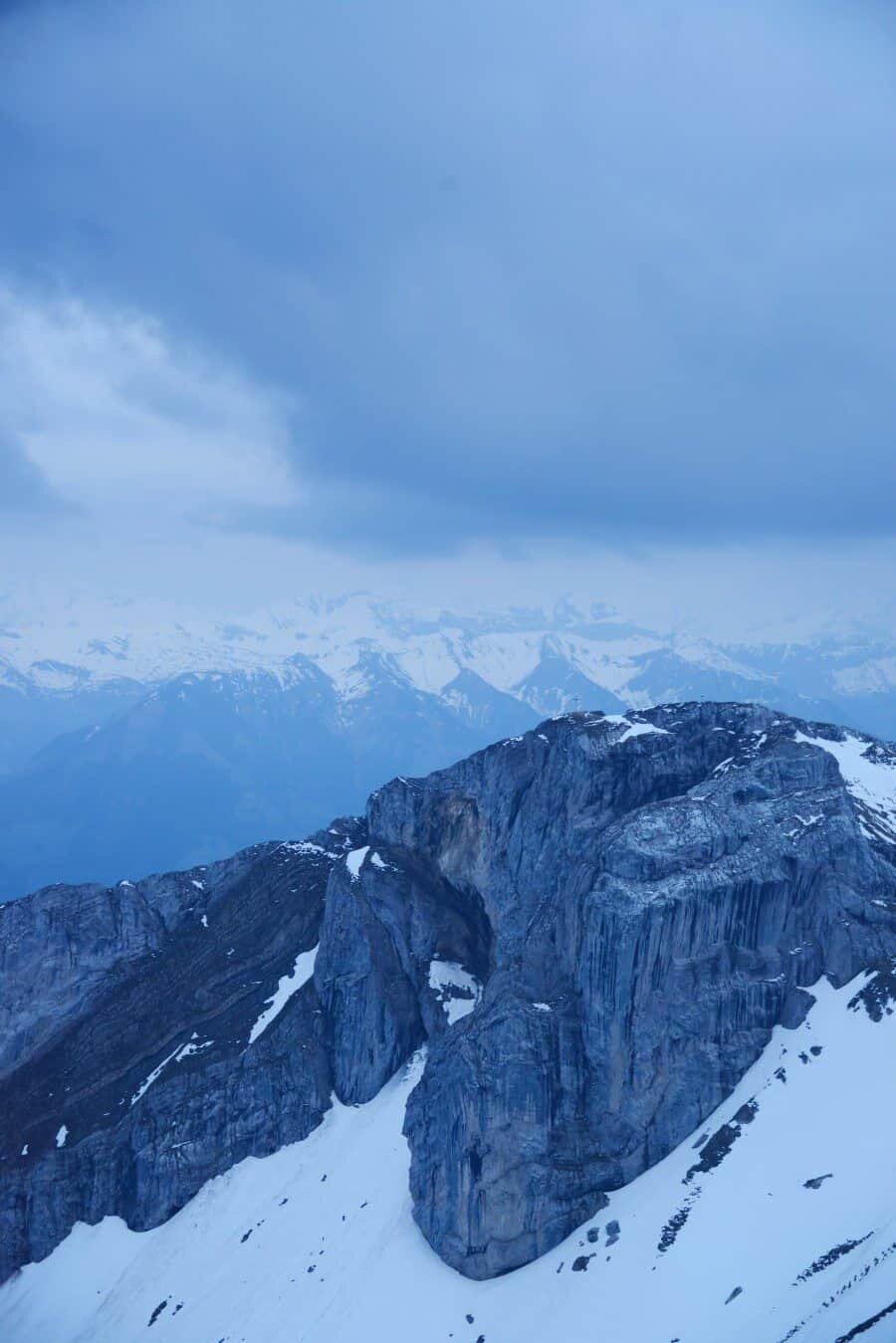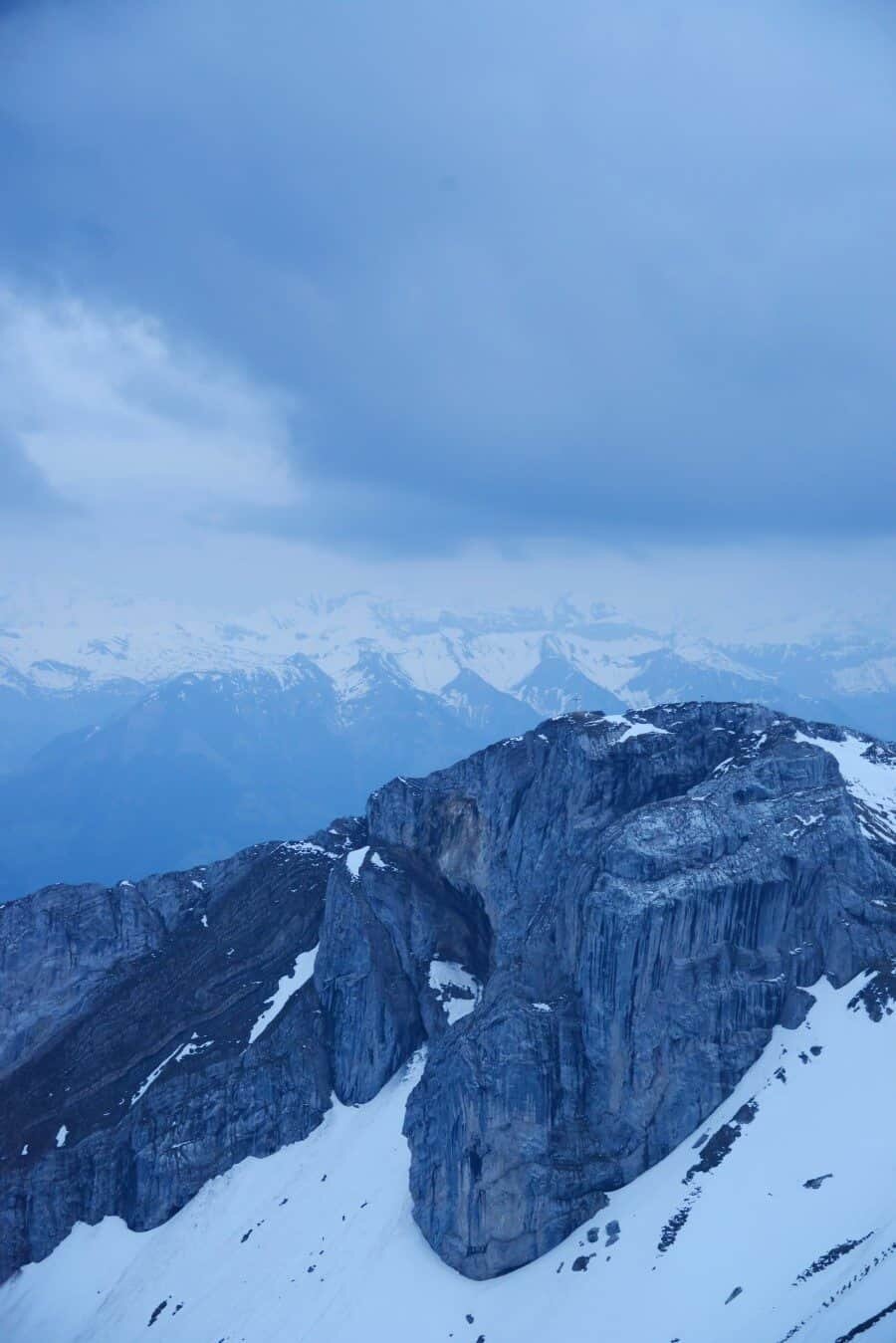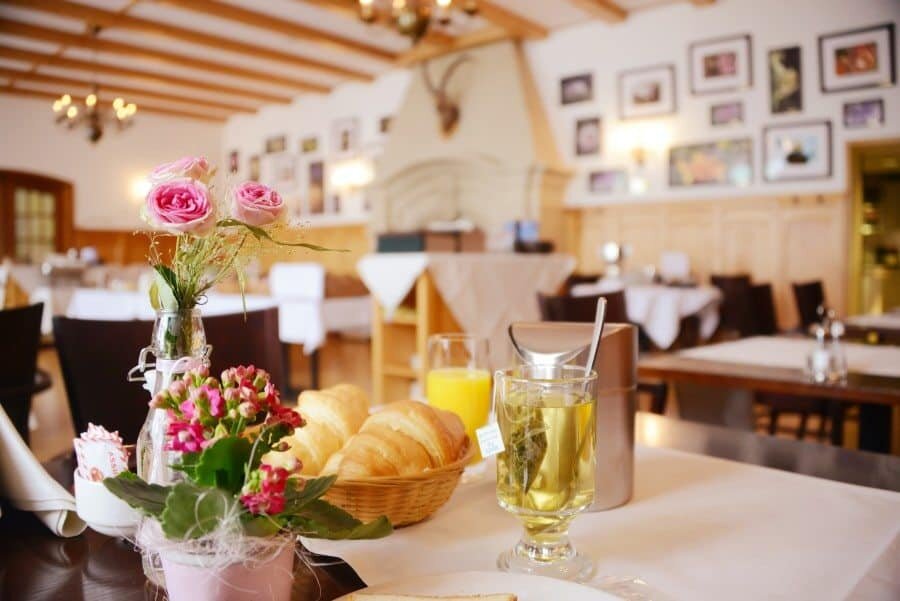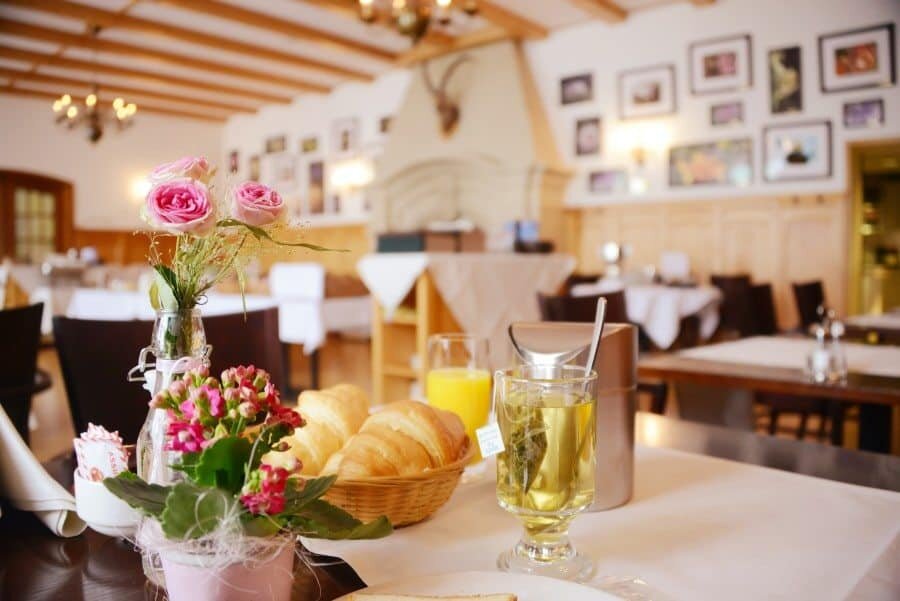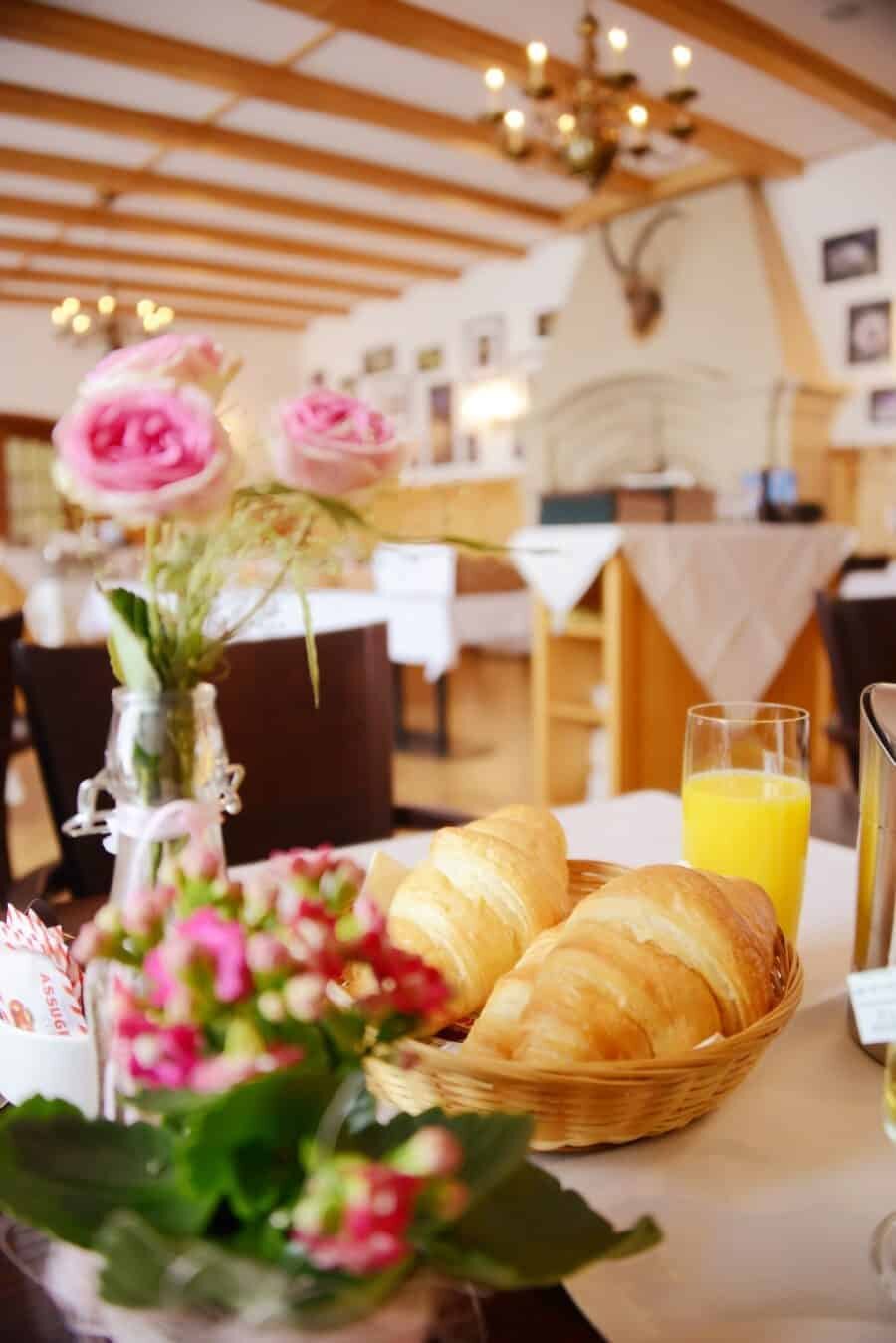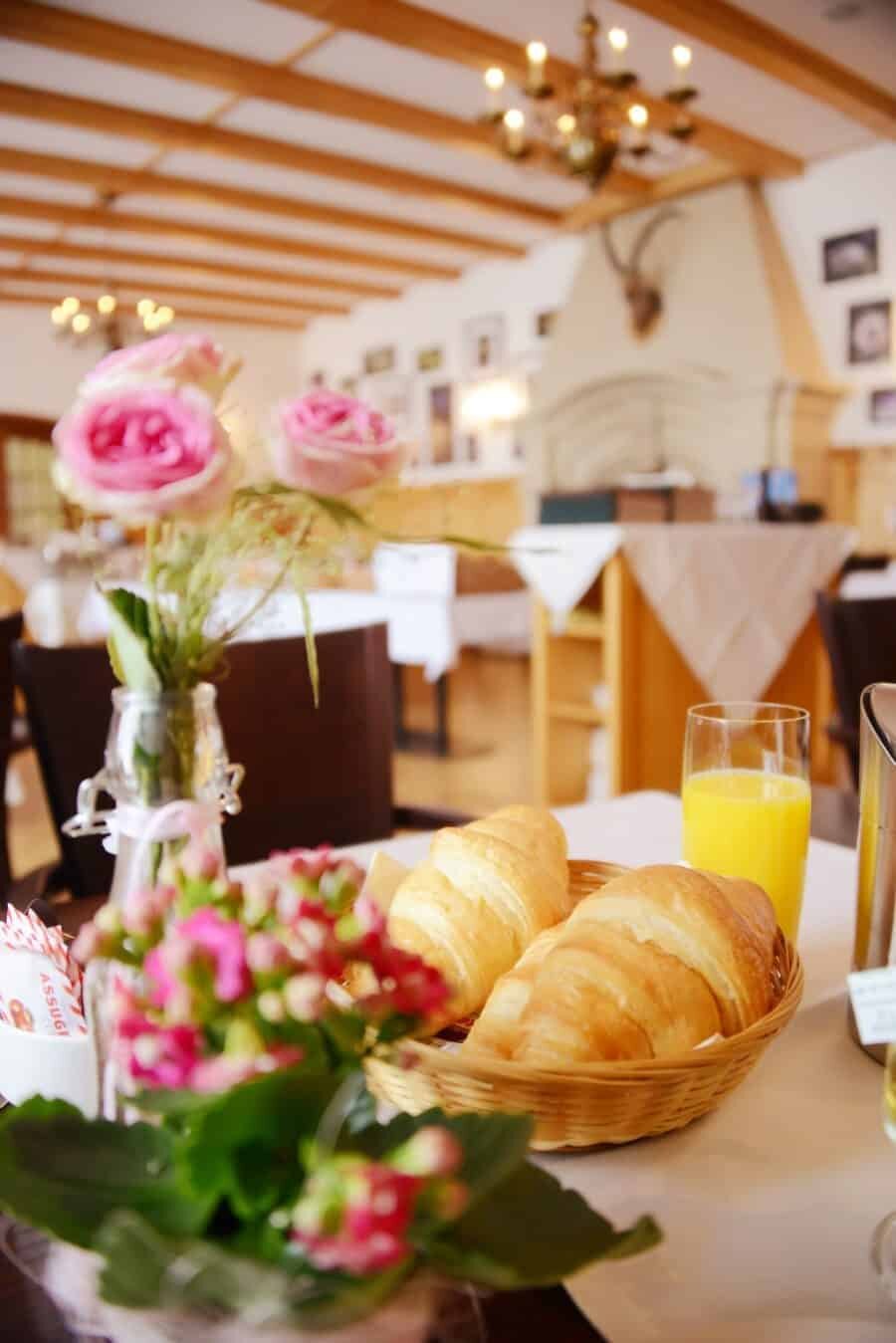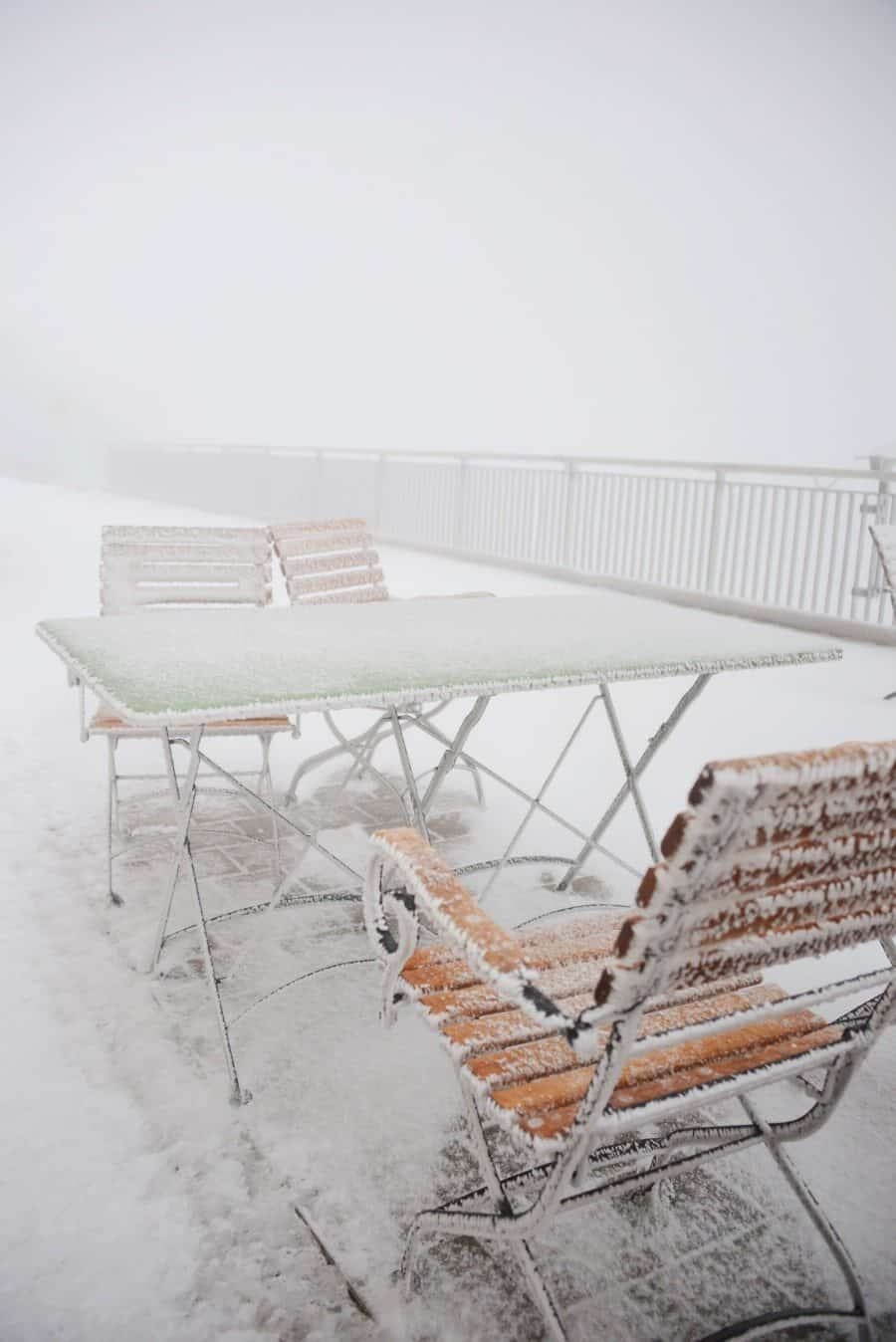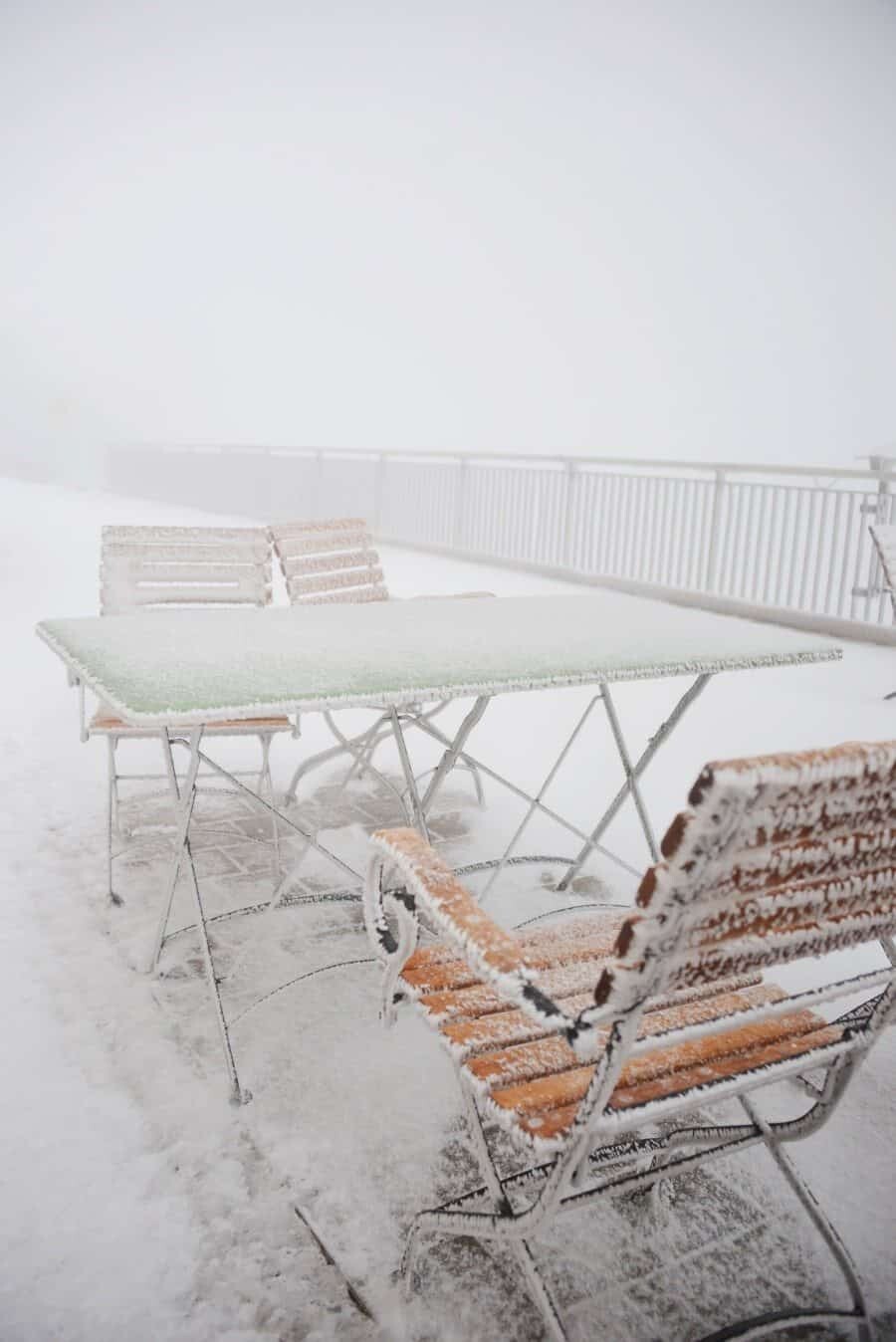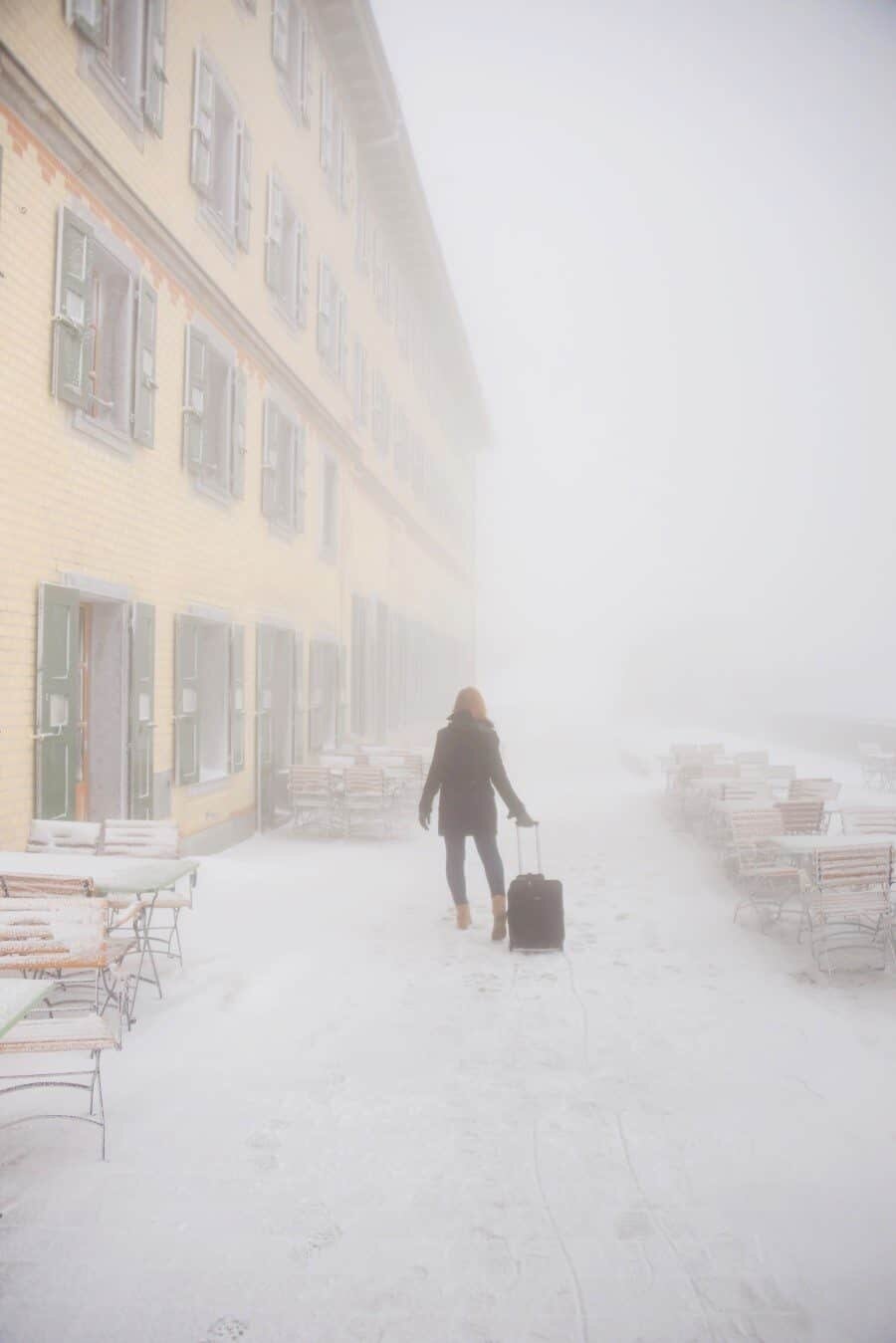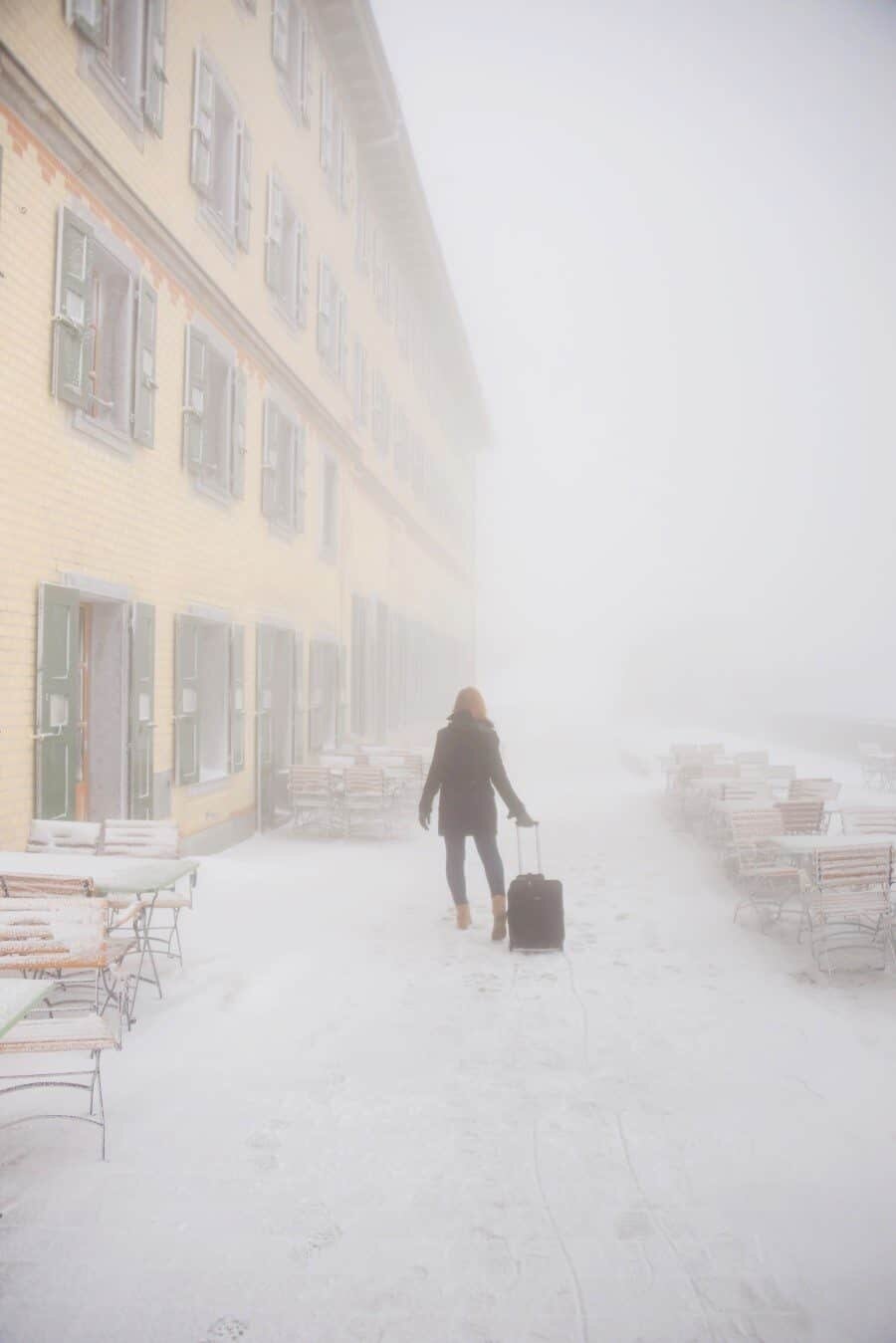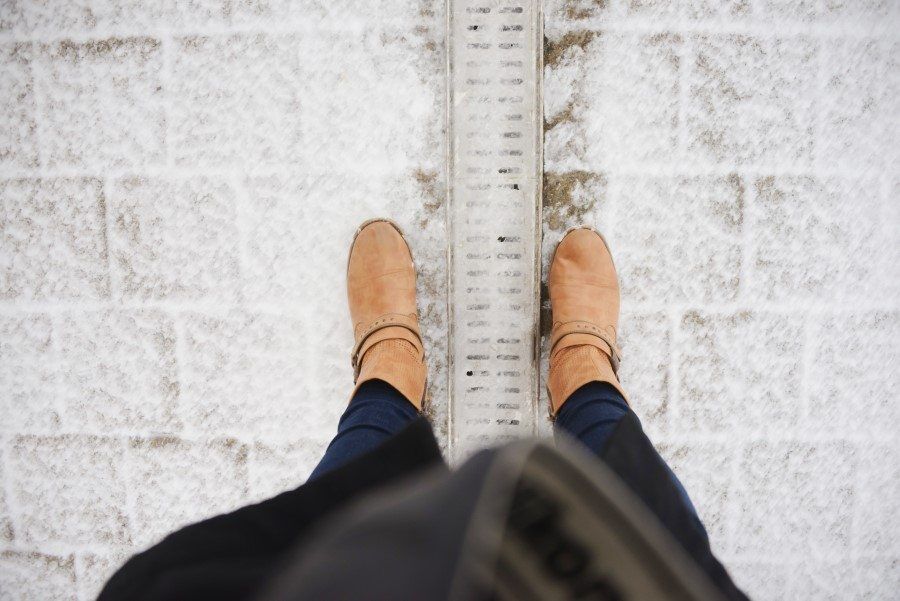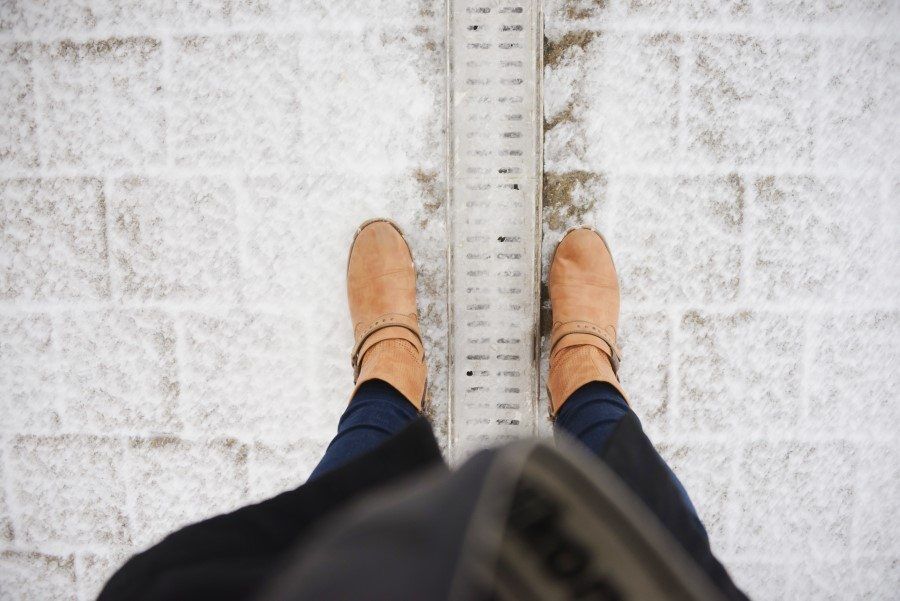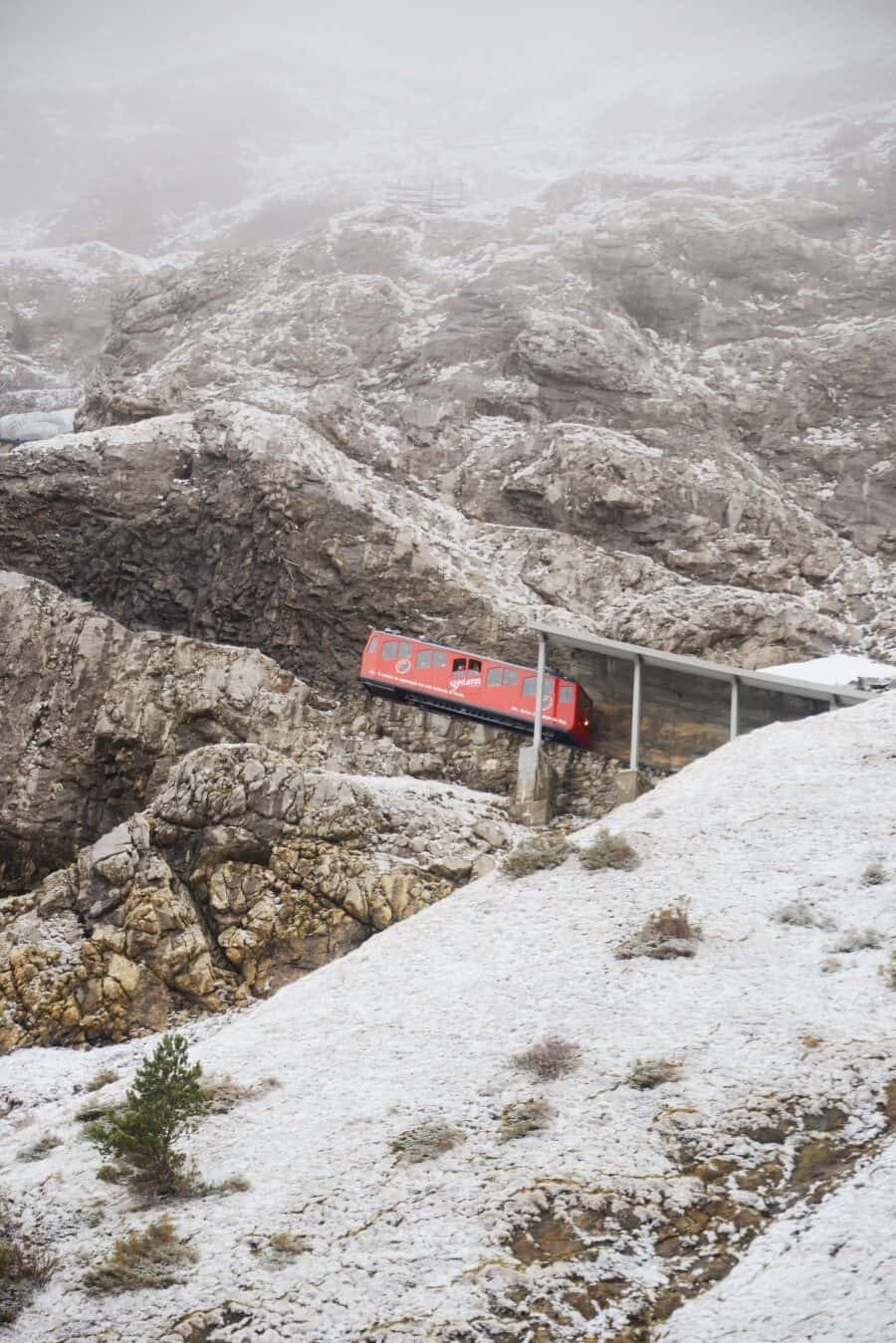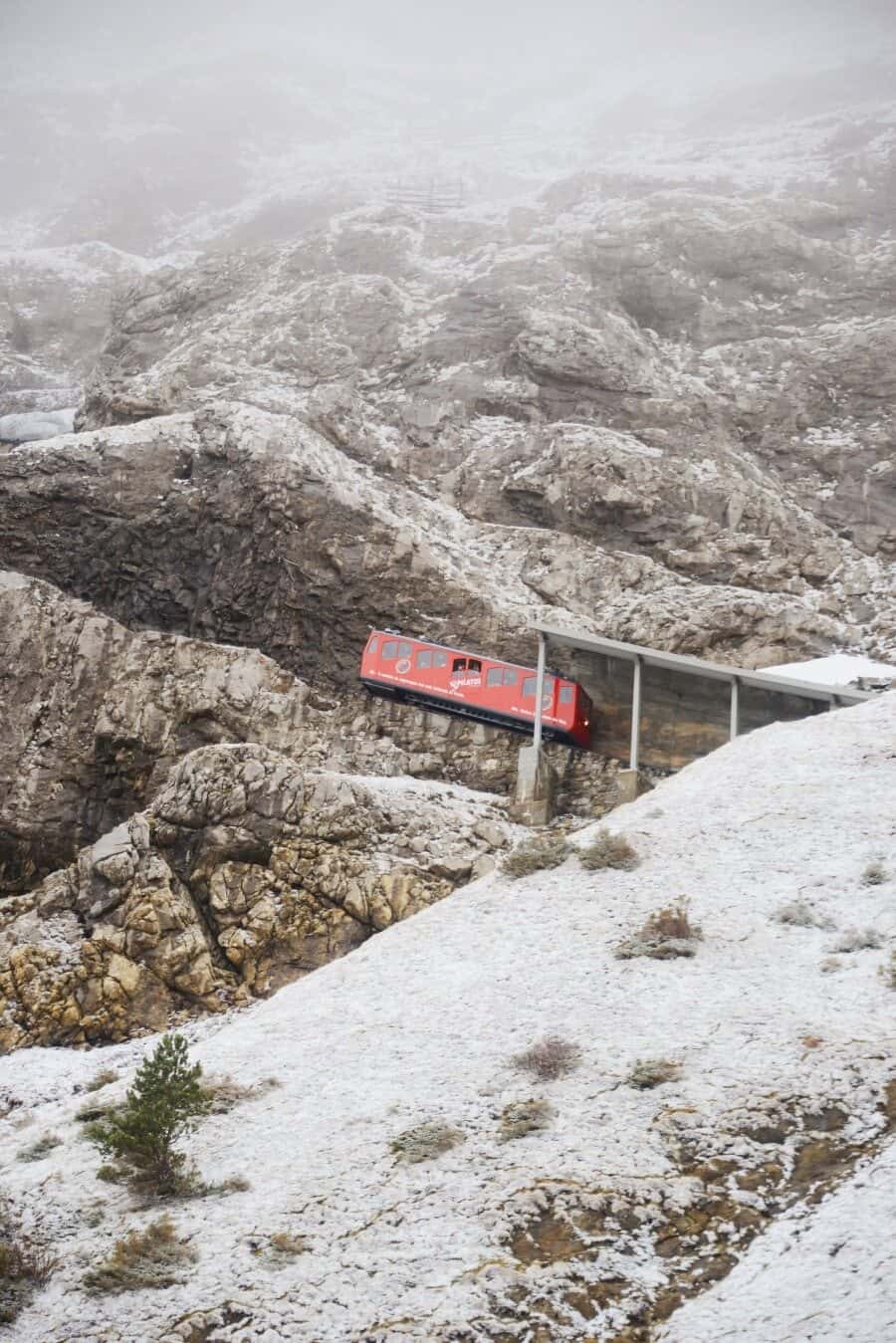 To book your own stay at 2132m above sea-level, take a peek for more information here – Hotel Mount Pilatus Kulm.
If you're just keen to go up and see the view, check the train and cable car timetable here.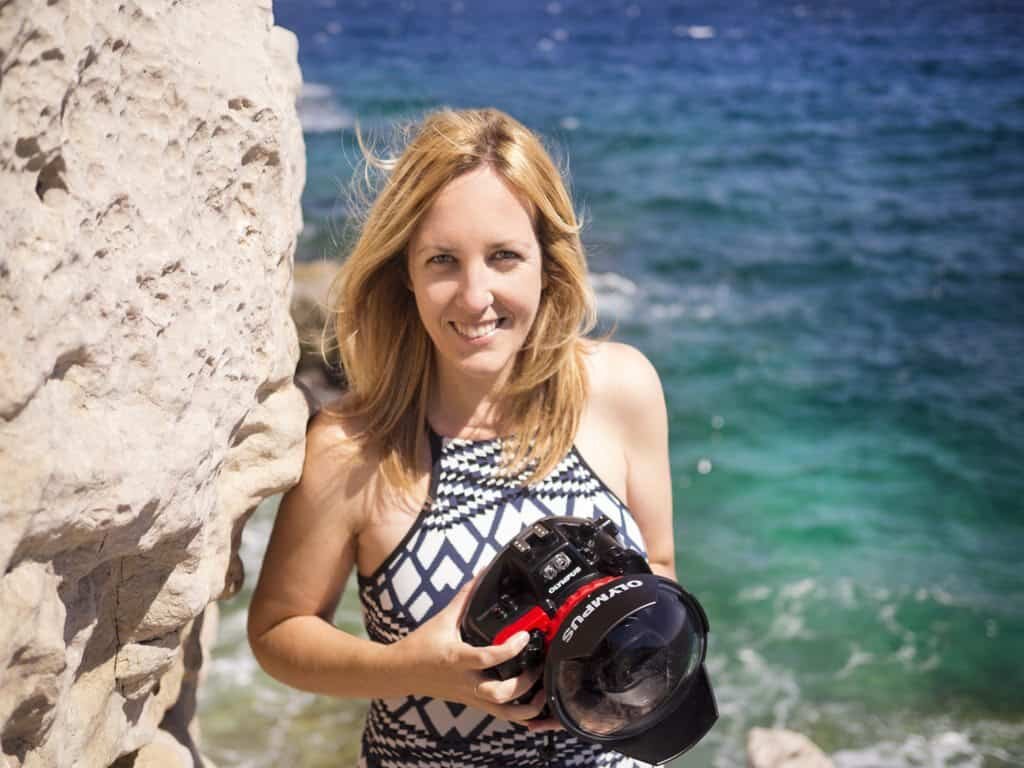 Hello! I'm the founder and photographer behind The Wandering Lens.
With 17+yrs experience as a professional travel and landscape photographer, all advice found on this site is from my personal experience on the road. I hope it's useful for your own travels and would love to hear in the comments about your trips and experiences around the world.