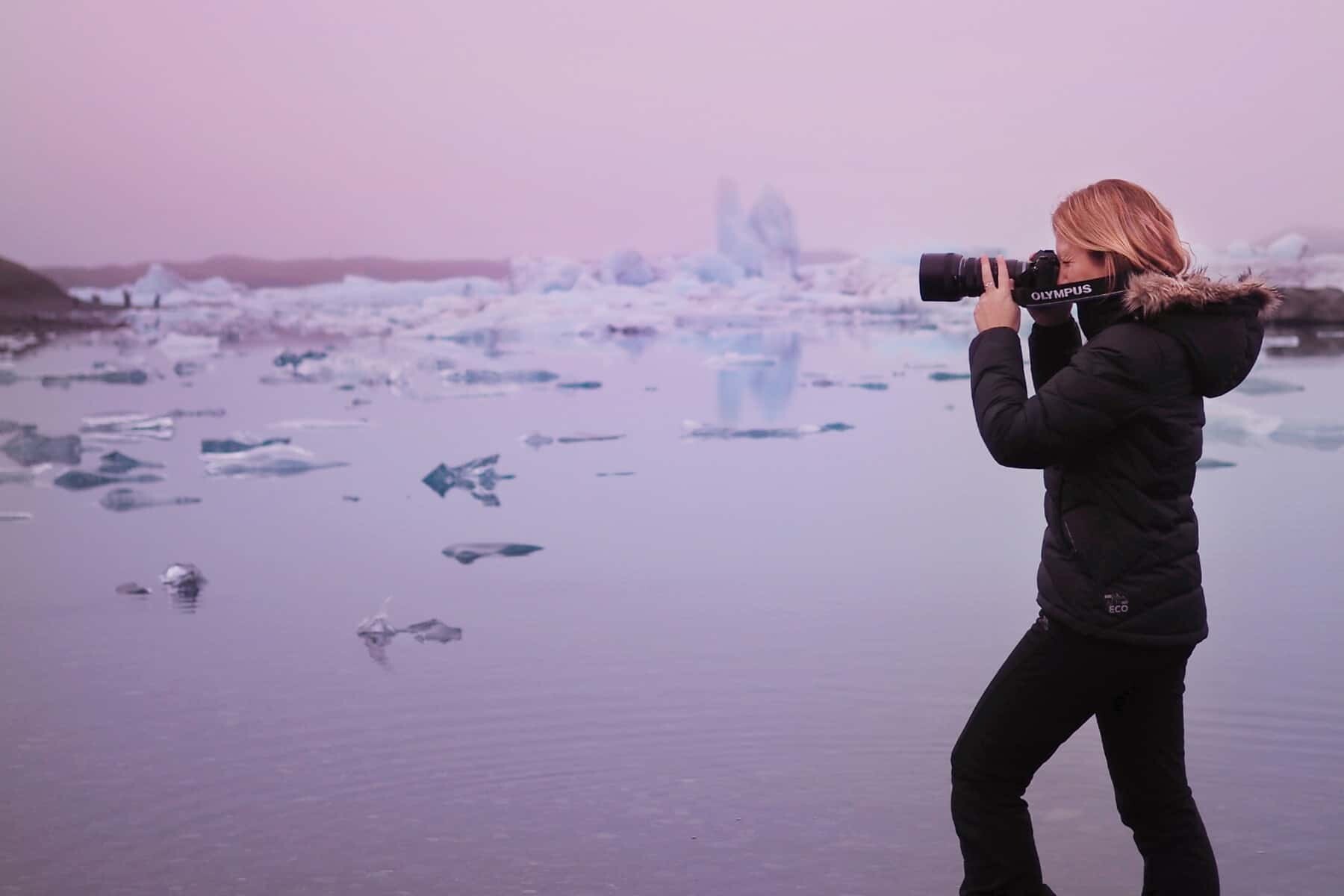 Photography Inspiration: Behind the Professional Lens
You've heard me say it before and I'll say it again to kick off this article; photography isn't only about what gear you have but how you use it and what story you want to convey with your image. Having a creative vision, the ability to read a scene and dream up compositions using light, props or the scene before you requires skills and talent that takes time to develop. When you can then pair that practice with equipment that helps you to bring your ideas to life, this is when the magic happens.
Now, speaking of what gear you use, have you ever wondered if other photographers use their cameras in the same way you do? Sure there are the key features and buttons that most people will use but do they see through the lens in a different way?
I've been photographing with the Olympus system for the past three years (read the archive of articles here) and absolutely love their rugged, lightweight bodies for the work I do. Having met up with many other Olympus photographers, both professional and enthusiast, I'm always amazed at how much we can teach each other about hidden features and even just swapping lenses, having fun taking photos and sharing stories. More than just using the same camera, it's about sharing a passion for a creative outlet that brings us together.
So, instead of simply wondering if my fellow Olympus snappers use the same cameras and work the same way, I decided to ask them. This article will share some of the stories behind their favourite images in their own words, what led to the shot being taken or what drew them to the subject in the first place. Each story is complete with settings and the gear they used to create the photograph to show just what an incredible variety of work is possible when different photographers use the same equipment.
From underwater, adventure and wildlife photographers to cycling, soccer, light painting, landscape and portrait masters, I'm so excited to publish this collection of stories from some of my talented photo friends!
Enough chat from me, it's time for their stories in their own words…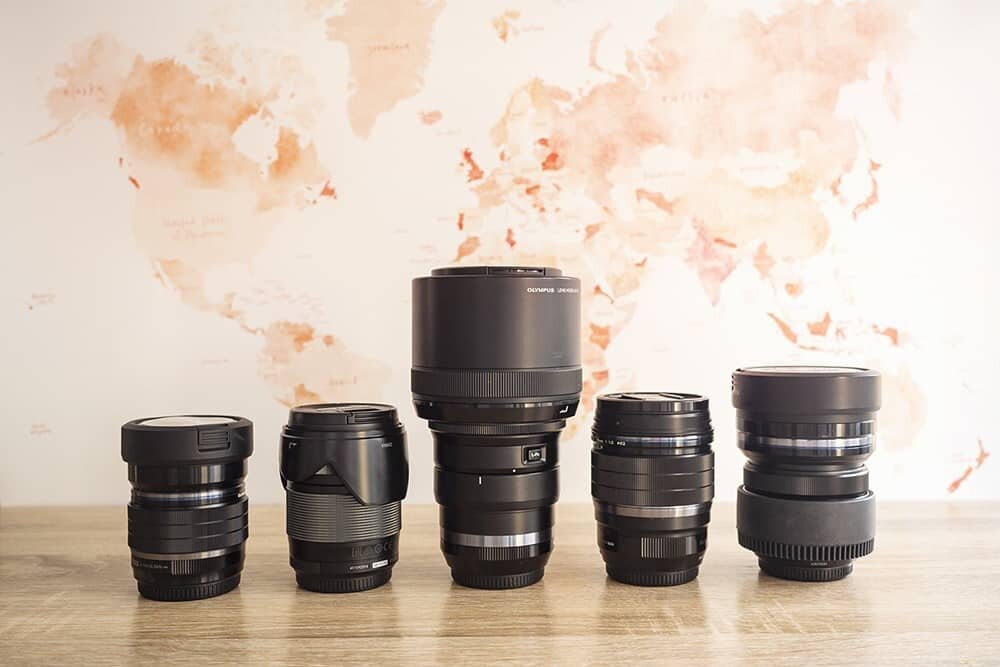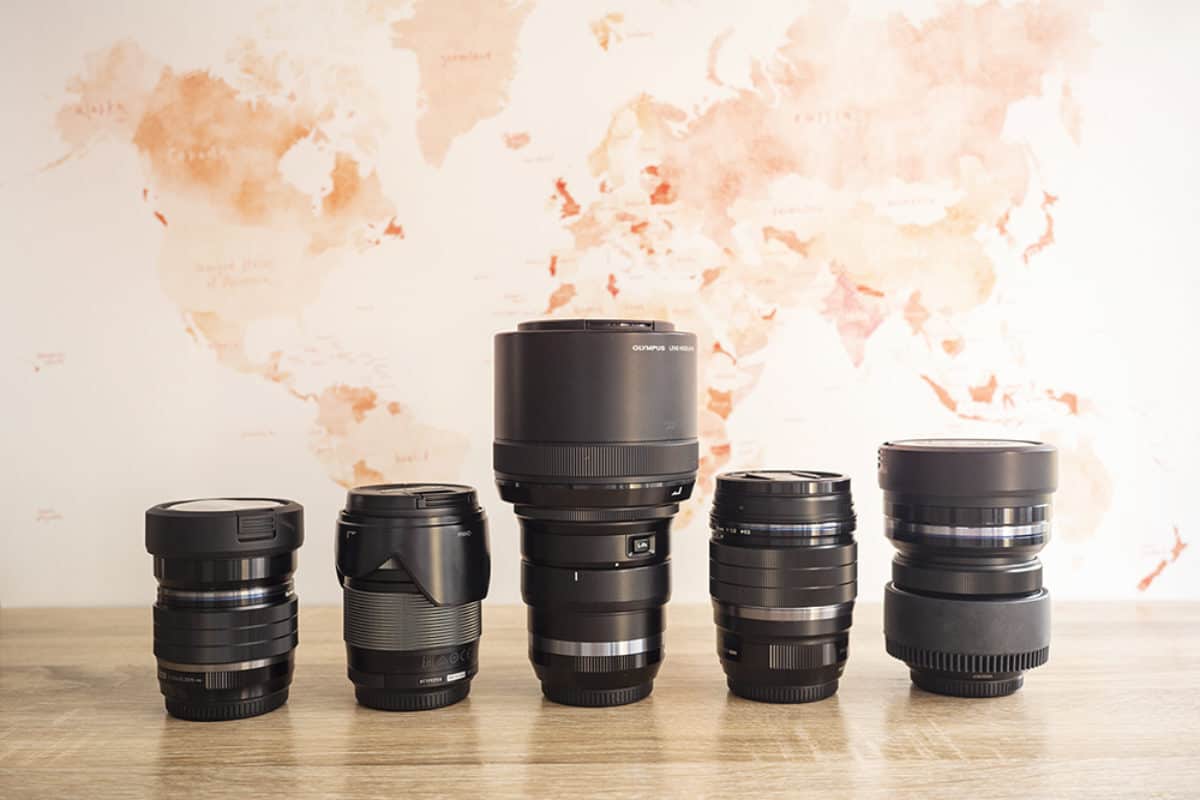 ---
Photographer
Chris Eyre-Walker
The Dreamwalkers Shot…
The middle of nowhere, -12ºC, raging winds, snow blowing up the cliffs and over 12 hours of suffering out at this location. What might sound like hell and horror to most is exactly the places I look for when capturing pictures and video.
You can't plan this kind of misery and there's no going back and doing it again. These shots are 100% real moments where getting the shot was just as much of an effort as the story in the shot.
What was really special to me at this moment, was that I had dreamt of this shot. To me, it summarised the entire project and packed exactly the right amount of story into the moment that I wanted. Nine months of planning and hours of suffering suddenly were worth it. And as the scene unfolded, my Friend Yuri walking the highline 300m above the raging ocean, even before I pushed the shutter on my E-M1 Mark II, I knew, I had the cover shot of my film Dreamwalkers – The Faroes Project. Moments later I ran down to Yuri, thanked him and told him I knew that I had just captured one of my all-time favourite photos.
Shots of moments like these you simply never forget.
Gear + Settings: Olympus OM-D E-M1 Mark II + 7-14mm f/2.8 PRO – 1/125sec, f/7.1, ISO200
---
Photographer –
Marcus Enno (Beardy McBeard)
Passo di Mortirolo Giro d'Italia 2019.
Documenting cycling races around the world is filled with challenges, each day brings unique situations and learning to adapt to the conditions is part of my job.
Stage 16 of the Giro d'Italia (a 3 week cycling race around Italy) was one of the most challenging.
The race was heading into the mountains despite terrible weather. Not willing to cancel the stage the riders would be climbing one of Italy's most notoriously difficult passes in single digit temperatures buffeted by wind and rain.
Arriving at the summit of the Mortirolo Pass to find thousands of dedicated cycling fans or "Tifosi" as they are known in Italy trying to stay warm in the pouring rain.
With no shelter, everyone was making do huddling under umbrellas and makeshift shelters as most of the people had cycled up so had only what they carried in their backpacks to keep them warm.
As the race drew closer I prepared my equipment – 2x Olympus OM-D E-M1x and a selection of Zuiko Professional lenses. I had a small umbrella and raincoat to try my best to keep the camera and lenses from being completely soaked.
As the first riders came into sight though the mist and rain the spectators gave a roar of excitement surging forward. I lined up my shot in the viewfinder doing my best to wipe water droplets and condensation from the lens.
At that moment the mountain was illuminated by the red glow of a flare cutting through the gloom.
I rattled off frame after frame hoping to capture the perfect moment as the horde of spectators parted and the lead riders were visible.
Fortunately I captured a clean image and managed to keep the lens dry. I've had perfect images before ruined by rain streaking across the lens which is heart breaking when you have spent all day just to get one spot!
I've found the Olympus OM-D EM1X the perfect companion for cycling photography as the weather sealed body and lens can handle the toughest conditions.
Gear + Settings: Olympus OM-D E-M1X | Lens M.Zuiko 40-150mm F2.8 PRO | f2.8 @1/2000 | ISO 800 | RAW
---
Photographer –
Denis Smith
My photography is all about pushing boundaries. Getting my butt in the water with some light painting gear a tripod and camera certainly did that.
The Liquid Light series took me a few years to get right, but on a warm summers evening or sometimes freezing in a wet suit, I spend time thrashing around in the water. This is a safe place for me. Alone, free and pushing to nail the image. This particular shot encompasses what the series is all about, dynamic movement, challenging light and a huge amount of fun.
I captured this image on the Olympus OM-D EM1 MarkII with the 12-100 F4 Pro lens. The tripod is sitting in the water, embedded in the sand and the camera is clicking away using the built in intervalometer while I am moving in the water. One of the incredible things about Olympus gear is the weather sealing and I put that to the test here, I do not need to dry my hands each time I come up to the camera to make adjustments, that is huge.
Take a peek at the Liquid Light behind the scenes video here.
---
Photographer –
Michaela Skovranova
Green turtle at Julian Rocks Nguthungulli Nature Reserve, Byron Bay Australia.
The Julian Rocks Nguthungulli Nature Reserve is a protected nature reserve in New South Wales, Australia. It's a place where the warm and cool currents meet, creating an incredibly vibrant ecosystem, forming a unique habitat which provides shelter and food for rays, corals, over 500 different species of fish and many other creatures such as this beautiful green turtle.
This image was created utilising breath-hold just below the surface of the ocean. The swell aerated the water – as the waves pushed towards me tiny air droplets got trapped on the dome port creating a small explosion of colour.
Gear + Settings: E-M1 MARK II + lens 12 mm f2.0 | Olympus PT-EP14 Underwater Housing | Exposure : 1/320 f 6.3 ISO 250
---
Photographer –
Christopher Robert
I love creating a space where women feel safe and comfortable to be themselves. I also love shooting at the beach, it's always different depending on the weather and tides.
It's a place that always calms me, the sound of the ocean, the feel of the sand, I feel free.
This was the first time I met and shot with Paige. We wanted to explore some natural portraits, moody, raw, real. This image encapsulates everything I love in shooting, the natural sun light and shadows, the water of the ocean, the texture of the landscape and the candid feel of it all. The 25mm 1.2 is my go to lens for portraits, it's so sharp and allows me to be close enough to my subject to maintain that connection without being too close or too far away. We shot at Portsea back beach on the Mornington Peninsula in Victoria.
Gear + Settings: Shot on the Olympus EM1X with the 25mm 1.2 pro lens | ISO 200 | 200th/sec | f1.6
---
Photographer –
Michael Hurren
I must have driven past this place a hundred times, traveling to country Victoria to visit family, for shoots or on fishing trips. This time though, I stopped!
I'm such a lazy photographer at times, I'll see something while driving and the light will be perfect, I can see the shot, but something in my brain says "keep driving you'll get it next time" even when I am hundreds of kilometers from home.
It took getting up before sunrise and making a special trip to finally get this shot. It's a very popular location for landscape photographers, and most shots I have ever seen from here have been wide and colourful. I wanted to take a different approach, so I shot on Olympus OM-D EM1x and used the longest lens I have in my bag, the M.Zuiko Digital ED 300mm f/4 IS PRO to compress the image and processed black and white for an extra point of difference.
I love shooting long lens for landscapes, it can turn what would be a single wide image into many images, picking out parts of the wide that are interesting on their own and compressing the image so that interesting part becomes the focus.
Gear: Olympus OM-D E-M1X + 300mm f.4
---
Photographer –
Rob Cottle
The Three Wise Swans – This is an image that wouldn't have arisen had I not constantly visited my local sites. Ideas have emerged and formed simply by returning over and over again, adapting to the light and location throughout the seasons. This has allowed more chances to be taken and to become more creative which has also stood me in good stead whenever I am lucky enough to travel.
When I first became interested in wildlife photography I would wander around this lake and just fire away at anything that moved and then wonder why nothing was any good. Now, as in this image, I will wade chest deep in the water, waiting for the sun to rise behind a previously chosen background and simply wait patiently for a subject to swim or fly past, which astonishingly they often do. The relatively shallow depth of field and compression of perspective from using the 300mm f/4 pro with a 1.4x TC has emphasised the horizontal lines created by early light, surface movement and shadow. Foreground negative space and the black background leads the eye to the most important part of the image, the serene beauty of mute swans.
Gear + Settings: Olympus OM-D EM1 mk2 with 300mm f/4 pro and MC-14 1.4x TC | ISO800 | 1/8000 | f/6.3
---
Photographer –
Matt Horspool
Colour of Chaos
In 2019, I took two of the Olympus E-M1X's to India, to test out their incredible weather sealing and ruggedness at the world-renowned Holi Festival.
Before entering the infamous Banke Bihari Temple, Vrindavan, I had envisioned an image taken of a chaotic crowd using the new EM1X's game-changing Live ND mode.
After almost being crushed to death by the surging mob, I managed to make my way to the upper viewing balcony. Here I contended with more than one hundred photographers, eager to capture the crowd below. I set the camera Live ND, stuck my arm through an opening, composed using the tilt screen, and held my breath to steady my hand. On the second attempt, I managed to capture this image.
Gear + Settings: E-M1X + M.Zuiko 7-14mm F4 PRO | 14mm, 1.0sec exposure @f4.5 | ISO200 | Handheld Live ND8
---
Photographer –
Nick Ghionis
When I was asked to pick a favourite image for this article, it was as if I was asked to pick my favourite child. So instead I decided to pick one of my favourite weddings from last year. Particularly more significant now than ever, since the pandemic and the restrictions to overseas travel.
One of the perks of being a wedding photographer is travel and in particular destinations like Santorini. Santorini is one of the most popular islands in Greece where people travel from all over the world to exchange their vows. It's beautiful white washed buildings and blue skies make for a perfect backdrop.
But this is where the anomaly lies. No backdrop or scenery could take your breath away like Paige in her Oglia Loro Couture Gown, Jake didn't stand a chance. What was most evident when photographing this gorgeous couple is the love that they have for each other. Childhood sweethearts, most would say it was a long time coming. Almost 10 years together, they have shared their fair share of ups and downs as they transitioned from young adults to the couple they are today.
I have known Jake and his family for quite some time and Paige was always a part of his life as long as I have known him. It is impossible not to fall in love with them. A rare quality of people where, you feel like you're the only person in the world to them, when you're speaking with them. Respectful, warm and genuine. If I were to hashtag three words for this beautiful couple.
What made the trip even more exciting was the amount of weight I was able to pack on board with my Olympus Gear. I was able to carry everything in my backpack and still be under the limit.
Gear + Settings: Olympus OM-D EM1 Mark II | 7-14 mm 2.8 Lens | ISO 250 | Aperture f3.2 | Shutter Speed 1/5000
---
Photographer –
Chad Gibson
This image was one of my favourite images from 2019. It is a young African Australian footballer playing for Congo in an African Nations Tournament in Western Sydney. I documented the Congo team throughout their victorious competition, but this image before the final was my favourite. It captured a young footballer preparing for the 90min that meant so much to this group of young men. The team had never won the competition before. They had struggled to be in this position, but through their determination, strength and skill they finally lifted the trophy together.
I chose this photograph because it feels very relevant with what is transpiring around the world at the moment. The focus on the single drop of sweat that falls from the young man's face has always reminded me of the famous reflection by Rumi: "You are not a drop in the ocean. You are the entire ocean in a drop." It speaks to the impact individuals can have working as a collective to achieve their goals. It's a portrait of endurance, determination and the power of individuals united.
Photographer –
Ante Badzim
My photographic approach is to show the true beauty of the subject, where it demands attention by introducing space and minimising distractions. The simplest of things, when isolated, can represent something beautiful. What we take for granted often seems to be the most important, when I bring attention to these simple elements, it can function as a reminder to truly appreciate our surroundings.
When capturing this image, I wanted to portray a sense of calmness and simplicity and provide the viewer with an opportunity to reflect. On this day 49-degree day in Muscat, Oman I sat patiently for that decisive fleeting moment while the subject was surrounded by the magnificent marble exterior that surrounds Old Muscat Al Alarm Palace. I had sweat pouring from my hands and face that covered my Olympus camera and lens. I would have struggled to get the shot if I didn't have the compact and lightweight setup and not to mention the weather sealing.
Gear + Settings: OM-D E-M1 Mark II + M.Zuiko Digital ED 40-150mm f2.8 | ISO 200 | 1/250sec | f2.8
---
Photographer –
Lisa Michele Burns
(yes, that's me, the author, I couldn't resist sharing a story too)
Winter in Greenland means the sun only peeks above the horizon for a few hours each day and temperatures hover around -20 to -30 degrees. In March this year I was photographing a project in Ilulissat and couldn't resist hiking along a trail I'd previously hiked in summer, when the sun shines for 24hrs a day.
An hour into the hike all was fine, walking through the snow had kept us warm but once we stopped to take photos of the majestic icefjord before us, the chill quickly took over and I felt like a very unprepared Aussie standing in this frozen paradise.
The smart thing to do would have been to turn back or walk to stay warm but with the sun almost setting, beautiful pastel tones were filling the sky. Slowly, the giant icebergs changed from a snow white to light blue then a soft purple colour, I couldn't turn back now, I had to stay and see this magic unfold.
I was alternating between the E-M1X, E-M1 MKIII and E-M1 MKII (which all fit in my backpack) because I was finding it physically impossible to change lenses as my hands were so cold. The three cameras took turns sitting in the snow while I photographed the scene and tried to capture as many angles as I could before darkness crept across the sky. Having gear that can withstand conditions like this is essential to how I photograph, I only wish I could last as long as they could in these temperatures!
Gear: Olympus OM-D E-M1 MKIII + 40 – 150mm f2.8 M.Zuiko Pro Lens | ISO 320 | 1/1250 sec |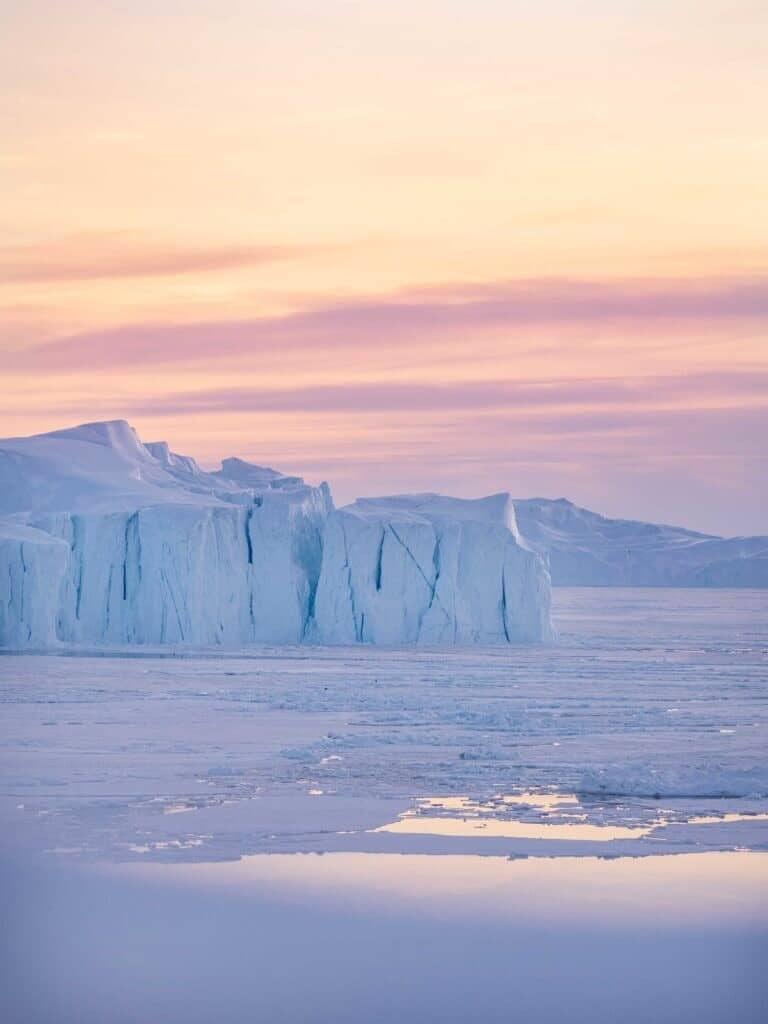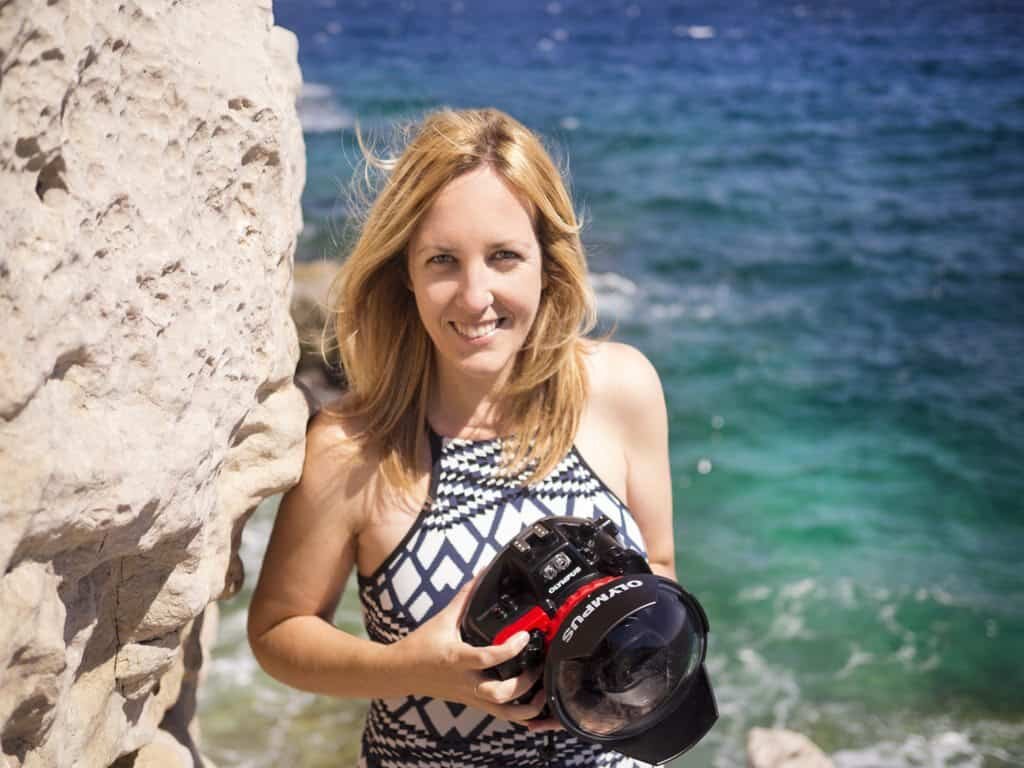 Hello! I'm the founder and photographer behind The Wandering Lens.
With 17+yrs experience as a professional travel and landscape photographer, all advice found on this site is from my personal experience on the road. I hope it's useful for your own travels and would love to hear in the comments about your trips and experiences around the world.