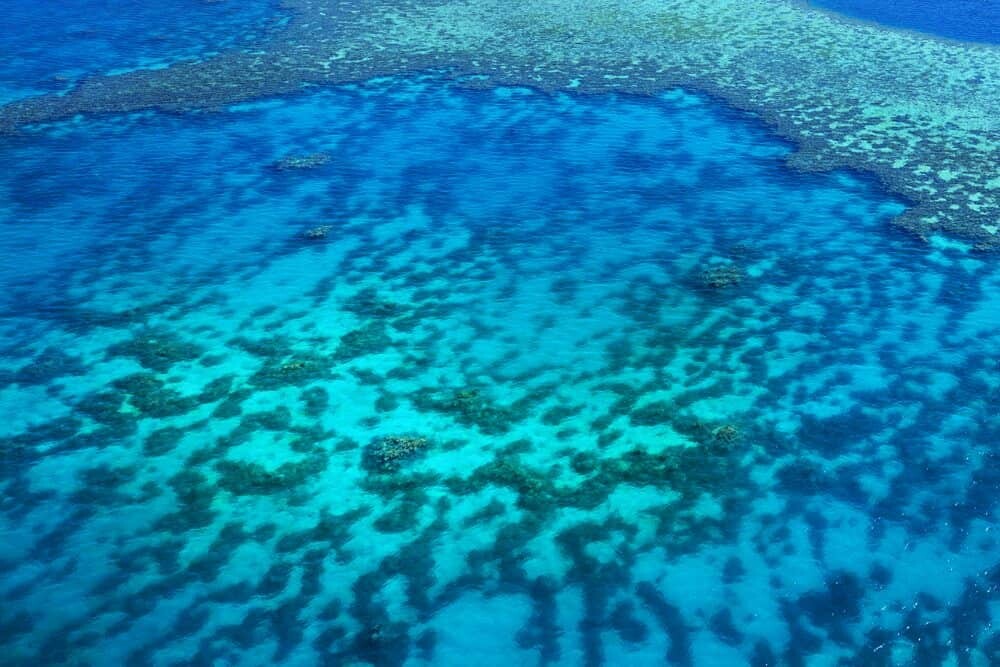 Listed as one of the natural wonders of the world, The Great Barrier Reef is one big collection of sparkling gems sitting in the Coral Sea off the coast of Queensland, Australia.
It's a snorkelers dream and a must see location for tourists visiting Australia, wowing with its unforgettable beauty both above and below the water.
I will share how to capture the underwater world of the reef in another post but for now let's get to talking about one of my favourite ways to photograph…from a seat 1000ft in the air!
Firstly, helicopters aren't cheap. It's definitely a luxury but if you've researched your destination and feel aerial imagery could really showcase the landscape then it is well worth the investment and it's an incredible experience. As a weather geek, I'll triple check the weather forecast for weeks in advance to ensure the conditions are going to be picture perfect and if not you can usually postpone your flight if you're staying a few days in the area.
The Great Barrier Reef can be accessed from a few locations along the Queensland coast but my personal favourite is The Whitsundays. From this region you can hire a helicopter from the mainland town of Airlie Beach or one of the island resorts depending on where you're staying. Actually getting out to the reef is a journey in itself and you'll fly over some of the 74 islands that make up the Whitsunday Island group with their fringing reefs and white sandy beaches adding endless photo opportunities along the way.
To ensure you make the most of your flight, have a camera bag with two cameras set and ready to go because you don't want to be wasting time swapping lenses and fiddling with settings when you've only got 10-15mins over the reef. Plus having them set will allow you to take a bit of time to actually look out the window rather than through a lens, definitely something I recommend doing so you have a chance to see it, let the magic landscapes sink in and then decide how you wish to photograph and compose it rather than just snapping away like a maniac and hope you got one or two good shots.
I'm a big fan of natural patterns and formations so tend to focus more on the contrasts of the shallow reef against the deep blue ocean colours. To achieve this in photographs ensure your camera is set with a fast shutter because you'll be moving in the helicopter and don't want to have blurry details, sharp and clear images are essential for showcasing the intricate beauty of the Great Barrier Reef.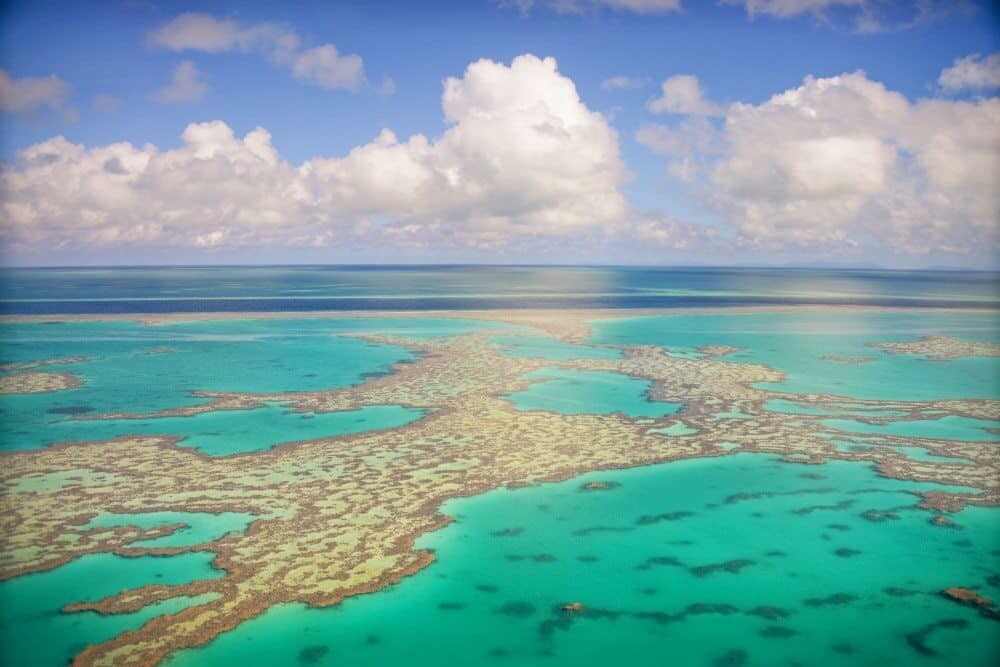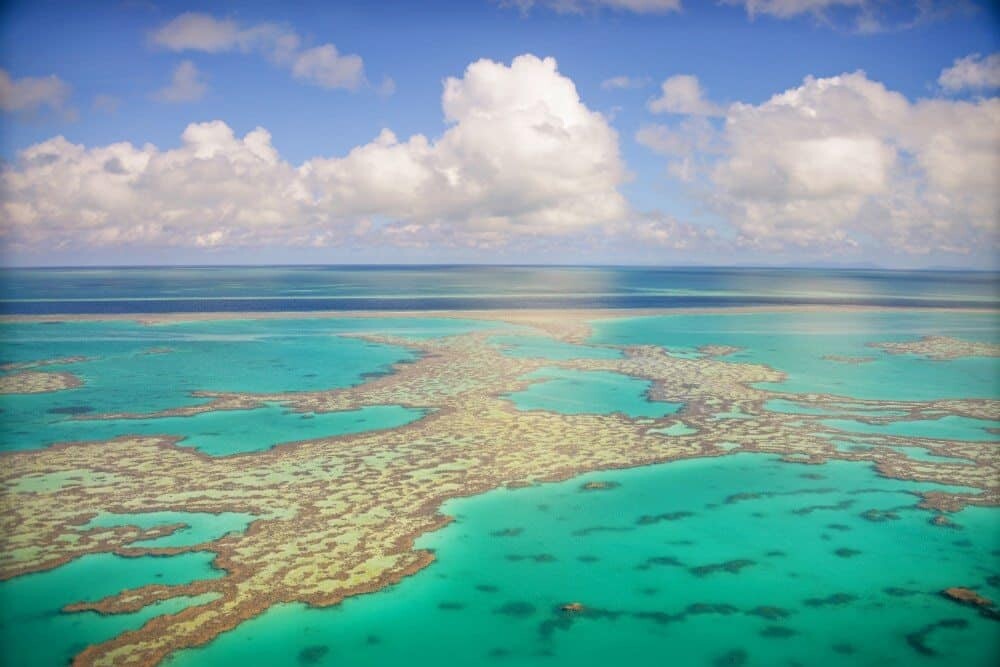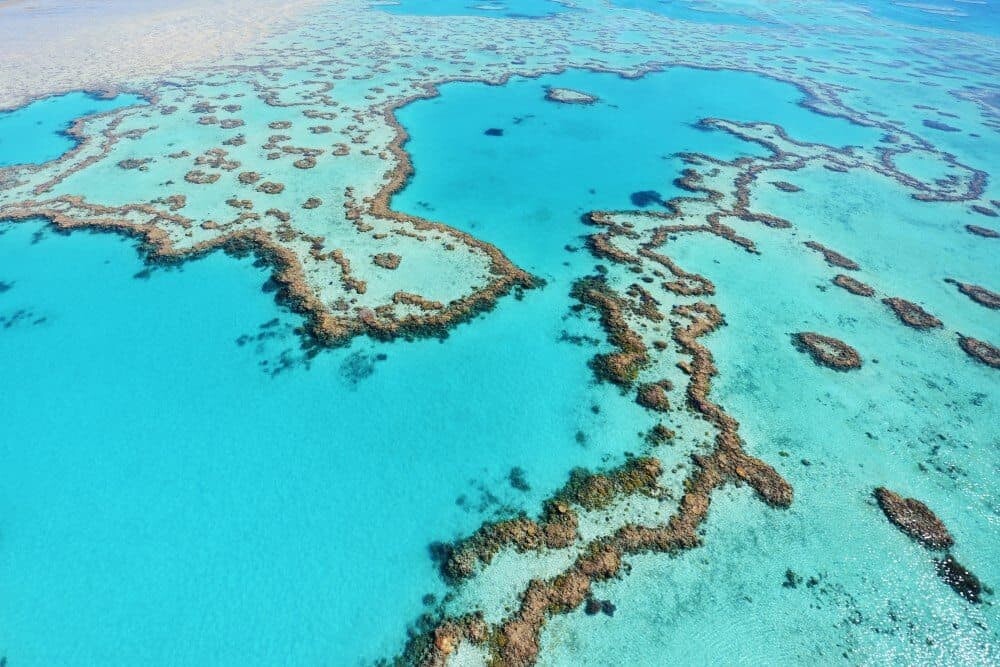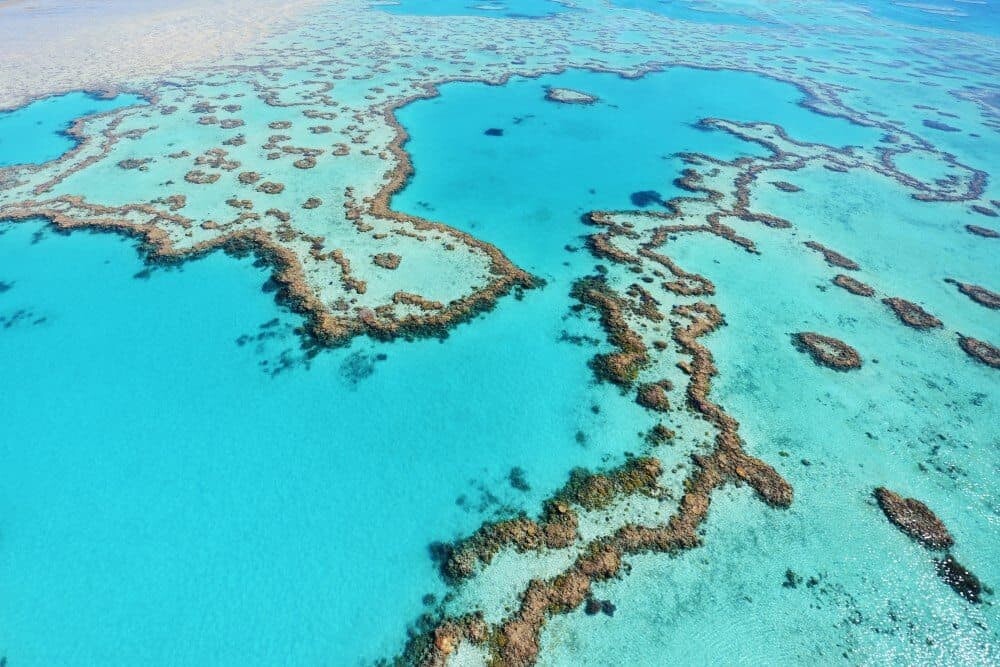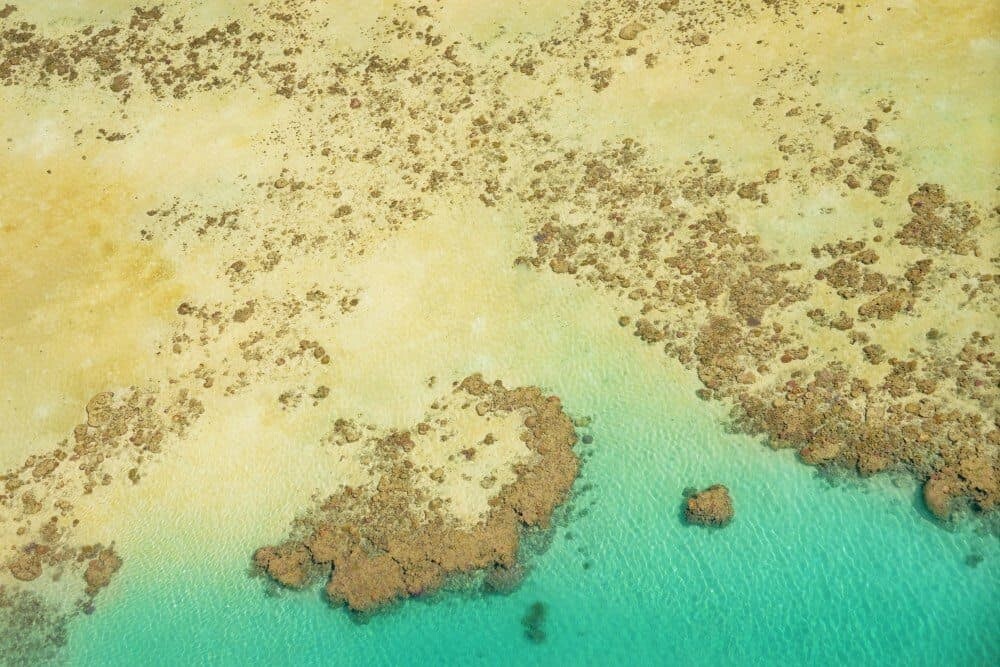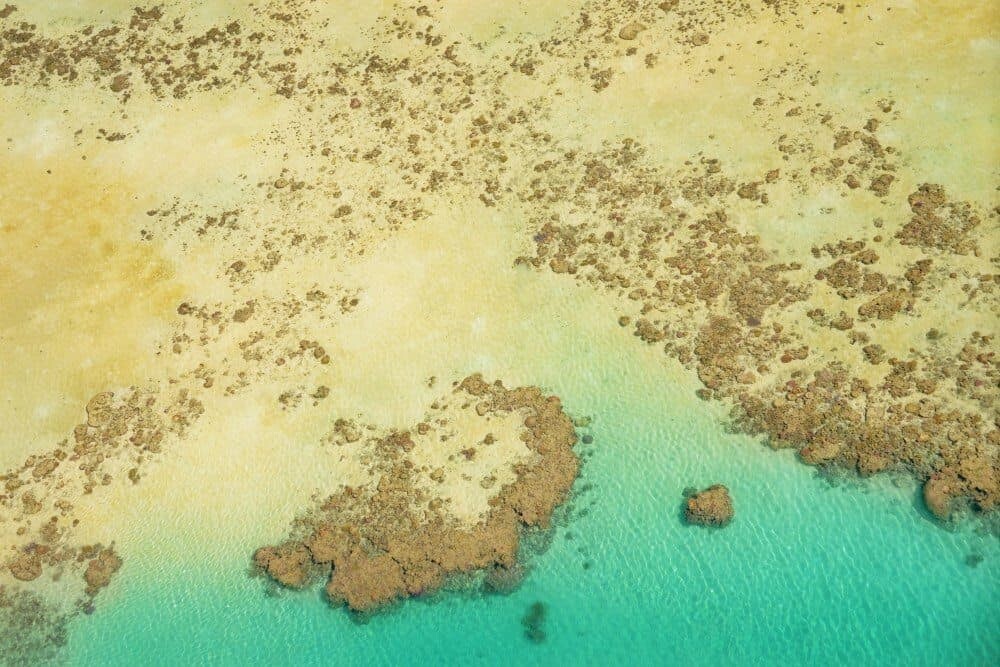 Depending on your camera the setting may differ but before getting into the chopper I'll set my camera on Aperture Mode with an ISO of 200-400 depending on the amount of cloud cover, ISO 200-400 for perfect sunshine, 400+ if there is a little less light around. For the exposure I like to set it at +0.3 but usually adjust this throughout the flight depending on the amount of glare coming off the water. Also ensure your camera's image quality is set on the highest possible setting, for my Olympus OM-D E-M1 MKII I use both RAW Files and JPEG Super Fine because it is such an investment to jump in a helicopter I make sure I've got all based covered for whatever I want to do with the images later.
When it comes to composing your images, like I mentioned before it's important to take the time and see the reef with your eyes before your lens. You'll immediately see what makes you say "wow" and that's what you want to try and capture to showcase your experience. I've been up a few times over the past five years and find I always take a mix of the close up imagery to capture the delicate details and then the big grand landscape shots with a wide lens because it is such an incredible view.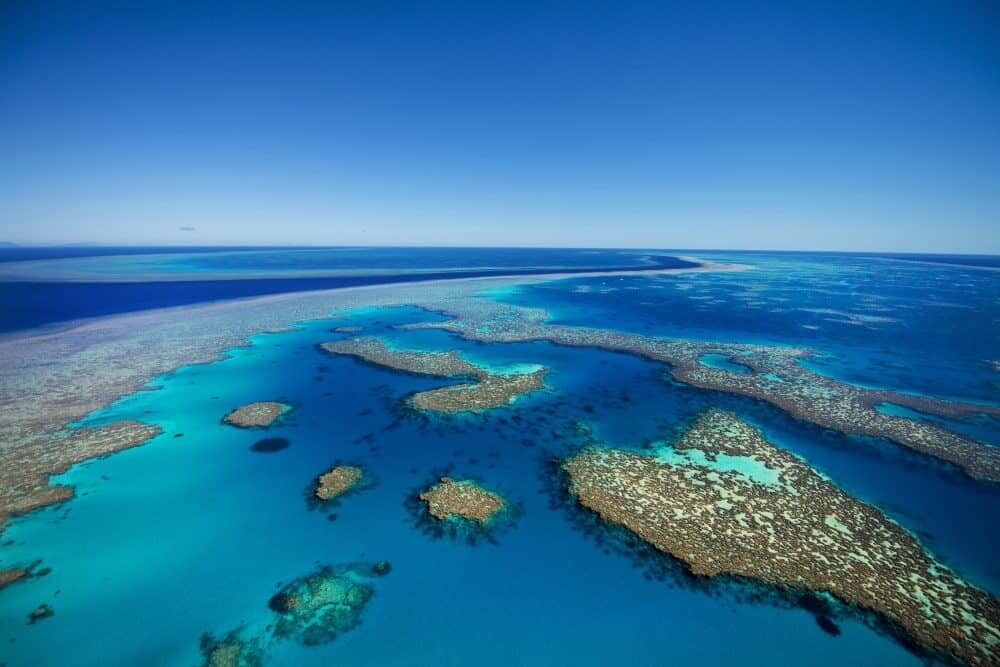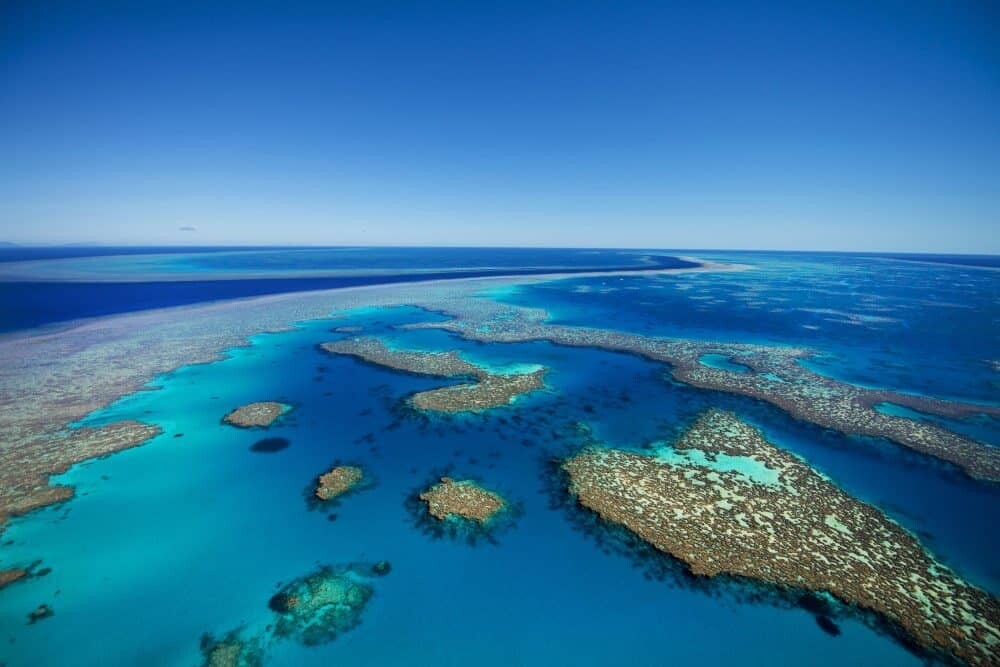 To photograph the entire scene in front of you it's still important to think about your composure because you don't want to end up with a whole bunch of sky and not much reef. If you're flying from The Whitsundays you will no doubt be lucky enough to fly over the amazing Heart Reef which is a perfect little reef outcrop shaped exactly like a love heart. To use this as an example, you can definitely get plenty of close up shots just of the shape but to compose the image so the heart features within the surrounding reef it provides a view that puts the Heart Reef into perspective and show people viewing your photograph just how special it truly is.
Including sand or shallow parts of coral in your shot also adds another element that can take a standard shot of the reef and turn it into an amazing one. Channels through the reef can make for a great feature too, especially if you're flying over when the tide changes as you'll find water rushing out between the reef even creating little waves sometimes.
My favourite image of The Great Barrier Reef was taken on one of those special days when the sea was calm, the wind was non-existent and the sun shone down to highlight the colours of the reef at all depths. Because the weather was the best I had ever seen I chartered a helicopter (a little more expensive than a regular tour) and this allowed me to guide the pilot to where I wanted to go in order to capture what I had envisioned. I wanted to portray how large and impressive Hardy Reef; a section of The Great Barrier Reef is so I asked the pilot to go to the southern tip of the reef and when we got there just flew went higher and higher until the view appeared before us. The resulting photograph is below and I still love looking at it and remembering that magical day.
If you've photographed The Great Barrier Reef let me know by sharing via on Instagram @the_wanderinglens or by using the hashtag #thewanderinglens.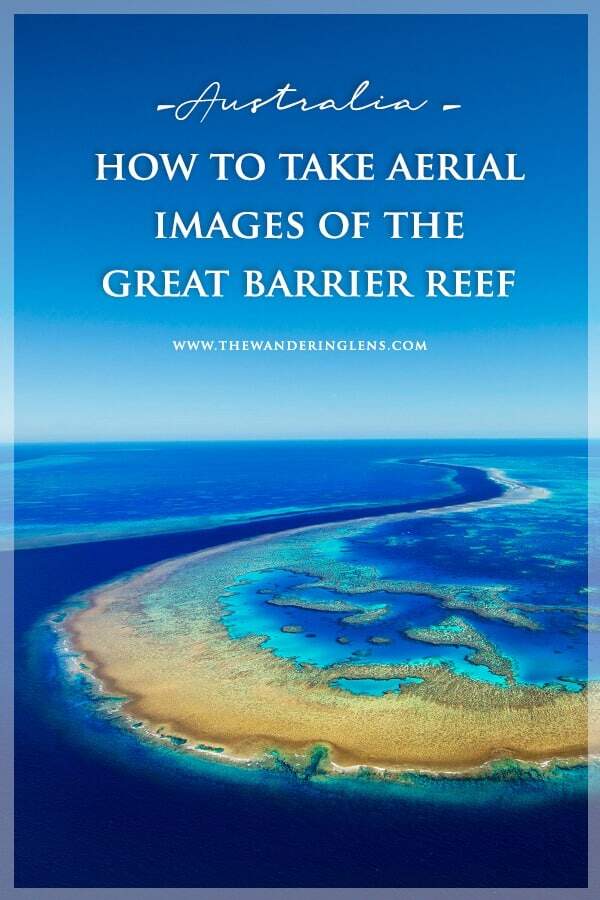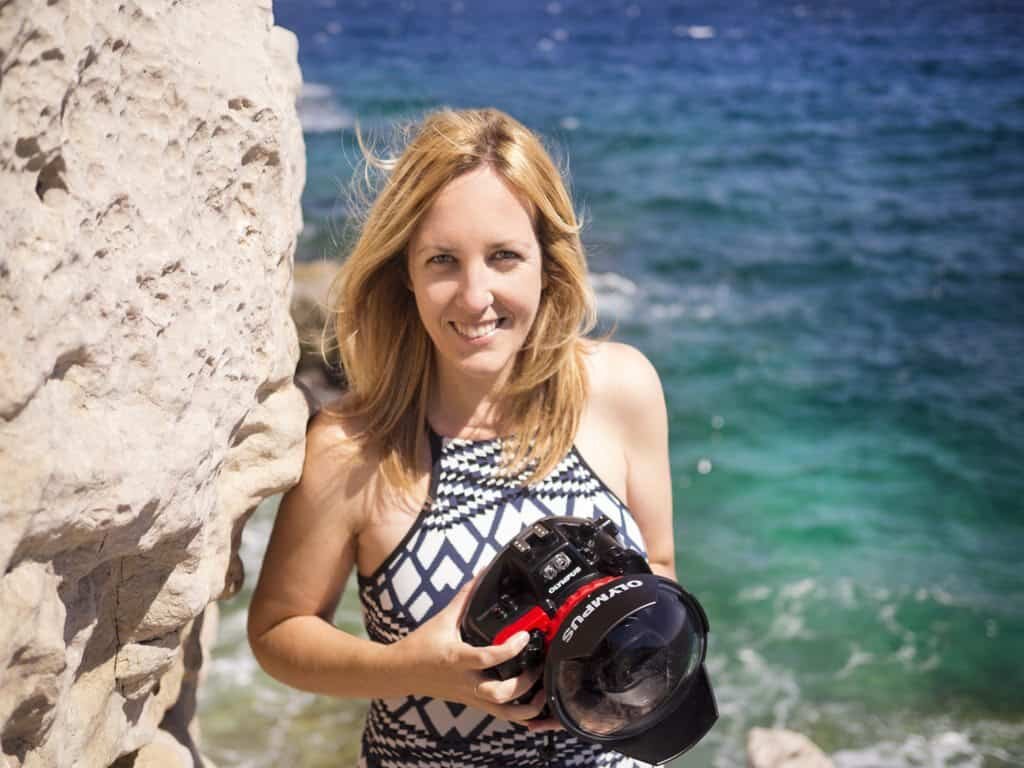 Hello! I'm the founder and photographer behind The Wandering Lens.
With 17+yrs experience as a professional travel and landscape photographer, all advice found on this site is from my personal experience on the road. I hope it's useful for your own travels and would love to hear in the comments about your trips and experiences around the world.