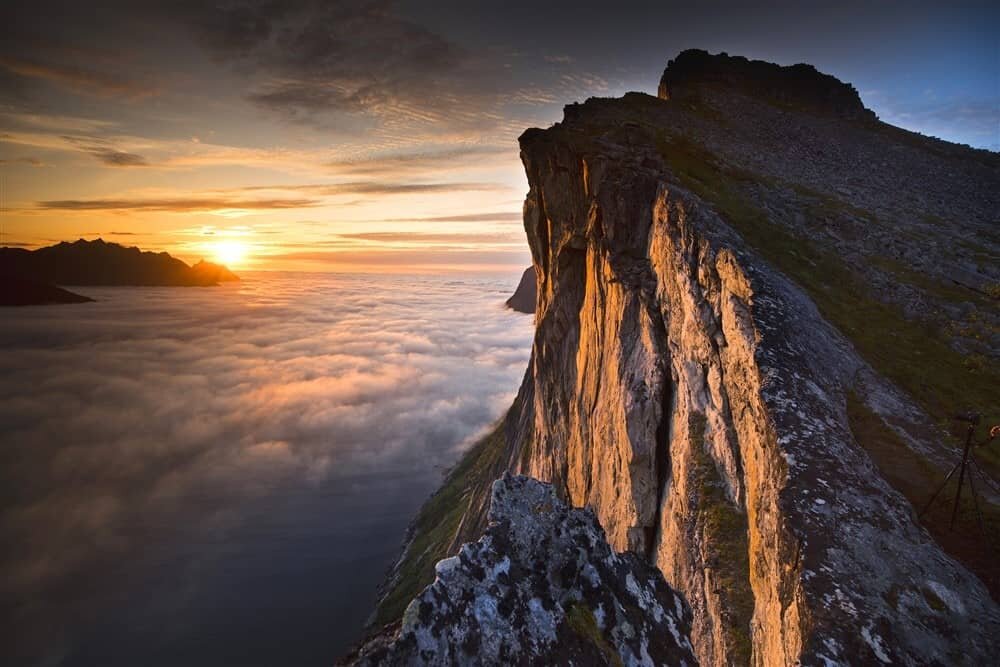 Far above Arctic Circle sits Norway's second largest island – Senja.
It's impossible to describe Senja in couple of words; its landscape greatly varies from east to west, hence the island is often called a 'Norway in miniature'.
In eastern part of Senja you'll find lush green meadows and valleys, dotted by wetlands and small lakes. The western part of Senja however, presents a completely different landscape. The main features of its western coast are countless narrow fjords, in fact when looking at the map, the island looks torn! Reaching far into the ocean are long, mountainous peninsulas. Rugged mountains seem to be rising directly from the ocean; their ridges sharp and rocky. Although Senja's mountains are not high, they definitely make an incredible impression!
Distance-wise, Senja can be visited within a 1 day road trip, but you'll find it hardly possible to truly soak it all in – the scenery you'll pass, the colourful villages and amazing viewpoints will all call for a photo, a short walk or a break to take in the view. I'd recommend allowing at least 2-3 days to explore the islands hidden gems.
Undoubtedly, you'll find a piece of heaven when visiting Senja and will long to come back to explore the island further.
This guide, written by hiking experts and outdoor lovers Ela and Bea of Stunning Outdoors, will focus on the most photogenic locations in western part of Senja, many of them can be found along official Norwegian Scenic Route Senja.
To get started, below is a map to the Senja photography locations you'll find within this guide below –
Now let's have a closer look at the best photo spots on Senja island in Northern Norway…
Senja Photography Locations –
#1 Husoy
Husoy is the only location listed in this guide which is not on 'mainland' Senja, but actually is another small island just off Senja's shores; the islands are connected by a short bridge. Although a little bit aside from Senja's main road number 862, Husoy is a part of the scenic route and well worth paying a visit. Located at the shores of Oyfjorden, this little island is a real gem.
Leave your car at the car park just before Husoy bridge and visit the island by foot (1.5 -2 km walk in total). Walk along the main road towards the island. Apart from its northernmost tip, Husoy is all taken by a village and a small fishery. Why not wander along its main streets to a Lykthammaren Point with a little lighthouse and take photos of colourful houses on your way back? When back at the car park have a look at a small harbour – at the day's end it will be full of colourful fishing boats, amazingly contrasting with rugged mountain walls in background. If you happen to visit Husoy on a 'moody' day, or just after the rain look out for slowly rising clouds!
You should allow 1-1.5 hours for visiting Husoy.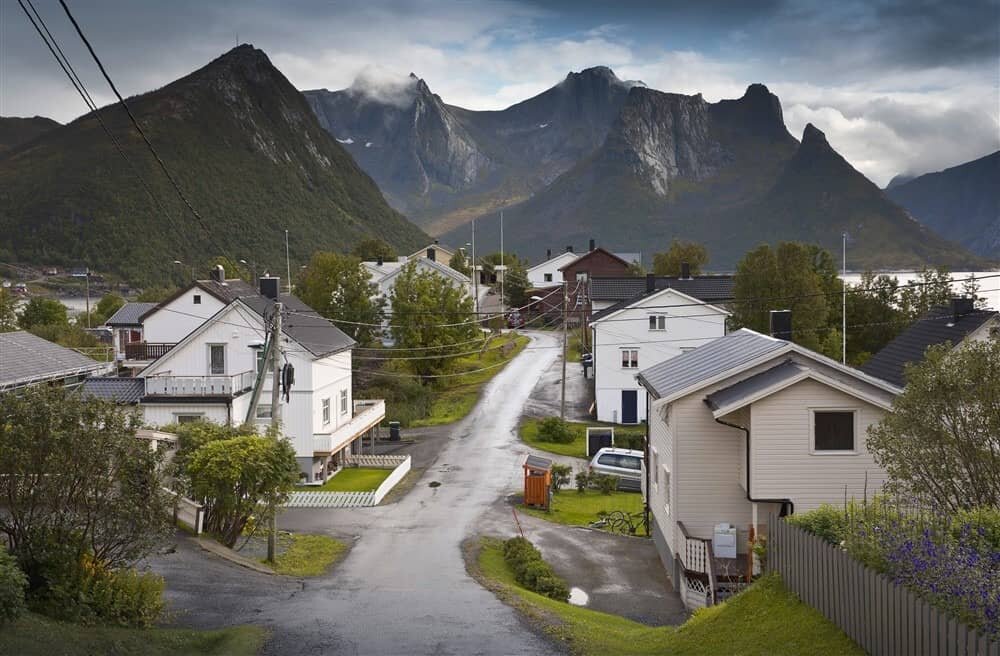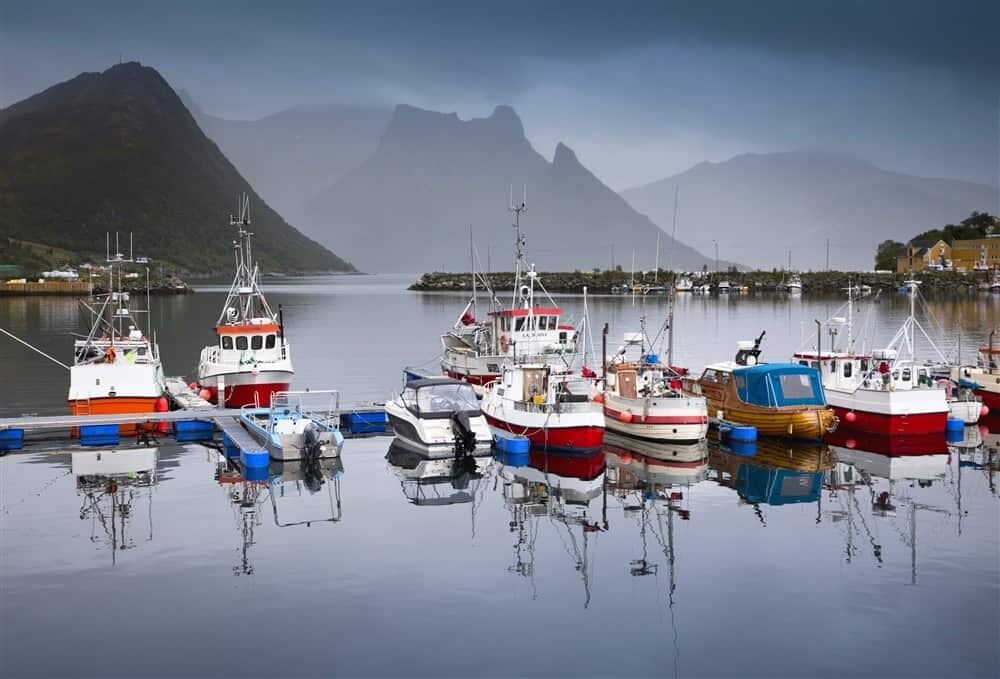 #2 Botnham
Located near the northern end of Senja, Botnham is one of the island's largest villages. Squeezed between waters of Stonesboth and green mountains Skinnkollen & Astritind, the village has a very relaxed ambience. It's also a very good spot for northern lights watching – if you fancy a challenge try to capture full moon and Aurora Borealis over the village or midnight sun (only when visiting in June and July).

#3 Fjordgard
As much as I loved other Senja's beautiful villages, Fjordgard is a totally different league of beauty. The village is located directly opposite Husoy island over the Oyfjorden shores. It can only be reached by a small road, via two narrow tunnels. Rest assured that when you leave main road number 862 and pass the tunnels, you'll find something spectacular.
Fjordgard is only a small village, but it cannot be overlooked; and that's for three reasons.
Reason one, its location between steep mountains and ever blue fjord makes it a perfect spot for dramatic mist/low clouds photos. With a bit of luck you may witness very low clouds coming from the ocean and close in the fjord, slowly covering the village and nearby valleys. If, by any chance, you find yourself on higher ground, you'll witness an amazing inversion. This, however, happens mostly on hot, summer days (yes, there ARE hot days so far past arctic circle!)
The village is also an amazing spot for photographing some of the most iconic of Senja's mountains – Segla, Hesten, Keipen & Grytetippen. Who doesn't love capturing rugged mountains reflected in calm, fjord waters?!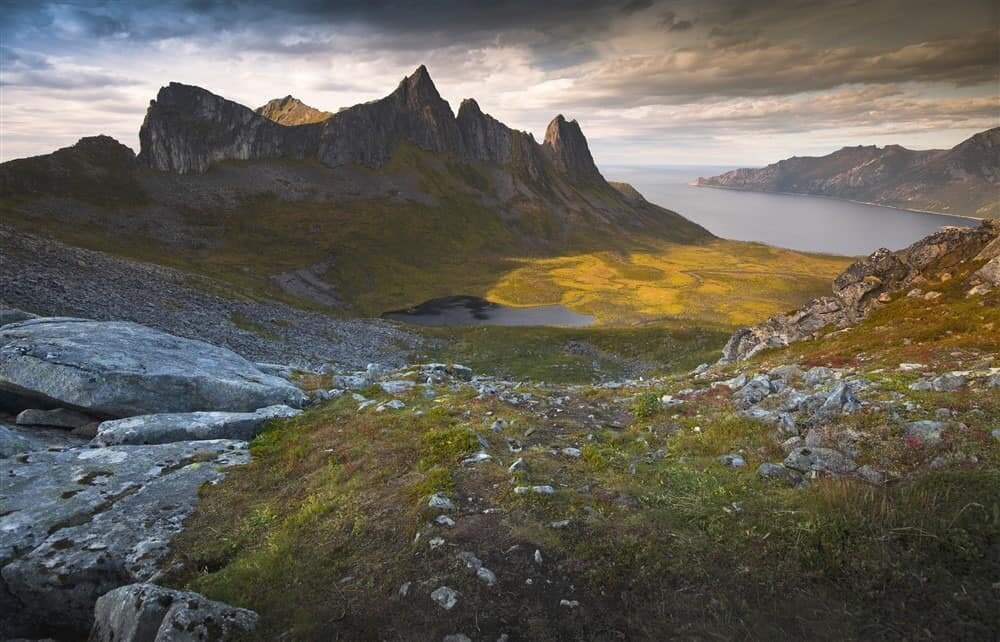 Reason two, Segla mountain. It's probably the most iconic of Senja's mountains. Although only 640 masl, Segla is a hiking and photo destination for many visitors. Its southern slopes are possible to climb, albeit very steep and eroded. From Segla's top you'll see the amazing landscape of a narrow, mountainous peninsula surrounded by two spectacular fjords: Oyfjorden and Mefjorden. As much as Segla is accessible from eastern side, to the west the mountain seems to be smoothly cut in half – its vertical cliffs fall directly to Mefjorden like a wall. It makes an amazing view which is best admired from Segla's summit: green valley on your left and severe drop of vertical cliff edge to the right. Please allow 3-4 hours for hiking Segla from Fjordgard (marked, signposted trail).
Read more – The Stunning Outdoors Guide to Hiking Selga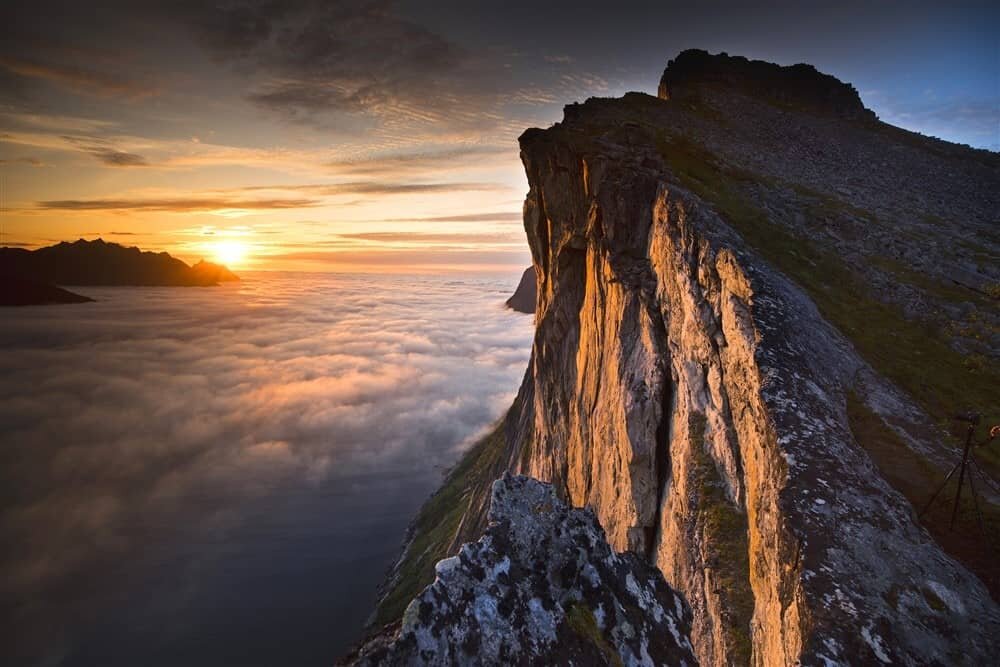 Reason three, Hesten mountain. I should probably say 'Segla mountain viewed from Hesten' as Hesten itself is mostly associated with a high viewpoint nearby Segla, however I feel this would not be entirely right. Of course, the mountain is best known for view to northern cliffs of Segla, in fact this is the view everyone has in mind when thinking of Senja island. But Hesten is so much more than that! Let me explain; when you're on Hesten summit you're in the middle of it all! There is a spectacular range of inaccessible mountains north from Hesten, they're just amazing – rugged, sharp ridges of undiscovered Kongen peaks (best photographed at sunrise and morning). To the south you'll see the most spectacular cliffs of Segla – they're especially breath taking in afternoon and evening as setting sun lights up sheer rock yellow, orange and eventually purple. Between you (on Hesten top) and Segla, you'll admire sharp cliff face, dropping vertically to Mefjord. It's simply out of this world. I can't recommend this viewpoint enough. Once you're on Hesten at sunset, you'll experience something mystical, unforgettable. This view will stay with you forever!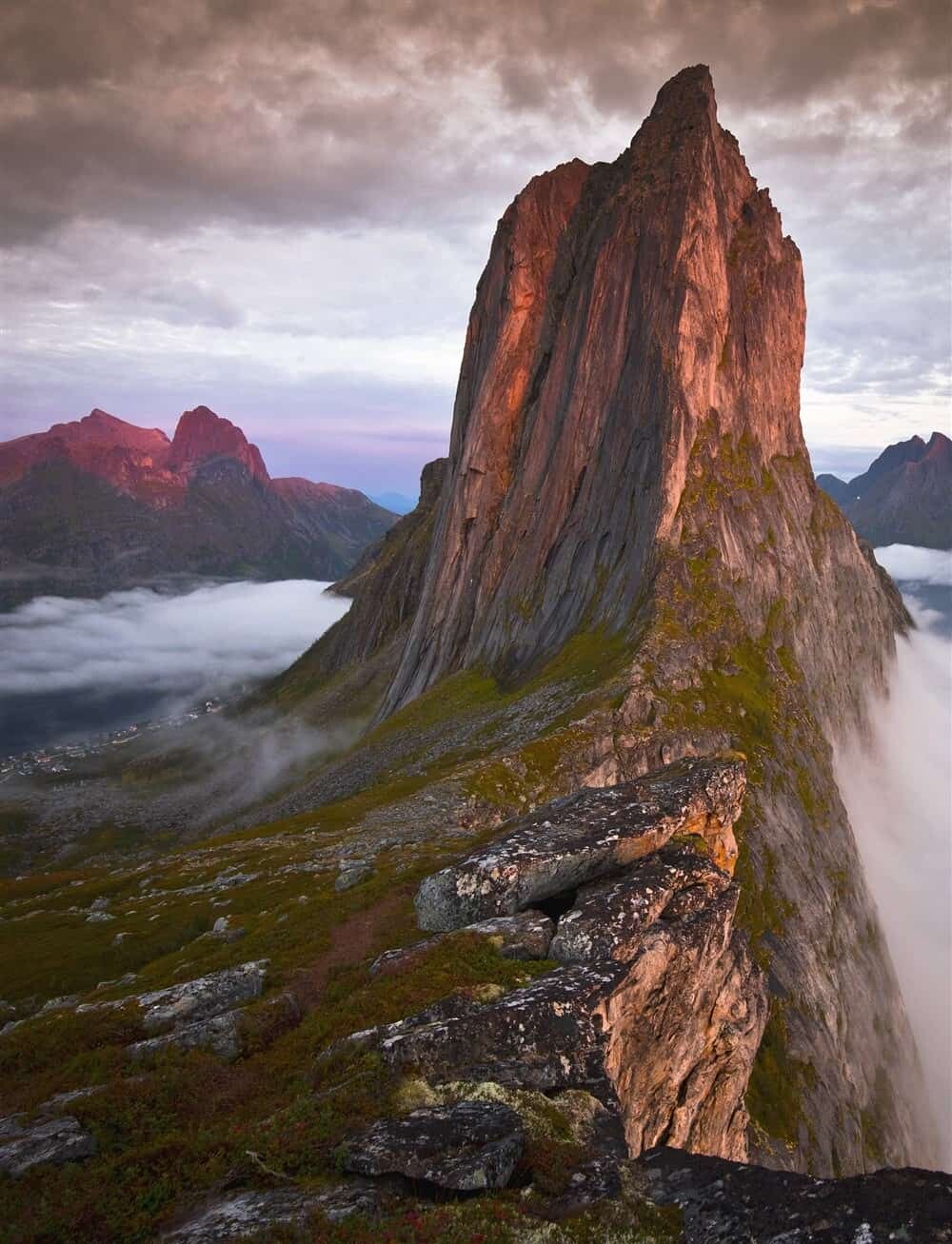 #4 Ersfjord Beach (Ersfjordstranda)
Ersfjordstranda is very easily found, as it's located directly at the main road number 862, at Ersfjord. The fjord ends with twin coves, one of them a rocky coastline, however the other one is a home to Ersfjord village and the only sandy beach on Senja! The beach is relatively small, but a true gem as it's surrounded by sharp mountain ridges. Ersfjordstranda is greatly loved by Senja's visitors for two reasons: one – it's a beach! A perfect location for long exposure photos at blue hour as you're not likely to be disturbed by keen swimmers – ocean waters are just too cold for a dip! The beach is also a very popular wild camping spot – in fact there are provisional tent pitches and spots for live-fire. This brings an amazing opportunity for atmospheric evening photography. And on top of that, it's a great place to stay overnight.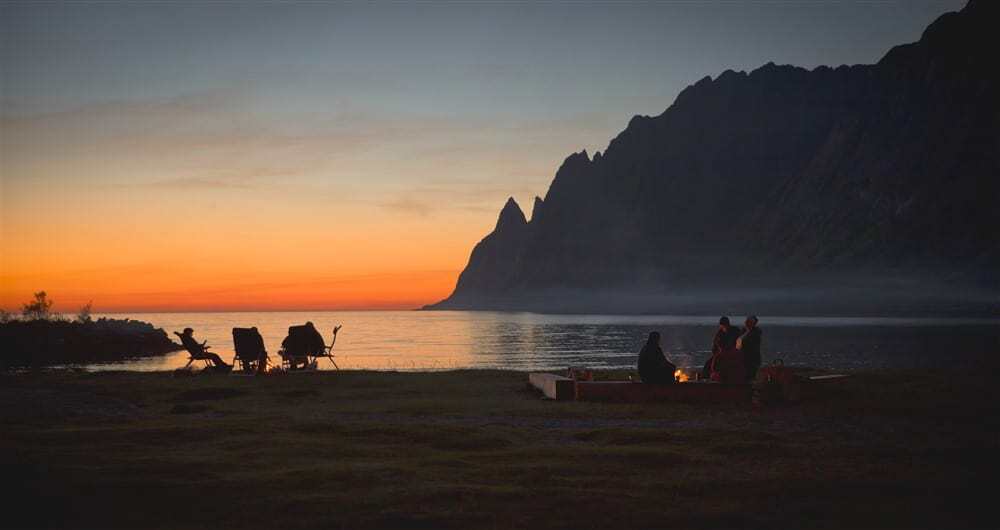 #5 Bergsfjorden & Husfjellet
Bergsfjorden is a wide, open fjord, approximately half way along Senja's scenic route. Why is it worth a mention? It's exceptional, with dozens of small rocky islands dotting its waters. Surely they're best admired from a high viewpoint, this is when village Skaland and nearby Husfjellet hill come into picture.
Leave the main road number 862 and drive to village Skaland, find a small church Berg. A hiking trail to Husfjellet starts at the church's car park. It's OK if you don't feel like hiking a mountain – you won't need to walk as far as Husfjellet's summit (although it's highly recommended!). Hiking just over tree line is sufficient to see the islands as well as surrounding rugged mountains. Again, the path to Husfjellet is marked and well defined, please allow approximately 2 hours for walking just over tree line (and back) or 4 hours for full hike to Husfjellet's top. It's well worth the effort!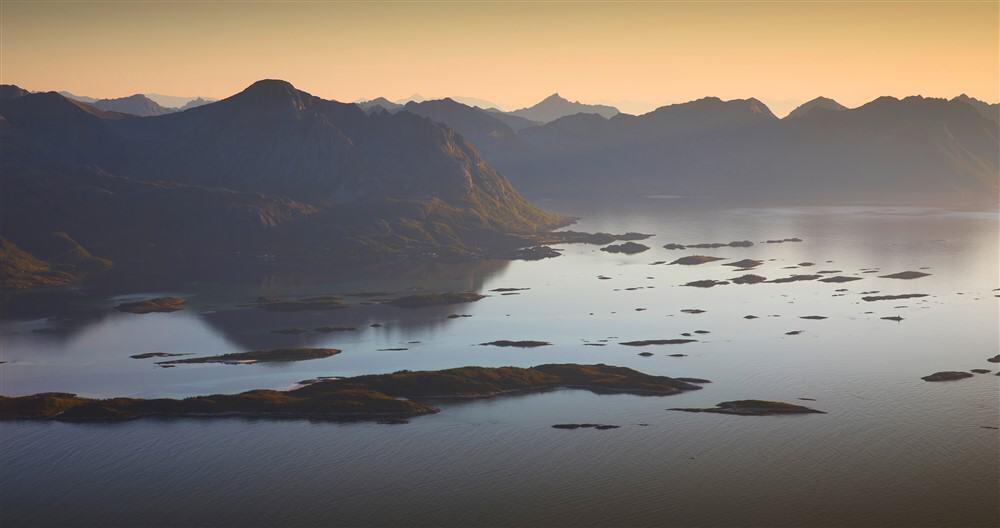 #6 Bergsbotn viewing platform
The platform is located directly at main road number 862 (Tourist Scenic Route Senja), over the island's only hairpin bend! Leave your car at the car park at the road bend and walk towards a modern, wooden viewing platform. Oh, what a sight! Below you are calm waters of Bergsfjorden framed by lush green woodland. Looking further you'll see some of Senja's beautiful mountains: Luttinden and Husfjellet; and finally a village of Bergsbotn just at your feet. A breathtaking view indeed!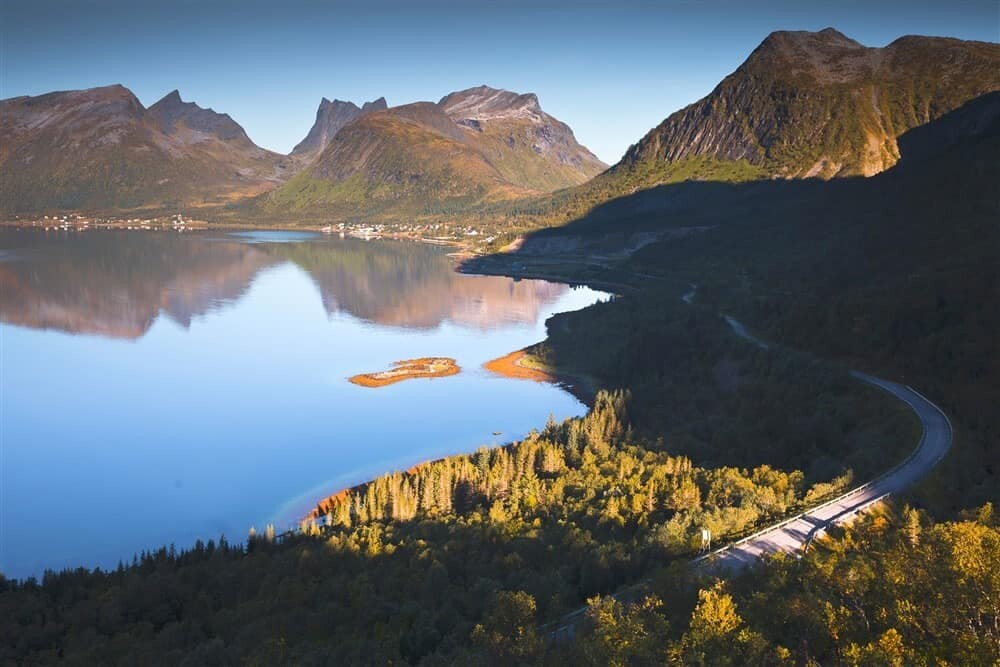 #7 Tungeneset viewpoint
Tungeneset is another viewpoint along main road number 862, located between Steinfjord village and Ersfjord Beach. It's not marked, but easily spotted from the road as there's a large car park and facilities. What's so special about Tungeneset? Well, I wasn't sure myself until I wandered along the wooden footway over rocky coast, towards its tip. I must mention that Tungeneset is best visited at sunset, when last rays of light gently reflect on sharp rocky teeth of Ramnen ridge, just across the fjord. Hence when in the area, why not visit Tungeneset for 'early sunset' and continue to Ersfjordstranda (only a couple of minutes further) for evening 'session'?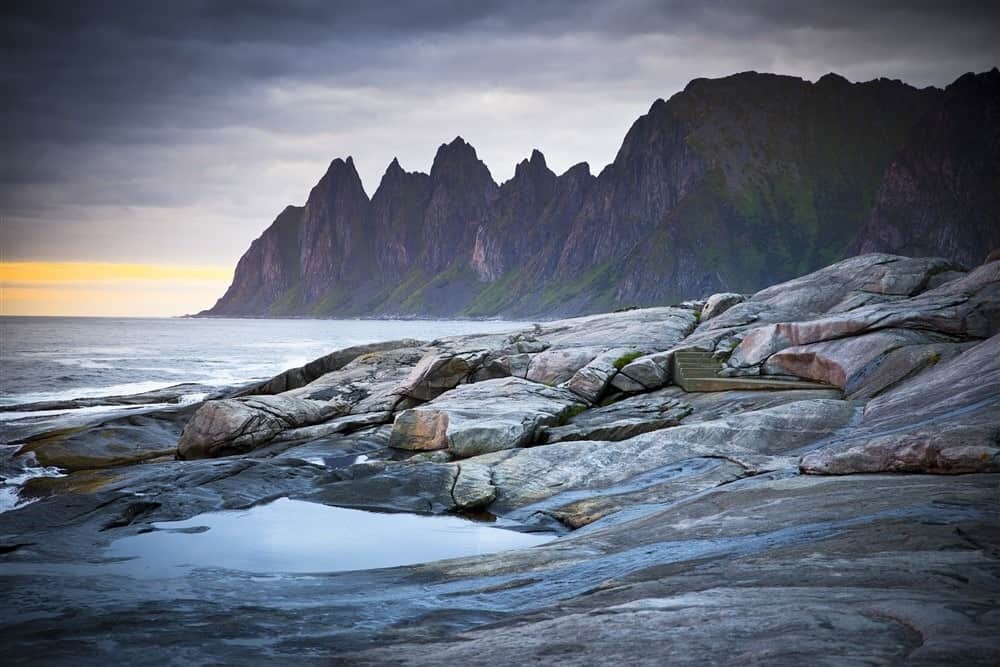 Getting Around Senja
Senja is best explored by car; this gives you freedom to stop and shoot photos whenever you decide is worth a frame. Alternatively I would recommend visiting Senja's amazing locations by bike, however one thing to note is busy traffic in the summer and cycling in 2-3 tunnels is difficult with no safe diversions for cyclists. For this very reason there are hi-vis vests provided at tunnels as well as 'cyclist in the tunnel' warning lights.
I hope you'll find the guide to the most photogenic locations on Senja island in Northern Norway handy! Surely, the above list is not definite and you'll come across many other amazing locations along the way, however these will help you planning your Senja visit.
Enjoy the light and happy shooting!
Thanks Ela & Bea for this inspiring guide, be sure to follow their adventures on Instagram @stunningoutdoorsblog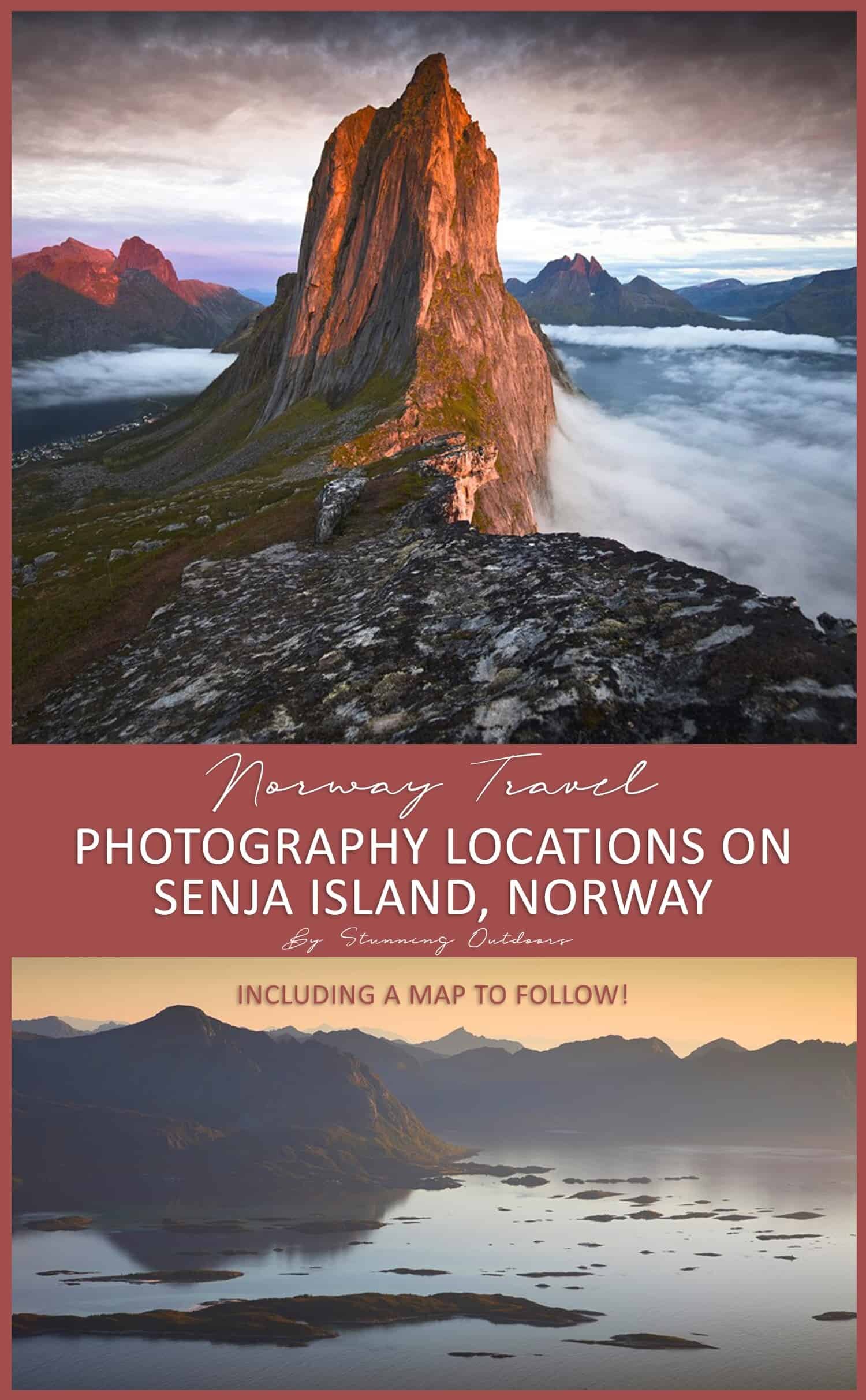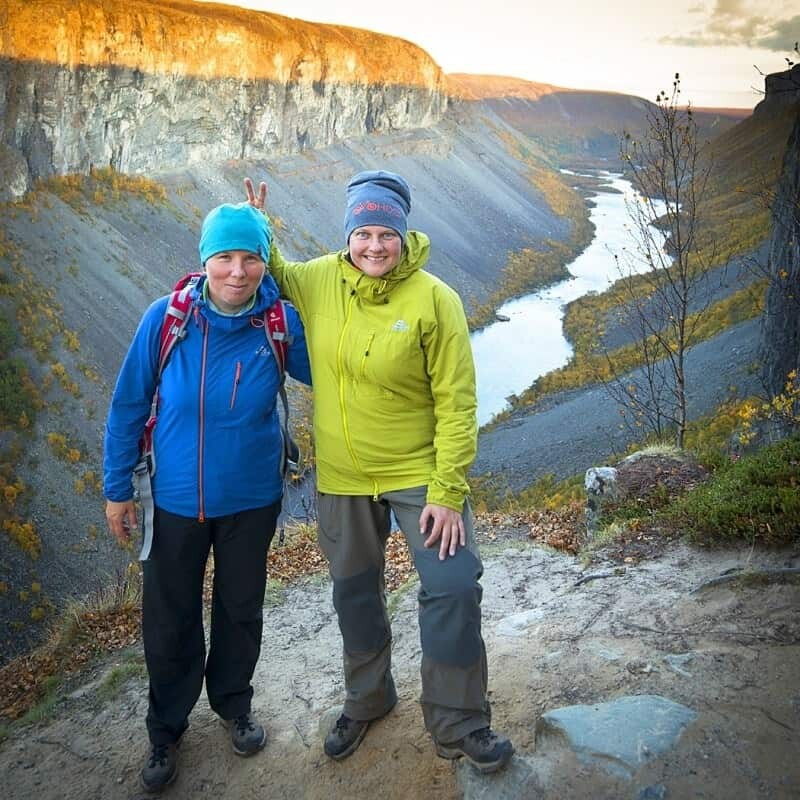 Stunning Outdoors is a website founded by Ela & Bea, two outdoor enthusiasts based in Scotland. They have hiked and climbed mountains since young age, nowadays they have hundreds of summits on their account, explored in several European countries. In 2018 Ela & Bea decided to take their love for the outdoors to the next level – they self-converted a van into a camper, both quit their jobs and drove into the unknown, beginning in Scandinavia… In 2019 they set to explore Balkan countries.