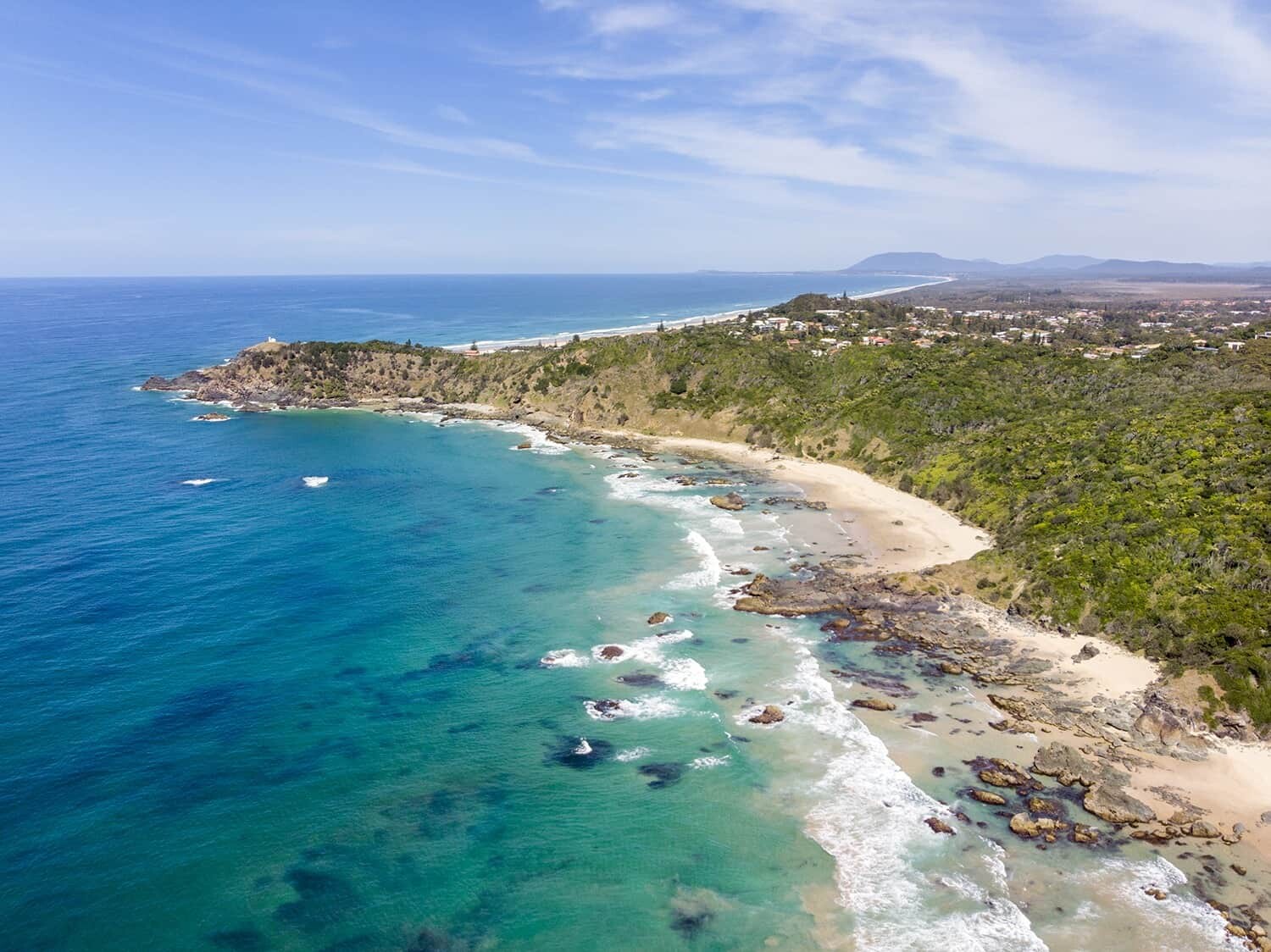 A Guide to Port Macquarie Photo Spots + Scenic Locations
They say the further you go the more you'll find but you know what…sometimes there's also beauty lying right in front of your own doorstep.
Having lived interstate and abroad for roughly 14years, I've recently had a desire to explore more of Australia. The coast, the centre, the rugged ranges and patterned landscapes. I've long known of the dramatic contrasts across the country but I knew little of the photogenic hot spots that lay around my own hometown.
With a coastline of 17 beaches, Port Macquarie has so much natural beauty to explore and this past year I've finally had a chance to see where I grew up through my lens.
Located just 4 hours drive north of Sydney, Port Macquarie is the type of place where families come for their holidays, where people choose to retire and where an active, outdoor lifestyle is the norm. It's one of those coastal escapes people dream of when living in a city and luckily, it's where I went to school and worked my first job as a journalist.
Using it as my base (yes, I'm still travelling) this year has meant that when I return from a trip, I can spend time working but then enjoy getting out and about, revisiting locations that spur memories and inspire photos.
Some places have been a complete surprise as I only had a faint recollection from when I was younger, others haven't changed a bit…which it turns out, is what makes them so special.
So, I wanted to put together a little guide to some of my favourite photography locations in and around Port Macquarie. Sharing some of the best beaches and vantage points of a town that's somewhere I think everyone visiting Australia should see.
To get started, here's a little map showing where you'll find each spot. I've included a few extra photography spots such as Queens Lake, Point Plomer and Old Bottlebutt throughout the map since there are too many spots to write about individually. Feel free to click each icon and explore around a little…
---

Photogenic Beaches in Port Macquarie
There's no shortage of coastal photography locations in and around Port Macquarie, in fact it might take you a few months or even years to cover them all in golden hour. From Point Plomer in the north to Crowdy Bay National Park in the south, the region is almost made for seascape photographers!
Below I've listed some of my favourite spots but if you're keen to find your own, take a wander along the 9km Port Macquarie Coastal Walk which covers all the beaches between Town and Lighthouse Beach. Along the route you'll find Oxley, Flynns, Nobbys, Shelley and Miners Beach plus lots of little rocky coves and corners to keep your camera busy. There's definitely a number of stand out rock formations but too many to list in this article so I suggest finding a spot that takes your fancy and visiting during both sunrise and sunset.
Town Beach
Coordinates – 31°25'46.2″S 152°55'12.8″E
Possibly the first beach you'll see when exploring Port Macquarie, Town Beach offers all the summery vibes. Starting at the breakwall and curving around to Flagstaff Hill, the beach typically has great surf conditions and calm areas for swimming.
For photographers it's a beautiful spot to capture sunrise, especially on a foggy winters morning when sea mist creates a stunning scene. Town Beach is a special spot because it provides not just a sunrise vantage point but, a sunset one too. Venture down to the eastern corner near Flagstaff Hill and you'll be treated to views looking back to the west, ideal for capturing the warm glow of sunset with pine trees and even the hinterland in the distance.
Salty Crew Kiosk is one of my favourite spots in town to grab a coffee and breakfast then wander along the coast with my camera. There's plenty of small rock pools and jagged rocks to use in composing a gorgeous landscape shot. You can opt to stick to the path, or get your toes sandy and wander the shoreline to capture seascapes using the rocks in your composition.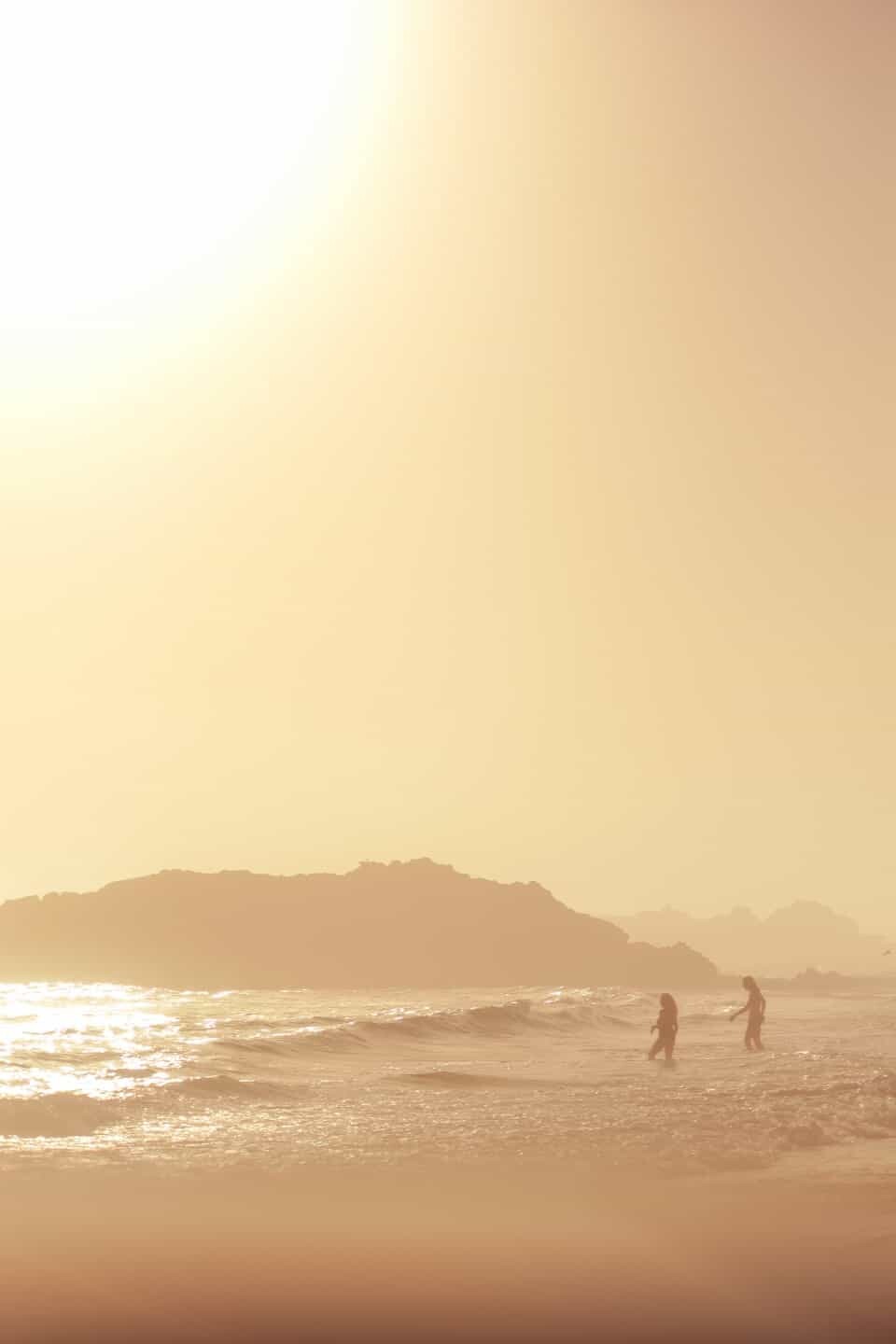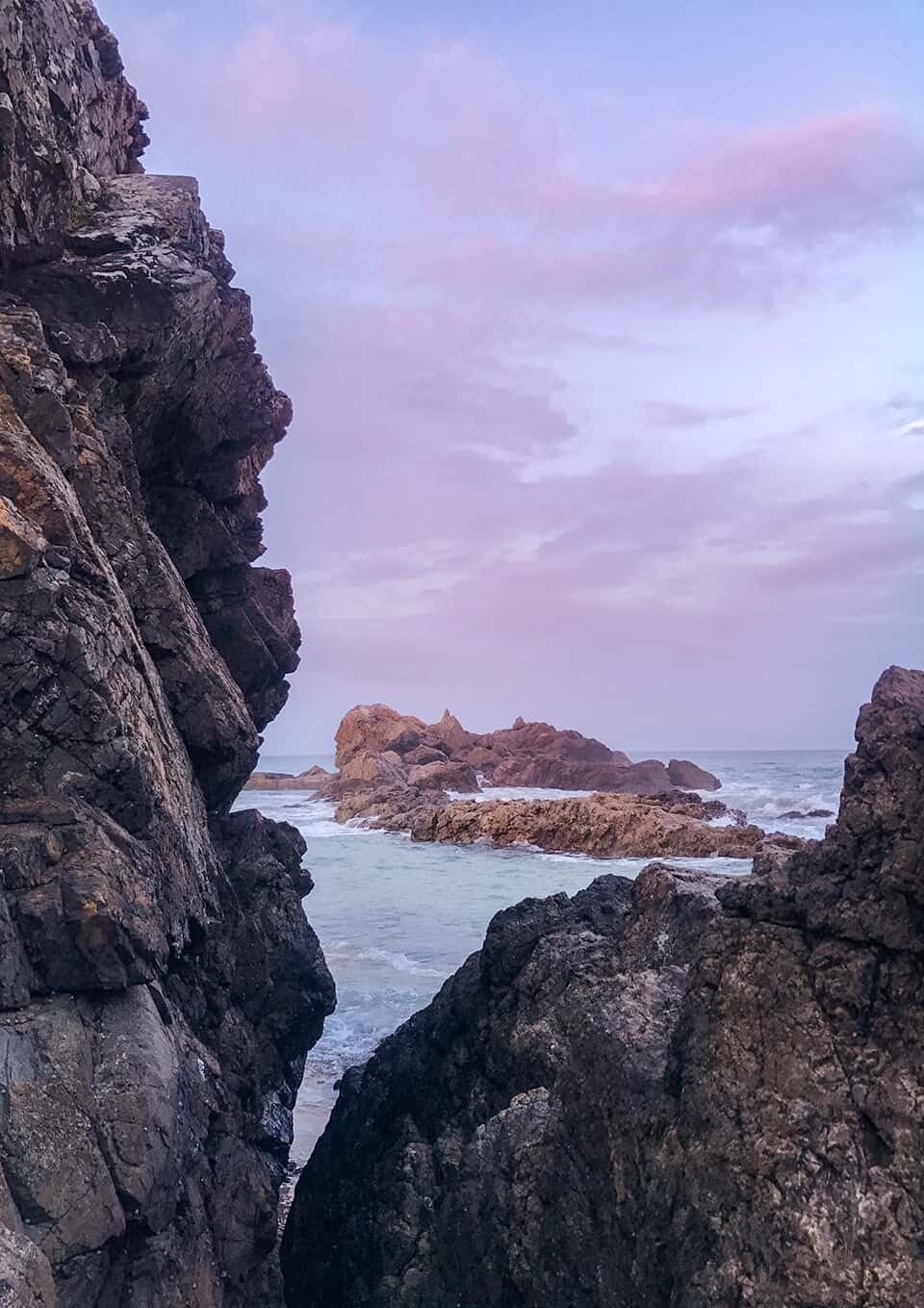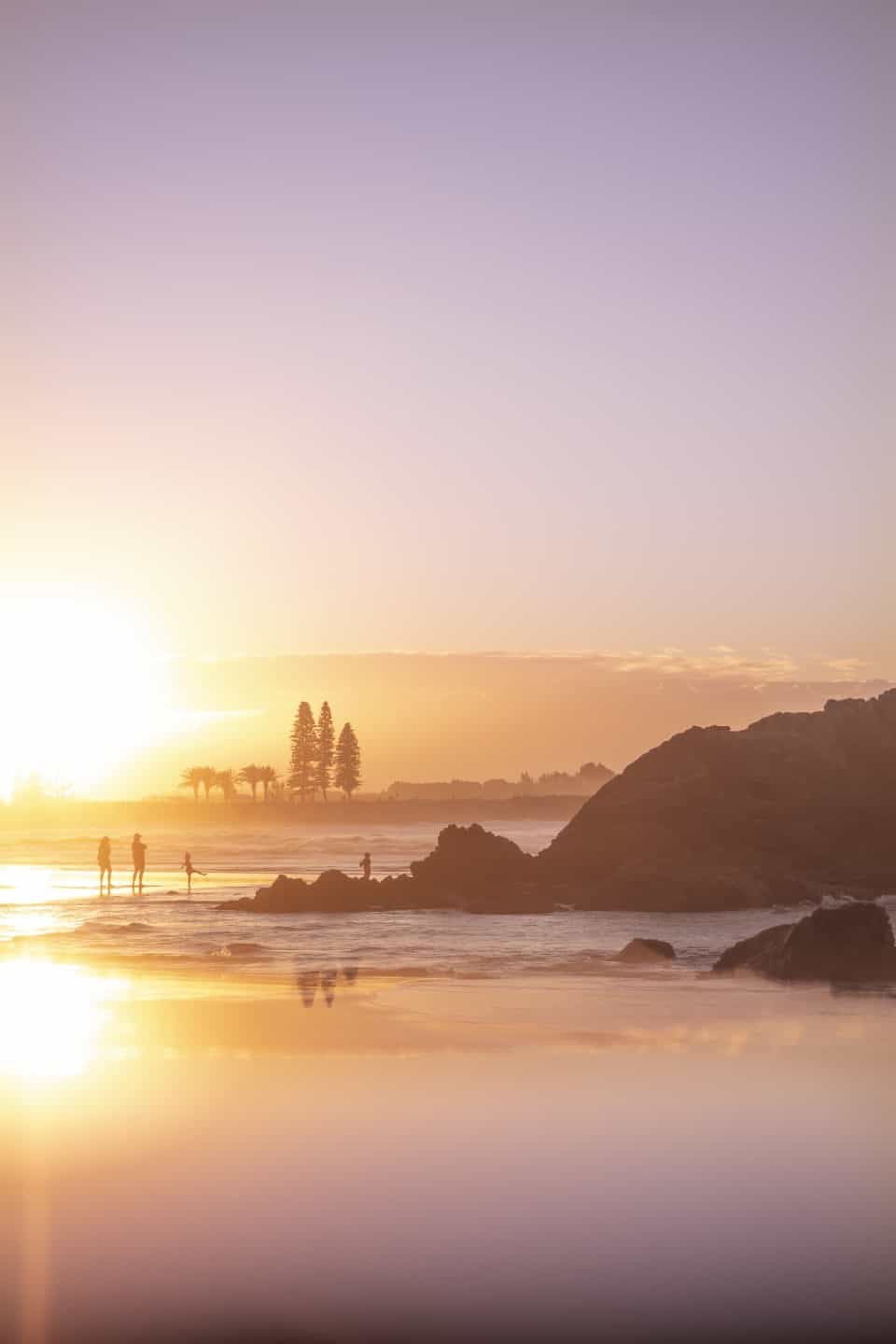 Shelly Beach
Coordinates – 31°27'18.4″S 152°55'54.9″E
It's where the rainforest meets the sea and one of my favourite places to swim in summer. Shelly Beach is surrounded by Sea Acres National Park meaning you won't have buildings lining the shore, it's all natural, all pretty. Because the rainforest is so close, you'll notice there's plenty of wildlife including bush turkeys and lace monitors (giant lizards) which tend to hang around the BBQ areas or roam through the bushes. Sometimes they'll even be seen clinging to the pine trees, almost camouflaging themselves against the bark so keep a close eye out when you're walking around!
Shelly Beach provides a lot of photography opportunities from the rock pools and rainforest to the stunning shoreline and local hang gliders that can be seen flying from Harry's Lookout. A local legend, Harry lived in a caravan at Shelly Beach with his wife Jean from 1961 until his death in January, 2000. Harry became the caretaker of this special spot, hand carving the 254 steps up to what's now known as Harry's Lookout. Starting out from the Shelly Beach carpark, you can take the walk up to the lookout and along the way pass the 'thong tree' and carved artworks where his caravan and garden once were before taking the path he walked everyday up the hill for one of the best views in Port Macquarie.
On the road down to Shelly Beach there's a very photogenic (very popular with wedding photos) strangler fig about 200m from Ocean Dr, you'll know it when you see it. But you can't really stop your car here so continue driving to the beach then wander back up alongside the rainforest.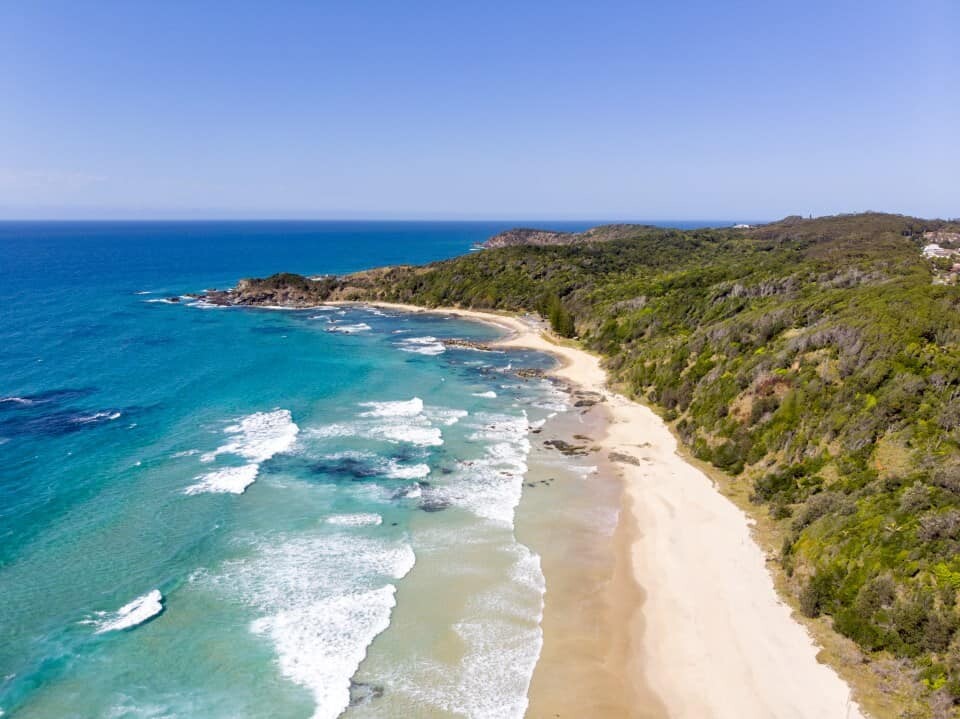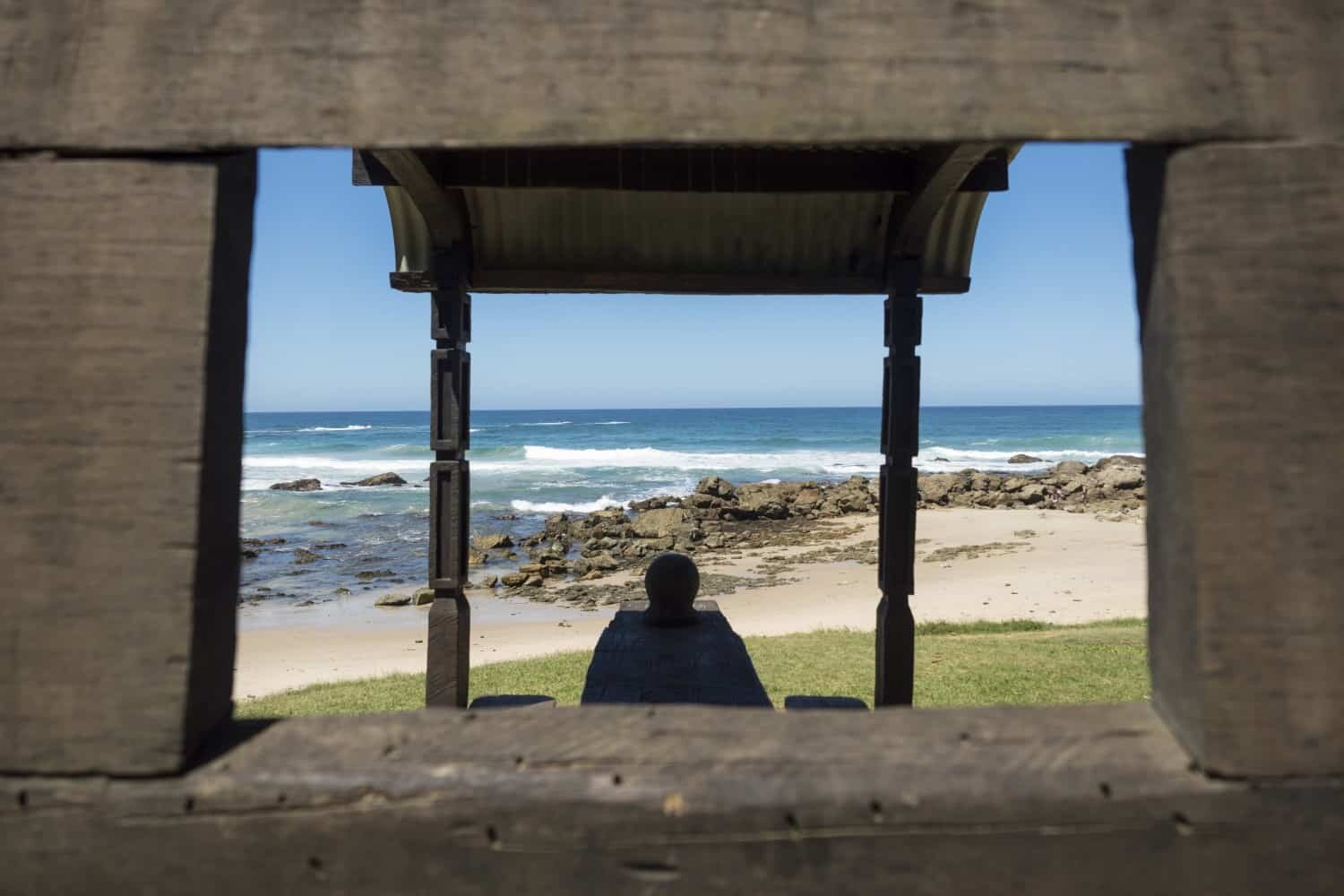 Miners Beach
Coordinates – 31°27'41.4″S 152°56'05.1″E
This spot is my favourite. Actually, my favourite spot tends to change based on the weather but if I'm hoping to photograph a secluded beach and clear teal seas, this is the place I visit first. Miners Beach is tucked a little south of Shelley Beach and to access it you have to walk roughly 10minutes along the coastal walking path. Before arriving at the beach, you'll pass a great little spot to watch whales between May and October, and this view point is also ideal for photographing Miners Beach from above.
It's worth noting that Miners Beach is also considered a nudist beach but because it forms part of the 9km Port Macquarie Coastal Walk, there are hikers and walkers regularly passing through.
The feature that makes Miners Beach so photogenic for me is the rocky outcrop that juts out from the sand. Depending on the tides and conditions, the rocks can either be completely separated from the beach, or, they can be connected by a very photogenic strip of sand. If this is the case, you'll have waves coming in from the left and right, giving you plenty to capture and play with.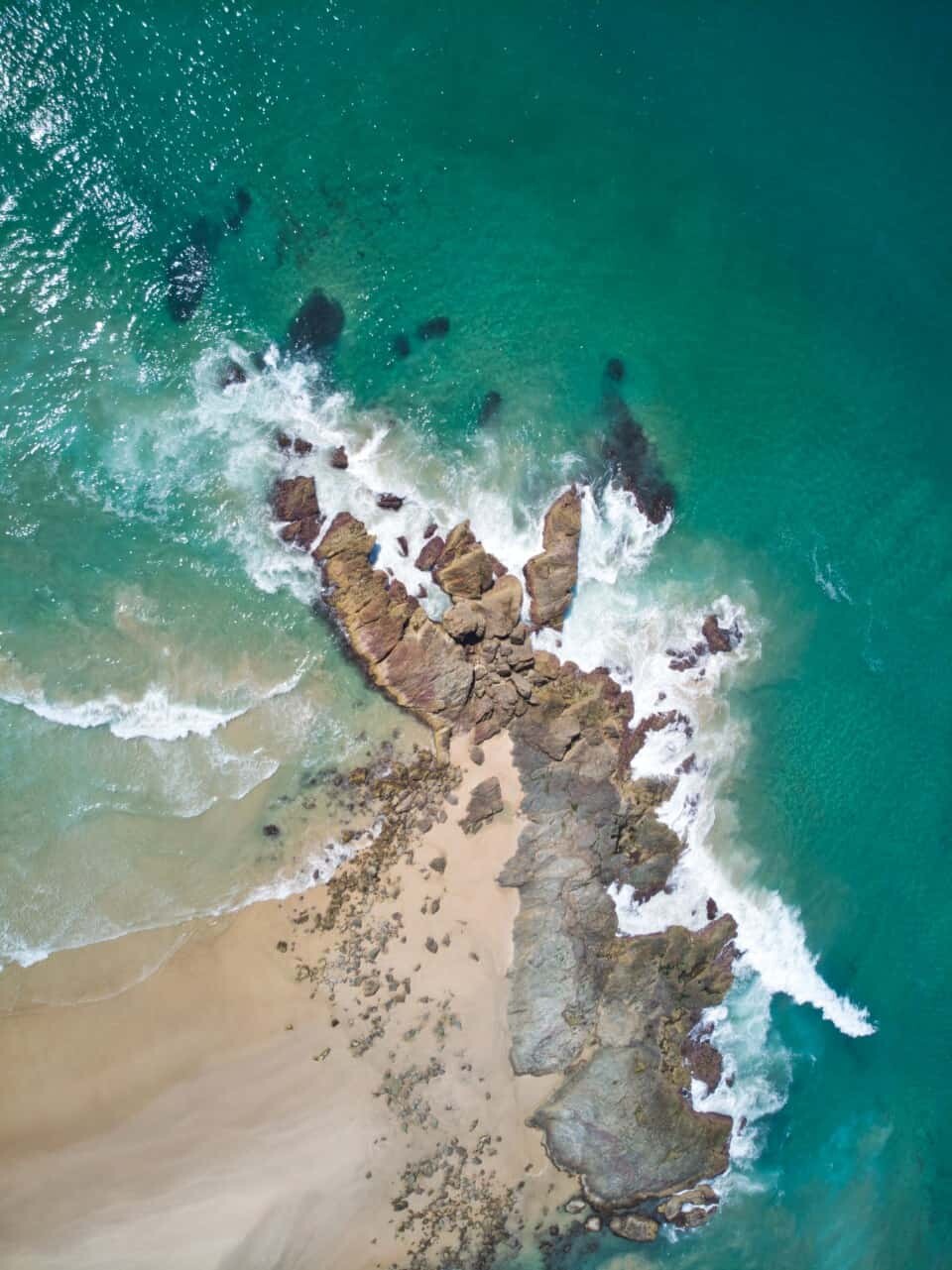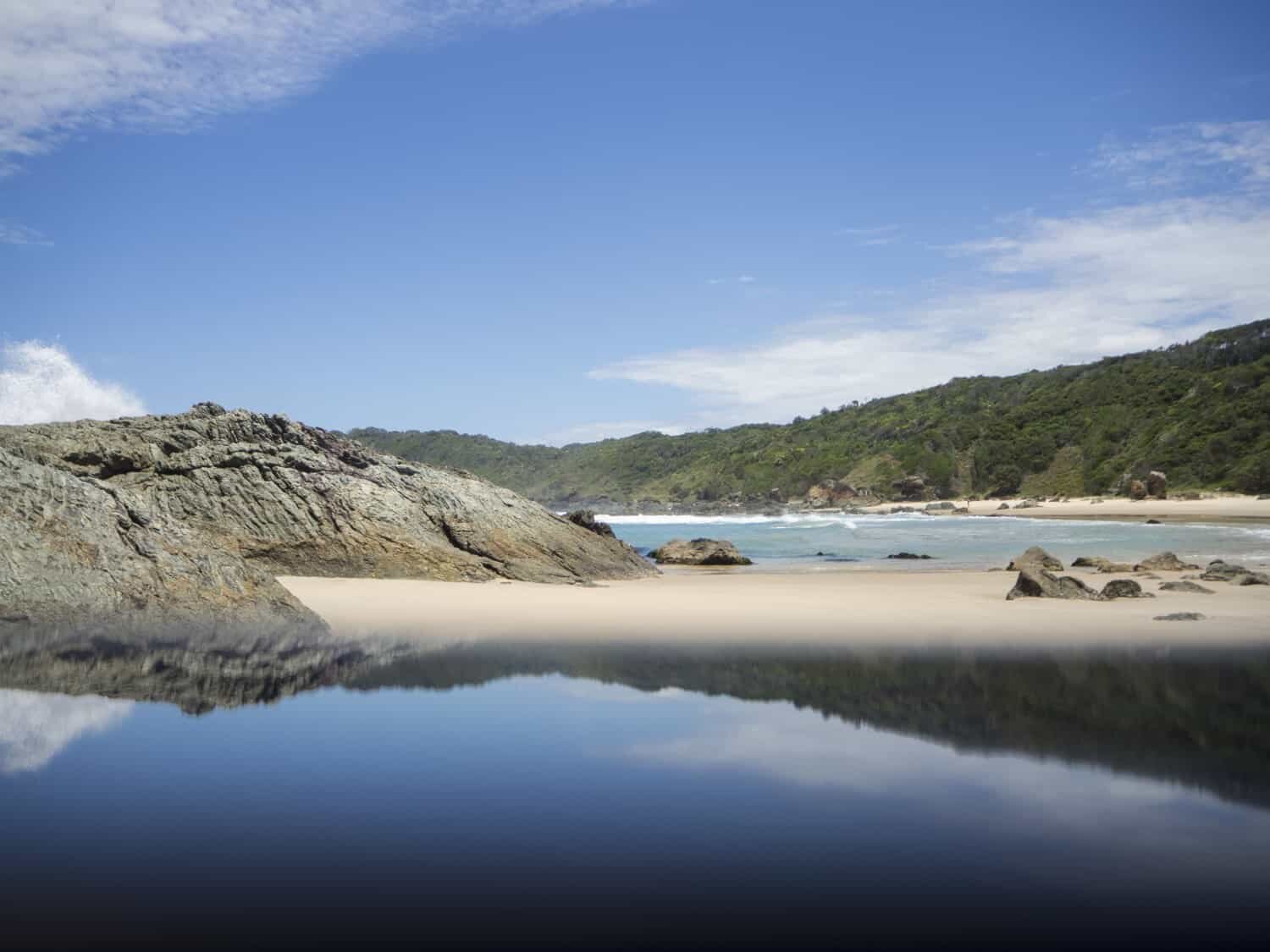 Tacking Point Lighthouse
Coordinates – 31°28'30.1″S 152°56'13.3″E
The shining star of Port Macquarie is of course the lighthouse. Perched up high overlooking Lighthouse Beach, from here you can see all the way south to Laurieton, and on a clear day, all the way north to Hat Head.
The lighthouse itself is photogenic with it's striking blue and white paint contrasting beautifully against a sunny day or pastel sky. From the lighthouse you can capture images of the surrounding coastline with plenty of crashing waves and rocky coves to compose your shots with. Personally though, I prefer to include the lighthouse in my shots which means exploring around to find an ideal perspective.
If you wander down the stairs to the north of the lighthouse, you'll enter the start of the Sea Acres National Park and find a gorgeous cove that provides endless composition possibilities. There are rock formations carved by the tides, rock pools, grassy tufts and if you venture up onto the little headland, there's an ideal view looking back towards the lighthouse with the cove in your shot too. Shooting dusk from this location would make any landscape photographer do a little happy dance!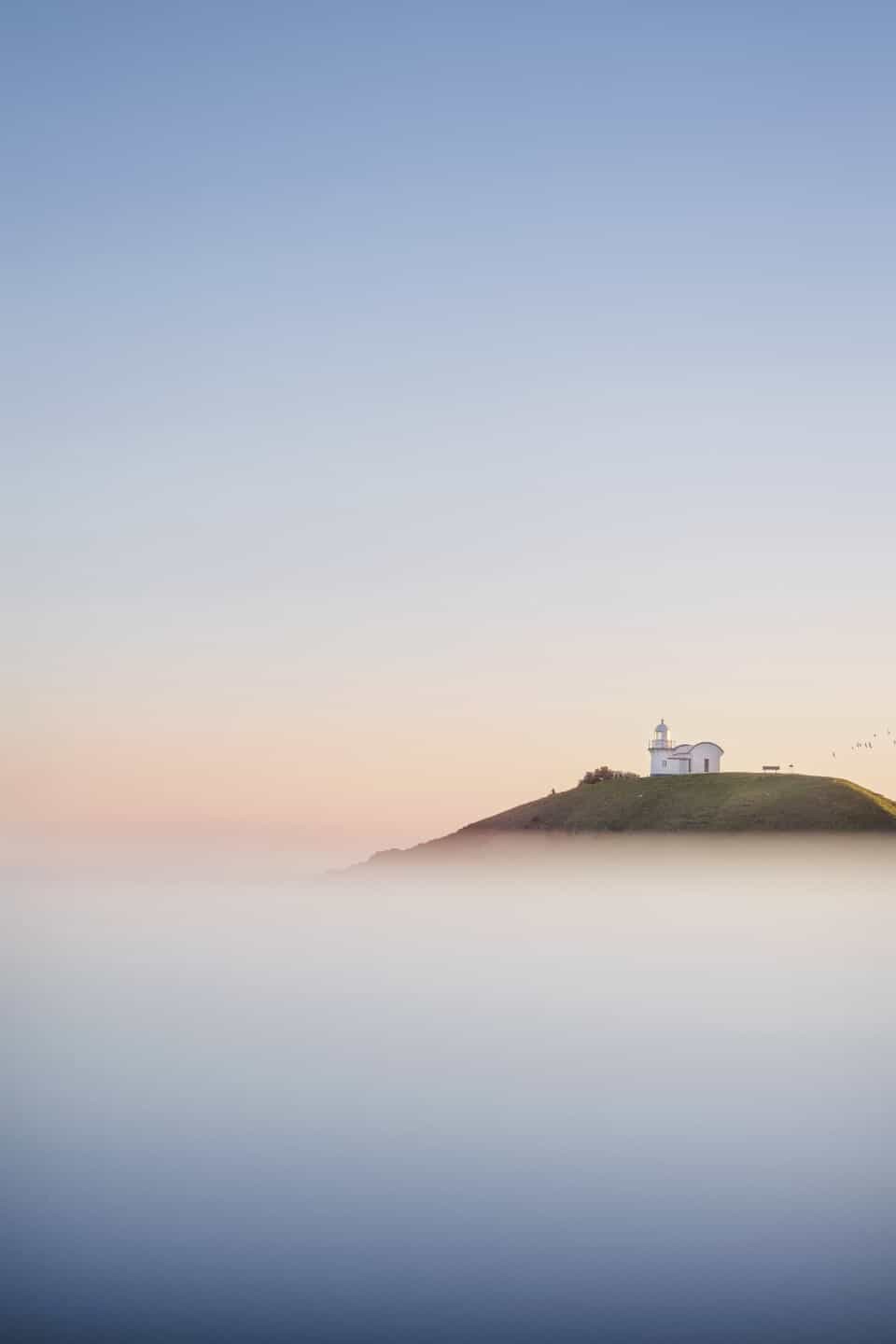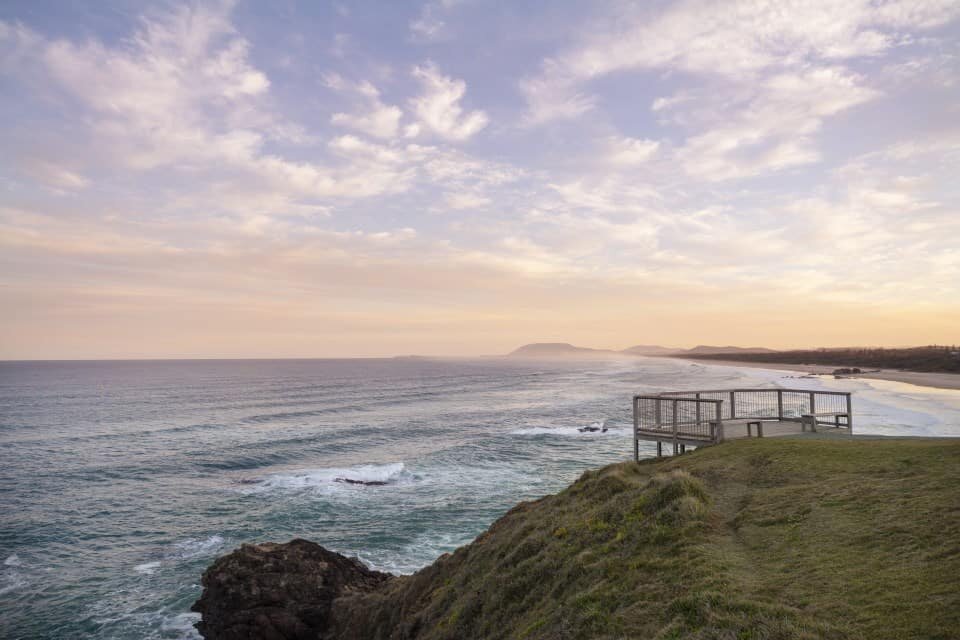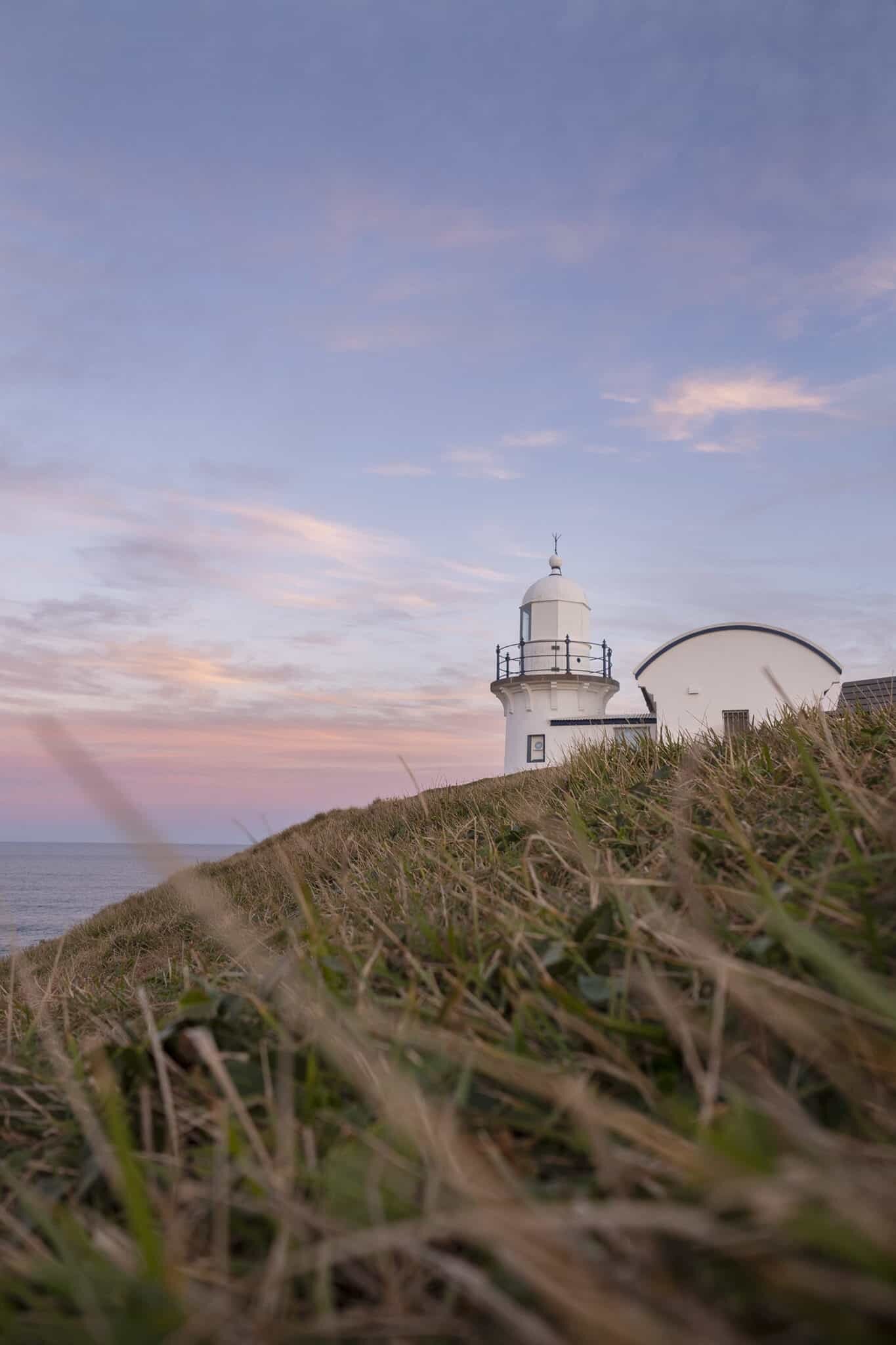 Watonga Rocks
Coordinates – 31°28'48.4″S 152°55'42.6″E
A local favourite, Watonga Rocks are located on Lighthouse Beach and appear to stick up in the middle of the 10km sandy shores. It's for this reason, they make a great subject to photograph!
You can zoom into the rocks from the northern end of Lighthouse beach and includes surfers for perspective, or get up close and capture long exposures as waves wrap around their base.
If you want to pretend you're in the Sahara, this is also the spot where the Camel Safaris take place so throughout most days you'll find camels strolling along the shore, something a little different to include in your photos of Port Macquarie!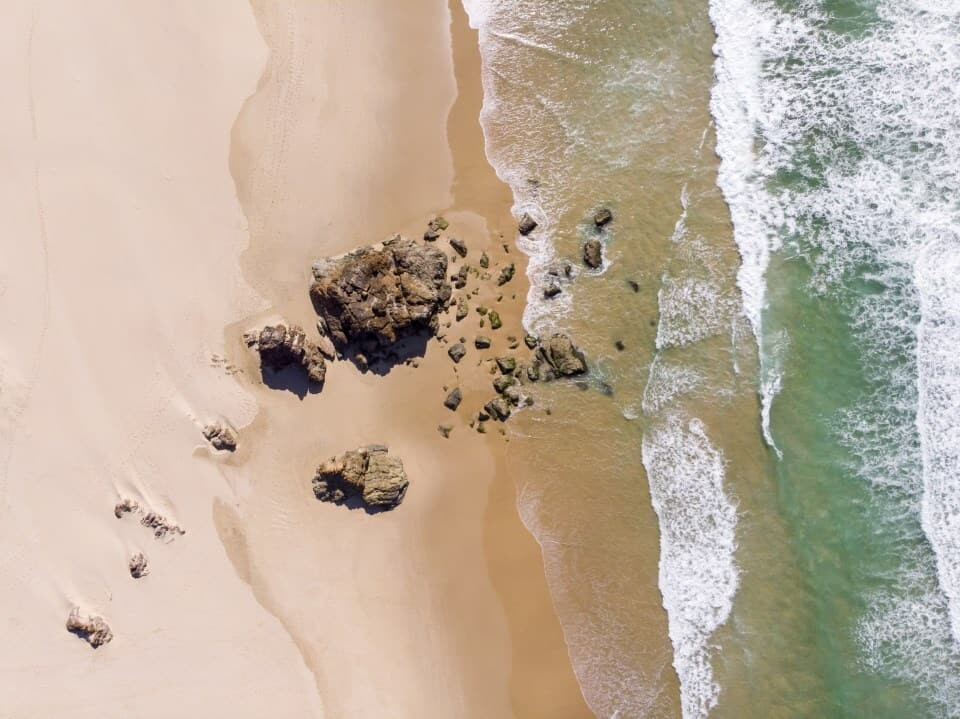 Scenic Spots in and around Port Macquarie
Coordinates – 31°25'40.2″S 152°54'28.7″E
Town Green + Lady Nelson Wharf
Located right in the centre of town, Town Green is the place to picnic, watch the boats cruise in and out of the river and of course, to photograph. Here you're treated to sunset over the Hastings River and can capture shots featuring the seagulls, dolphins and if you're lucky, a jumping sting ray or two.
Lady Nelson Wharf works as a stunning feature to use within your composition at Town Green. At sunset, the sky will light up behind the wharf meaning you can photograph it to add perspective to the scene, or use it as it reflects into the river. More often than not there'll also be people fishing on the wharf too and don't be afraid to wander down the stairs and peek around beneath for an alternate view looking back towards the breakwall and pine trees.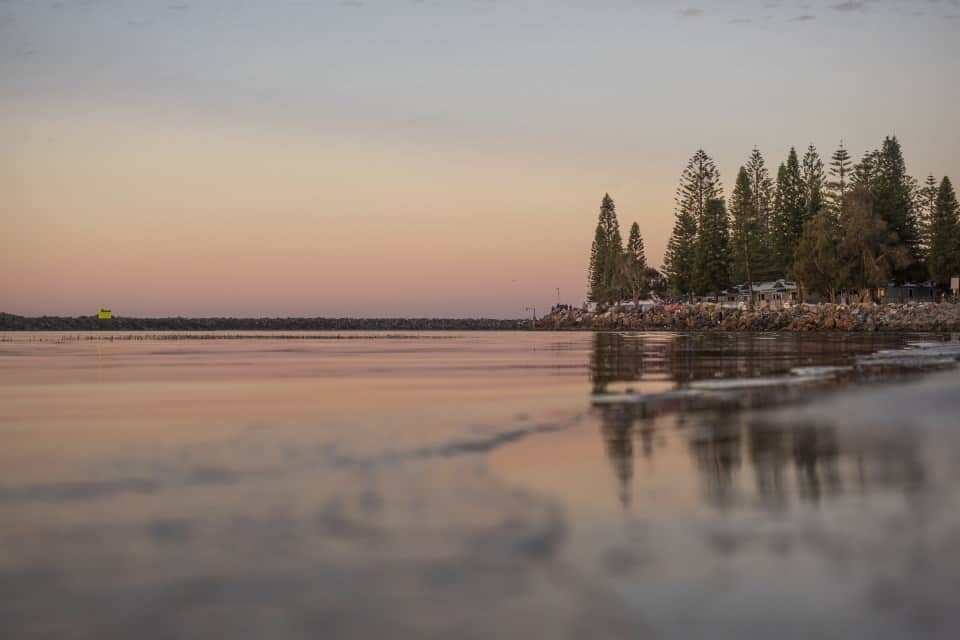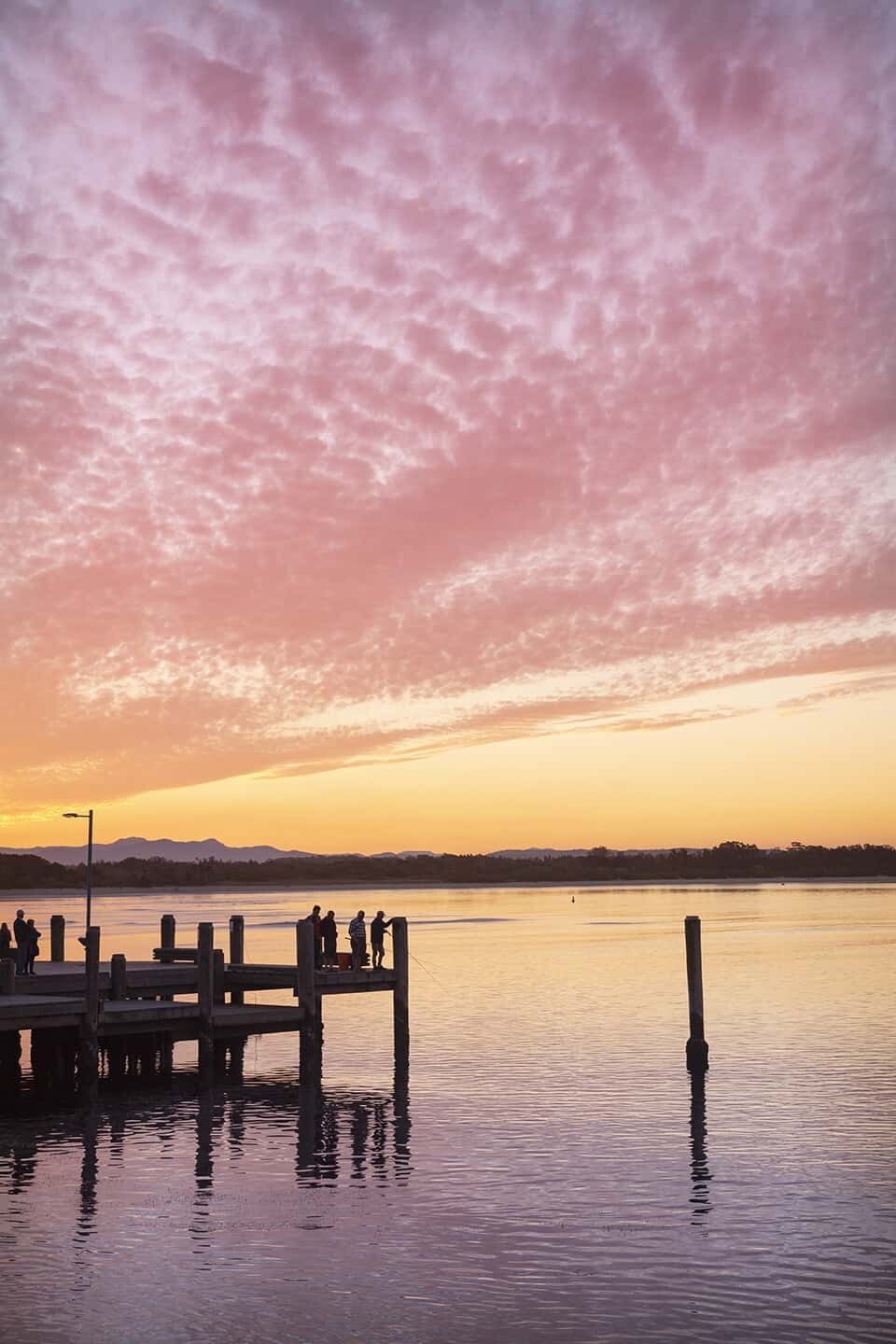 Venture further past the wharf to photograph the views looking west from the old Cruise Terminal. There's a string of boats moored against the wooden jetty which you can use within your images, or zoom past to photograph Pelican Island and the setting sun behind.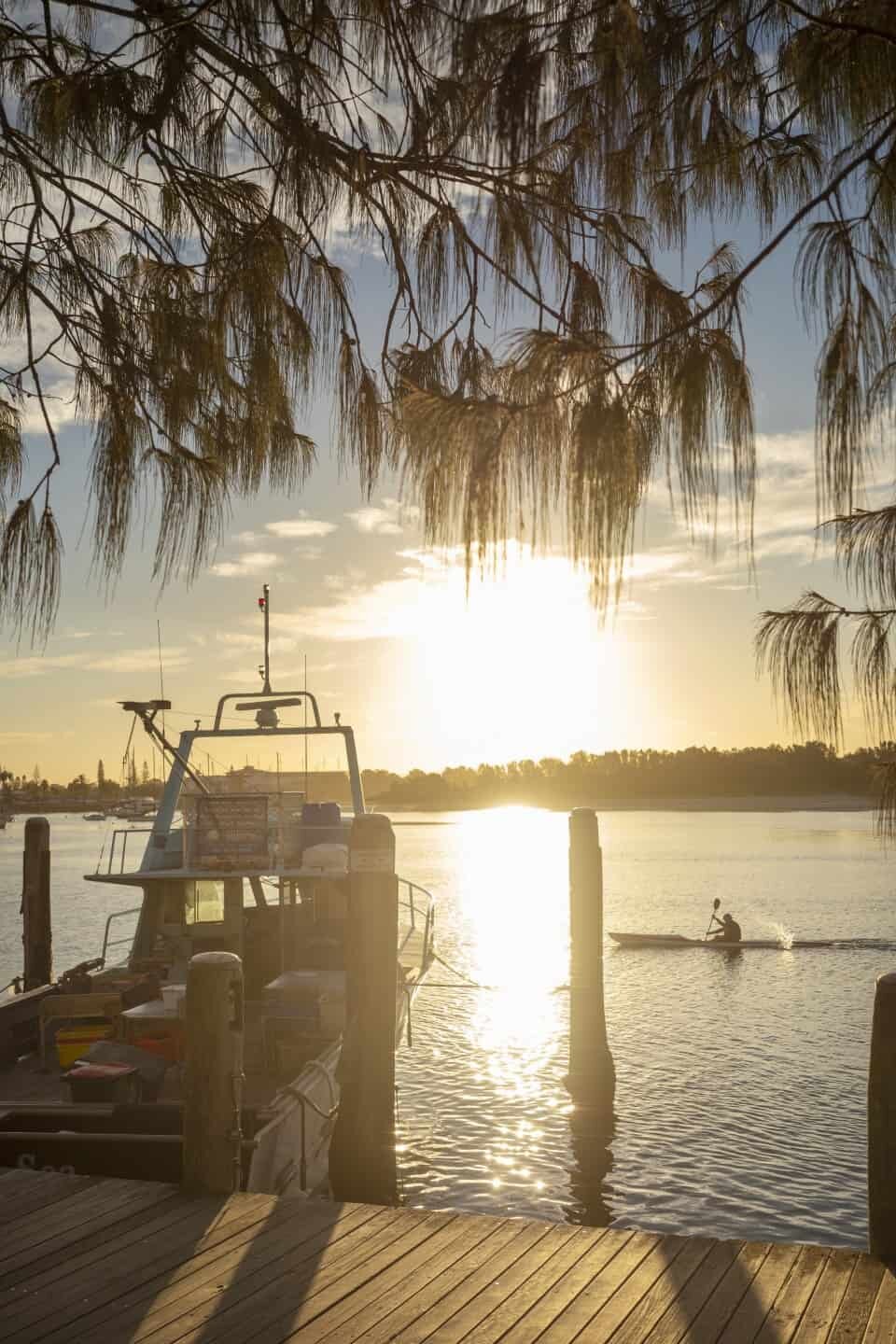 The Breakwall
Coordinates – 31°25'36.5″S 152°54'59.2″E
Perhaps the most iconic feature of Port Macquarie is the breakwall, where families have painted rocks over the years, decorating this coastal walk with colourful murals and messages. The breakwall connects Town Green with Town Beach and is a beautiful place to go for a stroll with your camera, especially early in the morning or around sunset and dusk.
You can photograph the landscape, pine trees along the shore, crashing waves and local fishermen silhouetted against the setting sun.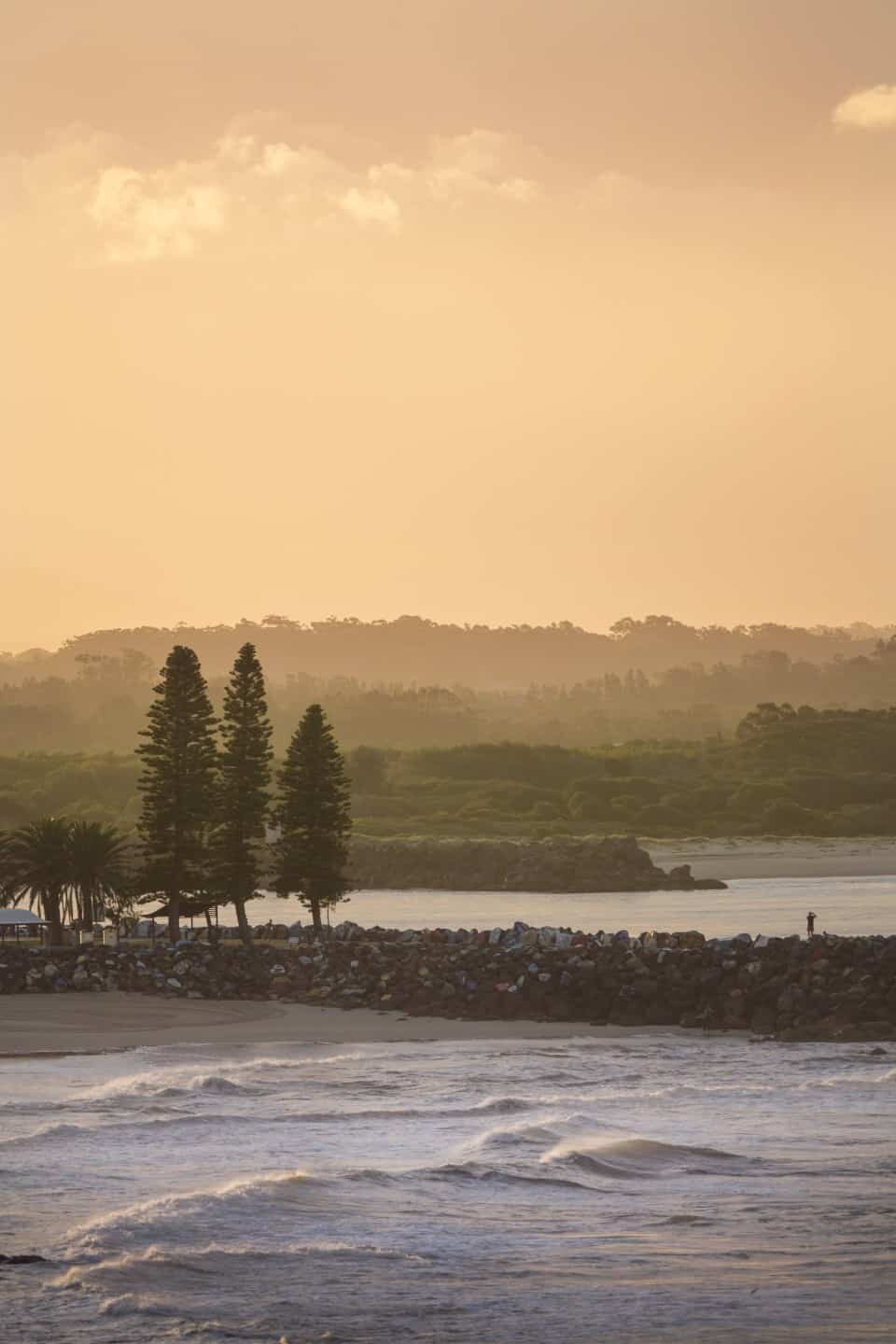 North Brother Mountain
Coordinates – 31°39'26.5″S 152°46'40.7″E
This is the spot to go for one of the most epic views in New South Wales. Looking out over Laurieton, the coastline and Camden Haven River system, North Brother Mountain provides one of the best vantage points to capture a landscape image from up high.
The drive up is scenic too with thick forests, countless gum trees and if you're lucky, a very moody mist might be present that wafts across the mountain on winter mornings.
If you're feeling energetic you can hike up, capturing images of wildlife and flora you see along the way. Alternatively, if you're a little lazier (like me), you can drive up, enjoy the views then venture down the coast to Diamond Head for sunset by the beach.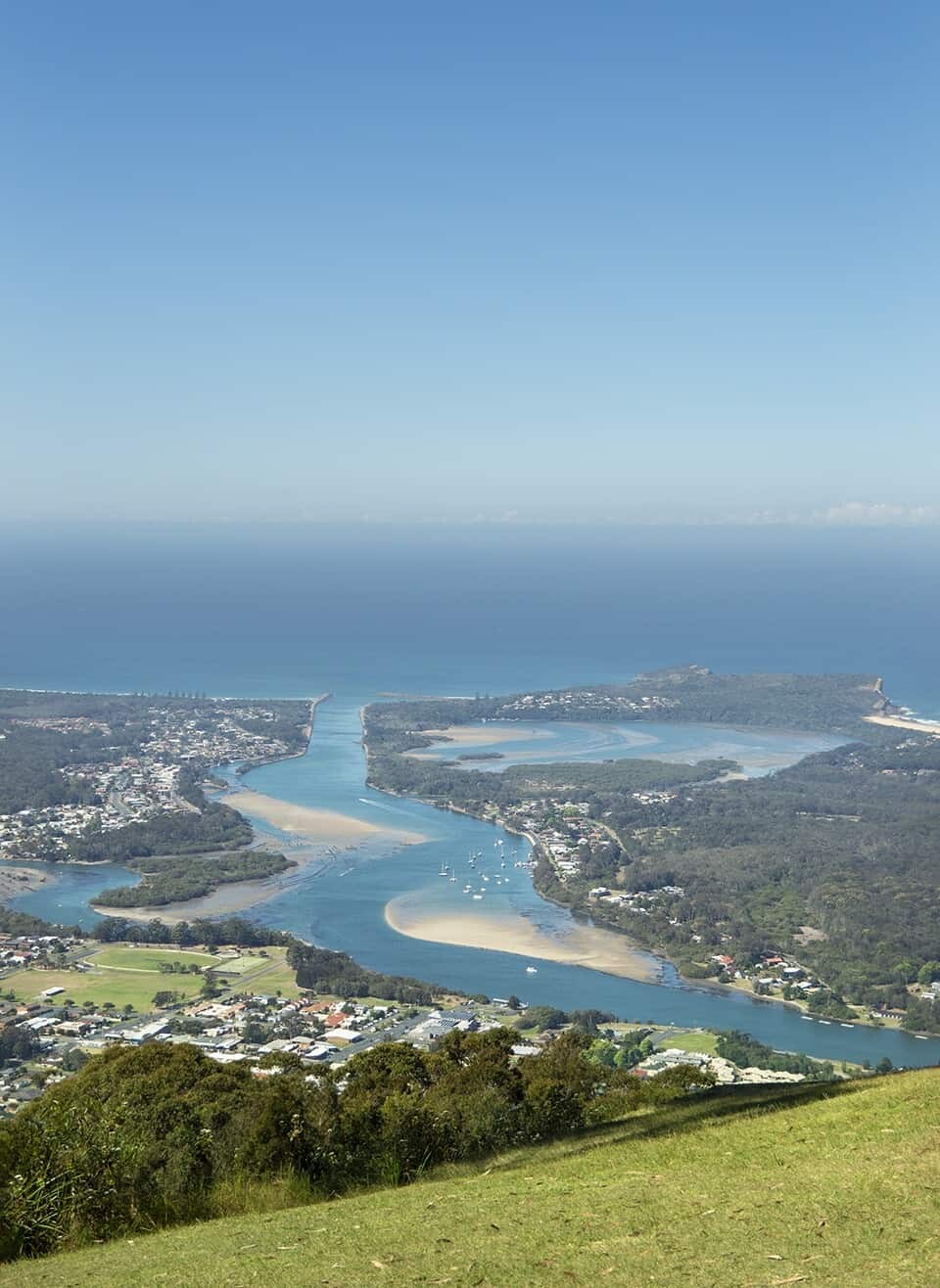 Diamond Head + Split Rock
Coordinates – 31°43'02.9″S 152°47'43.3″E
Kangaroos hop along the beach at sunrise and waves gently roll through Crowdy Bay which is perfectly shaped like a crescent moon. Diamond Head is relaxing, peaceful and in my opinion, one of the best camp sites in Australia.
It's the kind of place to go and get away from it all, to wander along the beach with your camera and breath in a little salt air. There's so much to work with here with Split Rock being the most obvious subject. Reminding me of the rocky shores of Scotland, Split Rock is a striking formation of pillars that jut out from the headland and beg to be explored. Use them in your shots from the beach or get up amongst the rocks and clamber through to discover various other vantage points.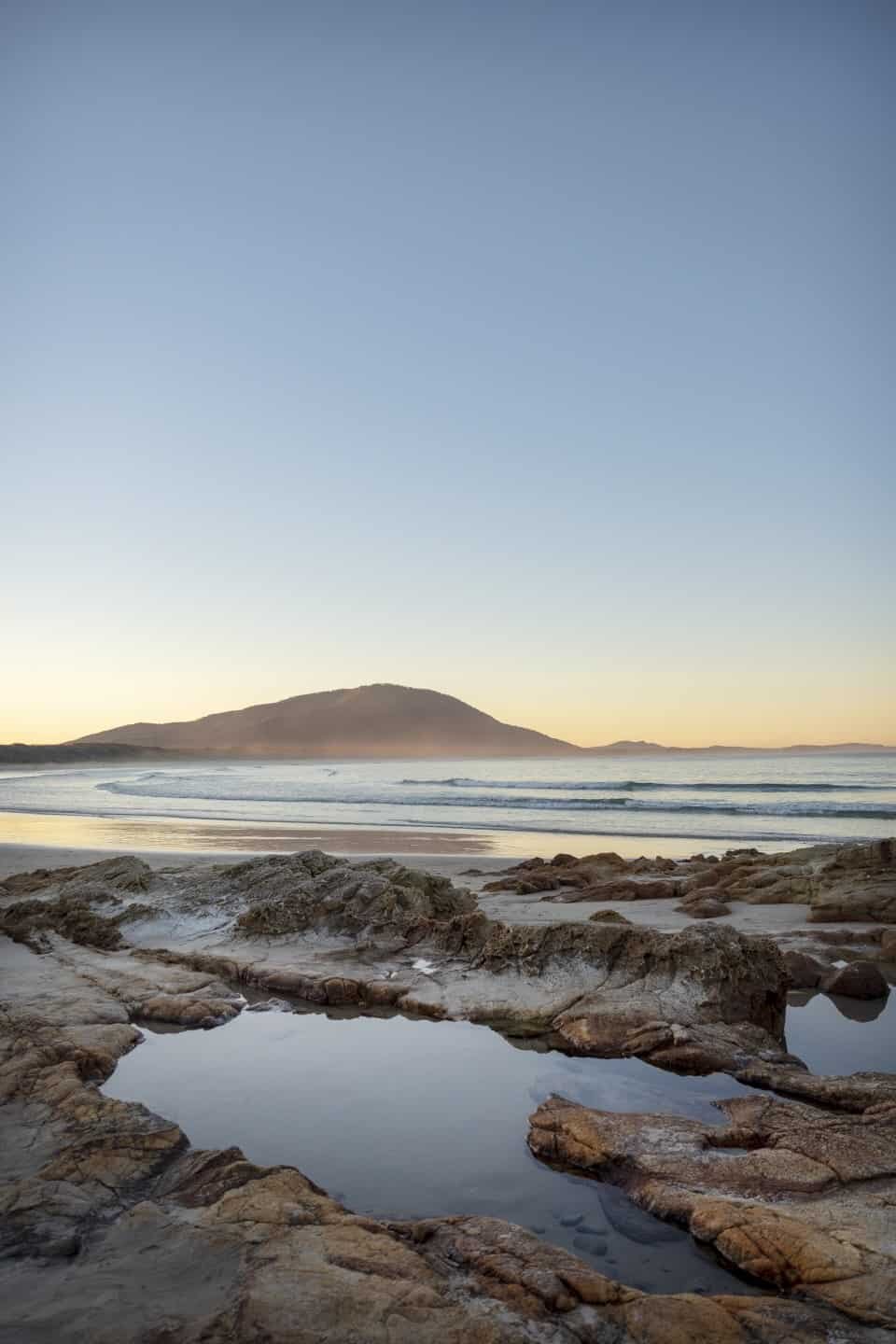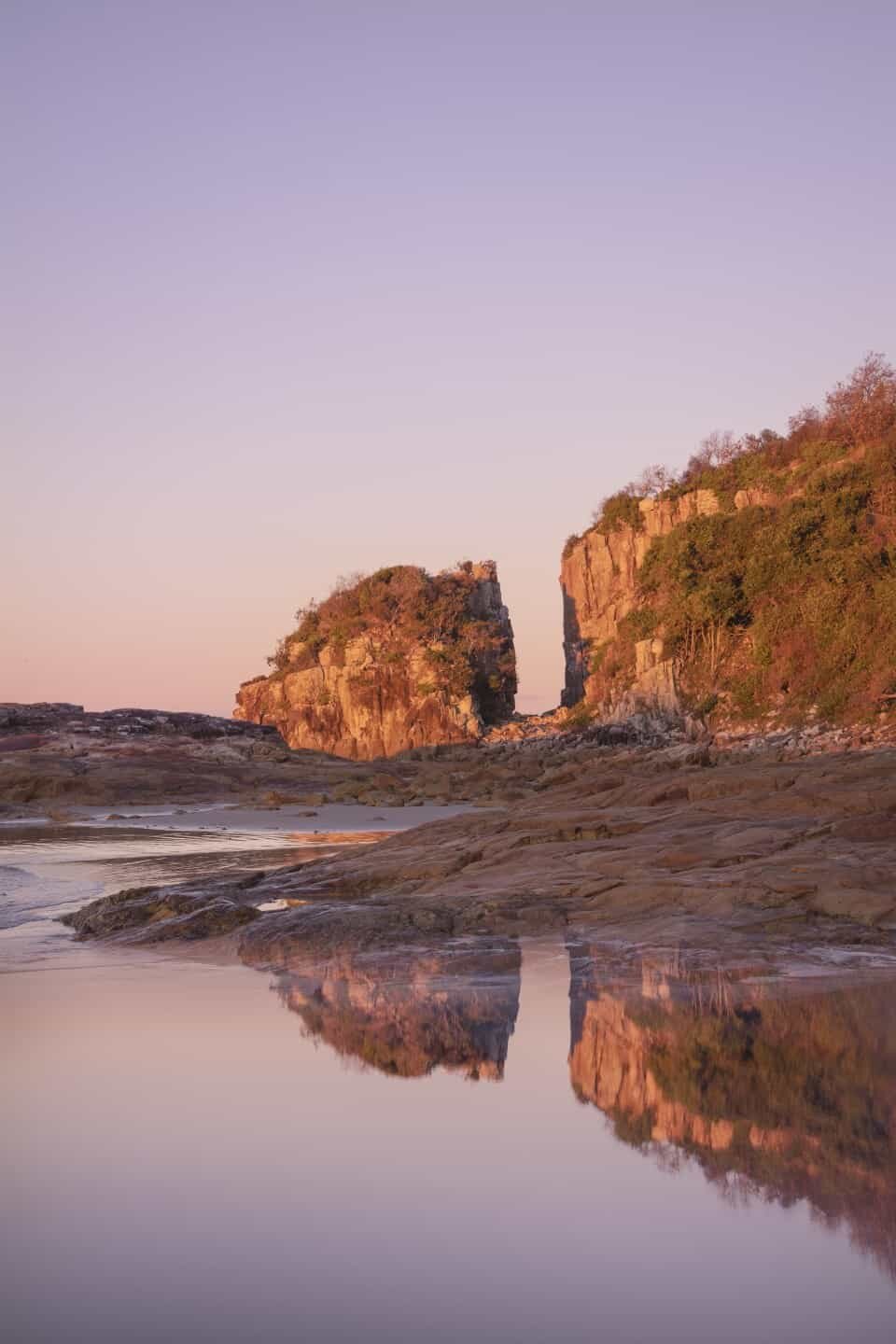 Bago Bluff
Coordinates – 31°30'39.5″S 152°39'40.8″E
On the more adventurous side in terms of accessibility, if you've got a 4WD, driving up to Bago Bluff is a must. The views from the top are incredible, looking over the farmland and hinterland between Wauchope and Comboyne.
On my first trip up I didn't really know what to expect and just went with the notion that getting up high would surely mean there's some kind of view! Luckily, this is absolutely the case and once you've reached the peak of Bago Bluff there's some little rocky outcrops where you can picnic and photograph the surrounding scenery. Just to note, there are no safety fences, it's a straight drop from the rock ledge so be super careful when exploring up there!
Getting there: To reach Bago Bluff, drive from Port Macquarie out to Kings Creek and head in the direction of the beautiful (well worth a stop) Bago Vineyards. From there you'll find a series of 4WD tracks and if you've got Google Maps open or a GPS, follow Milligans Rd until it turns to Pine Hut Rd and then Rollover Rd which will lead you up and along the ridgeline.
*It's a definite 4WD track, you won't make it up the hill in a regular car but the effort is rewarded with photogenic views!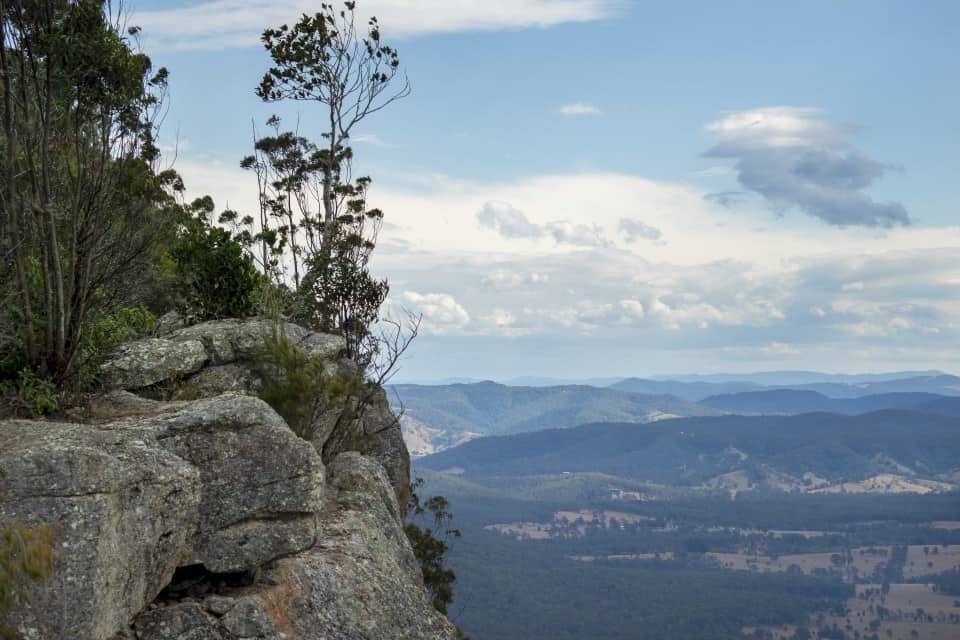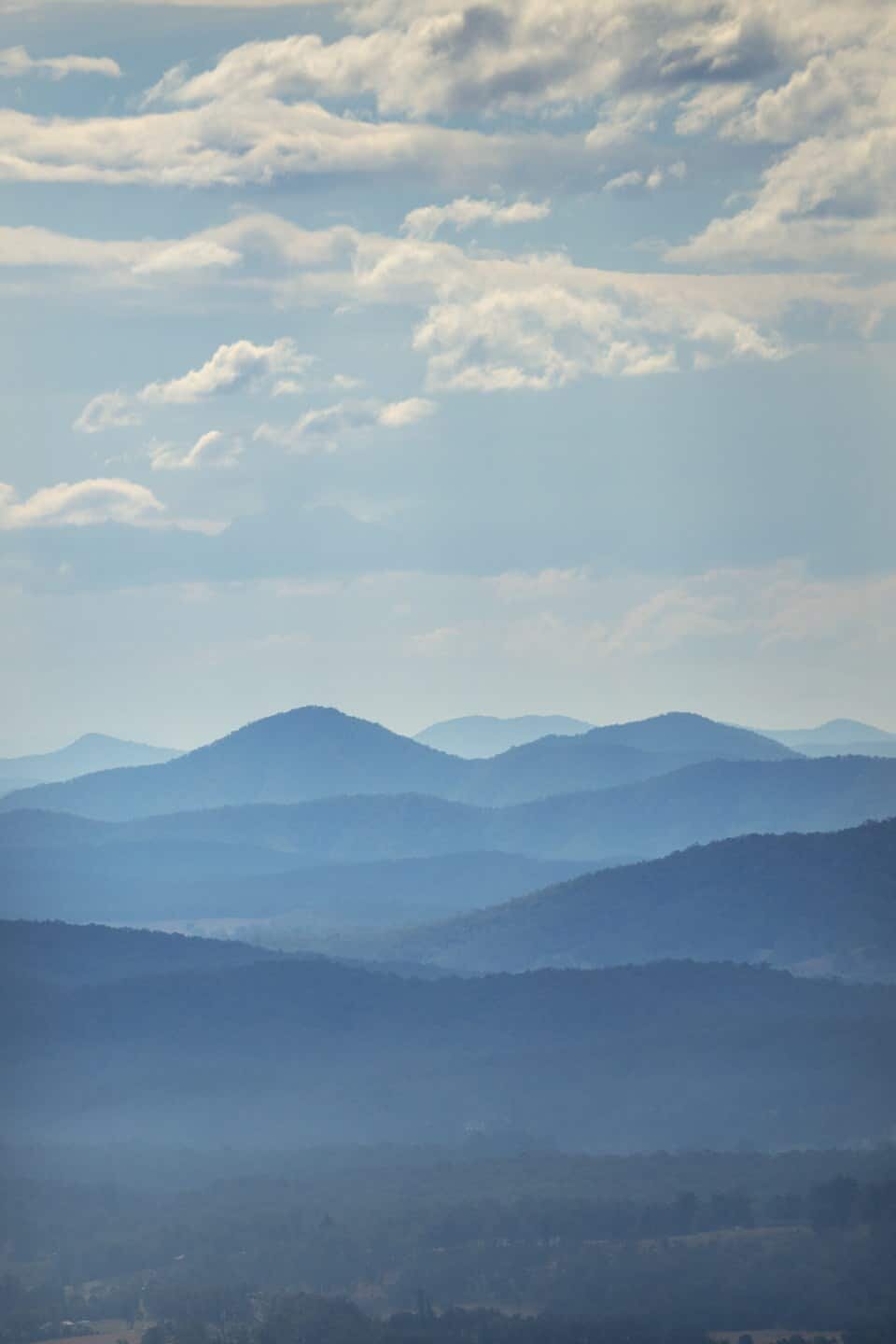 There are so many more photography locations I could include in this guide but I wanted to share some of my favourites and hopefully you'll visit soon and find some of your own.
Have you been to Port Macquarie and have a favourite spot? Let me know in the comments below!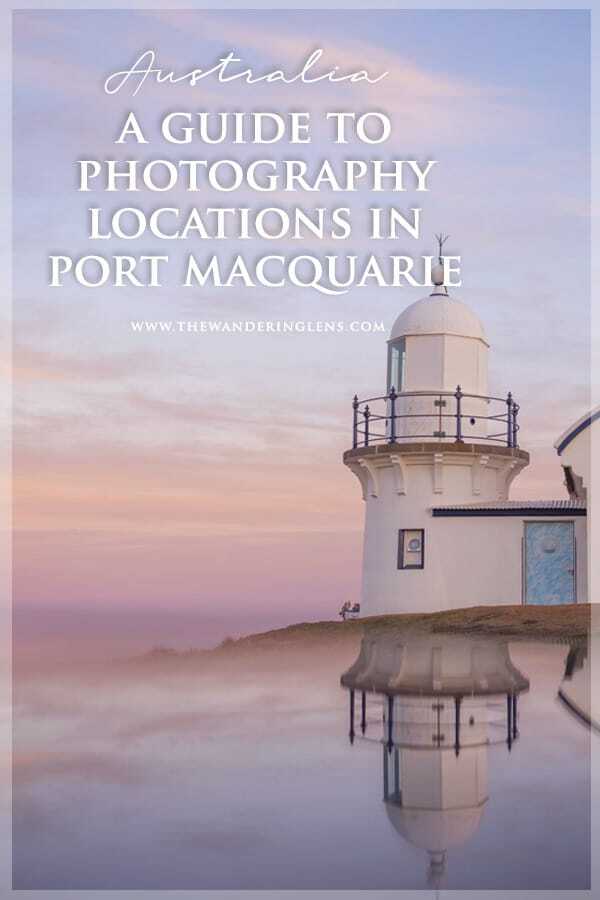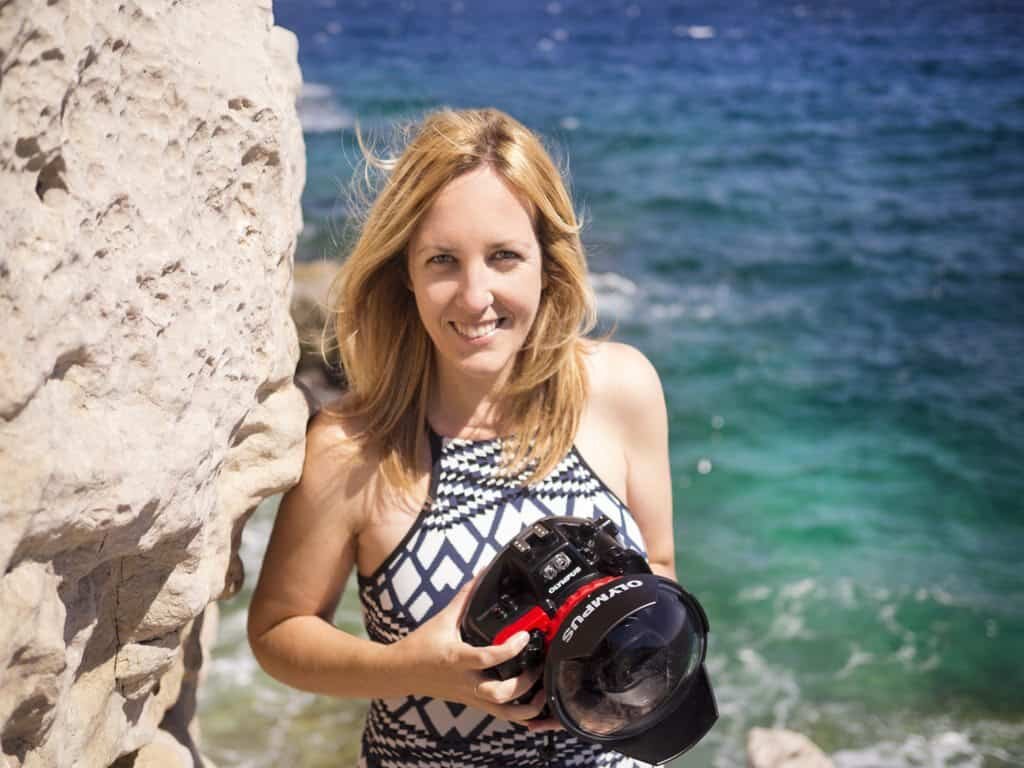 Hello! I'm the founder and photographer behind The Wandering Lens.
With 17+yrs experience as a professional travel and landscape photographer, all advice found on this site is from my personal experience on the road. I hope it's useful for your own travels and would love to hear in the comments about your trips and experiences around the world.