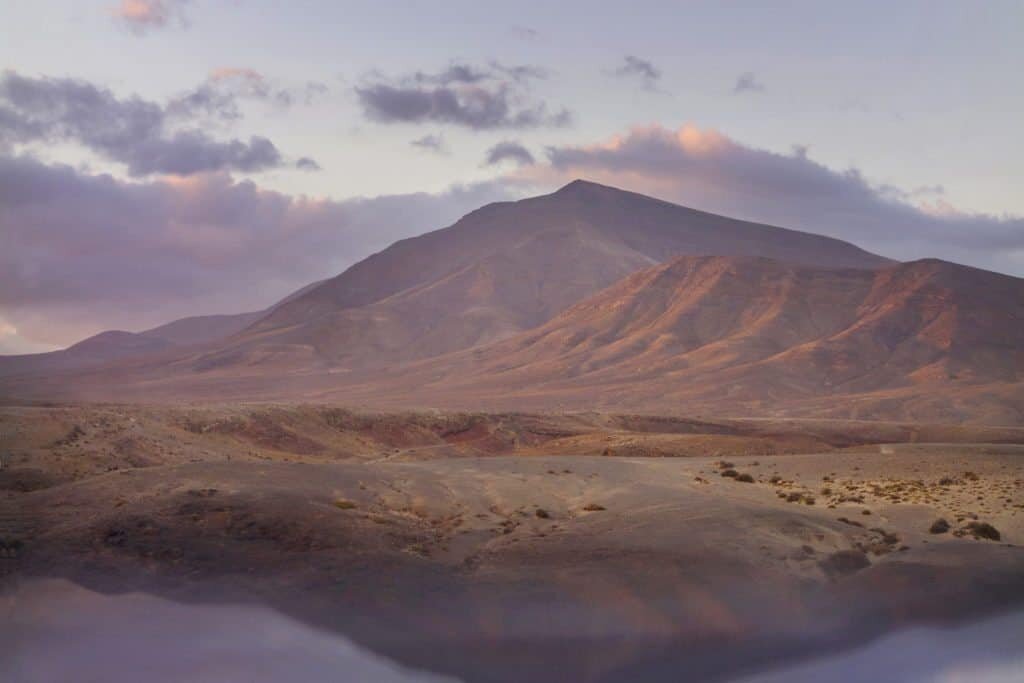 Lanzarote – A Volcanic Beauty of the Canary Islands
As far as landscapes are concerned, Lanzarote looks a little like the planet Mars blended with the Mediterranean Coast. It's barren and rocky scenery is so shocking at first glimpse it actually takes a while for your eyes to adjust to the lack of green.
Located in the Canary Islands of Spain off the coast of Morocco, Lanzarote is a rare find. The closest I've come to seeing a landscape similar was in Iceland but even there you'll find green moss covering the lava fields.
On Lanzarote you've got blue skies contrasting beautifully with volcanic craters and teal seas. White villages are scattered along the coast line and in the interior you'll find palm groves and vineyards growing amidst black volcanic soil.
For photographers there's plenty to keep you busy so below you'll find a guide to the most photogenic locations on Lanzarote.
As always I'll kick things off with a map highlighting where each location is, then below you'll find a more detailed description along with tips on getting around and where to stay on Lanzarote.
---

Playa de Papagayo
Perhaps the best beach on Lanzarote, Playa de Papagayo is at the end of a dusty dirt road a little north of the town Playa Blanca. It's the type of beach that suits everyone with a café and bar, snorkelling spots, plenty of sand for sun baking and then endless locations for taking landscape photos.
Located in the Natural Monument of Los Ajaches, you need to pay an entry fee of €3 upon arrival to what appears to be a cowboy ranch in the middle of nowhere. This is a daily ticket though meaning you can come and go as you please.
Best time to photograph: If you're looking to capture underwater shots along the shores, definitely aim for mid-morning from 11-2pm.
For landscape shots, either sunrise or sunset will keep you very busy with the light quickly changing the scenery, producing so many possibilities it's hard to stop snapping!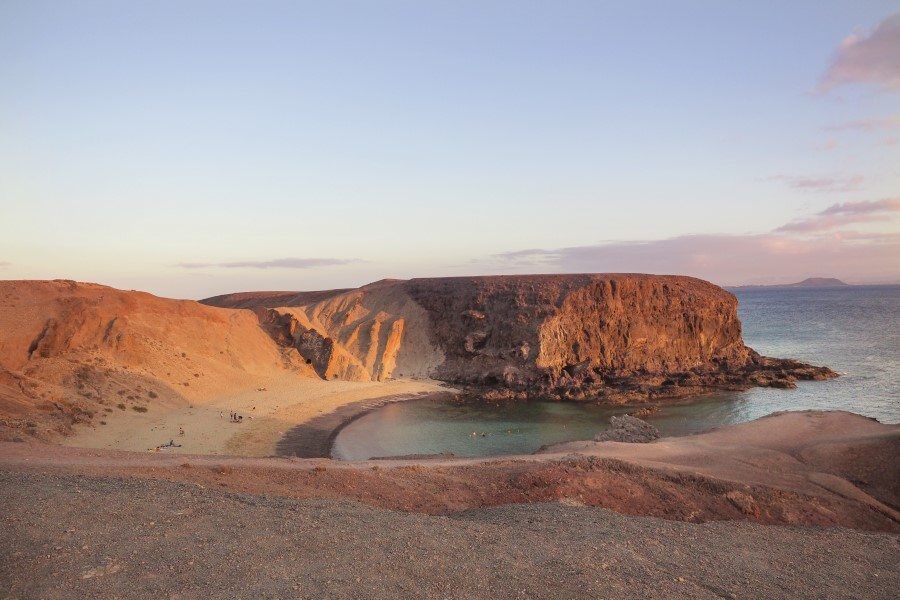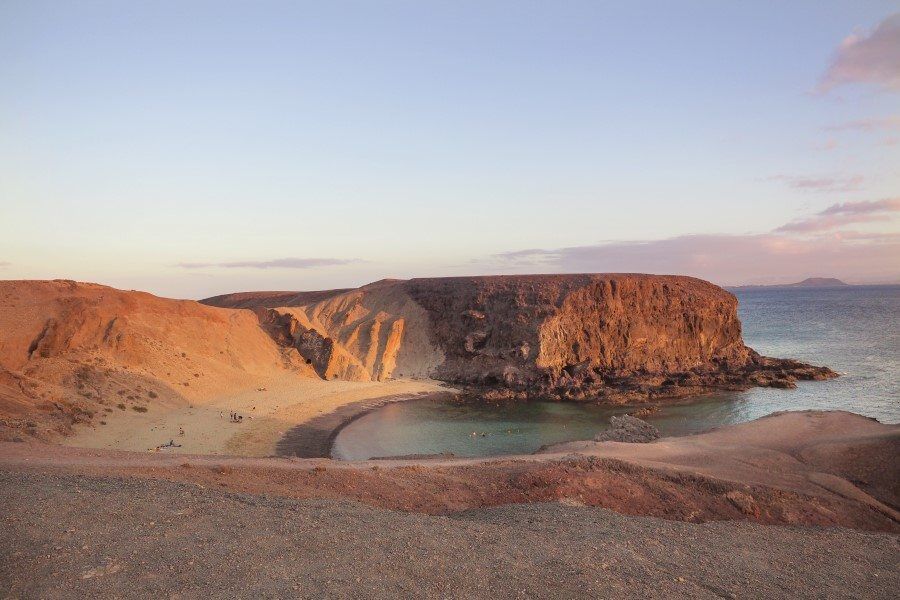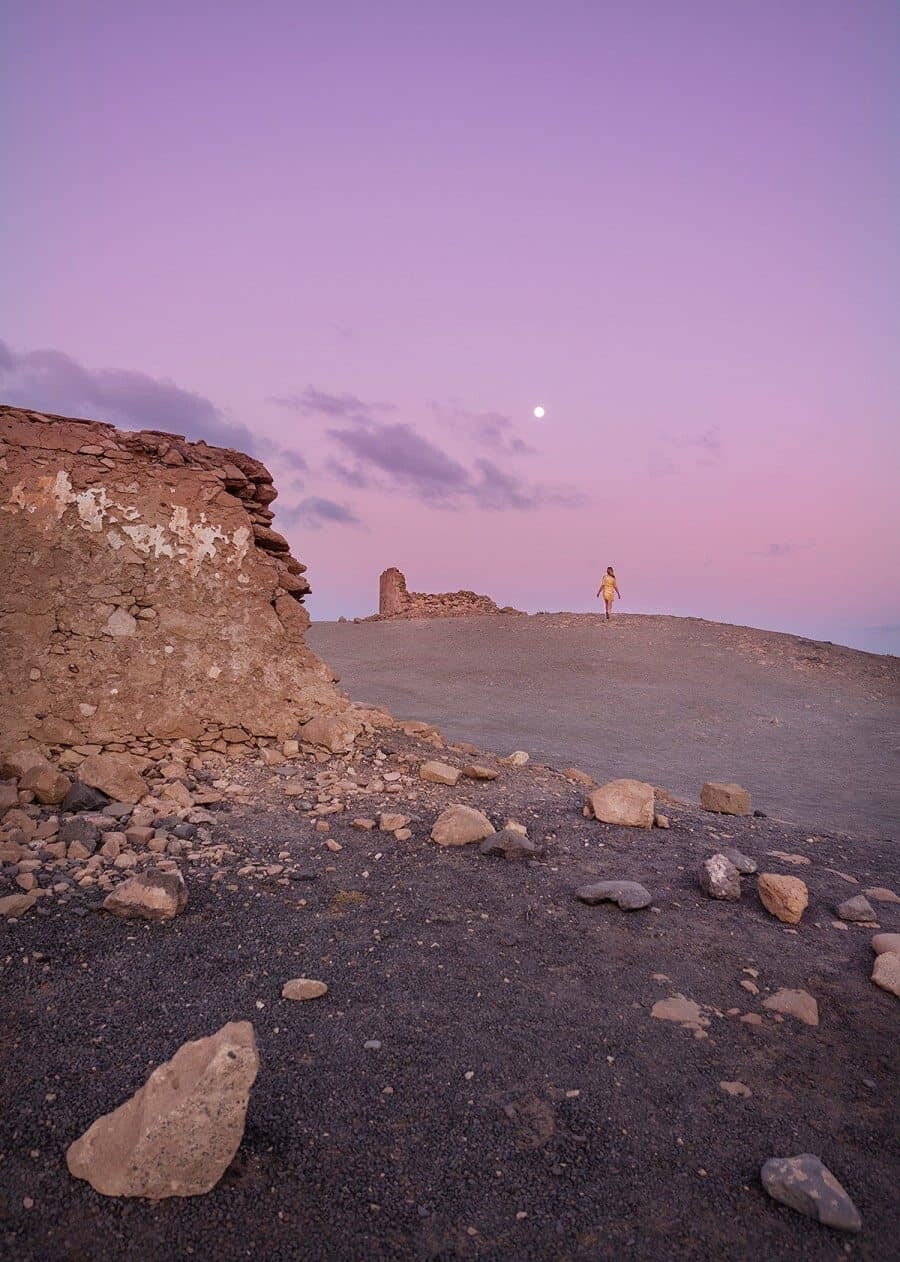 ---
Janubio Salt Flats

Multi-coloured plots of pastel toned salty water. The Janubio Salt Flats found just outside Playa Blanca are a sight you'll want to see. With the barren Lanzarote landscape surrounding the flats, it provides a wonderful contrast to the striking hues cordoned off in perfect sections of prettiness.
Best time to photograph: Whether you're after a strong colour palette and prefer to contrast the salt flats with bright blue sky, or if you prefer to capture a warmer image with the sun about to set, there really isn't a bad time. Be sure to take the route along the coast from Playa Blanca rather than the main highway, that way it's nice and easy to pull off the road and have a wander around the edge of the mines.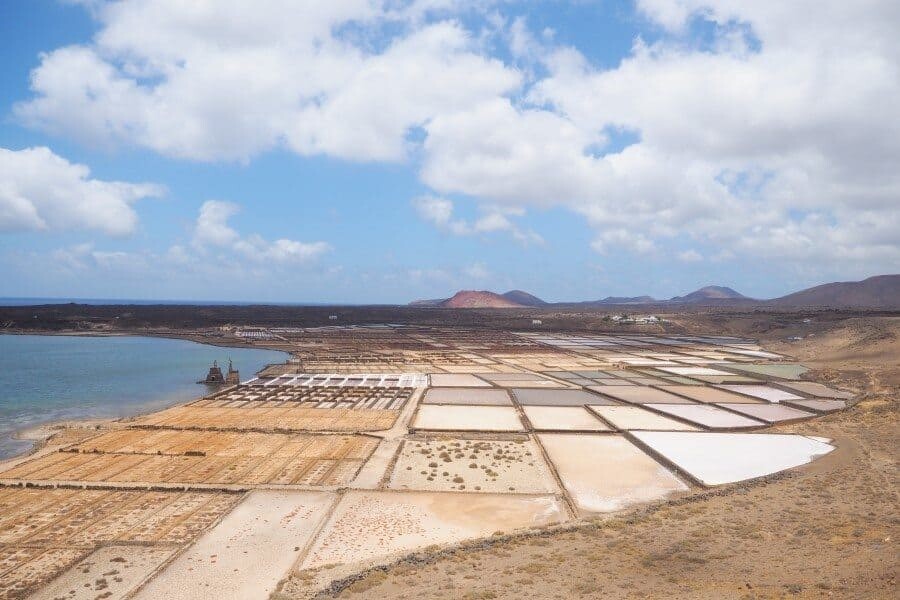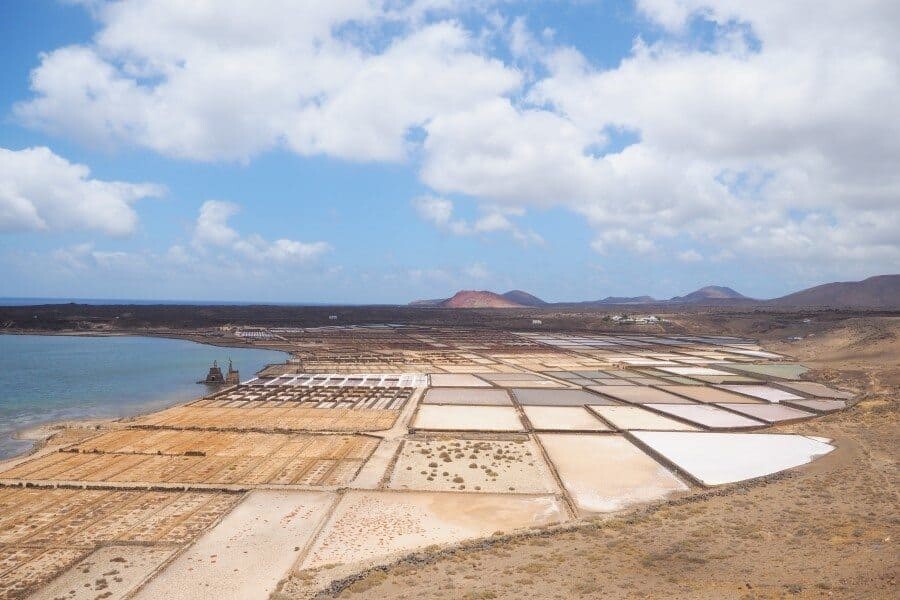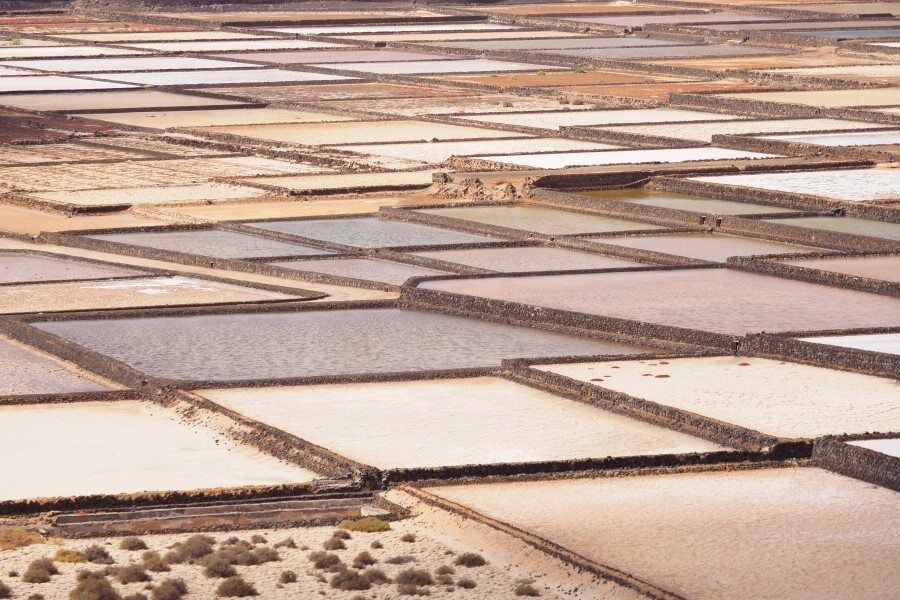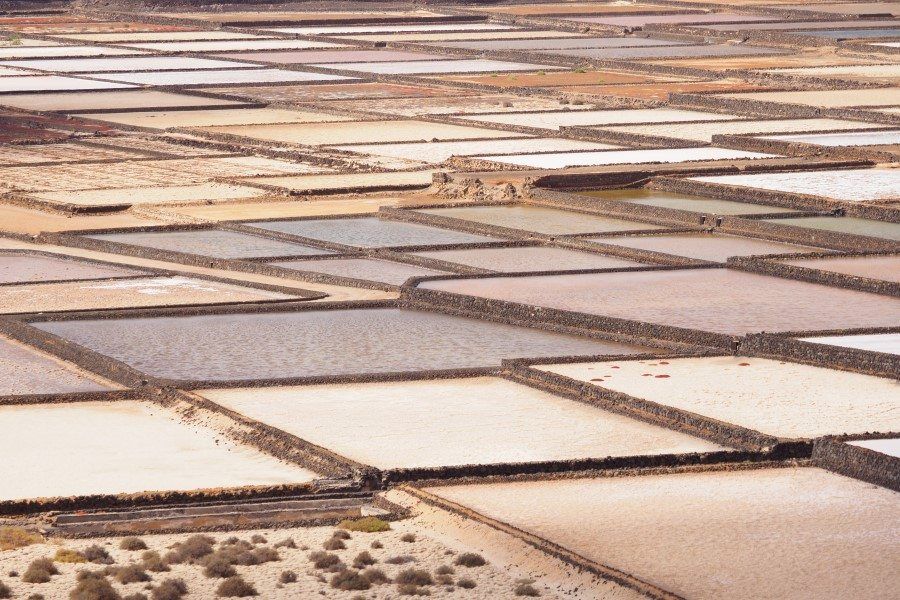 ---
Orzola's White Beaches – Caleton Blanco
After exploring an island where the landscapes are mainly orange, sandy, brown or a blended tone of brown sandy orange, the white beaches of Orzola are a welcome sight. Appearing like glistening snow against the volcanic rocks, the beaches are found in the north of Lanzarote just outside the fishing village of Orzola.
Caleton Blanco is the most popular of them all however there are multiple parking areas along the coast from Punta Mujeres to Orzolo. I'd recommend finding your own little slice of paradise rather than snuggling up next to everyone at the main beach in summer…unless crowds are your thing!
One of the most fascinating elements of the beaches are the volcanic rock hideouts people have made, similar to the technique used to in the vineyards on the island. By creating a circular wall of stones, the hideouts provide protection from the somewhat ever present winds on the island, and allow you to soak up the sun without a bother. They do heat up very quickly though so taking regular dips is advised!
Best time to photograph: The contrasting blue skies, blue seas and striking white sands against black volcanic rocks are best captured during the daylight hours.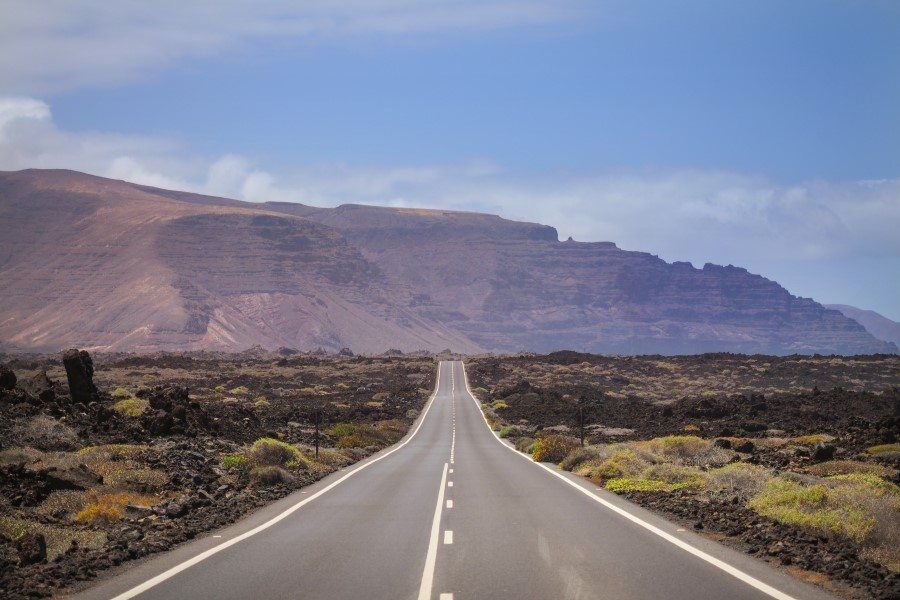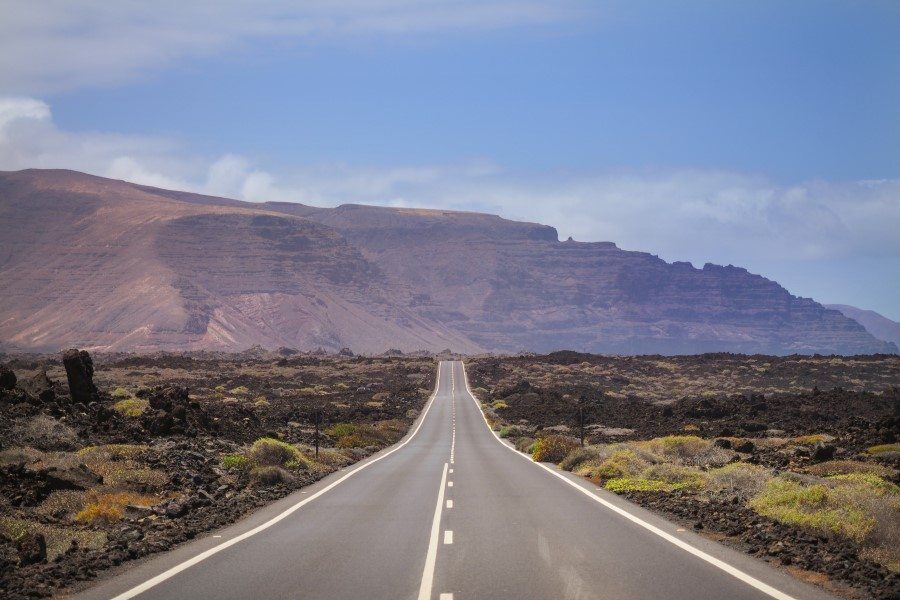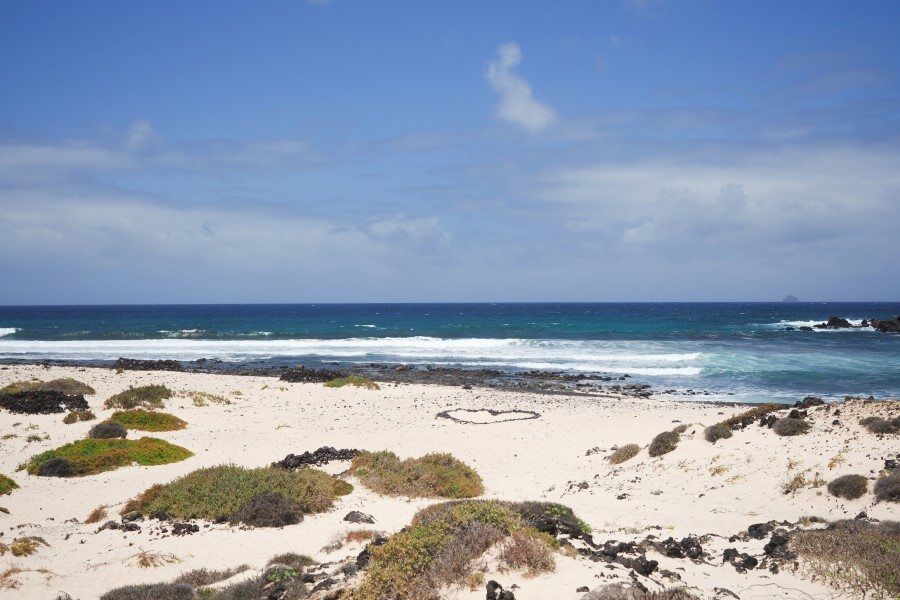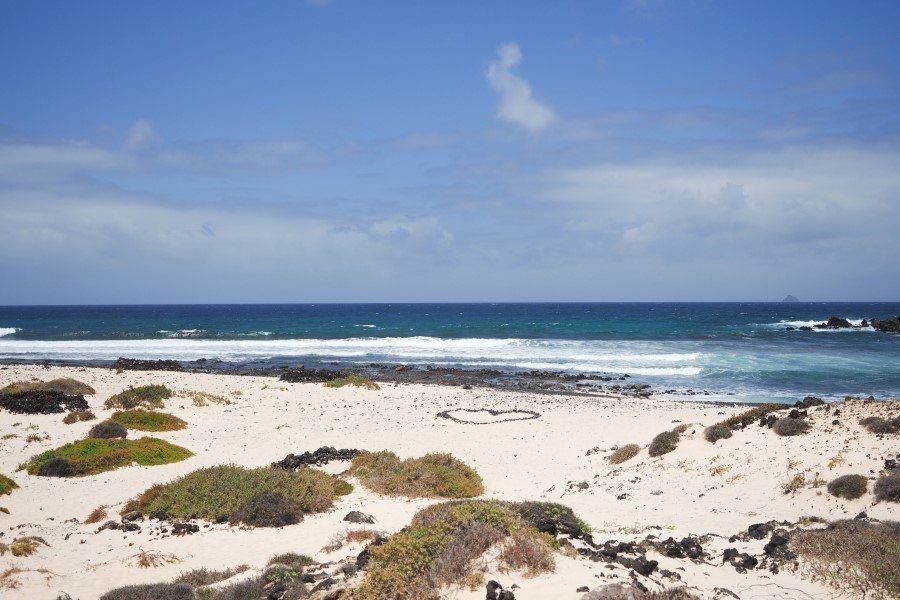 ---
Orzola
My pick for the prettiest town on Lanzarote, Orzola is a quiet little fishing village right on the northern tip of the island. It's where the ferries depart for La Graciosa and you'll find cafes and seafood restaurants dotted around the small harbour's sea front.
Take a wander along the waterfront to photograph colourful boats bobbing in the sea and also you'll notice colourful doors and window shutters in the quieter residential side of town. There's about six streets in Orzola so you can't really get lost but I wish I could've spent more time here, it's got a really relaxing atmosphere!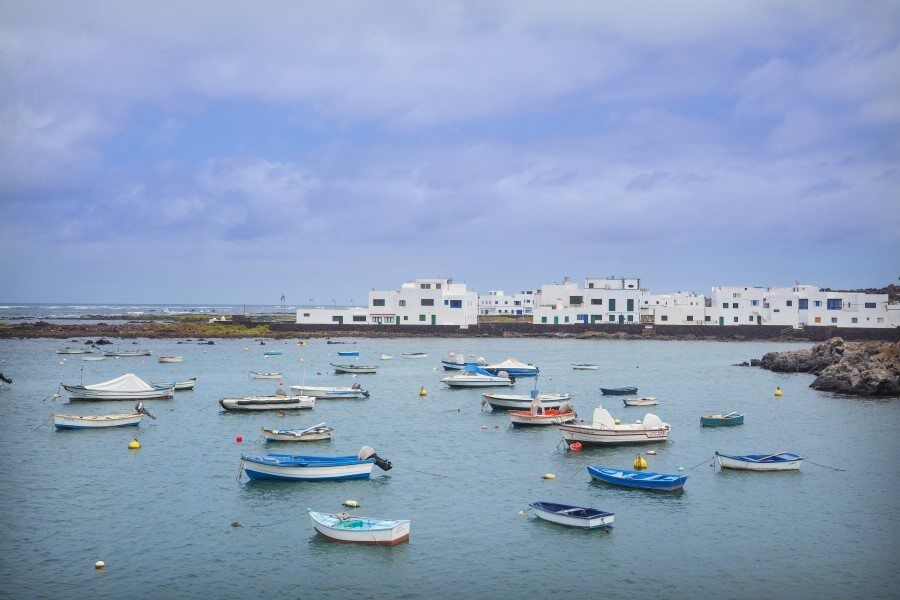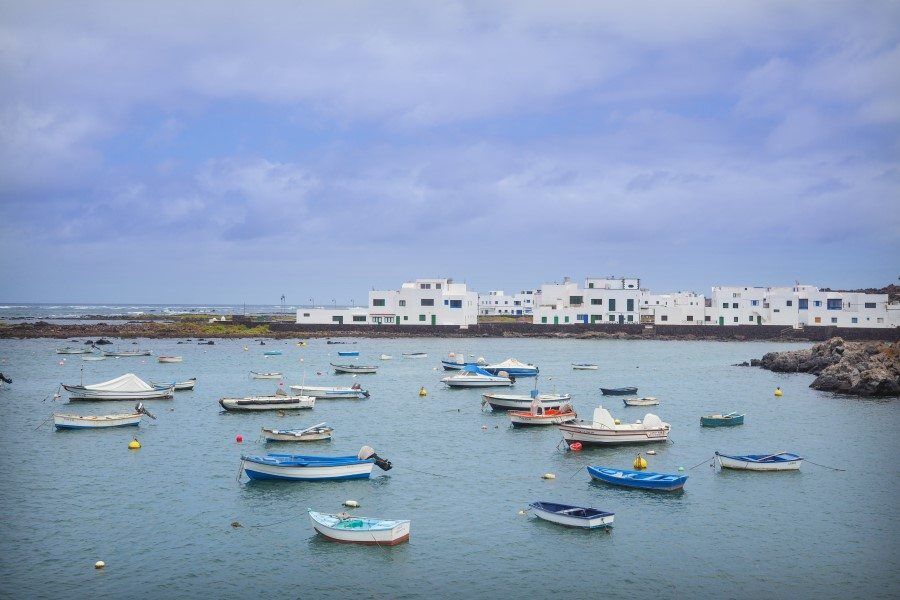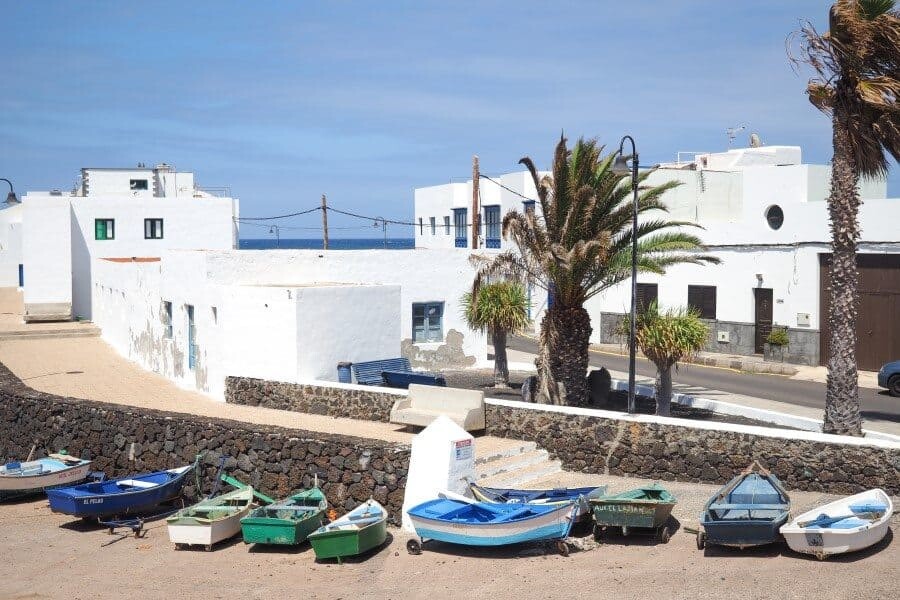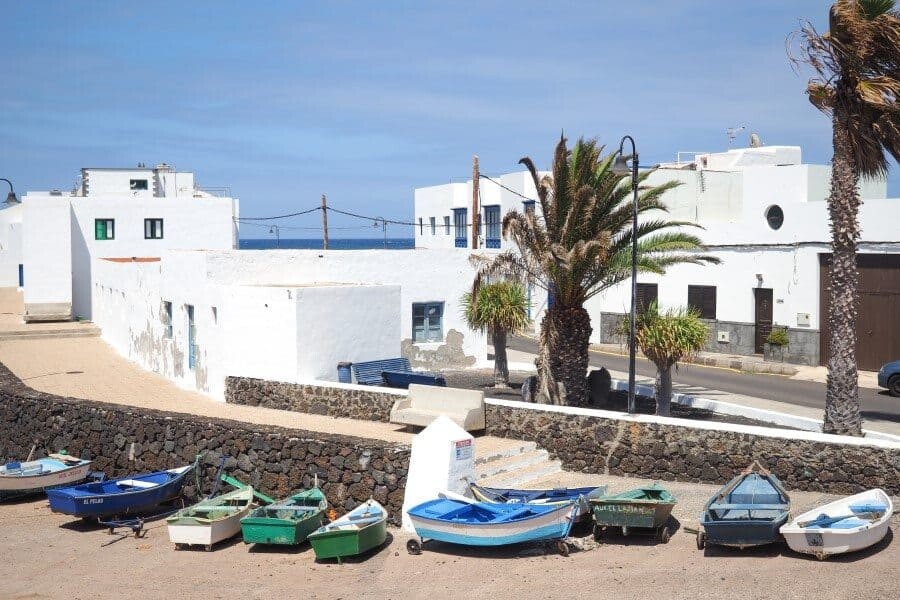 ---
Charco de Los Clicos (The Green Lagoon)
Where a volcanic crater meets the Atlantic Ocean in a beautiful blending of harsh landscapes and calm water. The Green Lagoon is located within a crater on this black sand beach and gets its vibrant colour from sea algae found at the bottom.
The beach and lagoon is a protected nature reserve so you can't actually access it to get a closer look. There is however a viewing point available from the El Golfo side of the beach. The other side has been completely blocked so don't even attempt it.
Next to the beach is another photogenic inlet where colourful fishing boats rest up on the rocky shores.
Best time to photograph: The warm glow of the afternoon light further adds to the drama on display at this location. As the sun dips toward the horizon, shadows appear on the craters walls producing even more details in what is already a complicated yet stunning landscape. Also there's a lot less people around at sunset here!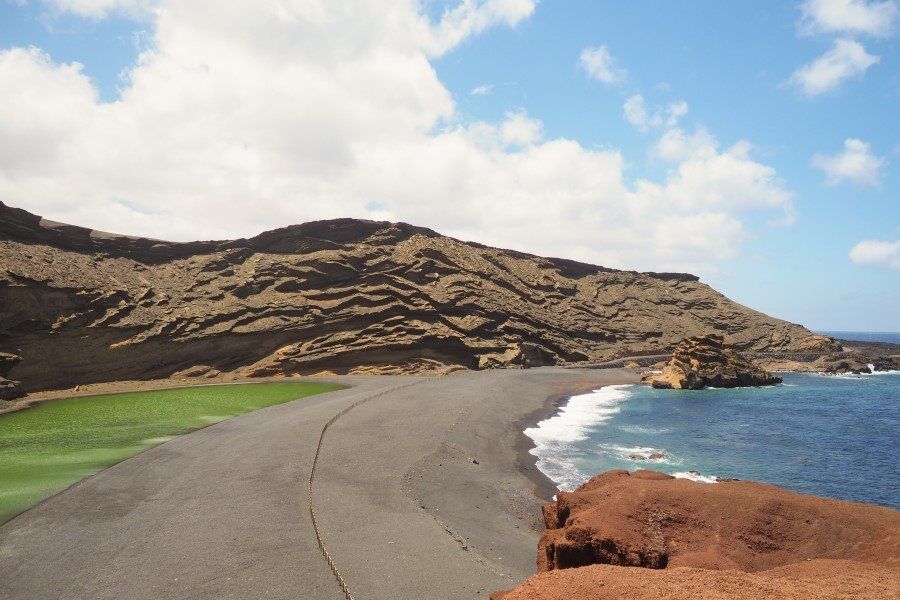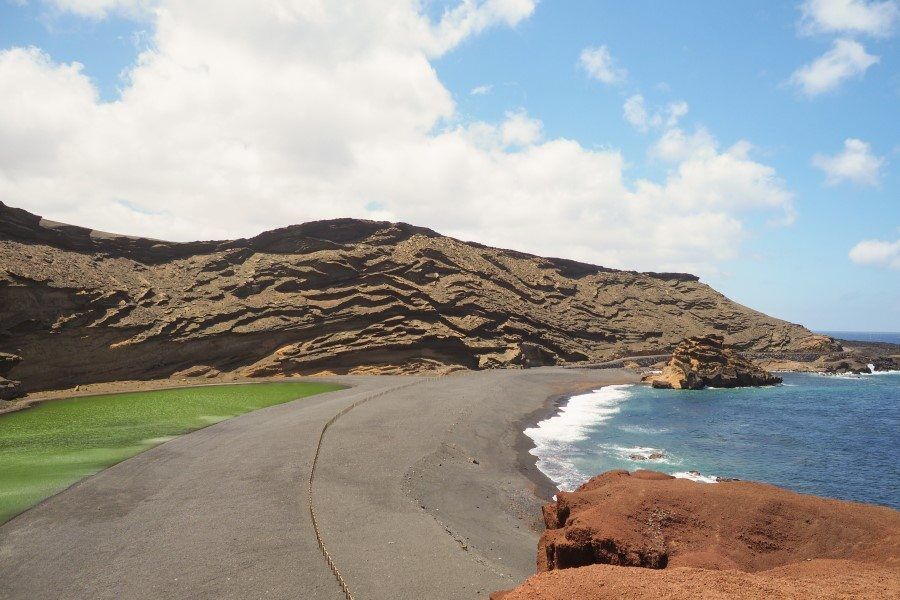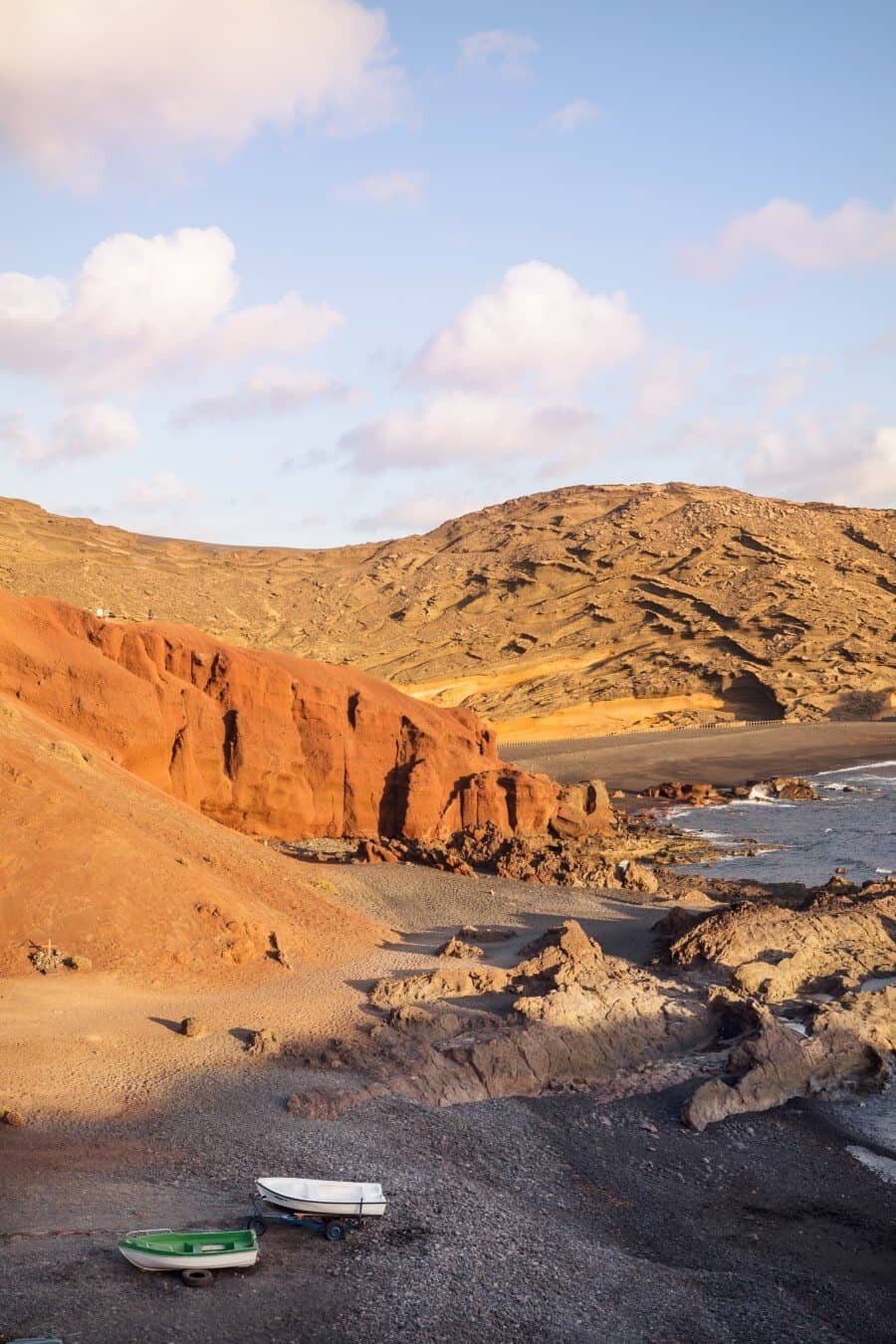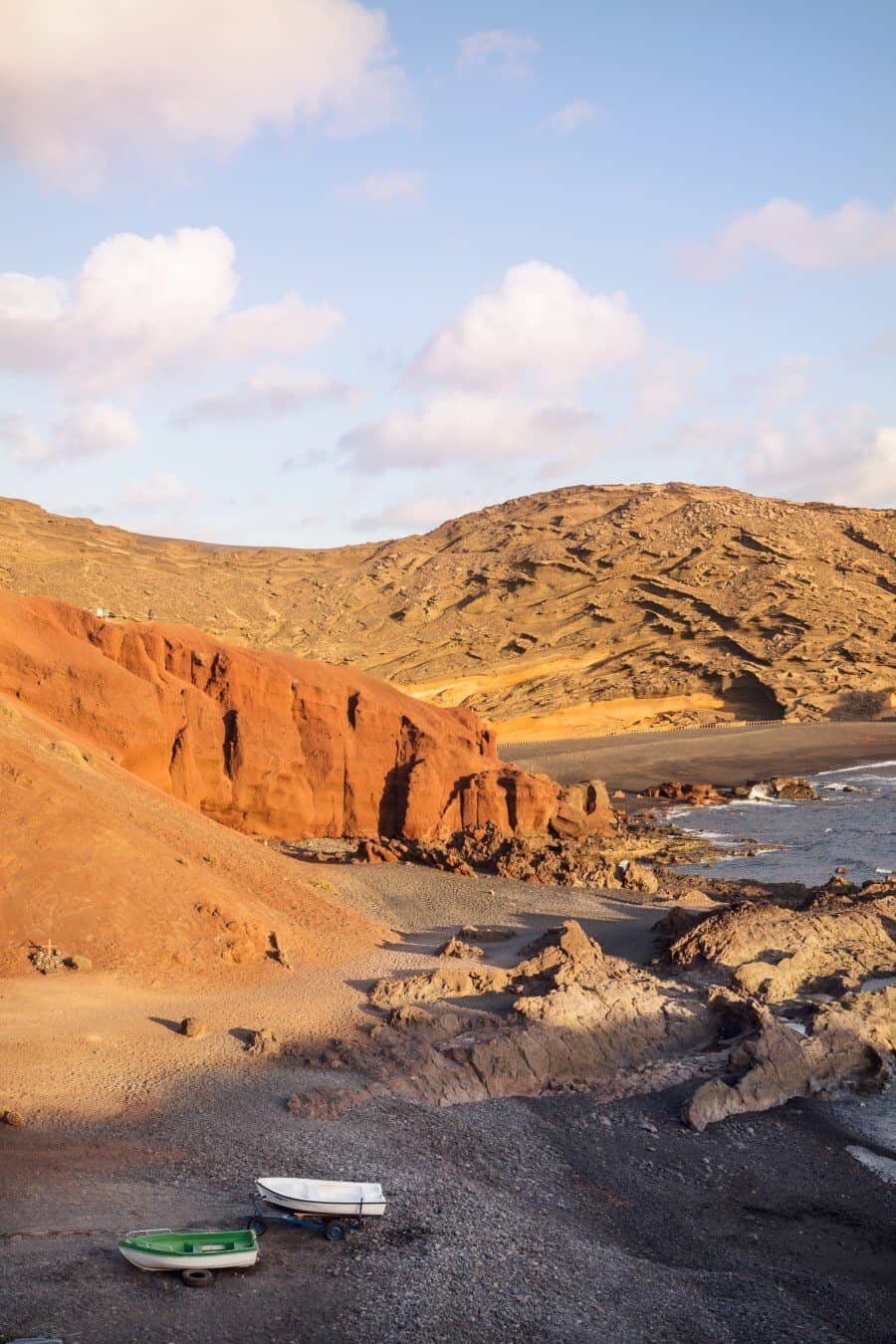 ---
Timanfaya National Park
Volcanoes, everywhere. This is one of the most impressive national parks you're likely to see with such an apparent history sprawled across the landscape. Forming between 1730 to 1736 after multiple volcanic eruptions, the Montañas del Fuego (Fire Mountains) are a series of craters stretching 50km2.
It's not just the craters that are impressive though, it's the rugged, harsh, rocky landscape that is scattered all around them. Hardly type of landscape you look at and say, that looks like a great hike. It's more like, wow, I could fall into that lava hole and never come out again.
Also it's strictly prohibited to go off wandering on your own, temperatures just a few metres below the surface still boil at between 400-600degrees celcius…
Timanfaya National Park is only open from 10-6pm daily with the last admitted entry somewhere around 4:45pm. Entry fees are 8 euro per person which also includes a coach tour on a very photogenic route through the craters.
Best time to photograph: Arriving late in the afternoon will mean the majority of the crowds have dispersed and you'll have a better chance of scoring a window seat in the coach. While you can take photos from the parking lot, as you drive toward El Diablo restaurant, it's not possible to self-drive the full national park.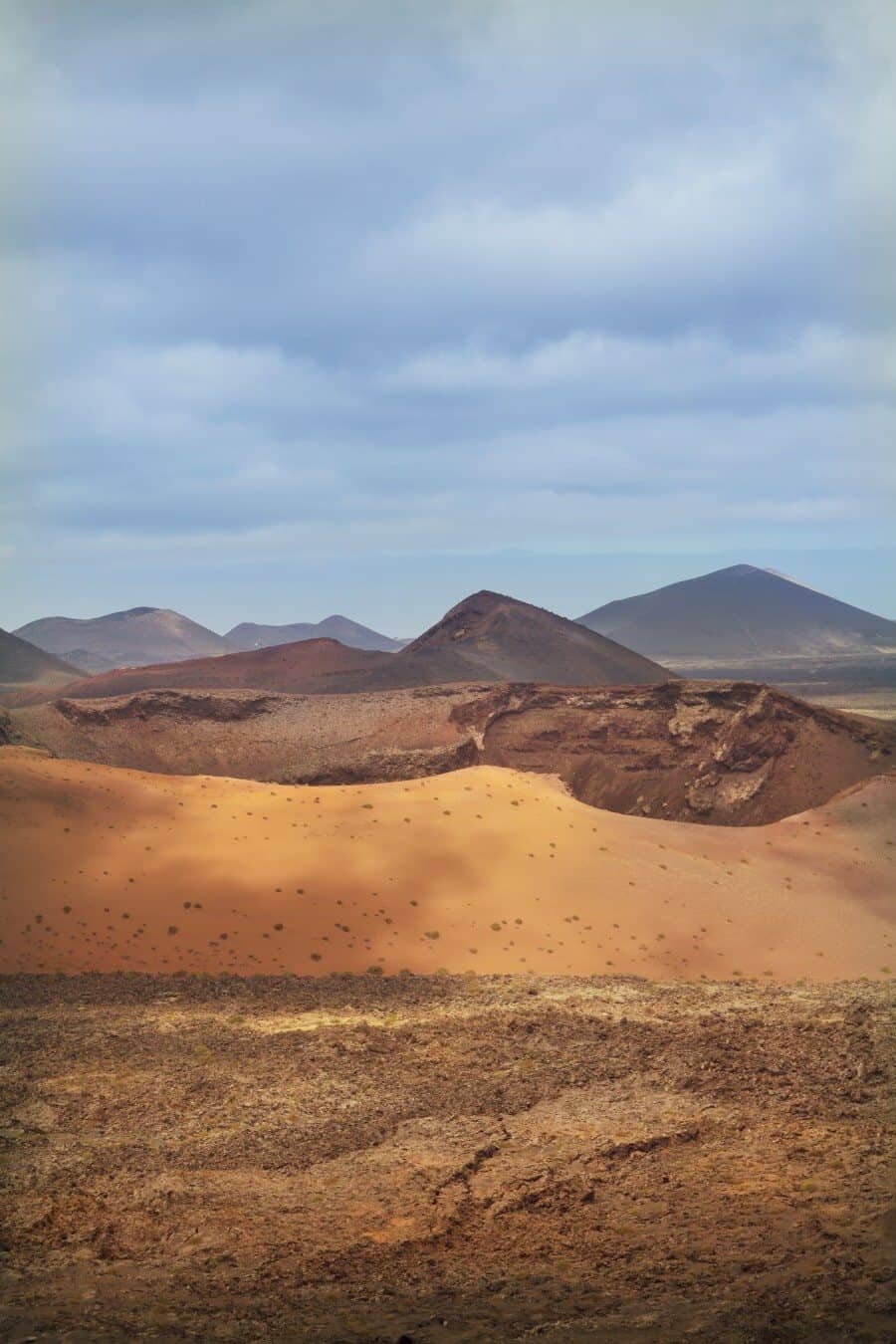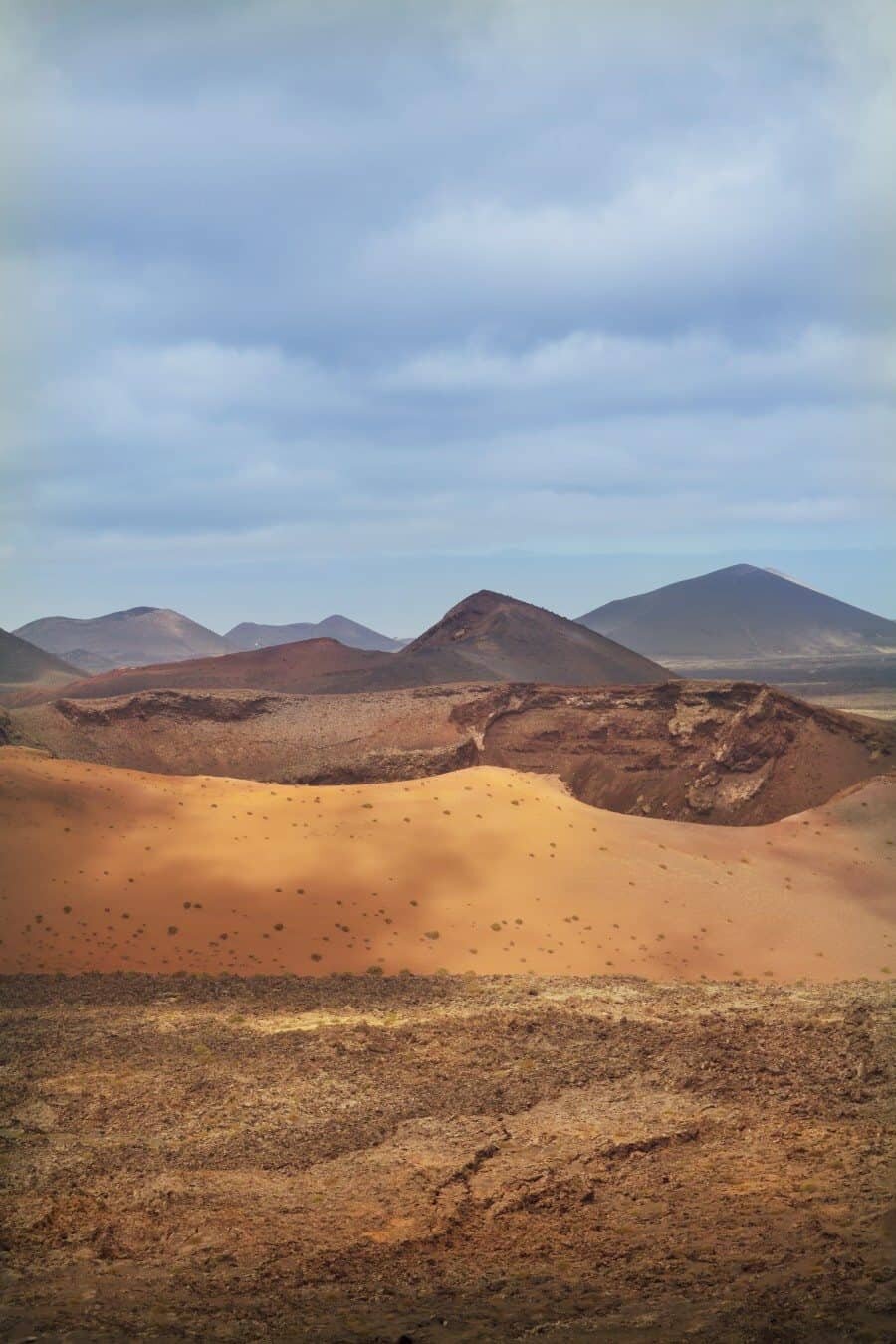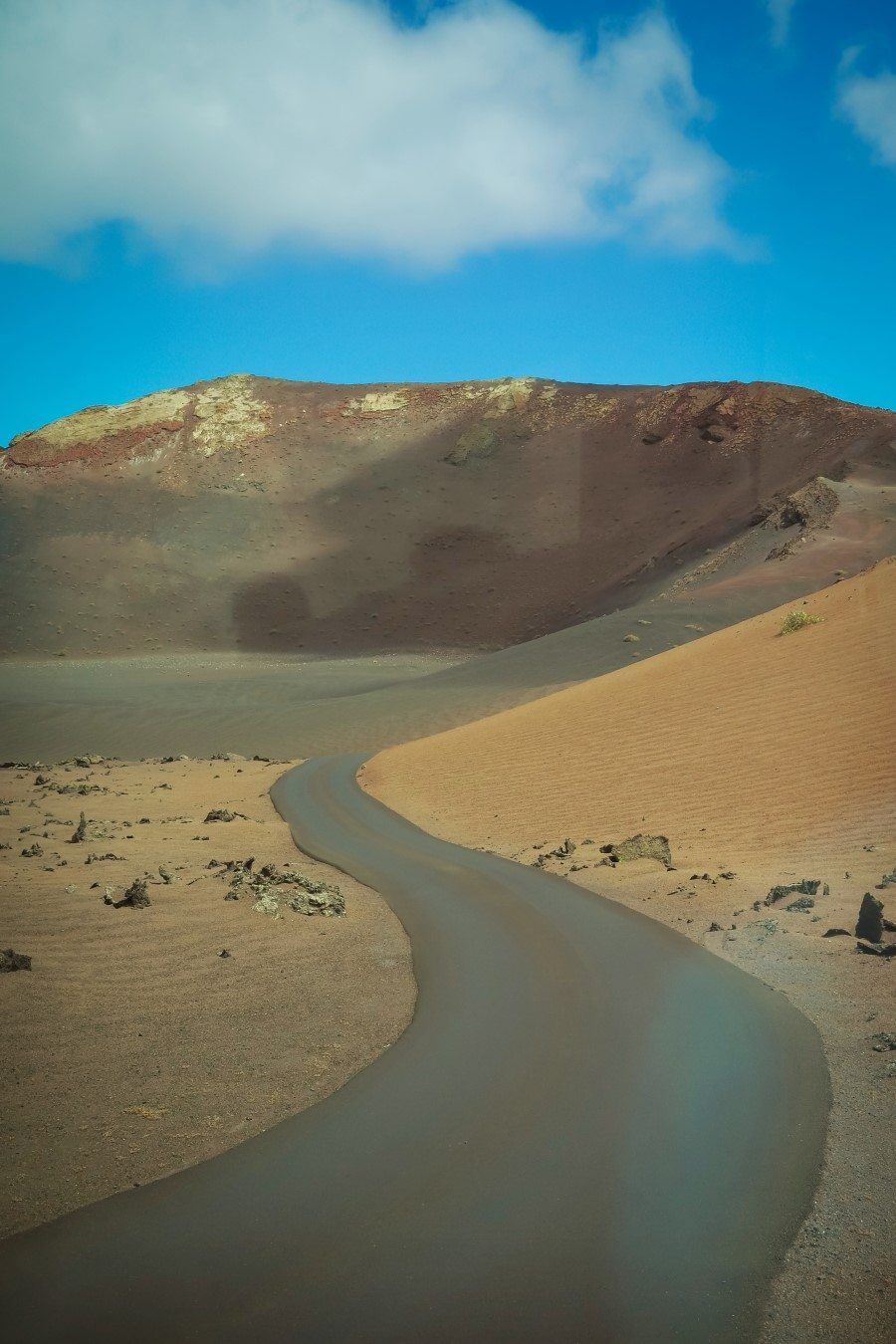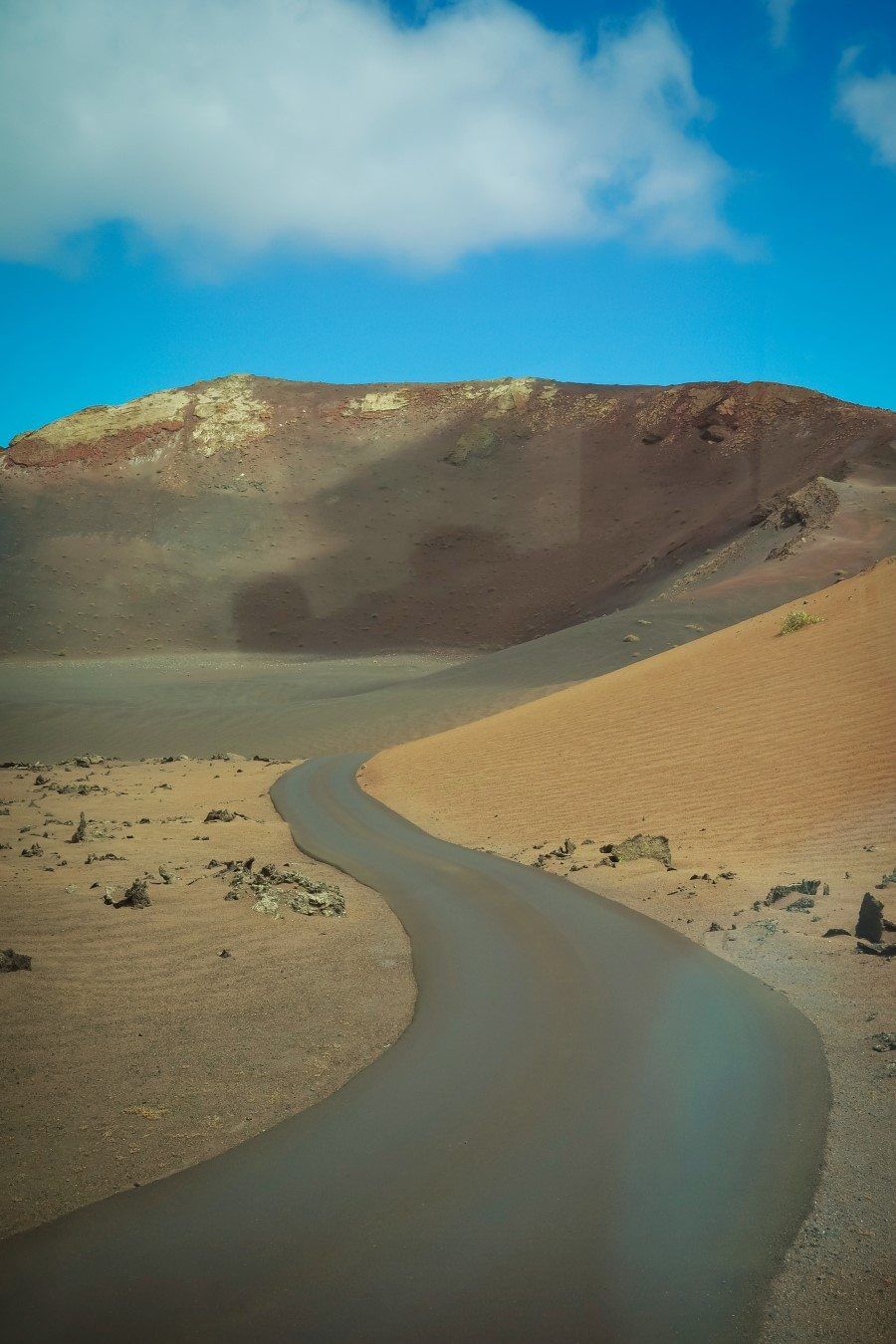 ---
Parc Naturel los Volcanoes
Surrounding the Timanfaya National Park is the National Park of Volcanoes. Stretching from the Janubio salt mines north to Mancha Blanca, you're surrounded again by the volcanic landscape as found inside Timanfaya. The difference is its a little less dramatic but still filled with craters as far as the eye can see.
You don't need to pay an entry fee to drive through however this also means the roads are bigger and there's more traffic so it loses the special feeling you get in Timanfaya.
If you're keen to get amongst the landscape you can hike to the top of Caldera Blanca, a crater with a diameter of 1200m and height of 458m. Check out this great guide for all the info on what the hike is like. Also be careful in strong winds as there's no protection at the top and the path can be very dangerous.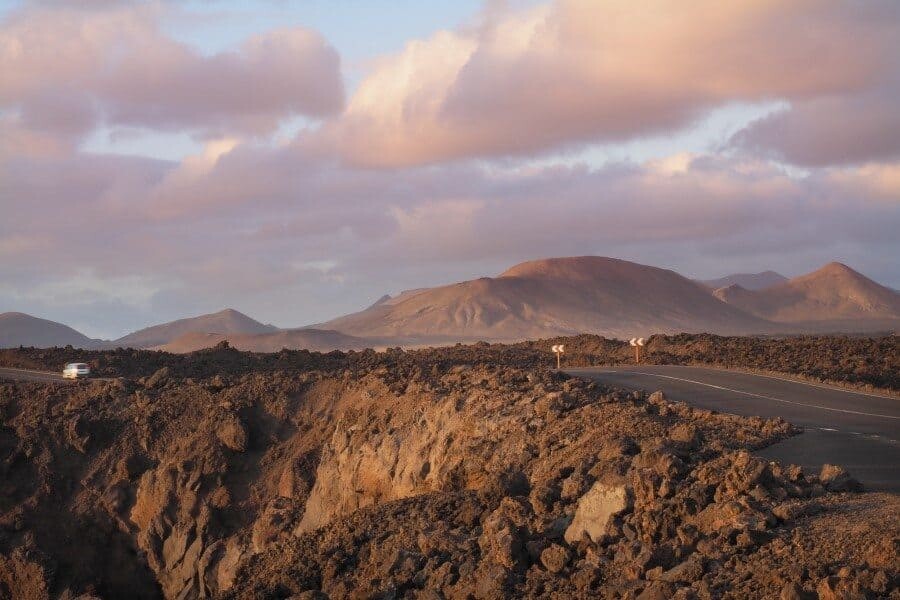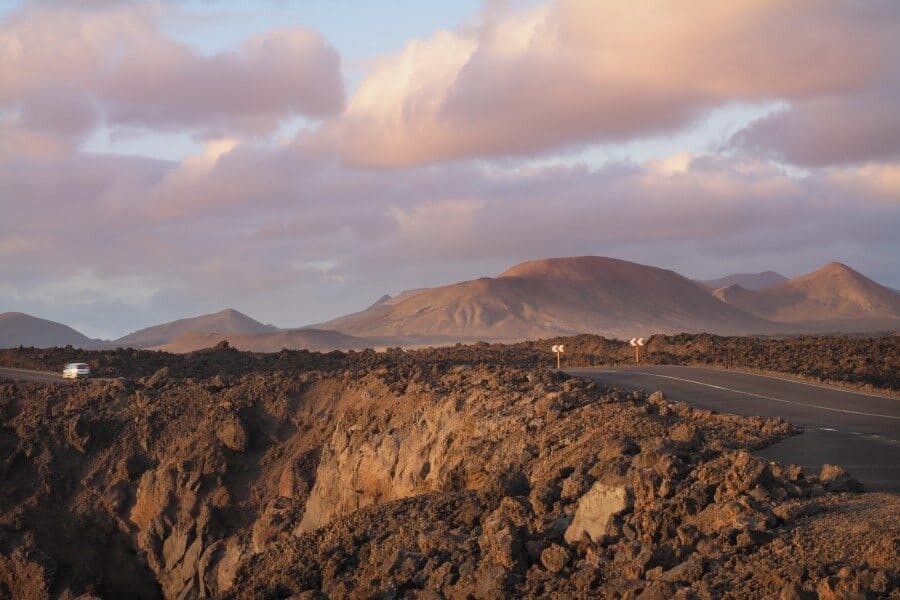 ---
Famara Beach
A wild, surf beach located on the western side of Lanzarote, Famara is a chilled out version of the east coast. It's got a relaxed, surfy vibe and that's because there's waves, lots of them that break all along the 5km stretch of sand!
Linking the fishing village of La Caleta with the township of Famara, the beach sits below a range of impressive cliffs that work wonderfully in photos. You've also got windsurfers, kite surfers, basically any water sport to photograph if you're after some action shots.
At low tide the beach has a thin reflective film of water when the ocean subsides, creating a fantastic canvas to capture the scenery with.
Best time to photograph: Because it's on the western side of the island, Famara Beach and the cliffs light up beautifully in the afternoon. Be sure to take a few lenses so you can take some wide-angle shots but also have a zoom handy to capture the surfers either reflecting as the walk from the water, or out in the waves.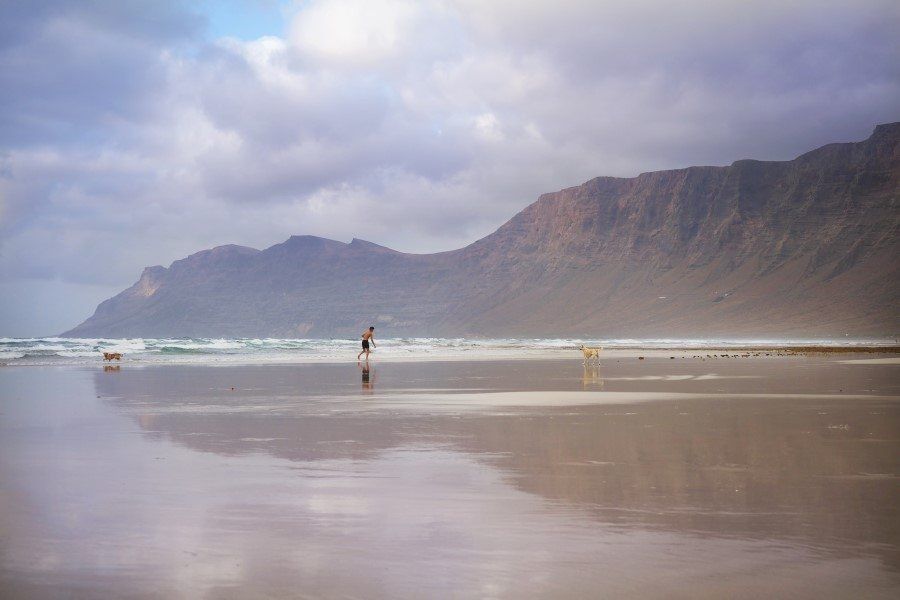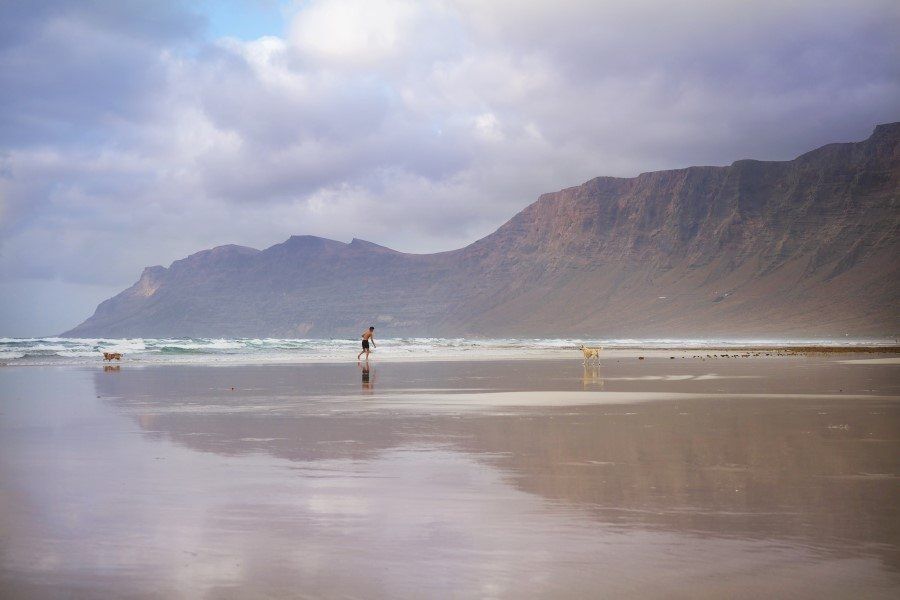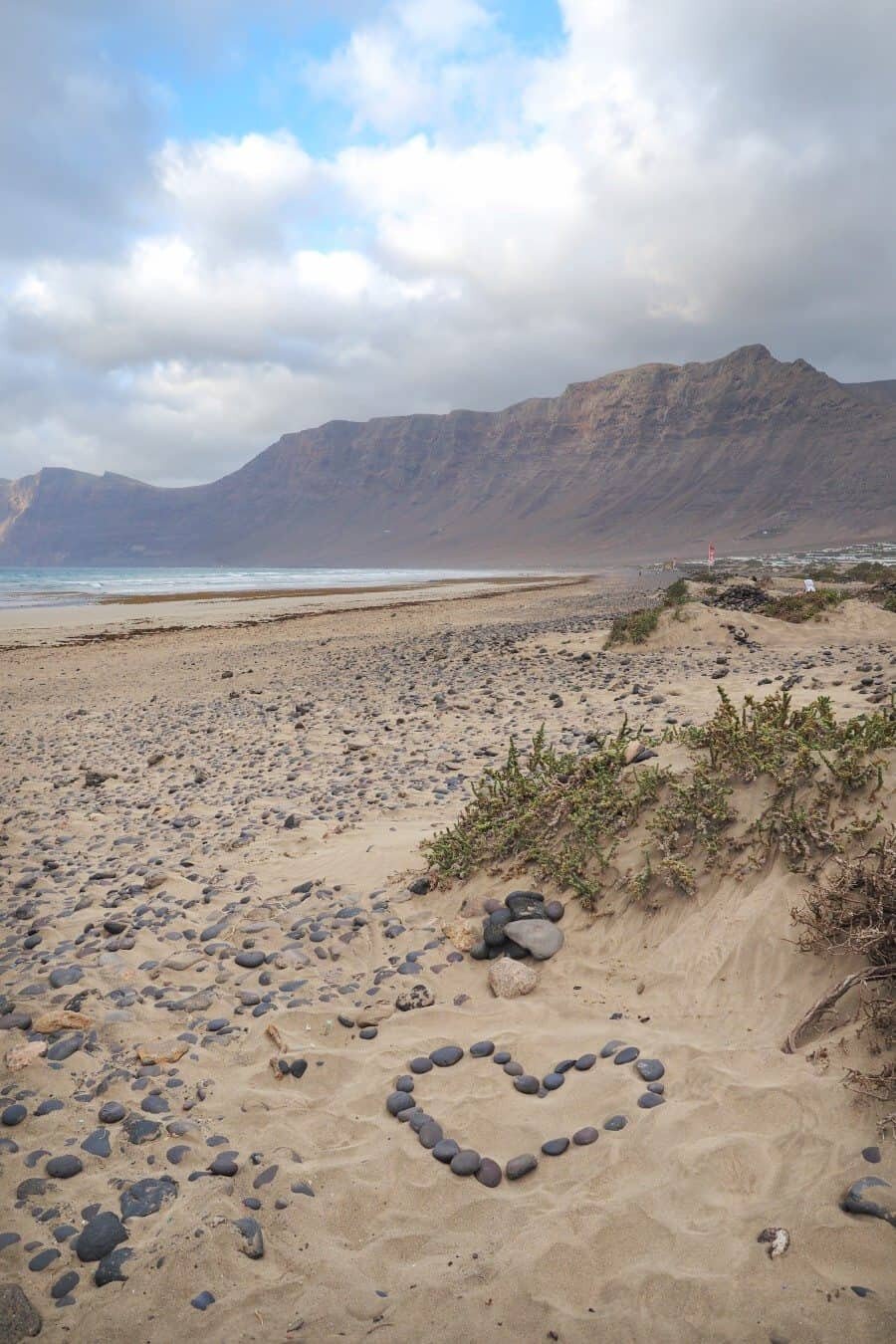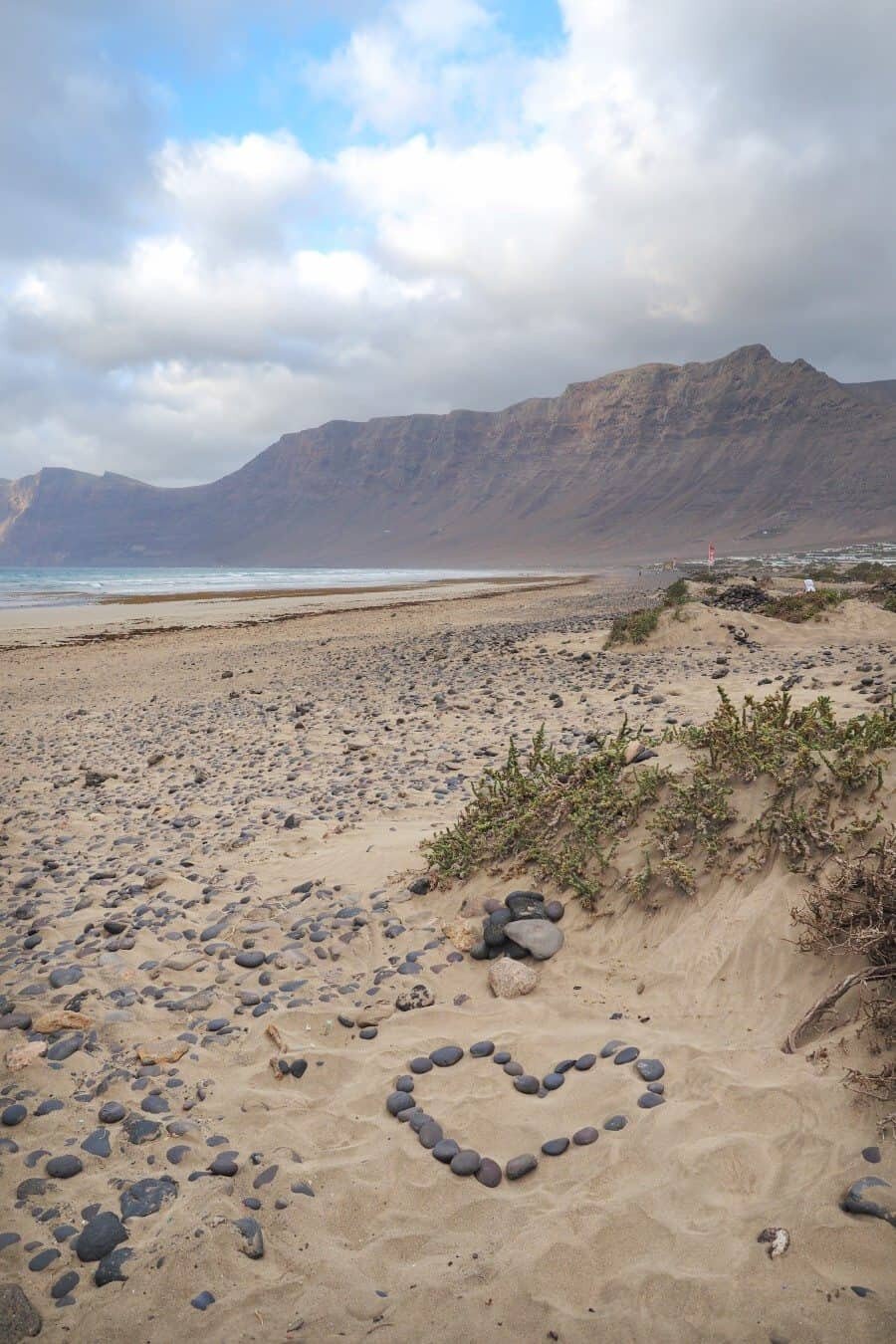 ---
Jardin de Cactus
Located on the north-eastern side of the island, the Lanzarote Cactus Garden is filled with over 1100 species of cacti. Chunky round cacti, tall saguaros, spikey sorts of all shapes and sizes. It's pretty funky, colourful and well worth a stop.
If you're a bit put off by the five euro entry fee, there is also a chance to stop by the road and capture the windmill across a field of cacti just before the entry.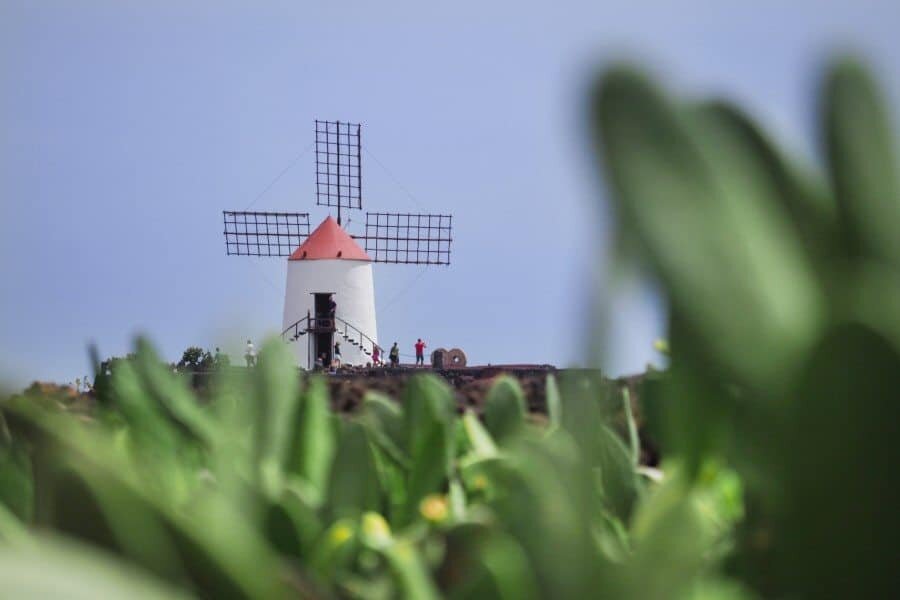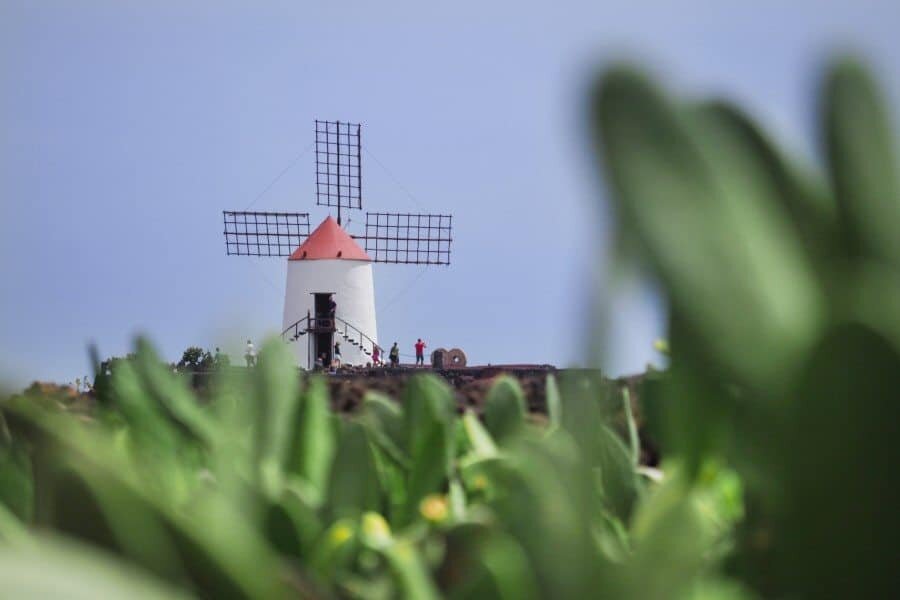 ---
Mirador del Rio
You can spend all day at Mirador del Rio, just gazing out from the cliff tops towards La Graciosa, watching the ferries pass below or the birds swoop up from the steep drop below. It's one of those wow locations that needs to be experienced to full understand its impact.
I'll actually go as far to say that it's really quite hard to capture it in a single photo. Mirador del Rio is located along the Batería del Río escarpment at around 470m above sea level. The building was designed again by César Manrique and has the appearance of a Bond lair on the inside.
Best time to photograph: Afternoon light really brings out the tones of the surrounding cliffs and also the island of La Graciosa in the distance. A great place to spend the afternoon and capturing sunset!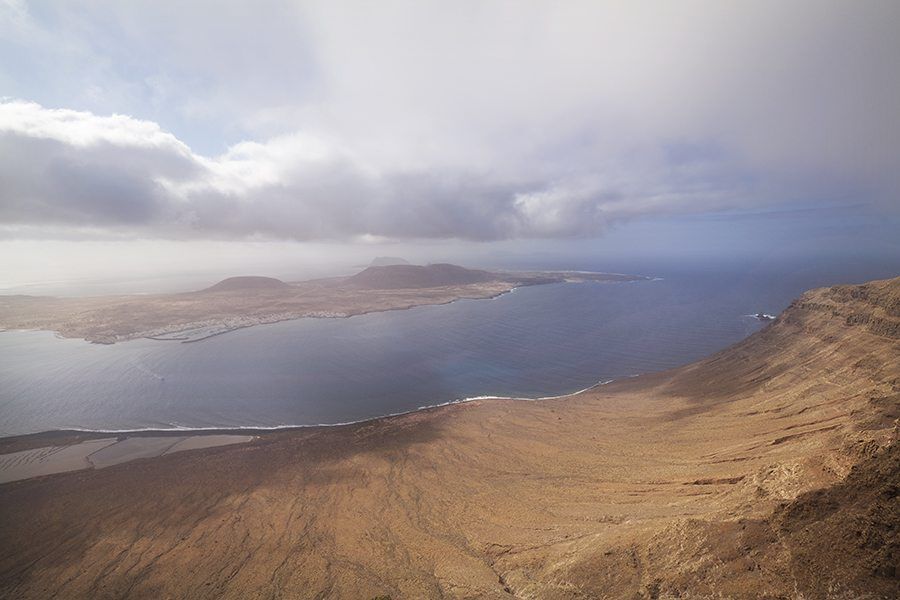 Los Hervideros – Boiling Pots
Along the coast between Salinas de Janubio and El Golfo you'll find this natural wonder. Fierce waves from the Atlantic Ocean have carved underwater caves into the solidified lava landscape, creating a maze that appears to be boiling when the water gushes within.
On a clear day you'll have the Timanfaya National Park in the background and can capture stunning landscape images of this coastline.
Best time to photograph: To photograph the coast with the craters in the distance, I'd suggest the stronger day light hours to really showcase the contrast between the blue sky and volcanic colours. Otherwise, this location is also ideal for sunset, facing west you'll have the sun dipping into the ocean!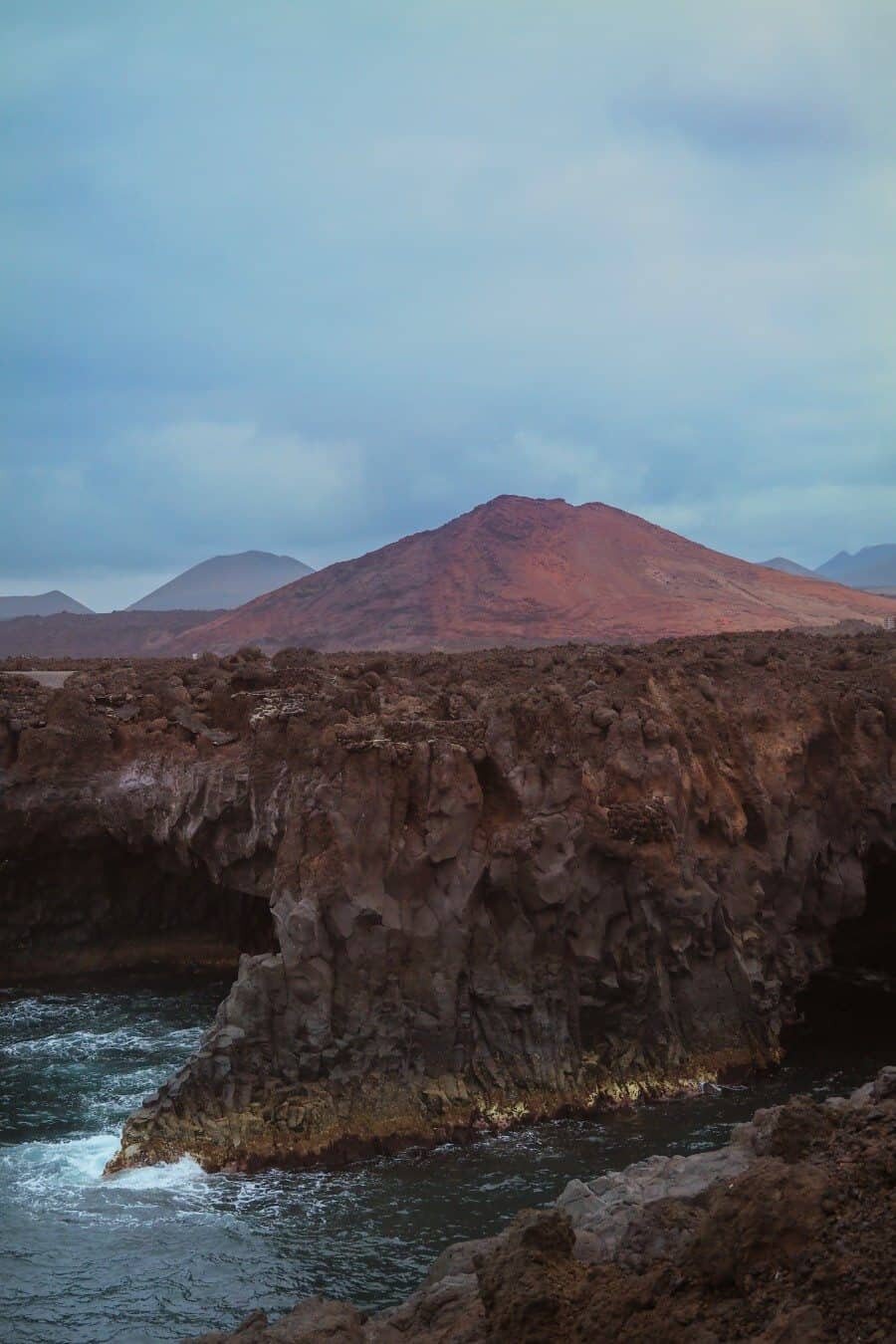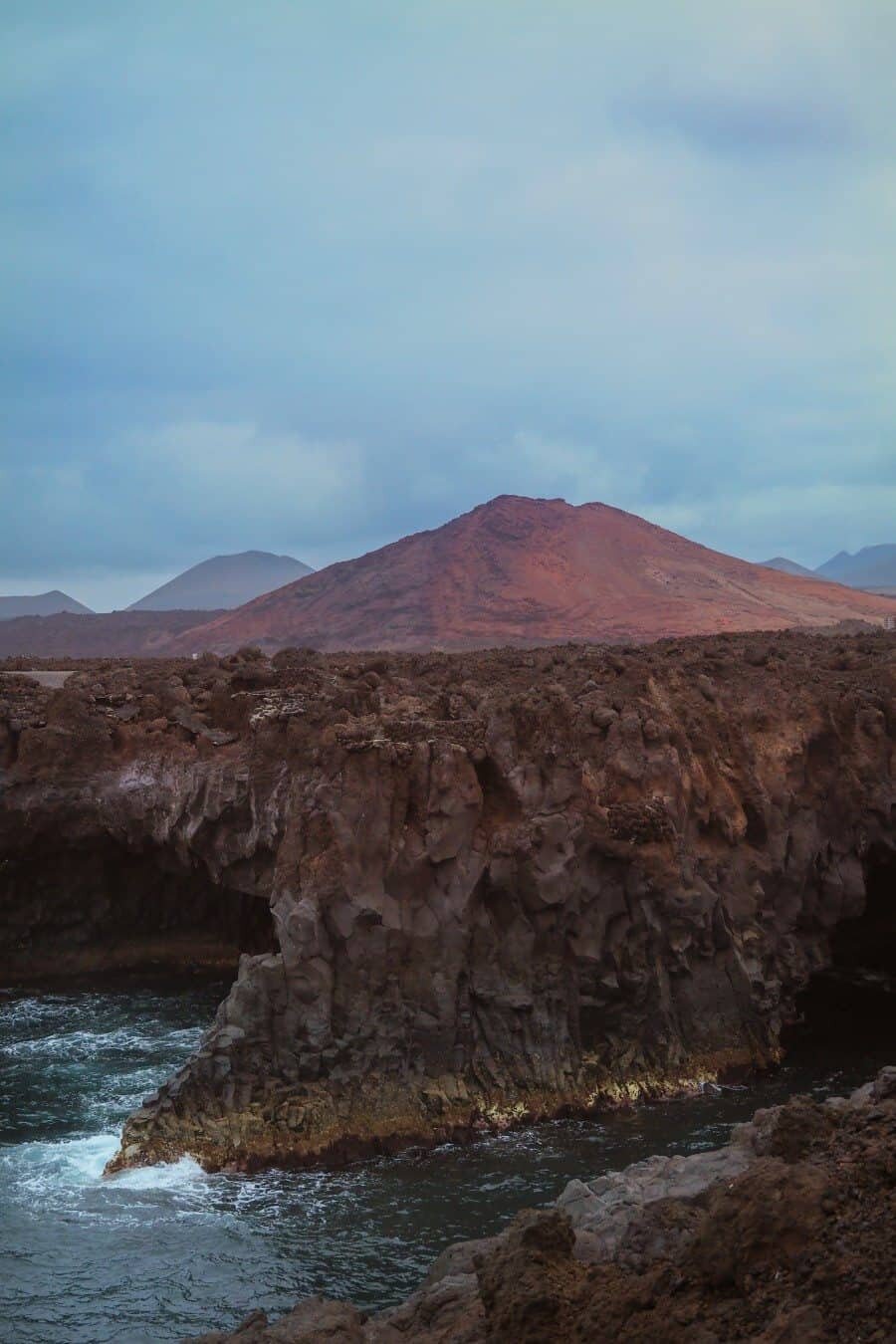 ---
Cueva de los Verdes
Creeping down into the earth through tunnels, lava tubes and dark little crevices, this cave is something special. It's not for those who don't like tight spaces or dark, dimly lit landscapes but…at the end it's all worth it.
You must take a guided tour to enter however you'll be taken through various cave areas, each relatively photogenic however the final part is where the magic appears. Lit up, the cave appears to drop down into the abyss but actually it's a perfectly still reflection.
Best time for photos: Any time of day, the light doesn't change this deep down so be sure to take either a tripod or camera with the ability to shoot in low light conditions. I took my Olympus OM-D E-M1 Mark II with a 7-14mm wide angle lens to ensure I could capture the enormity of the cave system. It also has the ability to shoot at f2.8, essential in this environment!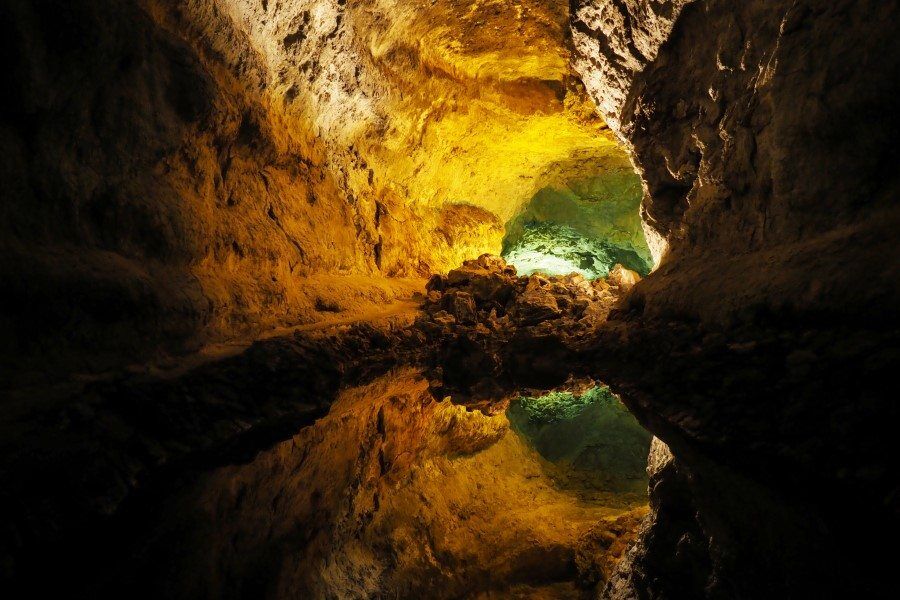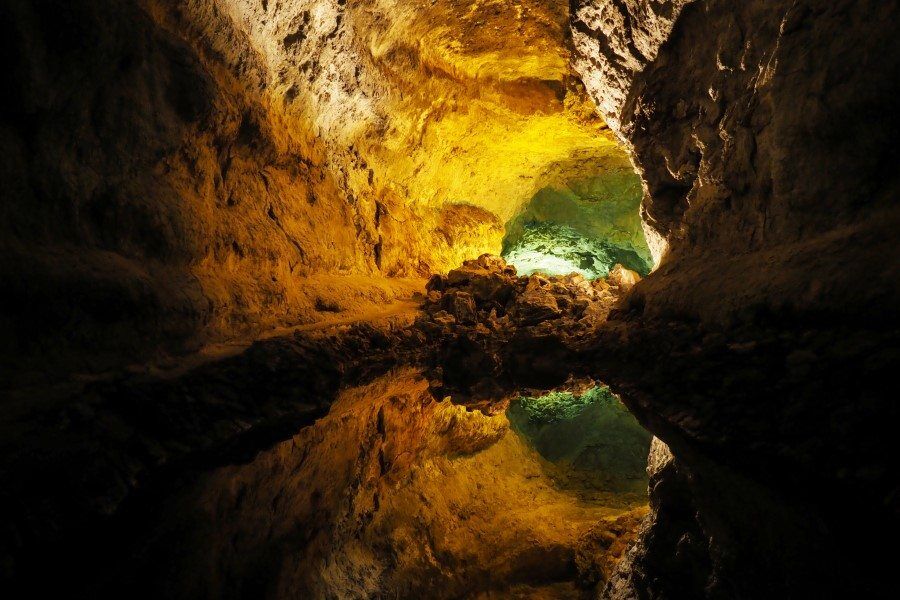 ---
Jameos del Agua
Where careful design elegantly weaves throughout the remnants of an old lava tube where boiling lava from Volcán de la Corona once flowed. Now it's a tranquil and exotic space thanks to the vision of César Manrique, with lush plants tumbling down the sides of the tube towards a deep clear pool of water. Inside the pool are tiny little white albino crabs!
Jameos del Agua is a popular tourist attraction so you probably won't get to experience it without a crowd but the good part is, people seem to go silent when they arrive. It's like the beauty just instantly makes people hush and you barely hear anyone even though there's serious potential for echoing inside the tube!
Outside is an Instagram friendly pool and plenty of outdoor seating nooks to sit and soak up the beauty where art meets nature.
Best time for photos: Try to arrive early to beat the crowds! Inside the lava tube it's ideal if you've got cloudy conditions, that way you won't experience a strong dark/light issue with your shots.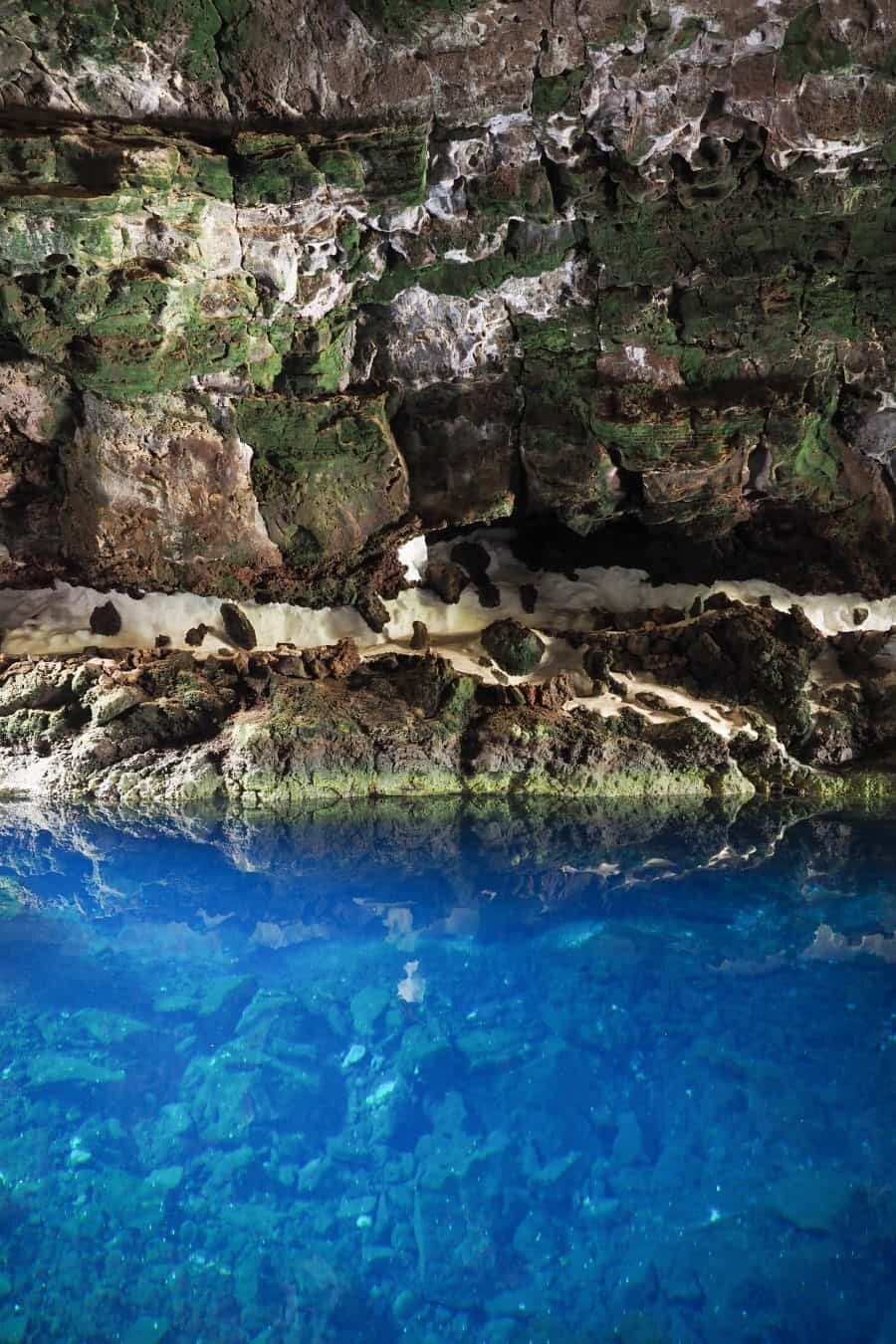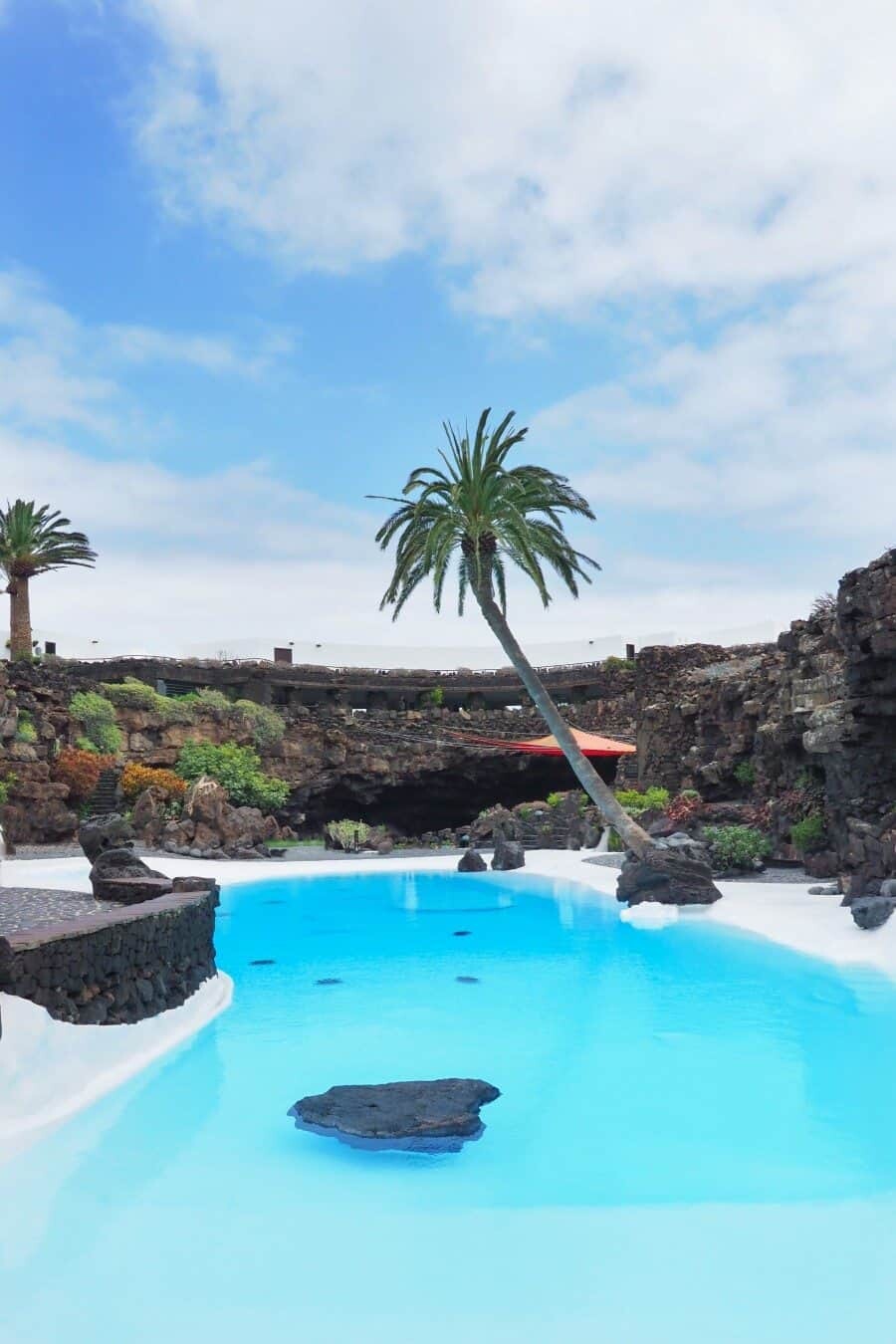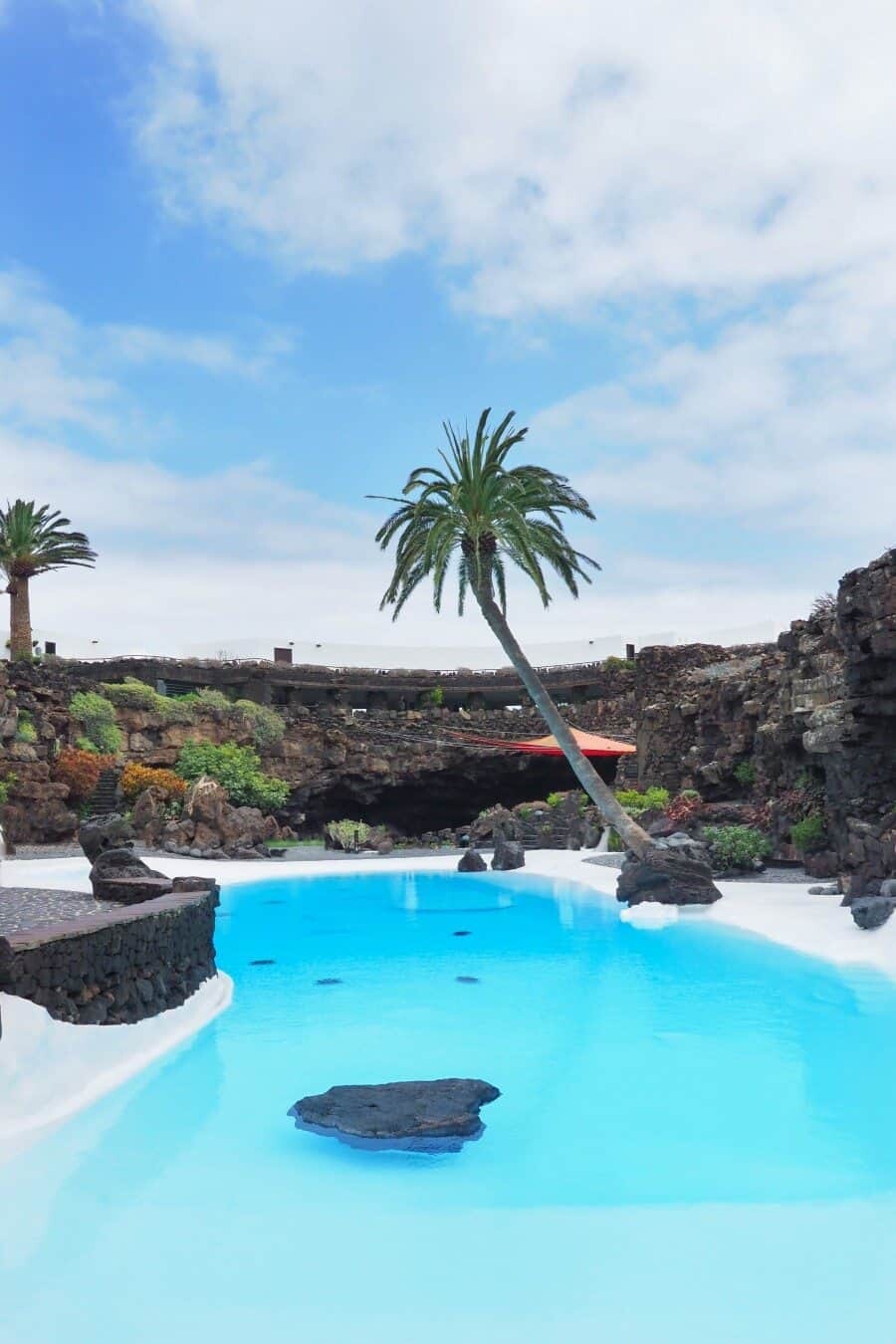 ---
Castello de Santa Barbara
A surprising photo location, the Castle of Santa Barbara is located on Volcano Guanapay, perched almost in the very centre of Lanzarote just above Teguise. Constructed in the 14th century, the castle acted as a watchtower for the warning of incoming pirates arriving from the sea which is visible from all sides of the fort.
Today the castle is also a pirate museum and you can wander the interior reading about the history of Lanzarote's pirate attacks. One of the best museums I've actually visited in a long while!
To capture a great shot of the castle you can head up to the fort and take in the surrounding views or, on the LZ-404 road heading out of Teguise towards the east coast, there's a few places to pull over and capture the castle from below.
Best time to photograph: This isn't one of the most photogenic locations on Lanzarote so if you've only got one or two sunsets to enjoy, I'd still head for the coast. That said, I did really love visiting for the history if not anything else.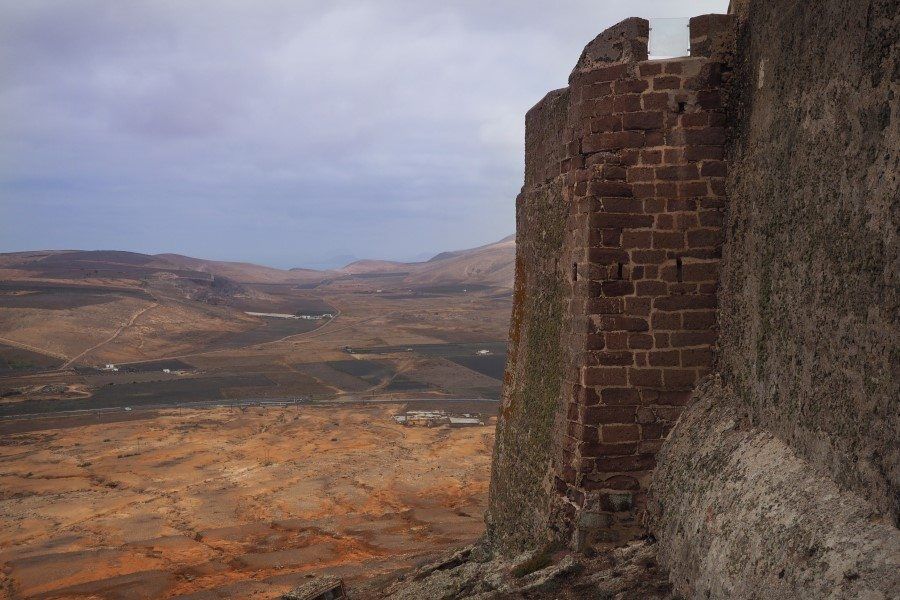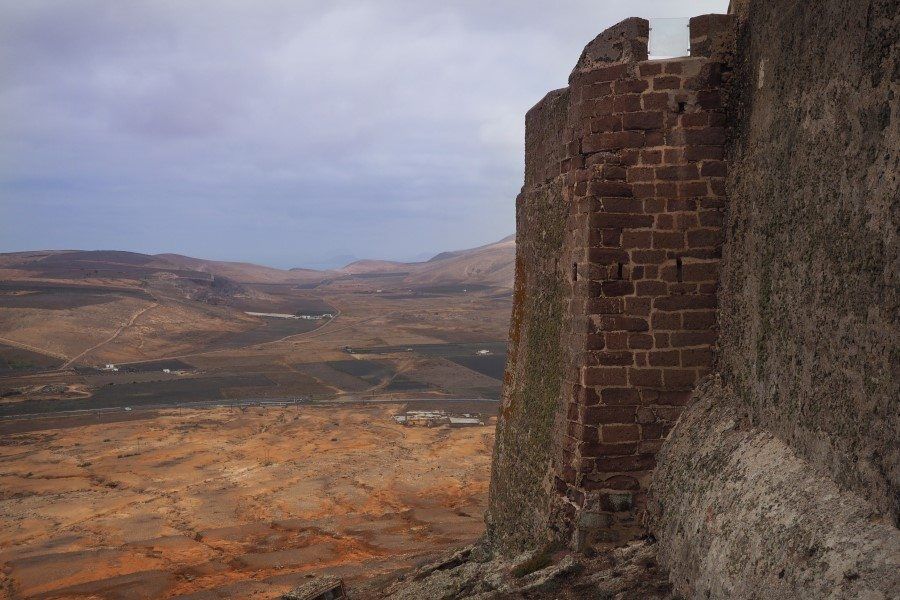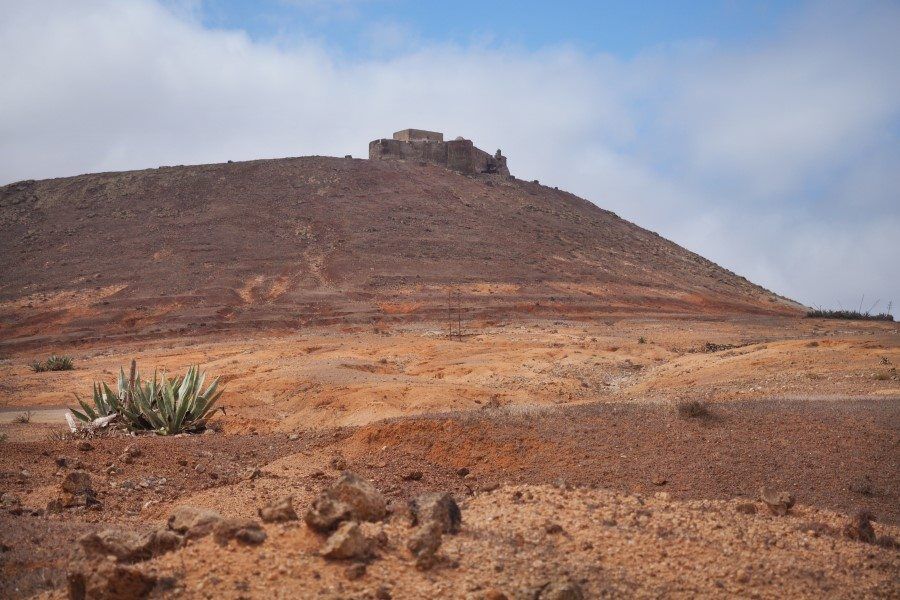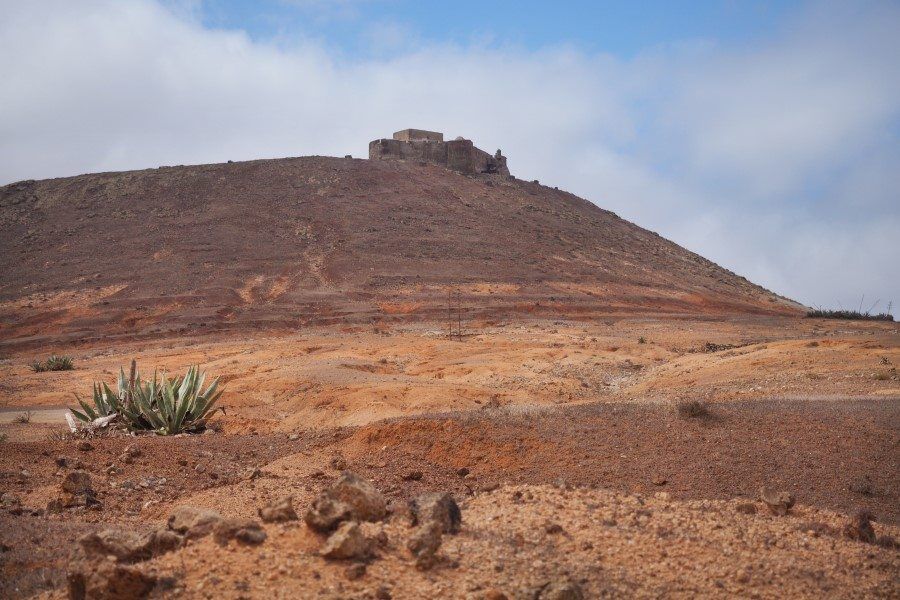 ---
Other notable locations –
Haria – Appearing like a desert oasis, Haria is filled with desert palms and feels like a film set. Very different in appearance to a lot of the other towns on Lanzarote, definitely allow time to explore a little here!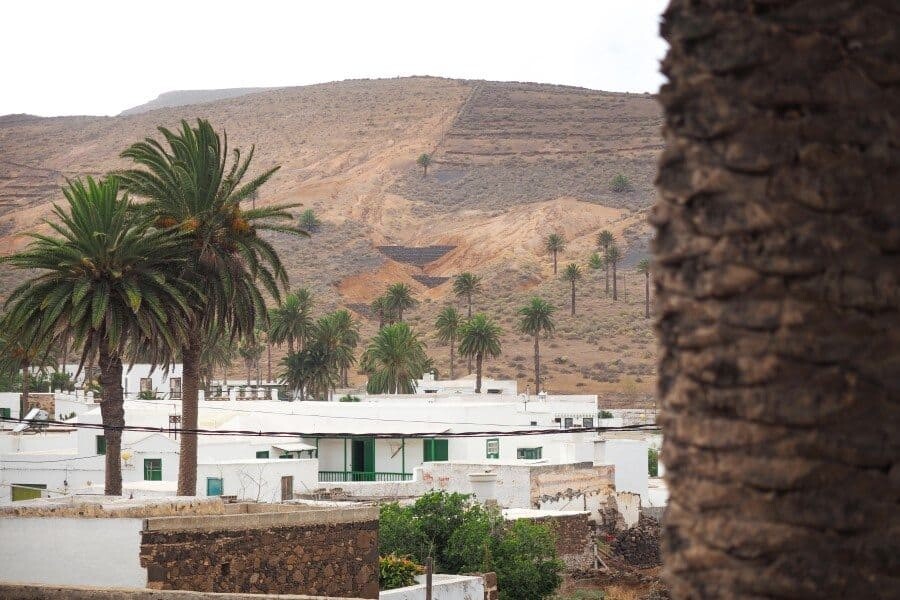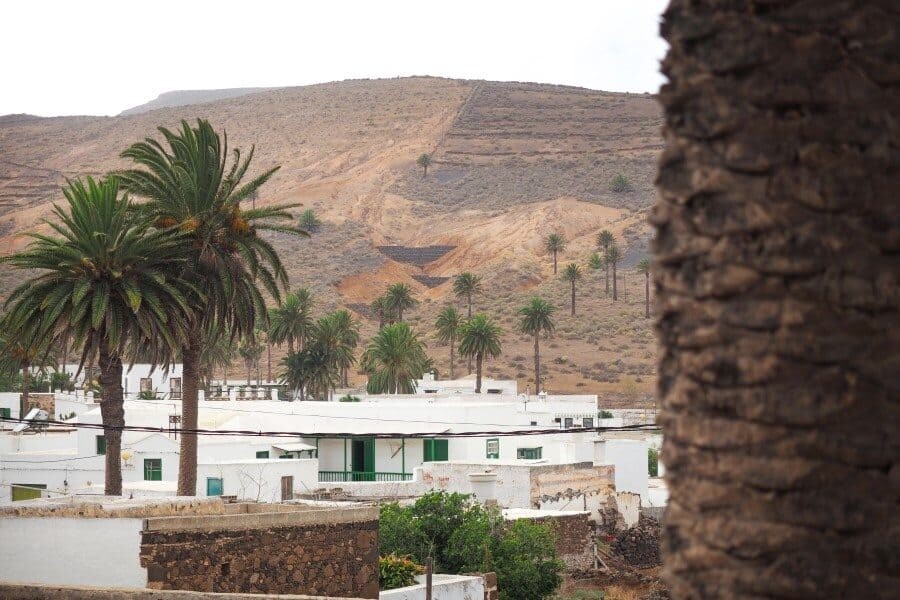 Tinajo – Away from the tourist centres of Playa Blanca and Puerto del Carman, the villages around Tinajo have a very local feel to them. If you're looking to have a little insight into how the locals live, this is the place to do it.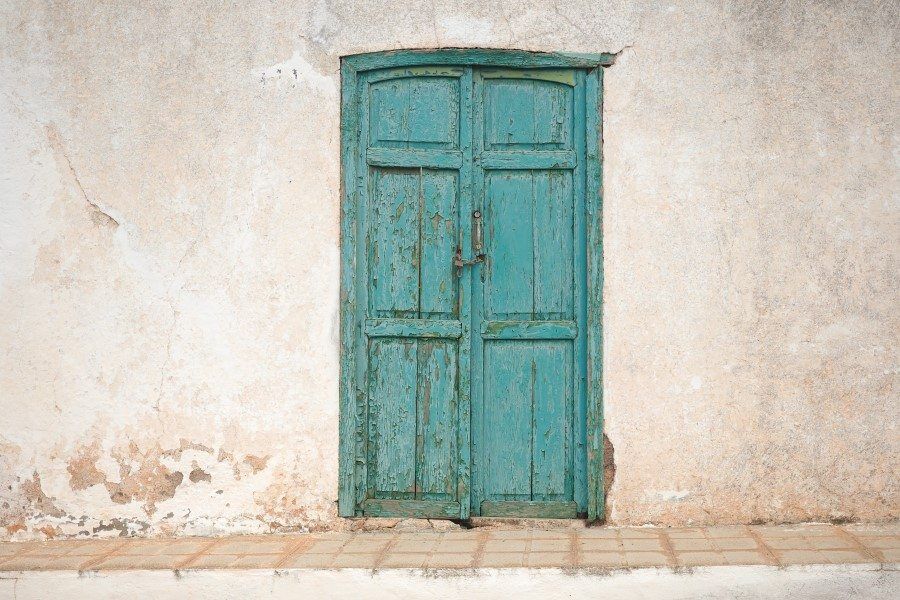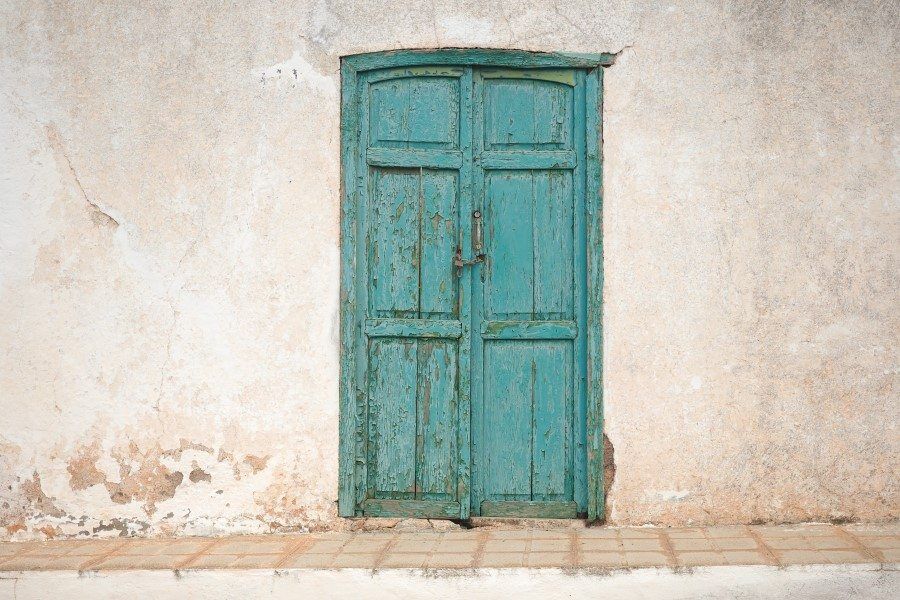 Arrecife Castello de San Gabriel – Great as a last pit stop before heading to the airport, you'll find the Castle of San Gabriel located in the sea in front of the main promenade of Arrecife. Located on a little islet, you can cross the historic Puente de las Bolas which crosses over small sandy beaches towards the History Museum of Arrecife, located inside the castle.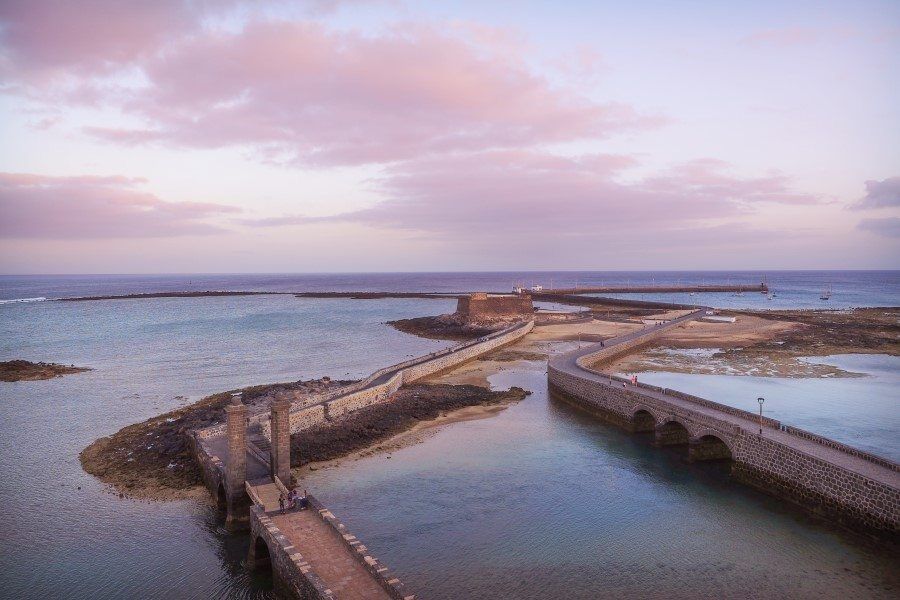 Museo Atlantico – If you can dive, this site is not to be missed especially if underwater photography is your thing. I've shared more about my dive in the post 'Diving Europe's First Underwater Museum' and it's truly an unforgettable experience.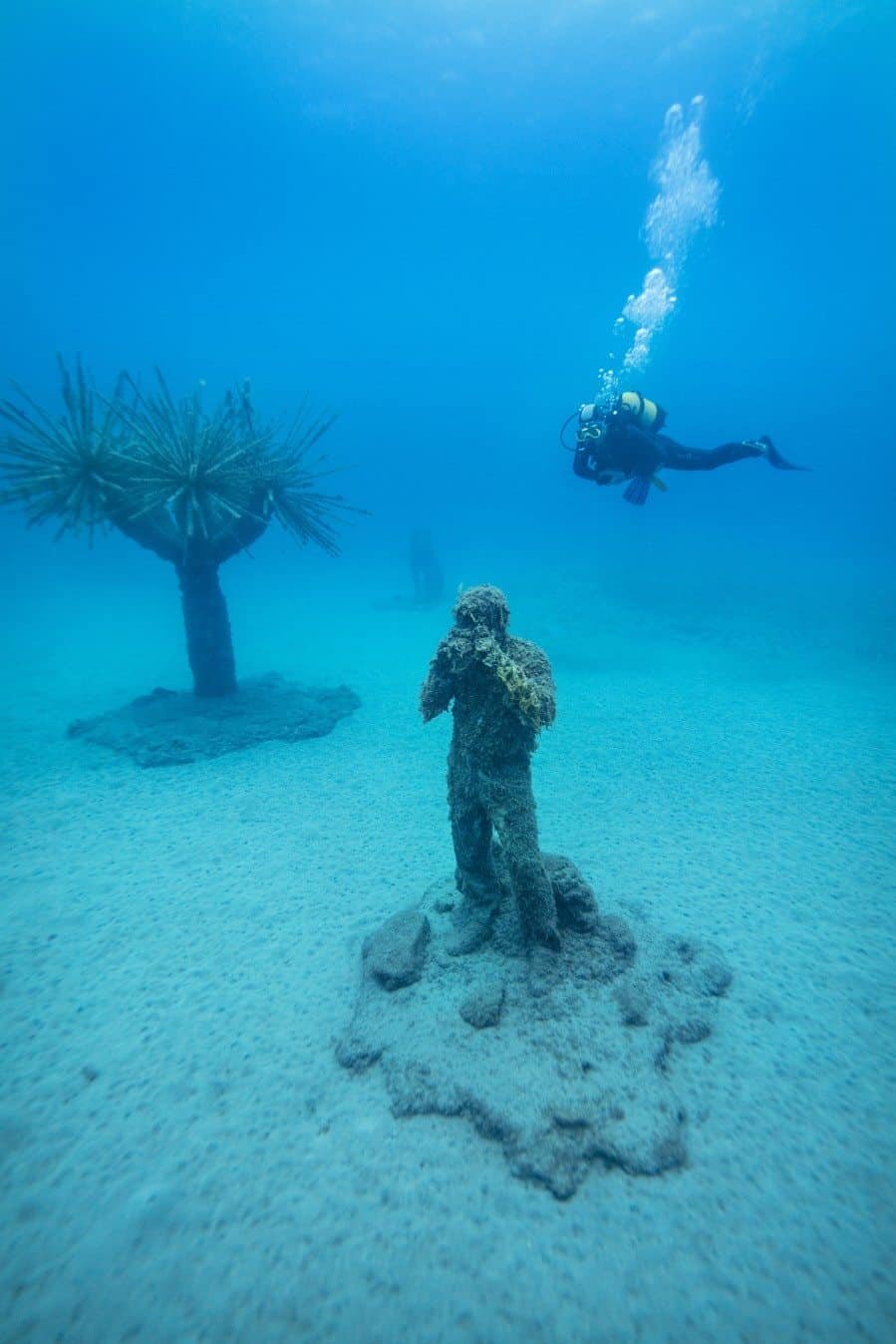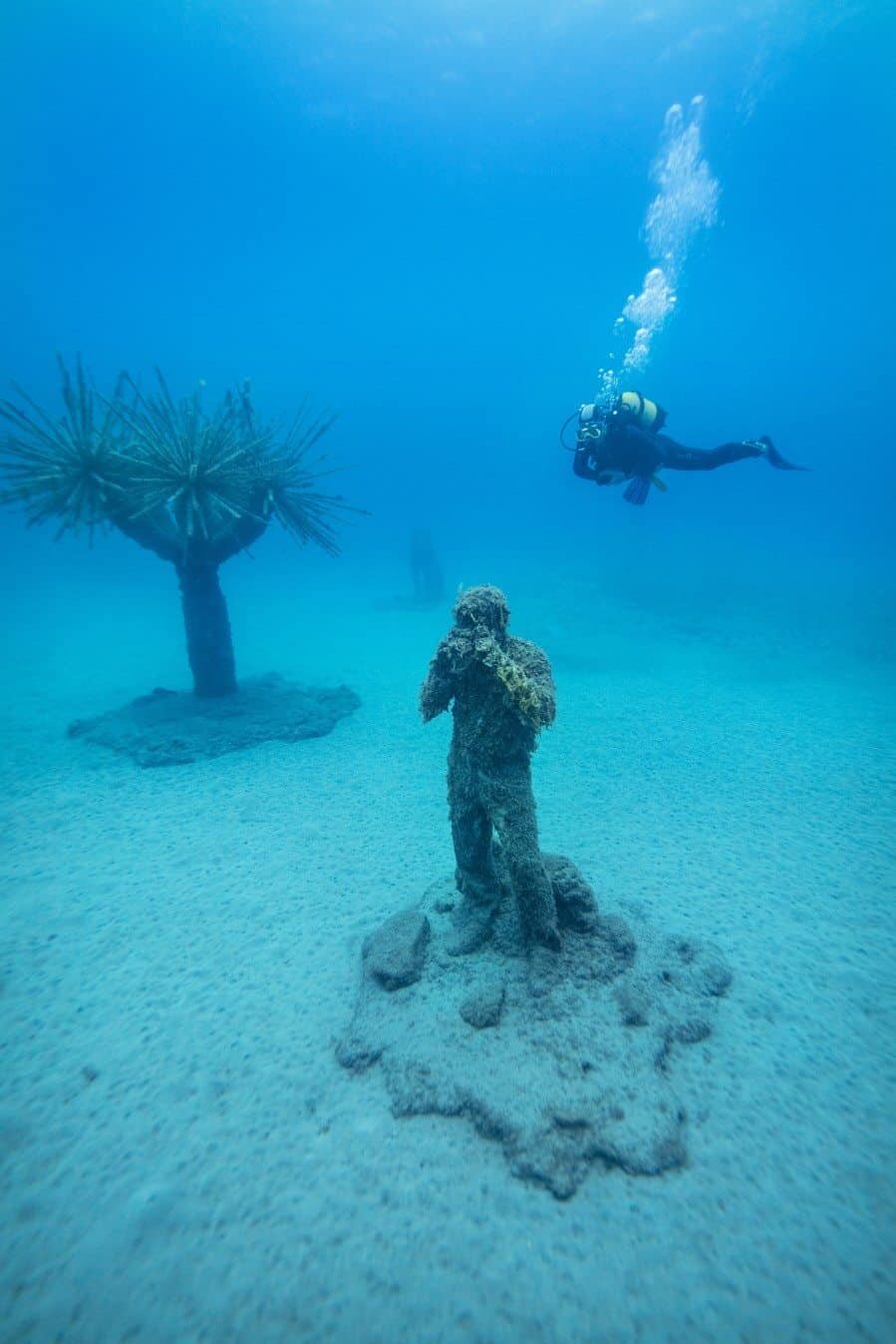 La Geria – Volcanic vineyards are scattered across this area of about 15km where the Malvasia wine is produced. Unlike vineyards found elsewhere, here vines are individually planted into craters dug into the black soil then a rock wall is placed around each vine for protection from the strong winds.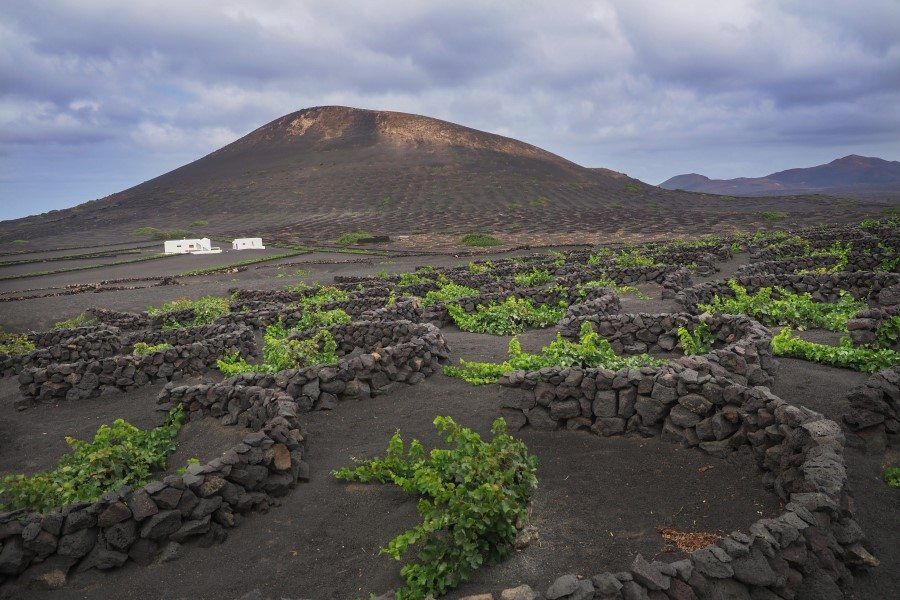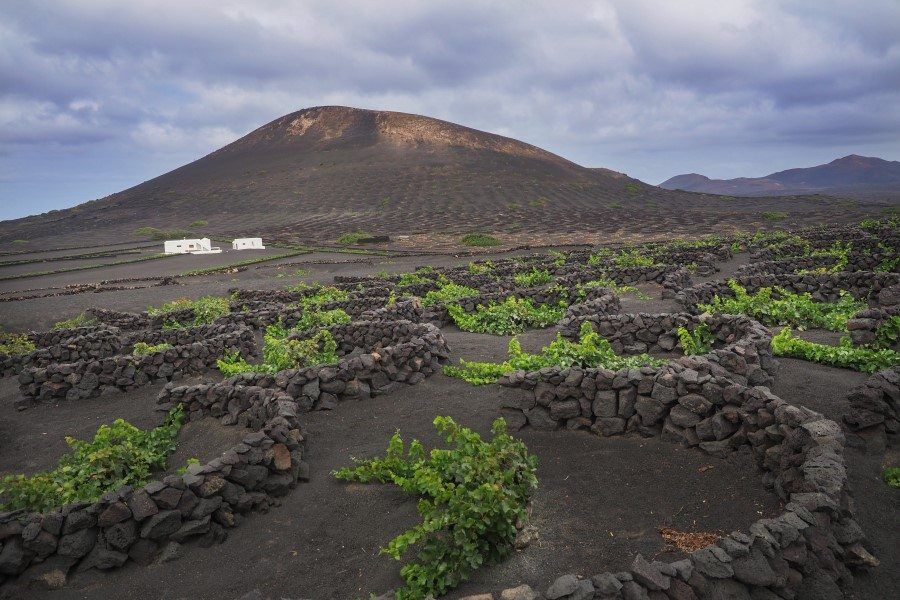 El Golfo – A very quiet village that's great for a sunset photo session by the ocean followed by a seafood feast overlooking the water. It's right beside The Green Lagoon and only 20minutes drive from Playa Blanca.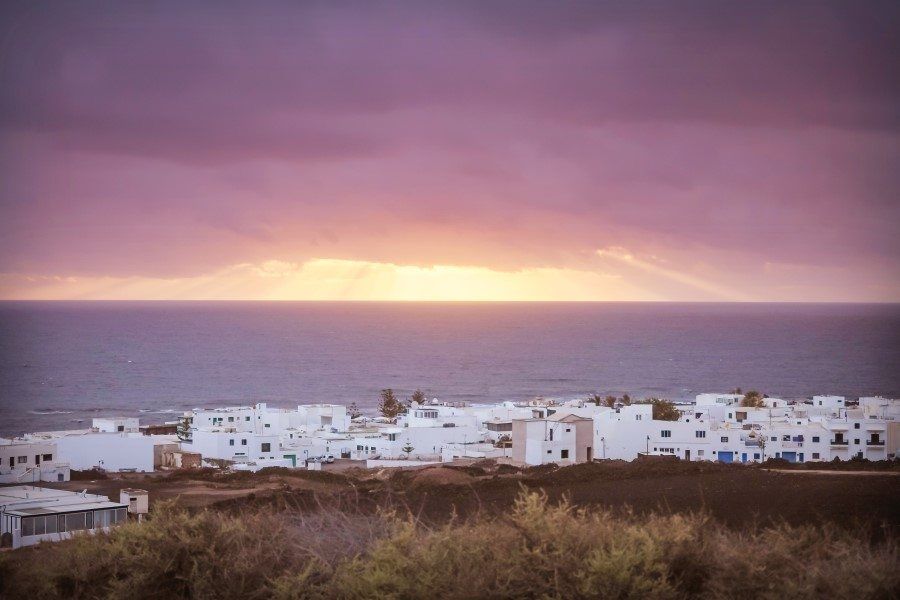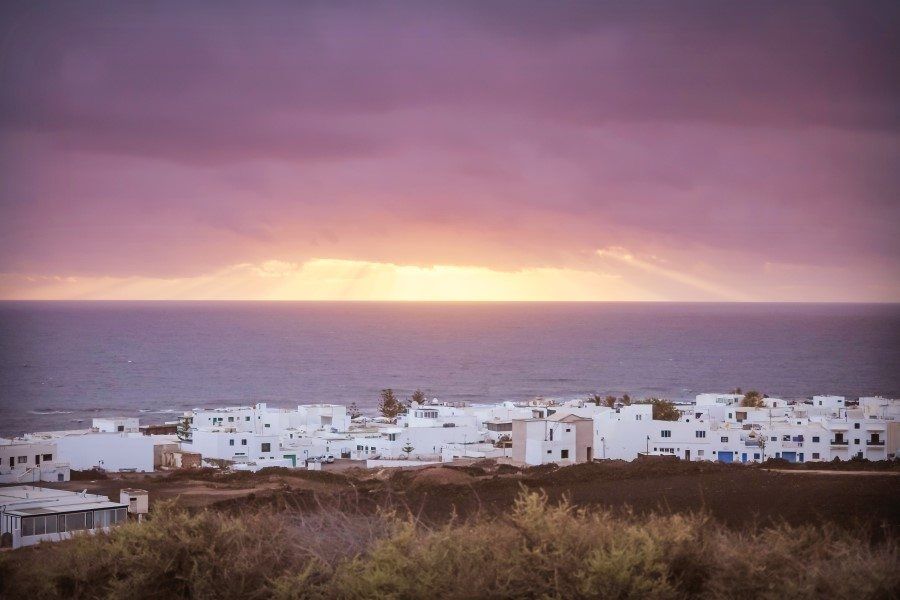 ---
Where to Stay on Lanzarote?
One of the best parts of Lanzarote is the amount of private villas available. Imagine your own villa with a private pool, sun beds, hammocks and all the comforts of home? We managed to find what I like to call the best villa in Lanzarote via Airbnb and I'm so happy Lucia had availability!
Located in the quieter resort town of Playa Blanca Lucia's villa is like stepping into your own resort. The perfect holiday pad for lounging in between adventures where every little detail is thought of, right down to snacks in the fridge and shampoo in the shower.
If you're heading to Lanzarote I really can't recommend this villa highly enough, it'll make your stay SO much better having somewhere private to escape the holiday crowds!
Take a peek at the photos below to see what I'm rambling on about…I basically want to live there.
If you want to book a stay, this is the direct link to the AirBnb listing – Playa Blanca Villa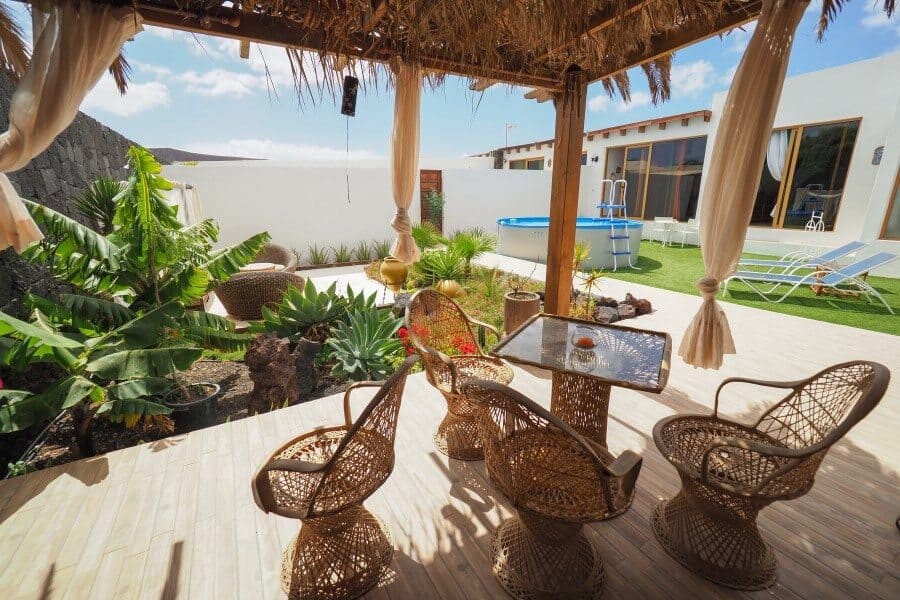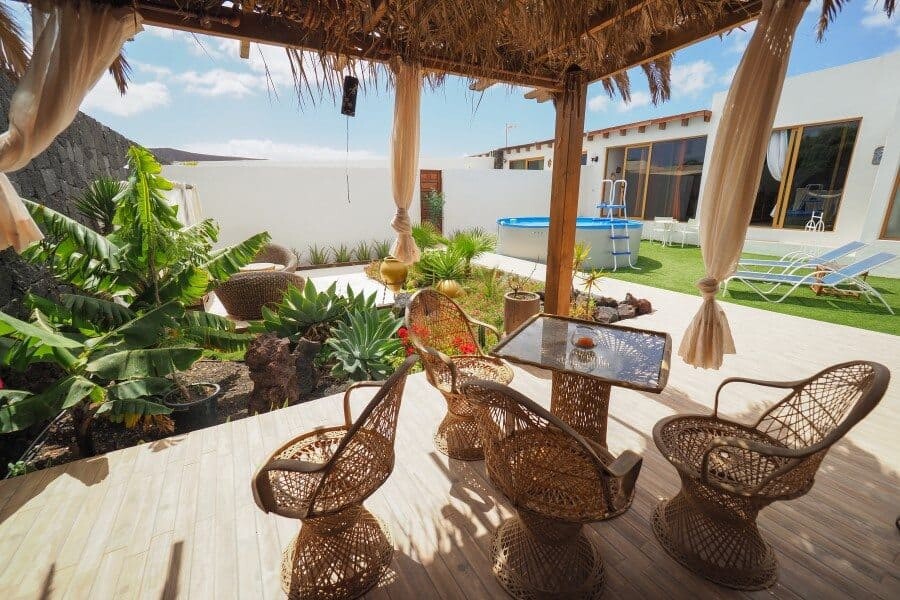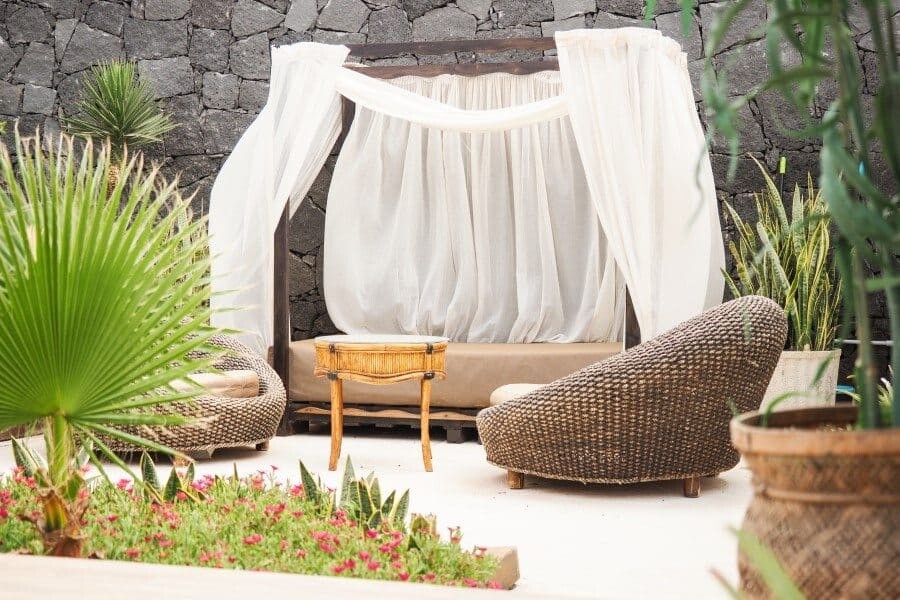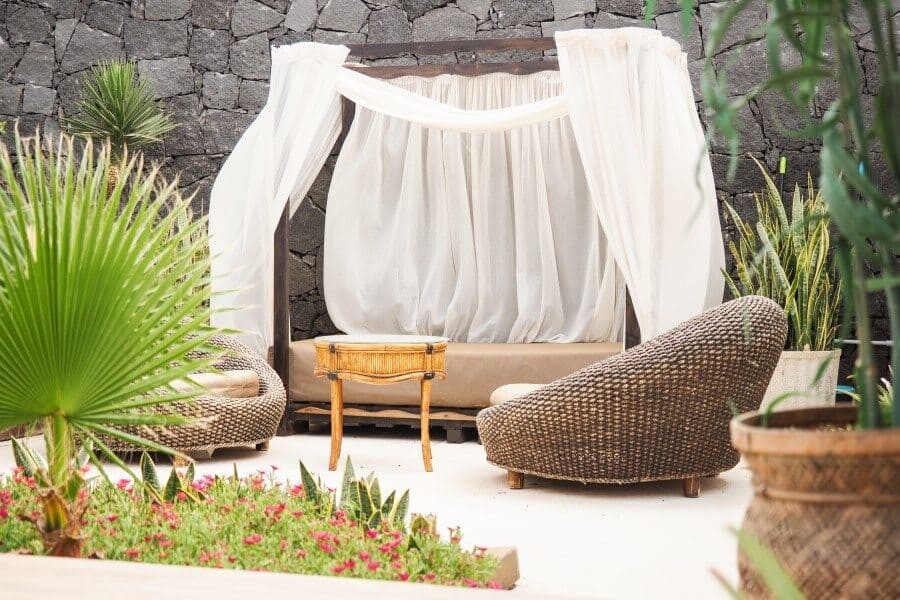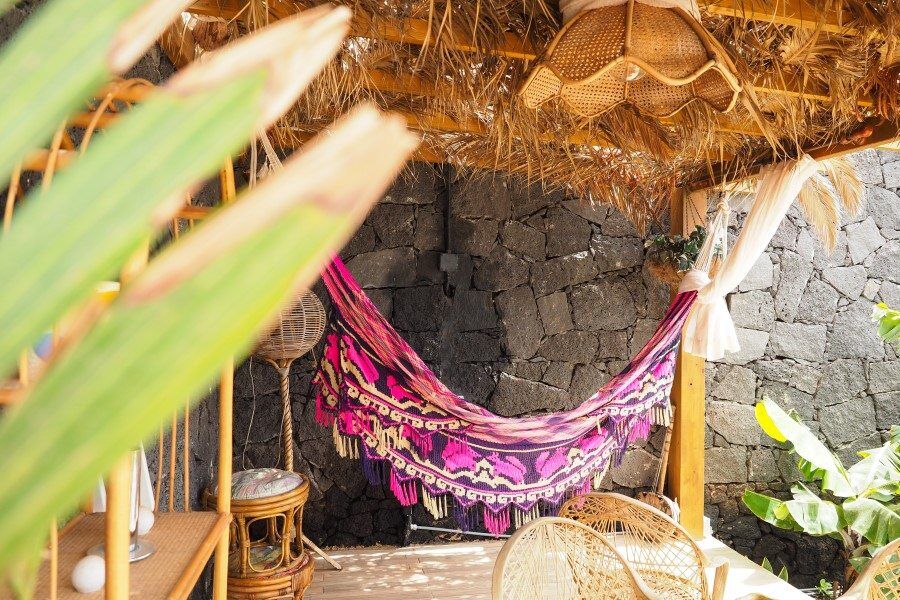 ---
Getting to Lanzarote
You'll find one of the easiest ways is via the UK with a number of connections leaving from Gatwick airport. If like me, your flight connection from another destination in Europe arrives and departs at very horrible hours, you can check into the new Yotel at Gatwick's South Terminal.
A little like entering a space ship, the Yotel is seriously stylish and very innovative, managing to squeeze everything you need for an overnight stay into compact little cabins with retractable beds.
Take a peek here if you need to overnight at the airport or rent a room for a few hours.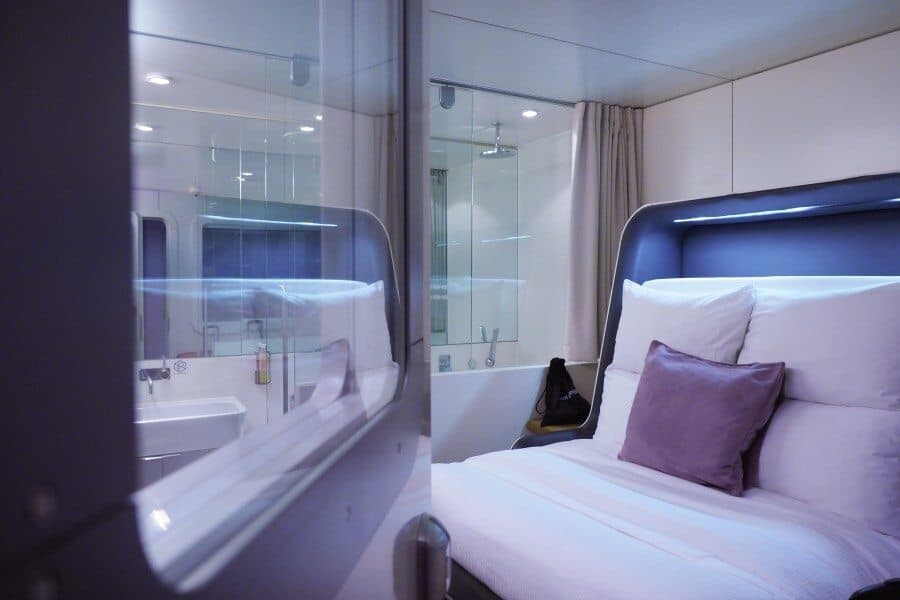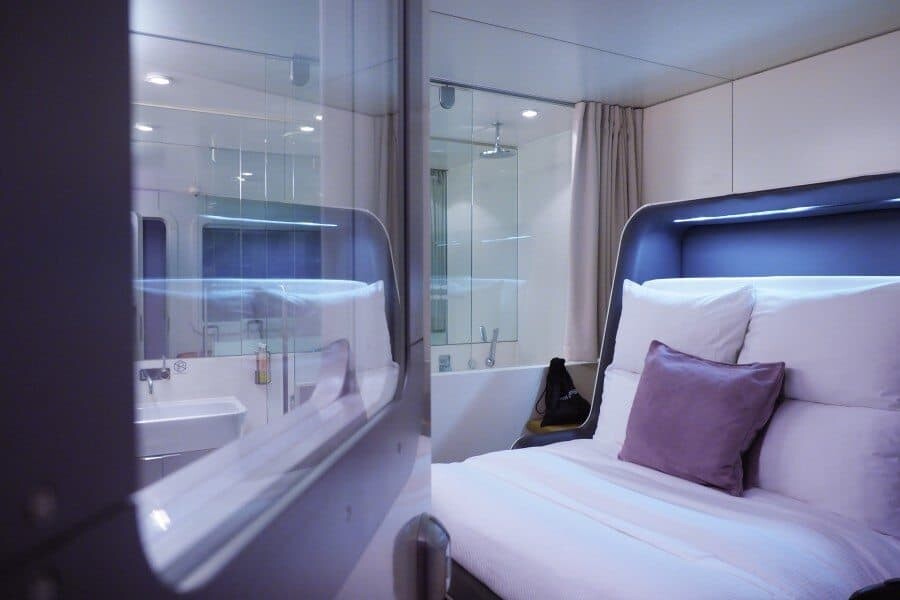 ---
Lanzarote Travel Tips –
Hire a car is almost an essential if you're hoping to see a lot of the locations noted in this guide. It gives you the freedom to photograph wherever you want at whatever time of day and you can escape the resort centres and enjoy some areas without the crowds. We hired ours through Hertz located in the arrivals hall of Lanzarote Airport.
Buy a combination pass if you're looking to visit a number of sites. You can opt to visit 3 tourist centres for €21 which includes two from Jameos del Agua, Cueva de los Verdes & Fire Mountain plus one entry to either Mirador del Río or the Cactus Garden. Tickets also exist for up to 7 tourist attractions so be sure to enquire at whatever location you visit first to obtain your discounted tickets.
Beware of the wind. It's windy on Lanzarote, sometimes so strong you can find it hard to close your car door. That said, places like Playa Papagayo are nice and protected from the westerly winds which can be a little persistent.
If you're looking to do a day trip to La Graciosa, ferries depart from Orzola.
The main resort centers are Puerto del Carmen, Arrecife, Costa Teguise and Playa Blanca. If you're looking for a quieter holiday head for Playa Blanca. Puerto del Carmen is the place to go if you're into the nightlife.
It's not always really warm. On our visit in July evening temperatures were around 19-20 degrees so it's worth taking a light jacket with you.
For photographers, be careful that the strong winds don't pick up small rocks and dust that may damage your lens.
And lastly, I'm going to be a total nag and say don't forget your sunscreen especially if you're a pale sun worshiper like me that turns into a tomato.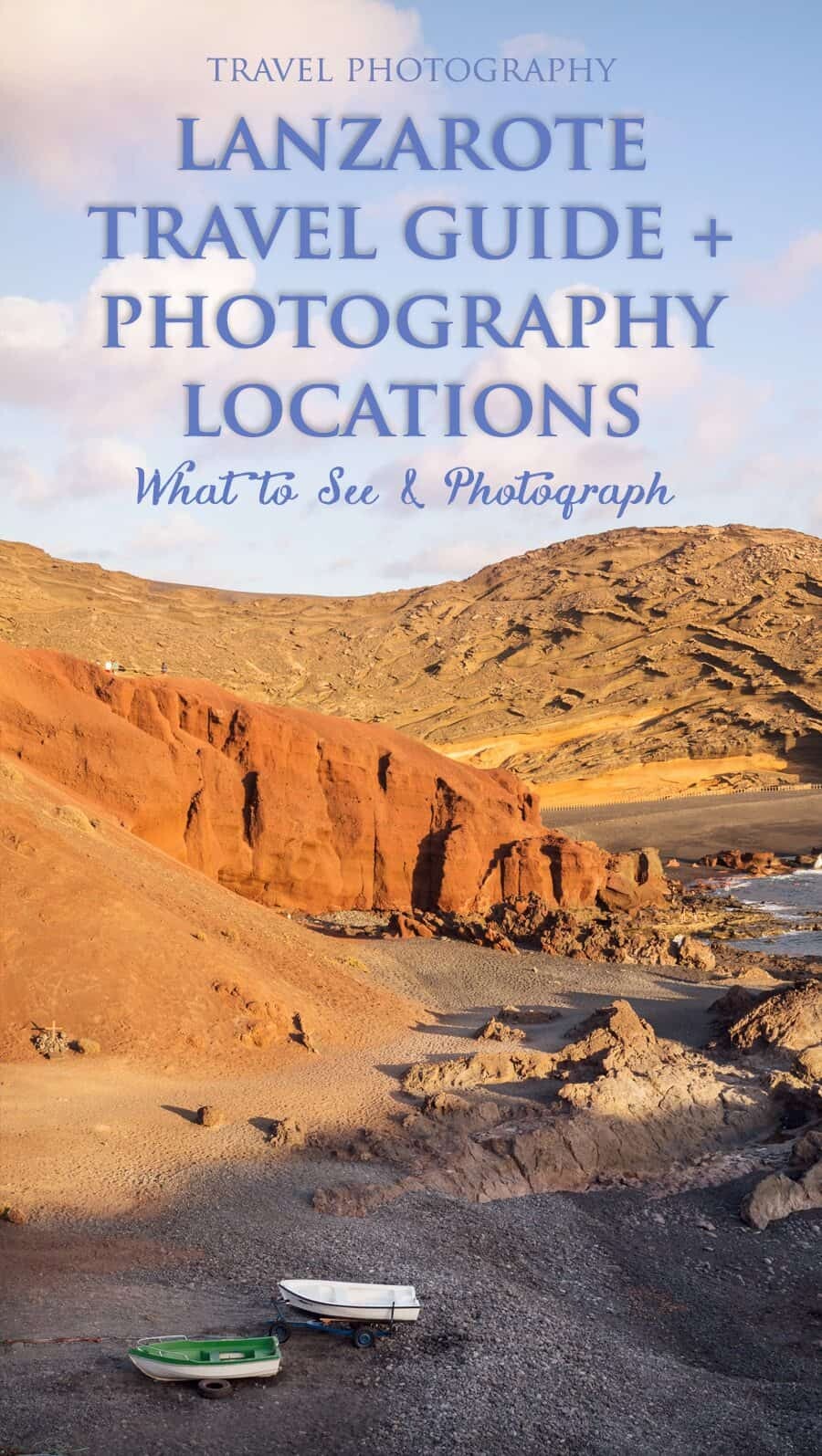 Have you been to Lanzarote and have something to add to this guide? I'd love for you to share in the comments below!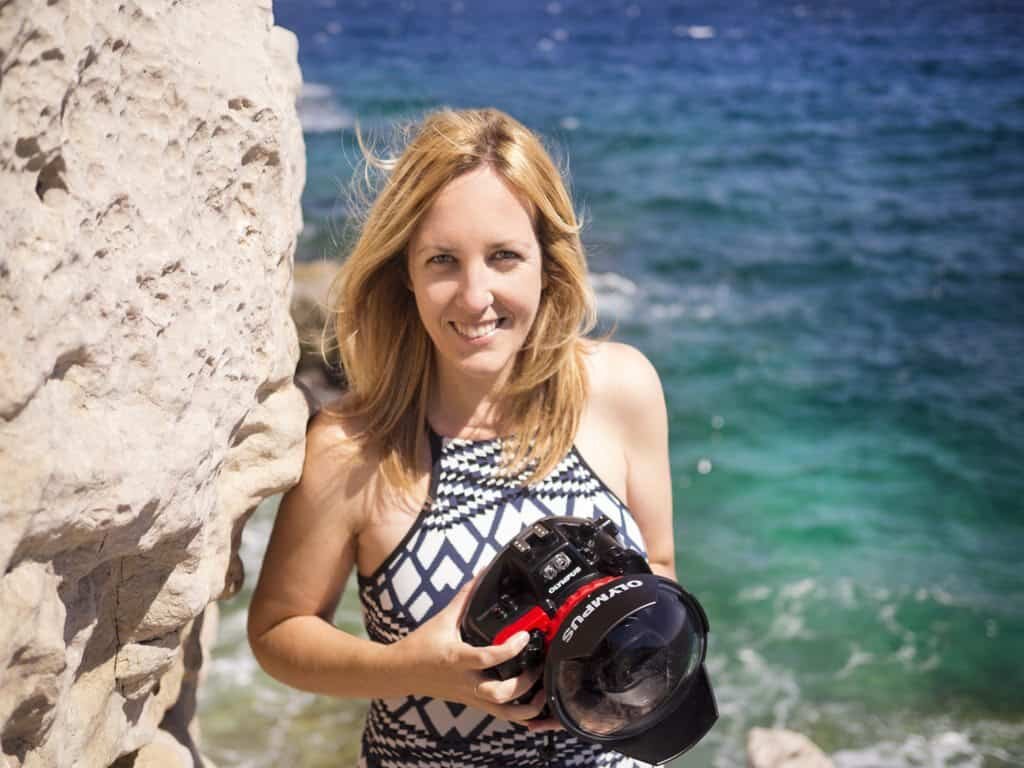 Hello! I'm the founder and photographer behind The Wandering Lens.
With 17+yrs experience as a professional travel and landscape photographer, all advice found on this site is from my personal experience on the road. I hope it's useful for your own travels and would love to hear in the comments about your trips and experiences around the world.