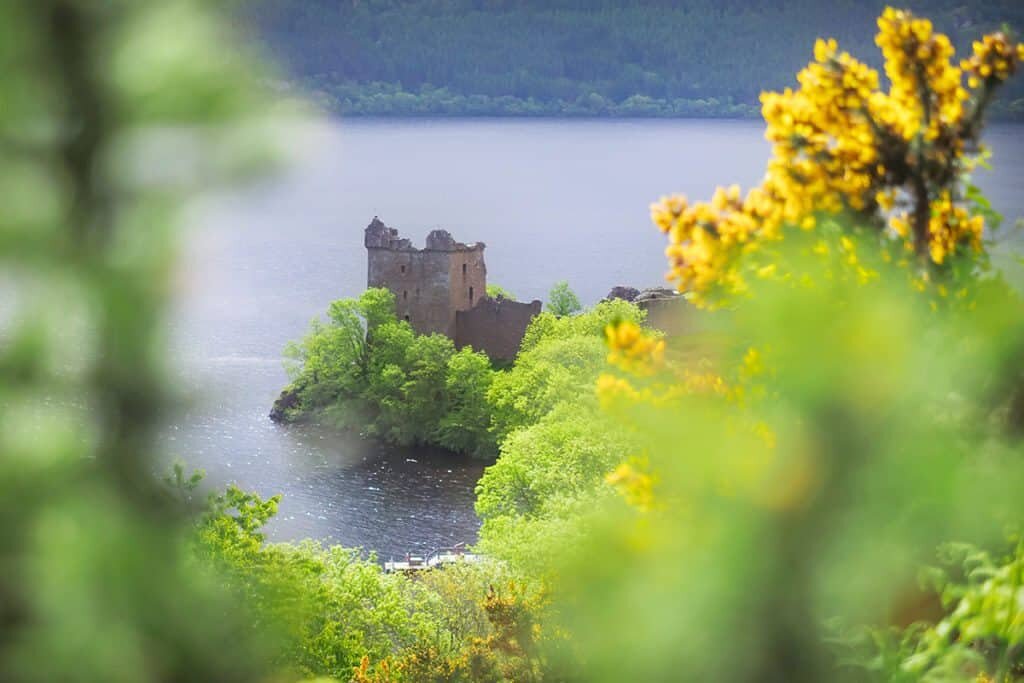 What to Photograph around Loch Ness, Scotland –
Luring visitors with its mysteries of the deep and charming lush lanes weaving through cobbled villages, Loch Ness is enchanting.
Of course the main reason people come to Loch Ness is to get a little closer to Nessie, the legend that lurks so gracefully beneath the surface of the loch. As recently as a few days ago, there are sightings reportedly having seen her dark figure floating on the surface. It is well worth a visit just to spend a few hours Nessie spotting!
Loch Ness stretches for a massive 36km from Fort Augustus to Lochend just south of Inverness. If you're road tripping through Scotland, it's a great place to stop and see something a little different with not only the Loch itself, but so many photogenic locations nearby.
In the details below I've listed a collection of my favourite spots to photograph around Loch Ness, including where to stay which is somewhere really unique and very cool!
As always, first up is a map showing you exactly where you'll find the photo locations around Loch Ness –
---
Plodda Falls
So first up, these falls are CRAZY beautiful! While I was expecting a pretty waterfall, nothing prepared me for the onslaught of water pouring in all directions and a viewing platform that lets you stand right on the ledge overlooking the watery maze below.
At just over 40m high, Plodda Falls are dramatic to say the least but it's not just the singular waterfall that makes the scene. It's a raging river bend with a series of waterfalls creating a landscape of moving elements within lush forest surroundings.
Getting to Plodda Falls takes about 45minutes from Drumnadrochit and the drive is just as scenic as the destination.
Once you arrive to the parking lot at the end of a longish dirt road, there's a path that leads down towards the falls and from the moment you set off you can hear them raging.
If it's been raining you'll find the falls are even stronger, and of course if there hasn't been much rain I'd imagine they'll be a little less forceful.
(More info on walking trail here)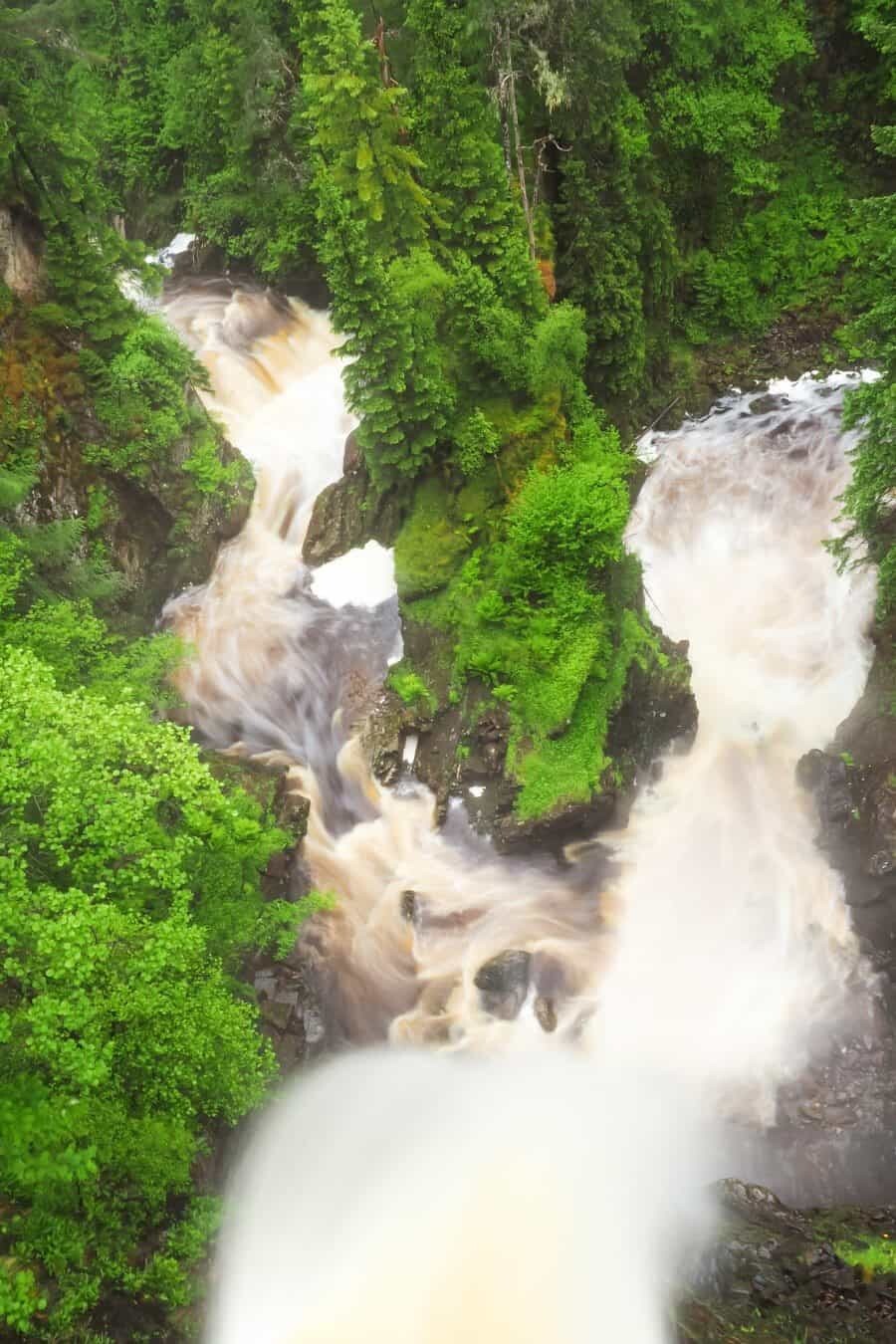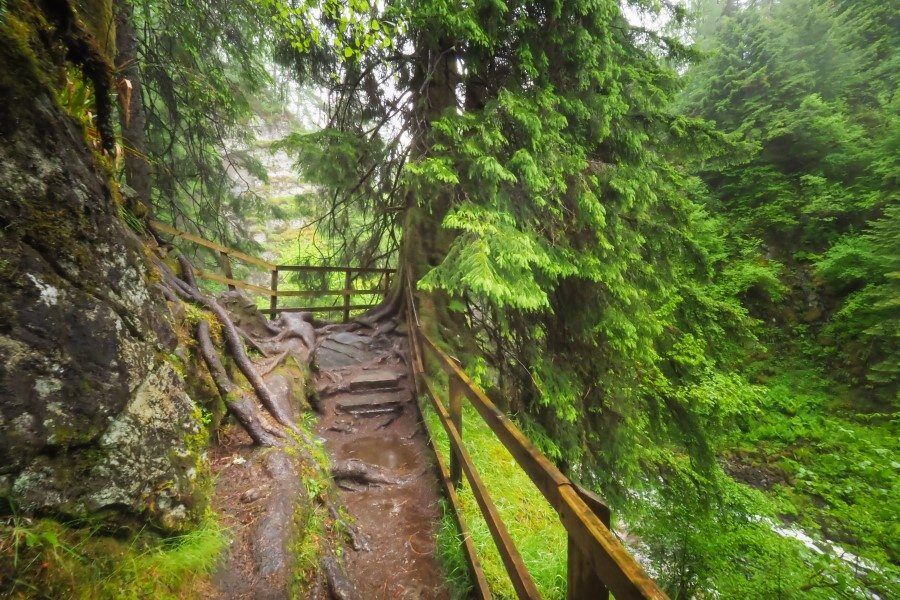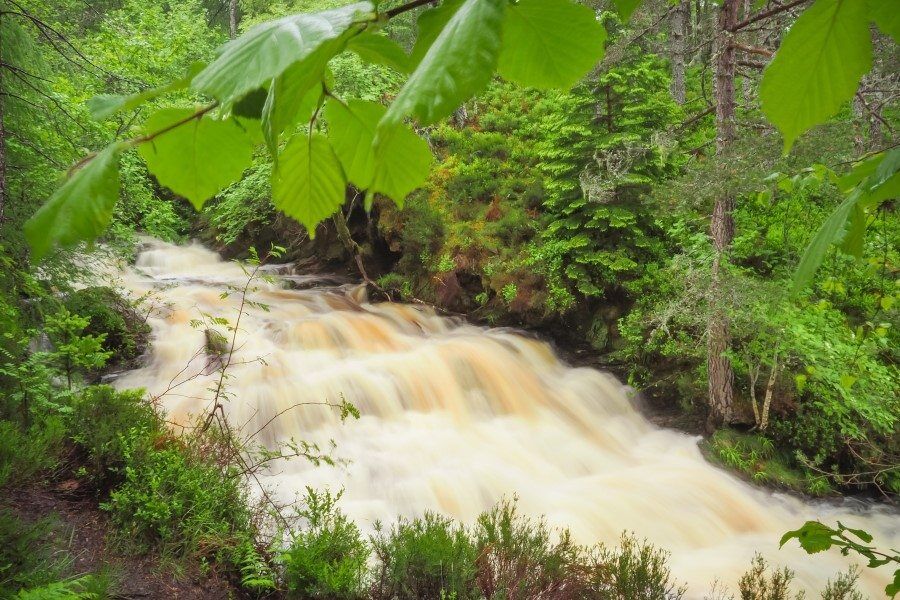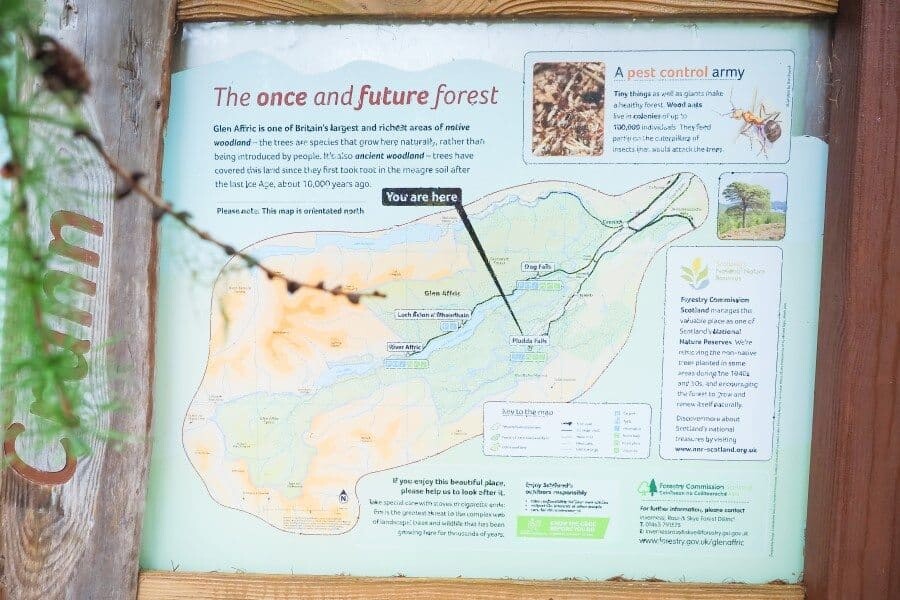 ---
Village of Tomich
If you're a fan of Jane Austin books or series like Downton Abbey this is the place for you. A quiet, one lane village with stone houses decorated with flower pots, colourful doors and window shutters. Tomich is the definition of countryside cute.
Driving through town is a little like stepping back in time and you'll find green grassy fields, friendly horses and if you're really lucky, a flock of sheep to welcome you by the roadside.
An interesting fact about Tomich is that it's where the first golden retriever was bred, for dog lovers that I'm sure is reason enough to visit!
To get to Plodda Falls you need to drive through Tomich so I suggest allocating at least a few hours to see both while in the Loch Ness area.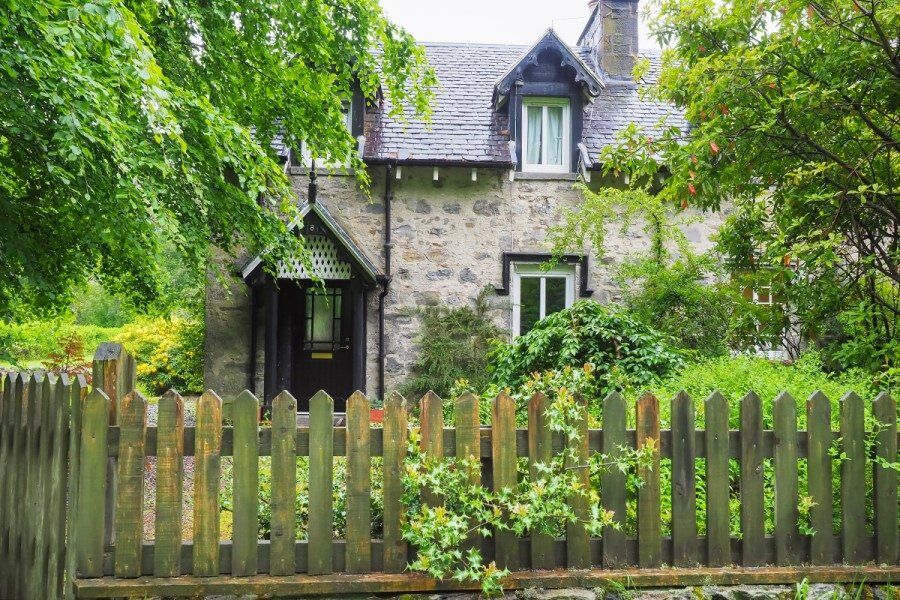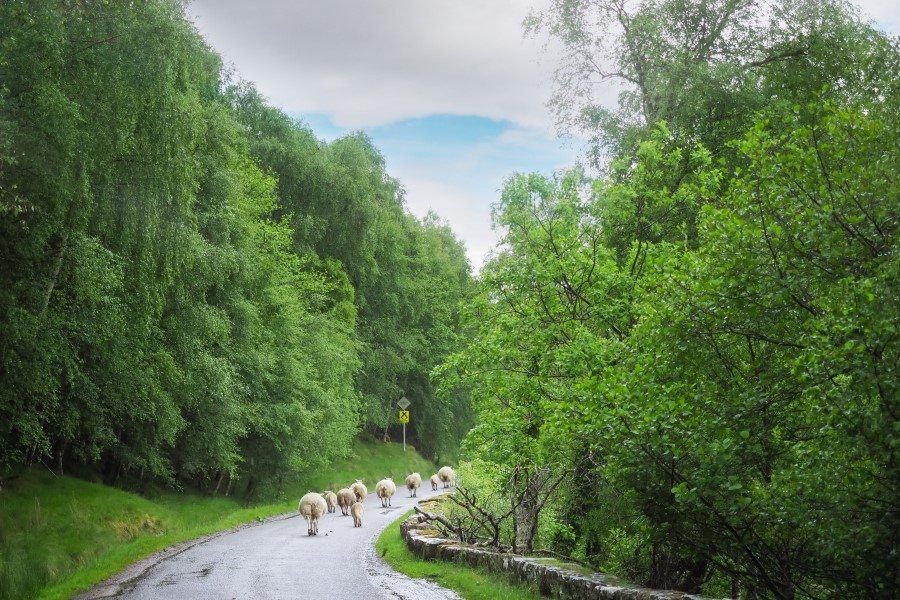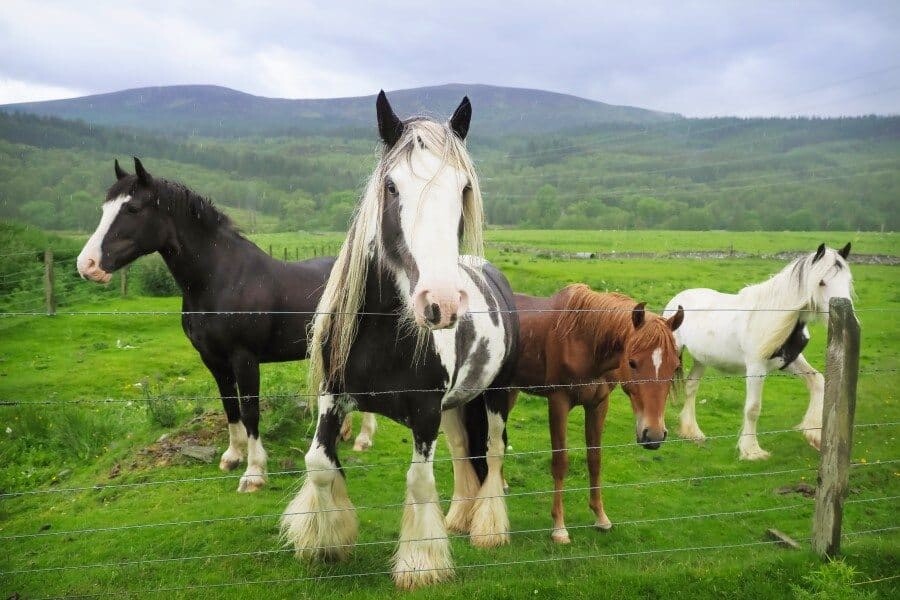 ---
Thomas Telford Bridge
On the road south of Invermoriston, keep an eye out as you cross a bridge for another bridge that's very photo worthy. Thomas Telford Bridge was once part of the main road from Fort Augustus to Drumnadrochit but now forms a great subject for landscape photos as water gushes below towards Loch Ness.
Apparently if you wait long enough you'll see salmon jumping here but unfortunately, I don't have any of those photos to share with you this time!
When standing on the bridge be sure to also look in the opposite direction as there's a wee stone castle-like structure nestled amongst the trees and the Invermoriston Falls below it.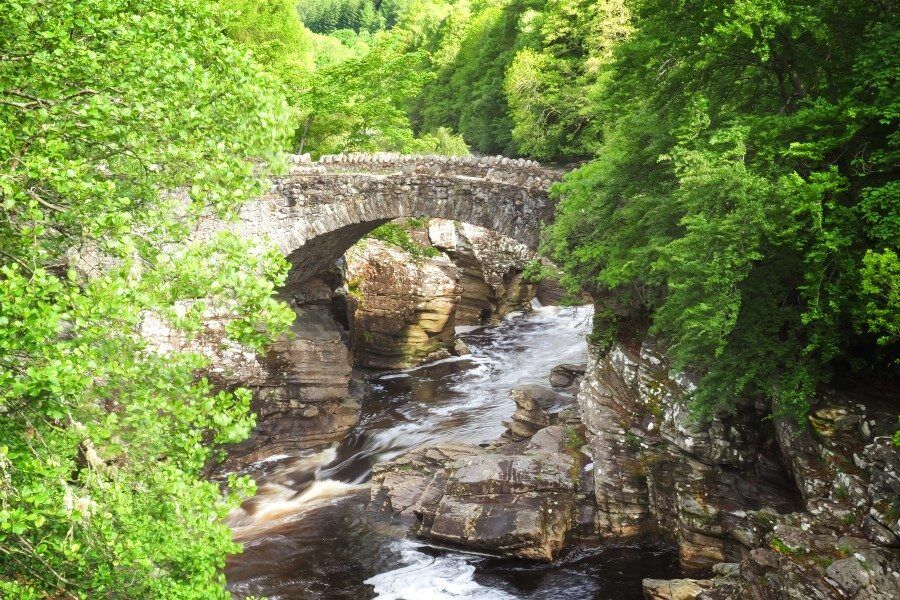 ---
Urquhart Castle
Once one of Scotland's largest castles, you'll now find the ruins of this mighty battle ground perched overlooking Loch Ness. The original fortress can still be seen and you can wander the castle's grounds and take a peek inside history.
I opted instead to find a vantage point to photograph the castle from above. If you wander from the carpark up the hill and along the road in the direction of Drumnadrochit, there's a great spot to capture the beauty of Urquhart Castle with trees to frame your shot and of course you'll have Loch Ness glistening behind.
Opening times (check times via the website as they may change due to Covid-19)

1 April to 30 September:
Monday to Sunday, 9.30am to 6pm
1 October to 31 October:
Monday to Sunday, 9.30am to 5pm
1 November to 31 March:
Monday to Sunday, 9.30am to 4.30pm
Or, if you're just keen to take photos from above, you can do so anytime.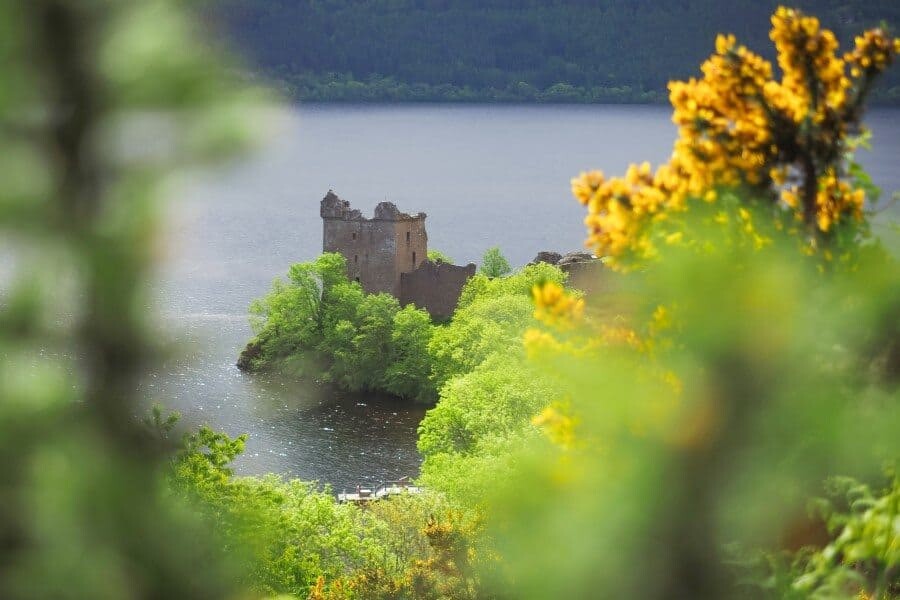 ---
Fort Augustus
Located at the southern end of Loch Ness, Fort Augustus is one of the easiest points to up close to the loch. You can get right to the water's edge and splash around if you're not afraid of what's lurking below the surface. For peace of mind, I spent a few hours here and didn't see a ripple let alone Nessie however I absolutely love the stories and myths surrounding her existence and can't help but be drawn into it being completely possible.
Fort Augustus is quite popular with tourists and around mid-morning to lunch you'll find a lot of tour buses here with groups ready to jump on boats for tours around Loch Ness.
Arrive early enough (or late enough) though and it's a gorgeous town to wander around. There's a series of locks where sailing boats make their way through the town heading for Loch Oich. Or as I mentioned above you can wander along the shores past beautiful gardens and historic buildings and the Joseph Mitchell's Bridge toward Loch Ness for some Nessie watching.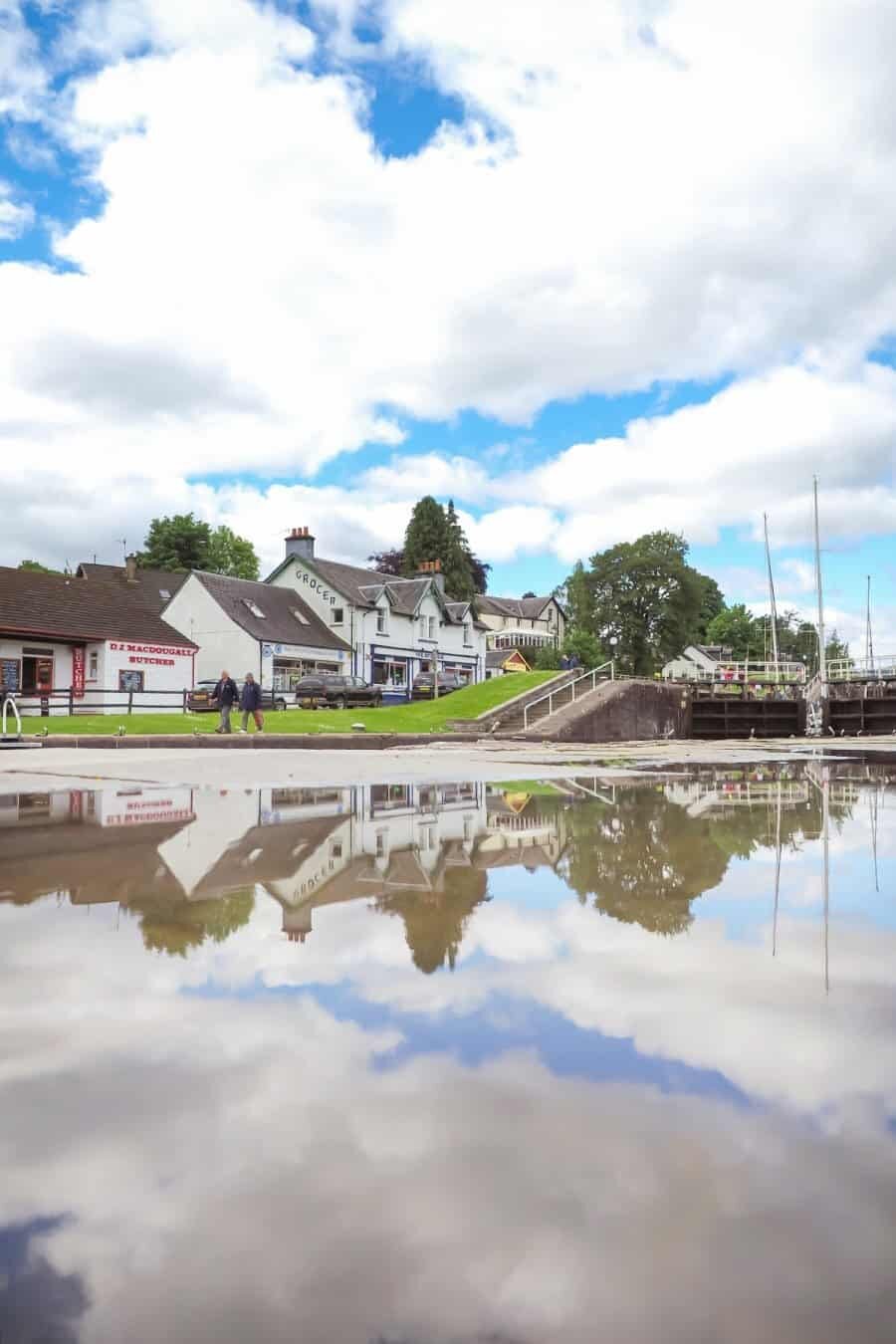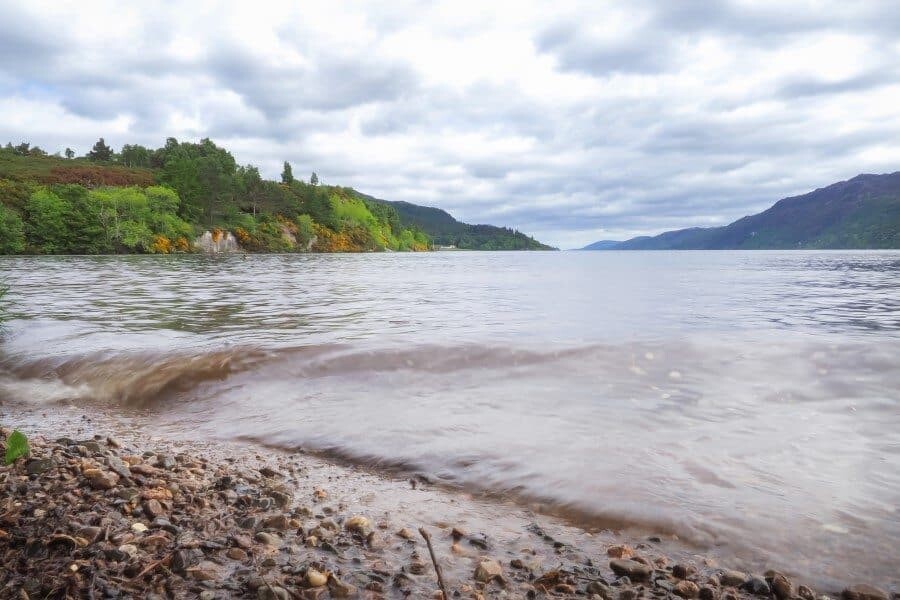 ---
Roadside Beauties
Driving through Scotland means passing an endless number of reasons to pull over the car and take a photo. From the cuddly little lambs to flower filled fields, quaint cottages or misty mountain scenes, don't feel bad for stopping, it's always worth it!
The road from Fort Augustus to Plodda Falls is simply breathtaking. Lined with the type of green that needs no increase of saturation, almost every corner reveals another scene begging to be captured.
Keep an eye out for flocks of sheep, how could you not stop!?
Also some castles or stately homes have beautiful driveways leading towards them that create great photo opportunities to snap a few shots of their preened perfection.

---
Where to Stay at Loch Ness?
Inver Coille – Glamping in Geodomes
Just a few metres from the shores of Loch Ness you can sleep in one of the more bizarre yet completely comfortable and luxurious places. A Geodome; a fabulously innovative space kept warm by a log burner and complete with a double bed, kitchenette and day bed for you to relax and look out towards the lush surroundings.
Inver Coille is a camping/glamping site about a 5 minute drive south of Invermoriston beside Loch Ness and it's the perfect place to base yourself when touring the region.
While you get to experience all the feelings of camping, you can rest your head at night on a soft pillow as the sound of a waterfall running by your dome puts you to sleep. That's after you've had a hot chocolate by the fire which is located inside your Geodome!? So fun!
A stay inside the Geodomes also gives you access to your own private luxury bathroom with key coded entry revealing a sparkling clean shower, toilet, wash basin and hairdryer which I must say was total heaven after camping for 5 nights without our own bathroom.
There's even a cute little grocery store with all the necessities (perhaps the smallest store in Scotland) and you can access the Great Glen Way forestry track if you feel like a bit of a hike.
To book your own stay inside one of these amazing domes, contact Rosemary at inver-coille@live.co.uk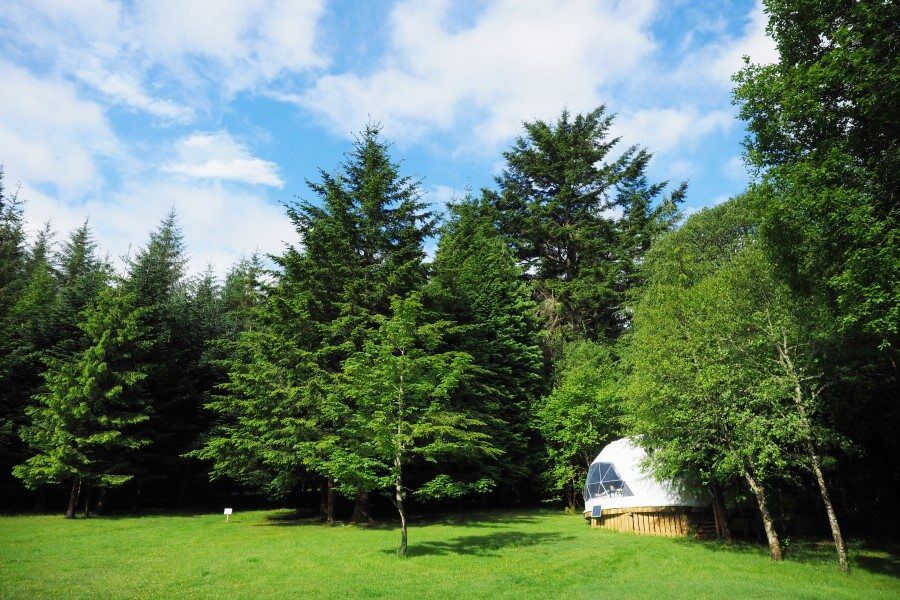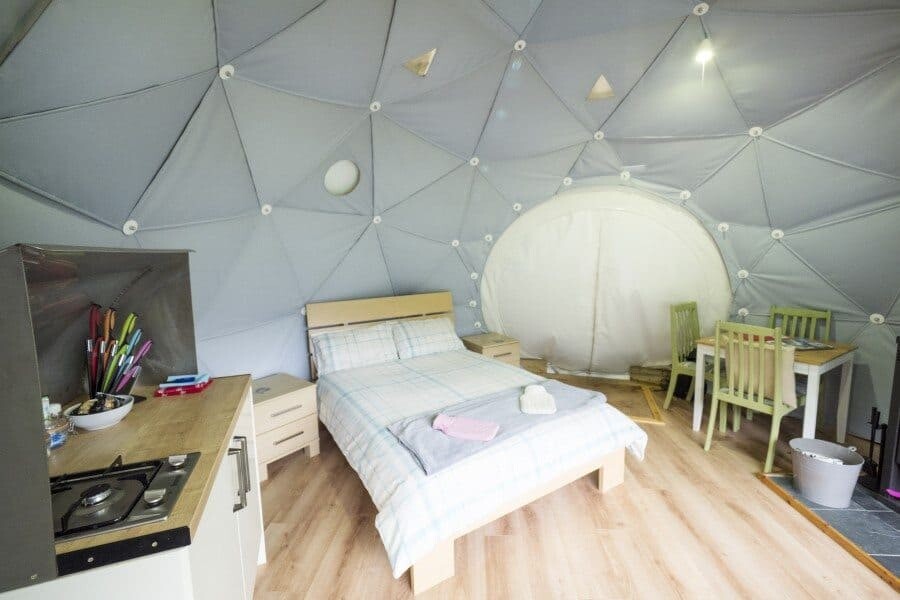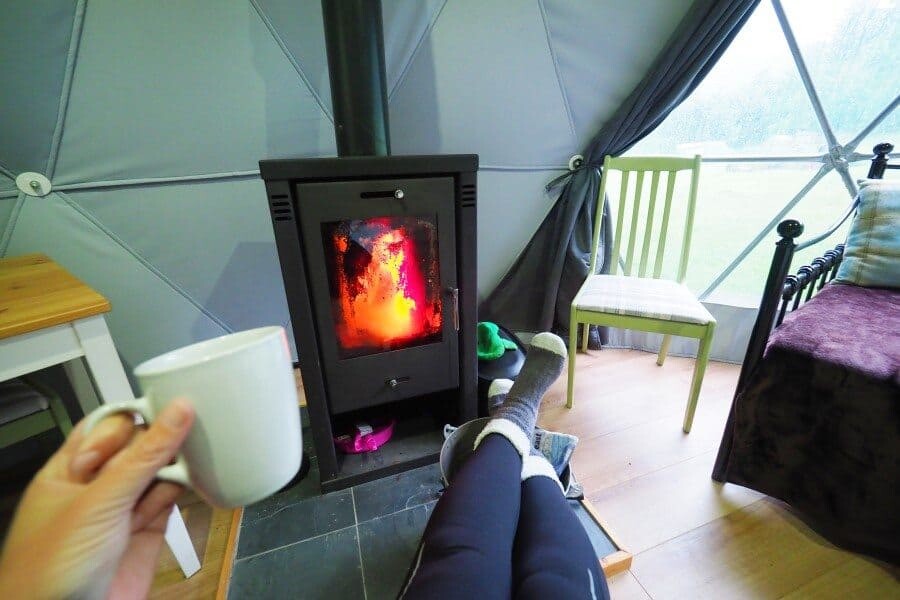 ---
Have you been to Loch Ness and know of somewhere else beautiful to photograph? I'd love for you to share it in the comments below!
A LITTLE NOTE – Thanks to Spaceships Rentals for the fluro green 'Hulk' to get us to around the equally green roads of Scotland!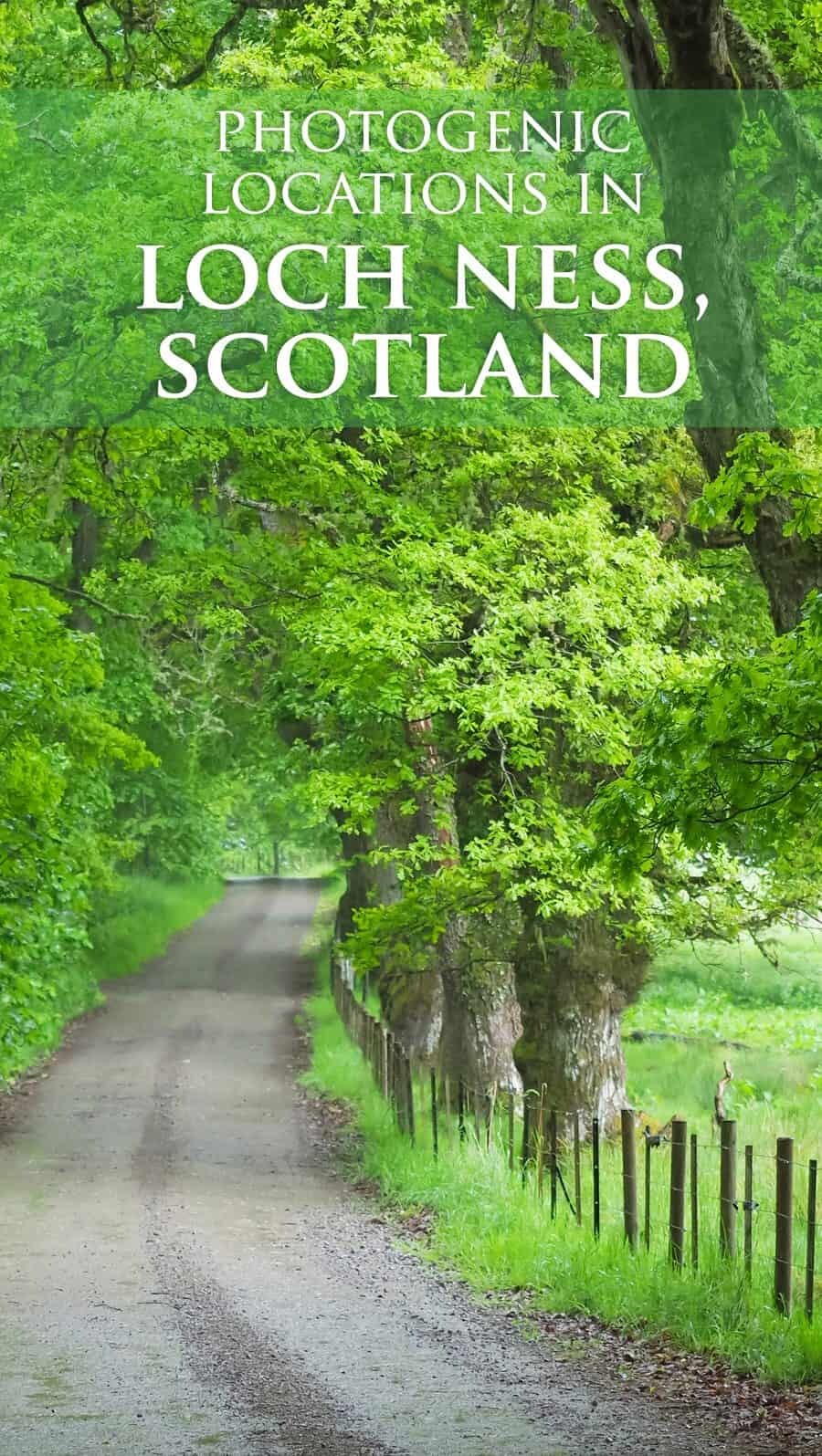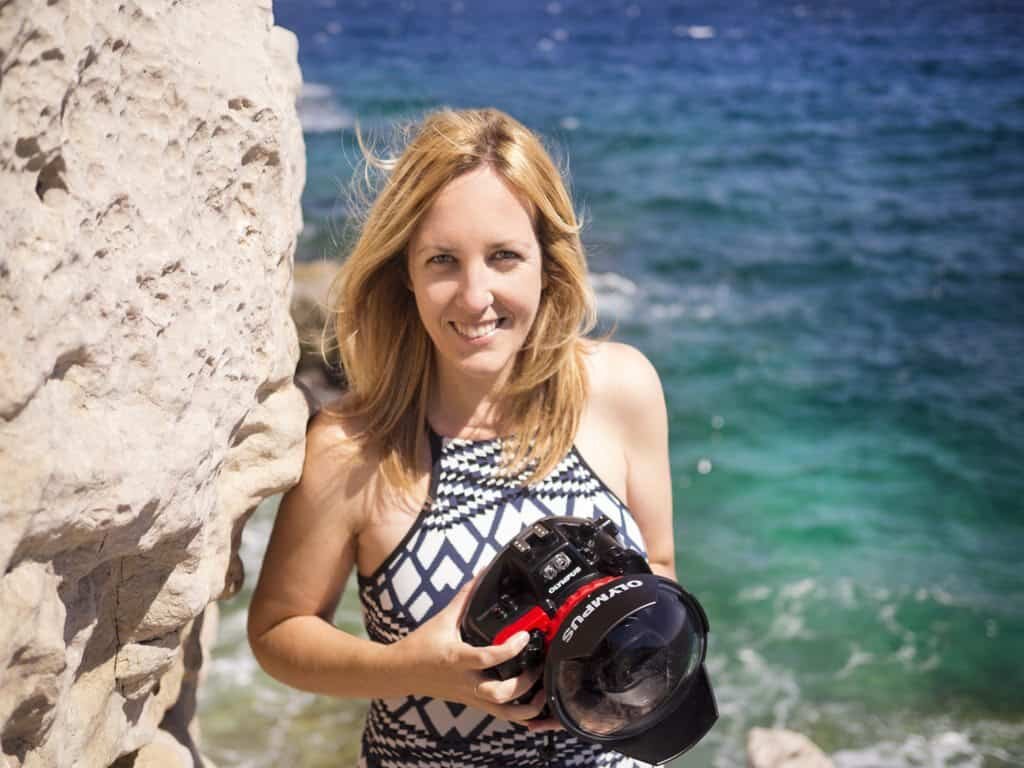 Hello! I'm the founder and photographer behind The Wandering Lens.
With 17+yrs experience as a professional travel and landscape photographer, all advice found on this site is from my personal experience on the road. I hope it's useful for your own travels and would love to hear in the comments about your trips and experiences around the world.