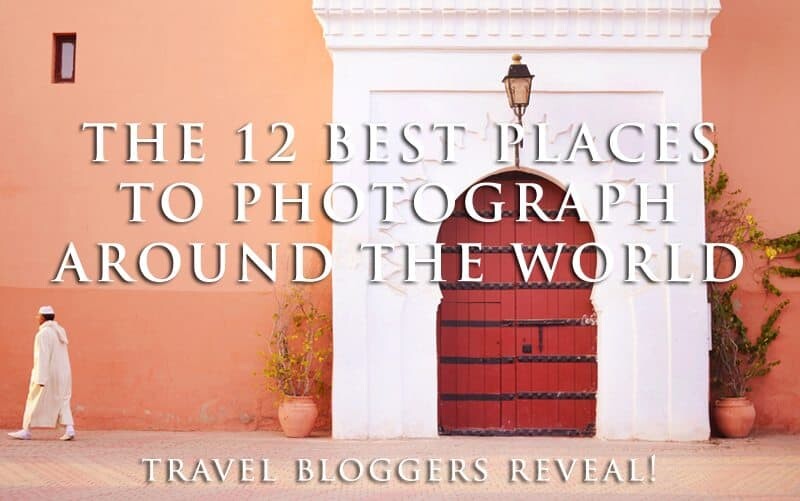 It's no secret the world is rich in enough beautiful destinations to keep even the most intrepid location scouter happy for a lifetime of photo adventures.
From tropical islands to desert plains, bustling cities and snow caves, the possibilities are endless when it comes to choosing your next destination to visit and photograph.
To share a little of their worldly wisdom, I reached out to my favourite travel bloggers to reveal the one place they couldn't put their camera down. I wanted to know where that incredible landscape, town, country or mountain range was that blew them away on their travels and kept them clicking the camera shutter.
For some it's an exotic African landscape and others it's a special place closer to home…take a look below to discover the best places to photograph around the world according to these travel professionals!
#1 Iceland: Kiersten Rich – The Blonde Abroad
"Iceland is quickly becoming to go-to destination for travelers of all kinds, but particularly for photographers. I was so enchanted with Iceland's otherworldly beauty and natural wonder, I could hardly find a single moment to put my camera down. Between glaciers, puffins, waterfalls, geysers and the Northern Lights, it's a playground of photo opportunities."
#2 Namibia: Erin Marie – The World Wanderer
"The most photogenic location I have visited would have to be Namibia. Before I arrived, I barely knew anything about the country, but the diversity of the landscapes immediately took me by surprise.  Between the red sand dunes of the Namib Desert and salt flats in Etosha National Park to the rock formations at Spitzkoppe and Fish River Canyon, the world's second largest, there was simply no time to put the camera down.  Each place was so different than the last, and I remember wanting to capture it all."
#3 New Zealand's South Island: Jaharn Giles – Mister Weekender
"Last year I was very lucky to visit New Zealand twice. On my first visit I explored the South Island and on the last day I drove from Queenstown to Christchurch to catch my flight back to Sydney in the evening. Along the way I stopped by Lake Tekapo to take some photos of Mt Cook, and soon after I drove past this majestic mountain. I literally pulled the car over, clamoured over a grassy hill to get a better view and found myself snapping my camera and simply staring at this gorgeous snow capped mountain for over half an hour. It's these moments on my travels that make me realise how lucky I am to be able to travel the world, go on adventures and explore such beautiful nature."
#4 Russia: Silvia Lawrence– Heart My Backpack
"I'm not a great photographer, so usually when I visit a place I take a few shots and then put my camera away, but when I stepped onto frozen Lake Baikal (in Russia) I could not stop taking photos! The ice is thick enough to walk on but clear enough to see far down into the world's deepest lake, and the cracks in the ice added lots of drama. Even though it was bitterly cold and windy standing on the ice, it was so hard to tear myself away!"
#5 Peru: Michael Turtle – The Time Travel Turtle
"On my travels through Peru recently I was amazed by the range of landscapes to photograph. One of my favourite areas was in the Lares Valley, between the city of Cusco and the famous Machu Picchu. It was so beautiful to see the world change as I went up and then down the high altitude. You had mountains with glaciers in the distance, animals feeding in the greener areas, and rivers running through it all. I did a trek through the Lares Valley for 4 days and, although Machu Picchu was the ultimate destination, I think the journey there was just as stunning!"
#6 Madagascar: Victoria Brewood – Pommie Travels
"Madagascar is incredibly photogenic- I couldn't put my camera down. It was one of those places I knew nothing about and so I wanted to know everything about it. The landscape is so varied and unique, with terraced rice fields, deserted beaches, colourful towns and of course, the striking Baobab trees. Of course the stars of the show are the cute, fluffy lemurs that are endemic to the island! My best shot has to be the sunset at Avenue of the Baobabs, just as a local man was herding his cows across the road."
#7 The Phillipines: Sabrina Iovino – Just One Way Ticket
"I completely fell in love with Palawan in the Philippines. The Archipelago around El Nido is almost surreal: White sandy beaches, crystal clear turquoise waters and an underwater world that will take your breath away. A destination that truly looks like paradise."
#8 Ashland, Oregon: Geraldine DeRuiter – The Everywhereist
"One of my favorite places to photograph happens to be one of my favorite places, period: Ashland, Oregon. It's a small town that sits very close to the Oregon-California border and is surrounded by hills. When my husband and I last visited, distant wildfires made the skies even more lovely than usual. I'm not a great photographer by any means, but it's hard to take a bad picture when you have such a beautiful subject."
#9 Uluru, Australia: Caz and Craig Makepeace, YTravelBlog
"It's hard for us not to choose our current location, Uluru. It's a dream to photograph because it's such a striking and ethereal rock and the outback colours are just magnificent, especially now in the summer when the green of the surrounding landscape is most vibrant. And it changes from sunrise to sunset, giving you multiple perspectives to capture. We chose to end our 18 month road trip around Australia at this spiritual centre of our country. There really is something magical about Uluru."
#10 New England, USA: Mike Richard, Vagabondish
"New England is home to the most beautiful fall foliage in the U.S. While Vermont and New Hampshire get most of the love from out-of-town "leaf peepers" each year, Massachusetts is just as beautiful and far less touristy. On a very overcast day, this idyllic rural scene taken near Amherst really caught my eye. The colors were so vibrant!"
#11 Scenic Rim Trail, Australia: Phoebe Lee – Little Grey Box
"I reconnected with myself and nature while hiking the Scenic Rim Trail, a 4 day hike through mountains, ridges, escarpments, forests and volcanic plateaus in the foothills of the Great Dividing Range, Australia. Every step of the trail was another opportunity to capture something beautiful. On the second morning I woke up to watch the sunrise from my tent and it was one of those moments where you feel the magic of nature and life all around you, to this day the images from that trip are some of my favourite photographs and when I look at them I'm transported back there."
#12 Marrakech, Morocco: Lisa – The Wandering Lens
"Eight years ago I flew into the red city of Marrakech and squished my face against the plane window in disbelief of what lay below. The snow covered peaks of the Atlas Mountains sat beside a dusty desert landscape dotted with camels and palms. On the ground that overwhelming feeling of culture shock mixed with excitement hit and my camera never left my side. To this day, Marrakech and it's colourful labyrinth of alleyways and dramatic earthy terrain remains my favourite place to photograph."
Thank you to the amazing travel bloggers who let their location secrets out of the bag for this post…go and take a peek at their blogs for loads of travel inspiration!
Think you've discovered somewhere that should be on this list? Let me know by sharing it in the comments below or use the hashtag #thewanderinglens on Instagram to share a photo.
If you've got a photography question or would like The Wandering Lens to photograph your destination get in touch via email at hello@thewanderinglens.com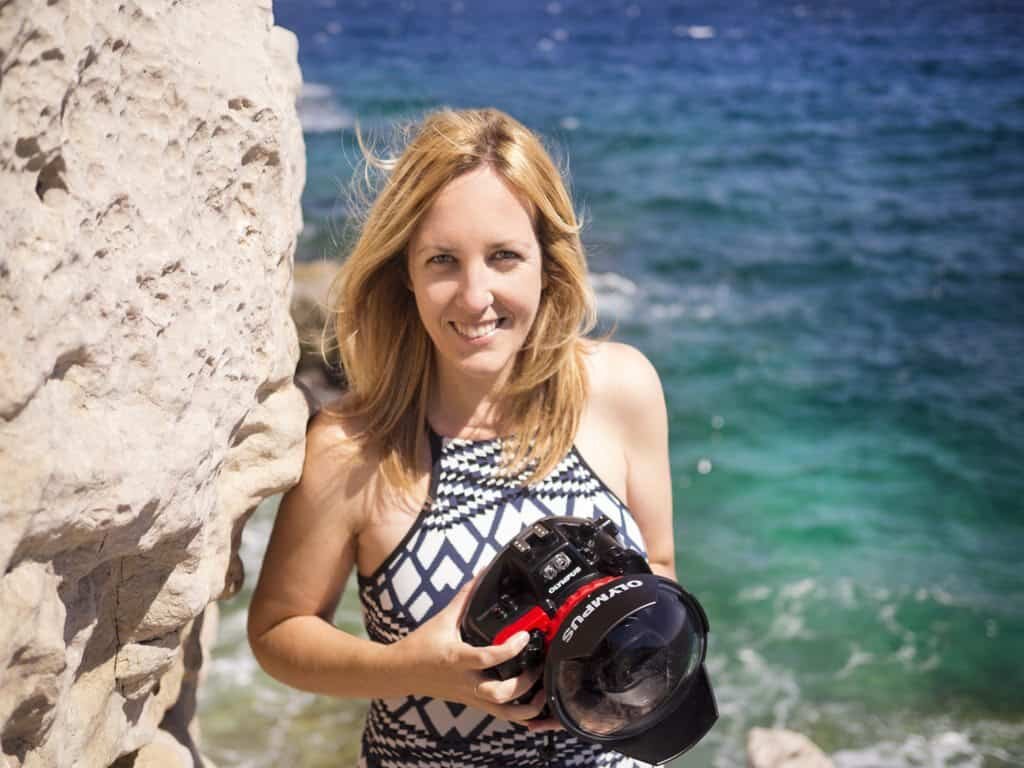 Hello! I'm the founder and photographer behind The Wandering Lens.
With 17+yrs experience as a professional travel and landscape photographer, all advice found on this site is from my personal experience on the road. I hope it's useful for your own travels and would love to hear in the comments about your trips and experiences around the world.