$120.00 excl. GST
Portfolio Reviews designed to offer professional feedback, creative advice and career direction personalised to your photography goals.
Description
Photography Portfolio Review
Do you want to work as a photographer?
Or, are you already working as a photographer but are getting a little stuck finding work, a creative difference or your way forward?
I'm offering a limited number of 'Photography Portfolio Reviews' per month to help kick start your creative goals and photography career.
Designed to offer professional feedback, creative advice and career direction personalised to your photography goals.
Having mentored photographers from beginners through to professionals over the past four years and led photo tours and workshops in places like Iceland, Japan and France, these portfolio reviews will include a detailed assessment of your current portfolio alongside some suggested directions needed to reach your goals.
Prior to the image reviews, I'll send through a questionnaire to find out where you want to take your photography so that my review will be customised to your personal photography goals.
I will only be taking on FIVE portfolio reviews per month so if you're hoping to purchase one, you'll need to order at the start of the month so you don't miss out!
To make sure I can help you out, please only purchase this review if your work falls within the following categories –
Travel Photography
Landscape/Aerial Photography
Underwater Photography
Wedding/Portrait Photography
Photojournalism
Or, if you want to get started in selling your photography alongside articles as a freelance writer/photographer
The above categories are all areas I've been working in professionally since 2004 and I really enjoy sharing what I've learnt alongside steps you can take to propel your photography career forward.
What will you receive?
A portfolio review is an outsiders objective opinion or your work and I'll be putting on my judging hat to look over your images and offer some creative suggestions, things to try out and any tips I think will benefit your work.
Each review includes the following…
Questionnaire about your goals/work, to be completed BEFORE the review to ensure a personalised outcome
A professional review of 20 images, to be discussed as a collection.
Feedback will be provided via a PDF document that lists areas to improve, creative techniques to try and editing tips to enhance your photos.
A list of questions/challenges to give yourself in order to improve your photography
*I will limit this to just five photographers per month to ensure all portfolio reviews will be assessed on a personalised basis
A little insight into why I'm offering Portfolio Reviews
To be honest, I really love looking and analyzing other photographers work. I've never really liked art galleries too much but when it comes to photography, there's something exciting about trying to see what message the photo is saying, trying to discover how it was taken and to reveal ways in which the photographer can improve their work. I enjoy finding new angles within images, looking for features the photographer might have missed within the scene and in reviewing how the image was edited or captured then suggesting other ways it could've been done to enhance the overall effect.
I love watching photographers develop their skill set, improve their creativity and in my opinion in order to improve your photography you actually need to have an objective opinion of your work. While it's always lovely if your family and friends are supportive of your work, sometimes they may not recognise the areas in which you could improve and it's this part where I step in and offer some gentle suggestions.
Don't worry, I'm not going to tell you to give up photography! Everyone starts somewhere and I strongly believe the best part about learning photography is in developing your photographic eye and being open to improving.
If you have any questions before purchasing a review feel free to email me via hello@thewanderinglens.com
Otherwise, I really look forward to reviewing your portfolio and sharing some insight into how you can further your career or path as a photographer!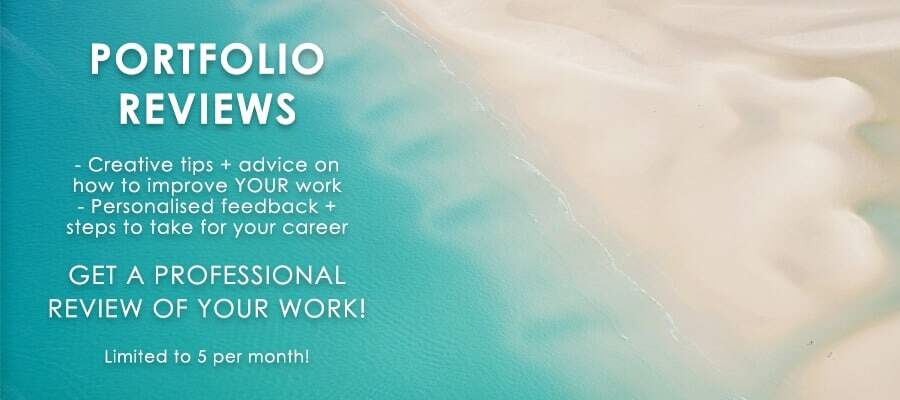 Travel and landscape photographer from Australia who is far more comfortable in a pair of flippers than heels! Having worked for publications such as Lonely Planet, Wanderlust and the Sunday Times, Lisa founded The Wandering Lens to share destination guides to the worlds most photogenic places and outdoor experiences.